We Die As We Live
2
We Die As We Live
Bell 1−30 November 2017 St Vincent's Private Hospital Foyer, East Melbourne
Catherine
We are very proud to be hosting Catherine Bell's exhibition, We Die As We Live, at St Vincent's Private Hospital, East Melbourne. This is a first for us, and we anticipate great interest in our unique hospital exhibition space. Our hospital foyer is a busy meeting place for patients and their families, doctors, staff and volunteers. Whilst almost all of our patients get well and go home to their loved ones it is a reality that most hospitals care for dying patients as well.
Catherine's site-specific installation is the outcome of a year long, art in health research project supported by St Vincent's Hospital Artist Residency Program and a 2017 City of Melbourne Grant. This ambitious project engaged one hundred staff working in St Vincent's Hospital Melbourne's oncology, haematology and palliative care wards and Caritas Christi Hospice. The participant's included palliative care doctors, nurses, student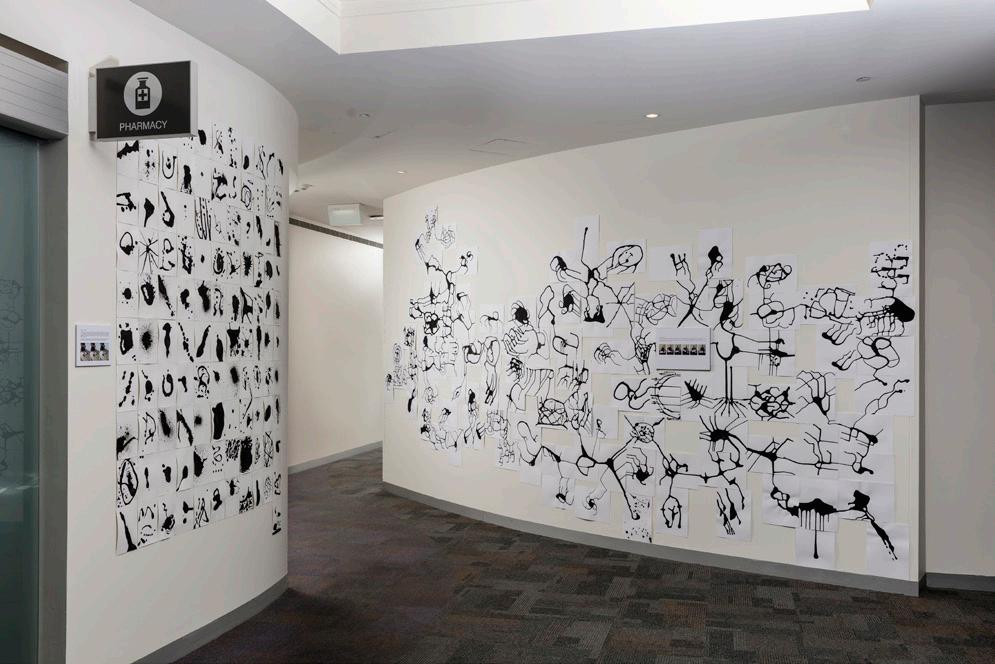 1
Left to right: Marking Time (2017) and Mapping in Memoriam (2017). Installation view.
nurses, pastoral care and allied health professionals, volunteers, nurse educators and academics from the Centre of Palliative Care Research.
The staff members were co-creators of the artworks on display and offered valuable insights and perspectives about death, based on their diverse experience working with patients in palliative care. The artworks produced are powerful motifs of each participant's experience of death. Their unique marks simultaneously document death experiences and memorialise the person's death they were reflecting on. Each mark is idiosyncratic and reinforces the notion that every death is unique and every experience of death is unique.
It is not a coincidence that the exhibition, We Die As We Live, coincides with All Soul's Day, a holy day celebrated in the Catholic Church on the 2nd of November. This day remembers the dead, and in
doing so, forces the living to contemplate their own mortality. A proposition that was extended to the participant's in this project, who were asked to sculpt black plasticine in response to "How they wanted to be remembered?" A question that encouraged reflection on the life they have lived so far, and what is meaningful in their life and worth living for.
St Vincent's Private Hospital Melbourne and St Vincent's Hospital Melbourne enjoy a close collaboration providing valuesdriven, mission-focussed healthcare to all who enter our hospitals. We both have a focus on care for the poor and vulnerable, and who is more vulnerable in our hospitals than the dying patient and their loved ones? When we accompany our patients on their journey we share in their death and dying reflections often. Patients trust us with their life, and also with helping them towards a good death. These artistic reflections about death will enrich us and the care we give.
Catherine's thought provoking exhibition will challenge the St Vincent's Hospital and Caritas Christi Hospice community, and the public who visit the hospital, to ruminate on the artworks and the themes of death and remembrance they explore.
Congratulations to Catherine for her vision, her creativity and her passion.
To the one hundred participants, thank you for your willingness to engage in this innovative art in health research initiative. Your creative responses and deep reflection, share your vast experience and expert knowledge of death, dying and palliative care. This is our privilege to support and share this exhibition with the broader community and we thank you warmly.
Shaune Gillespie CEO St Vincent's Private Hospital East Melbourne and Kew
2
3
St Vincent's Hospital Melbourne has been running an artist in residence program for over 20 years – the longest of any hospital residency program in Australia. Contemporary artists working within the hospital provide opportunities for patients and staff to explore conceptual themes, express ideas and simply respond intuitively about the human spirit in the health landscape in unique and sometimes unchartered ways. St Vincent's artist in residence program has twice hosted Catherine Bell to navigate through some of these unchartered territories.
making of the art. This is key to the success of how Catherine is able to navigate through the unchartered territories of making art through community engagement.
As a curator in a hospital I am always looking for ways to link the care of our community with the arts. I ask our artists in residence, "How will your art practice benefit our patients, staff and wider community?" With Catherine Bell's art practice, there isn't always a clear path as to what her art works will look like but there is always a direct connection and focus on benefiting others through the
For Catherine's first residency in 2012, she conducted a community engagement project with our palliative care patients at Caritas Christi Hospice. The output of her residency was a five metre high Flower Tower made in collaboration with patients who were facing end of life issues. Catherine was able to build momentum with the patients as she offered them something "other" than their illness to focus on. The Flower Tower was exhibited in her 2013 exhibition, aptly named The Gathering, signifying the collaborative and unifying approach to the making of the art work. This was also a first for St Vincent's as we had not had an artist in residence work so closely for an extended period of time with palliative care patients.
4
5
In 2016, to celebrate the 20th anniversary of the residency program, the St Vincent's Art Committee invited Catherine to partake in a second residency. Catherine wanted to explore health professionals' reflections on death and dying. Once again we took a step, with some trepidation, into unchartered territories, particularly given our inherent reticence around the topic of death. However, with Catherine's insightful collaborative approach and careful planning and execution of her workshops every step of the way, she was able to lead us with care into our own experiences of death and dying.
For me, as a participant, I felt excitement and hesitation, darkness and light as I approached the tasks of mark making in response to an experience or memory of death; and making an object in plasticine that visualised my own mortality. I felt locked in a moment without time. A moment that allowed me to honour self and other, as we all have our personal, unique death narratives that somehow link us together in spirit.
The experience of participating in the workshop in Catherine's quiet studio at Caritas Christi Hospice, lingered with me for days. I reflected on what my thoughts and reactions were to the tasks and I felt nourished. It was a privilege to have time and space to share my death experiences as I am sure it was for the many other participants.
The exhibition We Die As We Live, is a testament to the power of collaborative creativity in the health space. It enlightens us about how we can care for our staff which in turn benefits how we care for our patients at St Vincent's. I congratulate Catherine for navigating and mapping, with great heed, the journey of the 100 staff who bravely engaged in this project and I hope to see more arts in health interventions like this become part of the workplace.
Monique Silk Art Curator
St Vincent's Hospital
Melbourne
6
Death, Material Traces, and the meaningful
through care.
Tamara Kohn
Associate Professor of Anthropology
School of Social and Political Sciences
University of Melbourne
7
beauty of non-Art made with and
Enter this exhibit, and step into a world of inordinate beauty, surprisingly produced by many hands that may never have crafted before; an exhibit that showcases caring relationships, and emotional and emergent reflections on death. You will be touched by the stories that the makers' squid ink and plasticine traces have evoked and perhaps moved too by the emotions they may stir in your own hearts and minds. Here, to provide a possible backdrop for you, the reader and visitor, I will offer some thoughts on death informed by a global anthropological gaze. Then I wish to indulge in some reflections on the material traces you will find here; I want to explore how they may be understood, not as 'objects' but as the remnants of 'Happenings' – reflective expressions and creative performances, rich with personal and shared meaning.
8
"Without mortality, no history, no culture – no humanity"
(Zygmunt Bauman 1992:7)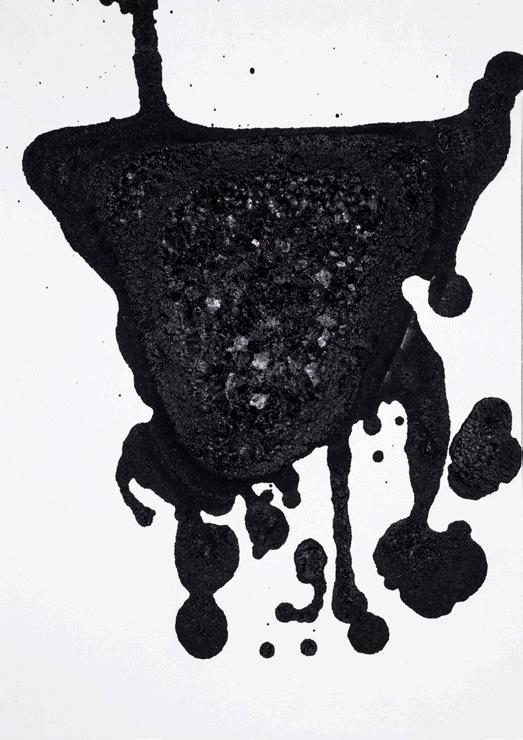 9
Death touches all living beings and is thus at one level quite ordinary. Some people die after a 'long life' when they are old, they die 'too soon' when they are younger, and their family and friends and associates are mobilised (or not) around these moments of final transition that may be variously classified as 'good' or 'bad' deaths. Bloch and Parry have suggested that 'good deaths' demonstrate "some degree of mastery over the arbitrariness of the biological occurrence" while 'bad' deaths "demonstrate the absence of control" (1982:15). But what is mastery? And whose control matters? What is 'good' to you may not be to me. If you think that dying quietly and painlessly in your sleep would be a wonderful way to go, then take a moment to consider how a view from the Middle Ages would classify your death as 'accused' and very bad indeed because the living people left behind were not given ample time to prepare for it. Whatever (contested) labels we apply, we can agree on one important point here - that there is no such thing as a 'neutral' death (Bradbury
1996). Despite its place in every living being's life, death is felt by individuals and communities to be extraordinary because of the emotional weight it carries, because of the various responses it evokes, because of the relationships that are affected by it, because of the ritually marked position it occupies in the life course, and because of the intense ways it makes people feel. It is this depth of feeling on both sensory and emotional levels that stimulates our responses to death, that informs our desires and fears, that inspires our expressions.
Death is a huge topic in most disciplines - from a range of creative fields (art, literature, poetry) to the social sciences (sociology, anthropology, psychology, criminology, politics), and, of course, to the sciences and medicine. The object of the critical gaze is directed sometimes on the dead and dying, sometimes on the social, medical and service institutions and individuals that circulate around death, and sometimes the focus is on what happens after death. Interestingly,
when the gaze turns to individual 'suffering', there is a tendency to only see the dying body as the suffering subject (Dragojlovic and Broom 2018). Doctors, nurses and other palliative care workers are generally deemed to be too professional to be affected by the deep feelings that circulate around the deaths of their patients in their workplaces. And yet, the dead exert a very strong spiritual force over all of those left behind – an 'imaginative' power that Joan Didion describes as 'magical thinking' (2005). The many people that surrounded the dying and supported them, that include both close kin and professional carers, are deeply affected by this imaginative power. By attending this exhibit, We Die As We Live, and giving it your attention and respect, you are acknowledging emotions and attending to stories that have emerged from health professionals' many embodied relations with the dead and dying, here produced and displayed in ink and plasticine.
10
Since this exhibit displays work that reflects people's thinking about death in the context of hospital care, let's think about what these might entail. As death approaches, the body as subject turns into the body as object, perceived as an unbounded and failing container – bits deteriorate, it leaks gas, bodily waste, it smells, it's constantly wrapped and unwrapped. It becomes a body out of control – unable to function in the ways that healthy bodies function. As Sharon Kaufman wrote in her 2005 ethnography, And a time to die, the good death/bad death distinction in public and academic discourse doesn't mean a thing when one is attending a dying person's bedside in hospital or in an intensive care unit. The body slips into what she calls a "zone of indistinction" (2005) – the patient cannot always speak for herself, and others speak to each other as if she has already gone (cf. Sudnow 1967); her own desires can often be trumped by others, and grievances amongst the living may surface around the body in that zone. Such studied observations just serve to
emphasize how death is as much about ever shifting social interactions as it is about the failing physical capacities of individual bodies when they die.
Death is about continuing and changing relations and thus it is also all about life. As the recently departed Zygmunt Bauman suggested in Mortality, Immortality and other Life Strategies (1992), there are two different but related strategies to deal with the awareness of death. The first is a 'modern' strategy where the insoluble puzzle of death is transformed into a potentially soluble medical problem to work through. He writes: "Through its many deputies, death presides over life. Fighting death is meaningless. But fighting the causes of dying turns into the meaning of life" (1992:4). Finding cures, extending life expectancies, killing infections – stimulated by a desire to solve the puzzle of death - all contribute to this modern strategy. The second strategy is a 'postmodern strategy' that deconstructs immortality − where death is denied the last word.
11
This latter idea of death as a socially and relationally complex process that strives, often through others' efforts, towards some degree of immortality, takes us into the space of commemoration and memory making. It takes us into a space where creativity reins. James Green in Beyond the Good Death (2008) suggests that postmortem existence is about far more than an irrational desire that people hold onto to help them to deal with their fear of the unknown. Rather, it's part of the process that takes us 'beyond' death.
If, in the comfort of our developed world, we can choose a lifestyle, we can now as easily choose a deathstyle, and there are many to choose from. An older western model, inspired by psychoanalysis, was framed around 'grief work', 'closure', 'moving on' − activities that would work to separate the living from the dead. A newer frame is provided in the notion of 'continuing bonds' − activities that help the living accommodate the dead in new ways. These activities produce 'images of presence' (Orsi 2016) that help people to 'celebrate' the dead at rituals, or on
12
13
special days, with others around them, or alone, or on social media with the help of digital tools (see Arnold et al 2018), or simply with the aid of physical tools such as paper, squid ink, and plasticine. When you consider this exhibit in this way, you can truly understand how relations are pulled into futures, and how the point of material separation is no longer the point when the body is buried or cremated.
Materiality is central to the contemporary production of such continuing bonds. These bonds are increasingly produced through our bodily interactions with the more secular but deeply meaningful stuff of death and remembrance. Prendergast et al (2006) demonstrate this through a study of the relations that circulate around human ash 'cremains' in the UK. A general decline in the popularity of traditional deathways, in the western world at least, has coincided with an increased interest in alternatives, and thus the authors trace the ways people reclaim their dead's ashes from public and anonymous grounds in order to be put to
more informal and creative acts. They remind us of the Dayak of Borneo who practice a second burial of bones after all decomposition ends, and suggest that, as with the Dayak, the reclaimed dry ashes become like a 'new body' with a reinvigorated life provided through their relations with the living and with new living spaces and new rituals in the world. These new practices, they suggest, can be framed around both 'continuing bonds' as well as letting go (ibid). This is only one of so many such creative examples, but it particularly resonated with me, as someone who has migrated to several different distant locations, carrying a small wooden jar with the combined ashes of my parents with me! When I meditate, the jar sits with other meaningful things in front of me. I burn incense propped by mom and dad's ashes, and I giggle inside: my mother couldn't stand incense and perfume. I laugh with her daily through our private joke, and through the smell and the feel of the ash. But the discussion here about materiality and the animation of the dead and of people's emotional connections to
them through new ritual and practice should also resonate here at this exhibit, and let me try to explain how in the last part of this thought piece.
Catherine Bell, the artist and researcher at the heart of this project, comes to her practice through lived experience. This artistic experiment has emerged not only through her own experience of love and loss, and from a marriage of intellectual and creative desire, but from a wish to understand how the dead live on with us. But she's not alone. We all will see the physical marks of Catherine's socially-engaged project through our own embodied and imagined relations, our losses, and our desires for our own and for others' immortality. Her experiment engages with human affect at every stage of its production and eventual display. A thoughtful exercise, it allows us to extend our understandings of the boundaries of caring practice (see Kohn and McKechnie 1999), it celebrates the creative force generated out of relations of care, and it stars care workers so often
14
and so errantly assumed to be outside of the relations that matter around death. It required these carers to reflect deeply and to make physical things with attentiveness to the process. They were asked to get their hands dirty and to react to an attack of the senses. There were strong smells: the squid ink still smelled of the organic beasts that it came from; there were sounds such as the squirting and squelching noises of the apparatus that sucked and dissipated the ink. The participants didn't smell or hear these things blindly (to mix sensory metaphors!), but came to this exercise as 'Death Elders'
– people with deeply embodied everyday knowledge and memory. Through this they could describe the squelches, for example, as "the death rattle" or as "the sound a dead body makes when you roll it and it lets out gasses trapped in the gut".
As curator artist, Catherine also came to this with her father's death rattles in her memory, and she also held a private anxiety that his cremated remains were never scattered. So, it is interesting to
15
think about how she dealt with this at the same time that she asked participants to deal with their own associations. Indeed, the plasticine lump that was formed and reformed through all those 100 different participants' hands started its journey at the exact weight of Catherine's father's cremated body. She is placated by the knowledge that everyone manipulating it would, without even necessarily realising it, carry tiny bits away with them under their nails or ground into their skin –materially distributing the collective symbolic 'ashes' at the very time that they were expressing their own ideas about mortality. Here materiality and symbolic association join hands and so too do these many individually travelled but socially enmeshed journeys.
When I personally step back and look at how this work was produced, I am reminded of the work of a dear departed friend, the philosopher artist Allan Kaprow, master designer of 'the Happenings' and the 'non-art' movement of the 1950s-70s. A Happening, essentially,
is a loosely structured improvised activity that harnesses the use of materials, sounds, smells, and movement, and where there are no external observers but only participants who find meaning in the very act of doing (Kaprow 1993). Kaprow's work, practice and writing set out to blur the boundaries between everyday life concerns and art, and between ritual and art. For the participants who engage in Happenings, there is a heightened awareness of the physicality and feelings of the performance of everyday actions. Now you might think that surely squirting squid ink is hardly an everyday action, and you're right! However, I believe that the issues raised in this essay converge at this point – at a point where we are invited to see traces of the everyday life of deathworkers. They exposed themselves in a deeply embodied way through an improvised activity that broke down barriers and that allowed them to find meaning in the very act of doing. To have performed (or in this case to have played with plasticine and cast lines of black smelly ink) was to invest in the
performance and to become aware of oneself through a sensory and emotional perception of the other (in this case the dead other or even one's future dead self). And then the experimental moment is over in a flash.
If we are to be true to Kaprow's vision, a 'Happening' is productive, but it must be understood as here one moment and gone the next. It should never be reproduced or framed or displayed. Indeed, the 'nonart' that is produced in such moments of activity "exists only fleetingly, like some subatomic particle, or perhaps only as a postulate" (1993: 98). So, for Catherine to have removed the works from the hospital ward and hospice studio where they were created and rearranged them; to have these communal marks translated to vinyl stickers so they can be displayed on the windows; to have joined the lines of squid ink into a collective map; to have photographed the plasticine sculptures, archived them, recorded their lifespans, and edited them into a video; to have printed a catalogue (complete with the
16
essay you're reading now); and then to have made these all available to you, the public, in a hospital foyer (with an opening date that happens to coincide with All Soul's Day), is to have turned nonart into a type of art. It turns everyday life and death experience into something extraordinary.
So, what can this art do for you? Most of us are at least twice removed from the relations and emotions that produced the traces, but we can try to imagine what those relations and those feelings entailed. We can feel compassion for people at the coal face of palliative care. We can take ideas away with us and share them later with others. We may start conversations that frame death as a creative and productive set of relations. We can continue to hone our awareness of the centrality of mortality in all life forms that we hold dear.
References:
Arnold, M., M. Gibbs, T. Kohn, J. Meese, B. Nansen (2018) Death and Digital Media, London: Routledge.
Bauman, Z. (1992) Mortality, Immortality and other Life Strategies, Stanford University Press.
Bloch, M. and J. Parry (eds.) (1982) Death and the Regeneration of Life, Cambridge University Press.
Bradbury, M. (1996) Representations of Death: a Social Psychological Perspective, London: Routledge.
Didion, J. (2005) The Year of Magical Thinking, New York: Alfred A. Knopf.
Dragojlovic, A. and A. Broom (2018) Bodies and Suffering: Emotions and Relations of Care, London: Routledge.
Green, J.W. (2008) Beyond the Good Death: The Anthropology of Modern Dying, Philadelphia: University of Pennsylvania Press.
Kaprow, A. (1993) Esssays on The Blurring of Art and Life (edited by Jeff Kelley), Berkeley: University of California Press.
Kaufman, S. (2005) And a Time to Die: How American Hospitals Shape the End of Life, University of Chicago Press.
Kohn, T. and R. McKechnie (eds.) (1999) Extending the Boundaries of Care: Medical Ethics and Caring Practices, Oxford: Berg Press.
Orsi, R. A. (2016) History and Presence, Cambridge, Mass.: Harvard University Press.
Prendergast, D., J. Hockey, and Leonie Kellaher (2006) 'Blowing in the Wind? Identity, materiality, and the destinations of human ashes', Journal of the Royal Anthropological Institute, Vol. 12: pp. 881898.
Sudnow, D. (1967) Passing On: the social organization of dying, Prentice-Hall.
17
18
19
20
21
My plasticine sculpture represents the moment where the intellectual notion of death becomes an absolute certainty that you feel in every organ. That lonely, indescribable moment of knowing, that is a rupture in your life story.
For me, that moment is communicated on a visceral level. It's like a place where the rules don't work, and you have very little to rely on."
22
"
The egg is carefully and gently held in the hand. This is part of Spiritually/Pastorally caring – to hold people in their fragility, for life is fragile but also full of potential and hope. The second part of the sculpture represents the importance of listening to the other's story; a listening that tries to understand the other's experience. Through this listening a respect is shown to the sacredness of the other's life and a greater insight may be gained into the richness of the journey."
23
"
24
25
I am involved in a range of communities, all in some way expressing my intention to connect and play the role that is mine to play in creating a world that works for all. The branches of the tree represent these communities. The roots of the trees delve deep into the soil and represent those communities (family, friends, faith, community) that keep me grounded and connected to the source of life. I want to be remembered as someone who connects communities, in a grounded and life giving way."
26
"
27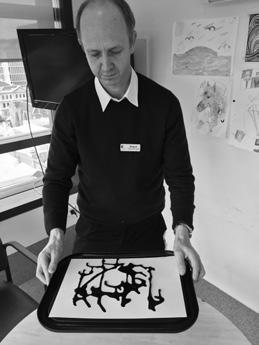 28
29
30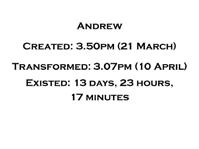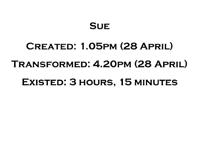 31 1 2 3 4 5 6 7 8 9 10
32 11 12 13 14 15 16 17 18 19 20
33 21 22 23 24 25 26 27 28 29 30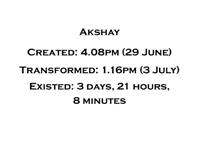 34 31 32 33 34 35 36 37 38 39 40
35 41 42 43 44 45 46 47 48 49 50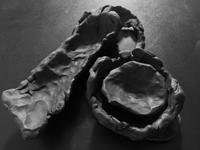 36 51 52 53 54 55 56 57 58 59 60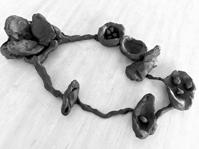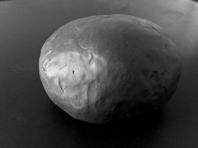 37 61 62 63 64 65 66 67 68 69 70
38 71 72 73 74 75 76 77 78 79 80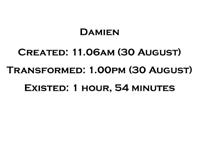 39 81 82 83 84 85 86 87 88 89 90
40 91 92 93 94 95 96 97 98 99 100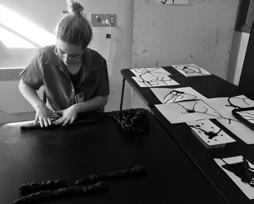 41
42
43
44
45
46
48
49
51
52
Mapping in Memoriam (2017) Installation view.
59
61
62
64
Left to right: Mapping in Memoriam (2017) Installation view. Mapping in Memoriam (2017) Installation detail.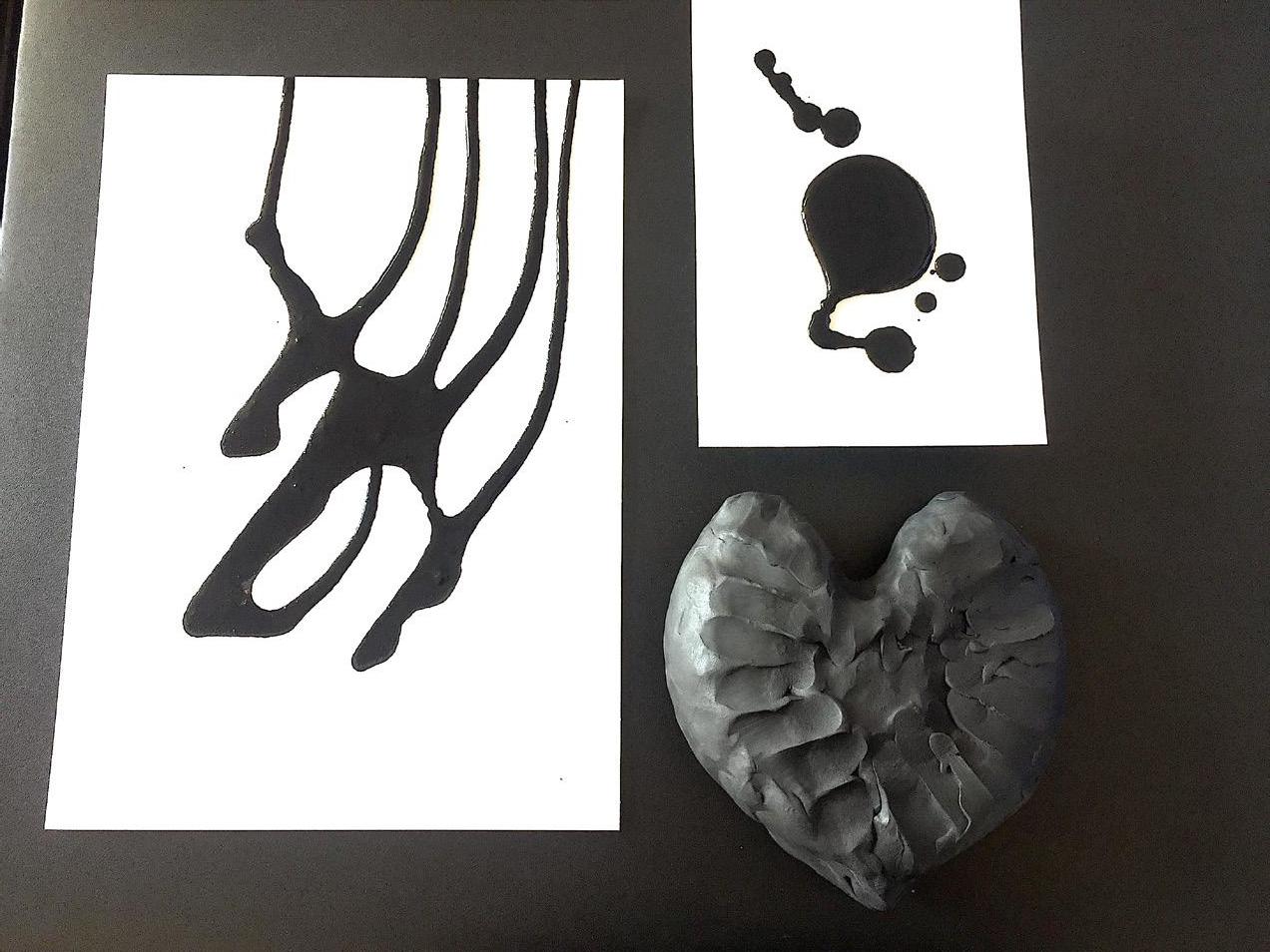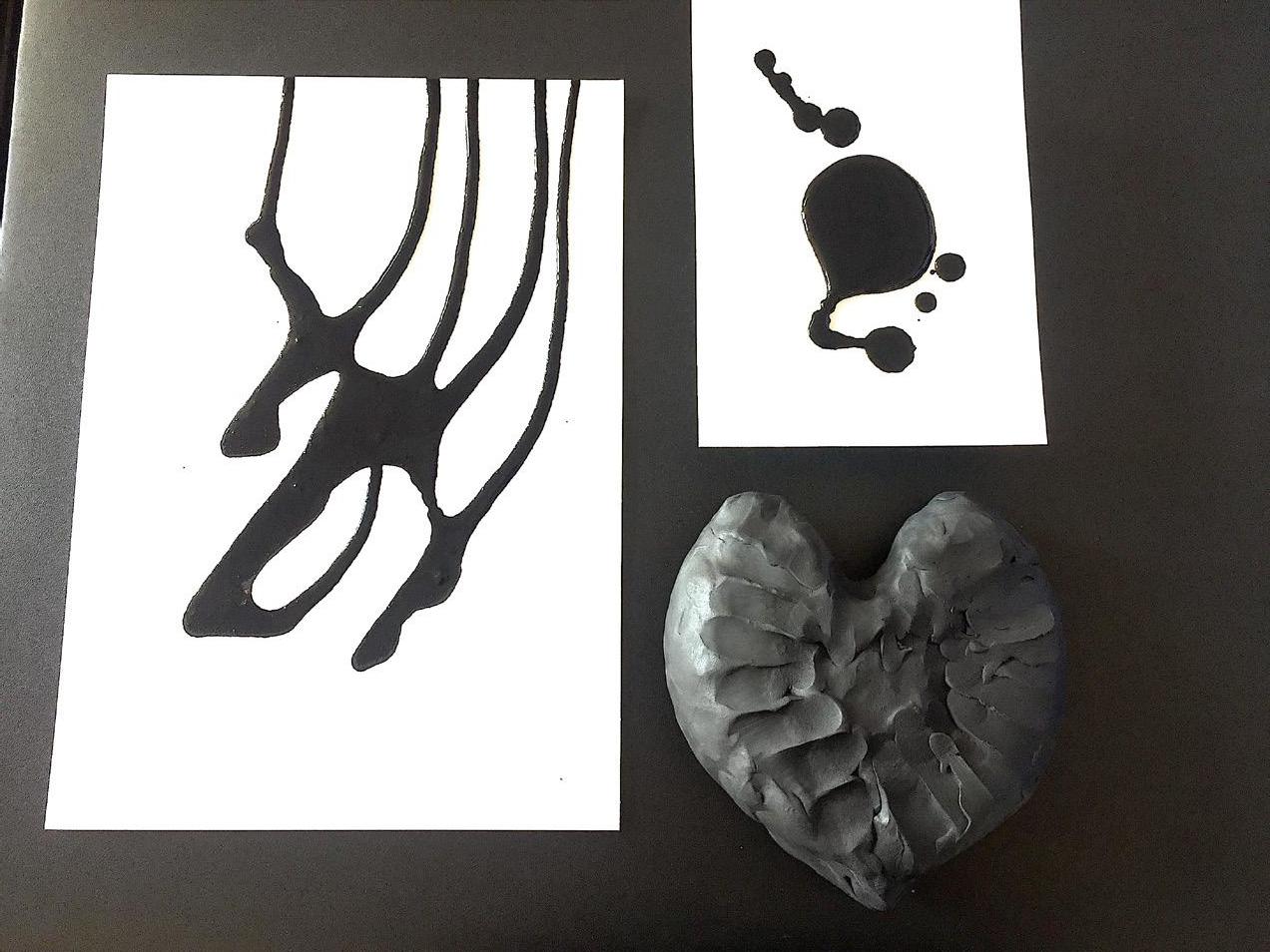 66
68
69
Marking Time (2017) Installation view.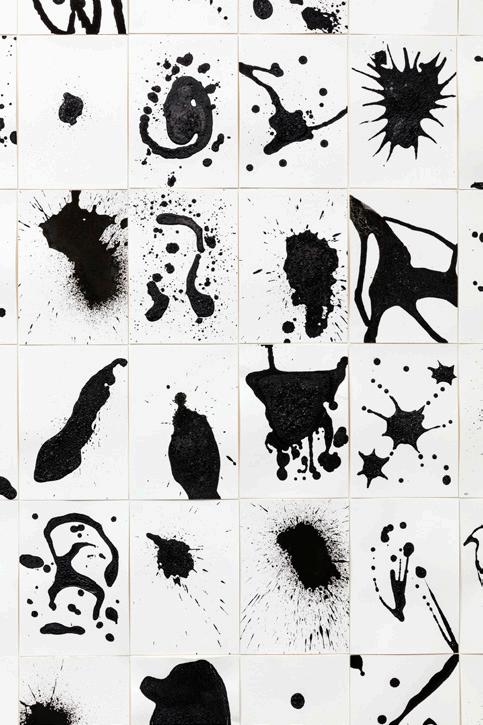 70
Marking Time (2017) Installation detail.
Marking Time Amplified (2017) Installation view.
Marking Time Amplified (2017) Installation details.
73
74
Memento Mori Quartets (2017) Installation view.
Left to right: Mapping in Memoriam (2017); Memento
Mori Movie (2017) On television monitor; Marking Time Amplified (2017). Installation view.
80
Left to right: Memento Mori 100 (2017) Installation detail. Marking Time Amplified (2017) Installation detail. Mapping in Memoriam (2017) Installation detail.
List of Works
Mapping in Memoriam (2017)
One hundred and three squid ink drawings on watercolour paper. Individual works 25cm x 35cm. Installation of mapped works dimensions variable. Artworks made by medical, nursing and pastoral care staff, volunteers, student nurses and nurse educators, palliative care researchers and allied health professionals at St Vincent's Hospital and Caritas Christi Hospice, Melbourne. In response to an experience or memory of death, health care professionals were invited to use the squirting apparatus provided to release a pool of ink onto the surface of the paper and manoeuvre the tray until the ink exited off the page.
Memento Mori 100 (2017)
The 100th plasticine sculpture was made by John Willis, Mission Development & Social Justice Manager at St Vincent's Hospital. Each participant was asked to reflect on their own mortality and sculpt the same piece of plasticine in response to the question, "How do you want to be remembered? John's sculpture represents: "Hoping my heart imprint is left on all those I have encountered and left behind".
Marking Time (2017)
One hundred and eleven squid ink marks on watercolour paper. Individual works 14.8cm x 21cm. Installation of the collective marks dimension variable. Artworks made by medical, nursing and pastoral care staff, volunteers, student nurses and nurse educators, palliative care researchers and allied health professionals at St Vincent's Hospital and Caritas Christi Hospice, Melbourne. In response to an experience or memory of death, health care professionals were invited to use the squirting apparatus provided to suck in squid ink and squirt it onto the paper.
81
Marking Time Amplified (2017)
Twelve squid ink marks selected for reproduction on suction vinyl installed on the foyer windows. Six angled windows, 87cm x 120cm and six vertical windows 87cm x 150cm.
Memento Mori Quartets (2017)
Suction vinyl installed on three office windows 136cm x 190cm. Twelve images of the plasticine sculptures created by medical, nursing and pastoral care staff, volunteers, student nurses and nurse educators, palliative care researchers and allied health professionals at St Vincent's Hospital and Caritas Christi Hospice, Melbourne. Each participant was asked to reflect on their own mortality and sculpt the same piece of plasticine in response to the following questions: "How do you want to be remembered? How have you lived your life? What has been worth living for? The plasticine weighed 1.5kg, the weight of a cremated body, at the start of the project, but one hundred participants, handling the same piece of plasticine, reduced the weight by 65 grams. This reduction symbolises the involuntary 'scattering' of these collective 'ashes', as the plasticine was lodged under fingernails and rings, and carried away by the participants.
Memento Mori Movie (2017)
Video (Duration 23 minutes 20 seconds) One hundred plasticine objects created by medical, nursing and pastoral care staff, volunteers, student nurses and nurse educators, palliative care researchers and allied health professionals at St Vincent's Hospital and Caritas Christi Hospice, Melbourne. The plasticine weighed 1.5kg, the weight of a cremated body, at the start of the project, but one hundred participants, handling the same piece of plasticine, reduced the weight by 65 grams.
82
Catherine Bell is a multi-disciplinary artist and Associate Professor teaching visual art in the Faculty of Education and Arts, Australian Catholic University. She holds a BA (Art History & English Literature) University of Queensland, Bachelor of Visual Arts (Sculpture) Queensland University of Technology and MFA (Sculpture) RMIT University. Her Doctor of Philosophy (Fine Art) at Monash University, Melbourne was awarded the Mollie Holman Doctoral Medal (2008). Her creative-led research is focused on the role of the artist in the archive and healthcare setting, art on the margins, socially-engaged, collective and relational art practices; and redefining and repositioning the female in contemporary society. Her collaborative initiatives advocate for artists using their skills to engage diverse communities in artistic creation. These collaborations aim to raise awareness to
issues affecting those communities, highlight the specialised knowledge or discipline area of the participants, and reflect their lived experience.
For 25 years Bell has exhibited extensively in solo and group exhibitions across Australia including: Australian Centre of Contemporary Art, Art Gallery of New South Wales, Art Gallery of South Australia, Queensland Art Gallery, Centre of Contemporary Photography and Australian Experimental Art Foundation. Internationally, Bell has exhibited at NGBK (Neue Gesellschaft für Bildende Kunst) & GeorgKolbe Museum, (Berlin); Whitechapel Gallery, Plymouth City Museum & Sheffield Institute of Arts (UK); Aram Art
Gallery, (Korea); National Taiwan Museum of Fine Arts, (Taiwan); and Chulalongkorn
University Art Space, (Bangkok).
83
She has been awarded various fellowships, grants and residencies including a Research Fellowship, Ruskin School of Drawing and Fine Art, Oxford University (2000-01); Australian Postgraduate Award Scholarship (2003 - 06), Australia Council for the Arts Studio New York (2010), Professional Development Grant Arts
Queensland (1996), City of Melbourne Grant (2005 & 2017), Arts Victoria Creation Grant (2006), St Vincent's Hospital Residency (2012-13 & 2016-17) and CAUL & ASA Library Fellowship (2015). Bell's work is held in collections including National Gallery of Australia, Grafton Regional Gallery, Queensland Art Gallery, Monash University and St Vincent's Hospital.
Catherine Bell is represented by Sutton Gallery, Melbourne, Australia.
http://www.suttongallery.com.au/artists/ artistprofile.php?id=17
More information about the studio-led research produced during the 2012-13 St Vincent's Hospital artist residency can be found at the following url:
https://issuu.com/cebell/docs/ catherine_bell_catalogue_sutton_gal/0
https://www.youtube.com/ watch?v=lZQi_9joEQk
2015 Catherine Bell, "Artists as Undertaker: Heavy Petals and Community Art at Caritas Christi Hospice, Melbourne", Australian and New Zealand Journal of Arts Therapy, Vol. 10 Number 1. pp 43-58 2015
http://chasr.acu.edu.au/wp-content/uploads/ sites/9/2016/11/Catherine-Bell-Artist-asUndertaker.pdf
84
Acknowledgements
We Die As We Live
1−30 November, 2017
St Vincent's Private Hospital Foyer 159 Grey Street, East Melbourne, 3002
Opening Hours: 8am-8pm Daily Phone: 9928 6555
Associate Professor Catherine Bell would like to thank all those who participated in the art and health research project at Caritas Christi Hospice, Kew and St Vincent's Hospital, Melbourne.
Special thanks to Shaune Gillespie CEO St Vincent's Private Hospital East Melbourne & Kew; Monique Silk, Art Curator at St Vincent's Hospital Melbourne; St Vincent's Hospital Art Committee; Julie Wain, Mission
Integration Manager St Vincent's Private Hospital Melbourne; Linda Irving, Executive Assistant to the CEO/DON SVPHEM/ CEO SVPHK, St Vincent's Private Hospital Melbourne; Mohammad Rahman (Technical Support); Eleni Cokalis, Creative Arts Pastoral
Care, Caritas Christi Hospice, Kew; Meg Simondson, Arts Grants Program Manager, City of Melbourne; Michelle Ely, Team Leader Arts Investment, City of Melbourne; PeterTwining (StyroArt); Associate Professor
Noah Riseman; Al Noveloso; Christine Small; Dr Adam Staples; Archibald Bell-McLeod; Andrew McLeod; Paul Barrett; Dale Raymond; Sally Kidd; Associate Professor Tamara Kohn, Marika Petrie.
We Die As We Live was supported by St
Vincent's Hospital Artist in Residence Program and the City of Melbourne's Arts Grants Program. This research project was approved by the Human Research Ethics Committee at Australian Catholic University Ethics Register Number: 2017-192E.
Catalogue Editor: Associate Professor
Catherine Bell
Photography: Andrew Curtis
Catalogue Design: Marika Petrie
ISBN 978-1-922097-56-9
Image copyright Associate Professor
Catherine Bell. Text copyright Associate
Professor Tamara Kohn, School of Social and Political Sciences, University of Melbourne – no material, whether written or photographic may be reproduced without written permission.
catherine.bell@acu.edu.au
85
86