Verona Wineand Olive OilTourism
IT / EN
The extreme variety of Veronese wine productions within the Italian wine scene, along with the rich tourist offer of its territory, proudly qualify Verona as the ideal capital of wine tourism.
One of the main activities of the Great Wine Capitals Network is the prestigious "Best of Wine Tourism" International Contest – which was participated this year by 100 wineries and wine tourism services from Verona – aimed at awarding, within seven different competition categories, those companies that stand out for the excellence of the wine services, conferring a brand of quality, recognizable by the Thepublic.100companies,
participating in the "Best of Wine Tourism" Contest are intro duced by the Chamber of Commerce of Verona inside this Guide, which contains a section dedicated to oil tourism, through the description of 15 olive mills and olive farms from Verona that open their doors to visitors for tastings, and other experiences related to olive cultivation.
The Chamber of Commerce of Verona, in addition to promoting food & wine tou rism, partecipates in the Mirabilia Network Association for the enhancement of Unesco sites, and gave life to the Foundation, "Destination Verona & Garda Foundation", with the aim of promoting the culture of hospitality in every destination of the province of Verona, and turning our marvelous territory into an increasingly attractive and sustainable tourist destination.
Verona Benvenuti a Welcome to
President of the Chamber of Commerce of Verona
Fra le attività principali della rete Great Wine Capitals occorre annoverare il prestigioso concorso internazionale "Best of Wine Tourism" – che ha visto quest'anno l'adesione di 100 imprese veronesi – finalizzato a premiare, all'in terno di sette differenti categorie concorsuali, quelle strutture che si distin guono per la qualità dei servizi enoturistici offerti, conferendo così un mar chio di qualità riconoscibile dal pubblico.
La Camera di Commercio di Verona, oltre a promuovere il turismo enogastronomico, partecipa alla rete Mirabi lia per la valorizzazione dei siti Unesco e ha dato vita alla Fondazione, "Destination Verona & Garda Founda tion", allo scopo di promuovere la cultura dell'ospitalità in tutte le destinazioni della provincia di Verona e far di ventare il nostro meraviglioso territorio una meta turistica sempre più attrattiva e sostenibile.
In November of 2016, the Chamber of Commerce of Verona officially signed the membership to the Great Wine Capitals – Global Network, thus assigning Verona the role of representing Italy among the eleven Wine Capitals of the world.
Le 100 imprese partecipanti al concorso "Best of Wine Tourism" vengono presentate dalla Camera di Commercio di Verona all'interno di questa Guida che contiene anche una sezione dedicata al turismo dell'Olio, attraverso la descrizione di 15 frantoi ed imprese olivicole veronesi che aprono le porte ai visitatori per degustazioni o altre esperienze legate all'olivo cultura.
Presidente della Camera di Commercio di Verona Dott. Giuseppe Riello
Nel 2016 la Camera di Commercio di Verona ha ufficialmente firmato l'adesione alla rete delle Grandi Capitali del Vino – Great Wine Capitals Global Network GWC, assegnando così a Verona il ruolo di rappresentare l'Italia fra le capitali enoturistiche del mondo.
L'estrema varietà delle produzioni vinicole veronesi nell'ambito del panorama enologico italiano, unitamente alla ricchezza dell'offerta turistica del suo territorio, consentono con orgoglio di qualificare Verona quale capitale ideale dell'enoturismo.
2 Indice /Content Lingue Languages EN DE FR ES RU JA NL CH P Legenda Legend RistoranteShop Restaurant Accesso disabili Disabled access Pernottamento Accommodation Museo Museum Sala conferenze Conference room Verona e il suo territorio Verona and surroundings ValpolicellaVerona Pianura dei Dogi Lago Gardadi Veneto LessiniaSoave-Est Veronese Verona e il suo territorio ............. 4 Verona and surroundings La Rete delle Grandi Capitali del Vino ........................... 6 The Great Wine Capitals Global Network B est of Wine Tourism ................. 7 C antina Albino Piona ................. 29 Cantina Annafrancesca ............. 30 Cantina del Castello ................... 31 Cantina Monteci........................ 32 Cantina Roeno ........................... 33 Cantina Ronca .......................... 34 Cantina Spada .......................... 35 Cantina Valetti .......................... 36 Capurso .................................... 37 Casa Sartori.............................. 38 Corte San Benedetto ................. 39 Corte San Mattia ........................ 40 Corteforte .................................. 41 Costa Arente ............................. 42 Farina ........................................ 43 Giannitessari ............................. 44 Gorgo ......................................... 45 I Tamasotti................................ 4 6 La Cantina del Maestro Fornaser ...................... 47 La Cappuccina ........................... 48 La Dama..................................... 49 Le Marognole ............................. 50 Le Morette ................................. 51 Le Tende Azienda Agricola ....... 52 VERONA WINE TOURISM WINERIES & MORE ............... 9 Verona e i suoi Vini ..................... 10 Verona and lts Wines M appa ......................................... 12 Map Agriturismo Acinatico Wine Relais .................................14 Ag riturismo dei Grippi ................ 15 Agriturismo di Charme Villa Allegri ................................ 16 A griturismo Sapori in Cantina .... 17 Albino Armani Viticoltori dal 1607 ....................................... 18 A zienda Agricola Gamba Gnirega .......................... 19 Azienda Agricola Le Muraglie .... 20 Borgo Romantico Relais ............ 21 Boscaini Carlo .......................... 22 B runelli ...................................... 23 C a' del Moro Wine Retreat......... 24 Ca' Lojera .................................. 25 Ca' Pigneto................................ 26 Ca' Rugate................................. 27 Canoso ..................................... 28
ed
66
Villa La Bagatta 89
Pagus Wine Tours .....................106
Società Agricola Pernigo
Verona In Tour 110
Monte
........................ 82
................................
Torre di Terzolan
57
&
a Verona ............ 122 Verona olive oil tourism Mappa ....................................... 124 Map Azienda GuglielmiAgricolaAlessandra................ 126 Azienda Agricola I Roccoli ........ 127
San
.............................
Trattoria Caprini
.................. 54
Santa
di
.........
.....................
Tenuta
Montenigo..................................
Veronality 114
Domìni Veneti ................ 67
......................
Fontanara 129
Frantoio e Agricampeggio
- Tenuta San Leone ...... 76
............................ 60
............................... 55
Tenuta Santa Maria di Gaetano Bertani....................
.......................... 86
Il Giogo 132
......
.......................... 87
..........
61
84
Novaia........................................
...................... 80
Salvagno Giovanni
VERONA OLIVE OIL TOURISM ............................... 121
.................................
Valpolicella
Museo del Vino Villa Canestrari
.................... 85
Villa Quaranta Tommasi Wine Hotel & SPA
.........................
Nicolis
......................... 63
Azienda Agriturismo
Masi Tenuta Canova
................... 92
WineHo - Wine Hospitality 118
.................... 131
L'oleoturismo
Stefano
Vantorosso Winery
Nepos Villae
Associazione Strada del Vino Soave 103
...........................
Verona Sped 111
............................
Sofia ................................ 75
.......................... 88
Villa Spinosa
Villa Calicantus
Villa Merighi
Trabucchi d'Illasi
....................................... 65
Frantoio Famiglia Orlandi 133
.................................
.............................. 94 Zenato ....................................... 95 Zeni 1870 .................................... 96 VERONA WINE TOURISM SERVICES ............................. 99 Mappa ...................................... 100 Map Ama Terra Tours Wine Destination Management ........ 102
......................................
................. 140 Centro Congressi ..................... 142 Congress Center
Le Vigne San Pietro
Pasqua
....................... 62
............................... 90
.........................
Villa San Pietro Winery
....................
Tenute Ugolini
Wines ............................ 68 Pieropan .................................... 69 Recchia...................................... 70
....................... 83
Massimago
Tenute SalvaTerra
.............. 93
..............................
Scapin Osteria e Bottega 107 Strada del Vino Valpolicella ......108
Villa San Carlo Wine
Verona Vale - Wine&Design 113
.......
La Contarina 135
Montecariano
Della Pieve
.................................
Redoro - Frantoi Veneti 137
............................ 81
Verona Travel 112
79
................................ 128
Rocca
Di-Vinum Marketing e Comunicazione 104 Itinera Bike&Travel
Frantoio Fratelli Turri ...............134
.......... 139
Villa San Carlo Wine
............................
3
................ 53
........................ 91
Villa della Torre
................................. 56
Frantoio Ballarini
.......................109
Osteria
Monte
Wines ..................... 77
Musella Winery Country Relais
Sandro
Mazzi&Figli ................... 71
Frantoio Bonamini
Roberto
............
Frantoio per Olive 138
Gardesani 136
Seiterre
Valentina Cubi Cantina Agriturismo...........................
...................105
del Frà ............................ 58
Sveva .............................. 72
Villa De Winckels 115
La Ca' ............................. 78
Rustico Valgatara ............... 73
......................130
Villa Cordevigo
POG - Produttori Olivicoli
Menegotti
Visitamarone 116 Waystours 117
Accordini
De Bruno ....................... 74
............................... 64
Meroni.......................................
Zovo ................................ 59
Una passeggiata in bici o a cavallo lungo i filari di viti, costeggiando terrazzamenti con muri a secco, antiche ville, dimore storiche e pievi romaniche, regalarsi una lezione di yoga in un uliveto, per poi imparare a fare la pasta fatta in casa e, perché no, assaggiare deliziose ciliegie appena colte: questa è la Valpolicella.
Lago di Garda Veneto
Questa è la Pianura veronese: il verde delle sue coltivazioni attraversate dal fiu me Adige e dall'azzurro dei tanti corsi d'acqua aminori, il nero profondo della sua terra minerale, il bianco degli aironi posati ai bordi delle sue risaie, si incontrano e tolgono il fiato per la loro purezza ed il genuino benvenuto con cui si viene accolti.
Abbandonarsi alla calma e alla tranquillità, riposare gli occhi su orizzonti fatti di grandi appezzamenti coltivati.
Verona e le sue destinazioni sono terre straordinarie, da vivere tutto l'anno. Culla di arte e cultura, paesaggi incante voli e piccoli borghi senza tempo. Luoghi paradisiaci capaci di accontentare tutti grazie alla bellezza del lago, all'imponenza delle montagne e al fascino antico delle città.
Racchiusa tra la Valdadige, la Lessinia e la pianura veronese, vicina al Lago di Gar da, la Valpolicella è un luogo incantato, dove la storia si fa arte per poi sfumare nel gusto e nei profumi dei suoi vini sublimi: l'Amarone, il Recioto, il Valpolicella Ripasso e il Valpolicella Classico sono tra le eccellenze più amate.
Con oltre duemila anni di storia, Verona, patrimonio Unesco dal 2000, è una delle città italiane più affascinanti ed antiche. Da sempre capace di emozionare, Verona avvolge il visitatore nella suggestiva atmosfera del suo centro storico, molto vasto e ben conservato, dove ristoranti tipici, caffè e botteghe artigiane animano la vita cittadina tutto l'anno. Verona resta impressa negli occhi e nel cuore: il Balcone di Giulietta, emblema della storia d'amore più struggente di tutti i tempi, non poteva che avere Verona come scenario.
Verona
Il Parco Naturale della Lessinia si sviluppa sull'altopiano superiore dei Monti Lessini fino alle pendici delle Piccole Dolomiti, e racchiude scenari unici. Doline, grotte e ponti naturali scavati nella roccia, vi regaleranno esperienze fuori dal comune. Famosi i giacimenti fossiliferi di Bolca-Pesciaia e Monte Postale, oltre ai giacimenti fossili sparsi lungo tutto l'altopiano che rendono il parco un auten tico paradiso per gli appassionati di paleontologia e di archeologia.
Territorio generoso ed affascinante che abbraccia il visitatore, conducendolo tra colline dipinte di vigneti, cornici di borghi e vallate che narrano di altri tempi, quando l'alternanza delle stagioni profumava l'attesa.
Pianura dei Dogi
Valpolicella
e il suo territorio
4
La sponda veneta del lago più grande d'Italia vi aspetta: un viaggio emozionale attraverso le bellezze naturalistiche delle sue coste, circondate da colline sug gestive costellate di ulivi, fino agli alti pendii del Monte Baldo che maestoso si specchia sulle sue acque, raggiungibili grazie alla spettacolare funivia che collega Malcesine alla sua sommità.
Lessinia
Terre dell'Est, magia custodita ma pronta a farsi scoprire attraverso un viaggio tra le suggestioni sempre diverse delle sue quattro meravigliose vallate: Val di Mezzane, Val d'Illasi, Val Tramigna e Val d'Alpone.
Ma se avete ancora voglia di farvi sorprendere, con la più alta concentrazione di parchi a tema in Italia, il Lago di Garda saprà farvi divertire e proporsi come destinazione ideale per tutta la famiglia.
Verona
Soave-Est Veronese
La Lessinia, con i suoi panorami incontaminati tutti da scoprire, vi sorprenderà con i suoi paesaggi immersi nel verde.
Verona and surroundings
Surrender to calm and tranquility, rest your eyes on horizons made of large culti vated fields, geometric spaces like tiles of a colourful mosaic in which the traveller is invited to be the protagonist.
The eastern bank of Italy's largest lake awaits you: an emotional journey through the natural beauty of its shores, surrounded by picturesque hills dotted with olive trees, to the high slopes of Monte Baldo which majestically reflects on its waters, reachable by the spectacular cable car that connects Malcesine to its summit. However, if you want more surprises, with the highest concentration of theme parks in Italy, including Gardaland and its exciting attractions, Lake Garda is the ideal destination for the whole family.
Valpolicella
Soave-East Verona
Verona
With over two thousand years of history, Verona is one of the most fascinating and ancient Italian cities, Unesco World Heritage site since 2000. Always succeeding in thrilling visitors, Verona wraps you up in the evocative atmosphere of its very large and well-preserved historic centre where typical restaurants, cafés and ar tisan workshops animate city life all year round. Verona remains engraved in the eyes and heart: Juliet's Balcony, the emblem of the most poignant love story of all time, could only have Verona as a setting.
Verona and its surroundings are extraordinary lands, to be lived all year round. Cradle of art and culture, enchanting landsca pes and timeless small villages. Heavenly places capable of sati sfying everyone thanks to the beauty of the lake, the grandeur of the mountains and the ancient charm of the cities.
Lake Garda Veneto
5
A ride on bike or on horseback among the rows of vines, along terraces with dry stone walls, the so-called "marogne", historic residences and parish churches, treat yourself with a yoga lesson in an olive grove, then learn how to make home made pasta and, why not, taste delicious freshly-picked cherries: this is Valpolicella.
This is the Pianura dei Dogi: the green of its crops crossed by the Adige river and the blue of the many little watercourses, the deep black of its mineral soil, the white of the herons lying at the edge of its paddy fields, come together and take your breath away for their purity and the genuine welcome with which you are greeted.
A generous and fascinating territory that embraces visitors, leading them through the hills painted with vineyards, villages and valleys that tell about other times, when the change of seasons had a pleasant smell of grapes.
The Eastern Lands, preserved its magic, waiting to be discovered through a jour ney among the ever-changing charms of its four wonderful valleys: Val di Mezzane, Val d'Illasi, Val Tramigna and Val d'Alpone.
Pianura dei Dogi
Nestled between Valdadige, Lessinia and Pianura dei Dogi, near Lake Garda, Valpolicella is an enchanted place, where history becomes art and then blends into the taste and scents of its sublime wines: Amarone, Recioto, Valpolicella Ripasso and Valpolicella Classico are among the most loved delicacies.
Lessinia
Lessinia, with its unspoilt views waiting to be discovered, will surprise you with its landscapes immersed in greenery. The Lessinia Nature Park is located on the upper plateau of the Lessini Mountains up to the slopes of the Piccole Dolomiti (Little Dolomites), and contains a unique scenery. The fossil sites of Bolca-Pesciaia and Monte Postale are famous, as well as the fossil sites, scattered along the entire plateau, making the park a real paradise for lovers of paleontology and archaeology.
The Great Wine Capitals (Adelaide - Australia, Bilbao Rioja - Spain, BordeauxFrance, Cape Town Cape Winelands - South Africa, Losanna - Switzerland, Mainz - Germany, Mendoza - Argentina, Porto - Portugal, San Francisco Napa Valley - USA, Valparaíso Casablanca Valley - Chile and Verona - Italy) is a Network of eleven major global cities which share a key economic and cultural asset: their internationallyrenowned wine regions.
The Wine Capitals Global Network La Rete Delle Grandi Capitali del Vino
San NapaFranciscoValley Adelaide
6
Le "Grandi Capitali del Vino" sono undici grandi città internazionali (AdelaideAustralia, Bilbao Rioja - Spagna, Bordeaux - Francia, Città del Capo Cape Wine lands - Sud Africa, Losanna - Svizzera, Mainz - Germania, Mendoza - Argentina, Porto - Portogallo, San Francisco Napa Valley - USA, Valparaíso Casablanca Valley - Cile e Verona - Italia) che condividono uno dei loro principali aspetti economici e culturali: le loro regioni vitivinicole, riconosciute a livello mondiale.
L'obiettivo della rete delle Grandi Capitali del Vino è di riunire queste città per creare legami e relazioni speciali, intraprendere scambi e sviluppare pro grammi di cooperazione.
Great
Verona
The purpose of the Great Wine Capitals Global Network is to bring them together in order to forge special relationships, undertake exchanges, and develop cooperative programmes.
CasablancaValparaíso Valley
BilbaoBordeauxRiojaPortoMendoza CapeCapeMainzLausanneRheinhessenTownWinelands
The member cities of the Great Wine Capitals Global Network organize every year a contest to select of the most original and innovative experiences in wine tourism.
Le città appartenenti alla rete delle Grandi Capitali del vino organizzano ogni anno un concorso per selezionare le esperienze più innovative e ori ginali nel mondo Successivamentedell'enoturismo.unaGiuriadiesperti internazionali esamina le candidature espresse da ciascuna città della rete in sette differenti categorie che coprono l'insieme dell'offerta enoturistica:
• architettura e paesaggio • arte e cultura
I vincitori di questo Concorso garantiranno ai visitatori:
• un modo originale ed innovativo di scoprire il patrimonio locale
• una gamma di servizi per rispondere alle esigenze dell'enoturista.
• wine tourism services.
• pratiche sostenibili nell'enoturismo
• an original, innovative way of discovering the local heritage
• ricettività
An international panel of experts examines applications from each of the wine regions in the Network, in seven categories covering the whole spectrum of wine tourism:
The Contest
• a genuine, top-quality reception
• accommodation
• esperienze nell'enoturismoinnovative
• art and culture
The winners of the competition guarantee visitors:
• wine tourism&food tasting
• innovative wine tourism experiences
• una accoglienza di qualità
• architecture and landscapes
• ristorazione
Il Concorso
• servizi per l'enoturismo.
7
• a range of services to meet the strictest requirements.•sustainable wine tourism practices
9
Wineries & More
Verona e i suoi vini
Verona vanta 15 vini DOC e 5 DOCG.
della caratteristiche principali della produzione vinico la veronese è rappresentata dall'ampia varietà dei suoi vini. Accanto a nomi famosi in tutto il mondo come Valpolicella, Bar dolino e Soave, vi sono gioielli meno conosciuti, ma altrettanto eccellenti, come il Lugana, il Valdadige, il Custoza e il Durello.
Un vino italiano "DOC" (Denominazione di Origine Controllata) deve rispondere ad un disciplinare di produzione, che identifica i luoghi in cui il vino può essere prodotto, oltre ad ulteriori standard da rispettare sulla base di parametri di vinificazione creati per preservare la qualità e le tradizioni vinicole locali.
I vini DOC di Verona da aggiungere alla vostra lista di degustazione sono: Arcole, Bardolino, Custoza, Delle Venezie, Garda, Lessini Durello, Lugana, Merlara, Monti Lessini, San Martino della Battaglia, Soave, Valdadige, Valdadige Terradeiforti, Valpolicella e Valpolicella Ripasso. "DOCG" significa "Denominazione di Origine Controllata e Garantita". Questa è la più alta classificazione dei vini italiani. La quantità di vino DOCG che può essere prodot ta è inferiore a quella di un vino DOC e i requisiti di qualità sono molto più stringenti.
Una10
I vini DOCG di Verona che non dovete assolutamente perdere sono l'Amarone della Valpolicella, il Bardolino Superiore, il Recioto della Valpolicella, il Recioto di Soave, il Soave Superiore.
DOCGRipasso.means"Controlled and Guaranteed Designation of Origin". This is the highest classification of Italian wines. The quantity of a DOCG wine that can be produced is lower than that of a DOC wine, and the quality requirements are much stricter. Verona's DOCG wines that you absolutely must not miss are Amarone della Valpolicella, Bardolino Superiore, Recioto della Valpolicella, Recioto di Soave, Soave Superiore.
Verona and its wines
One of the features of Verona wine production is the wide va riety of its unique wines. Alongside world-famous names like Valpolicella, Bardolino, and Soave, there are lesser-known but equally excellent jewels, such as Lugana, Valdadige, Custoza and Durello.
11
Verona boasts 15 DOC and 5 DOCG wines.
Verona's DOC wines to add to your wine tasting list are: Arcole, Bardolino, Custoza, Delle Venezie, Garda, Lessini Durello, Lugana, Merlara, Monti Lessini, San Martino della Battaglia, Soave, Valdadige, Valdadige Terradeiforti, Valpolicella and Valpoli cella
An Italian DOC wine (Controlled Designation of Origin) must comply with a production specification which identifies the places where the wine can be produced, as well as additional parameters to be respected on the basis of vinification rules created to preserve quality and local winemaking traditions.
VENEZIA MODENA MILANO BRENNERO Adige Mappa Verona Pianura dei LessiniaDogi VeroneseSoave-Est diLagoGarda Map Valpolicella 1 23 4 5 67 8 109 1211 17 22 31 44 16 19 273029 3233 57 61 55 5854495045 5960 51 525653474843 46 38 28 3435363740414239 15 13 14 18 24 21 20 23 25 26 63 636465 66 67686970 71 72 73 74 77 75 76 79 81 82 83 80 78
13 33 Agriturismo Acinatico Wine Relais ............... 14 14 Agriturismo dei Grippi ................................... 15 57 Agriturismo di Charme Villa Allegri ............... 16 3 Agriturismo Sapori in Cantina ....................... 17 31 Albino Armani Viticoltori dal 1607 ................. 18 48 Azienda Agricola Gamba Gnirega .................. 19 13 Azienda Agricola Le Muraglie ....................... 20 16 Borgo Romantico Relais ................................ 21 30 Boscaini Carlo .............................................. 22 36 Brunelli ......................................................... 23 66 Ca' del Moro Wine Retreat ............................ 24 1 Ca' Lojera ..................................................... 25 61 Ca' Pigneto ................................................... 26 80 Ca' Rugate .................................................... 27 79 Canoso ......................................................... 28 20 Cantina Albino Piona .................................... 29 83 Cantina Annafrancesca ............................... 30 75 Cantina del Castello ...................................... 31 27 Cantina Monteci ........................................... 32 44 Cantina Roeno .............................................. 33 25 Cantina Ronca .............................................. 34 41 Cantina Spada .............................................. 35 10 Cantina Valetti ............................................. 36 65 Capurso ........................................................ 37 54 Casa Sartori ................................................. 38 55 Corte San Benedetto.................................... 39 62 Corte San Mattia .......................................... 40 43 Corteforte ..................................................... 41 63 Costa Arente ................................................ 42 49 Farina ........................................................... 43 78 Giannitessari ................................................ 44 21 Gorgo............................................................ 45 71 I Tamasotti ................................................... 46 34 La Cantina del Maestro Fornaser ..................47 81 La Cappuccina ............................................. 48 53 La Dama ....................................................... 49 17 Le Marognole................................................ 50 2 Le Morette ..................................................... 51 7 Le Tende Azienda Agricola ........................... 52 26 Le Vigne di San Pietro .................................. 53 15 Masi Tenuta Canova ..................................... 54 72 Massimago ................................................... 55 23 Menegotti ..................................................... 56 29 Meroni .......................................................... 57 24 Monte del Frà ................................................ 58 22 Monte Zovo ................................................... 59 39 Montecariano ............................................... 60 68 Montenigo ..................................................... 61 70 Musella Winery & Country Relais .................. 62 73 Museo del Vino Villa Canestrari .................... 63 59 Nepos Villae ................................................. 64 40 Nicolis .......................................................... 65 51 Novaia .......................................................... 66 12 Osteria Domìni Veneti .................................. 67 64 Pasqua Wines............................................... 68 77 Pieropan ....................................................... 69 56 Recchia ........................................................ 70 60 Roberto Mazzi&Figli ...................................... 71 76 Rocca Sveva ................................................. 72 46 San Rustico Valgatara .................................. 73 82 Sandro De Bruno .......................................... 74 50 Santa Sofia ................................................... 75 5 Seiterre - Tenuta San Leone ........................ 76 32 Stefano Accordini Valpolicella Wines .......... 77 9 Tenuta La Ca' ................................................ 78 58 Tenuta Santa Maria di Gaetano Bertani ........ 79 45 Tenute SalvaTerra ........................................ 80 37 Tenute Ugolini ............................................... 81 69 Torre di Terzolan .......................................... 82 74 Trabucchi d'Illasi 83 42 Valentina Cubi Cantina ed Agriturismo ........ 84 47 Vantorosso Winery....................................... 85 11 Villa Calicantus ............................................ 86 19 Villa Cordevigo ............................................. 87 38 Villa della Torre............................................. 88 6 Villa La Bagatta ............................................ 89 18 Villa Merighi .................................................. 90 28 Villa Quaranta Tommasi Wine Hotel & SPA .... 91 67 Villa San Carlo Wine ..................................... 92 35 Villa San Pietro Winery ................................. 93 52 Villa Spinosa ................................................. 94 4 Zenato .......................................................... 95 8 Zeni 1870 ...................................................... 96 VERONA WINE TOURISM WINERIES & MORE
ENDEFRESRUJANLCHP
Località La Cà, 17 – Mazzurega
+39 348 marco@acinaticoagritur.com3433063
Nel bel mezzo dei vigneti di monta gna della Valpolicella si trova l'Agriturismo Acinatico, un wine relais di proprietà della famiglia Accordini situato a pochi passi dalla Cantina (pag. 77). La quarta generazione composta da Giacomo, Paolo e Mar co ha deciso di affiancare alla pro duzione di vini del territorio – come Valpolicella Classico, Ripasso, Ama rone e Recioto – una struttura con formula Bed & Breakfast avvolta nel silenzio della natura. Il nostro Wine Relais gode di una vista mozzafiato sulle viti delle colline limitrofe e offre agli amanti del vino un connubio irrinunciabile di pace e di verde. L'Agriturismo Acinatico dispone di 5 camere spaziose, moderne e molto accoglienti, recentemente ristrutturate con l'utilizzo di materiali naturali e sostenibili, conservando gli elementi architettonici originari. Abbiamo voluto legare ogni stanza al nostro lavoro in cantina: le camere matrimoniali prendo no nome dai migliori vini Accordini, mentre la suite è dedicata a Stefano, il fondatore della nostra attività, che ha ormai un secolo di storia.
decided to combine the production of local wines such as Valpolicel la Classico, Ripasso, Amarone and Recioto with a Bed and Breakfast facility surrounded by the silence of nature. Our Wine Relais enjoys breathtaking views over the vines of the surrounding hills and offers wine lovers an unforgettable com bination of peace and tranquillity. The Acinatico Wine Relais has 5 spacious, comfortable and mod ern bedrooms, all recently renovated using natural and sustainable mate rials, whilst maintaining the original architectural elements. We wanted to link each bedroom to the work we carry out in our wine cellar. The double rooms carry the names of the best Accordini wines, while the suite is dedicated to Stefano Accordini, the founder of our business that now boasts over century of history.
VALPOLICELLA
37022 Fumane (VR)
www.agriturismoacinatico.it
In the midst of the mountain vine yards of Valpolicella lies Agriturismo Acinatico, a wine relais owned by the Accordini family and located a stone's throw from the Cantina (pag. 77). The fourth generation composed of Giacomo, Paolo and Marco have
WineAcinaticoAgriturismoRelais
1414
In the Agriturismo, we grow and pro duce our own wine, which you can taste in our winery or in the tasting room next to the swimming pool. We also produce homemade jams with fresh fruit and vegetable jams, directly available at our Agriturismo.
LAGO DI GARDA VENETO
The property offers its guests 16 rooms and a wonderful outdoor swimming pool, which is open, as well, for the guests that are not staying at the Agriturismo. The Grippi Team welcome you in every season, from summer, when you can relax by our pool, to autumn, when the colors of nature and the grape harvest will give you emotions and moments of relaxation.
Via Casa Fasani, 1 37060 Sona (VR) +39 045 info@agriturismodeigrippi.it6095400 www.agriturismodeigrippi.it PCHNLJARUESFRDEEN
15 La struttura offre 16 camere a di sposizione degli ospiti e una splen dida piscina esterna, accessibile anche agli ospiti che non soggiornano presso l'Agriturismo.
deiAgriturismoGrippi
Il nostro Agriturismo nasce nel 2007 e si trova in mezzo alla natura, a pochi chilometri dal lago di Garda e dalla città di Verona.
I Grippi vi aspettano in ogni stagione, a partire dall'estate, in cui potrete rilassarvi a bordo della nostra piscina, fino all'autunno, dove i co lori della natura e la raccolta dell'uva regalano emozioni e tanto relax.
In Agriturismo coltiviamo e pro duciamo il nostro vino, che potrete degustare presso la cantina di proprietà oppure nella sala degustazioni adiacente alla piscina. Produciamo inoltre marmellate con frutta fresca e confetture di verdure, disponibili presso la nostra struttura.
Our Agriturismo was founded in 2007 and is surrounded by greenery, just a few kilometers from Lake Garda and the city of Verona.
i piatti della tra dizione abbinati ai nostri vini pregiati della Valpolicella sulla nostra terrazza ammirando uno splendido panorama che potrete vedere anche dalle vostre camere.
Via Cengio, 6 37020 Negrar di Valpolicella (VR) +39 045 5868312 / +39 348 7694448 info@villaallegri.com www.villaallegri.com
VilladiAgriturismoCharmeAllegri
VALPOLICELLA
Villa Allegri brings strong emotions to every stay, with the utmost discretion and confidentiality, thanks to its welcoming, elegant and se ductive spaces. It is located in the heart of the Valpolicella Classica area and enjoys a spectacular view of our hills.
1616
Villa Allegri regala ad ogni soggiorno forti emozioni, con la massima discrezione e riservatezza, grazie ai suoi ambienti accoglienti, ele ganti e seducenti. È situata nel cuore della Valpolicella Classica e gode di una vista spettacolare sulle nostre colline.
Villa Allegri dispone di camere di diverse dimensioni, e mini suite dall'atmosfera intima ed elegante, rappresentano la cornice ideale per un soggiorno unico e indimen Potreteticabile.degustare
Villa Allegri has rooms of different sizes, and mini suites with an intimate and elegant atmosphere, rep resents the ideal setting for a unique and unforgettable stay. You can taste traditional dishes paired with our fine Valpolicella wines on our terrace while admiring a splendid panorama that you can also see from your rooms.
ENDEFRESRUJANLCHP
L'agriturismo Sapori in Cantina nasce da una cantina centenaria. Da più di un secolo i Fraccaroli confidano nelle grandi potenzialità del "terroir luga nese" e lo hanno dimostrato perpetuando una tradizione vitivinicola di eccellenza. Da qui sboccia Sapori in Cantina, un percorso enogastromico dove vino e cibo donano un'esperienza unica! Piatti sinceri e di antichi sapori uniscono i vini dalla fragranza più pura. Coltivando gusti, le sapienti mani dello chef Vincenzo sanno trasformare la semplicità in eleganza.
LAGO DI GARDA VENETO
17 Via Strada Berra, 4 37019 Peschiera del Garda (VR) +39 045 info@fraccarolivini.it7550949 www.fraccarolivini.it
PCHNLJARUESFRDEEN
The agriturismo Sapori in Canti na developed within a centenary wine house. For more than hundred years, the Fraccarolis have believed in the great potential of the Lugana terroir. They have proved this potential by preserving a winemaking tradition of excellence. It is from this tradition that Sapori in Cantina was born. An itinerary where food and wine combine, so as to give you a unique experience.
CantinaSaporiAgriturismoin
info@albinoarmani.com www.albinoarmani.com
Four hundred years amongst vine yards and passion for wine. The his tory of the Armani family and that of the viticulture in the Adige Valley, between the provinces of Trento and Verona, have been evolving together, without interruption, for over four centuries.
Oggi "Albino Armani Viticoltori dal 1607" vuol dire territorio, anzi territori. La storica proprietà a Dolcè, in Valdadige, provincia di Verona, è affiancata da altre due tenute in Veneto: una a Marano nella Valpolicella Classica e una in provincia di Treviso, a San Polo di Piave, per la produzione di vini biodinamici, oltre alle due tenute in Trentino e Friuli.
Today "Albino Armani Viticoltori dal 1607" means territory, or rather territories. The historic property in Dolcè, in Valdadige, in the province of Vero na, is flanked by two other estates in Veneto: one in Marano in Valpolicella Classica area and one in the province of Treviso, in San Polo di Piave, for the production of biodynamic wines, in addition to the two estates in Tren tino and Friuli.
Quattrocento anni nella vigna e la passione per il vino. La storia della famiglia Armani e quella della viticoltura nella Valle dell'Adige, fra le province di Trento e Verona, proce dono insieme senza interruzione da oltre 4 secoli.
Albino dalViticoltoriArmani1607
1818
VALPOLICELLA
Località Camporal
In Marano, the barrel cellar dug in the volcanic rock and the panoramic ter race overlooking the valley, welcome the guests, enriching the wine tour ism proposal.
A Marano, la bottaia scavata nella roccia vulcanica e la terrazza pa noramica che si affaccia sulla valle accolgono gli ospiti, arricchendo l'offerta enoturistica.
A Dolcè, la proposta di degustazione si completa con gli splendidi percorsi naturalistici all'interno della pista ciclabile che si snoda lungo le anse dell'Adige, fra antichi forti militari e vigneti centenari.
37020 Marano di Valpolicella (VR)
+39 045 7290285 / +39 347 6445101
In Dolcè, the wine tasting experience is also enriched by amazing tours in nature along the bike path which runs near the banks of the Adige riv er, among ancient military forts and century-old vineyards.
PCHNLJARUESFRDEEN
Gamba winery handed down from father to son over the generations is devoted to vine growing with great passion and competence. The winery was set up in 2003 by the three broth ers Giovanni, Giuseppe and Martino Aldrighetti, in order to make their dream come true.
19 PCHNLJARUESFRDEEN
They started to make wine, using only the grapes from their own vineyards, designing their own label "Gamba" which is actually the traditional family Thenickname.winery
Via Gnirega, 19 – Valgatara
L'Azienda, situata nel cuore della Valpolicella Classica, possiede oggi 15 ettari di vigneti disposti a terraz ze, su dolci colline, ad una altitudine di circa 300 metri s.l.m. Vengono prodotte uve di elevata qualità da cui si ricavano vini con caratteristi che uniche ed inimitabili grazie alla peculiarità del territorio e per una grande personalità e professionalità della famiglia Aldrighetti.
Iniziano così a vinificare in proprio i frutti del loro vigneto, creando la loro etichetta: "Gamba", sopran nome storico di famiglia, d'obbligo, vista la loro altezza. L'Azienda agricola Gamba si dedica da generazioni, con grande passio ne e competenza, alla coltivazione della vite. La Cantina comincia la sua attività nel 2003, dal desiderio dei tre fratelli Giovanni, Giuseppe e Martino Aldrighetti, di dar forma al loro sogno.
Le porte della loro Azienda sono sempre aperte per visite e degusta zioni per clienti provenienti da tutto il mondo.
They produce high quality grapes which are used to make unique and inimitable wines thanks to the pecu liar location but also to our great per sonality and professional skills.
The doors of their Cellar are always open for visits and wine tasting; Guid ed tours are held in Italian, English and German.
37020 Marano di Valpolicella (VR) +39 349 3154527 / +39 045 6801714 info@vinigamba.it www.vinigamba.it
lies in the heart of the Valpolicella Classica area and it owns 15 hectares of vineyards disposed on terraces on the rolling hills at about 300 meters above sea level.
GambaAgricolaAziendaGnirega
VALPOLICELLA
LAGO DI GARDA VENETO
info@cantinalemuraglie.com1099273 www.cantinalemuraglie.com
LeAgricolaAziendaMuraglie
20
37067
ben ancorata alle proprie radici. La nuova generazione, Alessandro e Vania, raccoglie il testimone delle antiche tradizioni rilancian do l'azienda verso nuovi orizzonti, conservandone la natura nella dimensione familiare. Tutte le fasi, dalla cura della vigna alla vinificazione, sono seguite personalmente e scrupolosamente e, vedere i vini, frutto di impegno e dedizione, ri cevere prestigiosi premi è fonte di orgoglio e di forte stimolo.
+39
Corte Mostacci, 1 Valeggio sul Mincio (VR) 334
Our winery is located in the suggestive and picturesque morainic hills of Lake Garda, a stone's throw from Valeggio sul Mincio, a well-known medieval ancient village, and Custo za, the scene of the famous Risorg imento battles, just 25 km from the center of Verona. Here our family has been caring for the vineyards for generations. Great-grandfather Gaetano and grandfather Erminio handed down their passion for the vineyards and their love for the wine to their sons Luigi, Franco, Remo. Nowadays the new generation, Alessandro and Vania, takes up the baton of ancient traditions, but also re-launches the company towards new horizons, preserving its nature in a family dimension. All the phases, from the care of the vineyard to the vinification, are personally and scru pulously followed and for our winery to win prestigious awards is a source of great pride for us.
20 PCHNLJARUESFRDEEN
La nostra azienda si trova nelle suggestive e pittoresche colline moreniche del Lago di Garda, a due passi da Valeggio sul Mincio, rinomato borgo antico medieva le, e Custoza, teatro delle famose battaglie risorgimentali. È qui che la nostra famiglia si dedica alla cura dei vigneti da generazioni. Il bisnonno Gaetano e il nonno Erminio hanno tramandato la loro passione per la coltivazione della vite e l'amore per il vino a Luigi, Franco, Remo. Con costanza ed entusiasmo i tre fratelli, con l'ausilio della madre Adele, hanno saputo trasformare una realtà di piccolo commercio locale di vini sfusi in un'azienda agricola sempre
in which to enjoy a holiday immersed in nature, culture, art and flavours. An avenue of olive trees leads to a country house built in the early 1800s. This is where your journey in search of simple, genuine and welcoming experiences begins.
La piscina con idromassaggio, due saune, il grande parco e lo splendido porticato diventano i luoghi perfetti per il vostro relax, mentre il Wine Bar, il Pool Bar e la Sala De gustazioni vi attendono per gusta re salumi e formaggi tipici, insalate e torte fatte in casa, accompagnati dai nostri vini e dal nostro olio biologico. Vi aspettiamo.
Precise and attentive restoration has preserved the beauty of the 24 rooms, in different colours and in different measures. Spacious and el egant rooms full of light, overlooking the green vineyards making your stay unforgettable. Every room boasts modern comforts and original architectonic elements: as typical wooden beams, Verona Red marble, ceramic floors and old skylight windows.
info@borgoromantico.com6317228 www.borgoromantico.com PCHNLJARUESFRDEEN
21 Borgo Romantico Country Wine Relais nasce nel 2019 a Cavaion, sulle colline del Lago di Garda, nel cuore di una grande tenuta tra cipressi, viti ed ulivi a coltivazione biologica. Un'oasi di pace dove vivere una vacanza tra natura, cultura, arte e sapori. Un viale di ulivi e vigneti vi condurrà alla dimora rurale otto centesca, dove inizierete il vostro viaggio alla scoperta di esperienze semplici, vere ed accoglienti. Un attento restauro rende magica l'atmosfera che caratterizza le 24 camere presenti, diverse per colo ri e dimensioni. Ambienti spaziosi, eleganti e pieni di luce, affacciati sulla campagna, arricchiti da im magini d'autore. Camere e corridoi abbinano moderni comfort a travature in legno, marmo Rosso Verona e pavimenti in cotto.
The swimming pool, two saunas, the park and a splendid colonnade are the perfect places for you to relax. And the Wine Bar, the Wine Shop and the Pool Bar are the ideal places where to taste typical salami and cheeses, salads and homemade cakes, accompanied by our organic wines and oil. We are at your disposal.
Borgo Romantico was born in 2019 in Cavaion on the hills of Lake Garda.
Strada Preela Poggi, 21 37010 Cavaion Veronese 045 9971261 / +39 335
RelaisRomanticoBorgo
(VR) +39
A country wine Relais amid cypress trees, organically farmed vineyards and olive groves. An oasis of peace
LAGO DI GARDA VENETO
L'azienda si propone per la presen tazioni delle sue produzioni di vini, olio extravergine di oliva e grappa. Nei 14 ettari coltivati si produco no i frutti che vengono trasformati nei classici prodotti del territorio: vini Valpolicella, Ripasso, Amarone e Recioto. I turisti possono scoprire ed apprendere direttamente dai titolari dell'azienda i segreti di questo antico mestiere. Sono possibili visite ai vigneti, alla cantina e degusta zioni guidate dei vini prodotti.
2222
Boscaini Carlo
Via Sengia, 15 37015 Sant'Ambrogio di Valpolicella (VR) +39 045 7731412 / +39 347 4312411 vino@boscainicarlo.it www.boscainicarlo.it
The company takes the initiative of presenting the production of wines, extra virgin olive oil and grappa. The 14 cultivated hectares produce fruit that gets transformed into typical products of this area: Valpolicella, Ripasso, Amarone and Recioto wines. Tourists can discover and learn the secrets of this ancient craft direct ly from the owners of the company. We suggest visits in the vineyards, cellar and guided tastings of the pro duced wines.
PCHNLJARUESFRDEEN
VALPOLICELLA
VALPOLICELLA
www.brunelliwine.com PCHNLJARUESFRDEEN
Brunelli
Via Cariano, 10 37029 San Pietro in Cariano (VR) +39 045 info@brunelliwine.com7701118
Fin dal 1700, il nostro nome è stret tamente legato a San Pietro in Ca riano, centro geografico e cuore antico della Valpolicella Classica, una delle zone vitivinicole più af fascinanti e prestigiose d'Italia. A metà tra Verona ed il Lago di Gar da la nostra filosofia consiste nell'a malgamare al meglio tanti elementi: un terreno generoso di calcare e minerali, un meraviglioso mosaico di varietà autoctone, un clima mediterraneo e ventilato mitigato dal vicino lago ed un'esposizione ideale, a sud-sudovest che, combinata con un lavoro in vigna rispettoso e sostenibile, favorisce l'accumulo di sostanze zuccherine ed estrattive. È in questa terra, in cui la vocazione del vino si sposa con antiche origini che, di generazione in gene razione, con rispetto e creatività, la nostra famiglia si è resa interprete dell'Amarone e custode di un grandioso patrimonio varietale.
Since the 18th century, our name has always been closely connected to San Pietro in Cariano, the central and main village of the Classic Valpoli cella area, one of the most charming and renowned wine districts in Italy. Halfway between Verona and Lake Garda, our philosophy is to amalgam ate many elements in the best possi ble way. A soil generous in limestone and minerals, a wonderful mosaic of indigenous grape varieties, a Medi terranean climate with a breeze mit igated by the nearby lake, and an ideal south-south-west exposure which combines with a respectful, sus tainable and passionate work in the vineyards and with the appassimento technique, favoring the concentration of sugars and extractive substances. It is in this land, where the vocation for wine blends with ancient origins, that, from generation to generation, with respect and creativity, our family has become one of the interpreters of Amarone and a guardian of a great winemaking heritage.
23 Ca' del Moro Wine Retreat
Ca' del Moro is the Resort and Res taurant by La Collina dei Ciliegi, de signed for those who are willing to get to know and experience Valpantena. Completely immersed in a 33-hectare vineyard lying between 450 and 700 metres above sea level and just 20 minutes from the historic centre of Verona, Ca' del Moro Wine Retreat is the result of the skilful renovation of Erbin village. Its six rooms are named after the most representative wines from Valpolicella DOC area and its one and only Cru "Valpantena". Our Unique Wine Lodge is the perfect place for those who wish for a direct contact with the nature. The Restaurant men us offer dishes that enhance the best local and national products, reinterpreting also traditional dishes, paired with La Collina dei Ciliegi wines. Wine, nature and relax. The experiences are designed to meet all guests' taste: from exclusive wine tastings to horse riding and e-bike excursions to discover unexpected landscapes and places; to conclude Solarium and Jacuzzi for relaxation. A heliport is available to our guests. It is also the starting point for breath-taking pano ramic flight over Valpantena, Lessinia Regional Natural Park or Lake Garda.
LESSINIA
Jacuzzi. L'eliporto a disposizione della clientela è anche punto di partenza per splendidi tour panoramici della Valpantena, del Parco dei Monti Lessini o del Lago di Garda.
2424
Località Erbin, 31 37023 Grezzana (VR) +39 045 info@cadelmoro.wine9814900 www.cadelmoro.wine
PCHNLJARUESFRDEEN
Ca' del Moro Wine Retreat è il Resort & Restaurant de La Collina dei Ciliegi, realizzato per chi desidera conoscere e vivere il territorio della Valpantena. Completamente immerso in 33 ettari di vigneti adagiati tra i 450 e 700 m slm e a soli 20 minuti dal centro storico di Verona, Ca' del Moro Wine Retreat è il frutto della sapiente e rispettosa ristrutturazio ne del borgo di Erbin. Le sei camere prendono il nome dai vini più rappresentativi della DOC Valpolicella e del suo unico Cru "Valpantena". L'esclusi vo Wine Lodge è la struttura perfetta per chi desidera il contatto diretto con la natura. I menù del Ristorante propongono piatti che valorizzano le migliori produzioni locali e nazionali, anche reinterpretando piatti della tradizione, in abbinamento ai vini de La Collina dei Ciliegi. Vino, natura e relax. Le experiences sono pensate per incontrare il gusto di tutti i nostri ospiti: dalle degustazioni esclusive fino alle passeggiate a cavallo e alle pedalate in e-bike per scoprire pae saggi e luoghi inaspettati; per con cludere nel relax del Solarium e delle
"
Ambra and Franco Tiraboschi found themselves at this crossroads when
Via Bella Italia, 30 37019 Peschiera del Garda (VR) +39 045 info@calojera.com7551901 www.calojera.com
Our guests have also the opportu nity to stay at the Hotel Primavera in Peschiera del Garda, which has 12 rooms and is run by the family for three generations, and then continue their stay among the natural beauties of our territory.
LAGO DI GARDA VENETO
25 Ca' Lojera
PCHNLJARUESFRDEEN
the grapes destined for Lugana were not in demand or were poorly paid. Disappear or keep on fighting? Surrender or set off? They chose to re start and that is how Ca'Lojera was born in 1992 in Sirmione, a few steps away from Lake Garda, and what will follow is a journey that gives them "a kind of eternal youth". In addition to tradition, landscape and current events, keywords to describe Ca'Lo jera wines are eternal youth and elegant aging potential. The winery produces its own grapes, 18 hectares of Turbiana in Sirmione on white clay that once were the bottom of the lake and 2 hectares of moraine hills dedi cated to Chardonnay, Merlot and Ca bernet. We offer our visitors winery tours, as well as wine tastings.
Ai nostri ospiti è data inoltre la possibilità di alloggiare all'Albergo Prima vera di Peschiera del Garda, che di spone di 12 camere e appartiene alla famiglia da 3 generazioni, per poter poi proseguire il soggiorno tra le bel lezze naturali del nostro territorio.
"What is absolutely impossible is not to choose" (J.P. Sartre).
Ciò che non è assolutamente possi bile è non scegliere" (J.P. Sartre). Ambra e Franco Tiraboschi si sono trovati di fronte a questo bivio quan do l'uva destinata a Lugana era non richiesta o scarsamente pagata. Scomparire o lottare? Arrendersi o mettersi in cammino? Hanno scelto di mettersi in cammino ed è così che nasce Ca'Lojera nel 1992 a Sir mione, a pochi passi dal lago di Garda ne conseguirà un viaggio che dona loro "una sorta di eterna giovinezza". Oltre a tradizione, paesaggio e at tualità le parole chiave per descrivere i vini di Ca'Lojera sono proprio eterna giovinezza ed elegante capa cità di invecchiamento. La cantina vinifica uve proprie, 18 ettari di Turbiana a Sirmione su argille bianche un tempo fondale del lago e 2 ettari in collina morenica dedicati a Chardonnay, Merlot e Cabernet. In cantina vengono accolti gruppi per visita e degustazione vini.
VALPOLICELLA
2626
Ca' Pigneto
Via Pignetto, 1 37024 Negrar di Valpolicella (VR) +39 045 7513790 / +39 340 3140325 info@capigneto.com www.capigneto.com
PCHNLJARUESFRDEEN
Nel cuore della Valpolicella Clas sica, con una vista imponente a 360° su un vero paradiso terrestre che spazia su tutta la celebre Valle, vocata da sempre alla coltivazione della vigna, si ubica Ca' Pigneto, azienda agricola modello di 15 ha, dominata nella sua parte centra le da una villa nobiliare del 1600. L'antica tradizione agraria dei Conti Serenelli dei Lessini è storicamen te accertata in tutta la Provincia di Verona sin dai tempi degli Scaligeri (1200) ed ancora oggi, in questo an fiteatro naturale, nella privilegiata posizione di 350 metri s.l.m., Paola Adami Serenelli, con il marito ed i figli, è impegnata con grande passione e totale abnegazione ad emulare i suoi illustri Avi nella "coltura" e la "cultura" della vite. Siamo sempre aperti su prenota zione ad accogliere i nostri ospiti per una degustazione ed una esperienza emozionale!
Ca' Pigneto, an antique farm and an historical family, is located in the heart of Classical Valpolicella, with a formidable view at 360° onto a real heaven on earth, ranging over the whole famous valley, whose vocation has been always vineyard cultivation. It is an exemplary of farm with 15 ha land, dominated in its central part by an ancient aristocratic Villa of XVII century. The ancient agricultural tradition of Counts Serenelli has been es teemed throughout the history all over the province of Verona since the times of Della Scala family and has been handed down to Paola Adami Serenel li, her husband and sons, our days, in this natural amphitheatre, in the priv ileged position of 350 m.a.s.l. Paola is devoted with love and passion to recall her illustrious ancestors in the "culti vation" and "culture" of the vine.
We are always open by appointment to welcome our guests for a tasting and an emotional experience!
hectares between Soave Classico, Valpolicella and Lessini Durello.
www.carugate.it PCHNLJARUESFRDEEN
Cent'anni di vita, quattro generazioni, un secolo di storia del Vino in Italia. In una parola: Ca' Rugate. Oggi Ca' Rugate è un'azienda bio logica conosciuta in tutto il mondo per la qualità dei suoi vini, che na scono dal lavoro e dalla cura negli oltre 90 ettari tra Soave Classico, Valpolicella e Lessini Durello. Hundred years of life, four gener ations, a century of wine history in Italy. In one word: Ca' Rugate. Nowadays, Ca' Rugate is known all over the world thanks to the quality of its organic wines, deriving from hard work and care of more than 90
27
Ca' Rugate offers several wine tours that allow visitors to rediscover the beauty of our territory through the wine roads, awakening the primordi al human need to be in contact with the nature. The routes are accessi ble on foot with a qualified nature guide or on horseback, in the path of the "Ippostrade" horse roads. The pride of its history is witnessed by the Enomuseo Ca' Rugate, an exhibition of more than 150 tools used by the Tessari family in a century of winemaking activity.
The museum can be visited every day and is located inside the estate of Montecchia di Crosara.
Via Pergola, 36 37030 Montecchia di Crosara (VR) +39 045 carugate@carugate.it6176328
Ca' Rugate
Ca' Rugate offre diversi pacchetti enoturistici che accompagnano i visitatori a riscoprire la bellezza del nostro territorio attraverso le strade del vino presenti, risvegliando la necessità primordiale dell'uo mo di stare a contatto con la natura. I percorsi sono percorribili a piedi con una guida ambientale qualificata o a cavallo, nel percorso delle Ippostrade. L'orgoglio della storia aziendale è testimoniato dall'Enomuseo Ca' Rugate, un'esposizione di oltre 150 strumenti e attrezzi usati dalla famiglia Tessari in un secolo di attività vitivinicola.
Il Museo, sito di interesse regiona le, è visitabile tutti i giorni e si trova all'interno della cantina di Montec chia di Crosara.
VERONESESOAVE-EST
ENDEFRESRUJANLCHP
VERONESESOAVE-EST
2828
Cantina Canoso offers its guests: Wine shop - Online sales through our e-commerce - Various types of tastings and guided tours - Cultural events - Room rental for events and meetings - Accommodation at "Bed's apartments" inside the ancient walls of Soave.
Dodici ettari adagiati sulle verdi colline di Monteforte d'Alpone, all'in terno della zona del Soave Classico. Le personalità che danno vita ai pro dotti Canoso non sono accomunate dal sangue, ma da uno sguardo al futuro fresco ed innovativo. Un team composto da professionisti giovani e dinamici, si prende cura di questa piccola e preziosa realtà, valorizzan do la terra ed i suoi frutti.
Via
Cantina Canoso propone ai suoi ospi ti: Wine shop - Vendita online tramite e-commerce - Varie tipologie di degustazioni e visite guidate - Eventi culturali - Affitto sala per eventi e meeting - Convenzione per sog giornare presso "Bed's apartments" all'interno delle mura di Soave.
Canoso Roma, 97 Monteforte d'Alpone
37032
(VR) +39 045 wineshop@canoso.it6101981 www.canoso.it
Twelve hectares lying on the green hills of Monteforte d'Alpone, within the Soave Classico area. The indvid uals that give life to Canoso products are not united by blood, but by a fresh and innovative look at the future. A team made up of young and dynam ic professionals takes care of this small and precious reality, enhancing the land and its fruits.
Località Casa Palazzina di Prabiano, 2 37069 Villafranca di Verona (VR) +39 045 info@albinopiona.it516055 www.albinopiona.it
L'Azienda Agricola Albino Piona, a conduzione familiare, si trova in prossimità del Lago di Garda e delle colline moreniche, nel pieno della zona vitivinicola del Custoza. La famiglia Piona tramanda una passione incondizionata per il mondo vitivinicolo dal lontano 1893, anno in cui un lungimirante e ambizio so Albino Piona, il bisnonno, iniziò a mettere le basi di un progetto che ancora oggi continua a crescere. Alessandro e Massimo, come le tre generazioni precedenti che hanno condotto l'azienda nel corso degli anni, hanno scelto di mantenere alta la qualità del prodotto, investendo nella produzione a "filiera corta" e nel rispetto dell'ambiente. Ogni aspetto, dalla raccolta del grappolo fino allo stoccaggio in magaz zino del prodotto finito, si svolge all'interno della nuova cantina di Palazzina di Prabiano a Villafranca. La nostra Cantina a conduzione familiare è aperta a chiunque voglia avvicinarsi al mondo del vino, a gruppi di amici, coppie, appassio nati o esperti del settore. La visita inizia e si conclude nello spazio degustazioni, una splendida atmosfera dove avrete il piacere di assaporare i nostri vini, abbinati a degustazioni di prodotti tipici "a chilometro zero".
Our family-run winery is located not far from Lake Garda and its morainic hills, in the heart of the Custoza ter
DEIPIANURADOGI
AlbinoCantinaPiona ritory. Family Piona has been hand ing down an unconditional passion towards viticulture since 1893, when far-sighted and ambitious Albino Pi ona, the great-grandfather, began to set the basis of a project which is still growing nowadays. Alessandro and Massimo, exactly as the previ ous three generations, decided to manage the winery by keeping high the quality level of the product. They invested a lot in the short production chain, fully respecting the environ ment: every single step, from the har vest of the grapes through the storage of the end product, is carried out at the new cellar in Palazzina di Pra biano in Villafranca. Our family-run winery is open to anyone willing to approach the world of wine: groups of friends, couples, wine fans or wine experts. The tour starts and ends in the area dedicated to wine tasting, an awesome atmosphere where you will have the pleasure to taste our wines, paired to typical zeromile products.
29
PCHNLJARUESFRDEEN
PCHNLJARUESFRDEEN
Siamo Annafrancesca, due sorelle che hanno cambiato la propria vita per dedicarsi alla coltivazione della vigna e alla passione per il mondo del vino. Il nostro bellissimo vigneto è un'oasi di biodiversità che include un grande parco e un laghetto natu rale. L'assenza di vincoli disciplinari ci da la libertà di creare vini unici che riflettono la nostra visione e il nostro territorio non convenzionale. Dalla fondazione nel 2013 siamo cresciute molto, tuttavia nonostante l'estensione di 10 ha il nostro obiet tivo è di mantenere una produzione contenuta a favore della qualità. Coltiviamo Merlot, Moscato Giallo, Pinot Grigio e nuove varietà Piwi, con cui produciamo vini eleganti ed originali come Charme Spumante di Merlot Brut e Riccio Moscato Secco, così come vini rossi, orange e pas sito. Le etichette dei vini catturano lo sguardo e raccontano la nostra storia. La stessa storia che amiamo raccontare ai visitatori durante le degustazioni nella nostra cantina e in vigna nella bella stagione. Nella nuova sala degustazione ospitiamo anche mostre d'arte temporanee ed eventi aziendali.
Cantina Annafrancesca
DEIPIANURADOGI
Cantina/Winery: Via Livello, 75 Vigneto/Vineyard: Via Nicolò da Legnago 37045 Legnago (VR) +39 347 info@annafrancesca.it8139996
3030
We are Annafrancesca winery, two sisters who changed their lives to devote themselves to an old vine yard and their passion for the world of wine. Our beautiful vineyard is an oasis of biodiversity, that includes
www.annafrancesca.it
a park and a small natural lake. In this area, an area not famous for viticul ture, we are free to produce unique wines that reflect our vision and our unconventional territory. We found ed Annafrancesca in 2013 and have grown substantially over these few years. Despite our expansion of 10 hectares, we love to keep our grape and wine production low in favor of high quality. We grow Merlot, Mosca to Giallo, Pinot Grigio and new vari eties of Piwi. With these grapes, we make elegant and original wines like Charme Sparkling Merlot Rosé and Riccio Dry Moscato, as well as red, orange, and dessert wines. Our label design catches the eye while telling our story and expressing the land. It is the same story we love to tell our visi tors during tastings and events at our winery, as well in the vineyard during the warm season. In our tasting room, we host art exibitions as well as com pany meetings.
Cantina del Castello is located with in the city walls of the Soave Castle, in the heart of the medieval village. The winery is closely connected to the history of the town because of the secret tunnel that once connected it with the castle itself, and which today can be visited during the winery tours. The winery organizes various experiences that include tastings of its wines and the scenic and historical discovery of the territory. It collaborates with local businesses such as horse riding schools, local restaurants and histor ical guides of the Soave town to give the best offer related to food&wine and territorial Alongsidetourism.withthe experiences related to the territory, it also offers more sen sorial tours served in the historic cellar where guests have the opportunity to experience the typical scents and aro mas of the wines before the tasting, in order to be able to recognize them dur ing the wine tasting.
+39
Cantina del Castello è situata all'interno delle mura cittadine di Soave, nel cuore del borgo medievale. La storia dell'azienda è strettamente collegata alla storia del paese. Un tempo la cantina era collegata con un tunnel segreto al castello stesso. Oggi la parte iniziale di questo passaggio è visitabile durante i tour proposti. La cantina organizza diverse esperienze che includono la degustazione dei vini prodotti e la scoperta paesaggistica e storica del territorio. Collabora con altre realtà locali come maneggi, osterie e guide storiche per offrire tour completi legati al turismo enogastronomico e Oltreterritoriale.adesperienze
volte alla scoper ta del territorio, offre anche tour sen soriali in cantina dove gli ospiti sono guidati nella scoperta ed individuazione di sentori e profumi in modo da poterli riconoscere poi al momento della degustazione dei vini.
delCantinaCastello
Vicolo Corte Pittora, 5 37038 Soave (VR) 045
VERONESESOAVE-EST
cantinacastello@cantinacastello.it7680093 www.cantinacastello.it PCHNLJARESFRDEENU
31 MonteciCantina Michele,
34 37026 Pescantina (VR) +39 045 wineshop@monteci.it7151188 www.monteci.it
PCHNLJARUESFRDEEN
Via San
VALPOLICELLA
Cantina Monteci è un'azienda a gestione famigliare, appartenente alla famiglia Righetti. Giunta oggi alla quinta generazione, è situata nel cuore della Valpolicella e rappresenta l'emblema di come l'innovazione tecnologica e l'attenzione alla tradizione possano vivere in perfetta armonia. La proprietà conta oggi una superficie di circa 200 ettari vitati di slocati nelle varie denominazioni, tra cui Valpolicella Classica, Bardolino e Lugana. Proprio a partire dalla vendemmia del 2018 tutti questi vigneti sono stati completamente conver titi al biologico. Monteci abbraccia infatti a 360 gradi la filosofia dell'ecosostenibilità: nei vigneti vengono utilizzate tecniche che rispettano i delicati equilibri naturali, mentre la cantina e i fruttai sono alimen tati da fonti di energia rinnovabile. La passione e la cura dei dettagli caratterizzano infine il lavoro quotidiano non solo per offrire ai propri clienti vini di ottima qualità ma anche per offrire un'eccellente ospitalità.
Monteci Winery is a family-owned company that belongs to the Righetti family. Now in its fifth generation, it is located in the heart of Valpolicella region, and it is the emblem of how technological innovation and atten tion to tradition can live in perfect harmony. The agricultural patrimony takes in about 200 hectares of vines located in the best areas of Veneto region, such as Bardolino and Val policella Classica, and in the Lugana district. Since 2018 all our vineyards are fully converted into organic pro duction. In fact, Monteci completely embraces the ideals of environmen tal sustainability: in the vineyards we use fertilizing techniques that respect the delicate balance of the environment, and both the winery and the essiccatoio (ripening room) are supplied with renewable energy. The passion and attention to details characterize the daily work, not only to offer its customers wines of excellent quality, but also to offer an exceptional hospitality.
3232
(Pilates in vigna, una notte in cantina).
Il fine ultimo della nostra offerta enoturistica è presentare la nostra realtà in modo semplice e genuino, offrendo al visitatore esperienze da ricordare.
33 L'enoturismo rappresenta per noi una vera e propria leva strategica, fondamentale per far conoscere la realtà dell'azienda Roeno, la nostra terra e i nostri prodotti. Offriamo cinque diversi percorsi esperien ziali di degustazione, ognuno con un tema differente, per far vivere al consumatore la nostra filosofia. Oltre alle tradizionali degustazioni, organizziamo durante l'anno numerosi eventi in collaborazione con diverse realtà, per valorizzare e far conoscere maggiormente il territorio della Terradeiforti. Ciascun evento, organizzato sia all'interno che all'esterno della cantina, ha un obiettivo espe rienziale diverso: Intrattenimento (Pic Nic in Vigna, Friday Rosè, Ri esling & Cruditè on the boat, Dog Walking) - Educativo (alla scoperta del Vino & Cioccolato) - Interattivo (dal vigneto al bicchiere, Cooking Class con Nonna Giuliana) - Relax
RoenoCantina
Via Mama, 5 37020 Brentino Belluno (VR) +39 045 info@cantinaroeno.com7230110 www.cantinaroeno.com PCHNLJARESFRDEENU
In addition to the traditional tast ings, during the year we organize many events in collaboration with different companies, to enhance and make known the land of Terra
LAGO DI GARDA VENETO
Wine tourism represents for us a real strategic lever, essential for increasing awareness of Roeno company, of our land and our products.We offer five various experi mental wine tours, each one with a different topic, so as to ensure that the consumer lives our philosophy.
Eachdeiforti.event, organized both inside and outside the winery, has a differ ent experience target: Entertainment (picnic in the vineyard, Friday Rosè, Riesling & Cruditè on the boat, Dog Walking) - Educational (discovering Wine & Chocolate) - Interac tive (from vineyard to glass, Cooking Class with Grandma Giuliana) - Relax (Pilates in the vineyard, one night in the Thecellar).ultimate goal of our wine tour ism offer is to present our reality in a simple and genuine way, giving visitors experiences to remember.
Ronca is a young company with well-founded roots in viticulture; Massimo decides to pursue a career in production in 2006 and from there the history of the winery begins, aimed at respecting, protecting and enhancing the territory through the wines produced. The company has always been attentive to the envi ronment in which it is fortunate to be
info@cantinaronca.it8961641 www.cantinaronca.it
PCHNLJARUESFRDEEN
RoncaCantina
LAGO DI GARDA VENETO
Via Val di Sona, 7 37066 Sommacampagna (VR) 045
+39
located and it has been certified as organic in 2018. The line of compa ny products includes the historical DOCs of the area, the IGTs as a rooted expression of the territory and a line dedicated to drying and aging in wood, inspiration determined by the most important processes in the Veneto region. We believe in the value of gestures and people, which is why we invite people to come and visit us as friends - rather than tour ists - to fully understand where we put all of our passion.
Ronca è un'azienda giovane con solide radici nella viticoltura a partire dagli anni '70; Massimo decide di intraprendere la strada della pro duzione nel 2006 e da lì inizia la storia della cantina, volta al rispetto, alla tutela e alla valorizzazione del territorio attraverso i vini prodotti. L'azienda è da sempre attenta all'ambiente in cui ha la fortuna di trovarsi, e a culmine di questo sforzo è certificata biologica nel 2018. La linea dei prodotti aziendali com prende le DOC storiche della zona (Custoza, Bardolino e Pinot Grigio), gli IGT come radicata espressione del territorio e una linea dedicata all'appassimento e affinamento in legno, ispirazione determinata dal le più importanti lavorazioni vinico le del Veneto. Crediamo nel valore dei gesti e delle persone, per questo invitiamo le persone a venire a trovarci come amici - piuttosto che come turisti - per capire fino in fondo dove mettiamo tutta la nostra passione.
3434
Via Villa Girardi, 26 37029 San Pietro in Cariano (VR) +39 340 info@cantinaspada.it2664334 www.cantinaspada.it
where giving a warm welcome and hospitality are the values we have always Duringcherished.theseyears we have cultivated our activity to leave an ever lasting memory in the hearts of our guests. Here it is possible to taste and acquire knowledge about our range of wines through a casual tasting to guests who pop in or a booked winery tour. During the tour it is possible to visit the vineyards, the drying facility for the Amarone and the wine cellars, all of this with the delight of local gastro nomical specialties such as cheese and local salami and hams, which can be enjoyed directly in the wine cellar. During the year we also arrange blind wine tastings where our clients can freely express their opinion, without being influenced. We also organize special events during the first days of the harvest where we demonstrate the techniques for grape picking and selection for the drying. The greatest satisfaction ferments with the appre ciation of our visitors, enthusiasts of their experience in the winery!
PCHNLJARESFRDEENU
35 A San Pietro in Cariano, nel cuore della Valpolicella Classica, sorge la piccola azienda agricola Spada dove accoglienza e ospitalità sono valori in cui da sempre confidiamo. Nel corso degli anni abbiamo coltivato questa attività così da poter tracciare nella memoria dei nostri ospiti un tratto indelebile. Qui è possibile conoscere e assaporare l'offerta dei nostri vini durante una semplice degustazione da banco, tuttavia vengono organizzati anche tour su richiesta che offrono l'occasione di visitare il vigneto, i locali appassimento uve e l'area tecnica di trasformazione: tutto questo sullo sfondo di specialità gastronomiche quali gustosi formaggi e salumi locali assaggiabili direttamente in bottaia. Durante l'anno vengono allestite anche degustazioni alla cie ca in cui i clienti possono esprimere liberamente la loro opinione senza alcun condizionamento. Oltre a ciò, nei primi giorni di vendemmia, programmiamo giornate-evento nel corso delle quali mostriamo le tecniche di raccolta e selezione dell'uva per l'appassimento. La mas sima soddisfazione fermenta negli apprezzamenti spesso lasciati dai visitatori entusiasti dell'esperienza fatta!
In San Pietro in Cariano, in the heart of the classical Valpolicella, we can discover the small winery Spada
SpadaCantina
VALPOLICELLA
LAGO DI GARDA VENETO
3636
We are part of the American Dream. Our Grandfather Angelo, borrowed funds from his brother, who emigrat ed in America in early 1900s, to buy his little piece of land in Bardolino that overlooks lake Garda. There he built his house and planted his little vineyard to sustain the family. His son Luigi, our father, built the winery that today is run by us, Stefano, Luca and Davide. After all this time, we re main a amily-run winery working to get the best out of Bardolino grapes, combining tradition and technology.
ValettiCantina
Le nostre radici affondano nel Sogno Americano. Nonno Angelo ottenne dal fratello emigrato in America ai primi del '900 il prestito per comperare il piccolo podere ai piedi del borgo di Calmasino, che si affaccia sul Lago di Garda. Lì fondò la sua casa e piantò il piccolo vigneto per sostentare la famiglia. Suo figlio Luigi, nostro padre, fondò l'attuale cantina e oggi il testimone è passato a Stefano, Luca e Davide. Tanto tempo è passato, ma siamo rimasti ancora oggi una cantina a conduzione familiare, che cerca di ottenere il meglio dalle uve del Bardolino, coniugando tradizione e tecnologia.
Via Pragrande, 8 37011 Bardolino (VR) +39 045 7235075 / +39 392 7608902 +39 340 valetti@valetti.it0018560 www.valetti.it
PCHNLJARUESFRDEEN
+39
VERONA
37 Una Cantina vinicola e un Agriturismo nel cuore della Valpantena a pochi chilometri da Verona. Circondati da 15 ettari di vigneto col tivati tutelando la biodiversità, rendendo il nostro vino sempre più sostenibile. Produciamo i vini tipici del territorio come Valpolicella Doc Superiore, Amarone della Valpolicella Docg, Diavolo Rosso Igt, punta di diamante dedicato ai nostri amati Setter Irlandesi, un passito di Mo linara e la Grappa di Amarone che potrai acquistare nel wine shop. Organizziamo visite guidate ai vigneti e alla cantina con degustazione dei nostri prodotti. Potrai soggiornare nel nostro agriturismo Corte Moranda, una residenza sto rica con servizio di pernottamento e prima colazione in 7 stanze e 1 appartamento; celebrare il tuo matrimonio ufficiale con il Rito Civile in collaborazione con Sposami a Verona, oppure, organizzare un evento personalizzato o un meeting per la tua azienda, in una location suggestiva che i tuoi ospiti ricorderanno per sempre. Dal 1896 ad oggi. Camilla, Selene e Nunzio Giovanni Capurso. Ci mettiamo vita, coltivia mo viti, celebriamo vini.
Via Gazzego, 2/A Verona 347 1048413 / +39 347 azienda@capursowine.com8564259
Capurso
www.capursowine.com PCHNLJARESFRDEENU
generation, Nunzio Giovanni, Camil la and Selene to continue the family business. We grow only indigenous varieties to produce the typical red wines of our region, namely Valpoli cella Doc Superiore, Amarone della Valpolicella Docg, Diavolo Rosso Igt, our flagship wine in honour of our beloved Irish Setters, Grappa di Am arone and a Passito (sweet wine). We protect the vineyards, prioritizing the importance of biodiversity on the farm, so as to be more sustain able. We organize Wine Tours and Tastings, and we would be happy to advise you on the choice of bottles in our Wine Shop. Furthermore, you can plan your dream marriage or civil marriage (Sposami a Verona) in the vineyards, you can create a person alized event for your company or an alternative type of meeting that your employees will remember forever! We offer accommodation and break fast in our Agriturismo Corte Moran da, with seven rooms. We await your visit with excitement!
37142
Capurso is a family run wine com pany, established in 1896, only a few minutes far from Verona, in the heart of Valpantena Valley. Today, we are the fourth and fifth
Via Casette, 4 - Località S. Maria 37024 Negrar di Valpolicella (VR) +39 045 sartori@sartorinet.com6028011 www.sartorinet.com
Siamo in Valpolicella Classica: le colline punteggiate di viti, olivi e ciliegi, sono da cinque generazioni lo scenario della storia della nostra fa miglia, Sartori; paesaggi della terra veronese alla quale tanto siamo legati per produrre con coscienza e rispetto qualcosa di unico da poter condividere. Nel percorso di visita avrete modo di scoprire le nostre origini passeggiando nel parco di Casa Sartori, dimora storica che ha visto nascere e crescere l'azienda. A fare da cornice, il vigneto Corte Brà, il primo acquistato dal nostro fondatore e che ancora oggi ci re gala uve di grande qualità per un Amarone della Valpolicella Riserva di notevole spessore. Percorrerete poi i corridoi che si snodano tra le cantine, con le vasche e botti di ro vere, dove tempo e quiete portano a compimento il nostro vino. Terminerete l'esperienza con una degu stazione guidata, affinché possiate vivere uno speciale momento tra colori, profumi e sapori.
PCHNLJARUESFRDEEN
VALPOLICELLA
We are in the Valpolicella Classica val ley, where the hillsides are dotted with grape vines, olive and cherry treesthe backdrop to five generations of the Sartori family history. With close connections to the landscape around Verona, we make unique products to share, with awareness and respect. During your visit, you will find out about our past as you stroll through
3838
the land surrounding Casa Sartori - the family farmhouse where we founded and developed our busi ness. As a backdrop to everything, the Corte Brà vineyard, which was our founder's first purchase, is still giving us great quality grapes, giving a remarkable depth to our Amarone della Valpolicella Riserva. You will then continue your way through our winery that contains tanks and oak barrels, where time and stillness let our wines fully mature. We will round off the visit with a guided tasting to let you experience that special mo ment where color, flavor and aromas combine.
Casa Sartori
Via Casa Zamboni, 8 37020 Arbizzano Negrar di Valpolicella (VR) +39
VALPOLICELLA
"
39 348 info@cortesanbenedetto.it0427034 www.cortesanbenedetto.it PCHNLJARESFRDEENU
vino. L'azienda Corte San Benedetto, così si chiama, si trova a Negrar, cuore della Valpolicella Classica, in un'antica corte rurale dedicata a San Benedetto, dal quale ha preso il nome.
Corte San Benedetto Winery is locat ed in Arbizzano di Negrar inside the ancient, rural court from which the winery took its name. We are a fam ily-run company producing the full range of Valpolicella denomination wines (Amarone, Recioto, Valpoli cella and Ripasso) using the grapes grown in our vineyards in Negrar, Marano di Valpolicella, San Pietro in Cariano and Verona. We have about 20 hectares of vineyards. In this mo ment we are bottling about 50.000 bottles a year, in total.
SanCorteBenedetto 045 +39
Qui da noi passione, tradizione di famiglia e amore per la terra si fondono assieme e ogni bottiglia di vino che esce dalle nostre canti ne porta dentro di sé questi valori". Partiamo da qui per capire chi siamo. Una piccola azienda a conduzione famigliare, 20 ettari di vigne to, con 50.000 bottiglie prodotte. I nostri vini descrivono il nostro territorio e la nostra terra. Produciamo l'intera gamma dei vini della nostra zona, partendo dal semplice Valpolicella, passando al Superiore e Ripasso, per arrivare all'Amarone, forse il più conosciuto oggi. I vecchi non scordano però il Recioto, quel lo più dolce. Una famiglia la nostra, Mariano nei vigneti, Loris in cantina e Angelo alla ricezione e vendita del
6020531 /
4040
Corte San Mattia Agriturismo Verona si trova sulla collina delle Torricelle, affacciato tra cipressi e vigneti sul centro storico di Verona. Questa posizione particolare regala uno dei panorami più suggestivi del centro storico di Verona. Il momento più magico è sicuramente il tramonto, che regala alla città tonalità pastello tali da trasformare la vista in un vero dipinto. Corte San Mattia Agriturismo Verona è anche il più vecchio agriturismo della città: in 35 anni di attività ha saputo continuamente rinnovarsi, puntando molto sul turismo esperienziale e sull'enoturismo. La nuova cantina di recente realizzazione è strutturata per visite e degustazioni, comunicando bene la storia dell'azienda, le pratiche adottate e il rispetto per l'ambiente. Al centro dell'azienda c'è anche il ristorante dell'agriturismo dove vengono serviti piatti tipici della nostra tradizione creati principalmente
PCHNLJARUESFRDEEN
con materie prime coltivate e pro dotte in azienda. Oltre ai vini tipici della Valpolicella vengono prodotti Olio Evo, miele, grappa, uova, latte e formaggi di capra, frutta e verdura di stagione.
Via Santa Giuliana, 2 37128 Verona +39 045 info@sanmattia.it913797
www.agriturismosanmattia.it
Corte San Mattia Agriturismo Verona is an agritourism located on the hills that overlook Verona, near the city, among vineyards and cypresses. Thanks to this privileged position, it is possible to admire one of the most evocative views of the historical Ve rona city center. The most charming moment is the sunset, which gives to the city amazing shades and the golden sky makes the landscape looks like a painting. Corte San Mat tia is also the oldest farmhouse in the city, but it has been able to keep renewing itself, focusing on expe riential tourism and wine tourism. The new cellar, recently built, was designed for visits and tastings, dur ing which we narrate the history of the company, the practices adopted and the respect for the environment. The Agriturismo has several housing units that offer many solutions for the most demanding guests. There is also a restaurant that serves typ ical dishes made mainly with the ingredients grown and produced by the company. In addition to the typical wines of Valpolicella we also make Evo oil, honey, grappa, vegeta bles, eggs, goat milk and cheeses.
VERONA
SanCorteMattia
Corteforte
PCHNLJARESFRDEENU
Corteforte was founded in 1989 as a winery, producing the classic wines of Valpolicella. Since 2018 the wines are certified organic and sustainable, with the certification "RRR – Riduci Risparmia Rispetta". It is also asso
ciated with FIVI – Italian Federation of Independent Winegrowers. The grapes belong to the ampelographic tradition of Valpolicella: prevalence of Corvina Veronese, Corvinone, Rondinella, Molinara and other au tochthonous grapes, destined to the production of Valpolicella Ripasso, Amarone and Recioto. The vineyards are grown using the traditional method of Pergola Veronese, with a southwest exposure, at 150-300 meters a. s. l., on volcanic, basaltic, red and limestone soil. Corteforte also of fers hospitality in agritourism, in an ancient medieval tower, and rustic farmhouses surrounded by vineyards. The six double rooms, along with the country villa, evoke a simple but au thentic country style with period fur niture, original paintings combined with modern comforts. The agritourism has also a brand new swimming pool with solarium.
41 Corteforte nasce nel 1989 come cantina di produzione dei vini clas sici della Valpolicella. Dal 2018 i vini sono certificati biologici e sostenibili con la certificazione "RRRRiduci Risparmia Rispetta". Inoltre, è associata a FIVI - federazione Italiana Vignaioli Indipendenti. Le uve appartengono alla tradizio ne ampelografica della Valpolicel la: prevalenza di Corvina veronese, Corvinone, Rondinella, Molinara e altre uve autoctone, destina te alla produzione di Valpolicella Ripasso, Amarone e Recioto. I vigneti sono allevati con il metodo tradizionale della pergola verone se, con un'esposizione a sud-ovest, a 150-300 metri s.l.m., su terreno di origine vulcanica, basaltica, con pietra rossa e calcarea. Corteforte offre inoltre ospitalità come Agriturismo in un'antica torre medievale e rustici agresti circondati da vigneti. Le sei camere doppie e una villetta di campagna rievocano un semplice ma autentico stile di campagna con mobili d'epoca, quadri origi nali uniti però a moderni comfort. L'Agriturismo dispone inoltre di una nuovissima piscina con solarium.
VALPOLICELLA
Via Osan, 45 37022 Fumane (VR) +39 045 info@corteforte.it6839104 www.corteforte.it
17 of which are planted with vine yards, while the remaining hectares include woodlands and an olive grove, stands on a hill, 250 metres above sea level. In the valley our estate, already recognized as a ref ugee point and a favorite holiday re sort of families from Verona, opens its doors again to welcome the vis itors: ranging from wine tastings to exploration of our vineyards and fa cilities. Costa Arente lives the charm of nature and here is where you can breathe the history of nearby Vero na, and still be inside the wonderful microworld of Valpantena, rich in numerous nature trails. Our tast ing experiences are in the center of our hospitality project, and they are always full of new proposals. This mesmerizing place is a perfect set ting for important occasions, such as wedding ceremonies and private parties.
PCHNLJARUESFRDEEN
+39
Località Costa, 86 37023 Grezzana (VR) 347
Our company has entered the scene of top-class Valpolicella wine pro duction a few years ago, and, more specifically, we lay claim to the unique area of our territory of pro duction, Valpantena, on our label. One single estate of 35 hectares,
LESSINIA
costarente@genagricola.it2111150 www.costarente.it
4242
Siamo un azienda da pochi anni inserita nel panorama della produzione dei vini di eccellenza della Valpolicella e nello specifico rivendichiamo in etichetta la particolare zona dei nostri territori di produzione: la Valpantena. Un corpo unico di 35 ettari di cui 17 coltivati a vigneto e i restan ti a bosco e uliveto: la nostra tenu ta sorge su una collina, a 250 metri sul livello del mare. Già punto di riferimento nella valle come rifugio e luogo di villeggiatura prediletto delle famiglie veronesi, la nostra tenuta apre di nuovo le porte per accogliere i visitatori: dalla degustazione di vini alla scoperta dei nostri vigneti e delle nostre strutture. Costa Arente vive l'incanto della na tura e respira la storia della vicina Verona ed è inserita nel meraviglioso microcosmo della Valpantena ricco di numerosi itinerari naturalistici. Le nostre esperienze di degustazione sono al centro del nostro progetto di accoglienza e sono sempre ricche di proposte nuove. La bellezza di questo luogo incantato è la cornice perfetta per le occasioni importanti come matrimoni e feste private.
Costa Arente
+39 045 7701349
In the heart of Valpolicella Classi ca, an arch made of tuff with an ancient heraldic emblem in the center of it, gives access to a won derful 16th century patriarchal home. The winery was founded in early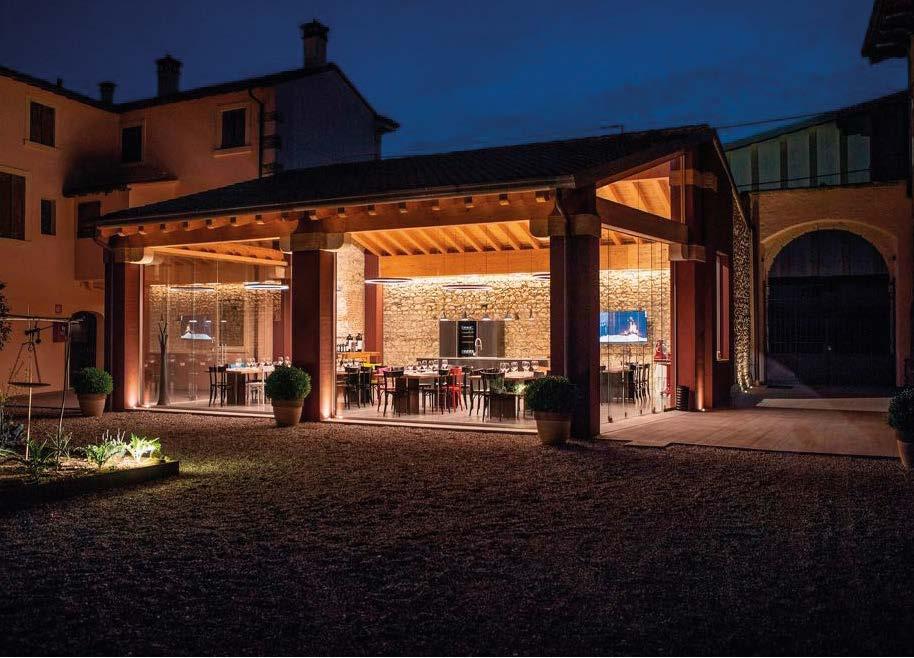 Farina
San Pietro in Cariano (VR)
PCHNLJARESFRDEENU
hospitality@farinawines.com www.farinawines.com
43 VALPOLICELLA
Nel cuore della Valpolicella Classica, un arco di tufo con al centro un antico stemma araldico dà l'accesso ad una stupenda casa patriarcale del '500: qui le origini della famiglia Farina. L'azienda vinicola nasce agli inizi del '900, dalla passione per la vite e per il buon vino, dall'ingegno e dalla voglia dei suoi capostipiti di valorizzare e diffon dere l'enorme potenziale vitivinicolo della loro terra d'origine. Dieci gli ettari coltivati, più altri trentacin que circa di proprietà di conferenti di stimata collaborazione. La lunga esperienza, da cui l'attenta selezione per le uve autoctone e la cura scrupolosa durante le delicate fasi dell'appassimento per la produzione dell'Amarone e dell'antica tecni ca del Ripasso, si accompagna ad una costante sperimentazione e ad uno sguardo continuo verso le innovazioni tecnologiche. Il potenzia le dell'azienda è stato incrementato con l'ampliamento della struttura produttiva e la creazione di nuovi impianti. Sale degustazione e di accoglienza ospitano i visitatori e gli enoappassionati in un ambiente ricco di sapori ed emozioni.
19th century, thanks to founders' passion and desire to add value and also disseminate the huge potential of their birthplace to produce high quality wine. The family business is now in the hands of two cousins. At present, there are 10 hectares of company's cultivated land, plus an other thirty-five hectares owned by esteemed partners. Our long experience, starting with the careful grape selection and attention during the delicate phases of both drying tech nique, for the production of Amar one, and ancient Ripasso technique, is complemented by the constant experimentation and a glance towards continuous technological innova tions. The potential of the business has increased with the improvement of its production processes and the creation of new systems. Tasting rooms and reception halls is where we welcome our visitors and wine enthusiasts alike, in an environment rich in flavors and emotions.
Via Bolla, 11 37029 Pedemonte
PCHNLJARUESFRDEEN
VERONESESOAVE-EST
office@giannitessari.wine www.giannitessari.wine
Giannitessari
Via Prandi, 10 37030 Roncà (VR) 045 7460070
4444
Great Soave, expression of the volcan ic soil; red wines with great balance, from the Berici Hills clayey terroir, and the sparkling Lessini Durello characterized by the minerality and fine ness of the Monti Lessini. All of this is Giannitessari. Headed by Gianni Tes sari, a well-known name in the wine field in Verona, signing since the 1980s successful wines, acknowledged with international awards. Gianni was among the first to believe in the potential of the Durella grape, an in digenous grape of Lessini Mountains, an area of volcanic origin, between Verona and Vicenza. The winery owns 55 hectares of vineyards distributed in three DOC (Roncà for the Lessini Dur ello, Soave and Sarego for the Berici Hills), a modern cellar with about 7,000 meters and 350,000 bottles produced per year for 15 labels in total. This is a family-owned company; Gianni, with the help of his wife Anna Maria and their daughters Valeria and Alice, has the goal of producing unique wines, full of personality. A new challenge for Gianni: three territories, one passion.
+39
Grandi Soave, espressione dei terre ni vulcanici; rossi di elegante equi librio dai suoli argillosi dei Colli Be rici e spumanti Lessini Durello dove dominano mineralità e finezza, nei Monti Lessini. Tutto questo è Gianni tessari; al timone Gianni Tessari uno dei nomi di riferimento del vino a Ve rona che nel suo percorso professio nale, fin dagli anni Ottanta, ha firma to vini di successo, riconosciuti con premi a livello internazionale. Gianni è stato tra i primi ad aver creduto nelle potenzialità dell'uva Durella, vitigno autoctono dei Monti Lessini. L'azienda conta 55 ettari di vigneto distribuiti in tre DOC (Roncà per il Lessini Durello, Soave e Sarego per i Colli Berici), una moderna cantina con circa 7.000 metri e 350.000 bottiglie prodotte annualmente per un totale di 15 etichette. In questa realtà si respira aria di famiglia; Gianni, con l'aiuto della moglie Anna Maria e delle figlie Valeria e Alice, ha l'obbiettivo di produrre vini unici e pieni di personalità. Tre territori, una sola passione.
LAGO DI GARDA VENETO
PCHNLJARESFRDEENU
45 Gorgo
L'Azienda Gorgo si estende per 53 ettari vitati, tutti certificati biologici, sulle colline moreniche del paese di Custoza (VR), che distano solamente 15 km dal centro della città di Verona e dal lato opposto, dal lago di Garda. Roberta Bricolo è oggi titolare dell'Azienda di famiglia, fondata oltre 50 anni fa, e si dedica con passione alla produzione dei classici vini Doc Cu stoza, Bardolino, Chiaretto, Corvina e molti altri, ispirandosi ai valori di identità territoriale e nel potenziale di una vigna senza chimica. Lo stile dei vini qui prodotti è moderno, eclettico e versatile, pur rimanendo fedele espressione dell'affascinante terroir del lago di Garda, che dona naturalmente armonia, mineralità e sapidità. L'Azienda vive quotidianamente il piacere di accogliere nella sua cantina tutti gli ospiti che desiderano viverla in prima persona, prenderne i suoi ritmi, assaggiare i prodotti e conoscere i suoi volti.
Gorgo winery, owned by Bricolo family, was founded in 1975 and currently covers 53 hectares of vines located on the morainic hills around the vil lage of Custoza, between the town of Verona and lake Garda. The family has chosen to join the program of organic vine-growing and the entire produc tion complies to rigidly-established regulations accredited by the Minis try of Agriculture and the European Union. The territorial identity, the en hancement of the local varieties and the guarantee of healthiness of their grapes are the ideals that inspire the company to produce wines faithful to their roots but with a modern and eclectic appeal. The family and the staff live every day the pleasure of welcoming in their winery all the guests that wish to experience it in person, take its pace, taste the prod ucts and learn about its aspects.
Via Gorgo, 15 37066 Custoza Sommacampagna (VR) +39 045 gorgo@cantinagorgo.com516063 www.cantinagorgo.com
I Tamasotti
4646
VERONESESOAVE-EST
L'accoglienza calda ed amichevole in un ambiente suggestivo ed elegante sono la nostra caratteristica. Poche stanze in una residenza di campagna circondata da sette ettari di ulivi, vigne, ciliegi e bosco, dove produciamo Soave, Valpolicella Superiore, Amarone e Olio Evo rispettando la natura che ci circonda attraverso un metodo Biologico. Affacciata su una vallata che ancora conserva tutta la pace e la dolcezza delle colline venete, siamo lieti di accogliervi con quella attenzione e cordialità che vi faranno sentire a casa.
PCHNLJARUESFRDEEN
info@itamasotti.it www.itamasotti.it
the Mezzane valley that still maintains peace and sweetness of the delight fully unspoiled hills of Verona, allow us to welcome you in our mansion with the attention and warmth that will make you feel at home. Each menu is a refined combination of colors, fragrances and flavors cultivated in our Relais, varying with the slow rhythm of the seasons that teases the palate in new and surprising ways. In Luisa's hands, nature be comes a delight, with genuine cuisine and attention to every detail to be savored in the elegant mise en place of the living room, under the romantic veranda or on the spacious terrace under which the valley rolls, you are to discover the tastes of the countryside and good wine.
Via dei Ciliegi, 10 37030 Mezzane di Sotto (VR) +39 045 8880003 / +39 340 2678144
Ogni menù è una combinazione raffinata di colori, profumi e sapori coltivati nel nostro Relais, che varia al ritmo lento delle stagioni per stuz zicare il palato in modi sempre nuovi e sorprendenti. Tra le mani di Luisa la natura si fa delizia, con una cucina genuina e curata in ogni dettaglio da assaporare nell'elegante mise en place del salotto, sotto la romantica veranda o nell'ariosa terrazza sotto cui rotola la valle, riscoprendo i gusti della campagna e del buon vino.
A warm and friendly welcome in a suggestive and elegant atmosphere is our key feature. A few rooms in a charming country mansion sur rounded by seven hectares of olive trees, vineyards, cherry trees and for est where we produce Soave, Valpo licella Superiore, Amarone and Olive Oil with organic method. Overlooking
47
Giuseppe Fornaser was born in 1920. His father, Giuseppe Fornaser, was a passionate wine grower, who was awarded prizes (1924) in wine-grow ing and production capability, with the Certificate of Merit of Fiera Cav alli in Verona. His son cultivates his father's passion in his spare time, and is also committed to his teacher
PCHNLJARESFRDEENU
Giuseppe Fornaser nasce nel 1920 da Giuseppe Fornaser, appassio nato viticoltore premiato per la sua abilità vitivinicola nel 1924 con un Attestato di Benemerenza della Fiera Cavalli di Verona. Coltiva la passione paterna nel tempo libero, tra la professione di insegnante scolastico e l'amore per il teatro, la cultura, l'impegno sociale nella propria comunità. Il maestro elementare è anche Maestro di vita, regista teatrale, grande comuni catore. Nel 1984 fa il suo ingresso in azienda il figlio Paolo, di fresca istruzione agraria, cui seguiranno con determinazione gli altri figli Giorgio, Fabiano e Massimiliano. Un maestro sa, conosce la sua terra, la insegna ai bambini che diven tano adulti e la curano, insegna ai figli la lezione appresa da suo padre, trasmette la propria passione. I figli raccolgono il testimone della sua conoscenza e ne fanno una professione, trasformano la passione in arte, l'uva in vino. Il cerchio è completo, dall'alfa all'omega. La FornaserdelCantinaMaestro
profession, love for theatre, culture and social work in his communi ty. The elementary school teacher is also a Life's Master, a theatre director and a great communicator. Paolo, who has a technical degree in wine cultivation, enters the company in 1984, and so his other sons Giorgio, Fabiano and Massimiliano supported him with determination. The master, knowing well his own land, has passed down the knowledge and passion to his children that became adults and started taking care of the land. The sons have embraced the knowledge, transforming it into profession, the passion into art, and the grapes into wine. The circle is complete, from alpha to omega.
VALPOLICELLA
Via Bure Alto, 1 37029 San Pietro In Cariano (VR) +39 340 info@fornaser.com2789475 www.fornaser.com
La Cappuccina
4848
Siamo ad un passo da Verona. In una terra di origine vulcanica dove da secoli si coltiva la vite, si erge l'elegante Villa Buri Tessa ri detta La Cappuccina. Immersa nel verde, tra il parco secolare e i vigneti biologici, fu costruita attorno al 1650 dai nobili conti Buri e dai primi del Novecento appartie ne alla famiglia Tessari. Nella cap pella, costruita nel 1725, un tempo officiavano i frati Cappuccini, da cui origina il nome, un'oasi di stile e Siamotranquillità.trefratelli,
Sisto, Pietro ed Elena Tessari, a condurre questa dinamica azienda che vanta oltre
Via San Brizio, 125 - Località Costalunga
We are one step away from Verona. The elegant Villa Buri Tessari called La Cappuccina stands in a land of volcanic origin where vines have been cultivated for centuries. It was built around 1650 by the noble fam ily Buri, and it belongs to the Tessari family since the early 20th century. It is surrounded by a centuries-old park and organic vineyards. The chapel, an oasis of style and tranquillity, built in 1725, is where once the Capuchin friars officiated, thanks to which the winery got its name.
un secolo di storia e 42 ettari di vigneto. Dal 1985 in maniera del tutto pioneristica per la zona, pra tichiamo l'agricoltura biologica con grande attenzione alla salubrità e sostenibilità. Tutti i nostri vini sono prodotti all'origine e certifi cati biologici da oltre trent'anni. Per le etichette ci siamo ispirati agli affreschi conservati in villa.
37032 Monteforte d'Alpone (VR) +39 045 lacappuccina@lacappuccina.it6175036 www.lacappuccina.it
We are three brothers, Sisto, Piet ro and Elena Tessari, who run this dynamic estate with over a century of history and 42 hectares of vineyards. We have been practicing organic farming since 1985 with great attention to healthiness and sustainability in a completely pioneering way for the area. All of our wines are estate bottled and organic-certified for over thirty years. The frescoes preserved in the villa were the inspiration for our labels.
VERONESESOAVE-EST
PCHNLJARUESFRDEEN
49
PCHNLJARESFRDEENU
La Dama
La Dama è un'azienda vitivinicola biologica che affonda le sue radici tra le colline della Valpolicella Classica, a Negrar di Valpolicella. Il coraggio di mettersi in gioco, la pas sione nel fare il vino e l'amore per la terra di Gabriele e Miriam hanno reso possibile un sogno visto e appoggiato da papà Gianni.
Aprire le porte a chi desidera co noscere il nostro lavoro è il nostro pretesto per divertirci e inventare nuove esperienze che possano avvicinare chiunque alla nostra realtà: degustazioni durante la ven demmia in cui assaggiamo il mosto di uva appena pigiata confrontato con il vino terminato, oppure cene e picnic estivi in vigna tra luci soffuse appese ai filari e musica.
A chi viene a trovarci diciamo sem pre che produrre il vino è la nostra passione, ma è condividerla con le persone che ci piace di più! To those who come here we always say that producing wine is our pas sion, but sharing it with other people is what we like the most!
Opening our door to those who want to discover our job is our excuse to have fun and come up with new ex periences that can bring everyone closer to our entity: wine tastings in the harvest period, during which we taste the must of freshly pressed grapes compared to the final wine, or summer dinners and picnics in the vineyards with soft lights and music.
Via Quintarelli, 39 37024 Negrar di Valpolicella (VR) +39 045 info@ladamavini.it6000728 www.ladamavini.it
La Dama is an organic family-run business that has its roots in Negrar di Valpolicella, in the hills of Valpoli cella Classica. Gabriele and Miriam's bravery and love for wine, togeth er with the support of Gianni, have made this dream come true.
Thanks to the grapes that we grow, we produce the traditional wines of our area, such as Amarone and Reci oto, but we do not lack of more particular and unique wines, produced using our own fantasy.
Dalle nostre uve produciamo i vini tipici della tradizione della Valpolicella, come l'Amarone e il Recioto, ma non ci facciamo mancare vini più particolari e unici, prodotti dan do libero sfogo alla fantasia.
VALPOLICELLA
5050
cella Classica area, on the terraces made of dry-stone walls, known as "marogne" in the local dialect. The landscape is wonderful and the vineyards enjoy the best positioning, facing south-west.
Le Marognole wines are appreciat ed by all the visitors, and also by the professionals with whom we work (locally, nationally and even interna Thetionally).new part of the winery – built in the last 6 years – today is the wel coming place: in the wine cellar, surrounded by the barrels, tastings take place: this room is giving ideal conditions for serving wines and welcoming the visitors during summer and wintertime.
VALPOLICELLA
La nuova struttura della cantina –costruita negli ultimi 6 anni – oggi è il punto d'accoglienza: la bottaia, dove si svolgono le degusta zioni ora, è un locale ideale per la capienza, per la giusta temperatura a cui vengono serviti i vini e dove gli ospiti possono trovare ristoro dalla calura in estate, e tepore durante le degustazioni invernali.
Le Marognole winery has been founded by Fabio Corsi in the year 2004. His family has always grown grapes, even in the past. The 6 hec tares of vineyards are in the Valpoli
The quality of wines emerges from the respect we have for our terroir and from the tradition of working very hard whether in the vineyard or during the vinifying process.
I vigneti si trovano nella zona Classica e sono i garanti della nostra filosofia, sia per la bellezza e tipicità del paesaggio ma anche per la loro posizione ottimale. E le "maro gne" (dialetto locale) sono i muretti a secco che terrazzano la collina. Mantenendo sia le tradizioni in vi gneto, sia lavorando con accuratezza durante la vinificazione, Fabio ottiene vini di ottima qualità, ricono sciuta da tutti i visitatori, oltre che dagli addetti del settore. L'azienda sta facendosi notare sempre di più sia localmente, sia a livello naziona le ed internazionale.
37020 Marano di Valpolicella (VR) +39 349 info@lemarognole.it2569347 www.lemarognole.it
PCHNLJARUESFRDEEN
L'azienda Le Marognole è stata fon data da Fabio Corsi nel 2004. Fabio proviene da una famiglia contadina, che da sempre coltiva le uve in Valpolicella.
Via Marognole, 7 – Località Valgatara
Le Marognole
L'Azienda Agricola Le Morette –Valerio Zenato si sviluppa su 40 ettari di vigneti divisi in tre tenute, nella zona del Lugana DOC, sulla sponda meridionale del Lago di Garda. La filosofia aziendale si fonda sul solido legame con il territorio il cui equilibrio è guidato dalla ricerca continua e dalla massima cura dell'ecosistema vigneto. In vi gna l'Azienda Agricola Le Morette ha scelto precisi metodi di lavoro mirati ad un'agricoltura sostenibile, privilegiando quei processi naturali che consentono di preservare la "risorsa ambiente", con grande attenzione all'utilizzo dell'acqua. Favoriamo inoltre le fioriture tra i filari delle viti, importanti per il proliferare di numerose specie di insetti utili, mantenendo ed incre mentando la biodiversità di flora e fauna. L'ospite respira e tocca con mano l'attenzione alla sostenibilità, anche grazie alla nuova sede azien dale, inaugurata nel 2013 in armonia con l'ambiente naturale, cercando l'efficienza energetica passiva delle architetture per ottimizzare spazi e sistemi di climatizzazione, utilizzando le energie da fonti rin novabili.
Viale Indipendenza, 19/D 37019 Peschiera del Garda (VR) +39 045 eventi@lemorette.it7552724
Le Morette – Valerio Zenato farm extends on over 40 hectares of vine yards divided in three estates in the Lugana DOC area, on the southern shore of Lake Garda. Our company
Le Morette
www.lemorette.it PCHNLJARESFRDEENU
LAGO DI GARDA VENETO
51 philosophy is based on the solid bond with the territory whose balance is guaranteed by the use of organ ic amendments and substances of natural origin. In the vineyard, we choose precise working methods aimed at sustainable agriculture, giving priority to those natural processes that allow the preservation of the "environmental resource", with great attention to the use of water. We advocate blossoming and proliferation of numerous species of insects useful for the vineyard ecosystem, maintaining the biodiversity of the flora and the fauna. Entering in the new cellar, inaugurated in 2013, our guest can feel and almost taste the attention to the sustainabili ty. It is a completely new structure, built with the greatest respect for the environment, and surrounded by vineyards. The project focuses above all on agricultural and functional as pects, as well as on environmental awareness, using clean energy from renewable resources.
5252
Via Tende, 35 37017 Colà di Lazise (VR) +39 045 info@letende.it7590748 www.letende.it
e vegetale dimostra profumi più intensi e con sentore di ciliegia, mentre il Bardolino Superiore risalta la dolce speziatura del frutto maturo. E per finire il Cicisbeo, il vino con lo spirito più internazionale della nostra produzione.
Siete benvenuti alla Cantina Le Tende! I nostri vigneti sono situa ti nel cuore della produzione del Bardolino Classico e del Custoza, nei comuni di Colà di Lazise e Cavaion Veronese: siamo il produttore situato sulla linea di confine più a nord dove i particolari terreni dal la tessitura sabbiosa e fortemente calcarea conferiscono al nostro vino la particolare aromaticità e mineralità che lo contraddi stingue. Il nostro punto vendita è il luogo in cui è possibile non solo acquistare i nostri prodotti, ma anche immergersi nella degustazione dei nostri vini biologici. La degustazione inizia con i nostri vini bianchi, freschi e fruttati come il Custoza e il Sabia dal timbro più minerale, per poi passare alle note delicate dei nostri rosati dai sentori di piccoli frutti rossi e rosa canina, Chia retto e Voluttà. Il Bardolino Classi co, dal caratteristico frutto pepato
Le AziendaTendeAgricola
PCHNLJARUESFRDEEN
Our vineyards are located in the heart of Bardolino Classico and Cus toza production, in the municipal ities of Colà di Lazise and Cavaion Veronese. We are a producer of Cus toza located in the northernmost border line where the particular soil with sandy and strongly calcareous texture gives our wine the particu lar aromaticity and minerality that distinguishes it. Our shop is the place where you can buy our wine products and also immerse your self in tasting of our organic wines. The tasting, begins with our white, fresh and fruity wines such as Cus toza and Sabia with a more min eral tone and then move on to the delicate notes of our rosé wines, Chiaretto and Voluttà, with hints of small red fruits and dog rose. Bardolino Classico, with its charac teristic peppery and vegetable fruit, reveals more intense aromas with a hint of cherry while Bardolino Supe riore reveals the sweet spiciness of ripe fruit. We will then move on to our Corvina red wine from vines in purity and then finish with the wine with the most international spirit of our production: the Cicisbeo.
LAGO DI GARDA VENETO
Le Vigne di San Pietro is a unique "island of land" on the morainic hills of Lake Garda. The 10-hectar winery was founded in 1980 by the parents of the owner Carlo Nerozzi. They de cided to relocate the family from the
busy city to the countryside, looking for a place of beauty and nature, as well as a productive land. The vine yards are cultivated in the middle of a botanical park with a wide biodi versity that characterizes the charm of this reality and gives guests the opportunity to immerse themselves in a place out of time. The company collaborates with neighboring hotels that offer cycling tourism activities to their clients, which then they take as tourists to the cellar and let them taste the wines combined with local products. In addition, the property offers the possibility to organize ex clusive tastings and events of vari ous kinds: weddings, private parties and public events. Carlo, in fact, con siders wine his creative "medium", his communication method for pro moting cultural mediation, sociali zation and a chance to bring forward the vast wisdom of our past.
Le Vigne di San Pietro sono una piccola isola tra le colline moreni che del Garda. L'azienda di circa 10 ettari nasce nel 1980 per volere dei genitori del titolare Carlo Nerozzi, i quali decisero di trasferi re la famiglia che abitava in città, in campagna, cercando un luogo che potesse abbinare bellezza, natura e produttività. Le vigne sono allevate in mezzo ad un parco botanico con un'ampia biodiversità che caratterizza il fascino di questa realtà e dà la possibilità agli ospiti di immergersi in un posto fuori dal tempo. L'azienda collabora con strutture alberghiere limitrofe che svolgono con i propri clienti attività di cicloturismo con il fine di far arrivare il turista in cantina e degustare i vini con abbinamenti a prodotti del territorio. Inoltre, la struttura offre la possibilità di organizzare degustazioni in esclusiva ed eventi di vario genere, dai matrimoni a feste private e manifestazioni pubbliche. Per Carlo, infatti, il vino è un "medium" un mezzo espressivo che facilita la mediazione culturale, l'incontro e lo scambio di saperi tra le persone.
LAGO DI GARDA VENETO
Via San Pietro, 23 37066 Sommacampagna (VR) +39 335 7079555 / +39 045 info@levignedisanpietro.it510016 www.levignedisanpietro.it PCHNLJARESFRDEENU
53 Le Vigne di San Pietro
PCHNLJARUESFRDEEN
5454
Masi Tenuta Canova in Lazise del Garda warmly welcomes lovers of good wine and good food. The Experience begins with a visit to the cel lars and the Wine Discovery Museum and goes on to a tasting of a selec tion of Masi wines. Its conclusion is a meal in the Wine Bar "Vino e Cucina"
LAGO DI GARDA VENETO
Via Delaini, 1 - Località Sacro Cuor 37017 Lazise (VR) +39 045 wine.experience@masi.it7580239 www.masi.it
Masi CanovaTenuta
Masi Tenuta Canova a Lazise del Gar da accoglie con cordialità amanti del vino e della buona tavola. L'esperien za inizia con la visita delle cantine e del Wine Discovery Museum e con la degustazione di una selezione di vini Masi per completarsi a tavola nel Wine Bar "Vino e Cucina" con piatti ispirati alla cucina del territorio ri visitati dallo Chef Vitangelo Galluzzi. La proposta si basa sulla selezione delle materie prime bio presso produttori del Garda-Baldo, della Lessinia e Valpolicella che operano con la stessa filosofia green di Masi e l'utilizzo di spezie e aromi coltivati nell'orto botanico della tenuta, includendo piatti vegetariani e per celia ci. "Wine first" è la regola vigente: prima si sceglie il vino che viene poi esaltato nel giusto abbinamento con il cibo. Il menù varia nel rispetto della stagionalità offrendo piatti originali in cui uva e vino diventano anche ingredienti come nel Risotto all'A marone Costasera. La corte esterna, circondata dall'uliveto biologico, ospita pranzi e cene all'aperto e serate a tema.
with dishes inspired by the cuisine of the region given a twist by Chef Vitangelo Galluzzi. The food menu is based on a se lection of organic raw materials from producers in the Garda-Baldo, Lessinia and Valpolicella areas who have the same green philosophy as Masi. The herbs and spices used for flavouring are grown in the es tate's botanical garden, and food for vegetarians and gluten-intolerant people can be provided. 'Wine first' is the rule in force: meaning that the wine is chosen first, and then complemented with the right food pairing. The menu is seasonal and includes original dishes which have grapes and wine as part of the ingre dients, as in the Risotto all'Amarone Costasera, for example.The outdoor courtyard, surrounded by the organ ic olive groves, is the place for openair lunches, dinners, and special themed evenings.
+39
Massimago is a wine estate in the heart of Valle di Mezzane (Verona). Immersed in nature and focused on organic farming, the property offers the best conditions for the production of wines with a strong identity and a recognized quality. For many years Massimago has been offering a hospitality service aimed at making its guests live an exclusive experience, immersed in the panorama of the estate's vineyards. The Wine Relais is an enchant ing house, almost three hundred years old, with charming rooms and apartments and a series of exclu sive services, such as the spa and the panoramic swimming pool, for a full experience of comfort and re laxation. The estate also features a gourmet restaurant, Massimago in Cucina offers culinary experiences dedicated to zero-mile products from small local producers, paired with the estate's historic wines. Massimago's vision of hospitality does not stop only at its estate but it also gets to the heart of the city of Verona: Massimago Wine Suites, romantic rooms just a few steps away from the Arena.
www.massimago.com PCHNLJARESFRDEENU
Via Giare, 11 37030 Mezzane di Sotto (VR) 342 info@massimago.com6604566
ferma soltanto alla propria tenuta ma entra nel cuore della città di Verona: Massimago Wine Suites, delle splendide camere a due passi dall'Arena.
Massimago è una tenuta vitivini cola nel cuore della Valle di Mezzane (VR). Immersa nella natura e frutto di agricoltura biologica, la proprietà offre le migliori condizioni per una produzione di vini dalla spiccata identità e dalla riconosciuta qualità. Da diversi anni Massimago offre un eccellente servizio di ospitalità, mirato a far vivere un'esperienza esclusiva ai propri ospiti, immersi nel panorama dei vigneti della tenuta. Il Wine Relais è un'incantevole casa di quasi tre cento anni, con camere ed appartamenti dal design autentico, ed una serie di servizi esclusivi, come la SPA e la piscina panoramica, per offrire un'esperienza di comfort e relax. La tenuta dispone inoltre di un ristorante gourmet, Massimago in Cucina offre esperienze culinarie dedicate ai cibi a km0 prove nienti da piccole produzioni locali, in abbinamento all'offerta degli storici vini dell'azienda. La visione di ospitalità di Massimago non si
55 Massimago
VERONESESOAVE-EST
wines, classic method in Verona. Our wines are the result of dedicated work characterised by great passion and love which has been our trade mark since a very long time. These wines crafted from selected grapes express great personality and ele gance. All our vineyards are situated on the hills of Custoza, created by deposits left by the glaciers that shaped nearby Lake Garda. This mo rainic soil is what gives Custoza its typical salty and savoury note.
The winery's ownership has been passed down through three gener ations of our family that has nour ished the passion for wine. Antonio Menegotti started the cultivation of the first grapes in 1950s. This fami ly winery spans over three genera tions of winemakers. Over the years, Antonio and Andrea Menegotti have distinguished the winery as the most esteemed wine producers of traditional Custoza and Bardolino DOC wines. We are the reference point for DOC Custoza and sparkling
DEIPIANURADOGI
Menegotti
Località Acquaroli, 7 37069 Villafranca di Verona (VR) +39 045 info@menegotticantina.com7902611 www.menegotticantina.com
PCHNLJARUESFRDEEN
L'Azienda Agricola Menegotti è si tuata nell'incantevole cornice delle colline Moreniche di Custoza, territorio ideale per la produzione di vini di elevata qualità. Un'esperienza di più di mezzo secolo che si tramanda da tre generazioni, partendo dal nonno Antonio Menegotti che già negli anni '50 produceva vino, nel 1972 si imbottigliavano le pri me bottiglie con Giorgio e Vittorino Menegotti. In particolare per la passione di Vittorino per le bollici ne si vinificava in metodo classico già nel 1975 e si sperimentavano le fermentazioni in bianco della Cor vina sempre presente, da allora, nel nostro Brut 36 mesi. Attualmente l'azienda produce circa 200.000 bottiglie l'anno suddivise tra bianchi 50%, rossi 25% e spumanti metodo classico 25%. Il 50% delle bottiglie viene venduto all'estero.
5656
We, as winemakers, are very proud of what we do, of our values and of our land, these are all part of our passion. The result comes out in each one of our bottles.
The tour begins with a walk in the vineyard, during which we present our methods of growing the grapes, followed by a visit to the wine pro duction area with the descripton of the production processes that happen inside the aging barrels of Amarone, and then move on to the rooms in the eighteenth century cellar where you can taste our wines (Garganega, Valpolicella Classico, Valpolicella Superiore and Amarone).
Our winery is open for visits, tastings and purchases at our onsite wine shop, as well as on our online store. Our staff will accompany you through the visit, which is available in Italian, English and French.
57 Meroni
We offer a visit with tasting of 4 wines lasting about 1 hour and a half accompanied, on request, by appe tizers of local products.
PCHNLJARESFRDEENU
Nel viaggio attraverso la Valpolicella vi accompagnerà un nostro incaricato, pronto ad accogliervi nella lingua da voi richiesta (italiano, in glese, Proponiamofrancese).una visita con degu stazione di 4 vini della durata di cir ca 1 ora e mezza accompagnata, su richiesta, da stuzzichini di prodotti del territorio.
Via Roma, 16/A 37015 Sant'Ambrogio di Valpolicella (VR) +39 340 info@vinimeroni.com7101521 www.vinimeroni.com
Il nostro lavoro di vignaioli artigiani è bello e coinvolgente, ricco dei valori di attaccamento alla terra e di una cultura millenaria come quella del vino della Valpolicella Classica. Tutto questo è contenuto nei no stri vini e raccontato nella nostra azienda, aperta per visite, degustazione e acquisti.
VALPOLICELLA
Il tour inizia con una passeggiata nel vigneto presentando le metodologie di crescita delle uve, seguita da una visita alla zona di produzione dei vini con la spie gazione dei processi di produzione tra le botti di invecchiamento dell'Amarone, per poi passare nelle stanze dell'antica cantina del XVIII secolo dove si potranno degustare i nostri vini (Garganega, Valpolicel la Classico, Valpolicella Superiore e Amarone).
Monte del Frà sorge a Sommacampagna tra le colline Moreniche del Lago di Garda. Fondata nel 1958 dai fratelli Bonomo, vanta un percorso storico dal 1492, quando erano pre senti i frati di Santa Maria della Scala. La cantina è ancora oggi condotta dalla famiglia e mette al primo posto l'ospitalità, offrendo un percorso degustativo attraverso le 4 aree prin cipali del veronese: Custoza, Valpo licella, Soave, Lugana. Il paesaggio curato, i vini di alta qualità, l'ospitalità calorosa e di timbro familiare sono certamente motivi per visitare l'azienda. I percorsi nelle sale sotter ranee si accompagnano a Degusta zioni Classiche e Multisensoriali, oltre alla possibilità di partecipare ad eventi e alla esclusiva Degustazione alla Cieca. Propone attività immerse nella natura, come Picnic in Collina con vista panoramica, Wine Yoga al tramonto, Bike Tour e Passeggiate a Cavallo. Vanta ad oggi una collaborazione con 64 Paesi ed è conosciuta per prodotti di alta qualità focalizzati su un'agricoltura sostenibile.
Monte de Frà is situated in Som macampagna, among the Morainic hills of Lake Garda. Founded in 1958 by the Bonomo brothers, it boasts a historical path since 1492, when it belonged to the friars of Santa Maria della Scala. Today the winery is still family run and place hospitality first, offering tasting tours through the 4 main areas of Verona: Custoza, Val policella, Soave, Lugana. The stun ning landscape, high-quality wines and warm, family-style hospitality are certainly good reasons to visit the company. The itineraries in the cellar rooms are accompanied by Classic and Multisensory Tastings, as well as the possibility to partici pate to events and exclusive Blind Tastings. It offers activities immerse in nature, such as Picnic in the Hills with panoramic view, Wine Yoga at sunset, Bike Tours and Horseback Riding. Today Monte del Frà exports in 64 countries and is known for its high-quality products which are fo cused on sustainable agriculture.
Monte del Frà
PCHNLJARUESFRDEEN
Via Custoza, 35 37066 Sommacampagna (VR) +39 045 welcome@montedelfra.it510490 www.montedelfra.it
5858
LAGO DI GARDA VENETO
ospitalita@montezovo.com7281301 www.montezovo.com PCHNLJARESFRDEENU
37013
(VR) +39
Monte Zovo, l'azienda agricola della Famiglia Cottini, che da quattro generazioni mette il rispetto e la tutela della biodiversità al centro della sua impresa. Una storia di determinazione improntata sulla sostenibilità, da sempre uniamo la passione per la nostra terra al de siderio di accogliere al meglio chi vuole scoprirla. Nell'incantevole cornice dell'Anfiteatro Morenico di Rivoli, ai piedi del Monte Baldo, offriamo diverse tipologie di visite con degustazione, per regalare ad ogni visitatore un'esperienza indi menticabile. Per gli amanti della natura "Merenda in vigna" è l'esperienza perfetta che rigenera corpo e spirito, tra i profumi dei nostri meravigliosi vigneti. I più dinamici non resisteranno all'esperienza itinerante "I Terroir Monte Zovo": un tour unico attraverso i 3 terroir di Monte Zovo. In "Cru di Monte Zovo" sarete i protagonisti di una degustazione in terrazza con vista panoramica. Per gli amanti del buon vino e della buona tavola: "Pranzo in Cantina", un percorso appassionante che termina con la degustazione al tavolo di 4 vini ca ratteristici dell'azienda.
LAGO DI GARDA VENETO
59 Località Zovo, 23/A Caprino Veronese 045
Monte Zovo is the Cottini Family Winery, which for four generations has been placing respect and biodi versity protection at the heart of its business. A story of determination
based on sustainability; we have always combined the passion for our land with the desire to welcome those who want to discover it. In the enchanting setting of the Morainic Amphitheater of Rivoli, at the foot of Monte Baldo, we offer different kinds of tours with tasting, to give each visitor an unforgettable experi ence. For nature lovers, "Picnic in the vineyard" is the perfect experience that regenerates body and spirit, among the scents of our wonderful vineyards. The most dynamic visitors will not resist the itinerant experi ence "Terroir Monte Zovo": a unique tour through the 3 terroirs of Monte Zovo. In "Cru of Monte Zovo" you will be the protagonists of a tasting on the terrace with a panoramic view. For the lovers of good wine and good food: "Lunch in the Winery", an exciting journey that ends with tasting company's 4 characteristic wines at the table.
Monte Zovo
Via Valena, 3 37029 San Pietro In Cariano (VR) +39 045 montecariano@montecariano.it6838335 www.montecariano.it
Montecariano is a boutique winery founded in the 90's. The winery covers 27 hectares located in the hills of San Pietro in Cariano valley (Verona). The environment represents a nat ural amphitheatre, tucked in wild vegetation, a perfect ecosystem for insects which are a great, natural defensive Montecarianoresponse.organizes wine cellar tours by appointment, with a de tailed description of the vinification process, as well as the professional wine tastings.
VALPOLICELLA
6060
Montecariano
PCHNLJARUESFRDEEN
Montecariano è un'azienda familiare nata negli anni 90 che si estende per 27 ettari sulle colline di San Pietro in Cariano (Verona). L'ambiente rappresenta un anfiteatro naturale con una rigogliosa vegetazione che garantisce un perfetto ecosistema per gli insetti, valido aiuto alla dife sa biologica delle produzioni. Montecariano organizza su appuntamento visite in cantina con descrizione dei processi produttivi e degustazione.
3/A 37141 Verona +39 345 info@montenigo.it1442692 www.montenigo.it PCHNLJARESFRDEENU
Via delle
Visiting our cellar is a pleasure to everyone, not only for the enchant ing view that the landscape offers, but also for the scents and flavors of natural and organic wines, as well as the extra virgin olive oils that you can taste and that will remind you of us in the future.
Visitare la nostra cantina è per tutti un piacere, non solo per la meravigliosa vista che offre il paesaggio, ma anche e soprattutto per i profu mi e i sapori dei vini naturali e bio logici oltre agli oli extra vergini di oliva che potrete degustare e che vi faranno ricordare di noi.
Montenigo Rive,
Chiunque entra dalla nostra porta trova solo semplicità e una calda accoglienza, una famiglia, la nostra che ha voluto ricreare l'atmosfera di una volta, offrendo prodotti genuini, unici e di una bontà straordina ria, perché, se rispettata, la natura, dona ogni anno il meglio di sé.
61 La nostra azienda Agricola Montenigo è una realtà famigliare giovane, si trova a pochi minuti dalla splendida città di Verona, non ab biamo una storia secolare da rac contare, ma breve, intensamente vissuta con passione e incessante impegno, nata nel 2015 dall'idea di Rudi, appoggiato dalla moglie Laura e poco dopo dal figlio Giovanni, che gestisce i processi di vinifica zione, e con l'aiuto saltuario degli altri due figli, Pietro ed Elisa.
Our winery Agricola Montenigo is a young family business, located a few minutes from the wonderful city of Verona. We do not have a centuries-old story to tell, but a short one, that was lived intensively, with pas sion and incessant dedication, born in 2015 from Rudi's idea, supported by Laura, his wife, and shortly after by his son Giovanni, who now runs the winemaking processes, and with the occasional help of the other two children, Pietro and Elisa.
Whoever comes through our door will find the simplicity, a warm welcome as such, and our family which wanted to recreate the atmosphere of the past, offering genuine, unique and extraordinary products, because, if respected, the nature achieves its full potential every year.
VERONA
VERONESESOAVE-EST
WineryMusella Country&Relais
PCHNLJARUESFRDEEN
Via Ferrazzette, 2 37036 San Martino Buon Albergo (VR)
6262
+39 045 973385 / +39 335 7294627 relais@musella.it www.musella.it
The WineRelais consists of the old cellar, 9 rooms and 5 apartments, common lounges, a large breakfast room, a winetasting room and an outdoor pool overlooking the river. In the farm you can participate to wine tasting, cooking classes, yoga classes, use our canoe for excur sions on the river, make beautiful walks on the farm/vines and also with the bicycles that we provide go to the near towns and the city center of Verona. On the river that flows in our garden during the right season it is possible to fly fishing, with an expert for beginners or on their own. Also at just 2 kilometers from us, a 9 holes course Golf. It is also pos sible to go for truffles with one of our experts and his dog. Naturally, what attracts our visitors most are the winetastings and visits to the winery where it is possible to dis cover how a biodynamic company operates, visiting the vineyards and the cellar. Finish with a glass of wine in front of a plate of typical cheeses and discover the aroma of our wines is the perfect conclusion after a day dedicated to the discovery of our territory.
Il Relais consta di 9 camere e 5 appartamenti, una reception, alcuni salotti comuni sia interni che ester ni, un'ampia sala colazioni, una sala degustazioni, e una piscina che si affaccia sul fiume. In azienda è possibile partecipare oltre alle degustazioni, a corsi di cucina, corsi di yoga, utilizzare la nostra canoa per escursioni sul fiume, fare bellissime passeggiate in azienda con le biciclette che mettiamo a disposizione oppure a piedi; in bicicletta si può arrivare sia in paese o alla città di Verona. Sul fiume che attraversa nel nostro giardino è possibile in sta gione praticare la pesca alla mosca, anche guidata. A soli 2 chilometri da noi, per gli appassionati, un campo da Golf di nove buche. Nelle stagio ni adatte è anche possibile anda re a tartufi con un nostro esperto e il suo cane. Naturalmente ciò che attrae maggiormente i nostri visitatori sono le degustazioni e le visite in azienda dove è possibile scoprire come opera un'azienda biodinami ca, visitando le vigne e la cantina.
The history of Villa Canestrari dates back to 1888 when Carlo Bonuzzi graduated in Oenology at the Royal School of Conegliano Veneto, carry ing on the family wine-making tra dition in the Illasi Valley. A century
La storia di Villa Canestrari inizia nel 1888 quando Carlo Bonuzzi si di ploma in Enologia alla regia scuola di Conegliano Veneto, proseguendo nella Val d'Illasi l'attività vitivinicola già avviata di famiglia. Un seco lo dopo, un matrimonio d'amore e di professione unisce due famiglie del vino, Franchi e Bonuzzi, sotto il nome Villa Canestrari. Fiore all'occhiello della nostra produzione, oltre ai vini del Soave, è l'ampia gamma di Amarone della Valpoli cella. A testimonianza del lavoro di vignaioli da ben quattro generazioni nasce il Museo del Vino, che offre un percorso dalla vite alla bottiglia, tra macchinari e strumenti di inizio '900 utilizzati per la produzione del vino. Il Museo del Vino è aperto (su prenotazione) per degustazioni dei vini Villa Canestrari e visite guidate alle sale di esposizione e alla cantina sotterranea. Il nostro pacchetto di esperienze si è arricchito con il "Trekking & picnic in vigna" che unisce il tradizionale percorso di visita e degustazione con un'esperienza en plein air, alla scoperta della Val d'Illasi e delle bellezze del nostro territorio.
PCHNLJARESFRDEENU
Via Castello, 20 37031 Illasi (VR) +39 045 marketing@villacanestrari.com7650074 www.villacanestrari.com
63 later, a marriage based on love and vocation merges the two wine-pro ducing families, Franchi and Bonuzzi under the name Villa Canestrari. The pride of our production, as well as our Soaves, is the wide range of our Amarone della Valpolicella. In Il lasi, our Wine Museum testifies the long family tradition in wine-making with a rich exhibition of machiner ies for the production and bottling of wines, from the second half of the 19th century onwards, through a path which leads from the vine to the bottle. The Wine Museum is open (on reservation) for guided tours and wine tastings. Our wine experience proposal is enriched with "Trekking & Picnic in the vineyard" that combines the classic guided tour of the Muse um and wine tasting with the outdoor experience, discovering the Illasi Val ley and the beauty of the area.
Museo del VinoCanestrariVilla
VERONESESOAVE-EST
Nepos Villae
Via Rita Rosani, 1 37024 Negrar di Valpolicella (VR)
6464
Nepos Villae è una realtà nata nel 2017 da una storia di famiglia; nelle mura della villa storica che avvol ge la nostra cantina si può trovare non solo il nostro vino, ma la nostra famiglia pronta ad accogliere ogni ospite che si presenta nella sua corte. Valori e tradizioni caratterizzano la nostra storia.
PCHNLJARUESFRDEEN
+39 329 5345126 (Gianfranco)
+39 388 8540800 (Lucia) info@neposvillae.it www.neposvillae.it
Nepos Villae is a reality born in 2017 from a family history; in the walls of the historic villa that surrounds our cellar, you can find not only our wine, but our family ready to welcome every guest who comes to its court. Values and traditions characterize our history.
VALPOLICELLA
La storia della nostra famiglia è legata da sempre all'arte della viticoltura; viviamo nel cuore della zona classica, a San Pietro in Cariano, e dal 1951 ci dedichiamo alla produzione di vini pregiati, intrec ciando il nostro percorso personale con la storia e le peculiarità del la Valpolicella. La cura della terra fa parte della nostra quotidianità, sin dall'infanzia. È una sensibi lità trasmessa da nostro padre Angelo, che ha trasformato la sua passione in raffinata enologia, e da nostra madre Natalia, che con fede e dedizione al lavoro è sempre stata un punto di riferimento per tutta la famiglia. Ora entrambi noi fratelli abbiamo una missione che ruota attorno alla terra e al vino: la cura dei vigneti, accuditi con passione da Giancarlo e la vinificazione raffinata e
Nicolis
www.vininicolis.com PCHNLJARESFRDEENU
genuina, garantita da Giuseppe e dal figlio Angelo, anch'egli enologo. Dal 1978, anno del nostro primo imbottigliamento in azienda, abbiamo ricevuto numerosi riconoscimenti, partecipando a concorsi nazionali ed internazionali.
The history of our family has always been involved in the art of viticul ture. We live in San Pietro in Cari ano, in the heart of the Valpolicella Classica Area, and since 1951 we have been producing world-class wines and incorporating our own personal goals with the history and uniqueness of the Valpolicella area. The care for our land has been part of our daily life, since childhood. This sensitivity has been passed down to us from our father Angelo, who transformed his passion for his land into the meticulous art of wine making, and from our mother Natalia, who with faith and dedication to work has always been a point of reference for the whole family. Now both of us brothers have the mis sion to carry on the family tradition. Giancarlo focuses his attention on the vineyards, and Giuseppe – with his son Angelo – ensures the wine making is true to his father's beliefs of natural and refined wine. Since 1978, the year of our first bottling in the company, we have earned numerous awards for our wines at both national and international competitions.
65 VALPOLICELLA
Via Villa Girardi, 29 37029 San Pietro in Cariano (VR) +39 045 info@vininicolis.com7701261
VALPOLICELLA
6666
Via Novaia, 1 37020 Marano di Valpolicella (VR) +39 045 7755129 / +39 340 7766613 info@novaia.it www.novaia.it
yards, olive groves, cherry trees and ancient stone walls. In Marano from the 19th century to the present the Vaona Family cultivates their lands and passes the ancient winemak ing tradition of fine classic wines: Valpolicella, Ripasso, Recioto and Amarone. Here the hilly vineyards (250-400m a.s.l.) and the marly-cal careous soils, interspersed with vol canic and tuffaceous layers, with low fertility, enhance the native varieties Corvina, Corvinone, Rondinella, Ose leta, Turchetta and Molinara. At Novaia the management is organic and eco-sustainable, for a healthy habi tat rich in biodiversity, a fundamental heritage for Novaia lands and wines: wines with authentic, sapid, mineral, structured, elegant aromas, with a great identity and a deep bond with the territory. Available wine tours in the cellar and in the vineyards, to learn about the wines, but also the delicate process of selection, har vesting and grapes crushing.
Novaia
Novaia, azienda biologica, si trova nel cuore della Valpolicella Classica, in uno degli angoli più suggestivi della Valle di Marano, tra vigneti, oliveti, ciliegi ed antichi muri a secco. A Marano di Valpolicella dall'800 ad oggi la Famiglia Vaona coltiva le proprie terre e tramanda l'antica tradizione di produzione di pregiati vini Classici: oggi il Valpolicella, il Ripasso, il Recioto e l'Ama rone. Qui i vigneti collinari (250-400m s.l.m.) ed i terreni marnoso-calcarei e tufacei, intercalati da strati di origine vulcanica, dalla bassa fertilità, ben valorizzano i vitigni autoctoni Corvina, Corvinone, Rondinella, Oseleta, Turchetta e Molinara. Nella tenuta la conduzione è biologica ed ecosostenibile, per un ambiente sano e ricco di biodi versità, patrimonio fondamentale per le terre ed i vini NOVAIA: vini dai profumi autentici, sapidi, minerali, di struttura, eleganti, con una grande identità ed un profondo legame con il territorio. Si organizzano wine tours in cantina e tra i vigneti, per conoscere i vini, ma anche il delicato processo di selezione, raccolta e lavorazione delle uve.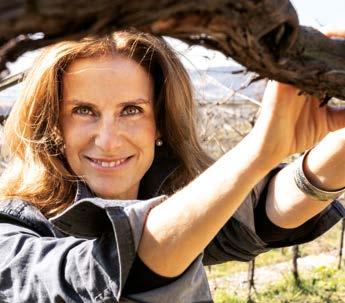 Novaia Organic Winery is located in the heart of Valpolicella Classica, in one of the most suggestive areas of the Marano Valley, among vine
PCHNLJARUESFRDEEN
Dal 1933 la storia di Cantina Valpolicella Negrar è la storia di uomini e donne dediti alla creazione di vini di qualità, sincera e viva espressione del territorio dove coltivano oltre 700 ettari di vigneto. Un sorriso, lo sguardo attento e la dedizione dei nostri viticoltori in un luogo che rimane nel cuore sono le fondamenta della nostra Cantina. Da anni la Cantina è impegnata nel migliorare l'attività di ricezione e nell'offrire ai nostri ospiti la migliore esperienza possibile. "Soggiornare dai viticoltori" e la nuova Osteria di Campagna Domìni Veneti di Cavaion Veronese fanno parte di un progetto di ospi talità esteso fra la Valpolicella e il Lago di Garda che favorisce un turismo sostenibile per gustare in loco il ritmo lento delle stagioni, i sapori dei piatti tipici a Km 0 e ottimi calici di Amarone, Recioto, Valpolicella e Ripasso, nel rispetto della osteria-domini-veneti/https://www.cantinanegrar.it/it/soggiornare-dai-viticoltori/https://www.cantinanegrar.it/natura.
The history of Cantina Valpolicella Negrar embodies the history of the men dedicated to the creation of quality wines since 1933. It is a sincere and profound expression of the terri tory encompassing over 700 hectares of vineyards. The smiles, keen eyes and dedication of our winemakers in a place that is in our hearts are the foundations of Cantina. For several years the winery has been committed to improving the welcoming and offer ing our guests the best possible expe rience. "Staying with the winemak ers" and the new Osteria di Campagna Domìni Veneti in Cavaion Veronese are part of an extended hospitality project between Valpolicella and Lake Garda that favors sustainable tour ism to enjoy the slow rhythm of the seasons on site, the flavors of typical dishes at Km 0 and excellent glasses of Amarone, Recioto, Valpolicella and osteria-domini-veneti/https://www.cantinanegrar.it/en/stay-at-the-vineyards/https://www.cantinanegrar.it/en/Ripasso.
67 LAGO DI GARDA VENETO
VenetiDomìniOsteria
Strada Villa, 18 37020 Cavaion Veronese (VR) +39 045 2595925 / +39 045 6014300 www.cantinanegrar.itinfo@dominiveneti.itinfo@cantinanegrar.it www.dominiveneti.it PCHNLJARESFRDEENU
ilaria.eboli@pasqua.it8432111 www.pasqua.it
6868
VERONA
PCHNLJARUESFRDEEN
WinesPasqua Belvedere, 135 37131 Verona 045
Via
+39
Pasqua Vigneti e Cantine is a his toric company producing Veneto wines, each one characterized by a strong personality and style. The company's ambition is to bring into the future all the winemaking experience consolidated over 100 years of history with renewed sty listic codes. For our visitors all over the world, the winery offers tasting guides and itineraries for those who love Valpolicella wines and seek an unconventional experience: the Pasqua Icons Experience to learn about the wines and most iconic labels and the Pasqua Winemaking Experience to experiment and cre ate your own perfect blend.
Pasqua Vigneti e Cantine è una sto rica azienda di produzione di vini veneti, ciascuno caratterizzato da una forte personalità e stile. Ambizione dell'azienda è portare nel futuro, con codici stilistici rinnovati, tutta l'esperienza vitivinicola consolidata in 100 anni di storia. Ai visitatori di tutto il mondo, la cantina propone percorsi di degustazione e itinerari creati per gli amanti dei vini della Valpolicella desiderosi di vivere un'esperienza non convenzionale: dal Pasqua Icons Experience, per scoprire i vini e le etichette più iconiche, al Pasqua Winemaking Experience per sperimentare e creare il proprio blend perfetto.
Pieropan
The new "Leonildo Pieropan" wine cellar is perfectly nestled in Soave hills, so much so that it became its part and parcel. Visitors can have a tour of the innovative and futuristic building, guided by a specialized staff, so as to discover the history of Pieropan family, winemakers for four generations. At the end of the visit, it is possible to taste the wines along with some local products. Starting from 2022, we placed at our clients' disposal 6 rooms in Villa Cipolla Pieropan, a XV century Venetian villa that was recently restored, and used as a wine cellar and to host our vis itors.
+39
69
Via 37038MatteottiSoave (VR) 045
info@pieropan.it6190171 www.pieropan.it PCHNLJARESFRDEENU
La nuova cantina "Leonildo Piero pan" è perfettamente incastonata nelle colline del Soave, tanto da diventarne parte integrante. È possibile visitare la struttura, innovativa e futuristica, accompagnati da personale specializzato, per scoprire la storia della famiglia Pieropan, vignaioli da quattro generazioni. Al termine della visita si possono degustare i vini, abbinati a prodotti locali. Dal 2022 verranno messe inoltre a disposizione 6 camere nella struttura di Villa Cipolla Piero pan, Villa Veneta del XV secolo recentemente ristrutturata e adibita sia a cantina che ad accoglienza. VERONESESOAVE-EST
"Con i piedi per terra e lo sguardo al cielo, il cuore al vigneto e la testa al vino che sarà." Dal 1906 a oggi, noi della famiglia Recchia abbiamo sempre avuto la vocazione a fare vino, come la nostra terra. Innamorati della vite, della sua coltura ma anche della sua cultura: un sapere che si evol ve nel tempo, grazie allo studio e al monitoraggio del suolo, alla sua composizione e conformazione, e a un'attenta scelta di sesto e tipologia di impianto. È questo lo spirito che ci accompagna in tutto il no stro fare: dalla scelta del vigneto all'uva, fino alla bottiglia e al momento dell'assaggio. Produciamo tutti vini della Valpolicella Classica come il Superiore, il Valpolicella Ripasso e i grandi Amarone e Recioto. Dal lago di Garda completiamo la gamma con Bardolino, Chiaretto, Custoza, Pinot Grigio e Garda Doc. Siamo a Jago di Negrar dove la casa del vino è specchio del ter ritorio circostante, una struttura bella da visitare che ti permetterà di assaporare al meglio il nostro vino, creando un blend perfetto di gusto, profumo e vista.
"With your feet on the ground and your gaze to the sky, your heart to the vineyard and your head to the wine that will be." From 1906 to today, we, the Recchia family, have always had the calling to
VALPOLICELLA
Via Ca' Bertoldi, 30 37024 Negrar di Valpolicella (VR) +39 045 info@recchiavini.it7500584 www.recchiavini.it
7070
PCHNLJARUESFRDEEN
Recchia
make wine, just like our land. In love with the vine, its cultivation but also its culture: a knowledge that evolves over time, thanks to the study and monitoring of the soil, its composi tion and conformation, and a careful choice of spacing and type of plant. This is the spirit that accompanies us in everything we do: from the choice of the vineyard to the grapes, to the bottle and to the moment of tasting. We all produce Valpolicella Classica wines such as Superiore, Valpolicella Ripasso and the great Amarone and Recioto. Near the Lake Garda we complete our range with Bardolino, Chiaretto, Custoza, Pinot Grigio and Garda Doc. We are in Jago di Negrar where the wine house is a mirror of the surrounding area, a beautiful structure to visit that allows you to taste our wine at its best, creating a perfect blend of taste, aroma and sight.
info@robertomazzi.it7502072 www.robertomazzi.com PCHNLJARESFRDEENU
La cantina Roberto Mazzi e Figli, vitivinicoltori dal 1900 nel cuore del la Valpolicella Classica, è una realtà a conduzione familiare. Al nostro ospite diamo la possibilità di sce gliere tra la visita con degustazione classica ed il tour con pranzo-degustazione, potendo inoltre optare anche per il soggiorno nel nostro b&b di famiglia, direttamente ai piedi dei nostri vigneti. Il viaggio alla scoperta della cantina avrà inizio nell'an tico molino ad acqua, del 1600; ci si sposterà poi per una camminata in vigna, nell'affascinante cornice della Valpolicella Classica; per finire si potranno assaporare i profumi ed i segreti delle nostre barricaie. A seguire, l'incontro con il vino: le diverse personalità dei nostri prodotti verranno spiegate dal titolare della cantina ed ogni vino sarà accompagnato da bruschette all'olio d'oliva di nostra produzione, salumi ed un dolce locale. Per poter immergersi ancora di più nella "valle dalle molte cantine", offriamo la possibilità di trascorrere la notte nel nostro b&b, risalente al 1800.
VALPOLICELLA
+39
&MazziRobertoFigli
the foot of our vineyards. The journey of discovery through the winery will begin in the old watermill, dating back to the 1600s; we will then move on for a walk through the vineyards, in the fascinating setting of the Valpolicella Classica; to finish, we will savour the aromasand the secrets of our cel lars. To follow, the meeting with the wine: the different personalities of our products will be explained by the owner of the winery and each wine will be accompanied by bruschetta with our own olive oil, cold cuts and a local dessert. In order to immerse ourselves even further in the 'valley of the many cellars', we offer the possibility of spending the night in our b&b, which dates back to the 1800s.
The Roberto Mazzi e Figli winery, wine growers since 1900 in the heart of the Valpolicella Classica region, is a family-run business. We give our guests the choice between a tour with classic wine-tasting and a tour with lunch-tasting, and they can also opt to stay in our family b&b, directly at
Via Crosetta, 8 37024 Negrar di Valpolicella (VR) 045
71 VERONESESOAVE-EST
All'ombra del maestoso castello medievale di Soave, proprio a ri dosso delle antiche mura, si trova Rocca Sveva, un borgo medievale che Cantina di Soave ha trasfor mato in un centro di eccellenza vinicola. Rocca Sveva, con le sue suggestive cantine, l'elegante wine shop, il rigoglioso giardino botanico e il vigneto sperimentale, è un vero e proprio omaggio alla cultura del vino: uno straordi nario condensato di storia, tradizione e qualità. Qui nascono i vini Rocca Sveva e gli spumanti meto do classico, una piccola, ricercatissima selezione. Ricercatezza che si ritrova anche visitando le cantine, tra enormi botti di rovere, lunghe file di barrique e di pupitre dove i vini e gli spumanti riposano per lunghi anni. Rocca Sveva non è solo un luogo da visitare, è un'esperienza che merita di essere vissuta, grazie ai numerosi eventi, alle degustazioni, ai convegni e a tutte le molteplici attività che lo animano quotidianamente e che richiamano ogni anno migliaia di turisti da tutto il mondo.
PCHNLJARUESFRDEEN
7272
culture. With its picturesque cellars, elegant wine shop, flourishing botanical garden, and experimen tal vineyard, it represents a unique tribute to that culture, with an ex traordinary amalgam of history, tradition and quality. Today, it is the home of the Rocca Sveva wines and classic-method sparkling wines, an extremely limited-production of absolute quality products. Quality is what the visitor will find, too, in strolling through the cellars among enormous oak ovals, and endless rows of wine barrels, where the wines rest for many years. Rocca Sveva is not just a place to visit, but it is an adventure that should be personally experienced, as it offers many special events, tastings, and a whole host of activities that animate daily life here, to the de light of thousands of tourists from all over the world.
Via Covergnino, 7 37038 Soave (VR) +39 045 borgoroccasveva@cantinasoave.it6139845 www.roccasveva.it
In the shadow of the majestic me dieval Castello di Soave, right up against the castle's ancient walls, lies Rocca Sveva, a hamlet built in the Middle Ages which has been transformed by Cantina di Soave into a prestigious centre of wine
SvevaRocca
Via Pozzo, 2 – Località Valgatara 37020 Marano di Valpolicella (VR) +39 045 7703348 / +39 388 645666 export@sanrustico.itinfo@sanrustico.it www.sanrustico.it PCHNLJARESFRDEENU
L'azienda ha un'antica tradizione vitivinicola familiare iniziata nel lontano 1870 a Marano di Valpolicella nel cuore della zona Classica. L'attività ereditata dal bisnonno Luigi è stata tramandata di padre in figlio, fino all'attuale quinta generazione. Oggi i fratelli Marco ed Enrico Campagnola proseguono con dedizione e pas sione l'attività di famiglia, restando fedeli alle tradizioni enologiche della Valpolicella Classica. Seguono personalmente ogni fase di produzione, essendo Marco enologo ed Enrico agronomo: dalla coltivazione dei vigneti alla selezione e raccolta a mano delle uve, dall'appassimento tradizionale alla vinificazione, dall'affinamento fino all'imbottigliamento. La Cantina effettua visite guidate dove viene spiegato l'intero processo produttivo per concludere poi con una degustazione in cui vengono evidenziate le caratteristiche dei vini prodotti.
The family-run company San Rustico has a long tradition in wine management, having founded the company far back in 1870 in Marano di Valpolicella, the heart of the Classic area. The busi ness, inherited by the great-grand father Luigi, has been passed down from father to son. Today the brothers Marco and Enrico Campagnola con tinue the business with passion and devotion, faithful to the wine mak ing traditions of Valpolicella Classi ca. Marco and Enrico, respectively oenologist and agronomist, personally follow each stage of production: from vineyard cultivation, and subsequent grape selection and harvest, to the traditional drying and ageing methods that are unique to the classic Valpoli cella region. The winery offers guide tour, during which the entire produc tion process is explained, and then it concludes in tasting that highlights the features of the produced wines.
73 San ValgataraRustico
VALPOLICELLA
DeSandroBruno Santa Margherita, 26 Montecchia di Crosara 393 8604285 045
(VR) +39
accoglienza@sandrodebruno.it6540465 www.sandrodebruno.it
/ +39
Immersa nella zona del Soave e dei Monti Lessini, terre vulcaniche e particolarmente vocate, che offrono un panorama spettacolare, l'Azienda Agricola Sandro De Bruno produce vini con l'obiettivo di valorizzare e meglio rappresentare la vocazione del territorio in cui nascono, interpretare la singola annata e vitigno, e proporre un'idea personale e semplice del vino: genuino e sano, estre mamente espressivo e in grado di emozionare nel tempo. La visita alla cantina, seguita dalla degustazione guidata e sensoriale, è il modo migliore per entrare in contatto con la realtà locale e aziendale, attraverso un percorso che coniuga la storia del territorio, la cultura del vino e il piacere della scoperta dei prodotti autoctoni. Avvalendosi di tre sale interne, adattabili a molteplici esigenze e riservabili per ogni tipo di evento, di una cucina attrezzata e di uno staff competente, la struttura si adatta perfettamente ad ospitare eventi privati e cerimonie, convegni, meeting e giornate di team-building organizzati su misura. L'azienda inoltre organiz za, a cadenza mensile, degustazioni guidate con abbinamento vino-cibo,
verticali e blind-tasting; serate a tema, live-music e pic-nic. Lasciati emozionare dalle nostre espressioni vulcaniche...
7474
Immersed in the area of Soave and Lessini Mountains, volcanic and par ticularly well-suited lands, which offer a spectacular panorama, Sandro De Bruno Winery produces wines with the aim of enhancing and better rep resenting the vocation of the territory in which they are born, interpreting the single vintage and grape variety, and proposing a personal and simple idea of wine: genuine and healthy, extremely expressive and capable of touching people over time. The visit to the cellar, followed by the guid ed and sensorial tasting, is the best way to get in touch with the local and corporate reality, through a path that combines the history of the territory, the culture of wine and the pleasure of discovering local products. Equipped with three indoor rooms, adaptable to various needs and bookable for any type of event, an equipped kitchen and a competent staff, the building is perfectly suited to host private events and ceremonies, conferences, meet ings and tailor-made team-building days. Sandro De Bruno organizes also monthly guided tastings with winefood pairing, vertical and blind-tast ing; theme nights, live-music and picnics. Let yourself be moved by our volcanic expressions...
Via
37030
PCHNLJARUESFRDEEN
VERONESESOAVE-EST
37029 San Pietro In Cariano (VR) +39 045 7701074 comunicazione@santasofia.com www.storiedivalpolicella.it (e-shop) www.santasofia.com
Santa Sofia is a historical winery which headquarters and vineyards are located both in Valpolicella Classica, Eastern Valpolicella and Lugana. The company has been producing wines in the cellars nearby the Palladian vil la since 1811 and currently it exports in 60 countries all around the world. The style is authentic, elegant and expres sive, always coherent with Valpolicella's native grapes characteristics.
Via Ca' Dedè, 61 – Località
Pedemonte di Valpolicella
PCHNLJARESFRDEENU
Santa Sofia è azienda storica con vigneti e cantina nella Valpolicella Classica, Valpolicella Orientale e Lugana. Produce vini dal 1811 nelle antiche cantine adiacenti alla villa palladiana ed esporta in più di 60 paesi nel mondo. Lo stile è autentico, elegante ed espressi vo, sempre coerente con le carat teristiche delle uve autoctone della Valpolicella.
75 VALPOLICELLA
Santa Sofia
PCHNLJARUESFRDEEN
7676
SanTenutaSeiterreLeone
Seiterre extends on about 350 hec tares, and San Leone winery is one of the estates that makes part of it. The winery covers about 40 hec
tares along the banks of Mincio river and it is located in a strategic point, a few kilometres far from Verona and Mantua. The facility is designed for wine tourism: it is equipped with a farmhouse with ten rooms and a swimming pool immersed in the vine yards, where it is possible to do nice walks or bike trips. The Estate in cludes a cellar with a museum, a barrel room, a didactic vineyard, a wine shop - where guests can taste and buy wine and other farm products – as well as a "Risotteria", where vis itors can taste rice dishes of our own production: Vialone Nano Rice. There is also a brewery and a pub where the beer - produced with malt, made from our barley - can be tasted and bought. Then, there is also a conference room for 60 people and a wide car park for coaches and large groups. The entire structure can be visited individually or by appointment. The company is now run by the owner Luigino Rizzi, the 5th generation family member, together with his daughter Anna.
Seiterre è una realtà di 350 ettari e Tenuta San Leone è una delle aziende che la compongono, estendendosi per circa 40 ettari lungo la riva del fiume Mincio, in un punto strategico, a pochi km da Verona e Mantova. La struttura è stata progettata e pensata per l'accoglienza, è dotata di un agriturismo di dieci camere con piscina immersa nei vigneti di Garganega, Rondinella e Molinara, dove è possibile fare bellissime passeggiate e giri in bici, di una cantina con museo, barricaia, vigneto didattico e wine shop dove poter assaggiare ed acquistare i prodotti aziendali, di una risotteria dove si possono degustare piatti a base di Riso Vialone Nano di nostra produzione e un birrificio e birreria dove è possibile degusta re e acquistare la birra che viene prodotta con malto ricavato dal nostro orzo. È dotata inoltre di un sala conferenze che può ospitare 60 persone e di un ampio parcheggio per pullman e gruppi di persone. L'intera struttura è visitabile singo larmente oppure su prenotazione, con visita dell'azienda e successiva degustazione. Arrivati alla 5a gene razione, il titolare Luigino Rizzi conduce l'azienda con la figlia Anna.
Via Gardesana Sud, 3101 37067 Valeggio sul Mincio (VR) +39 045 anna.rizzi@seiterre.cominfo@seiterre.com7945498 www.seiterre.com
LAGO DI GARDA VENETO
VALPOLICELLA
Stefano WinesValpolicellaAccordini
77 Località Camparol, 10 - Frazione Cavalo – 37022 Fumane (VR) +39 045 visit@accordinistefano.com7760138 www.accordinistefano.it PCHNLJARESFRDEENU
The history of the wine producer Stefano Accordini started at the beginning of the 1900's when Gaetano Accordini, the father of Stefano, pro duced wine as a sharecropper. In the 1970's, after the abolition of share cropping contracts, Stefano bought the first vineyard of the Accordini Family, achieving his dream of establishing a winery. Stefano pro duced Valpolicella wine for the local market until 1982 when he passed the company down to his sons, Tiziano and Daniele. After having re-examined certain technical and quality aspects of the business, the family planted new vineyards, moving on to tackle foreign markets. Nowadays, the company owns 30 hectares of vineyard in the highest region of the Valpolicella Classica district, mean ing it can be described as "mountain winemaking". La storia della Cantina Accordini Stefano inizia nei primi anni del No vecento, quando Gaetano Accordi ni, padre di Stefano, produceva vini da mezzadro. Negli anni Settanta, dopo l'abolizione dei contratti di mezzadria, Stefano acquistò il primo vigneto della Famiglia Accor dini, coronando il sogno di fondare una Cantina. Stefano produsse vino Valpolicella per il mercato locale fino al 1982, dopodiché il lavoro passò nelle mani dei giovani figli Daniele e Tiziano. Dopo aver rivisto alcuni aspetti tecnologici e qualitativi, la famiglia piantò nuovi vigneti, passando ad approcciare i mercati esteri. Oggigiorno l'azienda conta 30 ettari di vigneto sul territorio più alto della Valpolicella Classica, e può essere definita una viticultura "di montagna".
Tenuta La Cà si compone di 15 ettari coltivati a vite e olivo adagiati sulle colline moreniche di Calmasino di Bardolino, a pochi chilometri dalle sponde venete del lago di Garda. Qui Pietro e Aldo Giambenini hanno scelto di tornare, per trasformare la terra dei genitori in una vera e propria impresa. L'intero processo è biologico e certificato; la filiera cortissima, visto che la vigna più lontana dista appena 600 metri dalla cantina dove viene effettua ta una vinificazione di precisione, basata su una scrupolosa parcellizzazione degli appezzamenti, che esalta le differenze di ciascun vigneto. Tenuta La Cà è un luogo da vivere e osservare dato che ogni particolare è curato con estrema attenzione. Per questo le visite e le degustazioni, con l'obiettivo di coinvolgere a fondo l'ospite e farlo entrare nella visione dei due fratelli
7878
LaTenutaCà
+39
www.tenutalaca.it
sono dense di contenuti sia tecnici che umani che esperienziali. A completare l'offerta sono presenti sei appartamenti adiacenti ai vigneti da dove poter ammirare lo splendido panorama godendo di un calice di vino di benvenuto a bordo piscina.
37011
Tenuta La Cà is made up of 15 hectares planted with vines and olive trees lying on the morainic hills of Calmasino di Bardolino, a few kilometers from the Venetian shores of Lake Garda. Here Pietro and Aldo Giambenini have chosen to return, to transform their parents' land into a real venture. The whole process is organic and certified; the production chain is very short, as the furthest vineyard is just 600 meters from the cellar where a precision winemaking is carried out. It is ob tained applying a meticulous frag mentation to the vineyard, which enhances the differences of each plot. Tenuta La Cà is a place to live and to observe as every detail is treated with extreme care. For this reason, the tours and tastings, with the aim of deeply involving the guest and bringing him into the vision of the two brothers, are full of both technical and human and experien tial contents. To complete the offer there are six apartments located by vineyards where you can admire the splendid landscape while enjoying a welcoming glass of wine by the pool.
PCHNLJARUESFRDEEN
LAGO DI GARDA VENETO
Strada La Cà, 6 Calmasino di Bardolino (VR) 045 cantina@tenutalaca.it6212733
Cura, passione e rispetto: l'esperienza della famiglia Bertani nelle varietà autoctone e metodi tradizionali veronesi si unisce alla continua ricerca e innovazione per produrre vini dall'eleganza senza tempo, pura espressione del nostro territorio. Le cantine cinquecentesche di Villa Mosconi Bertani in Valpolicella Classica, la tenuta di Colognola ai Colli in Val d'Illasi e le proprietà a Grezzana comprendo no diversi terroir che coprono le principali denominazioni veronesi. La nostra sede di Villa Mosconi Bertani risale al 1700, ed è possibile visitarne le stanze affrescate, il rigoglioso parco romantico affiancato dai vigneti nel brolo, le antiche cantine cinquecentesche e il fruttaio storico. Con le nostre degustazioni potrete scoprire le tradizioni e caratteristiche del nostro territorio e le tecniche produttive dei nostri vini, accompagnandoli opzionalmente con assaggi di pro dotti gastronomici di produzione locale. Villa Mosconi Bertani ospita eventi aziendali e privati, con la possibilità di organizzare pranzi e cene nella cornice fiabesca della Villa e dei suoi giardini.
79 Località Novare, 1 37024 Negrar di Valpolicella (VR) +39 045
Care, passion and respect: the expe rience of the Bertani family in local varieties and traditional Veronese methods, combined with continu ous research and innovation, pro duce wines with timeless elegance, pure expression of our territory. The sixteenth-century cellars of Villa Mosconi Bertani in Valpolicella Clas sica, the Colognola ai Colli estate in Val d'Illasi and the properties in Grez zana include several terroirs that cover the main Veronese denomi nations. Villa Mosconi Bertani dates back to the 18th century, and it is pos sible to visit its frescoed rooms, the lush romantic park surrounded by the walled vineyards in the clos, the ancient 16th-century cellars, and the historic fruttaio. With our wine tast ings you can discover the traditions and characteristics of our territory and the production techniques of our wines, optionally paired with locally produced gastronomic products. Vil la Mosconi Bertani hosts corporate and private events, with the possibil ity of organizing lunches and dinners in the fairytale setting of the Villa and its gardens.
VALPOLICELLA
diSantaTenutaMariaGaetanoBertani
info@tenutasantamaria.wine6020744 www.tenutasantamaria.wine PCHNLJARESFRDEENU
SalvaTerraTenute
info@salvaterra.com6859025 www.tenutesalvaterra.it
8080
Via Cengia, 85 San Pietro in Cariano (VR) 045
37029
PCHNLJARUESFRDEEN
+39
Salvaterra was born thanks to the courage and tenacity of a group of entrepreneurs who brought together their skills, resources and experi ences in favour of this project. With its rich range, Salvaterra proposes itself today as a vehicle of quality and recognizability, capable of trans mitting the best of Veneto winemaking culture with elegance and care. Salvaterra is located in Villa Giona, a historic residence of the sixteenth century and one of the most fascinat ing in the Valpolicella Classica. In the spaces once used as a greenhouse, the sales point and the tasting room have been created, furnished with the recovery of natural materials where we carry out tastings, events, light lunches with local products of the highest quality that vary according to requests and the season.
Salvaterra nasce grazie al coraggio ed alla tenacia di un gruppo di imprenditori che hanno messo a disposizione di questo progetto le loro competenze, risorse ed esperienze. Con la sua ricca gamma Salvaterra si propone oggi come veicolo di qualità e riconoscibilità, capace di trasmettere con eleganza e cura il meglio della cultura eno logica veneta. Salvaterra ha sede a Villa Giona, dimora storica del XVI secolo e tra le più affascinanti in Valpolicella Classica. Negli spazi un tempo usati come serra sono stati ricavati il punto vendita e la sala degustazione arredati con il recupero di materiali naturali dove svolgiamo degustazioni, eventi, light lunch con prodotti locali di altissima qua lità che variano in base alle richieste ed alla stagione.
VALPOLICELLA
Strada di Bonamico, 11 37029 San Pietro in Cariano (VR) +39 045 info@tenuteugolini.it7703830 www.tenuteugolini.it
VALPOLICELLA
La terra e le vigne fanno parte della storia della famiglia Ugolini. Siamo biologici dal 1996 e produciamo vini e oli d'oliva da vigne storiche e oliveti di proprietà all'interno della Valle di Fumane, in Valpoli cella Classica. Collocata al centro di un anfiteatro di vigne interrotte qua e là da olivi e cipressi, Villa San Michele è il cuore dell'ospitalità del le Tenute Ugolini. Le cantine della Villa sono scavate nella roccia viva e facevano parte di un'antica casa colonica di proprietà dell'Abbazia di San Zeno, patrono della città di Verona. Dal XII secolo i monaci hanno plasmato la terra qui attorno costruendo le "marogne", i tradizionali muretti a secco, per coltivare le vigne sul colle San Michele. Dal 2014 ne abbiamo fatto una casa aperta a tutti gli appassionati del Vino, ma anche di arte, bellezza e "ben vivere". Oltre alle degustazioni di vini e alle visite alla cantina produtti va, proponiamo anche escursioni guidate alla scoperta della Valle di Fumane e gli eventi "Wine&Opera", concerti-degustazioni che abbinano i vini della Valpolicella alla grande tradizione dell'opera.
policella Classica. Facing a mass of uninterrupted grapevines between cypresses, olive and fig trees, Villa San Michele is the heart of Ugolini's hospitality. The cellars of Villa San Michele are built into rock. They belonged to an ancient farm house de scending from Saint Zeno monastery which is located in Verona. Since XII century, the monks have been shap ing the land around the Villa, building the "marogne", the traditional dry stone walls, to cultivate vines on San Michele hill. From 2014, the Ugolini family has opened Villa San Michele to anyone who loves wine, but also art, beauty and "bien vivre". Beyond the wine tastings and the guided visits of the productive cellar, the Ugo lini family also offers guided trek kings to discover the Fumane Valley and "Wine&Opera", musical tastings combining Valpolicella wines to the great Italian tradition of Opera.
PCHNLJARESFRDEENU
The land and vineyards have al ways been part of the Ugolini family history. We are an organic winery since 1996. We produce wines and olive oils from our own historical fields in the Fumane Valley, in Val-
81 UgoliniTenute
diTorreTerzolan
Via Trezzolano, 4 37141 Trezzolano (VR) +39 045 988044 / +39 324 0018421
PCHNLJARUESFRDEEN
VERONA
"Colombo Cypress tree" planted in 1492 can be found, leads to a gar den, and then it reaches the high ground. From there, the landscape opens up to the vineyards. The wine cellar with its arches, stones and silence represents a rare jewel. A small stone staircase leads down into the ancient world. Within this centuries-old architecture, the wine has always been produced. It is here that Torre di Terzolan guards its winemaking secrets. Under the ancient portico Torre di Terzolan dries its grapes through a natural process. This evocative work of architecture, built by our ancestors fully aware of geographic orientation, encourages the fresh breezes of the Squaranto Valley to flow through it. The vil la and its historic garden instil the pleasurable memory of a moment in space and time, a setting for leisure ly hours of soulful relaxation.
A scenographic land, magical and one of its kind. Torre di Terzolan, dating back to 1300's, was the his torical hunting lodge of the Scaligeri family. The estate has developed over the centuries and became the historic residence of cardinal Ri dolfi. The path that goes through the meadow, where the great
info@torrediterzolan.it www.torrediterzolan.it
Un territorio scenografico, magico e unico nel suo genere. Torre di Terzolan nasce nel 1300 come inse diamento di caccia degli Scaligeri. La tenuta si è sviluppata nei secoli ed è divenuta poi l'antica dimora del cardinale Ridolfi. Dal prato, con il grande Cipresso ritenuto messo a dimora nel 1492, da cui il nome "Colombo", ci si inoltra in un par co fino a raggiungere l'altura. Da lì si apre lo sguardo sui vigneti. La Cantina, uno scrigno fatto di archi, pietra e silenzio. Una piccola scala in pietra svela un mondo an tico. In questa architettura seco lare da sempre si è prodotto vino. Nell'antico portico Torre di Terzolan appassisce le proprie uve in modo naturale. Questa affascinante architettura, costruita dai nostri avi con un saggio orientamento, favorisce il passaggio delle fresche correnti d'aria della Val Squaranto. La villa e il giardino storico, lasciano il piacevole ricordo di un momento vissuto nello spazio del tem po e segnano le lente ore del riposo e dell'anima.
8282
+39
www.trabucchidillasi.it PCHNLJARESFRDEENU
83 dialità. Alle visite, in campagna tra i vigneti e nella cantina scavata nella roccia, seguirà la degustazione dei nostri vini, tra cui il pregiato Amarone della Valpolicella. I vini saranno inoltre abbinati a una selezione di formaggi, salumi locali e olio extravergine d'oliva.
Località Monte Tenda, 5 37031 Illasi (VR) 045 azienda.agricola@trabucchidillasi.it7833233
C'è una tradizione che lega la fami glia Trabucchi di Illasi alla coltivazione dei vigneti. Tra le terre della Valpolicella, nella più antica zona vitivinicola d'Italia, a est di Verona, è situato Illasi. È in questo terroir unico che la famiglia Trabucchi coltiva, dal 1924, le uve della tradizione con agricoltura biologica certificata da oltre 30 anni. 13 ettari a vigneto e 6 ad oliveto, che si estendono sino all'apice della collina, ad una altitudine media di 200 m. s.l.m. L'attività è seguita direttamente dalla fami glia Trabucchi con la collaborazione dell'enologo Franco Bernabei. Il giovane Aristide, nipote, segue in primo piano le fasi della lavora zione in cantina; la sig.ra Raffaella, moglie del Professore si prenderà cura di voi durante la visita, aprendovi le porte di casa con gentilezza e cor
VERONESESOAVE-EST
There's a tradition that links the Tra bucchi family of Illasi to the cultivation of vineyards. Illasi is located among the lands of Valpolicella, in the oldest wine-growing area of Italy, east of Verona. It is in this unique terroir that the family has been growing the traditional grapes since 1924 with certified organic agriculture for over 30 years. 13 hectares of vineyards and 6 of olive groves, which extend to the top of the hill, at an average altitude of 200 m. a.s.l. The activity is followed directly by the family with the collabo ration of the oenologist Franco Bern abei. The young Aristide, grandson, follows every step of the work in the cellar with passion; Mrs. Raffaella, the wife, will take care of you during the visit, opening the doors of the house with kindness. The visits, in the countryside among the vineyards of Valpo licella and in the cellar of 2000 square meters carved out of the rock, will be followed by a tasting of our wines, including the prized Amarone della Valpolicella. Wines can also be paired with a selection of cheeses, local cold cuts and E.v.o.o.
d'IllasiTrabucchi
edCubiValentina-CantinaAgriturismo
Acquistata questa azienda nel 1970 ci siamo imposti di produrre vini di qualità usando esclusivamente le uve da noi coltivate. L'impegno ad operare nel rispetto della natura si è concretizzato nel 2007 iniziando la conversione al biologico. Nel 2010 parte dell'azienda ha ot tenuto la certificazione "bio". I vini prodotti sono risultati di gradimento sia nostro che dei nostri clienti e ci hanno convinto a trasformare tutta l'azienda in "biologico". È maturato in noi il desiderio di far conoscere ad altre persone la realtà della vita in Valpolicella, così abbiamo deciso di aprire, adiacente la cantina, un Agriturismo dove poter ospitare le persone che desiderano vivere la re altà di questa fantastica terra. Oggi 7 camere possono ospitare Italiani e Stranieri che vogliono trascorrere qualche giorno in una zona tranquilla immersa nei nostri vigneti.
We bought this company in 1970 and we set ourselves to produce quality wines using only the grapes grown by us. The commitment to operate in respect of nature took shape in 2007, starting the conver sion to organic. In 2010 part of the company obtained the "organic" certification the wines produced were to the satisfaction of both us and our customers and convinced us to transform the whole compa ny into "organic". The desire to let other people know the reality of life in Valpolicella has matured in us, so we decided to open, adjacent to the cellar, an Agriturismo, where we can host people who wish to expe rience the reality of this fantastic area. Today there are 7 rooms that can accommodate Italians and foreigners who want to spend a few days in a quiet area surrounded by our vineyards.
8484
PCHNLJARUESFRDEEN
VALPOLICELLA
Via Casterna, 60 37022 Fumane (VR) +39 045 info@valentinacubi.it7701806 www.valentinacubi.it
Vantorosso Winery
Vantorosso was born from the meeting between a successful driver, Vanni Pasquali and Franco Allegrini, a lifelong friend and great wine producer from Valpolicella. Franco is the Maestro, owner of Al legrini Estates. Vanni is a driver and car tester. A champion of the race. Its story is a successful path, made of perseverance and ambition. The same ones that he transferred to this new wine project: Vantoros so. Vantorosso starts from a sto ry of friendship and collaboration that led a man, with pride, to revive a place that has long been aban doned, says Vanni: "After a run with my friend Franco in the hills of Mon talcino, in Tuscany, I looked around and said how much I liked the vine yards and the soft hills of Tuscany. And here he replied: 'You too can cultivate your land and make your wine.' So I decided that this would be my new challenge."
VALPOLICELLA
Via Badin, 16 37020 Marano di Valpolicella (VR) +39 335 info@vantorosso.it5317496 www.vantorosso.it PCHNLJARESFRDEENU
Vantorosso nasce dall'incontro tra un pilota di successo, Vanni Pasquali e Franco Allegrini, amico di una vita e grande produttore di vino della Valpolicella. Franco è il Maestro, titolare di Allegrini Estates. Vanni è pilota e tester di auto. Un campione della corsa. La sua storia è un percorso di successo, fatto di perseveranza e ambizione. Le stesse che ha trasferito in questo nuovo progetto enolo gico: Vantorosso. Vantorosso parte da una storia di amicizia e di collaborazione che ha portato un uomo, con orgoglio, a far rinascere un luogo da tanto tempo abbandonato, racconta Vanni: "Dopo una corsa insieme all'a mico Franco sulle colline di Montal cino, in Toscana, mi guardai intorno e dissi quanto mi piacevano i vigneti e le colline morbide della Toscana. Ed ecco che lui replicò: 'Anche tu puoi coltivare la tua terra e fare il tuo vino.' Cosi decisi che quella sarebbe stata la mia nuova sfida."
85 PCHNLJARUESFRDEEN
LAGO DI GARDA VENETO
8686
Via Concordia, 9 37011 Calmasino di Bardolino (VR) +39 340 info@villacalicantus.it3666740 www.villacalicantus.it
CalicantusVilla
We are a small biodynamic winery in the heart of Bardolino wine area. At the center of our work there's the production of great natural wines. We propose unforgettable wine tastings in our 1840's villa close to lake WeGarda.organize wine tastings and guid ed tours which will surely be a great real-life experience for our visitor. Daniele, the winemaker at Villa Cali cantus, guides our visitors in an emo tional and illuminating journey of various aspects that can affect the work both in the vineyard and cellar of a small biodynamic winery: ours are not only tastings, but a real journey into the world of natural wine!
Siamo una piccola cantina biodinamica nel cuore del Bardolino Classico. Il nostro obiettivo è quello di rivalutare il vino Bardolino ripor tando al centro di tutto la vigna e la sua salubrità per essere in grado di produrre vini longevi e rappresentativi di un territorio incredibile come quello del lago di Garda. Organizziamo degustazioni e visite guidate che rappresentano per il visitatore vere e proprie esperien ze di vita. Daniele, vignaiolo a Villa Calicantus, accompagna i visitatori in un percorso emozionale e d'apprendimento dei vari aspetti che riguardano il lavoro in vigna ed in cantina per una piccola realtà bio dinamica: le nostre non sono solo degustazioni, ma un vero viaggio nel mondo del vino naturale!
Località Cordevigo, 1 37010 Cavaion Veronese (VR) +39 045 info@villacordevigo.com7235287 www.villacordevigo.com
LAGO DI GARDA VENETO
Villa Cordevigo, a 5*L hotel in a 16th century Renaissance villa just 10 minutes from Lake Garda and half an hour from Verona, became a member of the prestigious hotel association, Relais & Chateaux in 2017. A residence that has been always rich in history and charm,
87 Villa Cordevigo
Villa Cordevigo, a 10 minuti dal Lago di Garda e mezz'ora da Verona, ho tel 5*L in una villa veneta storica del '500, nel 2017 è entrata a fare parte della prestigiosa associazione di hotel, Relais & Chateaux. Da sempre una dimora ricca di sto ria e charme, parte di un mondo di stante di armonia e bellezza ancora oggi in evidenza grazie all'attento progetto di restauro fortemente voluto dalle famiglie proprietarie Cristoforetti e Delibori, il cui amore per il dettaglio e il servizio impec cabile garantisce un'accoglienza calorosa, in un quadro storico con tutti i comfort moderni, una spa, due ristoranti di cui uno con stella Michelin, il bar Fiordilej e il Pool Bar. La Villa con giardino italiano, par co, piscina con palestra e cipressi ed ulivi secolari è circondata dai propri vigneti che, grazie all'expertise dell'azienda vinicola Villabella producono vini veronesi, alcuni dei quali biologici. Oggi accolgo no gli ospiti 40 spaziose camere e suite confortevoli, ognuna diversa dall'altra, arredate in modo classico con un tocco di contemporaneità.
PCHNLJARESFRDEENU
a dash of harmony and beauty of past times is still evident today, thanks to the ambitious restoration project the Cristoforetti and Delibori families planned and achieved over three years. Their love for detail and impeccable service now ensures a warm welcome in a historical setting with all the modern comforts, includ ing a Spa, Bar Fioedilej and two res taurants, one called Oseleta award ed with the Michelin star in 2013. The Villa with its Italianate garden, park, pool and gym, its age-old cy presses and olive trees are today sur rounded by its own vineyards which, thanks to the expertise of the Villa bella winery, produce wines among the finest in Veneto, some of which are organic. Today we welcome our guests in 40 spacious rooms and suites furnished in a classic manner.
VALPOLICELLA
ospitalita@villadellatorre.it6832070 www.villadellatorre.it
dellaVilla Torre della Torre, 25 37022 Fumane (VR) 045
Via
PCHNLJARUESFRDEEN
+39
Villa Della Torre è una villa rinascimentale, opera insigne dei Maestri Giulio Romano e Michele Sanmicheli, aperta tutto l'anno. Accanto alle degustazioni dei grandi vini della Valpolicella Classica, è possibile godere di suggestioni naturalistiche che rendono il sito un unicum imperdibile. In modo particolare nella collina prospicente la Villa, chiamata Fumana, è in atto un prezioso lavoro di messa a dimora delle antiche viti che già un tempo erano vanto dell'intero territorio.
8888
Villa Della Torre is a Renaissance Villa designed by the master architects Giulio Romano and Michele Sanmicheli open all year round. The Villa's rooms are the ideal setting for organizing wine tastings of the great Valpolicella Classica wines. The sec ond aspect relates to the hill overlooking the Villa, the Fumana, where a considerable painstaking and del icate work is currently underway to secure and maintain the site with the aim of restoring the vines that once stood there, enhancing the area's extraordinary biodiversity of flora and fauna and its archaeolog ical remains, first and foremost the early medieval castle.
+39
Circondata da un ampio parco, la tenuta di Villa La Bagatta è come un'oasi verde sulla riva orientale del lago di Garda. Il magnifico edificio della villa in bianco crema è stato restaurato nella seconda metà del XVIII secolo, da quell'epoca ha ricevuto il suo fascino caratteri stico con i suoi ornamenti di tipo orientale. Nella "Villa" ci sono accoglienti appartamenti di vacanza per soggiornare. Direttamente dietro la villa si trovano i vigneti dell'azienda agricola. La vigna viene lavorata a mano con molta cura, la passione e la sapienza professionale nella vinificazione si rispecchia nei nostri vini pregiati. La bellissima atmosfera invita a trascorrere alcuni momenti di relax e godersi il vino della produzione propria. Vi aspettiamo nel nostro Wine shop.
Surrounded by a large park, the Villa La Bagatta estate is like a green oa sis on the eastern shore of Lake Gar da. The magnificent building of the villa in creamy white was restored in the second half of the 18th century, from that time it received its characteristic charm with its oriental type ornaments. In the "Villa" there are cosy holiday flats to stay in. Directly behind the villa are the vineyards of the estate. Our vines are cultivated carefully by hand. We are passionate about winemaking, creating with each wine something special. The beautiful atmosphere of the property invites you to spend some relaxing moments and enjoy the wine of our own production. We look forward to seeing you in our wine shop.
LAGO DI GARDA VENETO
info@la-bagatta.it7580059 www.la-bagatta.it PCHNLJARESFRDEENU
LaVillaBagatta
89 37017
Località Bagatta, 5 Lazise (VR) 045
L'Azienda agricola Villa Merighi, comprendente una bella villa nobiliare del 1700 con la corte ed i vigne ti circostanti, si trova a San Giorgio in Salici, sulle colline moreniche del lago di Garda, vicino a Verona. Villa Merighi è una realtà unica nel suo territorio. Coniuga storia, eccellenza dei prodotti, visione moderna e grande passione per l'agricoltura biologica. Il rispetto della natura e la ricerca dell'armonia tra uomo e ambiente guidano la produzione di vini di qualità certificati biologici fin dal 1996. Il piccolo oliveto fornisce un olio setoso e delicato, con note di mandorle e profumo di erbe di campo. Si propongono degustazioni dei vini Bardolino DOC, Chiaretto DOC, Custoza DOC, Pinot grigio delle Venezie DOC, Fiore Rosso IGT Verona e Amarone
Villa Merighi
+39
/
PCHNLJARUESFRDEEN
Villa Merighi farm is located on the morainic hills of Garda Lake, in the nearby of Verona. Precisely the farm rises in the little town of San Giorgio in Salici, a village that has been in habited since immemorial times in the 49 AC. The farm comprehends a historical noble villa set into a court surrounded by vineyards and built in 1700. Villa Merighi is a unique reality in its territory. It combines history, quality, modern vision and great passion for organic agricul ture. The respect of nature and the research for harmony between man and environment have been lead ing the production of quality wines. This philosophy has helped the farm in obtaining the organic certifica tion in 1996. In the Villa's room, tastings can be organized with Villa Mer ighi organic wines: Bardolino DOC, Custoza DOC, Chiaretto DOC, Fiore Rosso IGT Verona, Amarone della Valpolicella DOCG. Our wines reflect the territory of their origin and represent the dreams, the efforts, the know-how and the passion of their producer.
della Valpolicella DOCG, provenien te dai campi di Cellore di Illasi. Vini eleganti, buoni, dal carattere im mediato ed essenziale che rispec chiando il territorio di appartenenza ed identificano i sogni, la fatica, la sapienza e le emozioni di chi quei vini li produce.
info@villamerighi.it www.villamerighi.it
9090
Via Gaburri, 58 37060 Sona (VR) 045 7190039 +39 349 8842521
LAGO DI GARDA VENETO
Villa HotelTommasiQuarantaWine&SPA
info@villaquaranta.com6767300 www.villaquaranta.com PCHNLJARESFRDEENU
tà alla tradizione. Una degustazione alla Bottega del Gusto o alla Cantina in Villa sarà un'esperienza territo riale, culturale e sensoriale unica. Vinoterapia, Centro Estetico e Sau na-Thermarium per il relax, e per il benessere attivo, piscine termali e area fitness.
From the passion for hospitality of Tommasi, historical family of win emakers since 1902, emerges Villa Quaranta Tommasi Wine Hotel and SPA: a comprehensive wine experience. A resort complex that blends history and modernity: 79 rooms of a unique style, a master's villa that hosts Restaurant Borgo Antico, a centuries-old park for outdoor ac tivities, a Romanic small church for intimate celebrations. Modernity vibrates in the spaces of the Confer ence Centre, impressive setting for every kind of events up to 450 peo ple. A full immersion for food&wine lovers: a wine list with more than 1300 labels selection, honoured by Wine Spectator with 2 glasses for 8 years in a row, enhances the culi nary proposals that takes inspiration from the territory and its wines with a touch of innovation. A wine tasting at Bottega del Gusto or at Cantina in Villa will be a unique territorial, cultural and sensorial experience. Wine therapy, Beauty Centre and Sauna-Thermarium for relax, and for active well-being, thermal pools and fitness area.
+39
Via Ospedaletto, 57 37026 Pescantina (VR) 045
91 Dalla passione per l'accoglienza di Tommasi, storica famiglia di viticoltori attiva dal 1902, nasce Villa Quaranta Tommasi Wine Hotel & SPA: una wine experience a tutto tondo. Un complesso che fonde storia e modernità con 79 camere dallo stile unico, una villa padronale seicentesca che ospita il Ristorante Borgo Antico, un parco secolare per attività outdoor e una chiesetta romanica per intime celebrazioni. La modernità pulsa negli spazi del Centro Congressi, location di impatto per ogni tipologia di eventi fino a 450 persone. Per gli enoga stronauti, una full immersion nel mondo wine&food: una carta vini con più di 1300 etichette, premia ta con 2 bicchieri dal prestigioso Wine Spectator per l'8° anno consecutivo, accompagna le proposte gastronomiche che trovano ispira zione nel vino con un tocco di novi-
VALPOLICELLA
9292
Via della Segheria, 1/H
Few kilometers east of Verona, the Villa San Carlo estate is a a sizeable oasis of unspoiled greenery. From the top of a hill facing the sunset, the Villa dominates the pre-Roman town of Montorio, famous for its
VERONA
SanVilla WineCarlo
PCHNLJARUESFRDEEN
Località Montorio 37141 Verona +39 045 info@villasancarlo.wine9237753
A pochi chilometri ad est di Verona, la tenuta Villa San Carlo, è un'ampia oasi di verde incontaminato. Dall'alto di una collina rivolta al tramonto la villa domina il paese pre-romano di Montorio, famoso per le sue acque limpide sorgive. Vigneti e olivi immersi in una ricca fascia boschi va sono il vero patrimonio di questa terra vocata alla coltivazione dei vitigni autoctoni della Valpolicella ed alla produzione di vini d'eccellenza quale l'Amarone. Una biodiversità unica conservatasi negli anni grazie all'amore e il rispetto per il ter ritorio, oggi valorizzato anche da pratiche agronomiche sostenibili.
www.villasancarlo.wine
clear spring waters. Vineyards and olive trees immersed in a rich belt of woodland are the real heritage of this land dedicated to the cultiva tion of Valpolicella native vines and production of excellent wines such as Amarone. A unique biodiversity that has been preserved over the years thanks to love and respect for the territory, today alsoenhanced by sustainable agronomic prac tices. Villa San Carlo offers three emotional experiences, different sensory paths articulated between wines and EVO oil tastings, visits to the cellar, walks and and stories: Nuances of Valpolicella, Journey through time with Amarone, Pic-nic among the vineyards and #VillaSan CarloExperience. Close to the estate from the recovery of industrial historical buildings, the new wine shop also houses a large tasting room perfect for tailormade tastings, cultural meetings and events.
Villa San Carlo offre tre esperienze emozionali, diversi percorsi sensoriali articolati tra degustazioni dei vini e olio EVO, visite in cantina, passeggiate tra i vigneti racconti: Sfumature del Valpolicella, Viaggio nel tempo con l'Amarone, Pic-nic in vigna e #VillaSanCarloExperien ce. A pochi passi dalla cantina, dal recupero di edifici di interesse storico industriale, il nuovo wine shop ospita anche una ampia sala degustazione ideale per degustazioni su misura, incontri culturali ed eventi.
93 PCHNLJARESFRDEENU
Local wines meet here Malbec and Chardonnay, to create a melting pot and delight guests to make them feel at home and on the other side of the world.
Via Poiano, 2/A - Località Bure
with innovation in wine production and enotourism. The relaxing envi ronment of our spaces, all made of see-through glass overlooking the cellar, are designed with the inten tion of giving our guests a unique and all-embracing experience, hard to forget. The tour starts in the Terroir room, passing through the Produc tion Area, with its majestic Tulipe concrete tanks, ending in the Cellar where the precious Amarone, Ripasso and Valpolicella are left ageing. The sensory experience finds its per fect conclusion with the Wine Tast ing, true signature product where the visitors are cuddled by a friendly and passionate staff, served with local products. Tradition, design and international influences are the core ingredients animating our business.
Villa San Pietro Winery, un corner di modernità nel cuore della Valpolicella Classica. Ilaria Accordini, fondatrice di quest'azienda a conduzione famigliare, da sem pre coniuga le salde tradizioni sto riche del territorio all'innovazione in campo vitivinicolo ed enoturistico. I rilassati contesti dei nostri spazi, tutti a vetrate affacciate sulla produzione, sono concepiti con l'intento di far vivere al cliente un'esperienza unica e totalizzan te, difficile da dimenticare. Il tour inizia nella Sala Terroir, passando per la Zona Produzione, dalle maestose Tulipe, concludendo nella Barricaia dove riposano i preziosi Amarone, Ripasso e Valpolicella. Chiude il cerchio la degustazione sensoriale, vero fiore all'occhiello dove i visitatori vengono coccolati dal nostro staff cordiale e appassionato, serviti con prodotti del territorio. Tradizione, design e con taminazioni internazionali, sono gli ingredienti che animano la nostra attività. Qui i vini locali incontrano Malbec e Chardonnay, creando un melting pot capace di far sentire gli ospiti come a casa propria e dall'al tra parte del mondo.
SanVilla WineryPietro
37029 San Pietro in Cariano (VR)
Villa San Pietro Winery, a modern corner in the heart of Valpolicella Classica. Ilaria Accodini, founder of this family-owned company, fuses the tradition of Valpolicella territory
VALPOLICELLA
+39 045 6575392 vspwinery@gmail.com www.villasanpietrowinery.com
Villa Spinosa
Via Jago Dall'Ora, 14 37024 Negrar di Valpolicella (VR) +39 045 7500093 / +39 340 3060480
info@villaspinosa.it www.villaspinosa.it
9494
VALPOLICELLA
Siamo in Valpolicella Classica, ai piedi del colle Masua, a Negrar di Valpolicella nell'antico Borgo di Jago. L'ottocentesca Villa Spinosa, costruita in posizione pano ramica nel cuore del borgo, è impreziosita dal romantico giardino all'italiana e delimitata dalle corti rurali e dai vigneti di proprietà. Il nostro patrimonio più prezioso sono i vigneti posti nei cru Jago, Figari e Costa del Buso: 20 ettari in collina, fra i 230 e 423 metri di altitudine, nei quali coltiviamo le uve Corvina veronese, Corvinone e Rondinella per produrre esclusivamente i vini classici della Valpolicella, che proponiamo in degu stazione e vendita nell'"Enoteca in Tinaia", il Wine Shop di Villa Spinosa. L'elegante cornice di Villa Spi nosa offre un'ampia varietà di spa zi che, per fascino e disposizione, sono ideali per ospitare matrimoni ed eventi aziendali. L'Agriturismo Corte Spinosa, ricavato in alcuni degli antichi rustici, è diventato oggi una confortevole dimora per turisti desiderosi di coniugare la passione per il vino con la cultura e la bellezza della Valpolicella.
PCHNLJARUESFRDEEN
a romantic Italian style garden, bor ded by a courtyard and the estate's vineyards. The most precious parts of our estate are the Jago, Figari and Costa del Buso cru vineyards. These 20 hectares of land, located at an elevation between 230 and 423 m, are planted with Corvina, Corvinone and Rondinella vines to produce only the traditional wines of the Valpolicella. These wines are proposed for tasting and for sale in the "Enoteca in Tinaia", Villa Spino sa's on-site Wine Shop. The elegant backdrop of Villa Spinosa offers a vast range of spaces that, thanks to their charm and versatility, are ideal for hosting weddings and business events. Agriturismo Corte Spinosa, built in some of the old farmhouses, is now a comfortable accommoda tion for tourists looking to unite their passion for wine with the culture and beauty of the Valpolicella area.
We are in the Valpolicella Classica, at the foot of the Colle Masua hill in Negrar di Valpolicella, in the ancient village of Jago. The 19th century villa, built on a panoramic position in the heart of the village, is adorned with
La cantina ha presto costruito una solida reputazione per i vini di alta qualità ottenuti dall'uva locale Trebbiano di Lugana con grandi etichet te come il bianco Lugana Riserva Sergio Zenato e Lugana S. Cristina. Zenato ha poi esteso i suoi orizzonti in Valpolicella nella tenuta Costalunga di Sant'Ambrogio. Un altro vino dal grande successo è il Ripassa, un Valpolicella Superiore ripassato sulle vinacce dell'Amarone.
LAGO DI GARDA VENETO
Nella Tenuta S. Cristina a Peschiera del Garda vengono organizzate visite con degustazioni. Il tour inizia tra i vigneti storici di Trebbiano di Lugana, prosegue in cantina per scoprire come vengono lavorate le uve e come funziona il processo di vinificazione. In seguito, visiterete le sale dedicate all'Amarone e la cantina sotterranea, dove riposano i vini rossi. Il tour termina con due diverse tipologie di degustazione di vini Zenato.
Zenato
L'Anima della Lugana e il Cuore della Valpolicella. 95 ettari nelle aree più vocate del Lugana e nella zona classica della Valpolicella, una tradizione che da 60 anni valorizza le varietà locali.
Via San Benedetto, 8 37019 Peschiera del Garda (VR) +39 045 info@zenato.it7550300 www.zenato.it
ed his horizons in Valpolicella at the Costalunga estate in Sant'Ambrogio. Here, Corvina and Rondinella are cul tivated, the two varieties at the base of the famous Amarone della Valpo licella. Another outstanding wine is Ripassa, a Valpolicella Superiore DOC "passed over" the still-warm pomaces of the dried grapes used to make Am arone wine.
The Soul of Lugana and the Heart of Valpolicella. The winery quickly grew a solid reputation for high-quality wines made from the local grape, Trebbiano di Lugana. Then, in the beginning of 1990s, Sergio extend
We also organize tours and wine tastings at out S. Cristina Estate in Peschiera del Garda. The tour be gins among the historic vineyards of Trebbiano di Lugana, continues in the cellar to find out how native grapes are processed and how the winemak ing process works. You will then visit rooms dedicated to Amarone and the underground winery, where our red wines rest. The tour ends with two Zenato wines tastings of your choice in a truly impressive setting.
PCHNLJARESFRDEENU
95 stant goal of the highest quality in the wines we produce and the commitment to the promotion of wine culture and wine awareness. The first workplace, where most of the production is vinified and all our wines are bottled, is located in Via Costabella, the panoramic road on the hills of Bardolino. The second workplace, where Valpolicella Ri passo, Amarones and Recioto are vinified, is located in Fumane in the heart of Valpolicella Classica. Zeni also means food and wine tourism, thanks to many investments in ini tiatives to promote the culture and knowledge of wine. The visit to the Wine Museum, the Wine Shop, the Olfactory Gallery and the guided tastings in the beautiful Bottaia: these experiences are designed as a unique opportunity to discover Zeni wine according to an emotion al and innovative approach.
Zeni 1870
9696
La storia della nostra famiglia nasce a Bardolino nel 1800. La cantina è oggi gestita da 3 fratelli: Fausto, Elena e Federica Zeni, la quinta generazione della fami glia. Portiamo avanti con passione l'obbiettivo costante che è la massima qualità nei vini che producia mo e l'impegno nella promozione della cultura e della conoscenza consapevole del vino. La prima sede, dove si vinifica gran parte della produzione e imbottigliano tutti i vini, è in Via Costabella, la strada panoramica sulle colline di Bardolino. La seconda sede dove si vinifica il Valpolicella Ripasso, gli Amaroni e il Recioto si trova a Fumane nel cuore della Valpolicella Classica. Zeni significa anche turismo enogastronomico grazie agli investimenti in iniziative a promozione della cultura e della conoscenza consapevole del vino. La visita al Museo del Vino, l'Eno teca e il Punto vendita, la Galleria Olfattiva e le degustazioni guidate: queste esperienze sono pensate come un'occasione unica per scoprire il vino Zeni secondo un approccio emozionale e innovativo.
LAGO DI GARDA VENETO
Our family history began in Bar dolino back in the 1800s. Today the winery is managed by three sib lings: Fausto, Elena and Federica Zeni, the fifth family generation. We pursue with passion the con
PCHNLJARUESFRDEEN
Via Costabella, 9 37011 Bardolino (VR) +39 045 info@zeni.it7210022
www.zeni.it
99
WineTourismServices
VENEZIA MODENA MILANO BRENNERO Adige MappaPianuraVeronadeiDogiLessinia VeroneseSoave-Est diLagoGarda Map Valpolicella A B C D F E G H I L M P Q R S NO
Q Ama Terra Tours Wine Destination Management Company .... 102 S Associazione Strada del Vino Soave ............ 103 B Di-Vinum Marketing e Comunicazione .........104 P Itinera Bike&Travel ....................................... 105 I Pagus Wine Tours......................................... 106 M Scapin Osteria e Bottega ............................. 107 D Strada del Vino Valpolicella.......................... 108 F Trattoria Caprini ........................................... 109 C Verona In Tour .............................................. 110 E Verona Sped .................................................. 111 L Verona Travel ............................................... 112 O Verona Vale - Wine&Design...........................113 H Veronality ..................................................... 114 R Villa De Winckels ...........................................115 N Visitamarone.................................................116 G Waystours ..................................................... 117 A WineHo - Wine Hospitality ............................118 WINE TOURISM SERVICES 101 VERONA
Ama Terra Tours Wine CompanyManagementDestination
collaboration of WineHo-Wine Food Hospitality we created the project: "V.W.Y. - VERONA WINE TOURISM YOUNG - Give the next generation a Chance", with which we create opportunities and professional growth for young people in the world of wine tourism.
We are specialized in: Wine & Ol ive oil Tours, Food Tours, Tours for professional Chefs, Multi-day tours and Holidays. Courses and training on the world of wine, Wine Team Building.
Via G.F. Caroto, 1/C 37131 Verona +39 045 incoming@amaterra.tours6862757 www.amaterra.tours
Ama Terra Tours is a Wine Destina tion Management Company based in Verona, which has been commit ted for over 10 years in the territory of Veneto, focusing on the areas of Verona, Lake Garda, Valpolicella and Soave. We promote the terri tory thanks to our partnership with the Valpolicella Wine Route and also thanks our membership at some of the most significant wine and food associations. In 2021 with the
Ama Terra Tours è una Wine Desti nation Management Company con sede a Verona, che opera da oltre 10 anni nel territorio del Veneto, in particolare nelle zone di Verona, Lago di Garda, Valpolicella, e Soave. Promuoviamo il territorio gra zie alla nostra partnership con la Strada del Vino della Valpolicella e anche alla nostra adesione a alcune delle più significative associazioni del vino e del cibo. Nel 2021 con la collaborazione di WineHo – Wine Food Hospitality abbiamo ideato il progetto: "V.W.Y. – VERONA WINE TOURISM YOUNG - Give the next generation a Chance", con il quale creiamo opportunità e crescita professionale per i giovani nel mondo dell'enoturismo. Siamo specializzati in: Wine & Oli ve oil Tours, Food Tours, Tours per Chef professionisti, Multi-day tours e Vacanze, Corsi e Training sul mondo del vino, Wine Team Building.
102
Via 37038MereSoave (VR) +39 346 associazione@stradadelvinosoave.com2177829 www.stradadelvinosoave.com
VERONESESOAVE-EST
La Strada del Vino Soave è un sug gestivo itinerario tra vigneti, pievi e castelli attraverso il territorio in cui si produce il rinomato vino che dà il nome a questo splendido lembo del veronese. Cinquanta chilometri o poco più che permettono di toccare i tredici comuni che abbracciano i cru più qualificati della Denomi nazione di Origine Controllata e Garantita. La Strada del Vino Soave è il riferimento ideale per conoscere il territorio del Soave nei suoi aspetti più tipici e golosi. Non si tratta di un semplice ente o istituzione: è una realtà viva, attiva e operante che fa dell'enoturismo la propria ragione di vita. Dal 2008 la Strada del Vino Soave gestisce anche il coordina mento delle Strade del Vino e dei prodotti tipici del Veneto.
103
The Soave Wine Route represents an evocative trip among vineyards, churches and castles through the area which produces the famous wine that gives the name to this splendid strip of Verona's land. Around 50 kilometers that involve thirteen municipalities, embrace the most qualified cru of the Denom inazione di Origine Controllata e Ga rantita. The Soave Wine Route is the ideal reference point for people who want to know the Soave area in its most typical aspects. It is not a mere institution but a living reality, with Wine Tourism as its reason for ex isting. Since 2018 Soave Wine Route Association has also been running the Coordination of all Veneto's Wine and local products Routes.
SoaveStradaAssociazionedelVino
eMarketingDi-VinumComunicazione
We are a marketing and commu nication agency specialized in wine, food and tourism, founded in 2010. Everything began in Verona, our hometown, with great passion for these markets and specialized skills coming from personal train ing and management experience. We are a very close-knit team
that, over the years, has developed a working method, capable of guiding its customers in their Marketing, Communication, PR and Press Office needs; from strategic aspects to operational phases. One of our main activities is the organization of wine & food experiences, also in cooperation with professionals in this sector (Chefs and Sommeliers for example) in cellars, olive oil mills, farms or public places. News 2022 Di-Vinum Concierge, a personalized consul tancy service for Wine Lovers & Professionals, looking for 100% Made in Italy wine, food and / or experience.
Siamo un'agenzia di marketing e comunicazione specializzata nel settore vino, cibo e turismo, fondata nel 2010. Tutto è iniziato a Verona, la nostra città natale, con grande passione per questi mercati e con competenze specialistiche derivanti da formazione personale ed esperienze in azienda. Siamo una squadra molto affiatata che negli anni ha elaborato un metodo di lavoro in grado di accompagnare i suoi clienti nelle loro esigenze di Marketing, Comunicazione, PR e Ufficio Stampa; dagli aspetti strategici alle fasi operative. Una delle nostre principali attività è l'organizzazione di wine&food expe rience, anche in collaborazione con professionisti di settore (Chef e Sommelier ad esempio), presso cantine, frantoi, aziende agricole o luoghi pubblici. Novità 2022 DiVinum Concierge, un servizio di consulenza personalizzato per Wine Lovers Privati & Professionals che sono alla ricerca di vino, cibo e/o experience 100% Made in Italy.
LAGO DI GARDA VENETO
Via Mantovana, 21 37010 Pastrengo (VR) +39 347 1101067 / +39 340 7395572 info@di-vinum.it www.di-vinum.it
104
We are the main bike rental point in Verona with a hundred of bikes, including e-bikes, touring bikes and gravel bikes. Other than our bikes, we offer accurately-designed free itineraries that can be easily fol lowed on the mobile phone, that also include suggestions about the win eries to visit along the routes.
Siamo il punto di noleggio biciclette di riferimento di Verona, con un centinaio di mezzi a disposizione tra e-bike, biciclette muscolari e gravel bikes. Ai nostri clienti offriamo consigli ed itinerari gratuiti da seguire facilmente sul telefono, nei quali sono indicati suggerimenti sulle cantine da visitare presenti lungo i Offriamopercorsi.anche
Itinera Bike & Travel è un tour ope rator che opera nel mondo del ci cloturismo da più di un decennio e che negli ultimi anni si è sempre più legato al mondo del turismo enogastronomico. Organizziamo escursioni in giornata e viaggi in bicicletta, sia accompagnati che in modalità self-guided, nella zona di Verona, Valpolicella, Lago di Garda e del nord-est in generale, spesso includendo degustazioni di vini ed altre esperienze gastronomiche. I nostri tour sono rivolti sia ai singoli e coppie che a piccoli gruppi, fino a gruppi incentive di medie-grandi dimensioni.
food and wine tourism. We organize day tours and cycling holidays, both guided and self-guided, in the area of Verona, Valpolicella, Lake Garda and North-East of Italy in general, often including wine tastings and other food experiences. Our tours suit both individuals and couples, but also small groups of friends up to medium-large incentive groups.
105 Via Madonna del Terraglio, 5 37129 Verona +39 045 2226529 / +39 328 0280174 info@itinerabike.com www.itinerabike.com
tour e viaggi non attivi e più strettamente legati all'enogastronomia ma che con il mondo della bicicletta ne condivi dono l'approccio slow, sostenibile e responsabile. VERONA
BikeItinera& Travel
We also design non-active tours and custom programs, with authen tic and unique experiences with a slow, sustainable and responsible approach.
Itinera Bike & Travel is a tour oper ator with more than 10 years of ex perience in bike tourism, which, in the last years, has been focusing on
of the best Italian and world wines. The tours are designed to allow you to get to know and appreciate both traditional wines, such as the fine Amarone, and the modern DOC and IGT wines of the region. Accompa nying guests in the territories of Valpolicella, the production area of Amarone, in Soave, Lugana, Bar dolino and in the production regions of Prosecco, Franciacorta and Tren to DOC, will be authorized tour lead ers and expert sommeliers in the history of these lands full of charm. You can customize your experience by specifying the type of wineries you want to visit: large or small, fa mous or less known. Pagus can also be contacted for multi-day tourist packages, with a stay in a hotel or farmhouse, to spend a holiday dedi cated to wine and Italian excellence.
Pagus Wine Tours
Pagus Wine Tours® has been or ganizing private and group food and wine experiences and tours for more than twenty years in Verona and its surroundings, an area known and appreciated for its history, cul ture and for being home to some
106
Pagus Wine Tours® organizza da più di vent'anni esperienze e tour enogastronomici, privati e di gruppo, a Verona e dintorni, territorio conosciuto ed apprezzato per la sua storia, cultura e per essere la patria di alcuni dei migliori vini ita liani e del mondo. I tour sono stu diati per permettere di conoscere e apprezzare vini sia tradizionali, come il pregiato Amarone, sia i moderni vini DOC and IGT della re gione. Ad accompagnare gli ospiti nei territori della Valpolicella, zona di produzione dell'Amarone, a Soave, in Lugana, a Bardolino e nelle regioni di produzione del Prosecco, del Franciacorta e del Trento DOC, saranno tour leader autorizzati e sommelier esperti della storia di queste terre ricche di fascino. È possibile personalizzare la propria esperienza specificando il tipo di cantine che si vuole visitare: grandi o piccole, famose o meno conosciute. Ci si può rivolgere a Pagus anche per pacchetti turistici di più giorni, con soggiorno in hotel o agriturismo, per trascorrere una vacanza all'insegna del vino e delle eccellenze italiane.
® Corso Castelvecchio, 3/A 37121 Verona +39 327 info@paguswinetours.com7965380 www.paguswinetours.com
VERONA
Scapin Osteria e Bottega
VERONA
www.scapin1935.it
107 Dalla storica gastronomia ricca dell'offerta della nostra produzio ne con formaggi e salumi di nostra selezione, alla cucina che propone piatti tipici del territorio in un locale storico recuperato come una moderna osteria. Particolare at tenzione per la selezione dei vini del territorio ed agli abbinamenti con i piatti e ai prodotti delle stagioni. Organizziamo menù o taglieri in abbinamento a delle degustazioni e forniamo eventuali cesti per aspor to su prenotazione ai gruppi che vi sitano la città. Abbiamo due punti in centro storico uno adiacente a Porta Borsari ed una gastronomia più piccola presso il Ponte Pietra.
From the historic gastronomy rich in the offer of our production with cheeses and cured meats of our selection, to the cuisine that offers typical dishes of the area in a his toric place restored as a modern tavern. Particular attention is paid to the selection of local wines and to combinations with seasonal dishes and products. We organize men us or platters in combination with tastings and we provide any kind of basket for take-out on request by groups visiting the city. We have two points in the historic center, one ad jacent to Porta Borsari and a smaller gastronomy at Ponte Pietra.
Via A. Diaz, 20-22 37121 Verona +39 045 info@scapin1935.it8003552
Via Ingelheim, 7 37029 San Pietro In Cariano (VR) +39 346 info@stradadelvinovalpolicella.it3202167 www.stradadelvinovalpolicella.it
L'Associazione Strada del Vino Valpolicella si occupa di promozione del territorio attraverso la valorizzazione del patrimonio artistico, culturale ed enogastronomico della Valpolicella. L'attività dell'associazione insiste sul territorio legato alla produzione del Vino Val policella, che si estende su 19 co muni, partendo dal comune di Dolcè e Pescantina, fino ad arrivare al comune di Montecchia di Crosara. La nostra attività interessa quindi tutta la denominazione Valpolicella, zona rinomata per la produzione di vini pregiati come l'Amarone, il Recioto, il Valpolicella e il Valpolicella Ripasso. Uno degli obiettivi della Strada del Vino Valpolicella è quello di far conoscere i suoi soci, attraverso iniziative promozionali di vario genere. Tramite l'istituzio ne di punti informativi, la gestione del portale turistico ufficiale della Valpolicella www.infovalpolicella.it e l'organizzazione di eventi, inoltre, è possibile conseguire un'altra tra le principali finalità dell'associa zione: far conoscere le numerose risorse culturali, artistiche, naturalistiche ed enogastronomiche.
VALPOLICELLA
The Strada del Vino Valpolicella As sociation deals with the promotion of the territory through the enhance ment of the artistic, cultural and food and wine heritage of Valpolicella. The association's activity insists on
the territory linked to the production of Valpolicella wine, which extends over 19 municipalities, starting from the municipality of Dolcè and Pes cantina, up to the municipality of Montecchia di Crosara. Our business therefore involves the entire Valpolicella appellation, an area renowned for the production of fine wines such as Amarone, Recioto, Valpolicella and Valpolicella Ripasso. One of the objectives of the Valpolicella Wine Route is to make its members known, through promotional initiatives of various kinds. Through the estab lishment of information points, the management of the official tourist portal of Valpolicella www.infoval policella.it and the organization of events, it is also possible to achieve another among the main purposes of the association: to make known the numerous cultural resources, artis tic, naturalistic and food and wine of the territory.
108
Strada del ValpolicellaVino
VALPOLICELLA
CapriniTrattoria Via Zanotti, 9 – Torbe 37020 Negrar di Valpolicella (VR) +39 045 info@trattoriacaprini.it7500511 www.trattoriacaprini.it
109
Artigiani del gusto da 4 generazio ni, la nostra proposta gastronomica si lega ai valori veneti e alla sto ria del territorio, custodendo i suoi sapori in un ambiente che profuma di casa e di famiglia, con una cucina autentica e un'ampia selezione di vini della Valpolicella. Degustazione dei vari vini del territorio in ab binamento a piatti locali e corsi di cucina tradizionale. Taste crafters for 4 generations, our cuisine is rooted in the venetian val ues and history of the region, cher ishing its taste in a place that smells like home and family by serving tra ditional food alongside with several prestigious Valpolicella wines. We organize wine and typical food tasting in our trattoria and cooking classes in various wine cellars of the area.
110
6 37069 Villafranca di Verona (VR) +39 045 veronaintour@veronaintour.com7900685 www.veronaintour.com
Verona In Tour is a DMC, Destina tion Management Company based in Villafranca di Verona, an ancient center of medieval origin located in the south-east of Lake Garda between Verona and Mantua. The brand was estabilished in 2017 with the aim of offering the public re
DEIPIANURADOGI
Verona In Tour è una DMC, Destination Management Company con sede a Villafranca di Verona, antico centro di origine medievale si tuato a sud-est del Lago di Garda tra Verona e Mantova. Il marchio è stato creato nel 2017 con l'obiettivo di offrire al pubblico un turismo responsabile e sostenibile, basato sulla profonda conoscenza del ter ritorio. Verona in Tour opera infatti nel cuore delle Terre del Custoza, le colline moreniche dove sono coltivati i vitigni tipici come la Corvina autoctona, lo Chardonnay, le bacche bianche e il Cabernet che sono utilizzati per la produzione del celebre vino Custoza: un terri torio straordinario, immerso nella natura, caratterizzato da paesaggi romantici, testimone secolare di vicende storiche e del risorgimento italiano. Verona In Tour nel tempo si è specializzata in tour insoliti ed esperienze uniche, in grado di accompagnare il viaggiatore lontano dai percorsi affollati per vivere momenti indimenticabili in luoghi autentici, in completa sintonia con l'ambiente.
sponsible and sustainable tourism, based on in-depth knowledge of the territory. Verona in Tour operates in the heart of the Terre del Custoza, the morainic hills where typical vines are grown such as the native Corvi na, Chardonnay, white berries and Cabernet which are used for the pro duction of the famous wine Custoza: an extraordinary territory, immersed in nature, characterized by romantic landscapes, a centuries-old witness to historical events and the Italian Risorgimento. Over time, Verona In Tour has specialized in unusual tours and unique experiences, able to accompany the traveler away from crowded routes to experience unforgettable moments in authentic places, in complete harmony with the environment.
InVeronaTour Marconi,
Via G.
business is focused on ex cellent services, in the logistics field to support the enotourism sector. Our company philosophy is based on the values of hospitality, ethics and Ourprofessionalism.missionisto develop and imple ment eco-sustainable logistics and packaging solutions to ensure the requisites required while respect ing the environment for sustainable trade.
VALPOLICELLA
La nostra missione è sviluppare e realizzare soluzioni logistiche e packaging ecosostenibili per garantire i requisiti richiesti nel rispetto dell'ambiente per un com mercio sostenibile.
111 SpedVerona del Recioto, Negrar
di Valpolicella (VR) +39 045 commerciale@veronasped.it8620589 www.veronasped.it
La nostra filosofia aziendale si basa sui valori dell'accoglienza, dell'etica, della professionalità.
VeronaSped is an international ship ping company, specialized in transport of wine and food all over the Ourworld.core
Strada
4 37024
VeronaSped è una società di spe dizioni internazionali, specializzata nel trasporto di vino e alimenti in tutto il mondo.
Il nostro core business verte nei servizi d'eccellenza, nell'ambito logistico a supporto del comparto agroalimentare ed enoturistico.
VERONA
Vicolo Volto San Luca, 23 37122 Verona +39 045 info@veronamototravel.com2476282 www.verona-travel.com
Born in 2020 with the aim of allowing anyone to visit our territory in total freedom by renting a scooter. Over the years, we have planned and made available several wine experiences,
112
Nati nel 2020 come iniziativa per permettere a chiunque di visitare il nostro territorio in totale libertà tramite il noleggio di uno scooter, nel corso degli anni abbiamo pro gettato e messo a disposizione diversi servizi dedicati al mondo del vino, grazie ai due sommelier che fanno parte del team. Verona Travel nell'ottica di promuovere un turismo consapevole che vada ad esplorare ed apprezzare le peculiarità del territorio offre un nuovo servizio che permette agli utenti di vivere la vigna davvero. Grazie alla collaborazione con una cantina gestita da una famiglia di contadini, è possibile immergersi nelle attività che caratterizzano la viticoltura, offerte a seconda del periodo e in linea col ciclo della vite. La loro profonda conoscenza, ottenuta da una vita passata tra i campi, e il loro amore per la terra trasformeranno una semplice esperienza da visita tore in una vera e propria esperienza da viticoltore. Grazie alla possibilità di diversificare l'esperienza in base al periodo si tratta di un progetto che non è mai monotono o ripetitivo ma cambia seguendo le stagioni.
TravelVerona
thanks to two sommeliers who are part of the team. Verona Travel, in or der to promote a conscious tourism that explores and appreciates the peculiarities of the area, offers a new service that allows users to truly ex perience the real vineyard. Thanks to the collaboration with a winery man aged by a farming family, it is possible to immerse yourself in the activities that characterize viticulture, offered according to the period and in line with the cycle of the vine. Their deep knowledge, obtained from a life spent in the fields, and their love for the land will transform a simple visitor experience into a real winegrower ex perience. Thanks to the possibility of diversifying the experience accord ing to the period, it is a project that is never monotonous or repetitive but changes along with the seasons.
Verona Vale is a group of profession als working in adding value to Made in Verona, through its very best fea
Dal 2019 abbiamo definito una collaborazione con ADSI Associazione Dimore Storiche Italiane per la valorizzazione del turismo del vino partendo proprio dal ricchissimo patrimonio rappresentato dalle ville e dagli edifici storici.
tures, and in particular through its wine-growing branch.
Via Macello, 25 Verona
Our goal is to introduce you with the wine history of different wineries and wine growing areas, through tastings and immersive tours in historical sites that have been standing out for cen turies. The passion for design, archi tecture and beauty allow us to com bine the concept of aesthetics with our wine related experiences.
Viviamo e operiamo tra Verona ed il mondo intero e in ogni attività di promozione all'estero inseriamo le esperienze nel vino del nostro varie gato e bellissimo territorio. Tutto il team gode di professionalità e conoscenza della filiera enogastronomi ca veronese e veneta. L'ospitalità e l'organizzazione di eventi e viaggi per clienti e in collaborazione con Tours Operator italiani e stranieri sono il core business della nostra attività.
113
+39 348 info@veronavale.it4709340 www.veronavale.it
In 2019 we defined a collaboration with the Italian Historic Houses As sociation (ADSI), to promote the wine tourism, starting precisely from the very rich heritage, represented by the villas and historical buildings.
Verona Wine&DesignVale
Il nostro obiettivo è di introdurvi alla storia del vino delle diverse cantine e aree vitivinicole, tramite degustazio ni e tour immersivi nei luoghi storici che hanno contraddistinto i territori nei secoli. La passione per il design, l'architettura e la bellezza ci permet te di coniugare sempre il concetto di estetica con le nostre esperienze legate al vino. We live and work between Verona and the whole world, and in every our promotional activity abroad, we include experiences with wines that come from our diversified and beau tiful territory. The entire team has professional skills and knowledge of food and wine industry native of Vero na and Veneto. The hospitality, event and trip arrangement for clients in collaboration with Italian and foreign Tour Operators are core business of our work.
37121
Verona Vale è un gruppo di profes sionisti che operano per valorizzare il Made in Verona in ogni eccellenza e nel settore vitivinicolo in particolare.
VERONA
114
VERONA
Immaginiamo, progettiamo e guidiamo tour, attività ed esperienze legate al territorio veronese; il tutto, pensato per piccoli gruppi, poiché è nella nostra filosofia far sentire i clienti a casa. Ci piace creare con loro, una dimensione di intimità e naturalezza che si assapora solo quando ci si trova tra amici. Per questo creiamo anche esperienze personalizzate.
We imagine, plan and guide tours, activities and experiences related to the Verona area; all designed for small groups, as it is our philosophy to make customers feel at home. We like to create with them a dimension of intimacy and naturalness that can only be savored when you are among friends. That is why we also design personalized experiences.
Vicolo Carmelitani Scalzi, 14/B 37122 Verona +39 045 5701561 info@veronality.com www.veronality.com
Veronality
115 DeVillaWinckels
Via Sorio, 30 37039 Tregnago (VR) +39 045 ristorante@villadewinckels.it6500133 www.villadewinckels.it
Una villa costruita tra il 1100 e il 1400, immersa nel verde delle colline della Val D'Illasi, a metà strada tra Verona e Vicenza. Villa De Winckels si propone come Albergo tre stelle, 10 stanze ampie e luminose, Ristorante, cucina tradizionale Veneta ri visitata e abbinata ai prodotti tipici della vicina Lessinia. Si propongono menù degustazione a base di prodotti di stagione con abbinamento di vini locali, due sale ricevimento per banchetti e meeting. Entrambe sono dotate di wi-fi con connessione a internet, dispositivo audio e video, microfoni, lavagna a fogli mobili e aria condizionata; Enoteca, si possono effettuare degustazioni e acquistare vino d'asporto. Si può cenare inoltre con stuzzichini, ta glieri di salumi e formaggi accompagnati da mostarde e sottoli fatti in casa. La gestione è famigliare; i proprietari sono tre fratelli, Merza ri Ottavio, Roberto e Massimo, che portano avanti l'attività dal 1992 con passione e professionalità.
A villa dating between 1100s and 1400s, surrounded by the green hills of the Illasi Valley, halfway between Verona and Vicenza. Villa De Winck els offers: 3 star hotel, 10 large and bright rooms, restaurant that serves dishes of traditional Veneto cuisine reelaborated and combined with typ ical products of the nearby Lessinian landscape. It proposes tasting menu
VERONESESOAVE-EST
made with seasonal products and local wines; enopizzeria, two ban quet and two meeting rooms. Both are equipped with wi-fi and internet connection, audio-video devices, microphones, flip chart and air-con ditioning; wine cellar, where you can have wine tastings and buy wine. You can have dinner with appetizers, a selection of cold cuts and typical cheeses combined with mustard and homemade vegetables in olive oil. Family management; the owners are three brothers, Ottavio, Roberto and Massimo Merzari, that have been conducing the activity since 1992 with passion and professionalism.
Via Don Enrico Tazzoli, 1 37121 Verona +39 331 info@visitbest.it2547004 www.visitamarone.com
VERONA
Visitamarone
L'agenzia turistica Visit Best è nata con lo scopo di sostenere i produt tori storici locali. Un'agenzia costruita per aumentare la conoscenza del Made in Italy, partendo dal prodotto autentico per poi passare alla storia e tradizione. Il progetto Visitama rone, a supporto dei produttori, dà maggior visibilità a livello internazionale e segue i propri partner nelle fasi di creazione, promozione e vendita delle esperienze enogastronomiche. Visitamarone propone un canale di vendita delle esperienze più autentiche per incrementare la conoscenza dei prodotti del territorio e dei servizi enoturistici a livello internazionale. Collaborazione tra Visitamarone e il Consorzio per la Tutela dei vini Valpolicella ci permette di raggiungere i produttori della zona per avvicinare il mondo vitivinicolo al turismo enogastronomico. Crediamo che la sinergia tra il territorio ed i prodotti/ servizi derivanti dalla nostra terra sia un valore inestimabile. Siamo attori del nostro sistema e pilastri portanti di un territorio e della sua economia. Siamo coloro che lo protegge, lo va lorizza e lo sostiene.
Our tourism agency Visit Best was created with the aim of supporting local producers. An agency built to increase the value and the knowledge of Made in Italy, starting with the authentic product and then moving on to history and tradition. The Visitamarone project gives greater international visibility and follows its partners in the phases of creation, promotion and sale of food and wine experiences. Visita marone offers a sales channel for the most authentic experiences, to increase the knowledge of local products and wine tourism. Collab oration between Visitamarone and the Consortium for the Protection of Valpolicella wines allows us to reach the producers of the area, and to bring the world of the wine closer to the tourist world. We believe that the synergy between the products/ser vices from our land and the territo ry is an inestimable value. We make part of this system, being the main stay of our territory and its economy. We are those who protect it, valorize it and support it.
116
info@waystours.com www.waystours.com
Waystours is the In-Destination Management Company of northern Italy providing a wide range of services including day touring, activ ities, transportation and local ex periences. Thanks to more than 10 years of experience in leading wine tours, we became a worthy com panion for touring in the main cities of North Italy: Venice, Verona, Milan and Turin. We live locally, design ing experiences to go beyond our guests' expectations.
VERONA
Waystours
Vicolo Carmelitani Scalzi, 14/B 37122 Verona 045 5701561
Waystours è una In-Destination Management Company per il nord Italia che fornisce una vasta gamma di servizi tra cui tour di un giorno, attività, trasporti ed esperienze locali. Grazie a oltre 10 anni di espe rienza nella conduzione di wine tour, siamo diventati un partner affidabile per tour nelle principali città del Nord Italia: Venezia, Verona, Milano e Torino. Abbiamo base nelle diverse destinazioni proget tando esperienze per andare oltre le aspettative dei nostri ospiti.
117 +39
WineHoHospitalityWine San Zeno, 53 Bardolino
source of income for wineries. With many years of experience in the tourism and oenological fields, the founder Cristina Mascanzoni Kaiser is also a teacher at the CUOA busi ness school in our region, and in other academic entities. Alongside train ing, for over 5 years WineHo has been working concretely with personalized consultancy for both historic and in novative wineries, making them the most sought-after boutique hotels for experiential and not just tourist Instays.2021 with the collaboration of Ama Terra Tours Wine Destination Management Company we created the project: "V.W.Y. - VERONA WINE TOURISM YOUNG - Give the next generation a Chance", with which we create opportunities and profes sional growth for young people in the world of wine tourism.
118
Via
Nel 2021 con la collaborazione di Ama Terra Tours Wine Destination Management Company abbiamo ideato il progetto: "V.W.Y. – VERONA WINE TOURISM YOUNG - Give the next generation a Chance", con il quale creiamo opportunità e cre scita professionale per i giovani nel mondo dell'enoturismo.
(VR) +39 349 cristina@wineho.it7600766 www.wineho.it
LAGO DI GARDA VENETO
37011
WineHo nasce come realtà dedita alla formazione e consulenza sull'ospitalità per cantine vinicole. L'obiettivo di WineHo è valoriz zare il vino quale volano di marketing-territoriale, in grado di de-stagionalizzare i flussi turistici e rendere il turismo vinicolo un'ul teriore fonte di reddito per le canti ne. Forte dell'esperienza plurienna le in ambito turistico ed enologico, la fondatrice Cristina Mascanzoni Kaiser è anche docente al CUOA business school della nostra regio ne, ed in altre realtà accademiche. Accanto alla formazione da oltre 5 anni WineHo opera concretamente con consulenze personalizzate per cantine sia storiche sia innovative rendendole dei boutique hotels in cui vivere esperienze e non solo dei posti in cui stare.
WineHo was born as an entity dedicated to training and consulting regarding the winery hospitality. WineHo's goal is to enhance wine as driving force for territorial market ing, able to de-season tourist flows and make wine tourism an additional
121 Olive Oil VeronaTourism
A partire dal 1° gennaio 2020 il riconoscimento normativo assegnato al turismo dell'olio ha conferito ulteriore slancio al turismo enoga stronomico veronese: analogamente a quanto già accade per il vino, a Verona vi sono tutti i presupposti per raccogliere la sfida dello sviluppo di progetti strategici legati all'Oleoturismo, fatto di esperienze e di scoperte, oltre a degustazioni e alle più svariate attività che ruotano attorno al mondo dell'olivocultura.
Verona
122
L'oleoturismo a
L'olio extravergine d'oliva prodotto costituisce una delle eccellenze di Verona, presentandosi con un'ampia complessità di profumi e di sentori che variano a se conda del clima e del terroir della zona di produzione. Dalle colline moreniche che si affacciano sul lago di Garda a quelle pre-alpine in Valpolicella e ai piedi della Lessinia, il territorio di Verona può vantarsi di ben due denominazioni di origine protetta: Garda Orientale DOP e Veneto Valpolicella DOP.
Accanto alle viti, il territorio veronese si caratterizza anche per la coltivazione dell'olivo, frutto di una tradizione millena ria e parte integrante del suo patrimonio storico e culturale.
123
Starting from 1 January 2020, the regulatory recognition assigned to Olive Oil Tourism has given further impetus to Verona's food and wine tourism: similarly to what already happens for wine, in Verona there are all the prerequisites to meet the challenge of developing strategic projects related to Olive Oil Tourism, made up of experiences and discoveries, as well as tastings and the most varied activi ties that revolve around the world of olive growing.
The extra virgin olive oil produced is one of the excellences of Verona, presenting it self with a wide complexity of aromas and scents that vary depending on the climate and terroir of the production area. From the Morainic hills overlooking Lake Garda to the pre-Alpine ones in Valpolicella and at the foot of Lessinia, the territory of Verona can boast of two Protected Designations of Origin: Garda Orientale DOP and Veneto Valpolicella DOP.
Verona olive oil tourism
Next to the vines, the Veronese territory is also characterized by the cultivation of the olive tree, the result of a millenary tradition and an integral part of its historical and cultural heritage.
VENEZIA MODENA MILANO BRENNERO Adige Mappa Verona Pianura dei LessiniaDogidiLagoGarda Map Valpolicella 1 2 3 4 5 6 7 8 9 10 11 12 13 14 15 VeroneseSoave-Est
125 6 Azienda Agricola Guglielmi Alessandra ......... 126 1 Azienda Agricola I Roccoli ........................... 127 3 Azienda Agriturismo Della Pieve ................. 128 11 Fontanara .................................................... 129 15 Frantoio Ballarini ........................................ 130 14 Frantoio Bonamini........................................131 5 Frantoio e Agricampeggio Il Giogo .............. 132 13 Frantoio Famiglia Orlandi ............................ 133 2 Frantoio Fratelli Turri .................................. 134 12 La Contarina................................................ 135 4 POG - Produttori Olivicoli Gardesani ............ 136 7 Redoro - Frantoi Veneti ............................... 137 8 Salvagno Giovanni Frantoio per Olive ........... 138 9 Società Agricola Pernigo ............................ 139 10 Villa San Carlo Wine .................................... 140 VERONA OLIVE OIL TOURISM
www.agricolaguglielmi.it
126126
Via Valpolicella, 42 37024 Arbizzano di Negrar (VR)
Benvenuti all'Azienda Agricola Gu glielmi Alessandra! Produciamo olio extra vergine di oliva esclusivamente dai nostri oliveti, con 2.000 piante in produzione. Nella nostra rivendita PANEOLIO "Extra vergine e non solo" trovate i nostri olii EVO Veneto Valpolicella DOP, Garda Orientale DOP, Monocultivar Grignano, Il Classico, Verde del For te; è aperta tutto l'anno ed possibi le trovare anche altri prodotti tipici, assaggiare diversi abbinamenti gastronomici con i nostri olii ed or ganizziamo, corsi a tema, degustazioni e visite didattiche in oliveto. Ci dedichiamo interamente alla coltivazione, alla produzione ed alla vendita di questo magnifico prodotto. La nostra scelta di vita vuo le portare alla condivisione di una passione millenaria per l'Olio Extra Vergine, l'amore per il territorio, la freschezza delle idee nel voler sempre mettersi in gioco, facendo conoscere il mondo dell'olivicoltura e dell'olio a 360°. Vi invitiamo a ve nirci a trovare per scoprire questo affascinante mondo e condividere con noi i segreti per una produzio ne di qualità!
VALPOLICELLA
Welcome to Azienda Agricola Guglielmi Alessandra! We produce extra virgin olive oil exclusively from our olive groves, with 2.500 plants in production. In our PANEOLIO shop "Extra virgin and not only" you will
Azienda AlessandraGuglielmiAgricola
PCHNLJARUESFRDEEN
find our EVO oils Veneto Valpolicella DOP, Garda Orientale DOP, Monocul tivar Grignano, Il Classico, Verde del Forte; it is open all year round and you can also find other typical prod ucts, taste different gastronomic combinations with our oils and we organize themed courses, tastings and educational visits to the olive grove. We are entirely dedicated to the cultivation, production and sale of this magnificent product. Our choice of life leads us in sharing a millenary passion for Extra Vir gin Oil, the love for the territory, the freshness of ideas in always wanting to get involved, making the world of olive growing and oil known allaround. We invite you to come and visit us, so as to discover this fasci nating world and let us reveal to you the secrets of a quality production!
+39 349 4032581 +39 338 info@agricolaguglielmi.it2660257
LAGO DI GARDA VENETO
Situata a pochi chilometri dal centro di Bardolino, incastonata tra le colline moreniche che declinano dolcemente verso il Lago di Garda, l'Azienda Agricola I Roccoli è immersa all'interno di un rigoglioso oliveto costituito da circa 530 olivi. Qui, ad accogliervi nell'imponente dimora di campagna, troverete Annamaria e Roberto accompagnati dai loro animali. L'azienda produce e vende direttamente un olio D.O.P. del Garda orientale pluripremiato. È possibile venire tutti i giorni a tro varci per una degustazione gratuita prima di un eventuale acquisto. Per chi desidera approfondire la sua conoscenza sulla produzio ne dell'olio e sulla degustazione, è possibile prenotare una visita gui data con degustazione. Abbiamo, a disposizione una casa vacanza immersa nel verde totalmente privata. La sua dimensione è di 190m2, può ospitare fino a 7 persone. A dispo sizione una piscina relax privata.
IAgricolaAziendaRoccoli
oil D.O.P del Garda. It is possible to come and visit us every day for a free tasting before a possible purchase. For those who want to deepen their knowledge on oil production and tasting, it is possible to book a guided tour with tasting. We have a total ly private holiday home surrounded by greenery. Its size is 190m2, it can accommodate up to 7 people. A pri vate relaxation pool is available.
127 PCHNLJARUESFRDEEN Located a few kilometres from the centre of Bardolino, nestled among the morainic hills that slope gen tly towards Lake Garda, Azienda Agricola I Roccoli is surrounded by a lush olive grove with around 530 trees. Here, in this striking country residence, you'll be welcomed by Annamaria and Roberto, along with their animals. The company produces and directly sells an olive
Strada Corrubio, 3 37011 Bardolino (VR) +39 342 info@iroccoli.it1422700 www.iroccoli.it
LAGO DI GARDA VENETO
All'Azienda della Pieve, non troverete solo ospitalità ma anche le pro duzioni più tipiche e caratteristiche della zona del Lago di Garda. Le olive coltivate all'interno dell'azienda, vengono raccolte e spremute nel Frantoio aziendale con passione ed esperienza dal titolare, ottenendo, tramite una spremitura a freddo, un olio extravergine di oliva di alta qualità che mantiene inalterati i sapori e i profumi tipici della zona del Lago di Garda. Gli uliveti secolari dell'Azienda sono seguiti scrupolosamente e con particolare attenzio ne per garantire la produzione di un olio extravergine che si differenzia dal prodotto del mercato. Ogni fase della lavorazione delle olive e dell'o lio avviene all'interno dell'Azienda, proprio per garantire unicità al prodotto: la raccolta effettuata a mano, la spremitura a freddo e infine l'imbottigliamento. Le uve rosse che qui si coltivano sono utilizzate per la produzione del rinomato vino Bardolino e Rosè, tipico della zona. Nella proprietà, potrete passeg giare tra i filari dei vigneti e ulivi, godendo dei colori del paesaggio circostante.
PCHNLJARUESFRDEEN
DellaAgriturismoAziendaPieve
Via Veronello, 7 Località Palù di Calmasino 7011 Bardolino (VR) +39 339 info@agriturismodellapieve.it6539477 www.agriturismodellapieve.it
128128
At Azienda della Pieve, you will not only find hospitality but also the productions of typical and characteris tic features of the Lake Garda area. The olives cultivated within the com pany are collected and squeezed into
the Farm with passion and experience of the owner, obtaining, through cold squeezing, an extra virgin olive oil of high quality that maintains unaltered flavors and typical scents of the Lake Garda area. The company's ancient ol ive groves are followed with great care and attention to ensure the produc tion of an extra virgin olive oil that is different from the product of the market. Every stage of olive and oil pro cessing takes place within the compa ny, in order to guarantee uniqueness to the product: hand-picking, cold squeezing and finally bottling. The red grapes grown here are used for the production of the renowned Bardolino wine and rosè, typical of the area. Here, inside the property, you can take walks among the rows of the vines and olive trees, enjoying the colors of the nature that surrounds you.
Via Alexander Fleming, 10/12 37036 San Martino Buon Albergo (VR) +39 045 info@fontanara.it8394688 www.fontanara.it PCHNLJARUESFRDEEN
Fontanara
al microclimate, the considerable soil quality and an ultra-modern ir rigation system guarantee the high quality of production, respecting traditional cultivation, which is sub limated in the manual harvesting and same-day pressing. The acquisition of 30 hectares, of which a large portion is planted with olive trees, led the company to invest in 2010, in the construction of an oil mill with a sales and logistics area, a bottling area and internal storage areas, with the aim of enhancing the value of the extra virgin olive oil produced and the milestone of italian cuisine.
VERONESESOAVE-EST
Nel verde scrigno di boschi secolari, ricco di corsi d'acqua, protetto a nord dalle colline che degradano dolcemente verso la pianura vero nese, in un suggestivo anfiteatro naturale, è situato il parco della Musella a San Martino Buon Albergo. Nella cornice di quest'oasi naturalistica nasce Fontanara: un uliveto di più di 3300 piante di vecchia e nuova generazione. L'eccezionale microclima, la considerevole qualità dei terreni, un modernissimo impianto di irrigazione garantiscono l'alta qualità della produzione, ri spettando la coltivazione tradizio nale, che si sublima nella raccolta manuale e nella frangitura in giornata. L'acquisizione di 30 ettari, di cui ampia porzione ad uliveto, ha portato la società ad investire, nel 2010, per la costruzione di un fran toio dotato di area vendita e logistica, imbottigliamento e stoccaggio interno, con lo scopo di valorizzare il prodotto olio extravergine di oliva e i prodotti della cucina italiana.
129 In the green treasure chest of cen turies-old forests, filled with water courses, protected on the north by the gently sloping hills towards the Veronese plains, in an impressive natural amphitheatre, we find Parco della Musella, in San Martino Buon Albergo. Fontanara: an olive grove of more than 3300 trees - of both old and new generations - is set amidst this natural oasis. The exception
I nostri prodotti li potete anche comodamente ordinare sul nostro sito www.olioballarini.it alla pagina "ACQUISTA" con consegna veloce corriere.
VERONESESOAVE-EST
BallariniFrantoio
to give a cold extracted oil with a high quality polyphenol content. We produce and offer various types of delicate, fruity, monovarietal, dop, organic extra virgin olive oil and flavored oils and jars of products in oil. Frantoio Ballarini is pleased to welcome visitors all year round with guided tasting and a subsequent visit to the shop for sale of oil and other specialties. During the olive milling season approximately from 20 October to 30 November it is pos sible to see the mill in operation with explanations of the olive pressing Olivephases.Oil Mill Shop hours: mondaysaturday 09,00 - 12,30 / 15,00 - 18,30. For on line orders and delivery in whole Europe with courier please write to shop@olioballarini.it.
PCHNLJARUESFRDEEN
130130
Via Molini, 26
Il nostro frantoio è ubicato a Caz zano di Tramigna, tra le colline dell'est veronese vicino a Soave. Il frantoio è stato nel 2020 com pletamente ammodernato e lavora le olive con le macchine più avanzate tecnologicamente per dare un olio estratto a freddo e ad alto contenuto qualitativo di polifenoli. Produciamo e proponiamo vari tipi di olio extravergine delicati, frut tati, monovarietali, dop, biologico e oli aromatizzati e vasetti di prodotti sott'olio. Il Frantoio Ballarini è lieto di accogliere i visitatori tutto l'anno con degustazione guidate e successiva visita al negozio per la vendita di olio e altre specialità'. Durante la stagione della molitura delle olive, indicativamente dal 20 ottobre al 30 novembre è possibile vedere il frantoio in funzione con la spiegazione delle fasi di frangitura delle Orarioolive.negozio del frantoio: lunedìsabato, 09,00 - 12,30 / 15,00 - 18,30.
www.olioballarini.it
Our mill is located in Cazzano di Tramigna, in the hills of eastern Verona near Soave. Our oil mill was completely modernized in 2020 and processes the olives with the most technologically advanced machines
37030 Cazzano di Tramigna (VR) +39 045 shop@olioballarini.it7820543
la struttura ed il frantoio moderno a ciclo continuo, per terminare poi con un assaggio professionale dei nostri oli accompagnati da un'ampia Prenotadegustazione.latuavisita scrivendo a shop@oliobonamini.com oppure acquista direttamente su shop. oliobonamini.com.
Via Santa Giustina, 9/A 37031 Illasi (VR) +39 045 info@oliobonamini.com6520558 www.oliobonamini.com
PCHNLJARUESFRDEEN
131 Frantoio Bonamini, a family com pany and a symbolic example of the unit between history and evolution with more than 50 years of chal lenges, offers guided tours and ed ucational visits to discover the fas cinating world of Extra Virgin Olive Oil. We propose a path that smells of ancient and that maintains a respectful bond with the traditions and the Veronese territory. The tour includes, after the visit of the olive grove, the discovery of the differences in processing the olives between the ancient mill and the modern continuous cycle mill, and then a professional tasting of our oils accompanied by a wide tasting. Book your visit by writing to shop@oliobonamini.com or buy di rectly on shop.oliobonamini.com.
Frantoio Bonamini, un'azienda fa miliare simbolo dell'unione tra storia ed evoluzione che conta più di 50 anni di sfide, propone visite guidate e tour esperienziali alla scoperta dell'affascinante mondo dell'olio extravergine di oliva. Proponiamo un cammino che profuma di antico e che mantiene un rispettoso lega me con le tradizioni ed il territorio veronese. Il tour prevede, dopo la visita dell'oliveto, la scoperta delle differenze di lavorazione tra il frantoio antico presente all'interno del
VERONESESOAVE-EST
BonaminiFrantoio
A due passi tra Verona e il Lago di Garda, scopri il lavoro nel mondo del Frantoio Il Giogo, tocca con mano il profondo segreto e le mille sfumature che ogni giorno rendono unico il nostro Olio di Oliva Extravergine in Eccellenza. Qui da noi potrete anche soggiornare presso il nostro splendido giardino con il Vostro camper o caravan. Siamo attrezzati per darvi un servizio completo ed ogni tipo di comfort. Abbiamo an che una piscina… L'agricampeggio "Il Giogo" è ubicato nell'oliveto pres so il nostro Frantoio aziendale.
Strada Festara, 21 37012 Bussolengo (VR) +39 393 agricola.ilgiogo@gmail.com0490682 www.agricolailgiogo.com
A stone's throw between Verona and Lake Garda, discover the work in the world of Il Giogo oil mill: touch with your hands the deep secret and the thousand nuances of the work that make our Extra Virgin Olive Oil unique every day. Here you can also stay at our beautiful garden with your camper or cara van. We are equipped to give you a complete service and every type of comfort. We also have a swimming pool... "Il Giogo" agricamp-site is located in an olive grove near our company's oil mill.
132132
PCHNLJARUESFRDEEN
LAGO DI GARDA VENETO
Frantoio IlAgricampeggioeGiogo
Località Americani, 1 37031 Illasi (VR) +39 045 info@oliofamigliaorlandi.it9000479 www.oliofamigliaorlandi.it
Frantoio Famiglia Orlandi is located inside an 18th century farmhouse, surrounded by the green hills of the Illasi Valley. The olive mill, born in 2019, is the fruit of our family's dream to produce an extra virgin olive oil signed by Famiglia Orlandi. Here, you will always be welcomed for a visit during which you will get to know the team, our work, the ol ive mill with the modern extraction system, the temperature-controlled storage room, the shop for tastings and purchases. Tastings take place in the suggestive cellar with ex posed stone walls. We are waiting for you!
PCHNLJARUESFRDEEN
133 Frantoio Famiglia Orlandi si trova all'interno di un Casale del '700, immerso nel verde delle colline della Val d'Illasi. Il frantoio, nato nel 2019, è il frutto del sogno del la nostra famiglia di produrre un olio extra vergine di oliva firma to Famiglia Orlandi. Qui sarete i benvenuti per una visita che vi farà scoprire le persone, il nostro lavoro, il frantoio con il moderno impianto di estrazione, il locale di stoccaggio a temperatura control lata, lo shop per assaggi e acquisti. Degustazioni nella suggestiva cantina con muri di sasso a vista. Vi aspettiamo!
FamigliaFrantoio Orlandi
VERONESESOAVE-EST
134
FratelliFrantoioTurri Villa, Cavaion Veronese
(VR) +39 045 visite@turri.comturri@turri.com7235006 www.turri.com
Da un'intuizione di Giancarlo Turri nacque nel lontano 1951 il Frantoio Turri, con sede a Cavaion Verone se. Nel corso degli anni il frantoio si è notevolmente sviluppato e ha segnato il proprio successo grazie alla qualità delle proprie produzioni, frutto di un'attenta selezione della materia prima. Partendo infatti dalle migliori olive del territorio garde sano si ottiene l'olio extra vergine di oliva Garda Dop, e poi gli italiani nelle varie declinazioni: Olio extra vergine di oliva Biologico, a Bassa Acidità, il Classico Extra vergine di oliva Turri e le specialità. Oggi il frantoio è condotto dai figli del fondatore Giovanni, Luisa e Laura. La famiglia Turri è lieta di accogliere gruppi e singoli visitatori interessati alla scoperta delle antiche tradizio ni e delle tecniche più moderne di produzione, guidandoli anche nella degustazione dell'olio extra vergine e delle sue caratteristiche.
Strada
9 37010
LAGO DI GARDA VENETO
PCHNLJARUESFRDEEN
Frantoio Turri, located in Cavaion Veronese, was born in the far 1951, from an idea of Giancarlo Turri. Throughout the years it has devel oped and it has marked its success thanks to the quality of its products, result of an attentive selection of the raw material. Starting from the best olives of Lake Garda's territory it produces Garda PDO extra virgin olive oil, then the 100% Italian ones in the different variations: Organ ic extra virgin olive oil, Low Acidity one, Classic extra virgin olive oil and specialties. Nowadays the ol ive mill is led by the children of the founder: Giovanni, Luisa and Laura. The family Turri welcomes groups and individual visitors, interested in the discovery of old traditions and new production techniques, leading them also in the tasting of extra vir gin olive oil and its features.
La Contarina
Via Montecurto, 7 37031 Illasi (VR) +39 338 olivi.lacontarina@gmail.com8278920 www.lacontarina.it
Tamellini Maurizio è un produttore di Olio Extravergine di Oliva che con La Contarina, frantoio di proprietà, situato nella zona ad est della provincia di Verona, ai piedi dei Monti Lessini, segue tutte le fasi produttive - dal campo alla successiva trasformazione - attraverso un impianto ad altissima qualità che consente una molitura continua a freddo. Si dà vita così ad un olio con elevate proprietà organolet tiche che si esprime attraverso 4 prodotto tipici, eleganti e gustosi, creati per essere abbinati alle più svariate pietanze. In particolare, l'Olio Extravergine di Oliva D.O.P. Veneto Valpolicella prodotto da La Contarina è riconosciuto come presidio Slow Food in Veneto. La Contarina apre le porte ai visi tatori e quanti vogliono scoprire e degustare un Olio emozionale.
VERONESESOAVE-EST
PCHNLJARUESFRDEEN
Tamellini Maurizio is a producer of Extra Virgin Olive Oil that with La Contarina, its own oil mill, located in the area east of the province of Verona, at the foot of the Lessini Mountains, follows all the pro duction phases - from the field to the subsequent transformationthrough a very high quality plant that allows continuous cold milling. This gives life to an oil with high organo leptic properties that is expressed through 4 typical, elegant and tasty products, created to be combined
135 with the most varied dishes. In par ticular, the Extra Virgin Olive Oil D.O.P. Veneto Valpolicella produced by La Contarina is recognized as a Slow Food presidium in Veneto. La Contarina opens its doors to visi tors and those who want to discover and taste an emotional Oil.
+39
Via Ingegner Beccherle 361 Caprino Veronese (VR) 045 info@oliopog.it6230616
GardesaniOlivicoliProduttori
37013
www.oliopog.it
136 POG -
The lake, the mountains and the olive groves that surround the town of Caprino Veronese form a back drop for our oil mill. Since 1984, it has been transforming a product which is part of a centuries-old tradition in the hinterland of Lake Garda. Since then, thanks to the willingness of 10 partners who de cided to put their skills together, a high-quality Extra Virgin Olive Oil has been produced in the way that it respects the most traditional cold extraction techniques.
PCHNLJARUESFRDEEN
LAGO DI GARDA VENETO
Il lago, la montagna e gli oliveti che circondano la città di Caprino Ve ronese fanno da cornice al nostro frantoio, che dal 1984 trasforma un prodotto che fa parte di una tradizione plurisecolare dell'entroterra gardesano. Da allora, grazie alla volontà di 10 soci che hanno inteso mettere in comune le proprie competenze, viene prodotto un Olio Extra Vergine di Oliva di qualità che rispetta i più tradizionali metodi di lavorazione ad estrazione a freddo.
Via Marconi, 30 37023 Grezzana (VR) +39 045 info@redoro.it907622 www.redoro.it
L'azienda Redoro, sita a Grezzana –Verona, dal 1895 tramanda da padre in figlio l'amore per la colti vazione dell'olivo e la produzione dell'Olio Extra Vergine di Oliva. La lavorazione avviene nei propri frantoi siti a Grezzana, sede storica, e a Mezzane, con il suggestivo frantoio seicentesco. Nei due frantoi Redoro accoglie i visitatori accompagnandoli nella degustazione e scoperta meravigliosa dell'oro liquido e dei numerosi suoi prodotti sott'olio, che possono essere poi acquistati negli showroom adiacenti. I servizi di ospita lità Redoro si ampliano poi con la Trattoria la Torre a Mezzane, che propone piatti prestigiosi ideati con prodotti di filiera corta, un incontro di sapori unici tra la cucina antica e moderna e con la Locanda dell'Oleificio sempre a Mezzane, un ambiente sobrio che offre una cucina semplice e tradizionale. Qui sono disponibili anche 9 camere semplici ed essenziali dove rivive re l'ospitalità calda e accogliente dei nostri avi. Nel cuore di Verona si trova la Bruschetteria Redoro, un ambiente moderno e accogliente, in cui degustare gustose bruschette con olio, prodotti gourmet e un buon bicchiere di vino.
PCHNLJARUESFRDEEN
LESSINIA
father to son. The production takes place in its own oil mills, in Grezzana, historical site of the firm and in Mez zane, with its suggestive oil mill from the 17th century. Redoro welcomes vis itors to its two oil mills, where they will be accompanied through the discovery of the liquid gold and numerous oil preserved products. Our showrooms near the oil mills will be available for your purchases. Redoro extended its services with Trattoria la Torre (Res taurant at the Tower) proposes dishes thought and realized with products coming from a short manufacturing chain, to foster a matching of unique flavors between ancient and modern cooking. Locanda dell'Oleificio (The Oil Mill Inn), offers an easy and traditional cooking. There are also 9 rooms kept simple, so as to live again the warm and welcoming hospitality of our ancient parents. In the heart of Verona city center, you'll find Brus chetteria Redoro, here you can taste typical "bruschetta" (crisp warm slice of bread) along with oil, gourmet products, a glass of good wine.
137 VenetiFrantoiRedoro
Redoro is located in Grezzana (VR). Since 1895 the firm has been con veying love for oil cultivation and extra virgin olive oil production, from
FrantoioGiovanniSalvagnoper Olive
Since 1923 the company has been producing oil with the same artisanal system, intended for lovers of whole some food and healthy nutrition, in balance with the land and natural rhythms. We organize "open door" days during the production of the oil to give the opportunity to attend all stages of production and a complete tasting. From the end of October to Christmas every Saturday and Sun day morning we welcome customers with a tasting of our products. In May we organize a musical aperitif in the educational olive grove to see the flowering of the olive trees. We also offer cooking and oil tasting classes in our tasting room.
VERONA
Salvagno, noto frantoio per olive situato sulle colline veronesi di Ne sente Valpantena, deve la sua for tuna ad una posizione resa ottimale dalla giusta condizione climatica. In queste meravigliose colline, Salvagno ricerca e seleziona particolari varietà di olive dalle quali produce, spremendo a freddo nel frantoio a lavorazione tradizionale ed in quello a ciclo continuo, olio dal sapore dolce e deciso con delicato retrogusto di mandorla. Dal 1923 l'azienda produce l'olio con lo stesso sistema artigianale, destinato agli amanti dei cibi genuini e della sana alimentazione. Organizziamo giornate a "porte aperte" durante la produzione dell'olio per dare la possibilità di assistere a tutte le fasi della produzione e a una degustazione completa. Da fine ottobre a Natale tutti i sabati e le domeniche mattina accogliamo i clienti con una degustazione dei nostri prodotti. A maggio organizziamo un aperitivo musicale nell'oliveto didattico per vedere la fioritura degli olivi. Proponiamo anche corsi di cu cina e di assaggio olio nella nostra sala degustazione.
138
info@oliosalvagno.it526046 www.oliosalvagno.com
Contrada Gazzego, 1 37142 Verona 045
Salvagno, well-known oil mill locat ed in the Veronese hills of Nesente Valpantena, researches and selects special varieties of olives from which it produces with cold press method and stone mill, extra virgin olive oil
with a sweet and decisive flavour and with a delicate almond aftertaste.
+39
PCHNLJARUESFRDEEN
info@pernigo.it907879 www.pernigo.it PCHNLJARUESFRDEEN
Rappresentiamo un'articolata azien da agricola localizzata in Verona. Siamo prima di tutto produttori di alimenti e prodotti officinali bio logici di alto profilo qualitativo ed organolettico, con una particolare attenzione alla biodiversità. Intendiamo coniugare sotto un'unica visione d'insieme tutte le nostre attività agricole, e per questo crediamo indispensabile controllare l'intera filiera, dalla coltivazione alla trasformazione, al confezionamen to, per arrivare alla promozione e commercializzazione dei prodotti. Vogliamo meritare la fiducia dei nostri clienti con una proposta di assoluta eccellenza e lo facciamo con una convinta attenzione ai dettagli. Per questo ci definiamo: "pro duttori di valore". Sempre pronti alla ricerca e all'innovazione nelle
VERONA
+39
Via Vendri, 42/B Verona 045
PernigoAgricolaSocietà
tecnologie di lavorazione come nella gestione e nei controlli di qualità. Intendiamo incorporare nei nostri prodotti un'idea di benessere, per non fermarsi all'apparenza e all'e stetica, e lo vogliamo fare con un prodotto in armonia con la natura, che rispetta il lavoro degli uomini e la cultura.
We represent an articulated agri cultural company located in Verona. We are first of all, producers of or ganic food and officinal products of high quality and organoleptic profile, with particular attention to biodi versity. We intend to combine all our agricultural activities under a single overview, and for this reason we be lieve it is essential to control the en tire supply chain, from cultivation to processing, packaging, to get to the promotion and marketing of prod ucts. We want to deserve the trust of our customers with a proposal of ab solute excellence and we do it with a convinced attention to detail. This is why we define ourselves: "producers of value". Always ready for a research and innovation in processing tech nologies, as well as in management and quality controls. We intend to in corporate an idea of well-being into our products, not to stop at appear ance and aesthetics, and we want to do it with a product in harmony with nature, which respects the work of men and culture.
139 37142
La Tenuta Villa San Carlo conta 10 ettari di olivi secolari, alcuni di oltre 300 anni, esposti a sud-ovest e di sposti su terrazzamenti immersi tra boschi e vigneti, la nostra Olivara. Sul terreno sosteniamo l'inerbimento totale per il rispetto della biodiversità ambientale, arricchito dall'uso di se lezionati concimi organici. Pratichia mo una potatura annuale totalmente manuale per l'equilibrio vegetativo e produttivo degli ulivi. Raccolta a mano nella 2° decade di Ottobre in fase di invaiatura. I cultivar in per centuale maggiore sono il Grignano, unico per la sua particolarità di sostenere temperature molto basse, e il Favarol, poi in percentuale minore Frantoio, Leccino e Pendolino, tutti prodotti unicamente nell'azienda agricola di famiglia. Da tutto questo ne deriva un olio fruttato leggero dalla piacevole piccantezza, delicato ma al contempo persistente. Profumi di agrumi e pera caratterizzano un fruttato armonico. Si aggiungono note di origano e rosmarino e toni marcati di mandorla dolce in chiusura.
Via della Segheria, 1/H Località Montorio Verona 045
Villa San Carlo has 10 hectares of cen turies-old olive trees, some of which are more than 300 years old, south west facing and planted on terraces amidst woods and vineyards: our Ol ivara. On our land, we fully embrace complete grassing in order to respect environmental biodiversity, and we also use selected organic fertilisers. We prune our olive trees by hand every
DEENFRESRUJANLCHP
37141
VERONA
140
info@villasancarlo.wine9237753 www.villasancarlo.wine
year to ensure well-balanced vegeta tion and yield. The olives are harvest ed by hand in the second ten days of October during the veraison phase. Grignano, which is unique for its ability to withstand very low temperatures, is one of the main cultivars along with Favarol, followed by a smaller percentage of Frantoio, Leccino and Pendolino, which are all produced ex clusively at our family-run farm. From all this derives a light fruity oil with a pleasant spiciness, delicate but at the same time persistent. Citrus fruit and pear aromas provide harmoni ous fruitiness. Further notes include oregano and rosemary and a lingering sweet almond finish.
+39
SanVilla WineCarlo
Comodo,142
Info e prenotazioni: Camera di Commercio Industria Artigianato di Verona - Corso Porta Nuova 96. Verona centrocongressi@vr.camcom.it - www.vr.camcom.it
CongressiCentro
Prenota la sala ideale per il evento!tuo
Aeroporto "V. Catullo" a Villafranca (11 km dal centro, navetta ogni 10 min) A4 - Verona Sud (10 min di auto dal casello) Stazione Verona Porta Nuova (9 min a piedi) A 10 min a dall'Arenapiedi di Verona 8 sale maxposti293 accessibile ascensore wifi dotazionetecnica guardaroba
Il Centro Congressi della Camera di Commercio di Verona dispone di 8 moderne sale con dotazione tecnica avanzata e 2 spazi polifunzionali. La capienza varia dai 18 ai 293 posti a sedere.
accogliente e conveniente.
For info and reservations contact: Verona Chamber of Commerce and Industry, Corso Porta Nuova 96 - Verona centrocongressi@vr.camcom.it - www.vr.camcom.it
CongressCenter the
Book the ideal space forevent!your "V. Catullo" Airport in Villafranca (11 km from the city center, shuttle every 10 min) A4 - Verona Sud (10 min drive from
highway exit) Verona Porta Nuova Station (9 min walk) 10 min walk from the Arena 8 rooms maxseats293 disabledaccess elevator wifi equipmenttechnical cloakroom
143
The Verona Chamber of Commerce and Industry Congress Center has 8 modern rooms with innovative technical equipment and two multi-purpose areas. The seating capacity varies from 18 to 293.
Comfortable, welcoming and convenient.
Camera di Commercio Industria AgricolturaArtigianatoVerona
byDesign
Corso Porta Nuova, 96 37122 Verona Tel. +39 045 8085863 / www.vr.camcom.itturismo@vr.camcom.it702