September/October 2022 The O cial Magazine HIGHLIGHTSCANFITPROGLOBALDOESBODYTYPESTILLMATTER?DON'TFREAKOUT!MOVEMENTANDMENTALHEALTHFIBROMYALGIAANDPAIN-FREE
DISCOVER MAXIMUM RESULTS IN MINIMUM TIME. ASK ABOUT TRYING SPRINT 8 TO BURN FAT AND BUILD LEAN MUSCLE IN SHORT, HEART-PUMPING WORKOUTS. YOUR MATRIX EQUIPMENT CAN DO MORE THAN BE WARM UP or STEADY STATE TOOLS. Contact: Info@jhtcanada.com for more exclusive info on SPRINT 8 GX
MENTAL HEALTH
EVENT UPDATES
How fitness professionals can help with behavioural coaching
THE80
INS AND OUTS OF TRAINING YOUTH Fostering confidence and competence in kids
Gérer et réduire la douleur grâce à trois stratégies simples
LA PÉNURIE DE MAIN-D'ŒUVRE DANS
Dix questions afin de t'assurer que tu choisis le bon employeur
W50hat's
BUSINESS
REQUIRED66
GLOBAL HIGHLIGHTS
WHAT IT MEANS FOR YOU
10 questions to ensure you are choosing the right employer for you
CE46QUE
WHY72
TOP48 5 FITNESS PRODUCTS TO ADD TO YOUR BUSINESS
CANFITPRO40


SPECIAL POPULATIONS
Evidence
3canfitpro September/October 2022 CONTENTS 76 6870
Why this book should be on every trainer's reading list
SLEEP MATTERS FOR MENTAL HEALTH
MAJOR44
Transform your services into products and grow your business
Movement70 and Mental Health
LABOR SHORTAGE IN FITNESS:
Next? Oxygen Yoga & Fitness's Tiffany Petett's story from instructor to owner UP52FOR THE CHALLENGE? Take your fitness career to new heights GROUP FITNESS SOUND54 ADVICE Protecting your health while teaching group fitness TRAINING Does58 Body Type Still Matter? Determining if genetic size and shape should drive a workout regimen KEY60 ATTRIBUTES OF SMALL-GROUP TRAINING INSTRUCTORS This is an excerpt from A PROFESSIONAL'S GUIDE TO SMALL-GROUP PERSONAL TRAINING by Keli Roberts EMOTIONAL62 MUSCLE FOR A TRAUMASENSITIVE WORKOUT A few simple cues to help clients feel safe and supported FITNESS BUSINESS JOURNAL 20 STATE OF THE FITNESS INDUSTRY 222022 3 WAYS TO CONVERT YOUR MEMBERS INTO CYCLING SUPER FANS 24 THE MATRIX26SOLUTION YOUR BRAND: LOOK AND FEEL 30 MOTIVATE AND RETAIN YOUR FITNESS32CLIENTS STRYKER TAKES YOU THE DISTANCE VENDOR34SPOTLIGHT 58 IS ELIGIBLE canfitprointeractive.comFOR 1 CEC canfitprointeractive.com 1 CEC THIS ARTICLE IS ELIGIBLE FOR 1 CEC canfitprointeractive.com 1 CEC REGULARS 4 NOTE FROM COO 6 UPDATES 8 TOOLBOX 10 PRO TRAINER SHOWCASE 12 MEMBER SPOTLIGHT 16 PRO-FILE
FIBROMYALGIA76 AND PAIN-FREE!
3 tools to support your emotional intelligence
The power of doing less for sustainable habit change
A new mindset and new tools for helping your clients navigate difficult terrain
NUTRITION
4 ways your brain can play tricks on you
LIFE COACHING
The38 For a Weight-Neutral Approach
HEALTHY LIVING SELF-CARE
KIDS FITNESS
SE78LIBÉRER DE LA DOULEUR ASSOCIÉE À LA FIBROMYALGIE
DIVERSITY & INCLUSION
Research shows we need to correct the misinformation and harm around weight loss
Freak Out!
FOOD84 CRAVINGS
READING: MOVE THE BODY, HEAL THE MIND
Don't68
Igniting a brighter and stronger future for fitness professionals
NOTRE INDUSTRIE SIGNIFIE POUR VOUS
THINK82 SMALLER
Protecting and nurturing your own mental health as a fitness professional
MINDFULNESS86 AND
Help manage and even reduce pain with these three strategies
If you desire MO're for your business, career, or personal legacy, take time to reflect on your conference experience, invite curiosity through self-reflection and consider what is next for you this year and next. If you missed canfitpro Global or are still hungry for knowledge, passionate to connect with top industry experts and be with your people (your fitness family), there is still time! canfitpro presents the 2022 Online Business & Leadership Summit, a two-day, four-hour event (each day) on Friday November 4th and Friday November 18th. This event will be your opportunity to close out 2022 with self-development, both personally and professionally, and build MO'mentum for 2023. Check out more at businessleadershipcanfitpro.com/events2022/
Leslee Bender
Senior Account Manager, B2B Sales
Certification Operations Manager
Graphic Designer
Feedback or to contribute to canfitpro Magazine please contact: canfitpro Magazine 110-225 Select Ave. Toronto, ON M1X 0B5 416-493-3515 Toll Free 1-800-667-5622 Fax (416) magazine@can493-1756fitpro.com
Director of Operations
Maureen "Mo" Hagan Chief Operating Officer
Michael moneil@canfitpro.comO'Neil
Member Experience Manager
This issue features highlights from canfitpro Global and recognizes the winners of awards that were presented throughout the conference. I am still beaming with pride and feel extremely fortunate to have shared the stage with these winners. Their accomplishments inspire me to continue to invest in my professional development, nurture my passion, and live my purpose even MO're boldly.
I was recently asked in an interview about what keeps me inspired after being in the profession for 40 years. My answer was simple and succinct: "Being able to connect my passion to my purpose and have the opportunity to be with my people." In that MO'ment, I realized just how fortunate I have been to be a part of such an incredible profession for my professional life. My passion for pursuing a career in fitness was sparked when I attended my first conference, and I knew that I was meant for MO're!
Being back in person at canfitpro 2022 Global Conference and Trade Show, after a daunting two-year hiatus from in-person events, was overwhelming and amazing at the same time. For me, canfitpro Global was like a long-awaited family reunion and like nothing I had experienced. It was our goal to make 2022 the "comeback" event for the Canadian fitness industry and we achieved that. There were so many "aha" MO'ments I am still trying to process. Many will remain edged in my memory forever. In normal times I would never have thought twice about some of those MO'ments, but now I do because we are far from living in normal times – interactions with presenters and delegates who were so happy to reconnect and meeting colleagues that I have worked with for over two years virtually. "Sometimes you never know the value of a moment, until it becomes a memory." - Dr Suess
canfitpro September/October 20224
To Subscribe
Imran Mahmood, imahmood@canfitpro.com Doris Li, dli@canfitpro.com
Carl Carter Douglas, EdD Dupuis
Suaad VyshnaviNathalieDanielaGhadbanGoodeAlisaHerrimanSaraHodsonLacombeSheldonMcBeeLorneOplerSimoneSamuelsSivakumaranJeffTiessen BowmanDawnCredit:Photo
Bill Loker, bloker@canfitpro.com
Director of Business Growth Robert rrobinson@canfitpro.comRobinson
Fatima Sunga, fsunga@canfitpro.com
Fitness Advisory Panel
Stephanie
Building MO'mentum for 2023
Managing Editor Erin eandersen@canAndersenfitpro.com
Note from the COO September/October, 2022
Deidre
canfitpro Magazine is published six times per year by Canadian Fitness Professionals Inc. New Professional Memberships with canfitpro are $120 per year (plus GST/HST) and renewals are $98 per year (plus GST/HST) and include a subscription to the magazine. For more information, please contact Member Services at ext. 301.
canfitpro is a division of Canadian Fitness Professionals Inc. Canada Post Canadian Publications Mail Sales Product Agreement No. 40783518 - Return Postage Guaranteed
Barb Pontes, bpontes@canfitpro.com
Manhail Sami, msami@canfitpro.com
Chief Operating Officer
Maureen mohagan@canfitpro.comHagan
Marketing & Communications Manager
Contact info@canfitpro.com for questions regarding membership, conferences, and Canadian fitness resources.
8Gx This powerhouse product provides a superior combination of cardio and strength training with features like a deeper, wider step surface, durable, rust-free polypropylene construction, ergonomic design to support multiple climbing positions and an all-new drive train that delivers a smooth, quiet Itsperformance.combination of quality and innovation delivers a workout that's quite literally a step up compared to everything else in the gym. REQUEST A QUOTE TODAY! INSIDEINNOVATEDFROMTHEOUT! Contact sales@corehandf.com VISIT COREHEALTHANDFITNESS.COM/STAIRMASTER©2022CoreHealth&FitnessLLC.Allrightsreserved.StairMasterisaregistered trademark of Core Health & Fitness, LLC. Established 1983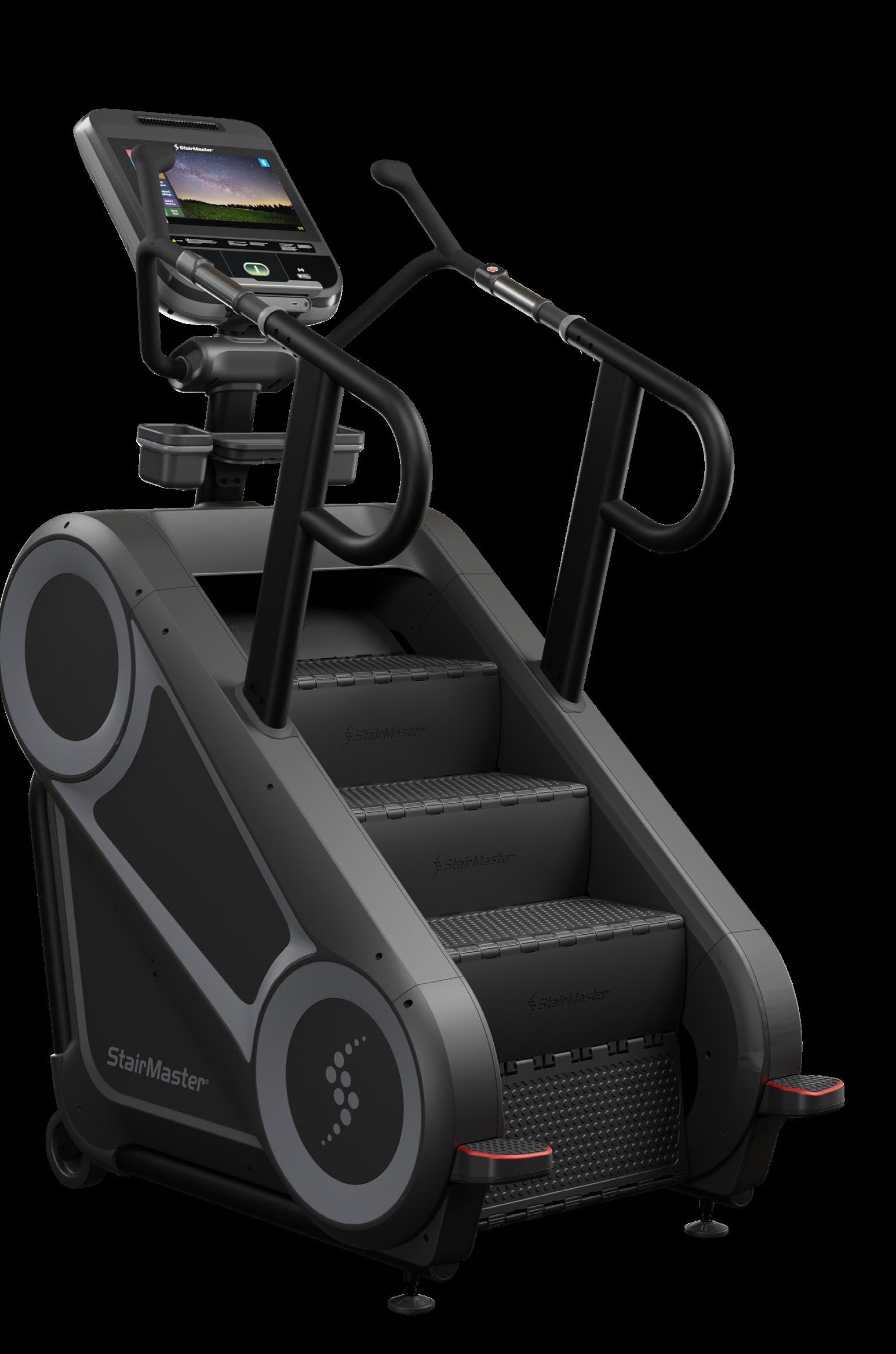 My super-power is my sense of empathy. With my great listening skills, I can pick up on the needs and emotions of others and gather likes, dislikes, and personality quirks with ease. This helps me be a great stand-in when I am trying to build a relationship with someone and need to find the right way in.
What do you want to be remembered for?
What is your favourite form of exercise or physical activity?
What is your favourite holiday?
What is your Super-Power?
I want to be remembered for being a kind, compassionate person, and for helping others. I believe that kindness conquers most and can change lives, heal wounds, and help others. is proud of our and their commitment to helping you, our valued members, be successful. Our staff come from diverse and varied backgrounds and bring a wealth of knowledge, expertise and experience to their roles.
canfitpro
Nickname: I have always gone by Abi.
How long have you been working at canfitpro?
I work as an Account Manager and my role is to liaison with the client and lead the overall relationship between them and canfitpro. Overall, I am responsible for the portfolio management of the business-to-business accounts that canfitpro has.
I make fitness a daily habit. I love to be on the move, so I try to do small things outside of my daily activities. Sometimes I stretch or do laps around my house just so I am not sitting at my desk for too long. Other than that, I try to get to the gym in the mornings to free up my evenings for other activities with friends and family.
canfitpro UPDATES canfitpro September/October 20226
What is your favourite food?
Cultural background:
I believe creating an environment where people can be their authentic self is the most important thing as you are able to encourage a space where you can collaborate and thrive together.
a great party trick to have.
What is your role and what do you do for canfitpro?
I have been working for canfitpro for just over five months now.
There are so many new things to learn, new conversations to have with many new people you can connect with. This helps me notice things I would not have before and helps me become a better, well-rounded individual.
My favorite form of exercise is either working out at the gym or playing sports with my friends. If I am not at the gym, just know (weather permitted) I am outdoors playing basketball, soccer, spike ball...you name it!
My favourite holiday is Christmas because it is a festive day to celebrate and spend time with those close to you.
Tamil - my family are from Sri Lanka.
Yes, I currently am a self-employed personal trainer trying to create my own business. At my previous job at Movati, my trainer friends presented the opportunity to do it and I could not refuse. There is nothing more I enjoy than being able to help people in their fitness journey. It has been very fulfilling for me because I wish I had the same guidance when I first started.
My favourite food in the world is my Grandma's Chilli Chicken. I do not know what it is but nothing else has come close to how she makes it. Chilli Chicken is a popular IndoChinese dish using boneless chicken, ginger, garlic paste, and red chilis which add the right amount of spice.
The reason what I do is important to me is because it is a new opportunity to grow.
Why is what you do with canfitpro important to you?
Country of birth: Canada
The core value that resonates with me the most is "Caring Community" as I always treat people the way I would want to be treated.
Name Abilashaan Jeevananthasivam
Just give me the when and where.
Are you a Fitness Professional?
My two-word WHY statement would be "Try Again". The path to success is never linear and sometimes you need to try alternative ways to make it to your goal.
staff
Which canfitpro core value most resonates with you?
How do you incorporate fitness into your life?
One interesting fact is that I learned to play the piano for 10 years of my life when I was younger. Although I am not as polished as I used to be, the pandemic was a wonderful time for me to reteach myself this skill. I will not be performing any concerts soon, but it is
What is one interesting fact you can share about yourself?
What is your two-word WHY statement?
AUMNIE.CAONEFORCANADIAN@AUMNIECANADADESIGNTHEWORLDLOVE
Discover more and see the Glute Trainer in action at youtu.be/aO2hhOPanz0 Please contact nicki.turner@matrixfitness.com for your special offer and details.
Smart, Stable & Intensely Transformative
Lower Body Training offers dozens of options for developing all the muscles of the lower body. The exercises are organized by the movement patterns they target—quad dominant, hip dominant, isolation, and plyometric—and feature variations based on the equipment you have available without sacrificing results. You will also find recommendations for selecting a balance of exercises to maximize effectiveness and reduce lower back pain and other potential overuse or acute injuries. training?rfsn=1304914.d5ce50&_pos=1&_psq=Lowercanada.humankinetics.com/products/lower-body-
body training&_ss=e&_v=1.0
canfitpro September/October 20228
Glute training has never been more popular, and thanks to Matrix, it's never been better. Our advanced biomechanics maximizes activation of the glutes and hamstrings, mimicking bar-hip thrusting without the difficulty and discomfort of free weights. Complete your offering today with a smarter, more stable take on high-intensity glute training.
TOOLBOXcanfitpro
Schwinn Z Bike
Online
Octanecorehandf.com/product/schwinn-z-bikeXT-One
9canfitpro September/October 2022
Powered by personalized zones, accountability and an instructor who will push riders to be their best, the Z Bike was designed for studios that focus on unifying their members with color. The configurable console allows for your instructor to design the class around FTP, Heart Rate, or Cadence for an experience that is never the same twice.
BECOME A Certified Life Coach CertificationCoaching
Do your clients self-sabotage? They are doing everything "right" and somehow, you know that when your back is turned, they jeopardize their success. Tired of seeing your clients struggle? Just exercise and nutrition is not enough. Teaching confidence and tapping into your clients' MINDSET is not just optional anymore. Become a certified coach and learn the proven system that will give your clients find real, long-lasting results. Receive $300 OFF with code CFP2022! Regular: $997 Your price: $697+ thinkyourself.com/tycoachGST
The XT-One offers four unique cardio workout modes allowing users to walk, run, hike or climb. With the MultiGrip and Converging Path handlebars, users can target upper-body muscles with a natural motion. Not only is the XT-One great for members due to its versatility, but it also allows club owners to maximize cardio floor space with its rear entry access, making it easy to place each machine side-by-side. octanefitness.com/products/standing-ellipticals/xt-one/
MENTAL LEADERSHEALTH:FORCHANGE
Véronique Rioux Nanaimo, BC Courses Taught: PTS
What is the most important thing to consider when assisting a personal training client with their mental health?
We can never really understand what someone
else is going through, no matter how similar our experiences or how much we have suffered. It is okay if we do not have any answers. Just listening, validating, and caring can be a tremendous help.
As certified canfitpro fitness professional, how can we influence our industry to change the stigma around mental health? Talk openly about mental health. Educate yourself on what others are going through. Keep an open mind and be willing to change your beliefs. Be compassionate. Stand up for those who cannot for themselves, and advocate for better mental health options and benefits in the work place.
How has your mental health been challenged in the fitness industry?
Since the beginning of my journey in the fitness industry, I found myself being challenged by acceptance of my own body image and realized quickly that it is the same challenge for most people. How can we learn to love ourselves and empower ourselves in a journey toward optimal health instead of trying to fix, change, and punish ourselves with diet and exercise? How can I find joy in moving my body and pleasure in eating healthy food
PRO TRAINER SHOWCASE
Courses Taught: PTS, CPR
As an adult living with ADHD, I had forgotten just how much access to regular exercise and human interaction was an effective treatment for me. I had to start ADHD medication, and shortly after anti-depressants, in order to cope with the lockdowns.
Jason Jones Toronto, ON
IG: @lazersharkbatman
What is the most important thing to consider when assisting a personal training client with their mental health?
This is a tricky question to answer as there are many answers. First, I make sure to remember what is in my scope of practice and who is in my community that I can refer a client to. Being able to hold space for my clients, to listen to them, show them empathy without giving them advice, and again without trying to fix them. Another important thing to consider is how is my journey toward my own mental, emotional, spiritual, physical health? What is
IG:FB:vancouverislandholisticcounselling.cachoose2be.caChoose2Be@choose2be canfitpro September/October 202210
How has your mental health been challenged in the fitness industry?
Meet our PRO TRAINERS who champion overall health in their communities
instead of thinking I need to restrict or limit myself?
Resist the need to FIX. Be the trainer who listens and seeks to understand what motivated them to get out of bed that day to work with you.
their emotions, stories, and challenges and how can I support them with a caring, curious mindset.
choices that nourish us. With the upending of the past few years, we are slowly building back to a different place.
Fyonna Vanderwerf Bracebridge, ON
Build a network of medical professionals in trauma, addiction, eating disorders, grief, nutrition. Be seen as a proactive, empathetic, and a supportive trainer.
Courses Taught: FIS, PTS, HWL, FMA, CPR
I resonate so much with the concept of toxic positivity – people feel they have to show up in a perfect, happy, successful way and it is exhausting. My mental health is challenged when I do not have boundaries. Being a gym owner and pushing through five lockdowns was exhausting, numbing and I sometimes had to take a step back to watch The Office!
How has your mental health been challenged in the fitness industry?
Anotherpossible.powerful
To be transparent with our clients about our own challenges without leaning on our clients.
We have SUCH potential for impactful and positive influence. We would never question someone wearing glasses to have better vision or wearing a cast to heal a broken bone. Mental health is the same way. Be real. Be authentic. Ask your clients to show up as they are and reiterate that is enough. Have
Respect your scope of practice. You are not a therapist or a clinical counselor (unless you are) but you can still serve as an important part
mindset is to learn more. When we know better, we do better. Volunteer for a crisis line or for victim services where you learn coping skills, empathy-based communication, and how to LISTEN. These organizations also have fantastic ongoing training opportunities and will build that toolkit for you as a fitness professional.
People are vulnerable, afraid of rejection, nervous to fail in our current culture of 'never being enough' in everything we do and everyone seeing it. This is powerful enough to know we need referrals if necessary. Stay within your scope of practice.
FB:hivemuskoka.ca/HiveMuskoka Inc IG: @hivemuskokainc IG: @seanalltcpt 11canfitpro September/October 2022
From working long and irregular hours to chasing sales targets, and always having to be "switched on", the personal training profession has the possibility to drain your mental health. It is important to draw clear boundaries and make space in your own life to proactively manage your mental health.
This is always a business of accountability, communication, and collaboration. And when these three things do not come into play, we have ego, outdated stereotypes, people resonating with a scale instead of their body, and Everest high pedestals to fall from.
Talk about it. Not only as a general topic but sharing our own personal struggles. There is this misconception that we need to present ourselves as super-humans who do not struggle with either physical or mental health, but the reality is that most clients do not want to work with someone that is super-human; they want to work with someone they can relate to who they believe can help them with the challenges they are faced with.
As certified canfitpro fitness professional, how can we influence our industry to change the stigma around mental health?
As certified canfitpro fitness professional, how can we influence our industry to change the stigma around mental health?
We are not here to fix people; we are here for them to discover how to build and grow change from within. And we get to be part of that journey by being the best guide we can.
How has your mental health been challenged in the fitness industry?
As certified canfitpro fitness professional, how can we influence our industry to change the stigma around mental health?
What is the most important thing to consider when assisting a personal training client with their mental health?
of your clients' support system by helping to keep them active and empower them with the skills that will positively impact their mental health outside of your training sessions. Skills like proper nutrition, sleep hygiene, and developing a process-focused mindset.
encouraging and supportive questions on your intake forms. Complete assessments and reflect on what people CAN already do versus what they cannot. Shaming someone who is vulnerable is a quick way to have a short career. Listen more than you talk. Ask those questions that need more than a yes or no answer. Ask if it is ok to do that because you would like to understand more where they are at, so you can support them in the best way
To show some authentic care and value for the person that is in front of us. To not only see a physical body, we need to train but how can we see this person as a whole person with
Sean Allt Chilliwack, BC Courses Taught: PTS
Have any of you seen a strong disconnect between the mindset, the body people inhabit, and the faith/hope to see things through? I sure have. Working from the inside out, that intrinsic responsive mindset builds a plan that sticks. The last two years have brought people to this part of their journey with me and being a trainer to support building foundations that are strongly rooted in data, inclusion, and empathy makes my heart full.
the message I share with my clients and my mindset?
What is the most important thing to consider when assisting a personal training client with their mental health?
Mental health is so much more than "having a good day". It includes emotional, psychological, and social well-being. It affects how we think, feel, and act. It also helps give us choices through habits/routines on how we handle stress, relate to people in our lives, and choose
MEMBER SPOTLIGHT 2022 FITNESS OF THE YEAR Meet Melanie Levenberg, Fitness Instructor Specialist of the Year BowmanDawnCredit:Photo canfitpro September/October 202212
WINNERS!PROFESSIONAL Meet Eric Wong Kai Pun, Personal Training Specialist of the Year BowmanDawnCredit:Photo 13canfitpro September/October 2022
to support canfitpro as a subject matter expert for the revised Personal Training Specialist (PTS) certification. It was an honour to set the content strategy for the canfitpro PTS framework which encompasses all the steps that lead to a successful clienttrainer relationship. I enjoyed creating
Along with my Kinesiology and Physical Education degrees, Athletic Therapy experience, and Personal Training certification, I was able to use a mash-up of different skills to teach and expose my P.E. students to different ways of moving and staying active. I missed group fitness the most, and wanted to learn from the pros, so I decided to travel to New Zealand and Australia to get certified in Les Mills BODYJAM.
Now I live in Whistler, BC, where I teach local fitness classes to both adults and kids. I support a community of instructors and schoolteachers who deliver programs across the world, and I coach fitness enthusiasts on how to launch and operate their own profitable kid's fitness business.
Tell us about your fitness career
canfitpro September/October 202214
programs that follow best practice in physical education while boosting mental health through movement.
Since I was a kid, I loved fitness, or aerobics as it used to be called, when I jumped around my living room with Richard Simmons in spandex pants, sweat bands, and unitards. Growing up, I always chose jobs that paid less than my friends just so that I could do what I love: working with kids in fitness and movement. The obvious choice for a movement enthusiast like me was to become a Phys Ed teacher, and I did, but it was while I was at university that I discovered what would become my ultimate calling: fitness
Asinstructing.afreshman
Through collaborations and partnerships with other female experts in movement, fitness, and education, such as Christina Aaron (YOGAPL3Y), Indigenous Educator Roxane Letterlough (Aboriginal DANCEPL3Y), Brandi Heather (Adapted DANCEPL3Y) and Daniela Goode (POWERPL3Y), I have been able to expand programs offered through the PL3Y brand to give kids, families, and adults different choices on how they can stay active.
I have also had the honour of working with organizations across Canada such as ParticipACTION, Right to Play, Health Canada, Sport 4 Life as well as international leaders in fitness, education, and recreation such as LES MILLS, SHAPE America, ECIS and TAFE (Australia) to advise, design and deliver kids fitness
My goal has always been to empower and equip fitness enthusiasts to become physical literacy leaders, so my idea, the business, and our community grew from there. Since 2013, I have trained over 1,200 instructors, delivered professional development to over 15,000 teachers, helped 18 people launch their own kid's fitness business and together we have inspired more than 3.5 million kids to be active through movement and play.
Melanie:journey.
As the lead PT educator at GoodLife, I am honoured to have a cascading positive effect on both the industry and the people we serve. I have developed dozens of club leaders and education instructors. I also grew the capabilities of PT Divisional Managers by creating an Education Committee which serves as both individualized mentorship and collaborative project work. I have coached numerous PT subject matter experts and course creators on lesson planning, presentation skills, drip course delivery, tech, and stepping into more advanced Incompetencies.2021,Iwasasked
Through this experience, I learned new coaching and cueing skills, but I also saw the power of pre-packaged choreography programs, and I wanted
Eric: In 2006, I achieved my canfitpro PTS certification and my entire career began to unfold within the field of personal training. Working at GoodLife Fitness as a Personal Trainer, I received many development opportunities that led me to management. Throughout my career, I am proud that I have contributed to both revenue generation and employee advancement.
to offer this to schoolteachers. That is why I created DANCEPL3Y (dance-play), a kids dance program that integrates music, movement, fitness, and play. I came home and started presenting at local professional development workshops and conferences. The demand for training workshops grew so I left my teaching position to start a business creating resources for schoolteachers, as well as certifying kids' fitness instructors to teach programs in after school/evening/summer camp settings.
and rookie instructor, I learned how to teach group Ex classes on a stage to over 200 people at University Campus gym. The energy was palpable and as a leader, fitness instructing gave me a perfect dose of creativity, movement, music, fun and, my favourite, community. I would lead "Britney Boxfit" – kickboxing classes set to sing-along worthy Britney songs, and on campus I became known as "Boxfit Mel".
Why did you decide to nominate yourself for the Fitness Professional of the Year Award?
and transformation – if you have that calling, get out there, get out of your own way and serve them.
Eric: I was nominated by two colleagues. At first, I did not want to complete my part of the application. I was hesitant because there are so many great fitness professionals who work directly with a full roster of clients – I did not feel I was a strong candidate. Eventually, with some coaching from mentors, I decided to step into the application process - less for me but more to recognize the amazing effort and wins my team has had over the past year as we return from the pandemic. The team has developed new skill sets to meet our members where they are, we have updated our periodization model, and we have created live workshops and courses that are focused on providing incredible client experiences. Our members, associates, and industry needed to shift, and we have done so. Going for the FPOY award was my chance to acknowledge the ongoing resiliency and growth of personal training and to demonstrate how important this work is to the trainers who serve our members every single day.
Where would you like your career path to take
Eric: Obsess with improving the quality of your service every single day. By doing so, you will forever have a wait list and will truly change lives. This came from one of my good friends, Tim Delage, The Director of Personal Training in Western Canada.
What is the best piece of advice you have ever received?
Melanie:you?
At the deeper, more profound level, COVID has shifted the mindset of members joining our gyms. In 2022, people are coming in with vastly different goals and priorities than they did in 2019. That means adapting which educators we partner with and how we deliver content to our teams.
Melanie: Trust yourself; no one else can do it like you will. Let your gifts reveal themselves to you by trying different things. Compress time by learning skills from those who have mastered them. You do not have to figure everything out yourself. The five people you spend the most amount of time with will set the tone and texture of your life, choose wisely. The world needs leaders to inspire change
Melanie:professional?
Eric: I love what I do, especially the live trainings and PT coaching I am engaged in. Because GoodLife Fitness emphasizes education for their employees, I am fortunate to be very fulfilled by where I am in my career. My passion and focus on PT skill development over the last decade allowed me to improve the education and systems we provide to our trainers.
business coaching, and most importantly, I created space to be more present as a parent to my kiddo, as a partner to my wife, and as a human being to myself.
Yes, our industry has been challenged during the pandemic, but we are contributing to human health and potential more than ever now. I am incredibly proud to be an agent of change and part of our industry's evolution.
What types of transformations have you made because of COVID and how has it changed you as a fitness
Like when I am hiking in Whistler, it is important to stop along the path, take a moment and let things sink in. The views are not only beautiful at the top, but there is also always something to appreciate along the whole way.
I have found that a big mission can drive you forward, but the same drive can also pull you away from celebrating and integrating within you that you have accomplished. For me, this is a moment of integration and regeneration – I still have big dreams to reach and this is a moment to celebrate and enjoy the journey along the way.
15canfitpro September/October 2022
I had been operating my business virtually from around the world since 2013, including offering online certification courses and workshops since 2018. The COVID-19 pandemic grounded me, not only from flying (I used to travel at least once a month) but into a deeper connection with my family. I appreciate the little moments so much more. Having kids can be chaotic and building a business while building your family takes that chaos to the next level. The slowing down imposed from the restrictions allowed me to re-connect to what matters most and build a life around what I desired. We moved our family to the mountains, I shifted my focus from keynote speaking to
content and collaborating with other talented PTs and canfitpro staff to support the project. I am excited to influence the next generation of personal trainers who will become canfitpro certified members.
For the future, I see myself creating more tools that will support an even greater number of PTs. I envision a whole brain trainer approach that builds skills in business, programming, lifestyle coaching, mindset, and technique. I plan on innovating on traditional live education events by hosting workshop style seminars that harness the knowledge in the room. This means providing a venue for collaborative information sharing and knowledge transfer between the experts and delegates. I am also thinking about a book, online courses, and mastermind groups, as new ways of mentoring personal trainers and contributing to the fitness industry.
Melanie: Nothing is permanent. You can ALWAYS make a change. That landed with me because I am often stuck in inaction from trying to figure out all the steps ahead to make sure that I am making the right moves and that I have considered every option. When that advice was shared, I realized that the right thing to do is to just start, and then you can adjust along the way. It has changed the way I approach business, parenting, friendships, and life!
Melanie: I accepted this nomination because I know that I have made an impact in the lives of many people: kids who get to move with me, the adults that bust-a-move with me in my weekly dance classes, and the certified kids' fitness leaders who teach energizing classes to kids in their communities.
Now that you have reached this point in your career, what piece of advice would you give your younger self?
Eric: I would tell myself to understand the half-life of facts and avoid being dogmatic. What I believed to be hard truths at certain points in my career (e.g., based on research at the time: avoid leg extensions, adhere to keto diets, and cardio kills your gains) have now been disproven or have caveats attached to those ideas.
Eric: COVID transformed my role within the fitness industry both superficially and profoundly. Superficially, I am working and working out from home most of the time now, instead of in a club. To be more effective as the Director of Personal Training at GoodLife, I train clients remotely and online so that I understand those modalities and can transfer my experiences to our business.
It seems wild to say it, but I feel like I am only just beginning. In 2013, I set a goal that by 2025 one million kids would experience a PL3Y program. We reached that goal in less than five years. My new vision is set at 100 million kids by 2030 and with new partnerships and my networks expanding, I am excited to see this vision come to life.
system that is results driven for your clients, members, customers, while allowing you to generate recurring revenue. Create a community of like-minded people that are YOUR CREW and support them along the way. When you have folks that trust you and believe in what you teach them, you are opening doors for introducing other revenue streams like supplements, nutrition, high ticket coaching, equipment, clothing, and so much more. Think outside the box but focus on getting long lasting results for your CREW!
Please describe what it is that you do within the fitness industry and how long you have been active in this role?
BowmanDawnCredit:Photo canfitpro September/October 202216
What advice can you share with other fitness professionals, those new to the field and veterans of the industry, to be successful?
What does this award represent to you? Winning this award from canfitpro means the world to me. As a Canadian fitness expert and professional, I never really planted any seeds in the Canadian fitness industry, although I have Canadian members, I was still missing major components, meaning connecting with canfitpro and sharing my knowledge with other Fit Pros in the industry. But most important is what the award represents to me and that is FromTEAMWORK.MaryRomas initially connecting with me and booking me for conferences and webinars to Maureen Hagan and the amazing canfitpro staff that help to make my presentations happen to my team helping me with IG LIVES, support, etc., my wife and family who were extremely supportive throughout my journey last year, to all the delegates that showed up to my presentations and that voted for me. This is a TEAM EFFORT and I love seeing myself and canfitpro finally together!
2022 DELEGATES' CHOICE NEW PRESENTER OF THE YEAR WINNER: FUNK ROBERTS
What do you believe sets certain fitness professionals apart from the rest?
What is the biggest mistake you have made and how have you learned from it?
PRO-FILE over40shred.comfunkroberts@gmail.com
What types of transformations have you made because of COVID and how has it changed you as a fitness professional? Because most of my online workouts throughout my years were home workout based, when COVID hit, I had to transform my workouts to pre-recorded real time, follow along, workout videos that were bodyweight only. This took all the barriers away from any of my members or those following me on YouTube from not being able to train. I also doubled down on my membership website and continued to create monthly phases, which allowed me to support my members throughout their journey with easy-to-follow workout videos, weekly LIVE coaching calls and providing a private Facebook group that we could keep each other accountable. For me as a fitness professional, it really changed my focus to results based, support based, educating my members more, and empowering them to continue along their health and fitness journey.
My advice would be creating a program or
The best fitness professionals base their entire business on getting results and support. When you can change peoples' lives, not just body transformations but actual life transformations like better relationships, more energy for kids and grandkids, better productivity at work, no more aches and pains, no longer must take prescription pills, no more chronic health issues and more confidence, it leads to a healthy sustainable lifestyle.
The biggest mistake I made in the past with my online business was focusing too much on the front-end product and getting the sale, while neglecting my customers after-sale because "they already have the program". This type of business practice for me led me to burn out, because I was always chasing the sale, through ads, social media, etc., and by not supporting my customers, NOT making connections, and NOT having a recurring revenue system in place. Eventually, you burn out physically, mentally, emotionally, and financially. NEVER AGAIN!
Currently, I help men in their 40s and beyond to transform their bodies and lives through my online Over 40 Alpha Workout, Nutrition and Brotherhood membership It focuses on naturally increasing testosterone levels, boosting metabolism, and getting strong through the six pillars: Mindset, Sleep, Recovery, Workouts, Nutrition and Supplementation. I have built a membership of 14,000 and been in this role for the past four years.
The number one aspect that I absolutely love about this role is being able to completely change lives while helping to facilitate a community for men, from all over the world, different colours and races, different religions, coming together in one place and being vulnerable. I help everyone be successful in their journey.
What do you love about what you do?
more
your people
For
handle
next. Apply online
Building Together.Confidence. more than 90 years, we've been a trusted insurance, risk and partner for businesses, communities and people around the globe. your for and your Helping you build the confidence to whatever comes or learn by
organization.
consulting
Customizing programs and solutions tailored to
needs. Driving better outcomes
visiting: ajg.com/ca/canfitpro © 2022 Arthur J. Gallagher & Co. | Arthur J. Gallagher Canada Limited • General and professional liability, including abuse • Working with children • Fitness equipment protection • Fitness facility protection • In-home studio protection • CPR training coverage We've added coverage for "on-line training" for fitness trainers, which given the COVID-19 circumstance is more important than ever. To deal with current challenges, we temporarily eliminated the requirement for 50% of training revenue from "on-line training" so that fitness instructors could continue to work while face-to-face appointments were not possible and fitness facilities were closed.* *This condition will be reinstated once the COVID-19 situation has ANNUALdissipated.PREMIUM STARTING AS LOW AS $158.00 AJG.com/ca | The Gallagher Way. Since 1927.
management
Register Now at canfitpro.com/continuing-education CEC online courses and quizzes Upgrade your knowledge and maintain certification.your
BUSINESSFITNESSJOURNALKeepingclubandboutiqueowners,operators,andmanagersinformedwithindustrynews,trends,andinsights. 20 STATE OF THE FITNESS INDUSTRY 2022 22 3 WAYS TO CONVERT YOUR MEMBERS INTO CYCLING SUPER FANS 24 THE MATRIX26SOLUTION YOUR BRAND: LOOK AND FEEL 30 MOTIVATE AND RETAIN YOUR FITNESS CLIENTS 32 STRYKER TAKES YOU THE DISTANCE 34 VENDOR SPOTLIGHT
By Sara Hodson
JOURNAL PEOPLE NEED TO INVEST IN THEMSELVES, AND OUR GOVERNMENT LEADERS NEED TO INVEST IN PHYSICAL ACTIVITY State of the Fitness Industry 2022
canfitpro September/October 202220
21canfitpro September/October 2022
1. Connection
We have three vital ways to engage with our active population, and to help inactive Canadians achieve a healthy lifestyle, once and for all.
Next Steps: You know the expression, "You don't know what you've got until it's gone?" This is so telling for the fitness industry in 2022 - but we have to remind our members of how motivating and inspiring it is to be around people with a common goal. One clear takeaway from this report is that the health and fitness industry "can play an important role in facilitating lifetime physical activity." In the absence of motivation, we have accountability.
The Health and Fitness Industry is a vital part of our society and economy. In Canada, we employ more than 82,000 people directly, and thousands more indirectly. The fitness industry generates billions of dollars in revenue annually, and saves the government billions of dollars in healthcare costs. Furthermore, the fitness industry is proven to improve physical activity levels, which leads to a more robust and productive economy.
The cost of inactivity is staggeringly high: we spend more than $5 billion dollars each year treating conditions that could be prevented by a physically active lifestyle, as well through lost productivity. Did you know that we lose more than 19 million days each year from absenteeism and
Next Steps: Be bold and proud of the talent within your walls, and become competitive with other industries. The Fitness Industry, like many other Canadian industries, is experiencing a labor shortage. We need to provide employees with excellent wages and work with purpose to attract and retain exceptional
Weplan.know change is possible. Let us move in the right direction.
3. Expertise
More than 50 percent of Canadians are not active enough, and one-third of Canadians are completely inactive. They know they need to exercise but they do not know how to start. What does the fitness industry do best? Motivate and inspire. But here is what has changed - fitness is not simply physique and performance - it is mobility and strength, stress management, and living well in our bodies and minds.
that, "Investing $2000 in successfully helping an inactive person become active results in a payback period of less than one year." ONE YEAR! This is incredibly powerful data for our industry. We must use this data now. The last few years have proven to us that we need the fitness industry - we have evolved and become more laser-focused on our collective mission: to make Canada the healthiest nation in the world.
In June 2022, a landmark report was released in Miami at IHRSA, the Global Health and Fitness Conference. The report, Economic Health & Societal Well-Being: Quantifying the Impact of the Global Health and Fitness Sector, proved what we have known for decades: physical activity is vital to a vibrant economy and a healthy population, and the cost of inactivity is too high not to take action immediately.
Thepresenteeism?reportstated
Our industry is full of qualified people:
The evidence and data are clear: it is the time for massive change in Canada,. People need to invest in themselves, and our government leaders need to invest in physical activity. Without significant policy change, nothing will change. The best of intentions do not lead to action without a
Next Steps: Our members need community. They need high fives, and they need to be called out in class! The value of social connection cannot be understated. The fitness industry is in a unique position to build not only physical and mental health, but social health. For the inactive Canadian who has never known the joy of a fitness family, this is the time to bring them in. People have been thirsty for human connection - they are truly parched. Bring them to the well and let them drink!
from kinesiologists to nutritionists who understand how the body functions, and how to design programs for individual needs. Let us be honest: it is really hard to start exercising, and for some it is even harder to start again. We know that more than 30 percent of the Canadian population is obese, and this population needs to know that exercise is not about weight loss - they will reap huge benefits - from reducing insulin levels to improving heart and lung function, by moving safely.
Many of our active members figured out how to exercise on their own. But people need people.. We ran a promotion at my business, LIVE WELL Exercise Clinic, offering "frozen" members a chance to come back, free for two months. It was a risk that paid off - one of my members said to me, "Sara, I bought the weights, I got the bike, I did the Zoom classes. It wasn't the same. I need this!"
Thepeople.Fitness Industry Council has been advocating for a Medical Tax Exemption at the federal level and a Physical Activity Tax Credit at the provincial level. In 2021, Newfoundland and Labrador became the first province and territory to implement this: everyone filing their taxes can claim up to $2000 each year for physical activity. Interestingly, in the report, the cost of moving someone from inactive to active was estimated at….$2000 per year!
How are we going to do it?
Sara Hodson, CEO of LIVE WELL Exercise Clinic, is President of Fitness Industry Council of Canada. To join the FIC visit ficdn.ca. To find out more about bringing a LIVE WELL Clinic in your community, please email us at sara@livewellclinic.ca.
2. Motivation
Let us start with the good: The Canadian fitness industry contributes significantly to our GDP - $2.2 billion dollars directly to the economy and an additional $1.8 billion dollars indirectly. The by-products of what we do - improving physical and mental health - is the take-home message from this report. We know that 150 minutes of moderate to vigorous exercise weekly reduces rates of chronic health conditions, reduces the risk of dementia, improves brain health, sleep, concentration, and mood. Exercise is as effective as medication for many mental health conditions - such as anxiety, stress, and depression.
3 Ways to Convert Your Members into Cycling Super Fans JOURNAL canfitpro September/October 202222
Schwinn Indoor Cycling sparks passion amongst regular group cyclists
By Lou Atkinson
Finally,class.there
New riders need to be welcomed, supported, and rewarded to foster a sense of competence. More experienced riders need to be nurtured, guided to continue to make incremental progress, and to be recognized for being a consistent, positive presence in the class. For instructors, creating and delivering class designs that both bring people together, and cater to everyone's individual needs is no easy feat and requires significant skill, expertise, and dedication. Most importantly, when Master Instructors deliver certification courses to new instructors, there is no substitute for passion. If the person leading the ride is genuinely excited to be there, this becomes infectious, and members will be drawn to their classes and follow them wherever they are
Theteaching.Schwinn
is no doubt that the combination of loud music and rhythmic movements, in a dark, enclosed space, is a surefire way to increase motivation
Greatpeople.instructors
are the backbone of indoor cycling programs, and our education programs and Master Instructors are here to help you develop and hone those skills. Learn more about Schwinn Indoor Cycling certifications and workshops and take a major step in elevating your skills so that you can better serve your customershubs.ly/Q01bn6Dt0
Lou Atkinson, Lead Master Instructor at Core Health & Fitness, is an educator, coach and researcher with a passion for engaging a diverse range of people in physical activity and indoor cycling.
23canfitpro September/October 2022
Master Instructor team has had incredible opportunities to coach memorable experiences, at amazing global events. From concert halls, beaches, and caves to an Elizabethan church in Switzerland or even in the middle of Time Square in NYC. Just like music festivals, Comic-cons or other fan pilgrimages, these events give riders the opportunity to celebrate and indulge in their own passion with like-minded
"Taking Schwinn Cycling classes helped me develop a love for indoor cycling and allowed me to follow that passion to become a Schwinn Certified Instructor," said Brittany, a Schwinn Cycling Certificate Graduate. "I had an amazing instructor who lit a fire in me and made me want to pursue this passion further."
The journey to super fandom begins with the first step into the cycle studio. It takes courage to walk into a group cycling class for the first time. Not knowing the rules, the practices or the culture of cycling classes can be intimidating, but there is something about Schwinn Indoor Cycling that inspires almost obsessive levels of devotion. It is not unusual for some people to attend a cycle class five days a week with some even attending more than one class in a day. There are a lot of contributing factors to creating cycling superfans – here are a few examples believed to be the creating forces behind these amazing athletes.
and give class members the confidence they crave. The chemical rush of exercise creates the perfect conditions for one almighty buzz that riders want to experience repeatedly.
First, there is the simplicity of the workout. In most cases, everyone can ride a bike. Progression in indoor cycling comes from mastering some basic techniques and making incremental changes to resistance, which means improvement can be gained relatively quickly. With competence comes confidence. As someone gains confidence in their skills, they build momentum and motivation to continue to do better. With proper training, the goal of an indoor cycling class is not for it to get easier, but for the rider to get better. Indoor cycling gives class members a sense of accomplishment due to the absence of complicated movement patterns and the necessity for cardiovascular conditioning.
Second, there is the sense of belonging, also considered to be vital to generating intrinsic motivation. Interestingly, like many sub-cultures, there are those who fully embrace their indoor cycling identity by wearing the clothes, buying the gadgets, and joining social media forums. Whether they are in the front row high-fiving their neighbor after a huge hill climb, singing along to every tune by themselves, or quietly slogging away in the darkest corner with their eyes closed – the sense of being part of a team is a vital part of why members attend a group cycle
To find an answer, we started where we always start — by doubting old conclusions and gathering feedback from all the different people who interact with both traditional and slat-belt treadmills.
Interpreting the Findings
At Matrix, we are always striving to deliver a better running experience, both for the facilities that own our treadmills and for the fitness enthusiasts who use them. Our slatbelt treadmills have been on the market for two years now, and provide some unique advantages for both owners and users, and that truth posed an interesting question:
By Greg Lawlor
service than a traditional belt, the critical components of the slat-belt treadmill were extremely difficult to service due to their placement directly beneath the running surface.
We made several improvements to our current design, including bolstering the lift motor beyond anything else in our portfolio, allowing for up to 20 percent incline and a higher maximum user weight.
Checking Our Work
Pushing Performance Further
How did we bring this level of performance to the cardio floor for more users and owners?
With our challenges clearly defined, we set about designing a new kind of treadmill that would accentuate the advantages of the slat-belt design.
RE-EXAMINING THE SLAT-BELT TREADMILL
The slat-belt itself was also a major focus of our quest to make a better, smarter slat-belt treadmill. After much testing, our engineers settled on an aluminum core design with a durable rubberized coating.
could open the drive compartment with two simple hex bolts, letting them get in, get out, and get the treadmill running again much more quickly.
The Matrix Solution
Yet another area we knew we could improve was the overall performance of our new treadmill.
canfitpro September/October 202224
We began by moving the motor components from beneath the deck and placing them at the front of the treadmill in a specially designed drive compartment. This protected the drive motor, lift motor, and motor control board from sweat and debris, minimizing the need for cleaning and reducing service time. This allowed us to lower the step-on height which helped with accessibly and access to Nowmaintenance.technicians
JOURNAL
While the slat-belt itself required less
The drive system has been proven to run at an incredible rate of 91 percent efficiency.
We gathered insight from gyms and athletic training facilities. We interviewed facility owners, trainers and coaches, service technicians, and end users to better understand their perceptions of the difference between traditional treadmills and slat-belt designs.
We also optimized both the length and width of the deck without increasing the overall footprint of the product, providing plenty of room for elite athletes to run with maximum intensity.
Redefining Feel
Redesigning For Durability and Service
paper available
console is paired with Performance Plus treadmill, facilities can be sure that our exciting new treadmill will be easy to service, more durable than expected, a joy to run on, and a pure pleasure to own.
In side-by-side testing with traditional treadmills, the rubberized coating of our slats provided significantly more shock absorption, delivering an experience as comfortable as running on a premiumquality track.
Video on features can be found here: youtube.com/watch?v=A2RQ2bSYZ8c
Analysis of the aluminum slats show that they should last for a staggering 50 million cycles.
Our new Performance Plus Treadmill would not be complete without one final, critical quality — choice.
DevelopmentBusiness for Matrix Fitness in Canada, and
Performance Plus So Much More
Our exclusive drive-and-belt system will last for up to 160 000 km's with minimal Bestmaintenance.ofall,facility
info@jhtcanada.comemailing 25canfitpro September/October 2022
Health Tech. Full
Performance Plus is compatible with five reimagined consoles, letting facility owners create experiences that span from beautifully simple to digitally connected and rich with entertainment.
Greg Lawlor is Vice President of the contents of this article was taken from a white paper published by Johnson white by
Facility staff can also access our powerful Community 360 and Asset
NoManagement.matterwhich
owners would likely not have to do anything but clean their treadmill for the first five years of ownership.
In the end, our slat-belt design will outlast and outshine anything next to it.
Your Brand: Look And Feel Resources and tips to help you find your design aesthetic JOURNAL canfitpro September/October 202226
"A COMPLETE BRAND IDENTITY PROGRAM ENCOMPASSES AN INDIVIDUAL VISUAL LANGUAGE THAT WILL EXPRESS ITSELF ACROSS ALL APPLICATION AND BRAND TOUCHPOINTS."
Key Considerations
If you worked with a professional designer to create your logo, he or she will have covered many aspects relating to the overall style and visual aesthetic of your brand. If on the other hand you decided to go it alone, there are several things that you still need to do to complete the development of your overall brand identity. The resources and tips in this article are for you. They are intended to help you settle into a design aesthetic and establish the perfect look and feel for your brand.
The development of a brand identity does not end with the creation of a logo. A visual context for the new brand is needed to support the development and implementation of your brand's communication program.
Your brand visual style is composed primarily of the following elements: A distinctive colour palette, a welldefined and consistent use of fonts and typographic styles, and readily identifiable visual assets as well as a definite approach to the selection, creation, or visual treatment of future imagery.
Your new brand will have various touchpoints where it will be experienced by your target audience and your clients alike. Therefore, it will be important to convey the brand personality, point-ofview and look and feel in a consistent way across all media and touchpoints. To do so, you will need to create a unified/ consistent visual language, while also establishing certain rules to ensure there is a balance between consistency and flexibility, so that these rules may not restrict creativity, but enhance it within the set boundaries of the brand aesthetic.
By Jean-Pierre Veilleux
WHY A BRAND VISUAL STYLE?
Think for a moment of all the places and ways in which your audience will encounter your brand. Applying a consistent visual style to all these touchpoints will be critical. Your visual style will define your brand's overall look and feel as well as its individual tone and manner.
If you have been following along with the last three articles, you should, so far, have made several major decisions about your brand identity. But while you should now have your name and logo registered, you must shift your attention toward developing the broader visual language of your brand and establish an identity system to help bring it to life in the eyes of your customers and the public.
You will need to ask yourself: What kind of personality do I want my brand to communicate? And what kind of mood or feeling do I want to evoke or have people feel when they encounter my brand? From there, you can start looking at how others may have responded when they asked comparable questions. This is important for two reasons: 1) to gain some inspiration and to help define your own ideas, and 2) to ensure that what you create is a brand look and feel that is unique, one that will not be confused with someone else's brand.
BEFORE YOU START
27canfitpro September/October 2022
Making Colour Choices – The colours you pick for your brand will go beyond the colour(s) of your logo. A family of colours needs to work for all communication functions across analog and digital channels. You may choose to adhere to well established theories relating to the psychology of colours, and their meaning across various cultures, or to go with your gut and instinct, trusting instead what may appeal to your audience. Remember that people tend to react to colour instinctively and that it often plays a key role in their purchasing decisions. Many brand systems often have two colour palettes: a principal and a secondary.
Choosing and Combining Fonts –
Typography is one of the core building blocks of your brand. Most brands have one or two typefaces (or font families) that are used consistently across all platforms. Neither of these are necessarily the font used in your logotype. The difficulty may come from selecting fonts from among
all touchpoints, platforms, and channels, together with your logo, should help define your visual language and the unique look and feel of your brand visual style.
Choosing and Creating Visual Assets and Imagery – Beyond a desired look and feel, you will need to identify your marketing and content needs to help determine the type and the nature of the visual assets and imagery you will require. Will it be predominantly illustrations, photography, abstract patterns, or graphics? If it is photography or illustration, what stylistic choices will you make in those areas that will come to define your unique and recognizable brand style?
These elements will come together in various combinations to create the overall brand aesthetic and look and feel. It is what makes a brand system proprietary and immediately recognizable. The combination and composition of these elements (colours, typography, and visual assets) and their consistent use across
the thousands upon thousands of choices available. We offer some principles to make the process simpler, below.
You should determine specific and consistent styles for your levels one, two and three text as well as for Headlines and Subheads. Your website already will force you to formalize your choices in the form of H1, H2, H3 and P tags that stand for Heading 1, Heading 2, and Heading 3, and Paragraph fonts.
Understand Font Categories
Where to Get Fonts
Here is a brief list of additional resources. Some offer various collections of fonts. Bear in mind that many fonts may require you to pay a license. fonts.adobe.com/fonts (subscriptionbased) fontshop.com/ (license fee) ShareFonts.net (free fonts)
aim to select a small palette of colours (five to 10 overall) and to use them consistently to represent your company. Standard practice is to have a principal palette (not be confused with "primary" colours) and a secondary (or support) colour palette. While not a fixed rule, your principal colour(s) should ideally be found in your logo itself.
Mixing Font Styles
You should ensure that when mixing font styles, your aim is to establish and support a clear communication hierarchy. This means the font styles you choose must visually contrast each other. There are different approaches, whereby you can use a single family of fonts and use the variations therein, including styles such as roman (straight) or italics (slanted), condensed or extended; weights – fonts often come in several different weights from Extra Bold (sometimes referred to as "Black") to "Extra Thin," and every weight in between. You can further add styling variations by choosing to use all capital letters in certain circumstance for specific Youuses.can
A knowledge of basic colour theory and psychology may be of some use here, but I do not personally subscribe to a rigid way of thinking as relates to selecting brand colours, as I believe one's goal should be differentiation and the avoidance of
pinterest.ca/pin/667940188462705197/generator/tooltools.picsart.com/color/palette-color.adobe.com/create/color-wheel
Successful brands use imagery to build a visual narrative that reaches out and resonates with internal and external stakeholders, by perfectly representing their attitude, what they stand for and who they are. Your choices represent an opportunity to communicate with your audience in a way that is differentiated and recognizable. Whether you opt for a modern or traditional look, colourful or monochromatic, simple or complex, abstract or descriptive, imaginary or factual, calm, cool or edgy, minimalist or lavish, thematically driven or ad hoc, high concept versus literal, your choices will help communicate the uniqueness of your brand, help your audience recognize you easily, and show them who you are and why they should trust you.
Selecting Your Brand Colours
assorted styles if the contrast between them is clear. We do not recommend mixing two sans serifs or two serifs together. It is far better, for instance, to think of pairing a sans serif and a serif family to provide a sufficient contrast.
When you start this process, the sheer number of fonts readily available might seem overwhelming. Follow these guidelines to find the typefaces that work best for your brand:
You can extend your secondary colour palette by introducing shades and tints of these, going from full strength to lighter and darker shades, to help preserve a sense of visual cohesion.
Selecting Your Brand Fonts
Before you try to determine specific style elements, I recommend you make a list of the main communications components you will need, and then begin to design a few key items from this list. As you evolve these prototypical designs, you will acquire a better appreciation for the various style elements you will require, and the choices that you will make will be made within the context of a concrete application, rather than in the abstract.
Do-it-yourselfers might be tempted in the direction of free or open-source font, since there are thousands readily available on the internet. Many of them are clean and might serve your brand well. For web use, Google Fonts (fonts.google.com/) offers a wide array of free typefaces that you can use on any website. They also have a combination tool where you can see what fonts other people are pairing together.
"YOU SHOULD BE ABLE TO COVER UP THE LOGO AND STILL IDENTIFY THE COMPANY BECAUSE THE LOOK AND FEEL IS SO DISTINCTIVE." MICHAEL BEIRUT –PRINCIPAL, PENTAGRAM
also pair or mix fonts from
You might already have chosen a font that matches your brand's aesthetic through the creation of your logotype. But the work does not stop there. You will also need a strong secondary font and clear body copy font. Think of all the places where you will need to communicate information in various volumes and formats.
Whichever approach you elect to take, make sure your fonts display a clear hierarchy, so readers can successfully move through the information you want to communicate.
Broadly speaking, you have five main categories of fonts, with thousands of fonts within each. These are: Sans Serifs, Serifs, Slab Serif, Script, and Display. Crafting successful font combinations and building hierarchy should be your goal.
WHERE TO BEGIN
The resulting palettes should be used in every aspect of your brand communication such as in your website, social media channels, and print and digital ads as well as your physical premises, if you have a brick-and-mortar location. Additionally, they should be used on items such as uniforms, product packaging and signage, if these apply to your situation. The following tools can help you make some choices:
canfitpro September/October 202228
I further suggest that you pay a visit to your competition, to see how they present themselves graphically. Pick up their materials, go to their website, follow their social media profiles and the channels on which they are active. You will pick up many clues as to what decisions they have made, either deliberately or by default, as relates to their brand style.
Youconformity.should
Pinterest is a terrific way to have a look at many brands and how they have defined their own aesthetics, in everything from the colours they chose to the fonts they selected and the type of imagery and graphics they created, etc.
Defining Your Brand Imagery Style
The Cost of Imagery
Many brands will invest in a few key visuals to be used on primary marketing materials. This may mean custom photography or illustration, which you can own outright, or stock imagery, for which you should opt to purchase rights that grant you a degree of exclusivity as you do not want a competitor to be using the
to your brand imagery. Afterall, if your competitors and you are all trying to sell a similar product though your branded communication, the key question to ask may not be: "How is my offering different from that of my competition?" but instead "Who exactly is the audience that I am attempting to sell to, and is it distinct from the audience my competitors are
your operations, its set of issues and opportunities, and the time and budget available to develop an appropriately dimensional brand space. In the next article, we will explore the development of various brand communication tools, as well as the codification of your brand's visual style into a brand identity guidelines document.

25th Anniversary Sale! 25% Off All Bike Models! Demo Models Now On Sale! 29canfitpro September/October 2022
By STRONG Nation™
STRONG Nation is a type of HIIT program that uses both tempo and speed to create original, custom-crafted music to sync and match every move. We use music as a tool to motivate people to move and unleash their power, so they can reach and surpass their
canfitpro September/October 202230
transformation goals.
JOURNAL
push through and work harder. Translation: less pain, more gain!
the music, the routine, the synchronization, and a motivational instructor in a group fitness class creates a positive group effect and experience that improves
STRONG NATION™ MOTIVATES PEOPLE TO MOVE AND UNLEASH THEIR POWER
1. The effect music has on workouts. Talk about the power of music! The vast majority of us say that fun music and a good workout go hand-inhand—and science attests to that.
2. The "group effect" and sense of community. The "group effect" plays a powerful role in positively influencing a club member's overall workout experience—their enjoyment, satisfaction, exertion, and their intention to return. We know that people are more likely to adhere to an exercise program when they work out with others. The more group interaction, the more the group impacts and heightens an individual's effort throughout the Altogether,workout.
Music affects the mind profoundly. It acts as a positive distraction and diverts the attention from the discomfort of the exercise, the awareness of the fatigue, helping
Here are three key factors that will help motivate students, increase attendance in your classes, and drive the intention to return to your fitness studio.
Motivate and Retain Your Fitness Clients
Today, the fitness industry is more competitive than ever. New workouts, new technology, and a younger customer base with new expectations have all changed the rules of the game. It is more than just a workout now— people are looking for an experience.
Two of the most important qualities of workout music are tempo—or speed—and what psychologists call "rhythm response". Most people have an instinct to synchronize their movements and expressions with music. The rhythm of the music while working out stimulates the motor area of the brain to trigger them to know when to move, thereby aiding self-paced exercises.
Every squat, every lunge, every burpee is driven by the music, helping students make it to that last rep, and maybe even five more.
Interested in training your team members to teach STRONG Nation™? Use code TSCAN70 to receive 70 percent off a STRONG Nation™ instructor training.
To learn more on how to bring STRONG Nation™ to your location, contact our Gym Relations team at gyms@zumba.com.
3. Adding a unique class to your schedule.
This is a workout where music is certainly not an afterthought. It has all the key factors to create a positive group effect like we mentioned above and aims to increase the motivation of the class. And hey— you never know, this just might be the class that will help you forge long-term relationships with your current group, and a new wave of members.
A great example of this is STRONG Nation. In this workout, fitnessaficionados are gifted with an experience that is powered by original music, and movements that are synchronized to every beat.
Setting your class offering apart from your competition can make all the difference in the success of your studio. Adding a unique class to your existing rotation can help increase class attendance.
individual fitness outcomes. This is precisely the type of results members are eagerly looking for. But now we know it does more: the group aspect of the classes is a key factor in keeping people motivated and drives long-term participation.
STRONG Nation™ is a revolutionary high-intensity workout where music is created to match every move, pushing students harder to give it everything they've got, and then some. Using only their body weight, STRONG Nation™ will test their strength and stamina in a powerful cardio and muscle-conditioning session in one, all led by music.
31canfitpro September/October 2022
JOURNAL
Large diameter and thick gauge steel uprights reduce vibration of the pedestal and console for a better experience and protection of product components. TRUE's motor and flywheel balancing technique allows for a smooth and quiet motor resulting in less heat and vibration for longer life of the motor and surrounding
TRUE PRESENTS A SLAT TREADMILL BUILT FOR THE LONG RUN
Designing the Stryker Slat Treadmill TRUE are innovators in the treadmill space and invested the time necessary to build a better slat treadmill. Some of the key innovations of TRUE that you may see in
After over 40 years of treadmill innovation, TRUE now brings you a slat treadmill built for the long run. Introducing the Stryker. Engineered and built to withstand the demands of your facility, the Stryker provides excellent durability thanks to its robust TRUE design and premium components.
By Randy Leopando
maintenance design and premium components. Unlike a traditional treadmill belt, the slat belt requires no lubrication and no need for tracking adjustments, waxing, or flipping of the deck.
Through our rigorous design process, TRUE is proud to present the Stryker slat treadmill, taking both you and the user the distance.
Lower Maintenance and More Durable The Stryker slat treadmill offers a low
canfitpro September/October 202232
some modern-day treadmills include the first removable safety key in 1987, the Soft® System Deck in 1992, and Orthopedic Belts introduced in 1994. In 1996, we launched Heart Rate Control® and in 2007 we created Heart Rate Cruise Control®.
Stryker Takes You the Distance
experience with full connectivity, builtin programs, and wireless charging.
We listen to the needs of our club and facility owners and wanted to ensure that the Stryker offered easy serviceability.
Biomechanics and Ergonomics
Bring the Stryker Slat Treadmill to Your Facility
Randy Leopando, CSCS, FMS, RCPT*E, currently serves as the Product Training and Fitness.ManagerEducationforTRUEHehasover
TRUE's unique shock-absorbing design implements TRUE's SOFT System principle to provide extra cushioning where feet impact and a firm stable surface during take-off. This allows the use of higher durometer, more durable slats for increased life. TRUE's over-molded rubber slat belt provides a running surface of 22"/55 cm x 60"/152 cm. This premium design offers a better feel while running and is easier on members' joints.
3. ShowRunner II - An immersive experience with wireless charging, integrated TV, and mirroring on a 16″ LCD screen.
5. Emerge II - Simple and functional LED, giving your workout a head start.
25 years of fitness industry experience in various roles including Fitness Director, Operations Manager, Personal Trainer, Sports Performance Enhancement Coach, and Continuing Education provider.
We ensured that the Stryker keeps safety at the forefront with our patented safety features. Stryker can reach a max speed of 12 mph, and an incline of 25 percent or –3 percent to 22 percent with the optional Decline Kit. Our open cockpit design also accommodates members of all sizes. The Stryker provides a mechanical braking system which will halt motion and lock the belt in the event of power loss or removal of the easy-to-access safety key. The belt also locks when the treadmill is not in use. The dynamic brake system also prevents over speeding of the belt, especially during high incline training.
There are three emergency stops for safety (on console, center pod, and safety key).
Our extensive process of testing and feedback from a variety of user type sizes and run experiences helped with the ergonomics of the Stryker. Training backgrounds of testers include ultramarathoners, Ironman competitors, collegiate level soccer, baseball, football, and field hockey athletes, personal trainers, and strength and conditioning coaches. The pistol-grip handle position with thumb controls and center pod with quick speed and incline keys are perfect for members who enjoy HIIT workouts or simply enjoy ease of use. The thoughtful design of the handrails provides not only a sleek modern look but is ideal for maximum support and grip during advanced HIIT training or sprint interval training techniques that require frequent dismounts from a moving belt.
At TRUE, we are experts in treadmill design. We listened to our clubs and facilities to design the perfect slat treadmill. Outdoor runners will appreciate the feel of the Stryker's running surface since it closely mimics running on the road or track. Walkers will notice the lack of vibration on the running surface. Both runners and walkers will experience a quiet, smooth, and shock absorbing exercise session on the Stryker.
Take you and your users the distance with the Stryker slat treadmill.
components. Unlike many treadmills, TRUE includes extruded aluminum straddle covers for more dependability.
Performance, Entertainment, and Connectivity Options
33canfitpro September/October 2022
Easy Serviceability
The motor and electronics are easy to access, ensuring simple serviceability for your service technicians. In addition, we designed the Stryker to be easy to move with its built-in adjustable, full-swivel castors so moving this machine is simple.
2. Envision 16 II - A fully connected fitness experience with connectivity, built-in programs, and wireless charging on an HD 16″ touchscreen.
4. Envision 9 II - Variety of built-in programs on vivid 9" touchscreen.
The sleek design of the Stryker can be paired with six console options. Your facility can choose the right combination to fit individual needs.
6. Ignite II - Take your workout to the next level with quick keys for speed and incline for high-intensity interval training
Interested in bringing TRUE's Stryker Slat Treadmill to your club or facility? Contact a TRUE sales representative today salesteamdomestic@truefitness.comat or 800-426-6570.
1. Envision 22 II – A 22″ high-definition touchscreen provides a premium
Safety Features
The Stryker Fits the Needs of Every Facility
JOURNAL VENDOR SPOTLIGHT AS CANFITPRO'S PREFERRED INSURANCE PROVIDER, GALLAGHER COMPANY HELPS FIT PROS BUILD THEIR BUSINESS WITH CONFIDENCE Gallagher Company canfitpro September/October 202234
• Specialization/Expertise: Our clientfirst approach fosters collaboration and ensures that industry leading specialists are placed in key roles within our client's Risk Management teams. We view teamwork as a pillar of our success and this approach stresses expertise and client satisfaction.
To what do you attribute your success?
How has your business leveraged technology / innovative solutions to conduct and drive for results?
What makes your company unique from the competition?
Gallagher Tenet #2: "We support one another. We believe in one another. We acknowledge and respect the ability of one another."
not tell them, about their program requirements. Knowing that our clients' risk management teams must operate leaner than ever, we have built our service model to accommodate the needs of a changing business landscape and provide the products and services over and above the basics of policy placement.
• Shared culture and values: Gallagher is the only insurance broker to be named as an Ethisphere® Institute World's Most Ethical Business™ for eleven consecutive years. This award highlights our honor, integrity, and transparency in our interactions with our clients. Our emphasis on the highest standards of business and personal ethics extends to the top levels of the company.
Does your company help the community where it is located?
have been ranked as the world's fourth largest insurance brokerage.
Gallagher offers the following distinct •advantages:Collaborative approach: At Gallagher, our first, most important step is to listen to our clients – to ask them,
Absolutely! Locally, in Canada, our corporate social responsibility program, Gallagher Gives, is all about how we demonstrate our commitment to the communities where we live and work. During our December 2021 Give Back Campaign, our teams gave to over 35 organizations all the way from Vancouver Island to Halifax. Worldwide, our teams consistently give back to the Gallagher communities around the world. Employees from 35 different countries donated 112,706 hours of community service in celebration of Gallagher's 90th anniversary, something we are immensely proud of.
Yes, we currently do business globally and
What is your company's favourite quote that you try to live by each day?
What are your company's goals? We help our clients face their future with confidence.
• High-Quality Service: Gallagher can, and will, deliver a team and service plan that is unrivalled – a skilled, growing culture, bound by great relationships with several Gallagher centers of excellence for complex global risk management. We hold ourselves accountable, strive for continuous improvement, and drive exceptional results.
COMPANY PROFILE: Number of years in business: 95 years Headquarters: US - Rolling Meadows, Illinois Canada - Toronto, Ontario Number of locations in Canada: 30+ 35canfitpro September/October 2022
Do you currently compete or plan to compete in the global marketplace?
Our culture. Beyond our growth, we are proud that Gallagher has been able to maintain a unique corporate culture as we move into new markets and new lines of business. Our culture is summed up in the 25 tenets of The Gallagher Way.
Gallagher has introduced a series of technology-driven tools that help our clients better understand their risks, manage their insurance programs, and make optimum buying decisions. Alongside quote, bind, and issue platforms like the canfitpro Portal, we leverage technology and data in the following ways: GallagherCORE360 is our unique comprehensive approach of evaluating our client's risk management programs and it leverages analytical tools and diverse resources for customized, maximum impact on six cost drivers of the total cost of risk. We also use a tool called Gallagher Drive, a data and analytics platform that breaks down transactional data by client size, industry sector, geography, line of business, and more. This helps our clients to understand coverage and premium trends and enables them to peer review against companies of comparable size and activity. Also, in the realm of data, analytics, and modelling, we offer catastrophe modelling using Gallagher Forecast, which allows clients to see and model the potential impact of catastrophes on their businesses across Canada. Lastly, Gallagher SmartMarket is a tool that allows our insurer partners to identify risks that they may be interested in writing, allowing us to understand which insurers are right for our clients.
Rui Saraiva, London, ON NPE Client Since 2019
Sales Grow
Learn how to generate a steady flow of powerful leads from people excited to buy Fixed 14X
Kate was a solo trainer who executed our systems to go from $10,000 a month to growing and opening her own studio that has grown to $68,000 a month. Month Ever grown steadily by consistently executing NPE systems, and has celebrated his Best Month Ever– $115,000, up from $95,000 3 months previously.
Uncover the secret to inspiring long-term commitment from clients!
"I'm super happy at our progress. In a little more than a year, we've grown from 7 clients to 73 clients and $2,000 to $28,000 per month." in
Best
at $115,000 (Up $20,000 in 4 GabrielToronto,FitGabrielMonths)LeeSquadONLeehas
Kate Laird Love Your Body Fitness Ottawa, ON

5 Fitness Business Success Strategies to Explode Your Client Base & Income
Learn the proven secrets and skills to grow your client base and income 45,000 Fitness Businesses Served. Will You Be Next?
Exclusive Free Gift for canfitpro members from NPE
Learn the #1 quick win to your pricing and packaging that transforms your business
Discovered How to 5x Her Business AND Get Time Off
Suzy Kaitman The Ballet than other gyms, but delivering more value. She raised her rates, improved her sales, and grew from $1,700 to $25,000 a month!
Develop the mindset that allows you to fearlessly attack your goals
Powerful!
Discover how to stop client churn (and get the secret to explosive growth)!
– His Revenue Grew from $6,000 ChrisOttawa,PhoenixChris$19,000/MonthtoWeissbachBoxingONwasn'tcharging enough. Using the NPE scripts, he raised his rates. The result was he grew his business from $6,000 to $9,000 in one month, and then to a steady $19,000/month from there.
SuzyVancouver,LoungeBCchargedless
Raised2022HisRates
booking consults. Result: She's added 6 new clients and more than $3,500 a month in recurring revenue since starting with NPE.
her business model and raise her rates. She got rid of clients who weren't committed to getting results. Those steps brought her revenues to an all-time high of $15,000/month.
10 new clients and grew from $1,000/month in revenue to $4500/month in revenue. She quit her desk job and now works full-time in fitness.
Recognized As:
his mindset and utilized the tools, scripts and coaching. Result: 8 new clients and $15,000 in new revenue!
Team: Growing Your Business
StevenToronto,StevenRevenueClarkeONhasimproved
Since 2006, NPE has helped over 45,000+ fitness businesses in 96+ countries grow to the next level. We've been listed 8x on the Inc 500/5000 list of fastest growing companies, and we're a global team based in the USA, Canada, UK, and Australia.
Lisa LisaVancouver,beSTRONGLethbridgeTrainingBCusedNPEtools
NPE delivers the #1 suite of business and marketing systems, tools, and coaching for fitness entrepreneurs to grow to 6-, 7-, and 8- figures.
Janet Archibald & Cally Ferguson Alive & Well Personal Vancouver,Training BC
'With NPE, we went from $18,000 to $48,000 a month in 12 months'
From 'Last Hope' to Taking Her Fitness Side Gig from $1,000 to $6,500 a Month in Just 6 JanelleRegina,PrairieJanelleWeeksUlrichFitFitnessSaskhad2clients and
ErinToronto,VintageErinFamilyVacationingWhileWithBillowitsFitnessONhasmorethandoubled her business–hitting $61,000 in monthly revenue. She's used NPE systems to train staff to build her business while taking a family vacation to France!
Uncommitted Clients & Built Her Business to All-Time High
to focus
Pricing was too low and packages were too short. They raised rates, offered long-term contracts, and went from $18,000 to $48,000 in monthly revenue in 12 months.
$1,000 a month in revenues didn't know how to move forward. She was ready to quit. With NPE, she's excited to have 9 clients and $6,500 a month.
Scanmewww.NPEandcanfitpro.comDownloadthisFREEguidenowat:
About NPE
Will you be next? They Did It….And You Can, Too!
canfitpro September/October 202238
RESEARCH SHOWS WE NEED TO CORRECT THE MISINFORMATION AND HARM AROUND WEIGHT LOSS THE EVIDENCE FOR A APPROACHWEIGHT-NEUTRAL DIVERSITY, EQUITY & INCLUSION
By Ragen Chastain
At the time, I had been taught (through various sources, including multiple fitness certifications) that anyone could lose weight if they were dedicated, and that weight loss was the best path to improved health for higher-weight people. In the ensuing years, I have been immersed in understanding this research and a big part of my work as a speaker and writer is analyzing and explaining it. In this article, we will first examine the idea that significant weight loss is likely and leads to improved health. Then we will look at the research supporting a weight-neutral approach to fitness, which puts the focus on goals other than weight loss.
In good news, they also found that most cardiometabolic risk markers that get linked to being higher weight improve through fitness without any weight loss. Critically, they also found that increased movement and fitness are consistently associated with greater reductions in mortality risk than intentional weight loss. They posited that people may be more likely to participate in movement if they understood that the benefits of movement can be achieved without weight loss.
paper, Gaesser and Angadi analyzed 40 years of research comparing the health benefits of intentional weight loss to that of physical activity and cardiorespiratory fitness. They found that intentional weight loss is not consistently linked to lower mortality risk. They also learned, as we have seen in numerous other studies, that the weight cycling that is almost always the long-term outcome of weight loss attempts is linked to several negative health outcomes, including increased mortality.
This is a critical point because we are often misinformed that physical activity creates weight loss, and weight loss
My goal in that first foray into this research was to find the best intentional weightloss method so I could stop yo-yo dieting and finally lose weight for good. I have a background in research methods and statistics (and I am a big nerd) so I decided to conduct my own literature review. What I found left me feeling disbelief, defensiveness, and anger. There was not a single study where more than a tiny fraction of people succeeded at significant, long-term weight loss. The vast majority of people were having the same experience I had - losing weight short-term and gaining it back long-term – which I learned were two parts of the same biological response of our bodies to weight loss attempts. Whether it is called a diet, lifestyle change, health plan, fitness program, or medically supervised weight loss, it is doomed to fail for almost everyone within two to five years. I found this in decades of studies, including Stunkard et.al, 1959; Miller, 1999; Mann and Tomiyama 2007; all the way through Gaesser and Angadi in 2021. There have also been statements from government health agencies and experts in Canada, Australia, and the US.
this if you feel, as I did when I first learned these things, disbelief, defensiveness, and anger, I encourage you to consider them an invitation to explore further. Feel free to check out the resource page on HAESHealthSheets.com for links to the research contained in this paper and more, and reach out to me if you would like to Whenragen@sizedforsuccess.com.atitcomestoweightand health, many of us have been subjected to misinformation that we then passed on to clients. We may feel guilt and shame, and while that is natural since the misinformation we received led us to do harm, it is vital that we do not get mired in that, but use it as motivation to move forward, stop doing harm, and correct the harm we can. The research teaches us that intentional weight loss attempts rarely succeed (at making people thinner or healthier) and are frequently linked to harm. On the other hand, supporting clients to come to their fitness journey in a weight-neutral way (including correcting misinformation by explaining the exceptionally low likelihood and efficacy of intentional weight loss, and helping them to find resources to live and thrive in a fatphobic world) sets them up to have a positive and beneficial experience, and makes sure that we are working from an ethical, evidence-based perspective.
I frequently saw the claim that "losing just 5-10% of one's body weight leads to clinically meaningful health changes" and I was curious where it came from. I found that Tomiyama, Ahlstrom, and Mann examined this claim in a 2013 paper and found that the research did not support the idea that weight loss causes health changes. They noted that people made behavior changes, and then experienced health changes and (at least temporarily) a little weight loss. The belief that the weight loss (and not the health changes) caused the health benefits was based on assumptions, not facts.
Ragen Chastain is a speaker, writer, trained researcher, and fitness professional. She has spoken about weight science, stigma, and health at Google, Kaiser Permanente, canfitpro, and more. Ragen is a champion dancer, triathlete, holds the Guinness Record for heaviest woman to complete a marathon, and co-founded Fit Fatties on Facebook.
Moreover, studies like Bacon and Aphramor, 2011 found that the weight cycling (yo-yo dieting) that is the most common outcome of intentional weight loss attempts is independently linked to harm, including many of the health issues that then get blamed on bodies being higher weight. Hunger et al. 2020 had similar findings about weight stigma. The health issues that we blame on
Tomiyama, Ahlstrom, and Mann's findings track with those of multiple other studies, including Wei et al. 1999, and Matheson et al. 2012. Understanding that health is not an obligation or barometer of worthiness and that a lot of what contributes to our health is beyond our control, healthsupporting behaviors provide more health benefits with far less risk than weight loss Inattempts.their2021
I FIRST INVESTIGATED THE RESEARCH AROUND WEIGHT AND HEALTH ALMOST 20 YEARS AGO AS PART OF MY PERSONAL HEALTH JOURNEY.
higher weight might well be caused by the experiences higher-weight people go through, including weight cycling and weight stigma.
What does the evidence say about weight-neutral health?
creates health improvements. Based on this misinformation, when people plateau and start regaining (which was predictable based on the research) they can easily assume that fitness is not "working", and they quit. Of course, nobody is obligated to participate in fitness for any reason, but we can avoid spreading misinformation that leads our clients to disengage from Afterfitness.reading
Is weight loss really likely?
39canfitpro September/October 2022
AshlineLindleyCreditPhoto
canfitpro September/October 202240
It is hard to find the words to describe the experience—one word that comes to mind would be surreal. With 5,500 attendees, including 2,300 fitness professionals and 3,200 fitness enthusiasts participating in canfitpro's fiveday event in-person or streaming virtually, it most certainly surpassed everyone's expectations.
EVENT UPDATES FOR THE FIRST TIME IN TWO YEARS, THE ANNUAL CANFITPRO ALLANLIVESHOWCONFERENCEGLOBALANDTRADERETURNEDTOAFORMAT,ANDWHATEPICEVENTITWASFORINVOLVED!
By Maureen "Mo" Hagan
IGNITING A BRIGHTER AND STRONGER FUTURE FOR FITNESS HIGHLIGHTSGLOBALCANFITPROPROFESSIONALS
For 29 years, canfitpro has relied on its reputation from this annual in-person event. For two years, due to the COVID-19 pandemic, the conference has been held online. While this shift to online inspired an entire new conference event experience model, nothing really can replace that inperson event experience. This difference was palpable all weekend long.
41canfitpro September/October 2022
Our event's success was in large part due to the trust and commitment of our members, presenters, education partners, sponsors, and communities. This event truly inspired the fitness industry to come back stronger than ever. It was a leap of faith to commit to delivering a live conference and trade show, but we knew fitness professionals needed it this year because of the magic that happens through in-person connection. We also offered online sessions and were able to live stream many of the in-person presentations for a hybrid experience. With online and hybrid formats, delegates could be part of more sessions. This meant we could reach more people with more learning opportunities and meet our members where they were at.
the community feel at this year's show. She says, "This has been a mind-blowing experience. From the lectures to the fitness seminars to the trade show floor, this is definitely on my list for ever and ever, amen!"
is to reach as many people as possible with world-class, practical content that will support them in their careers and drive the industry forward as we all come back together from the pandemic.
Hybrid and online sessions served an important purpose that will remain as part of canfitpro's future The conference featured 90 online sessions including 22 hybrid sessions live streamed from the Metro Toronto Convention Centre to delegates joining in virtually. This innovative technology enticed presenters to adapt their content to be more interactive in-person and to involve those joining online. By including an online option, canfitpro was able to reach 500 additional participants. Many of the participants who did not attend live this year say they are motivated to come in person next year, which is promising for our 30th anniversary event! We intend to continue the hybrid model to reach fitness professionals wherever they are and to continue to bring the world's top leaders, trainers, and industry experts to our event. We are also making the event content available online to be viewed and shared with thousands of communities worldwide. This will help us reach our goal, which
The conference spotlighted mental wellness
Based on input from members and the growing trends driving interest in training around mental wellness, we featured the industry's best presenters who focus on this area. Both keynote presenters, Olympian and mental health advocate Silken Laumann and sport psychologist and coach Dr. Ivan Joseph, focused on the importance of self-care, connecting with your purpose, and nurturing confidence to power a comeback across the fitness industry. Both speakers did a phenomenal job at creating a sense of belonging and shared experiences.
The in-person connection was profound Fitness professionals thrive on community and connection. For many people who attended the in-person conference and trade show, this was the first time they had seen their colleagues in more than three years. The energy level was high and extremely positive. Diva Richards, founder and president of Hard Work No Excuses LLC, presented for the first time at this year's event and fell in love with
Recognizing COVID comfort zones
Recognizing that every conference attendee might have varying comfort levels when it came to COVID-19, canfitpro implemented a colour-coding system that allowed attendees to show their COVID comfort status on their conference pass. canfitpro also encouraged mask wearing and testing and provided hand
"It is so important to meet people where they are in their current comfort level with COVID-19. I was really impressed that the canfitpro team took the initiative to colour code name tags to show how each attendee wanted to be greeted at the conference. It was a small thing that went a long way to make social interactions more seamless and in-sync." Richelle Lowry, Senior Director, People Experience, Learning & Communications, GoodLife Fitness.
It was a privilege to present this year's award to Murray MacKenzie – Vice President of Commercial Lines—who accepted this award on behalf of Gallagher. Murray has worked closely with canfitpro since the beginning.
Emma Barry
Specialty Presenter of the Year
Sara Hodson
This award (established in 2021) celebrates the legacy of our industry friend and colleague, the late Sharon Mann. Sharon was a fitness icon, inspiring instructor, presenter, and entrepreneur who worked in every facet of the fitness industry during her illustrious 30+ year career. This award and scholarship was presented for the first time this year at the 8th Annual Women Who Influence event on Thursday August 11th and recognized a woman who exemplifies what Sharon Mann stood for, believed in, and lived: personal courage, growth mindset, influence, inspiration, and community impact. It was a special moment to witness this award presentation with the support and participation of Sharon's husband Tim Compagna.
canfitpro Delegates' Choice Presenter of the Year Awards
Canadian Presenter of the Year Nathalie Lacombe
PresenterInternationaloftheYear
Gallagher is a global leader in insurance, risk management, and consulting services. Gallagher has developed a comprehensive program with coverage options and rates exclusive to canfitpro certified members and has been a trusted partner with canfitpro, supporting its members in an ever-changing and evolving industry since 2007.
Gallagher Insurance/ Risk Management/Consulting
Behind the scenes at canfitpro Global there is the annual PRO TRAINER Gala. This celebration has been taking place for 24 years. It is the one time of the year that canfitpro's "trainers of the trainers" come together to network with each other, meet leaders and education partners at canfitpro and be celebrated. We are always so impressed by our PRO TRAINERS for their passion and dedication to canfitpro's purpose of inspiring fitness as a desired career and creating positive change in the lives of others. Our PRO TRAINERS lead our company vision by delivering accessible learning experiences to a global audience. This is truer today than ever before with their pivot to a live-online training delivery model. At this year's PRO TRAINER Gala, the following leaders were recognized for excellence in their business:
Kim Basler
Congratulations to Kim Basler for being the first-ever recipient! Kim is an Online Food Freedom & Mindset Coach, and fitness professional, with over 25 years' experience in the fitness industry, and the recipient of the 2021 canfitpro Delegates' Choice New Presenter of the Year. Kim specializes in disordered eating and body diversity and is committed to changing the way the world measures their self-worth.
sanitizing stations throughout the venue.
Steve Block Vendor of the Year Award
Best in Business:
Best in Business is awarded to the PRO TRAINER who displays excellence in all aspects of the PRO andofmarketingadministrationbusinessTRAINERfromtotodeliverythematerialsupportfor
the students. This PRO TRAINER is a top revenue earner and fan favourite of our member base. Trevor Pickett has been a personal trainer and fitness instructor for over 10 years. Trevor Pickett
Epic MO'ments of recognition are among the many highlights of this year's event
New Presenter of the Year Funk Roberts
Women Who Influence Sharon Mann Inspiration Award & Scholarship
This year's Opening Ceremonies will be a moment that will remain top of mind
for a very long time. These awards have always been significant as they provide the one time a year in the Canadian fitness industry where we can come together and celebrate the industry's best presenters and trainers who inspire our members to grow and evolve as fitness professionals. It is truly an incredible milestone in a presenter's career to receive this kind of recognition in front of their peers and those audiences they serve. The canfitpro Delegates' Choice Presenter of the Year Awards recognize canfitpro presenters who has been selected by canfitpro, as voted upon by conference delegates for their performance and ability to impact delegates' learning experience at a canfitpro conference. These presenters have demonstrated excellence in their ability to navigate the online learning environment in the past three years and engage delegates in a way that earned each of these four presenters' recognition for their work during 2021. Learn more about each of these award winners and leaders in the PRO-FILE section of this issue and upcoming issues of canfitpro Magazine.
PRO TRAINER Awards
canfitpro September/October 202242
DanielaMaryukovaAnastasiyaGoodeThomasDevinSize
Melanie Levenberg, M.Ed., is an
Rookie of the Year:
Astonishing Associate: The excellentsupport,promotion,administration,AssociateTRAINERofasleadnominatedassociateastonishingisbytheirPROTRAINERakeymembertheirPROteam.Theprovidesmemberanddeliveryof
their team members for peer support, collaboration within the team, and keeping a growth mindset that we are stronger in numbers than working alone. Louise Vigneault has been offering continuing education and certification courses within the Canadian fitness industry for more than 20 years.
The fitness industry's best fitness professionals were recognized at the closing ceremony. It was truly an exciting moment watching 2021 recipients Suaad Ghadban and Vyshnavi Sivakumaran present the award for 2022 to their
In case you missed attending canfitpro Global in August, there is still a chance to level up your knowledge and skills and earn your continuing education credits (CECs) to ensure you stay certified heading into 2023. canfitpro is excited to bring another remarkable opportunity for connecting with industry leaders and peers this November at the last event of the year: canfitpro Business & Leadership Summit on November 4th and 18th. This is an eight-hour, two-day educational event designed for industry owners, operators, and leaders within the industry. Discover how to master the art of recruiting and retaining top talent (or becoming that top talent), engage in real talk about mental wellness, focus on business growth, and learn how you can become an authentic, inclusive leader. You will also learn the best business strategies to increase your client base and revenue. Do not miss the opportunity to meet 20+ fitness experts, leaders, pioneers, and top fitness innovators from across the globe and finish off 2022 MO're inspired and equipped to make 2023 your best year yet!
PRO TRAINER'S Choice: This is a accoladeswhotoawardprofessionals.mindedteamarePROnominatedpeeraward.TRAINERSadedicatedofbusiness-fitnessThisispresentedthePROTRAINERreceivesfrom
helping local leaders launch profitable businesses that help kids become healthier, happier humans through movement and play.
Fitness Instructor Specialist (FIS) of the Year:
Louise Vigneault
The Rookie of the Year award is presented to a PRO TRAINER that has just begun their path with intention, a solid plan, and execution.
based on PRO TRAINER support for students, delivery of the material and phenomenal overall experience. Daniela Goode Thomas is a fitness and wellness education specialist with over 15 years' experience in the fitness industry.
Personal Training Specialist (PTS) of the Year:
Professional of the Year award recognizes a canfitpro certified and practicing professional member who has demonstrated exceptional leadership, motivation, and technical and coaching skills that inspires clients and exercise participants to achieve their goals. This year's recipients, who grace the cover of this magazine issue are Melanie Levenberg (FIS) and Eric Wong Kai Pun (PTS). You can learn more about these two outstanding fit pros in this issues' Member Spotlight.
Eric Wong Kai Pun
Participant's Choice: The isthesurveysfeedback,MemberGooglethroughhasfeedbackisChoiceParticipant'sawardwinnerchosenbythecanfitproreceivedemails,Reviews,Experienceandthroughoutyear.Feedbackprovided
Thesuccessors.Fitness
canfitpro Fitness Professional of the Year Awards
Melanie Levenberg
PersonalforclubsoperationspersonalandatDivisionalPersonalSeniorTrainingManagerGoodlifeFitnessoverseestrainingin30+andeducationtheentireTraining
specializesoftheinandfitnesspresenter,speaker,internationalauthor,TEDxcertifiedprofessional,globalleaderkids'fitness.AsCEO/FounderPL3YInc,shein
43canfitpro September/October 2022
department. Eric is a subject matter expert for canfitpro's Personal Training Specialist certification course third edition and served as an Advisory Panel member, industry trends commentator, and canfitpro presenter.
canfitpro's future is 30 years strong!
As we move into our 30th year at canfitpro, it is our hope that you will continue to move your career forward too. The fitness industry needs you more than ever! It will take a village to help support a new generation of fitness professionals and help each of us get back on our feet so let us do this together.
the course material. Anastasiya Maryukova is a long-time educator, nutrition coach, and trainer.
The Rookie of the Year has offered multiple courses and exams, created more opportunity for themselves beyond the PRO TRAINER role and become an incredible leader within their first year on the team. Congratulations to Devin Size, a 10-year veteran of the fitness industry, a level 5 trainer at GoodLife Fitness, and Assistant Instructor with the Exercise Therapy Association.
Eric Wong Kai Pun is
What does this mean for qualified trainers and coaches? You hold more power than ever before related to the workplace culture you choose, the clients you want to serve, your compensation, and the success of your
Lacombe BUSINESS canfitpro September/October 202244
10 QUESTIONS TO ENSURE YOU ARE CHOOSING THE RIGHT EMPLOYER FOR YOU MAJOR LABOR SHORTAGE IN FITNESS: WHAT IT MEANS FOR YOU
Ifcareer.youare
By Nathalie
tired of being seen as, and paid as, a staff member who just comes
in to train their clients, then you need to move beyond the concept of your hourly rate. That means putting on our entrepreneurial hats, regardless of our title or position, or type of contract, and understanding how to feed the needs of the business owners and decision makers. Looking for win-win involves getting comfortable with the risk and reward of compensation that differs from
NEVER HAS OUR INDUSTRY SEEN SUCH A SIGNIFICANT SHORTAGE IN LABOR; RECRUITING THE RIGHT TALENT TO FILL POSITIONS IS THE BIGGEST AND MOST IMMEDIATE CHALLENGE CLUBS AND STUDIOS ARE FACING AS WE HEAD TOWARDS OUR "BACK TO SCHOOL" SEASON.
Here are ten questions to ensure you are setting yourself up from a position of confidence in choosing an employer:
3. Health benefits packages, vacation policies, and discounts with partners.
4. Rewards and recognition around loyalty and performance.
2. Are they planning to launch new programs or services?
and what they have planned for your role. You will be able to identify the level of certainty.
4. Will their priorities change in the near future?
5. Do they keep track of industry trends and adjust their business model accordingly?
Nathalie Lacombe, M, Sc., is the coach and cupid of the fitness industry! She blends her 25 years of international fitness experience with her degrees in psychology and exercise science to coach fitness professionals and leaders towards incredible success in their careers and businesses.
It can be overwhelming to stay on top of all the changes taking place in fitness while providing phenomenal services to your clients and classes; my best tip is to surround yourself with the best networking and learning opportunities.
If you are simply choosing a gym based on a few extra dollars per hour, you could be cheating yourself out of fantastic opportunities. Prioritize the following list based on your needs and goals then inquire about:
Inquire about their goals, challenges,
EASY ON, EASY OFF Thoughtful step-on and step-off platforms make it easy for exercisers of all levels. COMMERCIAL.ONEPELOTON.CA/STAIRCLIMBER TAKE THE NEXT STEP DYNAMIC STEP CONTROL™ Creates a consistent step for your size and speed. VALUABLE PROTECTION Phone fell between the cracks? A unique design protects the machine and personal items. © Peloton Commerical 2022. STAY A STEP STAIRCLIMBERAHEAD NOW PART OF 45canfitpro September/October 2022
We know our services positively impact not only physical but also mental health. I have been incredibly impressed with the shift in our industry towards a more well-rounded approach to how we
Photo Credit: Marque Reese
a "steady" hourly rate.
Your Potential Compensation
1. Is there a risk of them not keeping you on if you do not hit goals?
3. Are they looking to attract a new type of clientele?
It is my absolute pleasure to share with you a resource I created to help take accessible but meaningful steps. rewardingrepertoirebeginmental-wellness-through-fitness/nathalielacombe.com/strengthening-Visitandincorporatingwellnessintoyourtosupportaneven-moreandsustainablecareer!
1. Base rate and opportunities for commission, profit share, etc.
Their Strategic Objectives
communicate the benefits of an active lifestyle on wellness, yet I know that this is an area in which many crave more knowledge and skills.
5. Coaching and leadership around your career and development, and opportunities for advancement.
2. Subsidies related to education, equipment, and learning.
DIX QUESTIONS AFIN DE T'ASSURER QUE TU CHOISIS LE BON EMPLOYEUR CE QUE LA PÉNURIE DE MAIND'ŒUVRE DANS NOTRE INDUSTRIE SIGNIFIE POUR VOUS Par Nathalie Lacombe AFFAIRES canfitpro September/October 202246
4. Leurs priorités vont-elles changer dans un avenir proche ?
Sicarrière.vousen
Votre rémunération potentielle
1. Risquent-ils de ne pas vous garder si vous n'atteignez pas les objectifs ?
2. Prévoient-ils de lancer de nouveaux programmes ou services ?
3. Cherchent-ils à attirer un nouveau type de clientèle ?
Voici dix questions pour vous assurer que vous êtes en position de confiance pour choisir un employeur :
Vous avez plus de pouvoir que jamais en ce qui concerne la culture du lieu de travail que vous choisissez, les clients que vous voulez servir, votre rémunération et la réussite de votre
Leurs objectifs stratégiques
JAMAIS AUPARAVANT NOTRE SECTEUR N'A CONNU UNE TELLE PÉNURIE DE MAIND'ŒUVRE ; RECRUTER LES BONS TALENTS POUR POURVOIR LES POSTES EST LE DÉFI LE PLUS IMPORTANT ET LE PLUS IMMÉDIAT AUQUEL LES CENTRES ET LES STUDIOS SONT CONFRONTÉS À L'APPROCHE DE LA "RENTRÉE DES CLASSES".
47canfitpro September/October 2022
Si vous choisissez un centre de conditionnement physique en fonction de quelques dollars de plus par heure, vous pourriez vous priver d'occasions fantastiques. Donnez la priorité à la liste suivante selon vos besoins et objectifs et 1.renseignez-vous:Tauxdebase et possibilités de commission, de partage des profits, etc.
Nathalie Lacombe, M, Sc., est la coach et cupidon de l'industrie du conditionnement physique ! Elle combine ses 25 années d'expérience internationale dans le domaine du fitness avec ses diplômes en psychologie et en sciences de l'activité physique pour coacher les leaders du secteur vers un succès incroyable dans leurs carrières et leurs entreprises.
5. Suivent-ils les tendances du secteur et adaptent-ils leur modèle d'entreprise en conséquence ?
Renseignez-vous sur leurs objectifs, leurs défis et ce qu'ils ont prévu pour votre rôle. Vous serez en mesure d'identifier le niveau de certitude.
5. Coaching et leadership autour de votre carrière et de votre développement et les opportunités de croissance.
3. Régimes de prestations de santé, politiques de vacances et rabais avec les partenaires.
de partager avec vous une ressource que j'ai créée pour vous aider à prendre des mesures simples mais significatives. Allez durableuneêtrefrench/nathalielacombe.com/strengthening-auetcommencezàintégrerlebien-dansvotrerépertoirepoursoutenircarrièreencoreplusgratifianteet!
Qu'est-ce que cela signifie pour les leaders qualifiés du secteur du conditionnement physique?
4. Récompenses et reconnaissance autour de la loyauté et des performances.
Nous savons que nos services ont un impact positif non seulement sur la santé physique, mais aussi sur la santé mentale. J'ai été très impressionnée par l'évolution de notre secteur vers une approche plus globale de la communication des avantages d'un mode de vie actif sur le bien-être, mais je sais que c'est un domaine dans lequel de nombreuses personnes souhaitent acquérir davantage de connaissances et de J'aicompétences.legrandplaisir
2. Subventions liées à l'éducation, à l'équipement et à l'apprentissage.
avez assez d'être considérés et rémunérés comme des employés qui se présentent seulement pour entraîner leurs clients et quitte immédiatement après vous devez aller au-delà du concept du tarif horaire. Cela signifie qu'il faut mettre son chapeau d'entrepreneur, quel que soit son titre, sa position ou le type de contrat, et comprendre comment répondre aux besoins des propriétaires et décideurs de l'entreprise. La recherche du gagnant-gagnant implique de se sentir à l'aise avec le risque et la récompense d'une rémunération qui diffère d'un taux horaire "stable".
TRANSFORM YOUR SERVICES INTO PRODUCTS AND GROW YOUR BUSINESS
Sure, you are providing services. But when you scale your business, you transform those services into products that you can sell in large quantities. Keep reading to wrap your head around how to transform your business in this way!
idea, but with brick-and-mortar fitness clubs and studios still changing their policies and people still hesitant to dive 100 percent back into in-person fitness, hybrid training just makes sense.
Hybrid Training Packages
Bundle together packs of paid appointments—including personal training, run assessments, facilitate goal setting
BUSINESS canfitpro September/October 202248
There is more to training—and online training in particular—than just selling one-on-one sessions. In fact, one of the major advantages of online training is that you can scale your business, go beyond trading time for money, and offer a robust and comprehensive array of products.
CLIENT BENEFIT: Giving clients the best of both worlds has always been a good
Session Packs
We are not necessarily suggesting you offer all of the following products—but MAJOR bonus points if you do! Instead, peruse this list of product types and consider what best suits your clients' needs. (Hello, target niche!)
As the pandemic approaches its third year, hybrid training has never been so important for fitness businesses. By tweaking online training packages to include both in-person and online training, clients can choose what is best for them on any given day or any given week—and can easily swap to online-only when they need to.
SO YOU WANT TO BE A PERSONAL TRAINER?
TOP 5 PRODUCTSFITNESSTO ADD TO YOUR BUSINESS
But personal training is a service-based business is it not?
BUSINESS BENEFIT: By having part of your clients' workouts online, you will gain back valuable time in your schedule and will not be limited by the number of inperson sessions you can schedule in one day. But, because there are still some inperson components, you can still charge a slightly elevated price, making it a lucrative product type.
On-demand Video Programs
Group Sessions
CLIENT BENEFIT: Schedules are still in flux, so offer your clients or members something they can do on their own time. Bonus: something flexible that is also convenient and fun.
CLIENT BENEFIT: They will love having a group of people to motivate them and to use as a resource—in a safe way.
CLIENT BENEFIT: Remember, you and your services may be intimidating to many clients (even the idea of working with a trainer can be intimidating), but habit coaching programs offer clients a great entry-level program that they can use to get themselves on track, but without the intensity of a full-out training program.
So there you have it—five types of fitness products that could be the key to scaling your business. Focus on what your target niche needs in their services and identify ways to diversify each product type to serve a variety of individuals.
Trainerize is the software making fitness accessible by empowering fitness professionals to reach, engage, and motivate more people to change their lives for the better. With Trainerize, coaches can use mobile fitness technology to spark client engagement, build online communities, and tap into the growing market of digital fitness enthusiasts.
CLIENT BENEFIT: Make sure your clients are getting the attention they need through packs of one-on-one time! Plus, personalized coaching will help them achieve their goals.
After years of social distancing, limited socializing, and for many, remote work— people are craving connection. Pair community with fitness for a winning combination for everyone's well-being. Group messaging, group challenges, and even group appointments!
49canfitpro September/October 2022
BUSINESS BENEFIT: People have been on their own for a long time—bringing a bit of socialization back into their everyday lives is a surefire sales tactic.
On-demand is a low-touch, high-volume offering that brings in revenue for your business with little additional effort or time on your end—you are already creating and filming workouts! Plus, you can distribute this video content on social and YouTube too!
BUSINESS BENEFIT: Two words: passive income. You can build a library of video workouts that you turn into a subscription model, like Netflix. Plus, you can reuse those video workouts in your other programming.
sessions, one-on-one live video sessions, and more—to sell as session packs. These packs can be sold at a discount to encourage purchase, and will give your clients the time they need to see results.
BUSINESS BENEFIT: Rather than selling one session, you will sell ten! Session packs are a great way to get clients to commit and can be big-ticket purchases that boost your revenue significantly.
to big results. (#SmallChangesBigResults)
Habit programs are one of the best tactics for easing clients into a healthier lifestyle. Small, achievable daily tasks can level up
Habit Coaching Programs
BUSINESS BENEFIT: For the same reasons it is great for your clients, you can appeal to a wider range of clients, and start building relationships with individuals very early on in their fitness journeys. Over time, you can nurture those habit clients into training clients, upselling them to other programs as their confidence grows and their baseline health rises.
canfitpro September/October 202250
Photo above: (L) Tiffany Pettet, (R) Jennifer Hamilton, CEO Oxygen Yoga & Fitness
BUSINESS
Tiffany is basking in the glow of her own established OYF community. For her, it is not just about the income, the community is the biggest reward. "I love going to work, I forget it's work," says Tiffany. "I love to watch members' progress, to see them challenge themselves and to not give up."
OXYGEN YOGA & FITNESS'S TIFFANY PETTET'S STORY FROM INSTRUCTOR TO OWNER
Whattogether.isnext for this inspiring lady? "There is always growth, there is always movement."
What is Tiffany's advice for other instructors who are considering ownership? "It's up to you to show up for yourself every day. Take time to learn some of the business operations that might not be familiar such as financials and leadership."
WHAT'S NEXT?
Oxygen Yoga & Fitness is Canada's Original FAR Infrared Yoga & Fitness Studio offering a unique blend of fitness yoga fusion alongside an in-house 200hr Yoga Teacher Program, as well as Fusion Training for instructors. Visit OYF online for more information about franchising opportunities.
For Tiffany Pettet, the journey to studio ownership has always been focused on healing and expansion.
A breast cancer survivor, Tiffany found herself at an Oxygen Yoga & Fitness class looking to rehabilitate her body that had been rendered immobile and uncomfortable from cancer treatments. Her friend recommended the studio to her, and her initial reaction was, "Eww, yoga! I have zero yoga experience, except as a kid." Despite that, she purchased a one year membership on her first class, Candlelight Hot Yoga Deep Stretch and Relaxation.
Continuing on her path, Tiffany completed Oxygen's Teacher Training program. She began to evolve her own personal practice and teach at four different studio locations with her 200hr certification. However, her journey had only just started and she was already planning to work towards her 500hr and complete a yoga therapy program where she could really dive into helping others use yoga to heal. "I continued to evolve", and at the end of COVID lockdown, with all the struggles of the industry, she asked herself the eluding
How do I keep Abuilding?"dooropened for her. She connected with OYF's Operations Manager asking if any studios were available for sale. Within three months she had purchased an established studio, Oxygen Yoga & Fitness Port Moody. Tiffany explains that ownership for her was alignment, everything coming
"What'squestions.next?
Even as an owner, Tiffany is still teaching, "Our community is family, I take the time to get to know each and every member."
"I could do this," is what ran through her mind, says Tiffany. Her first class left her feeling at ease and both her body and mind felt good. The good feelings continued, and within five months Tiffany was already thinking about expanding her yoga practice with instructor training. "Being present for other people and helping guide them along their own path was missing in my life," something she had experience with in the figure skating world as a coach, judge, and mentor prior to her diagnosis.
canfitpro.com | 1-800-667-5622 CPR & AED canfitpro offers courses that are accessible, attainable, and affordable. Be prepared in case of an emergency! Respond with confidence to help those in need. REGISTERNOW! canfitpro members receive preferred rates on courses! CPR – A (Adult CPR) $43 CPR – A & AED (Adult CPR & AED) $65 CPR – C (Adult, Child & Infant CPR) $60 CPR – C & AED (Adult, Child & Infant CPR & AED) $69 CERTIFICATIONSFITNESSINSTRUCTORSPECIALISTPERSONALTRAININGSPECIALISTHEALTHYEATING&WEIGHTLOSSCOACHREGISTERNOW! canfitpro.com/get-certified ONLINE! 51canfitpro September/October 2022
The global fitness industry is on the rise, expected to grow to $190.56 billion in 2022 and reach $434.74 billion by 2028.
TAKE YOUR FITNESS CAREER TO NEW CHALLENGE?HEIGHTS BUSINESS THEFORUPAREYOUTHINKINGOFTAKINGTHENEXTSTEPINYOURFITNESSCAREER?
However, from cash flow to finding clients, starting a new business is not without its challenges. With 21.5 percent of startups failing within the first year, you will need the right game plan to tackle the challenges that may arise and create long-term success. Let us look at some of these challenges and offer solutions to
By Len Fridman
turns of a global pandemic, it has never been a better time to be in the industry.
Maybe you are a personal trainer or yoga teacher with dreams of becoming a fulltime studio owner. Despite the twists and
In addition, the online/virtual fitness market is expected to climb to $79 billion by 2026.
canfitpro September/October 202252
Attracting prospects and building a lead list is the biggest challenge business owners face year after year. After you have identified your target audience, it is time to create a digital marketing strategy that resonates with them. While it can be easy to get lost in the world of marketing, here are a few basic steps to get started.
desk, marketing, sales, maintenance, and cleaning.
• Virtual fitness with livestreaming classes
• On-demand video recorded memberships
4. Targeting the Right Crowd
2. Finding the Right Business Model
Or, you could consider starting a completely virtual business to avoid commercial property costs, while safeguarding your revenue against any unexpected shutdowns or dips in client visits at your physical location.
• Older adults who want to stay active
5. Marketing Your Business
How do you choose the right one?
As a fitness coach or trainer, you are the expert, but running a business may be new to you. The good news is that you do not have to do all the planning and strategy yourself. Get off on the right foot by hiring a business coach with experience in the fitness Researchindustry.shows
A hybrid business model offers a combination of online and in-person services, so clients can continue to work out at home if in-person services are put on hold for any reason.
• A hybrid membership that includes all the above
• Create a Google Business Profile: Over the past couple of years, searches that include phrases like "near me now" have surged. With 46 percent of all Google searches linked to local services, like nearby gyms and fitness studios, it is essential that you set up a Google Business Profile right away.
• Legal fees
• Website SEO: You need your audience to find your website, and SEO is critical to increasing the quality and quantity of visitors you get. On-page elements that help your ranking on Google include site and URL structure, keywords, page speed, and optimization across mobile devices.
• Marketing materials
6. Keeping Up Engagement
• Reward loyalty: A strong loyalty rewards program builds community and increases client retention. In fact, 75 percent of customers are likely to make another purchase after receiving an incentive, such as rewards points.
8. Finding the Right Software
nationwide. He created MetaBody Fitness Pass, with 60,000+ active clients. Len saw a need for reliable, affordable business management software. That is when he and childhood friend, Sasha Davids, created WellnessLiving.
• Women who struggle with weight loss
What are your startup costs? The average cost of starting a fitness business varies between $10,000 and $50,000. When writing a business plan and calculating your startup costs, you will need to factor in some common expenses:
• Business management software
help your budding business thrive.
7. Getting Coached
Upgrading from solo-preneur to fullfledged business owner is not without its challenges. When starting a business, you will also need to think about using technology that saves you time and energy. Fortunately, WellnessLiving's all-inone software offers solutions to manage staff, book services, track payments, communicate with clients, promote your business, host virtual classes, and more.
It may be obvious to some, but it is still a crucial step to decide what kind of fitness business you want to open. Will you offer personal training or group fitness? Will you allow flexibility with your pricing model? There are plenty of business models to choose from:
Len Fridman is the CEO
• SMS marketing: With SMS open rates as high as 98 percent and response rates 295 percent higher than phone calls, texting is by far the fastest way to promote your services to clients.
• Licenses and permits
• Electricity and gas bills
3. Hiring the Right Staff
• Traditional in-person memberships
It costs five to 25 times more to acquire a new client than to retain an existing one. As a new business owner, you must focus on retention and the client experience to create a loyal following. What can be done to keep engagement high?
• Business insurance
• Staff wages
• Busy business professionals trying to fit in a workout
53canfitpro September/October 2022
1. Understanding Startup Costs
Who do you want to attract to your business? All successful businesses start with an ideal client in mind. When defining your ideal client persona, outline key details about their personal background, daily routines, challenges they want to overcome, and goals they want to achieve. Maybe your client fits into a combination of the following client personas:
that 86 percent of entrepreneurs felt they more than recouped the cost of a coaching service while increasing profits and improving their personal development. Having a business coach by your side allows you to establish your goals, develop new skills, maximize your sales and marketing, and make datadriven decisions for greater growth.
multiplethataInWellnessLiving.Co-Founderandof2009hestartedlocalbootcampgrewintolocations
• Facility rental or purchase costs
• Send reminders: Whether it is a text or an email, just two interactions per month between staff and clients can reduce member cancellations by 33 percent at fitness clubs. Remind clients about their classes to reduce no-shows and keep them informed of any schedule changes.
• Equipment
Unfortunately, there are not enough hours in the day for business owners to perform every role themselves. But hiring can be overwhelming, especially when you are not sure what to look for. When it comes to your fitness staff, look for trainers and instructors with the right qualifications and a solid track record with clients. If you are a hybrid business, hire people with experience delivering both online and inperson classes.
As your business grows, the more positions you will need to fill to manage the day-to-day operations, including your front
• Video marketing: Whether it is YouTube, Instagram, or TikTok, video marketing is on the rise. More people are watching videos online than ever before with 88 percent of consumers even buying a product or signing up for a service after watching a video.
• Ask for feedback: It is important to survey clients by asking what they love about your business and what you can improve on. Once you have gathered feedback, sift through the results, and adjust your messaging based on your clients' pain points.
canfitpro September/October 202254
IN GROUP FITNESS CLASSES, CREATING THE CORRECT ATMOSPHERE AND ENERGY IS CRITICAL. MUSIC SHAPES BEHAVIOR AND DRIVES EMOTION AND THE MAGNITUDE OF SOUND CAN ENHANCE THAT.
stress and strain of the instructor yelling to be heard over it is affecting everyone in that room. In our quest to provide the best motivational moments for our clients, we may subject ourselves and others to future physical impairments with irreversible effects.
Understanding Noise-Induced Hearing Loss
PROTECTING YOUR HEALTH WHILE TEACHING GROUP FITNESS SOUND
Public health authorities are increasingly
GROUP FITNESS
The higher the exercise intensity, the more the volume increases.. Not only is the music getting louder, but the added
worried about noise exposure. Hearing loss accounts for up to 16 percent of occupational health claims and is considered a chronic disease. Loud music affects both instructors and participants in fitness classes, causing headaches or ringing in the ears after class is over. One of the early signs of damage to the ear from loud noise exposure is tinnitus, a ringing or buzzing in the ears which can become
Understanding Vocal Cord Damage Many instructors do not understand the
and exposure. Once this occurs, there is no cure. When and how quickly noise-induced hearing loss manifests in any person has a lot to do with their individual susceptibility.
By Karyn Silenzi, canfitpro PRO TRAINER
A study done in 2017 determined that randomly sampled indoor cycling fitness classes have high noise levels with the potential for noise-induced hearing loss. The average noise exposure for
Wepermanent.areborn
with about 16,000 little hair cells in our ears that act as sound detectors. When exposed to loud sounds, these hair cells bend and if it happens often enough or at a high enough intensity, these cells become damaged and cannot regenerate. Like sun damage, hearing loss increases with a combination of volume, age,
fitness participants that attend a single 45-minute class was almost nine times the recommended noise exposure dose for an eight-hour workday. If a single class represents that much risk, what rate of noise-induced hearing loss exposure are fitness professionals exposed to when they teach multiple classes a day?
55canfitpro September/October 2022
ADVICE
Drink up: Avoid caffeinated beverages before teaching and stay hydrated during class.
Advance your cueing: Verbal cueing is simply one way to lead a class. Develop your kinesthetic and visual cueing skills to become a well-rounded instructor that appeals to the masses.
risks of teaching without a microphone, shouting during a class, or the damaging effects that can occur from an hour or two of vocal straining.
After taking time off for recovery, Murphy is back to teaching. Prior to any class, she must do a thorough vocal warm-up and ensure she always has a microphone available. She remains vigilant to the ever-present danger of vocal cord strain. "I will never have my full vocal range back. The damage has
"In the early stages of my career, typically in local community centers, we did not have microphones, so I would shout, even when just introducing myself and the class", Pamela Murphy, an experienced Zumba, Pound, and Schwinn cycle instructor in Ontario recalls. "As you dance and get enthusiastic, I would whoop and interact with my clients throughout, and call out over the loud music."
"Asrates.part
Polypsincreases.are
of the fitness industry, we are equally accountable to our members' health and wellness. When you define health, it is the absence of disease which could include everything from heart disease to hearing," says Trevor Thirsk, General Manager and Senior Vice President of Edgemont Athletic. "It is incumbent upon us to look after our members and keep our classes at an appropriate level so that it won't deteriorate their hearing over time."
• 94 dB for one hour
According to the National Institute for Occupational Safety and Health's standards, safe levels of noise exposure are as follows:
• 91 dB for two hours
• 100 dB for 15 minutes
Warm-up: No one understands the value of a thorough warm-up better than a fitness instructor, therefore take time to properly warm up your vocal cords before each class.
Ask for support: If your facility is truly interested in the health and wellbeing of its members and staff, they will want the opportunity to do it right. They will only know your concerns if you bring them up. Give your studios the opportunity to address any issues that exist for staff and members alike.
What can you do if your facility or studio does not have safeguards in place?
Step up to the mic: Seek out adequate training for use of amplification devices and microphones. Speak in a range that is natural, use your diaphragm, and avoid yelling while teaching.
Karyn Silenzi is a canfitpro PRO TRAINER and provides recognizedgloballytraining and certifications to personal trainers and group fitness instructors across Canada. She is also a master trainer with Team ICG® North America, Life Fitness USA, and LIV North Canada.
A study from 2013 identified the prevalence of self-reported acute and chronic voice symptoms for female and male fitness instructors was high at 78.95 percent and 70.91 percent, respectively. Partial voice loss and hoarseness while instructing were experienced most often, followed by partial voice loss and hoarseness immediately after instructing.
canfitpro September/October 202256
Canadian Occupational Health and Safety recommendations provide reasonable protection, however, many aspects of the fitness industry throughout North America are self-regulated. Each facility will take a different approach to class environments and the expectations of instructors. To date, there are no official safety standards in place regarding the mandatory usage of microphones while instructing fitness
Someclasses.companies have control measures built into their daily operating procedures. Edgemont Athletic in Calgary, Alberta, runs semi-annual instructor evaluations to ensure quality and safety measures are being met by all of its instructors. One specific area they focus on is the sound measure, both in music and instruction. In addition to using sound absorption materials in some of their studios, Edgemont Athletic has installed a wall-mounted decibel reader in their RIDE 365 Studio, so instructors and members are aware of exposure
Actionable Items
Industry Standards and Facility Guidelines
Fitness professionals need to ensure they are self-advocating for their safety.
been done." Asked what one piece of advice she would give all fitness instructors, "Look after your voice. It too can get injured, and it is just as important as any other part of your body."
Use technology: Download an app that measures the noise levels in your space. Understand your space and be aware that certain materials will absorb sound, whereas others will bounce and refract sound.
Specialists discovered a large polyp on her vocal cords, and surgery was the only option. With that came the risk of additional vocal cord damage. Murphy was fortunate that the surgery was a success and speech therapy classes were prescribed for vocal rehabilitation.
The first step is to understand what safe listening levels are.
In order to make any sound, our vocal folds must come together and move apart smoothly. Our bodies react systemically to movement. If you are jumping or moving as you are speaking, studies show that the impact and force of closure at your vocal folds also
Build recovery in: Teach a schedule that allows you to rest your voice between classes, create electronic noises that signal when to change a movement, or use pre-recorded songs that include instructions.
• 97 dB for half an hour
vascularized growths that develop on vocal cords. They can result from overuse or misuse of the voice, but can also be caused by a single episode of vocal abuse. Vocal cord polyps can be caused by different trauma, including singing, screaming, cheerleading, and excessive talking. If these issues are not identified and addressed, something even as unobtrusive as a single cough could lead to hemorrhaging, and worstcase scenario, vocal paralysis.
canfitpro LOOKING TO GAIN NEW CUSTOMERS? CANFITPRO IS THE MISSING PIECE DOWNLOAD OUR 2022 MARKETING KIT TODAY! canfitpro.com/advertise-with-us b2b@canfitpro.com Find Out More Facebook ADVERTISINGSOLUTIONS MailingInternalListLinkedIn Instagram Twitter e-Newsletter Radio AdvertisingPrint
even more dubious. Invented by a psychologist named William Sheldon based on what seems like a hunch, 'constitutional psychology' asserts that physical traits could be an indicator of psychological traits. As such, it claims that endomorphs are likely to be perceived as slow, sloppy, and lazy. Mesomorphs, in contrast, are typically stereotyped as popular and hardworking, whereas ectomorphs
canfitpro September/October 202258
It should surprise no one that classifying people as skinny, fat or 'just right' does not sit well with today's politically correct society, but the origins of the somatotype theory are
MORE THAN 30 YEARS AGO, WHEN I WAS GETTING STARTED IN FITNESS, TALK OF ECTOMORPHIC, ENDOMORPHIC AND ESPECIALLY MESOMORPHIC BODY TYPES DOMINATED THE FITNESS DISCOURSE IN MAGAZINES, INTERVIEWS, AND LOCKER ROOMS.
Body type modeling is nothing new, but it certainly is no longer the first
DETERMINING IF GENETIC SIZE AND SHAPE SHOULD DRIVE A WORKOUT REGIMEN
thing that a personal trainer says upon meeting a client. And for good reason!
DOES BODY TYPE STILL MATTER?
TRAINING
By Claudiu Popa, PTS
"Good to meet you. You seem like a nice endomorph."
Claudiu Popa, PTS, strengthenjoystraining and fitness specializesconditioning,in older adult fitness, appreciates working with exceptional clients and collaborating with outstanding professionals. Claudiu is the founder of Workout Smart and can be reached in confidence at Claudiu@WorkoutSmart.ca. Be sure to follow him on @WorkoutSmartTwitter
Based on the distinct lack of solid evidence for the dodgy claims of somatotyping, it would be clear that body type modeling suffers from three major shortcomings:
There appears to be no indication that we can get there from here. The claims to the consistency of body shapes and sizes based on the germ layers of embryonic development have literally nothing to do with one another. Further, to first develop a 'theory of mind' based on a fabricated psychological link between the shape of a human body and its associated 'temperament' is anything but scientific.
1. A lack of foundation in science:
Reality Beyond the Myth
Nevertheless, each one attempted, in their own way, to push the boundaries of knowledge and advance prevailing thought using combinatorial science. In so doing, some made positive contributions that continue to be taught in schools and documented in academic literature.
Along with the sheer volumes of discredited ideas on the road to the fine-tuning of the concept of physical taxonomy, we are left with a large body of work quoted in journals, taught in higher education institutions, and summarily referenced in physical education. Some of this work is helpful by its mere dependence on circular logic, as it offers a simple way to narrow the field of study by simply starting with the absence of such fallacies and cognitive biases as modern researchers embark upon the exploration of the doctrines related to the rich, wide, but not very deep field of study related to somatotypes.
As for the rest of us, we are simply left with the three terms we started out with as accepted shorthand for body frame sizes such as "thin", "muscular" and "big-boned", but with a much better understanding of the poor application of scientific thinking and the pitfalls of intuitive thinking. For most of us, at least until more rigorous research comes to the fore, it suffices to rely on the published studies that correlate periosteal circumference (bone thickness) with lean body mass and muscle strength, if only to achieve a new level of comfort, safety, and satisfaction with our own exercise goals.
Beyondtall.
the solid research, some misguided early attempts caused researchers to see causation where correlation could barely be made out.
2. A house of cards mentality: Piled atop an assumption developed into a framework rests the idea that each somatotype is categorized
Back to the Present
to classify the entire human population into three convenient buckets of "sickly", "criminal" or "lazy", somatotyping delivered something akin to what the dodgy pseudoscience of phrenology offered to 'researchers' looking to gauge human intelligence based on the natural bumps on people's skulls. Alas, the latter adventure in pseudoscience was unfortunately not immediately dismissed with the utter contempt and disregard it deserved but was instead used for decades to marginalize and victimize millions of people. I will not go into the painful detail of another of humanity's more embarrassing experiments related to taxonomic classification but suffice it to say that the foundational ideas behind this "psychological anthropology" have been debunked, dismissed, and deservedly relegated to the annals of quackery.
59canfitpro September/October 2022
3. The theory never left the 'concept' stage: After thousands of studies – many of which were unethical – on hapless human subjects, Sheldon's intuitive hypothesis is still where it started, in an arrested embryonic state where correlations between arbitrary psychological traits such as anxiety or intelligence have no causal path neither back nor forth to physical ones, such as skinny or
are often viewed as intelligent, yet fearful. Although it sounds like mesomorphic men would be the ideal specimen, Sheldon also went as far as to tie body types to criminality and stated that "criminals tended to be Asmesomorphic".ahandyway
a springboard for cultural bias, eugenics and unfounded stereotyping ("endomorphs are lazier than ectomorphs", "mesomorphs are winners", etc.), it is clear constitutional psychology, as far as that is even 'a thing,' has no practical use at all. That is not to say that the entire notion was completely concocted by a single individual. Indeed, attempts to classify humans by body type echo through medical history as far back as Hippocrates and the roots of Ayurveda. Constitutional types were intellectually explored by Aristotle and exploited by religious oppressors through the ages, but it was not until the 19th century that the scientific method was stretched to cover what had until then been little more than "somatic predispositions", giving rise to an intense period of research – most notably in Russia – that inspired such recognizable names as Ivan Pavlov to come up with groundbreaking ideas - such as classical conditioning - that persist to this Despiteday.
on a scale from 1-7 according to its 'purity' such that a pure ectomorph would score 1-1-7 to indicate that it reflects no phenotypical (e.g., observable characteristics) of the other two body types. Even as a purely theoretical extreme, this is clearly bunk as it allows for so much variability as to make the entire schema of "psychological anthropology" meaningless.
needs and goals. This is the art of SGT instruction: the combination of providing a personalized program with masterful presentation skills.
There are a couple of differences; GFIs often have great charisma and group motivational skills, whereas CPTs have experience in designing specific programs and developing rapport with their clients. When these talents are combined, trainers can provide a successful and motivating experience that is personalized for their participants
To be successful, a small-group training instructor needs certain personality attributes. Enthusiasm, passion, and charisma go a long way. Although
THIS IS AN EXCERPT FROM A PROFESSIONAL'S GUIDE TO SMALL-GROUP PERSONAL TRAINING BY KELI ROBERTS KEY ATTRIBUTES OF INSTRUCTORSGROUPSMALL-TRAINING GROUP FITNESS INSTRUCTORS (GFIS) AND CERTIFIED PERSONAL TRAINERS (CPTS) HAVE SIMILAR FOUNDATIONAL EDUCATION IN EXERCISE PHYSIOLOGY AND HUMAN MOVEMENT, WHICH PROVIDES THEM WITH BASE KNOWLEDGE IN TRAINING.
TRAINING canfitpro September/October 202260
reliable, as well as having consistent services available for billing.
61canfitpro September/October 2022
The following personality attributes are important for a successful SGT instructor to have:
• Motivation. It's impossible to motivate others if you're not motivated yourself. Find what motivates you and work from there.
• Organization. To succeed in the fitness business, it takes more than knowledge and a fit-looking body— being organized is also part of your professional responsibility.
• Communication. As an instructor, one of your primary skills should be your ability to communicate effectively as well as listen actively.
• Positivity. Staying positive will help your groups stay focused and engaged.
• Creativity. Being creative is more than simply coming up with new exercises or programs. It can also involve creative problem solving through excellent communication skills.
• Professionalism. Professionalism can be as simple as being punctual and
• Energy. As a trainer, your energy is your currency. Your business relies
• Sincerity. Empathy, warmth, and genuineness are all essential in the development of rapport and strong relationships.
• Compassion. People don't care about how much you know until they know how much you care. Having a caring personality helps build stronger relationships.
• Passion. Training can often involve long hours of hard work, but your passion will drive you forward.
• Enthusiasm. Enthusiasm helps create a motivating environment when working with groups.
Copyright © 2022 by Human Kinetics Publishers, Inc. Excerpted by permission of Human Kinetics, Champaign, IL. Available to order from Human Kinetics Canada at canada.humankinetics.com/ or by calling 1-800-465-7301.
• Charisma. When working with groups, charisma can set you apart from your competition. It's a mixture of passion, energy, having a positive outlook, being motivated, and having a true purpose for what you do.
on it.
• Expertise. With the fitness industry constantly changing and growing, having a solid foundation of knowledge and staying updated is essential.
• Spontaneity. It's always good to be able to think on your feet: Equipment, weather, and number of participants are all things that can change fast. Having a plan B and being able to spontaneously change course is an art.
anyone with a basic knowledge of training can learn how to write a program, not everyone can motivate groups. Being creative, spontaneous, and energetic, with a passion for making a difference in people's lives, elevates great training to an exceptional experience. Consider how your own personal style can drive your smallgroup training business.
Although it might not seem so, the personal relationship between an SGT instructor and their client is important. The relationship begins from the first meeting, whether over the phone, through email, or in person. Being professional, organized, and knowledgeable builds trust; being creative, spontaneous, and energetic maintains the client's interest and motivation. Communicating masterfully, having compassion, and being positive, genuine, and kind builds relationships. All these elements together shape the relationships you have with your groups.
EMOTIONAL
the cause of various health concerns, the difficulty of maintaining a consistent schedule, or it may manifest as emotional ups and downs.
Our client's body has a story to tell. However, even the most conscious trainer cannot predict how traumatic experiences will land in their client's body or how prolonged stress can become a part of their client's biography. This stress can show up in subtle ways and may be
and body, whether consciously aware of it or not. Following traumatic events, anxiety, constantly feeling on edge, and intense feelings of sadness, fear, guilt, rage, shame, and hopelessness are common. These symptoms are signs of Post-Traumatic Stress Disorder (PTSD) and
canfitpro September/October 202262
Trauma is a broad subject and leaves an imprint on the brain, nervous system,
By Claudia Micco MUSCLE FOR A WORKOUTTRAUMA-SENSITIVE
TRAINING A FEW SIMPLE CUES TO HELP CLIENTS FEEL SAFE AND SUPPORTED
Survivors often hold chronic patterns of tension throughout the body. First, we can look to the face for excessive eye movements, blinking or twitching eyelids, teeth clenching, tightness in the throat, and breath-holding. Next, watch for fistclenching, uncontrolled tapping, or fidgety movements, and check the feet to see if they are grounded and stable.
Complex Post-Traumatic Stress Disorder
An environment where the client feels safe is vital. For example, loud noises, banging weights, noisy gyms, and certain types of music may stimulate unconscious intrusive memories and startle responses. Be mindful when correcting and spotting clients by asking permission to touch them
trauma. These clients will benefit from vocalization that allows for long, extended moans, excessive yawning, and cursing loudly or screaming.
by experiencing a onetime traumatic life event, such as a car accident, surviving a natural disaster, the sudden death of a loved one, or a violent
...LOUD NOISES, BANGING WEIGHTS, NOISY GYMS, AND CERTAIN TYPES OF MUSIC MAY RESPONSES.MEMORIESUNCONSCIOUSSTIMULATEINTRUSIVEANDSTARTLE
63canfitpro September/October 2022
The COVID-19 global pandemic found many experiencing symptoms familiar to survivors of chronic trauma, with perceived threats to life and safety beyond our control. The pandemic threatened our physical health and threatened our social and emotional health. Physical distancing greatly impacted many because we are neurologically wired for connection.
PTSD(C-PTSD).iscaused
act, though this list is not exhaustive. C-PTSD is continuous, repeated, and often involves a betrayal or loss of safety, resulting in ongoing, inescapable, relational trauma. Childhood sexual abuse, neglect, abandonment, and domestic violence, are examples.
Often you will hear that the best way to deal with trauma is to bring people into a relaxed state through meditation and breathing techniques to calm the nervous system. While this is ultimately true, it is not always possible. Breathing quietly may create anxiety, and closing the eyes can bring about flashbacks. Relaxationinduced anxiety happens when people become anxious as a result of being relaxed. While it sounds contradictory, activities such as vigorous exercise and mindful movement can be just as helpful for someone with a history of trauma.
The nervous system and brain react to vivid memories and flashbacks as if they were happening in the present, even when our client is in a safe space. Deep within the nervous system, these memories are stored, and chronic tensions develop in areas of the body where there was an assault or injury. Those chronic muscular tensions we see in our clients are habit patterns hardwired for many trauma survivors. Without having to do anything special, we can simply remind clients to relax their jaw, soften their eyes, or have them look at a spot to keep their eyes from wandering. Delivering these simple cues can help break the patterns over time.
Abeforehand.fewsimple
Sexual abuse survivors tend to have tightness in their lower back and experience issues around their pelvis and sex organs. Keep in mind that the trunk, pelvis, and sex organs can be highly sensitive even if a client is unaware of their trauma. Trauma survivors may present with breath-holding, tightness in their neck, and may have issues vocalizing. They are conditioned to remain silent and unseen due to the shame associated with their
cues introduced in a safe, supportive way can allow the nervous system to relax and return to balance. We do not have to know their trauma to help them. Trauma survivors have difficulty trusting, and it is a giant leap for many to allow themselves to hire a personal trainer or show up in a group class. They want more control or at least the experience of the internal processes that give them a sense of well-being.
Claudia Micco specializes in mind-body therapy, hypnosis, and exercise for PTSD and C-PTSD. A global fitness expert for over 35 years, her methods are shared worldwide at conventions, retreats, and workshops. In addition, she is an ERYT 500 continuing education provider for Yoga Alliance and American Council on Exercise (ACE).
People who may not remember their trauma were triggered in specific ways during the last two and half years. For example, a client had severe anxiety wearing a mask but could not understand why. Through our training, she recalled in childhood being repeatedly molested, her mouth covered by a hand while being told to be quiet. The mask unconsciously triggered in her body what was hardwired into her nervous system.
Canada.HumanKinetics.com@HumanKineticsCanada @HumanKineticsCanada Follow us on Facebook to learn more about our upcoming promotions and giveaways. Relieve stress while improving physical strength, balance, and flexibility!
programs that eliminate exercise redundancy and use full range of motion.
Features over 100 exercises and 50 exercise videos for men seeking training programs designed to build muscle, burn fat, or target those problem areas.
illustrations No other resource combines the visual detail of top anatomy texts with expert strength training advice.
Your #1 source for fitness and health resources info@hkcanada.com 1-800-465-7301
New releases!
Offers you a detailed look into some of the most common sport injury conditions and the best exercises to help prevent their occurrence.
Lower Body Training is a comprehensive guide containing scientifically proven strategies for increasing lower body size, strength, and power.
In Partner Workouts, you'll find 15 ready-to use workouts, along with nearly 100 exercises and stretches for creating the perfect partner workouts for your clients.
FITNESS PROFESSIONALS KNOW EXERCISE IS VITAL FOR OUR MENTAL HEALTH.
WHY
canfitpro: So, what's stopping us from exercising?
Dr. Jennifer Heisz: It comes from our evolutionary past: we are hardwired to conserve energy. We had to expend a lot of energy to hunt, gather food to survive - when we weren't doing movement for survival, we needed to conserve energy. The brain sees voluntary exercise as an extravagant expense and goes out of its way to avoid expending that energy if it thinks you don't need to do it.
MENTAL HEALTH canfitpro September/October 202266
Dr. Jennifer Heisz: When we move our body, it infuses the brain with neurochemicals moving from the contracting muscles through the blood to the brain. Movement also increases blood flow, which helps the brain thrive. With exercise we can think clearly, we feel good, we sleep better, and we feel better.
canfitpro: Let's get right down to it: Why is exercise incredible for our brain?
makes a powerful case, using easy-todecipher science, as well as a real-life example from Dr. Heisz's own fitness journey to become a triathlete. Each chapter includes an exercise prescription that you can use with your clients today.
All of this makes us more productive and happier human beings.
Everyone in the fitness industry knows that exercising makes us feel better. That's the biggest truism, right? You feel good after every single workout. For those of us who have been exercising for a while, we know we can go to exercise to feel good not just physically but mentally and it helps us reduce stress, anxiety, perform
If exercise is the magical pill for mental health, why do 30 percent of Canadians not take it at all? How do we get them to change their minds? Thankfully, the ground-breaking book Move the Body, Heal the Mind by McMaster University Associate Professor Dr. Jennifer Heisz
We sat down with Dr. Heisz to discuss how humans are not hard-wired to exercise, how we convince our clients of the multiple benefits of movement and why the social aspect of fitness is as important as exercise itself.
But did you know that physical inactivity is as great a risk factor for dementia as genetics? Did you know that exercise can be more effective than medication for treating depression? Exercise and fitness can help prevent and treat a variety of mental health conditions - from anxiety and depression to ADHD and dementia. In some instances, exercise can be more effective than antidepressants. It also helps us sleep better, improves our mood, focus, and our creativity.
By Erin Phelan THIS BOOK SHOULD BE ON EVERY TRAINER'S READING REQUIREDLISTREADING: MOVE THE BODY, HEAL THE MIND
canfitpro: In the book you talk about the benefits of community and the social uptick of fitness that the gym provides.
better, be more productive and become more creative. So, on one hand, our brain resists exercise but then we start moving and dopamine is released - this goes to our reward system. And it happens immediately. Those of us who exercise regularly have the "expectation link" - we work out because we know we are going to feel good, we expect the dopamine to come.
Dr. Jennifer Heisz: We need to package fitness in a different way. Right now, our inactive population thinks of exercising as hard work. It's hard. I'm tired. I'm stressed. I don't have the energy. We need to package it as self-care and selflove. Reminding that consistency matters more than performance gains, and some is better than none. The fitness industry can also layer other incentives - it is such a super, socially supportive place. The moment you arrive you feel good, and you haven't even worked out! Creating that community vibe, where you are going to be greeted by someone nice and welcoming - that's an incentive. Music is an incentive. It is almost as if we need to incentivize each step of the way.
Dr. Jennifer Heisz: I think exercise is like a universal language that can break down barriers between different social networks. You don't have to have that much in common with someone to sweat it out together! That's the beauty of working out together. I went to a hot yoga class this winter, and it was a new experience for me. I hadn't been to that studio before but it had such an amazing community vibe! I connected with artists, and met this older man I would never have met. With the gym, you meet new people that enrich your life and that becomes as important as the movement itself!
Erin Phelan is the owner of The Erin Phelan FitFam, a virtual fitness community with live group training classes. She is also the communications lead for the Fitness Industry Council of Canada.
Dr. Jennifer Heisz: If you are feeling anxiety, you're already under stress and our bodies only have one stress response. Higher intensity exercise, such as HIIT,
67canfitpro September/October 2022
canfitpro: In fact, in the book you talk about high intensity when it comes to stress. If we have clients who are already highly stressed, is HIIT a good idea?
canfitpro: But how do we get them up and moving?
Dr. Jennifer Heisz: Research from our lab showed that during the pandemic, there was a shift in why people wanted to work out - before, they were working out to look good and then the pandemic hit and it was to feel good. But there was this mental health paradox where they wanted to work out to relieve stress and anxiety, but their stress and anxiety were getting in the way. Many of the people inactive at this time lacked the motivation, which is also a symptom of depression.
canfitpro: Your research coined the term "Pandemic Paradox" at the start of the pandemic. Can you explain what this means?
Dr. Jennifer Heisz: You are stuck on the couch with your lazy brain telling you: I don't want to expend the energy. People who are inactive haven't learned that once they start moving the muscles are going to kick out those neurochemicals and dopamine, serotonin, and noradrenaline are going to flood the brain.
canfitpro: What did this show you?
Dr. Jennifer Heisz: We need to take a fundamentally different approach when we're trying to engage people to exercise for their mental health. There needs to be a focus on compassionate exercise engagement - some is better than none. There is research that shows even a little bit of activity reduces depressive symptoms - a little five minute exercise break can replenish the brain with blood flow to function optimally, and a 10-minute self-paced walk can boost creativity, or a 30-minute walk can reduce anxiety. It doesn't have to be that much. We also know that intervals work really well for people - it doesn't have to be high intensity.
canfitpro: That's interesting - what about weight training and cardiovascular exercise?
Dr. Jennifer Heisz: Any movement is better than no movement. Most of the research linking exercise and mental health has been done on cardiovascular fitness, but there is emerging evidence that shows resistance exercises are equally beneficial. For depression, for example, the heavier you lift, the greater the depressive benefits. Likewise, with sleep - the heavier and more frequently you lift, the deeper and better you will Theresleep.
adds extra physical stress onto the stress your body is already feeling - it could be too much. This is why lower intensity, like walking, is good for everyone.
canfitpro: But if you are inactive…..
is strong evidence that suggests a variety of activities is really good for the brain in terms of promoting mental flexibility, creativity, and innovation. So, when we are looking at that 150 minutes of moderate to vigorous exercise, instead of just running all the time, add two days of resistance exercise. But, in my opinion, it comes down to moving every day in a way that feels good for you, and being consistent. We have to personalize experiences for our clients - they're more likely to do it because it feels good,
4 ways your brain can play tricks on you
FREAKDON'TOUT! MENTAL HEALTH canfitpro September/October 202268
By Nathalie Plamondon-Thomas
Our brain uses some of this information to create thoughts. We have between 50,000 and 80,000 of those per day. Now, here are a few tricky brain functions that result in you being more prone to freaking out.
1. Is my brain playing tricks on me?
69canfitpro September/October 2022
3. Am I thinking or am I feeling?
Author
When you start freaking out, you are in an emotional mode. You are not in a thinking mode. You are not in your best resourceful state when you are in feeling mode. Switching to thinking mode will help you avoid a full-out temper tantrum. Your emotions need to be felt of course, as they are your allies and bring you lots of teachable moments but delaying them to a time when you will be calmer is a great idea.
Your brain deletes stuff! Many of the thoughts that we have or information that is presented to us enter one ear and go out the other. Some information your brain does not even bother storing. We delete stuff. Where did you leave your keys? What is your password again? What is this person's name? The one you just met. What day is it? Where are your glasses? Where did you leave your phone? This can get tricky sometimes when you need to remember something... and, hopefully, that does not include your wedding anniversary!Howmanytimes
Here is what you can do when you feel yourself starting to freak out. You can ask yourself these questions whenever you are on the verge of panicking, to keep the bomb from going off. When you are in prefrontal cortex overload and you start panicking, it affects you at a neurobiological level. You start sweating, your heart is racing, you may feel powerful emotions like anger, fear, hurt, sadness, guilt, terror, helplessness.
For example, you have a headache, and then you think you have a brain tumor, so you Google your symptoms, and there it is - you believe you have one month left to live. Or what about the "teenage brain", as it is sometimes called? Trivial things happen, and then suddenly your whole life is ruined. Right? So bizarre.
All the pieces of information that are causing you to feel this way can very often be controlled by the way you perceive things. We are usually in a stage where we are exaggerating. We are catastrophizing. Or maybe our brain has temporarily deleted information that we need. Ask yourself: "Is my brain playing tricks on me? Am I making this up? What am I missing? If I remembered what I need right now, what would it be?
Ask yourself: "What am I learning? How could this event potentially make me grow? What is this event teaching me? When I look back to this a year from now, what will I have learned? What will I become better at? Could that potentially be good?" It is just too soon to know. Let us not categorize this as a terrible thing yet. What is the positive learning from this, the silver lining?
We need to be aware of these first two functions (deleting and retaining) and be extremely specific with our brain because a lot of the time, looking for a lost cell phone can create huge drama. Sit back instead of frantically emptying your gym bag. Take a deep breath and tell yourself: "I know my brain knows exactly where I put my phone. I trust my brain. Show me where my phone is." Or, when a new client or participant is introduced to you, avoid saying: "I am really bad with names." Instead, make a conscious effort and say: "I will make a specific effort to remember your name."
So how do you calm down? The very first thing you do is take a deep breath, close your eyes and then you ask yourself: "Am I thinking or am I feeling? Will giving in to my emotions help me keep my cool right now? Am I seeing things clearly or am I blurred by my emotions?"
2. What am I learning?
3 Questions to Avoid Freaking Out
The brain can also play tricks on you by generalizing. Your personal assistant tends to generalize about the world. It likes to simplify things by putting things into neat little boxes. Here are a few examples: Blonds have a lot more fun! All teenage employees are unreliable! There is no money in the fitness industry!Thosethings
Our brain also likes to distort, exaggerate, and catastrophize things.
3. Generalize!
Somehow, when something happens once or twice, then we assume that it will always be like that, and we include everything and everybody in that box.
have you, for example, arrived in the kitchen and asked yourself: "Why am I here?" Your brain has deleted that information.
YOUR BRAIN PLAYS TRICKS ON YOU. YOUR BRAIN CAN PROCESS 2.3 MILLION PIECES OF INFORMATION EVERY SECOND. OF COURSE, NOT ALL THIS INFORMATION GETS STORED.
Am I catastrophizing right now? Am I generalizing right now? Is this always (or never) the case?"
2. Retain!
1. Delete!
The brain also retains the information deemed as "important", even when it is not always important. For example, you may be able to remember every word from a 1981 song. Let us test this. What if I start a song with: "Just a small-town girl..." How will you continue it? You said it already in your head, right? "Living in a lonely world." This can get weird. I still know the phone number of the grocery store in the town where I grew up. Why do I remember this? I moved 25 years ago, but some of that information is stored forever.
Founder and CEO of the Yourself®THINKACADEMY, Confidence Expert, and No.1InternationalBestselling of fifteen books on wellness and empowerment, Nathalie PlamondonThomas combines 25 years in sales and 30 years in the fitness industry. She works with entrepreneurs who want to find confidence and clarity so they can make money by living from their passion.
are not true at all!
How many women that had their heart broken once said: "All men are bad"? Not all of them, but we generalize. We place things and people into little boxes.
Sometimes, there is just no point in freaking out. Most times we do not have enough information to do so. We do not know yet what the event that we are about to freak out about will bring us.
Be aware of your brain functions and use the questions to avoid freaking out when your brain plays tricks on you or when you are facing events that could potentially press your buttons. Of course, there is always the option of working with a coach that specializes in getting rid of the buttons, so that nobody can push them. If you want to hear more about transformation coaching, feel free to reach out.
Generalizing can get us into trouble, because it causes us to make assumptions that are not necessarily true. And these assumptions can usually cause us to freak out unnecessarily.
4. Catastrophize!
Krystal Say canfitpro September/October 202270
PROTECTING AND NURTURING YOUR OWN MENTAL HEALTH AS A FITNESS MOVEMENTPROFESSIONAL AND MENTAL HEALTH MENTAL HEALTH
By
total wellness, passion for teaching, and wanderlust have inspired her 15+ years of experience in the fitness and wellness industry and as an international educator. Known for her cueing techniques, Krystal is all things TRX and Yoga.
Albeit, these days I primarily work in a group setting, session after session I am amidst internal unsteadiness with my clients.
Then assist your neighbor:
Where everybody knows your name. Get to know your community members' names. Even if they are not a personal client of yours. A
friendly hello and smile can mean the world to someone.
When I am overtired and overburdened that cannot happen.
Recently, I came across an article that helped me reframe mental health into a positive way. In this article, mental health was referred to as internal equilibrium, which enables individuals to recognize, express and modulate one's own emotions, empathize with others, cope with adverse life events and function in social roles.
Hydrate. Yup, the sage advice still prevails. We work long arduous hours and need to stay alert and energized. Ready to take it to the next level? Focus on your electrolytes.
The take-way: We must always remember to prioritize ourselves first in order to show up as the version of ourselves that can be of service to others. It is not always easy, in fact I find it extremely uncomfortable, but the results speak for themselves.
Invite individuals in. Let go of the concern and invite them to move with you. Better yet, create a small group, cultivate a community where everyone looks forward to socializing, moving, getting better together, and holding each other accountable. Now that is just pure magic!
Prioritize sleep. I mean it, turn off the television and go read a few pages of a book in bed to help you rest well.
71canfitpro September/October 2022
Take time for you. It is OKAY to say no, cancel an appointment, adjust your schedule, and carve out additional time just for you! I have just adjusted my schedule once a week so that I can garden (or do whatever my heart desires).
I recently paused and realized that I might be the only person who provides uninterrupted attention to another individual all day. I want to make sure I am alert, feeling my best and ready to listen so I can provide them with the best mental health boosting movement session
TRX HerinSWEATandseekingSayInstructorMasterKrystalisanadventure-poweryogico-ownerofPowerYogaMassachusetts.advocacyfor
Put your own oxygen mask on first:
Use the TRX Suspension Trainer. For you and for them. I mean it, you will lengthen, strengthen and feel your best. With the versatility and scalability of this tool you can literally invite everyone to your movement party. It is like promoting equilibrium one row at a time!
The amount of stress that has been bestowed upon us as a greater society has thrown us into uncharted territories. Daily shares of hardships, stresses, and negative outlooks weighs heavy over time. As it goes, when one person shares, more opinions follow and it can leave a fitness professional feeling burnt out and even a bit internally unsteady. Can you relate?
Here are a few ideas to show up in a positive mental health state and be there for your clients and community.
I can. Now, it is certainly not in my job description to carry the woes of others, or try to fix. Afterall, there is nothing to be fixed. But I can let them know they are not alone, I can really see them, hear them, and hold space for them. It is a gift we can give to others.
Move. Every day move your body in a way that feels good!
To the endorphin raising, cortisol crushing, anti-inflammatory warrior that you are. This article is for you.
As a professional in the fitness and wellness industry, have you had a chance to examine your role and its shift over the past two (plus) years? More than ever, the topic of mental health is being brought forth and it is for the better.
The Increased Role and Responsibility of Fitness Professionals
canfitpro September/October 202272
There has never been a time where mental health has been so prevalent, so front of mind. Focus on, and awareness of, the importance of mental health is at the forefront of the health and fitness industry. An understanding of how common mental health issues are and the impact that they can have on an individual's life are more commonplace. Despite decades of misconceptions, misunderstandings and stigmas, mental health is finally positioned for true lasting changes.
for health and fitness embrace it into their process and approach with clients and patients.
Four is the number of times a year, on average, an individual will go see their physician (with this number brought higher by those dealing with varying levels of sickness and disease). On the contrary, 100 times is the average times a year an individual will see their fitness coach (provided they come
These changes are only possible if those who are advocates
By Nick Lambe
HOW FITNESS PROFESSIONALS CAN HELP WITH BEHAVIOURAL COACHING MENTAL HEALTH WHY SLEEP MATTERS FOR MENTAL HEALTH
There are many misconceptions and false narratives around sleep that exist within our industry. One of them that I often see perpetuated is the idea that sleep issues are primarily a medical or clinical issue. There are certainly a wide range of sleep disorders and instances where medical intervention is necessary. However, in my experience, a large percentage of sleep issues tend to be behavioral in nature. The stress, anxiety, and mindset individuals develop around their sleep
It is incredibly important to understand that sleep and mental health operate in a bidirectional relationship, meaning they each influence one another directly
With this opportunity, comes an immense responsibility as well. A responsibility to fully embrace this role and all that comes with it. A responsibility to be more well-rounded in our approach, to be more willing to collaborate, to get more involved in our community. This is especially true with relation to mental health.
Behavioral coaching is very much in the wheelhouse of fitness professionals. Therefore, I will make the case that sleep coaching should make up much more of our overall process. Due to the direct influence it has on all client goals as well as the previously discussed impact on mental health.
Sleep, Behaviours and How Coaches Can Play a Role
For the focus of this article, we will not spend time discussing all of the elements in this graphic. However, I want to emphasize the idea that sleep is very much something that can and should be coached. There are many struggling, with limited to no practical options available, and a coach with a behavioral expertise can make a tremendous difference.
A fitness professional has more strategies in their tool box to positively influence long term mental health than any pharmacy and potentially any other provider. The strategy that we will be focusing on today is one that is vastly under looked and underappreciated: sleep.
I would make the argument that improving sleep and mental health would have more positive influence on those you work with than any other areas of focus. Improving not just health and fitness outcomes but providing a much more robust quality of life.
Disclaimer: I am not advocating that you as a fitness professional: have conversations on or provide specific recommendations on sleeping pills or weening off of them. I point this out so that we can understand the value and importance of our potential role as coaches.
Let us quickly explore two of the most common options of improvement for clients: sleeping pills and sleep hygiene lists.
There are quite a few similarities between sleep and mental health with regards to how they have been viewed (in our industry and others). Both have been: frowned upon, underappreciated, viewed as a focus for only the "weak", and lacking long term practical options for improvement.
will often be the driving force behind their struggles. This is especially true in those who struggle with mental health. Sleep (coaching) can be an incredibly valuable strategy for these individuals.
roughly two times per week). This is a massive discrepancy and one that presents an incredible opportunity for influence on long term wellbeing and mental health. The reality is that coaches and fitness professionals have exponentially more contacts and abilities to educate, make aware, and make lasting health changes.
Sleep and Mental Health
73canfitpro September/October 2022
things that make an individual more likely to struggle with sleep. These can be: age, higher levels of anxiety, lower distress tolerance, prevalence of a mental health issue. In these instances, more consideration must be given upfront to these
Much of what I see coaches and fitness professionals do around sleep in the industry (outside of having superficial conversations around sleep duration) is provide a general hygiene list of recommendations. The problem as demonstrated here in the graphic is that there is no context or individuality to that person and what they truly need. The example I always provide is comparing to exercise/fitness. If a client came to work with us, we would never just provide them a list of the top seven or 10 exercises without knowing anything about them and what they need/want. The same mentality should be applied to sleep.
are the common instances that we all deal with in some capacity at some point. These are situations where sleep and sleep quality temporarily suffer. Whether it be a new job, an increased period of stress, trauma, being sick, travel. These are normal life occurrences and sleep will inevitably be disrupted. The key is to ensure that these short term (acute) issues do not turn into long term (chronic) problems. That is where we get into perpetuating factors and the opportunity for the most influence as a coach.
With this in mind, we will introduce the concept of having a sleep coaching framework. Lacking in our current approach to sleep is having a set of systems and principles. The same types of systems we have in place for exercise, programming, and
Precipitatingfactors.factors
Perpetuating factors are the behavioral elements that make sleep issues stick around, become more severe, and be ingrained into chronic problems. Thoughts, perceptions, confidence around sleep, associated emotions, and habits all fit in this category. This is the primary area of focus in behavioral sleep coaching.
canfitpronutrition.September/October 202274
Solutions Designed to Support your Business BUSINESS MEMBERSHIP Becoming a Business Member is FREE Exclusive discounts and exclusive access for events Level up to a Gold membership to unlock additional business benefits Receive unique discount codes for you and your staff to stay certified, learn, and network Sign up as a recognized Host Facility for courses - and recruit top talent Contact us today to sign up canfitpro.com/fitness-business
ready to jump back into your favourite activities. But if you have Fibromyalgia, then pain and flare ups are a fact of life.
if you have Fibromyalgia. There is so much information out there and the worst I ever found was that I had to accept that I had to live in pain….and I did for a while, until I decided to make some changes that have resulted in me now living nervous system,
You were confident that if you followed the doctor's instructions, you would be back to your old self in no time and be
By Fran Garton
SPECIAL POPULATIONS THIS ARTICLE IS ELIGIBLE FOR TO TAKE THE QUIZ LOG INTO YOUR MEMBER PROFILE canfitprointeractive.comAT 1 CEC LA LECTURE DE CET ARTICLE VOUS DONNE ACCÉS À GRÀCE AU QUIZ DISPONIBLE canfitprointeractive.comAUDANSVOTREPROFILDEMEMBRE. 1 CEC canfitpro September/October 202276
PAIN IS INEVITABLE AND JUST PART OF LIFE. IF YOU ARE ALIVE, YOU HAVE PROBABLY SUFFERED FROM AN INJURY, SPRAIN, BROKEN BONE, OR CUT. YOU PROBABLY ALSO DID NOT EVEN CONSIDER HOW LONG THE PAIN WOULD LAST OR WHEN YOU WOULD GET SOME RELIEF.
You may have clients who are living with Fibromyalgia or have been newly diagnosed. Or maybe you are wondering
Fibromyalgiapain-free.is defined as "abnormalities in the processing of pain in the central
the stress response system and regulation of sleep and HELP MANAGE AND EVEN REDUCE PAIN WITH THESE THREE STRATEGIES FIBROMYALGIA AND PAIN-FREE!
You are constantly afraid of the next pain cycle and you worry about the length and severity of it. Jumping back into your favourite activities is not so easy with a chronic diagnosis.
In your chest - the location of the heart chakra. There are seven main chakras (energy centres) within the body and they correspond to various organs and parts of the body. If you do not deal with your emotions, the body manifests pain. Go here to get an overview of the seven chakrastoarticlepain.deepcompletelyofiftonotreading.drinkingjournaling,aOtherthattheneedandyouhelpThereexercise/7-chakrashealthline.com/health/fitness-aremanyotherthingsthatcanmanagepain,butmakesurethataregettingtotherootofthecausenotjusttreatingthesymptoms.Youtoidentifyyourtriggers,eliminatetriggers,andthenchoosethewayshelpyoubestmanageyourpain.strategiesthatIusetodealwithpainflareupinclude:breathwork,sleeping,talkingtoafriend,tea,watchingamovie,andTheseareinmytoolbox,butdomistakethesetoolsasthesolutionyourpainproblem.Theycanhelpbutyouarenotgettingtotherootcauseyourpain,thenyouwillnotbeabletoeliminateit.IttakesalotofworktouncoverthecauseofyourStartwiththethreestrategiesinthisandthencommittolearninghowlivepain-free.IfIcandoit,socanyou!
even though it may not be very bright, slight temperature changes making you feel extra cold or hot, and gently banging into something with your hand or foot will create extreme pain that can last for
I had any control over my Fibromyalgia, my worst pain level was about 15 out of 10. It was debilitating and exhausting. As I started to make lifestyle changes, I was able to reduce my pain level to eight, which by comparison was quite good. Now I am proud to say that most days I am at a ZERO and even on my worst days, it does not usually go higher than a three. Now, I bet you are saying that I must be exaggerating. There is no way to live without pain….but there is! There are three key things that I do consistently that help keep my pain away.
Inflammation and the related pain is related to the food we eat. There are many foods that cause inflammation such as gluten, dairy, sugar, corn, and soy. If you are eating these foods, then you are causing inflammation in your body and if you have got a condition that is affected by inflammation, then controlling what
mood." There is widespread chronic pain in the muscles and connective tissue. There are 18 tender points throughout the body and to be diagnosed you need to suffer with pain in at least 11 tender points consistently over a three to six month period. According to the Canadian Task Force on Pain, one in five Canadians (or 7.8 million Canadians) have chronic pain that impacts daily living and many of them are living with undiagnosed Fibromyalgia. Eighty percent of people diagnosed with Fibromyalgia are women, and diagnosis can take up to two years.
a video on the different foam rolling techniques. Qigong is a series of gentle poses and breathing that help the movement of Qi (energy) through the body. The benefits of Qigong include: reduces pain, increases joint range of motion, increases energy, reduces stress, increases focus, helps lessen chronic fatigue, and helps boost your immune system.
1. Keep it moving!
you eat is a great way to manage your pain. Sugar is a huge trigger for me. When I eat sugar, my arthritis flares up causing aches and pain in my hands and feet. I know it seems like I need to avoid a lot of foods, but not being in pain all the time is a fantastic tradeoff.
2. Reduce inflammatory foods.
77canfitpro September/October 2022
Beforehours.
When I was first diagnosed with Fibromyalgia, it seemed that I lived for the brief moments that I did not suffer from debilitating pain. The question was not IF pain would occur but instead WHEN. Pain flares were inevitable and I had to plan for them in the best way I could and hope that during my planning I had not forgotten anything. Although Fibromyalgia is not an inflammatory condition, it is common that if you have been diagnosed with Fibromyalgia, you may also have an inflammatory condition like arthritis. Fibromyalgia makes your senses extra sensitive to stimuli. Some examples of this include light sensitivity
3. Deal with your emotions!
You need to move your body. Oxygenated blood needs to reach into the fascia and muscle fibres to keep your system happy and healthy. If you are not moving your body every day, your pain will increase. The two easiest forms of movement that my body really likes are foam rolling and Qigong. Both of them are easy to do and can be done almost anywhere. The benefits of foam rolling include: increases flexibility, increases muscle health, reduces recovery time from exercise, increases blood flow, relieves muscle soreness, increases joint range of motion, and helps with relaxation. Go to my YouTube channel herecom/watch?v=zxrEIZ1ORzI&t=4syoutube.- for
Fibromyalgia is often lumped into the Arthritis family, even though it is not a form of arthritis. It is a pain disorder involving the nervous system that can affect many parts of the body. It is not a progressive or degenerative illness and affects muscles, joints, and soft tissue.
What do you think happens when we hold our emotions inside and do not deal with them? Our body has to figure out a way to manage these emotions and it does so by creating pain in the body. Think about a time when you are sad. Where do you feel this emotion?
Fran Garton, speaker, writer, trainer and Fibromyalgia Warrior, teaches people to live pain-free. Her passion is advocating for inclusive movement practices, body acceptance, and learning to love movement. She enjoys volunteering with donkeys,
POPULATIONS PARTICULIÈRES THIS ARTICLE IS ELIGIBLE FOR TO TAKE THE QUIZ LOG INTO YOUR MEMBER PROFILE canfitprointeractive.comAT 1 CEC LA LECTURE DE CET ARTICLE VOUS DONNE ACCÉS À GRÀCE AU QUIZ DISPONIBLE canfitprointeractive.comAUDANSVOTREPROFILDEMEMBRE. 1 CEC canfitpro September/October 202278
Parmi votre clientèle, vous retrouvez probablement des personnes qui vivent avec la fibromyalgie ou qui ont récemment reçu ce diagnostic. Ou encore vous vous demandez si vous-même avez cette condition. On retrouve une tonne de renseignements disponibles à ce sujet, mais pour moi, le pire a été de savoir que je devais accepter de vivre avec de la douleur… C'est ce que j'ai fait pendant un certain temps, jusqu'à ce que je décide d'apporter quelques changements qui ont fait en sorte que je peux désormais vivre sans douleur.
Il est également fort à parier que vous ne vous êtes jamais demandé combien de temps vous auriez mal, ni à quel moment vous seriez soulagé. Vous saviez que si vous suiviez les directives du médecin, vous vous sentiriez comme neuf et prêt à reprendre vos activités favorites en un rien de temps. Mais si vous souffrez de fibromyalgie, la douleur constante et les épisodes de douleur aigüe seraient chose courante. Vous êtes constamment effrayé de savoir à quel moment le prochain cycle de douleur surviendra,
et inquiet d'en connaitre la durée et la sévérité. Reprendre ses activités favorites n'est pas simple lorsqu'on souffre d'une condition chronique.
LA DOULEUR EST INÉVITABLE, ELLE EST PARTIE INTÉGRANTE DE LA VIE. SI VOUS ÊTES VIVANT, IL EST FORT À PARIER QUE VOUS VOUS ÊTES SUREMENT DÉJÀ BLESSÉ, AVEZ DÉJÀ SUBIT UNE FRACTURE, OU QUE VOUS VOUS ÊTES COUPÉ.
La définition de fibromyalgie est : irrégularités dans le traitement de la douleur par le système nerveux central, du système de réponse au stress, et de la régulation du sommeil et de l'humeur. Ce qui entraine une douleur chronique généralisée au niveau des muscles et des tissus conjonctifs. Il existe 18 points sensibles dans tout le corps. Pour recevoir un diagnostic de fibromyalgie, il faut ressentir de la douleur dans au moins 11 points sensibles, de façon constante, sur une période de trois à six mois. Selon le Groupe de travail sur la douleur, un Canadien sur cinq (ou 7,8 millions de Canadiens) souffre de douleur chronique qui affecte leur vie quotidienne, et plusieurs d'entre eux vivent avec une condition de fibromyalgie non diagnostiquée. Quatrevingts pour cent des gens ayant reçu
Par Fran Garton
GÉRER ET RÉDUIRE LA DOULEUR GRÂCE À TROIS STRATÉGIES SIMPLES SE LIBÉRER DE LADOULEUR ASSOCIÉEÀ LA FIBROMYALGIE
pas tous les jours, votre douleur augmentera. Les deux formes de mouvement que j'aime beaucoup sont les exercices à l'aide d'un rouleau de massage, et le QiGong.
est souvent classée dans la famille de l'arthrite, malgré le fait qu'elle ne soit pas une forme d'arthrite. C'est un trouble du système nerveux affectant plusieurs parties du corps. Ce n'est pas une maladie dégénérative et elle affecte les muscles, les articulations, et les tissus conjonctifs.
Lorsque j'ai reçu mon diagnostic de fibromyalgie, j'avais l'impression de vivre dans l'attente des courts instants pendant lesquels je ne souffrais pas d'une douleur invalidante. La question n'était pas SI la douleur allait survenir, mais bien QUAND. Les épisodes de douleur aigüe étaient inévitables, et je devais m'y préparer du mieux que je pouvais en espérant n'avoir rien oublié. Bien que la fibromyalgie ne soit pas une maladie inflammatoire, il arrive fréquemment que les gens qui reçoivent un diagnostic de fibromyalgie souffrent également d'une maladie inflammatoire comme l'arthrite. La fibromyalgie rend les sens hypersensibles aux stimuli. Quelques exemples incluent la sensibilité à la lumière (même si elle n'est pas très vive), les légers changements de température qui font que vous ayez soit très froid ou très chaud, et se cogner légèrement la main ou le pied provoquant une douleur intense pouvant durer des heures.
79canfitpro September/October 2022
Laans.fibromyalgie
Il existe plusieurs autres façons de vous aider à gérer votre douleur, par contre, vous devez vous assurer d'aller à la cause souche de celle-ci, pas seulement en traiter les symptômes. Vous devez déterminer quels sont vos déclencheurs, les éliminer, puis choisir les moyens qui vous aideront à mieux gérer votre douleur. J'utilise également d'autres stratégies qui me permettent de gérer les flambées de douleur, celles-ci incluent : faire des exercices de respiration, écrire, dormir, jaser avec un ou une amie, boire du thé, regarder un film, et lire. Toutes ces stratégies se retrouvent dans ma boîte à outils, mais ne méprenez pas ces outils pour des solutions à vos problèmes de douleur. Bien sûr, elles peuvent aider, mais si vous n'identifiez pas la source de votre douleur, vous n'arriverez jamais à l'éliminer. Découvrir la source de la douleur demande beaucoup de travail d'introspection. Commencez par ces trois stratégies, puis engagez-vous à apprendre à vivre sans douleur. Si je peux le faire, vous le pourrez aussi !
Fran Garton est une conférencière, auteure, formatrice et guerrière de la fibromyalgie. Elle apprend aux gens à vivre sans douleur. Elle se passionne pour la défense de l'inclusivité dans les pratiques du mouvement, l'acceptation du corps, et l'apprentissage de l'amour du mouvement. Elle fait du bénévolat auprès de refuges pour ânes, elle aime jouer avec les chatons, broder, et organiser de soirées entre amis. Faites la rencontre de Fran, et apprêtez-vous à mettre fin à votre douleur pour de bon!
Avant d'avoir un quelconque contrôle sur ma fibromyalgie, mes pires douleurs pouvaient atteindre 15 sur une échelle de 10. C'était invalidant et exténuant. En modifiant mon mode de vie, j'ai pu réduire mon niveau de douleur à huit, ce qui, en comparaison, était plutôt bien. Maintenant, je suis fière de dire que la plupart du temps, ma douleur est à ZÉRO, et que même lors des pires journées, elle ne dépasse habituellement pas un trois. Maintenant, je gage que vous pensez que j'exagère. Qu'il n'existe pas de façon de vivre sans douleur… mais oui ! Il existe trois choses que je fais assidûment qui m'aident à tenir la douleur à l'écart.
Vous devez bouger. Le sang oxygéné doit atteindre les fascias et les fibres musculaires pour garder votre système heureux et en santé. Si vous ne bougez
1. Bougez !
L'inflammation et les douleurs qui y sont reliées sont en lien direct avec les aliments que nous mangeons. Plusieurs aliments sont inflammatoires dont le gluten, les produits laitiers, le sucre, le maïs, et le soya. Si vous consommez ces aliments, vous générez de l'inflammation dans votre corps, et si vous souffrez d'une condition qui est déclenchée par l'inflammation, alors il est recommandé de contrôler ce que vous consommez pour mieux gérer votre douleur. Dans mon cas, le sucre est un déclencheur important.
Lorsque je consomme du sucre, mon arthrite s'enflamme et provoque des douleurs dans mes mains et mes pieds. Je sais, on dirait que je dois éviter beaucoup d'aliments… Mais de ne pas ressentir de douleur en vaut vraiment la chandelle !
Selon vous, que se passe-t-il lorsque nous refoulons nos émotions et que nous ne les gérons pas ? Notre corps doit figurer un moyen de gérer ces émotions, et y parvient en créant de la douleur dans notre corps. Pensez à un moment lorsque vous ressentez de la tristesse. Où ressentez-vous cette émotion ? Dans votre poitrine – l'emplacement du chakra du cœur. Il existe sept principaux chakras (centres d'énergie) dans le corps, et chacun d'eux correspond à divers organes et parties de notre corps. Si vous ne faites pas face à vos émotions, votre corps vous le manifestera par le biais de la douleur. Pour avoir un aperçu des sept chakras, visitez le : Les Chakras - Liste des Chakras (passeportsante. net).
Les deux sont faciles et peuvent être exécutés presque n'importe où. Les exercices au rouleau de massage nous permettent, entre autres, d'augmenter notre flexibilité, d'améliorer notre santé musculaire, de réduire notre temps de récupération postexercice, d'augmenter notre circulation sanguine, de soulager nos courbatures musculaires, d'augmenter notre amplitude de mouvement, et de mieux nous détendre. Rendez-vous sur ma chaîne YouTube au immunitaire.l'augmentationfatiguenotreniveauniveauamplitudelaLecirculerdedeQiGong,massagedansdifférentesvisionnerwatch?v=zxrEIZ1ORzI&t=4syoutube.com/pourunevidéomontrantlestechniquesutiliséeslesexercicesaurouleaude(enanglais).Quantauils'agitd'enchainementsposturesdefaibleintensitéetrespirationsquiaidentàfairel'énergie(Qi)danslecorps.QiGongnouspermetderéduiredouleur,d'augmenternotredemouvementetnotred'énergie,deréduirenotredestress,d'augmenterconcentration,deréduirelachronique,etilcontribueàdenotresystème
2. Diminuez l'apport d'aliments inflammatoires
un diagnostic de fibromyalgie sont des femmes ; par ailleurs, l'obtention d'un diagnostic peut prendre jusqu'à deux
3. Gérez vos émotions !
By Daryl Devonish FOSTERING CONFIDENCE AND COMPETENCE IN KIDS THE INS AND OUTS OF TRAINING YOUTH KIDS FITNESS canfitpro September/October 202280
Many trainers tell me that they are open to working with youth, but those who have limited experience with younger athletes often find the concept intimidating.
The weight loss conundrum
Thisthem.is
I GET KIDS MOVING.
When I meet a young client for the first time, I like to sit down one-on-one and really get familiar with each kid as an individual. What do they like, what is on their mind, what do they like to do in their spare Buildingtime?arapport
While parents may have their own ideas of what they would like their child to accomplish in training, it is important to get to know your client and "sans" adults so you can figure out how best to support
Speaking of fundamentals… once you have gotten to know your client as a person, you will want to assess them as an athlete. A simple movement assessment is one of the most powerful tools you have for setting your young clients up for Everyonesuccess.
The importance of setting goals
The best way to raise your profile in the youth fitness community is to get involved in it. By being present and getting to know kids, parents, and coaches, you become a friendly, familiar face – making you a natural choice when parents are seeking a coach or trainer for their child.
While the process may seem daunting at first, do not be afraid to delve into the world of training youth. It may be an uphill battle, but you will quickly find that working in this niche is a blast – and you will get just as much out of it as your clients.
your best opportunity to establish a baseline, assess their mindset, manage expectations, and – most importantly – further connect with your client. Establishing the "why" is a key to figuring out the "how" – how will you go about meeting your client where they are, and setting them up for success?
And no -- they are not just smaller, moodier adults. While teens may have bodies that are like adults, the human brain does not reach maturity until the age of approximately 25; this means that a fun, flexible, and goal-oriented approach is important to keep in mind when working with younger athletes at any level.
The best way to break into training youth and getting more kids into your gym? Get out of the gym and into the community! For trainers and coaches who do not yet have experience working with young
Ask lots of questions and really listen to what they say. What does success look like to them? What are their personal goals? What is the client's source of motivation? How can you break down their wants and goals into consistent, increasingly challenging achievements?
it from the rooftops, because it is worth repeating: Whether we want kids to be successful in sports or simply develop healthy lifestyle habits, we need to teach them the fundamentals of movement.
Skills like running, jumping, catching, and throwing are the basis of all athletic activities, and without them it is nearly impossible to achieve the results you and your client are seeking, whatever they may be.
I find that I have the most success with taking a holistic approach to training, and one of the most important first steps to take with any new client is getting to know them – not just as athletes, but as people.
Breaking into the youth market
Keep the focus on adopting consistently healthy – and more importantly, sustainable – lifestyle habits.
can also be a great tool for raising your profile and reaching a wider array of clients. Make yourself stand out by identifying fitness-related problems in the community and using the power of the internet (and your skill set!) to offer solutions.
If you already have experience working with youth and are looking to expand your business to attract more young clients, you will want to focus on raising your visibility in the youth fitness community.
who knows me knows this spiel by heart – but I am going to keep shouting
The most important thing I want you to keep in mind, however, is not expanding your business or sticking to a particular program; it is to instill and foster confidence and competence in the kids you work with.
Bingeclients.dieting
and exercise may lead to quick results, but they do not lead to long-term results. Developing a fitness regime for youth based on weight loss is like building a house on a pile of sand – it will stand in the short term, but it is only a matter of time before it collapses.
people, volunteering can help you develop and improve your communication skills and gain confidence.
Get to know your client
Expanding your business – and your skill set
If you do that, the rest will follow.
Get familiar with your local community sports programs and organizations, identify a few that may be a good fit for you, and volunteer to help at games or practices. Engage coaches you know who already work with youth and ask if you can shadow them. Reach out to local elementary and high schools and ask if you can volunteer.
I've taught at universities and middle schools, played high-level competitive sports, coached any and every sport you can imagine, personally trained pro athletes and beginners, provided advice on everything from movement skills to dietetics, and written sports-related opeds for national newspapers.
The fundamentals of training young people
But of all the sports-related positions I have held, I can easily say that the most rewarding has been the work I have done training youth.
Reach out to coaches in your community who work with youth and see if you can help with training camps. You can also offer to help by giving talks about getting fit, conditioning, and nutrition to parents and Socialplayers.media
Daryl Devonish is the Director of FSQ Sport. He is passionate about delivering quality sports experiences to athletes, parents, coaches, and sport organizations. He has been featured in the TSN documentary 3 Guys and a Goal, followed by CBC's Run Run Revolution, a feature on W Network's The Right Fit, and multiple op-eds in the National Post. Learn more about Daryl and FSQ at fsqsport.com.
81canfitpro September/October 2022
Set smaller, achievable goals, and work your way up to loftier achievements. Tangible, consistent successes, however small, builds confidence and helps kids build upwards and move forward.
is fundamental in communicating with your client and helping them achieve goals they can be proud of.
Although some clients may benefit from losing weight, weight loss in and of itself is not a goal I like to focus on with young
THINKCHANGESMALLER LIFE COACHING canfitpro September/October 202282
SUSTAINABLE
THE
By Casey Zavaleta POWER OF DOING LESS FOR HABIT
83canfitpro September/October 2022
Casey Zavaleta is an instructor for DTS forcognitivedevelopingbeganEducation.FitnessShehercareerprogramsyouthand professional athletes. Now, as a trainer and instructor, she integrates her understanding of behavioral science with proven principles of training to help people make sustainable changes and ultimately feel better.
WE LIVE IN A WORLD WHERE THE PERVASIVE BELIEF IS THAT MORE IS ALWAYS BETTER.
NUTRITION canfitpro September/October 202284
They had a solid relationship, so when my trainer friend was cold, she helped herself to the jacket her client had shed. She put her hands in the pockets, trying to warm up and her hands fell on something. Out of curiosity, she pulled her hands out of the pockets to find a chocolate bar wrapper, in not ONE pocket, but BOTH! She jokingly scolded her client, came back after the session, told us the story and we all laughed!
All human beings are wired to eat and there are multiple pathways connecting our gut, brain, and eating behaviours that prompt excessive
story is indicative of just how powerful food cravings are and we all know how they can impede our client's progress. We know there are many clients who spend thousands of dollars on personal training and commit to making positive changes to their eating habits but get derailed by temptation after a long day, when they are busy or sometimes for no good reason that we, or they, can identify.
CRAVINGSFOODIWILLNEVERFORGETTHEDAYTHATONEOFMYPERSONALTRAININGCOLLEAGUESHEADEDOUTSIDEWITHHERCLIENTTOTRAININTHEFRESHSPRINGAIR.
This was MY personal experience as well. In my teens and twenties, I struggled with cycles of being "on track" with my healthy eating plan, trying to reach my own body composition goals and then "falling off the wagon". For years, I lived with shame, guilt, and a feeling that I was just "weak".
By Ellie Steele
A NEW MINDSET AND NEW TOOLS FOR HELPING YOUR CLIENTS NAVIGATE DIFFICULT TERRAIN
The thing is, despite it being funny, this
I could not understand it, I knew I was trying VERY hard, but I was failing and giving in to sugary, carbohydrate cravings daily despite my efforts.
Now, after 20 years of personal and professional experience, I have a solid understanding of the plethora of factors that contribute to overwhelming food cravings that affect everyone to some degree but affect some of us to a painful degree. Here is what I have learned so 1.far.
2. Get to bed early. Research shows that just ONE night of less than seven hours of sleep can lead to increased cravings for junk food. Aim for nine hours per night for at least a few nights as you try to reset your brain.
7. Do a workout. Nothing resets the brain like a good workout. If you have the luxury of being active outside, that is even better! Our natural environment has a calming effect on the brain.
broccoli and a large salad with walnuts and homemade dressing is a great "unhijacking" dinner. Do not try to restrict calories while you are resetting, just eat healthy food.
85canfitpro September/October 2022
canfitpro PTS, Social Service Worker, and a health coach that helps her clients remove the blocks to embracing healthy lifestyle habits. Learn more about Ellie and her work at EvolutionWellnessCoach.com
8. Help your microbiome. The gut microbiome is a collection of bacteria and other species that live in our digestive tract that heavily influence our brain, behaviour, and emotional health. You can support it by eating decent quality fermented foods like kimchi,
HOW TO RESET A HIJACKED BRAIN IN 10 EASY STEPS
As a personal trainer, it is important to grasp the depth of this struggle for some clients. It can be extremely frustrating to put in all the work to design a program for a client, set them up with a healthy eating plan and then listen week by week as they confess that they ate fast food three times that week, or polished off a bottle of wine on the weekend. Often it feels as though we, the trainer, are working harder than the client and it can lead to resentment and not wanting to work with these "unmotivated" people. If you have been at this a while, you may have come to some of the same conclusions as I have; some people have more difficulty with food, but it is not because they are "unmotivated". If someone is paying a personal trainer for services, it is safe to assume they are motivated. When a client is actively trying to change their health and maybe their body, but they are hitting some or all the roadblocks I mentioned above, we need to approach it with knowledge and compassion. If we can do that, we can open a whole new avenue to help those that need us the most.
sauerkraut, or unsweetened kefir. Start slow if you are new to these foods and ramp up to three to five servings per day over the course of a few weeks.
10. Practice self-compassion. If you have struggled with food for a long time, I am here to tell you, THIS IS NOT YOUR FAULT! Our brains did not evolve in the land of fast food, Turtle cheesecake, potato chips, and pop! You are learning to manage a NORMAL brain in an unnatural food environment. Give yourself a break and work with these tools to find a balance that works for you.
intake of calories, and carbohydrates in particular.
2. Our modern food environment is a mismatch to our biology. In a world of heavily engineered, hyper-palatable foods that are designed to be addictive, our systems often become hijacked, and it can be extremely hard to break the cycle.
I have developed a vast set of tools to educate and guide clients through these roadblocks. Some are nutritional, some are psychological, and some are lifestyle choices. It is important to understand that this complicated problem requires multiple strategies and lots of support. Here is my list of the ten most powerful steps I have discovered to help my clients get "unhijacked" and learn how to reduce the pull of addictive foods.
1. Control your food environment. Get rid of anything in your home that your brain will use to get a "hit". Give it away, throw it away, do whatever it takes so you do not have to try to resist hyper-palatable foods while you are trying to correct haywire brain chemicals. For most people it only takes a few days to break the cycle of food cravings when they avoid foods that provide a hit, but you will need all the other steps to help you achieve this main goal. This includes non-caloric sweeteners.
3. Eat protein at breakfast. Start the day off on the right foot for your brain and blood sugar with at least 30 grams of protein at breakfast. Pairing that with some healthy fats and a couple of servings of vegetables is immensely powerful. Try a 3-egg omelet with spinach and mushrooms. A large serving of fish is also a solid choice!
Ellie Steele is a Registered Practitioner,EFTAdvancedNutritionist,HolisticTapping
4. Eat enough calories to support your body and activity levels from a whole foods diet that includes sufficient protein, essential fatty acids, and lots of plant fiber. Salmon with steamed
4. Knowledge is power and there are things we can do to work with these factors, mitigating the effects and effectively managing food cravings, at least most of the time.
5. Find a way to deal with stress levels, including some supplement support if you need it. My favourite stress aid is Veeva Stress, and it really helps my clients balance brain chemistry gently and reduces cravings caused by big dopamine spikes but talk to a health professional to see if it is right for you.
6. Use EFT Tapping. Emotional Freedom Techniques is a tool I use extensively in my practice to help my clients deal with immediate cravings and to permanently resolve emotional and addictive eating patterns. Keep reading to see how you can learn the basic technique for free.
9. Look for genuine pleasure but expect life to be a little grey for a bit. If you have been living in a hijacked state, your brain is deriving a lot of pleasure from big hits of dopamine and the genuine, but smaller scale pleasures we get from life will seem less fun. This will pass, but until then, keep looking for things in your life that are a source of real joy that you can embrace. Things like a hot bath, a hike with someone you love, a new music playlist or your favourite movie are great.
TO LEARN EFT TAPPING FOR FOODSCANCRAVINGS,HERE!
3. The human brain has wiring for addiction and certain foods can trigger that wiring in a similar fashion to other addictive substances. The range of susceptibility to addiction seems to be based on an individual's unique genetics, psychological development, and conditioning as well as their social support system.
3 TOOLS TO SUPPORT YOUR EMOTIONAL ANDMINDFULNESSINTELLIGENCESELF-CARE
By Trish Tonaj
HEALTHY LIVING canfitpro September/October 202286
I am sure you will agree, post pandemic, we are operating at a different stage, using a revised playlist, and standing on a new foundation. We have learned to recognize the importance of tapping into our emotional reserves to support our health and wellness. As a coach or trainer, we understand the power of the mind/body connection and our clients are looking for us to provide examples that are both motivating and inspiring. Whether we train high performance athletes or weekend warriors, we are looking for new and innovative ways to achieve results.
Optimism
Personal Tool: Visualization (see yourself having already achieved the goal for Introducinginspiration).skillswith practical tools
IF WE ARE LIVING IN THE PRESENT SURROUNDINGS.SENSES,ARE,APPRECIATETHATAMINDFULNESSMOMENT,BECOMESSTATEOFMINDALLOWSUSTOWHOWEENGAGEWITHOURANDENJOYOUR
A splendid example: when we look in the mirror and have an understanding that what we see is not necessarily how we feel. We are trained to pinpoint areas for improvement in others yet may not tap into our resources for self-reflection.
Here are three skills and tools that contribute to our overall performance and identify not only opportunities in others but contribute to our awareness for self-care: Empathy and Meditation, Problem Solving and Journalling, Optimism and Visualization.
Mindfulness is often used in alignment with self-care as we build relationships with people who "walk the walk and talk the talk". Setting an example is our best resource. Creating a connection between our peers, clients, and colleagues is our best asset.
Empathy
Providing solutions is what we do best. Creating options encourages engagement and supports the roadmap for success. The freedom to choose encourages confidence and certainty for results. Solving problems fosters effective brainstorming sessions and supports decision making. Being able to look at a
There is a fine line between realism and optimism. Optimism with a twist inspires others to achieve their goals and may even contribute to greater outcomes. An optimistic outlook supports mental, physical, and emotional health. Realistic goals and objectives reinforce the SMART Principle and add a touch of reality into the process. A healthy perspective with a dash of optimism spurs action. When we are optimistic, we foster creativity and innovation to encourage great ideas.
mindful with no judgment is an introduction to support selfcare and starts a new conversation when navigating the benefits to our emotional intelligence.
problem from more than one angle and find creative solutions builds client advocacy and promotes ownership for self-care.
87canfitpro September/October 2022
Problem Solving
Personal Tool: Journalling (transcribe daily wins for inspiration and future reference).
If we take a minute or two to become aware of what we are feeling in a particular place and time, we foster acceptance with no judgement.
Being able to connect and put ourselves in someone else's shoes allows us to appreciate how others feel when learning something new. As coaches or trainers, we recognize the importance of building trust with clients who are moving outside their comfort zone. As we know, change is not always easy. Encouraging kindness with ourselves and others promotes self-care and builds opportunities to ask for help.
Personal Tool: Meditation (creates awareness with feelings and emotions).
At the very least, the connection between mindfulness and selfcare connects the dots between awareness and action while reinforcing the balance between our physical, mental, and emotional
Becomingwellbeing.
WE ARE TRAINED TO IMPROVEMENTAREASPINPOINTFOR IN OTHERS YET MAY NOT TAP INTO OUR RESOURCES SELF-REFLECTION.FOR
Trish Tonaj is a certified Personal Trainer, EQ and Master Coach, Author, and Speaker on mentorship. She is the founder and host of shareyourstories.online, a marketing portal in support of entrepreneurship and sharing great ideas. We invite You to share your story!
The definition for mindfulness and the benefit to daily life includes taking a break to check-in with our emotions. I recently read an article that suggested it is all about the seconds…being able to take a mental break and focus on the here and now. As an assessment tool, emotional intelligence or EQ creates a platform of awareness to compare 15 soft skills that contribute not only to our well-being but personal and professional success. It supports change and transformation and heightens our awareness for self-care. An excellent tool for tuning in to our emotions and learning how to manage our responses in any given
EQ is becoming more important than our IQ.
What does that say about self-care?
Theysituation.say
reinforces our commitment to helping others achieve results.
BUY 3 ADS GET 3 FREEADS Get an ad in all 6 issues of canfitpro Magazine in 2023. Book before November 14, 2022 to receive this exclusive offer! Contact us at b2b@canfitpro.com or canfitpro.com/magazine-annual-ad-promotionvisit BOOK NOW LIMITED TIME MAGAZINE OFFER
VISIT COREHEALTHANDFITNESS.COM/SCHWINN ©2021 Core Health & Fitness LLC. All rights reserved. Schwinn is registered trademarks of Nautilus Inc. used under license to Core Health & Fitness LLC. WE DARE YOU TO KEEP UP REQUEST A QUOTE TODAY! Contact sales@corehandf.com
Inspired by the instructors who make group cycling worth the sweat, the next generation of Schwinn has been built so we can Ride As One. Driven to create the most versatile bikes in the industry, we've looked at our history of authenticity to design a series of group cycling bikes whose key touchpoints, personalisation and connectivity are revolutionary.
Each of these bikes were created to suit the personality of your studio. No matter which bike fits your members best, we've simplified our customer experience so you can focus on what you do best—Ride.