7iu MADDEN METHOD �� NO SHORTCUTS • --. T.�� 3msCIPLINES, 3EXPERTS . /OlNT/fY YOUR Eq�estrian •. 1VAlUl9 ,,\_en
HORSEPREMIUMLIFELINEFEEDQualityproducts,madewithintegrity,usingthehighestcaliberofingredients3548248thStreet,LangleyBC|(604)607-6901|otterco-op.crs
+ 12 Runner-up Prize Winners! TWO CATEGORYPER WINNERSTORKSTABLE2021 byEVELYNSABRAW BY NATHAN DUGAS BY MARION BAYLIFFBY KATELYN RUDNESKI BY SHELENE WILLIAMSBY PAIGE ORSER Beautiful babies of 2022 n LOVE OF DepictingHORSESthehuman-horse bond n HORSES ON THE JOB Performance, working, heritage n HORSES BEING HORSES Humour, personality, action n WINTER SCENES Sleigh rides, winter wonderland, dashing through the snow! n AT (playing,HorsesLIBERTYinactiongalloping, with no tack) Winning photos will be featured in our Winter 2022 issue, and on HORSEJournals.com. 6 Grand Prize Winners Receive a GIFT$300CARD for ThinLineCanada.ca ContestPHOTOCelebrationofHorsesANDPRESENTTHE 31ST bcd ANNUAL DIVISIONHORSEQUARTERREGISTERED Enter your photo of a Registered Quarter Horse in any category, and you could win a 30" CANVAS PRINT OF YOUR PHOTO ($150 VALUE) + CQHA/AQHA SWAG! SPONSORED BY THE Celebrating Canada's Beautiful Foals & Favourite Horses 6 CATEGORIES $2500 in PRIZES LAST DATE TO ENTER: OCTOBER 3, 2022 VISIT www. HORSEJ ournals.com/contests
www.summersidetack.ca 250-890-9158 • 1081 Knight Road, Comox, BC • summersidetack@shaw.ca HORSEWARE IRELAND • BACK ON TRACK WEAVER LEATHER • SHIRES EQUESTRIAN PROFESSIONAL'S CHOICE • AND MORE! FREE SHIPPING CANADA WIDE ON ORDERS OVER $75 Your one stop shop for everything equestrian 3AUTUMN 2022 :: CANADIAN HORSE JOURNAL
SPECIAL FEATURES 24 Prepare Your Fences For Winter Tips to help you get your fences in prime condition before the cold and snowy winter weather just around the corner. 26 What'sCounter-Canter:thePoint? The why and how of this essential tool for building a solid training foundation with your horse. 30 The Madden Method Symposium: There Are No Shortcuts John and Beezie Madden share their knowledge and philosophy during a one-day symposium in Alberta. 36 Turning Around: Pirouettes, Cow Turns, and Reining Spins Our experts explain the purpose of these movements, when riders use them, and how they differ. 42 Exploring Contact Where did the theory of contact come from, what is it, and do riders really need it? 46 Changing Disciplines Three riders are embracing new-to-them horse sports and reinvigorating their passion for horses. 52 Basics of Clicker Training A fun way to improve your horsemanship and shift your thinking about training horses. 56 The Case for Lightness How to test and maintain the lightness of your communication with your horse, and three exercises to help. 60 Define Your High Performance Values Identify your values as an equestrian and align them with your goals to improve your enjoyment and success in the saddle. b |||||||||||||||||||||||||||||||||||||||||||||||||||||||||||||||||||||||||||||| ON THE COVER: Cutting competitor and rancher, Keith Stewart, of Longview, Alberta, explains cow horse turnarounds in this issue. PHOTO: ALEX CALLAGHAN PHOTOGRAPHY IN THIS ISSUE AUTUMN 2022 2430 36 26 PHOTOS 24 |ISTOCK/BALLYCROY 26 |GRICELINDSAYOFCOURTESY 30 |PHOTOGRAPHYKIMBERLIE 36 PHOTOGRAPHYCLIX 4 www. HORSEJ ournals.com :: AUTUMN 2022
42 4656 PHOTOS 16 |ISTOCK/MELISSAANNGALLERIES 42 |GSODLADOBESTOCK/ANNABELL 46 |PHOTOGRAPHYGORD/BAYLOROFGORDBILL 56 SHUTTERSTOCK/HORSEMEN DEPARTMENTS 2 Celebration of Horses Photo Contest 8 Editorial 10 Letters 41 To Subscribe 72 Horse Council BC News 75 Canadian Therapeutic Riding Association News 76 Canadian Quarter Horse Association News 77 Manitoba Horse Council News 78 Meet Our Contributors 79 Index to Advertisers 80 Book Review: The Working Equitation Training Manual SPECIAL FEATURES 64 Eagle Feather Riding Bareback riding lessons improve listening and communication skills and encourage riders to a deeper connection with horses. 66 Preventing Tragedy Fire prevention is essential to farm life and goes hand-in-hand with good farm management. 68 Neighbours and Heroes A story of the gift of good neighbours and their majestic fourlegged hero. 74 Petey's Long Lost Friend Sometimes our horses have special buddies they remember from years past. HEALTH 12 What is Salmonellosis? Learn how to recognize, treat, and prevent this diarrheacausing bacterial infection. 14 Master Mud Fever What to do when wet and muddy conditions compromise the integrity of the skin of the horse's lower legs. 16 Triumph Over Thrush This smelly, painful infection of the frog of the hoof can cause lameness if left untreated. 18 Hay! What Do You Know? Test your knowledge of this essential component of the equine diet. 20 When Hay is Scarce When hay is in short supply, horse owners become resourceful. Here are some tips to help. 22 Nutrition Myth Busters Let's bust these common myths to help you better care for your horse. b IN THIS ISSUE AUTUMN 2022 16 6 www. HORSEJ ournals.com :: AUTUMN 2022
Our 31st Annual Celebration of Horses Photo Contest offers great prizes from our fabulous sponsors, ThinLine Canada and the Canadian Quarter Horse Association, and the deadline to enter will soon be here.
In The Case for Lightness, Jec Ballou describes the importance of a communication of lightness in per forming movements and exercises. She also offers three everyday exercis es you can employ to test and main tain lightness with your horse.
Learn about these different ways to turn around, how they compare, and when riders use them. What is Contact? And Do Riders Really Need It? To answer these ques tions, we again asked the experts to find out why and how riders develop contact and connection with their horses in different ways and for dif ferent purposes.
If you've ever wondered what, exactly, is the point of counter-canter, this article is for you. In CounterCanter: What's the point? Lindsay Grice is happy to explain not one but five points of counter-canter, the ben efits of this valuable training tool, and how to do it correctly.
"Riding is like digging a swimming pool with a spoon. It's really hard work and takes a long time." — JOHN MADDEN From a glance at the list of articles on pages 4 and 6 of this Autumn issue, it's easy to tell that horseman ship, training, and disciplines are the main editorial themes. Let's jump rightOnein!of my all-time favourite riders, Beezie Madden, presented a sympo sium with her husband, John, at Eventyre Farms near Calgary, Alberta in early July. Ten lucky riders and 180 auditors absorbed the knowledge shared by the Olympic gold-medalist in show jumping and her renowned horse trainer husband. Read about The Madden Method Symposium in this issue and find out how you can watch a video of the event.
Fascinating perspectives on "turn ing around" by experts in three disci plines are presented in Turning Around: Pirouettes, Cow Turns and Reining Spins. More than just "fancy footwork," these specialized move ments have their foundations in spe cific historical or working purposes.
.
Now let's take a few moments to think about ourselves, our values as a horse person, and why they matter. As Annika McGivern explains in High Performance Values for Equestrians, when we explore what's truly import ant to us and understand the personal values we want to live by, we can use this awareness to improve our well-being and performance. We can then rediscover the joy in what we do both in and out of the saddle.
8 www. HORSEJ ournals.com :: AUTUMN 2022
EDITOR'S DESK Your Horse b Your Passion b Your Magazine Published by Horse Community Journals Inc. Volume 23 • Issue 1 Autumn 2022 Issue (September/October) of Canadian Horse Journal EDITOR / PUBLISHER Kathy Smith ACCOUNTS Geri Pronovost ADVERTISING Terry Andrucko • Janna Reimer SOCIAL MEDIA April D. Ray SUBSCRIPTIONS Steve Smith MARKETING & DISTRIBUTION Janna Reimer ART DIRECTION, PRODUCTION Elisa Crees CONTRIBUTORS Tania Millen • Lindsay Grice • Annika McGivern Jec A. Ballou • Shawn Hamilton • Alexa Linton Betty Baxter • Jacqueline Louie • Ella Coles CQHA • CanTRA • Horse Council BC • Manitoba Horse Council ADVERTISING, SUBSCRIPTIONS & GENERAL INQUIRIES 1-800-299-3799 • 250-655-8883 or email: sales@horsejournals.com ADVERTISING DEADLINE 4 weeks prior to issue date e.g., Oct.1 for Winter (Nov/Dec) issue. ONLINE EDITION WEBSITE www.horsejournals.com MAIN OFFICE EMAIL editor@horsejournals.com PRODUCTION DEPARTMENT EMAIL design@horsejournals.com Publishing 6 issues per year SUBSCRIPTIONS – REGULAR RATES 1 yr/6 issues: $24 + tax 2 yr/12 issues: $37 + tax US $59/2 yrs, 12 issues ORDERS FOR SUBSCRIPTIONS, CHANGE OF ADDRESS NOTICES, & UNDELIVERABLE COPIES ARE TO BE SENT TO: THE CANADIAN HORSE JOURNAL Suite 202, 2400 Bevan Ave., Sidney, BC V8L 1W1 (250) 655-8883 • fax: (250) 655-8913 • 1-800-299-3799 PUBLICATIONS MAIL REG. NO. 40009439 GST REG. NO. 829298140 ISSN. NO. 1496-1733 We acknowledge the financial support of the Government of Canada. REPRODUCTION IN WHOLE OR IN PART OF ANY MATERIAL CONTAINED IN THIS PUBLICATION WITHOUT THE WRITTEN PERMISSION OF THE PUBLISHER IS STRICTLY PROHIBITED. The information and services listed herein are intended to facilitate accessibility to the professionals, products and services that play a part in the horse industry. While readers are encouraged to use the products and services of the merchants listed in this publication, Horse Community Journals Inc. does not recommend or guarantee the products and services of advertisers or associates listed. Manuscripts and photographs will be returned only if SASE is provided. The return of unsolicited material is not guaranteed. Contributors and advertisers warrant all materials supplied are free of copyright and they have the legal right to use the same. All material accepted for publication is subject to such revisions as are deemed appropriate by Canadian Horse Journal (CHJ). The opinions expressed in CHJ are not necessarily those of the publisher. CHJ reserves the right to refuse any advertising or submission. Contributors consent to have their submissions published in CHJ and on www.HorseJournals.com and elsewhere as determined by the publisher. Printed in Canada. Please recycle.
If your long-standing discipline has lost that lovin' feeling, maybe it's time for a change. We talked to three riders who did just that — Tina switched from eventing to endurance; Kelly from eventing to reining; and Colten from jumping to saddle bronc riding! Read their stories in Changing Disciplines: Pivoting for Lifelong Learning Opportunities
Clicker training is a positive rein forcement training method that's popular with dogs and other animals and now becoming mainstream with horses. In A Guide to Clicker Training, Alexa Linton describes how it can improve your horsemanship and change your thinking about training horses. She shares her experiences, explains the basics, and provides resources for more information.
Entries will be accepted until October 3, 2022. Winners and runners-up will be featured in our Winter 2022 issue and on our website. If you haven't already entered, visit > www.horsejournals.com/contests today. Kathy Smith
Since the beginning of selective breeding by horse owners and aficionados, the focus has been the stallion and its bloodline. Although an important character in decision-making related to the production of high-level young, the significance of the mare has often been overlooked considered to be of lesser importance. As we know, horse husbandry is an art based on knowledge of the standard of the breed for both genders and the ability of assessing all aspects of reproduction and what makes a good pairing that will result in offspring that meet surpass the requirements of the breed standard and the overall breeding goals. The selection of a stallion is relatively straightforward, but the necessary attributes of the dam are far more complex to identify, find, and procure. Once the best dam and sire are determined and successful mating has occurred, it is the quality of the dam and her performance through gestation, birth of the foal, nursing, and care to weening that makes the breeding outcome success or failure. The choice of mare is the key to successful breeding! With a marked decline in the size of the breeding population of the Canadian Horse currently estimated at only about 4,000 breeders worldwide it must be considered an endangered breed. This underlines the importance of mares (present and future dams) and the need for Canadian Horse breeders to recognize the importance and influence that the dam will have on the future of the breed. Without question, a breeding plan and strategy must be created to offset the current decline in numbers of this heritage breed. The solution lies with the Canadian Horse Breeders Association and owners of mares/dams with the genetic composition for the production of high quality foal. And so, let's sing our praise to the dams of the Canadian Horse population and toast their future reproductive success! By David Nettleship
Thisarticlewadesintothemorassand clarifieswhichequineservicesareconsideredveterinarymedicineacrossCanada,whichnon-veterinariansareregulatedandinsured,andhowhorseownerscandecidewhotohire.
First-year veterinary students exploring the digestive system of the equine simulator at the WCVM, made possible by a $50,000 donation from the EFC. The HCBC horse rescue mannequin named "Calamity," purchasedthanks to a generous donation by EFC, is life-size and used to train BC's emergency responders. IT! I scanned the three pages and sent them to all the board members. Thank you so much, it was beyond my expectations.Theentire magazine was well done. haven't had yet, but they look very interesting.
InterpretingRegulations Provincialveterinarianactsdefinewhat isconsidered"veterinarymedicine"ineachprovince,therebylimitingtheservicesthatnon-veterinarianscanprovidetohorses.Everyactisdifferent,andtheinterpreta-tionandenforcementofeachactdependontheprovincialveterinaryorganizations(called"colleges").Here'sanoverview:InEasternCanada,Quebec's Veterinary SurgeonsActappearstobethemostexplicit, andit'senforcedbytheOrdredesMédecinsVétérinairesduQuébec(OrderofVeterinariansofQuebec).TheOrdrewebsitestatesthattheillegalpracticeofveterinarymedicineincludes"treatingveterinarymedicalconditionsusingmechanical,physical,chemical,biological,orradio-therapeuticprocedures,"andencouragesthepublicto"protectthemselvesfromcharlatans."TheQuebecOrdreprovidesaFrench-languageStandardofPracticedocumentforcomplementarytherapiesincludingacupuncture,chiropractic,physiotherapy,andosteopathy.ThedocumentsaysthatonlyveterinariansregisteredwiththeOrdrecanprovidecomplementarytherapiesordelegatetreatmenttoappropriatelytrainedindividuals.Dr.Serapiglia,theDirectoroftheContinuingVocationalTrainingDepartmentattheOrdre,advisedthat"thepracticeofcomplementaryandalternativetherapiessuchasacupuncture,osteopathy,chiropractic,andphysiotherapy,constitutesthepracticeofveterinarymedicine."addedthatveterinarianswhousethesetherapiesare"expectedtohaveadequatetraining,considerthelevelofscientificevidenceavailableforthetherapy,safetyofthetherapy,obtaininformedconsentfromtheowners,andundergocontinuouseducation."TheCollegeofVeterinarians(CVO)hastakenadifferentapproachQuebecOrdre.Ontario's Veterinarians statesthatveterinarymedicinedentistry,obstetrics,andsurgery,oneotherthanaveterinarianveterinarymedicineunlessdelegationandsupervisionveterinarian.ButinJuly2021,apositionstatementon ConventionalTherapiesinVeterinaryMedicine,which "nolongerrealistic"forandalternativetherapiesprovidedbyveterinarians.states,"Thecurrentrealitynon-veterinariansareconventionaltherapiescare,withorwithoutmostcases,theCollegethisthepracticeofMeanwhile,New VeterinariansActVeterinaryMedical similardefinitionsveterinarymedicineareall-encompassing.NewBrunswickAssociation'sJewettsaystheanyconditionveterinaryact.
MACKENZIEPAMPHOTO:
Bob Watson, EFC President The Wild UnregulatedNavigatingWest:Canada'sHorseIndustry (Canada's Equine Guide 2022)
THE HOOFBEAT Equine Foundation of CanadaSince 1984, the EquineFoundation of Canada (EFC)has been funding projects,equipment, and students toimprove the welfare of horsesin Canada. Fundraising hasalways been a challenge forthe EFC, but 2021 was particularly complicated by the pandemic, lockdowns, and thelimitation of person-to-personcontacts. This has been especially true in Alberta due tothe economic slowdown. Several years ago, Eldon Bienertwas instrumental in securingseveral significantly largedonations that have sustainedthe foundation through thesetough times. In the early years, the foundation granted fundsdirectly to equine studies students in small cash amountsof $1,000. More recently, dueto the above-mentioned fundraising by Eldon Bienert, thefoundation has grantedendowments to be used forscholarship programs at theWestern College of VeterinaryMedicine (WCVM) in Saskatoon, SK, University of CalgaryVeterinary Medicine (UCVM) inCalgary, AB, and Atlantic Veterinary College (AVC) in Charlottetown, PEI, for veterinarystudents with a primary interest in equine medicine. Thefoundation has discussed theexpansion of the program tothe other two veterinary col leges in Canada — OntarioVeterinary College (OVC) inGuelph, and St Hyacinth Veterinary School in Montreal —if and as funds become available. The most recent endowment was established at AVCin 2021 with the first scholarship to be awarded in the fallof 2022. The foundation'sboard felt it appropriate tohonour the EFC's visionaryfirst president George Wade, abusinessman in Nova Scotia,by naming the scholarship theEquine Foundation of CanadaGeorge F. Wade MemorialScholarship In addition to the scholarships over the past five years,the foundation has suppliedfunds for the purchase ofspecialized equipment to thefive Canadian Veterinary Colleges, including: 2017 — WCVM: purchase of anequine teaching simulator2018 — OVC: purchase of anequine teaching simulator • 2020 — St Hyacinth: purchaseof an equine teachingsimulator 2020 — UCVM: purchase ofan equine teaching simulatorand related diagnosticequipment Since 2010, other than theveterinary colleges, the foundation has awarded funds toorganizations in the provincesof Alberta, British Columbia,Manitoba, and Ontario. Thesehave been significantly smaller grants for the purchase of ahorse mannequin for firedepartment rescue practice,disaster rescue trailers, safetyequipment, and a horse skeleton mannequin for massagetherapy training. Since itsinception the EFC has donatedin excess of $470,000 in support of veterinary studentscholarships and $806,000 insupport of research andequipment purchases.The continued attraction ofdonations to support this charitable foundation to continue itsmandate of "People HelpingPeople Helping Horses" is challenging and in real need of support. For more information orto serve as a volunteer contactBob Watson, President by calling 403-378-4323, or by donationtomakecbwatson@cciwireless.caemailToataxexemptdonationsupportourprogram,orato
We have read your article The Wild West: Navigating Canada's Unregulated Horse Industry [published in Canada's Equine Guide 2022}. We are quite disappointed from the lack of information about the barefoot trimming practices, as well as the lack of representation of the trade in the article that otherwise covered very well all sides of horse care in Canada. Barefoot trimming is a growing trade as it gives different options for horse owners in hoof care for their horses. Often in hoof rehabilitation cases, practitioners will work closely with a veterinarian to ensure the best scenario for the animal will happen for its care. Barefoot trimmers are educated practitioners in hoof care from maintenance to rehabilitation trims of the hoof, as well as nutrition, Celebrating Canada's National Horse (CHJ Summer 2022 issue)
I
Book of Memoryof a human or animal friend,mail your cheque to: SusanNelson, Treasurer, EquineFoundation of Canada, 326Dyke Rd., R.R. 2, Falmouth,Nova Scotia, B0P 1L0. www.EquineFoundationOfCanada.com
Kudos for the Summer 2022 issue of Canadian Horse Journal. It arrived June 30, just in time to enjoy over the Canada Day weekend. The content was exceptional as usual, in particular pages 2 and 3 with my article Mares — The Canadian Horse — In Praise of the Dam: Ensuring the survival of the Breed with the photo of my beloved dam Cameo (seven years old, July 4). The timing of its appearance was perfect along with your Editor's Desk column entitled O Canada! Celebrating Canada's National Horse on page 10. It is an incredible breed with an extremely rich history as your column vividly states, along with the applause to my dear friend Dan Wilson for all his decades of work on the breed. However, I must bring to your atten tion one error in your report: Dan did not write the message on page 3, I did! Dan simply said he was going to place anoth er ad in CHJ and asked me to write some thing suitable to accompany the photo of Cameo and her first off spring (a portrait we've published before in CHJ and twice in Le Cheval Canadien Magazine) which I was pleased to do. Anyway, pages 2 and 3 combined with your grand overview (page 10) and all the other contri butions make the CHJ Summer 2022 issue spe cial — a job well done by all!Best wishes and summer greetings from Atlantic Canada. David Nettleship Writer Tania Millen's reply: Thank you for your email regarding the Canadian Horse Journal article The Wild West: Navigating Canada's Unregulated Horse Industry. I agree that trimmers provide hoof care to many horses across Canada. As such, I interviewed Kristi Luehr, a barefoot trimmer and the founder of the Okanagan School of Natural Hoof Care in BC. Her perspective helped explain how equine service providers interpret provincial veterinarian acts which, in some cases, limit the services non-veterinarians can provide.
PHOTO:CHRISTINAWEESE CenturyDowns.com • CenturyMile.com The 2022 season has hit the track! We have the TrifectaThoroughbreds » Standardbreds » Quarter HorsesRacing schedules available on our websitesWatchTHEandwagerin person or at your local Off-Track Betting location PHOTOS:HCBC80 www.HORSEJournals.com 2022 Equine Foundation Of Canada (CHJ Summer 2022 issue) You did an awesome job for the Equine Foundation of Canada (EFC) and really tied things together nicely (page 74, 79, 80), very well done and laid out so that the three pages were close together. LOVED
time to read all the articles
Choosing the Right Therapeutic Modality: An Explainer (CHJ Summer 2022 issue) Please note that the surname of Miranda Shumborski was misspelled (as Schumborski) in this article in the Summer 2022 issue of CHJ. We apologize for this error and any inconvenience it may have caused. Letters to the Editor are always welcome. Please include your full name and daytime contact information, and submit editor@horsejournals.comto: CORRECTION 10 www. HORSEJ ournals.com :: AUTUMN 2022
Aacts.crossCanada,non-veterinariansofferapotpourriofservices,includingmassage,chiropractic,farrierwork,homeopathy,andmore.Butthesenon-veterinarianprovidersmaybepracticingveterinarymedicineillegallyunderprovincialveterinarianAlso,fewregulatoryorganizationsoverseenon-veterinarianpractitionertraining,certifyexpertise,orofferrecourseifhorsessuffer,andprovincialveterinaryorganizationsonlypursuenon-veterinarianserviceproviderswhenhorseownerscomplain.Almostcancallthemselvesafarrier,equinemassagetherapist,bodyworker,orotherequineprovider.So,howdohorseownersknowwhotohirewithouttrundlingdowntheandpotentiallyhazardousroadoftrialanderror?
CONNECT TO THE HORSE
LETTERS
The association has also given credibility to two schools that have passed the criteria to be approved schools for barefoot trimming teachings in Canada.
Tania Millen
11AUTUMN 2022 :: CANADIAN HORSE JOURNAL
INDUSTRY www.HORSEJournals.com
We formed the Canadian equine hoof care association for that exact reason mentioned in the article: lack of regulation and standardization.Twoyearsago, barefoot trimmers from across Canada came together to write standards and guidelines for the trade, since we all felt it is lacking clarity to practitioners as well as horse owners. Although we are young in our activity, [we are] already capturing some interest with trimmers across Canada to join the association and provide a unified standard of practice across the country.
Rachel CanadianGedaliya,Equine Hoof Care Association president I also appreciate your information about the recently formed Canadian Equine Hoof Care Association.
biomechanics, boot applications, and more parameters that affect hoof health as a holistic approach to the whole horse.
VeterinariansinformedscientificconstitutesHetheseadequateassesstheundergoofOntarioapproachtothe VeterinariansAct supervisionveterinarianmedicineincludessurgery,andnomaypracticeundertheofa2021,CVOreleasedthe theUseofNon-Practiceof whichstatesthatit veterinarians.therapiescomplementaryistoonlybeCVOfurtherrealityisthatmanyprovidingnon-therapiesastreatmentand/orwithoutveterinarianinput.InCollegedoesnotconsiderveterinarymedicine."NewBrunswick'sandNovaScotia's MedicalActappeartohave all-encompassing.definitionsforthepracticeofmedicineandbothdefinitionsBrunswickVeterinaryMedical(NBVMA)RegistrarDr.Nicolediagnosisandtreatmentofwouldbeconsideredaact.Shesaysthat"folksdoing massage,serviceveterinariantraining,organizationsAlmostanyoneequineservicetheexpensive
Professional certification can standardize practices plus enact requirements to maintain specific standards in order to maintain accreditation. Meanwhile, a regulatory oversight body can revoke licences and prohibit members from practicing if they do wrong, which protects the public and their horses. It's always great to get feedback on articles so thanks again for sharing information about hoof care certification.
DREAMSTIME/RANCHOPHOTO:
Mice, barnyard chickens, pigeons, and wildlife can be sources of Salmonella.
DREAMSTIME/JUSTK8PHOTO:
WHAT IS 12 www. HORSEJ ournals.com :: AUTUMN 2022
Salmonellosis?
In horses, the bacteria are transmitted through contaminated feed or water, or by direct contact with infected individuals or surfaces that have been contaminated with manure from an infected individual.
Some adult horses are subclinical shedders that do not show clinical signs but have the potential to transmit the bacteria to susceptible horses by direct contact or contamination of feed, water, or the environment. If stressed, carriers may develop clinical signs. Clinical signs in foals are more serious and include hemorrhagic diarrhea, pneumonia, meningitis, physitis, and septic arthritis.
Some horses are carriers that do not show any signs of disease but can actively transmit the organism. Stress appears to play an important role in the progression of the disease.
The clinical signs of salmonellosis in adult horses can include diarrhea, lethargy, fever, anorexia, and colic. Affected horses may be more susceptible to infection. Once recovered, these horses may continue to shed the bacteria in their feces, potentially transmitting it to other horses.
UC Davis Center for Equine Health
Salmonellosis is a disease associated with the bacteria Salmonella enterica that causes diarrhea in horses and humans. It is usually seen sporadically but may become an epidemic depending on the virulence of the organism, level of exposure, and host factors.
Surgery, transportation, or changes in feed, concurrent disease (particularly gastrointestinal disorders such as colic), or treatment with broad-spectrum antimicrobial drugs often precede diarrhea. Asymptomatic carriers can become sick when under stress. Severe cases can be fatal if not treated.
Clinical Signs
Sources of Salmonella include contaminated feed or water, and direct contact with infected individuals or surfaces. For this reason, never allow your horse to eat off the ground at shows and events.
Treatment Treatment for salmonellosis is primarily supportive, consisting of fluid and electrolyte administration, as well as the use of intestinal protectants. Systemic antimicrobials are used only when the risk of septicemia is high, such as when treating young, elderly, and immunocompromised patients, or when treating particularly invasive strains such as Salmonella typhimurium. The use of antibiotics has little benefit in treating primary gastrointestinal infections, does not eliminate subclinical states, and may contribute to the development of antibioticAffectedresistance.horsesshould be isolated with biosecurity protocols in place.
To prevent the introduction of Salmonella, it is important to have a biosecurity plan. Do not allow horses to eat off the ground at shows and events, and be sure to disinfect shoes and equipment.
b Printed with the kind permission of the UC Davis Center for Equine Health. The UC Davis Center for Equine Health is dedicated to advancing the health, welfare, performance and veterinary care of horses through research, education and public service.
> https://ceh.vetmed.ucdavis.edu/
Diagnosis Horses are diagnosed with Salmonella based on clinical signs, evidence of low numbers of white blood cells (neutropenia), and identification of the bacteria by fecal culture. PCR testing may help to more rapidly identify Salmonella.
1-866-920-4286 | wecoverequine.com
Riding a horse is a hobby for some; others consider it competitive sport; but more importantly, it's a way of life. It's a passion that surrounds you, striving for excellence with perfect form and style. WeCover riding arenas combine the strength of steel trusses with the natural light of a fabric roof and are built to enhance your indoor riding experience while custom designed to fit your estate's outdoor elegance.
Multiple fecal cultures may be necessary to identify low-level shedders because the microorganism is shed in the feces intermittently and in small numbers.
Prognosis The prognosis for horses with salmonellosis varies. Some never show clinical signs, whereas others become sick and require veterinary care and treatment. In some cases, horses die as a result of Salmonella infection.
Disinfectants, including accelerated hydrogen peroxide (AHP) products (such as Accel®) or two percent Peroxymonosulfate (Virkon™ S) are active against Salmonella Horses new to the premises should be isolated for at least three weeks to ensure they are healthy before allowing them to interact with the resident population.
13AUTUMN 2022 :: CANADIAN HORSE JOURNAL
Prevention Healthy horses are at lower risk of becoming sick with Salmonella than horses that are sick or stressed, so it is necessary to practice good horse care and management.
Skin lesions, exuding fluids which dry to form scabs, are the most characteristicKathy Smith
HOW PREVENTTO & TREAT Mud Fever By
Normally, the skin acts as a protective barrier against such harmful microorganisms, but increased exposure to moisture can compromise the skin's integrity until a point of entry becomes available by means of an abrasion or other skin damage. Horses with white legs or pink skin may be more prone to developing mud fever, as are those with particularly hairy feathers that trap moisture and dirt against the skin.
Mud Control
Symptoms
Mud fever, also known as scratches, pastern dermatitis, and greasy heel, is a common equine skin disease affecting the lower limbs, particularly the back of the pasterns and the bulbs of the heels.
HAHN PLASTICS YEARWARRANTY
The ailment is most prevalent during autumn, winter, and early spring when horses are more likely to spend prolonged periods of time standing in wet, muddy conditions where the bacteria and fungi that cause mud fever thrive.
RECYCLED100%PLASTIC
UnitedSwinton,Pilkingtons » Eco-friendly » Maintenance-free » Weather-resistant » Light-weight » Wood-like finish » Drill, saw, screw & nail KEY FACTS DURABLE, STRONG LASTSFENCINGALIFETIMEFormoreinformationaboutourfencingrangescantheQRcodeorhahnplastics.comPilkingtonsSwinton,United» Eco-friendly » Maintenance-free » Weather-resistant » Light-weight » Wood-like finish » Drill, saw, screw & nail KEY FACTS DURABLE, STRONG AND FENCING THAT LASTS A LIFETIME For more information about our fencing range scan the QR code or visit hahnplastics.com UnitedSwinton,Pilkingtons » Eco-friendly » Maintenance-free » Weather-resistant » Light-weight » Wood-like finish » Drill, saw, screw & nail KEY FACTS DURABLE, STRONG AND FENCING THAT LASTS A LIFETIME For more information about our fencing range scan the QR code or visit hahnplastics.com » Hoof-friendly & can take vehicles » Quick & easy to install – no ground prep! » Won't sink, even in deep mud (519) info@hahnplastics.ca218-8800 www.mudcontrolgrid.ca
Grids
ISTOCK/STEVERTSPHOTO: HEALTH 14 www. HORSEJ ournals.com :: AUTUMN 2022
The instant mud solution
Treatment Successful treatment of mud fever begins with moving the horse to a clean, dry environment. Then the following steps should be taken:
4 Apply liberal amounts of an antibacterial ointment or cream at least once daily. The leg should be bandaged to keep it clean. The procedure should be repeated daily until the area has healed but refrain from washing the area too often as the additional moisture will only perpetuate the problem. Instead, allow any accumulated mud to dry and then gently brushTheaway.above treatment plan may be adequate for mild to moderate cases of mud fever. In severe cases a veterinarian can take a swab to test for bacterial growth to allow for use of the most appropriate antibiotic.
Mud fever is associated with wet and muddy conditions, which can compromise the skin's integrity allowing bacteria to gain entry and cause the skin to become sore and painful. Pink skin under white hair is more sensitive.
FOTOLIA/CHELLE129PHOTO:
Prevention The best way to prevent mud fever is to minimize exposure to wet, muddy conditions, through good paddock management or stabling the horse at night on clean, dry bedding so skin has a chance to dry out. All horses should have their legs checked during routine grooming for abrasions and early signs of mud fever. Horses that are prone to mud fever may benefit from having their legs preemptively clipped and from application of a barrier cream prior to turnout or exercise so long as the legs are clean and dry. b
2 Wash the area thoroughly but gently with warm water and an antibacterial cleanser. Avoid cold water and vigorous scrubbing, both of which will further irritate the skin. If the crusts are dried and hard, try to soak them off rather than picking at them. Tough scabs can also be softened prior to washing with a generous layer of antibacterial ointment or cream.
1 Carefully clip the hair away from the affected area to make cleaning easier and to render the area less hospitable to bacteria.
3 Thoroughly dry the area with a clean towel, blotting as opposed to rubbing so as to avoid causing the horse discomfort and damaging the skin further.
PHOTOGRAPHYMACKENZIEPAMPHOTO:
Move the horse to a dry, clean environ ment, and clip the hair to facilitate treatment.
symptom of mud fever. These painful, crusty sores can be accompanied by mild inflammation. Severe cases of mud fever may present with the additional symptoms of extreme swelling and heat in the affected leg, severe skin sloughing, and lameness, and in these cases a veterinarian should be consulted.
Symptoms
HEELTOEBULB BULBAPEXCOLLATERALFROGOFBARSSULCUS
An understanding of the parts of the hoof is necessary to properly maintain it. By knowing how the healthy hoof looks and functions you'll more readily notice potential problems and be able to communicate concerns to your vet and farrier.
Treatment Good stall and environment management is important. Clean the stall daily and provide clean, dry bedding.
TILLEROVAZUZANAPHOTO: 16 www. HORSEJ ournals.com :: AUTUMN 2022
A horse standing in a stall without regular turnout can be at a higher risk of thrush. It's important to clean hooves regularly rather than let the horse stand with organic material packed in.
SHUTTERSTOCK/CAMERACRAFTPHOTO:
Thrush is a common hoof condition caused by a fungal infection that eats away at the tissues of the frog. It is found in the grooves alongside the frog and the cleft in the centre of the frog. If left untreated thrush will advance deeper into the sensi tive areas of the hoof and cause lameness.
Smell it once and it will leave a lasting impression. The classic sign of thrush is a black, foul-smelling discharge around the frog area of the sole of the hoof. The horse may be sensitive to pressure applied to the affected areas with a hoof pick, and in severe cases, manual palpation with a finger can cause pain.
HOW PREVENTTO & TREAT
SOLEOFSULCUSCENTRALFROGWALL
HEALTH
Thrush
ANATOMY OF THE BOTTOM OF THERegularHOOFturnout and exercise in a clean, dryhelpenvironmentthehooftoself-clean.
By Equine Guelph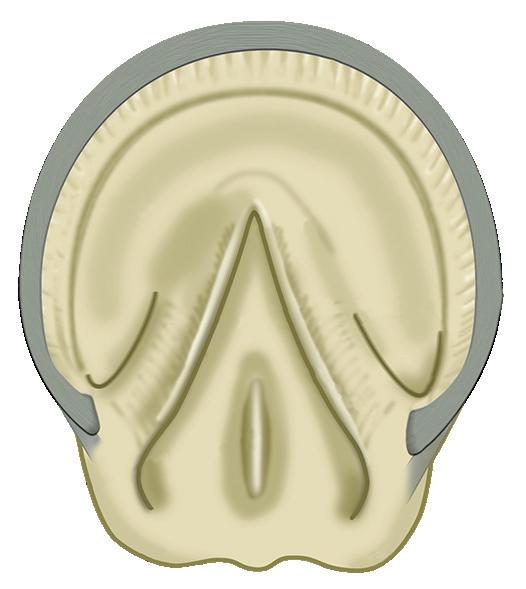 17AUTUMN 2022 :: CANADIAN HORSE JOURNAL
ISTOCK/MELISSAANNGALLERIESPHOTO:
VANNERSGYPSYBREEDING&SALES SD Glitz Glamour PRR Empress of Glamour
and
Good stable management practices and a clean environment are the best defense measures against thrush. b Published with the kind permission of Equine Guelph. Thrush infection in the hoof of a pony.
Turnout areas should be clean and free of mud and manure. Picking out the hooves twice daily to expose the affected area to oxygen will kill the fungus if caughtYourearly.farrier should carefully remove all affected tissue to allow more oxygen to invade the area, so the fungus has nowhere to hide. Soak cotton in a commercial preparation or cleaning solution recommended by your veterinarian, and swab into the cracks and crevices of the hoof and frog by pushing it into the areas with a hoof pick. Use enough pressure to reach the areas but do not leave the cotton packed in, as excessive pressure can kill sensitive frog tissue. If bleeding is present when cleaning out the hoof, call your veterinarian. Prevention The horse should be provided with a clean, dry environment, both in the stall and in the paddock or field. Hooves should be cleaned daily, paying close attention to the central cleft of the frog and the bars. A consistent schedule of farrier care will help keep the feet healthy and guard against overgrown or contracted hooves.
LegacyMammoth'sWoolly www.PonderosaRidgeRanch.ca PonderosaRidgeRanch@outlook.com250-438-1066
FOALS AVAILABLE! SD Earthquake
and
TRUE (all of the above).
TRUE. When purchasing hay it is important that the supplier knows it is intended for horses, and the horse owner should be knowledgeable enough to identify good quality hay visually and by its odour and texture.
4 Chances are if you baled your hay too wet (over 15 percent moisture) there is a risk of prolonged heating.
HEALTH
FALSE. To be effective for preserving wet or green hay the level of applica tion required would make the hay unpalatable.
1 Horses are more susceptible to mould and certain weeds than ruminants.
ISTOCK/SIMPLYCREATIVEPHOTOGRAPHYPHOTO:PHOTOGRAPHYCLIXPHOTO:
2 Salting hay is a good way to preserve it.
18 www. HORSEJ ournals.com :: AUTUMN 2022
c) When hay heats beyond 38 degrees C (100 degrees F), browning or carmel ization occurs. Brown hay can still be very palatable because of the carmel ization of sugars, but nutritional value is reduced; d) At a certain point of overheating, spontaneous combustion causing fire is a concern.
FALSE. Preservatives containing propi onic and acetic acid are produced natu rally in the hindgut of the horse as the microbial population digest fibrous feed. These organic acids are potent mould inhibitors and are particularly useful at drying hay during a wet sea son. Do not store treated hay beside dry hay or it will absorb moisture from the treated hay and create mould.
As the nutrient value of hay varies with the type of forage and the stage of maturity when it was cut, hay testing helps horse owners choose the needed feed balancers to meet the horse's nutritional requirements.
3 Propionic, acetic, and formic acids should not be used on hay for horses.
Hay is the bulk of the horse's diet. Recognizing and purchasing good quality hay that's of high nutritive value is of the utmost importance to horse owners. Test your knowledge of hay with the following quiz.
b) Digestibility of protein, fibre, and carbohydrates is reduced;
Test Your H AY Knowledge
By Equine Guelph
a) Moisture levels above 20 percent allow the respiration process to contin ue and mould to develop, and palat ability will decrease;
Resulting problems include:
FALSE. The results from an Equine Guelph study of soaked, steamed, and dry Canadian hay show that steaming comes out on top.
The results speak for themselves. BODY SUPPORT™ is known as BODY BUILDER™ in the USA 727-562-2832 • www.equiade.com • 800-413-3702 Fax: 727-562-2892 • Email: info@equiade.com Available at: WeCan Sales • Greenhawk • Picov's
Round bales used for horse forage should be stored under cover and never be left outside in rain or snow.
8 Horses don't have a preference between dry, steamed, and soaked hay.
Support™
™ is all-natural and does not test. It has
When feeding grass hay, your first limiting amino acid is likely to be: c)Tryptophanb)Lysinea)Threonine
PHOTOGRAPHYCLIXPHOTO: 19AUTUMN 2022 :: CANADIAN HORSE JOURNAL
Body Support Support been for over of Body transforms just two
your horse in
5
10
TRUE. 6
30 years and has proven to be the best in the industry. One bottle
around
months The difference between a good horse and a great horse SUPPORTBODYis ™ 1 Bottle. 1 Horse. 2 Months. INC.EQUIADE™ It Works!
™ is the first step to winning! Don't wait, buy it now and begin seeing results in as little as two weeks. Body
FALSE.
7
9 Hay testing is an important step for correctly balancing a horse's diet. TRUE. Nutrients will vary with the type of forage (grass or legume) and its level of maturity (when it was cut). Knowledge of this will allow you to make informed decisions when choosing feed and/or balancers to make up the difference between what your horse is getting from its forage and what it needs to meet its nutrient requirements.
TRUE: LYSINE. If feeding a grass hay, your first limiting amino acid is going to be lysine. For alfalfa, the first limit ing amino acid could be threonine or tryptophan. Knowing the type of for age you are feeding is key to knowing which supplements you need to choose to complement your horse's diet. b Published with the kind permission of Equine Guelph.
BEFORE EQUIADE'S BODY SUPPORT AFTER 42 DAYS ON EQUIADE'S BODY SUPPORT Leaf shatter dust can occur during the baling process if extremely leafy hay is also very dry. There is no difference in mycotoxin levels in round bales and small square bales. Mycotoxins are toxic substances produced by moulds. Large, round bales that have sat out in rain or snow or are not stored under cover, should be avoided as horses will inhale the mycotoxins when they shove their noses into the bales to eat. Round bales do not need to be stored under cover. FALSE. During periods of rain and snow, if there are not enough horses feeding at the round bale to consume it within a week, increased mould will likely devel op and the hay will be wasted.
WhenHEALTHhay
Soaked, shredded beet pulp as a forage alternative is high in fibre, easy to digest, and will add more water into the horse's digestive tract, which is especially important in winter months.
Help to Extend Your Hay Supply
Beet Pulp Check with your nutritionist to see if it makes sense to add beet pulp to your horse's diet. Beet pulp is high in fibre, easy to digest, and relatively high in calcium, but cannot be used as a total hay replacement.
With the majority of your horse's diet consisting of forage, your hay provider and equine nutritionist are vital mem bers of your horse's health care team. There is no disputing the value of a hay test to balance a diet. Knowing the nutri ents of your forage is important before deciding what the horse may need in the way of concentrates and/or supplements. The nutrient contents of hay fluctuate between sources and between cuts at dif ferent times a year. If you are sourcing from afar due to shortages the nutrient contents may vary considerably. Nutrient requirements will not be the same for an idle mature horse as a perfor mance horse, broodmare, or youngster.
becomeRememberover-grazed.tomake all feed changes gradually over a period of two weeks (including forage) and in consultation with an equine nutritionist. b Published with the kind permission of Equine Guelph.
By Equine Guelph
ISTOCK/HARLEQUIN129PHOTO: PHOTOGRAPHYCLIXPHOTO:PHOTOGRAPHYCLIXPHOTO: 20 www. HORSEJ ournals.com :: AUTUMN 2022
Hay feeders reduce waste, and smaller-hole hay nets provide a more natural feeding option by making feeding times last longer. becomes scarce, especially during late winter and early spring, horse owners become resourceful.
Forage Consult your nutritionist if you are considering partially or fully replacing your horse's forage with hay cubes or complete feeds. Avoid Waste Keep your hay under cover and off the ground by storing on pallets to avoid moisture and mould. Hay feeders keep hay from being trampled into the ground. Hay nets, particularly slow feeders with smaller holes, make mealtimes last longer and reduce waste. Preserve pasture by not overstocking, and don't allow pastures to
MYTH #3 I can stop providing salt and electrolytes now that the summer's heat has gone. Horses need salt and electrolytes all year long to regulate fluids. Heat and humidity increase the need but the main reason to give electrolytes at any time of year is to keep the horse hydrated. As the cold weather settles in, many horses will drastically cut back on the amount of water they drink. One of the best ways to encourage drinking and prevent the incidence of impaction and colic during winter is to increase the amount of electrolytes in the horse's diet.
MYTH #1 Autumn grass is an adequate nutrition source on its own. Although it may look abundant and your horse is still happily grazing, fall grass is typically higher in fibre and lower in nutrition. Your horse may begin to shed pounds on this pasture as a sole source of food, even though he had been able to maintain a healthy weight during the spring and summer months. Also, be aware that fructan levels can increase with the return of moisture and this sugar can trigger laminitis. Your nutrition plan not only needs to consider changes in the horse's workload, but also in the nutritional content of pasture or hay throughout the seasons.
Algae continue to flourish well into the fall season. Now is not the time to become lax with the scrub brush. Keep the water topped up, too! As horses start eating more dry hay and less moisture-rich grass, water is essential in digestion and keeps this dry matter moving smoothly through the gastrointestinal system.
MYTH #5 Hay cubes cannot be used as a complete forage source. Hay cubes can be used as a forage extender or in some circumstances as a forage replacement. They are particularly useful as a low dust feed for horses with respiratory conditions and for senior equines with dental challenges. b Published with the kind permission of Equine Guelph. Busters
MYTH #2 Water tubs and troughs don't need to be scrubbed and topped up as often in cooler weather.
HEALTH NUTRITION ADOBESTOCK/ENCIERROPHOTO: Myth
By Equine Guelph As the season transitions to autumn, beautiful leaves and cooler temperatures are a reminder that winter weather will soon settle in. Horses have already shed their summer coats and are busy growing thicker winter ones, and their environment is adjusting to seasonal changes too. The arrival of fall is a great time to assess your horse's overall health and body condition, and determine what he needs for winter. Let's bust some common nutritional myths so you can better help your horse prepare before winter arrives.
MYTH #4 I should quickly fatten up my horse now before winter. It is important that horses come into the winter with enough condition. It is harder to put weight on a horse lacking condition when it is using calories to stay warm. However, it is of vital importance to change the horse's diet gradually over at least two weeks to avoid disturbing the bacterial population in the hindgut. In some cases, increasing hay intake may be enough. Fermentation of hay in the hindgut contributes to keeping the horse warm as temperatures drop.
22 www. HORSEJ ournals.com :: AUTUMN 2022
FLEX means a more powerful combination of key ingredients for comprehensive joint, and cartilage care and better bioavilability so all that good stuff ends up where it's needed. MAX means more nutrients per scoop not in your horse's bedding. Plus, there's no loading dose so your horse gets maximum joint health support every day – from the very first scoop. Take joint health to the max. absorbine.ca What's in those Pellets? When compared to Cosequin® ASU. Cosequin® is a registered trademark of NUTRAMAX LABORATORIES, INC. Compared to Cosequin®.
flex+max ® More flex Per scoop.
©2021 W.F. Young, Inc.
Flex Fencing
ISTOCK/BALLYCROYPHOTO:
KELLEYSHUTTERSTOCK/THOMASPHOTO:
By Equine Guelph/System Fencing
Electric Fencing Like humans, horses will avoid touching anything that gives them a shock, therefore electric fencing acts as a psychological Autumn is the perfect time to walk your fence line and clear it of overhanging branches and trees that will add extra weight when snow arrives, as well as make any necessary repairs while the good weather holds.
Firstly, all fence lines should be cleared of overhanging branches, trees, and vines as they add extra weight on the rails and can even sometimes short out electric fences.Also, clearing behind the fences will help to prevent inconvenient maintenance after an ice storm or heavy snow fall.
The cold weather is slowly sneaking up on us. Guaranteeing your fences are prepared for this year's winter will save you a significant amount of time, stress, andNomoney.matter what type of fence you have, there are several protective and preventa tive measures you can take to ensure your fence is in prime condition for the upcoming Canadian winter.
Flex fencing is a type of fencing that is constantly under tension. This 24/7 ten sion is taken up by the corner and the end posts, making the fencing look and feel tight. When getting this type of fence ready for winter, you need to check the brackets to make sure all screws or nails are secure. The end and corner posts also need to be inspected to make sure they will hold the appropriate tension throughout the winter. It is very important that you do not overtighten Flex fencing in the fall as the cold weather makes the fencing con tract. Too much tension will create more stress on the end and corner posts and could result in further damages. Flex fenc ing only needs to be tightened enough so that the rails do not sag.
BEFORE THE TEMPERATURESFREEZING Preparing Fences 24 www. HORSEJ ournals.com :: AUTUMN 2022
250-490-5662 3200 WILLOWBROOK RD, OLIVER, BC V0H alc@cffence.com1T5 Practical • Durable • User-friendly • Reasonable Prices Continuous Farm & Ranch Fence Arena Fencing • Pastures • Pens • 3, 4, 5, or 6 Rails Suitable for 7 Rail Stud Pens • Several Spacings Available Non Climb Mesh Gate With Wheel Deer Fence Gate With Built In Man Gate Custom Gate for Bull Pen Sprinklers Premium Farm & Ranch Fence Solution • Economical • No Maintenance Very Horse Friendly, Completely Weather & Livestock Resistant www.cffence.com Installation available in BC & Alberta barrier to them. In order to be effective, electric fencing needs to have at least 5000 volts on a fence tester. However, the big gest issue with this type of fencing in the winter is making sure that the lines are tight and not shorting out at any points. If you hear a snapping sound or see a flash of light coming from the fence, you have a short. Grounding issues occur if you have low voltage or amperage on your fencing.
Wire Fencing Wire fencing requires the least amount of preparation and is very maintenance free. Check to make sure the posts with wire are not missing any staples, as well as guaranteeing the wire is not broken. Also check for broken posts and confirm the tension on the ends and corners is secure.
Board Fencing Fence rails and posts need to be checked on both sides of the fence lines before the winter season. Work down the fence lines inspecting all spots where the rails are nailed or screwed into the posts, making sure that nothing is sticking out (nails, screws, or parts of the boards). Push on every post to make sure they are strong and secure. If the post moves more than six inches in either direction then you may have a broken post that should be replaced before winter. Gates Gates may be the most important part of fencing requiring maintenance. A gate that is sagging or not secure will easily become trapped in ice and snow causing great inconvenience for you when bring ing your horses in and out of the paddock. Ideally, gates should be 12 inches off the ground. Having an easy quick latch on the gate will also ensure simple opening with gloves or mittens. Finally, the hinges should be tight and straight. Working with your fence line in the nice fall weather will save you a lot of has sle when the thermometer reads minus 30 degrees C. The cold and snow will be here before we know it and preparing your farm ahead of time for the harsh Canadian winter will leave you with peace of mind, knowing that your animals are secure. b Published with the kind permission of Equine Guelph. Gates should be secure, not sag, and approximately 12 inches off the ground so they do not become stuck in snow and ice.
Electric fencing only works when the grounding is completed properly. The best option is to have at least three electric fence wires with two being "hot" and one wired back to the ground rods.
SHUTTERSTOCK/UNDISEPHOTO: 25AUTUMN 2022 :: CANADIAN HORSE JOURNAL
What's the point of countercantering? Here are five: 1 RIDER EDUCATION. In years of coaching, I've seen it over and over - once a rider gets the hang of the countercanter, a light bulb goes on. They graduate from elementary to high school in their grasp of leads and balance. You will too. It's a huge step toward developing that elusive horseman's term – feel. It's the ability to distinguish one lead from another without looking; an awareness for not only what feels right, but what feels wrong. By mastering the counter-canter, you'll become a whiz at controlling your horse's hips and shoulders independently.
Fast forward a year down the road to see the same rider who once dreaded hearing "Wrong lead!" from her coach now initiating the wrong lead…on purpose. Why? She's discovered the counter-canter as an essential tool in building a solid training foundation for her horse.
Counter-Canter WHAT'S THE POINT?
26 www. HORSEJ ournals.com :: AUTUMN 2022
Wrong lead, reposition, relaunch. It's the two-stridesforward, one-stride-back process of learning leads for riders and their horses.
By Lindsay Grice, Equestrian Canada coach and judge
Position correction: I've allowed my right side to collapse at my waistline.
OFCOURTESYPHOTOS GRICELINDSAYADOBESTOCK/CLAUDIAPHOTO: 27AUTUMN 2022 :: CANADIAN HORSE JOURNAL
2 ESTABLISH INDEPENDENT CONTROL OF THE HIPS AND SHOULDERS before tackling the countercanter. Turns on the forehand and haunches, shoulder–in, and haunches-in are the phonics for building the language of counter-canter.
5 WARM-UP RING NAVIGATION. When my horse is balanced and confident whether on the inside or outside lead, I'm not depending on the direction of travel to practice cantering on my lead of choice at a show. I can cruise around on the counter lead, if necessary, without interrupting the traffic flow and inconveniencing other riders. How to do it:
4 AVOID SCORE SHEET PENALTIES. Whatever your riding discipline, a wrong lead is a big misstep. Under American Quarter Horse Association (AQHA) rules, for instance, merely one or two strides on the wrong lead will cost you a major fivepoint deduction in Horsemanship or Equitation. Another five-point penalty is assigned for noticeably looking down to check your lead. In Trail, Western Riding, and Ranch Riding classes, even a "hiccup" onto the wrong lead is a three-point penalty.
3 PREPARATION FOR THE SHOW RING. Counter-canter is often asked for in a pattern or test.
2 HORSE EDUCATION. Many horses are taught leads in relation to direction of travel – routinely picking up the inside lead as they travel around the rail. Instead, I want the horses I ride to know their leads in relation to the way I position their bodies. I should be able to strike off on either lead, on a straight or curved line, anywhere in the arena's geometry. The counter-canter is a nifty balancing exercise; the horse learns, after a few sessions of awkwardness, to develop straightness, coordination, and self-carriage. Countercanter is a logical, lower-stress step for your horse in his flying change education than defaulting to an abrupt change of direction to teach a lead change.
1 KNOW YOUR LEADS. Are you getting the correct lead — anytime, anywhere? Does your horse strike off on the lead you ask for, on whatever line you point him, not just on the rail?
3 POSITION YOUR AIDS CLEARLY. For the left lead I'll position my left leg clearly at the girth, and my right leg behind the girth. I'm careful to make a distinction of at least six inches between these two cue locations, and accordingly, between the horse's body parts I want to move. I'll ask for slight flexion of the horse's nose toward the lead — left lead, slight left flexion.
On the left counter lead my left hand asks for slight flexion toward the lead (in this case, to the outside). My left leg is shifted forward to direct the shoulders around the circle. Aids can become more subtle as your horse gets the hang of counter-canter. My right leg is distinctly behind the girth to maintain a left lead counter-canter. This leg would be on the inside of the circle for counter-canter.
5 THINK GEOMETRICALLY. Instead of a circle, I picture cantering the horse around an octagon shape, comprised of little mini turns. As the horse responds to each little turn cue, I relax my aids briefly to give him a yes. Initially, your horse is likely to be flustered about being asked to lope around on the "wrong lead." It's beautiful how a well-timed release after every little turn reassures the horse that he got the right answer. It's my way of communicating: Yes, I really do want you on the wrong lead — you haven't made a mistake. For example, traveling around the arena, begin a left lead counter-canter a couple of metres from the track. This will help if your horse is inclined to assume: I typically pick up the right lead when the fence is on my left. Go straight for several strides, then open your right rein while keeping your left rein straight, and press with your left leg to angle the next stride slightly to the right. Release after that little turn and canter straight for another three or four strides before asking for another turn.
Guiding my horse around the circle on the right (counter) lead. The horse is straight and balanced. I maintain the right lead with my left leg behind the girth.
KEEP YOUR HORSE STRAIGHT. Establish the outside lead on a straight line for a few strides before attempting your first counter-turn. We're inclined to pull on the inside rein to steer the horse around a circle. Doing so at the countercanter allows the horse's body to bulge off the track of the circle to the outside. The result? The horse trots to change leads. On the left counter lead, keep your horse's body straight with a direct outside (left) rein and squeeze on the rein so your horse flexes his head ever-so-slightly toward the lead. Direct your horse's shoulders around the circle with your outside (left) leg at the girth. If necessary, an inside (right) opening rein helps to guide.
I'm demonstrating how steering with the rein around a counter-canter circle (neck-reining here) allows the horse's body to bulge off-track to the outside. Even his eye is bulging to the outside!
> Lindsay Grice is a regular contributor to this magazine — read her bio on page 78.
>> GRICELINDSAYOFCOURTESYPHOTOS 4 28 www. HORSEJ ournals.com :: AUTUMN 2022
6 START SMALL. DON'T WAIT FOR A MISTAKE. After just two or three successful little counter-canter turns, walk and let your horse process. When you feel any tension or inclination to switch to the true lead, confirm the lead proactively before he breaks stride. You'll sense confusion when your horse starts to get tense and hoppy, thinking about changing leads. Press in with your leg behind the girth. Pulse your rein, keeping his attention on task and asking for flexion toward the lead. Wait until he settles… and walk. Remember — the best way to avoid unwanted responses is never to let them be expressed in the first place. Counter-canter was requested in an equitation class at a recent horse show. Some riders looked a bit tense. Others just blustered right into it as if thinking: What have I got to lose? Those who had done their homework struck off on the outside lead and maintained that counter lead in a picture of calm and balance. Why bother with counter-canter? It may seem counter-intuitive to practice the wrong lead. It's certainly unnatural for your horse. For those of us who, in grade nine algebra class, asked, How will I ever use this in real life? we eventually saw, in the rearview mirror, that every fragment of learning pieces together to build more complex skills. Countercanter is one of those pieces. b
Instead of a circle, I picture cantering the horse around an octagon shape comprised of mini turns. As the horse responds to each little turn cue, I relax my aids briefly to give him a yes.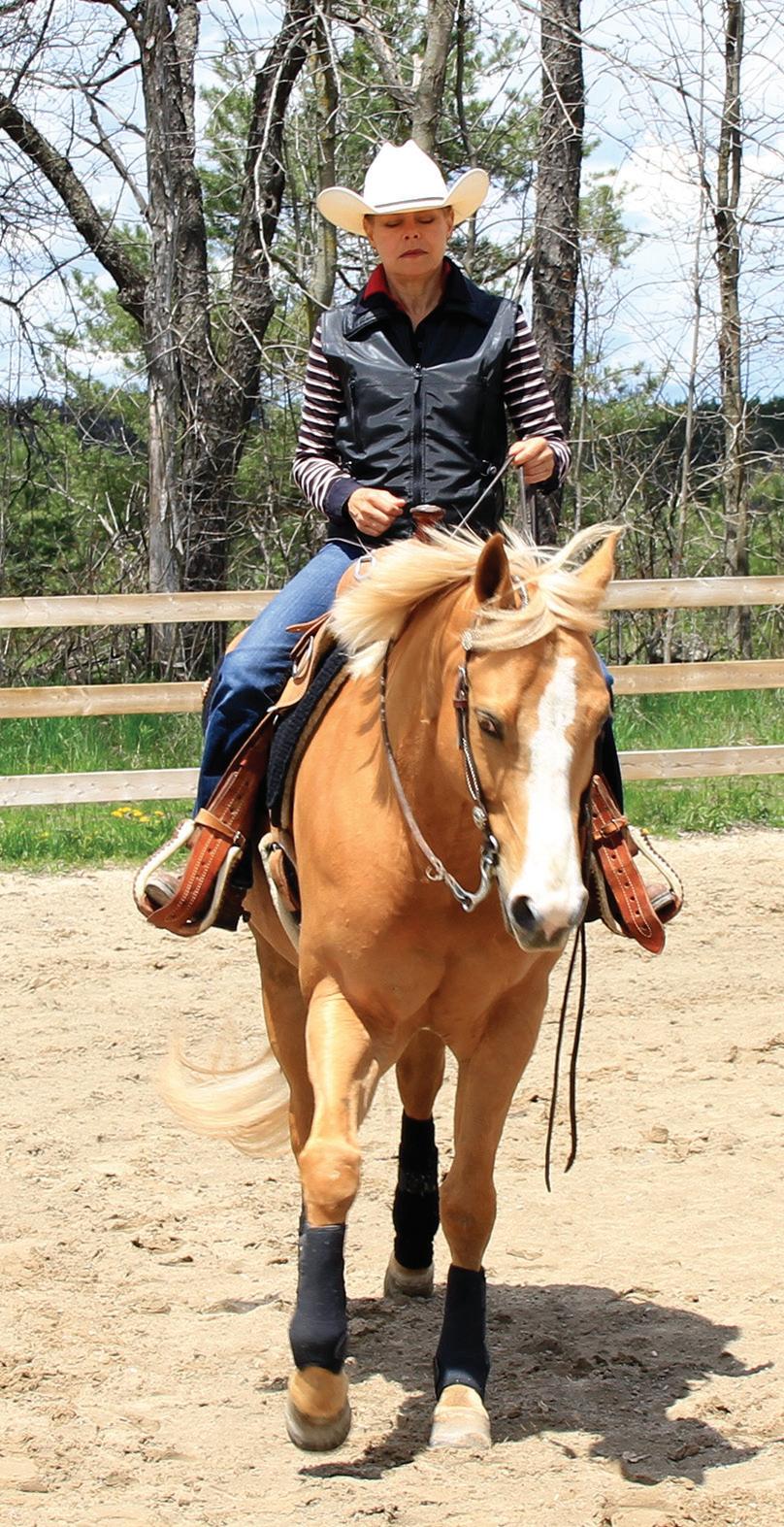 TRUST THE TOWING EXPERTS | curtmfg.com COMFORTGAME-CHANGING • Cushioned isolator improves ride comfort for animals and passengers • Offset pin dampens vertical chucking and fore-aft motion during starts and stops • Compatible with CURT and B&W® gooseneck hitches with round or square holes • Simple, drop-in installation to easily replace traditional gooseneck ball • Virtually maintenance-free with no airbag or bearings to service ROCKERBALL™ CUSHION HITCH GOOSENECK BALL Scan to learn more!
By Tania Millen There are no shortcuts 30 www. HORSEJ ournals.com :: AUTUMN 2022
"Anything to promote breeding young horses," says Beezie. "Breeding is more of a passion than a business and we need more people to do it. Every year the number of [Féderation Equestre Internationale (FEI)] riders increases. There's just more people, more horse shows, and less breeding. So it's really hard to find good horses. We need more supply." The symposium facility, photography, food for volunteers, and other services were donated. Southern Alberta pony clubbers were involved, too, setting up chairs and tables, directing attendees, and setting fences under Beezie's tutelage.
Ten riders were split into three groups so that John and Beezie Madden could demonstrate the flatwork they expect from young horses, how they start youngsters over fences, and how to get them ready for coursework. The horses ranged from a green broke four-year-old to an eight-year-old jumping 1.2 metres and all were CSHA registered. Almost 180 auditors attended the symposium. "A one-day clinic is just about trying to present our philosophy," says Beezie. "It's giving people ideas and tools." Beezie is well known in the show jumping world. She's led the way in earn ings, world rankings, international wins, and Olympic medals for female riders over the past 30 years. Meanwhile, her husband John's sales and training busi ness continues to produce winners. They don't teach clinics as they're busy bring ing along their own horses and teaching select riders at home in Cazenovia, New York. However, they were happy to teach the symposium.
"Riding is like digging a swimming pool with a spoon," says John Madden. "It's really hard work and takes a long time."
"This was a one-off event," says Marie MacAuley, the symposium chair. "It will never happen again."
Carly Kist rode Cara Bella, an eight-yearold mare by Cabardino—in the second group of riders. The Maddens helped her give Cara Bella confidence while encour aging her to relax and not over-jump the fences. Claire Doty and her mare Ballerina are waiting for their turn.
PHOTOGRAPHYKIMBERLIEPHOTO:
On July 6, 2022, the Canadian Sport Horse Association (CSHA) hosted the Madden Method Symposium at Eventyre Farms, southwest of Calgary, Alberta.
THE SYMPOSIUM Madden Method
"When he feels like it and the timing is good, I do big classes with him," she says.
But they're particular about every thing, from horsemanship and stable management to schooling young horses and how to get show jumpers to the top of the sport. As for training, "It's just basics, basics, basics, flatwork, gymnastics, jumping," she says. "There are no shortcuts."
Beezie Demonstrates Prior to the first group of riders, Beezie rode Mo Money, a stallion owned by Eventyre Farm, while John provided commentary. As Beezie walked, trotted, cantered, did transitions, leg yield and popped over a few fences, John discussed safety, the importance of position, and the foundations of their method.
Madden Basics "People do things differently," Beezie says. "We're just saying, 'This is what works for us' and it evolved into some body calling it the Madden Method."
Beezie also has a tumour which — although not life threatening — occa sionally affects her balance. "Some days
But she still has Breitling LS, a stallion she's been competing since 2013 and who won the 2018 Longines World Cup Final.
I'm 100 percent and other days I'm a little foggy," Beezie says. "So I don't want to say I can ride on a team and produce for the team when I may not be 100 percent. It's just a little factor."
"I think what's special about [our pro gram] is it's not special," says Beezie. "It's day-to-day good care of the horses. Putting what's right for the horses first."
"It's important for kids coming up in the sport to see higher level riders and under stand what it takes to bring horses to top level sport," says Tina Watkins, De Winton Pony Club's District Commissioner who organized the pony clubbers.
Life Changes The symposium came at a good time for the Maddens. "I'm looking to slow down," says Beezie. "I'm not really trying to make championship teams any more or stay high on the [FEI rankings] list. We've done it for quite a while, and I've lost the passion for that."
"When working with young horses you always have to have more time than they do," he says. "You can't have an Throughoutagenda." the symposium, John emphasized the importance of going for ward with light contact, in rhythm. "A horse is a flight animal so the first thing you want to do is to make sure the horse is happy to go forward," he says. "You have to let them rely on their instincts and give them a place to go."
RidingGames.Cortes C, Beezie Madden claimed the Individual Bronze medal at the 2014 Alltech FEI World Equestrian Games.
>>PHOTOGRAPHYCLIXPHOTOS: 31AUTUMN 2022 :: CANADIAN HORSE JOURNAL
"Forward, straight, relaxed and reach ing for the bit. Beezie Madden, riding Authentic, was the Individual Bronze medal winner and a member of the gold-medal winning US Show Jumping team at the Beijing 2008 Olympic
When Beezie started jumping small fences, she stayed in balance and grabbed mane if needed. "There's no place for con tact in training a young horse to jump."
"People tend to do too much with their hands. Horses have to go forward, first. If they don't understand forward, you are always going to be fixing symp toms. I don't want to be retraining so I want the horse to get the correct funda mentals from the beginning."
32 www. HORSEJ ournals.com :: AUTUMN 2022
"Imagine a box around the horse. As long as they stay in the box, it's okay. One of your goals is to be able to make that imaginary box smaller and smaller while the horse doesn't hit the edges of the box." He explained how to use pressure and release, and how lessons build on each"Askother.often, demand a little, and be happy with your result. Every time he starts to react in a way she wants, she takes the leg or hand pressure away." "You can take a very complicated thing and boil it down into really simple parts. Layer the lessons. Be very happy with a little bit of reaction. Tomorrow he'll do it better and the day after he'll do it even"Webetter."trytonot have to retrain things. The basics stay the same. When you ask them to go forward, they go forward. When you ask to go sideways, they do that. It's your job to ask little enough so it doesn't turn into a fight. When you make incre mental steps forward, you go a long way."
"The second group is going to be basic gymnastics for young horses," Beezie explained. "We've set up gymnastic exer cises and we're going to jump on a ser pentine so they learn about jumping and turning as well."
Then it was time for the second group demonstration. Basic Gymnastics
More of John's comments are as follows:
"They need to learn to go on very little contact. You're not worried about con nection or flexion. Just maintain the rhythm and contact with your calf."
"Our first group is going to be really basic flat, maybe some rails on the ground, to introduce flatwork within jumping," says Beezie. "They're the least experienced horses. They've started to jump but don't have a lot of showing experience."
Following Beezie's demonstration, the first group of riders came in. Flatwork for Young Horses
The symposium was held at Eventyre Farm and almost 180 auditors attended.
The first group of riders demonstrated the flatwork that the Maddens do with young horses and jumpers. L-R: Maddy Riddle riding four-year-old Scarlet Pipernel, a mare by Diamant de Semilly; Beezie Madden; Emma Edwardson riding her five-tear-old homebred gelding Check My Ride by Checkmate; John Madden; and Gavin Pearson riding the four-year-old stallion TMAC Everclear by Herald III.
PHOTOGRAPHYKIMBERLIEPHOTOS:
"The key to young horses is to keep it simple," she says. "Emphasize the flatwork
At the end of the session, I chatted with Emma Edwardson who rode her five-year-old gelding Check My Ride in the first group. "I like to keep him togeth er and then let him [go forward]," she says. "And their philosophy was the opposite. It was to let him [go forward] and then bring him together. So that'll be interesting to try at home."
While the riders rode walk, trot, and canter with minimal contact, they worked on their position. John commented, "Your leg position is the foundation of every thing. Don't worry about the mouth. You owe it to your horse to get your position before you take his mouth otherwise you just make him stronger and stronger."
John's comments were as follows:
PHOTOGRAPHYKIMBERLIEPHOTO:
Quality Modular Barns, Row Barns, and Run-in Sheds DENCO STORAGE SHEDS INC. www.DencoSheds.ca 8309 Wellington Road, Moorefield, ON • 519-638-5550 We will custom build your dream barn to suit you and your horses' needs. Our team will work with you to design a barn to your specifications. For over 20 years • Check out our website for floor plans and ideas! Serving all of Ontario rather than the jumping. Start with confidence. Set a comfortable distance to try to get their shape correct."
"First things first. The horse has to jump."
Beke Brinkmann rode her six-year-old homebred gelding Chinook I in the second group of riders, which demonstrated the Maddens' fundamental exercises for jumpers.
"Your balance has to be exactly with the horse. When the jumps come up — even if they're small — the little things
After an abbreviated warm-up, John asked the riders to walk over three poles spaced 45 feet (13.6 m) apart with mini mal contact. Then they trotted both ways, maintaining rhythm. Then they trotted the first and last pole and walked the middle pole, working on transitions. He says, "The control after each fence is the approach to the next fence." Then the riders rode the three poles in canter. "Maintain rhythm and don't worry about striding," John says. They trotted a crossrail and halted afterwards with no contact. Eventually they were riding a grid of three fences with one stride in between, approached at trot with a halt afterwards.
34 www. HORSEJ ournals.com :: AUTUMN 2022
35AUTUMN 2022 :: CANADIAN HORSE JOURNAL
b
Starting Coursework "The third group is the most advanced group of the day," Beezie says. "It'll be preparation for young horses to get ready for a show. So we'll switch the jumps around and make it a simple little course."
It's not magic, ShowSheenit's.®
"With young horses, you have to trust that they're good horses," Beezie says. "Young horses grow up; they change. You have to keep adjusting with your horse."
> Tania Millen is a regular contributor to this magazine — read her bio on page 78. A video of the symposium is available for online viewing at www.equestrianevents.ca . Any profits will be donated to the Alberta Equestrian Federation (AEF) and matched through the Alberta government's Sport, Physical Activity and Recreation Donation Fund Program. The funds will help develop athletes, coaches, officials, volunteers, facilities and support the AEF's new equine emergency fund.
"You don't cut a dog's tail off an inch at a time. When you have [a major cor rection], you do it once. Get the horse to react so you don't have to nag them." "Horse have to be rewarded for get ting"Trybetter."notto take steps backwards. If we get a little better every day, we're going to get"Thesomewhere."biggestsecret is that there is no secret. There's no trick. It's not easy. It's very, very difficult. It's simple. But you'll spend a lifetime trying to accomplish these things."
* Test results on file show up. None of us can practice perfectly but we can try to. We have an obligation to our horses to ride better every day."
"You can do a course by dissecting it — doing single exercises then putting it together piecemeal," says John. "We don't do many courses to get ready to do courses. You can get ready for the Olympic Games with only four standards and four rails."
Healthy and beautiful manes and tails, guaranteed.
The third and last group was next.
After a brief warm-up the riders indi vidually cantered a crossrail on a circle, maintaining rhythm then slowing after the"Lateralfence.
Final Thoughts Throughout the symposium, John and Beezie freely shared their knowledge and philosophy. Here are some essentials: "The horses have to do simple, basic things," says John. "Lengthen, shorten, turn right, turn left, stay calm and in bal ance. A lot of the rest is up to their Godgiven talent. There's an awful lot not in our control so we better work very hard on what we can control — training, ride ability, and confidence."
The Madden Method Symposium — Online Viewing
After the session I spoke with Carly Kist who rode Cara Bella, an eight-year-old mare by Cabardino in the second group. She says she learned, "when I can push and be firm and when I need to give a reward so that it's really simple in her mind."
Learn more at •absorbine.ca
ShowSheen is the only equine detangler clinically proven* to reduce hair breakage by 40%.
flexion is a fundamental basic and it's easier than bringing their back up," says John. "So in the warm-up we like to jump the horses off a turn or a cir cle. It helps loosen their backs." Then the riders jumped related distanc es in canter, halting after each line. Finally, they rode a course by stringing together all the lines they'd already ridden.
Keith Stewart
TurningAround Pirouettes, Cow Turns and Reining Spins By Tania Millen
E very horse sport has unique movements which require specific footwork, balance, and training. Some movements appear similar while still being unique to their sport. For example, dressage riders bring their horse's front end around their hind end in elevated pirouettes; ranch riders do 180-degree turns while tracking cows; and reining horses do 360-degree spins at high speeds. They're all turning around but for different reasons and in distinct ways. What's the purpose of these turns, when do riders use them, and how do they differ? We asked a dressage rider, a ranch horseman, and a reining judge to explain.
HORSEMANSHIP
PHOTOGRAPHYCALLAGHANALEXPHOTO: Around 36 www. HORSEJ ournals.com :: AUTUMN 2022
But it's rare for horses to be ridden into war today. As such, dressage has become a foundational training system for English horse sports plus a stand-alone sport in itself. Pirouettes are integral to both. First taught in walk, higher competition levels require canter pirouettes which — along with piaffe and passage — are considered the most difficult dressage manoeuvres.
ADOBESTOCK/SKUMERPHOTO: 37AUTUMN 2022 :: CANADIAN HORSE JOURNAL
CANTER PIROUETTE As described by the Féderation Equestre Internationale (FEI), to execute the canter pirouette the horse must be able to canter almost on the spot with his inside hind leg acting as a pivot, bend and flex the joints of his hind legs willingly and evenly, and show enough body control to maintain an even rhythm, bend, and length of stride without becoming resistant, hollow, or out of balance. The horse must be very fit and strong to turn in place and maintain his regularity of stride. A good pirouette should show the horse with a clear inside bend through the entire body. The inside hind should clearly leave the ground and then land back on the ground in the same place with each stride. The outside foreleg will cross over the inside foreleg but without tilting or weighting one shoulder more than the other, while the outside hind leg doesn't cross but creates a small circle around the pivoting inside leg. Throughout the movement, the horse should show an unchanged, three-beat, slow (but cadenced) rhythm and should transition in and out of the movement with ease and fluidity. Pictured is Tina Irwin riding Laurencio.
PHOTOGRAPHYCLIXPHOTO:
Top dressage horses can complete two full 360-degree rotations.
"A correct pirouette is a very collected canter," Fortmüller says. "The horse has to hold an immense amount of balance, coordination, and power on one hind leg while bringing their forehand around their hind legs in six to eight strides, starting and ending on the exact same line."
Dressage movements such as the pirouette originated in the military and were of great benefit on the battlefield.
<
Dressage Pirouettes
"By lifting up over their back and using that power to balance over one spot, we get grace and beauty and elegance," Fortmüller explains. "Dancing on the spot is the highest degree of difficulty because of the energy needed to keep things going without the horse moving forward." She says that canter pirouettes necessitate the horse to hold themselves up in the air, hence require years of strength, power, and endurance training to perfect. She also notes that the horse and rider must trust each other and build a partnership. "The movements can't be programmed," Fortmüller explains. For all these reasons, canter pirouettes are considered one of the highest pinnacles of dressage.
DESIGNSGRAYTPHOTO:
Pia Virginia Fortmüller is a Canadian international grand prix dressage rider based in Priddis, AB and she says that dressage movements — and canter pirouettes — originated in the military when soldiers needed well-trained war horses for battlefield manoeuvres. A well-executed pirouette meant they could quickly switch from one direction to another. Fortmüller notes, "A good pirouette can be done on a dinner plate."
Pia ridingFortmullerFrieda.<
"The spin is based on a working manoeuvre," he says. "When you're working cattle, you have to turn really quickly to go after
"Your horse is going to stop, step backward, and pivot on the outside hind," says Stewart. The horse plants the hind leg that's farthest from the cow, then backs around the turn, staying faced up to the cow. Backing around the turn is opposite to the forward-moving pirouette.
38 www. HORSEJ ournals.com :: AUTUMN 2022
Keith Stewart is a cutting competitor and rancher who operates The Key Ranch in Longview, Alberta. He says that cow horses maintain control of a cow by turning through 180 degrees. When a horse is parallel to a cow and moving in the same direction, the cow may decide to stop and go back the way it came in an attempt to get past the horse. As the cow starts to change direction and face the horse, the cow horse begins a turnaround to maintain control of the cow.
"You want your horse to rock back — shift his weight back — then step back with his inside hind leg and step across with his front leg," explains Stewart. If the horse steps towards the cow, that increases the pressure on the cow, which encourages it to speed up. At that point the horse is no longer controlling the cow but chasing it. "You wouldn't want to move forward because if the horse is going forward it's easier for the cow to get around him," Stewart says.
Reining Spins Todd Bailey is an Ontario-based internationally carded reining judge who says reining spins originated when yesteryear's ranch cowboys got together and informally competed against each other to see who had the best trained horse.
Ideally, ranch and cutting horses will work cows themselves with little input from their riders. That means "cowiness" — a horse's innate ability to read and anticipate what cows will do — is coveted by ranch and cutting riders. In cow horse competitions, the amount of input riders can provide to their horse depends on the type of competition. For example, in cutting competitions riders can't use the reins — they use their weight and legs instead. In reined cow horse competitions, riders can use their reins to help direct their horse. When ranching, anything goes, although correct turnaround technique is most effective for controlling cows. The turnaround is a practical movement still used on the ranch today and it has some similarities to dressage-style pirouettes. However, reining spins are quite different.
At first glance, the cow horse turnaround may look similar to the dressage pirouette, but there are significant differences.
"Depending on what the cow is doing, your horse is going to yield his ribcage [bulge away from the cow] to create a pocket so that the cow can turn without getting pressured by the horse," Stewart says. This also means the horse's nose points in the direction of the turnaround and his body bends in the direction of the turn, similar to a pirouette. Once the turn is complete, the horse must straighten out to go forward and continue following the cow. "The horse can't run if he's not straight," says Stewart. "He needs to run into his stop, yield his ribcage, come through the turn with his nose, then straighten out."
RENSBURGVANSHUTTERSTOCK/VANESSAPHOTO:
As the cow starts to change direction and face the horse, the cow horse begins a 180-degree turnaround to maintain control of the cow.
250-596-2273 • sales@northernacreage.ca 4870 Continental Way, Prince George, B.C. www.NorthernAcreage.ca Proudly Serving Northern British Columbia n KIOTI Tractors & Implements n Complete Electric Fence Systems n Specialty Animal & Acreage Fencing n Posts, Rails & Wire Fencing n Wildlife & Predator Control n Feed & Supplements n Tubs, Waterers, Feeders & Tools n Beekeeping Supplies Cow Horse Turnarounds
A U T U M AN U T U M N C L E A R A N C CE L E A R A N C E S A L E P R I C E S O N L I V I N G Q U A R T E R S , B U M P E R P U L L S , A N D M O R E ! VANTAGETRAILERS.CA WESTERN CANADA'S PREMIUM HORSE TRAILER DEALER LETHBRIDGE: 1 403 320 9889 LACOMBE: 1 403 782 5500 Providing Quality Service for the Long Haul The cow horse stops, steps backwards and pivots on the outside hind leg (the leg furthest from the cow), steps back with his inside hind leg and across with the front. The horse yields his ribcage to allow the cow to turn and bends in the direction of the turn, then straightens to go forward. STORKASHUTTERSTOCK/DALEPHOTO: 39AUTUMN 2022 :: CANADIAN HORSE JOURNAL
> Tania Millen is a regular contributor to this magazine — read her bio on page 78. The footfalls of the reining spin can be so fast it's not easy to see what the horse's legs are doing.
Bending in the direction of the turn is also necessary for dressage pirouettes and cow horse turns. Bailey says that reining horses really use their front end while their outside front leg and outside hind leg drive them around into faster spins. Cow horses can also turn very quickly, but pirouettes can look like they're occurring in slow motion due to their extreme collection.
Because reiners ride with one hand, they ask the horse to spin by neck reining and follow that up with an outside leg aid. "The horse builds speed then they shut off [stop spinning] in the blink of an eye," he says. The centrifugal force created by the spin means riders must be balanced — centered — in the middle of their horse.
"A lot of reining horses won't have a pivot foot when they're turning fast," Bailey says. "They'll pick it up, set it down, pick it up, set it down. And sometimes their hind inside foot will travel a littlePivotingbit."
In the ideal reining spin, the horse pivots on the inside hind foot while the outside front leg crosses in front of the inside front leg and the outside hind leg drives the horse around. Pictured are Vern Sapergia on Its Wimpys Turn, and Shawna Sapergia on This Chics on Top, both competing at the World Equestrian Games 2010.
b
But the original ranch-style turnaround, which was described by Keith Stewart, has been amped up for the show pen. Cows don't do 360-degree turns but reining patterns now require up to four consecutive 360-degree spins in each direction.
In comparing cow horses and reining horses, Bailey explains, "A cow horse is going to be a little more upright in the front end because they have to be ready to go after a cow, whereas reining horses are more for show so they can have lower neck sets."
on the inside hind foot is different from the cow horse turnaround although the forward movement of the spin is similar to the pirouette.
Softness, cadence, correctness, and suppleness are desirable in reining spins, too. "Once we have that, the speed comes," says Bailey. "A lot of horses are trying to get the speed before they get the correctness."
"If they're leaning to the outside, they're probably going to get left behind and find themselves falling off," says Bailey. Falling off isn't something dressage riders are generally concerned about during pirouettes but it's certainly possible when riding a cutting horse. Regardless, there are obvious differences in how horses are required to "turn around" in different sports. Dressage pirouettes, cow horse turns, and reining spins are all speciality moves which require specific foot placement, athleticism, and training. These three movements also illustrate how historical horse use impacts equestrian sports today and the impressive versatility of horses.
a cow that's getting away from the herd. That's pretty much where the reining spin came from."
PHOTOGRAPHYCLIXPHOTOS: 40 www. HORSEJ ournals.com :: AUTUMN 2022
In an ideal reining spin, the horse will pivot on an almost stationary inside hind foot, while the outside front leg crosses in front of the inside front leg and the outside hind leg drives the horse around. It's a dramatically sped-up four-beat walk which can be so fast that it's difficult to see what the horse's legs are doing.
"We want to see a bit of bend in the direction that they're turning, too," he explains. "If they're turning to the left and their nose is to the right, then their shoulder isn't going to be moving properly. So that's incorrect."
Coming to Canada for an equine residency meant starting over for Dr. José AntonioGuerraGuerra.hadalready become a professor at Universidad Autónoma del Estado de México outside of Mexico City after earn ing a master's degree at the Universidad Nacional Autónoma de México (UNAM). He oversaw a new equine hospital — and he finally owned the horses he had so badly wanted to ride as a young boy growing up outside of Mexico City. Still, he wanted to learn more. Advancing his skills as an equine surgeon meant giving up the life he'd built and moving to Canada.
PRACTICAL
Dr. José Antonio Guerra leads Treasure, one of his equine patients. Christina Weese
"It wasn't enough just to be a general equine vet," says Guerra, who had no further options for specialized training in Mexico. "I wanted to keep growing, going to Drivenschool."tobecoming a board-certified equine surgeon, Guerra began a rotating internship at the Ontario Veterinary College before being matched to the Western College of Veterinary Medicine (WCVM) for a large animal surgical residency program. "I wanted to get top knowledge and that's why I decided to leave my comfort zone, [to] move to another country and leave everything behind," he says. Guerra had never heard of Saskatchewan before coming to the WCVM in 2019. Since then, he and his wife Abril have built a life in Canada with their two-year-old son Mateo, who was born in WhileSaskatoon.Guerra loves Canada and can see himself pursuing a career here, his experience working in a rural practice in Mexico continues to influence him as he works on his primary research project at theGuerraWCVM.istesting a combination of easily accessible local block and sedative drugs, lidocaine and xylazine, to provide longer acting pain control during nerve VETERINARIAN
"Sometimes as an intern, [as a] a resident, your family has to go through a lot. I'm not taking this award on my own. It was a huge family honour," says Guerra, who spends many hours working and on call at the VMC while juggling his research
an equine simulation model as well as endoscopes and monitoring tools that have helped to expand diagnostic capabilities for the college's equine team.
'People helping people helping horses'
Visit tehrf,ca for more information, Send comments and article reprint requests to:
"Sometimeswork. you think that you work hard and no one really cares. But having an award like this means so much. Professionally, it feels awesome, but economically it's a relief. I just want them [the EFC] to know that I'm extremely grateful. Their generosity and the way they support this is just amazing, and I'm super thankful for it."
While Guerra has access to cutting-edge drugs, treatments and diagnostic technologies at the WCVM's Veterinary Medical Centre (VMC), his experience working in rural Mexico makes him acutely aware of how equine practitioners in rural areas or with smaller budgets must adapt their work to suit their clients' needs. He also notes that medication shortages caused by supply chain disruptions have remained a continued barrier, which is another reason to diversify the range of drugs available to surgeons. Guerra also participates in a handful of other research studies at the WCVM including an investigation of inflammation markers in equine joints with Dr. Joe Bracamonte and a study on surgical techniques for cattle with Thomas.
In the past four decades, EFC has contributed more than $470,000 in scholarships to Canadian veterinary students and over $806,000 in equipment purchases in support of equine health care. To support this charitable foundation or to become a volunteer, contact EFC president Bob Watson (403-378-4823 or cbwatson@cciwireless.ca). Tax-exempt donations can be made by cheque (c/o Susan Nelson, EFC treasurer, 326 Dyke Road, R.R. 2, Falmouth, N.S., B0P 1L0). continued Horse Health Lines is the news publication for the Western College of Veterinary Medicine's Townsend Equine Health Research Fund (TEHRF). Myrna MacDonald, Editor, Horse Health Lines WCVM, University of Saskatchewan 52 Campus Drive, Saskatoon, SK S7N
Guerra's dedication to research has earned him accolades at the veterinary college. He has received tuition awards from the Townsend Equine Health Research Fund for the past three years, and in June, Guerra received a $5,150 award from the Equine Foundation of Canada (EFC) in recognition of his demonstrated interest and scientific merit in equine research.
"We thought [this drug research was] pretty important because they're cheap, everyone in the world can use them. I thought that it was pretty cool to do something that they can use in Mexico City, Namibia, Argentina — wherever you want," he says.
The Equine Foundation of Canada (EFC), whose fitting motto is "People helping people helping horses," raises funds to support and promote equine health through science and direct action. Since 1984, the EFC has provided funds for projects, equipment and student support — including annual scholarships at three Canadian veterinary schools — to help improve the welfare of horses in Canada. In 2013, the EFC established the Equine Foundation of Canada Graduate Student Scholarship at the WCVM, which annually awards a graduate student who shows interest and scientific merit in equine research. Equipment purchases for the WCVM also include
PRACTICAL VETERINARIAN
horse.health@usask.ca5B4 Horse Health Lines design and layout: Priddy Design 2 HORSE HEALTH LINES | Fall 2022
Left to right: EFC representative Candas Rolls, Dr. Antonio Guerra and WCVM dean Dr. Gillian Muir. Dave Stobbe
blocking procedures on horses. Nerve blocks allow for pain control and help clinicians locate the origin of lameness in the limbs of horses. By testing different drugs in combination, Guerra and his supervisor Dr. Keri Thomas aim to extend the duration of pain control.
Determining seasonality of baseline plasma ACTH and serum insulin in Saskatchewan horses
Dr Nicole Van der Vossen is a MSc candidate and resident in large animal medicine whose work is overseen by Dr. Julia Montgomery, WCVM Department of Large Animal Clinical Sciences. Undergraduate research
Equine fund directs dollars to projects and people Dr. Claire Card. Rigel Smith
Drs. Julia Montgomery, Paula Viv iani, Valentina Ragno and Melissa Meachem, WCVM
Exosomes are key regulators of physiologic, pathologic and immunologic processes in pregnancy, and so far, no one has investigated their role in horses. This research team will be the first to examine and compare the specific protein and lipid content of exosomes from the endometrium and embryo in mares.
Drs. Bruce Wobeser and Madison Ricard, WCVM WCVM researchers are investigating the prevalence of Chlamydia psittaci (C. psittaci) in aborted horse placentas. This bacterial pathogen causes psittacosis, a disease that's transmitted by birds, and leads to reproductive problems and respiratory disease in horses, people and other mammals.
Three equine health research studies, which involve scientists at the WCVM and their collaborators, received a total of $51,607 in support from TEHRF.
Dr. Madison Ricard is a MSc candidate of diagnostic anatomic pathology whose supervisor is Dr. Bruce Wobeser, WCVM Department of Veterinary Pathology.
The WCVM research team are working to establish baseline measurements for adrenocorticotropic hormone (ACTH) and insulin in normal horses living in Saskatchewan. These specific reference values will help western Canadian veterinarians diagnose horses suffering from equine metabolic syndrome (EMS) and/or pituitary pars intermedia dysfunction (PPID) as early as possible.
Dr. Antonio Guerra is a resident in large animal surgery whose work is supervised by Dr. Keri Thomas, WCVM Department of Large Animal Clinical Sciences.
Exosomes and equine pregnancy
Each year, TEHRF provides $8,900 in funding to support an equine-focused undergraduate summer research position at the WCVM. Jaidyn Burton of Assiniboia, Sask., is a third-year veterinary student at the WCVM who spent this past summer working with Drs. Bruce Wobeser and Madison Ricard on their investigation of chlamydial abortions among western Canadian mares.
Jaidyn Burton. Supplied
Dr. Maria Monar is a Master of Science (MSc) candidate and resident in equine therigenology who is working with Dr. Claire Card, WCVM Department of Large Animal Clinical Sciences.
Is Chlamydia psittaci causing equine abortions in Canada?
Toni-Anne Saworski is a MSc student who is working with Dr. Emily Jenkins, WCVM Department of Veterinary Microbiology.
Drs. Claire Card and Dr. Daniel McPhee, WCVM; Dr. Mariana Diel de Amorim, Cornell University; and Dr. Maria Suarez Lopez
Dr. Paula Viviani is a MSc candidate and resident in large animal internal medicine whose work is supervised by Dr. Julia Montgomery, WCVM Department of Large Animal Clinical Sciences.
Research projects
Graduate scholarships
This year, the Western College of Veterinary Medicine's Townsend Equine Health Research Fund (TEHRF) has targeted just over $100,000 to support three new research projects as well as graduate scholarships and an undergraduate summer research position at the veterinary college.
3Fall 2022 | HORSE HEALTH LINES
Six WCVM graduate students whose research work focuses on equine health issues have received a total of $40,000 in awards toward their tuition costs at the University of Saskatchewan.
By Jeanette Neufeld
Visit tehrf.ca to read the full story about Jessie's recovery.
Life laminitisafter
"We were the joke of the area … 'cause all of us would be walking and hanging together in the pasture," says Wood, who lives near Delisle, Sask. Now, while Wood and his other ani mals roam nearby, Jessie is in the paddock that Wood built during the 14-year-old mare's recovery from laminitis. Last December, Dr. Valentina Ragno, a veterinarian with the Western College of Veterinary Medicine's (WCVM) equine field service, came to see Jessie, who had wedged herself between two round bales and a fence. Ragno soon realized Jessie was suffering from painful laminitis.Laminitis is inflammation of the soft tissues called laminae, which attach the horse's coffin bone (wedge-shaped bone within the foot) to the hoof wall. In some cases, the coffin bone rotates away from the hoof wall — a painful process that causes severe lameness, often leading to Jessieeuthanasia.wasoverweight, and the WCVM clinicians suspected underlying metabolic conditions. But first, they gave her pain medication so she could be trailered to the WCVM's Veterinary Medical Centre (VMC).Next, WCVM large animal medicine specialist Dr. Julia Montgomery and her residents swiftly implemented an intensive therapeutic plan to control Jessie's pain and to correct her metabolism. Wood, who works in British Columbia, returned to Saskatoon to be with Jessie. After nine days in hospital, Jessie was discharged and Wood began managing her daily care. Beginning at 4 a.m., Wood gathered up the hay he'd soaked overnight, then began preparing Jessie's medications."Alotofthe drugs are formulated large and small animals — or humans. They come in a low concentration, so we need 30 pills of this, 70 pills of that. It can be a bit overwhelming," explains WCVM large animal internal resident Dr. Paula Viviani, who was part of Jessie's care team. Wood crushed up more than 100 pills twice a day. Another daily chore was soaking her rations of hay to reduce the amount of sugars or nonstructural carbohydrates — which worsen symptoms of laminitis — in the forage. Feeding soaked hay with lower sugar content also contributes to weight loss. Several weeks later, after the clinical team declared the mare sound enough, Wood started to walk his horse on a lead rope in a small outdoor pen. Throughout the process, he kept in close touch with the WCVM's equine field service team. Wood also relied on Joule Tallman, a Saskatoon-area barefoot trimmer who collaborated with the WCVM's clinical team. Guided by X-ray images, Tallman trimmed Jessie's hoofs to align the coffin bone at the proper angle to the ground.
"Everyone who was coming over to see her said she was looking great, but until you hear it from the doc — that kind of hit home," says Wood. He's reluctant to take any credit for Jessie's recovery, but his care team commends his exceptional efforts.
"Follow up and owner compliance are the key factors," says Viviani. "It's a lot of commitment and it's a lot of work."
Before Bob Wood's mare Jessie got sick, he was usually found outdoors with his two horses, two dogs and cat by his side.
Tallman also encouraged feed testing and customized nutritional supplements. Wood carefully followed the advice given by Jessie's care team — which included follow-up veterinary care, med ications, hoof trims, diet and exercise. During Jessie's latest check-up, clinicians found a horse in ideal body condition, running happily in her paddock. Jessie was diagnosed with equine metablic syndrome and suspected pituitary pars intermedia dysfunction, and she continues to receive medication for the latter condition. But she no longer requires pain control.
But if he had to, Wood says he would do it all
"She'sagain.mygirl. If it was one of the dogs, if it was the cat, it'd be the same. How can you kick one to the curb? You know, you can't — you can't."
Jessie, six months after her diagnosis of severe laminitis. Bob Wood
4 HORSE HEALTH LINES | Fall 2022
A Saskatchewan horse survives laminitis, thanks to her owner's exceptional efforts and her health care team's dedication.
Jaidyn Burton of Assiniboia, Sask., is a thirdyear WCVM veterinary student. The Townsend Equine Health Research Fund (TEHRF) supported this study as well as Burton's summer research experience.
Western College of Veterinary Medi cine (WCVM) researchers are investigat ing the prevalence of a zoonotic bacterial pathogen in aborted horse placentas.
By Whitney Jiricka
Whitney Jiricka of Rosetown, Sask., is a WCVM veterinary student who worked as a summer research student in 2022.
Drs. Madison Ricard and Bruce Wobeser will test about 100 equine pla centa tissue samples submitted to Prairie Diagnostic Services (Saskatchewan's veterinary diagnostic laboratory) between 2009 and 2020. If the WCVM study shows that C. psittaci caused a percentage of horse abortions in Western Canada, Ricard says more biosecurity is needed.
Chlamydia psittaci (C. psittaci) causes psittacosis, a disease transmitted by birds, which can cause reproductive problems and respiratory disease in horses, people and other mammals.
As a veterinary student and the owner of a grey horse, I'm worried about melanomas since the prevalence of these cancerous growths is much higher in greyWCVMhorses.equine field service veterinarian Dr. Michelle Husulak has similar concerns."Itisvery rare to find a grey horse over the age of 15 that has none. The vast majority of them have one or two little nodules somewhere on their body," says Husulak, who has a special interest in equine skin conditions. "In horses they [the growths] are usually benign, which is not the case in other species."
Husulak adds that the main health implications of melanomas are completely situational. Areas with severe melanomas around the anus can lead to problems defecating, or tumours in areas where tack is rubbing can lead to discomfort. As well, tumours on or around the lip area can lead to issues with"Aseating.avet, you try to alleviate concerns by horse owners, but there is not a whole lot we can do. If the masses become large or get in the way, removal is the best thing you can do for the horse," says Husulak.
When clinicians deal with abortions involving cattle, dogs and sheep, they wear full biosafety suits and gloves, or they use a biosafety cabinet to examine tissues during post-mortem exams. But veterinary professionals aren't taking the same precautions for equine abortions.
On average, grey horses have an 80 per cent chance of developing a melanoma (skin cancer) during their lives. Melanomas develop when skin cells that contain melanin deposit excessive pigment, leading to abnormal production.
Melanoma and grey horses
Visit tehrf.ca to read the full story. Visit tehrf.ca to read the full story.
abortions:
"If we have a potentially zoonotic pathogen in these reproductive tissues, we need to be more cautious when handling these tissues and use proper disposal to prevent contamination of the environment," says Ricard, an anatomic pathology resident at the WCVM.
By Jaidyn Burton WCVM resident Dr. Madison Ricard with her three horses. Supplied Whitney Jiricka
Equine Chlamydia a culprit?
Ricard and Wobeser are conducting a similar study in Western Canada. But even if they find that chlamydial abortions are rare, Chlamydia exposure is an occupational hazard for veterinary team members as well as horse breeders and owners. Anyone handling the reproductive tissues of a horse that aborted due to Chlamydia is at risk without proper biosecurity measures and more awareness.
5Fall 2022 | HORSE HEALTH LINES
Most diagnostic labs don't routinely test for Chlamydia because Chlamyd ia-induced abortions in horses are considered rare. But in 2014, an Australian research team confirmed that veterinary students and technicians who were in contact with the aborted tissues of a mare with Chlamydia contracted the infection. After examining archived cases, Australian researchers identified that Chlamydia had caused several equine abortions.
This fall, WCVM students will welcome people of all ages to explore the exciting world of veterinary medicine on Friday and Saturday, Sept. 23-24, during the 2022 edition of Vetavision — the WCVM's student-run open house. The two-day event opens up the WCVM to the public to showcase the veterinary profession and to highlight the many roles of veterinarians in animal health, public health, research, industry and community service.
After a one-year delay due to the COVID-19 pandemic, organizers of the Saskatchewan Equine Expo are preparing to celebrate their 10th show this fall from Thurs., Oct. 27, to Sunday, Oct. 30, at Saskatoon's Prairieland Park. This popular equine event, which debuted in 2012, is based on a longstanding partnership between the WCVM, Prairieland Park and the Saskatchewan Horse Federation (SHF), with the overall goal of showcasing equine health, technology and horsemanship. In addition to the Trainers' Challenge, equine clinician Jonathan Field, the WCVM-SHF equine education area and other crowd favourites, this year's show will include a special WCVM EquineED Talk on Friday afternoon, Oct. 28, featuring American veterinarian-farrier Dr. Steve O'Grady of Keswick, Va. O'Grady, who trained and worked as a farrier for 10 years before going to veterinary school, is internationally known for his extensive work in equine podiatry and farrier education. Check the Expo website (saskatchewanequineexpo.ca) for more information closer to the show's date.
Dr. Spencer (Spence)
EQUINE EXPO CELEBRATES 10 YEARS
For more details, visit wcvm.usask.ca and click on "Vetavision 2022" under the Education tab. Plus, make sure to follow @vetavision on Facebook and @wcvmvetavision on Instagram for the latest updates.
The WCVM's popular "EquineED Talks" online series will return this fall for a third season of horse health learning with the veterinary college's equine clinical team. While organizers are still confirming this season's lineup of speakers, the first session is scheduled for Nov. 8. This season's topic list includes equine skin conditions, equine behaviour, sports medicine, tying-up syndrome and more. The WCVM presentations, which are offered free to the public, will run from 7 to 8:15 p.m. CST on selected Tuesday evenings. Visit wcvm.usask.ca and click on "EquineED Talks" under the "Education" tab to register for the listed sessions. The web page also includes links to all recorded horse health presentations from the past two seasons.
ONLINE EQUINE TALKS RETURN THIS FALL
Dr. Spence Barber. Supplied WCVM student Lianne Price (left) gives bandaging tips at Vetavision. Christina Weese
LONGTIME EQUINE SURGEON RETIRES
6 HORSE HEALTH LINES | Fall 2022
Barber, a professor and surgical specialist in the WCVM's Department of Large Animal Clinical Sciences, retired in June 2022 after a 45-year career at the WCVM. Barber grew up in inuatedSaskatchewansouthernandgrad-fromtheWCVM1974.Aftergraduating, he completed an equine internship at Purdue University. He went on to finish a surgical residency at Cornell University and University of California, Davis, and then became a board-certified specialist with the American College of Veterinary Surgeons (ACVS). Barber joined the WCVM faculty in 1977 and was an integral part of the WCVM's large animal surgical team with many contributions to clinical services, teaching and research. Barber presented, published and conducted research on various aspects of orthopedic and soft tissue surgery, besides completing numerous clinical investigations. In recent years, he and his team members are best known for their innovative work in equine wound healing — including explorations of stem cells as therapy for wounds in horses. In the Saskatchewan horse community, Barber was well known for his 23-year role as the regulatory veterinarian at Saskatoon's Marquis Downs racetrack and his previous involvement as a calf roper in rodeo competitions. As well, he trained running breed barrel prospects and ran a small horse breeding operation outside of Saskatoon for two decades. A few years ago, Barber and his wife Terry purchased a waterfront cabin north of Saskatoon — the ideal place for their grandchildren to visit.
VETAVISION RETURNS
• Dr. Sarah Thomas of Calgary, Alta., is interning at Burwash Equine Services in Cochrane, Alta.
• Dr. Matthew Woodman of Calgary, Alta., is interning at Cornell Ruffian Equine Specialists, Cornell University in Ithaca, N.Y.
• Dr. Taylor Davies of Langley, B.C., is interning at Paton and Martin Veterinary Services in the Fraser Valley, B.C.
7Fall 2022 | HORSE HEALTH LINES
After graduating from the WCVM's Doctor of Veterinary Medicine (DVM) degree program in June, seven members of the WCVM's Class of 2022 began one-year clinical internships at equine-focused veterinary practices in Western Canada and the United States.
• Dr. Alannah Friedlund of Fiske, Sask., is a large animal (equine) surgical intern at the WCVM in Saskatoon, Sask.
• Dr. Megan Puzey of Cochrane, Alta., is interning at Pioneer Equine Hospital in Oakdale, Calif.
Two WCVM graduates who interned at Moore Equine Veterinary Centre in 2021 have moved on to exciting opportunities in veterinary care. Dr. Anna Henderson (DVM'21) began an anesthesia residency at Ontario Veterinary College while Dr. Jane Westendorf (DVM'20) joined the team at Total Equine Veterinary Services in Langley, B.C. Another recent WCVM graduate, Reina Fennell (DVM'21), completed her internship at Veterinary Associates Equine LP in Auckland, New Zealand, and returned to Canada in September to become an equine veterinarian with Swiftsure Equine Veterinary Services in Victoria, B.C.
Visit tehrf.ca for more news updates. 2022 WCVM graduate Dr. Taylor Davies. Christina Weese
EQUINE INTERNSHIPS FOR WCVM GRADUATES
A round up of WCVM-related equine research articles that were recently published in peer-reviewed journals. Chapuis RJJ, Becker AAMJ, Dowling PM, Weese SJ. "Characterisation of faecal microbiota in horses medicated with oral doxycycline hyclate." Feb. 2022. Equine Veterinary Journal 00:1-13. https://doi.org/10.1111/evj.13570. Diel de Amorim M, Klein C, Foster R, Dong L, Fernanda Lopez-Rodriguez M, Card C. "Expression of oxytocin/neurophysin I and oxytocinase in the equine conceptus from day 8 to day 21 post-ovulation." Mar. 2022. Animals. 12:799. https://doi. org/10.3390/ani12070799.KingsleyNB,Sandmeyer L, Bellone RR. "A review of investigated risk factors for developing equine recurrent uveitis." Veter inary Ophthalmology. 2022; 00:1-15. doi: 10.1111/vop.13002. Ricard RM, St-Jean G, Duizer G, Atwal H, Wobeser BK. "A 13-year retrospective study of equine abortions in Canada." Canadian Veterinary Journal. July 2022. 63(7):715-721. PMID: 35784776; PMCID: PMC9207963. Carmalt JL, Pimentel KL. "The equine temporomandibular joint: comparisons between standard and needle arthroscopic examination of cadaver specimens and standing horses." Frontiers in Veterinary Science. Apr. 2022. 26;9:876041. doi: 10.3389/fvets.2022.876041.
IN PRINT
RESEARCH
• Dr. Chantel Dunlop of Seven Sister Falls, Man., is interning at Moore Equine Veterinary Centre in Calgary, Alta.
• Dr. Alexandra Hiemstra of Big Valley, Alta., is interning at Idaho Equine Hospital in Nampa, Idaho.
HONOUR THEIR LIVES WITH THE GIFT OF EQUINEHEALTH Questions? wcvm.supportus@usask.ca | 306-966-7268 "Our
Dr. David Paton ( DVM'78) WCVM alumnus and TEHRF donor
we will
you
tehrf.ca Check out Horse Health Lines online at tehrf.ca PUBLICATIONS MAILAGREEMENTNO. 40112792 RETURN UNDELIVERABLE CANADIANADDRESSESTO: University of Saskatchewan 52 Campus Drive Saskatoon, SK S7N 5B4 horse.health@usask.ca
Pay tribute to the lives of patients, clients and loved ones making a donation to the Townsend Equine Health Research Fund (TEHRF) through its memorial program. time give to the fund, send a letter to the client or loved one's family acknowledging your gift to the equine health fund. practice (Paton & Martin Veterinary Services) began to make contributions to the fund on behalf of clients when their horses passed away. We have found this to be a gratifying contribution and have been humbled by the responses that we have received from many of our clients. think that it is very helpful for them to know that their horses have been honoured in such a fashion. The fund gives horse owners the additional oppor tunity to contribute to this very worthwhile cause: supporting vital research in the areas of equine health."
your
by
Each
I
If horses are yourispassion,yourmagazine. Subscribe Today. (Your horse will thank you.) www.HORSEJournals.com • 1-800-299-3799 subscriptions@horsejournals.com Canada's National Horse Magazine LEVERSHUTTERSTOCK/ANDREWPHOTO:
By Tania Millen
"Dressage riders differentiate between contact and connection," says Shannon Lee Dueck, who represented Canada at grand prix level for many years and is now based in Florida. She explained that riders need to develop effective contact first, then as the horse becomes more advanced that contact morphs into connection.
And Do Riders Need
Riders need to develop effective contact, and the horse must be confident that he can always go on the bit.
Contact with a horse's mouth via the bit is a generally accepted principle when riding or driving. But a horse's mouth is incredibly sensitive and many riders around the world are successfully guiding their steeds without bits. Where did the idea of contact come from, what is it, and do riders really need contact with a horse's mouth to convince their horse to perform?
Shannon Lee Dueck Amanda Self PHOTO: CAROLYNLUTHER
PHOTO:GKPHOTOSPHOTO:ADOBESTOCK/ANNABELLGSODL 42 www. HORSEJ ournals.com :: AUTUMN 2022
"You can have contact without a good connection," Dueck says. "But you cannot have a good connection without contact."
It?
What CONTACT?is
Dueck's description of contact, connection, and how to acquire the two is embedded in the classical dressage training pyramid. Contact and connection form the middle layers of the pyramid, following rhythm, relaxation, and suppleness, and are
"What we're trying to establish is that if you put your leg on, energy travels from the hind leg, over the back, over the neck, and connects with the bit," says Dueck. "We need the horse to be confident that it can always go to the bit. The biggest challenges that riders have in developing contact is that the horse doesn't go correctly forward from the leg."
Really
NRHA rules don't refer to contact and reining horses are directed by the rider's seat, weight, legs, and upper body movement, explains Amanda Self. Pictured is Shawna Sapergia and This Chics on Top at the World Equestrian Games 2010.
Contact is also embedded in the rules of several horse sports.
According to the 2022 Fédération Equestre Internationale (FEI) dressage rules, the ideal dressage horse demonstrates "acceptance of the bit with submissiveness/throughness (Durchlässigkeit) without any tension or resistance." They state that "In all the work, even at the halt, the horse must be 'on the bit' …accepting the bridle with a light and consistent soft submissive contact."
The 2022 FEI driving rules for the dressage phase are similar. They define contact as "the connection through the reins between the athlete's hands and the horse's mouth. It should be soft and steady at all times." Additionally, during all paces "the horse must remain on the bit."
But other horse sports prefer different amounts of contact. Equestrian Canada's 2019 rules for hunters state that in hunter-under-saddle classes, "Light contact with the mouth is permissible."TheNational
Reining Horse Association (NRHA) rules don't refer to contact. However, they state "To rein a horse is not only to guide him, but also to control his every movement. The best reined horse should be willingly guided or controlled with little or no apparent resistance and dictated to completely."
"We try to leave our hand down with loose reins," she says. "It's about the horse being so connected that riders can let go of the rein Today'scontact."myriad horse sports all have different preferences and ideals regarding contact with the horse's mouth and those ideals have evolved over the last 2,500 years.
"As reining horses become more highly trained, we try not to have direct contact with the reins," says Amanda Self, an NRHA professional who operates Self Made Performance Horses in Salmon Arm, British Columbia. Instead, reining horses are directed by the riders' signals — seat, weight, legs, and upper body movements.
Early concepts of contact were directly linked to requirements of the military. Up until the early 1900s, horses were primarily ridden with curb bits. Reins were held in the left hand allowing riders to wield swords with their right. In about 355 BC, Xenophon wrote about "refraining from pulling on the mouth with the bit" and "teaching your horse to go with a light hand on the bit." However, many of the bits in Xenophon's time were brutally sharp pieces of hardware that certainly wouldn't encourage horses to seek the contact expected in dressage rings today.
Michelle Young works with riders to develop an emotional connection with their horses using dressage-type principles.
RASMUSSENDANAPHOTOS: PHOTOGRAPHYCLIXPHOTO: 43AUTUMN 2022 :: CANADIAN HORSE JOURNAL
needed to develop more advanced ideals of impulsion, straightness, and collection.
PHOTOGRAPHYCLIXPHOTOS: 44 www. HORSEJ ournals.com :: AUTUMN 2022
According to FEI dressage rules, the ideal dressage horse accepts the bridle with light and consistent soft submissive contact in all the work, even at the halt. Pictured is Megan Lane with Caravella at the World Equestrian Games (WEG) 2014 (above), and Steffen Peters with Ravel at the WEG 2010 (below).
"It feels like this place where the energy in the horse is flow ing from back to front and there's a shared space between me and the horse," she says. "I'm in self carriage, they're in self car riage, they're not afraid of my hands, aren't hiding behind them, and not leaning on them, either."
About 100 years ago, the first dressage principles were developed and today's dressage ideals — including how contact is defined — originated with them. But the evolution of contact has been conten tious and discussions about best practices continue today. Controversial rollkur methods — aggressive contact that produced over-flexed necks — tainted the dressage world from about 1990 to 2010. At the same time, natural horsemanship practitioners were choosing to ride "freestyle" with no contact in rope halters, as the Californian bridle horsemen had ridden for decades with bosals. Michelle Young bridges those worlds. She's an instructor based in Langley, BC, who helps riders form an emotional con nection with their horses through natural horsemanship meth ods while utilizing dressage-type principles. Young believes the reins have three purposes: subtle communication with the horse's head and jaw, receiving information from the horse, and providing another point of connection beyond the rider's seat and"Sometimeslegs. contact can feel like 'taking,'" Young says. "I like to say connection because that means it's 50:50 between the horse and rider. You're sharing a connection, back and forth.
The first written description of contact that I've come across was provided by François Robichon de La Guérinière in his book
>
It's a lovely sounding ideal which many riders undoubtedly aspire to. But from conversations with riders in different sports it's obvious that contact is a human construct. Horses do not require bits in their mouths and a riders' hands to perform com plex manoeuvres. The requirement for contact (or not) depends on rider beliefs, the horse sport riders are involved in, and what they're trying to achieve. b
45AUTUMN 2022 :: CANADIAN HORSE JOURNAL
Tania Millen is a regular contributor to this magazine — read her bio on page 78.
Perhaps coincidentally, current definitions of correct contact for dressage horses include requirements to be "on the bit." However, the curb bits in de La Guérinière's era were fairly ferocious, suggest ing that his version of contact may have felt significantly different from the contact dressage riders seek today.
L'École de Cavalerie (The School of Horsemanship) which was published in 1731. He wrote, "contact is the feel produced by the action of the bridle in the rider's hand and the action the rider's hand produces on the bars of the horse's mouth." He further noted, "horses with the best mouths have a contact on the bit… they have a consistent, light, and moderate contact."
Young says a good connection requires a high level of aware ness by the rider to not start holding and pulling and developing heavy contact.
"It's like you're holding hands and dancing while in connection with the reins," she explains. "Both partners know their role but it's nothing to do with dominance. It's just that (the rider) is leading."
Up until this time, illustrations show horses ridden with arched necks, lowered hindquarters, and loopy reins. But during the 1800s, two different schools of horsemanship developed — one relied on total control and dominance over the horse while the other emphasized going forward, often outside the arena over natural obstacles.
Changing Tina Thompson on Cleo at the iconic Cougar Rock, competing in The Tevis Cup 100-mile endurance race in 2013. Disciplines PHOTOGRAPHYGORD/BAYLOROFGORDBILLPHOTO: 46 www. HORSEJ ournals.com :: AUTUMN 2022
"Cleo had this big swinging, effortless trot," says Thompson of her former eventing horse that took to endurance like a duck to water. "She wanted to go all day long."
When Tina Thompson's 16.3-hand offthe-track Thoroughbred Cleo stopped enjoying three-day eventing, Thompson decided to try something new. She grew up doing the Quarter Horse show circuit in Alberta but got hooked on eventing after seeing cross-country for the first time in her twenties. However, her horse Cleo didn't have the ability to jump
By Tania Millen
It's something riders at all ages and life stages may experience but the learning curve for a new sport can be steep. We interviewed three riders who are embracing new-to-them horse sports and meeting the challenges that brings. From Long Gallops to Long Trots
Tina Thompson eventing with Zen. When Thompson grew tired of eventing she switched to endurance riding and has never looked back.
Riders often pursue the same horse sport for years, competing up and down the levels depending on their horse and how life unfolds. But some riders choose to change disciplines altogether — by choice, necessity, or because their horses want to do something different.
OpportunitiesLearningforPivotingLifelong
COLLECTIONTHOMPSONTINAPHOTOS: 47AUTUMN 2022 :: CANADIAN HORSE JOURNAL
bigger fences and Thompson felt stuck doing the same sport she'd been pursuing for over ten years.
"I really enjoyed it because it's a completely different thing," she says. Endurance riding was a whole new world. Thompson had to learn about the nutrition, shoeing, and workload Cleo needed to excel at a very different sport.
"I think she was as sick of eventing as I was," says Thompson. "We went to Florida a couple of times and went around the Alberta events for five or six years. I did a preliminary event with her and then went back to training level. "It felt like neither of our hearts were in it," she says. "We were on the Alberta high performance team, but she was always going to be frenetic. I was just going through the motions — still learning but there was less desire. It was moreHavingmechanical."readthat any horse can do 25 miles, Thompson put Cleo in the trailer and went to a 25-mile endurance ride.
NEW U LTRA S HIELD ® GREEN ALL-NATURAL SUMMER SPRAY! Absorbine.ca ULTIMATE Protection & Grooming Keep your horse fly-free, tangle-free, comfortable.and Guaranteed.
HILLVIRGINIA(RIGHT):PHOTO|COLLECTIONPHOTOPLITZ(LEFT):PHOTO
48 www. HORSEJ ournals.com :: AUTUMN 2022
"I got really good at being vulnerable and open-minded and then doing lots of research about what people said," Thompson shares. "Cleo could trot from morning to night," she says. "I still did some arena work because she was broke to death. You don't just go out on the trail and run your heart out. But I got lucky and she took to it like a duck to water. She wanted to go all day long. "Cleo had this big swinging, effortless trot," Thompson says. "We never had to try very hard. I just got really, really lucky.
Olympian Kelly Plitz with Dialadream competing in Germany in 1982 (left), and at the 1984 Olympic Games in Los Angeles, CA (right).
Plitz found a high-quality coach, bought a horse, and started showing. "They're a different type of horse and it was a huge learning curve," she says. "It took a while for me not to look like an event rider trying to ride a reining horse. In the first year, I was lucky if I got a score." Plitz explains that reining is like dres sage — the aids shouldn't be obvious — except the horse has to carry itself while being ridden on a slack rein. Plitz found rid ing on a long rein with one hand difficult. "My other hand would just grab the reins automatically," she says. "It would just happen because I've been riding with two hands for so long. Then I would be eliminated from the class and get a zero. I had to really hook my right hand under my belt so that I wouldn't grab the reins."
"It's a lot different than what I used to do," says Plitz. "Everybody hoots and hollers when you're in the show pen and they play live music. The timing with the run down to the sliding stop is similar to going down to a jump, although you do
"I talked about entering Tevis with a few people and it raised some eyebrows, but I had nothing to lose," says Thompson. "All the stars probably aren't going to line up again in my lifetime. I didn't finish but neither did 65 percent of the people that entered, so we were in goodSincecompany."then,Thompson has lost Cleo to health issues. But she believes that horses provide lifelong learning opportunities. She encourages other riders to be vulnerable, brave, and take opportunities that come along. You never know where they may lead. Learning to Spin and Slide Kelly Plitz rode Dialadream, a Quarter Horse mare, on the 1984 Canadian threeday-eventing Olympic team. "I discovered eventing in 1978 and then we just kept moving up [the levels]," Plitz recalls. "We would go to events every weekend. We did that for decades. "Before I evented, I did English and Western, Quarterama, the AQHA shows. I dabbled in a bit of everything," she says.
In the 1980s, Plitz taught a reining rider how to ride dressage-type circles and those lessons sparked an interest in reining that never went away. "About five years ago I stopped eventing," she says. "I just didn't want to do it anymore. I wanted to do something different. But I needed to ride. I still needed horses. So I started reining."
49AUTUMN 2022 :: CANADIAN HORSE JOURNAL
www.Nettles-Stirrups.com orders@nettlescountry.com1-800-729-2234
The Leveler
"I just picked her brain. There's lots of time to chat when you're riding 50 or 100 miles," she laughs. After a few years of endurance riding, Thompson entered the prestigious Tevis Cup 100-mile endurance ride held every year in the rocky hills of California (CA).
Learning to do a sliding stop was just as challenging."Whenyousee cross-country riders jump down a bank or something and they throw their arm up for balance it's called 'hailing a cab,'" says Plitz. "Well, I was doing that [when doing a sliding stop]." But she's persevered and found a newBeingpassion.ahorse trainer at heart, Plitz has been bringing along youngsters rather than buying finished show horses to compete. And she's got plans. "I want to venture down south," she says, explaining that she'd like to produce a three-year-old for the futurity classes in Oklahoma plus ride in the Congress Quarter Horse Show in Columbus, Ohio.
Nettles Stirrups are available at your better Canadian Western stores.
FOR A BETTER RIDE Do your feet hurt or fall asleep while riding? Do your ankles, knees, or hips ache when you're in the saddle? You need the NETTLES LEVELER for a level ride that helps alleviate the pain.
And the next steps always made sense."
Thompson was fortunate to hook up with some of the best endurance riders in Western Canada and groomed for one of them at the World Equestrian Games.
exactly the opposite. The spinning is amazing. Once you sit on a reining horse, you're"I'mhooked."reallyloving it," she says. "It's a ton of fun."
COLLECTIONPHOTOPLITZPHOTOS:
"I've been going to a lot of amateur rodeos," says Powell. There, he enters novice and open saddle bronc competi tions. But Powell also rides in novice sad dle bronc classes at professional rodeos, and at 17 he's hoping to qualify for the 2022 Canadian Finals Rodeo (CFR).
Colten Powell grew up in a horsey family in Alberta and started show jumping at age 10. Two years ago, at age 15, he was competing in 1.20 to 1.30 metre FEI children's jumper classes in Thermal, California. But then he went to rodeo school and hasn't looked back.
"I try to rodeo with a couple other guys," Powell says. "We're all going to the same place so we may as well jump in together. This weekend we're in Williams Lake [British Columbia] on Thursday and then Ponoka, Alberta the next day. So there's a lot of driving."
50 www. HORSEJ ournals.com :: AUTUMN 2022
From Jumpers to Rodeo
Accessibility, finances, and comradery are factors, too. "I can go to five different rodeos every weekend pretty much all summer long," he says. "It's cheaper [than show jumping] and the cost-to-payout ratio is definitely a lot better." Also, the top three riders by money earned will qualify for the 2022 CFR novice saddle bronc competition. So attending more rodeos means that Powell has a better chance of earning one of those spots.
Kelly Plitz found reining a "huge learning curve" after eventing. "Once you sit on a reining horse, you're hooked," she says. Plitz is pictured competing Diamond For Your Chic (left) and the four-year-old That Girls Nite (right).
His commitment is paying off.
"I like to travel around and go to differ ent places," he says. "At the rodeos there's lots of music playing so it's entertaining."
Rodeo is a big change from show jumping but Powell is enjoying the switch.
Greystonewww.EquineEssentials.ca604-992-5676Stables,608764thSt,Delta,BC Fall for Some New Gear!
"I wanted to take a break [from jumpers] and my Dad rode bucking horses for a long time," Powell says. "So I signed up for rodeo school." After that, he started competing in saddle bronc classes at local rodeos.
"I believe in shopping around to find a sport that you like and you want to stick
"I got a scholarship to go to Casper, Wyoming in the fall," Powell says. "I'll be on a college rodeo team and they'll pay for my school. You have a coach and there's a lot of bucking horses, so I'll get lots of practice."
POWELLROBINPHOTO:PHOTOGRAPHYGRALYNPHOTO: for Horses www.ultrakelp.ca • TOLL FREE: 1-888-848-9988 Includes Iodine / Selenium / Biotin / Vitamin E / Methionine / Lysine / And Much More FEED ONLY 35 GRAMS DAILY Essential Macro & Micro Nutrients Rich,BioavailableBalanced, 100% NATURAL ORGANIC 60 MINERALS 12 VITAMINS 21 AMINO ACIDS 51AUTUMN 2022 :: CANADIAN HORSE JOURNAL
Colten Powell started show jumping at age 10 and within five years was competing in the FEI children's jumper classes in Thermal, CA. "I think everybody should try a little bit of everything," says Colten Powell, who at age 15 switched from show jumping to bronc riding. He enjoys the lifestyle and other bene fits from making the switch, and believes in trying different disciplines to find a sport you like that you want to stick with. "At the end of the day, it's all horses." with or want to get really good at," he says. "I think everybody should try a little bit of everything. At the end of the day, it's all Thompson,horses."Plitz, and Powell have all found that pivoting from one horse sport to another reinvigorated their enthusiasm for horses. Having boldly pursued change, they're now using their hard-earned horsemanship knowledge to succeed at new horse sports. It's a great way for riders to be excited about the future without abandoning their passion for horses. b > Tania Millen is a regular contributor to this magazine — read her bio on page 78.
Weidemann Telehandler T4512
https://locations.weidemann-online.com/lf/Find1-800-201-3346Weidemann.Canada@weidemann.deyourclosestWeidemanndealer: Make light work of heavy loads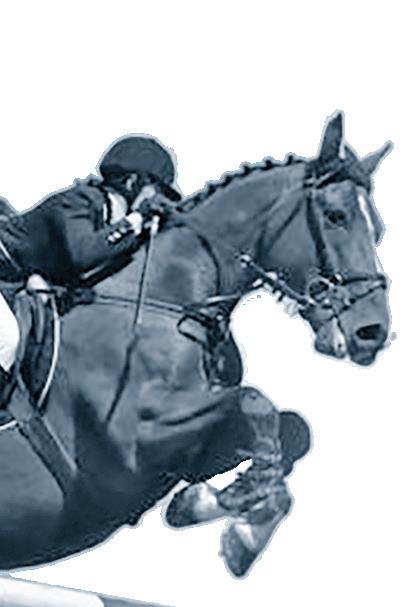 When I first began riding lessons over 30 years ago, the horse world that I experienced was staunchly devoted to negative rein forcement training, supported by a limited understanding of equine behaviour and the speed and convenience of force-based forms of horsemanship. I can safely say that the process of shed ding those engrained patterns, cemented in my neural pathways by consistent use and a lack of viable alternatives, has been one of the greatest obstacles in my journey with horses. Thankfully, over the last five years, I have been bathing in alternative and less intense waters where horse training is concerned. Positive rein forcement training, known by many as R+ training, has been one of my explorations. This type of training, used commonly with dogs and other animals and now finding its way into more main stream use with horses, uses clicker training primarily as a means of supporting learning. Clicker training uses a novel noise or word that is easily distinguishable for your horse to mark a desired behaviour, generally followed closely by a reward, typical ly of food. In this way you are able to shape behaviours and encourage curiousity and creativity in your horse. For many horse people in Western Canada, R+ training is still perceived as a permissive and tedious training process in compar ison to the type of training most of us know so well — pressure and release, punishment-based, negative reinforcement horse manship. But change is afoot, especially with new understandings in equine science and behaviour finding their way into the main stream and supporting reward-based methods. It's getting harder to ignore the science, which clearly demonstrates that horses are social, community-minded, and collaborative beings like humans; that hierarchy and dominance are myths; and that their ability to learn and adapt is directly impacted by their levels of stress and
A GUIDE TO Clicker Training
By Alexa Linton, Equine Sports Therapist
HORSEMANSHIP DREAMSTIME/RK8TP18PHOTO: 52 www. HORSEJ ournals.com :: AUTUMN 2022
the degree of harmful pressure they are experiencing. In other words, reward-based methods of teaching, as with humans, can produce higher adaptability through a relaxing and low-pressure learning environment that fosters curiosity and play. Maybe you're like me, but I will put in a lot of effort if I know there is a chocolate croissant on the line. However if someone is forcing me to do something I don't want to do or feel unsafe doing I typically find myself resisting, trying to leave the situa tion, or shutting down. If I have a sense that I can say no and be heard, stop when I need to, and choose to move forward at a pace that works for me, all while being rewarded when I'm doing well (preferably with chocolate), I am a much happier camper.Thisis not to say that positive reinforcement is the only way to go and you should abandon everything you've ever learned. I'll be the first to admit that my horsemanship is a hodgepodge, just like my riding attire, and it's all about what works for my horses and me. Even though I was training in this way with my younger mare Raven, I resisted using positive reinforcement with my mare Diva for several years. I had previously found her becoming unfocused and pushy with treats around, and what we had been doing up until that point had been working fairly well. I had also fallen into the "an older horse can't learn new tricks" trap. But there were noticeable gaps in our training that nega tive reinforcement and pressure only made worse, such as anxi ety and reactiveness with new objects or bigger vehicles on the road or trail, walking away from the mounting block, resistance to deworming, and a loss of confidence loading in the trailer on her own. These small but important gaps highlighted a lack of confidence and trust in me and in her environment, and difficul ty feeling safe and therefore curious in certain situations. When I finally tried clicker training with Diva it was a game changer. Many people don't attempt this type of training because they are scared that their horse will become food aggres sive with hand feeding. The shift for us was to set up manners about the food rewards right from the start and lower their value by using things like hay cubes, pellets, or even hay. Doing so reduced both the intensity around treats and the sugar intake.
Now if my horse shows a big try, or at the end of a training ses sion, I can give a high value treat (such as carrots or apples) to let her know I appreciate her effort. You can also work with your rewards in feed buckets if you really can't get behind hand Clicker training can encourage the horse to try new challenging experiences and be more engaged in liberty movement.
Heather Nelson is asking Skye to lift his foot and touch the ball. She's demonstrating to Skye what she would like him to do and rewarding him when he does it.
JORYNICOLEPHOTO: PHOTOGRAPHYCLIXPHOTO: 53AUTUMN 2022 :: CANADIAN HORSE JOURNAL
The other critical shift was learning about target training, where the horse is asked to touch a target object and clicked and rewarded when she does. The target can be as simple as a short stick with a foam or tennis ball at the end, or even a pool noodle (although these can be wiggly!). This training can then be applied to a variety of different situations, like touching the tar get to ask for a bend or a turn on haunches, teaching a horse to stand and tie with a target object tied to your fence or trailer, or moving your target closer to a new object and rewarding with each brave step. This type of clicker training supports both my mares in developing their curiosity with new and scary-to-them objects, as well as happily standing still for hoof trimming and mounting without pressure. You can even use your dewormer tube as a target, because wouldn't it be nice to be able to deworm with no stress on either you or the horse?
feeding. And yes, I have a treat fanny pack that makes me look even cooler than ever at the barn and out on the trail. In the Resources section below, I've included a great article from the Willing Equine, which shares how to set yourself up for success as you start learning to do clicker training.
On that note, this type of training can be your best ally in sit uations that require first aid, veterinary care, or trailer loading. It can support your horse to prepare for and be more relaxed at farrier appointments, and during saddling and mounting; to be more engaged in liberty training; and to be more excited and interested to try out novel and challenging movements by invoking an intrinsic desire to play.
JORYNICOLEPHOTO: 54 www. HORSEJ ournals.com :: AUTUMN 2022
As a beginner myself, I am not going to explain the specifics of how to begin clicker training with your horse, but I will give you some resources to start you off well. I highly recommend Using clicker training for lateral work, Heather Nelson asks Skye to move his hip toward the target for a reward and uses her hand as a target to maintain a bend through his body.
finding an instructor who can offer feedback and support through this learning process. Any new method takes time, practice, and support to develop your timing and feel. Clicker training is no exception, but Diva and I can attest to its worth as a valuable tool in your training toolkit. As easy as it might seem to stick to a longtime or traditional training method, my hope for each of us as horse people is that we continue to learn and grow alongside our horses. Trying out new skill sets, even if we might be awkward and ineffective as we begin, can grow our own neuroplasticity, encourage play and curiosity in ourselves and our horses, and improve connection with our horses. Clicker training is a fun and relatively simple way to improve your horsemanship and shift your thinking about training horses, whether you decide to use it all the time or as part of your relational experience with your horse.
Heather Nelson is working at liberty using clicker training with her horses Extra and Sailor. Linton a regular contributor to this magazine. her page 78.
Read
bio on
is
RESOURCES: • Article Clicker Training: How to Get Started from the Willing Equine > www.thewillingequine.com • Connection Training — Hannah Weston (target training speciality, membership program, book, fun and easy to follow YouTube videos) > www.connectiontraining.com • Heather Nelson (Vancouver Island based R+ trainer — does online training sessions) > www.heathernelsonlibertytraining.com • Emotional Horsemanship with Lockie Phillips — (online course on using intermittent rewards, does online training sessions) > www.emotionalhorsemanship.com • Instagram accounts to follow - The Willing Equine, Connection Training, Reward Based Art of Riding, Emotional Horsemanship, Hanna and the Horses KELLYSASKIAPHOTO: 55AUTUMN 2022 :: CANADIAN HORSE JOURNAL
Portable Corral Panels One Person Set-up Safe and Stable Folds Up For Tranpsort 1.5" High Tensile Steel Tubing Durable Polyester Powder Coat www.hi-hog.comFinishPortable Event EquineOUTSTANDINGStallsBox Stalls www.revitavet.com • (602)-513-1223
> Alexa
Enjoy! b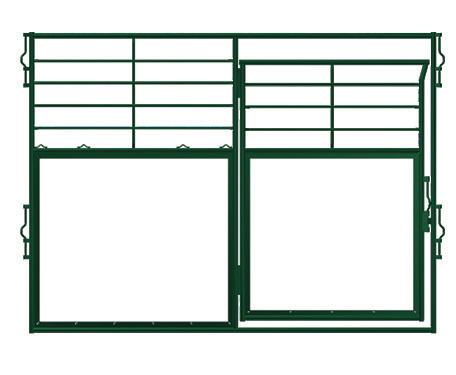 HORSEMANSHIP The Case for
In many ways, it measures a horse's current physiological capabilities. Can the horse's small stabilizing muscles perform their role while the locomotive ones perform theirs? Is his nervous system capable of creating fine-tuned movements? Is the horse in a state of calm and curious readiness, indicating activation of his critical parasympathetic nervous system? In order for a horse to move with ease and gracefulness, it is imperative that he responds to the lightest possible cues from his rider or handler.
Performing movements and exercises from subtle stimuli ensures that the horse's highly innervated postural and stabilizing muscles, which govern fine motor control, are awake and firing. On the other hand, rigid, delayed, or tense
Lightness
While it might often be spoken about in artistic, aesthetic, or even philosophical ways, lightness — both of movement and also of communication with horses — is more than an abstract ideal.
SHUTTERSTOCK/HORSEMENPHOTO:
56 www. HORSEJ ournals.com :: AUTUMN 2022
By Jec A. Ballou
6 Be sure the front feet remain in the corner of the L.
7 Now return to your starting position. Keep repeating this sequence.
3 Ask him or her to stand with the front feet in the corner of the L. Stand quiet and straight.
The horse must respond to the lightest possible cues from his rider in order to move fluidly and with ease.
WiperWindshield
PHOTOGRAPHYCLIXPHOTO: JOURNALHORSECANADIANILLUSTRATION: 57AUTUMN 2022 :: CANADIAN HORSE JOURNAL
movements indicate an over-use of poorly innervated locomotive muscles. And the more often these big muscles take over, the more habituated they become. Without good nerve activation, muscular function suffers. Nerves communicate with the brain and muscles through intermittent impulses. Strong or constant pressure on them results in switching off. An example of this: when a rider clamps her legs around the horse's ribcage or bangs heavily on his sides, the effect is numbing. Nerve signals are interrupted, dulled, and eventually switch off. The postural muscles they control are also switched off. Any time a horse's posture or quality of movement needs improvement, the rider and handler must start with developing a communication of lightness. If the horse responds with dull ness, muscular bracing, or tension there will be no progress. Here's a recent example from my own riding: My gelding, Diamante, was cantering along with what I consider poor move ment — heavily weighted on the front end, rushing, jarring me around in the saddle. He was "muscling" himself forward every stride as opposed to moving with ease and efficiency. I wanted to invite him to canter along by means of a series of well-coordi nated nerve impulses rather than brute force. I needed him to quit overusing his big shoulder muscles, which were creating the problem, and instead rebalance his cen tre of gravity by firing up the postural muscles. Using my seat, I asked him to slow down and rebalance himself. He was distracted and did not immediately respond. In fact, his movement deterio rated and became even more jarring to ride. I was tempted to keep applying my cue, perhaps even stronger. But I knew that doing so would lead to him deadening against the request from my seat, in which case there would be no hope of stimulating the nerves that would lead to an easier, more refined, and pleasant ride. In this instance, I transitioned downward to a walk for a few steps, asked Diamante to leg-yield away from my inside leg, and then departed to canter again. I repeated this sequence several times quickly, and caused him to listen and respond to my sig nals more closely, which in turn meant I could use increasingly gentler and lighter cues. The result: through responding to this lightness, Diamante activated the nerves that fired up the right muscles for ease of movement while lessening tension from the wrong ones.
This exercise asks your horse to perform turns on the fore hand within the boundaries of two ground poles. The motion of his body should appear like a windshield wiper gliding back and forth, hence the name. This requires body control and careful limb placement in order to not knock around the poles. If an immediate and smooth response is not achieved, several mis takes occur — the horse backs up or staggers outside the poles, or raises his neck and barges forward. Take your time and always return to a calm quiet standstill as needed. Do not rush as this most often adds tension to braced muscles. This can be performed from the ground or under saddle.
1 Set up two ground poles in an L shape.
4 Now ask for a turn on the forehand
The following are useful everyday exercises to test and main tain lightness, both the lightness of your communication and also your horse's response. These will give you ideas for other routines that are simple to perform but will keep your horse in a good physiological state. They are particularly useful because they require specific small movements, which call into play the muscles involved in lightness.
Windshield Wiper
2 Walk your horse inside the L parallel to one of the poles.
5 …swinging his hindquarters sideways until they are close and parallel to the opposite pole.
Jec A. Ballou is a regular contributor to this magazine — read her bio on page 78.
you
"As
5 Repeat a half dozen times. Schaukel
I
my
2 Now carefully swivel his or her head towards you.
4 Imagine rotating his head side to side as if it were attached by a hinge to the neck.
ExerciseSchaukel
Lateral Poll Flexion
Think about a smooth continuous flow of energy backwards and forwards. Aim to keep the horse's neck parallel with the ground, not higher, and pause briefly (five seconds) if the horse braces and lifts its neck. Imagine the horse's body as a marble rolling back and forth in a groove, holding a straight trajectory as it rolls smoothly forward and back, forward and back. This can be performed from the ground or under saddle. To keep the horse aligned straight, it can be helpful to practice alongside a fence, wall, or pole.
All natural soothing lotion for sore or strained muscles and joints. Available in 1L spray bottle for easy and quick application to larger areas, or a 500ml rub bottle.
b
Achieving looseness in the horse's poll muscles contributes to a body-wide lightness of movement by encouraging topline and bottom-line muscle chains to relax. You will ask the horse for tiny movements with his or her head, and be sure to keep your fingers and wrists relaxed and supple. It is quite common for horses to feel more rigid or tight on one side versus the other. Do not force the horse to move past a comfortable range of motion.
58 www. HORSEJ ournals.com :: AUTUMN 2022
JOURNALHORSECANADIANILLUSTRATION:
3 Repeat this sequence six to eight times.
3 Then gently swivel it back the other direction.
A soothing combination of natural essential oils in a gentle cream base. Specially formulated with natural ingredients to assist in the relief of leg, muscle and joint strain. a professional horse trainer, Dynamint Equine Leg & Muscle Rub an important aspect of my program. Dynamint is a natural product that has a cooling effect, it calms tired, sore muscles and rejuvenates horses keeping them feeling their best. use Dynamint on horses myself. The results I have experienced have not been matched by any other product in the market. long hauls and after hard workouts is the only product use on horse's If are looking for a product that is safe on skin and delivers results, trust Dynamint Equine Leg & Muscle Rub.
I
Equine
2 After the final backwards step, walk immediately forward four steps. Do not pause between the backward and forward motions.
legs.
1 From a square and immobile halt, ask the horse to back up four steps.
For
>
Dynamint
1 Place one hand on the bridge of the horse's nose and the other gently on the side of his face. (photo)
Dynamint
is
Your horse will thank you!" — Jill Barron www. integratedbiosys.com National Distributor: Canadian Centurion 1-800-361-3860 Local: Janian Imports • (604) 462-9238 MANUFACTURED FOR: Integrated Bio Systems Inc., 8558 Chilliwack Mountain Rd, Chilliwack, BC V2R 3W8 Phone: 1-877-501-5003 • Fax: 604-391-0029 • E-Mail: intbiosys@shaw.ca CALGARY STAMPEDE RIDERS and DYNAMINT
and
The Original Dr. Cook® Bitless Bridle StartPricesat$69.95USD English and WesternavailableStyles To Order: www.bitlessbridle.com Or Call 719-576-4786 Canadian Flat Rate Shipping, $2000 USD Canadian Stocking Dealer Pleasant Ridge Saddlery Lateral Poll Flexion BALLOUA.JECOFCOURTESYPHOTO 59AUTUMN 2022 :: CANADIAN HORSE JOURNAL
Have you ever temporarily fallen out of love with riding? In my work as an equestrian mental performance coach, many clients share with me that they've lost the joy that riding used to give them. Sometimes the challenges of your sport can feel like they're outnumbering the positives and equestrians can find themselves wondering: Why do I do this?
High Performance Values your personal values and why do they matter?
FOR EQUESTRIANS What are
By Annika McGivern
Values represent what is most important to us in terms of how we live and show up in our lives, how we treat other people, and how other people treat us. Values are principals that sit at the core of human decision-making, motivation, and purpose. We all have values, whether we are specifically aware of them or not, and these values are constantly influencing our decisions, where and how we spend our time and money, and the way we see the world. A few examples of values are loyalty, honesty, adventure, connection, challenge, learning, progress, discipline, and joy. When you become aware of your values, they cease to be a force guiding you from the background of your mind and become a tool that you can use consciously to ground yourself, make informed and confident decisions, and connect back to the joy of your sport. High performing individuals tend to be aware of their values and know how to use this awareness as a tool to fuel performance and well-being.w
Let's explore values through the experience of one of my cli ents, Rachel. Rachel came to me grappling with motivation and direction. She felt worn down by the constant struggle of her sport of three-day-eventing and was not sure if she should con tinue. In her own words, riding just wasn't fun anymore. If you can relate to feeling disenchanted with equestrian sport, don't worry; this is an opportunity to reflect on and clarify why you are choosing to engage with this sport and what you are getting from that choice. Through understanding her own values and aligning them with her goals in sport, Rachel was able to reconnect with her love for three-day-eventing, navigate difficult decisions with greater clarity, and improve her own progress in the saddle. What Are Values?
60 www. HORSEJ ournals.com :: AUTUMN 2022
The first step was for Rachel to discover her personal values by completing this exercise:
We can be driven to succeed when we value being better than those around us, winning, proving others wrong, making it look easy, and/or being the best, but interestingly these types of values
Talent and ability are created when we actively seek out struggle and push beyond our comfort zone.
Conflict is generated when we don't live to our own values, or we feel someone else isn't honouring our values. For example, if you feel extremely uncomfortable or guilty when you aren't truth ful with someone, or it deeply bothers you when someone isn't truthful with you, then it's likely that honesty is on your list.
2 Write down a list of 10 to 20 values that come to mind. If you're feeling stuck, Google search "values" for some inspiration.
1 Ask yourself these questions: What is most important to me? What principles have influenced my decisions so far in life? What characteristics guide how I want to show up and live my life?
3 Read over your list and consider if anything is missing. The list should feel like a good representation of who you are and what is deeply important to you. When you're ready, rewrite your values in a separate list, this time in order of importance based on where you are at in your life right now.
Choosing High Performance Values
•
• Where in my life do I notice the most conflict?
The top five values from Rachel's final list were: achievement, friendship, discipline, fairness, and honesty. Looking at her list, Rachel shared that she felt she wasn't achieving her goals and finding success in the sport anymore. She recognised how important achievement was to her, and that this was at the heart of her current frustration. When I asked her to explain exactly what achievement meant to her, she replied with the following: being better than the competition, winning, proving others wrong, making it look easy, and being the best out there.
Discover Your Personal Values
•
Values such as winning, being better than others, and proving others wrong can contribute to higher stress and feeling as if the challenges outweigh the positives. Rather than valuing specific short-term or ego-driven outcomes, choose bigger-picture values such as learning, overcoming challenges, and steadily improving.
SHUTTERSTOCK/HORSEMANPHOTO:•DREAMSTIME/LEESE01ILLUSTRATION: CISCATONICOLEPHOTO: 61AUTUMN 2022 :: CANADIAN HORSE JOURNAL
•
When we understand our values, we can use them as tools to help us make confident decisions and rediscover the pleasure of riding.
2 Choose to value struggle and challenge instead of ease. Sometimes we mistakenly associate talent and ability with ease. We assume if we are good enough, it should feel easy, or we should be able to make it look easy. When we value ease, we are more concerned with things looking a certain way or feeling a cer tain way than we are with real growth and progress. Talent and ability are created through struggle. We must be willing to strug gle to grow our skill. Choosing to value struggle takes things one step further. It's a decision to not just tolerate struggle, but to actively seek it out by pushing outside of your comfort zone, tak ing on challenges, and enjoying the process of developing new skills. It's saying I don't need this to be easy, in fact, I want this to be difficult because I'm here to be challenged, to find out what I can do, and to grow in all the ways I can.
1 Choose to value learning instead of winning. This means deciding that the most important thing is learning and improving your skill and knowledge every time you get in the saddle, rather than achieving a specific outcome. Valuing learning over winning helps us focus in on the task at hand when we are riding and to find the lesson in mistakes and setbacks. It encour ages us to stay connected to the bigger picture of our progress in the sport, instead of getting overly focused on short-term out comes and results.
SHUTTERSTOCK/HYPNO1000PHOTO: 62 www. HORSEJ ournals.com :: AUTUMN 2022
BC Appaloosa www.AppaloosaCentre.comCentre Prince George, BC 250-963-9779 • appaloosacentre@telus.net HERD DISPERSAL PREMIUM FOUNDATION APPALOOSASURGENT! Liquidating due to physical health reasons after nearly 30 successful years Special consideration available for entire herd purchase.
don't support high-performance in the way we might think. They can also contribute to higher stress and to ultimately feeling disconnected from the joy of riding. We can choose to align ourselves with values that support high-performance and finding joy. When we choose a value for ourselves, we are making a declaration that this is what's most important, and this is what drives me. This can involve changing the way we think about something. In Rachel's case, her challenge was to reimagine what achievement meant to her. Here are some examples of high-performance values and why they matter.
3 Choose to value consistent improvement instead of being the best. Being the best implies a focus on being better than others as a measurement of success, but what does it really mean to be the best?
Is the best rider the one who goes clear but kicks and whips their horse around the course, or the rider who rides more compassion ately yet has a rail? When we get caught up in being the best, we become distracted by our ego, the part of us that fears making mistakes and the opinions of others, both of which are outside of our control. Valuing consistent improvement means letting go of needing to control the outcome or others' opinions and instead saying the most important thing is to just keep getting better. This shifts our focus back to the things we do control, such as our attitude and reactions. Through our conversation, Rachel recognised that her experi ence of achievement had become warped by the pressure to win. Although she and her horse had not been placing the way she had hoped, progress, learning, and growth were happening regard less. Through realigning herself to the three high-performance values described above, she discovered that her true source of joy was not winning, but the process of developing as a team with her horse and steadily growing her skill as a rider. We can choose the values we want to live our lives by, both as individuals and as a team or group. When we are feeling lost or unsure about our next steps, reconnecting with our values helps us to find and navigate the path forward. Have a look over your list of values and ask yourself how they align with equestrian sport, and what they tell you about what's truly important to you. Remember, once we are aware of our values we can choose new ones and/or align ourselves with the ones we really need to reconnect to the joy of our sport. As often happens, I heard from Rachel a few months later. Not only was she enjoying riding again, she had also placed in the top three at her last event. Through choosing to value learning, strug gle, challenge, and constant improvement she had been able to really focus on and move through the training challenge she had been having with her horse. Such is the interesting magic of clari fying what is truly important to us and rediscovering the joy in what we do, which often leads to better results in competition as an extra bonus.
63AUTUMN 2022 :: CANADIAN HORSE JOURNAL
b
> Annika McGivern is a regular contributor to this magazine — read her bio on page 78.
Mark your calendars and join us in celebrating A CENTURY OF CHAMPIONS at The Royal Agricultural Winter Fair, November 4 – 13, 2022 TICKETS ON SALE NOW IT'S GOOD TO BE BACK! www.royalfair.org
"My1990s.whole purpose was to have them slow down and feel the horse, and really understand where the feet were," explains Tait, a physical education teach er in Calgary before she left her job to operate her riding business full-time. Learning to ride bareback is unusual, she says, "because it is so vulnerable."
RidingFeatherEagle
Eagle Feather Riding teaches all ages, from little ones to people in their 70s.
Bareback riding appeals to "sensitive, quiet, gentle people interested in a slow, deep connection," says Tait. Bareback riding "is a beautiful way to begin and it often leads to a passion."
LOUIEJACQUELINEPHOTO:
64 www. HORSEJ ournals.com :: AUTUMN 2022
By Jacqueline Louie Riders learning to ride bareback with their copilots leading. Bareback riding "is a beautiful way to begin, and it often leads to a passion," says Vickie Tait. Vickie Tait, owner of Eagle Riding.Feather
At Eagle Feather Riding, the horses know when their riders are on their way, and come running to greet them when theyThatarrive.deep connection between horses and riders is part of the magic of Eagle Feather Riding, which offers bareback riding lessons from September through June, as well as summer camps. Situated on land overlooking the foot hills just west of Calgary, Alberta, Eagle Feather Riding makes learning to ride bareback and connecting to your mount, easy. A "copilot" — an experienced horse person — holds the rope for each begin ning rider's horse and accompanies horse and rider for every lesson, which is always at a walking pace.
Tait, whose mother was a Calgary Stampede Princess, grew up riding bare back in Alberta and Yukon. As an adult, Tait took up one of the challenges of GaWaNi Pony Boy, author of Horse, Follow Closely: Native American Horsemanship, to ride bareback for a year. She never went back to the saddle.
Eagle Feather Riding owner Vickie Tait, who has taught riding for nearly three decades, started teaching using saddles, and moved on to bareback in the late
RIDINGFEATHEREAGLEPHOTO: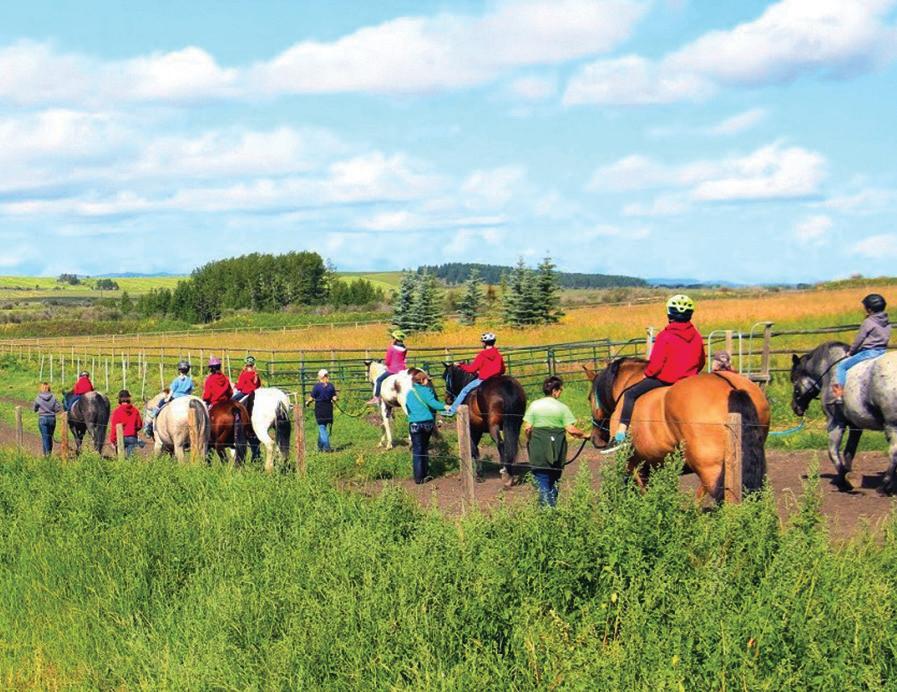 When she first began bareback les sons, Bagg was "really scared" to get on a horse. She thinks that learning to ride bareback with a copilot is hugely benefi cial. "Because there's an experienced per son who knows the horse you're riding really well, all you really need is to trust in that person and the courage to get on the horse's back."
She understands how some riders might want to be more task-oriented with their horse and "do all kinds of fancy stuff."
RIDINGFEATHEREAGLEPHOTO: RIDINGFEATHEREAGLEPHOTO: LOUIEJACQUELINEPHOTO: LOUIEJACQUELINEPHOTO: 65AUTUMN 2022 :: CANADIAN HORSE JOURNAL
"We gain so much more than just equestrian skills," Zierath says. "What Vickie teaches is deep listening and gen tle communication. So much is earning the respect of the horses. The more they trust you, the more willing they are to trust your direction. Riding bareback is a form of profoundly deeper connection with the horse."
Bagg rides Thor, a Friesian gelding. Now in her relationship with Thor, she hardly ever touches the reins. "I can say, 'Okay buddy, we're going to go over here.' He'll pick up his head and go."
"I really think Vickie has created an amazing community. That is a standout," says Bagg. b > www.eaglefeatherriding.ab.ca > Read Jacqueline Louie's bio on page 78.
Sara Bagg and her daughters, Charlotte VanGaalen (left) and Esmé (mountedVanGaalenonThor).
"I have such a love of Eagle Feather Riding and Vickie," says Zierath. "She is a remarkable person. She is a trail blazer."
"If they can walk, they can ride," says Tait. Holly Tait, Vickie's sister, helps by taking out the more advanced riders.
"The most powerful thing is the devel opment of the relationship with horses. They are great teachers, helping people learn to be comfortable with themselves and face their fears," says Holly, a regis tered psychologist specializing in addic tion recovery. "Learning to ride bareback with a copilot makes it a lot safer, because they don't have to worry about controlling the horse — they just need to focus on finding their balance."
Amber Zierath and her daughters, Kyra Kariatsumari, age 12, and Kiyomi Kariatsumari, age 14, have been taking riding lessons with Eagle Feather Riding for several years.
A close-knit community is another hallmark of Eagle Feather Riding, which is home to a mixed herd of geldings, including Arabians, Quarter Horses, and draft horses. To have a horse stay there, owners are asked to volunteer for at least two hours a week.
For Bagg, however, "it's more about spending time with a friend."
Amber Zierath and her daughters, Kyra (left) mounted on Digger, a Norwegian Fjord, and Kiyomi mounted on Karma, the family's pal omino Quarter Horse that lives at Eagle Feather Riding. Zierath says the horses are "best buddies," and has written a novel about Karma, titled Horse Karma , which will be published by Olympia Publishers in the United Kingdom, is expected to be released in the fall of 2022.
Sara Bagg and her daughters, Charlotte VanGaalen age 12, and Esmé VanGaalen age 14, have been taking lessons with Eagle Feather Riding for several years.
By Kathy Smith
The messy aisle of this barn contains flammable materials and obstructions that would make evacuating horses in the pitchblack of a smoke-filled barn much more difficult.
ADOBESTOCK/MAKIENIPHOTO: 66 www. HORSEJ ournals.com :: AUTUMN 2022
CANNONFLICKR/LEEPHOTO:
Declare a Fire Prevention Day at your barn and invite friends, family, and boarders to help out by giving your barn a good cleaning inside and out. Clean up everything that isn't absolutely necessary and could provide fuel for a fire in and around your barn. Separate flammable materials from sources of heat and fire or remove them from the area altogether. Check that wiring is free of damage, and electrical equipment is labelled for agricultural or commercial use. Dust and cobwebs around electrical outlets and lights should be removed. Feed, hay, straw, and flammable liquids should be stored away from the main barn, and oily rags should be stored in a closed metal container away from heat. Pathways should be clear and exits clearly marked. Every barn should have at least two five-pound fire extinguishers, one at each end of the barn. Larger barns may require several extinguishers — you should not have to travel more than 75 feet to reach one — and multi-storey barns should have at least one extinguisher on each level (for example, one on the main floor and one in the loft). Install fire extinguishers in tool sheds and other farm buildings, too. All fire extinguishers should have a
On the night of October 8, 1871, the Great Chicago Fire broke out when, according to popular legend, Catherine O'Leary's infamous milking cow kicked over a lantern in the barn. The resulting barn fire, aided by wind, destroyed three square miles of the City of Chicago, killing more than 250 people, destroying 18,000 buildings, and leaving 100,000 people — a third of the city's population — homeless before it was finally brought under control on October 10.
Fire prevention goes hand-in-hand with good farm management, and riskreducing practices can be incorporated into your regular management plan. Contact your local fire department for fire safety information or ask them to inspect your barn to suggest ways to reduce risks and identify hazards.
Fire safety is an essential part of farm life. Fires can grow quickly and without warning, and the distance between rural communities and fire departments makes fighting these fires extra challenging. There is no such thing as a fireproof barn, but several steps can be taken to mitigate the risk. Let's look at fire prevention and safety measures to implement in and around your barn to reduce the likelihood of a fire and save lives should a fire occur.
The Great Chicago Fire changed the way public officials and firefighters viewed fire safety. Now, every October in communities throughout North America, Fire Prevention Week educates the public about the importance of fire prevention and safety.
Fire Prevention & Safety for Your Barn
Barn On Fire!
Equestrian's Dream in BC's Kootenays This stunning 12.5 acre equestrian property in BC's Creston Valley is the perfect mix of private landscaped yard, open lush fields, rich native woodlands...and it's on a golf course too! Designed as a horse property from its inception, it features fenced paddocks, acres of pasture, water lines, and a barn with an attached 70x120 indoor riding arena and a round pen! Modern custom-built home allows you to enjoy the sunshine and views of the yard and mountains. MLS® 2465502 RYAN CASSELL Cell (250) 402-3295 Phone (250) www.BuyCreston.com480-3000 Bluffton, AB 32,000± Sq Ft World-Class Equestrian Facility with Custom-Designed, 4190± Sq Ft, Fully-Furnished Luxury Home October 20 Unreserved Auction Event Open House: Sept 18 & Oct 2 · 2–4 pm realestate@rbauction.com866.490.3081rbauction.com/realestate Brokerage: Ritchie Bros. Real Estate Services Ltd. REAL ESTATE AUCTIONS October 20 Unreserved Auction Event Bluffton, AB 32,000± Sq Ft World-Class Equestrian Facility with Custom-Designed, 4190± Sq Ft, Fully-Furnished Luxury Home Open House: Sept 18 & Oct 2 · 2–4 pm realestate@rbauction.com866.490.3081rbauction.com/realestate Brokerage: Ritchie Bros. Real Estate Services Ltd. Country Homes & Acreages minimum rating of 2A-10BC, and all barn employees and boarders should be trained how to use them. Install smoke detectors that will trig ger alarms inside and outside the barn, as well as in your house so that you will be alerted to a barn fire even when you're out of hearing range of the barn alarms. A No Smoking policy should be strictlyMakeenforced.sureyour property is accessible. Your farm name should be prominently displayed at the farm's entrance and directions to your farm should be posted beside the telephone so emergency responders can be given clear instructions. Develop a fire safety plan. Post emergency evacuation procedures, the location of fire extinguishers, and emergency phone numbers in high visibility areas and beside the barn phone. Every horse should have a halter and lead rope stored on the front of their stall and be taught to load into a trailer under any circumstances. Do some emergency preparedness training with your horses to get them used to being handled during an evacuation. Wear a large coat and hat with a bulky backpack to resemble a firefighter wearing breathing apparatus. Get your horses accustomed to being approached at night with a flashlight and led while blindfolded. Every year we hear reports of tragic barn fires that destroy lives and property. Start now to reduce the risk and prevent tragedy at your farm. After all, there's much more at stake than buildings. b Stunning Orillia, ON, Estate • 4 Residences • Pioneer Barn • 146 Acres • Swimming Pools • Sugar Bush Incentive Realty Inc., Brokerage Estate House NEW $7,100,000PRICE CAN BE SEVERED! BEING SOLD AS ONE ESTATE. PossibilitiesEndless • Horse FamilyFarmCompound • Yoga or Spa Retreat Wedding Venue • Holiday Rental & more The Orillia Estate features 4 magnificent homes plus… • Ranch bungalow with an outdoor swimming pool. • One-of-a-kind 9000 sq. ft. estate residence. • Groundskeeper house. • Stone house plus main barn with 20 box stables and stud barn / large workshop. • Pioneer barn with 23 acres. Numerous other buildings and amenities including: • 40 x 20 indoor pool, hot tub and eating area, tennis court, winter skating rink. • Gardener's potting shed, toy shed, & a dog pen. • Numerous trails throughout the property lead to either the pond, farmers fields, the forest, each trail making its way back to each residence. • Mature maple trees line the long drive throughout the estate and are tapped for maple syrup. Only 10 minutes to Orillia, ON, and local marinas. 40 minutes to ski hills. Take advantage of this unique opportunity today! Josie Schywiola Sales Representative 705-606-0046 • www.OrilliaEstate.cajosie@cwoodproperties.com 67AUTUMN 2022 :: CANADIAN HORSE JOURNAL
Canadian horses as they watched me march the herd to pastures across from their house. Joe especially loved the black stallion, Prince, and he and Lori would often stop by the driveway to admire the horse's sturdiness and debate his hauling capabilities. The following spring, I was grateful to have learned about their logging skills.
The whole family was horse crazy and wanted to hear more about the rare
Neighbours &
PHOTO:BETTYBAXTER
By Betty Baxter
The logging horses weren't a matched pair, but they were impressive draft hors es just the same. Jake was a blonde Belgian with the classic pale blonde mane and tail. He had huge feet and his legs had light feathering below the knee that drifted slightly in the air as he walked. Everything about him was stately. He was a gentle giant at 2,200 pounds. The other horse was a big grey Percheron cross, but it was Jake that got my attention, and sev eral months later he would turn out to be a key player on my farm. Joe was happy to demonstrate Jake in harness pulling the girls on a log across the sand ring. He stood several feet back with the longlines in hand, and called out, "Gee Jake," and a few steps later, "Haw Jake," The girls giggled as they rode the makeshift sleigh creating patterns in the wet sand. Mystified by the logger's lingo, I soon learned the rhyme to remember that "Gee" meant go right and "Haw" meant go left. In answer to my question, the girls tumbled off the log singing, "Gee, you're right. Haw, haw you're wrong."
When new tenants moved into the trailer on a small acreage downhill from my farm, I could see (and hear) the livestock truck pull up with the sound of horses — big horses — inside. The next day I went to introduce myself, taking wine and fresh farm eggs, hoping to get a good look at what had been inside that stock truck.
Joe was a horse logger, a small, wiry man with skin that showed he lived most ly outdoors. His wife, Lori, was a sturdy woman with an easy smile, and she and their two little blonde girls were friendly with their new neighbour. They had moved often to follow the opportunity for Joe to work and knew how to start over in a new place with simple conversation.
Heroes
A tug of anxiety Wherethroughwentme.wasthefifthmare?
Penny and her foal, Lucky.
68 www. HORSEJ ournals.com :: AUTUMN 2022
We'd been gone almost two hours when I trotted Prince back home near five o'clock. As we slowed up the hill I glanced at our fields and saw four mares happily grazing. A tug of anxiety went through me. Where was the fifth mare? I'd need to check, but nonetheless felt refreshed from my outing and encouraged that spring would surely arrive any day. As we pulled in, Andrew, a friend and neighbour, was on the roof of the garage having just finished a repair. He stood up, gathering the remainder of his tools and called down, "Nice looking gig." Unhitching Prince, I put him away and hustled down the property to check for
On a cold and clear March day, with ice still on the edges of the ponds and ditch es, and horses happy in sunny, dry pas tures for the day, I hitched Prince for an hour's drive. It was mid-afternoon, the sun warm and welcoming, as we headed out the driveway at a brisk trot. A horse and carriage always attracted lots of attention in the neighbourhood, with folks coming to their fences and calling out, "I'd save a lot of gas money if I could travel like that," and "Sure looks nice."
JOURNALHORSECANADIANART:
the missing mare. Horses are notorious for getting through fences — or worse, getting stuck in one. As I approached the lower field I started to worry. No fence was down, but I still couldn't see our big black mare, Penny. After a few more steps my heart began to pound. There she was, at eight months of her eleven-month pregnancy, struggling on her side in a shallow ditch filled with ice water. She had clearly been stranded for some time. Soaking wet and muddy, she couldn't find purchase on the slick slope to get up. She strained to keep her head out of the water. I raced back to the barn to get a halter, calling Andrew to come fast with shovels as we had an emergency — a horse down! I had complete faith in Andrew. He was a strong, energetic man who had helped many times when an animal was in distress or I needed muscled support on the farm. In the few seconds I was gone, Penny had lain back, her head half-submerged in the water, exhausted. I put on the halter and held her nose and eye above the sur face. A moment later, Andrew arrived at a run and we began alternating — one of us held her heavy head to keep her eye out of the water, while the other shoveled fast to dig out the bank for better purchase in the mud. Every few minutes we would pull at her and urge her to get up, but with her big heavy belly, the angle of the ditch, and exhaustion, she couldn't budge.
Penny weighed well over 1,000 pounds and we couldn't move her at all, no matter how much we pushed and pulled. I ran to the shed for the come-along, a winch we used for fencing projects. There was a tree close by to hook to, but no band or strap to go around her belly. We worried that a chain would break her legs if we got the angle wrong. Racing to the truck, I sped over to Joe and Lori's to see if they had a bellyband from the logging equipment. Joe was away but Lori gave me a big strap and then asked, "Shall I get Jake? Can I help?""Idon't know," I replied. "But if I'm not back to return the band in 20 min utes, we'll have to try something else."
Back with Penny, we managed to get the five-inch-wide band around her upper chest, but when we hooked up the
69AUTUMN 2022 :: CANADIAN HORSE JOURNAL
Everything about him was stately. He was a gentle giant at 2,200 pounds.
On the fourth step Penny slid through the mud. With a great groan, she scram bled, struggling to her feet. "Whoa, Jake. Good boy." Jake jumped a little and looked around. He had never pulled a log that got up. We laughed
70 www. HORSEJ ournals.com :: AUTUMN 2022
come-along and began to winch, the wire broke without moving her at all. It was obviously not meant to pull more than 1,000 pounds. We were flummoxed and very worried. Penny was trembling and the skin at her perineum was straining.
Sport New Forest Ponies Competitive Ponies for Adults & Kids! Pferde Traum Farm Breton, AB • Dallas Grubenmann 780-898-9706 • dallas@ptfponypower.com www.ptfponypower.com
Even through our panic we could see his power and majesty. The little blonde girls were skipping behind, closing the gate after their mom. To this day I can still feel the sensation that went through me.
The risk of the foal aborting right there was frightening. I stroked her, held her head up, and tried to think. Andrew knew of a big backhoe parked close by. "I could just go start it and bring it over to lift her." He said, ready to run for the backhoe. I shook my head. "That could take another hour and darkness is coming fast."
I suggested taking the fences down to bring the truck in, but paused when the driveway gate opened. We felt the thud, thud, thud-shake of the earth that only a draft horse can make. Looking up, we both gasped. There was our neighbour Lori, riding Jake, who was tacked up with collar and hames in full hauling gear.
Lori rode Jake to within a few feet and slid off, instructing the girls to stay on the other side of the fence. She sorted the lines and positioned Jake past the tree we had used with the come-along, so that his draw would be angled to give Penny the best chance of getting her front feet on solid ground. "I've never driven myself," said Lori, and she took a deep breath. "But I've watched Joe so many times I'll give it a try, and Jake is very willing." We hooked the tugs to the bellyband, knowing this was our last chance to save Penny and her unborn foal. I kept the hal ter on Penny's head with enough tension on the lead to hold it out of the water. Lori took the reins and stepped to the side. "Haw Jake! Haw Jake!" The big horse sidled to the left. "Okay, walk on boy!" Jake took a step. The tugs tightened. He pushed his chest into the collar and leaned in to get a second step and then a third. "Come on Jake, you can do it."
A goddess had arrived!
BODYWORK Animal
b > Betty Baxter is a frequent contributor to this magazine — read her bio on page 78.
In early June, just over two months later, Penny gave birth to a healthy black filly appropriately named Lucky. Although we loved them as neigh bours and they were good, solid people, Joe and Lori's luck with work wasn't so good. That fall, they packed their belong ings and moved to start over again in the interior. They left behind an investment of great kindness, and I will always feel grateful and indebted to them.
Myles Herman LANGLEY, mylesherman29@gmail.com604-309-4616BC
KinesiologyStructural and shivered in our wet muddy clothes. My voice shook as I thanked Lori. She let out a nervous laugh, saying, "Joe will never believe I could harness and drive Jake by myself," and began to lead her big champion home. Lori, her girls, and the majestic Belgian Jake were our heroes. I led Penny slowly to the barn. Friends had just arrived and spent the next two hours brushing and cleaning the mare while I piled blankets on as soon as a spot was clean and dry. They kept brushing as I brought the other horses in and fed them all, then Penny was wrapped in blankets and tucked in a clean stall, deep in the barn where it was very quiet. Checking late that night, I found her calm and resting. There was a good chance she would recover.
We felt the thud, horsethud-shakethud,oftheearththatonlyadraftcanmake.Lookingup,webothgasped. JOURNALHORSECANADIANART: 71AUTUMN 2022 :: CANADIAN HORSE JOURNAL
EQUINE
Wisdom of the www.WisdomOfTheHerd.comHerd P.Ann Turner • Chilliwack, BC Certified CHA Level 2 English Coach Certified Equine Massage Therapist 35 years experience annpturner@shaw.ca604-302-8229
Zone EquestrianTwo Golden At The Games
Zone 2 won the gold medal for overall points. Zone 2 athletes Avery andBrandyHannahKatieWilkinson,Thielman,Robbins,andBrookForaiwerecoachedbySaundersAshleySudds.
A huge thank you to our sport teams and amazing judges for all their hard work. Thank you to all the coaches, athletes, parents, volunteers, and sports chairs who made the games possible. Thank you to the Prince George Horse Society for being an incredible host venue, and the BC Games for including equestrian sport in this amazing event!
As an eventing coach, it was very exciting to be there for the introduction of Eventing into the Summer Games. We had a strong contingent of support from our BC Eventing Association (www.bceventing.ca). This included volunteers, officials, coaches, riders, and an eager audience! It was awesome to see and feel that kind of support. Thank you for the memories and the experience!!"
> 72 www. HORSEJ ournals.com :: AUTUMN 2022
PRINCE2022GEORGESUMMER
NOTES FROM THE OFFICE BY JOCELYN ADAMS PLASMAN EXECUTIVE DIRECTOR: administration@hcbc.ca AGRICULTURE & INDUSTRY: industry@hcbc.ca MEMBERSHIP: membership@hcbc.ca COACHING & EDUCATION: coaching@hcbc.ca MARKETING & COMMUNICATIONS: communication@hcbc.ca RECREATION & TRAILS: recreation@hcbc.ca COMPETITION: competition@hcbc.ca COMMUNITY DEVELOPMENT: development@hcbc.ca HCBC BOOKSTORE: bookstore@hcbc.ca FINANCE & GRANT FUNDING: finance@hcbc.ca HOW TO REACH US OFFICE HOURS: Monday to Friday, 8:30 am to 4:30 Pm OFFICE ADDRESS: 27336 Fraser Highway, Aldergrove, BC, V4W 3N5 PHONE: 604-856-4304 FAX: 604-856-4302 TOLL-FREE: 1-800-345-8055 WEBSITE: www.hcbc.ca HCBCOFCOURTESYPHOTO toCONGRATULATIONSallourathletes on their amazing accomplishments! We look forward to the next BC Summer Games in Maple Ridge, July 18-21, 2024. Overall Dressage Winners (awarded Sunday) GOLD — Ella Parker, Zone 3 SILVER — Amelia Mosuumgaard, Zone 7 BRONZE — Mia Lambert, Zone 6 Overall Para Dressage (awarded Sunday) GOLD — Avery Wilkinson, Zone 2 SILVER — Leila Corntassel, Zone 6 BRONZE — Claire Hendrix, Zone 6 Overall Jumping (awarded Sunday) GOLD — Katie Thielman, Zone 2 SILVER — Hannah Askew, Zone 5 BRONZE — Melodie Kopiyka, Zone 6 Overall Eventing (awarded Sunday) GOLD — Jacob Sovio, Zone 3 SILVER — Ella Ficociello, Zone 4 BRONZE — Hannah Robbins, Zone 2 Overall Vaulting (awarded Sunday) GOLD — Emma Mindel, Zone 3 SILVER — Maklaine Rogers, Zone 3 BRONZE — Sophia Kahil, Zone 6 Full results from the weekend and daily medal break down can be viewed here: > games/2022-bc-summer-games-resultshcbc.ca/competitions/bc-summer-
That's a wrap on the July 21-24 2022 British Columbia (BC) Summer Games in Prince George! It was four jam-packed days of competition with athletes from all over the province competing in Dressage, ParaDressage, Jumping, Vaulting, and for the first time Eventing. Forty-eight athletes represent ing eight Zones throughout the province made the trip to the Games, working as zone teams with accumulative points from all days of competition.AsSundaywrapped up, Zone 2 was awarded the gold medal for Overall Zone. Four gold medals, one silver, and one bronze led this tiny but tough team to win the overall points and take home the Zone award. Zone 2 was made up of coaches Brandy Saunders and Ashley Sudds, and athletes Avery Wilkinson, Katie Thielman, Hannah Robbins, and Brook Forai. Saunders spoke about her experience: "Congratulations to all BC Summer Games participants and support people, and especially to our Zone 2 equestrian team with coach Ashley Sudds, myself Brandy Saunders, and athletes, Katie Thielman, Hannah Robbins, Avery Wilkinson, and Brook Forai. We were able to win gold for overall medals won. "The BC Summer Games was a reflection of the importance of teamwork, and this was demonstrated on so many levels throughout our whole equestrian community, not just our zone teams. Coaches and athletes came together over and over to support all teams and disciplines. This included celebrating each other's success and supporting in times of challenge. Seeing old friends and meeting new ones brought our BC equestrian community together. Within just a few days, teams became very close and connected, resulting in great pride and confidence.
OFFICIALS AND DISCIPLINE CHAIRS
Provincial Advisor for Equestrian: Lynda Ramsay, Kelowna Sport Chair: Steven Dubas, Prince George Dressage Discipline Chair: Jodie Kennedy, Prince George Para Dressage Discipline Chair: Stella French, Victoria Eventing Discipline Chair: Julie Johannson, Oliver Vaulting Discipline Chair: Marijean Maher, Aldergrove Jumping Discipline Chair: Maegan Friess, Prince George DressageOfficials and Para Dressage Judge: Burgi Rommel, Langley Jumper Judge: Katy Ostberg, Prince George Course Designer: Cat Armitage, Lone Butte Eventing Ground Jury: Bonnie Kennedy, Prince George Vaulting Judge: Lynn Wallden, Chilliwack
Friend
74 www. HORSEJ ournals.com :: AUTUMN 2022
Petey's Long Lost
By Ella Coles
COLESELLAOFCOURTESYPHOTOS
When I first heard I could write an article for Canadian Horse Journal about my time at a gold-level show, I immediately started writing about the incredible experience it was for me. But then I stopped for a moment and thought it would be more important to write about how it was for my horse, Petey.  Back when he was in his prime, Petey used to show pretty much every single week end. This was not his first "rodeo" and he knew exactly what to expect: a stall with a big bed, lots of walks, lots of riding, and many, many jumps. And for the first day he was correct, and he expected everything that was thrown at him. Diagonal line? Easy. Spooky vertical? Not scary enough. Picking up the correct lead on the flat? Done. Wide oxers? Make ,em wider. But that quickly changed when Friday evening rolled around and a certain horse arrived. Petey was quite content, munching away at his hay. He swished his tail at flies as I calmly brushed him down, making his beautiful black coat shimmer in the eve ning sun. Suddenly he heard a neigh! He usually ignored those annoying horses that wouldn't be quiet, but this one was different — he recognized the neigh! All of a sudden Petey got a surge of energy; he yanked away from his hay net, quickly spun around to the door of his stall, and with a firm push of his head the door was open. He zoomed out of there, trotting down the hallway that was empty of peo ple… other than me. I was a bit stunned at first because Petey is the most laid-back gelding I've ever been around. Now he was running away! I grabbed his halter as quickly as I could before he went galloping all over the show grounds, but little did I know he had no plans to leave the barn. I attempted to turn him around to bring him back to his stall, but his hooves were planted. He just kept making a forward motion with his head in the opposite direction. He was obviously desperate to see something, so I decided to take him that way — but really, he took me that way. I expected him to go outside but instead he marched over to a certain horse's stall. As Petey's head poked over the door a horse quickly jumped up and met noses with Petey. I've never seen two horses so incredibly happy to see each other. When I turned Petey back to his stall he followed willingly, and for the rest of the show he did extraordinarily well, winning ribbons. I can only guess where the horses knew each other from, but it was obvious they were long lost friends reunited at last.
About Ella Coles: My horse Petey is my best friend. I am a 14-yearold girl who loves long trail rides and bareback riding without a bit. I developed my love of horses when I attended a couple of horse camps when I was younger. I started riding lessons when I was 11. Petey is a 22-year-old Warmblood gelding that came into my life when I was 12 and we quickly became partners. Because of COVID, my first entry into the show ring was in 2021. My third show was Thunderbird Equestrian Park Season Opener in April 2022 where my story took place. Petey is now retired from showing and we enjoy long trail rides and lots of liberty work. b Ella Coles and Petey.
BY CHRISTINE ROSS, CANTRA VICE PRESIDENT
Sometimes CanTRA programs are offered retired horses with soundness and other health problems. In most cases these horses will not be suitable and need to be found a different living circumstance.
All horses are special, but the most successful therapeutic riding horses are those that have the most empowering, positive, and lasting impact on children and adults with special needs. Locating horses and ponies for a therapeutic riding program takes lots of time and patience. Qualities such as benevolence, willingness, kindness, and generosity of spirit are the kinds of attributes we are looking for. Just as there are many different riders, many different kinds of horses are needed so that each rider's individual needs can be met. For example, a young child with autism needs a very different riding partner than that needed by an adult with cerebral palsy. CanTRA Instructor training includes the selection of therapeutic riding horses as part of the curriculum. Most therapeutic riding programs have a variety of horses of different heights, builds, and temperaments. A therapeutic riding horse must be fit, healthy, and without any soundness issues.
CanTRA Therapeutic riding programs are encouraged to embrace the concerns and considerations of The Code of Practice for the Care and Handling of Equines, which is produced by Canada's National Farm Animal CareInCouncil.goodspirits with proper care and attention, therapeutic riding horses introduce their riders to a world of freedom, acceptance, and empowerment. This multifaceted experience is at the core of therapeutic riding. Happy riders and contented horses are the proof.
For more information or to find a centre near you please contact our Head Office at Followctra@golden.net.usonFacebook @ Cantra_ACET and visit > www.Cantra.ca or donate at > www.CanadaHelps.org.
Different riders also need horses with different levels of sensitivity. CanTRA certified therapeutic riding instructors are trained to match horses and riders to achieve the best outcome for both. Finding the right horse for a rider is a very important part of the therapeutic riding process and involves a good deal of skill and observation. Do therapeutic riding horses need special care and attention?
A regular schooling program is needed to keep therapeutic riding horses able to carry out their work. It is also a good idea for therapeutic riding horses to take part in some extracurricular activities such as trail riding, jumping, going to shows, and general riding events. This helps to keep the horses fresh, interested in their work, and free from fatigue and boredom.
CANADIAN THERAPEUTIC RIDING ASSOCIATION
ONSTEVENSVILLE,EATRC,INSTRUCTOR,INTERMEDIATECANTRARUIGROK,ANGIEPHOTO:
75AUTUMN 2022 :: CANADIAN HORSE JOURNAL
Therapeutic riding horses need all the same care as any other horse. They need good accommodation, fresh water, a welldesigned feeding program, and regular dental, veterinary, and farrier care. In addition, therapeutic riding horses may need massage therapy. They also benefit from knowledgeable saddle fitting to help them be as comfortable as possible while doing their jobs. Like all other working equines, therapeutic riding horses benefit greatly from the mental health break of a frequent day of rest and scheduled turnout time for horseplay with their equine companions. The ongoing well-being of the horses is a vital and integral part of therapeutic riding.
Cowboy is the CanTRA Therapy Horse Award Winner for 2022.
Salute RidingTherapeutictheHorse
There are hundreds of horses and ponies working in CanTRA therapeutic riding pro grams across Canada. Some of these horses and ponies give many years of steady ser vice to riders with special needs, constantly showing qualities of patience, steadiness, warmth, and affection. Without these won derful and valued equine friends, therapeu tic riding would not be able to happen in any way or form. We would like to introduce you to a world of therapeutic riding horses, where every horse is a star in its own right. So many of us take for granted the wonderful relationships we have with our horses, but for those with disabilities, this relationship reaches into their often isolating world and provides a freedom of communication that they have never known before. What kind of horse or pony is suitable for a therapeutic riding program?
For more information about the Canadian Quarter Horse Association please visit www.CQHA.ca or email info@cqha.ca. Follow us on Facebook and Instagram @cndquarterhorseassoc, and on Twitter @ CndQuarterHorse
•
76 www. HORSEJ ournals.com :: AUTUMN 2022
Beginning in July, nine shows across Canada were given the opportunity to award a CASH BONUS to the high point Canadian-bred horse of their event, or if they choose, the highest placing Canadian-bred horse within a selected class.
The primary objective of the committee is to promote the quality Quarter Horses which are produced in Canada by the many talent ed and knowledgeable breeders. Canadian breeders have produced American Quarter Horse Association (AQHA) world champions in almost every AQHA event and have also bred horses for the track that hold current AQHA records.
Congratulations to Good To Be Macho owned/shown by Ben Debrouwer and bred by Rod Jefferies of Shannonville, Ontario on winning the CQHA High Point Canadian Bred horse of the 2022 EOQHA Hot Hot Sizzler.
By Laurie Haughton, Chair, CQHA Media, Marketing & Communications Committee
•
• NRHA Western Canada Finals, Sep 8–11, Red Deer, AB.
The CQHA Breeders Committee is proud to be introducing a new incentive for 2022.
2022 CQHA Cash Bonus Canadian-Bred Events
•
A major project for the committee in 2022 has been the development of a new bonus incentive for Canadian-bred Quarter Horses at major Canadian events.
• Sumac Slide 2022, NRHA show, Sep 16-17, Trenton, NS.
New OpportunityBonus HorsesCanadian-Bredfor
•
CQHAOFCOURTESYPHOTOGRAPHY,OAKLONEPHOTO:
The Canadian Quarter Horse Association's Breeders Committee is made up of a group of diverse breeders representing every disci pline within the Quarter Horse industry.
• EOQHA Hot Hot Sizzler AQHA Circuit, Jul 27-Aug 1, Carp, ON. AQQH Fleur de Lys AQHA Circuit, Aug 11–14, Bécancour, QC. QHAA Canadian Nationals AQHA Show, Aug 24-28, Red Deer, AB. BCCHA Bell Creek Arena Show 3, Aug 25-28, Chilliwack, BC. SKCHA Star City Show, Aug 27-28, Star City, SK. NRHA Eastern Canada Finals, Aug 30–Sep 4, Bécancour, QC.
• MBQHA Versatility Ranch Horse Classic, Sep 10-11, Brandon, MB.
•
•
Avenue,
• October 1-2: In-person Coaching Camp, Eastman area. A slate of valuable sessions covering the theory skills which are essential for those going forward for Coach Evaluation, e.g., Emergency Action Plan, Writing a Lesson Plan, Yearly Training Plan, etc. Multi-level sessions for Instructor, Competition Coach, and Competition Coach Specialist. Includes in-person lunging opportunities. Provincial grants may be available to registrants.
October 21: Coaching Evaluation Deadline 28-29: English Coaching Evaluation at Westwind Stable 5: Coach Appreciation event, Sport Manitoba, 145 Pacific Avenue, Winnipeg 10: Tentative 2023: Tentative Western Coach 26-27, 2023: Western Coach Manitoba Horse Council, Pacific Winnipeg, Manitoba Horse Council; Manitoba Recreational Riders
Starting October 9 and running almost weekly through until February 5: Zoom sessions covering the following topics, many of which are essential learning for Coach Evaluation:
English Coach Update • February 4,
Media
InternationalCQHAMediaDay,MasettiLeiteconductedinterviewsanddidanexclusivebooksigningfortheCanadianQuarterHorsecommunity.
CQHAOFCOURTESYPHOTOS 77AUTUMN 2022 :: CANADIAN HORSE JOURNAL
Manitoba Horse Council Serving Manitoba's Equine Community By Diane David, Executive Director TRIALSHORSEMANITOBAOFCOURTESY
Upcoming Manitoba Coaching Dates
For the first time in several years, Norma and Kevin Will of Carrol, Manitoba hosted a Horse Trials competition, which ran August 6 to 8, 2022. Organized by Dianna Fraser, the back-to-back competition had beginners to training riders competing in dressage, stadium, and cross-country both days. The cross-country courses were set up by Sydney Fraser, Emma Tarves judged the dressage, and Eric and Danae Martin took care of stadium jumping. As well as great competition both days, everyone enjoyed a fall supper on Saturday night at the awards presentation. It was fun to be part of the weekend, and thanks from all the participants to the hosts and the crew. Eventing is alive and well in Manitoba, with a subsequent event held August 20 to 21 at the MHC Equestrian Facility in Birds Hill Park.
• September 19: English Coaching & License Information Session with Tristan Caswell, English Competition Coach Evaluator — Mandatory for English Camp participants but open to all • September 26: Western Rider Level & Coaching Information Session with BettyAnn McPhedran, Master Coach Developer — Mandatory for Western Camp participants but open to all
• November
The Canadian Quarter Horse Association would like to thank the Eastern Ontario Quarter Horse Association for helping to host the first-ever CQHA International Media Day on July 28 at their Hot Hot Sizzler AQHA Circuit held in Carp, Ontario located just west of our nation's capital. Special guest was Filipe Masetti Leite, international Long Rider, Calgary Stampede roping commentator, best-selling author, and star of the award-winning feature-length documen tary film The Long Rider. The Brazilianborn cowboy conducted interviews with the press and AQHA exhibitors, and did an exclusive book signing for the Canadian Quarter Horse community. Members of the Ottawa Brazilian Canadian Community Association also came out to meet Filipe and learn all about the Quarter Horse.
Manitoba, R3B 2Z6 PHONE (204) 925-5719 EMAIL mhc.exec@sportmanitoba.ca WEBSITE www.manitobahorsecouncil.ca FACEBOOK
Evaluation How to Reach Us
145
CQHA Hosts Its First-Ever International Day
Update • February
• Managing Your Equine Coaching Business, English Lunging, English Tack & Boots, Safe Sport, Bandaging, Conformation, General Unsoundness, Unsoundness of the Hoof, Equine Ulcers, Teeth & Dentistry, Nutrition, Western Tack & Boots, Western Lunging, Trailering Safety. See MHC's website for the full schedule and registration details. PD points available for EC Certified Coaches.
Filipe Masetti Leite is a world-renowned Long Rider, an award-winning journalist, and best-selling author who trekked more than 25,000 kilometres on horseback through 12 countries from 2012 to 2020. As the special guest at the
•
Horse Trials
• December
• September 16: Camp Registration deadline
•
The MHC website is always the most up-to-date place to find out information about upcoming courses, how to become an Equestrian Canada (EC) certified coach and get an EC licensed coach status. Here are some of the opportunities we are offering this fall:
• December
Alexa Linton
JBallouAristotleecAristotleBalloutrainsinSantaCruz, CA, when not giving clinics around the United States. She is the author of 101 Dressage Exercises for Horse and Rider, Equine Fitness, and 101 Western Dressage Exercises for Horse and Rider. For further resources on the above topics, she recommends Beyond Horse Massage by Jim Masterson.
"Is it me or my horse?" Horse show judge, coach, trainer, and specialist in equine behaviour, Lindsay Grice helps riders solve their "horse puzzles," sharing keys from the science and research of how horses think and learn. She holds judging certifications in multiple disciplines — Western, hunter/jumper, dressage and obstacle events. Lindsay has taught classes and seminars in Equitation Science for provincial equine associations, therapeutic riding facilities, and courses offered by the University of Guelph. She regularly conducts clinics for horse clubs and private farms. www.lindsaygriceridingcoach.com
Tania Millen is a former Canadian Team groom, a trained scientist, an environmental consul tant, a former event rider turned backcoun try rider, and an author of several books including Pack em Up, Ride em Out: Classic Horse Pack Trips in British Columbia and Alberta; The Joys of Horse Packing; Rockin' Whitewater; and Go Horse Camping: A funny illustrated guide to camping with your horse www.TaniaMillen.com
Betty Baxter Betty Baxter bred and raised the Canadian Horse at Five Winds Farm in Roberts Creek, British Columbia for over 25 years. She and several other breed enthusiasts founded the Canadian Horse Heritage and Preservation Society (CHHAPS) in 2002 to promote this rare breed and encourage its survival. She still enjoys trail riding and caring for her four mares on the Sunshine Coast. She looks forward to publishing her collection of horse stories in 2023.
SUBSCRIBER SERVICES Do you need to — • Renew your subscription? • Give a gift subscription? • Change your address? • Report a delivery problem? • Ask a From1-800-299-3799www.horsejournals.comsubscriptions@horsejournals.comquestion?•(250)655-8883timetotime,CanadianHorseJournalmakesitsnames and addresses available to carefully screened organizations who want to let you know about a product or service that might interest you. If you do not want your name, address, or email address made available, please let us know. How to Reach Us news@horsejournals.comsubscriptions@horsejournals.comeditor@horsejournals.comsales@horsejournals.comADVERTISING:EDITORIAL,GENERALINQUIRIES:SUBSCRIPTIONS:ORwww.horsejournals.comNEWS,SHOWREPORTS: PHONE (ALL DEPTS): 1-800-299-3799 • (250) 655-8883 MAIL: Suite 202, 2400 Bevan Avenue, Sidney, BC, V8L 1W1 b 78 www. HORSEJ ournals.com :: AUTUMN 2022
Jec
www.annikamcgivern.com
MEET OUR
Alexa Linton is known for lighting up her world with her infectious personality, bold facilitation style, and often irreverent, tongue-incheek writing, and for her menagerie of a therapeutic practice. The latter combines her degree in Kinesiology with over a decade of training in BodyTalk and animal communication, and her current passion as a fifth year student of osteopathy. From over 14 years of working with horses as an Equine Sport Therapist, and helping thousands of animals and people, Alexa has developed a therapeutic style that is intuitive and highly collaborative. She is the co-founder of the Cowgirl Re-union, the creator of the Whole Horse Apprenticeship and Podcast, and author of Death Sucks: A StraightUp Guide to Navigating Your Pet's Final Transition. She resides in the Cowichan Valley, unceded territory of the Cowichan and Coast Salish Peoples, on Vancouver Island, British Columbia, with her horses Diva and Raven, dogs Reilly and Solo, and cat Parker. www.AlexaLinton.com
CONTRIBUTORSAnnikaMcGivernAnnikaMcGivernisaMentalPerformanceConsultantwhogrewupasaThree-Day-EventriderinBritishColumbia.Herpassionforeventingtookherto Ireland, Australia, and America as a working student to world class riders, where she developed a keen interest in the psychological side of sport and per formance. Annika has a BA in Psychology, an MSc in Sport and Exercise Psychology, and seven years experience as a certified Equestrian Canada Competition Coach. Annika works with athletes and coaches, in per son and online, to help them find enjoy ment and satisfaction in their sport through achieving their best possible results and outcomes.
Tania Millen
Jec's newly published book, 55 Corrective Exercises for Horses, helps resolve chronic postural imbalances and challenges that inhibit many performance horses. www.JecBallou.com
Lindsay Grice
Jacqueline Louie Jacqueline Louie is a Calgary-based free lance writer and editor, and a member of the Travel AssociationMediaof Canada, the Canadian Freelance Guild, and the International Association of Business Communicators. In recent years she has been delighted to experi ence the Canadian Rockies and Alberta's foothills on horseback. She is taking bareback riding lessons with Eagle Feather Riding and marvels at what she is learning about listening to horses, communicating with horses, and riding.
Follow us on Facebook: LongRunTB www.longrunretirement.com THOROUGHBRED RETIREMENT SOCIETY Finding Permanent, Loving Homes for Retired Racehorses. Do you have room in your heart and home for a new friend? See our web page for horses available for adoption. Volunteers are always welcome! Donate Today – Help a Retired Racehorse! LongRunGunningforfranks,Graduate INDEX TO ADVERTISERS Absorbine 21, 23, 35, 48 Affordable Barns 58 Anvil Brand 44 Arenus Animal Health 1, 9 Bale Buddy 59 Bar-Bar-A Horse & Cattle Drinker 54 BC Appaloosa Centre 62 Bear Valley Rescue 79 Boehringer Ingelheim (Aservo EquiHaler)Outside B/Cover Canadian Horse Journal 41 Canadian Warmblood Fall Classic Breeders Sale 33 CapriCMW 17 Cassell, Ryan/Fair Realty 67 Celebration of Horses Photo Contest 2 Century Downs Racetrack/Casino Inside B/Cover CF Fence 25 Circle F Horse Rescue 79 Collingwood Property Realty Ltd. 67 Country Homes & Acreages 67 CURT Manufacturing 29 Denco Storage Sheds Inc. 34 Dr Cook Bitless Bridle 59 Dynamint Equine 58 Eaglewood Equestrian Supplies 71 Equiade Products 19 Equine Essentials Tack & Laundry Services 50 Equine Foundation of Canada, The 79 Equine Guelph 63 Equiwinner 15 Hahn Plastics 14 Hi-Hog Farm & Ranch Equipment Ltd. 55 Horse Council of British Columbia 73 Horse Habit, The 50 KIOTI 11 Lakeland College 45 Linton, Alexa 62 LongRun Thoroughbred Retirement Society 79 Maple Lane Equestrian Trailers 51 Myles Herman - Equine Bodywork 71 Nettles Stirrups 49 New Stride Thoroughbred Adoption Society 79 Northern Acreage Supply Ltd 38 Otter Co-op Inside F/Cover Peruvian Horse Club of Canada 70 Pferde Traum Farm 70 Ponderosa Ridge Ranch 17 Pyranha 7 RevitaVet 55 Ritchie Bros. Real Estate Auctions 67 Royal Agricultural Winter Fair, The 63 School of Equine Massage + Rehab Therapies, The 54 SciencePure Nutraceuticals 5 Summerside Tack & Equestrian Wear 3 Tack Collector, The 70 Thin Line Canada 3 Ultra-Kelp for Horses 51 Vantage Trailer Sales 39 WCVM Horse Health Lines Insert, W.Canada copies We Cover Structures 13 Weidemann 51 Wisdom of the Herd 71 MY HORSE b MY PASSION b My Magazine b 778-985-5673 • www.newstride.com Dedicated to finding adoptive homes and new careers for former Thoroughbred racehorses. ADOPT • VOLUNTEER • DONATE Belle is sweet, very people friendly, clever, learns quickly, a good mover and loves to have a job. Sensitive & needs someone who has prior experience with young OTTBs. LA BELLE FLEUR • 16hh • 2017 79AUTUMN 2022 :: CANADIAN HORSE JOURNAL
It's also ideal for groups of working equitation enthusiasts. Having attended a working equitation practice evening with a group of local riders, I found many of us didn't really know what to practice or how to best manoeuvre through the obstacles. This book answers those questions and I envision every working equitation group having a copy on hand when they host practice nights. Although the book is filled with exercises for the ease of handling and speed portions of a working equitation competition, the dressage test and cow work elements are summarized, too. Plus, there are four example working equitation courses so that riders can practice obstacles in sequence.
"The spider looks for a merchant who doesn't advertise so he can spin a web across his door and lead a life of undisturbed peace."
— Mark Twain
I'm thrilled to have The Working Equitation Training Manual in my tack room for easy reference when I need exercises to focus my flatwork. I'll be gifting a copy to a friend who's actively competing in working equitation and often schools at home alone. Ultimately, this book is an excellent resource for riders wanting to liven up their flatwork or excel at the sport of working equitation.
BOOK REVIEW
HOMESWEETSHUTTERSTOCK/HOME&JOURNALSCOMMUNITYHORSEART:COMPOSITE
The Working Equitation Training Manual is exactly as described and fills a gaping hole in many riders' libraries. The book is a handy size for the barn and clearly explains and illustrates the movements required in working equitation competitions.
The bulk of the book (about 150 pages) describes 100 separate exercises, some of which require simple equipment such as barrels, cones, or ground poles. Every exercise is broken into short sections which describe what riders should be able to do before trying it (prerequisites), how to set up any needed equipment, how to do the exercise, what to keep in mind while riding it, variations to make it more or less difficult, and the benefits of the exercise. Each exercise covers about one page and is clearly illustrated.Toassess the book's effectiveness as a training manual, I took it to the barn one morning when I was planning a flatwork session. My horse is easily bored and so am I, so I'm always keen to add obstacles to our sessions and plan specific exercises to keep us focussed. I randomly flipped through the book and selected two exercises to work on — the "Leg-Yield Swoop" using cones and "The Swing" from walk to rein back without halting. Having read through my chosen exercises and set up the cones we needed, I hopped on my horse and gave them a whirl at walk. After a few tries, I reread the how-to section for clarity and corrected my mistakes. One of the beauties of the book is that it's not just for working equitation fans. The exercises provide fun ways to spice up schooling sessions and challenge the accuracy and basic flatwork skills of horses and riders at any pace. But where it really shines is as a training tool for individuals interested in trying working equitation or planning to compete in the sport.
The Working Equitation Training Manual 101 Exercises for Schooling and Competing By Ali Kermeen Trafalgar Square Books, 2022 ISBNNon-fiction9781646011216; 190 pages Reviewed by Tania Millen
b
Canada's Leader in Horse Industry Marketing
www.HORSEJournals.com/advertise We'll keep the spiders far from your door! 80 www. HORSEJ ournals.com :: AUTUMN 2022
• CenturyDowns.com• CenturyMile.com Plenty of exciting Fall Racing ahead! THE Finest ALBERTA HORSE RACING Watch and wager in person or at your local Off-Track Betting location Join us every Friday and Saturday through to November 5th Check out our websites for exact times and dates We have the StandardbredsWe have the Thoroughbreds
This changes Aservoeverything.TMandEquiHalerTMaretrademarksofBoehringer Ingelheim Vetmedica GmbH, used under license. © 2020 Boehringer Ingelheim Animal Health Canada Inc. Designed specifically for horses, the Aservo TM EquiHaler TM is a equineinnovationbreakthroughinhealth. Talk to your veterinarian about this new treatment option. TM TM