Dentists Take to the Road to Raise Money for Cancer Research
Kevin Hanley and Amy Bryan choose to do their fundraising from bicycles.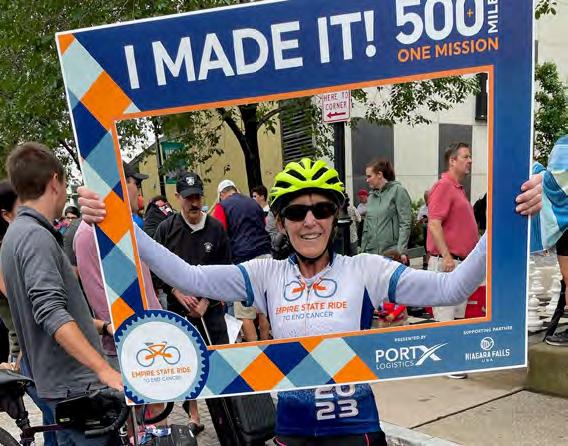 For two Western New York dentists, riding a bike is more than exercise or a mode of transportation, it's also an act of charity. Kevin J. Hanley, D.D.S., of East Amherst and Amy Bryan, D.D.S., of Williamsville suited up this summer for rides to benefit cancer research and patient care at Roswell Park Comprehensive Cancer Center in Buffalo. Dr. Hanley was recording his 12th appearance as a participant in the Ride for Roswell, held each year on a Saturday in June. Dr. Bryan was making her first appearance in the Empire State Ride, staged over eight days in July. At the end of their rides, Dr. Hanley had raised $3,185 in pledges, while Dr. Bryan and her Team Regan had collected $41,000.
The Ride for Roswell takes place over a 34-mile country route, a somewhat leisurely ride, according to Hanley, an orthodontist, who starts prepping for the event in March and considers it an important part of his summer. It enables him to raise critically needed funds for cutting-edge research and compassionate patient-care programs at Roswell Park, he said. It's also very personal, as he dedicates his ride to friends and colleagues, those who have died from cancer and those who have survived. Sadly, he notes, the list increases each year, which shows, he said, how pervasive cancer is.
AN OFFICIAL PUBLICATION OF THE NEW YORK STATE DENTAL ASSOCIATION NEWS OCTOBER 2023 Volume 36 • Issue 3
the Vision Alive The New York State Dental Foundation has put together an agenda of service and outreach for 2024. Now it's appealing for funds to carry it out 2 Agents of their own Demise The Hapsburg family, which ruled Europe for hundreds of years, was brought down not by war, corruption or political turmoil, but by the destructive practice of intermarriage 4 It Seemed like a Good Idea Who could argue against the wisdom of taking out a cyber insurance policy? Generally, it's a good idea, but you're going to want to read the application carefully before signing 6
Keep
Kevin Hanley flashes victory sign as he crosses finish line in annual Ride for Roswell, held to benefit Buffalo Comprehensive Cancer Care Center.
CONTINUED ON PAGE 12
Amy Bryan celebrates completion of bike ride across New York State to raise funds for cancer research.