from Complicité
Reflecting on what compelled us to bring Olga Tokarczuk's book to the stage, I find myself returning to the image once again. Great stories can be a little like that mycelium web – they can be a way that we forge links with one another, understand ourselves as part of something bigger than ourselves.
When I first encountered Janina, the protagonist of Drive Your Plow Over the Bones of the Dead, I was struck by the immediacy of her voice.
An image we have returned to often in the making of Drive Your Plow Over the Bones of the Dead is that of the mycelium: the remarkable network of funghi that exists deep beneath the forest floor, linking the trees by the roots and transferring water and nutrients throughout the network. A good metaphor for a story about the deep inter-connection between humankind and nature – and the perils that await when that relationship is fractured.
How special it
to share this story in Bristol
She expressed what it feels like to be alive right now with a clarity I have never encountered before. A prophet for a world on fire, she's bold, messy, angry and righteous – furious with the state of the world but determined to do something about it. She never cleans her home, preferring to devote her time to poetry and the cosmos, laughter and the secrets the animals have to tell us.
Aha. I thought. I am not the only one.
How special it is to share this story in Bristol – at the oldest continually working theatre in the English-speaking world. To gather here, as people have done for over quarter of a millennium. To ask – do you feel it too?
The lesson of the mycelium is that what seems to stand alone is in fact mutually dependent, part of a whole. Tonight, witnessing Janina's story, we might think ourselves not simply as an audience, but a solidarity. Imagine the power in that.
Amber Massie-Blomfield Executive Director, Complicité
Amber Massie-Blomfield © Rosie Powell
is
from Bristol Old Vic
have a similar response. If that's you, do check out the opportunities available here at Bristol Old Vic and explore your creativity further: bristololdvic.org.uk/interact
It's with great pleasure we welcome you to 2023 at Bristol Old Vic and Complicité's thrilling new production.
Our relationship with Complicité goes back years and we're delighted to be a co-producer of Drive Your Plow Over the Bones of the Dead, ensuring that audiences in Bristol witness the staging of Olga Tokarczuk's brilliant novel.
As part of the Bristol University's research and innovation programme MyWorld Bristol Old Vic's digital innovation. Using pioneering techniques to monitor the impact of the production on willing theatre and on screen audiences, we'll begin to uncover what it is that makes live theatre a uniquely visceral and connecting experience.
So, for many reasons, Complicité's return to Bristol is a special moment. Thank you for coming to Bristol Old Vic to see it – your support through buying a ticket, making a donation or joining as a member is really appreciated. It enables us to maintain our commitment to making original new productions alongside our development schemes for early career artists and our vital engagement and learning programme.
With Bristol's rebellious spirit and commitment to environmental activism, the themes of Drive Your Plow Over the Bones of the Dead will no doubt resonate with people in this city.
I've long been a fan of Simon McBurney's work. Seeing The Street of Crocodiles got me hooked on theatre and influenced my career direction. I've no doubt there'll be people seeing today's performance who'll
We invite you to return later in the spring for more bestselling stories told on Bristol Old Vic's stages, including a new production of Anna Karenina co-produced with Edinburgh's Lyceum and the welcome return of Pride & Prejudice (*Sort Of).
Here's to an incredibly exciting 2023.
Charlotte Geeves Executive Director, Bristol Old Vic
3
Charlotte Geeves © Barbara Evripidou
... a uniquely visceral and connecting experience
From the
Underneath this savage, funny and madly beautiful book, questions and themes are bound together by a story that is extremely compelling; questions and themes about what it means to be human.
Drive Your Plow Over the Bones of the Dead is a tale about the cosmos, poetry, and the limitations and possibilities of activism.
Olga Tokarczuk has created an extraordinary world that speaks to my deepest sense of the continuity between humankind and nature – a world where all entities are connected deeply at the roots, unable to exist alone.
Tokarczuk is a prophet for our times who understands us in all our hilarity, messiness, cruelty and animalism.
It is a great privilege to bring to the stage what is surely one of literature's most urgent accounts of being alive today.
Simon McBurney Artistic Director, Complicité
4
© Tim Bell
Simon and Olga on a research trip in Poland
It all begins in the depths of winter...
In a small community on a remote mountainside near the Czech-Polish border, men from the local hunting club are dying in mysterious circumstances. Janina Duszejko – ex-engineer, environmentalist, devoted astrologer and translator of William Blake –has her suspicions. She has been watching the animals with whom the community shares their isolated, rural home, and she believes they are acting strangely…
Olga Tokarczuk's "marvelously weird and fablelike mystery" (The New York Times) is a whodunnit unlike any other. A rallying cry for nature, it explosively exposes the hypocrisy of institutional power. What does it mean to be human and what does it mean to be animal, and can we separate the two?
A Complicité co-production with Barbican London, Belgrade Theatre Coventry, Bristol Old Vic, Comédie de Genève, Holland Festival, Les Théâtres de la Ville de Luxembourg, L'Odéon-Théâtre de l'Europe, The Lowry, The National Theatre of Iceland, Oxford Playhouse, Ruhrfestspiele Recklinghausen and Theatre Royal Plymouth.
© Camilla Adams
5
Why is the killing of animals sport and that of humans murder?
6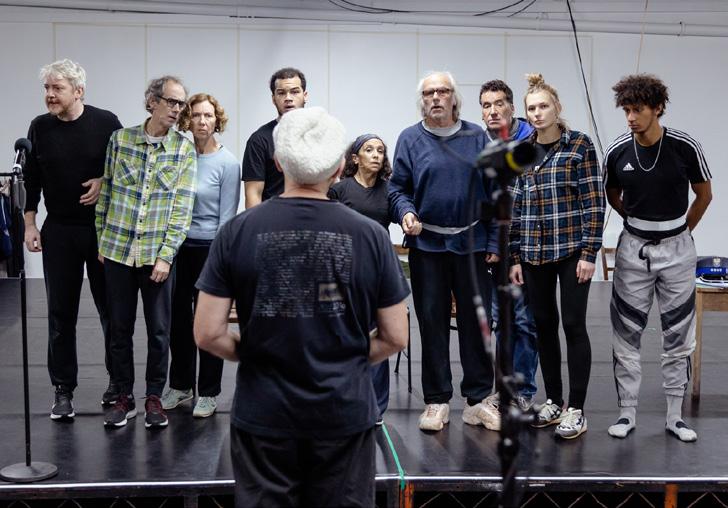 Rehearsal photos © Camilla Adams
It turns out I've been living among monsters
by Toby Litt
Who knows, perhaps you might even leave the theatre a vegetarian? (That is, if you aren't one already.) Because, whether you like it or not, you're about to get into a massive argument – with yourself. There's a lot of anger awaiting you, supplied by you, aimed at you; opposing energies that you didn't even realise were building over the course of your lifetime. Especially since you stopped being a child who learned to read with
stories of loveable animals and became an adult who accepted that some of these animals are, in strict legal terms, fair game. But this anger you're going to feel is a different anger to the usual everyday dammit-level annoyance at clumsiness or stupidity. This will be an active, tragic anger – the kind of anger described by Janina Duszejko, the protagonist of the novel-version of Drive Your Plow Over the Bones of the Dead, as 'genuine, not to
8
Divine Anger is empowering. 'It flooded me from inside in a burning hot wave.'
say Divine Anger.' Divine Anger is empowering. 'It flooded me from inside in a burning hot wave. This energy made me feel great, as if it were lifting me off the ground, a mini Big Bang with the universe of my body.'
It may be that you'll come out of this argument with yourself feeling you've somehow won. That you were right all along. That you don't need to change what you eat, how you think, who you are. But even if that happens, in another sense you'll have lost. Lost to yourself. Because there's another part of you, perhaps almost half, that's going to feel shock, rage, shame, and perhaps a decadent kind of awe. Am I really this mixed up? Love this animal; kill this one; eat
this one's young; feed this one to this one. Am I really capable of this level of hypocrisy?
Yes, you are – but it's not just you. I'm as hypocritical, and as angry about it, as you are. And so are the people around you in the seats, and – shortly – in front of you on the stage. It's not just you, it's all of us, all humans. Unless we absolutely obey 'Thou Shalt Not Kill,' unless we
follow Jainism and would never swat the mosquito (possibly malarial) that's sucking blood from our arm, or unless we're a merciless hunter who kills indiscriminately and makes no distinction between game and domestic animals, then we are in some way living with values that just don't fit coherently together. We're in profound disagreement with ourselves.
Olga Tokarczuk, through Janina, wants to provoke Divine Anger in us, to call it forth. She does this by forcing the acceptable everyday world to appear as it is, appalling. In her weird and thrilling tale of murder and loneliness, she comes close to William Burroughs who said of his most famous novel, 'The title means exactly what the words say: naked lunch, a frozen moment when everyone sees what is on the end of every fork.' Janina asks –
When you walk past a shop window where large red chunks of butchered bodies are hanging on display, do you stop to wonder what it really is? You never think twice about it, do you? Or when you
'How great and full of life the world is.'
9
Polish hunting pulpit © Tim Bell
order a kebab or a chop – what are you actually getting? There's nothing shocking about it. Crime has come to be regarded as a normal, everyday activity. Everyone commits it.
And throughout Tokarczuk's impassioned novel, the voices of this 'Everyone' speak back at Janina, as you yourself might. She is, after all, 'just an old woman, gone off her rocker in this wilderness'. She's really triggering, isn't she? She's the kind of person who believes in astrological speculation rather than deductive reasoning. She writes batty letters to the Police, advising them where they've gone wrong in their murder investigations – and they rightly ignore her. And when she insists on not being ignored, not being silenced or made invisible, they, they and the other voices, say to her – "Don't upset
yourself, madam. We're within the law." "Christ, what are you on about?" "You have more compassion for animals than for people." "What do you expect us to do?" "You must be joking…" "Don't get so upset about things. Don't take the whole world on your shoulders. It'll all be fine." "You must be joking…" "Nowadays, fortunately the changed. We are no longer seen as people who just want to shoot everything that moves, but as people who care about the beauty of nature: about order and harmony."
Olga Tokarczuk's novel first came out in Poland in 2009 and was translated by Antonia Lloyd-Jones for publication in 2018, yet it feels entirely contemporary. Veganism has become one of the most commonly proposed ways of addressing the climate and ecological emergency. This is explicitly brought up by one of the most cogent voices who speaks to, and against, Janina. He's a young forester, so he should know what he's talking about –
There's nothing natural about nature any more… It's too late. The natural processes have gone wrong, and now we must keep it all in control to make sure there's no catastrophe… We have to shoot the foxes, or else their population will grow so large that they'll be a threat to other species.
But Janina rages against this. And as time passes around her, as the seasons of a year go by, Janina hears in all these
10
Images © shutterstock
She does this by forcing the acceptable everyday world to appear as it is: appalling.
placating voices a screeching crescendo of human hypocrisy. And whether we agree with her or not, we feel her justification. Our inconsistency is intolerable. Finally, Janina is forced to cry out in compassion. 'How great and full of life the world is.' But it's another character, peripheral but also central, a summertime neighbour of Janina's, the writer, the Grey Lady – it's Olga Tokarczuk's wry self-portrait who half-says the truth. 'It turns out,' she says, 'I've been living among monsters. 'And yet there's more to say, and we complete the other half of her truth ourselves: 'It turns out I've been living among monsters. And it turns out the reason they haven't eaten me is that I'm a monster, too.'
Toby Litt is a writer, academic and environmental activist based in London. He has published novels, short story collections, comics and poems. His most recent book is A Writer's Diary (Galley Beggar, 2023). His novel Patience was shortlisted for the Republic of Consciousness Prize. Toby is a member of Writers Rebel, part of Extinction Rebellion. In November 2022, he and the writer Natasha Walter took part in Cut the Ties, thirteen coordinated XR actions against institutions that reinforce our dependence on fossil fuels. Both Toby and Natasha were arrested for their non-violent (but slightly messy) direct action outside the Institute for Economic Affairs.
11
We feel her justification. Our inconsistency is intolerable.
Thomas Arnold
Thomas Arnold's most recent theatre credits include A Very Expensive Poison and Fanny & Alexander (directed by Max Webster) for the Old Vic; The Kids Stay In The Picture, directed by Simon McBurney for the Royal Court, and Oslo, directed by Bart Sher at the National. On screen, he recently appeared in A Spy Among Friends on ITVX, the BBC 2 series MotherFatherSon with Richard Gere, the hugely popular BBC series War and Peace and the critically acclaimed series Broken, written by Jimmy McGovern. His film credits includes Tom Harper's The Aeronauts and The Woman in Black: Angel of Death.
Johannes Flaschberger
Johannes Flaschberger was born in Hermagor in the Austrian Alps. He trained with Marcel
Marceau in Paris, Pavel Rouba in Barcelona at the Institut del Teatre, and with Philippe Gaulier in Paris. Theatre for Complicité includes The Three Lives of Lucie Cabrol, Mnemonic, Measure for Measure, A Dog's Heart and The Master and Margarita. For the RSC (2009/10), Othello directed by Kathryn Hunter. For the Schaubühne Berlin, Beware of Pity directed by Simon McBurney; Professor Bernhardi and Italienische Nacht directed by Thomas Ostermeier. TV and film work includes Immortal Beloved directed by Bernard Rose, Bridget Jones: The Edge of Reason directed by Bibaan Kidron, Bauernprinzessin Series 2 and 3 directed by Susanna Zanke, Der Bulle von Tölz, Waidmanns Dank directed by Daniel Prochaska, and Adam and Evelyn directed by Andreas Goldstein.
Tamzin Griffin
Tamzin Griffin's work with Complicité includes The Master and Margarita, A Dog's Heart and Measure for Measure. Other work includes 24 Hours of Peace (Royal Exchange); Mephisto [A Rhapsody] (Gate Theatre); Present Laughter, Tonight at 8:30 (Chichester Festival Theatre); St George and the Dragon, Draw Me Close (National Theatre/Tribeca Film Festival/Young Vic); Emil and the Detectives, Greenland and Our Class (National Theatre); The War Has Not Yet Started (Theatre Royal Plymouth); Cyrano de Bergerac (Southwark Playhouse); The Hudsucker Proxy (Nuffield Theatre Southampton and Liverpool Everyman); Far Away (Young Vic); Jedermann (Salzburger Festspiele); The Empress and Othello (RSC); Brief Encounter (Kneehigh/Birmingham Rep
12
© Arthur Wilson © Ori Jones
and Haymarket West End); A Matter of Life and Death (Kneehigh/National Theatre); Rough Magyck (Forkbeard Fantasy/RSC); Red Demon (Young Vic/ Tokyo Bunkamura); San Diego (Tron and Edinburgh Festival); Witness (Gate Theatre and BAC) and Shockheaded Peter (Lyric Hammersmith, West Yorkshire Playhouse, national and international tour: Olivier Award for Best Entertainment).
Amanda Hadingue
Amanda Hadingue's work with Complicité includes The Master and Margarita, The Dark Is Rising (BBC World Service) and A Pacifist's Guide to the War on Cancer Other theatre includes: The Winter's Tale, Miss Littlewood, The Duchess of Malfi, The Follies of Mrs Rich, The Merchant of Venice (Royal Shakespeare Company); A Christmas Carol, A Very Expensive Poison (Old Vic); Top Girls, Small Family Business (National Theatre); Spindrift, Deciphering (curious directive); The Madness of George Ill (Nottingham Playhouse); I Am Thomas (National Theatre of Scotland/ Told by an Idiot); Tipping the Velvet (Lyric Hammersmith); Ghost Train (Royal Exchange); Playing for Time (Sheffield Crucible); Rising Damp (UK tour); Hamlet (Shakespeare's Globe); Get Santa!, The Wonderful World of Dissocia (Royal Court); many shows as a core member of Stan's Cafe. Television includes: Good Omens, The Alienist, Flowers, Bad Move Casualty, Holby City, Lead Balloon, Doctors Film includes: Black Pond, The Queen and The Darkest Universe.
Kathryn Hunter
© Paul Stuart
Kathryn Hunter is an Olivier Award-winning Actress and Director. As long-term associate of Complicité, her credits include: The Visit (Olivier Best Actress Award), Foe, Out of a house walked a man, Anything for a Quiet Life, Help! I'm Alive and The Winter's Tale. Acting credits include: King Lear, The Chairs, Happy Days, WHY, Timon of Athens, Prometheus Unbound, The House of Bernarda Alba, Fragments,The Valley of Astonishment, The Emperor, Kafka's Monkey, Cyrano De Bergerac, Hearts-Cards, A Midsummer Night's Dream, A Tender Thing, Antony & Cleopatra, One Green Bottle, The Diver, The Bee, Yerma, Celestina, Whistling Psyche, Dona Rosita, Richard III, The Taming of the Shrew, Macbeth, Electra, Far Away, The Rose Tattoo, The Devils, Live Like Pigs, The Recruiting Officer, Our Country's Good, The Hypochondriac, Women of Troy, Romeo & Juliet, Spoonface Steinberg, Mother Courage, The Skriker. Film includes: The Tragedy of Macbeth, Poor Things, A Midsummer Night's Dream, Tale of Tales, Harry Potter and the Order of the Phoenix, The Baby of Macon, Maria's Child, Orlando, All or Nothing.
13
Kiren Kebaili-Dwyer
the short film How Are You? in Pompeii, which created a platform for Ukrainian artists. During the pandemic, amongst her full-time studies, Weronika produced and performed in Curiouser and Curiouser, an experimental short film essay that received a Critic's Award at The Cinema Femme Short Film Festival 2020. Since participating in R&D workshops with Complicité, Weronika is delighted to be making her professional debut on the UK and international stage with Drive Your Plow Over the Bones of the Dead.
Kiren Kebaili-Dwyer most recently played Balthazar in Simon Godwin's colourful, romping adaptation of Much Ado About Nothing at the National Theatre, opposite Katherine Parkinson and John Heffernan. In 2022 he also played the titular prince in Jude Christian's child-friendly Hamlet for a National Theatre Learning school tour. Other credits include roles in BBC's Doctors and short film Comedown. Kiren is also a talented voice actor, playing Haitian revolutionary Toussaint L'Ouverture in BBC Bitesize's course on the Abolition of the Slave Trade.
Weronika Maria
Tim McMullan
Weronika Maria graduated from BA Acting CDT (Collaborative and Devised Theatre) at The Royal Central School of Speech and Drama in 2021. She is originally from Krakow, Poland. Recently, Weronika devised and performed in a female-led collaborative production, Becoming, at NDT Broadgate and previewed at Theatre Deli London and Blue Elephant Theatre. She project-managed
Tim McMullan has played lead roles at The National Theatre including Mendoza in Man vs Superman with Ralph Fiennes where The Guardian remarked "both a knockout brigand –snapping eyes and tongue – and a wonderfully languorous devil". Stage work includes The Misanthrope alongside Damian Lewis and Keira Knightley, the original production of His Dark Materials, Anthony and Cleopatra, and Twelfth Night. On-screen, he stars in Magpie Murders opposite Lesley Manville. The ongoing series is based on author Anthony Horowitz's best-selling books and follows Tim as detective Atticus Pünd. Further TV credits include The Serpent, The Crown, Brexit, Melrose, Fearless and Witness for the Prosecution. He is well known for his long-standing role in the beloved British drama Foyle's War. Most recently Tim filmed the second installment of Enola Holmes, starring Millie Bobby Brown and Helena Bonham Carter. Film credits include King Charles III, The Woman in Black, The Queen and Shakespeare in Love.
14
© YellowBelly
© YellowBelly
© Clare Park
César Sarachu
© Åsa Sarachu
César Sarachu trained with Jacques Lecoq. His work for Complicité includes The Street of Crocodiles and The Master and Margarita. Other theatre work includes in Sweden Top Dogs (Orionteatern Stockholm), Mörkertid and Det Allra Viktigaste for Unga Klara (Stadsteatern Stockholm). In France Fragments and 11&12, both directed by Peter Brook (Bouffes du Nord). In Spain Reikiavik and Intensamente Azules directed by Juan Mayorga. His work in film includes Institute Benjamenta and The Piano Tuner of Earthquakes, both directed by the Quay Brothers, Meeting Evil by Reza Parsa, Wellkåmm to Verona by Suzanne Osten, L ́homme qui marche by Aurelia Georges and Tiempo Después by Jose Luis Cuerda. His television credits include the spanish comedy series Cámera Café directed by Luis Guridi.
Sophie Steer
Sophie Steer's theatre work includes: Exodus (National Theatre of Scotland), Civilisation (Antler/New Diorama), It's True, It's True, It's True (Breach Theatre), Dinomania (Kandinsky Theatre/New Diorama), Lands (Antler Theatre/
Bush Theatre), Still Ill (Kandinsky Theatre/ New Diorama), Tank (Breach Theatre/National Tour), Buckets (Orange Tree Theatre), Sparks (Old Red Lion), Romeo and Juliet (Watermill Theatre). TV work includes: It's True, It's True, It's True (BBC4), Chickens (Big Talk). Her film work includes Days of the Bagnold Summer (Stigma Films).
Alexander Uzoka
© Dujonna Gift
Alexander Uzoka is an Italian Nigerian actor from East London and a recent graduate from the BA Acting course at the Bristol Old Vic Theatre School. Before he was accepted onto the course in 2019, Alexander worked with his local theatre Theatre Royal Stratford East from the age of 14. This gave him the opportunity to win two National Monologue Slams and perform at the National Theatre twice as part of NT Connections. He has also worked with the Yard Theatre, Theatre Peckham and the Almeida Theatre, where his first written show was performed in 2022. During his time at BOVTS he performed at the Bristol Old Vic Theatre, playing in the Weston Studio with Macbeth in November 2021 and on the main stage with Catastrophe Bay in July 2022. He has now returned to the Bristol Old Vic after just five months, making his professional stage debut with Complicité's Drive Your Plow Over the Bones of the Dead.
15
Simon McBurney
Director
Simon McBurney is an actor, writer and playwright, and director of theatre, opera, film and dance. One of the most innovative, mercurial and influential theatre-makers working today, in 1983 he co-founded Complicité, since when all his work has been made through a deeply researched and highly collaborative process which fuses a profound belief that all aspects of the theatre should challenge the limits of theatrical form.
As well as creating original works, Simon has brought great plays to the stage – Beckett, Brecht, Bulgakov, Durrenmatt, Ionesco, Daniil Kharms, Arthur Miller, Bruno Schulz, Shakespeare and Ruzzante – and adapted numerous works of literature. He adapted and directed The Master and Margarita the 2012 Avignon Festival, and Stefan Zweig's Beware of Pity (2015) for the Schaubühne Theatre, Berlin. His award-winning Encounter (2015) was described as the most fully-immersive theatre pieces ever created' by New York Times.
Simon is married, with three children, and lives at the end of a valley in the West Country. In 2016 his wife, Cassie, introduced him to Polly Higgins and the Stop Ecocide campaign which seeks to have ecocide (unlawful or wanton acts committed with knowledge there will be widespread or long-term damage to the environment) enshrined in international law. The International Criminal Court can currently prosecute just four crimes: genocide, crimes against humanity, war crimes and crimes of aggression. By adding a fifth crime of ecocide to the Rome Statute of the International Criminal Court, the perpetrators of environmental destruction would suddenly be liable to arrest, prosecution and imprisonment.
He asks that anyone reading this joins him in supporting this campaign by going to
16
© Jorri Kristjánsson
© Łukasz Giza
Olga Tokarczuk
Author (original novel)
shortlisted for the 2022 Booker International Award. Her latest novel, Empuzjon, published in 2022, is now being translated into English. Her work has been translated into more than fifty languages.
Olga lives in Wroclaw where she has established a foundation that runs educational programmes and provides support for writers and translators.
Olga Tokarczuk is the recipient of the 2018 Nobel Prize in Literature. She is the most translated living Polish author and the author of nine novels and three short story collections. She has twice won the most prestigious Polish literary prize, the Nike Award, for Flights (Bieguni) in 2008 and for The Books of Jacob (Księgi Jakubowe) in 2015.
Her most famous novels include Primeval and Other Times (Prawiek i Inne Czasy), House of Day, House of Night (Dom Dzienny, Dom Nocny), Flights (Bieguni), which also won the 2018 Man Booker International Prize and was shortlisted for the National Book Awards in Translated Literature 2018, and Drive Your Plow Over the Bones of the Dead (Prowadź Swój Pług Przez Kości Umarłych), translated into English by Antonia Lloyd-Jones, which was shortlisted for the 2019 Man Booker International Award and the Dublin Literary Award and the Warwick Prize, and longlisted for the National Book Awards in Translated Literature. Her epic novel, The Books of Jacob, was published in English by Fitzcarraldo, Riverhead and Text Publishing in 2021 in a translation by Jennifer Croft, and was
Rae Smith Set and Costume Design
Paule Constable Lighting Design
Rae Smith's set and costume design work for Complicité includes The Street of Crocodiles, The Visit (plus foyer installation at the Almeida), Help! I'm Alive, Wiseguy Scapino and Ave Maria. Her recent theatre designs include A Doll's House, Part 2 (Donmar), Rigoletto (South Bank Sky Arts Award, Opera North), Kae Tempest's Paradise (National Theatre), Uncle Vanya (Harold Pinter and film; South Bank Sky Arts Award and Olivier nomination for set), Girl from the North Country (Broadway, West End and Old Vic), Barbershop Chronicles (BAM, Roundhouse, National Theatre), Rosmersholm Yorks, Olivier nomination for set). During the Covid-19 lockdowns Rae designed better mentally healthy working spaces for her local hospital and school and sold her art prints to raise funds for Women's Refuge. Other theatre designs include where she drew all the backgrounds (Tony and Olivier Awards for set) and then went on to perform live drawing with the Royal Philharmonic Orchestra at the Royal Albert Hall. See Instagram @drawingfellowucal for Drive Your Plow Over the Bones of the Dead sketches.
Paule Constable is a Royal Designer for Industry, an Associate Director of the National Theatre, and an Associate of the Lyric Hammersmith and Matthew Bourne's New Adventures. She has won the Olivier Award for Best Lighting Design a record five times, and been nominated for a further nine. Theatre includes: LIGHT: Bach Dances (Hofesh Shechter Company); The Glass Menagerie, Cock, Les Misérables (25th Anniversary), The Normal Heart, The Ocean at the End of the Lane (also West End), Master Harold and the Boys, Pericles (Public Acts), Follies, Angels (also Broadway), The Red Barn, Threepenny Opera, The Light Princess, This House, The Curious Incident of (also West End & (also West End, Toronto, Australia, US tour & Broadway) Saint Joan,
18
Christopher Shutt Sound Design
Dick Straker Video Design
Christopher Shutt's recent work includes Much Ado, The Corn is Green, Paradise and Romeo & Juliet (also for Sky Arts) at the National Theatre; The Clinic at the Almeida; Closer at Lyric Hammersmith; Murder on the Orient Express at Chichester; Dreamachine for Unboxed Festival; Four Quartets in the West End; What If If Only at the Royal Court. Other theatre includes War Horse (Tony Award); A Disappearing Number, The Elephant Vanishes, The Noise of Time, Mnemonic, The Caucasian Chalk Circle and The Street of Crocodiles for Complicité; Antony & Cleopatra, Julie, John, Twelfth Night, Man and Superman and Every Good Boy Deserves Favour at the National Theatre; Macbeth, Timon of Athens Washington), Wendy & Peter Pan Nothing at the RSC; Benedict Cumberbatch) at the Barbican; The Twilight Zone, The Treatment the Almeida; Aristocrats, and Privacy
Founder of Mesmer, Dick Straker's theatre and opera credits include: Steve (Seven Dials), The Long Song (Chichester), Walls and Windows (The Abbey Dublin), A Monster Calls (Old Vic), Greek (Scottish Opera), Carmen (Grange Festival Opera), Don Juan in Soho (Wyndhams Theatre), Aida and Andrea Chenier (Opera North), Notorious (Gothenburg Opera), Cymbeline and Love's Sacrifice (Stratford RSC), The Commission and Cafe Kafka (two operas for Aldeburgh and Linbury Theatre), Roots (Donmar Warehouse), Fortunio (Grange Park Opera), Paper Dolls (Tricycle Theatre), Going Dark (Fuel Theatre), Tiger Country (Hampstead Theatre), Tales of Ballycumber The Mountaintop (Royal Ballet), Sugar Mummies
Kirsty Housley
Additional Direction
Kirsty Housley is a director, writer and dramaturg working across theatre, film and digital. Recent work includes Jekyll and Hyde by Evan Placey (director) for The National Theatre; Extinct by April de Angelis (director and dramaturg) for Theatre Royal Stratford East; The Long Goodbye (director of live show and livestream) with Riz Ahmed for Manchester International Festival/BAM; Can I Live? for Complicité (Dramaturg); Mephisto [A Rhapsody] at The Gate Theatre (director); Rich Kids: A History of Shopping Malls in Tehran and The Believers are but Brothers (Director and co-creator with Javaad Alipoor); Tao of Glass with Phillip Glass for Manchester International Festival (co-director); Avalanche A Love Story at The Barbican and Sydney Theatre (Dramaturg); Misty at The Bush and the West End (Dramaturg); The Encounter Complicité (co-director) and Myth for the RSC (director and co-writer). Kirsty is currently an RSC Digital Fellow.
Laurence Cook
Dramaturgy
Laurence Cook is a dramaturg, theatremaker and audio producer. He has worked with acclaimed companies this egg and RashDash and with The National Theatre and Shakespeare's Globe. He specialises in supporting solo work, including Soho Theatre Rising award-winning shows Ryan Lane Will Be There Now In a Minute, and Baubo: Goddess of Filth. Laurence is a graduate of The Royal Court Young Writers Programme, the Young Vic Genesis Network, and now reads for Playwright's Studio Scotland. He has also worked for community companies Old Vic New Voices and The Big House. As an audio producer he has worked across BBC networks on live arts, culture and music radio, documentaries The Digital
20
Sian Ejiwunmi-Le Berre
Dramaturgy
Sian Ejiwunmi-Le Berre is a writer, actor and theatremaker. Theatre credits include: Assistant Director on Roy Williams' and Clint Dyer's Death of England parts 1 & 2 at the National Theatre, and Assistant Director for Complicité on Clint Dyer's The Happy Tragedy of Being Woke at the Edinburgh Festival. Sian has worked in several TV writers' rooms, writing an episode of Disney + soon to be released, Nautilus. She has several original upcoming television series in production and development ranging from YA fantasy and musicals to murder mysteries. Radio includes Radio 4 classic serials Les Liaisons Dangereuses and The Medici, along with her comic play Germaine. Sian was previously a professional songwriter and continues to act in TV, film and theatre.
Toby Sedgwick Movement Direction
Toby Sedgwick trained at the Jacques Lecoq School in Paris, where he founded The Moving Picture Mime Show which established itself as one of the innovators of physical theatre throughout the world. He won the 2008 Olivier Award as Director of Movement and Horse Choreographer for War Horse, playing Ted Narracott in the original production. Toby has worked internationally and extensively in UK theatres, including Swallows and Amazons and The Little Mermaid at Bristol Old Vic, War Horse and The 39 Steps in the West End and on tour, and has performed in and co-devised several Complicité shows including Help! I'm Alive, Out of a house walked a man, The Noise of The Master and Margarita, and . He collaborated with Danny Boyle on the London 2012 Olympics as
© Clare Park
Richard Skelton Original Compositions
Richard Skelton is a British musician. His uniquely expressive use of stringed instruments was developed on a series of ground-breaking albums: Box of Birch (2007), Marking Time (2008), Landings (2009), and Verse of Birds (2011). Over the past decadeand-a-half his recorded music has been used in feature films (The Mountain, The Loneliest Planet, The River) and documentaries (Territoire Perdu, Les Tourmentes, Small Country). More recently, he has produced scores for films, including Mark Gill's Morrissey biopic England is Mine (2017), and Pierre-Yves Vandeweerd's exploration of the ghosts of genocide in Armenian Azerbaijan, Les Eternels (2017). He has also written work for the Elysian Quartet, the Charles Linehan Dance Company, and numerous arts organisations, including Art Assembly, AV Festival, Atlas Arts, Borealis Festival and HIAP. Since 2009, he has been co-director of the multimedia publishing house, Corbel Stone Press, with the Canadian poet Autumn Richardson.
22
Complicité
Complicité is an international touring theatre company based in London led by artistic director and co-founder Simon McBurney. Founded in 1983, the Company has won over 50 major theatre awards worldwide, and played in more than 40 countries.
Complicité creates work that strengthens human interconnection, using the complicity between performer and audience that is at the heart of the theatrical experience. The company works across art forms, believing theatre, opera, film, radio, installation, publication and participatory arts can all be sites for the collective act of imagination.
The company is famous for making its work as a collective, with a spirit of collaborative curiosity, through extensive periods of research and development which bring together performers, designers, writers, artists and specialists from diverse fields – a process now known simply as 'devising'.
Complicité's recent work includes The Dark is Rising, a new audio drama for BBC World Service based on Susan Cooper's cult novel; Figures in Extinction [1.0], Can I Live?, The Encounter, The Master and Margarita, Shun-kin and A Disappearing Number.
The Company is committed to widening access and supports talented artists who are under-represented in the theatre sector. Learning and engagement are central to its work and its award-winning Creative Engagement programme includes professional development, work in schools and colleges and participatory projects with a range of communities.
Complicité is responding to the climate and ecological emergency. It is a founder member of Culture Declares Emergency and cochairs a working group of UK Touring Theatre Companies to share best sustainable practice and to develop the Theatre Green Book Touring Guidance.
2023 marks the company's 40th year.
© Camilla Adams
24 24 Cast Thomas Arnold, Johannes Flaschberger, Tamzin Griffin, Amanda Hadingue, Kathryn Hunter, Kiren Kebaili-Dwyer, Weronika Maria, Tim McMullan, César Sarachu, Sophie Steer, Alexander Uzoka Adapted from the novel by Olga Tokarczuk, published in Great Britain by Fitzcarraldo Editions Director Simon McBurney Set and Costume Design ..................................................................................................... Rae Smith Lighting Design Paule Constable Sound Design Christopher Shutt Video Design.....................................................................................................................Dick Straker Additional Direction Kirsty Housley Dramaturgy Laurence Cook and Sian Ejiwunmi-Le Berre Movement Direction .....................................................................................................Toby Sedgwick Original Compositions Richard Skelton Additional Movement Crystal Pite Associate Lighting Designer Lucía Sánchez Roldán Sound Associate Ella Wahlström Video Associates Jachym Bouzek and Jakub Xiv for Mesmer Associate Video Designer Ross Flight Design Assistants William Fricker and Ruth Hall Original novel translation Antonia Lloyd-Jones Assistant Director Gemma Brockis Associate Costume Designer Johanna Coe Wigs Designer Susanna Peretz Casting Amy Ball CDG
25 Production Manager Niall Black Company Stage Manager Fiona Findlater Deputy Stage Manager Sarah Coates Assistant Stage Manager Jeannie Fong Cover Stage Manager Bethany Alexander Wardrobe Supervisor Heather Judge Lighting Programmer ........................................................................................... Tamykha Patterson Lighting Supervisor Tom Pritchard Production Electrician Samuel Baker Stage Supervisor....................................................................................................................David Hill Sound Supervisor Laura Hammond Sound Supervisor Amir Sherhan Video Programmer .................................................................................. Salvador Bettencourt Ávila Video Programmer Neil McDowell Smith Video Supervisor Ben Walden Animator .................................................................................................................. Gustaf Lindstrom Script Assistant Austin Yang Model Box Assistant Catherine Morgan Dramatherapist Wabriya King Access Consultant Aisling Gallagher Audio Description Consultant Benjamin Wilson for Hear the
Audio Describer Jo Mousley for Hear the
Poster artwork Patryk Hardziej Programme design Kerry
25
Picture
Picture
Churcher Music and image credits Original compositions by Richard Skelton Other music: House of the Rising Sun (trad); Animals (Garritsen); Tell Me Why (Somerville, Cole, Bronski); Jump in My Carr (Ted Mulry) Images: Depiction of St Hubert from a window in Ottowa St Patrick's RC Basilica from the workshop of Franz Borgias Mayer (1848-1926). Photo by Wojciech Dittwald
Senior Producer Tim Bell
Project Producer
Josie Dale-Jones Creative Engagement Producer Rima Dodd (Maternity Cover) Executive Director Amber Massie-Blomfield
Artistic Director
Simon McBurney Administrator Sarah Osgerby
Creative Engagement Producer .................................................... Natalie Raaum (Maternity Leave) Finance Manager Louise Wiggins
General Manager Jennie Green for Great Leap Forward Tour Booker Kayte Potter for Great Leap Forward Production Assistant Sara Cormack for Great Leap Forward Production Assistant James Miller for Great Leap Forward Marketing Director Emma Laugier for Emma Laugier Marketing Marketing Manager Fabienne Sinclair Morris for Emma Laugier Marketing Marketing Assistant Matthew Meldrum for Emma Laugier Marketing
PR Kate Hassell and Ben Chamberlain for Bread & Butter
26
Complicité thanks The Mirisch & Lebenheim Charitable Foundation, John Ellerman Foundation, John Lyon's Charity, Backstage Trust, Maria Björnson Memorial Fund and the Polish Cultural Institute, London for their generous support of this production and the surrounding education and community projects.
Complicité is an Arts Council England National Portfolio Organisation.
Thank you to the following actors and creatives who worked with us in R&D and rehearsals: David Annen, Bronya Deutsch, Joe Dines, Vicky Eames, Naomi Frederick, Ben Grant, Stephanie Levi-John, Richard Katz, Robert Luckay, Susan Lynch, Clive Mendus, David Riley, Surenee Somchit, Grzegorz Staniewicz, Miles Yekinni.
Production team thanks: Lesley McNamara, Karen Spahn (creation of typeface), Gemma Swallow, George Thompson, Miraculous Engineering, National Theatre of Scotland, Royal Court Theatre, Sparks Theatrical Hire, Stage Sound Services and Whitelight.
27
Aficionados
Bublu & Siegmar Thakur-Weigold, Clive & Sue Woodford-Hollick
Accomplices
Pamela Edwardes, Ernest Fasanya & Jenny Stevens, Jon & Julia Hall, Richard Harrison, Frances Hughes, Melanie Johnson, Chris & Clem Martin, Constantine Partasides & Patricia Cabredo Hofherr, Hope Pym, Michael Tian & Sharon Zhu, Eliot Vaughan, Geoff Westmore, Kate
Allies
Bill Bingham, Nitya Bolam, Frances Connan, Simon Dormandy, Claire Gough, Dina Priddle, Anthony Whitworth-Jones, Anne Willcocks CBE, Julie Yeung
Become a Complicité supporter today to access priority booking and exclusive insights into our work. Your support will help us bring exciting productions to life, develop emerging creative artists and deliver our expansive participation programme. To find out more, visit complicite.org/ support, write to email@complicite.org or call us on 020 7485 7700.
Stop Ecocide
ECOCIDE is the mass damage and destruction of ecosystems – severe harm to nature which is widespread or long-term.
It includes ocean damage, deforestation, land and water contamination and air pollution. As citizens we can and must take responsibility for what we eat and buy, but ordinary citizens do not make high level investment and policy decisions. Ordinary citizens cannot be blamed for ecocide. Right now, the Rome Statute of the International Criminal Court (ICC) lists four crimes: Genocide, Crimes Against Humanity, War Crimes and Crimes of Aggression. The Statute can be amended to add a fifth crime: ECOCIDE. Unlike suing and fining
corporations, making ecocide a crime creates an arrestable offence. It makes those individuals who are responsible for acts or decisions that lead to severe environmental harm liable to criminal prosecution.
In this way Earth's most precious ecosystems can be protected and allowed to recover.
HOW
YOU CAN HELP
Step 1: sign the international petition Step 2: become an Earth Protector Step 3: tell everybody
Visit stopecocide.earth to find out more
28
complicite.org 29 Take home a piece of the action Show posters Olga Tokarczuk's original novel Complicité T-shirts Complicité 'Rehearsal Notes' book On sale today in the foyer Drive Your Plow Over the Bones of the Dead Theatre Royal Plymouth 1 - 3 December 2022 Bristol Old Vic 19 January - 11 February 2023 Oxford Playhouse 1 - 4 March 2023 Barbican, London 15 March - 1 April 2023 Nottingham Playhouse 4 - 8 April 2023 Belgrade Theatre, Coventry 19 - 22 April 2023 The Lowry, Salford 25 - 29 April 2023 #driveyourplowtour Stay in touch through any of our channels: Twitter: @Complicite Instagram: @CompliciteTheatre YouTube: /CompliciteCompany Facebook: /TheatredeComplicite complicite.org email@complicite.org Ruhrfestspiele, Recklinghausen 3 - 6 May 2023 Grand Theatre, Luxembourg 11 - 12 May 2023 10th Theatre Olympics, Budapest 16 - 17 May 2023 Wiener Festwochen, Vienna 22 - 26 May 2023 Holland Festival, Amsterdam 1 - 3 June 2023 L'Odeon, Paris 7 - 17 June 2023 More 2023 and 2024 dates to be announced
Amanda Adams
Head of Communications
Tundun Adebanjo
Digital Marketing & Content Officer
Dayan Asif Workshop Assistant
Ben Atterbury
New Work Producer
Andrew Barton Daytime Receptionist
Lee Barden
Production & Operations Administrator
Emma Bennett HR Advisor
Kara Black
Young Company & Schools
Producer Jessica Campbell Senior Producer
Giles Chiplin
Head of Digital Publishing Nicolás Conde Executive Assistant
Aiden Connor Technician
Ellen Constable
CNC & CAD Designer
Becky Davies
Deputy Operations Manager
Hattie De Santis
Engagement Producer
Theoni Dourida
Duty Manager
Richard Edmunds Purchase Ledger
Mike Elliott
Maintenance Supervisor
Riddell Erridge
Development Assistant
Eleanor Field
Digital Producer
Jill Fisher Evening Receptionist
Tanya Follett
Assistant Producer (New Work)
Ryan Garvey
Food & Beverage Manager
Charlotte Geeves Executive Director
Robb Gosset Technician
Lisa Gregan Young Company Director
Ruby Gilmour Assistant Producer
Mike Gunning
Head of Lighting & Technical Keiti Hammock Communications Officer
David Harraway
Production & Operations Director
James Harrison Technician
Daniel Hart Duty Manager
Sammy Holder Payroll
Lucy Hunt Engagement Director
Daz James
Production Manager
Hannah Jarman Senior Marketing Manager
Simon Jenkins Development Director
Sophie Jones
Head of Digital Marketing
Henry Knight
FOH Coordinator
Mia Macleod Duty Manager
Louisa McCann Finance Director
Naomi McKay Duty Manager
Rowan Mead Duty Manager
Nancy Medina
Artistic Director
Doug Middling
Head of Individual Giving
Kerry Mohide
Finance
Rebecca Molloy
Head of Ticketing & Audience
Insight Maev Moran Marketing Officer
Jim Molyneux
Head of Stage & Workshops
Rebecca Ogundipe Operations Manager
Troy Orchard
Deputy Box Office Manager
Sophia Oriogun-Williams Engagement Assistant
Jack Orozco-Morrison
Duty Manager
Erika Papai
Finance Administrator
Louise Parry Box Office Manager
Ian Penny Workshop Coordinator Stuart Richards Weekend Evening
30
Receptionist
Imogen Senter
Deputy Production Manager
Andrew Stocker Duty Manager
Ben Thomas
Head of Sound, AV & Broadcast
Lucy Topham Company Stage Manager
Dylan Tozer
Comms, Marketing & Sales Director
Holly Wallis
Heritage Partnerships & Participations Manager
Alice Wheeler
Head of Marketing Sam Woolley Finance Manager
Timothy Worts Saturday Daytime Receptionist
The Welcome Team
Xahnaa Adlam, Tianna Aitman, Meredith Allen, Ingólfur Arason, Rhys Baker, Daisy Bates, Natalie Beddows, Thomas Besley, Charlie Bevis, Jess Blakemore, Holly Brennan, Danny Burd, Cerys Capon, Georgia Casimir, Isabella Considine, Isabelle Coughlan, Jessica Cox, Lily Daintry Spraggon, Adriana De Azevedo, Lolly Deazley, Matilda Dickinson, Olivia Dunne, Nicky Ebbage, Akosua Edwards, Lottie Elcoate, Rieko Kijima Elliott, Antony Fairclough, Daniel Forbes, Adele Ford, Ben Foster, Lucy Freeman, Henry Gadbrook-Coffin, Charlie
Gunn, Kieran Graham, Elliott Grant, Alex Hall, Ibbie Harris, Joseff Harris, Matthew Harwood, Navoda Hettiarachchi, Gemma Hilton, Ellis Hopkinson-Hassell, Katy Hoste, Paula Jankowska, Isaac Kane, Willa King, Daisy Kennedy, Gabriela Kocena, Oliver Laird, Finlay Latcham, Elsa Llewelyn, Daniel Loach, Elinor Lower, Krista Matthews, Carlota Matos, Charlotte McEvoy, Kira McGuinness, Lydia McKinley, Rose McPhilemy, Divija Melally, Ayan Mohammud, Mary Morgan, Rosie Mullaney, Luigi Musa Baldo, Daniel Newman, Charlie Nye, Boden Osborn-Clarke, Conor O'Sullivan, Henry Paasch, Katherine Palmer, Sophie Power, Zac Poynter, Amelie Purvis, Isabella Quennell, Jacob Rayner-Blair, Lily-Grace Roxburgh, James Saul, Khadijah Sawyers, Samantha Sayer, Heidi Sholl, Clare Simkin, Pippa Sloan, Chris-Ann Smith, Stan Smith, Hector Sturrock, Heather Sweet, Jossy Temme, Joseph Thomas, Evelyn Tocher, Harvey Thring, Katrina Trim, Malinka Tyrakowski, Flossie Ure, Charlotte VickersGraham, Tom Wijesinghe, Jonah Wills, Elizabeth Wilson, Hope Wishart, Sol Woodroffe, Ben Wright, Eleonora Zampa.
Associates Ad Infinitum
Adam Peck Akiya Henry
Black South West Network
Bristol Design Assembly
Christopher Shutt Diverse City Edson Burton Giles Terera Headlong Helen Edmundson Impermanence
Julia Head
Kwame Kwei-Armah Malaika Kegode MAYK
Melly Still
Royal Lyceum Theatre
Edinburgh Sacconi Quartet Saikat Ahamed Sally Cookson St Pauls Carnival Toby Jones
Tristan Sturrock Ujima Radio Vanessa Kisuule
Vicki Mortimer Wardrobe Ensemble Wise Children Board
Bernard Donoghue (Chair) Sado Jirde (Deputy Chair) Folake Adekola
Cllr. Craig Cheney Klaus Goeldenbot
Claire Hiscott
Chinonyerem Odimba
Oliver Rawlins
Suneeta Sellers
Joe Sims
David Sproxton
Dr Matthew Tanner MBE
Kate Anthony Wilkinson
BRISTOL OLD VIC'S VALUED SUPPORTERS
AVC Gold Ticket Holders
Michael Bakwin
Ann Ziff
The Nisbet Trust
The Edis Trust
The Society of Merchant Venturers
The John James Bristol Foundation
The University of Bristol Guy Lancaster & Kate Mailer
250th Anniversary
Silver Ticket Holders
Dame Liz Forgan & Denis Burn
Andrew & Anne Nisbet
Michael & Clare Morpurgo
Sir Daniel & Lady Day-Lewis
Richard & Mara Aylmer
Trevor & Mary Smallwood
Guy Lancaster & Kate Mailer
Bob Crowley
Nick & Gloria Baker
Simon Inch
Ann Ziff
Mary & Martin Bailey
Michael Bakwin
Ken & Karen Edis
Anthony & Gabrielle Brown
Andrew Garrad & Emma Balfour
Phil & Claire King
Chris & Jackie Booy Edward & Rosie Harford
William & Felicity Mather Annette & Nick Mason
Alan Moore
Christopher & Sarah Sharp Vanessa & Alan Stevenson Guy & Gill Stobart
Lady Sylvia Macara Stephen & Bryn Allpress Lady Susie Sainsbury
Constantine Orbelian Kean & Janet Seager Sarah Kenny
Mark & Hilary Davison
Peter Rilett & Sonia Mills
George Ferguson
David Sproxton CBE & Peter Lord CBE John & Mary Prior
The Bellevue Trust
Sarah Billinghurst & Howard Solomon
George & Daphne Burnett John & Johanna Laycock
Emma Stenning & Tom Morris Cameron & Ros Kennedy Martin & Dani Clarke Antony & Lady Virginia Gibbs Leila Maw Straus
Peter & Janie Cadbury Trudie Styler
Sue Elliott John & Maoko Caird Bill & Karen Ray Helen & Peter Wilde Clerk to the Ticketeers
Alan Moore
And all who have donated to The Merchants' Studio Appeal and The Macara Gallery Appeal. Trusts and Foundations
Garfield Weston Foundation
John James Bristol Foundation
The Aurelius Charitable Trust
The Linbury Trust
The Foyle Foundation
The Wolfson Foundation
J Paul Getty Jnr Charitable Trust
The Kirby Laing Foundation
Atkin Foundation
Equity Charitable Trust
The Mackintosh Foundation
The Goldsmiths' Company
Garfield Weston Foundation Andrew Lloyd Webber Foundation
The Backstage Trust
Harriet's Trust
Stanley Picker Trust
The 29th May 1961 Charitable Trust
The Aspinwall Education Trust The Isla Foundation
The Kirby Laing Foundation
The Langdale Trust The Wingate Foundation Theatres Trust
Programme Support Major Supporters
Annett Charitable Trust
Clore Duffield Foundation
Ronald Duncan
Literary Foundation
Charitable Trust Charitable Trust
Genesis Foundation
The 29th May 1961 Charitable Trust
The Antonia Watson Foundation
The Aspinwall Education Trust
The D'Oyly Carte Charitable Trust
32
The Langdale Trust
The Steel Charitable Trust
The Wingate Foundation
Theatres Trust
Noël Coward Foundation
The Veronica Awdry Charitable Trust
The Mackintosh Foundation Quartet Community Foundation
Bristol Old Vic Theatre Club
Unity Theatre Trust
Champions
Emma Balfour
Sue Elliot
Simon Inch
Rupert & Alice King
William & Felicity Mather
David Medlock
John & Mary Prior
Paul & Joanna Pearson Directors' Circle
Bernard Donaghue Judith Jones &
Tim Lockwood Jones
Cameron & Ros Kennedy
Paul & Joanna Pearson
Ashley Pharoah
Lucy Victoria Phillips
Tom Price
Oliver Rawlins
Ian Sutherland
Emily & Michael Williams
Caroline & Richard York
Marie Woodward
Principal Supporters
33
A Love Story
BY AHLAM DIRECTED BY KATIE POSNER
#YouBuryMe 24 Feb – 4 Mar Tickets from £10 (plus concessions)
Co-produced by
The Women's Prize for Playwriting, 45North, The
Edinburgh and the
Theatre, in association with Bristol Old Vic Charity No. 228235 bristololdvic.org.uk
Photo
Rebecca Need-Menear Design DO
Paines Plough,
Royal Lyceum Theatre
Orange Tree
14 – 18 Feb | Half Term 24 Feb – 4 Mar MOG THE FORGETFUL CAT YOU BURY ME 11 Mar – 1 Apr WALDO'S CIRCUS OF MAGIC & TERROR 3 & 4 May 8 – 20 May VENUS An IMPERMANENCE Production PRIDE & PREJUDICE* (*SORT OF) 7 – 24 Jun ANNA KARENINA Feb – Jun 23 bristololdvic.org.uk Tickets from £8 Charity No. 228235 0117 987 7877 UPCOMING SHOWS IN 2023