MARKET-RATE HOUSING
MARKETING BROCHURE
Architecture | Interior Design | Landscape Architecture | Engineering MARKET-RATE
DESIGN LEADERSHIP ENRICHING LIVES AND STRENGTHENING COMMUNITIES.
OUR DESIGN PHILOSOPHY
BKV Group enhances the physical and cultural environment through multidisciplinary, meaningful, and responsive design. Supported by innovative technology and a strategic market focus, we work to transforming communities, nationally and internationally. We believe the craft is as important as the science, especially in giving soul to the process and built environment. Through a highly participatory endeavor, our design strategies express a "rootedness" in their surroundings. This strategy goes beyond the specific building to deliberately capture the expression of people, context, and culture. It is a contextually-sensitive approach is based on, and reactive to, our clients' goals, budget, vision, and focus, with our creative process engaging all team members to transform and positively shape communities around the globe.
NATIONAL MARKET-RATE HOUSING LEADERSHIP TEAM
JACK OWEN BOARMAN Senior Design Leader, CEO Washington, DC
KELLY NAYLOR Interior Design Practice Leader, Partner Minneapolis, MN
ROBERT MULLER Senior Design Leader, Managing Partner Chicago, IL
MIKE KRYCH Senior Design Leader, Managing Partner Minneapolis, MN
JONATHAN DELCAMBRE Senior Design Leader, Managing Partner Dallas, TX
ALKIS KLIMATHIANOS Senior Design Leader, Managing Partner Washington, DC
WHAT WE DO
HOLISTIC DESIGN WITH MULTIDISCIPLINARY PROJECT TEAMS.
OUR SERVICES
BKV Group combines the talents of each member of the design team, resulting in streamlined communication between disciplines. By working together, our team finds the best design solutions under budget and timing constraints, while removing redundancies and enhancing the final product.

• Architecture
• Interior Design
• Urban Design & Landscape Architecture
• Structural Engineering
• Electrical Engineering
• Mechanical Engineering
• Construction Administration
• Branded Environments
• Sustainable Design
PIAZZA ALTA Philadelphia, PA
WHERE WE WORK
ONE FIRM WITH FOUR PRACTICE SITE LOCATIONS
OUR NATIONAL REACH
Collaborating regionally, BKV Group operates as a cohesive firm to deliver a wide range of project types for a diverse set of national and local clients. We leverage industry-leading communication and technology tools with best-in-class design processes to seamlessly work across practice sites to meet our clients' needs, and continually expand our presence into existing and new markets.
OUR INTERNATIONAL CAPABILITIES
The four American practice sites at BKV Group are supported by BKV's Vietnam offices in Hanoi, Ho Chi Minh City, and Da Nang, which contribute design services for many of our U.S. projects, and allow BKV access to the Asian markets. Furthermore, our firm is able to provide cross-practice training opportunities and structure project teams to leverage the 12-hour time difference, creating a nearly 24-hour design studio that can meet accelerated deadlines without sacrificing quality and creativity.
BKV PRACTICE SITES SATELLITE OFFICES
YORK CITY ORLANDO
NEW
CHICAGO
MINNEAPOLIS
DALLAS
WASHINGTON, DC
WHAT WE PROVIDE
LIFESTYLE DESIGN AND PLACEMAKING FOR THE MODERN-DAY RESIDENT
OUR EXPERTISE
BKV is an industry-leader in residential design. Having built over 80 new construction, market-rate developments, using innovative construction methodologies and creative architectural solutions, we've helped author the rebirth and transformation of communities nationwide.
• Urban Density and Transit-Oriented Development
• Amenity Space Planning and Design
• Resident Wellness Design Strategies
• Creative Residential Branding
• Sustainable Design
• Best-in-Class Unit Design
•
Co-Living Design Solutions
• Campus Master Planning
• Creative Reuse
WATERFORD BAY St. Paul, MN
STATEMENT OF QUALIFICATIONS
MARKET-RATE PORTFOLIO
MARKET-RATE PROJECTS THROUGHOUT THE COUNTRY 80+
BKV GROUP
Series of steel-stud framed massings over a two-story concrete podium; features a central courtyard plaza and retail edge
PIAZZA ALTA
PHILADELPHIA, PENNSYLVANIA
Piazza Alta is a series of steel stud framed buildings over a two-story concrete podium. This strategy creates a variety of scales for the large development of 1,166,980 GSF. The tallest tower elements, at 16 stories tall, form a backdrop to a central courtyard plaza edged by retail occupancies in the smaller scale buildings that surround the plaza. This plaza connects a newly designed woonerf on Germantown Street to North Hancock Street, which integrates the site into the urban fabric.
The North Hancock Street side of the site is of a lower scale to relate to the adjacent single-family townhouses, with the Germantown Avenue side relating to the more public and retail edge as well as multi-family scale of Schmidt's Commons. Nearly 682,000 square feet of residential space contains 1,144 marketrate apartments. Piazza Alta's second floor features amenity space, which extends via skybridge across the courtyard. In addition, an amenity deck is located on the fifth floor, situated above the existing parking garage with two pools and robust lounge areas.
Piazza Alta broke ground in 2020, starting the process of establishing a new node in Germantown. The project will reach completion in early 2023.
ENRICHING LIVES AND STRENGTHENING COMMUNITIES
OVERVIEW
TYPE Market-rate housing SIZE 13 stories 935,000 SF 951 units
BKV GROUP SHEET INDEX: GERMANTOWN AVENUE OP TR E HOW DS N RE H ESRE T WILDEYSTREET CHENANGO STREETMWHERE SOD ABUTS PAVED SURFACES, FINISHED GRADE OF NOT LIMITED TO, EXISTING BUILDING LOCATIONS, UTILIT - - -OVERALL SITE REFERENCE PLAN
Large-scale, mixed-use, retail and multifamily market-rate residential apartment; Two interlinked "L" shaped towers
BROAD & WASHINGTON PHILADELPHIA,
PENNSYLVANIA
Extending across two parcels, Broad & Washington is a mixed-use, retail, and market-rate development in Philadelphia at the intersection of South Broad Street and Washington Avenue. The overall development is broken into a series of "L" shaped towers that bisect the site into four quadrants, with each of the four quadrants having its own identity, characteristics, and courtyard space.
Parcel A is bounded by South Broad Street and located at the end of the "Avenue of the Arts," forming a connection with the "arts" uses that runs south to downtown. Parcel B is the smaller parcel just to the east, bounded by Washington Avenue. The overall Parcel B is smaller in featuring 300 residential units, two levels of parking, and a centralized, landscaped courtyard open to the sky above.
The building brings notable change block as one of the most significant mid-rise residential structures to go up on what was previously an all-commercial stretch. Both the Tasker-Morris and Snyder Station on the Broad Street Line may be reached within a ten-minute walk to the northwest and the southwest, respectively.
ENRICHING LIVES AND STRENGTHENING COMMUNITIES
OVERVIEW
TYPE Market-rate housing SIZE 15 stories 1,516,218 SF 1,111 units
BKV GROUP CARPENTER STREET WASHINGTON AVENUE BROAD STREET 14TH STREET LEASING LOBBY SLOPED OPEN GREEN; SYNTHETIC TURF UNIT PATIOS DEPRESSED FOUNDATION PLANTINGS FOUNDATION PLANTINGS RETAIL PLAZA BUILT IN SEATING W/TABLES DECORATIVE PAVER SURFACING DIFFERENT THAN ADJACENT STREET TREES W/GRANITE BENCH SEATING COVERED OUTDOOR SEATING DECORATIVE SURFACE TREATMENTS; DIFFERENT ENTRY DECORATIVE SURFACING @ RESIDENTIAL LOBBY ENTRY SIMPLE; ELEGANT; INVITING PAVING PATTERNS BOSQUE TREE PLANTINGS WITH INTEGRATED BENCH SEATING AND DECORATIVE UPLIGHTING MOVEABLE AND FIXED SEATING EXISTING VAULTS OUTDOOR SEATING FIRE ACCESS 20.00 WATER WALL SIMPLE & ELEGANT PAVING PATTERN WATER FEATURE COMFORTABLE SEATING/MOVEABLE FIXED SEATING PLANTERS @ COLUMNS W/ VISUAL MEDIA ART ACROSS DRIVE FLANKING BOTH SIDES OF DRIVE RESIDENTIAL LOBBY ENTRY DECORATIVE SURFACE TREATMENTS; DIFFERENT RESIDENTIAL COURT FIRE ACCESS 20.00
MODERA KATY TRAIL
DALLAS, TEXAS
At the terminus of the Katy Trail and McKinney Avenue, Modera Katy Trail is uniquely positioned to capture the energy of Uptown Dallas. Residents will have unique opportunities to experience the best that Dallas has to offer in dining, shopping, and recreation. Those opportunities will begin at the very doorstep of the project, where the leasing lobby will connect to the trail with a hospitable front porch. Pets aren't just welcome, they are privileged residents. They have their own spa, recreation area and a dedicated lounge for their owners to socialize. The elevated amenity deck will provide opportunities for exercise, entertainment, working at your own pace, enjoying the weather and expansive views of Highland Park, Uptown and Downtown Dallas.
The design will reflect the contemporary sensibility of young professionals seeking to engage with the culture of Dallas. Clean, minimal detailing, subdued colors, and a material palette that focuses on variations of texture create a relaxed and uncluttered environment. Amenities will provide a spa-like environment that is luxurious, harmonious, and re-energizing. Modera Katy Trail will be an enclave, a base for striking out into the expanding culture of Dallas and a home for enjoying the company of new friends.
ENRICHING LIVES AND STRENGTHENING COMMUNITIES
OVERVIEW Light-gauge steel construction over podium TYPE Market-rate housing SIZE 14 stories 394,847 SF 217 units
BKV GROUP
OVERVIEW
Mixed-use, high-rise development
TYPE
Market-rate housing
SIZE
24 and 36 stories
777 units
405 keys
525 SOUTH WABASH
CHICAGO, ILLINOIS
In collaboration with our project partners, Interforum, Eterra Plus, and Site Design Group, BKV Group is in the planned development phase for a new mixed-use, grocery-anchored retail, residential, and hotel project located at 525 South Wabash Avenue. Conceptually, the building's aesthetic takes on a prismatic form with the design reflecting a seamless integration with the existing context of architecture and massing in the area, while significantly enhancing the pedestrian experience on Wabash Avenue. The project will generate approximately 400 construction jobs and 200 permanent jobs, while complying with the City of Chicago's affordable housing, M/WBE, and sustainability requirements.
ENRICHING LIVES AND STRENGTHENING COMMUNITIES
BKV GROUP
240 PARK AVENUE
MINNEAPOLIS, MINNESOTA
240 Park Avenue is new construction of a 17-story mixed-use, retail and multifamily market-rate housing residential development, with a building footprint of approximately 30,000 SF, located in Minneapolis, Minnesota; including below-grade parking, landscape amenities and site improvements.
One of the most intriguing design elements is The Lanai – a two-story space carved into the corner of 240 Park Avenue to create outdoor opportunities for views facing the Mississippi River. The Lanai will also create a terrific branding opportunity via video screens and a "lightbox" designed to project imagery and digital forms on the ceiling of the outdoor space – glowing and creating a beacon at night. Also unique about the quarter-block-sized residence is the interior drop-off sequence. Through a cleverly designed interior porte cochere (a covered drop off space for vehicles) on the first level, residents can seamlessly make their way into the building. This feature will be especially useful during the colder winter months. Once inside, residents can enjoy views not only to the river and skyline. Also, thanks to a community art collaboration, residents and visitors alike will be able to take in stunning commissioned murals canvasing the neighboring structures.
ENRICHING LIVES AND STRENGTHENING COMMUNITIES
OVERVIEW Mixed-use development; Post-tensioned concrete construction; 2-story lanai TYPE Market-rate housing SIZE 17 stories 411,000 SF 204 units
BKV GROUP
CRYSTAL TOWERS
ARLINGTON, VIRGINIA
BKV Group was selected by Dweck Properties to provide planning and design services for the Crystal Tower development located in Crystal City, Virginia, just off Richmond Highway. The building will be a ground up 11-story infill development with below grade parking. The project is set to consist of 209 market-rate residential units with a 11,0000 SF of indoor & rooftop amenity space with an additional 27,000 SF of retail space.
ENRICHING LIVES AND STRENGTHENING COMMUNITIES
OVERVIEW
up urban infill development TYPE Market-rate housing SIZE 11 stories 209 units
Ground
BKV GROUP
OVERVIEW
Largest amount of micro and alcove units in the city; Establishes new transitoriented lifestyle in heart of the business district; Rehabilitated the historic Handicraft Guild Building
TYPE
Market-rate housing
SIZE
17 stories
227,368 SF
307 units
CITY CLUB APARTMENTS CBD MINNEAPOLIS
MINNEAPOLIS, MINNESOTA
This project pairs affordable units with a robust amenity package to revitalize a location where the arts scene in Minneapolis once thrived. By simultaneously restoring the Handicraft Guild Building, a historic structure built in 1907 during the Arts and Crafts movement in Minneapolis, and attaching a 17-story structure off it, BKV Group creates a timeless design and new downtown hub at 10th Street and Marquette Avenue. On the rooftop Skyclub and pool area, the spaces are themed around a "Minnesota cabin in the sky" concept. Blue concrete floors recall Minnesota lakes, wood walls and ceilings emulate the up north cabin, and wall graphics of vintage Minnesota-inspired décor complete the ensemble feature a kitchen and large island for social gatherings, a double-sided fireplace for the gaming area and lounge, and an indoor/outdoor connection on the roof deck.
ENRICHING LIVES AND STRENGTHENING COMMUNITIES
BKV GROUP
OVERVIEW
New construction, set to feature both market-rate and affordable housing with luxury amenities
TYPE
Market-rate housing
SIZE
14 stories
350 units
180 Parking Spaces
THE PORTNOW
NEWARK, NEW JERSEY
The BKV Group was selected to do the planning and design of The Portnow by Bolton Development. The Portnow is set to be a market rate building with 15% of the units designated as affordable. The building will consist of 350 Units in total. The unit mix is estimated to consist of 87 studio units, 159 one-bedroom units, and a 104 two-bedroom units. An estimated 70 units out of the 350 are set to be affordable units. Portnow will feature amenities such as a fitness center, clubroom, outdoor pool, grill/bar station and a penthouse sky lounge.
ENRICHING LIVES AND STRENGTHENING COMMUNITIES
BKV GROUP
OVERVIEW
Wood-frame construction; modified "U" building focused on a courtyard positioned south to take advantage of solar orientation
TYPE
Market-rate housing
SIZE
4 stories
294,032 SF
206 units
LODEN SV
SHOREVIEW, MINNESOTA
Loden-SV is based on three key design elements, authenticity, nature and youthfulness. The project is planned for two phases, North and South with the South phase completed in December 2018. The modified "U" building focused on a courtyard positioned south to take advantage of solar orientation. The building is broken up into three building segments to minimize scale and bring natural light and transparency into the corridors.
Loden-SV is based on an authentic, natural and contemporary interior design. With an overall concept rooted in Scandinavian styling. The landscape design is intended to create a "building in a park." Arrival to the building is through a driveable shared plaza space with colored concrete, decorative lighting and extensive landscaping. The building's courtyard mixes dynamic, highly active amenities with passive, heavily planted passive spaces in a cascading landscape that drops 6 feet in a series of terraces and sloped planted surfaces and walks. Active uses include a swimming pool, built-in grilling stations with granite countertops, a pergola/shade structure with decorative lighting and lounge furnishings, large gas fire pits and a pickle ball court. Passive uses include lawn areas (both real and synthetic turf), decorative gardens and paths, and plantings sloping to hide parking lot walls. At its southern end, there is an enclosed dog run with decorative metal perimeter fence.
ENRICHING LIVES AND STRENGTHENING COMMUNITIES
BKV GROUP
CITY CLUB APARTMENTS CROSSROADS KANSAS CITY
KANSAS CITY, MISSOURI
City Club Apartments Crossroads is located in the heart of downtown among an eclectic group of boutiques, restaurants, studios, and art galleries of the Crossroads Arts District. Residents of this sophisticated apartment building, are never far from outdoor recreation at Washington Square Park, Penn Valley Park, and Liberty Memorial Park. The apartment building includes approximately 100,000 square feet of below grade parking for approximately 298 vehicles and approximately 11,000 square feet of shell space for retail and restaurant.
Although a large and contemporary project, the design breaks down the scale of the building into smaller sections reminiscent of the historic scale of buildings within the area, with the retained historic terra cotta clad, 5-story hotel as the centerpiece of the development. The project features an extraordinary amount of amenities, including a boutique lobby and lounge, concierge, multi-story clubroom, fitness and yoga area, business center, a multifaceted courtyard with outdoor bar, grilling stations, fire pit, dog-run, and green roofs. The signature element is the rooftop amenity with an outdoor pool and bar area. Additional features include direct access to the newly integrated restaurant, retail spaces and underground parking.
ENRICHING LIVES AND STRENGTHENING COMMUNITIES
OVERVIEW New construction and historic adaptive reuse; NAHB Green Building Certified TYPE Market-rate housing SIZE 7 stories 356,394 SF 297 units 11,000 SF retail
BKV GROUP
SUGAR HOUSE
SALT LAKE CITY, UTAH
The Sugar House project is a two-building development located in the heart of the Sugar House neighborhood outside of downtown Salt Lake City. The neighborhood has a rich and diverse history, and is named after the sugar beet mill-turned-paper factory-turned train repair hub that was once a prominent structure. Sugar House is ripe with historic inspiration, and this project takes its cues from the whimsical and exciting characteristics of this emerging community.
As a heavily amenitized, market-rate development containing micro-units, Sugar House features a variety of uses including maker space, retail pop-ups, and potentially a partnership with a local bicycle shop. While not zoned for commercial use, these spaces will be embedded in the final project, with both buildings uniquely featuring co-working spaces where communal working zones are paired with living and recreation spaces, establishing an immersive co-living environment including a central kitchen space and bowling alley – the latter of which was one of the original uses of the property.
Constructed via light gauge steel construction using prefabricated and modular design methodologies, the exterior of the structures will be composed of brick and masonry mixed with metal panels, creating an earth-tone palette aligning with the surrounding context – further enhanced through partnerships with local artists who can set up their artwork within Sugar House's arts plaza.
ENRICHING LIVES AND STRENGTHENING COMMUNITIES
OVERVIEW
development; co-living environment with co-working spaces where communal working zones are paired with living and recreational spaces TYPE Market-rate housing SIZE 8 and 10 stories 309,496 SF 346 units
Two-building
BKV GROUP
CITY CLUB APARTMENTS MIDTOWN DETROIT
DETROIT, MICHIGAN
City Club Apartments Midtown will offer a range of apartments including studios, convertibles, 1-bed, 2-bed, and 3-bed units. 20% of the apartment units in the proposed development will be affordable. The proposed development will also include four town house units along Eliot Street and upgraded penthouse units on the top floors of both the mid-rise and high-rise apartment towers. The proposed development will offer resort class amenities including a lobby/lounge/ library, Bark Park, Sky Club with rooftop pool and outdoor grilling stations, 24/7 Whole Body Fitness, wellness room, movie theatre, business center and conference room, Zen Garden, and international design with local art.
Unique to City Club Apartments Midtown, the proposed development will offer three uniquely outdoor spaces that will not only serve to as amenities to the residents, commercial tenants, and patrons of the property but also to the surrounding community: A pocket park at the southeast corner of Mack and Woodward Avenues featuring a splash fountain, landscaping, and a digital wall designed to highlight community attractions and events such as the Motown Museum, the Detroit Zoo, MOCAD, and the Charles H. Wright Museum of African American History.
ENRICHING LIVES AND STRENGTHENING COMMUNITIES
OVERVIEW Two-building development; offering resort-style amenities TYPE Market-rate housing SIZE 16 stories 309,496 SF 357 units
BKV GROUP
THE DISTRICT PITTSBURGH, PENNSYLVANIA
Located on the Allegheny River in Pittsburgh, The District project is part of a twophase residential development. Phase II includes two buildings totaling 647,035 SF – "Bridge" and "Middle." "Bridge" is a 6-story, 178-unit, wood frame, slab-on-grade structure wrapped around a 544-space pre-cast parking garage. "Middle" is a 5-story, 264-unit, wood frame, slab-on-grade structure with a resort-style swimming pool and courtyard.
The completed project will feature a variety of high-end studio, one-, two- and three-bedroom floor plans, including ground floor two-story townhomes and penthouse lofts, all offering panoramic views of the downtown skyline. The development will include integral enclosed and directly accessible parking for all residents, interior and exterior community gathering areas, a resident bike shop, bike and kayak storage and lockers, an enhanced river walk and an interactive streetscape along the newly constructed Waterfront Drive.
Additional amenities included in this project are a club and game room, business offices and conference space, rooftop lounge with private dining, a dog walk and pet care areas, bike repair and storage, full fitness area with a yoga studio, fitness on demand, and aerobic and weight lifting equipment.
ENRICHING LIVES AND STRENGTHENING COMMUNITIES
OVERVIEW Two-phase development using wood-frame wrap construction TYPE Market-rate housing SIZE 5 and 6 stories 647,035 SF 442 units
BKV GROUP
OVERVIEW
Part of large master planned development using woodframe wrap construction. Located in walkable transit oriented area, part of large scale area revival.
TYPE
Market-rate housing
SIZE
6-stories, 297,000 GSF
245-Units
REYNARD AT THE PARKS
WASHINGTON, DC
The BKV Group has been selected by Urban Atlantic and their partners to provide planning and design services for the next phase of their project known as the Reynard at The Parks. The project is located at the corner of Dahlia Street NW and Georgia Avenue NW. The building will be new build consisting of 6-stories and an estimated 345 units with around 15,000 SF of retail and amenity space. The unit mix is set to include studi, one-bedroom, two-bedroom and three-bedroom floorplans. There are 20 live/work loftystyle units along Georgia Avenue. The building will be five floors of wood over one story of below grade concrete parking podium.
Amenities for the project are set to include a lobby, mail room, co-working spaces, a fitness center, a pool terrace, a meditative courtyard, yoga courtyard, and dog spa. The Reynard at The Parks will also feature large amounts of outdoor space connected to the larger Parks at Walter Reed master plan..
ENRICHING LIVES AND STRENGTHENING COMMUNITIES
BKV GROUP
Carefully designed to blend seamlessly within the context of the historic buildings
SOUTH LAREDO SAN ANTONIO, TEXAS
Along the edges of the San Pedro Creek redevelopment and Zona Cultural district, a new residential tower will be the newest addition to the neighborhood. The 17-story tower will be nestled within the existing fabric of San Antonio's historic Continental Hotel and Arana buildings. Carefully designed to blend seamlessly within the context of the historic buildings, the tower includes modern amenities, materials and finishes to create a lifestyle that will attract residents of today. As part of the overall development the historic buildings will be repositioned into commercial, office and creative lofts. Each element building upon central San Antonio's spirit and rich history of art, culture and music.
BKV Group's design team has worked closely with the developer throughout the process, exploring new solutions for construction type and density to respond to the shifting as materials and labor prices in the market. With the conversion to concrete construction, we were able to add floors and units to meet the developers proforma requirements.
ENRICHING LIVES AND STRENGTHENING COMMUNITIES
OVERVIEW
TYPE Market-rate housing SIZE 17 stories 400,600 SF 290 units
BKV GROUP
OVERVIEW
Former office building converted into market rate building reshaping the area to be more transit oriented
TYPE
Market-rate housing
SIZE
569- Units
Phase 1: 400,000 SF
Phase 2: 345,000 SFs
HARWOOD FLATS
NORTH BETHESDA, MARYLAND
Harwood Flats is a two-phase, 569-unit, mixed use development that reinvigorates the site of a former suburban office building into a walkable, transit-oriented community. The first phase is a 400,000 sf building which will consist of 335 apartment homes sitting atop 5,000 sf of ground-floor shops along Nicholson Street. The apartments are arranged around a central courtyard with amenities including a pool, outdoor patios and fitness areas. A five-level above grade parking garage will provide parking for 240 cars and 100 bicycles.
The second phase will be an L-shaped building which will deliver 232 apartments above 4,000 sf of retail. This building will have 299 above grade parking spaces. A pedestrian walkway and plaza will separate the two development phases, and some of the units will have private entrances along the walkway. A dog park and Capital BikeShare station will activate the pedestrian experience. The development team hopes to draw a mix of young professionals and families seeking a village experience with walkable urbanism and local, authentic retailers. BKV Group is providing full architecture, interior design, structural engineering and construction administration services for this project.
ENRICHING LIVES AND STRENGTHENING COMMUNITIES
BKV GROUP
OVERVIEW
One of the first Opportunity Zone projects in St. Paul; site includes public access to the river with a kayak/small boat launch, and an extension to the regional bike/walking path trail system
TYPE
Market-rate housing
SIZE
4 stories
295,460 SF
243 units
WATERFORD BAY ST. PAUL, MINNESOTA
Waterford Bay apartments is a partial wrap residential development with a parking structure at its center and dwelling units surrounding it on three sides. The ground level is activated through the entry, amenity spaces, and units which are accessed directly from the exterior. The upper 3 floors frame two court-yards that are separated by an amenity pavilion. The design evolved in response to site constraints, presenting a lower 3-story façade toward the river while rising to a 4-story expression along Randolph street and the Mississippi River inlet. The bent form along the northeast flares at the ends serving both as a marquee design element while at the same time drawing a person to the primary entry point located at its center.
The proximity to the river and natural environment allows tenants to explore existing bike paths and access the river for leisurely activities such as kayaking, while providing adequate parking infrastructure for those who choose to commute to work. Amenities include outdoor swim spas and landscaped amenity deck with four-seasons porch, outdoor grilling stations, fire pit lounges, fitness center, yoga studio, resident lounge, dog spa, putting green, and bocce court.
ENRICHING LIVES AND STRENGTHENING COMMUNITIES
BKV GROUP
Designed to create an active street and pedestrian experience; utilizes lightgauge steel construction
THE FYNN ELMHURST, ILLINOIS
The project was designed as a courtyard building starting on the second floor facing Addison Avenue. This is done in order to minimize the building's presence along Addison Avenue in addition to maximizing the amount of afternoon sun that would reach the outdoor pool. The building is set back from Addison Avenue, creating the appearance of a 7-story structure.
The project is designed to create an active street and pedestrian experience. By locating the fitness center, lobby/lounge, leasing offices, and bike lounge spaces along Addison Avenue, the first-floor parking and service spaces are concealed from view, apart from the lower level garage entry on the south end of the site. The second floor is set back from the property line along the north and south sides and is composed of residential units, a clubroom amenity space and a landscaped terrace with an outdoor pool, individual unit terraces, and other outdoor amenities. Levels 3-7 are the typical residential levels, with the 8th-floor setback from the street, north, and south property lines creating terraces for the top-level units.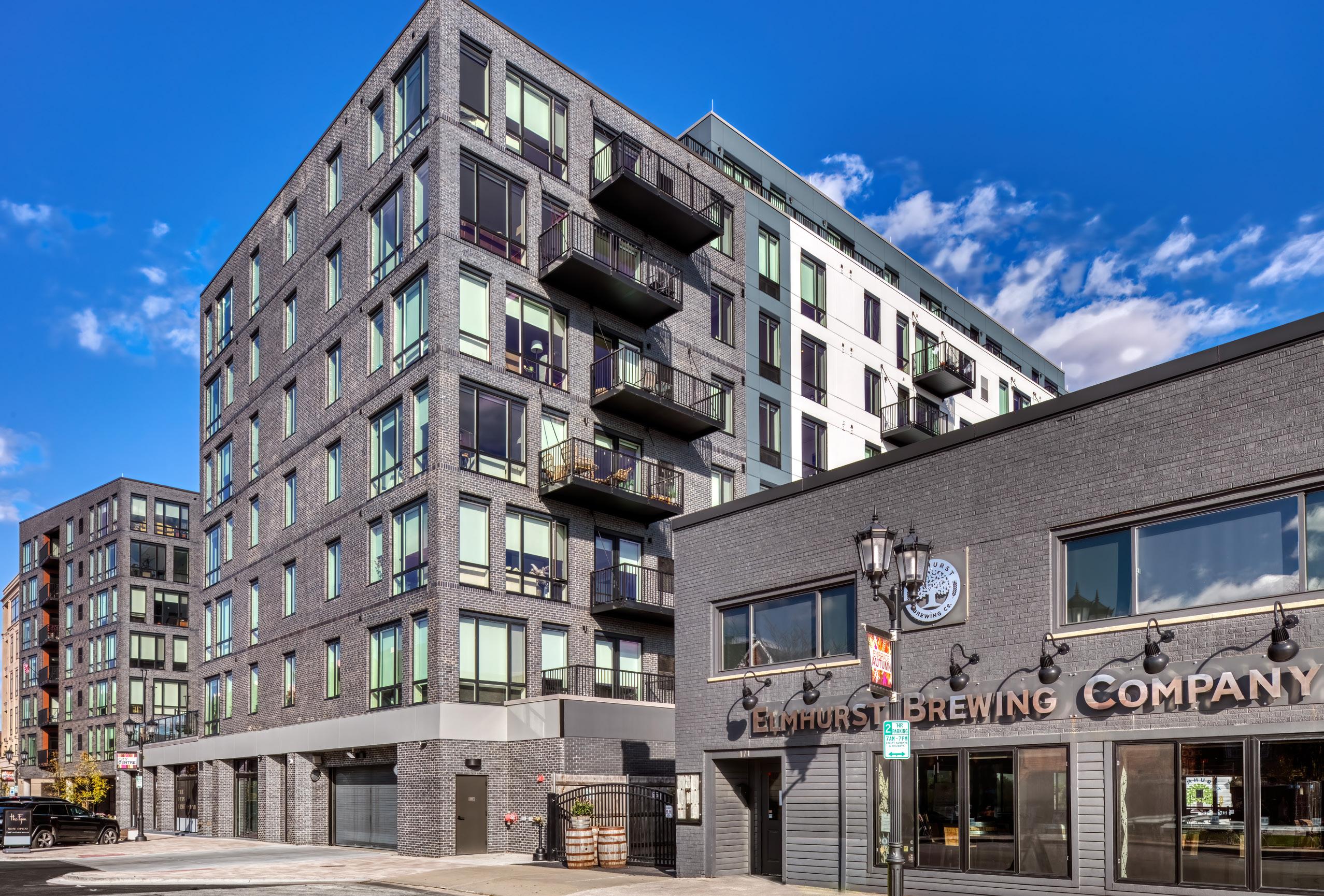 ENRICHING LIVES AND STRENGTHENING COMMUNITIES
OVERVIEW
TYPE Market-rate housing SIZE 8 stories 212 units
BKV GROUP
OVERVIEW
Located in NE Washington D.C. in a target redevelopment area
2711 13TH ST NE
WASHINGTON, DC
The BKV Group was selected by Penzance to provide planning and design services for 2711 13th St NE, Washington D.C.. The project is located at the intersection of up and coming Northeast DC Neighborhoods: Brookland, Brentwood, & Langdon just off of Rhode Island Avenue NE. The building will be a newly built 6-story podium development with below grade parking. The project is set to consist of 347 marketrate residential units with a 12,000 SF of amenity space.
ENRICHING LIVES AND STRENGTHENING COMMUNITIES
TYPE Market-rate
SIZE 6-stories 347-Units
housing
BKV GROUP
OVERVIEW
On National Historic Registry; 7-story light well
TYPE
Market-rate housing
Creative reuse
SIZE
2, 3, & 6 stories
188 units
33,000 SF amenities
DUFFEY LOFTS
MINNEAPOLIS, MINNESOTA
Located in the thriving North Loop neighborhood, in the heart of Minneapolis' Historic Warehouse District, Duffey Lofts has arrived as a fresh, transformative, contemporary, mixed-use development. Constructed in 1916, the 6-story Iron Store and 3-story Steel Warehouse served as the headquarters for Minneapolis Iron Store (once the nation's largest dealers in heavy hardware, carriage and sleigh stocks, and wagon supplies). The remaining building was the 2-story brick and heavy-timber Lindsay Warehouse, built as an agriculture implements company and completed in 1911. The complex was purchased by C.J. Duffey Paper Company in 1954, where they operated until 2016. The renovation of this complex now provides 188 dwellings, 33,000 SF of amenities and commercial space, plus a new 80 space 3-level parking garage within the Steel Warehouse building. The project highlights innovative features plus its unique and varied industrial aesthetic through exposed structural elements including the 3-story high Lobby Crane Room, a newly inserted 6-story light well, a rejuvenated heavy-timber commercial space, the innovative delta-beam garage ramp structure within a structure, and a new exposed timber rooftop club room.
ENRICHING LIVES AND STRENGTHENING COMMUNITIES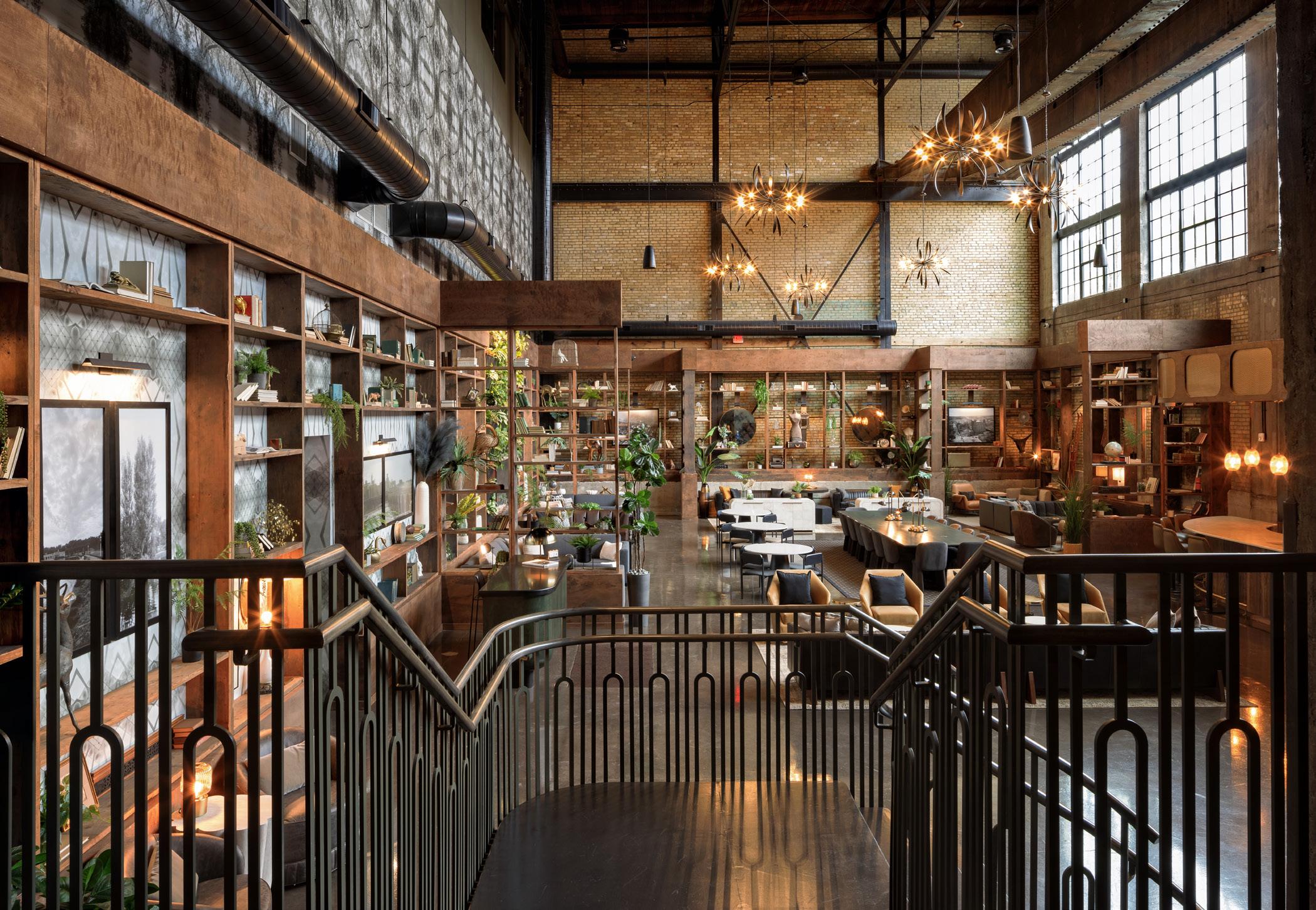 BKV GROUP
OVERVIEW
Large scale residential development featuing over 20,000 SF of amenity space
TYPE
Market-rate housing
SIZE
6 stories
500 units
625 Parking Spaces
THE LUCIE
BALTIMORE, MARYLAND
The Lucie offers residents a number of attractive studio, one-, and two-bedroom floorplans ranging from 507 to 1,317 square feet. The Lucie will also contain approximately 23,000 square feet of amenity space, providing residents the most comprehensive and quality amenity package currently available in Brewers Hill. The southwest corner is a junction to the Rails-To-Trails amenity, with a small space dedicated to bike repair/resting area; and the north corner is an entry point into the building as well as a resting place for Rails-To-Trails users. Building materials and landscape treatments complement these uses to strengthen the relationship between the building and the trail. Glazing on the building entrance and tower element establish a hierarchy in the solid-void relationship. Canopy element has also been emphasized as a structure with a contrasting color to help establish a definitive entrance into the building lobby.
ENRICHING LIVES AND STRENGTHENING COMMUNITIES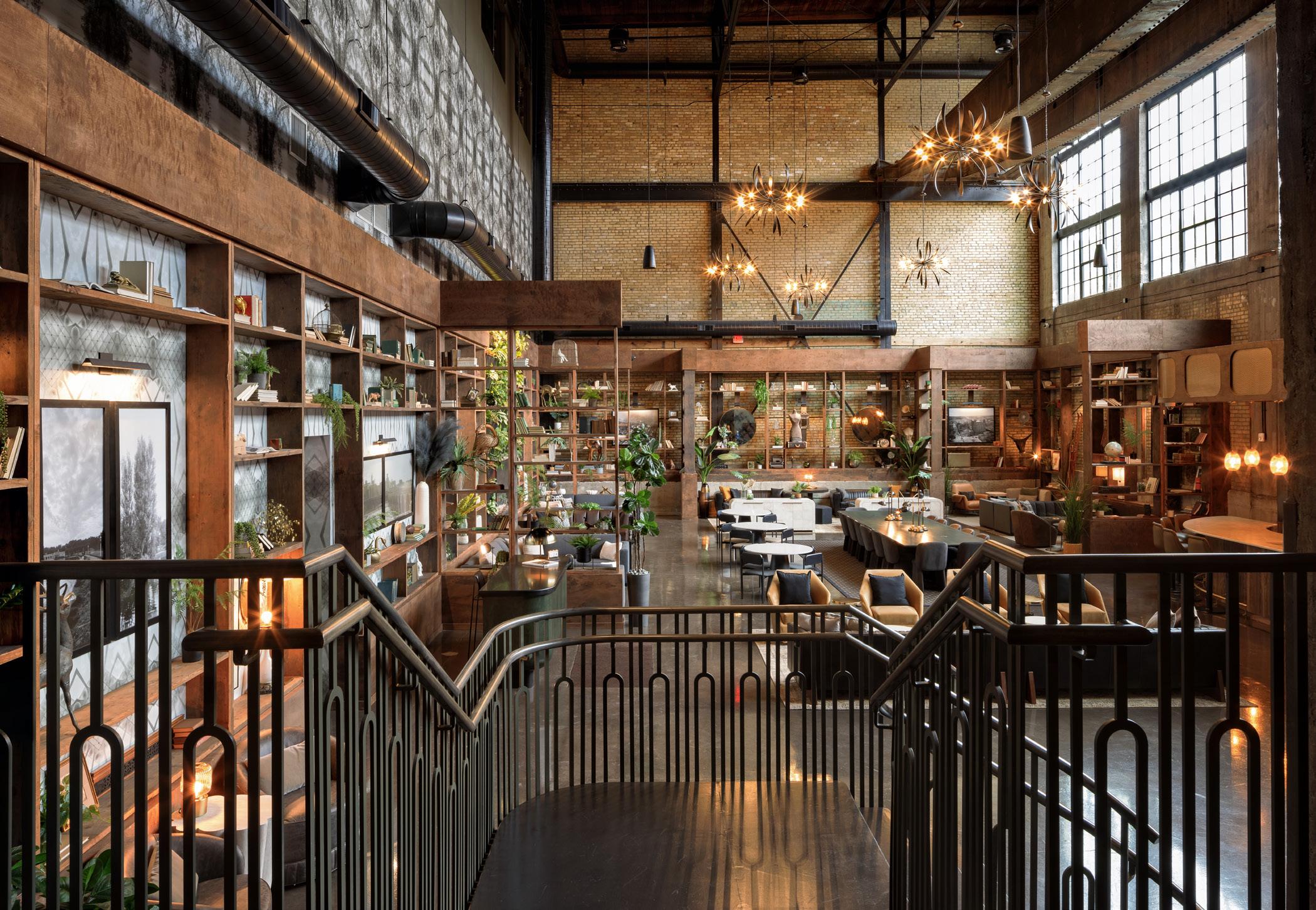 BKV GROUP
Utilizes light-gauge steel construction over cast-inplace parking structure
SOUTH HARWOOD
DALLAS, TEXAS
South Harwood will become a beacon to Dallas' Farmers Market District. The site capped out at 16 floors, so the design team used an innovative, mid-rise, panelized light-gauge steel structural solution over a cast-in-place parking structure emphasizing the horizontality in the design. As the property faces a future urban deck park over the existing highway, special care was taken in the design to emphasis movement and consider what those passing by will see at high speed.
An anchor of the Farmers Market district, the building's façade was designed to stand out from its static surroundings, emphasize motion to draw attention. The horizontality maximizes 360 degree views of Dallas' urban landscapes of the southern districts, downtown and beyond.
The property will include 232 market-rate residential units, luxury amenities, and elevated amenity desk and club room, outdoor courtyards, pool and terraces, and a ground level grocer. It fills demand for quality urban housing in south Dallas and a provides a much needed grocery store to serve the community.
ENRICHING LIVES AND STRENGTHENING COMMUNITIES
OVERVIEW
TYPE Market-rate housing SIZE 15 stories 468,000 SF 232 units
BKV GROUP
606 N. GOOD LATIMER TOWER DALLAS, TEXAS
606 N. Good Latimer Tower is located in Deep Ellum, one of Dallas's most unique and eclectic districts. The 25-story market-rate, mixed-use, and high- rise tower is geared toward young professionals and includes 1 and 2 bedroom units that average at 675 SF, with 354 units and 351 parking spaces. It also has 3,000 SF of ground level retail, 12,000 SF of lobby and amenities space with a pool deck located above the parking deck at level 7. Engaging and supporting the local vibrant community, the building has 3,000 SF of retail located at the corner of Good Latimer and Swiss. Situated across a Dallas rapid transit station, the project is well connected to downtown and other popular districts.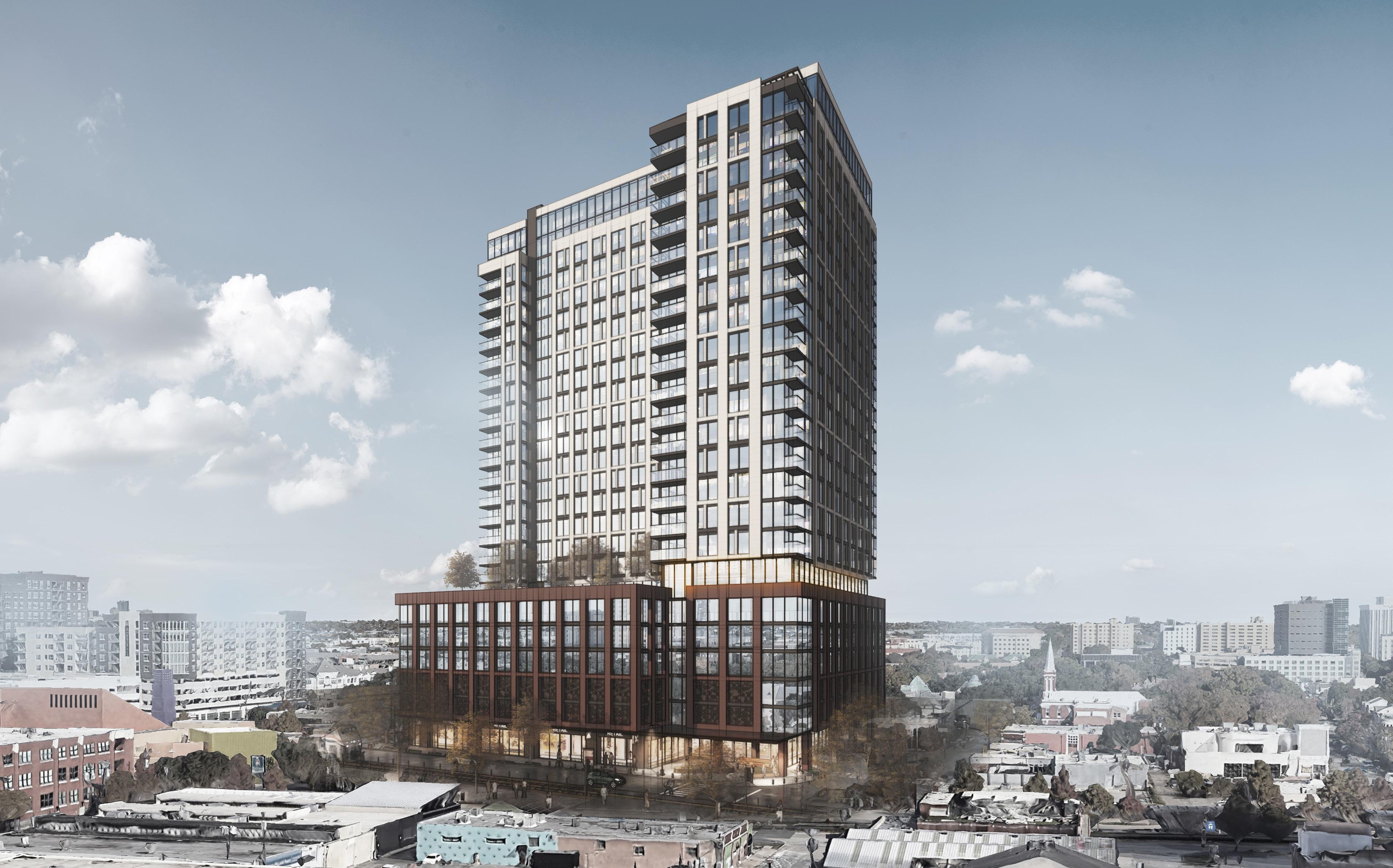 ENRICHING LIVES AND STRENGTHENING COMMUNITIES
OVERVIEW Transit-oriented development TYPE Market-rate housing SIZE 25 stories 480,813 SF 354 units
BKV GROUP
1407 ON MICHIGAN
CHICAGO, ILLINOIS
1407 on Michigan is a 270,000 SF, 15-story high-rise rental property that was built to Type 1A construction. The project is located next to the newly restored Chicago Firehouse Restaurant and replaced a vacant office building once owned by the National Association of Letter Carriers. The tower includes 141 parking spaces on three levels, and 40,000 SF of medical office. The dog-friendly building has a mix of studios, one, two and three bedroom apartments totaling 199 units. These units range from 450 SF studios to 1,700 SF, three-bedroom units. It is designed as a contemporary upscale rental property featuring top tier unit finishes, floor-to-ceiling glass and high-end amenities. The project was designed to take advantage of all the site's as-of-right zoning including the maximum number of dwelling units, maximum height, and maximum FAR.
Community amenities include a large fitness center with a basketball court, yoga studio and sauna. The roof deck has an outdoor pool, kitchen, lounge, and fire pits to extend the use of the outdoor amenities through all seasons. There is also a dog run for the furry friends. Right off of the roof deck sits the Clubroom with a full kitchen, game room and media lounge.
ENRICHING LIVES AND STRENGTHENING COMMUNITIES
OVERVIEW Designed as contemporary upscale apartments with highend amenities TYPE Market-rate housing SIZE 15 stories 270,000 SF 199 units
BKV GROUP
OVERVIEW
Former Meridian Hill Hall Hotel for Women; National Park Service Historic Tax Credit Program
TYPE
Market-rate housing
Creative reuse
SIZE
8 stories
206 units
âme at Meridian Hill
WASHINGTON, DC
Meridian Hill Hall in Washington, DC has been redeveloped as âme, an 8-story, concrete frame and brick building located across the north side of Meridian Hill Park on 16th Street. After its use as a women's hotel, the building was used as a student dormitory by Howard University since 1969, and was renovated to offer the community 206 luxury rental units. The design includes studios, and one- and twobedroom units.
Collaborative business center, fitness room and pool lounge in the basement; the Great Hall and Lounge, roof features a lounge, gameroom, and terrace with expansive views of the Mall, the Capitol, and the Washington Monument.
ENRICHING LIVES AND STRENGTHENING COMMUNITIES
BKV GROUP
CITY CLUB APARTMENTS CBD DETROIT
City Club Apartments CBD Detroit is located in downtown Detroit across from Grand Circus Park on the site of the former Statler Hotel. The project is part of a renaissance for downtown Detroit as the first new market-rate apartment project in the Central Business District that will be conventionally financed. The project paves the way for providing sensitive, forward-thinking design to attract residents to Downtown Detroit from Michigan and across the country. The six-story plus mezzanine building consists of 288 apartments ranging in size from micro units to 3 bedroom / 3 bathroom multistory dwelling units. The first floor contains retail space along the arterial Washington Boulevard with a restaurant facing Grand Circus Park. Resident amenities also on the first floor include an indoor pool, fitness center, clubroom, and large landscaped courtyard. The building contains two levels of below grade parking for both residents and the surrounding area. Unique features include rooftop access skylights for residents on the 6th floor, lofted spaces in 1st floor units with high ceilings, and a green roof.
ENRICHING LIVES AND STRENGTHENING COMMUNITIES OVERVIEW Green roof; site of former Statler Hotel TYPE Market-rate housing SIZE 7 stories 263,707 SF 288 units
DETROIT, MICHIGAN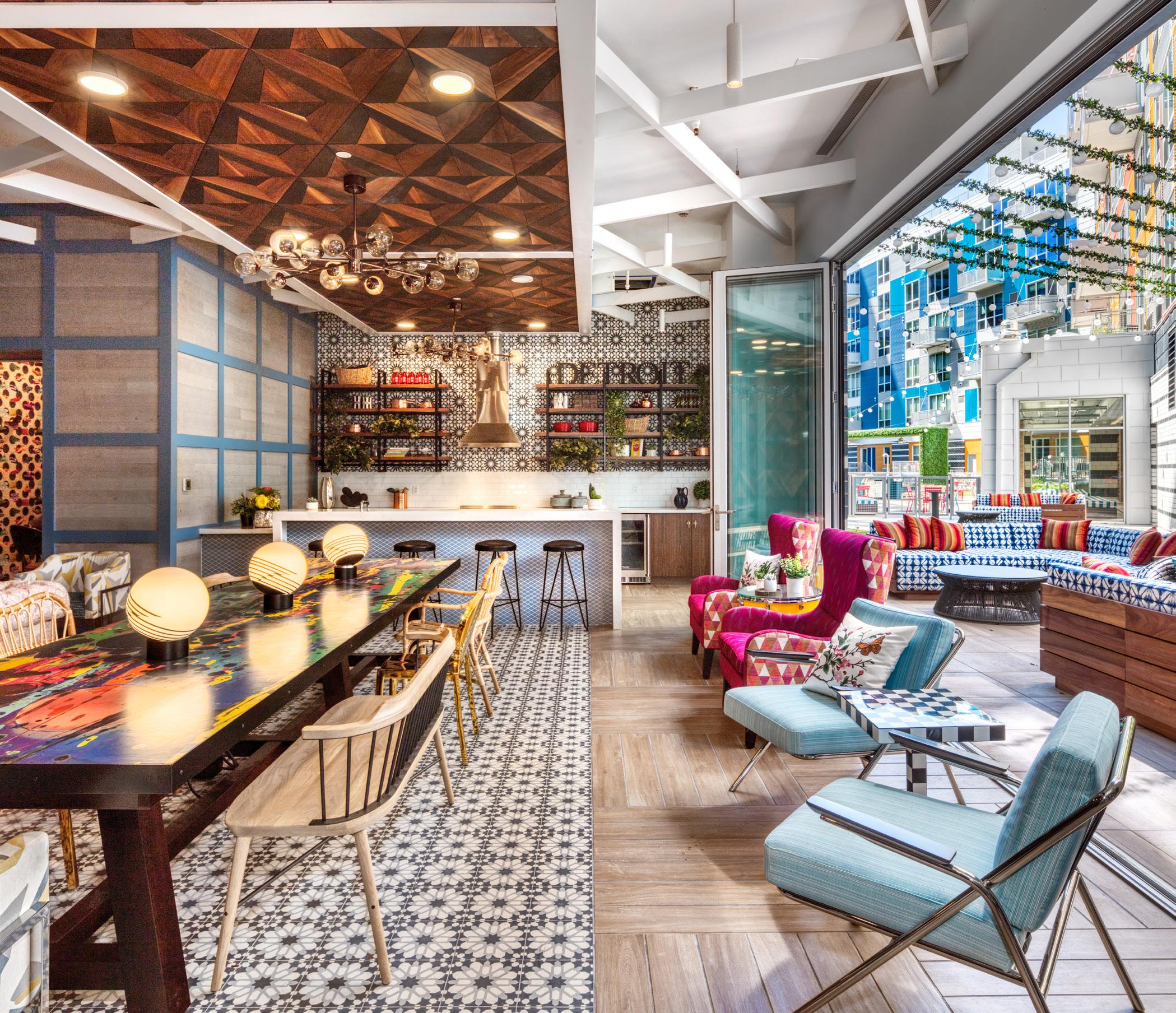 BKV GROUP
ENRICHING LIVES AND STRENGTHENING COMMUNITIES WWW.BKVGROUP.COM CHICAGO 209 South LaSalle Street The Rookery, Suite 920 Chicago, IL 60604 P 312.279.0470 DALLAS 1412 Main Street Adolphus Tower, Suite 700 Dallas, TX 75202 P 469.405.1196 MINNEAPOLIS 222 North Second Street Long & Kees Building, Suite 101 Minneapolis, MN 55401 P 612.339.3752 WASHINGTON, DC 1054 31st Street NW Canal Square, Suite 410 Washington, DC 20007 P 202.595.3173 4 44 220+ BKV GROUP IS A HOLISTIC DESIGN FIRM PROVIDING ARCHITECTURE, ENGINEERING, INTERIOR DESIGN, LANDSCAPE ARCHITECTURE AND CONSTRUCTION ADMINISTRATION. PRACTICE SITES YEARS OF OPERATION EMPLOYEES