RANCH WATER 12
CITY PORK BRUNCH 53
MEMORIAL DAY FESTIVAL 66
Worth the DRIVE DRIVE
A world of new restaurants, shops and attractions abound in the Capital Region—just beyond BR's city limits
The Library Wine & Provisions brings an ambitious new culinary experience to Gonzales.
MAY 2023 • FREE
225BATONROUGE.COM
From romantic tables filled with candlelight to festive Sunday brunches. Our grills are working overtime to ensure your favorite dish is ready for you. Because some of the best moments of our lives are in our favorite restaurants.
Plan your trip and make your reservations now.
For more information, visit NewOrleans.com/RestaurantWeek
LUXURY OUTDOOR DESIGN & BUILD LOCALLY OWNED AND OPERATED | 225.757.6138 | PECBUILT.COM | POOLS | FENCES | MASONRY BULKHEADS | OUTDOOR SPACES RESIDENTIAL & COMMERCIAL MENTION 225 & RECEIVE $225 OFF
WHAT DO THESE TWO HAVE IN COMMON?
FENTANYL KILLED THEM LAST NIGHT.
No matter where or when, just one hit, one bump, or one pill could be laced with a deadly dose of fentanyl. More than 50x stronger than morphine, fentanyl has quadrupled overdose deaths in East Baton Rouge Parish. Just 2 mg (0.0004 tsp) of fentanyl will end your life. Do you know what's in your drugs? The difference is life or death.
IT'S TIME TO SOUND THE ALARM
To learn more, volunteer, donate, or get help for someone struggling with addiction, visit whenyouarereadybr.com A MESSAGE BROUGHT TO YOU BY
Drive past the historic homes of St. Francisville to discover all the newness in the area, too.
ON THE COVER
Worth the drive
PAIR DINNER WITH a book-sized selection of 220-plus wines at the new Library Wine & Provisions, shot for our cover by staff photographer Collin Richie. Owners say the upscale, design-forward concept is the first of its kind for Gonzales. It's one of many restaurants, boutiques and attractions that have debuted outside Baton Rouge city limits in recent years. To dive into all of the new eats, arts and experiences in the booming 'burbs, turn to our cover story on page 24.
CONTENTS // 6 [225] May 2023 | 225batonrouge.com
24
Features 17 Who is championing American Sign Language 22 How two Overpass restaurants came to be 47 Where to find BR's newest shoppable house 63 How to watch a concert surrounded by 1,500 candles And much more… Departments 12 What's Up 17 Our City 22 I Am 225 24 Cover story 47 Style 53 Taste 63 Culture 68 Calendar
COLLIN RICHIE
225batonrouge.com | [225] May 2023 7
Rush hour
SOMETHING SEEMED DIFFERENT on my latest drive to St. Francisville.
The charms we all know and adore were still there: The tree-canopied roads, gingerbreadtrimmed historic houses, jasmine-entwined fences and quaint churches and museums.
But this time, I noticed cranes. The normally tranquil historic district was noisy, as growling construction trucks poured concrete.
It's the groundwork for a roster of new restaurants and attractions expected in the town later this year. In one vacant storefront, a permit sign hanging in the window o ered proof the town will soon be getting its first brewery. And the cute antique and book sellers I've always loved are now joined by stylish, modern shops like Barlow Fashion and NK Boutique.
Over in Gonzales, there's a wave of restaurants generating a buzz. Concepts like the Library Wine & Provisions and Pho Viet Noodle House are luring not just nearby Ascension Parish residents but Baton Rouge city dwellers, too.
At first I thought maybe I was imagining this suburban boom. But then I found Eat the Boot, a Facebook group where more than 65,000 members talk about Louisiana food all day long. The more I scrolled through restaurant recommendations, the more I was bookmarking addresses outside of city limits. As detailed in this month's cover story, the suburbs are indeed rocking.
It's a movement local chef David Dickensauge also saw in Chicago when he was living and working there. Tired of the daily commutes—not just for work, but for a good meal—he tells 225
that he routinely saw chefs and restaurateurs take their new ideas to the suburbs.
The executive chef at Beausoleil Coastal Cuisine, Dickensauge was one of the minds behind the menu at the wine-centric, designforward Library Wine & Provisions. Drawing from experience at restaurants across Baton Rouge, New Orleans and Chicago, he helped conceptualize the creative menu, with dishes that feature ingredients like black tru e gnocchi or seared scallops with tomato raisin chutney. Owners Bart Waguespack and Ronnie George believe the eatery could stand up to some of the best o erings across parish lines.
All the action makes sense. Suburban growth has been happening for years in the Capital Region. But now, a deluge of projects originally delayed by the pandemic—plus all the development that would normally occur in a year—are suddenly emerging at once.
It's too soon to tell how pandemic migrations and a shifting workforce will permanently change where and how we live.
But personally, I suspect suburban and rural growth will keep happening. In the past year, I've watched my millennial friends buy houses in smaller Louisiana communities like Donaldsonville and Gretna. Last fall, I visited another friend's new home: a stunning historic house on sprawling farmland in middle-ofnowhere Ohio. Enticed by work-from-home, I know a couple in Manhattan's Upper West Side now looking to buy upstate. My buddies in South Florida are increasingly moving north and west, away from the most expensive, overpopulated coastal cities. They all tell me the same thing: Their lives have gotten quieter, but they are happier than ever.
Maybe that's a tale as old as time. People grow up, start families and their priorities change.
For now, one thing's certain: We all have exciting new reasons to commute.
More to explore
There's so much happening around the Capital Region, we didn't have room for all of it in the cover package. Here are a few new spots on my own road trip to-do list this summer:
Pie Eyed in Denham Springs: After an afternoon digging through the Denham Springs Antique Village, take a short walk to this food truck slinging sweet and savory hand pies outside Le Chien Brewing Co. pieeyed.com
The Saint Bar in St. Francisville: The craft cocktail bar inside the recently renovated St. Francisville Inn is outfitted with European-style decor and a menu of small plates and global spirits. stfrancisvilleinn.com
Barn Hill Preserve: Unwind with kangaroo yoga (I'm not kidding) and encounters with animals like sloths and otters. barnhillpreserve.com
Textures Warehouse in Denham Springs: It's all the fanfare of an estate sale— the long line to get in, the discounted prices and the rare finds—but everything at this once-a-month shopping experience is brand-new. textureswarehouse.com
Jennifer Tormo Alvarez 225 Editor
EDITOR'S NOTE // 8 [225] May 2023 | 225batonrouge.com
COURTESY ST.
INN
FRANCISVILLE
CARESOUTH.ORG | 225-650-2000 | Ladies, it doesn't matter what stage of life you're in, CareSouth Medical and Dental wants to make sure you are as healthy as you can be. We know you've got life to live and family to love. CareSouth Medical and Dental is here for all your health care needs. To make an appointment, give us a call or visit our website. 225batonrouge.com | [225] May 2023 9
Publisher: Julio Melara
EDITORIAL
Chief Content Officer: Penny Font
Editor: Jennifer Tormo Alvarez
Managing Editor: Laura Furr Mericas
Features Writer: Maggie Heyn Richardson
Digital Staff Writer: Olivia Deffes
Digital Content Editor: Dillon Lowe
Staff Photographer: Collin Richie
Contributing Writers:
Cynthea Corfah, Katie Dixon, Tracey Koch, Benjamin Leger, Zane Piontek
Contributing Photographers: Ariana Allison, Sean Gasser, Hannah Leger, Amy Shutt
ADVERTISING
Chief Digital Officer and Sales Director: Erin Pou
Account Executives: Manny Fajardo, André Hellickson Savoie, Jamie Hernandez, Kaitlyn Maranto, Audrey Taunton, Cassidie Tingle
Digital Operations Manager: Devyn MacDonald
Advertising Coordinator: Brittany Nieto
Customer Success Manager: Paul Huval
STUDIO E
Director: Taylor Gast
Multimedia Strategy Manager: Tim Coles
Corporate Media Editor: Lisa Tramontana
Content Strategist: Emily Hebert
Account Executive: Judith LaDousa
MARKETING
Marketing & Events Coordinator: Taylor Falgout
Marketing & Events Assistant: Hillary Melara
Events: Abby Hamilton
ADMINISTRATION
Business Manager: Tiffany Durocher
Business Associate: Kirsten Milano
Office Coordinator: Sara Hodge
Receptionist: Cathy Varnado Brown
PRODUCTION/DESIGN
Production Manager: Jo Glenny
Art Director: Hoa Vu
Senior Graphic Designers: Melinda Gonzalez Galjour, Emily Witt
Graphic Designer: Ashlee Digel
AUDIENCE DEVELOPMENT
Audience Development Director and Digital Manager: James Hume
Audience Development Coordinator: Ivana Oubre
Audience Development Associate: Catherine Albano
A publication of Melara Enterprises, LLC
Chairman: Julio Melara
Executive Assistant: Brooke Motto
Vice President-Sales: Elizabeth McCollister Hebert
Chief Content Officer: Penny Font
Chief Digital Officer: Erin Pou
Chief Operating Officer: Guy Barone
Chairman Emeritus: Rolfe H. McCollister Jr.
Circulation/Reprints
225.928.1700
•
•
Now Offering ENERGY EFFICIENT Tankless Water Heater No money down & low monthly payments YOUR PLUMBING EXPERTS $99 DRAIN CLEARING RESTRICTIONS APPLY, CALL FOR DETAILS WHOLE HOME EMERGENCY POWER NO MONEY DOWN AND LOW MONTHLY PAYMENTS WITH CREDIT APPROVAL, RESTRICTIONS APPLY, CALL FOR DETAILS License # 67907 | Plumbing License #MP15365 Certified Technicians | 100% Comfort Guarantee 30% Energy Savings Guarantee | 100% Money Back Guarantee Proud to Provide Heating, Cooling, and Plumbing to Baton Rouge & Surrounding Areas (225) 219-8925 www.southernairbr.com | 10 [225] May 2023 | 225batonrouge.com ©Copyright 2023 by Melara Enterprises, LLC. All rights reserved by LBI. Reproduction in whole or in part without permission is strictly prohibited. Business address: 9029 Jefferson Highway, Ste. 300, Baton Rouge, LA 70809. Telephone (225) 214-5225. 225 Magazine cannot be responsible for the return of unsolicited material—manuscripts or photographs—with or without the inclusion of a stamped, self-addressed return envelope. Information in this publication is gathered from sources considered to be reliable, but the accuracy and completeness of the information cannot be guaranteed.
email: circulation@225batonrouge.com 9029 Jefferson Highway, Suite 300, Baton Rouge, LA 70809 225-214-5225
FAX 225-926-1329 • 225batonrouge.com
Reader's replies TOP STORIES
Re: Our tour of Pizza Art Wine, Yilena Hernández's new restaurant combining art, highend flavors and wine dispensers:
"We've been there 2x and Yilena is kind, sweet and the hardest working owner in 4-inch heels!!! The food is fabulous and the place is gorgeous."
—@cjcaden, via Instagram
"Very excited to try it. Love the fresh concept and the pizza looks delicious! Plus who doesn't love a place that supports the arts."
—@itsalori2, via Instagram
On our profile of Jordan Davis, a Country Music Award winner who credits his songwriting start to Louisiana:
"Aww I had no idea! A few of his songs have been on repeat lately. This is awesome! " —@heypenelope, via Instagram
Comments and analytics are from March 1-31, 2023. They have been lightly edited for clarity and brevity.
Talk to us on TikTok

Find us at @225magazine for a behind-the-scenes look at 225: cover reveals, what we're eating in between photo shoots, how we're tracking down stories, and more. Tell us what kind of content we should create next in the comments or at editor@225batonrouge. com
Knowing
Dream without boundaries
you've got the strength of the cross, the protection of the shield and thousands of top doctors to lift you when you need it. The Right Card. The Right Care. 01MK7615 09/21 ARIANA ALLISON 225batonrouge.com | [225] May 2023 11 FEEDBACK // WHAT'S ONLINE // CONNECT WITH US facebook.com/225magazine twitter.com/225batonrouge instagram.com/225batonrouge youtube.com/225magazine
The Best of 225 Awards ballot A world of plants at the Spring Garden Show Five new ways to experience the Wearin' of the Green parade 1 2 3 SEAN GASSER STOCK PHOTO @225magazine March's most-read articles at 225batonrouge.com
COURTESY RED LIGHT
MANAGEMENT
May Stay cool
NO, YOU'RE NOT imagining it: Ranch water is a thing.
In fact, it's been a thing, say fans, who have crowed about its thirstquenching powers and ranch hand origin story for years. Not to be confused with branch water (the bartender term for plain ol' H2O), ranch water is a fizzy restorative made with tequila and fresh lime juice, finished off with Topo Chico.
Over the last decade or so, the drink has eased its way into the nationwide barscape, quietly spreading beyond its West Texas provenance to stylish watering holes across the U.S.—and, recently, to supermarket shelves in canned form.
Scores of Baton Rouge bars now serve ranch water, each with its own spin. Mestizo uses 21 Seeds tequila, a small-batch brand that comes in flavors like cucumber jalapeño and grapefruit hibiscus. Gov't Taco mixes its ranch water with Cimarron Blanco tequila in a vacated Topo Chico bottle. The Overpass Merchant serves the drink over crushed ice in a rocks glass, and recently introduced the Ranch Anawanna, a fruity riff that incorporates fresh watermelon juice. Barracuda Taco Stand's formula uses Lunazul Blanco tequila, lime juice, a generous topper of Topo Chico and a hint of cane sugar, which offsets the drink's natural bitterness.
Blame ranch water's trendiness on a tidy convergence of factors. Tequila has become the "it" spirit, graduating from spring break hangover-inducer to sippable boutique beverage. Millennials and Gen Z are gravitating toward less potent drinks. And Topo Chico has been showing up in damn near everything.
Seltzer-heavy ranch water has also secured an identity as a kind of skinny margarita.
"Margaritas are a pretty bracing drink, and there's something just super clean about ranch water," says Barracuda founder Brett Jones. The restaurant has served ranch water since it first opened in New Orleans in 2019. And it's part of the menu of its 5-month-old Baton Rouge location on Government Street. Behind margaritas and Modela, ranch water is the concept's third most popular drink.
"It's just a really refreshing drink," Jones says. "Great for hot weather." eatbarracuda.com
MAGGIE HEYN RICHARDSON COLLIN RICHIE
WHAT'S UP // 12 [225] May 2023 | 225batonrouge.com
Ranch water is on the rise in the Capital Region
Art, art and away
The country's first airport Art-o-Mat will be unveiled this month at BTR
ONE OF BATON Rouge Gallery's (BRG) most popular permanent exhibits is its Art-o-Mat, a decommissioned cigarette vending machine beautifully repurposed into a repository for tiny artworks. Plunk in a token, yank the rod and out pops a work of art produced by a national artist. The machine is one of nearly 200 Art-o-Mats placed in galleries and public spaces across the country. They're part of a movement founded by North Carolina artist Clark Whittington, who created the original Art-o-Mat for an art exhibit in 1997. This month, a second BRG Arto-Mat opens in Red Stick—this time at Baton Rouge Metro Airport (BTR). BRG and BTR have collaborated for several years on an airport artwork program, and opened a gallery in 2021 on the airport's second floor. The new BTR Art-o-Mat will be placed just outside the gallery entry and is the first machine of its kind to be installed in an airport in the U.S., says BRG president and CEO Jason Andreasen. Sporting an aviation theme, the shiny new Art-o-Mat will be unveiled during National Travel and Tourism Week, which spans May 7-13. batonrougegallery.org
May 20-21
Soul Food Festival returns at Riverfront Plaza
HEAR LIVE SOUL, blues, gospel and jazz while savoring authentic foods prepped by the region's best grassroots cooks when the Baton Rouge Soul Food Festival returns to downtown. Organized by musician Henry Thomas Jr., the sixthannual free event highlights the importance of soul food in the South. As a variety of musical acts plays on stages along River Road, cooks participate in a soul food competition that includes five categories: entrées; vegetables and side dishes; bread and desserts; appetizers, soups and miscellaneous; and beverages and ices. Judges evaluate the dishes not only on flavor and presentation, but on their history and cultural significance. The festival will also honor the 2023 Soul Food Pioneer, Sean "Boss Hogg" Huey, who operates the North Street restaurant Café Express in Baton Rouge. Huey also developed the Creole Depot spice line and hosts the online cooking show Outside Boys. A ticketed Soul Food Festival preparty takes place on Thursday, May 18, at the Henry Thomas Jr. Listening Room. hitcitydigital.wixsite.com/brsoulfoodfest
DIGITS
7,823
DELIVERIES AT WOMAN'S Hospital in 2022. The Baton Rouge hospital ranks 17th in the nation in total births, drawing expecting mothers from around the region. Woman's also offers a Level III neonatal intensive care unit for infants born as early as 28 weeks or with health complications. womans.org
—Kathy Lester, president of the American Association of School Librarians (AASL) about Livingston Parish School System middle school librarian Amanda Jones, who is also president of the Louisiana Association of School Librarians. Jones received the 2023 AASL's Intellectual Freedom Award in March. Last summer she became a target for harassment after a Livingston Parish Library Board of Control meeting, where she spoke up against censorship concerning public library books that some members considered sexually inappropriate for children. ala.org
COURTESY BATON ROUGE GALLERY
"Amanda is an example that we must all stand together and stand strong. When a public library is challenged, all libraries are challenged. ... To unite and protect the rights of all learners is inspirational."
SAVE THE DATE
FILE PHOTO BY RAEGAN LABAT
STOCK IMAGE
COURTESYAASL
WHAT'S UP // 225batonrouge.com | [225] May 2023 13
Amanda Jones
Fast Paced + Low Impact + Easy to Learn
Buzz feed
Compiled by Katie Dixon
Spilling the TEA
Spotted the teal tea cart parked on LSU's campus? The Tea has been slinging vitamin-infused, caffeineloaded drinks since the start of the spring semester. With nearly 30 flavors, the cart has already grown a following. Owner CJ Browder opened the first The Tea trailer at The University of Mississippi in January 2022. Loaded tea drinkers can now find LSU's own The Tea on South Stadium Drive, open Monday through Friday, 8 a.m.- 4 p.m. theteatrailer.com
Cream of the crop
Red Stick Farmers Market shoppers can now find daily-made certified Louisiana goat milk cheeses and goods at the Southern Maids Dairy tent. The products are produced at Circle M Farms, founded by husband and wife team Nathan and Erin Miller. The operation started out with four dairy goats in 2014 and now has grown to house 225. Shoppers can pick up a variety of its products, including small-batch, additivefree feta marinated in herbs and olive oil; whole feta in brine; crumbled feta; and whipped feta. There's also chevre; goat milk yogurt packed with probiotics; and impossibly creamy chevre cheesecakes sold whole or by the slice. circlemfarmsla.com
Pizza, pizza!
Two new joints to try
The newly opened Pizza Art Wine is an experience for the senses. After three years of working on the project, CEO Yilena Hernández finally opened the eatery in March. It combines her three favorite things: pizza, art and wine. Go for the Tartufata pizza (Hernández's favorite), and stay for the chic atmosphere and cool wine dispensers. pizzaartwine.com
Tevin Wade, a contractor and electrician who's had a hand in a number of new projects in north Baton Rouge, opened Light House Bar & Pizzeria. The stylish lounge serves pies baked in turbo chef ovens to keep nearby Southern University's busy college students moving. Light House also shakes up craft cocktails with muddled fruits and fresh-squeezed citrus, like the bright blueberry margarita. lighthousebnp.com
to try something new? Swing into action with BREC Pickleball!
brec.org/pickleball Looking
WHAT'S NEW
ARIANA ALLISON
STOCKIMAGE 14 [225] May 2023 | 225batonrouge.com WHAT'S UP //
ARIANA ALLISON
—Nora Glover, CEO of NRK Construction, in a presentation during the latest Assembly Required speaker series. The ThreeSixtyEight program returned to Baton Rouge in March for the first time since 2019. The sold-out event hosted city leaders to discuss what's holding the Capital City back from its full potential. The next in the quarterly series, this time themed "The Future of Talent," is slated for June 22. assemblyrequiredla.com
Legislative pay in Louisiana 1980
The last time a pay raise was given to Louisiana lawmakers
$16,800
The current wage
$60,000 House Bill 149's proposed wage, starting in 2024. Rep. Joe Marino, I-Gretna, says the increase represents a fair cost of living adjustment.
$37,000
The legislative wage proposed in a 2008 bill. Public pushback ultimately led thenGov. Bobby Jindal to veto the bill.
$142,000
The new legislative wage in New York, which is the highest in the county after a bill to increase lawmakers' pay by 29% was passed in December 2022.
One for Mom & ONE FOR ME
May 2 Antiques Roadshow travels to the Capital City
The 20-time Emmy-winning PBS program Antiques Roadshow chose the Red Stick as one of the five stops for its upcoming 28th season. Camera crews will set up to film at the LSU Rural Life Museum on May 2. Baton Rougeans who were lucky enough to score a ticket are welcomed to bring two antiques to be appraised by experts on set, and they'll have a shot at being on the final cut of the series. The new season premieres January 2024. lpb.org
Corporate Blvd at Jefferson • 225.925.2344 townecenteratcedarlodge.com • • Please respond by e-mail or phone with your approval or minor revisions. • AD WILL RUN AS IS unless approval or final revisions are received within 24 hrs from receipt of this proof. A shorter timeframe will apply for tight deadlines. • Additional revisions must be requested and may be subject to production fees. Carefully check this ad for: CORRECT ADDRESS • CORRECT PHONE NUMBER • ANY TYPOS This ad design © Melara Enterprises, LLC. 2023. All rights reserved. Phone 225-928-1700
Save the date DIGITS
"We tolerate mediocrity. … It's comfortable, and doing something di erent requires energy."
COURTESY ANTIQUES ROADSHOW
225batonrouge.com | [225] May 2023 15 WHAT'S UP //
FAIRFILM / COURTESY ASSEMBLY REQUIRED
CYPRESS POINTE SURGEONS DIAGNOSE AND TREAT VARIOUS ORTHOPEDIC CONDITIONS TO GET YOU BACK TO DOING WHAT YOU ENJOY
When pain inhibits your ability to move, work and be active, Cypress Pointe Surgical Hospital's board certified orthopedic surgeons are here to help! These surgeons treat all disorders that affect your bones, joints, ligaments and tendons. When nonsurgical treatments have failed to provide the relief you need, Cypress Pointe's surgeons are available for both general and complex orthopedic surgeries. Some commonly performed orthopedic procedures at Cypress Pointe Surgical Hospital include fracture care, carpal tunnel release, scope procedures and total joint replacements.
Surgery may be recommended to treat carpal tunnel if other non-invasive treatments such as splints, physical therapy, oral medications and steroid injections do not provided relief from the pain, numbness, tingling and weakness in the hand and wrist. At Cypress Pointe Surgical Hospital, carpal tunnel release surgery
is performed as an outpatient procedure, where the patient goes home the same day.
When it comes to treating problems a ecting joints in the shoulders, hips or knees, the least invasive option is an arthroscopy (scope) procedure. During this surgical procedure a small camera is used to visualize the internal structure of a joint. This allows the surgeon to confirm the pre-surgical diagnosis and treat the problems a ecting the joint. Patients who undergo these procedures also go home the same day.
Sometimes, the issues progress where the patient requires a total joint replacement. Total joint replacement is a surgical procedure in which parts of an arthritic or damaged joint are removed and replaced with a device called a prosthesis. The prosthesis is designed to replicate the movement of a normal, healthy joint. In most cases, patients are discharged the same day, but they can stay up to two nights if they need additional care.
Cypress Pointe Surgical Hospital is a top choice for these and other surgical procedures
in the hospital's surrounding area because of the individualized care that considers each patient's condition, abilities, needs and goals, says Julie Diodene, the hospital's chief nursing officer. The hospital is located right off Interstate 12 in Hammond, making it easily accessible to residents in Baton Rouge, New Orleans, St. Tammany and even neighboring states like Mississippi.
Since the hospital does not have an emergency room, a patient's procedure is rarely delayed or bumped due to an emergency. The staff at Cypress Pointe takes pride in delivering excellent patient care which is reflected in the hospital's CMS 5 Star ratings and HCAHPS (Hospital Consumer Assessment of Healthcare Providers and Systems) Scores. "We cater to the needs of our patients and family members to ensure a smooth transition home," Diodene says.
For more information about orthopedics or other services offered at Cypress Pointe Surgical Hospital, visit online at cypresspointesurgical.com.
SPONSORED BY: SPONSORED CONTENT THE LOWDOWN 16 [225] May 2023 | 225batonrouge.com
BY OLIVIA DEFFES // PHOTOS BY COLLIN RICHIE
A local American Sign Language program aims to bridge the gap between the hearing and deaf communities Feel Seen founder Tracee Albert signing "I love you" in American Sign Language
Heard without the words
225batonrouge.com | [225] May 2023 17
SINCE SHE WAS little, Tracee
Albert has been the ears and voice for her parents. Her father, Charles, and mother, Idella, are deaf, so Albert and her brother acted as their advocates.
The siblings would answer the phone and translate parent-teacher conferences. At 9 years old, Albert spent months preparing to be the signer at her parents' wedding. She still travels home to Vidalia, Louisiana, to be the voice at her parents' doctor's appointments. After all, Albert's first language was American Sign Language.
"I learned from a young age that they didn't have the tools or people that could advocate for them or translate for them. I was always the one," she says. "and it should not always be like that."
At 25, Albert is now a certified baby sign language instructor, is pursuing a master's degree in occupational therapy at the University of Louisiana at Lafayette, and is the founder of Feel Seen—a Baton Rouge organization that aims to teach sign language and raise awareness about the deaf community.
After years of seeing how underserved her parents were— with a lack of translators and even job opportunities—Albert decided to do something about it. She launched Feel Seen in 2020.
Through pre-recorded ASL lessons conducted by Albert, Feel Seen teaches basic signs, the alphabet and other vital pieces of the language. After completing a session, Albert hopes participants will know how to introduce themselves, spell their names and sign common phrases. The organization also puts on school presentations and group workshops that aim to give participants a better understanding of the deaf and hard-of-hearing community.
Local speech pathologist Abby Harris has participated in a few of Feel Seen's workshops, which she says have helped her gain a new perspective, especially with her clients. She says she now sees those who are deaf or hard of hearing as having "a di erent way of interacting with the world." It's
a perspective that she thinks could bridge the gap between the hearing and deaf communities.
"We need someone to push and promote access to ASL and access to di erent modes of communication," she says, "so that it unites the community."
Connection point
The name "Feel Seen" comes from notes Albert's father would write her.
When she was younger, her dad worked three jobs. She remembers him coming home from work
sign language to the world," she says.
Almost immediately after starting Feel Seen, Albert was invited to appear via video call on an October 2020 episode of The Drew Barrymore Show. During the segment, Barrymore signed her name along with a greeting Albert taught her, gushed about Albert's methodology and even paid for everyone in the virtual audience to take one of Feel Seen's online classes.
"When I got on the show, I got a lot of traction," she says. "People were telling me how much they
and brand merch. It raises money for organizations supporting the deaf community and groups providing resources for mental health. Albert has donated to her father's alma mater, the Louisiana School for the Deaf.
Buyers can shop pastel, artful ASL flashcards. There's even a pandemic-inspired face mask with clear paneling—since lip reading and facial expressions are a vital part of nonverbal communication.
Lifelong learning
Feel Seen also awards its own
many nights at 2 a.m. Sometimes, she'd wake up to greet him and they'd spend time catching up. Other times she'd find notes in the morning left under her pillow that read, "Thank you for making me feel seen."
Seeing that impact has led Albert to where she is today.
"I really just want to introduce
appreciated my story, how much they enjoyed hearing about sign language and how they didn't really know anyone who knew sign language. … That was the first time that I thought 'Oh, maybe this is my purpose,' and I held on to that."
Since then, Albert has created her own line of inclusive products
$500 annual scholarship to a college student who submits an essay about the deaf community and the importance of inclusivity.
Bridget Lam, a student at Gallaudet University in D.C., received the scholarship in 2021. Though she hears, Lam attends the deaf college, where she's studying psychology. A self-described
OUR CITY // 18 [225] May 2023 | 225batonrouge.com
Feel Seen sells ASL flashcards for beginners that teach basic phrases, introductions and question words.
In everything we do, we make it our mission to provide the community with convenient eye health services in a setting that is comfortable, organized, and efficient!
Just ask the Oubres'! They have been patients of Dr. Amin's for several years.
with up-to-date eyewear: from blue light glasses for the girls to premium progressive lenses for Mom and Dad! This family also participates in programs to ensure the longevity of their eye health such as Brilliant Futures, a contact lens program to prevent
Connection, a program dedicated to new and current sufferers of dry eye disease. The Dry Eye Connection was launched by Dr. Amin in 2022 as a program designed as a clear approach to dry eye disease tailored to the patient's needs.
To learn more about these programs
• Additional revisions must be requested and may be subject to production fees. Carefully check this ad for: CORRECT ADDRESS • CORRECT PHONE NUMBER • ANY TYPOS This ad design © Melara Enterprises, LLC. 2023. All rights reserved. Phone 225-928-1700
7673 Perkins Rd, Ste B3 | Baton Rouge, LA 70810 | 225-757-0505 | TRIOEYECARE.COM
ADVERTISEMENT 225batonrouge.com | [225] May 2023 19
COMPREHENSIVE EYE CARE SERVICES AND EYEWEAR for the whole family!
"hearing ally," Lam fell in love with ASL after learning it in high school.
"It feels really natural for me to express myself in ASL," she tells 225. "I also had a lot of deaf history lessons in ASL class (in school), and I was shocked at how much inaccessibility there is for deaf people and how much work there is left to do."
Attending the deaf university has given Lam an even stronger desire to "honor and respect" the deaf community.
"We all need to be more aware of the needs of deaf people. They've been long overdue," she emphasizes.
Lam aims to work with the deaf community after she graduates from Gallaudet this month.
When Albert finishes her master's degree in December, she is looking forward to growing Feel Seen. This means it will focus more on in-person events that integrate the two communities she loves.
Her hope is that the organization's work encourages people to take the time to sit down and imagine how a deaf person might feel.
"I think that it's really important to just try to learn how to accommodate other people's needs," she says, "and help them feel seen." feelseen.today
SHOW ME A SIGN
JUNE 2 6PM
8PM LIVE MUSIC BY WEREWOLF FOOD TRUCK ATTHE ROWE LIVE MUSIC IN TOWN SQUARE
-
A few key terms from Feel Seen's ASL flashcards: Name Please Thank you Good Feel Seen's ASL
designed to
IMAGESCOURTESYFEELSEEN OUR CITY // 20 [225] May 2023 | 225batonrouge.com
flashcards were
resemble founder Tracee Albert and promote inclusivity.
HAPPY HOUR Tuesday - Friday 3pm - 6pm Live music on the patio Wednesdays and Fridays HAPPY IN ICHIBAN SQUARE NOW OPEN 225.408.5062 | 7673 Perkins Rd suite C-1 | Baton Rouge, LA 70810 225batonrouge.com | [225] May 2023 21
Jordan Ramirez
SOME PRACTICE rigorously before trying their hand at a new craft, while others dive in and learn along the way. Jordan Ramirez, whose endeavors include the popular Chow Yum Phat and the new Zee Zee's nextdoor, leans toward the latter sect.
Ramirez was never formally taught to cook. In fact, he can't quite say he fully knew the craft when he got his first job in a kitchen about a decade ago as the specialty section manager overseeing beer, wine, cheese and more at Whole Foods. There, he developed and nurtured his fascination for food, eventually captaining a pop-up dinner series at the grocer.
"I had an interest in different ingredients," he says. "I would basically just find an ingredient, go online and learn how to cook with it."
Thus began his autodidactic scavenger-hunt of a culinary education. But it took some bouncing around before Ramirez really found his footing.
After more than six years at Whole Foods came a rapid spate of projects: a hot sauce line, a short but impactful butchering stint at Iverstine Farms Butcher and a pop-up supper club series under his personal brand, Southern Wild.
It was through the pop-up series that Ramirez reconnected with Chow Yum Phat cofounder Vu "Phat" Le. The duo quickly got to kicking around ideas for a collaboration, eventually opening Chow Yum Phat in 2018 inside the now-shuttered White Star Market.
Since then, the restaurant (now operating out of its Perkins Road Overpass brick-and-mortar) has become nothing short of a local institution, a frequent Best of 225 Awards winner celebrated for everything from its bao to its birria tacos special.
"It's more of a world view on Asian food," Ramirez says of the concept. "As far as flavors and foods, (we're) not trying to hold it to anything traditional."
Ramirez's next venture came at the perfect juncture. The new Zee Zee's, which opened in December 2022, was highly anticipated because it pays homage to two of the overpass area's dearly departed food spots and bars. Ramirez and other partners pulled off a cross-generational reimagining of the old Zee Zee Gardens inside the former location of George's.
For Ramirez, Zee Zee's presents a new challenge: simple food. Never one to think inside the box, he's had to adapt to culinary confines—making the food people expect to find at a neighborhood bar and grill while sneaking in subtle spikes of Southern flair and creativity.
Currently, Ramirez splits his time overseeing the neighboring restaurants. Looking to the future, though, he's eyeing an expansion of the Chow umbrella with a new location.
Still, Ramirez remains wary of rigid, long-term plans.
"The biggest thing I learned is waiting for the right time and the right location and the right situation to present itself, as opposed to just swinging for something," he says.
Given his recent successes, there's little reason to believe he'd miss.
—ZANE PIONTEK
COLLIN RICHIE I AM 225 // 22 [225] May 2023 | 225batonrouge.com
"There's always something I have in my pocket I want to do. I probably have way too many things that I'd like to try out."
This Month @ BREC
ARTIST'S STUDIO Baringer Art Center
May 5 | 9:30 a.m.-noon
MOVIE IN THE GARDEN: FAE FEST
Independence Community Park Botanical Garden
May 6 | noon-4 p.m.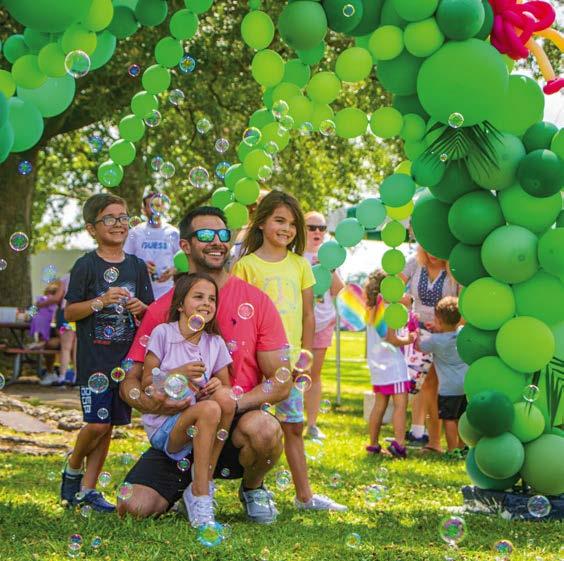 ZOO + ME MORNINGS Baton Rouge Zoo
May 9 | 9:30-11:30 a.m.
PLUS NIGHT Highland Road Park Observatory
May 13 | 7-10 p.m.
SUNSHINE SOCIAL: ROLLING OUT THE RED CARPET
Milton J. Womack Park
May 19 | 6-9 p.m.
FAMILY GAME NIGHT Cedar Ridge Drive Park
May 19 | 6-7:30 p.m.
HERO APPRECIATION DAY Liberty Lagoon
May 20 | 10 a.m.-7 p.m.
brec.org/careers
SOLAR VIEWING
Highland Road Park Observatory
May 20 | noon- 2 p.m.
SWAMP BIRTHDAY PARTY
Bluebonnet Swamp Nature Center
May 20 | 9 a.m.-5 p.m.
STEM EXPANSION
Highland Road Park Observatory
May 20 | 3:30-7:30 p.m.
MAKE A SPLASH Liberty Lagoon
[ MAY ] BREC.ORg/thismonth BREC does not discriminate on the basis of race, creed, color, national origin, sex, disability, age, religion, veteran status or sexual orientation in its programs and activities.
May 24 | 3-6 p.m. NOW HIRING FOR SUMMER JOBS!
What are the fastest growing areas in the state?
While population declined statewide from 2021 to 2022, three Capital Region parishes bucked the trend: Livingston, Ascension and West Baton Rouge. Livingston is Louisiana's third-fastest growing parish—behind only St. Tammany and Lafayette— according to U.S. Census Bureau data. And the Capital Region has grown every year since 2016, according to the Baton Rouge Area Chamber.
COVER STORY // 24 [225] May 2023 | 225batonrouge.com
BEYOND
CITY LIMITS
New dining, shopping and cultural experiences abound in Greater Baton Rouge
PHOTOS BY COLLIN RICHIE
FOR YEARS, REGIONAL economic developers have been touting the assets of not just Baton Rouge, but Greater Baton Rouge—the robust constellation of communities surrounding Red Stick.
Now more than ever, interesting things are happening in the suburbs and exurbs, from months-old fashionforward boutiques in ever-quaint St. Francisville, to new outdoor fun in West Baton Rouge Parish, to attentiongrabbing gastronomy in Gonzales, Central, Scotlandville and Zachary.
Residents of each of these places have more to enjoy within their orbit, and those who live in Baton Rouge have more reason to hit the road and explore.
What's the source of the new momentum?
Some projects, like Ascension Parish's Heritage Crossing development and the forthcoming $10 million Price LeBlanc Performing Arts Conference and Events Center, are pre-pandemic conceptions finally coming to fruition.
But other new businesses reflect the need among expanding suburban populations for more concepts close to home. With tra c at an all-time high and with some professionals still telecommuting, it's a great day for hyper-local experiences that make life prettier, tastier and more enjoyable.
From food to fashion, here's your guide to the Capital Region's new worth-the-drive fun—no matter which parish you call home.
MAGGIE HEYN RICHARDSON
COVER STORY // 225batonrouge.com | [225] May 2023 25
A new kind of library: Library Wine & Provisions opened this spring, with inventive dishes, like Black Tru e Gnocchi and Shrimp & Ceviche Guacamole, and more than 220 wines.
This
PARISH
Fueled by population growth, Ascension's dining scene is rapidly evolving—with arts and cultural amenities soon to follow
BY MAGGIE HEYN RICHARDSON
A NEW GENERATION of Gonzales residents is sampling Vietnamese cuisine, courtesy Pho Viet Noodle House.
"It was the right time, and the right location," says Chau Huynh, who opened the restaurant last October. "We wanted to introduce the basics of Vietnamese cuisine to the city of Gonzales. The community has been great."
From its spot in the new mixed-use Heritage Crossing development, the restaurant serves pho, vermicelli bowls, spring rolls and "bacos," filled steam buns whose moniker blends "bao" and "taco."
"Our customers have been adventurous," says Huynh, who also opened Bao Vietnamese Kitchen in Baton Rouge in 2017. "They tell us they like having something new and di erent."
DIGIT
128,369 Ascension Parish's population as of 2021, jumping from 76,627 in 2000. The U.S. Census figures reflect a nearly 70% increase.
The restaurant is one of several newcomers in Ascension Parish, meeting the demand of a population that has grown by more than 50,000 since 2000. The boom is fueled by expanding quality-of-life amenities, says Liz Laurent, a realtor and former vice president of the Ascension Parish Chamber of Commerce.
"There's absolutely a surge of restaurants right now," Laurent says. "It helps that there's a lot more here to keep families in town."
The Lamar-Dixon Expo Center, which expanded in 2017, hosts numerous youth sports leagues. Later this year, it will also become the home to the Baton Rouge Redsticks United Football League team.
More projects in Heritage Crossing are emerging in 2023. The walkable residential and retail development has attracted new restaurants, including Chicken Salad Chick, and soon-to-open locations of Agave Blue Tequila & Taco Bar and Sonny's Barbecue. Alexander's Heritage Market is also set to open in the development. Heritage Crossing's anchor amenity, the $10 million Price LeBlanc Performing Arts, Conference and Events (PACE) Center, opens later this year, and will bring concerts, theater shows, balls and other events.
While Gonzales is Ascension Parish's consistent hot spot for development, there's fresh energy in the quiet community of Donaldsonville. The town rolled out a new master plan. In 2021, it earned Main Street America accreditation, a national program benefitting historic downtowns.
"We're in the middle of an incredible revitalization e ort," says Donaldsonville Director of Community and Economic Development Lee Melancon. "And new restaurants have opened or will open soon in the downtown."
SEAN COURTESY NOODLE
popping
is
COVER STORY // 26 [225] May 2023 | 225batonrouge.com
A new tasting tour of Ascension
Pho Viet Noodle House
503 LA 30 W., Suite F, Gonzales
Savor steamy bowls of pho, spring rolls and "bacos" at this concept developed by the owners of Bao. phovietla.com
The Library Wine and Provisions
7530 LA 44, Suite 103, Gonzales
An expansive wine list pairs with upscale dishes. librarywp.com
Sugarfield Spirits
Grain Creations Brewing Company
480 and 481 W. Eastbank St., Gonzales
Tour Sugarfield Spirits' distillery, or sip on the tasting room's cocktails with rum, gin, vodka, bourbon and liqueurs distilled with local cane sugar and molasses. A sister cidery and winery opened on the property last fall. Meander next door for some craft beer at Grain Creations Brewing Company, which opened last summer. sugarfieldspiritsla.com
Gilla Brewing Company and Tap Room
13025 LA 44, Suite 108, Gonzales
Ascension's first micro-brewery serves small-batch craft beers on tap in a lively atmosphere. gillabrewingco.com
Dixie Café at the Great River Road Museum
40136 Highway 942, Darrow
The kid-friendly cafe serves daily breakfast and lunch buffets with views overlooking the gardens at Houmas House. greatriverroadmuseum.org
Gaston's BBQ & Beer
418 Mississippi St., Donaldsonville
Southern breakfast, tender 'cue and specials welcome diners to downtown Donaldsonville. gastonsbbqla.com
COMING SOON:
Noël Family Distillery | 30 Veterans Blvd., Donaldsonville
Opening this year, the family-run distillery makes premium rum and rhum agricole from local sugar cane. noeldistillery.com
"There's absolutely a surge of restaurants right now. It helps that there's a lot more here to keep families in town."
—Liz Laurent, a realtor specializing in Ascension Parish and former vice president of the Ascension Parish Chamber of Commerce
Dinner and a show: The Price LeBlanc Performing Arts, Conference and Events (PACE) Center opens later this year in Heritage Crossing, a new development quickly filling up with restaurants and other amenities.
GASSER /
NOODLE HOUSE
PHOTOS BY SEAN
COURTESY PHO VIET
RENDERING COURTESY HCD REAL ESTATE
Pho Viet Noodle House
225batonrouge.com | [225] May 2023 27
PHOTOS BY SEAN GASSER/COURTESY PHO VIET NOODLE HOUSE
Books and bottles
Library Wine & Provisions brings an ambitious concept to Gonzales, with inventive entrees and thoughtful drink pairings
What 's in a name?
Library Wine & Provision owner Bart Waguespack enlisted the help of a wine lovers' Facebook group to help with the eatery's name. Out of over 50 suggestions, he landed on the Library, a nod to the book-sized list of wines the spot offers. "If you're offering a lot of wine, you have a wine library," he says. "It sounded fun to say with your friends, 'Hey, let's go to the Library' instead of something like the whatchamacallit grill or something like that."
DIGIT
220+
Varieties of wine on the Library's menu. Each dish includes a pairing suggestion.
COVER STORY // 28 [225] May 2023 | 225batonrouge.com
ART WAGUESPACK
LIVES in Gonzales, yet he found himself making the trek to Baton Rouge every time he wanted a more upscale dining experience. Whether it was a special date night or a fancy dinner with friends, the tradeo was always that almost 45-minute drive.
"I grew up in Ascension Parish," he says. "I've lived here my whole life, so I'm very familiar with the area and o erings that we have when it comes to fine dining. … I just felt like this area just had no place that fits that description."
While working on building houses in the new Conway community with his other company Waguespack Homes, the developer decided to buy commercial land right outside the subdivision to build a strip mall. Among neighboring storefronts that will soon house a boutique, hair salon and vet, he carved out a space for one of his most special ventures yet: In February, Waguespack and his co-owner Ronnie George opened Library Wine & Provisions.
believe would stand out in metropolitan Baton Rouge, too. Think: Wagyu Beef Meatballs, Shrimp & Ceviche Guacamole and Black Tru e Gnocchi. It's all made fresh daily by Dickensauge's brother, James Dickensauge, who serves as the restaurant's chef.
Diners can pair dishes with more than 220 varieties of wines on the menu, or a specialty or classic cocktail.
"I feel like our menu is on point with some of the nicest restaurants in Baton Rouge," he says. "I feel like we have probably one of the largest wine selections and bourbon selections even considering Baton Rouge."
Inside the smaller restaurant, patrons are greeted by a cozy dining room complete with a fireplace,
12 tables and a bar with lush wine-colored seats for an intimate dinner or wine hour. With portraits of authors and poets and arched bookcases—filled with spirits instead of novels—adorning the dark walls, it feels like stepping foot inside a classic study.
Waguespack and his team brought in some creative minds from X Design to dream up the ambiance. He says they went through di erent mood boards to decide the Library's colors and motifs.
"We put a lot of e ort into the atmosphere," Waguespack says. "The colors are a little darker and kind of sophisticated in a sense. I feel like it's just a nice, upper-scale and comfortable space to go and spend some time." librarywp.com
Tasting notes
The Library partnered with Gonzales distillery Sugarfield Spirits to create an exclusive cocktail roster with drinks that creatively play off the restaurant's bookish theme, with drinks named after The Art of War and Pride and Prejudice
He initially envisioned serving cheese boards and a few flatbreads, but that quickly morphed into a full-scale menu. He enlisted the help of David Dickensauge, who helms the kitchen at Beausoleil Coastal Cuisine and brings three decades of experience in restaurants across south Louisiana and Chicago.
The result: a menu of entrees and appetizers diners won't find anywhere else nearby—and one the owners
OLIVIA DEFFES
225batonrouge.com | [225] May 2023 29
The feed
Inside
RAVIOLI—IN THE CRAWFISH boil? What constitutes—and violates—the laws of king cake?
How about where to find the best seafood plate in Ascension Parish, or ramen in Baton Rouge?
These and other curiosities can be answered—or otherwise argued ad-nauseam—on Eat the Boot.
The foodie community began in 2017 as little more than the whim of founder Joey Cavalier. As an avid restaurant patron with an interest in food photography, he launched a Facebook page to share musings on the restaurants he visited. He opened the group to a few friends, and soon it evolved into a magnet for thousands of folks hungry to discuss Louisiana food.
Now, Eat the Boot's brand comprises a Facebook group with over 65,000 members, a growing Instagram following, and a podcast on which Cavalier and others use their love of food as a springboard for discussions on everything from music to social commentary. The group is ramping up its events calendar on eattheboot.com, which Cavalier says he aims to make a one-stop-shop for food events.
While traditional Cajun and Creole foods maintain a strong presence on Eat the Boot's feed, Cavalier says one of his goals in founding the group was to explore a newer culinary wave.
"There's a lot more going on in Louisiana than just what we're
used to," he says. "You see a lot of jambalayas, a lot of pastalayas, a lot of fried fish, crawfish boil season is big. And I love all that stu . … But I felt like people were sleeping on all the new things. I mean, 15 years ago, I wouldn't have imagined that we'd have three sushi places in Ascension Parish."
Nor did he imagine what the group would become.
65,000
Number of Eat the Boot Facebook members who share their hot takes on south Louisiana food and hidden gems (like Geismar's South 73 Lunchroom, pictured)
In its early days, Eat the Boot's membership hovered around 300. That network now spans the state and even the country.
Today, people still review their eats, but they also post recipes,
CHECK OUT OUR SERVICES 6725 Siegen Lane | 225-295-3047 | Like us on FB and Instagram Providing a nail experience like no other with our luxurious nail treatments, colour selection, and attentive service. Because you deserve to be pampered, we ad e you! LMP: 5430 225-925-8710 www.rotobr.com It Doesn't Have to Be a Disaster
DIGIT
the Facebook group where regional culinary gems are discovered, debated and dissected
30 [225] May 2023 | 225batonrouge.com COVER STORY //
—Eat the Boot founder Joey Cavalier promote events, discuss food trends and connect in ways Cavalier never predicted.
"What surprised me the most were other people's interpretations of what the group exists for," he says. "At the end of the day, it belongs to everybody. I want it to be what they want it to be."
Cavalier says one of the more unexpected boons of Eat the Boot was its ability to invigorate small or struggling businesses, with as little as a single positive review.
It's because of that power that Cavalier implemented one of the group's chief rules: no overtly negative reviews.
"I don't need people steering people away from struggling businesses," he says.
But for all its uses, Eat the Boot remains at its core a tool for discovery ("People use it almost like a little isolated Google," he says.)
Scroll through the Facebook group, and find an inexhaustible treasure trove of restaurants to visit. One could spend a life savings–in fact, one could probably spend a lifetime–working through the dining options in its feed. With tantalizing image after image, it's a temptation that only becomes increasingly di cult to resist. eattheboot.com
Live After Five S P R I GN 2 0 2 3 • S P R I NG 2 0 2 3 • DOWN TOWN BATON ROUGE 5.5 Curley Taylor & Zydeco Trouble 5.19 The Michael Foster Project 5.26 Press 1 for English GOLD SPONSORS Rooftop Rockers bronze SPONSORS SILVER SPONSORS FOOD MUSIC art FUN
"There's a lot more going on in Louisiana than just what we're used to … 15 years ago, I wouldn't have imagined that we'd have three sushi places in Ascension Parish."
225batonrouge.com | [225] May 2023 31 COVER STORY //
ZANE PIONTEK
RETAIL TRAIL A lively
Exploring St. Francisville's evolving shopping scene
WHO DOESN'T LOVE
a leisurely browse for a fly 'fit or gift while on vacation? Shopping and traveling go hand in hand. A mini version of this pastime is on the rise in historic St. Francisville, where a flurry of new shops is rounding out a robust tourist scene. Along with favorites like Sage Hill, District Mercantile, the Conundrum Books & Puzzles and Away Down South, new retailers are adding modern relevance to the small town. Expect more amenities soon, including a new bakery, brewery and pizzeria in the historic district. Tra c is minimal and parking is easy.
Amanda Beard, a St. Francisville native who moved back to the community after years of working in real estate and construction in Baton Rouge, launched the St. Francisville location of Baton Rouge-based NK Boutique in September 2022.
"I wanted to open a place where I would like to shop," she says. Beard describes the store as a fusion between NK's two Capital City locations: Hollydale Avenue, known for younger fashion, and its higher end store on Corporate Boulevard.
"This store is a melting pot," she says. "We have a lot of variety."
MAGGIE HEYN RICHARDSON
New St. Francisville shops
NK Boutique | 1939 Ferdinand St.
Pick up Veja sneakers, dresses by Trina Turk, eclectic jewelry, denim and more. Comfy chairs near the dressing room, along with weekend bubbly, makes this spot just right for a girl's shopping trip. nkstfancisville.com
Cotton Exchange | 5632 Commerce St.
Open since last summer, the Cotton Exchange brings contemporary looks with an emphasis on Southern designers. It features women's fine clothing and gifts, including WithCo cocktails mixers and Rodan + Fields skin care. cottonexchangestfrancisville.com
Prevail & Reign | 11921 Ferdinand St.
Pick up youthful women's fashion, including sets, statement accessories, special occasion dresses, kids clothing, TAHNYC skin care items and more at this spot, which opened in 2022. prevailandreign.com
Barlow Fashion and Deyo | 5755 Commerce St.
These sibling shops feature upmarket men's and women's clothing in a sleek mixed-use storefront. The brainchild of Susan Charlet, Barlow first appeared as a mobile fashion trailer. The brick-and-mortar store debuted last fall, stocking accessories and clothing from Queen of Sparkles, THML and more. Guys can venture to Deyo, where top men's brands, comfy furniture and a big TV await. Charlet's Jackson-based interior design hub and salvage store, The Corbel, will open a location next to Barlow soon. barlowfashion.com and deyosupply.com
Birds of a Feather | 5943 Commerce St. Open since 2021, Birds of a Feather is stocked with French and English antiques, vintage items, artwork, kitchen and barware, candles, gifts and clothing. Find it on Facebook
COVER STORY // 32 [225] May 2023 | 225batonrouge.com
Above: Amanda Beard opened St. Francisville's first location of NK Boutique last fall. Right: Ferdinand and Commerce streets are lined with boutiques.
MERCEDES-BENZ SPRINTER VANS OFFER RELIABILITY, CUSTOMIZATION & HIGH-LEVEL SERVICE
When Dr. Katie Crifasi needed to purchase a vehicle for local meal delivery as well as catering and events for her new restaurant concept, The Plantry Café, the decision was simple. As a personal MercedesBenz owner, Crifasi chose a Mercedes-Benz Sprinter Van because she felt confident in the product and knew she would receive exceptional support from Mercedes-Benz of Baton Rouge.
a different level of service that puts your mind at ease with having someone you can trust."
The Plantry Café is just one of numerous examples you'll see of Mercedes-Benz vans being used daily in Baton Rouge by businesses in our area, says Scott McDaniel, commercial van manager for Mercedes-Benz of Baton Rouge. Mercedes-Benz currently offers two van models, Sprinter and Metris Vans, and both can be configured in different ways to suit your
A top benefit of the Mercedes-Benz brand is lower total cost of ownership. While they may pay more upfront, Sprinter Van owners will find that their yearly maintenance costs are lower due to less frequent servicing of the van's diesel engine. Oil changes are recommended once a year or every 20,000 miles, McDaniel says. Mercedes-Benz Sprinter Vans also maintain a higher residual value.
"You're not just buying a van," says Nick
SPONSORED CONTENT THE LOWDOWN
SPONSORED BY:
Small towns with big taste
Drive north of BR for plant-based cuisine, soul food and more at the newest hidden gems in Zachary, Scotlandville and Central
Zachary
Brunch Junkie | 19900 Old Scenic Highway, Suite A.
Don't wait until Sunday to indulge in the best meal of the week. At this colorful restaurant, locals can fill up on brunch staples, soul food and mimosa towers every day. Find it on Facebook
Golden Vegan | 5145 Main St. Grab lunch plates that will make you forget they're vegan, like barbecue jackfruit sandwiches, loaded fries and Southwest egg rolls. goldenveganbr.com
South Plains Food Company
1605 Mount Pleasant Road
Find a deck, a bar brimming with beer on tap, and a menu of barbecue, seafood and steaks at this rustic eatery. southplainsfoodco.com
Zen-Jus | 2250 Church St., #B.
Nourish your body at Zachary's very own holistic wellness shop and juicery. Stock up on wellness shots, cold-pressed juices and plant-based milks. zen-jus.square.site
Taylor Made Concessions | 4347 High St., Suite 102
Feed the soul with homestyle comfort food: stuffed potatoes, fried chicken, jambalaya and other Southern goodness. Find it on Facebook
Scotlandville
Lighthouse Bar & Pizzeria
8416 Scotland Ave.
Wind down for dinner and drinks at this pizzeria and bar near Southern University. Sip cocktails with a slice of pizza while listening to occasional live music. lighthousebnp.com
Southern Cofe | 8418 Scotland Ave.
Bring a laptop or book, and recharge at this local favorite cafe. The newly renovated shop serves coffee, tea and plantbased fare with fresh produce. Find it on Facebook
Sunshine's Place | 8330 Scenic Highway
Get a taste of the sea at this locally owned seafood restaurant. It serves crab legs, crawfish, shrimp, boiled meat and soul food. sunshinesplace.business.site
Central
The Hausse at Central Square | 14340 Wax Road, Suite 101
This cafe is like a home away from home for families, with an indoor play area, sandwiches, salads, breakfast and even coffee and cocktails for the grown-ups. thehaussecs.com
Geaux Yo 14350 Wax Road, Suite 107
Cool off with fro-yo, ice cream and larger-than-life desserts at this frozen yogurt truck turned yogurt shop. geauxyo.com
Cottage Tea Room
10443 Joor Road
Put on a big hat and your Sunday best for an authentic high-tea experience. Pair light bites like soup, salads, sandwiches and quiches with your choice of tea. thecottagecafe andtearoom.com
CORFAH
CYNTHEA
ARIANA ALLISON
COLLIN RICHIE
ARIANAALLISON
COVER STORY // 34 [225] May 2023 | 225batonrouge.com
Neshia Rowe opened Golden Vegan in Zachary last fall.

6435 Siegen Lane # 103 | 225-441-0265 | Like us on Kitchen & Bathroom Remodeling Flooring Backsplashes Countertops Whether it's your home or your business, we make sure it's done right! Call us today or come check out our showroom! scan to learn more 225batonrouge.com | [225] May 2023 35
'REINVITED TO
YOU
HOT OFF THE PRESS
GRAB YOUR FRIENDS AND JOIN US FOR A SPECIAL HAPPY HOUR EVENT CELEBRATING THE RELEASE OF THE 2023 WEDDINGS ISSUE WITH LIVE MUSIC BY CAPITAL CITY SOUL, GIVEAWAYS, AND MORE!
31 MAY 6-8pm
Tallulah Crafted Food & Wine Bar Renaissance Hotel
RSVP TODAY AT INREGISTER.COM/HOP OR SCAN THE QR CODE
SPECIAL THANKS TO OUR SPONSORS:
RSVP
Walking on water
THE AFTERNOON CALM before 5 p.m. tra c allows for a speedy arrival to Rivault Park in Port Allen. The parking lot's gravel crunches under my tires as Google Maps confirms my destination. I'm here for the Whitehead Boulevard Trail, a walking path connecting several parks and landings along the river in West Baton Rouge. Constructed in 2019, Whitehead is part of the parish's push to provide green spaces for residents and visitors. My mutt, Chula, sinks her paws into the dirt of Rivault Park's baseball field before charging across the diamond. Sandcovered fields like this, scattered across the parish, will all be upgraded with turf by this October, says WBR Parks and Recreation director Anatole Vincent.
Near a modern, almost zipline-esque swingset sits Tommy Landry, who's watching his grandchildren play.
"We make several trips to Rivault Park a week, with grandkids or passing through on a bike ride. The grandkids love playing here," Landry says.
I ask about Whitehead Boulevard Trail, and Landry tells me that although the trail is not marked, the views make it worth finding.
The trail begins where Whitehead Boulevard meets the Rivault Park entrance on Oaks Avenue. Chula and I walk beneath the park's arched entrance and stroll down a paved pathway, canopied by oak trees and lined with steel benches. We walk past cottages on a neighborhood sidewalk until we reach City Hall. Here's the Veterans Memorial Park (also known as Centennial Park) and the Fitness Park, with a fenced path leading up the levee behind it. We pass a family of four and warmly smile at one another. Later, we catch a group called Senior Spirit, which encourages outdoor activities for local senior citizens.
At the top of the path, a historical marker recites "The Old Ferry Landing site, active from 1820 to 1968." From here, I can see Baton Rouge. The State Capitol seems to tower over the waterfront.
We walk down the levee, passing sightseers and a couple holding hands. A white Ford truck with blue spraypainted rims passes, reminding me of my brother.
Audubon Park marks the end of the trail, and one look at my little sidekick tells me she will sleep well tonight.
More West Baton Rouge green spaces
• West Baton Rouge Heritage Trailway is a walking and biking path along the Mississippi River. A 5-mile portion called the DeSoto Levee Top Trail spans Brusly to Addis. More trails are planned for the future.
• The new Saint James Park opened in Brusly last October. The 33,000-square-foot park is complete with bikeshare racks, event space and the Legacy Walk, which details local history.
I think of how Vincent described this walk to me: "Move it or lose it," he says. "Get some exercise. Giving our people options to get out 100% helps with their quality of life. The science is there."
As Chula and I get back in the car for the drive across the river, I'm certain of one thing: We will soon be back to walk this trail.
KATIE DIXON
PHOTOS BY KATIE DIXON
In West Baton Rouge, trails and parks bring visitors closer to the water and trees that define our home
Rivault Memorial Park
Mississippi River
The author's dog, Chula, explores Rivault Park.
Walk the Whitehead Boulevard Trail
COVER STORY // 225batonrouge.com | [225] May 2023 37
The paved walking path connects several parks and landings along the river in West Baton Rouge, starting at the Rivault Park in Port Allen.
Wonders of Louisiana
GOOGLY-EYED IN FRANCE, a young LSU grad embarked on one of his first travel experiences. As Chris Chandler walked the streets of Paris, he had many questions for the locals. But the residents, it turned out, were just as curious about Louisiana culture. Despite living in The Boot his entire life, he didn't have all the answers.
The more he traveled, the more Chandler realized how little is taught in schools about regional history. In 2000, he founded The American Millennial Project (AMP) nonprofit as a way to teach his neighbors the history and culture of his native Shreveport. Today, AMP has grown to o er tours statewide.
"We want people in Louisiana to have roots," Chandler says. "We want them to travel and see the world, but we want them to be connected (to home)."
Residents, neighbors and visitors are welcomed to take a two- or three-hour tour via AMP to learn history through storytelling and sightseeing in seven regions of Louisiana,
including the Capital Region. Attendees travel by bus to seven landmarks in each area to showcase its "wonders."
The tours highlight significant heritage sites, kept a surprise until the trip is underway.
AMP's River Road tour explores Louisiana and African American history through visits to plantations like Houmas House and Laura Plantation.
"There's all these debates that we're having over racial history and how we're teaching history—all of that comes into AMP," Chandler says. "If you only go to one (plantation), you're going to get one version of history. If you go to both, you're going to get a good question to ask yourself: Who writes the history?"
AMP's Seven Wonders of St. Francisville showcases the
village's history through its people. Each site's significance is explained through residents' stories.Visitors make their way to the town's famous Cedar-Oak, and a member of the West Feliciana Historical Society enchants guests with the tree's biography.
Tour the state
American Millennial Project hosts groups of 12-25 people on its local history and storytelling tours. Visit amp2000.org to explore its regional and themed offerings. Tours are $50 a person and can be booked a week in advance by contacting owner Chris Chandler at 225-441-0845 or chris@amp2000.org.
Just an hour outside Baton Rouge, Pointe Coupee Parish is steadily growing. Its own Seven Wonders tour centers around its crescent lake, False River. One of the stops explores how archaeologists are finding artifacts in the Livonia Mound, leading them to question whether it was a burial or ceremonial ground. AMP works with historians, and educators.
"When we put together our tours, it's not Chris Chandler coming into a new city saying
while you learn
DEADLINE TO ENROLL FOR NEXT SCHOOL YEAR IS:
BUSINESSES
bit.ly/ebr-workforce-development JUNE 30
Earn
IF YOU'RE AN INTERESTED
SCAN THE LINK AND SIGN UP
38 [225] May 2023 | 225batonrouge.com COVER STORY //
In search of travel-style experiences closer to home, the American Millennial Project seeks the "seven wonders" in regions around the state
'Hey, I'm going to teach y'all about yourselves,'" Chandler says. "It's me coming into the community saying 'Who are your greatest historians alive today? Let's work together to build our tour.'"
By next year, AMP will expand to Texas. And it's growing beyond tours, too. The AMP Ideas Festival, a monthly meeting where locals zero in on community problems and solutions, has been hosted in Shreveport for years. It will launch in AMP's other six regions by next year. Meanwhile, its AMP educational clubs will be active in all Louisiana school districts by this fall.
Because, Chandler says, the stories he hears from local historians often go beyond what's in textbooks.
"We really need to open our minds a little bit," Chandler says, "(to the stories untold) in our Louisiana history books."
KATIE DIXON
No cash value. New customers only. Cannot be combined with other offers. Offer Code: AD50 Limited Time Offer. $50 OFF GOOD TOWARDS THE PURCHASE OF YOUR FIRST CLEAN Certain trademarks used under license from The Procter & Gamble Company or its affiliates. Locally owned & operated. 225-755-8383 | MAIDS.COM Text Quote to 800-843-6243 For a spring cleaning that meets your highest standards, you need a dedicated team of specialists. The Maids will handle all the hard work so you can enjoy your fresh, clean home. Relax, and let teamwork make the clean work. Call The Maids® to get your free, no-obligation estimate now. FOR A DEEP SPRING CLEAN OR ANYTHING IN BETWEEN. Book The Maids ® "We want people in Louisiana to have roots. We want them to travel and see the world, but we want them to be connected (to home)."
American Millennial Project
Chris Chandler, founder of The
225batonrouge.com | [225] May 2023 39 COVER STORY //
CampusFederal.org | 888.769.8841 | ConsumerLoanUnderwriting@CampusFederal.org Branch locations available in Baton Rouge, New Orleans and Shreveport Great Terms on HELOCs Here's your opportunity to start that great remodeling project, consolidate your debt or plan that special vacation. Home Equity Loans and Lines of Credit (HELOCs) can give you the flexibility to access your home's equity whenever you need it, for whatever your purpose. It's a convenient and cost-efficient way to make your home give you the borrowing power you need. Rates are subject to change at any time. All rates are subject to credit approval. Additional fees may apply, including a one-time membership fee of $10 for a new member. Federally Insured by NCUA. Equal Housing Lender.
SUMMER SUMMER
INSIDER'S GUIDE
W i th the help of our p a rtners, We've cre ated the 225 Summer Ins i der's Gu i de for the Gre ater B aton Rou ge a re a a nd beyond Take i n wh at's new a nd wh at's tr i ed a nd true i n hot spots at home a nd a cross the re gi on . Sc a n the QR Codes to le a rn more onl i ne
225batonrouge.com | [225] May 2023 41
SPECIAL ADVERTISING SECTION
SPONSORED BY
CLOSER TO HOME HOME
LOUISIANA' S OLD STATE CAPITOL
If w a lls could spe ak , these would h a ve a lot to s ay. Le a rn more a bout Lou i s ia n a's h i stor i c a l l a ndm a r k a nd en j o y a s ig ht of the a ston i sh i n g st ai ned g l a ss rotund a. Chec k out the new exh i b i t on Proh i b i t i on i n Lou i s ia n a com i n g th i s summer !
RENAISSANCE HOTEL
If y ou en j o y Southern hosp i t a l i t y w i th upsc a le decor, th i s hotel i s the perfect wee kend g et a w ay. Loc a ted on Bluebonnet Boulev a rd ne a r prem i er shopp i n g , LSU, a nd f i ne d i n i n g , th i s i s i de a l for a n y one w a nt i n g to explore the Red St i c k or st ay nestled a w ay i n the i r luxur i ous room
STATE CAPITOL RACEWAY
Are y ou see ki n g a rush of a dren a l i ne th i s summer ? St a te C a p i tol R a cew ay i s the prem i er dest i n a t i on for dr ag r a c i n g enthus ia sts M a r k y our c a lend a rs for the b igg est a nd best events com i n g th i s summer !
PEARSON ' S TRAVEL WORLD
Loo ki n g to g et out of y our house th i s summer ? S i t b a c k , rel a x, a nd let Pe a rson's Tr a vel World do the pl a nn i n g. Turn y our dre a m i nto a re a l i t y, & v i ew the northern l ig hts r ig ht from y our hot tub
42 [225] May 2023 | 225batonrouge.com
SPECIAL ADVERTISING SECTION
PEDEGO BATON ROUGE
Whether y ou're commut i n g to wor k , runn i n g err a nds, or t aki n g a j o y r i de, there i s no better w ay to g et a round i n comfort a nd st y le A Pede g o electr i c b ike rent a l i s the ver y best w ay to exper i ence B a ton Rou g e a nd be y ond !
WATERMARK HOTEL
The Wa term a r k Hotel on Th i rd Street i s referred to a s the i con i c luxur y hotel i n B a ton Rou g e Th i s summer, en j o y wee kend brunch a t The Gre g or y a nd the new h a pp y hour spec ia l ever y Mond ay -Fr i d ay!
THEATRE BATON ROUGE
Jo i n The a tre B a ton Rou g e i n celebr a t i n g the i r 78th se a son of commun i t y a nd the l i v i n g reflect i on of i m agi n a t i on a nd exper i ence Don't m i ss "Le ga ll y Blonde The Mus i c a l" pl ayi n g th i s summer from June 16th-25th
AGILE BREWING
"S i p" b a c k a nd exp a nd y our p a l a te w i th the best select i on of 20 rot a t i n g A gi le beers on t a p Gr a b y our fr i ends a nd j o i n us th i s summer for tr i v ia n ig ht Thursd ay s !
WEST BATON ROUGE CONVENTION AND VISITORS BUREAU
Loc a ted j ust m i nutes from Lou i s ia n a's c a p i t a l c i t y, j ust off I-10, West B a ton Rou g e i s "On the R i ver, On the Way " to the best exper i ence th a t South Lou i s ia n a h a s to offer From h i stor y to outdoors to d i n i n g on cl a ss i c Lou i s ia n a cu i s i ne, pl a n a full d ay explor i n g West B a ton Rou g e !
LSU RURAL LIFE
LSU Rur a l L i fe Museum a llows v i s i tors to step i nto Lou i s ia n a's p a st Th i s summer, tour 32 h i stor i c outbu i ld i n g s spre a d over 430-plus a cres of be a ut i ful l a nd
225batonrouge.com | [225] May 2023 43
PHOTO COURTESY LSU UNIVERSITY RELATIONS
PHOTO BY JORDAN HEFLER
PHOTO BY ANDREW OPTICS LLC
SPECIAL ADVERTISING SECTION
ADVENTURING OUT OUT
HOUMAS HOUSE
Exper i ence l i fe on a su ga rc a ne pl a nt a t i on i n the 1800s A short dr i ve from B a ton Rou g e, Houm a s House t akes y ou to a p a r a d i se of br ig ht ga rdens a nd exqu i s i te a rch i tecture
NEW ORLEANS & COMPANY
Food, fest i v a ls, a nd plent y of outdoor fun a re a ll com i n g th i s summer i n New Orle a ns From un i que fest i v a ls a nd events to se a son a l a ct i v i t i es a nd del i c a c i es, the Crescent C i t y i s the perfect pl a ce to ki c k-off or close out y our summer
CAJUN COAST TOURISM
Embr a ce the Lou i s ia n a he a t a nd g et outs i de ! Tr y kayaki n g on B ay ou Teche or the new "Shr i mpl y Del i c i ous Food Tr ai l" com i n g th i s summer C aj un Co a st Tour i sm offers numerous a ct i v i t i es for y ou a nd y our fa m i l y to en j o y a ll summer lon g.
LA CARRETA
Loo ki n g to h a n g out a fter a d ay spent be i n g a tour i st i n y our own c i t y? Exud i n g a trop i c a l, exot i c a tmosphere, L a C a rret a i s the perfect pl a ce to w i nd down w i th fr i ends, s a mple i ntern a t i on a ll yi nsp i red Mex i c a n cu i s i ne, a nd s i p on m a r ga r i t a s
44 [225] May 2023 | 225batonrouge.com
SPECIAL ADVERTISING SECTION
PHOTO BY BRYCE ELLE PHOTO BY TIM MUELLER
VISIT SHREVEPORT-BOSSIER
W i th ever y th i n g from ep i c ga m i n g a t r i verfront c a s i nos to unfor g ett a ble d i n i n g , ShreveportBoss i er i s the perfect pl a ce to spend a summer d ay. It's y our h a ndboo k to explor i n g a ll there i s to do, see, e a t, a nd exper i ence Shreveport-Boss i er
MARDI GRAS SCHOOL OF COOKING
Come
NOLA ZYDECO FEST
The New Orle a ns Zy deco Fest i v a l comb i nes the fl a vors of southe a st a nd southwest Lou i s ia n a for a celebr a t i on of culture Roll y our sleeves up for a ll y ou c a n e a t cr a wf i sh com i n g th i s summer !
HOTEL MONTELEONE
Exper i ence t i meless luxur y i n the he a rt of the French Qu a rter The 2- y e a r, $ 42 m i ll i on Iberv i lle Tower i s com i n g th i s summer ! Let th i s h i stor i c be a ut y be y our home a w ay from home
225batonrouge.com | [225] May 2023 45
coo k i n h i stor i c New Orle a ns a nd le a rn a uthent i c Creole a nd C aj un st y les ! M a ster the perfect roux, a nd le a rn our vers i on of the hol y tr i n i t y!
SPECIAL ADVERTISING SECTION
Add life to your minutes.
For every second a stroke goes untreated, the long-term effects can get progressively more debilitating. That's why time is of the essence. Once you notice the signs of a stroke, call 911 immediately.
Fortunately, there are new treatment options that can stop a stroke in its tracks, and there are therapies that can help reverse many of the effects of a stroke. Noticing the signs of a stroke early can help with recovery and ultimately your quality of life.
Our Lady of the Lake Health is the leader in Louisiana for stroke care, offering 24/7 care for clot retrieval during a stroke. Our dedicated team is ready to respond at a moment's notice. We have earned the American Heart Association/American Stroke Association's Get with the Guidelines® - Stroke Gold Plus Quality Achievement Award with Target: StrokeSM Honor Roll Elite Plus.
Take our free online assessment to learn if you might have an elevated risk of stroke, as well as how we can help you: ololrmc.com/stroke.
BY OLIVIA DEFFES PHOTOS BY ARIANA ALLISON
Inside a Mid City home-turned-boutique full of treasures Shop this house Shop this house
INSIDE: Meet the young jewelry maker behind Clay Corner
225batonrouge.com | [225] May 2023 47
CLAIRE MARRON PUT in plenty of work to renovate a small blue house on South Acadian Thruway. But she's not planning on living there. Instead of making it her permanent residence, she has turned the space into a dreamy home decor boutique, where shoppers can purchase anything they find inside.
Dubbed Shop House, the Mid City space opened in April, stocking a curated selection of high-end furniture on consignment, plus brand-new decor like blankets, pillows and rugs.
Walking inside feels like stepping foot into your cool aunt's living room. Each corner bursts with eclectic taste, fragrant candles and the soft sounds of Taylor Swift on the store playlist.
Converting a house as her storefront was not always Marron's plan. Living close by, she'd passed down South Acadian Thruway countless times, when one day a little cottage caught her attention. Soon, the 1,300-squarefoot space was hers. She went to work gutting and reimagining it to create her ideal retail setting—one that allows the customer to see what every item looks like inside a comfortable home.
Marron has hand-picked and intentionally arranged each room and corner, and hopes the selection is versatile enough to appeal to college kids looking to furnish their first apartments or adults searching to find something new without a hefty price tag.
"We have little areas to create vignettes for all the new stu that we get in," she says. "I'm hoping that when people come, that they won't see the same thing every time."
Shop House has an online form for those wanting to consign their gently used items. If approved by Marron, consignors will receive a detailed contract. If a piece sells, the consignor will receive 70% of the final sales price.
Marron says it became her dream to open the store after years of bargain hunting with friends.
"I love consignment shops," she says. "I lived in New Orleans and Jackson, and they have a ton of them. That's just where we would shop. That's where we would go to look for things because we knew we could find quality pieces that were really nice—and we didn't have to break the bank to buy them."
24 hrs from receipt of this proof. A shorter timeframe will apply for tight deadlines. • Additional revisions must be requested and may be subject to production fees. Carefully check this ad for: CORRECT ADDRESS • CORRECT PHONE NUMBER • ANY TYPOS This ad design © Melara Enterprises, LLC. 2023. All rights reserved. Phone 225-928-1700 3145 GOVERNMENT ST 225.636.5157 ELSIESPIES.COM MON: 11AM–9PM | TUES-THURS: 11AM–10PM FRI: 11AM–11PM | SAT: 10AM–11PM SUNDAY 10AM–9PM Best overall Restaurant 2019-2022 BEST OF AWARDS 2022 WINNER
48 [225] May 2023 | 225batonrouge.com STYLE //
COME TOUR OUR HOME FIELD 16 TAPS 9 TVs WATCH A GAME AFTER YOUR TOUR Scan QR code to get tickets Tours: Wed-Fri 5Pm, Sat 1pm includes 4 taster pours Shop House is at 729 S. Acadian Thruway.
A few recent finds in the everything-is-shoppable, everchanging Shop House spaces: UPHOLSTERED CHAIRS BRAND-NEW RUGS CURVY SOFAS ORNATE CABINETS FRAMED AND UNFRAMED ART CHARACTER-FILLED TABLES BOOKS AND DECOR 225batonrouge.com | [225] May 2023 49 STYLE //
Get the look
All work and all clay
Animals, cartoons and plants are inspirations for a young entrepreneur's jewelry line
By Olivia Deffes //
by Ariana Allison
AT 13, AMANDA Irizarry is already a proud business owner. But she is so much more than an entrepreneur.
She is president of her 4-H club, a track athlete, and an Ascension Public Schools' 2022-2023 Student of the Year.
She weaves lessons from these roles into her handmade clay jewelry line, Clay Corner.
At the start of the pandemic, she picked up a quarantine hobby. She stocked up on Sculpey clay to start molding her own jewelry. By the summer of 2021, at just 11 years old, she launched Clay Corner. With guidance from her parents, Yomary Sotomayor and Peter Irizarry, she was fielding custom orders and preparing for pop-up markets.
Though school work and extracurriculars are her first priority, her free time is devoted to business tasks: fulfilling orders, creating cards or assembling shipping boxes.
"Whenever I'm bored, I just do something about my business," she says.
Irizarry rolls clay flat, then uses stamps or her hands to create designs. She bakes the clay, then adds hardware to make them wearable.
Though she loves trendy styles, statement earrings are her favorite to make. Today, she flashes large black flower earrings that match her outfit. Her mother sports a pair of leprechaun studs, which were part of Clay Corner's March holiday collection.
"I like big earrings, and I also like my fun earrings like my chicken earrings," she laughs. "I really like those complicated designs, because I look at it and I'm like, 'Wow, I made that.'"
Though she has the business acumen of a professional, the young creator brings childlike wonder to her work. Cartoon characters in the likeness of SpongeBob or the Cookie Monster find their way into her collections. And because she launched her brand in the corner of her bedroom, even the name "Clay Corner" is an ode to her childhood. Now, the business has grown so much, it's taken over the guest room.
Irizarry estimates Clay Corner has made over 800 sales. When Local Supply opened in Mid City last year, the teen got the opportunity to reach even more customers by having her creations on display there year-round.
"My goal was to be in a store, and voilà," she says. "When I look at my earrings in a store, it makes me feel like, 'Ooh! I'm famous.'"
By taking custom orders and participating in art markets, Irizarry has connected with more customers than she could have imagined.
"My favorite thing is whenever (customers) put them on immediately," she smiles. "Like when they get the earrings, take them out of the bag and they put it on in front of me. It just makes me feel so special." instagram.com/_claycorner
Photos
Amanda Irizarry started her jewelry business at age 11.
"When I look at my earrings in a store, it makes me feel like, 'Ooh! I'm famous.'"
STYLE // 50 [225] May 2023 | 225batonrouge.com
—Clay Corner founder Amanda Irizarry
MORE INFO/ BUY TICKETS SCAN HERE Net proceeds will benefit YOUTH CITY LAB! 100 PLATINUM GOLD SPONSORS IN-KIND SERVICES SILVER ENDORSED BY TASTE OF MID CITY i s Baton Rouge's newest food event featuring the best restaurants, and chefs in the Mid City area. Come bring the community together for a fun and family-oriented event in our own backyard all while supporting a noble cause. Live music - Provided by BR Music Studios Food tastings | Face painting | Games PRESENTED BY 1 5 PM 250 S. Foster Dr., Baton Rouge, LA THE EXECUTIVE CENTER Sunday May 21, 2023 225batonrouge.com | [225] May 2023 51
MAIN LIBRARY: 7711 Goodwood Blvd., Baton Rouge 225-231-3760 • www.ebrpl.com • C'MON, EVERYBODY! Join in the fun with East Baton Rouge Parish Library's 2023 SUMMER READING PROGRAM Sign up at your local Library branch or online at ebrpl.beanstack.org. Read books and log them into your Beanstack account to earn virtual badges & completion rewards, as well as entries for weekly prize drawings! There are reading challenges and incentives for kids, teens, and even adults. WE'VE GOT THIS! SCAN TO SIGN UP FOR FREE June 1 - August 15th 52 [225] May 2023 | 225batonrouge.com
INSIDE: Family favorite recipes for graduation
Meat cute
City Pork brings the brand's creative craftsmanship to the brunch table
COLLIN RICHIE
225batonrouge.com | [225] May 2023 53
The Wild Boar Chile Relleno at City Pork Highland @ Perkins
1 IN 5 AMERICANS WILL DEVELOP SOME FORM OF SKIN CANCER DURING THEIR LIFETIME
WHO IS AT THE GREATEST RISK FOR MELANOMA AND OTHER TYPES OF SKIN CANCER?
People who tan or who have had a lot of sun exposure in their lives are at an increased risk. Melanoma can strike all races and ages and can also be in places that are not exposed to the sun.
The greatest risk of melanoma is in people who have:
light hair and light eyes
Fair skin
greater than 50 moles
large moles
atypical (unusual) moles
a blood relative who has had melanoma previous diagnosis of either melanoma or non-melanoma skin cancer history of other cancers, such as breast or thyroid cancer
Examine yourself regularly to see if something new appears or if something changes. Remember to look at places you might not think to check, such as the soles of your feet. Make an appointment to see a dermatologist if you find something growing, changing or bleeding. If you have risk factors for skin cancer, you should be having regular skin checks with your dermatologist.
HOW CAN I PREVENT MELANOMA AND OTHER TYPES OF SKIN CANCER?
Apply broad spectrum sunscreen with a minimum SPF of 30— every 2 hours
Wear UV protective long sleeves/pants, wide-brimmed hats, and sunglasses
Avoid prolonged sun exposure between 10 a.m. and 4 p.m.
Seek shade, cover up & wear sunscreen
To schedule an appointment with one of our dermatologists please call (225) 246-9240.
RESTAURANT REVIEW
Brunch at City Pork
BY BENJAMIN LEGER // PHOTOS BY COLLIN RICHIE
About 225's food critic: Benjamin Leger previously served as managing editor for 225 and was the editor of its Taste section from 2012 to 2021, editing, writing and steering the direction of its food coverage in print and online. He is passionate about all things food and food journalism, and has written about the greater Baton Rouge area's cuisine and culture for nearly two decades.
citypork.com
Highland at Perkins location
18143 Perkins Road E.
Monday-Thursday, 11 a.m.-9 p.m.
Friday, 11 a.m.-10 p.m.
Saturday, 10:30 a.m.-10 p.m.
Sunday, 10:30 a.m.-8 p.m.
Brunch, Saturday and Sunday
10:30 a.m.-3 p.m.
THE CITY PORK name has long been tied to expertly prepared meats. From its humble beginnings in 2013 as a deli and lunch spot under the Perkins Road overpass slinging pig-centric sandwiches, to its full-service restaurant on Je erson Highway a few years later, and to o shoots from its parent group like City Slice and a catering arm, we all know to trust City Pork with a hearty sandwich, some ribs or barbecue, even a meaty pizza.
But how about brunch?
I joined a few friends at the City Pork location o Highland and Perkins one Saturday morning, ready to see how the brand's meat-forward minds translate brunch classics.
We arrived just as the restaurant opened its doors and were quickly ushered past its stylish bar area and to a table near sunny windows as the place began filling up with groups of families and friends.
We browsed the sizable brunch menu and decided to forego cocktails (one too many drinks may have been consumed the night before). But I know from past experience that City Pork makes a mean and spicy bloody mary, a bacon-topped old fashioned and a variety of other crafty drinks.
My table, on the other hand, really needed something to snack on. Enter the Salmon Saltine, which also appears on the regular menu but seemed designed for a brunch spread.
A rustic cutting board held all the components: flaky house-smoked salmon, a relish of capers and sundried tomatoes, thinly sliced red onions and avocado, a
7373 PERKINS ROAD l BATON ROUGE l (225) 769-4044 BATONROUGECLINIC.COM
TASTE // 54 [225] May 2023 | 225batonrouge.com
THE BASICS: City Pork took over the former Adrian's Restaurant and Bar near Alexander's Highland Market in summer 2021. Its parent restaurant group, City Group Hospitality, kept its spacious interior mostly the same while providing south Baton Rouge with many of the menu favorites found at its sister location on Jefferson Highway.
WHAT'S A MUST: Grab a brunch cocktail to start and snack on the Salmon Saltine, with house-smoked faky salmon and crispy, lavash-like crackers. Try the Wild Boar Chile Relleno entree, stuffed with boudin rice and shredded wild boar meat. The Cochon de Lait Benedict offers up a pulled pork-centric take on the classic brunch dish using a thick slice of Texas toast as the base.
HIGHLIGHTS OF THE DEREK GORDON AND RODOLFO RAMIREZ COLLECTION:
A RETROSPECTIVE
APRIL 27 THROUGH MAY 31
SHELL GALLERY CARY SAURAGE COMMUNITY ARTS CENTER
TASTE // 225batonrouge.com | [225] May 2023 55
bowl of dill aioli and large shards of crisp lavash-like crackers.
It was basically City Pork's version of lox and bagels, and it pleasantly surprised our whole group. Even the one of us who usually avoids seafood couldn't get enough of the salty, smoke-kissed chunks of salmon, and the crackers held up firmly to all the fixings. My only quibble—and it's a minor one— was the dill aioli's sweetness and gloopy texture, but I was otherwise in heaven with this appetizer.
Next up, entrees. We ordered the Wild Boar Chile Relleno, the Cochon de Lait Benedict and—for something a little lighter—the Shrimp Sensation Salad.
The Chile Relleno was enormous. A battered and fried poblano was practically overflowing with boudin rice and shredded wild boar meat, while on top was a flawless sunny-side-up egg and cheese sauce. Long and crispy tortilla strips added some extra crunch, though the sprinkling of pico de gallo (barely a spoonful) seemed almost an afterthought.
We all remarked at the robust, sweet flavor of the meat filling. It was also very tender and not gamey at all. Even after everyone dug in, there was still plenty to take home.
The Cochon de Lait Benedict, though, was probably the best example of how City Pork does brunch: flavorful pulled pork, applewood smoked cheddar and a poached egg atop one extra-thick slice of Texas toast. Everything was drenched in a zesty hollandaise sauce that made this an easy dish to devour. The large side of sliced peppers, onions and green beans contributed color and crunch, but needed more seasoning and less oil.
We tried to counterbalance these heavy dishes with the Shrimp Sensation Salad. But the plate that came out was possibly the biggest on our table. Atop a mound of roughly chopped iceberg lettuce
sat five giant tail-on grilled shrimp, slices of almond and two big wedges of lemon. Romano cheese and chopped parsley finished it o The shrimp were expertly grilled and tasty, but this salad was
the meal's one big misstep. Sensation salad is a Baton Rouge classic, much loved for its acidic and garlicky notes. This version was, confusingly, missing that punch and flavor.
We determined it was either underdressed or the components were meant to be mixed in on your own. But the dish was overflowing with lettuce, making it di cult to mix without making a mess on the table. I gobbled up the shrimp and only picked at the rest of the salad.
Three out of four isn't too shabby, though. And City Pork has long earned the trust of Baton Rouge diners for delicious dishes that have become local classics in their own right.
My table left full and with that special satisfaction that follows a good, long brunch.
Among the many things City Pork does right, brunch is clearly right up there.
Get Your Daily Dose of 225 SPONSORED BY Good news. Good vibes. Everyday! article pageviews per month 185k 225 Daily subscribers 24k+ 225 social media followers 106k+ 225 app downloads 5k+ Subscribe today at 225batonrouge.com SCAN TO GET STARTED
TASTE // 56 [225] May 2023 | 225batonrouge.com
The Shrimp Sensation Salad is a twist on the Baton Rouge-born dish.
THE BONE & JOINT CLINIC OF BATON ROUGE IS CELEBRATING 75 YEARS OF EXCELLENCE
This year, the Bone & Joint Clinic of Baton Rouge is celebrating an enormous milestone: 75 years of delivering top-of-theline orthopedic care.
The Bone & Joint Clinic was first established in 1948 with one small clinic on Bankers Avenue and only three doctors. Since then, the clinic's growth has been tremendous. It now boasts a three-story, 90,000-square-foot primary clinic in Baton Rouge, with a total of five locations throughout Louisiana (Baton Rouge, Brusly, Hammond, Prairieville and Walker), as well as two orthopedic physical therapy locations. Over 200 specialized employees now work at the clinic, including 17 physician specialists, nine licensed physician assistants, six licensed nurse practitioners, eight physical and occupational therapy specialists, certified orthopedic technicians and registered radiological technologists.
So, to what does the Bone & Joint Clinic owe its success over the past three quarters of a century? According to Joseph E. Broyles, M.D., it all stems from the quality of the clinic's employees and the support of its patients.
"Our success is a result of physicians who deliver excellent orthopedic care, the unwavering
dedication of our employees, and the support of our patients and community," Broyles said. "The surgeons at the Bone & Joint Clinic do a very good job of staying abreast of new surgical techniques in order to provide the highest possible quality of orthopedic care."
At the Bone & Joint Clinic's main Baton Rouge location, a wide variety of services are offered, all under one roof: onsite X-rays, MRIs, bone density studies, cast application and removal, and physical therapy treatments. The clinic even operates its own surgery center (Orthopedic Surgery Center) where many orthopedic outpatient procedures can be performed. Patients love the ease and efficiency of being able to have a procedure and return home the same day.
No matter where your pain point might be located, you can rest assured that the clinic's talented staff is prepared to help. The clinic's specialties include arthritis, podiatry, joint replacements, pediatric orthopedics, sports medicine, orthopedic trauma and general orthopedic conditions affecting all areas of the body.
Yet another advantage of choosing the Bone & Joint Clinic, according to Dr. Broyles, is the size of its team compared to similar businesses in the area.
"The fact that we're a slightly smaller group allows patients to navigate through the system with much less effort and far fewer hurdles," he said.
As the Bone & Joint Clinic celebrates 75 years of serving the Baton Rouge area, patients are sharing their success stories on the clinic's blog. One such patient, Albert Leo, suffered from debilitating hip health that left him with severe immobility. It has been over a decade since he first came to the Bone & Joint Clinic and saw Dr. Broyles, the beginning of a life-changing doctor-patient relationship that eventually led to dual hip replacements. After his surgeries, Leo said he felt like a new person.
"I told Dr. Broyles he saved my life," Leo said. "I couldn't get out of bed. I couldn't walk or go anywhere. Frankly, he changed my life. He's just terrific."
When it comes to orthopedic care, the experts at the Bone & Joint Clinic have one unifying goal: helping you move more, and hurt less. If you're interested in any of the clinic's wide-ranging services, don't hesitate to reach out and request an appointment.
The staff can be reached at 225.766.0050. More information is also available online at boneandjointclinicbr.com.
SPONSORED BY: SPONSORED CONTENT THE LOWDOWN 225batonrouge.com | [225] May 2023 57
Top row, from left: M. Tyson Garon, M.D.; Charles A. Cefalu, M.D.; O. Christian Hall, D.P.M.; Patrick B. Hall, D.P.M.; Arthur E. Hess, M.D.; Alan C. Schroeder, M.D.; and Matthew A. Neumann, M.D. ; Bottom row, from left: Mathew J. Mazoch, M.D.; Julie Neumann, M.D.; and Joseph E. Broyles; M.D.; Not pictured: Christopher L. Belleau, M.D.; Zachary Rohr, D.P.M.; C. Chambliss Harrod, M.D.; Kevin P. McCarthy, M.D.; Gerard L. Murtagh, M.D.; Michael A. Frierson, M.D.; and David M. Pope, M.D.
DINING IN
Marking milestones
BY TRACEY KOCH // PHOTOS BY AMY SHUTT
IT IS HARD for me to believe, but both of my kids are graduating this month. My son from college and my daughter from high school— and the graduations are just a day apart.
Thankfully, both events are here in Baton Rouge so it will not be too hectic, and it will be easier for family to come to town and celebrate with us.
This brings me to the theme of this month's menu: a graduation dinner for the extended family.
There are a few key elements to pulling o a large meal to mark a
major life milestone—especially when much of my time that weekend will not be spent in the kitchen cooking.
First, I must plan a menu that can be made ahead of time and will serve a crowd. Second, I want to make a meal that both of the Koch kids love, and one that comes with special memories and meaning.
I asked them to give me their thoughts on what they would like for their special graduation dinner. Together, they created this easy do-ahead menu filled with some of our family's favorite recipes.
this pasta dish with a fresh and simple salad. Find the recipe at 225batonrouge.com/recipes. TASTE // 58 [225] May 2023 | 225batonrouge.com
Spring Greens with French Vinaigrette
Pair
On the menu
• Papa's Angel
Hair Pasta
• Ms. Therese's Meatballs
• Gigi's Chocolate
Buttermilk Sheet
Cake
Recipes by Tracey
Koch, Phil Riegel, Therese Rosso and Maryanne Petkovsek
Papa's Angel Hair Pasta
My father, known as "Papa" to his seven grandchildren, has always been a foodie. When I was growing up, he was the master turkey roaster for the holidays and made the best pancakes and waffles. Once my sisters and I were grown, my dad had more time to expand his recipe repertoire and hone his skills. One of our favorite dishes he makes is angel hair pasta with olive oil, garlic and crushed red pepper. It is such a simple, delicious dish if you take the time to do it right. Papa's trick to cooking al dente angel hair pasta is cooking it in a large pot full of salted water. Too little salt, too little water or a pot that's too small will result in a sticky, bland pasta—a grievous offense to any pasta connoisseur.
Serves 6
1 pound angel hair pasta or thin spaghetti
2 ¼ teaspoon kosher salt
5 tablespoons olive oil
½ teaspoon crushed red pepper flakes
2 cloves minced garlic
Freshly grated Parmesan cheese for topping
Ms. Therese's Meatballs in Red Sauce
After my daughter, Maggie, was born, I realized I needed a little extra help. Between work, a new baby and keeping up with my active preschooler, Jon David, I was running on fumes. I was fortunate enough to find the best nanny I could ever hope for in Therese Rosso, known at my house as Ms. Therese. She taught Maggie everything from table manners to tying her shoes to blowing bubbles with bubble gum. Now, 18 years later, she is still very much a part of our family. Aside from being an amazing caregiver, Ms. Therese is also a wonderful cook. One of our favorite dishes is Ms. Therese's meatballs in red sauce. These meatballs are moist, tender and full of flavor—and they can easily be doubled or tripled to feed a crowd. One of her tricks to keeping the meatballs moist is adding a slice of white bread and breadcrumbs to the meat mixture. Ms. Therese uses tomato puree for her light red sauce. I cheat a bit and use the Ragu Traditional Sauce, which makes for an easy substitute and complements the meatballs quite well. Ms. Therese's meatball recipe will forever be cherished by my family, but not as much as we will forever cherish Ms. Therese.
Yields 8 meatballs with sauce
FOR THE RED SAUCE:
3 tablespoons olive oil
¼ teaspoon crushed red pepper flakes
2 tablespoons minced garlic
1 (32-ounce) jar Ragu Traditional Sauce
2 teaspoons sugar
½ teaspoon kosher salt
¼ teaspoon dried oregano
¼ teaspoon dried basil
1. In a large sauce pot, heat the olive oil over medium heat for 10 seconds. Add in the red pepper fakes and stir for another 15 to 20 seconds.
2. Stir in the minced garlic and continue sautéing for 20 to 25 seconds or until the garlic becomes fragrant, stirring constantly to make sure the garlic does not burn.
3. Add in the Ragu, sugar, salt and dried herbs. Bring the sauce up to a simmer and add in the baked meatballs (recipe follows).
1. Bring a large 6- to 8-quart pot of water to a rolling boil. Add 2 teaspoons of salt and 1 tablespoon of olive oil.
2. Gently place the angel hair pasta in the pot, stirring as it cooks to ensure the pasta is not sticking together.
3. Boil the angel hair pasta for 3 to 5 minutes, or until the pasta is al dente—just tender but still has a little chew to it.
4. Pour the pasta into a large strainer and drain it well. Drizzle it with another couple of tablespoons of olive oil and set it aside.
5. Place the pot back on the stove and turn the heat up to medium. Add in the remaining olive oil and salt. Sprinkle in the red pepper fakes.
6. Heat the pepper fakes in the olive oil for 10 to 15 seconds, and then add in the minced garlic. Sauté for another 10 to 15 seconds or until fragrant.
7. Pour the drained pasta back into the pot and toss to coat with the olive oil mixture. Turn off the heat and toss one more time before transferring the angel hair pasta into a large serving bowl. Serve the pasta with plenty of freshly grated Parmesan cheese.
FOR THE MEATBALLS:
1 pound ground beef
¼ cup minced onions
2 cloves minced garlic
½ teaspoon salt
¼ teaspoon crushed red pepper flakes
1 egg
¼ cup grated Parmesan cheese
¼ cup breadcrumbs
1 slice white bread, torn into pieces
¼ cup water
1. Heat the oven to 350 degrees. Line a baking sheet with foil.
2. Place the ground meat into a large mixing bowl. Add in the minced onion, garlic, salt and red pepper fakes.
3. Crack in the egg and sprinkle in the cheese, breadcrumbs and pieces of white bread.
4. Use your hands to gently combine all the ingredients into the meat. Add in the water, 1 tablespoon at a time, until the meat mixture comes together and is moist but not wet.
5. Use a 3- to 4-ounce scoop to portion out the meatballs. Gently press them together so the meatballs hold their shape.
6. Place them on the lined baking sheet. Bake for 10 to 12 minutes or until browned.
7. Remove the meatballs from the oven and place them into the red sauce. Cover and reduce the heat to low. Continue cooking the meatballs in the sauce for 45 minutes to an hour, stirring occasionally to prevent from sticking to the pot. Serve the meatballs and sauce over your favorite spaghetti or pasta.
TASTE // 225batonrouge.com | [225] May 2023 59
Gigi's Texas Chocolate Buttermilk Sheet Cake
FOR THE CAKE:
1 cup water
1 stick butter
6 tablespoons unsweetened cocoa powder (sifted)
2 cups flour
1 teaspoon baking soda
½ teaspoon kosher salt
2 cups sugar
2 eggs
½ cup buttermilk
2 teaspoons vanilla
1. Heat the oven to 350 degrees. Spray a 9-by-13 Pyrex casserole dish with nonstick cooking spray.
FOR THE FROSTING:
1 ½ sticks of butter
4 tablespoons unsweetened cocoa powder (sifted)
1 pound box confectioners sugar (sifted)
¼ cup milk
2 tablespoons vanilla
1. In a medium sauce pot, heat the butter until frothy. Add in the sifted cocoa and stir until the mixture is smooth.
When my husband and I were getting married, some of our friends gave me a food-themed shower. Instead of gifts, all of the guests wrote out their favorite recipe on a recipe card. I still enjoy looking through and cooking all of the handwritten recipes. My mother-in-law's contribution was Texas Chocolate Buttermilk Sheet Cake. It was always my husband's favorite. She made it for him every year for his birthday. This easy, homemade chocolate cake is moist and rich, topped with a thick layer of crispy chocolate icing. My kids loved when I would make this cake for them when they were little—even though they much preferred making it with their grandmother, Gigi, during our trips to Texas. This cake can be made a day ahead of time and will last for up to five days once refrigerated.
Yields 1 (9-by-13) sheet cake
2. In a small sauce pot, combine the water, butter and cocoa powder. Heat until the butter has melted, the cocoa is dissolved and the mixture is smooth. Remove from the heat and set it aside.
3. In a large mixing bowl, add the four, baking soda, salt and sugar. Whisk to combine.
4. Pour the warm chocolate mixture into the dry ingredients. Whisk until combined.
5. Add in the eggs, buttermilk and vanilla. Continue stirring until the batter is smooth.
6. Pour the batter into the prepared pan. Bake for 25 to 35 minutes or until a tester inserted into the middle of the cake comes out clean.
2. Turn off the heat and pour in the sifted confectioners sugar, milk and vanilla. Stir until the mixture is smooth and creamy.
3. As soon as the cake comes out of the oven, pour the warm chocolate frosting over the cake. Quickly spread the frosting evenly over the cake before the frosting sets. Allow the frosting to set completely before serving.
TASTE // 60 [225] May 2023 | 225batonrouge.com
RODEO
JUNE 27 6 – 8 PM
CHELSEA'S LIVE LIVE MUSIC BY PARISH COUNTY LINE
Join us for the reveal of the 2023 Best of 225 winners! Be the first to know who won all of your favorite categories. Celebrate with drinks, food trucks, live music, a 360 photo booth and more. We encourage you to wear your best rodeo gear as we dance the night away with Parish County Line.
Tickets are limited, get yours today! Visit 2023bestof225.eventbrite.com or scan here
EVENT PARTNERS: CHELSEA'S LIVE & EUROPEAN WAX
EVENT SPONSORS:
2023
AWARDS
BOTOX | BODY CONTOURING | FILLERS | LIPOSUCTION HORMONE REPLACEMENT THERAPY & MUCH MORE BATON ROUGE 8485 Bluebonnet Blvd. (225) 753-1234 LAFAYETTE 5000 Ambassador Caffery Building 1, Suite 102 | (337) 484-1234 Todd Howell MD, Brittany Lipoma MPAS, PA-C, Crystal Fontenot ANP-BC & Samantha Mulina APRN, FNP-C TheAntiAgingClinics.com THIS IS SUMMER VASER LIPOSUCTION PERFORMED BY AWARD WINNING COSMETIC SURGEON TODD HOWELL, MD FREE CONSULTATIONS VASER 360 "ABS & FLANKS" $5,555 VASER SUBMENTAL "DOUBLE CHIN" $2,000 NEW PATIENT SPECIALS $100 off Lip Filler $13.50/unit Wrinkle Relaxant $250 Off Laser Package *Restrictions apply YOUR
INSIDE: A country music fest / More arts and music events
Bowing up
Candlelight concerts, a new office and more mark the next era for evolving Baton Rouge Symphony Orchestra
BY MAGGIE HEYN RICHARDSON
PHOTOS BY SEAN GASSER
THE LIGHTS GO down, and 1,500 LED candles go up. The mood is set for a concert where four musicians and 75 spectators sit just feet apart. Patrons look on with rapt attention, losing themselves in a program of pop and classical genres deftly performed by a handful of the Baton Rouge Symphony Orchestra's top musicians.
The event is part of the BRSO's candlelight concert series, held in the Cary Saurage Community Arts Center, the multipurpose boutique arts facility that opened in downtown Baton Rouge in January 2022. The center's black box space hosts a variety of performances, including the BRSO's candlelight concerts, which take place roughly once a month and are intended to draw new audiences to the symphony.
"When you go in and they close those doors, it's so intimate," says regular attendee Debbie Daniel. "You feel like you've been transported to some magical place."
225batonrouge.com | [225] May 2023 63
Daniel, a longtime BRSO patron and recent addition to its board of directors, says the candlelight concerts give spectators a chance to sample the symphony in a relaxed contemporary setting.
With their fusion of classical and pop pieces, the concerts are lighter in tone than those held at the BRSO's home concert hall, the River Center Performing Arts Theatre. They're also shorter, lasting just an hour and slotted deliberately at 6:30 p.m. and 8:30 p.m. to give patrons a chance to grab dinner before or after. They're a good fit for young professionals who need a break from the stress of life and work, Daniel says.
"I tell people, 'It's a great place to turn o your cell phone, enjoy some music and just breathe,'" she says. "The ambiance is incredible, and you get a real appreciation for the musicians because you can practically reach out and touch them."
BRSO Executive Director Eric Marshall, 39, creates attentiongrabbing themes for the concerts. One of the most popular has been Bach to Beatles, which includes some of J.S. Bach's most familiar pieces combined with Beatles' songs like "Here Comes the Sun," "Penny Lane" and "Eleanor Rigby." On May 18-19, the series features an all-Taylor Swift program performed by local vocalist Rebecca Smith accompanied by a guitar quartet.
One past show featured an '80s theme—meaning the 1980s, the 1880s and 1780s. Another combined Beyonce and Beethoven. Last month, the series was themed Girls Night Out, and showcased works by women, including female composers Fanny Mendelssohn and Florence Price, as well as contemporary songwriters and performers Adele, Stevie Nicks, Carole King, Aretha Franklin and Dolly Parton.
The shows have been a recent game changer for the BRSO, which navigated interruptions from both the COVID-19 lockdown and the extended renovation of the River Center Theatre. The latter's fouryear closure forced the symphony to play in a number of di erent
community spaces. Now, back in the River Center for its main series, and armed with popular candlelight concerts, the BRSO is poised to fulfill a longstanding goal of attracting new patrons.
"We have had a symphony in Baton Rouge for 76 years, and there are still some members of the community who don't know about it," Marshall says. "It's such an asset—we have world-class musicians—and things like the candlelight concerts and our education programs are a way to make it approachable and remind people that we're here for everyone."
Candlelight concerts have become more popular around the country as symphonies attempt to onboard younger listeners. The opportunity for the BRSO to create such a series came with the much anticipated opening of the Cary Saurage Community Arts Center last year.
Along with the John and Virginia Noland Black Box Studio, the downtown arts facility is home to an art gallery, studio space for working artists, a recording studio, a rooftop terrace where attendees can mingle and sip wine before events and the administrative o ces of both the Arts Council of
Greater Baton Rouge and the BRSO.
"The Community Arts Center is the perfect place for something like this," Marshall says. "The acoustics are fantastic, and with the candles, you can have this really unique experience."
The candlelight concerts are one example of how the arts center is fulfilling its mission as an arts accelerator, says Arts Council of Greater Baton Rouge President and CEO Renee Chatelain.
"It is so great to be in the same building and collaborate, and kick around ideas and then see these ideas put on in the building's spaces," Chatelain says. "It's our hope that artists continue to come in and use the center to create new programs."
Marshall says the candlelight concerts regularly sell out and have begun to attract new patrons who might never have attended a symphony performance.
"What's really exciting is we're seeing audience members whose first experience is the candlelight concerts start to go across the street and attend performances at the River Center," Marshall says.
The musicians also enjoy the intimacy of the candlelight concerts, says BRSO Concertmaster
KEY TERM Concertmaster
Borislava Iltcheva. "When Eric approached us about this series, we were absolutely ecstatic, because we'd been working on ways to bridge the gap between the classic musicgoer and people who wanted something lighter," she says.
The specific musicians who play are chosen based on the pieces performed, but the lineup usually includes two to four of the symphony's principal musicians, drawn from the top three chairs in each section, Iltcheva says. The small group rehearses several times before each show to perfect the nuances of playing popular and classic pieces, which vary widely in their musical transitions.
Small concerts like this take place without a conductor, so musicians rely on each other for cues and timing, Iltcheva says. The relaxed vibe also has the musicians take turns introducing each piece, often providing interesting anecdotes.
Iltcheva says the candlelight concerts have been a lot of fun.
"We as classical musicians love jamming to pop music," she says. "We like to say that our inner hidden rocker comes out."
Surrounded by 1,500 candles in the Cary Saurage Community Arts Center, candlelight concerts introduce new audiences to BRSO. Executive Director Eric Marshall, center, conceptualizes the concert themes.
CULTURE // 64 [225] May 2023 | 225batonrouge.com
The principal violinist and highest leadership position among musicians in an orchestra
PARTICIPATION ISLIMITED
Winning over today's customers requires salespeople to be BOLDER, HIGHLY INNOVATIVE, and MORE SKILLED than ever before. Business Report's Selling Academy will sharpen your sales skillset, re-energize you and grow your confidence in new ways. We'll touch on the latest selling techniques, how to reframe your mindset, and tap into your sales potential to make the most of your personal skillset.
The SELLING ACADEMY will help you:
Develop and maintain the right mindset to flourish in sales
Increase your closing ratio
Give you the tips and skills to overcome objection
Build relationships that lead to more sales
Develop the art of asking effective questions to reveal customer needs … PLUS much more!
here to apply TODAY or email Brooke@businessreport.com
in May!
This customized sales program is for sales people with 1-8 years of experience.
Scan
Coming
225batonrouge.com | [225] May 2023 65
CAJUN COUNTRY JAM
Jam-packed lineup
This year's expanded Cajun Country Jam aims to fill the void left by Bayou Country Superfest
CANCEL
YOUR MEMORIAL DAY
travel plans. Some of country music's biggest stars are making Denham Springs the place to be.
Though the Cajun Country Jam has been around for over 10 years, this year's Cajun Country Jam Memorial Day Festival is the first to take place during the holiday weekend.
Organizers moved the event up from its usual late-summer slot to help fill in for Bayou Country Superfest, which has been on an indefinite hiatus since 2020.
"So, we decided just to go big," says the event's producer and promoter, Scott Innes. The rebranded event aims to unite fans of both new and old country music for two days of live performances at North Park. Notable names on the roster include Travis Tritt, Scotty McCreery and Country Music Hall of Fame Inductee Randy Travis. A few Louisiana rising stars, like Kendall Shaffer and Chase Tyler, will play to a home crowd.
Innes expects the Memorial Day Festival to be the Jam's biggest event yet. He anticipates that the music lineup, which organizers started recruiting for a year in advance, will bring crowds. The festival has been heavily advertised in Louisiana and surrounding states, and Innes believes it'll bring tourism to Livingston Parish, Denham Springs and nearby cities.
"We think it's going to be a huge economic boost for south Louisiana," he says.
A special ceremony will be held May 27 to induct Randy Travis into the Louisiana Music Hall of Fame. Lafayette native James Dupre— Travis' official singing voice since 2019, due to the country music legend's 2013 stroke—will perform a few of Travis' popular tracks.
"To have that kind of an iconic figure on your stage receiving an award is pretty cool in itself," Innes says. "It just gives me goosebumps when I talk about it."
Food, drinks and family-friendly activities will round out the weekend. The Shed Barbecue and Blues Joint will be slinging food, and Swamp People stars Troy Landry and Jacob Landry will serve up hot-boiled crawfish. Bartenders from the Texas Club will be working the bars at the venue.
Innes recommends buying tickets sooner than later and emphasizes that ticket holders need to purchase parking passes for their cars as well. There is also an option to purchase weekend camping passes for those who would like to travel to the festival with a camper.
"I'll tell you, we've got people coming from all over," Innes says. "I've got media calling me from all over the country."
Park in Denham Springs
and tickets at thecajuncountryjam.com
May 27-28 North
Info
OLIVIA DEFFES
Travis Tritt Scotty McCreery
PHOTOS COURTESY CAJUN
COUNTRY JAM
66 [225] May 2023 | 225batonrouge.com CULTURE //
Mitchell Tenpenny
ARTS BEST BETS
MAY 2
Grab your mid-day meal and head over to the LSU Museum of Art for Art at Lunch: Artistic Floral Design. At this free event, seasoned florist Joel Peregrin of Peregrin's Florist will present and demonstrate all the elements of floral design. lsumoa.org
MAY 4
Come out to Red Stick Social for the third annual You Aren't Alone Live Art Event. This event brings artists and creatives together for conversations about mental health. Watch vulnerable and intimate performances that depict the personal mental health journeys of the performing artists. youarentaloneproject.com
MAY 18 + 19
Even if you didn't get tickets to her sold out Eras Tour, you can still listen to all of Taylor Swift's best songs at a special Baton Rouge Symphony show. Taylor Swift: A Candlelight Concert will feature a guitar quartet and singer Rebecca Smith covering the pop star's hits by flickering candlelight. brso.org
MAY 19-21 AND 25-28
Watch the story of the March sisters as Theatre Baton Rouge's Young Actor's Program puts on a production of Little Women This play follows an adapted version of Louisa May Alcott's famous novel. See a live version of the long-adored tale as Meg, Jo, Beth and Amy grow and experience life together. theatrebr.org
MUSIC BEST BETS
MAY 5
Celebrate Cinco De Mayo in a big way with a special Latin Night at Chelsea's Live. Show up early to get some salsa lessons before the evening starts. Once Latin Night begins, dance the night away to the tunes played by a DJ at the ultimate fiesta. chelseaslive.com
MAY 6
Slip into your boots and get ready for a night of country music when Parish County Line takes the stage at the Texas Club. This band is known to bring back the classic country vibes and hit songs like "Blame on Jones" and "Back to Country." thetexasclub.com
MAY 10
London post-punk finds its way to Baton Rouge when The Psychedelic Furs play at Manship Theatre. After achieving massive success in the '80s, the band took a break before reforming in the early 2000s. Since then, its music has had a resurgence after being featured in famous television shows and films. Come sing along to all hits like "Love My Way" and "The Ghost in You." manshiptheatre.org
MAY 13
With more than 40 years under its belt, 38 Special is ready to rock Baton Rouge with a fun show at L'Auberge Casino and Hotel. When listening to classic rock on the radio, you'll most likely hear the hits from the band's heyday in the '70s and '80s, like "Hold on Loosely" and "Caught Up in You." lbatonrouge.com
MAY 2 023 *Please view each offer for specific details and restrictions. TO SEE ALL OFFERS, SCAN HERE OR VISIT 225BestEats.com Great Local Restaurants. Great Offers. ALL MONTH LONG! #AM-50-BAJ At Ducote's Restaurant & Bar Equipment, we specialize in supplying the foodservice industry with a broad selection of the top-quality equipment and supplies you need to successfully run your operations and e iciently serve your customers. 4433 Florida Blvd • 225-344-4240 ducotesrestaurantsupply.com OPEN TO THE PUBLIC HIGHEST QUALITY WITH COMPETITIVE PRICING! Come See Our Showroom Over 50 years of servicing the hospitality industry!
COURTESY YOU AREN'T ALONE PROJECT
GABRIELLE FELD / COURTESYCHELSEASLIVE
225batonrouge.com | [225] May 2023 67 CULTURE //
COURTESY MATHEW REEVES
Where to play Batonaround Rouge this month
Compiled by Olivia Deffes
5
BATTLE OF THE BOILS
The Crawfish King Cookoff returns to downtown Baton Rouge for its ninth year of boiling for a good cause. Watch as amateur teams of five boil sacks of crawfish before tasting their tails to determine this year's mudbug royalty. The battle also invests in Baton Rouge youth by fundraising for nonprofits like the Big Buddy Program and Junior Achievement. crawfishkingcookoff.com
all
same
big race. Enjoy bourbon tastings, live auctions, a live viewing of the Kentucky Derby and more. Proceeds benefit St. Jude's Children's Research Hospital. stjude.org

MAY 4-7: New Orleans Jazz and Heritage Festival, nojazzfest.com
MAY 10: The Cure at Smoothie King Center, smoothiekingcenter.com
MAY 14: Billy Porter at Saenger Theatre, saengernola.com
GAMBLING PROBLEM? PLEASE CALL 800.522.4700. Must be 21 years of age or older to enter Event Center and Casino. Entertainment is subject to change or cancellation without notice. Tickets may be purchased at all Ticketmaster outlets, ticketmaster.com or by calling Ticketmaster. Tickets are non-transferable and non-negotiable. Subject to availability. Management reserves the right to cancel, modify or refuse this offer without notice at any time. Offer not valid for self-exclusion program enrollees in jurisdictions which PENN Entertainment, Inc. operates or who have been otherwise excluded from the participating property. ©2023 PENN Entertainment, Inc. All rights reserved. PURCHASE TICKETS AT For more information, visit LBatonRouge.com • 866.261.7777 LIVE ON STAGE AT L'AUBERGE BATON ROUGE 38 SPECIAL SATURDAY, MAY 13 8PM THE BRIAN MCKNIGHT 4 SATURDAY, MAY 20 8PM RODNEY CARRINGTON FRIDAY, JUNE 16 8PM
May
504 ON THE ROAD NEW ORLEANS 6 AND THEY'RE OFF! Dust off your fancy hats, comb your closets for your derby best and get ready for St. Jude Day at the Derby. You don't have to travel to Churchill Downs to
in on the action.
event
get
Here in Baton Rouge, this special
has
the
events as the
RICHIE STOCK IMAGE 68 [225] May 2023 | 225batonrouge.com CALENDAR //
COLLIN
THE ART OF MID CITY
Lace up your walking shoes and head out to some of Mid City's most beloved businesses for Hot Art Cool Nights, organized by Mid City Merchants. This annual indoor-outdoor event gives creators, chefs, dancers, musicians and other artists the opportunity to share their work with the community. Take a stroll from Government and 14th streets to Jefferson Highway at Goodwood Boulevard to see all the talent Mid City has to offer. midcitymerchantsbr.org
ALSO THIS MONTH
MAY 4
Bring your little ones to the LSU Museum of Art for Toddler Thursday. These monthly art-making events are designed for children ages 5 and under to participate in with their caregivers. lsumoa.org
MAY 11
Night Market BTR, a celebration of Asian American Heritage Month, takes over Electric Depot. Hosted by Sweet Society, Boru Ramen and Laura Siu Planning & Events, it will feature 20-plus vendors, a cupsleeve event, a dragon dance and more. nightmarketbtr.com
MAY 21
Support a good cause at Taste of Mid City, a new food festival at the Executive Center. It will feature samplings from popular Mid City eateries and benefit Youth City Lab, which teaches local children and teens a variety of skills. theexecutivecenterbr.com
MAY 21
STOCKIMAGE
FEED YOUR SOUL
Bring your appetite downtown for the Soul Food Festival, a delicious two-day festival with local chefs, restaurants and home cooks serving up essential soul food dishes. Along with grub, this festival is also packed with activities and live music for a weekend of good food and good times. hitcitydigital.wixsite. com/brsoulfoodfest
Come out to Tin Roof to watch as locals brave the shave at Geaux Bald for St. Baldrick's Foundation. Leading up to the event, shavees raise funds for St. Baldrick's to help with childhood cancer research. stbaldricks.org
MAY 27 + 28
Celebrate Memorial Day in Denham Springs with some of the biggest country music acts during the Cajun Country Jam Memorial Day Festival Flip to page 66 to read more. thecajuncountryjam.com
MORE EVENTS
Subscribe to our newsletter 225 Daily for our twiceweekly roundups of events. 225batonrouge. com/225daily
LAFAYETTE
MAY 5-7: Breaux Bridge Crawfish Festival, bbcrawfest.com
MAY 10-14: Rayne Frog Festival, raynefrogfestival.com
MAY 24-JUNE 4: Cajun Heartland State Fair, cajundome.com
FOR TICKETS: MANSHIPTHEATRE.ORG • 225-344-0334 writer and recording artist in New York City with a soulful voice and a bent toward vintage- sounding R&B. MAY 20 | 7:30PM Dust off your cowboy boots for the ultimate country music experience! HONKY TONK CHICKS is a powerhouse female vocal trio featuring Baton Rouge's
Bailey Purvis. HONKY TONK CHICKS LONG SUMMER NIGHTS AT MANSHIP THEATRE LONG SUMMER NIGHTS AT MANSHIP THEATRE LONG SUMMER NIGHTS AT MANSHIP THEATRE LONG SUMMER NIGHTS LONG SUMMER NIGHTS AT MANSHIP THEATRE LONG SUMMER NIGHTS AT MANSHIP THEATRE JUNE 1 | 7:30PM
own
The international touring show, "The Beat Goes On" features American singer/ actress Lisa McClowry's portrayal of the Goddess of Pop in her one-woman Broadway-style live stage show.
337
12
20+21
225batonrouge.com | [225] May 2023 69 CALENDAR //
MARGARET WILKINSON/COURTESY JUSTIN LEMOINE
In every issue of 225, you'll find a free print on this page. FRAMED celebrates life and art in Baton Rouge, each one featuring a local photographer, place or graphic designer. Cut it out to hang in your cubicle, or frame it for your home gallery wall. Show us where you hang them by tagging them on social media with #225prints.
[225] May 2023 | 225batonrouge.com
GET FEATURED We love spotlighting local photographers, artists and designers for this page! Shoot us an email at editor@225batonrouge.com to chat about being featured.
PHOTO by JAY LAMM / jaylammphoto.com
FRAMED // 70




spinecenterbr.com ph. 833-SPINEBR BATON ROUGE • PRAIRIEVILLE • WALKER • HAMMOND spinecenterbr.com | ph. 833-SPINEBR
C. Chambliss Harrod, MD
Matthew Neumann, MD
LOUISIANA'S LEADER IN MINIMALLY INVASIVE SPINE SURGERY WE HAVE YOUR BACK
you dream of a life free from back pain, our team is here to help. Scan to learn more or to request an appointment.
Kevin P. McCarthy, MD
If