CELEBRATING FIVE YEARS OF
2
WELCOME
Iam delighted to welcome you to this Ascot Racecourse Supports five year anniversary booklet to highlight some of the achievements and charitable contributions the programme has enabled.
Despite the racecourse facing some challenges as a result of the pandemic, our community programme has gone from strength to strength, with employees, partners and racegoers rallying together to support those needing our help.
Whilst our programme is focused on supporting small, local charities in addition to equine causes, our reach also extended to assisting national appeals such as NHS Charities Together and the British Red Cross. Our partnership with Berkshire Community Foundation continues to enable us to grant funds to community groups and charities most in need across the county and we thank them for their expert guidance. Our schools engagement programme has
continued to expand with our Royal Ascot Schools Art Competition now being a permanent fixture for artistic students to enter in the Spring. More programmes continue to evolve as we create opportunities for young people to engage with the racecourse and learn more about the sport's many and varied career pathways.
Royal Ascot continues to be our flagship charity fundraising platform and we have partnered with the Armed Forces charities in raising record amounts for them in addition to our own Ascot Supports Fund.
The highlight of 2022 was our Platinum Jubilee celebrations which saw us create a lasting legacy in the form of an avenue of 70 trees planted along the Royal Procession route in Windsor Great Park as part of the Queen's Green Canopy Project.
Memories were made for 70 local children who represented their schools; each had one of the trees dedicated to their school. We
were also thrilled that the late Queen made a special mention of this commemoration in her foreword in the Royal Ascot Racecards. Our inaugural staff volunteers' week held in September was a shining example of what teamwork can achieve; a win-win initiative that increased our employees' engagement with the work of the charities we support.
Ascot Racecourse Supports is a programme that we are all proud of. Its success is due to the collaboration of our employees, partners, suppliers and concessionaires who each lend their expertise, time and resource to making our activations so special for beneficiaries and we thank everyone involved for their efforts.
Nick Smith Director of Racing & Public Affairs
3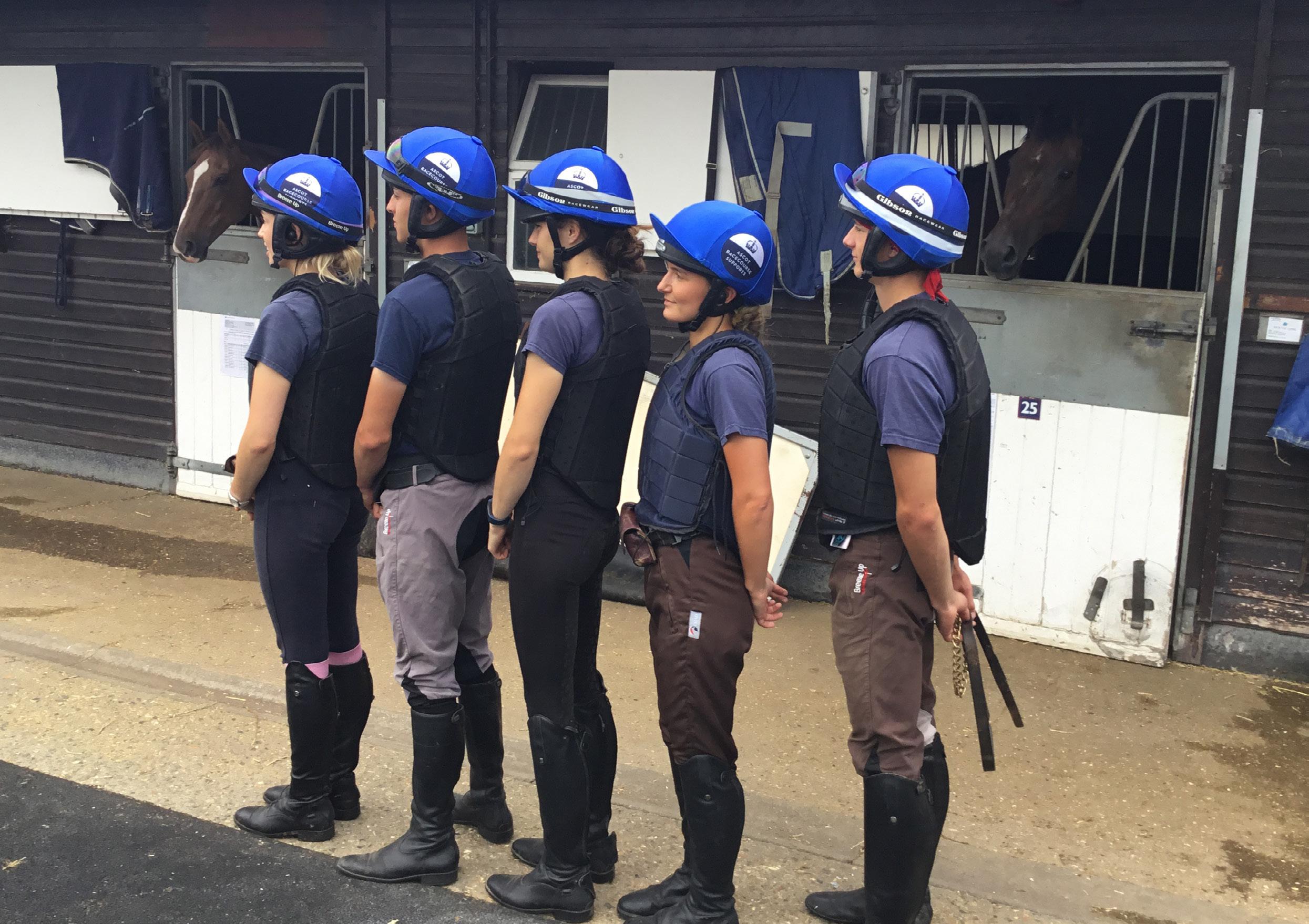 4
British Racing School students in Ascot Supports sponsored hat silks
18 EQUINE CHARITY SUPPORT 22 ENGAGING THE NEXT GENERATION 31 SUPPORTING OUR MILITARY HEROES 3 WELCOME 6 ASCOT RACECOURSE SUPPORTS 10 AT THE HEART OF OUR COMMUNITY 35 RESPONDING TO COVID-19 41 PLATINUM JUBILEE CELEBRATIONS 46 INAUGURAL EMPLOYEE VOLUNTEERING WEEK 48 2023 & BEYOND 50 ASCOT COMMUNITY FUND GRANTS BY CATEGORY CONTENTS 5
ASCOT RACECOURSE SUPPORTS
6
Students from Carwarden House Community School
With Ascot Racecourse being Berkshire's biggest sporting venue, hosting its highest profile annual event in the form of Royal Ascot, the ambition of the racecourse was to be recognised as a significant contributor to the county (economically, culturally and socially) and to be active partners with, and contributors to, our local and wider community.
With this ambition, in 2017, "Ascot Racecourse Supports" was created to bring all Ascot's existing charity and community programmes under one umbrella. We then decided to partner with Berkshire Community Foundation, as a recognised grant provider, to ensure some of our monetary contributions were managed most effectively.
One of our key objectives was to ensure that any funding/support made the most impact locally and so it was decided that we would focus on working with small, local/regional charities, in addition to equine/ racing charities.
Through various programmes, we feel we have engaged our local and wider community and thinking for the good of the community has now become an everyday part of our business.
7
Get Berkshire Active Summer School Games 2018
CHARITABLE
8
RAISED VIA ON SITE
ACTIVITIES IN COLLABORATION WITH THIRD PARTY PARTNERS £5 MILLION OVER FIVE YEARS
OVER £1MILLION RAISED AT THE PROPERTY RACEDAY £704K RAISED AT THE PRINCE'S COUNTRYSIDE FUND RACEDAY 1,229KG 2,926 FOOD DONATED MEALS PARTNERING WITH CITY HARVEST 1,400 STUDENTS RACE TITLES DONATED TO CHARITY 36 OVER £128K RAISED FOR IJF AMBASSADORS FUND OVER £55K DONATED TO SUPPORT SCHOOL COMPETITIONS AND SPONSOR PROGRAMMES ATTENDED A RACING TO SCHOOL EDUCATIONAL DAY AT ASCOT EMPLOYEE VOLUNTEERING EQUATING TO 206 DAYS 2,162 HRS OVER £213K IN GRANT FUNDING, SUPPORTING 44 CHARITABLE/ COMMUNITY PROJECTS HELPING 176,329 PEOPLE ACROSS BERKSHIRE ASCOT COMMUNITY FUND: OVER £275K (GRENFELL, NHS CHARITIES, UKRAINE) EMERGENCY FUNDING OVER £250K RAISED FOR THE CHARITIES VIA DONATIONS FROM THE SALE OF CERTAIN BEVERAGES, DONATIONS FROM OUR CONCESSIONAIRES AND ON SITE BUCKET COLLECTIONS MANAGED BY BERKSHIRE COMMUNITY FOUNDATION £2.7 MILLION RAISED SINCE 2020 VIA BRITANNIA STAKES PROFITS AT ROYAL ASCOT IN COLLABORATION WITH THE BETTING & GAMING COUNCIL AND MANY BOOKMAKERS ARMED FORCES COLLECTIONS: 9
AT THE HEART OF OUR COMMUNITY
In excess of 650 raceday tickets are donated each year to help with community and charity fundraising activities. In recognition of our local emergency services, we also provide discounted raceday ticket offers for those within a 10-mile radius of the racecourse and support the Blue Light Ticket Scheme by donating 100 tickets to all non-premium racedays.
Local schools benefit with family raceday offers which earn cash back for school projects and we provide complimentary tickets and meeting space for community events and activities.
10
War Horse Memorial Ceremony 2021 led by Alan Carr MBE, co-founder and chief executive
The Ascot Round Table Fireworks event, run in tandem with our family raceday, delivers one of the biggest fireworks displays in the region and raises considerable funds for local causes through donations from fairground rides, tickets and merchandise.
The racecourse hosts and supports sports clubs, namely Ascot United FC, The Locomotive Society, Royal Ascot Golf Club, the Windsor & Ascot Carriage Driving for the Disabled Group and Royal Ascot Cricket Club; the latter for whom we sponsor the senior's cricket tops.
Since 2019 Ascot has provided annual monetary support to Windsor Homeless Project, Pilgrims Heart and Slough Homeless Our Concern.
11
Royal Ascot Cricket Club wearing Ascot Supports sponsored team shirts
Since 2021, 1,000 pairs of Royal Ascot tickets have been made available via a ticket ballot for those living within a three mile radius of the racecourse.
We also invite charity and community groups to trial a Royal Ascot lunch service at one of our pop-up restaurants the week before the meeting.
Guests from First Days & NHS Frimley Health Trust
12 AT THE HEART OF OUR COMMUNITY
Guests from Bracknell Trefoil Guild
Providing
end of life care for those living in Berkshire and Buckinghamshire.
In 2018, Thames Hospice were invited to be our official charity partner for the Spring Garden Show. Since that time, the relationship has thrived and our assistance has expanded to volunteering help in their gardens, hosting an annual volunteers tea and race naming rights.
During the pandemic, we also allocated grant funding to help the charity with their work as their services expanded to treat Covid-patients. Most recently, we have provided grant funding to help train eight experienced healthcare assistants as nursing assistants.
The charity were also a beneficiary of our 'Bet with Ascot' Charity Boxes which sees the racecourse donate monies to the equine or local charity that has received the most 'Bet with Ascot' losing betting slips.
13
Supporting families of seriously ill and life-limited children through respite breaks, outreach and specialist services.
The racecourse first became aware of the Sebastian's Action Trust's work in 2018 following a grant application to support their "Connecting Families" project. Since then, we have conducted volunteering, donated race naming rights and since 2019, we have played host to the charity's annual 'Christmas in July' event.
Christmas in July
Using the existing infrastructure and facilities in situ from our July Summer Mile Raceday, we work alongside our suppliers and concessionaires to replicate the day for the charity's beneficiaries. Over 2,000 family members have enjoyed the day over the years with the charity doing a marvellous job of ensuring every family's need is catered for plus providing a personalised Christmas gift from Santa.
SCAN HERE TO WATCH:
14 AT THE HEART OF OUR COMMUNITY
"We continue to be so honoured to be one of Ascot's chosen charities; thank you for the opportunity to once again raise the profile of our cause. We remain so thrilled to be hosting this important event at Ascot and are so grateful for the support and commitment you give to our work."
- Jane Gates, Life President, Sebastian's Action Trust
15
In 2020-21, BCF awarded £3.2 million in grants, helping 1.5 million people. They also run vital appeals.
ASCOT RACECOURSE COMMUNITY FUND
OVER
£213K
Since 2017, the racecourse has partnered with BCF, who manage our Ascot Community Fund. To date our fund has helped support charitable/community projects covering sport and recreation, learning and training, poverty and disadvantage, health, wellbeing and serious illness, domestic violence plus much more.
The racecourse also plays host to many of the charity's prestigious functions including, in September 2021, when the charity chose to recognise volunteers across Berkshire for their priceless contributions throughout the Covid-19 pandemic.
We are also members of their Business Philanthropy Club, which enables Berkshire-based businesses to network and come together to make a real, positive difference within Berkshire.
in grant funding
44
charitable/community projects
people across Berkshire have been helped through our fund
176,329
16 AT THE HEART OF OUR COMMUNITY
His Royal Highness The Earl of Wessex attending a BCF Volunteers Tea at Ascot Racecourse in September 2021 to recognise the efforts of volunteers during the Covid-19 pandemic.
"Our partnership with Ascot Racecourse is of enormous value to all parties and most of all it exhibits the power of initiatives like Ascot Supports. This programme has generated enormous benefit for local people and I congratulate Ascot on this anniversary and thank them for their care, enthusiasm, commitment and passion."
- Jon Yates, CEO Berkshire Community Foundation
17
EQUINE CHARITY SUPPORT
With the horse being the lifeblood of our sport, we support the many and varied organisations that support both the horse, the racing industry and its staff.
One of our most successful initiatives has been the Injured Jockeys Fund (IJF) Ambassador's Programme which sees IJF jockeys provide fine dining guests with a fun, educational talk and tour. A total of over £128,000 has been raised for the charity since 2017.
"Not only are we [Ascot] raising money with the Ambassadors programme, but also educating people about this fabulous sport."
- Ed Chamberlin, ITV Presenter & Vice-Chairman of the IJF
"As a charity that relies solely upon charitable giving, these funds make a real difference to the support that we in turn are able to provide to injured and former jockeys. The scheme also provides a brilliant way for racegoers to learn first hand about the punishing lifestyle of a jockey and the dangers that they face on every ride."
19
- Lisa Hancock, CEO, IJF
LEARN MORE ABOUT THE PROGRAMME HERE:
We regularly host raceday visits, lunches and tours for equine clubs and charities and host pony club days at the racecourse. We also aim to raise the profile of the work of equine charities.
Retraining of Racehorses (RoR) – Parade of Horses
20 EQUINE CHARITY SUPPORT
Racing Welfare's beneficiary lunch 18th November 2022
Our donations and assistance have also helped support the following organisations:
Students from Ebony Horse Club meeting their President, Her Majesty The Queen Consort - 18th November 2021
World Horse Welfare Horse Sculpture Trail 2019
21
ENGAGING THE NEXT GENERATION
Providing training for young people working in the horse racing industry.
We support and promote the grassroots of the racing industry by working with the British Racing School. By way of example, we produced a video with the help of Ryan Moore (pictured third from right), who we are proud to have as our Ascot Supports Ambassador, to showcase potential careers in racing.
SCAN HERE TO WATCH: Ryan Moore visits the British Racing School
first partnered with Ascot Supports in 2019 and the support our staff and trainees have received since has been invaluable, providing high quality clothing and equipment, but more importantly an inspirational link to an iconic racecourse. The whole team here would like to congratulate Ascot Supports on a hugely successful first five years and we look forward to continuing our partnership."
- Andrew Braithwaite, CEO British Racing School
"We
23
Inspiring young minds, Racing to School is an educational charity that provides free, interactive and healthy outdoor educational events for schools.
The charity host their educational programme at Ascot on term-time racedays throughout the year. Since 2017, 1,400 students have attended an educational day here at Ascot.
24 ENGAGING THE NEXT GENERATION
ROYAL ASCOT LOCAL SCHOOLS ART COMPETITION
Launched in 2018, the annual Royal Ascot Schools Art Competition gives local school children the opportunity to send in their colourful artwork for a chance of winning £1,000 for their school. Winning entries are displayed in the Heath Tunnel, which runs from Ascot High Street to the Heath, providing a colourful walkway for the local community to enjoy.
Ryan Moore choosing his favourite piece of artwork.
OVER 3,000 ENTRIES
OVER £39K DONATED
"A huge thank you to Ascot Racecourse for holding this annual competition. We regularly use the tunnel as a family and always stop to admire the fantastic artwork. It will be with great pride that we shall soon be seeing Lottie's portrait of Stradivarius alongside the previous winners and runners up."
- Victoria Furst, parent of artwork winner, Lottie Furst
25
26 ENGAGING THE NEXT GENERATION
Platinum Jubilee themed Winning Artwork – Royal Ascot Local Schools Art Competition 2022
"The children are so excited and of course the school over the moon to receive the prize money donated by Ascot Racecourse. This will make such a difference here at St Francis …"
- Mrs S Farrell, School Business Manager, St Francis Catholic Primary School
27
Our Royal Ascot Fashion Design Competition invites students aged 11-16 years to design an outfit to be worn in the Queen Anne Enclosure with the prestigious prize of having their outift manufactured for the winning student to wear to Royal Ascot.
Other competitions have included our Ascot Racecourse Inter-Schools Bake-Off Competition, run in collaboration with education charity, Learning to Work, which had 1,400 students take part plus our Local Schools Christmas Poem Competition. In addition, we run work experience and career days for catering students, local Special Educational Needs schools and equine colleges.
Top left: Isobel Butler - Royal Ascot Fashion Design Competition Winner 2021.
28
Left: Inter-Schools Bake-Off Competition finalists. Right: Competition finals.
29
Holly Harrand - Royal Ascot Fashion Design Competition Winner 2022.
30
SUPPORTING OUR MILITARY HEROES
Royal Ascot is the racecourse's flagship fundraising event and over the past years our official nominated charity partners have been the Armed Forces charities; ABF The Soldiers' Charity, the Royal Navy & Royal Marines Charity and the RAF Benevolent Fund. The Betting & Gaming Council have also made donations to the Armed Forces – more detail on page 40.
Armed Forces charities raising money via bucket collections alongside donations from the sale of certain beverages and our concessionaires during Royal Ascot
32 SUPPORTING OUR MILITARY HEROES
OVER £250K RAISED
ABF The Soldiers' Charity are regulars at our October Beer Festival Raceday with bucket collections and merchandise sales raising an additional £24,000.
"Since 2010 Ascot Racecourse has linked with
ABF The Soldiers' Charity to raise funds for soldiers, former soldiers and their families in times of need. In 2013 this highly beneficial relationship was expanded during Royal Ascot to include the Royal Navy and Royal Marines Charity and the RAF Benevolent Fund. The Charities are very grateful for being made so welcome at the Racecourse, this relationship having significantly assisted all three Charities in their work across the whole of the Armed Forces community."
- Brigadier (Retired) Peter Walker OBE, FRICS, Chairman, ABF The Soldiers' Charity (Berkshire)
33
Providing entertainment and recreation to those injured in the service of their country.
We support The Not Forgotten and host an annual beneficiaries lunch in November. In 2021, as with some other charities, we were also able to donate race naming rights.
As part of our charity ticket scheme, Ascot has made over 1,900 raceday tickets available to the Tickets for Troops scheme.
34 SUPPORTING OUR MILITARY HEROES
RESPONDING TO COVID-19
HELP IN THE COMMUNITY 23 MEMBERS OF OUR CATERING STAFF REDEPLOYED ASSISTED AT NHS TEST CENTRES SUPPORTED PROJECT WINGMAN AT NHS FRIMLEY PARK HOSPITAL DELIVERING DONATED £10,000 AFTERNOON TEA EXPERIENCES TO STAFF SUPPLIED PACKED LUNCHES TO ALL STAFF MANNING NEWBURY AND READING TEST CENTRES BECAME A DRIVE-THRU TESTING SITE FOR NHS WORKERS AND FAMILY MEMBERS TO FRONTLINE SERVICES INCLUDING SLOUGH FOODBANK AND THAMES HOSPICE TO HELP ASSIST OPERATIONS THROUGH THE PANDEMIC 1,000 BOTTLES OF BEER TO ABF TROOPS SUPPORTING THE CRISIS TRANSPORTING NHS STAFF BETWEEN HOSPITAL SITES FOR FRIMLEY HEALTH NHS FOUNDATION TRUST OVER 1,400 VOLUNTEER HOURS 36
With the public unable to attend Royal Ascot in 2020, we invited fans across the globe to dress up, with a hat, and take part in a unique Royal Ascot At Home. In recognition of our frontline heroes and those affected by Covid-19, we launched the #StyledWithThanks charity appeal; kickstarting the fund with a £100,000 donation.
Royal Ascot and the British Hat Guide also invited leading British milliners to create a bespoke hat or headpiece featuring a rainbow theme in line with the nation's use of rainbows to thank the NHS and frontline workers.
37 RESPONDING TO COVID-19
£30K was raised when Frankie Dettori auctioned his 70th Royal Ascot Winner saddlecloth.
CAMPAIGN DELIVERED £166,000 FOR 38 RESPONDING TO COVID-19
Photos posted using the campaign hashtags have since been turned into a giant rainbow collage which sits permanently just inside the white gates at the racecourse's Pavilion Entrance.
Winners of Royal Ascot 2020 #StyledWithThanks Competition
MOST ELEGANT MOST UPLIFTING MOST ORIGINAL CHILDRENS' WINNER
39
During the pandemic and with racing taking place behind closed doors, the Betting & Gaming Council (BGC) called on its members to donate all profits from the Britannia Stakes held on the Thursday of Royal Ascot to charity. In total £250,000 was raised and donated to Prostate Cancer UK, Marie Curie Cancer Care, the Care Workers Charity and the Berkshire Community Foundation Coronavirus Fund.
With the permanent introduction of seven races at Royal Ascot in 2021, the BGC has kindly continued donating profits from this particular race to charity. Over the past two years, an additional £2,450,000 has been raised for various charities including ABF The Soldiers' Charity; pictured on the left presenting a commemorative triptych to BGC's Chief Executive Officer, Michael Dugher.
40 RESPONDING TO COVID-19
PLATINUM JUBILEE CELEBRATIONS
Partnering with the Crown Estate, we planted 70 oak trees in Windsor Great Park in March 2022, adjacent to the Royal Procession route from Windsor Castle to Ascot Racecourse. Known as Duke's Lane, these new trees were intertwined with existing, mature oak trees.
42 PLATINUM JUBILEE CELEBRATIONS
Each tree was dedicated to a local school and in May, we welcomed those schools to a commemorative ceremony. A permanent plaque was also placed among the trees to mark the initiative and celebrate the joint venture.
Subsequently, in October 2022, we welcomed His Highness Sheikh Hamad bin Abdullah Al Thani who completed the planting of two avenues of oak trees on Ascot Heath.
43
As a finale to the celebrations, on the Saturday of Royal Ascot, 70 students from local schools and the Ebony Horse Club were invited to take part in a guard of honour for the Royal Procession, dressed in the Royal Silks.
44 PLATINUM JUBILEE CELEBRATIONS
The late Queen's Royal Ascot 2022 Foreword
45
INAUGURAL EMPLOYEE VOLUNTEERING WEEK
All employees are given one day per year to volunteer and this year we launched a company-wide Staff Volunteers Week with 83 employees taking part to help 12 local charities, clocking up to 480 hours of volunteering. Activities included gardening, painting, helping serve lunch to the homeless, sorting and collating donated items and much more.
46
SCAN HERE TO WATCH: Ascot Racecourse Supports Volunteering Week
"Wow! I don't think I've ever seen a transformation quite like it. I think it's fair to say people were feeling quite low here and your team has lifted everyone - it means so much to us. I can't thank you and your team enough for all your efforts."
- Rob Deeks, Manager: Together as One, Slough
"The back garden is now transformed. The service users now have an area where they can sit, enjoy the nice weather to come, use the washing line without needing to put on wellies to trundle through the long grass … My thanks again for sending such a wonderful team, it was a pleasure to meet them all."
- Tracey Harris, H&S Manager, Berkshire Women's Aid
47 480 VOLUNTEER HOURS IN 2022 83 EMPLOYEES TOOK PART
2023 & BEYOND
by Jacqui Greet, Corporate Social Responsibility Manager, Ascot Racecourse
It has been very rewarding to see the progress of Ascot Racecourse Supports since its inception five years ago.
With help from within the racing industry, our local community and our racegoers, we hope we have been able to make a difference to a wide range of organisations and individuals. Most recently, we were very proud to deliver a big expansion in the voluntary space.
We much look forward to continuing to play our part within the local community, and with equine and racing organisations. On that subject, we are delighted to announce that we will be funding the build of a new classroom for
48
beneficiaries of Strength & Learning Through Horses (SLTH) in 2023.
SLTH is a mental health and educational charity, based in North London, that provides equine assisted therapy sessions for referred children. They have recently obtained new premises via Barnet Council but significant funds are needed to make their new site fit for purpose. Their vision is to create London's only purpose built equine assisted therapy centre with capacity to help over 700 young people a year. We are looking forward to working with them and helping to raise their profile in the racing world, including with involvement from
Racecourse Supports towards the Home our Horses Campaign here at Strength & Learning Through Horses. Thanks to this sponsorship, we will be able to further develop our new purposebuilt site in Mays Lane, Barnet, and help more young people than ever before begin to turn their lives around using the power of horses. We look forward to working together with such a world-renowned partner and couldn't be more honoured to have their support".
our Ascot Supports Ambassador, jockey Ryan Moore.
We are also looking forward to the success of Ascot United Warriors and will be sponsoring their kit next year. They are a newly formed Special Olympics football team based at Ascot United FC, whose players have a range of learning disabilities. They will be playing at the club every Sunday evening. This complements our existing sponsorship of the Royal Ascot Cricket Club First Team shirts.
We would like to thank all the organisations who have assisted with our programme over these past five years, none more so than
Berkshire Community Foundation "BCF". We have worked with BCF from day one of Ascot Supports and are extending that into 2023 and beyond with increased funding so as to reach even more beneficiaries across the county.
Greet Corporate Social Responsibility Manager jacqui.greet@ascot.com
"We are incredibly grateful for the recent and very generous sponsorship commitment from Ascot
- Dr Jemma Hockley & Rosie Bensley, Founders of Strength & Learning Through Horses
Jacqui
49
Strength & Learning Through Horses Build Plans
ASCOT COMMUNITY FUND GRANTS BY CATEGORY
Arts, Culture & Heritage
RABBLE Theatre
Counselling/Advice/Mentoring
Just Around the Corner
Disability and Access issues
Berkshire Vision Me2 Club
Swings & Smiles (Phoenix) Ltd
The Woodland Centre Trust (Camp Mohawk)
Domestic violence
Berkshire Women's Aid
The Dash Charity
Berkshire Youth
Dingley's Promise
Slough CVS - Windsor Ascot Maidenhead Get Involved Ufton Court Educational Trust
Employment and Labour Smart Works Reading
Health, wellbeing and serious illness
Age Concern Bracknell Forest
Berkshire Lowland Search and Rescue
Dingley's Promise Headway Thames Valley
Just Around the Corner
Thames Hospice Homelessness Renova Trust Mental health Berkshire Youth
Charlie Waller Memorial Trust Soulscape
Still The Hunger
Sport and Recreation
Berkshire County Sports Partnership (Trading as Get Berkshire Active)
Stronger communities/ Community support and development
Apollo Youth Club
Tilehurst Junior Youth Club
Poverty and disadvantage First Days
Parents And Children Together
The Cowshed The Link Foundation
Education, learning and training
Adult Dyslexia Centre
Recycled Teenagers Club
Sebastian's Action Trust
Social inclusion and fairness
SAFE! Support for Young People Affected by Crime
Substance abuse and addiction Yeldall Manor
Supporting family life Children Heard & Seen
Re:Charge R&R
50
51
52