LUMEN
WALKING ON THE ROAD WITH JESUS
Summer 2023 | annualcatholicappeal.com For Friends of the Archdiocese of Chicago
LIGHTING THE WAY
Your gift to the Annual Catholic Appeal gives our parishes the resources they need to support the ministries, programs and agencies that serve the educational, physical and spiritual needs of the people of the Archdiocese of Chicago and beyond.
Thank you for your generosity.
Natalie Battaglia Photography
2023 Annual Catholic Appeal
WALKING ON THE ROAD WITH JESUS
Dear Sisters and Brothers in Christ,
You are receiving this copy of Lumen magazine because you are committed to the mission of the Archdiocese of Chicago. You express that commitment through your support of your local parish, the Annual Catholic Appeal and other initiatives and ministries in our local Church. I believe that it is very important that you understand what your commitment and support really represent.
Through your actions, you express an essential aspect of our life in the Church. We journey together. We depend on each other. We are, in words that Pope Francis has spoken time and again, a synodal church. As our 2023 theme for the Annual Catholic Appeal expresses, we are walking on the road with Jesus and doing so together.
Again, it is so important that you understand this and not take our life together for granted. As your bishop, I want to serve our unity in the Church and foster our mission and purpose in this world that stands so much in need of the healing power of the Gospel. To maintain our unity in faith, sacraments and service and to foster our mission, we have embarked on a process of renewal called Renew My Church. Inevitably, there has been some bruising in the process. We cannot forget, however, that all our efforts and sacrifices are directed to being the Church and people God wants us to be — walking together on the road with Jesus. That fact encourages us to keep moving forward.
As I visit parishes, speak with our priests and talk with so many good people of the archdiocese, I am deeply grateful for the many ways that God has blessed us. Your generosity in sharing your time, talent and treasure reassure me and give me confidence as we continue the journey on the road with Jesus. Thank you.
Sincerely yours in Christ, Archbishop of Chicago
3 FROM THE CARDINAL
Natalie Battaglia Photography
WALKING ON THE ROAD WITH JESUS
The Beginnings
4 LUMEN | Summer 2023 | annualcatholicappeal.com
The 2023 Annual Catholic Appeal billboard on the St. Stanislaus Kostka Parish rectory façade is seen by thousands of commuters along the Kennedy Expressway each day. The parish was established in 1867 when 30 families formed the Society of St. Stanislaus Kostka and purchased four lots of land for $1,700 on what was once farmland. The parish stands at Noble and Potomac streets near what was then called Plank Road (later renamed Milwaukee Avenue).
Annual Catholic Appeal/ Lumen Cordium Society Brendan Keating, JD Chief Development Officer 312.534.5271 bkeating@archchicago.org Melissa M. Babcock, CFRE Senior Director of Development 312.534.8197 mbabcock@archchicago.org Barbara Shea Collins Director, Annual Catholic Appeal 312.534.7944 bcollins@archchicago.org Regina Zielinski Coordinator, Annual Catholic Appeal 312.534.7615 rezielinski@archchicago.org Carla Beecher Editor, Lumen magazine INSIDE THIS ISSUE 03 From the Cardinal 05 Theology 101 06 Catholic Relief Services 07 Renew My Church 08 On the road together 12 Our ministries 14 Tax Credit Scholarship 16 Generosity 18 Giving societies 19 Distribution of funds 20 Planned giving 22 Distribution of funds 23 Charitable gift annuity Cover Story
Natalie Battaglia Photography
CONTACTS
Archdiocese
Front cover: Natalie Battaglia photo Lumen magazine is a biannual publication for the friends of the
of Chicago.
of St. Stanislaus Kostka Parish
Engaging in the world with gratitude, a little wariness and hope
We live in the world and deal with it daily. It can cause us both joy and sorrow. The natural world, with its beauty, can engender a sense of wonder and even awe, although it can also unleash terrible destructive forces that we know all too well, such as hurricanes, earthquakes and floods. The human world is an even more dramatic mix of good and bad. We know exemplary people of wisdom and compassion, but we also know the stridency and violence of living in a polarized society.
As people of faith, what are we to make of this? Even when we turn to the word of God, a direct answer seems to elude us. For example, in the first letter of John, we hear: "Do not love the world or things of the world. If anyone loves the world, the love of the Father is not in him." (2:15) But then, in sharp contrast, we hear the words of Jesus to Nicodemus in John's Gospel: "For God so loved the world that he gave his only Son so that everyone who believes in him might not perish but might have eternal life." (3:16) The Bible appears to be ambiguous on this question of how we are to understand and deal with our world. In fact, there is a way to understand this important question, but first, we need some context.
Across history, religiously minded people — no matter what their religious tradition— often have viewed the world in terms of extremes. For example, some may see the world as completely tainted by sin or totally corrupted by it. And their response is to separate themselves as much as possible from the world. On the other side, there are those who are naively optimistic about how good everything is in and about the world. And their response is to live and let live and enjoy what they can.
The Catholic faith and spiritual tradition, in its most authentic expression, has its take on the world and how we are to live and navigate the world. Catholic faith has a complex sense of the world and of life itself. First, our faith proclaims the goodness of the world. That is already evident at the beginning of creation. Chapter One of Genesis says at various points in the creation narrative, "God saw how good it was." (1:10) Then, our faith also affirms that from our earliest moments (Gn 3), creation and our lives have been marked by sin, a falling away from God's original plan. It becomes a deeply personal matter. St. Paul says that we find ourselves divided within ourselves (Rom 7) and split off from our true selves. Finally, the last word, as St. Paul describes it, is our redemption in Christ: "Whoever is in Christ is a new creation …" (2 Cor 5:17)
In short, Catholic Christians have a complex sense of themselves and their world. They see the world and themselves as fundamentally good, created by God, and yet marked by sin. In the end, the last word is redemption in Christ. But what does this mean practically?
Catholics approach the world, themselves and every element of
creation with gratitude because it is good. At the same time, they have a prudent wariness, because it is marked by sin. Finally, they approach the world with hope because it is redeemed in Christ. Unlike people who have a uniformly negative assessment of the world as a place of evil and corruption, a reality to be avoided, Catholics engage in the world and its enterprises. Unlike people with a naively positive view of everything Catholics move cautiously and knowingly through life. Finally, their hope of redemption in Christ leads them to work for the transformation of the world into the reality that God has in mind. They will engage the world and be its salt, light and leaven.
5 THEOLOGY 101 BY FATHER LOUIS J. CAMELI, STD
Father Louis J. Cameli, STD, is the cardinal's delegate for Christian formation and mission for the Archdiocese of Chicago.
Karen Callaway/ Chicago Catholic
"In the end, the last word is redemption in Christ. But what does this mean practically?"
Liberian women's co-op overcomes market challenges of COVID-19
With the outbreak of COVID-19, rural women farmers in Liberia faced multiple challenges. Not only did they have no market to sell their products and limited business management skills, but the pandemic also caused serious economic hardship and a depreciation in the market value of their products.
In addition to straining Liberia's health system, COVID-19 posed serious economic and business challenges for Liberians. Even before the pandemic, many farmers lacked basic business and farm management know-how. That led to massive postharvest losses.
"Since COVID-19 came, we have lost many of our customers. Whenever we harvest the crops, we see low sales turnout because
of travel restrictions and lockdowns to contain the spread of the virus," says Musu Nana, head of the Suakoko Rural Women Cooperative Society. Through the USAIDfunded Agriculture Sustainability Activity, the farming cooperative in Bong County received training from international volunteers as part of the Farmerto-Farmer program. This program helps the
cooperative increase agricultural productivity through efficient and effective farming methods and climate-smart farming practices and technologies that improve crop yields and market value.
"Intercropping is very good," Musu says as she explains one of the practices the cooperative learned through the project. "Right now, we are planting more than one crop on one piece of land. And some of the crops help the other crops grow faster. We are managing the land and gaining more. Right after the training, we sold the rice and cassava that were in our warehouse. We gained a lot because we were able to get people to buy from us. We
added value to everything we have been harvesting and selling."
As an early member of the cooperative, Musu has witnessed the group grow dramatically over the past several years.
"When we started in 2015, there were only 30 farmers. Today we are 1,242. Catholic Relief Services, through the USAID-funded ASA project, has greatly helped us improve our farming practices and the selling of our product. Many of us rely on our farms to support our families," Musu says.
With improvements in farm management, production and sale of produce, Musu believes they can overcome market challenges like those they faced with COVID-19. Musu and other members of the cooperative are encouraging more women farmers in their community to use the skills they have acquired to help Liberia.
"With the motivation and workforce we have," Musa says, "I dream of solving the hunger issue in Liberia. Every year, Liberians import tons of rice from outside Liberia. But I believe with more help like this, we can change that."
Catholic Relief Services is the official international humanitarian agency of the U.S. Catholic Church. As a member of the Lumen Cordium Society, your Annual Catholic Appeal gift provides support for many worthy programs, including CRS.
6 LUMEN | Summer 2023 | annualcatholicappeal.com CATHOLIC RELIEF SERVICES BY BOAKAI B. KOILOR
Musu Nana, head of the Suakoko Rural Women Cooperative Society, stands in a corn field in Bong County, Liberia.
Patrick Meinhardt photo for CRS
"CRS, through the USAID-funded ASA project, has greatly helped improve our farming practices and the selling of our product."
Preparing for new growth by tilling the soil in the life of our parishes
In Luke 8, the parable of the soil, Jesus talks about the importance of planting seeds in fertile soil. If the soil is rocky, the roots will soon dry up. If it's thorny, there might be some initial quick growth, but then the roots will choke off. And if the soil is too hard, seeds can't take root at all and will wither and die. Tilling rich, fertile soil is the best way to ensure proper growth and nutrition so that the plant thrives. So it is with parishes' growth.
According to Elizabeth White, director of the Office for Evangelization and Missionary Discipleship for the past six years, the parable of the soil aptly describes the current spot where the Renew My Church initiative finds itself in the process of preparing the Church for growth through evangelization efforts.
"This preparation calls for a reframing of how parishes view what they offer and how they present those offerings to parishioners and the outside world," she said.
"We recognize that the world has changed around us and we're no longer in a culture that readily supports religion," she continued. "Today more than ever, attending church is an active, personal choice to participate in a life of faith. This represents a different cultural reality
than what we've known in the past when people readily went to church and faith was a major part of life."
To assist parishes as they prepare for the evangelization process, parish vitality coordinators offer a program through Divine Renovation called Kickstart. Priests are introduced to a high-level vision and the kind of leadership they'll need for renewal. Pastors then will create a two-year evangelization action plan and a process to identify and lift up a team to activate the plan.
"We ask pastors to prayerfully consider who in their parishes might be missionary disciples and become part of their evangelization team," White said. Ideally, she stressed, each team should be a cross section of the parish community.
White's office then trains these evangelization leaders and their teams. They offer sessions online in Spanish, Polish and English. Since 2021, 600 leaders have been trained across the archdiocese. The most recent group, which began in January, enrolled 100 people.
Their training includes learning
about a person's path to becoming a disciple of Jesus. For many, that begins with trust in a person of faith or the community, becoming open and curious about Jesus, becoming a seeker and, finally, a disciple.
"Missionary disciples have a heart for other people and can offer newcomers a soft entry point for their faith," said White. Once that curiosity and interest is sparked, the evangelization team finds ways for them to deepen their faith through programs such as Alpha," which is an 11-week process that explores faith.
At the end of the training, attendees begin implementing the action plan developed with their pastor that serves as a blueprint for their ongoing efforts.
As parishes activate their evangelization plan, White's team works with them in a shepherding role.
"We are gently guiding a cultural change in parishes that is focused less inwardly on what we want and who we are and more on how we welcome newcomers. How are we inviting people in? How are we creating a space where people can activate their faith journey? This person could be someone who's been in the pews for years but never really engaged in an active faith journey or someone who doesn't even know who Jesus is. It's a continuum."
White's office uses an accompaniment approach in which they walk with the parish-based evangelization lead as he or she shows their team how to activate the plan. Through regular check-ins and ongoing training and support, the evangelization leads are empowered to advance this work.
"It is wonderful to watch the creativity of the leads and the teams," observed White. "They reflect the diversity of this archdiocese and are the ones showing us the way towards renewal."
7 RENEW MY CHURCH BY CARLA BEECHER
8 LUMEN | Summer 2023 | annualcatholicappeal.com
Natalie Battaglia Photography
On the road together with Jesus, with each other, with our priests
Pope Francis is very insistent. He has invited the entire Church to come together and reclaim a way of being God's Church that goes back to our origins in the New Testament. The Holy Father has initiated a multiyear journey for the Church, what he has called "a synod on synodality." The Greek roots of the word syn-hodos mean "being on the road together." We are in the Church and on the Church's journey home to God together.
Everyone — without exception — has a special place and a unique voice.
We are all active agents, each one with a special contribution to make. This is so different from the vision that many Catholics have often had of the Church. Many — maybe most — saw the Church primarily as an organization or institution run by bishops and priests, and they envisioned themselves as passive consumers. In fact, the reality is much different.
Christ do not differ in quality, as if one were better than the other. It also means that they are ordered to each other in such a way that it would make no sense to have an ordained priesthood without the priesthood of the baptized. And the priesthood of the baptized depends, in its own way, on the ordained priesthood. Ordained priests are ordained precisely to be in service to those who through baptism share in the priesthood of Christ, to enable and encourage and support them as they live their lives and commitments in the world.
This understanding of ordained priesthood ordered to the baptized priestly people of God always reminds me of my responsibility. It pushes me to examine my conscience to see if I am indeed fulfilling what God wants me to do. It also prompts me to keep growing and developing in my identity and commitment as a priest, in my knowledge and in my skills, so that I can be an ever more apt instrument to promote and foster the priesthood of all the baptized.
"Though they differ essentially and not only in degree, the common priesthood of the faithful [the baptized] and the ministerial or hierarchical priesthood [the ordained] are none the less ordered to each other; each in its own proper way shares in the one priesthood of Christ."
Everyone is on the road together. That is the heart of synodality. But make no mistake, that doesn't mean that ordained priests disappear or are marginal. In fact, they are more necessary than ever. The Second Vatican Council made this remarkable statement that we have yet to fully absorb: "Though they differ essentially and not only in degree, the common priesthood of the faithful [the baptized] and the ministerial or hierarchical priesthood [the ordained] are none the less ordered to each other; each in its own proper way shares in the one priesthood of Christ." (Constitution on the Church, n.10) This means that these two expressions of sharing in the one priesthood of
What does this look like practically? Permit me to share how I see my commitment to the people of God as their priest. It really is my commitment to you. I am not alone in this. I think many other priests share what I will describe.
My commitment to you has five dimensions. I am committed to pray for you, to preach God's word for you, to celebrate the sacraments and other prayer experiences with you, to accompany you on your life's journey and be a source of comfort and challenge and to organize and administer church matters for you. Let me describe each dimension in greater detail and outline how I try to grow in each dimension.
9
COVER STORY BY FATHER LOUIS J. CAMELI, STD
I commit myself to pray for you. Daily, I want to place you and your needs in God's hands. As your priest, I am your intercessor before God. At my diaconate ordination, I assumed the obligation to pray the Liturgy of the Hours, the prayer of the Church spread throughout the day that speaks to God for the whole body of Christ through the words of the Psalms. To pray for you, I also need to grow in prayer. That happens through my dialogue with my spiritual director, through my annual retreat and days of recollection, and a continuing, deliberate, and intentional journey of prayer.
I commit myself to preach God's Word to you. For this, I draw from St. Thomas Aquinas' understanding of preaching as contemplata aliis tradere, to hand on to others what we ourselves have contemplated. Preaching cannot be just a matter of imparting information. It must always be faith speaking to faith. It cannot be abstract. It must always connect God's word with people's experience. To grow in this commitment, I must study the Scriptures, pray over them, and listen to the experiences of the people entrusted to my care.
I commit myself to celebrate the sacraments for you and lead you in prayer. Sacraments are encounters with Christ in the mystery of his death and resurrection. They are his actions, the way that he extends his salvation through time and space. To grow in this sense of sacred
"These are the commitments that I make to you and for you, as we journey together on the road with Jesus. This is not, however, a one-sided matter. You look to me and rightly have certain expectations. But I also look to you. I need your support in several ways.
celebration of the mysteries of Christ, I need to continue to learn how to let the encounter with Christ become more and more transparent as I celebrate the sacraments, especially the Eucharist. More bluntly, I need to learn how to get out of the way, so that you can more and more easily encounter him who is our life and hope.
I commit myself to accompany you on your life's journey, especially in those moments of testing and challenge that come to all of us. I want to help, guide, comfort and challenge you as you strive to be a more faithful disciple of the Lord. This is the task of spiritual direction and pastoral care. This accompaniment becomes especially important when you reach certain vulnerable moments of life, such as grief and loss, sickness and making important decisions about your
10 LUMEN | Summer 2023 | annualcatholicappeal.com COVER STORY (cont.)
Natalie Battaglia Photography
future. I commit myself to walk with you. And, even more, I commit myself to learn across time with whatever resources it takes to do this better and better.
I commit myself to do the work of organization and administration of church matters for your benefit. We are most certainly a spiritual community, but we are also an organized, structured and visible community. It takes some effort to do that organization and administration. And sometimes, that entails very mundane things like maintaining buildings, managing workers and volunteers and — of course — raising money to keep operations going. I will do this for you. Over time, I will try to sharpen those skills that enable me to do a better job.
These are the commitments that I make to you and for you, as we journey together on the road with Jesus. This is not, however, a one-sided matter. You look to me and rightly have certain expectations. But I also look to you. I need your support in several ways. In fact, as your priest, I depend on your support.
I depend, first, on your prayerful support. Just as I place you in God's hands, I ask you to place me there as well. When we hold each other in the mystery of God — and that is the meaning of "praying for each other" — something extraordinary happens. We become conduits of God's love and power for each other. And with the high demands that belong to my priestly service for your sake, I need to be touched by that love and power. St. Therese of Lisieux had toyed with the idea of becoming a priest but later realized that she had a vocation, as she named it, "to be love in the Church," that is, to be that prayerful presence that enables God's love and power to be unleashed in this world. She, by the way, was very devoted to praying for priests. She knew how much they needed her prayers.
I depend on another kind of support. It is the support that comes through feedback, by letting me know how I have been helpful and how I could be more helpful. We have all felt the impact of the ministry of priests in our lives. Generally, it has a positive impact. Sometimes, it can be negative or, at least, less than ideal. I need to know my impact. Your feedback is a supportive outreach that enables me to continue to do well what I already do well and to address what needs development or change.
Finally, I depend on your material support. The people of God, especially in the United States, have been very generous in supporting the material needs of priests. The Second Vatican Council said that financial compensation for priests has three purposes: to arrange for a decent but simple life that is sufficient to keep them from being distracted from their primary tasks by financial
insecurity; second, to be able to put aside money for their retirement and medical needs; and, finally, to have enough so that they can help the poor and those in need. The regular parish collections, of course, contribute to the material maintenance of priests. The Annual Catholic Appeal helps to support the ongoing formation of priests with personal, spiritual and pastoral opportunities. Soon, the archdiocese will launch a campaign to more solidly fund health services and retirement benefits for priests who have served this local Church.
The title of this article is: On the road together — with Jesus, with each other, with our priests. As we reflected on this theme, I hope that we all came to a better grasp of the many connections we have in the Church and in the ways that our life together in the Church is one of mutual service and support.
11
"When we hold each other in the mystery of God — and that is the meaning of 'praying for each other'— something extraordinary happens. We become conduits of God's love and power for each other."
Natalie Battaglia Photography
'SPRED-ING' THE WORD
The Special Religious Development Ministry, or SPRED, has a simple but powerful mission: to attend to the spiritual needs of children and adults with intellectual and developmental disabilities. In parishes throughout the archdiocese, small communities of faith are guided by adult catechists who help those with intellectual and developmental disabilities discover a place to belong and enjoy meaningful relationships that help them realize their own giftedness and dignity.
brought them back into the Church. "We believe evangelizing those with intellectual and developmental disabilities is important not only for them and their families but also for the entire congregation."
According to Joseph Quane, who has been director of SPRED Ministry for the past two years, parishes that offer this ministry enable their special friends to participate more fully in the liturgical life of the Church and enter into the worshiping experiences of the whole Church.
"These individuals tend to be some of the most overlooked and forgotten people within our parish communities," Quane said. For a number of families, SPRED has greatly enhanced their faith life or
even, in some cases, brought them back to the Church. "I don't think it's a shock that, even in today's world, some parishes have not known how to include and involve people with intellectual disabilities and their families in the life of the Church," he said. "One parent told me that just six years ago, she went to three different parishes that all said that there was nothing available for her son and that he would not make his first Communion. Once she and her son found SPRED, they finally felt they had a place to worship. SPRED
Quane cited Pope Francis, who speaks about being a Church of the poor and for the poor. "Pope Francis also talks about the idea that those with disabilities usually don't get to experience a sense of belonging in society or in the Church's ecclesial communities. SPRED strives to foster an authentic sense of belonging for people with intellectual and developmental disabilities in our parish communities."
According to Quane, the 114 current SPRED communities in approximately 90 parishes throughout the archdiocese usually consist of eight adult catechists and six people with disabilities. Of the eight catechists, one is the leader catechist, one is the activity catechist and six are helper catechists. Within the small community of
12 LUMEN | Summer 2023 | annualcatholicappeal.com OUR MINISTRIES
Father Jose Santiago, OP, associate director and SPRED chaplain, left, breaks bread with members of the SPRED community at the SPRED Center in Bridgeport after the March SPRED Family Liturgy.
Natalie Battaglia Photography
faith each helper catechist is paired with a person with intellectual and developmental disabilities.
"Once we have a solid foundation for our adult catechist community, we welcome our friends with the overall goal of integrating them into the parish." Quane says SPRED communities do this by exploring human experiences that they all share and drawing from life experiences in which we find God's presence.
One session recently featured how courage plays a role in our lives, especially when encountering someone or something new.
"One friend recently spoke of being frightened to move into a group home," said Quane. "He talked about not knowing how he'd fit in with his new housemates. In his early 20s and never having lived apart from his family before, he was understandably scared, but his SPRED community talked about how they overcome anxiety with new experiences through the support we receive from loved ones. For some, that's parents or other family members. For others, it may be friends, co-workers or others in the community. This individual had parents who visited him often and regularly talked to him on the phone, which gave him the support he needed to overcome his fear.
SPRED also points to the liturgical community as a means of support. "When we attend Mass on Sundays, we build relationships with our church community," Quane said. "This means that everyone in the church is a member of the community and is there to lend support or a helping hand."
"His SPRED community also reassured him that Christ, too, is always present for him and would be with him every step of the way on his life journey to lend support and give him the courage to overcome his fears and anxieties."
Built into the ministry is an active faith formation for the adult catechists, too. "Our SPRED catechists are committed to deepening their own faith," Quane said. So, just as catechists are accompanying differently abled friends on their faith journeys, they too are continuing to examine and deepen their own faith.
The SPRED catechists have their own separate sessions which they prepare for, share feedback and prayerfully reflect on their own life experiences that they bring back to their small faith community in SPRED.
The idea for SPRED came about in 1960 when then CCD Director Father
Jim McCarthy became aware of some of the obstacles families faced when trying to have their loved ones receive the sacraments of initiation — baptism, first Communion and confirmation. Because his younger brother was differently abled, Father Jim knew firsthand of the challenges families faced. He made it his mission to create a ministry that would welcome and assist these people so they also could enjoy the full life of the church. In 1964 it became an agency of the Archdiocese of Chicago. In addition to serving the parishes in the Archdiocese of Chicago, SPRED provides resources and training support for 15 U.S. dioceses and those in nine other countries.
13 BY
CARLA BEECHER
Jose Ortiz, a member of the SPRED community, carries a candle during the March SPRED Family Liturgy at the SPRED Chapel in Bridgeport .
Natalie Battaglia Photography
The legacy of a Ukrainian father's love of Catholic education lives on through his son
Sometimes the full impact of a person's life only reveals itself in a future generation. So it is with the late Ivan Dromohomyreckyj. His son, John Dewan, and his wife, Susan, have carried on his parents' love of family and passion for Catholic education to benefit deserving children in four archdiocesan Catholic schools. By taking advantage of the fund match by the archdiocese of the Invest In Kids Act (also called the Tax Credit Scholarship, or TCS), the Dewans are helping support the education of some of the area's most needy children, while also being able to direct state taxes they've paid to be provided to their schools of choice.
"TCS is unbelievable for donors and recipients alike and needs to see more light of day," said John Dewan, a champion of the program.
Specifically, the Dewans are lending TCS financial support to Our Lady of Tepeyac in Little Village, Josephinum Academy of the Sacred Heart in Wicker Park, St. Nicholas Cathedral School in Ukrainian Village and Christ the King Jesuit College Preparatory School in Austin. For every dollar donated through TCS, the program provides $3 of the donor's state taxes previously paid to the school for each $1 the donor gives. All four schools received matching funds on top of the $3-for-$1 TCS state tax multiplier by matching the entire amount once again. The archdiocese matched two donations for two of the schools, and the Dewans matched the other two, enabling the school to get $8 for each $1 donated by the donor. Empower Illinois and Big Shoulders Fund are state-approved scholarshipgranting organizations that partner with the schools on this program.
Dewan's late parents, Ivan and Hermine "Minnie," highly valued Catholic education. They and their 1-yearold daughter, Margaret, arrived in Chicago on June 11, 1954. John was born two weeks later. His younger sister, Maryan, was born five years later. The young family settled in the West Englewood neighborhood.
14 LUMEN | Summer 2023 | annualcatholicappeal.com
TAX
CREDIT SCHOLARSHIP
Natalie Battaglia Photography
John and Susan Dewan are volunteers for Josephinum Academy.
BY CARLA BEECHER
Ivan (who changed his name to the English version, John Dewan) worked long hours at a box factory to provide for his young family, including Catholic school.
"I am so grateful that my parents sent us to St. Justin Martyr Catholic School [now St. Benedict the African]. We feel so strongly about Catholic education, and TCS is such a wonderful program for families and donors. It allows people who couldn't otherwise get a great education to get one. It's made all the difference in the world in our lives."
When the Dewans named St. Nicholas Cathedral School as a recipient of their TCS gift, they had no idea that it would soon benefit their 4-year-old relative from Ukraine, Andrii. According to Dewan, it was a blessing from God that his father had left them an apartment building in Ukrainian Village, just a half block away from the school.
"When the war in Ukraine broke out and five of my family members sought refuge here, we were able to sponsor them and put them up in that building. Just two months prior to that, we had made our first TCS donation to that very same school with no idea this was going to happen. My father's presence seemed to be there at the beginning and at the end, making it a full circle."
With a total enrollment of 200, St. Nicholas Cathedral School has 75 Ukrainian refugee children.
In addition to this sponsorship, John volunteers two days a week at Josephinum Academy, an all-girl Catholic high school and a low-income school with 95 percent of students receiving financial aid, including TCS. "I call Josephinum the sister school of Our Lady of Tepeyac. At Tepeyac, for 13 years in a row, students have had a 100 percent college acceptance rate. College acceptance rates are similarly high at Josephinum. It's so
important to give the students an opportunity to succeed."
Additionally, the Dewans had initially approached the president of Chicago Jesuit Academy about lending support but were told that Christ the King High School, which shares its campus, needed the support more. "Christ the King became the fourth
school to benefit from our Tax Credit Scholarship funds. Christ the King does incredible work with these young men and women, most of whom come from very difficult home circumstances."
Parishioners of St. Mary of the Woods in Edgebrook, the Dewans have supported schools through TCS since 2019.
MORE INFO
To find out more about how you can support Catholic education in Chicago and receive a tax credit from the state, contact Jose Piñones, director of giving, at jpinones@ archchicago.org or 312.534.8278.
15
Natalie Battaglia Photography
John and Sue Dewan share a light moment with Josephinum Academy of the Sacred Heart Principal Colleen Schrantz.
GIVING BACK TO THE ONE WHO HAS GIVEN HIM SO MUCH
Assumption Church in the River North neighborhood holds special meaning to Mike Cunningham, a generous young donor to the Annual Catholic Appeal (ACA). Besides being his home parish, where he serves when he can as a lector, it's also the church in which his great-grandparents were married in 1917.
"So, my attachment to Assumption is beyond going to Mass," he said. "It's an emotional experience, given that history."
As an investment banker who regularly advises clients many years his senior, Cunningham has stretched his comfort zone on public speaking and serves as a lector.
"With God's grace, whenever I've felt a little nervous about speaking to such a large group, there are signs that I'm doing what God wants me to do," he said. He recalled a Sunday when he wasn't feeling well but served anyway. After Mass, as he was walking home, a fellow parishioner rolled up beside him, rolled down his
16 LUMEN | Summer 2023 | annualcatholicappeal.com
GENEROSITY
Natalie Battaglia Photography
window and said, "Great readings today!" Cunningham smiled and thought, "OK. Thanks, God. I'm doing what I'm supposed to do for you."
In addition to his involvement at Assumption, Cunningham has found meaning and leadership experience through his year-long fellowship with the Leonine Forum, which educates young, promising leaders in the core tenets of Catholic social teaching and its practical application.
"The Leonine Forum informs my belief. Society is
becoming increasingly secular, so going to Mass and being surrounded by people who believe in the same things I believe in — taking the Eucharist, being one with God and one with Jesus — is important. It's an emotional experience for me every Sunday and sets me up for the way I feel about the week."
Cunningham also believes it's right to give back to the Church that has given him so much. "It's a fundamental part of being Christian," he said. "To paraphrase Luke, 'To whom much is given, much is required.'"
He cites his upbringing and family history as another compelling reason he supports the ACA. "There's something deeper related to my faith that comes from my parents and grandmother. They grew up very poor and always kept the faith and let it guide them through life. I especially think a lot about the difficulties my grandmother faced as a single mother of eight. And my parents … they're my heroes. Our lives haven't always been easy. My dad didn't graduate from high school and worked three jobs to support us. Ultimately, he started a business that is doing well. My sisters, Roxanne and Taylor, passed away several years ago. But even through the tragedies and when my parents had little, they always found strength in God and gave a lot. My parents had the biggest impact on who I am as a person, my faith, and my belief in the importance of generosity.
"I've been blessed beyond measure, and giving to the Catholic Church is not something I need to contemplate. I don't even think about it. It's just giving back to the one who's given me so much."
Engaging young leaders in the work of the Church
One of the Church's biggest challenges today is getting young people involved. Cunningham believes it comes down to creating opportunities for young Catholic leaders in our community to have an impact. "Activities that only provide ways to become cursorily involved, like being part of a super-large junior board or doing some simple committee work, seem superficial to me. But if the archdiocese and other Catholic nonprofits began opening up their leadership and board positions to promising young leaders who are passionate, engagement will increase — particularly for those who want to have an impact. It also offers a way for respected Catholics in our communities to mentor the younger generation on their obligation to our faith and community and what it means to be Catholic today. Their example shines a light on the importance of philanthropy."
17 BY CARLA BEECHER
Father Joseph Chamblain, OSM, Michael Cunningham and Father John Fontana, OSM, at Assumption Catholic Church in Chicago.
THE LUMEN CORDIUM SOCIETY
The Lumen Cordium Society is a special alliance of Catholic men and women who take a leadership role in the work of the Church. As a member, your generosity sets an example of good stewardship as you reach out with love to people and ministries in need of your assistance. While the satisfaction derived from advancing the mission of the Church in Chicago is the greatest reward, the benefits described below are intended to convey Cardinal Cupich's gratitude for your support.
PATRONS
Those donating at the $1,500 to $4,999 level will:
• Be remembered in weekly Masses celebrated at the St. James Chapel in the Quigley Pastoral Center
• Receive Lumen magazine twice a year
• Be included in the Prayer Intention Book of society members
• Be invited to the annual Mass and reception with Cardinal Cupich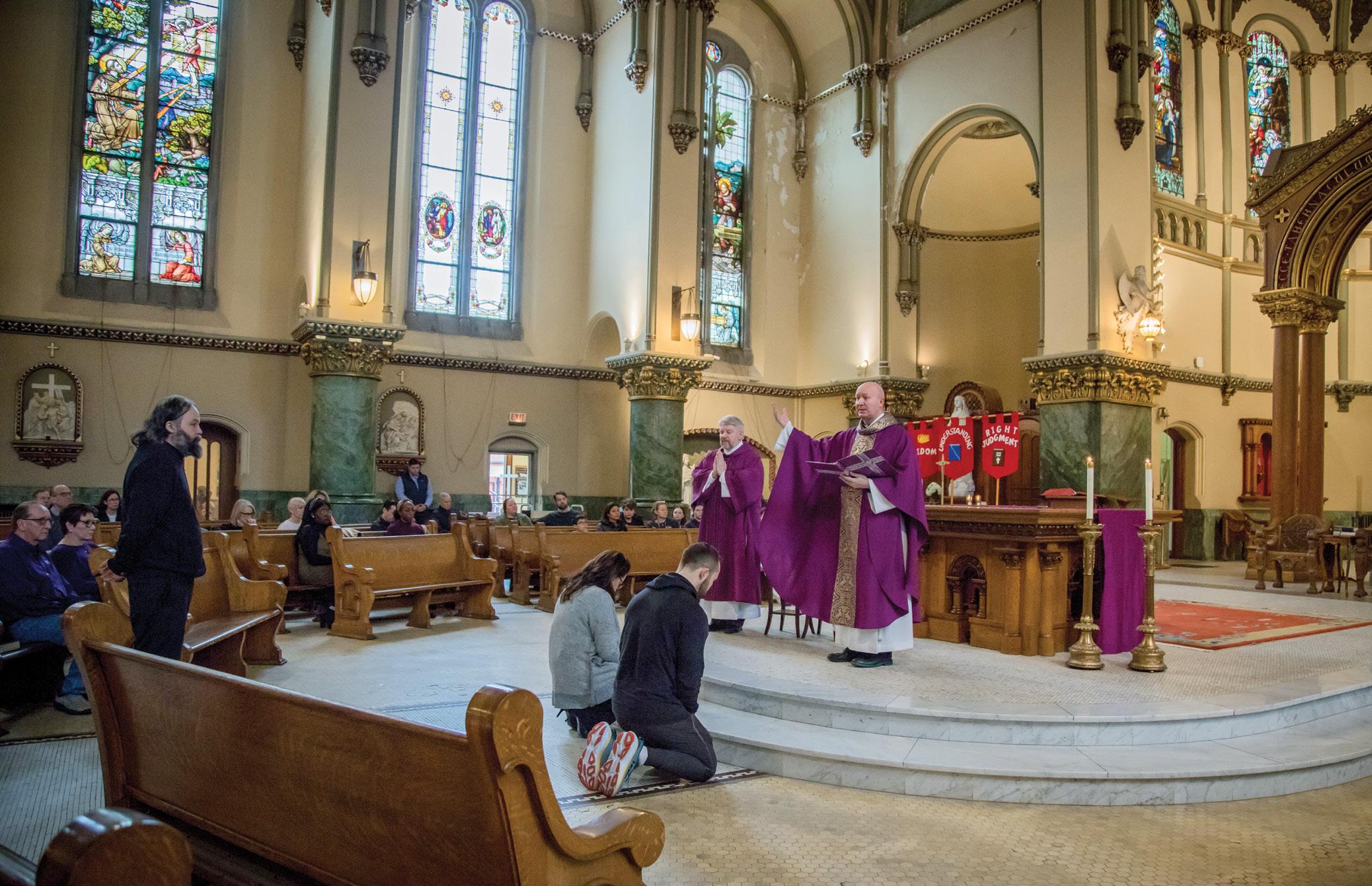 BENEFACTORS
Those donating at the $5,000 to $9,999 level will:
• Receive Patrons benefits
• Receive a subscription to Chicago Catholic, the archdiocesan newspaper
• Be invited to an annual reception at the Residence with Cardinal Cupich
CARDINAL'S CIRCLE
Those donating at the $10,000 to $24,999 level will:
• Receive Benefactors benefits
• Be invited to a Christmas reception with Cardinal Cupich
CARDINAL'S GUILD
Those donating at the $25,000+ level will:
• Receive Cardinal's Circle benefits
• Be invited to a special dinner with Cardinal Cupich
18 LUMEN | Summer 2023 | annualcatholicappeal.com GIVING SOCIETIES
Natalie Battaglia Photography
LUMEN LEADERSHIP, LEGACY AND LOYALIST SOCIETIES
To recognize more of our generous donors who support the work of the Church, the Archdiocese of Chicago recently instituted three more giving societies in addition to the Lumen Cordium Society.
LUMEN LEADERSHIP SOCIETY
Cumulative Lifetime Giving over $100,000
The Lumen Leadership Society honors families and individuals who have made cumulative lifetime gifts totaling $100,000 or more to archdiocese initiatives, including the Annual Catholic Appeal and To Teach Who Christ Is. Members receive recognition and invitations to special events. If you have any questions, please contact Barbara Shea Collins, director of the Annual Catholic Appeal, at 312.534.7944 or bcollins@archchicago.org.
LUMEN LOYALIST SOCIETY Loyal Support to the Annual Catholic Appeal
The Lumen Loyalist Society honors those who have made gifts of $500 or more to the Annual Catholic Appeal every year for 10 years. If you have any questions, please contact Barbara Shea Collins, director of the Annual Catholic Appeal, at 312.534.7944 or bcollins@archchicago.org.
LUMEN LEGACY SOCIETY Planned Gifts
The Lumen Legacy Society honors individuals who have included a gift to the archdiocese or one of its parishes, schools or ministries in their estate plans — through a will, trust, retirement account or other financial asset. Membership is also extended to those who establish a gift annuity or name the Annual Catholic Appeal as a beneficiary in their estate plan. If you have any questions, please contact Krystina M. Campbell, JD, planned giving officer, at 312.534.5404 or kcampbell@archchicago.org.
PRAY WITH US
Did you know that the Archdiocese of Chicago has many ways for you to connect to the Church and each other when in-person contact isn't possible? The love of God is within reach at home by searching our website for televised Masses, online prayer groups, book clubs, podcasts, Chicago Catholic newspaper, Vatican News, Catholic radio stations and more.
To connect to the Chicago archdiocesan community and explore the full array of offerings, please visit:
archchicago.org
SUNDAY TV MASS SCHEDULE
English 9:30 a.m. on ABC7
Spanish 10 a.m. on Univision
Polish 9 a.m. and 3 p.m. on Polvision
19
Natalie Battaglia Photography
Sisters, companions and lifelong friends
It's true for most people that the longest relationship they will have in their lives is with a sibling. Sisters
Jacqueline M. Krump, PhD, and Mary Jane (Krump) Cascino shared a sisterly bond until they died just three months apart last year. Jacqueline, professor emerita of English literature at Northeastern Illinois University, was 101 when she died on May 26, 2022. Mary Jane was 96 upon her death on August 31, 2022. The two regularly attended Mass at St. Lambert Church of Ss. Peter and Lambert Catholic Parish in Skokie and were a regular fixture at many archdiocesan events.
Mary Jane's son, Jim Cascino, fondly remembers his mother and aunt. "My Aunt Jacqueline [who was his godmother] and my mother had a warm relationship growing up that carried them throughout life," he said. "After my father, Jerome, died in 1994, they started vacationing together. In addition to teaching, my aunt also worked as a travel agent on the side so she could see the world. My mom often was her companion on cruises or trips to Europe, the Panama Canal and elsewhere."
The two grew up in a religious and musical household on Chicago's South Side along with their other siblings, the late Joan Sue [Armamentos] and the late Rev. John Krump, a priest. According to Jim, they all played the piano during family singalongs.
Jim describes his mother as loving and caring. "She had a very strong faith in God and the Church," he said. "She was St. Lambert's first woman lector and a
20 LUMEN | Summer 2023 | annualcatholicappeal.com PLANNED GIVING
Sisters Jacqueline M. Krump, PhD, and Mary Jane (Krump) Cascino, pictured here with Cardinal Cupich, enjoyed attending events together.
school board member when I was young. In addition, mom insisted my sister, Jerilyn, and I attend Catholic schools."
Also a teacher, having worked most of her career as a kindergarten teacher in Chicago Public Schools, Mary Jane instilled in her children the desire to give to others through financial support, volunteering and acts of charity. "My mom's life centered around the Catholic faith," Jim said. "She believed in God and the Church and in loving God with your whole heart and your neighbor as yourself. She also prayed a lot. Any time there was a problem, she'd say, 'I'll say a prayer.'"
Jim remembers his Aunt Jacqueline as someone who loved literature and always had her nose in a book — but music was her passion. She even played summer stock in St. Louis in her 20s.
According to Jim, his aunt was also a shrewd investor,
which allowed her to endow many music scholarships at Chicago schools that she named for loved ones and admired friends.
A member of the Lumen Cordium Society, Jacqueline's generosity also extended to the Annual Catholic Appeal. Before she died, she named the Lumen Cordium Society as one of the beneficiaries of her living trust.
Dr. Krump valued being a part of the Catholic community. "She cherished her relationships with her family, fellow parishioners, her pastor and other members of the Lumen Cordium Society," said Denise Ashurst, philanthropy officer. "She was particularly proud of the work the Lumen Cordium did to eliminate financial barriers of Catholic education by providing tuition assistance to needy Catholic families."
Upon hearing of Jacqueline's death while in Rome, her dear friend, former DePaul President Father Dennis Holtschneider, CM, offered Mass in her memory at St. Peter's Basilica, calling it "a grand space worthy of her grand spirit."
Her friend and colleague Rich Daniels, director of City Lights Orchestra and a benefactor of the archdiocese, first met Jacqueline when they served on the Board of Directors at the DePaul University School of Music.
"She was a dedicated Catholic, a patron of the arts and incredibly generous," he said. "She was a warm, delightful and bright woman with whom you could have incredibly engaging conversations. She also always loved to go to events. I would see her and her sister regularly at university events and those at the cardinal's house. She loved to dress up and put on her finest to go out, but never in a showy way. She projected, 'I'm here to have a good time. I hope you are, too.''
"She will be missed, as will her lovely sister, Mary Jane," he said. "The two were always together."
21 BY CARLA BEECHER
Jacqueline and Mary Jane Krump as little girls.
DISTRIBUTION OF FUNDS
22 LUMEN | Summer 2023 | annualcatholicappeal.com
23
Lumen Cordium Society
835 North Rush Street
Chicago, IL 60611-2030
tel 312.534.7959
annualcatholicappeal.com
Natalie Battaglia Photography
Natalie Battaglia Photography
All smiles with Cardinal Cupich after the 2022 Lumen Cordium Society Annual Mass and Reception at St. John Brebeuf are siblings from the Brennan family. From left are Cynthia Brennan of St. Elizabeth Ann Seaton; Michael Brennan of Mary, Undoer of Knots; Ann Brennan of Mary, Undoer of Knots; Kathleen Eul of Our Lady of the Wayside; and Mark Brennan of Assumption Catholic Church in Chicago.
NONPROFIT U.S. Postage PAID Palatine, IL P & DC Permit No. 7133
Chicago Catholic school children thank you for your support.