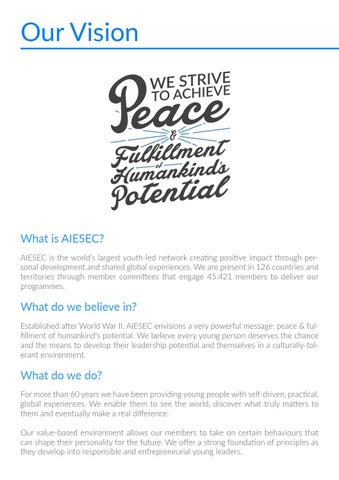 Our Vision
What is AIESEC? AIESEC is the world's largest youth-led network creating positive impact through personal development and shared global experiences. We are present in 126 countries and territories through member committees that engage 45.421 members to deliver our programmes.
What do we believe in? Established after World War II, AIESEC envisions a very powerful message: peace & fulfillment of humankind's potential. We believe every young person deserves the chance and the means to develop their leadership potential and themselves in a culturally-tolerant environment.
What do we do? For more than 60 years we have been providing young people with self-driven, practical, global experiences. We enable them to see the world, discover what truly matters to them and eventually make a real difference. Our value-based environment allows our members to take on certain behaviours that can shape their personality for the future. We offer a strong foundation of principles as they develop into responsible and entrepreneurial young leaders.
Global Annual Report 2014-2015  
AIESEC's Global Annual Report for the year 2014 - 2015
Global Annual Report 2014-2015  
Published on Aug 21, 2015  
AIESEC's Global Annual Report for the year 2014 - 2015