Building community through sports
By Dr. Peggy Pelonis, ACS Athens President
As an integral part of education, sports provide students with much more than physical activity.
The ACS Athens sports curriculum is carefully and thoughtfully designed as our athletic director and team of coaches understand that developing a strong mind is as important as developing a strong body. I have often heard our coaches stress that while winning is desired; most important is how we play the game and what athletes gain in the process. In many ways, sports prepare students for life by building community, encouraging them to take risks and leave their comfort zones to embrace opportunities, developing lifelong skills such as discipline, focus, and team work, embracing failure without breaking, and being contributors to improving life and living.
Coming together as a community is best seen through our sports teams, where students from different countries work toward a common goal. The atmosphere of camaraderie during games, where students cheer each other on and contribute to a sense of belonging through shared experiences, defeats, and victories, is truly inspiring. This sense of unity develops long-lasting relationships and connections that go far beyond the field or gym. Likewise, the opportunities to compete at different levels, local, regional, and
ACS Athens Philosophy of Athletics
international is second to none as our teams are exposed to wider audiences while belonging to groups beyond Greece, such as the ISAA; the sporting community made up of like-minded international schools that aim to bring together diverse groups of students.
Most importantly, students develop strong work ethics and push themselves to achieve beyond their limits; assets that are very important as they get ready to go beyond high school to achieve higher goals. Meanwhile, as failure is an inevitable part of any competition, students learn to cope with setbacks; defeats, injuries, disagreements; all part of the human experience that teaches resilience and perseverance. It is these setbacks that help students develop psychological muscle, and this becomes a resource that will serve them well in life.
School sports play a vital role in developing conscious global citizens as they foster the sense of social responsibility and positive contributions to the world around them. In this sense, sports teams can be viewed as microcosms of the world, and all that is learned within these teams is eventually transferred to the outside world via our students, who inevitably will contribute to a world of inclusivity and equity. Congratulations to our athletes and to the coaches for their hard work and dedication. They are all winners!
In accordance with the ACS Athens Mission Statement, the Athletic department's intent is to provide students with athletic opportunities that will challenge them and will further develop each student's educational maturity. The athletic program will always be in conformity with the general objectives of the school and at no time will the educational curriculum be placed in a secondary role.
The fundamental principle of sports, particularly competitive athletics, is to augment the education of the young. Athletics should both promote and supplement the regular curriculum at the school. The athletic department's concern is the personal development of each athlete. It is however necessary for the student who elects to participate in Athletics to understand that he/she is voluntarily making a choice of self-discipline, self-responsibility and commitment.
Publisher: ACS Athens
Editor/Director of Athletics: Annie Constantinides
Co-Editor: Valia Efstathiou
Photo credits: Valia Efstathiou, Sevasti Vrakatseli, Vangelis Stolis,
Concept & publication design: Maria Matakia
Copyright© 2022-23. All rights reserved. No part of this magazine (text or images) may be reproduced without the consent of the publisher.
www.acs.gr acsathens.athletics
3
dpa picture alliance / Alamy Stock Photo
Embracing new opportunities: International Competitions
By Annie Constantinides, Director of Athletics
For many of us, the memories of COVID -19 and its impact on our school sports programs are quite vivid. In the past few years, our student-athletes missed an important part of the ACS Athens Athletics program; that is, the international competition at the end of each season, the most exciting part of the sport!
From the onset of the present academic year, our Academy and Middle School studentathletes were presented with new opportunities for international sports competitions as well as travel. ACS Athens is now a member of a new sports conference; the International Schools Athletics Association (ISAA) consists of 16 international schools, and the geographical makeup of the conference makes all competitions quite interesting.
The international competitions offer exposure to different playing styles, diverse teams, and new cultures, broadening our athletes' horizons and nurturing a global perspective. Each one of these new opportunities has a positive impact on student-athletes and is a foundation of education-based athletics.
These experiences contribute to their personal development and growth in many ways; their skill set is being challenged and improved at the same time, they learn to handle pressure, manage time effectively and adapt to unfamiliar environments. Furthermore, by competing and interacting with athletes from different backgrounds internationally, they gain valuable insights and may even build lifelong
relationships. In addition, during international competition and travel events, our studentathletes become ambassadors of our school and our community representing the values of ACS Athens and, even more specifically, the values of the Athletic Department: motivation, discipline, pride, effort, sportsmanship, and respect.
Game and match scores, as well as "personal best" performances, may soon be forgotten; but the relationships and memories may have a greater impact as well as last forever.
ISAA Conference schools
Æ Vienna International School
Æ Marymount International School London
Æ TASIS The American International School in England
Æ American International School in Israel
Æ The British School in the Netherlands
Æ ACS International School Egham
Æ ACS International School Hillingdon
Æ ACS Athens
Æ Cairo American College
Æ International School Eindhoven
Æ Bonn International School
Æ International School of Geneva
Æ Sotogrande International School
Æ Schutz American School
Æ The British School of Brussels
Æ The British School of Paris
4
ACS Athens Athletics
"10 Commandments"
Æ Never underestimate your opponent.
Æ Work on your weaknesses until they become your strong points.
Æ Remember that a great effort is usually the result of great attitude.
Æ Win with humility, lose with grace.
Æ Ignore those who discourage you.
Æ Remember that how you conduct yourself off the field is just as important as how you conduct yourself on the field.
Æ Talent is God-given – be humble. Fame is man-given – be thankful. Conceit is self-given
be careful.
Æ Don't ask to be deprived of tension and discipline – these are the tools that shape success.
Æ Do what has to be done, when it has to be done, and as well as it can be done.
Æ Always give your best!
EFFORT RESPECT DISCIPLINE MOTIVATION SPORTSMANSHIP PRIDE
5
–
2022 2023
Introducing the ACS Athens Competitive Teams FALL SEASON
Middle School & High School Cross Country teams
6
Junior Varsity Girls Soccer Varsity Girls Soccer
7
SEASON
Junior Varsity Boys Soccer
Varsity Boys Soccer
Junior Varsity Girls Volleyball
Varsity Girls Volleyball
Junior Varsity Boys Volleyball Varsity Boys Volleyball
WINTER SEASON
Middle School Swimming
High School Swimming
Junior Varsity Girls Basketball
Varsity Girls Basketball
Junior Varsity Boys Basketball
Varsity Boys Basketball
8
SPRING SEASON
9
Middle School Track & Field
High School Track & Field
Middle School Tennis
High School Tennis
Sports Coaches Athlet e s 7 19 237 Middle School High School Gr. 9 Gr. 10 Gr. 11 Gr. 12 35 47 38 28 Gr. 6 Gr. 7 Gr. 8 11 26 52
Team Our Coaching Team
12
Angelos Dimitropoulos JV Boys & Varsity Volleyball Varsity Girls Basketball Track & Field
Labrini Rontogiannis Varsity Girls Volleyball
Efi Karatopouzi Track & Field
Natasa Antoniou Middle School Swimming
Ilias Karapiperis Varsity Boys Soccer
Justin Cramer Varsity Boys Basketball
Marie Gorack JV Girls Soccer
Dean Moraitis Varsity Girls Soccer
Nick Naoum Varsity Girls Soccer
13
Vasilis Mikros JV Boys Soccer Track & Field
Alexandra Komnou Cross Country Track & Field
Athanasia Kotsiani Cross Country High School Swimming
Ioanna Koutrogiannou JV Girls Basketball
Niki Dimitropoulou JV Girls Volleyball
Chris Stachikas JV Boys Basketball
Chris Kourtis Middle School Tennis
Panagiotis Karras High School Swimming
Konstantina Paradeisi Middle School Swimming
Igor Schoenefeld High School Tennis
Ginnis bounced back from injuries to win the silver medal at two World Championships events
Source: ACS Athens Global Alumni, the professional and social networking hub for ACS Athens Alums
ACS Athens alumnus AJ Ginnis (Alexandros Ioannis Ginnis) made history TWICE in France in as many weeks when he became the first Greek skier to medal at the World Cup Slalom at two events, in Chamonix and in Courchevel.
After a substandard first run in Chamonix, Ginnis bounced back with a legendary second run to clinch the silver medal. The 28 year-old skier could not contain his enthusiasm when he realized his history-making run secured the silver medal leaping over a barrier to celebrate with his team and coaches.
Speaking to the Greek newspaper Proto Thema, Ginnis said he was honored to represent Greece and enthusiastic in encouraging youngsters in Greece interested in skiing and winter sports. The message was particularly timely as snowstorm 'Barbara' blanketed much of Greece this weekend inspiring many to take to hills and slopes for some winter fun.
"This is a dream for me - for a kid that grew up in Glyfada, in Vouliagmeni, and now on the slopes of Chamonix, to come in second at the World Cup, which is being hosted in France," Ginnis said. "It is a dream for all the children out there skiing in Greece - you can do it, there is hope. And yes, I am the luckiest person in the world that I am able to wear our colors at this championship."
This victory is even sweeter considering that Ginnis has overcome injuries and six surgeries on his way to his history-making run, but that weekend's performance has put him on a triumphant path.
AJ Ginnis and his teammates remain focused on finishing this season strong with an ultimate goal of making history again in the 2026 Olympic Games in Italy.
"We are very proud of our ACS Athens alumnus AJ Ginnis for this grand achievement," said Dr. Peggy Pelonis, ACS Athens President. "He has always been a dedicated, hardworking and determined athlete. Well deserved. Congratulations!"
15
" "
" "
Incorporating Technology in our Sports Program
By Valia Efstathiou, Athletic Programs and Events Coordinator
16
The Athletic Department always tries to incorporate technology and creativity in its day to day tasks. Let's see what happened this year.
Æ For the first time ever, the Athletic Department introduced a barcode system to better track its sports uniforms and equipment. With this move, the manual inventory management and tracking is now history, ensuring a smooth and efficient tracking process with the new barcode system.
Æ The local cross country meet at Syngrou Park (with over 110 athletes), supported electronic timing using a running app and a tablet that were connected to the athletes' bib numbers. The races' results were readily available and we look forward to using this system in future local cross country events.
Æ The International Youth Basketball Tournament offered livestreaming to our spectators who could not attend the games. A robotics camera was placed in the gym and from the comfort of our office we could control the camera, giving different angles of the games, updating the score and placing graphics during time-outs and halftime.
We can't wait to see what other technological means our Department will adopt in the future!
17
From the Sidelines: The Power of Observation
By Labrini Rontogiannis, Varsity Girls Volleyball Coach
As a coach, our role extends far beyond the sidelines or the training ground. In the world of coaching, like teaching, continuous learning and growth are essential for success. While self-reflection is incredibly valuable, another powerful tool at a coach's disposal is observing and learning from fellow coaches. Observing other coaches, even if in other sports, can elevate our own coaching abilities, expand perspectives, and ultimately benefit all athletes.
There is a great thrill being a part of an athletic event; more so when it involves a trip! Traveling with an athletic team is more than a field trip. It's a culmination of the sweat and tears shed during an arduous season (and sometimes blood!). Despite the long days in the gym, and longer nights keeping studentathletes safe, athletic trips are an incredible bonding experience for athletes and coaches; and it's the highlight of every season. And so, with the return of traveling for our
ACS athletic teams, I jumped at the chance to join the Varsity Girls Basketball team on their trip to London during the winter season. Beyond the lively plane rides, sleeping selfies and cheap fast food dinners, as a chaperone, the bench served as an observation deck. Not being directly involved, it allowed me to experience coaching from an entirely different perspective.
Observing other coaches exposes us to a range of coaching styles,
18
philosophies, and techniques. Each coach has a unique approach shaped by their own experiences and expertise. As an outsider, I got a different feel for what it is like to coach. Despite witnessing another entirely different sport, by observing coaching methods, I gained a fresh perspective and reflected on my own coaching repertoire. Whether it was witnessing innovative warm up drills, effective communication strategies, or tactical insights, this exposure helped challenge my own assumptions and growth as a coach.
From the bench, to the locker room, to the sideline huddles, I observed yet another essential coaching tool: communication. Observing other coaches provides us with an opportunity to witness effective communication in action. Delivering feedback, motivating athletes, and building rapport helps us refine our own ability to convey instructions, provide constructive criticism, and inspire our athletes to achieve their full potential. Effective communication fosters
trust, strengthens relationships, and creates an environment conducive for young athletes to grow.
As coaches, we are on a continuous journey of improvement. By actively observing other coaches, we unlock a wealth of knowledge, experience, and inspiration, and this also contributes to building a network of like minded professionals. This network becomes a valuable support system where coaches can seek advice, share challenges, and celebrate successes. Learning from their successes and challenges broadens our own approaches, refines our coaching methods, and strengthens our ability to guide and inspire our athletes. By embracing the practice of observation and being open to learning from others, cultivates a growth mindset, ultimately leading to enhanced coaching effectiveness and greater athlete development.
In the few days I spent with the Varsity Girls basketball team, I experienced all of the above! I witnessed a coach take what may have been
considered the underdog team, to being the most feared team in the tournament with a final 2nd place standing. I witnessed a group of girls communicate and bond with each other and their coaches, driving the team spirit, whether winning or losing, all the while keeping smiles on their faces. I witnessed my own athletes play aggressive and demanding games, with grace and dignity. Above all, I witnessed a coach transfer his experience, knowledge and love for the sport and his athletes, ultimately filling me with the same desires. All of this, thanks to the power of observation. This may not have been "my team" but it sure felt that way at the end of the tournament. The responsibility, humility, dedication, friendship, and "togetherness" demonstrated by the team was contagious. And so my conclusion is this: I am available to observe any time!
19
"I told you that I know Pele"
The coincidental photo in Paleo Faliro in 1961 and the new interaction in 1996
By Nick Naoum, Varsity Girls Soccer Coach
I was born in South Africa in December of 1958. My father was from Thessaloniki and had first immigrated to Brazil and later to Johannesburg. There he also met my mother, who was born in Istanbul and, at the age of 19, went to South Africa for an arranged marriage - not with my father. In the summer of 1961, my father brought me to Athens to introduce me to his parents, who lived in P. Faliro. After a few days, he left me with my grandparents and left for Istanbul, where my mother's parents lived.
One morning my grandparents took me for a swim at Eden Beach. I really liked the sea and kicking a ball, and that's exactly what I was doing when suddenly I saw in front of me a group of soccer players sitting at the beach and I immediately ran towards them. One of the people in the group took me in his arms, and someone else took a picture of us. When my father returned from Istanbul, my grandparents told him the story, commenting about the fact that "your son only hangs out with soccer players." We had no idea who they were at that time.
A year later, while we were back in Johannesburg, an album titled "The Golden Legs" arrived at the city's Greek bookstore, in which all the great football players of the time, Greek and foreign, were presented. Flipping through it, the bookseller, who was my father's friend, suddenly sees a photo of me in Pele's arms! As soon as he saw the photo, he immediately understood who
20
Photos from coach Naoum's personal archive
the man was with whom I "made friends with" on that beach of P. Faliro. Having lived in Brazil, he knew very well who Pele was - who had then come to Greece with Santos for friendly matches with AEK, Olympiakos, and Panathinaikos.
The album became a family heirloom, and the story a family legend. In 1996, while we were already living in Athens, I heard that Pele was coming to give a press interview to Grande Bretagne Hotel as a representative of Mastercard. I decided to go find him, and show him the legendary photo. There was a large crowd and strong security measures at "G. Bretagne," making it impossible for me to even go close to the building. I was holding the album with my finger on the
photo page so I wouldn't have to look at the last moment, and even though I explained to different security people what I wanted, they wouldn't let me in.
However, at some point, I managed to find an empty spot in the hotel lobby; I was standing discreetly in a corner, and suddenly I heard, "he's coming down, he's coming down!" The whole crowd moved towards the elevators to see Pele, who, however, came out from the opposite side and went towards the interview room. "It's now or never." I thought and ran like crazy and finally reached him. "Give me five minutes," I said and showed him the photo. I'm sure he didn't remember it, but he smiled, and I told him to take another photo. I put my hand
around his shoulders and gave my camera to one guy from the crowd, who had started to gather around us, and that's how my second photo with Pele became a reality! Then one of the security men came as they didn't let me pass before, and I smiled happily at him. "I told you I knew Pele, but you didn't believe me. See, I was telling the truth!"
21
Every small gesture counts!
By Emmanuel Epongo and Amaryllis Antonopoulou, ACS Athens Athletic Council Members
The Sports Shoes Recycling project dates to the early part of 2015; it is a project that the Athletic Department has embraced through the years and one which makes us proud because it is a testament that simple, small gestures can and do make a difference in someone's life.
As athletes, we truly understand the crucial role that shoes play in providing safety and enhancing our performance during athletic events. Recently, we had the remarkable opportunity to collaborate with the athletic office and the NGO "Institute Team for the World" for an inspiring Shoe Drive. Our journey began with a simple meeting with the Athletic Council, where we discussed the importance of providing quality footwear to those in need. Carrying the torch of the shoe drive, we were determined to make a difference and made it a mission to spread the word throughout the school.
Our council designed captivating posters that adorned the hallways, capturing the attention of teachers and students from K-12. The response was overwhelming as our school community rallied behind the cause, generously donating a vast collection of high-quality shoes of all different
22
sizes. The donation bins overflowed within a short span of time, signaling the beginning of our exhilarating race to pack and prepare the shoes for distribution.
On that morning, our determination was unmatched as we approached the task, fiercely committed to completing the packing process. Thankfully, we were joined by Reign and Isaiah, our fellow ACS Athens peers, whose support and teamwork were invaluable. Together, our teamwork was able to get the dream work of sorting and tying each pair of shoes for their new owners.
The atmosphere was filled with passion as we hustled to finish packing just moments before the bell rang for our next class. The sight of over 300 pairs of shoes neatly arranged and ready for distribution filled us with a profound sense of pride and accomplishment. It was a
DRIVE SHOE DRIVE SHOE
testament to the power of teamwork and the incredible impact we could make when we come together as a community.
Throughout this transformative experience, we came to realize that, as athletes, it is our responsibility to leverage our platforms to create positive change in the lives of others by promoting healthy and active living. Our shoe drive not only provided a lasting impact for the receivers, but it also showcased the remarkable strength of unity within our community. It reminded us that by joining forces and channeling our collective passion, we have the power to make a real difference–one pair of shoes at a time.
DONATE BY DEC. 15 DONATE BY DEC. 15
23
COMMUNITY
SERVICE
Cross Country team runs for charity at the Olympic Stadium
Our Varsity and Junior Varsity Cross Country runners participated in the 2nd Olympic Health Run that took place at the Olympic Stadium. Our athletes ran 3 km, starting from the Olympic Stadium Track and continuing their race in the surroundings of the
Olympic Complex. This race was a charity event in support of children fighting cancer, and all proceeds were collected to support the cause.
25
26
Which House do you belong to?
Cross Country Meet
It has become a proud tradition for ACS Athens to host the Local Cross Country Meet at Syngrou Park in Maroussi every year.
Syngrou Park welcomed more than 110 studentathletes from different international schools in Athens, where they had the chance to compete in a challenging course and gain valuable running experience.
For the ACS Athens athletes, this event sets the stage for the upcoming international competition a few weeks later.
29
The International Youth Basketball Tournament, in memory of Diana W. Tamari and Hasib J. Sabbagh, took place in mid-February after a two-year absence, and it was a great weekend for our boys and girls varsity teams. An event made possible by the support of Mr. Suheil Sabbagh and Mr. Samir Sabbagh provides the opportunity for our teams to prepare for their end-of-season championships.
This year ACS Cobham (England), AIS Bucharest (Romania), Pinewood (Thessaloniki), and St. Lawrence competed with our ACS Athens teams. There was fierce competition among all teams, and our gym was once again lively with spectators throughout the event. In addition, an exhibition game was held between our full Girls Varsity team and a selection team of girls from the region of Attica; it was an opportunity to showcase top-level girls' basketball!
32
The annual ACS Athens International Swimming Cup took place in early March, and the swimming pool was once again buzzing with water splashes, whistles, and students' cheers!
More than 150 swimmers joined us from Cairo American College, ACS Tunis, GEMS Dubai, Rabat American School from Morocco, ACS Cobham, Ellinogermaniki Agogi, CGS, and Campion to compete with our Varsity and Junior Varsity swimming teams. A great atmosphere and great effort from all our swimmers!
38
ACS Athens hosted the ISAA Boys Basketball championship on March 15-16 and it was an event full of enthusiasm with plenty of basketball action!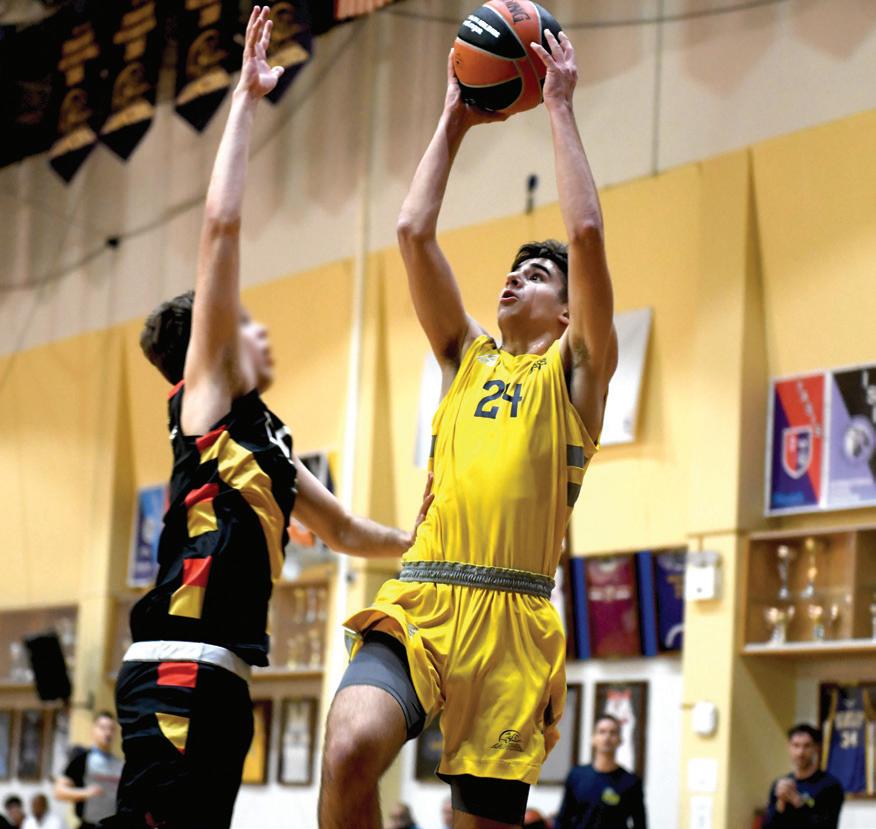 Varsity teams from the American International School of Israel, Cairo American College, International School of Geneva, the British School in the Netherlands and Sotogrande International School.
The Varsity and Junior Varsity ISAA Swimming Championships took place in our very own pool with the participation of a number of schools from the conference: Cairo American College, American International School in Israel, TASIS - England, Schutz American School and Vienna International School.
41
International Track & Field Competition
On May 4th and 5th, ACS Athens and Campion cohosted the Track and Field Invitational competition at the Campion track and field facility. This event has grown over the past years, and it is a great opportunity to compete with other international schools. The American International School of Bucharest, the American Cooperative School of Tunis, and Cairo
American College joined the Campion and ACS Athens teams for two days of great competition. All the athletes went all out as they were preparing for their end-ofseason championships.
The last event of the year took place at the Marathon Tennis Club on May 25-26th; the ACS Athens tennis players competed with athletes from Marymount International School, TASIS - England, Cairo American College and the American International School in Israel. Great tennis played throughout both days of competition!
44
45
The year through the lens
The International Basketball Coaches Clinic is a two-day event that originated in 2010. Renowned coaches, trainers, and sports professionals from all over the world, many of which are from the National Basketball Association (NBA) and top-tier universities, share their knowledge, experience, and philosophy with the registered participants.
This year, our guest speakers were: Charmin Smith (University of California, Berkeley), James Jones (Yale University), Vaghelis Ziagkos (Hellenic National Youth Team), and Christos Marmarinos (Sacramento Kings International Scout); a great opportunity for professional development for Basketball Coaches and fans.
International
Vaghelis Ziagkos
James Jones
Charmin Smith
Christos Marmarinos
54