State council outlines 2023 issues
by Jane McClure
Affordable and accessible housing, reforms for working people with disabilities, and dealing with the direct care crisis are among issues the Minnesota Council on Disability (MCD) will champion during the 2023 legislative session.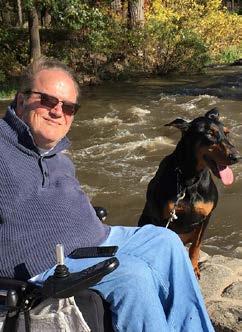 Council members, staff and self-advocates presented the 2023 legislative agenda, outlined priorities and discussed issues with state lawmakers during the annual legislative forum December 16. The forum was held virtually, with hundreds attending. A recording will be posted on the state council website in January.
More than 30 state lawmakers indicated they would attend the forum. But one key change this year was that several self-advocates and state council members took a lead in explaining issues, rather than simply listening to state lawmakers.
Many of the stories were moving. A man outlined how his parents help with personal care needs and his current living situation, and he wonders what he will do when they are gone. A parent described trying to save her child with a rare disease and hitting obstacle after obstacle with medical care and insurance.
A young man who uses a wheelchair told of finding out how truly limited his housing options are, especially when a lack of roll-in showers is seen. The high cost of hearing aids and the difficulty in paying for them were explained. Seeking and retaining public and private employment, while balancing healthcare needs and strict income limits were hurdles several people explained in detail.
Trevor Turner, director of public policy for the state council, outlined the three pillars of priorities that will be focused upon when state lawmakers convene January 3. Each pillar is built on related legislative initiatives.
One pillar is to increase disability representation in state government. Tied to that are efforts to work toward more state employment and retention of employees with disabilities.
As it did in 2022, the council is also again seeking support for capacitybuilding as its budget and employee ranks have remained relatively flat despite growing demands for service. The Minnesota Council on Disability will request a capacity building budget increase of $750,000 in FY2024 and then $1,247,000 each fiscal year afterwards. This is on top of the current budget of $1,038,000, resulting in a total yearly budget of $2,285,000.
A state government function the council will be supporting in 2023 is ongoing funding for the recently established Rare Disease Advisory Council. The council is supposed to sunset after fiscal year 2023; advocates would like its work to continue.
The second pillar centers on improving the lives of Minnesotans with disabilities, with one focus being increasing personal care attendant (PCA) pay and addressing the dire home care worker shortage. Related to that is to change regulations on PCA driving, so that clients can be driven to