BY ALISON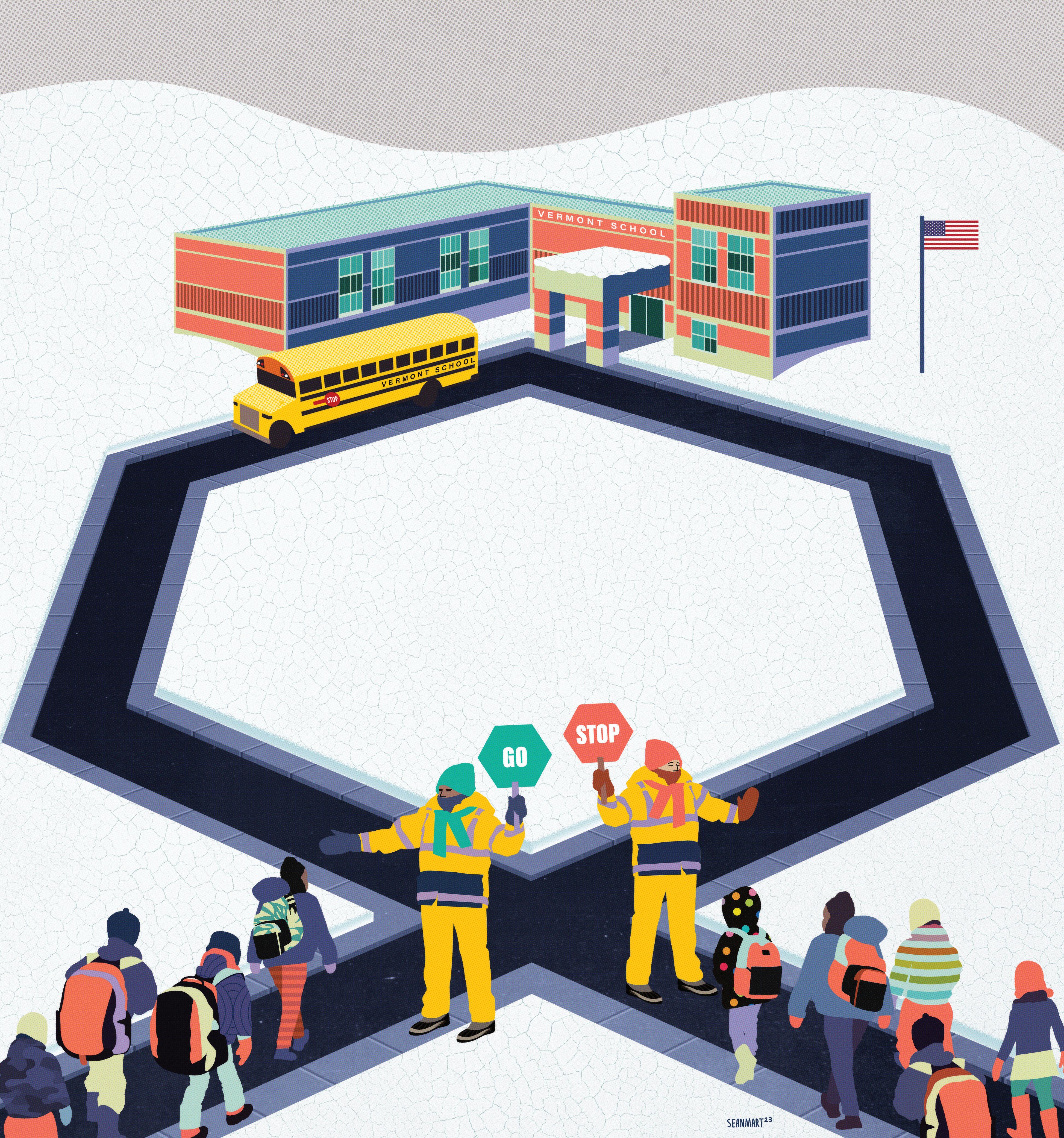 Lawmakers consider pausing Vermont's ambitious, costly and one-of-a-kind plan to address PCBs in schools
NOVAK, PAGE 26 PUNCHING HER TICKET PAGE 32 VT teen wins second Silver Gloves SWEET SPOT PAGE 38 April's Maple taps into success IN CONCERT PAGE 44 VSO names new conductor VERMONT'S INDEPENDENT VOICE MARCH 22-29, 2023 VOL.28 NO.24 SEVENDAYSVT.COM CASH GRAB Hotels withhold deposits from homeless tenants PAGE 14
Since 1974, we have provided Northwestern Vermonters with free essential services to help them age well. Age Well is a 501(c) non-profit. Meals on Wheels | Care Coordination Benefits Counseling | Wellness Helpline: 1-800-642-5119 agewellvt.org/MarchforMeals Every knock delivers the food, compassion, and friendly visit that our aging neighbors need and deserve. Thank you to our top sponsors: learn how you can help: join the march for meals. Older Vermonters need your help, Meals on Wheels takes a bite out of hunger. Meals on Wheels is a free home-delivered meal, medically-tailored to meet older Vermonters' diverse health needs. The home-delivered meal, volunteer friendly visit, and safety check help combat the three bigest threats to aging: hunger, isolation, and loss of independence. Meals on Wheels can serve a person for an entire year for about the same cost as 1 day in a hospital or 10 days in a nursing home. Untitled-11 1 3/15/23 3:21 PM WHAT VERMONT TASTES LIKE Send a Taste of Vermont Nationwide - Order Online or By Phone DAKINFARM.com | 1-800-993-2546 | 24 Hours...Everyday! Ferrisburgh 5797 US Route 7, Ferrisburgh 8 am to 5 pm - 7 Days a Week Dorset Street 100 Dorset Street, South Burlington Mon-Sat 9:30 am - 6 pm & Sun 10 am - 5 pm Make This Easter Extra Special With a Cob-Smoked, Maple-Cured Ham From Dakin Farm Elegant & Easy Easter Hams 4T-dakin032223 1 3/13/23 5:29 PM Have clothing, furniture, appliances, or home goods you no longer need? Donate to the Habitat ReStore to help build homes in Northwest Vermont! For a full list of items accepted, visit vermonthabitat org/restore Donate your stuff, help build homes! Williston 528 Essex Rd Mon-Fri 10-6 Sat-Sun 10-5 Swanton 104 Robin Hood Dr Tues 10-1 Thurs, Sat 9-2 Milton 414 Route 7 Mon-Fri 10-6 Sat-Sun 10-5 Proceeds from the sale of your donation will stay local, helping families in our community It's easy Drop donations off, or book a free pick-up! Donation hotline: 802-857-5296 4t-Habitat(Restore)030823 1 3/2/23 9:16 AM SEVEN DAYS MARCH 22-29, 2023 2
Car payments, insurance, gas or charging, maintenance – it all really adds up. But do you know the true total? Find out with our free, easy-to-use online calculator:
carsharevt.org/cost
Stowe, VT • 800.451.8686 • Topnotchresort.com
Special RELAX AT THE SPA AT TOPNOTCH RESORT SAVE 30% on massages and facials
- Thursdays until April 27th Must mention Spring Special at time of booking.
booking online, add "Spring Special" into the notes. Based on availability. Subject to change. Reservations required. A 22% service charge will be added for your convenience (based on the full value of the treatment). Spa guests have full access to the spa, fitness and pool facilities for the entire day. Blackout dates do apply. 2h-topnotchresort032223 1 3/20/23 9:11 AM
Spring Spa
Mondays
If
What's your car costing you?
4t-CarShareVT1-030823 1 3/3/23 4:25 PM 5pm - 7pm Lawson's Finest Taproom, 155 Carroll Road, Waitsfield 3.28 4.04 4.11 4.18 4.25 5.02 5.09 The Dale and Darcy Band AliT Bloodroot Gap Granville Daze John Lackard Blues Duo George Walker Petit Barbacoa Duo 4T-Lawsons032223 1 3/20/23 6:08 PM SEVEN DAYS MARCH 22-29, 2023 3
Looking for your next vehicle? Let our experienced team make it happen. Call or visit and reserve your new Honda today! 802.985.8411 | TheAutomasterHonda.com 3328 Shelburne Rd. | Shelburne, Vermont 05482-6849 2H-automaster070622.indd 1 7/4/22 4:27 PM ETHICAL IMPLICATIONS OF AI WED-FRI: 12-5 PM, SAT: 12-8 PM | BURLINGTONCITYARTS.ORG HEAR FROM EXPERTS IN THE FIELDS OF PHILOSOPHY, ETHICS, AND ART CRITICISM RANDALL HARP, CRYSTAL L'HOTE , PETER GALLO MODERATED BY CHRIS THOMPSON Co-Created The Artist in the Age of Intelligent Machines: is sponsored in part by the Maslow Family Foundation, Hula, University of Vermont, College of Engineering and Mathematical Sciences, and the University of Vermont, O ce of the Vice President for Research. Media Sponsor, Seven Days. This program is supported in part by the Vermont Humanities. Any views, findings, conclusions, or recommendations expressed do not necessarily represent those of the Vermont Humanities. Burlington City Arts is supported in part by The Vermont Arts Council and the National Endowment for the Arts. 4T-BCA032223 1 3/20/23 9:08 AM Downtown 82 S. Winooski Ave Open 7am - 9pm every day South End 207 Flynn Ave Open 7am - 9pm every day Burlington, Vermont · www.citymarket.coop Your Community-Owned Grocery Stores Edible 8 Stony Pond Farm Swallow Tail Tomme Spring Brook Farm Ashbrook Champlain Valley Creamery Bleu de Champlain Green Mountain Blue Cheese Madison Vermont Creamery Cremont Von Trapp Farmstead Mt. Alice Boston Post Dairy Tres Bonne Vermont Shepherd Verano Cheese Bracket Vermont 2023 March 21 - April 3 Hosted by City Market Help choose our Vermont Cheese Champion! Visit the Co-op for demo dates and results. Save on these cheeses! Save $1 each on Vermont Creamery Cremont 5 oz $1L 4t-citymarket032223 1 3/20/23 9:28 AM SEVEN DAYS MARCH 22-29, 2023 4