ARTOFCOLLEGENORTHWESTPACIFIC|UNIVERSITYWILLAMETTE2023-2022VIEWBOOKGRADUATEPNCA
647080111 14005221251219TO1GRADUATE DEGREES IN THE HALLIE FORD SCHOOL OF GRADUATE UNDERGRADUATEPROGRAMPOST-BACCALAUREATESTUDIESMAJORS IN ART AND STUDENTSDESIGNTOTAL PNCA BY THE NUMBERS ARTOFCOLLEGENORTHWESTPACIFIC|UNIVERSITYWILLAMETTE | 4 HALLIE WillametteCollegePacificSTUDIESGRADUATESCHOOLFORDOFNorthwestofArtatUniversity WE DO THINGS DIFFERENTLY HERE. WE ASK BIG QUESTIONS. LIKE WHAT CAN ART AND DESIGN DO IN THE WORLD IF WE PUSH OURSELVES TO REIMAGINE EVERYTHING? WE EXPERIMENT ENDLESSLY. WE CHALLENGE ONE ANOTHER TO BREAK THINGS APART AND RECONSTITUTE THEM IN NEW WAYS. WE ARE COLLABORATIVE. WE WORK RELENTLESSLY BETWEEN AND ACROSS DISCIPLINES BECAUSE THIS IS WHERE INNOVATION HAPPENS. GRADUATE STUDENTTOTALOFCOMMUNITYUNDERGRADUATESTUDENTSSTUDENTSEDUCATIONSTUDENTSALLAGESEACHYEARFACULTYMEMBERSTOFACULTYRATIO
16 20 22 26 30 34 38 0812GRADUATEPROGRAMS MFA APPLIED CRAFT + DESIGN MFA +DESIGNCOLLABORATIVE MA DESIGN SYSTEMS MA STUDIESCRITICAL DUAL MA/MFA MFA MEDIAPRINT MFA STUDIESVISUAL MFA CREATIVELOW-RESIDENCYWRITING MFA RESIDENCYBACCALAUREATEPOST-VISUALLOW-RESIDENCYSTUDIES STUDIESGRADUATEOFSCHOOLFORDHALLIE5 | CONTENTSOFTABLE+ABOUT
MFA +CRAFTAPPLIEDDESIGN
The MFA in Applied Craft and Design is a graduate program that embraces an approach to design rooted in the culture of making and the community of craft, emphasizing learning from materials to ground concepts. The program welcomes students from a wide range of creative backgrounds to create work with an applied purpose. Combining a mentorbased approach with an exceptional lecture series and regional craft salons, students work one-on-one with nationally and internationally recognized designers, craftspeople, makers, and scholars in a selfdirected curriculum that challenges them to bring to life the full strength of their ideas and skills. With a curriculum focused on developing a strong artistic voice, the realization of work in service to others, and entrepreneurship that connects making a living with making a difference, the MFA in Applied Craft and Design is the only graduate program of its kind.
ARTOFCOLLEGENORTHWESTPACIFIC|UNIVERSITYWILLAMETTE8 |
A ONE-OF-A-KIND MFA PROGRAM GROUNDED IN HANDS-ON ENGAGEMENT.ANDSTRATEGIES,ENTREPRENEURIALMAKING,ANDSOCIALENVIRONMENTAL
Georgy Avakov
DESIGN+CRAFTAPPLIEDMFA
Kath Forgan Joe Robinson Matthew Williams
Sara Huston is a craftsperson, designer, educator, and curator. Her studio, The Last Attempt at Greatness, is cross-disciplinary and engages design, craft, art, and architecture and explores topics of progress, expectation, liminality, perception, and value. Huston was a visiting artist and full-time professor at The School of the Art Institute of Chicago in the Architecture, Interior Architecture, and Designed Objects department and has taught at the University of Oregon, Marylhurst University, and Oregon College of Art and Craft. She has served as curator at White Box Visual Laboratory and is a League of Women Designers member. Her work has been shown at LeRoy Neiman Center, Chicago; The International Furniture Fair in Cologne, Germany; Portland Art Museum; Bellevue College; and Daimler Chrysler international headquarters, among other national and international locations. Huston is currently the Lecture Director at the Columbia Grange, a local agricultural learning and community center, in Corbett, Oregon. Sara received an MFA from Cranbrook Academy of Art and a BFA from the Art Academy of Cincinnati.
STUDIESGRADUATEOFSCHOOLFORDHALLIE9 |
SARA HUSTON Chair
ARTOFCOLLEGENORTHWESTPACIFIC|UNIVERSITYWILLAMETTE | Lindsey
The program emphasizes entrepreneurial studies through a two-semester class called Creative Entrepreneurship. This class provides students with the frameworks, knowledge, and strategies to build a career as a craftsperson and designer after graduation. The course introduces students to multiple pathways that create a sustainable bifurcated or trifurcated practice. It also covers aspects of starting and maintaining your own business, including mapping, planning, goal setting, identifying and working with customers and clients, project management, promoting your business, business structures, taxes, copyright, contracts, selling your work, and more.
CREATIVE ENTREPRENEURSHIP
DESIGN-BUILD
Designers in education and industry routinely and assuredly assert that design thinking strategies can deliver the "game-changing" ideas needed to address our times' critical and complex problems. Frequently, however, it seems we're seduced by and fall in love with the promise(s) of these ideas and are less committed to following through with their actual realization with the same degree of an alternative model of design and craft education and practice, first-year MFA AC+D students begin the program with a pre-semester, 10-day collaborative design-build intensive. By designing and building a project for actual clients, students come to know one another, learn how to work together, communicate, and understand the value of civic engagement. The projects are selected based on their potential to benefit an organization or population that generally would not have access to the services of designers and makers. Design-BuildHalliday2021
10
Topassion.provide
11HALLIEFORDSCHOOLOFGRADUATESTUDIES |
Laura O'Qinn Aleks
Studio visits include All Roads Studio, Yucca Valley Material Lab, High Desert Observatory, Dan Anderson Studio, High Desert Test Sites, Noah Purifoy Foundation, Joshua Tree National Park, and sound bathing at the Integretron.
SarahPatriciaJenRoryLaurenCrystalPollnerSchenkSinnerSparksStadyVazquezWertzberger
HIGH DESERT TRIPS
Jason Lee Starin Andreas Kindler von Knobloch
Lisa CarolynCongdonHazel Drake Amanda Leigh Evans Lilia Hernandez Galusha Chelsea KarenReikoSusannaHeffnerHohmannIgarashiLee Andrew Santa Lucia Pilar
DESIGN+CRAFTAPPLIEDMFA
RyanHannahDanielMattAbbieBrendaGallegoMalloryMillerMillerMeyersNewmanNoon
AC+D puts its curriculum into practice with an immersive trip to California's High Desert for communal, unmediated, radical, and unplugged experiences. One of the main attractions is visiting and touring Andrea Zittel's A-Z West, among other engagements, workshops, and studio visits. The trip features makers, visionaries, and projects that respond to the surroundings, resulting in aesthetics influenced by desolate landscapes and countercultures. These experiences expand and build upon students' knowledge and connect them to people and places outside of Oregon to provide bursts of inspiration for their studio practice.
MENTORSPROGRAM
Adam Arnold Dylan Beck Brett Binford Rose Bond Karl Burkheimer
MFA +DESIGNCOLLABORATIVE MA SYSTEMSDESIGN
12 TWO DESIGNDESIGNINEXPLORECHANGE-MAKERSEMPOWERPROGRAMSINNOVATIVETHATCREATIVETOPATHWAYSDESIGNSTRATEGY,RESEARCH,ANDAPPLICATIONS.
The MFA in Collaborative Design and MA in Design Systems reimagine what design can do in the world, producing creative and ethical leaders who will drive positive impact in private, public, and nonprofit sectors. Students, faculty, partners, and clients work together on complex problems using a collaborative, systems-based, and human-centered approach. Our curriculum draws on real-world challenges to develop student skills in systems thinking, problem identification, stakeholder engagement, scenario planning, collaboration, visual facilitation, design research, rapid prototyping, cultural entrepreneurship, and creative leadership. Classes are held in the late afternoon and evening to accommodate early- and mid-career creatives who want to accelerate Bowden
ARTOFCOLLEGENORTHWESTPACIFIC|UNIVERSITYWILLAMETTE | SJ
SYSTEMSDESIGN+DESIGNCOLLABORATIVEMFA
SKYE MORÉT Chair
Skye Morét is a data-driven designer and marine scientist. Her diverse background on the ocean—having sailed 100,000 miles around the globe—fuels her belief in the power of art and design to critically engage citizens with the ecological complexities and interdependencies of our planet. Skye has consulted for clients ranging from the United Nations Environment Programme and Planet Tracker to The Nature Conservancy and Nike, and was previously the Design Director at data visualization studio Periscopic and Senior Researcher on TBA21–Academy's Ocean Archive project. She has authored multidisciplinary publications in Science, Slate, Migrant Journal, Compound Butter, Popular Science, Roads & Kingdoms, and Public Radio International, among Herothers.installations have been exhibited at Science Gallery Dublin, the European Parliament in Brussels, the shores of Bali, and at Palmer Station, Antarctica. Skye holds an MFA in Information Design and Visualization from Northeastern University and a BS in Biology from Oregon State University.
Jono Melamed their design skills while continuing to Studentswork. engage with the most innovative professional minds in Portland, Oregon, and access new technologies and partnerships via our faculty's national and international networks. Our program believes socially minded, environmentally sensitive designers foster a more humane world that can meaningfully address the emerging challenges of the 21st century, including climate change, racial injustice, poverty, and healthcare. In these rapidly changing contexts, students graduate with a portfolio that demonstrates their ability to critically design and engage in ambitious, collaborative, and entrepreneurial work. Alumni go on to launch successful programs, work for leading design initiatives
13HALLIEFORDSCHOOLOFGRADUATESTUDIES |
Celina Coppetti and nonprofits, create thriving design consultancies, and work in higher education.
14WILLAMETTEUNIVERSITY|PACIFICNORTHWESTCOLLEGEOFART | Ophir El-Boher
WEEKEND WORKSHOPS
Highlights of the academic year include group trips to regional and international design conferences that offer opportunities for learning about design's global context while networking with peers. Conferences have included Bend Design, Design Research Society, and the Cumulus Conference.
15HALLIEFORDSCHOOLOFGRADUATESTUDIES |
These three-day intensives offer an opportunity to build specific skills, techniques, and ways of working while benefiting from the domain expertise of instructors drawn from the design field whose inquiries into the intersections of politics, engineering, environmentalism, and design have resulted in a range of provocative and innovative projects. Topics of exploration have included web-based networks that regulate social and environmental accountability, mapping software that enables people to avoid CCTV surveillance, urban pollution data visualization, bio-inspired design, tsunami cleanup strategy, gardening robots, edible clouds, and crossspecies picnics.
DESIGN CONFERENCES
SYSTEMSDESIGN+DESIGNCOLLABORATIVEMFA
The two-year MA in Critical Studies program combines critical theory with the practice of creative research, so students learn not only to critique but also to intervene, reimagine, and remake. The program is designed to help students develop modes of thinking, writing, and creating that cross disciplinary Criticalboundaries.Studies investigates the role critical theory and critical pedagogy can play in transforming institutions and ideologies. Faculty fields of expertise include queer, feminist, and transgender studies, critical race theory, cultural studies, contemporary art criticism, disability studies, environmental criticism, performance studies, film studies, literary criticism, and creative writing.
MA STUDIESCRITICAL
TAKING AN EXPANSIVE 21ST CENTURY VIEW OF CRITICAL THEORY TO INCLUDE CRITICAL RACE THEORY, FEMINIST THEORY, POST-COLONIAL THEORY, QUEER THEORY, AND OTHER EMANCIPATORY PROJECTS.
16WILLAMETTEUNIVERSITY|PACIFICNORTHWESTCOLLEGEOFART |
Ellena Basada Studies program have gone on to pursue doctoral degrees, Fulbright fellowships, nonprofit work, arts administration, curatorial careers, teaching, and public scholarship.
DR. SHAWNA LIPTON Chair
The required course sequence builds from identifying key questions and issues in critical theory and cultural studies to providing students with the methodological, research, and writing skills they need to ask good questions and to investigate their self-selected areas of inquiry in a thesis project of their own design. The thesis writing occurs during the second year, resulting in both academic research and opportunities for public scholarship based on the student's professional interests. Students are supported by faculty and mentors to present research at academic conferences and symposia, facilitate public talks and workshops, publish writing, and develop plans to continue their intellectual and cultural work upon graduation. Graduates of the Critical
Shawna Lipton received her Ph.D. in Literature and Cultural Theory from the University of Wisconsin-Milwaukee. She has been an invited scholar at the Time-Based Art Festival, and collaborated with the Portland Institute for Contemporary Art on events for World AIDS Day and the Sex Worker's Art Show. Shawna produced the short film A Normal Girl, which screened in the American Pavilion at the Cannes Film Festival in 2019 and won Best Short Documentary at the United Nations Association Film Festival in 2020. Her critical writing has been published in New Cinemas and QED: A Journal in GLBTQ Worldmaking Her scholarly interests include critical pedagogy, close reading, and gender and sexuality studies.
STUDIESCRITICALMA
17HALLIEFORDSCHOOLOFGRADUATESTUDIES |
Julian Adoff PUBLIC SCHOLARSHIP AND PUBLISHING
18
ARTOFCOLLEGENORTHWESTPACIFIC|UNIVERSITYWILLAMETTE |
Public-facing work is a priority for the Critical Studies program. The program prepares students for publishing art writing and criticism in local publications such as Variable West, Art and About PDX, Oregon Arts Watch, and national publications such as Hyperallergic and the LA Review of Books. Through professional practice coursework, internships, and mentorships, students pursue a range of publishing and public scholarship opportunities.
STUDY
ABROAD
STUDIESCRITICALMA
THESIS RETREATWRITING
The Critical Studies cohort will have the opportunity to attend artist residencies such as the collective Thesis Writing Retreat—a five-day intensive of study, dialogue, and community - in the beauty and solitude of Sisters, Oregon, surrounded by Deschutes National Forest.
19HALLIEFORDSCHOOLOFGRADUATESTUDIES |
Spend a semester studying abroad through our Office of International Education while earning credits toward your degree.
CRITICAL STUDIES PROGRAM AND COMPLETE BOTH DEGREES IN THREE
THE DUAL
Note: this program is not compatible with either of our Low-Residency MFA programs.
Students can leverage elective credits that apply to both programs. Furthermore, the MA in Critical Studies program emphasizes public scholarship and support to travel to academic conferences. If you are pursuing a graduate degree because you are interested
OUR YOU MA IN YEARS. DEGREE OFFERED VISUAL MFA IN APPLIED CRAFT + DESIGN, MFA IN PRINT MEDIA, DESIGN.
DUAL-DEGREE OPTION ALLOWS
20 Dual MA/MFA
Hannah Bakken
The dual-degree's focus on critical writing can help you powerfully articulate and contextualize your work within a larger theoretical framework. The dual-degree program also offers you additional time and support for the written thesis, a crucial part of your thinking through your project and practice.
TO PURSUE AN MFA PROGRAM AND THE
in teaching in higher education, the dual-degree program offers the advantages of a terminal MFA degree combined with the academic rigor of the MA in Critical Studies program. For any imagined career path, the professional practice coursework in the Critical Studies curriculum gives students real-world skills to be competitive in a variety of fields.
FOR THE MFA IN
STUDIES,
IS
AND THE MFA IN COLLABORATIVE
ARTOFCOLLEGENORTHWESTPACIFIC|UNIVERSITYWILLAMETTE |
21HALLIEFORDSCHOOLOFGRADUATESTUDIES | MA/MFADUAL
We make in multiple but have eyes wide open about the circulation and economies of artworks. We have the broadest range of tools and resources available to us, from the deeply traditional to emerging technologies. These facilitate our students' explorations to include everything from large-scale installation and sculptural works to experimental printing and dyeing to book arts projects and artist books and publications. The program offers a diverse range of traditional and emerging printmaking pathways, integrating new techniques and media to expand our capacity as makers and collaborators in the fine art, academic, and commercial realms.
EXPANDING THE HORIZONS OF WHAT A PRINT CAN BE WHILE GROUNDING OUR INQUIRY AND MAKING IN THE TRADITIONS OF CRAFT, COLLABORATION, AND COMMUNITY.
The MFA IN PRINT MEDIA is a 60-credit, two-year program with a flexible structure that facilitates a unique studio practice that is both independent and collaborative. Print Media's Studio is an epicenter of devoted making, professional collaboration, and creativity, crossing pathways into industry, research, commercial applications, education, and the broad fields of fine art, craft, and design. The print matrix's capacity for unique, multiple, and widely distributable forms bridges the realms of fine art and mass media. Print Media supports the idea that a print can be an image, object, or take on site-specific concerns. We engage equally with entrepreneurship and socially engaged critique that may manifest as protest and propaganda.
Visiting Artist Storm Tharp
MFA MEDIAPRINT
ARTOFCOLLEGENORTHWESTPACIFIC|UNIVERSITYWILLAMETTE |
22
23HALLIEFORDSCHOOLOFGRADUATESTUDIES |
Amelia EdsonSutherlandRosas
ChairLETZELTERMATTHEW
Matthew Letzelter is an artist, professional printer, professor, and the Director of Watershed Center for Fine Art Publishing and Research. He received an MFA from Pratt Institute in 2003 and a BFA from the University of Florida in 1998 and spent years investigating science before focusing on art. Letzelter's practice encompasses works on paper, paintings, and photography, with a focus on abstracted landscapes influenced by the confluence of industry and natural processes on man-made sites. Letzelter was a professional printer for Stinger Editions at Concordia University in Montreal and Derrière L'Étoile Studio in NYC. He has worked with international artists, galleries, and museums on large- and small-scale print publishing projects. He has also worked for Petersburg Press and Suitcase Press and as an assistant and professional printer for individual artists.
MEDIAPRINTMFA
ARTOFCOLLEGENORTHWESTPACIFIC|UNIVERSITYWILLAMETTE |
The Jordan D. Schnitzer Exhibition and Visiting Artist Series presents an annual curated exhibition from the dynamic and expansive collection of more than 9,000 contemporary prints from the Jordan D. Schnitzer Family Foundation at PNCA's Center for Contemporary Art & Culture. The series will bring an invited artist connected to the exhibition to engage with PNCA students, faculty, and the public through lectures, studio visits, and collaborations with the Print Media department. In addition to the Exhibition and Visiting Artist Series, selections from the collection are loaned to PNCA to be studied by students and faculty (on a regular rotating basis).
JORDAN D.
SERIESVISITINGEXHIBITIONSCHNITZERANDARTIST
24 Alison Saar Storm Tharp
Joe Feddersen FOR FINE
MEDIAPRINTMFA WATERSHED CENTER
25HALLIEFORDSCHOOLOFGRADUATESTUDIES |
RESEARCHPUBLISHINGARTAND
The center also works with community-based partners and nonprofits on projects that provide a deeper connection with local and regional communities on issues that link with our research and values as an institution.
Joe Feddersen
Watershed Center for Fine Art Publishing and Research is the research and education extension of the printmaking lab at Pacific Northwest College of Art, staffed and supported through the MFA in Print Media program. Watershed collaborates on editions and projects with visiting artists, researchers, and professional printers, including James Reid from Gemini G.E.L., Maurice Sanchez from Derriere L'Etoile, and Paul Mullowney from Mullowney Printing.
WORK
DISCOURSE
Tanner Lind
MFA STUDIESVISUAL 26WILLAMETTEUNIVERSITY|PACIFICNORTHWESTCOLLEGEOFART |
A MENTOR-BASED
The MFA IN VISUAL STUDIES is a multidisciplinary, mentorbased program that encourages independent inquiry and supports critical approaches to visual art production. The program's flexible structure and nature allow students to pursue a single discipline, such as painting, or a combined practice that bridges multiple disciplines and media, such as installation, painting, performance, photography, printmaking, sculpture, sequential arts, sound, and video. Guided by the principles of ethics and mutual respect, our program strives to ensure equity and social PROGRAM CELEBRATING DIFFERENCE INQUIRY AS WELL AS THE CAPACITY TO CONTEXTUALIZE ONE'S WITHIN CRITICAL AND HISTORIC AND CONTEMPORARY ART PRACTICE.
AND SUPPORTING INDIVIDUAL
rubén garcía marrufo justice within our community of students, educators, and staff. To that end, our curriculum and roster of artists build on an intersection of voices and experiences. As a complement to intensive one-on-one faculty mentorships, students benefit from contact with a rich network of instructors, critical thinkers, writers, and curators in the Portland area, as well as from exposure to a dynamic roster of acclaimed visiting artists and curators. In addition, seminars, lectures, exhibition opportunities, and national and international travel add to a rigorous and investigative educational experience. This is a program for experienced makers looking to refine and expand their creative practice.
Through sculpture, installation, drawing, photography, video, memorials, and situated events, Imatani places the complexities and nuances surrounding race, the body, and political history within the framework of slow-moving performance and constructed landscapes. His work has been featured at the Schneider Museum of Art (Ashland, OR); Art in General (NY, NY); Portland Museum of Art (Portland, ME); Incident Report (Hudson, NY); Institute for Contemporary Art at Maine College of Art; Ditch Projects (Springfield, OR); Asian American Arts Centre (NY, NY); and, White Box at the University of Oregon, School of Architecture and Allied Arts. Support for Imatani's work has come from the The Ford Family Foundation, The Andy Warhol Foundation, Oregon Arts Commission, Maine Arts Commission, Regional Arts and Culture Council, and Portland Institute for Contemporary Art.
STUDIESVISUALMFA
27HALLIEFORDSCHOOLOFGRADUATESTUDIES |
Garrick Imatani brings to the MFA in Visual Studies program 20 years of experience in higher education, teaching across fields of art and design. He has directed multiple programs, and has developed new curricula in responsive and dynamic ways that led to national presentations and publications on Foundations studies. Additionally, there is a rich history of equity and social justice work in Imatani's teaching, service, and professional Imatanipractice.holds an MFA from Columbia University and a BA from the University of California, Santa Barbara. He maintains an active art practice that moves between traditional and emerging media –sculpture and 3D fabrication, digital imaging and video, research, the written word, socially-engaged practices, and public art.
GARRICK IMATANI Chair
28 Oliver Myhre Angélica Millán Lozano ARTOFCOLLEGENORTHWESTPACIFIC|UNIVERSITYWILLAMETTE |
STUDIESVISUALMFA
OPPORTUNITYRESIDENCY
PROGRAM TRAVEL Program trips are an opportunity for students to meet with working professionals, visit exhibitions, and observe a range of contemporary studio practices. Previous travel has included an annual group trip to New York City, where they met with some of the most interesting and active visual artists and curators in the contemporary art world through intimate, on-site visits. Past visits have included time with Postcommodity, Ruba Katrib, Nari Ward, Baseera Khan, Letha Wilson, Nayland Blake, Sara O'Keefe, and Sarah Crowner. Other trips have included Mt. Hood, the Oregon Coast, and Astoria, OR.
29HALLIEFORDSCHOOLOFGRADUATESTUDIES |
At the Artist Residency in the rural Pacific Northwest, students gather with visiting artists, scholars, curators, and critics to engage in art making, research, and visual and written investigations. Previous guests have included Julie Ault, Gregg Bordowitz, Sara Greenberger Rafferty, Saul Ostrow, Tom Zummer, Alix Pearlstein, Kate Gilmore, Amanda Hunt, and Will Rawls.
EXPERIMENTATIONPRIORITIZING AND EXPLORATION WITHIN AND ACROSS FORMS AND GENRES AS WELL AS ARTISTIC DISCIPLINES AND MEDIUMS.
RESIDENCYLOWMFA IN WRITINGCREATIVE
30
The LOW-RESIDENCY MFA IN CREATIVE WRITING is unique in that it considers language as one among many available materials. Situated in a school of art and design known for its strong support of interdisciplinary practices, our program encourages experimentation within and across writing forms, genres, and mediums along with a variety of publishing formats to include print, digital, sound, performance, and text-image works. This is writing as studio art. The program offers tracks in prose, poetry, cross-genre, and literary translation. Portland-based residencies in winter and summer are supplemented with mentorbased independent work throughout the rest of the year. Every three weeks, graduate students submit creative work to faculty
ARTOFCOLLEGENORTHWESTPACIFIC|UNIVERSITYWILLAMETTE |
Jay Ponteri directed the creative writing program at Marylhurst University from 2008–2018 and is now the program head of PNCA's Low-Residency Creative Writing program. His book of creative nonfiction Someone Told Me has just been published by Widow+Orphan House, Fall 2021. He's also the author of Darkmouth Inside Me (Future Tense Books, 2014) and Wedlocked (Hawthorne Books, 2013), JAY PONTERI Chair members, brief essays on forms and methods, an ongoing reading list, and a letter addressing the writing process and responding to substantive feedback from faculty mentors. This epistolary method is the oldest, most intimate, and, perhaps, most intensive method of creative writing instruction. Writers, geographically distant from each other, exchange creative work and letters. Through this correspondence, writers come to see each other and feel seen while teasing out ideas about method and process along the way. This balance between independent work and community immersion during the residencies helps graduate students develop the skills for sustaining reading and writing practices throughout their lives. It teaches graduate students to develop a rigorous, self-motivated discipline while periodically inviting them into supportive, non-competitive, generative spaces of community. This program is deeply embedded in one of the country's most literary cities. which received an Oregon Book Award for Creative Nonfiction. Two of Ponteri's essays, "Listen to this" and "On Navel Gazing" have earned "Notable Mentions" in Best American Essay Anthologies. His work has also appeared in many literary journals: Gaze, Ghost Proposal, Eye-Rhyme, Seattle Review, Forklift, Ohio, KneeJerk, Cimarron Review, Tin House, and Clackamas Literary Review. While teaching at Marylhurst, Ponteri was twice awarded the Excellence in Teaching & Service Award. In 2007, Ponteri founded Show:Tell, The Workshop for Teen Artists and Writers, now part of summer programming at Portland's Independent Publishing Resource Center (IPRC.org) on whose Resource Council he serves. He regularly teaches memoir classes at Literary Arts and the Portland Book Festival.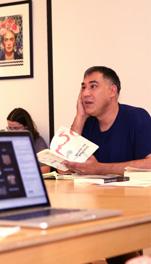 31HALLIEFORDSCHOOLOFGRADUATESTUDIES |
WRITINGCREATIVEINLOW-RESIDENCYMFA
WRITING IN PORTLAND
The program draws upon our existing strong relationships with partners in our burgeoning Portland literary scene—including Write Around Portland (WRAP), IN TRANSLATION Reading Series, Literary Arts, Independent Publishing Resource Center (IPRC), Regional Arts & Cultural Council (RACC), Mother Foucault's bookshop, Powell's Books, Passages Bookshop, Poetry Press Week, Tender Table, and Street Books, along with a host of local, regional, and national small presses, e.g., Tavern Books, Gramma Poetry, New Directions, Wave Books, and Hawthorne Books, among others.
32
FACULTY MENTORS
Lead Faculty, Alison C Rollins published her debut collection, Library of Small Catastrophes, in Spring 2019 (Copper Canyon Press) and won the 2021 Gulf Coast Prize in Nonfiction. Most recently, faculty member Brandon Shimoda has been awarded the Whiting Foundation's Creative Nonfiction Grant Award for his forthcoming book of essays, Japanese American Historical Plaza, published by City Lights. Some of the essays have been given over as talks during the program's residencies. Other faculty include Alejandro de Acosta, Jess Arndt, Matt Hart, Sara Jaffe, Poupeh Missaghi, Vi Khi Nao, Dao Strom, Asiya Wadud, and Tyrone Williams. Previous guest artists include Jenny Boully, Renee Gladman, and Cedar Sigo.
ARTOFCOLLEGENORTHWESTPACIFIC|UNIVERSITYWILLAMETTE |
Our annual residencies are in the heart of Portland, Oregon, where we are deeply integrated into its community of artists and writers who have committed to making art that is revelatory, experimental, and that advocates for social justice.
Through faculty mentor modeling, informative panels at the residencies, and the student's packet work with faculty mentors, our program prepares and encourages students to attend the annual Association of Writers and Writing Programs (AWP) and Modern Language Association (MLA) Conferences. Our program will be present at the AWP Conference, both onsite recruitment and offsite reading and performance events (and parties!) with students and faculty mentors. Furthermore, literary translators and experimental writers might want to attend smaller conferences like American Literary Translation Association Conference (ALTA) and the NonFiction NOW Conference. Students in low-residency MFA programs often enjoy attending writing conferences because such events hold additional space for students spread around the country to join the community.
WRITINGCREATIVEINLOW-RESIDENCYMFA
Faculty Books
CONFERENCES
33HALLIEFORDSCHOOLOFGRADUATESTUDIES |
34 FACULTYINTERNATIONALINTELLECTUALCRITICAL,RESIDENCYMFA-MEETS-ARTISTSHARPENINGFORMAL,ANDTOOLSWITHGUEST
RESIDENCYLOWMFA IN STUDIESVISUAL
THE LOW-RESIDENCY MFA IN VISUAL STUDIES, rooted in critical investigation and rigorous, selfdisciplined creative practice, is ideal for motivated students who can work independently, desire a flexible structure, and are seeking the challenge and community of an immersive graduate program, inclusive of both discipline-specific and interdisciplinary practices. This 60-credit low-residency, mentorbased art program combines intensive graduate seminars, an exceptional visiting artist program, and a focus on each individual student's educational and professional goals. Intensive courses occur during three consecutive Summer Intensives with two brief Winter LearningIntensives.isachieved through Kelsey Davis independent inquiry, in-depth studio exploration, peer-to-peer dialogue, intensive cross-disciplinary group critiques, and exposure to a wide range of visiting, emerging, and prominent national and international professional artists, curators, scholars, and critics. For students unable to commit 1824 months to full-time schooling, this program provides a platform to engage in rigorous study with a diverse range of contemporary cultural voices. Students gather on-campus each summer for an eight-week intensive that includes graduate seminars, critiques, studio visits, visiting artist lectures and demonstrations, and intensive periods of studio practice. Each student receives their own
ARTOFCOLLEGENORTHWESTPACIFIC|UNIVERSITYWILLAMETTE |
35HALLIEFORDSCHOOLOFGRADUATESTUDIES |
Ryan Pierce's paintings, prints, and experimental artist books envision a world recovering from human industry amid the throes of climate chaos. He draws on influences from ecological theory, literature, and folk art to create scenes that portray the resilience of the natural world. studio space where they develop new work and have one-on-one studio visits and critiques with visiting artists. Each week during the intensive, a Visiting Artist or Scholar is hosted by the program introducing MFA students to the breadth of contemporary artistic, scholarly, philosophical, and cultural voices. Each summer, the LowResidency MFA also hosts an Artistin-Residence who works for an extended period within the program. Visiting Artists, Scholars, and Artists-in-Residence are selected specifically in response to the MFA students within the program and their areas of inquiry. The Fall and Spring semesters are periods of deeper contemplation and productivity. The MFA students work off-site in their personal studios to incorporate the ideas and insights gained from the Summer into their studio practice, research, and writing. The MFA Chair assists in selecting a mentor for these semesters, an expert in the student's area of focus who will provide guidance and support while maintaining the program's rigorous standards. This mentorship is an integral component of the program bringing diversity, richness, and depth of experience to the MFA
Ryan Pierce Visiting Assistant Professor
Duringcandidates.fivedays in January, students meet on campus for Winter reviews. They receive feedback on work produced during the Fall and engage in intensive seminars and short workshops.
STUDIESVISUALINLOW-RESIDENCYMFA
Ryan Pierce has exhibited internationally and his work has been recognized by grants from the Joan Mitchell and San Francisco Foundations, and an Individual Artist Fellowship from the Oregon Arts Commission, as well as by reviews in Art in America, Art Papers, and The Oregonian. Pierce has been an artist in residence at the Ucross Foundation, Caldera, and Lademoen Kunstnerverksteder in Norway, and a fellow at the Jordan Schnitzer Printmaking Residency at Sitka Center for Art & Ecology. Pierce has taught at colleges and universities throughout Oregon and lectured as a Visiting Artist at more than 30 institutions. In 2019 his work was showcased in the Portland Art Museum's inaugural triennial of Northwest Art, titled the map is not the territory... He is represented by Elizabeth Leach Gallery in Portland. Pierce is the co-founder, with activist Amy Harwood, of Signal Fire, a group that facilitates wilderness residencies and retreats for artists of all disciplines. He is also founding Director of Wide Open Studios, an arts and ecology field program.
Suhail Malik (London, UK)
Jessica Jackson Hutchins (Portland, OR)
36
SELECTED
Sondra Perry (Perth Amboy, NJ)
Natalie Ball (Chiloquin, OR)
Chloë Bass (New York, NY)
Dorothée Dupuis (Mexico City, Mexico)
Max Jorge Hinderer Cruz (La Paz, Bolivia)
Ruth Estévez (Mexico City, Mexico)
Maricel Alvarez (Buenos Aires, Argentina)
Jackie Im and Aaron Harbour (San Francisco, CA)
Beatriz Santiago Muñoz (San Juan, Puerto Rico)
OEI (Stockholm, Sweden) Clifford Owens (New York, NY)
Young Chung (Los Angeles, CA)
VISITING FACULTY
Kyung Me (New York, NY)
Prem Krishnamurthy (Berlin, Germany)
John Riepenhoff (Milwaukee, WI)
Young-Hae Chang Heavy Industries (Seoul, Korea)
Minerva Cuevas (Mexico City, Mexico)
Keyna Eleison (Rio de Janeiro, Brazil)
Miguel A. López (San José, Costa Rica)
Aria Dean (New York, NY)
Claire Fontaine (Palermo, Italy)
Sky Hopinka (Vancouver, Canada)
Douglas Wiltshire
Ruth Noack (Washington DC)
Biquini Wax ESP (Mexico City, Mexico)
ARTOFCOLLEGENORTHWESTPACIFIC|UNIVERSITYWILLAMETTE |
Mikko Kuorinki (Helsinki, Finland)
WadeKelseySchusterDavis
37HALLIEFORDSCHOOLOFGRADUATESTUDIES | STUDIESVISUALINLOW-RESIDENCYMFA
TO SUPPORT INDIVIDUALIZED PRACTICE AND RESEARCH AS YOU EXPLORE YOUR
Mel Christy
US MATCH MENTORS FUTURE and research supplemented with regular critique and dialogue. Students have access to all campus resources, including state-of-the-art digital labs, the largest printmaking studio in the country, our creative technology labs, and all shop facilities including ceramic, wood, metal, soft sculpture, and the Albert Solheim Library. Whether working to build a strong portfolio to gain admittance into MA/MFA visual arts programs or transitioning into or strengthening a foundation for a life of creative practice, the program empowers students with the resources, mentorships, and access to the tools to reach their goals.
ARTOFCOLLEGENORTHWESTPACIFIC|UNIVERSITYWILLAMETTE |
The Post-Baccalaureate Residency is a two-semester intensive program of mentor-guided independent studio work, studio/design electives, and the study of art and design history, theory & practice, and critical studies. In the program, students produce a significant body of work, are provided with opportunities for exhibitions on campus, develop a portfolio tailored for a variety of opportunities, expand critical thinking and listening skills, create a network of professional contacts, and achieve a stronger understanding of contemporary art, design, and creative writing practices and context. In dedicated studio spaces, a supportive mentor guides in-depth, self-determined, studio exploration
POST-BACCALAUREATE RESIDENCY
CAREERS.
OUR BROAD NETWORK OF ARTISTS, DESIGNERS, WRITERS, AND ENTREPRENEURSCREATIVEALLOWS
38
TO
For visit: academics/post-baccpnca.willamette.edu/
additional program information
39HALLIEFORDSCHOOLOFGRADUATESTUDIES | RESIDENCYPOST-BACCALAUREATE
ARTOFCOLLEGENORTHWESTPACIFIC|UNIVERSITYWILLAMETTE | 40 Christina Martin | MFA PM Madeline Silberger-Franek | MFA ACD
Ilsa Payne | MFA VS 41HALLIEFORDSCHOOLOFGRADUATESTUDIES | WORKSTUDENT
THE GRADUATE STUDIES COMMUNITY IS MADE UP OF AN EVEREXPANDING NETWORK OF ARTISTS, DESIGNERS, CRAFTSPEOPLE, AND SCHOLARS ENGAGED INSIDE THE CLASSROOM, AND ACROSS THE CITY AND BROADER ARTS LANDSCAPE. ALONGSIDE TEACHING ASSISTANTSHIPS AND FELLOWSHIPS, WHICH OFFER VALUABLE PROFESSIONAL PRACTICE OPPORTUNITIES, STUDENTS ARE REGULARLY PARTICIPATING IN STUDIO VISITS WITH VISITING ARTISTS, COMMUNITY STUDIO EVENTS, GROUP EXHIBITIONS, ON-CAMPUS CLUBS, AND PUBLIC EVENTS. COMMUNITY 42WILLAMETTEUNIVERSITY|PACIFICNORTHWESTCOLLEGEOFART |
43HALLIEFORDSCHOOLOFGRADUATESTUDIES |
MENTORS The mentor-student relationship is personal and unique and is at the heart of the MFA programs in the Hallie Ford School of Graduate Studies. Mentors serve as advocate, critic, and colleague for the MFA candidate. Mentors are paired with each candidate based on the candidate's field of inquiry and are drawn from an expansive professional network that includes professionals in the Portland art community, our international colleagues, and PNCA faculty members. Our faculty members who teach across the Hallie Ford School of Graduate Studies programs bring experience in diverse forms of cultural production, from traditional art-making to highly conceptual practices. They are curators, writers, critics, activists, performance makers, social practice artists, and scholars engaged with the broadest range of forms and contemporary practice.
COMMUNITYPNCA FACULTY
ARTOFCOLLEGENORTHWESTPACIFIC|UNIVERSITYWILLAMETTE |
ELLENA BASADA (CS)
44
MFA
Ellena Basada is a writer and researcher based in Portland and Berlin. She holds a BA in English and Philosophy from Pomona College, where she graduated cum laude, and an MA in Critical Studies from the Pacific Northwest College of Art, where she was the recipient of a Hallie Ford Research Scholarship and served as Founding Editor of the art-criticism journal Art Discourse. A 2019-2020 Fulbright Fellow, she is the organizer of Affect Zoom Salon and Ad.Doc Archive—online platforms meant to build globally accessible intellectual communities.
FEATURED ALUMNI LAURA ALLCORN (AC+D) Work is featured in Victoria & Albert Museum in London, Science Gallery in Dublin; CCCB in Barcelona; ArtScience Museum in Singapore; Creative Time Summit X on Truth in NYC; PRIMER19: Futures For All conference in NYC; The International Society For Humor Studies Conference 19 in Austin; Palazzo delle Esposizioni in Rome; Design Week Portland; Risk/Reward Pavement Festival in Portland; Bridgetown Comedy Festival; and Portland Fashion Week. It's been featured in Wired UK, The Guardian, GOOD, Dwell, and Design Bureau Magazine. Notable interaction design project clients, Thomas Cole Historic Site: The Parlors; Design Week Portland: Lovejoy Fountain Activation; AIGA: 100 Years of Design; and Museum of Fine Arts Boston: Triumph of the Winter Queen.
Samantha Wall '11 | VS Courtesy of Russo Lee Gallery ©Dan Kvitka
Her work—a hybrid of research, creative writing, and criticism—can be found in VICE, LA Review of Books, The New Inquiry, Heavy Traffic Lit Mag, and Soft Surface Poetry, among others.
45HALLIEFORDSCHOOLOFGRADUATESTUDIES |
DAVE LAUBENTHAL (CD+DS)
ELIZABETH MALASKA (VS)
MFA
Sean Joseph Patrick Carney is an artist and writer. He is the host of Humor and the Abject, a weekly podcast about contemporary art and comedy. Carney has been awarded a Warhol Art Writing Grant, founded Social Malpractice Publishing, and was Director of Education at the Bruce High Quality Foundation University in New York. As 1/3 of GWD, Investigators, he performs collaborative research projects into paranormal phenomena. His writings appear frequently in Art in America, VICE, and other publications.
Dave Laubenthal is Creative Director of the Experience Design Studio at the Oregon Museum of Science and Industry. Previously, he was Launch Director at Design Museum Portland and designed PNCA's BridgeLab for his MFA in Collaborative Design thesis project. Before entering graduate school, Laubenthal founded and ran a design studio in Portland for over a decade.
SEANellena-basada.onlineCARNEY(VS)
Nominated for the Textile Society of America's Brandford/Elliott Award, a Finalist for the American Craft Council's Emerging Voices Award. Her work has been featured in American Craft magazine, Surface Design Journal, online on Art21 Magazine, Art Practical, Art:21 Materialities: Contemporary Textile Arts, c3:initiative + Pulp & Deckle Papermaking Residency & Exhibition and Art Practical Journal websites and has been interviewed on NPR. She was awarded the AICAD Teaching Fellowship/Visiting Assistant Professorship at Maine College of Art and recently completed the Fountainhead Teaching Fellowship/ Adjunct Professorship in the Craft/ Material Studies Department at Virginia Commonwealth University School of the Arts.
COMMUNITYPNCA
Born and raised in Portland, Malaska earned her MFA from the Pacific Northwest College of Art. She is known for paintings that explore the place of the female body in a range of art-historical contexts, raising issues about femininity, power, domination, and vulnerability, with social and political implications in our current times. Her work has been included in exhibitions regionally and nationally, including in Oregon at Portland Community College's North View Gallery; the University of Oregon's White Box; Disjecta; Milepost 5; Nationale; and the Oregon State Capitol. She is the recipient of the Hallie Ford Fellowship, a grant from the Elizabeth Greenshield Foundation, and a 2021 Guggenheim Foundation Fellowship in the Fine Arts. Her work is part of the permanent collection at The Portland Art Museum and the Schneider Museum of Art. elizabethmalaska.com Diego Morales-Portillo '19| MFA VS Elizabeth Malaska '11| VS
sjpc.workBUKOLA
KOIKI (AC+D)
46
Angélica Maria Millán Lozano '17 | MFA VS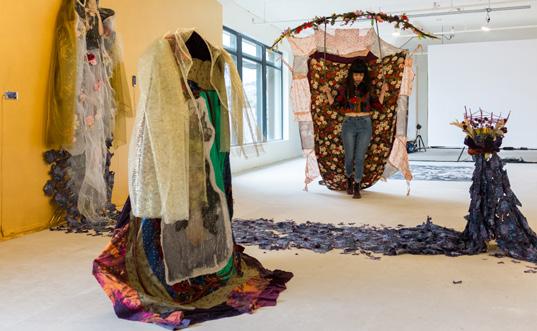 Angélica Maria Millán Lozano is an artist from Bogotá, Colombia, currently based in Brooklyn, New York. She creates abstract and figurative compositions on distressed fabrics that question the social injustices that affect Latinas in the home. Millán is also a cofounder at cvllejerx, a POC focused fashion, poetry, and performance collaboration. Millán has presented work at Disjecta, Williamson | Knight, Nationale in Portland, OR; Gas Gallery in L.A., CA; and Bridge Productions in Seattle, WA. antagoniista.com
DIEGO MORALES-PORTILLO (VS)
ARTOFCOLLEGENORTHWESTPACIFIC|UNIVERSITYWILLAMETTE |
ANGÉLICA MARIA MILLÁN LOZANO (VS)
Originally from Guatemala, Diego Morales-Portillo is a multidisciplinary artist who makes work about the absurdity of the act of making as a way to explain the failures of postmodernism through his perspective as a Central American immigrant. Co-founder and Co-director of Chingada Gallery in Portland, Diego has presented work in Argentina, El Salvador, Guatemala, Italy, Korea, Spain, and the US in exhibitions such as 2017 Pacific Standard Time LA/LA and Juannio, an auction of Latin American Art in 2013, 2016, and 2017 in Guatemala. His work is in public collections such as Imago Mundi of Luciano Benneton in Italy. dmoralesportillo.com
DANIELA REPAS (VS)
Daniela Repas is a Bosnian-born visual artist based in Portland, Oregon. Her work depicts storytelling through multiple mediums, from drawing and animation to installation and film. She has shown her work nationally and internationally, participating as an artist, a curator, and as one of the founding members of the DripDrop collective. She is a recipient of the prestigious Dorothy Lemelson Scholarship and an alumna of the Pacific Northwest College of Art, where she earned an MFA in Visual Studies. Her debut as a film director of the award-winning short film Mnemonics steered her work to the intersection of film and art. In 2019 she received the Princess Grace Award for film
CAITLINdanielarepas.comROSESWEET (AC+D)
EILEEN ISAGON SKYERS (CS)
47HALLIEFORDSCHOOLOFGRADUATESTUDIES | and an IEFTA selected emerging filmmaker. She continues to create work inspired by her Bosnian origin, relentless exploration of the human condition, and art as a vessel for primary means of communication.
TAKAHIROsamanthawall.comYAMAMOTO (VS) Originally from Shizuoka, Japan, Takahiro Yamamoto is an artist and choreographer based in Portland. He has received support from National Performance Network, Japan Foundation, Portland Institute for Contemporary Art, Africa Contemporary Arts Consortium, and the danceWEB scholarship program while presenting work at GoDown Arts Centre (Nairobi), Bedlam Lowertown (St. Paul), Fresh Festival (San Francisco), Center on Contemporary Arts (Seattle), Rowan Gallery (Los Angeles), and Disjecta (Portland). He co-directs the performance company Madhause and is one of four members of Physical Education. takahiroyamamoto.com
Eileen Isagon Skyers is an artist, writer, and curator. She has worked with contemporary art and nonprofit arts organizations including David Zwirner, The Whitney Museum, Rhizome, the New Museum, the Portland Institute for Contemporary Art, and the Digital Museum of Digital Art (DiMoDA). Her moving image work has been exhibited nationally and internationally in the U.S., U.K., France, Italy, the Netherlands, and Mexico. Her first book "Vanishing Acts" was published by LINK Editions (Brescia, Italy) in 2015, and her writing has been published in Wreath, Glass Press of the Future, Web Safe 2k16, Printed Web, and New World UNLTD, among others. She has performed at Downs & Ross (New York, NY), Littlefield (Brooklyn, NY), the Knockdown Center (Brooklyn, NY), Housing Works Books (New York, NY), and Shoot the Lobster (New York, NY). Skyers holds a BA in Philosophy and a BFA in Studio Art from the University of South Florida (Tampa, FL) and an MA in Critical Studies at Pacific Northwest College of Art, (Portland, OR). She lives and works in New York, NY.
ERICeiskyers.comTRINE(AC+D) Sight Unseen's American Design Hot List. Exhibited in Design Milk's East, Meet West Showcase, NY, West Coast Craft, San Francisco. His products are sold through West Elm featured in Apartment Therapy, Dwell, and Gray Magazine. He runs his own brand Amigo Modern which focuses on furniture and product design for the home, and small-scale design/build for commercial clients.
Golden Spot Residency Award from Crow's Shadow Institute for the Arts, and a Hallie Ford Fellowship from the Ford Family Foundation.
SAMANTHA WALL (VS) Samantha Wall, originally from Seoul, South Korea, is an artist working in Portland, Oregon. Wall immigrated to the United States as a child and comes from a multiracial background. Operating from within this framework, her drawings embody the experience of navigating transcultural identity. Her projects have been exhibited at the Hangaram Art Museum in the Seoul Arts Center, CUE Art Foundation in New York, and the Portland Art Museum, as well as exhibition spaces in New Orleans, Los Angeles, and Frankfurt. She is the recipient of numerous grants and awards, including an MFA Grant from the Joan Mitchell Foundation, a
Featured in Paper Magazine, Posture Magazine & Feminine Moments. Exhibited in Queer Prophecies, San Francisco, & Heels on Wheels, Brooklyn, solo exhibit at Empirical Nonsense, NYC and Queer Threads exhibit at the Katzan Art Center and was granted a fellowship with the Leslie Lohman Museum, NYC. Sweet runs her brand of High Femme Goods, which are ritual ceramic objects to enhance practices of selfcare and embodiment.
COMMUNITYPNCA
A dynamic and essential part of the curriculum in each graduate program, the Hallie Ford School of Graduate Studies Visiting Artist Lecture Series brings artists, scholars, designers, curators, and critics from around the country and worldwide to engage with students and the broader community in a variety of formats, including lectures, conversations, panel discussions, group critiques, workshops, and studio visits. These visitors contribute to, challenge, and expand art and design dialogue.
Sarah ReemaAnickaRachelMaryOceanA.L.C.BrandonSchulmanShimodaRileySnortonSteinerVuongWeatherfordJamisonWebsterYiZaman
VISITING ARTISTS
LECTUREVISITINGGRADUATEARTISTSERIES48WILLAMETTEUNIVERSITY|PACIFICNORTHWESTCOLLEGEOFART |
Anders Ruhwald
Julie AnnRashawnMacarenaKateJoeAriaC.A.SonyaAkikoA.K.KatherineGreggAultBordowitzBradfordBurnsBuschClarkConradDeanFeddersenGilmoreGómez-BarrisGriffinHamilton Sky WillSondraAlixMattMaggieViWengetchiPaulSuhailChrisBasseraWalidahHopinkaImarishaKhanKrausMalikMpagiSepuyaMutuKhiNaoNelsonOlsonPearlsteinPerryRawls Allison Saar
49HALLIEFORDSCHOOLOFGRADUATESTUDIES | ARTISTSVISITING
HALLIE FORD SCHOOL OF GRADUATE STUDIES SYMPOSIUM
The Hallie Ford School of Graduate Studies Symposium is an annual, free, full-day interdisciplinary event placing art and design at the center of conversations around environmentalism, social justice, and education. These conversations examine how creative practices can make significant contributions to these and other struggles. The annual Graduate Symposium brings together artists, designers, writers, scholars, and cultural workers across disciplines to explore a shared theme. Conversations, screenings, keynote speakers, workshops, mutual aid projects, and a corresponding exhibition are all co-organized by graduate students.
Previous Symposia Topics Include: 2021 Speculative Futures 2020 Forms of Care: Building the Worlds We Need 2019 Art and Environmental Justice 2018 Pedagogy: Engage, Critique, Inspire 50WILLAMETTEUNIVERSITY|PACIFICNORTHWESTCOLLEGEOFART |
51HALLIEFORDSCHOOLOFGRADUATESTUDIES | SYMPOSIUMGRADUATE
At the Hallie Ford School of Graduate Studies, we embrace the possibilities of creative technology for artists and designers. Here, you'll have access to emerging technologies, experts, and peer networks of makers and hackers, animators, game designers, and more to spark curiosity, expand creative horizons, and help you bring your projects to life. Our students design game environments in Unity, create VR experiences, engineer wearable technology, and participate in civic projects like Sensing the Environment.
52
Make+Think+Code emphasizes the skills of the future — fluency with emerging technologies, creativity, design-thinking, research, and collaboration, preparing a diverse community to actively engage as citizens and succeed in our growing regional and national creative technology
CREATIVE TECHNOLOGY
MAKE+THINK+CODE
Make+Think+Codeindustries.offers our students, undergraduate and graduate, as well as Portland's creative and tech communities, opportunities to learn about and explore emerging technologies, augmented and virtual reality, (digital) fabrication and prototyping, creative coding, data science, systems-thinking, the internet of things and smart technologies, creative entrepreneurship, STEAM, and privacy and security. We offer a wide range of workshops, institutes, hackathons, and design challenges to foster collaboration and leverage creativity and technology in new and innovative ways.
ARTOFCOLLEGENORTHWESTPACIFIC|UNIVERSITYWILLAMETTE |
Make+Think+Code is a technologyfocused research studio, institute, creative incubator, and lab that brings together members of Portland's vibrant creative, tech, civic, and educational communities to explore the powerful role that creativity and technology play in the search for imaginative and impactful solutions to complex and urgent problems.
The Advanced
advanced digital
53HALLIEFORDSCHOOLOFGRADUATESTUDIES | TECHNOLOGYCREATIVE
AMP LAB Media Production (AMP) Lab is a state-of-the-art digital learning environment that puts high-power computer workstations, Wacom Cintiq displays, and cutting-edge software into the hands of PNCA students working with production.
interactive
PEDAGOGYCRITICAL
Graduate students are eligible to apply for Teaching Assistantships upon completion of a course in Critical Pedagogy. This class provides students with the tools needed to foster transformative learning experiences in academia as well as sites of community education. We emphasize practical skills for applying theoretical frameworks to actual classroom or workshop settings. We pay particular attention to facilitating challenging conversations related to positionality, accessibility, and social justice. Students lead classroom discussions, develop a teaching portfolio, create original syllabi, and learn about the academic job market.
54WILLAMETTEUNIVERSITY|PACIFICNORTHWESTCOLLEGEOFART |
55HALLIEFORDSCHOOLOFGRADUATESTUDIES | ELECTIVESGRADUATE
This 170-seat theater, with its flexible seating and capacity for high-end lighting, sound, and technology, is perfect for performance, projection, installation works, and screenings. The space includes a green room and sound booth.
STUDENT GALLERIES
Throughout the year, students mount public exhibitions of their work in student galleries, the Atrium, and the Commons in the main campus building, our dedicated graduate galleries in the Glass Building, and with community partners including PLACE gallery.
FACILITIESANDCAMPUS
ARTOFCOLLEGENORTHWESTPACIFIC|UNIVERSITYWILLAMETTE
PNCA's campus is in the heart of downtown Portland, Oregon, one of the most creative, innovative, and progressive cities in the United States. Our main campus building centered on the tree-lined North Park Blocks, the Arlene and Harold Schnitzer Center for Art and Design is a 100+ year-old former federal post office that has been renovated with a striking, contemporary design. Our neighbors are the city's most significant art galleries, project spaces, and arts institutions.
GLASS BUILDING Housed in a former glass fabrication warehouse, our 3D workshops in the Glass Building include a Woodshop, Metals shop, Soft sculpture studio, Sewing Room, Ceramics studio with glaze room and mold-making room.
LABS AND STUDIOS
The resources of the entire campus are open to you. And the spaces, tools, technology, and expertise – people with the knowledge and experience to make the best use of what is available – abound at PNCA. Our Printmaking Studio is one of the most expansive and well-equipped in the country. Our Make+Think+Code lab brims with cutting-edge technology. Media artists are supported by our Sound Lab, our Animated Arts Lab, AMP Lab, and our Media Resource Center. Our Photography Lab supports traditional and digital fine art photography and processing, including alternative processes and printing in the Professional Digital Fine Art Printing Lab.
ARTOFCOLLEGENORTHWESTPACIFIC
The Albert Solheim Library is no ordinary library. It's a unique reflection of the interests, informational resources, and artworks that intrigue and inspire the PNCA community. The library has an extensive collection of books, DVDs, magazines, zines, and specialized subscription databases (both image and text). Along with alumni, faculty, and staff, you are encouraged to make suggestions for materials to add to the collection.
ALBERT LIBRARYSOLHEIM
THEATERMEDIATHEQUESHIPLEY/COLLINS
| 56
57HALLIEFORDSCHOOLOFGRADUATESTUDIES | FACILITIESANDCAMPUS
The land where PNCA is located rests on the traditional village sites of the Multnomah, Kathlamet, Clackamas, Tualatin, Kalapuya, Molalla, bands of the Chinook, and many other Tribes who made their homes along the Columbia River. We respect the work of Native Nations, leaders and families, and make ongoing efforts to center Indigenous knowledge, creativity, resilience, and resistance.
PORTLAND, OREGON
|
Portland is an ideal city for connecting and engaging, where graduate students can take advantage of a range of cultural and natural resources. Portland is surrounded by the Columbia River to the north, Mt. Hood to the east, the Pacific Ocean to the west, and the Willamette Valley to the south.
ARTOFCOLLEGENORTHWESTPACIFIC|UNIVERSITYWILLAMETTE
58
PNCA is the only art and design college located in Portland, Oregon: a highly livable, famously bikefriendly city home to powerhouse creative industries. Portland has long been a laboratory for designing better futures. Our programs are densely networked with the city's nonprofit and business leaders who teach with us, serve as mentors, give talks, and more.
SanPORTLANDFrancisco Los Angeles Seattle 1H 40MIN 2HR 35MIN 3HR 59HALLIEFORDSCHOOLOFGRADUATESTUDIES | OREGONPORTLAND,
60 PNCA ACCEPTS COMPETITIVE CANDIDATES REPRESENTING A WIDE RANGE OF DISCIPLINES AND DISTINCTLY DIVERSE BACKGROUNDS. DETAILS REGARDING SPECIFIC APPLICATION REQUIREMENTS FOR EACH PROGRAM CAN BE FOUND AT APPLY/GRADUATE.PNCA.WILLAMETTE.EDU/ADMISSIONS/ APPLICATIONS OPEN ON: SEPTEMBER 1 • Application form • Application fee • Résumé / CV • Two letters of recommendation • Official transcript from the institution granting applicant's bachelor's degree Additional application requirements vary by program. Please see apply/graduatepnca.willamette.edu/admissions/ for specific requirements. graduatepnca.willamette.edu/academics/ ADMISSIONS ARTOFCOLLEGENORTHWESTPACIFIC|UNIVERSITYWILLAMETTE |
61HALLIEFORDSCHOOLOFGRADUATESTUDIES | ADMISSIONS
PNCA offers renewable Merit Scholarships to all students admitted into one of our programs and who demonstrate aptitude in their areas of creative practice. Merit scholarships are assessed based on the strength of the student's application and no separate application is required to be considered. Scholarships prioritizing Black, African American, Indigenous, and Non-Black Students of Color, or their Accomplices are also available.
Pacific Northwest College of Art is a co-educational, non-denominational, independent college, providing professional education in the visual arts and granting Bachelor of Fine Arts, Master of Arts, and Master of Fine Arts degrees. It is the oldest independent college of art in the Pacific Northwest. PNCA is an accredited institutional member of both the National Association of Schools of Art and Design and the Northwest Commission on Colleges and Universities. The Council on Postsecondary Education and the U.S. Department of Education recognize both institutional accrediting bodies. PNCA is a member of the Association of Independent Colleges of Art and Design (aicad.org).
PNCA does not discriminate on the basis of race, color, age, religion, sex, physical disability, sexual orientation, or national or ethnic origin in the administration of its educational policies, admission policies, scholarship and loan programs, and other availableactivitiestheorphysicaltoqualifiedprograms.school-administeredThecollegeadmitsindividualswithoutregardrace,color,age,religion,sex,disability,sexualorientation,nationalorethnicorigin,toallrights,privileges,programs,andgenerallyaccordedormadetostudentsattheschool.
POLICYNONDISCRIMINATION
PNCA is a nonprofit corporation authorized by the State of Oregon to offer and confer the academic degrees described herein, following a determination that state academic standards will be satisfied under OAR 583-030. Inquiries concerning the standards of school compliance may be directed to the Oregon Office of Degree Authorization, 1500 Valley River Drive, Suite 100, Eugene, Oregon 97401.
STATEMENTNONPROFIT
ACCREDITATION
All of us at the Hallie Ford School of Graduate Studies at PNCA are committed to helping you make your goal of getting a graduate education a reality. Part of that is offering a range of financial aid options to offset the costs of your education. Graduate students looking to apply for federal aid can do so by filling out a FAFSA. PNCA offers Federal Stafford Loans, Graduate PLUS Loans, and institutional aid. For more information visit pnca.edu/ financialaid.
MERIT SCHOLARSHIPS
VISITING THE CAMPUS Visit pnca.edu/admissions/graduate to sign up for a graduate tour or email graduatevisitwillamette.edupnca-gradadmissions@toscheduleacampusandlearnmoreaboutourofferings.
FINANCIAL AID
Tanner Lind | MFA VS
OFFICE OF GRADUATE ADMISSIONS Arlene and Harold Schnitzer Center for Art and Design 511 NW Broadway, Portland, Oregon 97209 pnca.willamette.edu