A SEASON TO celebrate CENTRAL VIRGINIA HOME design ✦ improve ✦ garden ✦ live HOLIDAY/WINTER 2022 SEASON OF SPARKLE glittering décor sentimental displays ELEVATED ENTERTAINING holiday parties cookie pizazz WINTER WONDERS feathered friends barn quilt tour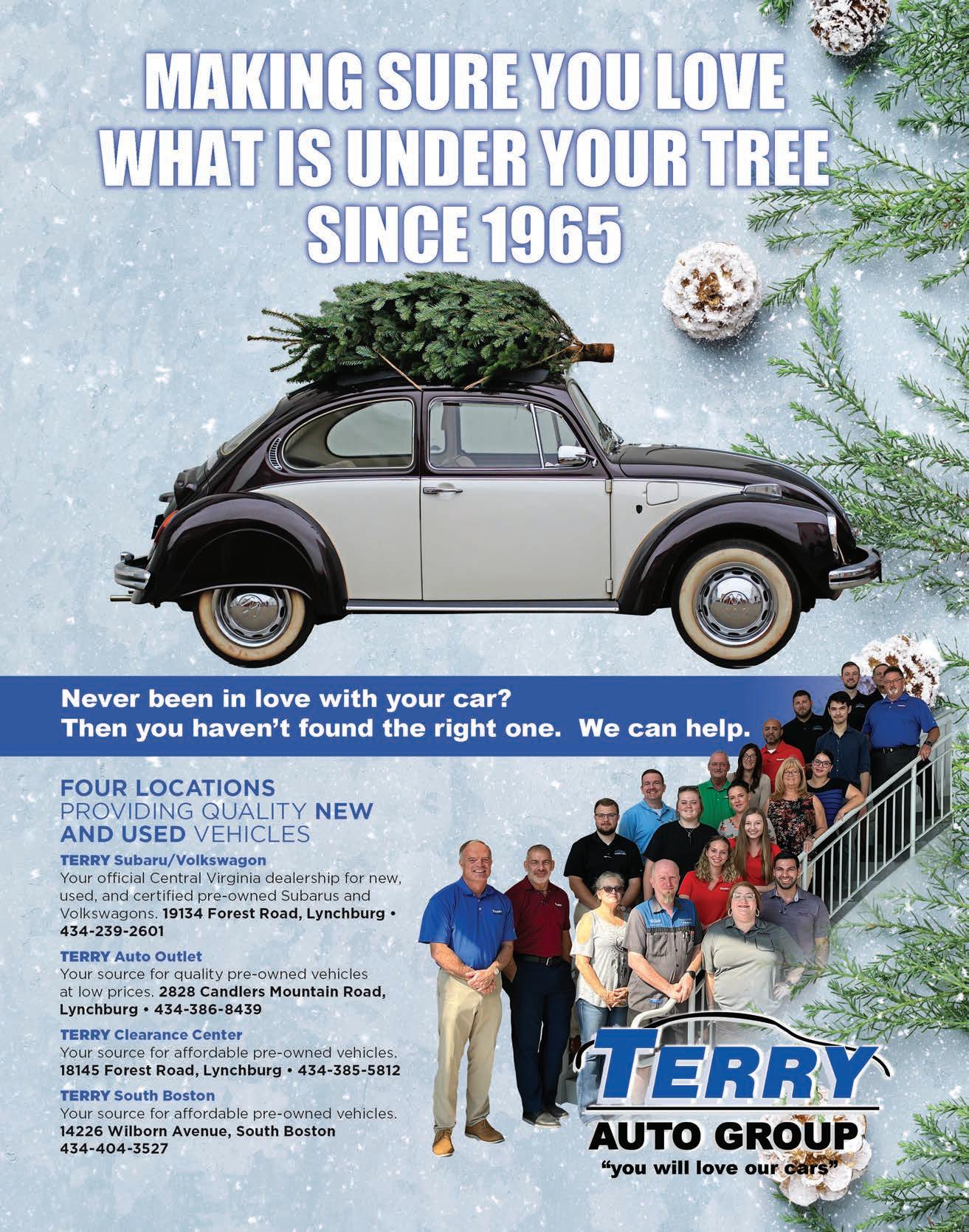 SERVING THE CENTRAL VIRGINIA AREA FOR ALMOST 25 YEARS, Offering vinyl and aluminum railing systems, fencing, pergolas and more using superior materials that are easily installed and maintenance free. 434-237-2800 • VINYLPORCHRAILS.COM DIY PACKAGES AVAILABLE call us! VINYL RAILINGS & GAZEBOVINYL RAILINGS ALUMINUM RAILINGS GLASS RAILINGS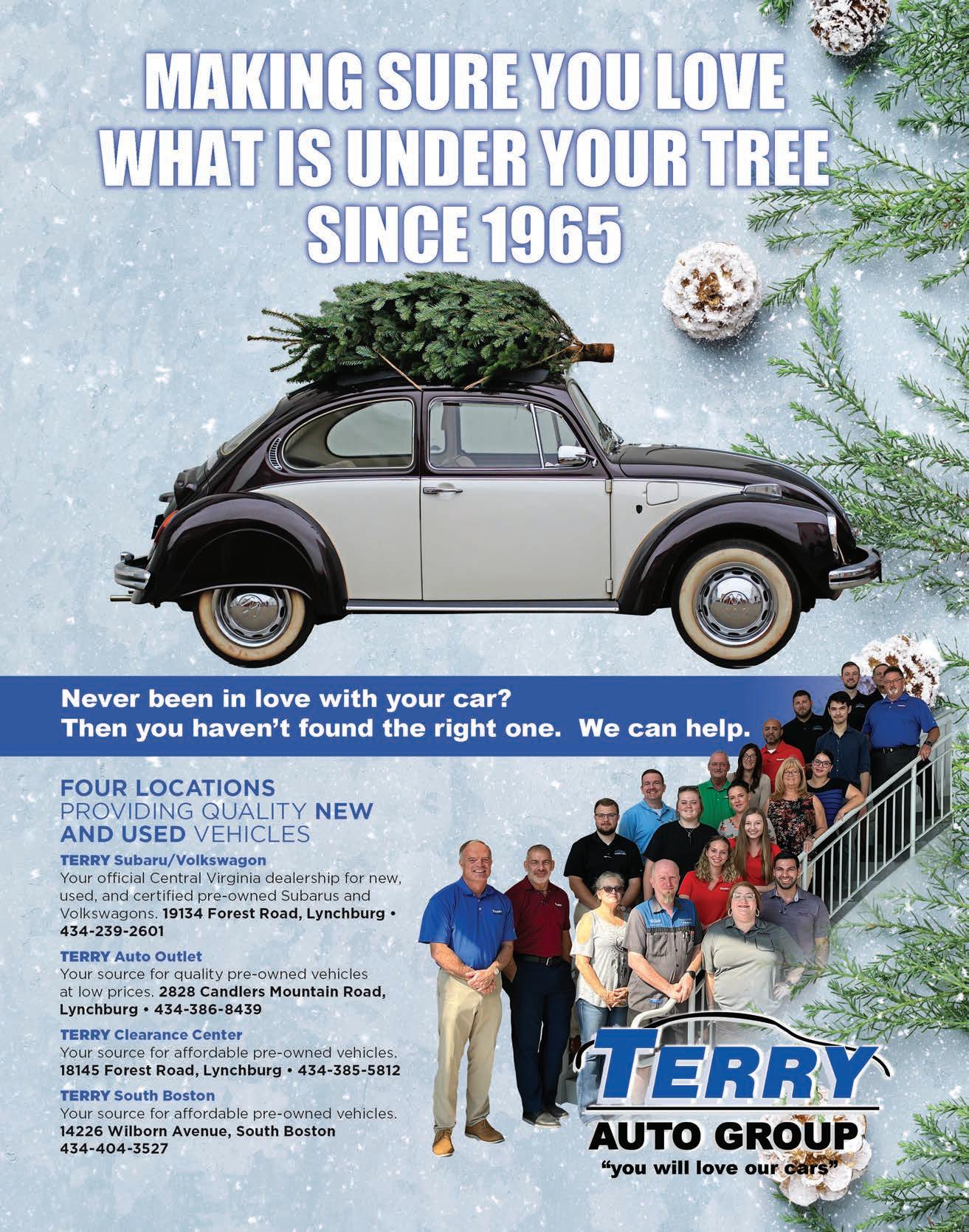 FOR
Bedford, Rocky Mount, Roanoke, Christiansburg, Radford www.vafurnituremarket.com Celebrate the Season around the Table SCAN
DINING GROUPS
5 INTRA-MATIC AUTOMATIC CHRONOGRAPH SWISS MADE HAMILTONWATCH.COM
• DOWNSIZING • RELOCATION • UPSIZING NADINE CAN HELP YOU WITH ALL YOUR REAL ESTATE NEEDS! New Home! 20395 Timberlake Rd., Lynchburg, VA • 832-1100 1st Olympic, REALTORS® Licensed in the Commonwealth of VA Celebrate The Holidays In Your (434 ) 444-2226 Call for a FREE MARKET ANALYSIS! www.NadineBlakelyHomes.com email:nadineblakely @remax.net Nadine Blakely REALTOR® ASP,CLHMS,CNHMS,SRES RE/MAX AGENT in VIRGINIA for 2022!* # 1 * RE/MAX rankings for RESIDENTIAL SALES 1/1/2022 thru 9/30/2022 Since 2008,Nadine has been an ACCREDITED STAGING PROFESSIONAL Nadine will STAGE YOUR HOME for FREE * * When you list with her. NEED TOSELL, BUY,OR BOTH? Nadine knows how to STAGE, STRATEGICALLY PRICE YOUR HOME, and CREATE AN EXTENSIVE ADVERTISING and MARKETING PLAN to CREATE MAXIMUM EXPOSURE TO SHOWCASE YOUR HOME ... and GET IT SOLD!
SPECIALIZING IN ESTATE PLANNING www.davies-davies.net | (434) 528-5500 | 4935 Boonsboro Road, Lynchburg, VA 24503 Wills and Trusts Estate Administration Probate Tax Planning Fiduciary Services Including Executor, Administrator, and Trustee
4925 Boonsboro Rd, Lynchburg VA 24503 434 - 384 - CASA Tuesday - Friday 11 AM - 5 PM Saturday 11 AM - 4 PM Boonsboro Shopping Center
With over 40 years of experience, hundreds of satisfied customers throughout central and southwest Virginia, and an Interior Designer on-staff, we can facilitate your project from
to completion.
FSFOURSEASONS.COM | FACEBOOK.COM/FSFOURSEASONS | 2944 ORANGE AVENUE NE, ROANOKE
design
12 REMODELING/RENOVATION • ROOFING • PORCHES AND DECKS GUTTERS • WINDOWS AND DOORS 2016 Lakeside Drive, Lynchburg 434.525.6307 collinscustombuilders.com • collinssidingandwindows.com READERS' FAVORITE IN 5 CATEGORIES SUNROOMS, SCREENED PORCHES, ADDITIONS, DECKS, SIDING, GUTTERS, ROOFING, REPLACEMENT WINDOWS OVER 30 YEARS EXPERIENCE