Speaker election causes political divide
by grace hefner news section editor
Congressman Kevin McCarthy was elected as Speaker of the House of the 118th U.S. Congress on Jan. 7, 2023 after 15 rounds of congressional votes.
This is the first time in 100 years that voting for a speaker has gone beyond one round, as McCarthy struggled to get his 20 Republican colleagues who were initially voting against him to flip their ballots. However, by the end of round 14, he was able to negotiate with the majority for these colleagues, getting most to vote in his name and others, including Representative Matt Gaetz of Florida and Representative Lauren Boebert of Colorado, to vote "present," seemingly forfeiting their votes.
"McCarthy had been in tense negotiations for days with a small but critical group of far–right conservative lawmakers who made extended demands for concessions that would essentially make it easier to depose a speaker and weaken the powers of the speaker's office to drive the legislative agenda and assign committee posts," according to npr.org.
Congress Minority Leader Hakeem Jeffries received a unanimous vote from the 212 Democrats in Congress during all of the 15 rounds of congressional votes, resulting in the American public fixating on the internal conflict within the Republican party as it contrasted with the unity of the Democratic party.
"[These] kinds of extremely partisan moves might come back to hurt [the Republican party]," said Jesse Oliver, AP U.S. History and Honors Contemporary World Issues teacher.
Both Republicans and Democrats struggle to find common ground in increasing the debt ceiling, a prominent topic during Biden's State of the Union Address on Feb. 7, 2023. The publicity from the election has only increased public conversation about the lack of bipartisanship that is seen within the U.S. government today.
"I think party lines are so divided … that any hatred [Republican members of Congress]
Congressional demands for debt ceiling
The U.S. government has hit the $31.4 trillion debt limit. The U.S. treasury argues that the "extraordinary measures" it will take to keep the economy stable will only last until summer 2023. Democrats and Republicans have differing opinions on how to solve the problem.
Biden Classfied Documents
Cut
Sources: politico.com & thehill.com
have for McCarthy is trumped by the hate they have for the other party," said Oliver.
Congress is currently in a debate with the White House and President Joe Biden over expanding the government's debt ceiling, which caps the amount of money the federal government can assume. Through this debate, the public has been able to learn some of the concessions McCarthy made with his Republican colleagues in order to secure him the Speaker of the House position.
"He probably had to make deals that were very specific to certain [Congress members] and what they want, but I do not think [what he agreed to] is going to change the Republican platform," said Sabrina Beckwith , CP World History and CP Government and Economics teacher.
One of the most prominent concessions is a new rule that allows only one member of Congress to bring a "motion to vacate," which forces Congress to vote on the removal of the speaker, according to nbcnews.com.
"Conservative lawmakers say that as
part of their negotiations to allow McCarthy the speakership, it secured assurances to include major spending cuts to balance the federal budget in any debt limit increase," according to nbcnews.com . "And to enforce that, they've secured other rule changes that give a small group of members the power to remove McCarthy."
Despite the challenges taking place within the Republican party, many believe that it has an opportunity to gain power in the House of Representatives and influence Americans in time for the 2024 presidential election.
"In terms of what a functional House GOP would seek to do in an ideal world, it would likely be messaging bills meant to tee up the fights to come in the next election," said Liam Donovan, a Republican strategist and former National Republican Senatorial Committee aide, in an interview with The New York Times . "And of course, since our elections never end, the biggest measure of success will be if [McCarthy] is able to protect and even increase his fragile majority."
Cryptocurrency market continues to suffer
by harrison weinberg graphics editor
Cryptocurrency continues to feel the impact of the market crash from November 2022, attributed mainly to major cryptocurrency exchange Futures Exchange, or FTX, filing for bankruptcy.
Cryptocurrency is defined as "a digital or virtual currency secured by cryptography and based on a network that is distributed across a large number of computers," according to investopedia.com
People can buy and exchange various forms of cryptocurrency, such as Bitcoin and Ethereum, online through a wide selection of exchange platforms. However, with this virtual system being less regulated and harder to monitor than physical currency, cryptocurrency has faced a fair share of issues over its lifetime.
FTX was one of the largest mediums of cryptocurrency exchange in the market, sporting over 1 million users buying and selling crypto on its platform. After a messy deal with rival cryptocurrency company Binance, the company now owes billions to its customers, reaching up to $3.1 billion for its top 50 creditors, according to nerdwallet.com
The FTX bankruptcy had profound effects on the market, with the prices of many cryptocurrencies falling heavily after it shut down, some of which are still struggling to
rebound. FTX founder Sam Bankman–Fried received heavy backlash due to the situation.
"I ask myself a lot how I made a series of mistakes that seem — they don't just seem dumb," said Bankman–Fried in an interview with The Wall Street Journal. "They seem like the type of mistakes I could see myself having ridiculed someone else for having made."
Although the recovery hasn't been quick, the cryptocurrency market is slowly starting to turn around. Analysts believe that cryptocurrency will still need at least the first quarter of 2023 to fully recover, according to investors.com
"Bitcoin and Ethereum are trading at their highest levels since the collapse of the FTX exchange in early November," according to investors.com
Though the FTX shutdown seems to be the main cause of last year's crash, some attribute the situation to the wider issues of cryptocurrency as a whole. Without a defined physical currency, many believe the issues cryptocurrency faces are unavoidable and bound to happen.
Warren Buffett, Berkshire Hathaway CEO and successful investor, believes that issues such as these are a byproduct of cryptocurrency's innate flaws rather than just unfortunate occurrences.
"Whether it goes up or down in the next year, or five or 10 years, I don't know. But the one thing I'm pretty sure of is that [cryptocurrency] doesn't produce anything," said Buffett. "It's got a magic to it, and people have attached magic to lots of things."
President Joe Biden's residences are being investigated after classified documents were discovered in an office that was in Biden's use on Jan. 9, 2023, according to cnbc.com. The documents that have been uncovered so far pertain to events that took place during Biden's time as vice president under the Obama Administration. Attorney General Merrick Garland has appointed a special counsel to investigate additional documents found in Biden's Delaware home. This discovery came to light three months after former President Donald Trump's Mar–a–Lago residence was raided by the FBI, where over 100 classified government documents were discovered. All classified government documents are required to be handed over to the National Archives, however both Trump and Biden have failed to do so while serving as governmental figures.
The bell schedule for the 2023–24 school year was voted on and approved by teachers on Feb. 3, 2023. The new bell schedule will see a significant alteration to the A period, as the new "0 period" classes will meet from 7:15–8:23 a.m. four days a week and will not meet on Wednesdays. On top of this, Wednesdays will no longer have a late start to accomodate for PLC staff meetings. Instead, all students will attend period 1 class beginning at 8:30 a.m.
On Feb. 4, the WHS Academic Decathlon team took home multiple awards for its performances at the objective, speech, interview and super quiz events. Academic Decathlon includes 10 categories, on which members are quizzed and ranked both individually and holistically.
This year, WHS Academic Decathlon members took home the first place awards for speech, essay, interview, math, science, economics, literature, music, art, social science, and super quiz as a team. Alexander Chi '23 was named the team's MVP, as he won a total of 8 individual medals, three of which are gold, and received the highest overall score. In March, nine WHS Academic Decathlon members will go to the state level competition.
New Schedule AcA deca mock trial
The WHS Mock Trial team saw much success, ranking third in the county, as well as receiving many individual awards. The annual Ventura County Mock Trial competition occured from Feb. 6–9, students arriving at the Ventura County Supreme Court at around 5 p.m. and leaving at around midnight each day.
Students participated as attornies, witnesses and baliffs, attempting to prosecute or defend the made–up defendant, Jordan Franks. This year's case entailed theft, larceny and battery.
Led by team captains Luke Jones '23 and Aviv Stabinsky '23, the mock trial reached high and achieved the second highest rank in WHS history.
NEWS 3
In brief
GRAPHIC BY SANIA GALI
Compiled by Sania Gali, Grace Hefner, Alyssa Joo & James Miller
PHOTO COURTESY OF PUBLIC DOMAIN
MAJOR DOWNFALL: Cryptocurrency's decline is making investors hesitant to create new investments.
spending
Medicare Minimize spending on social security Cut climate spending and reduce spending on environmental studies Republican Democrat Raise the debt ceiling to pay off government obligations approved by Congress Increase taxes on wealthy
subsidies for healthcare
on
Increase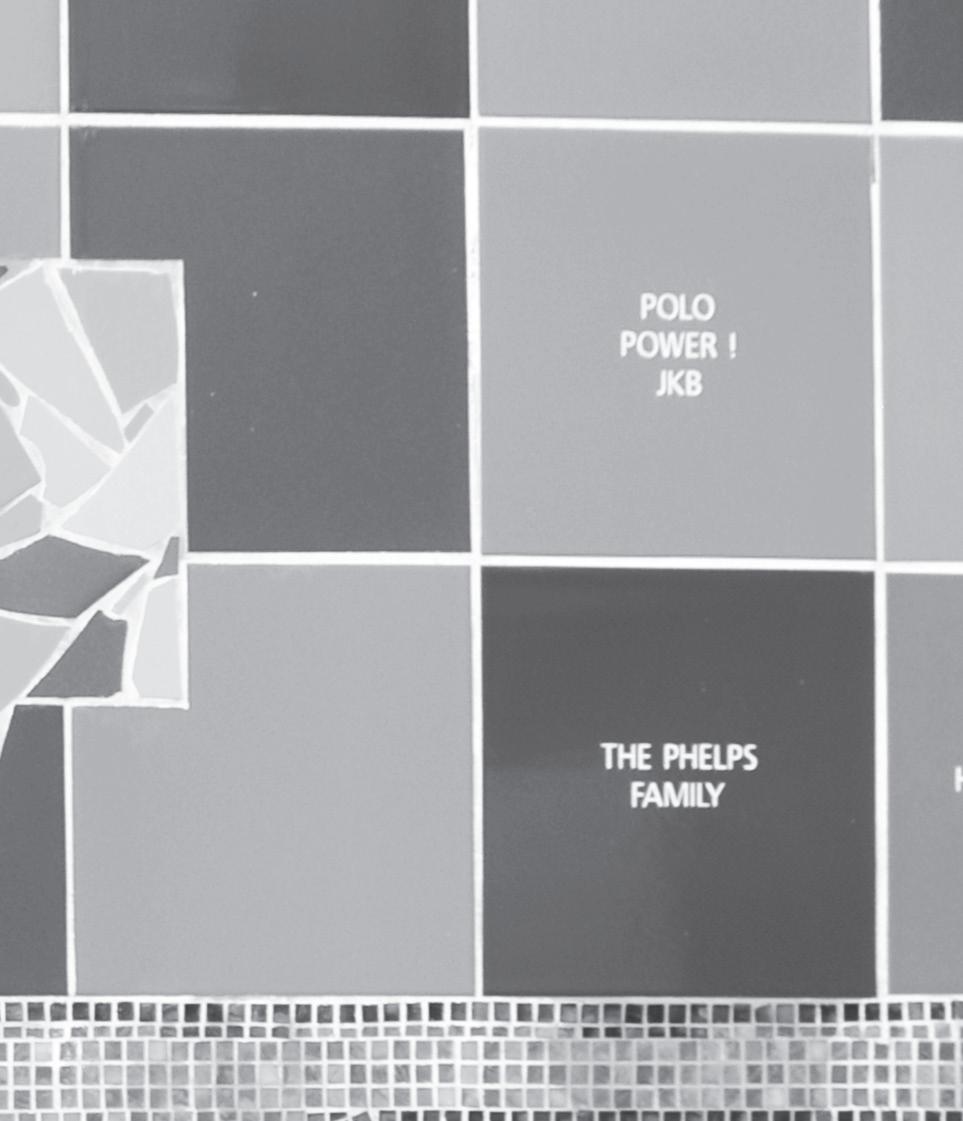 Black History Month makes powerful impact
by sania gali news editor
Black History Month in February has traditionally been a time of year to highlight the history, accomplishments and obstacles that the Black community in the United States and around the world has faced.
The month was established in 1976 by President Gerald Ford in celebration of the United States' bicentennial. The month takes the time to emphasize how important African American figures are in history and how integral they were in the country's overall success as a global superpower.
"We gather to celebrate Black History Month, and from our earliest days, Black history has been American history," said former President Barack Obama at the White House's annual Black History Month reception in 2016. "We're the slaves who quarried the stone to build this White House; the soldiers who fought for our nation's independence, who fought to hold this union together, who fought for freedom of others around the world. We're the scientists and inventors who helped unleash American innovation."
Often, when celebrating Black History Month, society tends to focus on the struggles that the African American community faced such as slavery, segregation and the Jim Crow era and its impact. However, African American figures and stories that discuss the accomplishments and triumphs of the community are often overlooked by the media. There have been many advancements
as U.S. senator Hiram Revels, the first Black senator, helped spearhead progress in Congress for minorities.
"[Black History Month] is really important because I know the history curriculum in a lot of schools in the district don't include a lot of Black History in a sense that [it is separate] from slavery and the reconstruction," said Abby Flamer '23, Black Student Union Vice President. "It's an opportunity to educate people about Black accomplishments and important Black figures that we don't really spend a lot of time studying. It's a way to be more seen in the school [as well]."
In recent history, Black Americans have been climbing the political ladder in state and national politics, especially with the election of President Barack Obama in 2008, and current Vice President Kamala Harris in 2020, as well as the current 60 Black Americans serving in the U.S. Congress. There has been a greater emphasis on the importance of representation in politics for the Black community.
"Honestly, I really love seeing that representation, and I think it's absolutely necessary
having that representation, especially now," said BSU Secretary Naima Kahl '24. "It's really inspirational to think that an African American person can become president, vice president or a state senator in places that originally used to put down [the African American community]. Representation is crucial, and I think we need way more of it."
Concerns have been raised that Black History Month has become a way to only discuss the obstacles and accomplishments the community faces during just one month of the year, and it allows people to remain indifferent toward problems facing the community, such as housing or incarceration, throughout the rest of the year.
"Black History Month to me is a way to respect and honor
people's stories who have been forgotten for so long," said Kahl. "I kind of have a weird relationship with it because I think that it's a little bit tokenized. I think it's kind of the way, sometimes, for people to just pay their respects for a month and then forget about it. It's important that the conversation is continued after the month is over."
In an age where racial inequality exists economically and socially,
looking back on and celebrating powerful figures during Black History Month creates a sense of pride and hope for the future. It provides a way for young people of the Black community to find inspiration for success and helps those who are not African American recognize an instrumental part of the nation's history. As the United States continues to progress, the need for recognizing figures from historically–oppressed racial groups lives on.
"I want [students at WHS] to appreciate other cultures," said Flamer. "Whether it's Black culture, South American [culture] or different Asian cultures, I feel it's just important to have an open mind and realize that American history is not just white history. There's so many people that have contributed to this country and the world."
Poet, civil rights activist and world–renowned author. Some of her most popular works include "And Still I Rise," "Caged Bird" and "Awaking in New York."
5. FREDERICK DOUGLASS (1818–1895): Abolitionist, journalist and statesman in the 19th century. He dedicated his life and career to working toward emancipation for slaves.
6. BARACK OBAMA (1961–present): First African American president. He served from 2009 to 2017 and led many reforms such as the Affordable Care Act and the Consumer Protection Act.
7. ROSA PARKS (1913–2005): Widely known for refusing to give up her seat on a bus and her role in the Montgomery Bus Boycott. She was later honored by Congress as "The First Lady of Civil Rights."
8. AMANDA GORMAN (1998–present): Poet and author who received international attention for her inspiring poem, "The Hill We Climb," at President Joe Biden's 2021 inauguration. Compiled by James Miller & Lucas Van
FEATURE 6
6
1. ARETHA FRANKLIN (1954–2017): Singer, pianist and songwriter. She is known as "The Queen of Soul" and is ranked ninth in Rolling Stone's "100 Greatest Artists of All Time."
2. STACEY ABRAMS (1973–present): Politician, voting rights activist and lawyer who served on the Georgia house of Representatives from 2007 to 2017.
3. MARTIN LUTHER KING JR. (1929–1968): Civil rights activist who is widely accredited for achieving equal rights for Black Americans. His work earned him a Nobel Peace Prize in 1964.
4. MAYA ANGELOU (1928–2014):
1 2 3 4 5 7 8 PHOTOS COURTESY OF PUBLIC DOMAIN
Parys
Tune into Nico Kahl, The Cty
by junior rendon a&e editor
Nico Kahl '26, known as The Cty on Spotify, Soundcloud and Apple Music, is exploring his talent for producing upbeat, electronic music. He has plans to produce a mix of electronic and jazz music in the future.
Kahl started off his musical career by playing piano for nine years before deciding to try a new genre of music. He chose to switch to electronic beats and has stuck with the style for the past three years.
He produces his music from the comfort of his own studio garage. The process begins when Kahl chooses to make a beat at the studio or returns to the piano to create something there.
"I sit down and start out with a sound or just any idea really," said Kahl. "Sometimes I'll sit at a piano, or I'll just sit down right in the studio and come up with something, and I'll just build off of that. I'll keep building on it, and that's usually how songs go."
However, the process for creating can end as quickly as it started, depending on if the beats meet Kahl's qualifications for a good song.
"If it works, it works, and if it doesn't, it doesn't," said Kahl. "Sometimes it's good, and sometimes it's not good. It's a hit or miss."
Kahl has officially released six songs, all of them with an electronic beat. Moving forward as a musician, Kahl is tapping into the jazz world and plans on releasing a contemporary
jazz album toward the end of the 2022–23 school year.
"I'm really trying to get into jazz, and that's the type of music I want to make going forward," said Kahl. "That album is probably going to be out at the end of the school year."
While no songs have been teased yet, Kahl has stated that the upcoming tracks on his new album have been his favorites to produce. They feature new styles of music that Kahl has not produced and released before.
"[The new songs are] pretty trippy," said Kahl. "They've got this cool, jazz–fusion section and then this boom bap hip–hop section. It's going to be crazy."
Jazz fusion is a music genre that mixes modern jazz with elements of drumming, bass lines, rock music and strong electronic instruments. Boom bap hip–hop is a subgenre of hip–hop that utilizes hard–hitting drums such as snare drums, kick drums and many other percussion instruments.
On the upcoming album, Kahl has also collaborated with many artists, one being jazz musician Madeline Sanders '26.
"[Sanders] plays the double bass, so [there's] an insane bass section," said Kahl. "You [have to] wait for the new album to drop to hear that one."
As a fellow jazz musician, Sanders greatly recognizes Kahl's talents as an artist.
"Nico [Kahl] is extremely passionate about music," said Sanders. "He has great talent in jazz, improv and interpretation. He is amazing
at spontaneously making music and is a very notable musician to jam with."
Although Kahl's new music will not all be electronic as his previous songs have been, he plans to incorporate some electronic elements with jazz ones to create something new.
"When this new album drops, it's going to be really different," said Kahl. "I used to produce electronic stuff, and now I'm more in the jazz world, so it's a fusion of that. It's all of those influences coming together."
Apart from the new album, Kahl has
also produced music with producer Howard Johnson '26. The two released their first single together on Oct. 7, 2022.
"We've made our new group called Mixed Edition," said Johnson. "We made one song ... called 'Hello', but we're coming up with new music."
Kahl fuses his vast knowledge of different music genres and styles together as he creates a unique sound for his first album.
"I made it," said Kahl. "It's got my own little secret sauce on it. It's got the garage sauce [and] it's different."
WHS Tech Theater goes behind the scenes
by alyssa joo a&e section editor
The WHS Theater Department's productions are complete with talented actors, vibrant lighting, detailed sets and clear sounds. However, none of this would be possible without WHS Tech Theater.
"When you hear about theater and think about acting, a lot of people don't know [WHS] has a tech class," said Tech Theater member Kara Gusner '24.
The WHS Tech Theater class meets after school from 3–7 p.m. on Tuesdays and Thursdays but is subject to requiring more time during busier weeks as shows and events draw near.
"It's a lot of hours," said Tech Theater member Sammy Conahey '23. "We've had a lot of people join the class initially and then drop out because it's a lot of hours here at school … Sometimes, you're here after school for three hours for a week straight."
The time commitment is necessary for the amount of effort that goes into theater productions. For instance, designing and building sets requires creativity, planning and time from its contributors.
"We start [set building] by having the director come in [with] a slide presentation of examples of sets that she likes and how she wants the vibe of the show to feel," said Tech Theater member Noah Chapman '23. "We talk it through with her first and bounce ideas off her … We rule out what we can and can't do. Then we start designing and
building … Once we're done building, we go into rehearsing."
Sets are integral to any show's setting, but what truly completes any scene is lighting, which is also taught in the Tech Theater class.
"For the past three years, I've done lighting," said Conahey. "Designing the light spots, [making] the queue lists and operating the lightboard during the show [has] been my role for the majority of the time I've been here."
Lighting sets the tone and focal point of the stage at any moment so the audience has a clear idea of what is going on. Lighting operators plan when and where to use certain lights to convey ideas in scenes.
"You have to know the difference
between all the different lights," said Conahey. "We've got lights that just change color, lights that move around [and] lights that just have an intensity that goes up and down. [We have to know] how to use all those different ones, combine them all together and mix and match their different capabilities [to] create different moods."
Of course, no show is complete without audio. In the back of the theater, the soundboard controls the microphone volume, background music and all other sound effects.
"When we do shows, I have to find all the sound cues and put them all in a program," said Chapman. "Once the show is going, I mix the audio. I sit at that gigantic
board with all those levers, and I push them up and down to make sure everything sounds equal and good."
While Tech Theater students are constantly learning all of these skills and more every week, the busiest time is always right before opening night.
"Tech week is the week before the show," said Gusner. "We tech the show, which basically means we go through light cues and sound cues to make sure it looks good before we go through dress rehearsals."
On top of their own theater productions, the Tech Theater members help bring other WHS shows to life.
"We do [tech] for the plays, but we also help the sounds for when choir or orchestra comes in," said Tech Theater member Brooke Davis '25. "We're always backstage when they're onstage."
Despite the challenging load, a great benefit of doing Tech Theater is getting to make meaningful friendships and memories with other members.
"I've met my closest friends in this class," said Conahey. "I get to do what I like to do with the people I like to do it with."
After countless hours of building, painting and programming, the show finally begins as the technicians go through the rehearsed motions of following cues while the actors take the stage.
"I like it when the show comes together and you're able to see all the actors performing with all the lights and the sound," said Gusner. "The lights, the sound [and] the props build the show together."
ARTS & ENTERTAINMENT 11
SETTING THE STAGE: Brooke Davis fills out light cues on the lightboard as colors fill the stage to create different scenes.
THE CTY: Producer and jazz musician Nico Kahl writes and produces all of his own music. He has released six songs so far and plans for more.
PHOTO BY ALYSSA JOO
PHOTO COURTESY OF SPOTIFY
"N
ico [Kahl] is extremely passionate about music."
–Madeline Sanders
PHOTO BYJUNIORRENDON

Sydney says
by sydney elias
"Get your head out of the clouds."
But what if I want to stay here? What if I want to dream and never stop dreaming?
Fiction, — stories of love and loss, joy and sadness, excitement and fear — no matter the emotion provoked, always offers an escape from reality or a magical turn into a mystical, new world.
Staying up until 2 a.m. with nothing but a small reading light to compensate for the arbitrariness and the unpredictability of the real world may seem pessimistic, but to me, it is anything but.
I learn through authors' creativity, envision myself in new and exciting universes and uncover stories that I relate to or strive to one day experience. Fiction has the ability to prod me into understanding more about myself and gives me a deeper, emotional intellect that better allows me to connect with all that is around me.
The world of fiction offers an escape from the rigor of school, the stress of family, the confusion of friends and more. It simply allows a break from the reality of everyday life.
Whether grieving Scotty's death in Reminders of Him, yelling at Miles to be a better man in Ugly Love, falling in love with Prince Maxon Schreave in The Selection or feeling all of Belly's insecurities in The Summer I Turned Pretty, I find myself utterly captivated by every story in which I am vicariously living. Turning the pages of these books allows me to live a hundred more lives than just my own.
While many view a love of fiction as living in a fantasy world, I view fiction as a refuge — one that has allowed me to appreciate the coexistence of physical reality and fictional truth.
Most of school requires a logical lens, however, fictional literature occupies a very different realm, one that is subjective and open to interpretation. Instead of utilizing the brain power required to complete school assignments, reading allows my mind to wander and explore.
Escapism fiction is often deemed inconsequential or even frivolous compared to more serious literature such as required reading in school. Genres of science such as fiction, thriller, mystery, romance and fantasy, commonly classified as sub–literary, are oftentimes considered unworthy of being regarded as true literature.
Although books about history and war hold substantial meaning, nothing compares to the feeling of placing myself inside a fictional story. Going on adventures through magical lands, being the main character's partner in crime, becoming the eighth member of a secret club of only seven and so much more are the beauty of fiction and the endless possibilities it holds.
With that being said, immerse yourself in new worlds. Let yourself transcend through different stories, different places and even different time periods. Let that 2 a.m., tiny reading light be a light that covers the entire horizon, taking you through a limitless world of fiction.
School curricula needs to emphasize Holocaust
by alyssa rice co-editor-in-chief
If people held a minute of silence for every victim of the Holocaust, they would be silent for over 11.5 years. Yet, many students across the country do not know about the events of the Holocaust and the tragic impact it had on individuals, families and communities worldwide.
Education on the Holocaust is lacking, and it is time to put greater emphasis on informing students about this pivotal event in world history.
Only 18 states have specific requirements for Holocaust and genocide education in schools, according to axios.com Furthermore, only five of these states had these requirements in place before 2017.
Only recently has a select portion of students had the opportunity to learn about the Holocaust in a detailed and meaningful way. Prior to 2017, Holocaust education was not emphasized, and many students graduated high school unaware of the impacts of this significant event in world history.
California is not a part of these 18 states, and its laws only mandate that "social studies should pay 'particular attention to the study of the inhumanity of genocide, slavery, the Holocaust and contemporary issues,'" according to axios.com
While these laws are an important first step in emphasizing education about the Holocaust, the broad wording does not ensure students are being taught about the crucial details of it.
A variety of programs and resources exist with the purpose of educating people about the events of the Holocaust, including the Holocaust Museum L.A. and the U.S. Holocaust Memorial Museum. The latter provides a variety of digital resources, such as survivor testimonies and online exhibitions, that teachers can use to enhance education on the Holocaust and provide students with more meaningful and impactful learning.
Yet, without an emphasis on this topic, teachers will not include these resources in their lessons and thus, students will lack detailed knowledge on how tragic this genocide was for tens of millions of people.
Education on the Holocaust also combats misinformation and ignorance about the subject. In California, 37% of people cannot name a concentration camp or ghetto, and 32% of people believe only 2 million or fewer Jews were killed during the Holocaust, according to a 2020 survey from the Conference on Jewish Material Claims Against Germany.
Teaching students accurate facts ensures they understand the destructive magnitude of the Holocaust. Auschwitz was one of the largest death camps in Europe and contributed to the systematic murder of over 6 million Jews, yet one in three Californians do not know this information.
Students who received Holocaust education in high school report "having greater knowledge about the Holocaust
than their peers … [and having] a greater willingness to challenge intolerant behavior," according to a 2020 Echoes and Reflections U.S. College Survey. These students "are more open to differing viewpoints [and] show higher critical thinking skills."
Holocaust education extends beyond not wanting to repeat the past. Students learn empathy, social responsibility, acceptance and advocacy against hateful speech, all of which are valuable traits during a time of hate and division.
Studying the Holocaust also provides students an opportunity to learn about the harm hate speech and propaganda can cause, especially when directed toward a marginalized group of people. Examining the effects of this communication results in students that think carefully about the media they are consuming and the effects their words have on others.
"I strongly believe that the most effective way to combat prejudice and hate is through education," said Maya Sobel, an advocate for a Vermont Holocaust education bill, according to the Times Argus. "We need to start at a high school level to teach students the facts of the Holocaust and train them to critically think about the information they are consuming surrounding ethnic and religious minorities."
With Holocaust denial and anti–semitism only increasing in recent years, it is especially important that younger generations learn about these topics. They can then speak out against hate and create a world that is accepting of everyone, regardless of religion.
The Holocaust is not just an event of the past, and 59% of Americans "believe something like the Holocaust could happen again," according to a 2020 survey from the Conference on Jewish Material Claims Against Germany.
Students need to have an education that teaches them to meaningfully consider the ever–changing world around them. Including the Holocaust in school lesson plans is essential to help ensure that the mistakes of the past are never repeated.
OPINION 14
AWAITING FREEDOM (above): Child survivors of Auschwitz–Birkenau stand behind the barbed wire fence during the liberation of the camp.
PHOTOS COURTESY OF U.S. HOLOCAUST MEMORIAL MUSEUM CC BY–NC–ND 2.0
A SOLEMN FATE (left): At the Auschwitz–Birkenau conceptration camp, a Jewish woman walks toward the gas chambers with her three children. Over 1.1 million men, women and children lost their lives at Auschwitz–Bireknau.
PHOTO BY ME IN ME CC BY 2.0
REMEMBER AND REFLECT: A woman explores the Memorial for the Murdered Jews of Europe located in Berlin, Germany. The memorial houses 2,711 concrete slabs and a "Place of Information" that includes the names of all known Jewish Holocaust victims.
featured columnist
Fiction proves to be crux of escapism
PHOTOCOURTESYOFMEGELIAS