VISITNORFOLK.COM 1-800-368-3097 - 2023 CITY GUIDEFREE GUIDE
Enjoy life on the waterside in
With stunning views, the Sheraton Norfolk Waterside Hotel is the area's premier meeting and event venue on the Elizabeth River Trail, complete with a seasonal outdoor pool. Just a short walk away from the new Waterside District, you'll never be far from food and fun. Let our newly renovated 466 room hotel, 46,000 square feet of meeting space and dedicated planning staff make your next event or getaway weekend truly unforgettable.
2 | visitnorfolk.com
Sheraton
Waterside
Contact
Director of Sales & Events at
777 Waterside Drive | 757-622-6664 |
Norfolk, Virginia
Norfolk
Hotel
Christine Palmer,
christine.palmer@norfolksheraton.com
Marriott.com/orfsi
NORFOLK MARRIOTT WATERSIDE | 235 EAST MAIN STREET | 757-628-4200 MEET TOGETHER AGAIN IN NORFOLK 26 EVENT ROOMS 3 BALLROOMS 407 GUEST ROOMS 68,879 SQ. FT. EVENT SPACE
Welcome FROM NORFOLK MAYOR KENNETH COOPER ALEXANDER
During your stay, I invite you to find the hidden gems that make up our beautiful city. From 144 miles of shoreline waiting to be explored to historic, eclectic neighborhoods and over 600 independently-owned restaurants, you will find there are endless possibilities that Norfolk has to offer.
CULTURAL CENTER OF THE REGION
Enjoy Norfolk's artistic side by visiting the NEON District, Chrysler Museum of Art, the Perry Glass Studio, Barry Art Museum, the Hermitage Museum and Gardens, the Glass Light Gallery and more than 100 pieces of public art that can be found throughout the city. There is also opportunity to see performances by Broadway Norfolk, the Virginia Stage Company, Virginia Ballet, Virginia Symphony Orchestra, Virginia Opera and Virginia Arts Festival.
VISIT RENOWNED ATTRACTIONS
Relish in our city's natural attractions including the Virginia Zoo which houses more than 700 animals and the Norfolk Botanical Garden which stretches across 175 beautiful acres with collections of roses, camellias, crape myrtles and more. Immerse yourself in our military history by touring the Battleship Wisconsin, one of the largest and last battleships ever built by the U.S. Navy.
DEEPLY ROOTED IN HISTORY
We're home to the world's largest naval base, NATO North American headquarters and an expansive seaport that gives an extraordinary sense of pride and commemoration. During your visit, take a moment to observe the General Douglas MacArthur Memorial, reflect at the Armed Forces Memorial or embark on one of our self-guided tours including the Cannonball Trail or Waterways to Freedom.
YEAR-ROUND EVENTS & FESTIVALS
With more festivals than any waterfront destination on the East Coast, you can listen to musical acts from all over the world at the Virginia International Tattoo, see tall ships sail at Harborfest, enjoy jazz at the historic Attucks Theatre, watch the nation's one and only Pride Boat Parade at the Hampton Roads PrideFest and celebrate all branches of our armed forces at the Patriotic Festival. And these are only a few events that take place throughout the calendar year.
4 | visitnorfolk.com
CONTENTS 36
TOP 5 THINGS TO DO
10
OUR NEIGHBORHOODS
From the bustling Downtown to the sandy shores of Ocean View, Norfolk is a melting pot of people, cultures and ideas. Get to know our neighborhoods that are as unique as the residents who call these places home.
CITY WITH BITE
Home to more than 600 restaurants, breweries and distilleries, Norfolk boasts a diverse culinary scene ranging from seafood to exhilarating international cuisine—plus tasty sips in between.
SHOWTIME & SEASONAL EVENTS
GLASS ART & GALLERIES
Our city is filled with a culturally diverse mix of museums and galleries offering a stunning selection of visual art, glass art, history and more.
Norfolk has a lot, but do not get overwhelmed. You can start with these top five attractions for a quintessential and unique Norfolk experience. 38
AFRICAN AMERICAN HISTORY
Norfolk's rich African American history has shaped our city into the diverse community we know and love. 40
MARITIME HISTORY
More than just a city with great waterfront views, Norfolk holds an expansive maritime history. Explore these wonders on our water to learn about Norfolk's maritime past and present.
ON THE WATER
With 144 miles of coastline and the Atlantic Ocean and Chesapeake Bay at our fingertips, Norfolk is the perfect spot to play on the water.
SPORTS
Norfolk is a fantastic place to get in the game, whether you're cheering on our very own baseball or hockey team, watching college football or running a great race.
RESOURCES
Need some assistance curating a unique Norfolk experience? Our resource guide of maps and accommodations will help you get started.
8
42
44
52
46
There's always something happening here, from show-stopping performances and live music all day long to incredible festivals year-round. 30
Being centrally located along the Mid-Atlantic coast with easy access from Norfolk International Airport, Amtrak, Greyhound and two interstate highways makes it easy to travel to Norfolk, Virginia! No matter how you are getting here, we want your arrival to be smooth and hassle-free.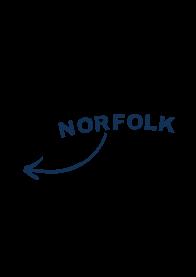 NORFOLK'S CLIMATE
Whether visiting in the heat of the summer or enjoying our mild winter months, you will find that weather ranges from 51 to 68 degrees on average.
NORFOLK BY TRAIN
Norfolk is home to an Amtrak station that is located in the heart of Downtown with stops in Richmond, Washington, D.C., Philadelphia, New York and Boston.
TAKE THE BUS
Greyhound provides bus service to Norfolk from several cities in the state of Virginia and the northeast including, Richmond, Washington, D.C., Philadelphia, New York and Albany. You can also take the Greyhound to Charlotte, Raleigh and Atlanta.



ARRIVING BY AIR
The Norfolk International Airport (ORF) is the major airport serving coastal Virginia and northeast North Carolina. Allegiant, American, Breeze, Delta, Frontier, Spirit, Southwest and United offer convenient access to hundreds of cities worldwide. The airport is centrally located just one mile east of I-64 and less than 10 miles from Downtown.
PITTSBURGH BALTIMORE PHILADELPHIA NEW YORK BOSTON WASHINGTON D.C CHARLOTTE RALEIGH
DRIVING TO NORFOLK 93 miles 185 miles 195 miles 233 miles 325 miles 276 miles 363 miles 430 miles 570 miles 576 miles 2 hours 3 hours 3.5 hours 4.5 hours 5 hours 5 hours 6.5 hours 7 hours 9 hours 10 hours RICHMOND, VA WASHINGTON, D.C. BALTIMORE, MD PHILADELPHIA, PA PITTSBURGH, PA COLUMBUS, OH NEW YORK, NY BOSTON, MA RALEIGH/DURHAM, NC CHARLOTTE, NC VISITOR INFORMATION
visitnorfolk.com
Sarah
DESIGN
VisitNorfolk Visitor Center & Mermaid Market 232 East Main Street Norfolk, VA 23510 1-800-368-3097
Mon–Fri: 8:30 a.m.–5 p.m. Sat–Sun: 11 a.m.–2 p.m. VisitNorfolk is a non-profit organization that promotes Norfolk's unique experiences and expansive amenities to residents and visitors as the best city of its kind to start, study, and stay. VisitNorfolk's mission is to elevate Norfolk, VA from a "nice to see" destination to a "necessity" destination. The 2023 VisitNorfolk City Guide is provided as a service by VisitNorfolk. Every effort is made to ensure this guide is as accurate as possible. VisitNorfolk assumes no responsibility for errors, changes or omissions. Visitors should verify hours and admissions policies with destinations. STAY CONNECTED: Follow us @VisitNorfolkVA and use #VisitNorfolkVA EDITORIAL TEAM:
Hughes, Angela Blue, Paige Hawsey, Valerie Mitchell and Morgan Harris
TEAM: Ophélie Le Livec and Sway Creative Labs PRINTER: Liskey Printing
NORFOLK TOP 5
The things to see, do and experience in Norfolk truly feel endless, even for those lucky to call this city home. Norfolk's close proximity to the Elizabeth River and Chesapeake Bay means our views and our adventures are more picturesque than most. It's easy to spend a day basking on the beach or exploring the water via paddling a kayak, learning to sail, touring Norfolk's naval base on the Victory Rover, catching a sunset on the American Rover or dining and dancing aboard City Cruises
Of course, there's plenty to do beyond our waterways. On land, we've got the Virginia Zoo, Elizabeth River Trail, a fascinating collection of historic homes, an unrivaled display of public art and an unprecedented number of vibrant mermaid statues. On any given day, you can join Norfolk Tour Company to learn about the city's history, art, architecture and spirited past. We take pride in Norfolk's culture and diversity, which shines brightest in the city's museums including the Hermitage Museum & Gardens, MacArthur Memorial, Nauticus and more. Plus, our NEON District is vividly painted with more than 80 pieces of public mural art.
Just as stunning as the visual arts, Norfolk's performing arts scene will sweep you away with productions at Harrison Opera House, Attucks Theatre, Chrysler Hall, Scope Arena, Wells Theatre and others. There's also live music at The NorVa, plus live sporting events year-round.
Norfolk's got a lot, but don't get overwhelmed. Start with these top five attractions for a quintessential and unique Norfolk experience.
8 | visitnorfolk.com
Ocean View Fishing Pier
Battleship Wisconsin
Bayou Bon Vivant
Glass Light Gallery
Norfolk Botanical Garden ByBarbara Murray
1 Battleship Wisconsin
One of the largest and last battleships built by the U.S. Navy, the Battleship Wisconsin is a majestic landmark in Norfolk, having earned five battle stars during WWII. Explore its deck through a guided or self-guided tour. The holiday experience is especially lit.
2 Glass Art
Norfolk is celebrated in the world of glass art. The Barry Art Museum and Chrysler Museum both hold stunning works of glass, and the Perry Glass Studio features live glassblowing demonstrations daily. Immerse yourself in this art form with a stay at the Glass Light Hotel & Gallery.
3 Ocean View Fishing Pier
Overlooking the Chesapeake Bay, the Ocean View Fishing Pier—the longest in North America—stretches out 1,690 feet into one of the East Coast's most bountiful fishing spots. Located on-site are a bait house and restaurant, ensuring a fantastic time, even if the fish aren't biting.
4 Norfolk Botanical Garden
A nationally recognized gem, this 175-acre garden is home to more than 60 distinctive themed gardens, 95 species of birds and 30 kinds of butterflies. There's something for everyone during every season, including a chance to experience the garden aglow during the holidays.
5 Waterfront Festivals
Celebrations in Norfolk provide entertaining and culturally enriching experiences at Town Point Park. Attendees get a gorgeous view of the Elizabeth River while sipping Virginia wine, indulging in Cajun, Latin, Caribbean or Nashvillian culture, watching a fireworks display, hearing live jazz or gospel and getting into some family fun.
Norfolk Botanical Garden
Norfolk is one of the fastest-growing mid-sized cities in the country.
"
—Outside Magazine
"
OUR NEIGHBORHOODS
From the bustling Downtown to the sandy shores of Ocean View, Norfolk is a melting pot of people, cultures and ideas. Wander through Historic Freemason to experience manicured gardens and historic homes. Get artsy in NEON by perusing public art and eclectic restaurants. A local favorite, Ghent is filled with character, culture and cool boutiques. Nearby Chelsea is celebrated for its breweries, plus the Elizabeth River Trail that runs through it. Across the tracks, the Railroad District will win you over with breweries and eateries. Go wild in Riverview, whether visiting exotic animals or quelling a ravenous appetite. Larchmont and Lochhaven are known for college football, a waterfront museum and outdoor fun. Finally, drive toward Military Highway for shopping, airport access and the region's most gorgeous garden.
10 | visitnorfolk.com
1
2
3
4
5 Chelsea 6 Larchmont/Lochhaven 7 Riverview 8 Ocean
9 Military Highway 10
Downtown
NEON District
Historic Freemason District
Ghent
View/East Beach
Park Place/Railroad District
@withsunshinesol
DOWNTOWN NORFOLK
The heart of Norfolk beats through the streets of its vibrant Downtown. Located on the glistening Elizabeth River, Downtown Norfolk presents many ways to enjoy the water through sailing lessons, narrated naval tours or dinner cruises. Our towering and historic buildings represent the thriving business coming in and out of our city while the unique shops and restau rants symbolize the passions and ideas of its residents. We have some of the most innovative culinary experiences and locally-made wares, all within walking distance. Finally, Downtown's fascinating museums offer a glimpse into our history while tailoring experiences to today's audiences. Whether you're coming Downtown to work or to play (or a little of both), there's always a friendly face to see, a new bite or shop to discover and an adventure to be had.
12 | visitnorfolk.com
Varia
EXPLORE DOWNTOWN
DOWNTOWN
DAY 1
MORNING
Start the day off right with a fresh juice or smoothie before touring Nauticus, a maritime discovery center featuring interactive exhibits, a sailing center, the Hampton Roads Naval Museum and Battleship Wisconsin—one of the largest and last battleships ever built by the U.S. Navy.
AFTERNOON
Wander through Selden Market for lunch, sweets and shopping. Pop-ups are ever-changing at this eclectic shopping hall, so you'll always score something new from local artisans. Want to shop 'til you drop? Find more at MacArthur Center or at VisitNorfolk's own Mermaid Market, filled with items representing our Mermaid City.
EVENING
Enjoy a Signature Dinner Cruise with City Cruises by Hornblower. This two-and-a-half-hour cruise along the Elizabeth River includes a delicious dinner buffet, spectacular views of the Navy's Atlantic Fleet and onboard entertainment with DJ music, lounge spaces and interactive games.
ITINERARY OPTIONS
DAY 2
MORNING
View glass in all colors, shapes and sizes at Glass Light Gallery, featuring exceptional works from world-renowned artists. Then experience a history lesson at the MacArthur Memorial, a museum and research center dedicated to preserving the life story of General of the Army Douglas MacArthur.
AFTERNOON
Book an afternoon cruise on the Victory Rover for unparalleled views of naval destroyers, submarines and other vessels. Want to be more involved? On the American Rover, you can help set sails, take a turn at the helm or simply enjoy sights of city skylines, the Battleship Wisconsin and more.
EVENING
Dine at one of the many spectacular restaurants on Granby Street's Restaurant Row. From locally sourced seafood to rooftop Italian and a bit of everything in between, you're sure to find a meal to remember. End the evening with a drink at Waterside District or arcade games at Circuit Social. Or, catch a stunning show at one of Norfolk's fabulous performance arts venues.
Neighborhood: Downtown Norfolk | 13
Granby Street
Selden Market
Battleship Wisconsin
By Karen Moskowitz
American Rover
NORFOLK
NEON DISTRICT
Take a drive or stroll through the NEON (New Energy of Norfolk) District where you'll quickly discover how the neighborhood got its name. As the city's first official arts district, NEON provides a space for artists, performers, comedians, shop owners and restaurateurs to create, share and energize the area in their own unique way. There's more than meets the eye when it comes to NEON's murals. Wander behind buildings and through alleyways to discover more than 80 pieces of public art that change with the stroke of a new brush. Along with public mural art, you can step inside the NEON's museums for a closer look at captivating visual art or book tickets to a performing arts event. No matter the art you're into, NEON will find a way to energize your interest.
DO THIS
Explore the NEON's many murals in a self-guided tour, or learn from a pro when joining a tour through the Norfolk Tour Company. Hear an unforgettable performance at the mesmerizing Harrison Opera House, providing an intimate opera experience elevated by glistening chandeliers and sweeping staircases. If you need a more lighthearted experience, catch a show at Push Comedy Theater, a 90-seat venue bringing live comedy from both local and national acts.
OR THAT
Wander
Afterward,
La Brioche
through the Chrysler Museum of Art and Perry Glass Studio to view 50 galleries featuring more than 30,000 objects. The free museum features an interactive space for families, and the glass studio offers narrated demonstrations Tuesday through Sunday at noon.
pop over to Plant Norfolk for a boutique plant shop experience you'll love, then treat yourself with a French artisan pastry from La Brioche or a lovely French macaron from Hummingbird Macarons & Desserts
14 |
Neon District
EXPLORE NEON
Chrysler Museum of Art By Tess Lopez
LOCAL
FLAVOR
FREEMASON DISTRICT
the city's oldest standing neighborhood, Historic Freemason features beautiful, tree-lined cobblestone streets, manicured gardens, historic homes and water views.
Located along the Elizabeth River, the Freemason District has bountiful good eats and great history. With a wide variety of views and activities, you'll have more than enough to fill your day. There is nothing like a morning walk with a waterscape show ing off the Elizabeth River. Freemason is home to the Pagoda and Oriental Garden where you can expe rience a peaceful sanctuary and watch boats drift by on the nearby Freemason Harbor. Take in the architectural styles of homes and businesses from three centuries while immersing yourself in the rich history of this neighborhood. Freemason is the per fect crossover between fabulous food, compelling history and beautiful scenery.
DO THIS
Pick up a coffee or handcrafted beverage at Cure Coffeehouse. This caffeine boost will come in handy as you travel back in time. Learn about the first African American to earn a Medal of Honor on the Norfolk Trail of Honor Then, take in 400 years of Norfolk and American history on the Cannonball Trail. Continue the history at Hunter House Victorian Museum where you'll be transported to the splendor and opulence of the Victorian era.
OR THAT
Some of the best dining options are nestled among Freemason's picturesque streets. Four Eleven York is a superb experience focused on seasonal ingredients, and Freemason Abbey is located in a historic renovated church. Omar's Carriage House is known for their seafood and Moroccan dishes while Voila is celebrated for their irresistible French and Greek cuisine. Finally, Virginia Cheese Company features a vast cheese and charcuterie collection, gourmet sandwiches and curated craft beverages.
Freemason District
Cure Coffeehouse
EXPLORE FREEMASON
Garden 16 |
Pagoda Oriental
757-622-3966 209 W. Freemason St. Downtown Norfolk www.freemasonabbey.com Located in a 150 year old renovated church in the historic Freemason Harbor area of Norfolk. Enjoy a traditional American menu which features steaks, seafood and pasta dishes. A full bar to compliment your dining pleasure. Open for lunch, dinner & Sunday brunch. TAKE A MERMAID Or HOME TODAY! BUY ONE STUDIO FEE, GET ONE STUDIO FEE FREE! INCLUDES COMPLIMENTARY WINE! Reservations Recommended. Not valid with any other discounts. $6 VALUE NORF EXP. 9/31/23 CHOOSE From our huge selection of pre-painted artwork Paint and decorate your own in our fully stocked art studio Take a To-Go Kit with you! MermaidFactory.com ASK ABOUT OUR SEASONAL SEA ANIMALS (NARWHALS, SHARKS, SEAHORSES AND MORE!) HUNDREDS UNIQUE GIFT SHOP & ART STUDIO V i r g i n i a V i r g i n i a C h e e s e C o . C h e e s e C o . Artisanal Cheese Counter Specialty Foods Sandwiches Craft Beer & Wine While exploring the beautiful Freemason District, Pagoda, or The USS Wisconsin, stop in and enjoy our sandwiches and artisanal cheese counter, or take them to a picnic! Our shop has specialty and Virginia food products, beer and wine, sandwiches, and artisanal cheeses. 5 0 1 B O T E T O U R T S T R E E T | V I R G I N I A C H E E S E C O . C O M | @ V A C H E E S E C O | 7 5 7 9 3 7 9 9 5 0
as one of Norfolk's most adored neighborhoods, Ghent is known for its incredible restaurants, locally owned shops, DIY art and local land marks. Spend your days strolling through this historic neighborhood, taking in the stunning architec ture and enjoying water views of the Hague. Ghent is also incredibly bike-friendly and easily connects riders to the Elizabeth River Trail. You will love popping into the many antique shops that line 21st Street and attempting to try as many tasty bites as possible from the neighbor hood's diverse makeup of restaurants. Whether you're in town for an art festival, perusing the bimonthly seasonal farmers' market or simply wandering through, Ghent is sure to charm with its colossal culture and eclectic atmo sphere, all packed into one friendly neighborhood.
18 | visitnorfolk.com
Kobros Coffee
Naro Cinema
GHENT
EXPLORE GHENT
GHENT ITINERARY OPTIONS
DAY 1
MORNING
Start your day with a morning pick-me-up with house-roasted coffee from Cafe Stella. Then, climb to new heights at Latitude Climbing + Fitness, an indoor rock climbing gym that also offers yoga and high intensity interval training.
AFTERNOON
Spend an afternoon shopping and finding amazing antiques at Ghent Antiques or Michael MillardLowe. Explore consignment stores like Nomads Clothing Exchange and White Rabbit. Then head to Colley Avenue to support local shops like Kitsch, Texture and Maison Soleil. Treat yourself with dessert at Strawberry Fields, The Bonbonnier or Pownd Cakes by Jen
EVENING
Take your palate on an international adventure by diving into Spanish tapas and cocktails at Crudo Nudo or enjoying Latin fare from Luna Maya. Get street foods from around the world at Streats. End the evening on a playful note at Pixels Pints & Bytes, a local arcade bar and restaurant with all your favorite games from the '80s and '90s.
DAY 2
MORNING
Enjoy the unique lattes or cold brews from Kobros, owned by two brothers that use beans from around the world. After snagging some grab-and-go bagels from Yorgo's Bageldashery or sandwiches from Taste, get in the mindset to create works of art at Pinot's Palette, Mermaid Factory, Color Me Mine or Board & Brush
AFTERNOON
Ghent's got some great options for barbecue including Norfolk's own butcher shop, Pendulum Fine Meats, serving high-quality brisket and burgers. Redwood Smoke Shack is well-known for their Texas-style barbecue, while Doumar's serves up classic pork barbecue in an old-school drive-in diner. Don't forget an ice cream treat from the original waffle cone machine invented by Abe Doumar in 1904.
EVENING
Start with fabulous wines at Press 626, a casual wine bar that also specializes in craft cocktails to pair with their elevated food menu. Or, seek comfort in the completely gluten-free menu at 350 Grace, featuring contemporary Southern cuisine. After dinner, catch a movie at Naro Expanded Cinema, an iconic 1930s theater and Norfolk landmark.
Neighborhood: Ghent | 19
Redwood Smoke Shack
Doumar's
Pinot's Palette
Pendulum Fine Meats
Shops in Ghent
CHELSEA
explore Norfolk's most pet-friendly neigh borhood. Located in West Ghent, Chelsea has some of Norfolk's best breweries crafting unique beers with seasonal flavors. Find your new favorite restaurant among family-run joints, bakeries and pizza spots. Home to many new businesses, Chelsea is continuously growing and adding more to the neighborhood. With close proximity to Downtown and connected to surrounding neighborhoods by the Elizabeth River Trail (ERT), a 10.5-mile trail that runs through the city, it is easy to navigate while staying active. Walk, bike or scooter along the trail from Downtown to Chelsea for a day of explora tion or a night out!
DO THIS
Spend the morning sipping coffee at Vessel This new brick and mortar started originally in Selden Market and has grown to the coffee shop it is today. Walk to the end of the street for a little sweet treat from the Bakehouse at Chelsea. Then check out the beer scene by stopping into either Benchtop Brewery or Smartmouth Brewery before heading to Norfolk's first craft beer bar, The Birch where they have over 20 craft beer drafts and a curated menu of artisan cheeses, meats and beer inspired grilled cheeses.
OR THAT
Walk along the ERT in Chelsea's neighborhood to check out Grandiflora Wine Garden for their Turkish brunch and natural wine menu. You can sip their delicious wine in either their historic house and inn or outside with landscaping that feels like a secret garden. If exploring with your pup, stop into the indoor dog park at Dogtown or bring them along with you for lunch around the fire pits of Torch Bistro. Spend your evening at Orapax where you can indulge in authentic Greek food and wine.
20 | visitnorfolk.com
The Bakehouse at Chelsea
Elizabeth River Trail
Torch Bistro
EXPLORE CHELSEA
LARCHMONT/ LOCHHAVEN
Larchmont/Highland Park and Lochhaven are perfect for exploring history, art, outdoor fun and tempting dishes and sips from restaurants and breweries. These nearby neighborhoods are separated by the Lafayette River but connected by Monarch pride radiating from Old Dominion University. There's plenty to do on ODU's campus. Explore orchids and planets, cheer on the Monarchs during a football game, and get inspired by glass art at the Barry Art Museum. Outside of ODU, locals and visitors alike flock to the nearby residential neighborhood of Lochhaven to experience the Hermitage Museum & Gardens. Meanwhile, Larchmont and Highland Park attract lovers of local eats and craft beer from two well-established neighborhood breweries. We suggest spending a day exploring both neighborhoods for an immersive experience at locals' favorite gathering spots.
DO THIS
Power up at Hair of the Dog with chicken and waffles or the famous Hangover special, then walk it off on the Elizabeth River Trail. The Larchmont-Edgewater section of the trail features a picturesque waterside scene while the Lochhaven section provides views of beautiful residential streets. End your trek at the Hermitage Museum & Gardens to explore a nationally recognized art collection and 12 acres of gardens and grounds with waterfront views.
OR THAT
Paddle from the Highland Park Veterans Memorial Kayak Launch for a kayak tour to experience the nature of this neighborhood. Then choose a stellar restaurant on North Colley Avenue for lunch. Cogans Pizza North boasts savory pies with all your favorite toppings while Hank's Filling Station is perfect for noshing on barbecue and playing classic backyard games. Dirty Buffalo is celebrated for their wings as much as Elation Brewing is loved for their Larchmont Lagers.
Norfolk Kayak Rentals
Hermitage Museum & Gardens
EXPLORE LARCHMONT/ LOCHHAVEN
22 | visitnorfolk.com Fre e a n d O p e n t o t h e P u b l i c , Tu e s d ay S u n d ay, 1 0 5 p m 2023 Exhibition: Claudia Bueno, June 9 to October 8 TheHermitageMuseum.org
photo courtesy of claudia bueno
RIVERVIEW
many neighborhoods in Norfolk have their own welcome signs, but Riverview has the only one that stretches across multiple lanes of traffic—just one of many details that make this neighborhood unique. Located near the Park Place/Railroad District and Ghent, Riverview is home to the Virginia Zoo, plus a vibrant assortment of locally loved shops and restaurants. Of all the great things Riverview is known for, one standout distinc tion is that it's inclusive, having been the location for MJ's Tavern, a cornerstone of the LGBTQ community, since 2012. Whether you're here for family fun and farmers' fare or looking to excite your palate with a fine selection of restaurants, you're always welcome in Norfolk's friendly neighborhood of Riverview.
DO THIS
Visit more than 700 species at the Virginia Zoo. You'll see giraffes, rhinos, zebras, lions and tigers, plus crocodiles, venomous snakes and rare frogs. If you are here on a Wednesday from April to October, stop by the Talbot Park Farmers Market for local produce and goods before grabbing street tacos at TFK Taco Bar. The location is a bit of a secret, but we'll spill the frijoles: Head to 4140 Granby Street and enter through the red door.
OR THAT
Riverview is small in size but big in choices for dining. The carefully curated menu at Blanca is inspired by the seasons and the rustic cooking of France, Spain and Italy. Crackers offers substantial flavor packed into small plates. Their menu centers on hot and cold tapas, plus a rotating selection of entrees, fondues, desserts and beers. MJ's Tavern is known for their Sunday brunches, nightly specials and weekly events.
Neighborhood: Riverview | 23
Virginia Zoo
Blanca Food + Wine
Crackers
Talbot Park Farmers Market
EXPLORE RIVERVIEW
OCEAN VIEW/ EAST BEACH
looking for a relaxing beach day? Look no further. The beachside community of Ocean View and East Beach is the perfect place to unwind with great food, sand and sun! The Ocean View Fishing Pier is the longest freestanding pier in North America and features an open-air rooftop restaurant overlooking the Chesapeake Bay. With tons of outdoor activities like kayaking, sailing, crabbing or swimming, your day will be filled with fun. Known for fresh eats and beautiful views, plus top-notch breweries nearby, Ocean View and East Beach provide an ideal beach experience with calm waters, easy parking and good vibes.
24 | visitnorfolk.com
COVA Brewing Company
Ocean View Fishing Pier
EXPLORE OCEAN VIEW & EAST BEACH
DAY 1 MORNING
Grab your morning beverage at COVA Brewing Company. Crafting coffee in the mornings—and beer in the evenings—this is a place that's always brewing something tasty. Nearby options like Coaster Coffee or Mudita Cafe & Coffeehouse also will not disappoint.
AFTERNOON
Head down to the beach for a day of fun! Don't feel like lugging beach equipment? Save time and energy by calling OV Rentals LLC, your go-to place for fun essentials like kayaks, paddle boards, beach cruisers, canopies, chairs and more. Then, take in unmatched waterfront views during lunch at the Ocean View Fishing Pier Restaurant.
EVENING
Try out some local beer on the beautiful, wraparound porch of Bold Mariner Brewing Company. With amazing brews and beloved barbecue restaurant Bar-Q on site, it's a perfect match. End your night with a relaxing walk on the pier, taking in the beautiful moonlit beach.
DAY 2 MORNING
In the mood for a hearty breakfast? Head to Ocean View Diner. With breakfast classics like pancakes and eggs plus a friendly waitstaff, this is a local's favorite. Don't forget to try the fan favorite, banana nut bread, on your way out!
AFTERNOON
Itching for some off-the-water fun? Book a tee time at Ocean View Golf Course. Offering golfers hybrid Bermuda greens and plush, oak-lined fairways, this 18-hole course is the perfect way to spend your afternoon.
EVENING
Head to Longboards for classic dishes and unforgettable water views. With options like award-winning fresh seafood, gourmet burgers and jumbo lump crab cakes plus beachy cocktails and beer buckets, there's always something to love at Longboards.
Neighborhood: Ocean View/East Beach | 25
East Beach
Bar-Q
Ocean View Golf Course
East Beach Marina
OCEAN VIEW/EAST BEACH ITINERARY OPTIONS
Coaster Coffee
MILITARY HIGHWAY/ NORFOLK AIRPORT
are you a leisurely, go-with-the-flow type or more about that hustle and bustle? No matter which option you choose, Military Highway has just the thing you need. The leisure part of you will enjoy getting in touch with nature at Virginia's largest botanical garden. Your adventurous side will delight in international eats and some serious shopping. The neighborhood is home to many eateries, attractions and stores galore. Some are familiar, offering the items you know and love, while others could be considered a destination on their own. Of course, if you really need to hustle to your next destination, the Norfolk International Airport can take you or connect you to wherever your heart desires.
26 | visitnorfolk.com
El Rey 2 EXPLORE MILITARY HIGHWAY
Norfolk Botanical Garden
DO THIS
Wander through Norfolk Botanical Garden, featuring 175 acres of unmatched beauty. With more than 60 themed gardens, there's something in bloom during every season. Plus, it's an ideal spot for viewing birds, butterflies and other wildlife. Take your time walking through gardens, stopping to see and smell what's in bloom. There are also tram tours of the garden and boat tours of Lake Whitehurst, both guaranteed to be a unique experience due to the ever-changing wildlife.
OR THAT
Shop at the stores and outlets conveniently located near Military Highway. Norfolk Premium Outlets features your favorite designer stores offering discounted prices. Just five minutes away is the renowned Swedish furniture store IKEA. Then try a new international dish nearby. El Rey 2 Tacos & Tequila is a family-owned Mexican restaurant providing authentic cuisine. Tamarind specializes in Indian street food like samosas, pani puri and gobi manchurian. Cilantro Bangladeshi Bistro serves mouthwatering kebabs, curry dishes and more.
| 27
Neighborhood: Military Highway/Norfolk Airport
Norfolk International Airport
Norfolk Premium Outlets
Norfolk Botanical Garden
PARK PLACE/ RAILROAD DISTRICT
full of quirky restaurants, great breweries and art, Norfolk's Railroad District is the perfect hangout spot. Just past the rail road tracks you'll find a small but mighty neighborhood that is full of innovation, inspiration and local favorites. Conveniently located between Ghent and Riverview, the Railroad District is easy to get to with bike lanes throughout the neigh borhood. Start your morning at breakfast joints serving juicy chicken sandwiches or coffee shops with mouthwatering waffles. Find a new favorite cocktail at one of the many fun and unique bars. Beer lovers can find no shortage of new craft brews to try from Norfolk's first brewery to some of our newer spots.
DO THIS
Start your day off with coffee from Coalescence before grabbing a flaky sweet potato biscuit sandwich with juicy fried chicken and topping of your choosing from Handsome Biscuit. Spend the day brewery hopping by trying Norfolk's first brewery, O'Connor Brewing Co., then continue to see newer places like Rip Rap or Reaver Beach for incredible sours and more. End the night with delicious tacos and Mexican-inspired fare from Union Taco or Perro Blanco
OR THAT
Treat yourself to mouthwatering waffles at Mea Culpa before a bike ride through the city. Other great bites include Toast, a casual hangout spot serving up sandwiches, bowls and more with Lil 'Za across the street for pizza. Stay on the lookout for their specialty 'za of the week while enjoying a beer from The Veil Brewing Co For entertainment, see live music while eating barbecue at The Fishin' Pig.
28 |
Mea Culpa
Railroad District
Handsome Biscuit
EXPLORE PARK PLACE/ RAILROAD DISTRICT
If you are looking for a perfect, one-of-a-kind gift, look no further than the Mermaid Market, located Downtown inside the VisitNorfolk Information Center. Find Virginia-centric goodies, T-shirts, mermaid ornaments, hats, drinkware and more that are all locally sourced with a focus on highlighting minority, womenand veteran-owned businesses. Tasty new items to stay on the lookout for are coffee beans and hot sauces!
Shop online at norfolkmermaidmarket.com or in store at 232 E. Main St., Norfolk.
2 3 4 5
THINGS COME TO THOSE WHO SHOP LOCAL
1
GOOD
1 Mermaid Tail Mug 2 Ghent Sticker 3 Pink Mermaid Child T-Shirt 4 Norfolk Coordinates Soy Candle 5 Blue Bucket Hat
THE CITY WITH BITE
Norfolk is a city with impeccable taste, a city with authentic flavor, a city with … bite. Home to more than 600 independently owned restaurants, breweries and distilleries, Norfolk boasts a diverse culinary scene ranging from fresh seafood and waterfront views to exhilarating international cuisine—and a lot of great sips in between. To celebrate the vibrant mix of restaurants and the chefs, owners and staff who bring the experiences to life, we partnered with foodie fanatic Nomarama to create City With Bite. This culinary series highlights the stories, the characters and especially the foods that make Norfolk such a unique culinary destination. Check out the amazing restaurants we featured in Seasons 1 and 2 of City With Bite, and stay tuned for eight more mouthwatering episodes in Season 3.
CITYWITHBITE.COM
Alkaline (Premiering in Season 3) 30 | The City With Bite
SEASON 1
1 My Mama's Kitchen
Indulge in Southern favorites just like Mama makes … or maybe better. You'll be hooked on their cakey cornbread, incredible collards and the famous Drip Sandwich.
2 Blanca Food + Wine
This Riverview restaurant features an old world focused wine list and thoughtful plates inspired by the rustic cooking of France, Spain and Italy.
3 Sam's Texas Sub Shop
Sam's packs a heaping mound of flavor and love in every sub. With standouts like homemade barbecue sauce and slow-cooked brisket, maybe you should mess with Texas.
4 Elation Brewing
Since nothing goes together better than pizza and beer, you'll be elated to find top-notch brews and wood-fired pizzas together in the same neighborhood brewery.
5 El Rey
Whether you come for the irresistible tacos built with homemade tortillas, the elote (grilled Mexican street corn) or the many flavors of margaritas, you'll be glad you're here.
6 Bar-Q & Bold Mariner
When bold beers and tasty barbecue join together under one roof, only good things will happen. Spend an afternoon on the wrap around porch of this Ocean View brewery.
7 Tamarind
It's fast, fresh, healthy and authentic Indian street food made to order. This means you can go as spicy (or as mild) as you want without compromising on flavor.
1 Syd's FishPig Cafe
Not one to follow trends, Chef Sydney Meers simply does what he wants. Lucky for us, that means an ever-changing menu with locally focused ingredients in an amazingly quirky, artsy atmosphere.
2 Handsome Biscuit
Once you try these sweet potato biscuits, there's no going back. With clever names like Bleu Blazer and Hella Fitzgerald, these biscuits aren't just heavenly; they're handsome.
3 Brothers
Founded and inspired by NBA referee Tony Brothers, this upscale dining establishment promises sophisticated food and unmatched hospitality in an atmosphere that's elevated by live jazz performances.
4 La Brioche
SEASON 2
From baguettes and croissants to quiches and sandwiches, you'll delight in the finest baked goods that will make you think you're at a street café in Paris.
5 Crudo Nudo
Come for the crudo (raw fish), the nudo (house-made pastas) and a fine selection of Spanish-style tapas. Don't forget a cocktail from the region's best bartenders.
6 Strawberry Fields
This gem of a gelato shop serves made-fromscratch flavors that rotate with the seasons and veer from ordinary. If strawberry fields are truly forever, that's fine by us.
7 Benchtop
This artisanal craft brewery creates a mixture of hop-forward sips and rustic farmhouse ales featuring produce from local farmers. Look for ever-adventurous (and always tasty) selections.
8 Omar's Carriage House
What was formerly a charming carriage house is now an unforgettable American-Mediter ranean fusion experience. Join for brunch or dinner, and don't miss Moroccan Mondays.
COFFEE
Coffee is an essential part of a daily routine, and nothing helps kick off a day of exploring like coffee. Luckily, Norfolk has some amazing local coffee shops that intertwine rich coffee with home grown stories.
CUP OF JOE
These cafes will meet your expectations for a classic cup of joe while exceeding your hopes for quality, flavor and good vibes. Equinox Coffee Co. aims to build community both locally and globally while Coaster Coffee operates as a nonprofit shop to give back. Another nonprofit, Coalescence empowers local organizations committed to seeing Norfolk flourish. For a classic cup plus stellar bites, see how many giraffes you can spot at aLatte Cafe liege waffle sandwich at Mea Culpa fuel up with something yummy at Borjo, become addicted to the pastry case at Cafe Stella, and make new friends at Elliot's Fair Grounds. Finally, pop inside Assembly to try locally roasted beans from Three Ships Coffee, or combine coffee with unmatched water views at Neptune's Fury
COFFEE WITH A TWIST
Life's too short not to try something new! Cure Coffeehouse will pick you up with coffee and help you wind down with beers, wines and craft cocktails. Sip on COVA Brewing Co. beverages all day, from morn ing coffee brews to afternoon beer brews. Mudita Cafe & Coffeehouse takes pride in coffees, teas and specialty drinks, and they also serve tasty cocktails and tapas. Veteran twin brothers who own KOBROS craft unique flavors and often incorporate citrus into their coffee as a tribute to their home sunshine state. Craft Coffee serves artisanal, small batch coffee from around the world roasted to perfection, and Voyager Cold Brew Coffee brews 100% Hawaiian single origin coffee in nitro options you'll love.
@ana.matopoeia 32 | visitnorfolk.com
BRUNCH
Norfolk has a variety of brunch spots throughout the city. Get great views, mouthwatering biscuits, classy eggs Benedict and bagels served with a mimosa flight. No matter your mood we've got you covered.
GRAIN
Every weekend, locals and visitors alike flock to the fifth floor of Norfolk Hilton The Main to enjoy the rooftop brunch at Grain. The incredible views of the waterfront paired with an all-you-can-eat brunch buffet will make for a picture perfect Sunday brunch.
HANDSOME BISCUIT
While this isn't your typical brunch outing, this trendy biscuit shop specializes in sweet potato biscuit sandwiches, like fried chicken biscuits or their breakfast-forward biscuit, the Hot Betty (fried egg with seared greens and garlic, topped with their specialty Lupo hot sauce).
CAFE MILO
Tucked within the NEON Arts District, Cafe Milo features made-to-order dishes, locally roasted coffee and baguettes from neighboring bakery La Brioche. We recommend their Savory Hash, a gluten-free mashup of potato, bacon, bell peppers, onions, mustard greens and egg, topped with red-eye gravy.
YORGO'S BAGELDASHERY
Although this may not be your traditional brunch spot, Yorgo's Bageldashery offers more than just bagels. Kick your day off right with a classic bagel or grab an omelet, burrito or breakfast sandwich, then take a seat upstairs and enjoy it alongside your mimosa flight or bloody mary.
FOUR ELEVEN YORK RESTAURANT
This hidden gem is located next to the Four Eleven Inn and serves up everything from oyster Benedict with Eastern Shore oysters or strawberry buttermilk pancakes to breakfast bowls. Enjoy your dish alongside a bloody mary while you sit on their back patio.
| 33
Saltine
Four Eleven York
BREWERIES
Breweries in Norfolk have created quite a buzz, with multiple options in some neighborhoods. Try one or try all as you discover a favorite go-to spot or rediscover a sip you've been longing for. Swig your way through multiple establishments with Norfolk's Brew Hop pass. Passes are delivered through text and email and are instantly redeemable, making it easier than ever to explore the craft beer scene.
BREW HOP PASS
O'CONNOR BREWING CO.
O'Connor kickstarted the brewery scene in 2010 with their flagship beers and limited releases. Their welcoming vibe and large outdoor beer garden with fun events keep people coming back!
34 | visitnorfolk.com
BOLD MARINER BREWING CO.
Located in East Beach, this veteran-owned brewery will have you feeling like a local first sip! Find beers that pay tribute to the military community including fan favorite, Frogman Lager.
BENCHTOP BREWING CO.
With a food scientist as the owner, you are bound to find some of the most creative beer combinations you've ever sipped. Benchtop uses Norwegian yeast that ferments faster to allow them to try new recipes more frequently.
COVA BREWING CO.
Located in East Beach, COVA always has something brewing with being a coffeehouse by day and brewery at night. With 14 taps dedicated to signature brews, weekly new releases and wine, you are sure to find something to quench your thirst.
ELATION BREWING
Sipping on Elation's flagships including Larchmont Lager, Rose Gose and Highland Park Hazy will bring happiness to guests after each sip, hence the name.
REAVER BEACH BREWING CO.
From their historic building dating back to 1945 to their unmatched IPAs and sours, each brew is a sure crowd-pleaser. Reaver Beach is also dog-friendly inside and out with occasional live music located in the heart of the Park Place/ Railroad district neighborhood.
SMARTMOUTH BREWING CO.
This nationally-known brewery located in Chelsea is the perfect place to sip on some favorite brews including their Alter Ego Saison, Game On IPA or Safety Dance Pilsner.
SEAFOOD FARE
THE VEIL BREWING CO.
A Richmond favorite opened their second establishment in Norfolk's Railroad District serving hop-forward ales, high gravity barrel aging and spontaneous fermentation beers.
MAKER'S CRAFT BREWERY
Enjoy a brew and a cigar at Maker's! This old-fashioned yet modern brewery takes pride in crafting smooth beer to be enjoyed with friends.
RIP RAP BREWERY
In Norfolk's Railroad District lives this Chesapeake Bay-themed microbrewery which has an everchanging lineup in small batches. So once it's gone, it's gone!
From the Chesapeake Bay to the Elizabeth River, Norfolk is surrounded by water, which means an abundance of fresh seafood in our restaurants. For the region's most succulent raw oysters, pay a visit to AW Shucks Raw Bar and Grill or Big Easy Oyster Bar. To pair your seafood with a phenomenal water view, head to Stripers Waterside, Longboards East Beach or Stony's Dockside Bar & Grill. Our favorite upscale options are the seafood pasta at 456 Fish, the lump crab cakes at Todd Jurich's Bistro and the seared diver scallops at Saltine Freemason Abbey has been awarded for their she crab soup, Crudo Nudo features spectacularly prepared raw fish, and Off The Hook has tasty tacos filled with ahi tuna, shrimp or mahi. Finally, for a casual experience, you'll feel right at home enjoying the creole baked salmon at The Fishin' Pig or the etouffee at Captain Groovy's
Neighborhood: | 35
GLASS ART & GALLERIES
norfolk is filled with plenty of museums for you to explore, offering everything from art and glass to history and more. Something that makes our city so special is its expansive collection of free, public glass art. You'll find everything from museums and galleries to glassblowing demonstrations and even a glass-themed hotel. While enjoying all the glass art and history our city has to offer, keep in mind that you can enjoy many of the city's museums and historic sites all within 12 walkable city blocks of the Downtown waterfront. Norfolk's art scene is not to be missed. Everything from public murals to installations on local buildings have been designed for the city. The NEON district shows Norfolk's ongoing energy as new public murals are revealed, highlighting the talent living in our city. Take some time to walk through and see amazing works from local artists.
"
Not as well known is that the city is home to one of the world's largest collections of glass art.
—Christine Koubek Flynn, Arlington Magazine
36 | visitnorfolk.com
"
Glass Light Hotel & Gallery
Perry Glass Studio
MUSEUMS
Norfolk is filled with amazing art museums that you will not want to miss. The Barry Art Museum is a cultural hub at ODU that has a glass sculpture collection featuring internationally known makers. The Hermitage Museum and Gardens is a waterfront estate featuring an arts and crafts style mansion. The museum offers 12 acres of gardens and grounds and a permanent collection of over 5,000 objects representing 30 countries. D'Art Center, located in the heart of the NEON District, is a nonprofit art gallery that provides both adult and youth art classes, hosts on-site exhibitions, houses over 20 working artist studios and has regional and national art exhibits.
GLASS ART
Norfolk has the largest free public glass art collection in the world. When walking the streets of NEON, you will find glass art sprinkled on the sidewalks and in wayfinding signs. The worldrenowned Chrysler Museum of Art has one of the largest and most comprehensive glass collections with more than 10,000 glass objects spanning over 3,000 years. Across the street from the Chrysler is the Perry Glass Studio, which offers glassblowing classes and free demonstrations daily. You'll leave with a deeper appreciation of the art medium that captures the dance of light and color seamlessly. Also find exceptional glass art in both the Glass Light Hotel and Gallery
Glass Art & Galleries | 37
Hermitage Museum & Gardens
Chrysler Museum of Art
Barry Art Museum
Barry Art Museum
AFRICAN AMERICAN HISTORY
norfolk's rich African American history has shaped our city into the diverse community we know and love. We're proud of our unique culture, from the contributions African Americans have made to our city's past to the integral role of Norfolk's Black communities today.
ATTUCKS THEATRE
Named in honor of African American Crispus Attucks—the first American patriot to lose his life in the 1770 Boston Massacre—the Attucks is the country's oldest remaining legitimate theater designed, financed, constructed and operated entirely by African American entrepreneurs. Originally known as the "Apollo of the South," the venue has hosted legendary performers including Cab Calloway, Duke Ellington and Nat King Cole. The music continues today through the theater's Church Street Jazz Series and Attucks Jazz Club.
38 | visitnorfolk.com
Attucks Theatre
Norfolk State University
NORFOLK STATE UNIVERSITY
A historically Black College/University founded in 1935, Norfolk State University is committed to transforming students' lives through exemplary teaching, research and service, offering a supportive academic and culturally diverse environment for all.
NORFOLK BOTANICAL GARDEN
In 1938, 220 African Americans were paid just 25 cents an hour to create the Norfolk Botanical Garden (NBG). Within a year, the Garden was a lush destination, but due to racial segregation, the workers didn't feel welcome to enjoy the very garden they had created. NBG honors those individuals with a memorial garden and bronze sculpture titled "Breaking Ground," inspired by photos of actual workers from the era.
WATERWAYS TO FREEDOM
Stop by the VisitNorfolk Visitor Center to pick up a tour brochure of Waterways to Freedom. With its complex and interwoven waterways, Virginia provided a starting point for thousands of individuals to escape slavery. Fugitive slaves would depart on wharves, steamships and schooners and be assisted by safe houses on their journey to freedom. Norfolk's bustling port played a crucial role in the escape of many slaves, as did the city's proximity to the Great Dismal Swamp, which was a popular hiding spot for escaped slaves. Take a deeper dive by joining a Norfolk Tour Company excursion focused on African American history in Norfolk. A guide will share fascinating landmarks and pieces of significant history.
WEST POINT CEMETERY AND MONUMENT
Around 1,200 local African American soldiers served in the Civil War, with many cited for bravery and awarded medals. As these men passed away, the African American community searched for a burial solution to recognize the soldiers' sacrifice. West Point Cemetery was dedicated as a special place of burial for nearly 100 Black Union veterans. A West Point monument was erected in honor of African American soldiers and sailors of all wars.
SHOP LOCAL & SUPPORT AFRICAN AMERICAN BUSINESSES
BAR-Q
Pitmaster Jayme Campbell has a passion for bringing people together through wood, fire and smoke. Come for the tasty barbecue, and stay for the sinfully good desserts.
GET WELL SOON
Founders Virginia Thornton and Zahra Ahmad created this selfcare sanctuary offering guided meditation, yoga, massage, facials, an infrared sauna, brow and lash services and a merchandise shop.
HUMMINGBIRD MACARONS
Owner Kisha Moore works magic in the kitchen of Hummingbird, crafting delicate, almond meringue discs and decadent fillings in flavors that are both classic and extraordinary.
SUGAR & GRACE
The soy candles created by Erica Parham are nontoxic and completely intoxicating. Shop room sprays, candle accessories, home goods, houseplants and more in her Selden Market shop.
These are just a few of many Blackowned businesses in Norfolk. Scan the QR code for more incredible options.
African American History | 39
West Point Monument
MARITIME HISTORY
norfolk is home to the larg est Naval base in the world, giving the city a unique and diverse maritime history. Start at Nauticus, a maritime discovery center offering interactive exhibits and STEM to STERN programming. Nauticus pro vides a fun and engaging maritime edu cational opportunity for families. On site is the stunning Battleship Wisconsin, one of the last and largest battleships built by the U.S. Navy. Take a guided or self-guided tour to experience this majestic ship that earned five battle stars during WWII. Next, learn more about Norfolk's waterways and maritime culture at the Hampton Roads Naval Museum, operated by the United States Navy and conveniently located on site at Nauticus. The museum celebrates the backstory of the fleet in our region and features rotating exhibits. Finally, sail Norfolk's waters for yourself with les sons through Nauticus or an excursion on the Schooner Virginia.
"Whether you're just passing through during a larger East Coast road trip or visiting for the day from Virginia Beach…Norfolk, Virginia, offers plenty of interesting attractions for visitors of any age and budget.
—Kaeli Conforti, Forbes
40 | visitnorfolk.com
"Nauticus
Nauticus
TOUR THE NAVAL BASE
Take your exploration to a new level with tours of the Navy base. The Victory Rover offers two-hour cruises, providing a front row seat to the naval fleet. You'll get a firsthand look at destroyers, submarines and other vessels, along with sights of the harbor.
FORT NORFOLK
Authorized by President George Washington in 1794, Fort Norfolk has a storied past. It helped protect Norfolk during the War of 1812 and also played an important role in the Civil War. Visitors today can see earthwork embankments, ramparts, a dungeon, barracks, a guardhouse and more.
NAVAL BASE CRUISES AMERICAN ROVER 757-627-7406 | navalbasecruises.com 757-627-SAIL (7245) | americanrover.com Departing from Nauticus
Fort Norfolk
Harbor and Sunset Sails departing from Waterside
Naval Base Cruises - Victory Rover
ON THE WATER
with 144 miles of coastline and the Atlantic Ocean at our fingertips, Norfolk is the perfect spot to play on the water. Experience the spectacular city skylines and breathtaking sights of local waters, on the water! Whether you want to go fishing, take a narrated boat tour of Naval Station Norfolk or explore the Elizabeth River, you will see multiple views of the water throughout the city. Local's tip: See ships and multiple waterways on the 10.5-mile Elizabeth River Trail!
CRUISES
There is no better way to explore Norfolk than by water! Take a two-hour narrated tour of Naval Station Norfolk aboard the Victory Rover, enjoy brunch with friends and family on City Cruises' Spirit of Mount Vernon or listen to the sounds of acoustic music at sunset on the American Rover.
SAILING
Whether you are a seasoned sailor or just getting your feet wet, Norfolk's sailing programs are the perfect way to spend a day along the water. Sail Nauticus is located along the Downtown Norfolk Waterfront and has classes for any experience level.
OUTFITTERS
Norfolk Kayak Rentals will give you the opportunity to explore and take in the beautiful sights of the Lafayette River with their Nature and Eco Tours. When visiting the Chesapeake Bay, Norfolk Watersports is your go-to spot for all your water sport rentals including Jet Skis, Jet Ski dolphin tours, fly-boards, stand-up paddleboards, kayaks and more!
42 | visitnorfolk.com
American Rover
By Natalia Parson
Norfolk Kayak Rentals
City Cruises - Spirit of Mount Vernon
Elizabeth River Trail Map
SPORTS IN NORFOLK
NORFOLK ADMIRALS
Watch this professional hockey team glide across the ice at Scope Arena. It's always an unforgettable night out filled with fun, action-packed entertainment.
OLD DOMINION UNIVERSITY
Cheer on the Monarchs in a multitude of ways, whether during a football game at S.B. Ballard Stadium or via ODU's other amazing teams in basketball, volleyball, baseball and soccer.
NORFOLK STATE UNIVERSITY
Behold the green and gold! The Spartans shine bright in their many athletic endeavors including football, basketball, baseball, softball and volleyball.
NORFOLK TIDES
Catch the Norfolk Tides as they play at Harbor Park on the Elizabeth River. Join Tides' mascots Rip Tide and Triton as you enjoy a hot dog and root for the home team.
J&A Racing Norfolk Harbor Half Marathon
RACE TOWARD THE FINISH LINE
Norfolk is an ideal place to run, whether logging some miles on the Elizabeth River Trail or participating in a locally organized event. Whether it's a 5K, 10K, half marathon or 1-miler for kids, there are plenty of opportunities to gather a group in the spirit of running, celebrating and accomplishing new records.
Lace up for these Norfolk runs:
• Big Blue 5K • Corporate 5K • Elizabeth River Run 10K
Heart of Ghent 10K • Norfolk Harbor Half Marathon • Tacky Sweater 5K
44 | Sports
Norfolk Admirals
•
Norfolk Tides ByWilliamLovell
MORE ABOUT SPORTS
LATITUDE NORFOLK 1830 Lindsay Avenue Norfolk, VA 23504 757-347-1441 www.latitudeclimbing.com Rock climbing, yoga, fitness, birthday parties, group events PREMIERE CLIMBING FACILITIES IN NORFOLK, VIRGINIA BEACH AND HAMPTON
SHOWTIME
Norfolk's vibrant and artistic side comes to life through its mix of performing arts, live music and incredible theaters. Experience Broadway or enjoy a live orchestra performance, stroll into a restaurant with live jazz, plan a night out, or catch your favorite band at one of the many unique venues in the city. Not only does Norfolk play host to unforgettable performers, but Norfolk's state-of-the-art venues offer acoustical quality and fascinating characteristics you won't soon forget.
46 | Showtime
GREAT PERFORMANCES BY RENOWNED STARS OF MUSIC, DANCE AND MORE!
There's no better place for entertainment than Norfolk in 2023, with its rich cultural life including dazzling performances presented by Virginia Arts Festival. Each spring, Virginia Arts Festival performances light up stages throughout Norfolk and the surrounding area, bringing great artists from around the world.
The art of dance is showcased in the spring 2023 Virginia Arts Festival, when the critically acclaimed Philadelphia Ballet brings its achingly beautiful production of Swan Lake, April 14-16; and you won't want to miss the electrifying Alvin Ailey ® American Dance Theater dancing stunning repertory including the audience favorite, Alvin Ailey's signature masterwork Revelations, April 28-30.
No other organization in the Norfolk area presents such an array of
performances! For classical music lovers, Virginia Arts Festival's calendar offers dozens of concerts to choose from, including its famed chamber music series, curated by the Van Cliburn Gold Medal-awarded pianist Olga Kern, and featuring musicians from around the world — this year including the acclaimed Emerson String Quartet, May 15. Also on the classic music calendar is the world premiere performance of Grammy® Award winner Chris Thile's new mandolin concerto, to be performed with the Virginia Symphony Orchestra May 20.
Music of every style abounds during the Festival! Banjo master and 15time Grammy® Award winner Béla Fleck brings fans along on a genrejumping musical adventure May 3; Americana singer-songwriter Leyla McCalla (formerly of the Grammy®-
winning Carolina Chocolate Drops) performs May 10; and jazz icon Wynton Marsalis brings the famed Jazz at Lincoln Center Orchestra Feb 25.
And the centerpiece and annual highlight of Virginia Arts Festival?
The one-of-a-kind spectacle of the Virginia International Tattoo, April 20-23. An international celebration of patriotism and friendship, this thrill-a-minute show features over a thousand performers including military bands from around the world, including bagpipers, drum corps, choirs, drill teams and more. Every year, fans travel from across the country and around the world to see this awe-inspiring show — the largest of its kind in the U.S.
For a complete Festival calendar and to order tickets, visit vafest.org now!
Alvin Ailey ® American Dance Theater
Béla Fleck, Zakir Hussain, and Edgar Meyer
Wynton Marsalis
SPONSORED CONTENT
Virginia International Tattoo Olga Kern
THEATERS
History meets the arts in Norfolk's theaters. Experience smooth jazz at the Attucks Theatre, see a spectacular performance at the Wells Theatre, or enjoy an intimate experience at a community theater such The Generic Theater or Little Theatre of Norfolk. Host an event at the beautiful Granby Theater located on historic Granby Street, or enjoy a movie at Naro Cinema, where you'll find a mix of classic and new films showing every week.
LIVE MUSIC
Hear fun and energetic live shows from local bands to internationally known artists at venues throughout the city. Find your new favorite band at a local brewery bursting with music, a Downtown restaurant known for live jazz or a mini music festival organized by local businesses. Soak in summer vibes with music at Ocean View Beach Park or Town Point Park Get tickets to hear one of your favorite wellknown artists at The NorVa, or find big names at the Scope Arena. No matter the genre, the band or venue, you'll find something you love!
PERFORMING ARTS
Home to the Virginia Stage Company, Virginia Arts Festival, Virginia Symphony Orchestra and Virginia Opera, Norfolk is brimming with culturally diverse performing arts. Experience a Broadway show at Chrysler Hall, a comedy show at Push Comedy Theater or a graceful ballet at Harrison Opera House For even more variety, the Virginia Arts Festival brings internationally renowned musicians and performers to take over stages and outdoor spaces of Norfolk. Witness the Virginia International Tattoo, an astounding display of international military music and showstopping drill teams.
Tour of WICKED Jennafer Newberry as Glinda and Lissa deGuzman as Elphaba in the National
Photo by Joan Marcus
Virgina Opera Figaro SNATO
Sleeping Beauty
Photo courtesy of The State Ballet Theatre of Ukraine
Festevents Town Point Park Wells Theatre
SEASONAL EVENTS
Norfolk plays host to a wealth of premier festivals and events that provide entertaining, culturally-enriched experiences for all.
SPRING
Spring has sprung and kicks off Norfolk's festival season! Listen to inspirational military music at the Virginia International Tattoo, get inspired by the beautiful movements of the Alvin Ailey American Dance Theater, cheers with friends at the Town Point Spring Wine Festival, savor the taste of Louisiana at Bayou Bon Vivant: Cajun Music & Food Festival and celebrate the Summer season beginning at the Patriotic Festival over Memorial Day weekend.
SUMMER
With being a city surrounded by the water, Norfolk has a different waterfront festival celebrating music, food and diversity every weekend! Experience the longest and largest maritime festival at Harborfest, watch the country's only Pride boat parade at Hampton Roads PrideFest and dance to smooth jazz at the Norfolk Waterfront Jazz Festival Juneteenth, Latino Music Festival, CaribFest, NashFest and Sunsets on the River also all should not be missed!
FALL
With sunny days and brisk, cozy evenings, it is the perfect time of year to fall for these cool events! Let the family enjoy the Children's Festival, indulge in an extra tasting at the Town Point Virginia Wine Festival, browse art from across the nation at the Stockley Gardens Art Festival or the Ocean View Art Show and light up the city with creativity at the NEON Festival.
WINTER
Get in the spirit of the season by watching colorful sparkles bounce on the water in a lighted boat parade, gliding across the ice on skates, seeing the Battleship Wisconsin illuminated for Winterfest or walking through a dazzling display at Norfolk Botanical Garden. When the holidays come to a close, get cozy with a delicious meal during Downtown Norfolk's Restaurant Week.
50 | Seasonal Events
PrideFest
Winterfest
Town Point Virginia Wine Festival
EVENTS CALENDAR
Spring Town Point Virginia Wine Festival
Saturday & Sunday, May 6 & 7, 2023
Bayou Boogaloo Cajun Music & Food Festival
Friday – Sunday, May 19 – 21, 2023
Norfolk Harborfest Music, Food, and Maritime Festival
Friday – Sunday, June 9 – 11, 2023
Juneteenth Celebration in the Park
Saturday, June 17, 2023
Fourth of July Great American Picnic
Tuesday, July 4, 2023
Norfolk Latino Music Festival
Saturday, July 22, 2023
Virginia Symphony Orchestra Concert in the Park
Sunday, July 23, 2023
Norfolk Waterfront Jazz Festival
Friday & Saturday, August 18 & 19, 2023
NashFest 757 Saturday, September 16, 2023
Virginia Children's Festival Saturday, October 7, 2023
Fall Town Point Virginia Wine Festival
Saturday & Sunday, October 21 & 22, 2023
Holiday Yule Log Bonfire & Christmas Market Saturday, December 2, 2023
* All scheduled events are subject to change.
season of events
/@festevents.org
for the full schedule of events or more info visit festevents.org
Neighborhood:
51
|
Accommodations
Downtown Norfolk
Courtyard by Marriott Norfolk Downtown
520 E Plume St. - 757-963-6000
140/3 1,728 ✓
Glass Light Hotel & Gallery 201 Granby St. - 757-222-3033 113/3 1,625 ✓
Hilton Norfolk The Main 100 East Main St. - 757-763-6200 300/11 60,000 ✓
Norfolk Waterside Marriott Hotel 235 East Main St. - 757-627-4200 407/10 68,879 ✓
Residence Inn by Marriott Downtown 227 W Brambleton Ave. - 757-842-6216 160/160 704 ✓ ✓
Sheraton Norfolk Waterside Hotel 777 Waterside Dr. - 757-622-6664 466/9 43,410 ✓
The Inn at Four Eleven York 411 W York St. - 757-963-7000 4/4 200 ✓
Wyndham Garden Norfolk Downtown 700 Monticello Ave. - 757-627-5555 204/10 15,000 ✓
Military Highway/ Airport / other
Candlewood Suites Norfolk Airport 5600 Lowery Rd. - 757-605-4001 120/4 650 ✓





Days Inn by Wyndham Norfolk Airport 1450 N Military Hwy. - 757-932-3133 125/0 0 ✓
Days Inn by Wyndham Norfolk Military Circle 5701 Chambers St. - 757-461-0100 160/0 0 ✓
Delta Norfolk Airport Hotel 1570 N Military Hwy. - 757-213-2231 147/27 4,236 ✓
DoubleTree by Hilton Norfolk Airport 1500 N Military Hwy. - 757-466-8000 250/6 7,808 ✓
Econo Lodge Airport
3343 North Military Hwy. - 757-855-3116 48/4 0 ✓ ✓
Econo Lodge Military Circle 865 N. Military Hwy. - 757-461-4865 48/0 0 ✓
Econo Lodge Naval Station Norfolk 8051 Hampton Blvd. - 757-451-0000 120/0 0 ✓
Hampton Inn & Suites Norfolk Airport
1511 USAA Dr. 757-605-9985 88/31 588 ✓ ✓
Hampton Inn Norfolk Naval Base 8501 Hampton Blvd. 757-489-1000 117/0 0 ✓ ✓
Holiday Inn Express & Suites Norfolk Airport 1157 N. Military Hwy. - 757-455-5055 104/104 1,300 ✓ ✓
52 | visitnorfolk.com NAME ADDRESS PHONE ROOMS/ SUITES TOTAL SQ.FT OF MEETING SPACE AAA APPROVED FREE BREAKFAST DETAILS
Military Highway/ Airport / other
Home2 Suites by Hilton Norfolk Airport
5620 E Princess Anne Rd. - 757-704-4022
118/118 0 ✓ ✓
In Town Suites 5649 Lowery Rd. - 757-213-5454 127/127 0
La Quinta Inn & Suites by Wyndham Norfolk Airport
1387 N. Military Hwy. - 757-466-7001
72/6 1,000 ✓ ✓
Motel 6 853 N. Military Hwy. - 757-461-2380 150/0 0
Quality Suites Lake Wright - Norfolk Airport
1521 Premium Outlets Blvd. #A - 757-461-6251 127/127 5,198 ✓
Ramada Limited Norfolk Airport 515 N. Military Hwy. - 757-461-1880 149/0 0 ✓
Residence Inn by Marriott Norfolk Airport 1590 N Military Hwy. - 757-333-3000 130/10 1,598 ✓ ✓
Sleep Inn Lake Wright - Norfolk Airport
1521 Premium Outlets Blvd. #B - 757-461-6251 107/0 5,198 ✓
SpringHill Suites by Marriott Norfolk Virginia Beach 6350 Newtown Rd. - 757-333-3100 131/131 3,104 ✓ ✓
Springhill Suites by Marriott Norfolk ODU 4500 Hampton Blvd. - 757-423-4100 114/114 849 ✓ ✓
Tru By Hilton Norfolk Airport 1571 Premium Outlets Blvd. - 757-390-2882 98/0 0 ✓ ✓
Ocean View
Best Western Plus Holiday Sands Inn & Suites
1330 E Ocean View Ave. - 757-583-2621 86/27 0 ✓ ✓
Econo Lodge Little Creek
7969 Shore Dr. - 757-588-3600 48/0 0
Express Inn East Ocean View 1111 East Ocean View Ave. - 757-480-1111 48/0 0 ✓
Motel 6 Norfolk Ocean View 9601 4th View St. - 757-480-9611 70/0 0 ✓
Ocean View Inn
1020 E. Ocean View Ave. - 757-394-3240 20/0 0
Rodeway Inn
1850 E. Little Creek Rd. - 757-588-8888 54/2 0 ✓
Super 8 by Wyndham Norfolk/Chesapeake Bay 1010 W Ocean View Ave. - 757-587-8761 84/7 0 ✓ ✓











SureStay Hotel by Best Western Norfolk Little Creek 7940 Shore Dr. 757-588-7888 70/1 0 ✓ ✓
ICON DESCRIPTION
Pets allowed Pool Restaurant on site Available ✓ Parking on-site
Gym on-site
Accommodations | 53 NAME ADDRESS PHONE ROOMS/ SUITES TOTAL SQ.FT OF MEETING SPACE AAA APPROVED FREE BREAKFAST DETAILS
Ocean View Norfolk International Airport Naval Station Norfolk Ward's Corner Military Highway Norfolk State University Downtown Norfolk Ghent Old Dominion University Berkley Historic Freemason District Chelsea Larchmont / Lochhaven Neon District Park Place / Railroad District Riverview NAVAL STATION NORFOLK
OCEAN
VIEW PIER
ROADS BRIDGE TUNNELS ATLANTIC OCEAN CHESAPEAKE BAY NORFOLK INTERNATIONAL AIRPORT NORFOLK BOTANICAL GARDEN VIRGINIA WESLEYAN COLLEGE OLD DOMINION UNIVERSITY HERMITAGE MUSEUM AND GARDENS VIRGINIA ZOO NORFOLK STATE UNIVERSITY MIDTOWN TUNNEL VIRGINIA BEACH MILITARY HIGHWAY VIRGINIA BEACH BOULEVARD CHESAPEAKE
EASTERN VIRGINIA MEDICAL SCHOOL VISITOR CENTER GRANBY ST CHART YOUR COURSE Scan this code for a curated Norfolk experience VISIT US VisitNorfolk Visitor Center & Mermaid Market 232 E. Main Street, Norfolk VA 23510 GREATER NORFOLK PORTSMOUTH > ELIZABETH RIVER i
HAMPTON
HAMPTON
DOWNTOWN
Glass Light Hotel & Gallery, Autograph Collection
To Virginia Zoo
City of Norfolk Government Center
Slover Library
Map provided by Downtown Norfolk Council DowntownNorfolk.org
56 | visitnorfolk.com
SALTINENORFOLK.COM | VARIANORFOLK.COM | GRAINNORFOLK.COM DINE WITH US AT THE MAIN | 100 E. MAIN STREET, NORFOLK , VA 23510
TOP-RANKED RESTAURANTS