1
ABOUT US

WOODNET is a creator, producer and exporter of wooden indoor furniture with
25 years of experience. The quality of our products, the creativity of our designs, the speed of execution and our flexibility makes WOODNET your most trusted furniture partner in Vietnam. A FEW NUMBERS Countries of Destination 60 Containers exported from Vietnam in 2021 2000 Minimum Order Quantity 20pcs/ref Production Leadtime 70 days Furniture Expertise 25 years ADDRESS CONTACT +84 (28) 66 848 260/261 info@woodnet-ltd.net www.woodnet-ltd.net SCREC II BUILDING Ground Floor, 59 street No4, An Phu Ward, District 2, Ho Chi Minh City, Vietnam VISIT US In our 3,000 m2 B-2-B showroom in HCMC (Vietnam), only 15min away from the city center. Over 130 active furniture collections BEDROOM BATHROOM - NEW LIVING ROOM HOME OFFICE DINING ROOM DISCOVER OUR 5 CATEGORIES www.woodnet-ltd.net / +84 (28) 66 848 260/261 3 2
over
5 4
7 6
9 8
11 10
13 12
15 14
17 16
19 18
21 20
23 22
25 24
27 26
29 28
VIETNAM FORESTRY CORPORATION JSC
Address: 127 Lo Duc– Hai Ba Trung- Ha Noi
Tel: 0243.6410799 - Fax: 0243.6410800.
Email: vinafor@vinafor.com.vn Website: http://vinafor.com.vn/
Vietnam Forestry Corporation JSC (VINAFOR) was established in 1995 on the basis of merging 10 Corporations; under the former Ministry of Forestry ( now the Ministry of Agriculture and Rural Development (MARD)); Since November 2018, Vinafor is one of 19 corporations under The Committee for Management of State Capital at Enterprises (CMSC) mainly working in the sector of afforestation, forest protection and forestry product processing.
After nearly 25 years of development, Vinafor currently operate as Joint Stock Company with the chartered capital is 3.500 billion VND (about 160 million USD ), consists of 55 branches, representative offices and companies.
Public company since: November 21st, 2016 Stock code: VIF Main Business
• Afforestation and management of industrial raw material forests.
• Trading pine lumbers from Chile, New Zealand, Brazil, Argentina..
• Trading of African logs & lumbers (Tali, Padouk, Mukulungu,..)
• Production of artificial boards (plywood, fiberboard, finger-joint boards).
• Trade, import and export, manufacturing of woodworking machines, equipment and technical supplies.
Some of the leading company among Vinafor's companies working in the field of wood processing, mechanical of forestry are:
VINAFOR SAIGON JCO (64 Truong Dinh Street, District 3, Ho Chi Minh City; showrooms at Bien Hoa, Ho Chi Minh, Quy Nhon) is one of the leading outdoor furniture processing companies in Vietnam. Their furniture products are trusted by many foreign partners thanks to consistent quality, plentiful models and reasonable price with the quality standard system and certificates: ISO 9001 -2015 & FSC-COC-V3-0. Vinafor Sai Gon is also a prestigious supplier of Plantation Round Log and Sawn Timber for the domestic market.
CAM HA JSC (422 Hung Vuong street, Thanh Ha, Hoi An, Quang Nam; Showroom at Hội An) is one of biggest wooden furniture manfacturer in Vietnam. Their products have been exporting to more than 20 countries in the world; with the main market as US, EU, South America…Cam Ha JSC is very strong with mix material same as Metal and Wood (Acacia , Eucalyptus and Teak), textylene , Webbing strab,Polyrattan for outdoor and indoor furniture
MDF VINAFOR GIA LAI (Km 74, National road No 19, Ankhe town, Gialai Province) is the leading corporation in Vietnam in invested the artificial boards MDF production line with Europe technology in Gia Lai since 2000. MDF boards produced by MDF Vinafor Gia Lai factory has CarBP2 certification and their high quality is recognized by many customers in both the United State and domestic market.
VINAFOR DA NANG (1081 Ngo Quyen Street, Danang) Producing wood products from ready raw material of natural forests and plantation forests including outdoor furniture and interior decorating furniture. Trading, Importing, Exporting Agro-Forest products and its specialities such as: essential oil, slice c assava, coffee, beans, cassia etc. Vinafor Danang is willing to manufacture products in accordance with customers ' orders and send required samples to every supermarket, trade center and customers as needed
"From forestry to wide range of products"
31 30
As one of the top corporation in forestry section in Viet Nam, Vinafor and its Subsidiaries welcome all oportunity to corporate in plantation technology, woods material, plywood and MDF board supply, furniture manufature and trading, as well as other related corporation with partners all over the world.
33 32
35 34
37 36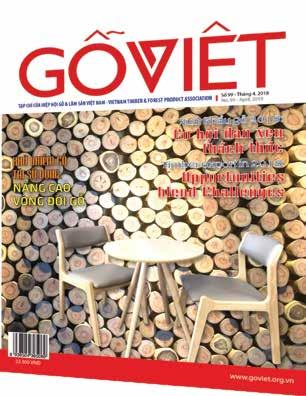 39 38
41 40
SAIGON EXHIBITION & CONVENTION CENTER (SECC) 799 Nguyen Van Linh, District 7, HCM City, VIETNAM EXHIBITOR LISTED FURNITURE HOME ACCESSORIES & OTHER SERVICE 31 AUG - 3 SEPT | 2022 43 ORIENTAL MEDIA & EVENTS COMPANY LTD 19/24 DOAN THI DIEM STREET, WARD 1, PHU NHUAN DISTRICT, HO CHI MINH CITY, VIETNAM T: +84.28 3844 1612 F: +84.28 3846 2296 www.oriental-media.com TWENTY YEARS OF LEADERSHIP IN VIETNAM'S LUXURY INDUSTRY 2002 - 2022 Exclusive Events & Exhibitions Digital Marketing Platforms Iconic Print Media Brands Social Media Campaigns Market Introductions 42 No. 1 LYPRODAN A/S Inside front cover 2 SQUARE HOME VIETNAM COMPANY LIMITED Inside back cover 3 VIFA EXPO 3/2023 Back cover 4 GIA NHIEN CO., LTD. 1 5 WOODNET LIMITED 2, 3 6 HELMSMAN QUALITY AND TECHNOLOGY SERVICES COMPANY LIMITED 4, 5 7 ATC FURNITURE FURNISHINGS CORP. 6, 7 8 BENK INVESTMENT JOINT STOCK COMPANY 8, 9 9 SQUARE HOME VIETNAM COMPANY LIMITED 10 + Bookmark 10 DAPHOCO INTERNATIONAL JSC 11 11 KODA SAIGON CO., LTD. 12 12 DONG NAI PORT JOINT STOCK COMPANY 13 13 THE REPRESENTATIVE OFFICE OF VIVIN IMPORTS PTY LTD IN HO CHI MINH CITY 14, 15 14 SAPSIMEXCO FURNITURE CO., LTD. 16 15 CANADIAN WOOD 17 16 K.C.S TRADING MANUFACTURING COMPANY 18 17 SAIGON FOREST PRODUCTS EXP-IMP & PRODUCTION JOINT STOCK COMPANY 19 18 FINE SCANDINAVIA 20 19 TRUONG THANH WOOD INDUSTRIES JOINT STOCK COMPANY 21 20 THE REPRESENTATIVE OFFICE OF VIVIN IMPORTS PTY LTD IN HO CHI MINH CITY 22, 23 21 THUONG NGUYEN WOODWORKING MACHINE CO., LTD. 24, 25 22 EAST WEST FURN LTD. 26 23 BAOHUNG CO., LTD. 27 24 KWANTSUN FURNITURE-TEXTILES CO., LTD. 28, 29 25 VIETNAM FORESTRY CORPORATION JSC 30, 31 26 NATUZZ 32 27 ASHLEY FURNITURE INDUSTRIES 33 28 KHANH NGUYEN WOOD CO., LTD. 34, 35 29 HIEP LONG FINE FURNITURE COMPANY 36 30 ASIA EXPO LOGISTIC 37 31 ALLIANCE HANDICRAFT & WOODEN FINE ART CORPORATION 38 Name Page