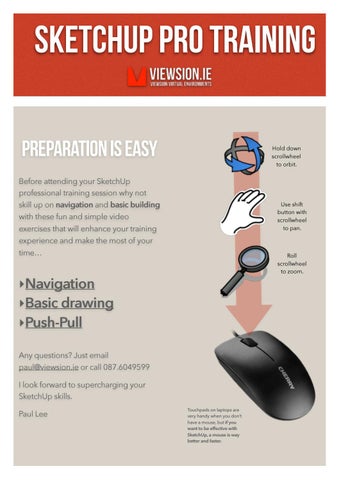 SketchUp Pro Training preparation is easy
Hold down scrollwheel to orbit.
Before attending your SketchUp professional training session why not skill up on navigation and basic building with these fun and simple video exercises that will enhance your training experience and make the most of your time…
Use shift button with scrollwheel to pan.
Roll scrollwheel to zoom.
‣Navigation ‣Basic drawing ‣Push-Pull Any questions? Just email paul@viewsion.ie or call 087.6049599 I look forward to supercharging your SketchUp skills. Paul Lee
Touchpads on laptops are very handy when you don't have a mouse, but if you want to be effective with SketchUp, a mouse is way better and faster.
Sketchup training preparation  
Check out the documentation and links to get started with SketchUp navigation. For more information please visit sketchupworld.com
Sketchup training preparation  
Check out the documentation and links to get started with SketchUp navigation. For more information please visit sketchupworld.com