WELLNESS
HOSPITALITY &
CuratingAsia'sDesignFrontiersfortheWorld 2022
About Us
Vermillion is Asia's first e commerce luxury platform giving buyers access to a curated selection of hand picked, one of a kind products from across the region. Paying tribute to the cultural values, heritage, and personal stories that stand behind each brand and creator, the platform focuses on stories that delve into Asian cultures, from their histories of traditional regional crafts to the journey towards sustainability in the design world
We aspire to do more than just sell crafted luxury. We strive to conserve and convey Asian heritage, philosophies, and values whilst educating and exciting the global buyer.
Explore our extensive and versatile collection of the finest designs from Asia at vermillionlifestyle.com
Suzu Vases Set NOUSAKU Japan
How To Shop This Catalogue
Should you wish to place an offline order with Vermillion:
Please contact our client representatives or email us at cs@vermillionlifestyle.com (specify "Catalogue Order" in email subject). Our team will respond to your request with an order form. Please fill in the order form with the information of the product you wish to purchase, the customization you are inquiring about, and email it back to us
Our customer service team will reach out to you to further discuss and confirm all customization details with you.
We will issue an invoice to you once the customizations are confirmed, along with the payment details (we accept Mastercard / Visa credit card and bank transfer) Please check and confirm the order information and notify us once the payment is completed.
We will process your order within 3 5 business days upon receiving payment. Product lead time and shipping time varies from brand to brand and origins or destinations. Please refer to your invoice for lead time estimates.
All orders are final and non cancellable Return / refund within 7 calendar days of delivery for defective / damaged products only. Please contact our client representative or email us at cs@vermillionlifestyle.com within the 7 day return period for such requests.
Table of Contents
Relax & Spa Indulge & Celebrate Hamper Stuffers Epic Stays Our Creators
1 14 24 32 45 Organic Bedding Baea Greater China
Relax & Spa
Liebackandindulgeyourself,withourthoughtfulcurationofclean, 'nonasties'personalcarebrandsandproducts.Escapetoasensorial sanctuary,withaplethoraofscents,soundsandsensations,that holisticallynourishboththemindandbody.
Litchi Fiction Scented Candles
futchi Greater China
futchi is a scent inspired name borrowed from the phrase 'Fugace Litchi' (the experience of peeling lychee) and re assembled into a new word, which coincidentally also translates to 'fortune' in Chinese futchi creates scents that bring luck and best wishes
Futchi is a scented name inspired by 'Fugace Litchi' (the experience of peeling lychee) and re assembled into a new word, which coincidentally also translates to 'fortune' in Chinese Futchi creates scents that bring luck and best wishes
Milky Rail Way Sparkling City Poison Wood Forest Scented Candles futchi Greater China
2 Pleasecontactusdirectlyatcs@vermillionlifestylecomforfurtherdetails Relax&Spa
YILI Olfactory Art Greater China
YILI Olfactory Art creates unique perfumes that are a reflection of the culture it is surrounded by and the local perfumer who produces it
Sleep Blend Moroccan Rose Absolute Light
Essential
Oil
Akiku
Aroma Japan
A brand dedicated
towards
promoting
holistic healing
through
aromatherapy.
unneeed Thailand
This Thai Dream Wild Scented Candle has a calming effect. Their vanilla scent will make you feel sweet and warm inside. Experience the scent of 'love' in the air!
Ne Muni
Nepal
Wellness accessories, such as singing bowls and spa equipment, hand sourced from Nepal, at the foothills of the Himalayan range.
3 Pleasecontactusdirectlyatcs@vermillionlifestylecomforfurtherdetails Relax&Spa
Oyasumi Scents Singapore Enjoy Southeast Asian scents of pandan, lemongrass, tea leaves, matcha, sakura, ginger, lychee and calamansi at home.
Herbal incense from the Himalayas handmade from all natural plant based botanicals, inheriting century old recipes. Incense is a blessed gift from the Himalayas to compliment busy urban lifestyles, illuminating hearts with spiritual essence from snow capped mountain ranges
CAMEL Greater China
CAMEL has manufactured iconic glass vacuum flasks and metalware since 1940 in Hong Kong The Leung family was running an import export business between Malaya and Hong Kong, when they found no steady supply of vacuum flasks, so the son built his own vacuum flask out of spare glass and metal 'Camel' reflects each flask's function and tenacity to see the company through thick and thin.
4 Pleasecontactusdirectlyatcs@vermillionlifestylecomforfurtherdetails Relax&Spa
Boundless Himalaya Greater China
Every Nousaku item starts with the creation of a sand mould which could be re used repeatedly, and then undergoes several finishing processes Hand finishing by experienced craftsmen accentuates each product's material beauty and fineness.
Incense Burner mooyee Greater China
Mooyee is a designer homeware brand dedicated to creating simple and high end home furnishing products born from the marriage of tradition with modernity The objects are rooted in traditional practices but the designs are highly creative and contemporary.Mooyee is a designer homeware brand dedicated to creating simple and high end home furnishing products born from the marriage of tradition with modernity. The objects are rooted in traditional practices but the designs are highly creative and contemporary.
5 Pleasecontactusdirectlyatcs@vermillionlifestylecomforfurtherdetails Relax&Spa
NOUSAKU Japan
Moon Grand Incense Burner
Kin Objects Greater China
A geometric concrete incense holder (or incense burner) that frames the incense and smoke plume in the silhouette of a full moon, a symbol of reunion, harmony, and abundance
Ridge Loop Incense Burner
The Ridge Loop is a simple square, enclosing a series of ripples that center around the bronze ball holding the incense. The trace of the ridges recalls the shape of a water droplet.
6 Pleasecontactusdirectlyatcs@vermillionlifestylecomforfurtherdetails Relax&Spa
Shampoo and Conditioner
The Verdant Lab Singapore
With the sense of smell being intimately tied to emotions, the brand seeks to evoke a touch of serenity and tranquility through their products.
Shampoo and Hair Conditioner
LA TERAPIA Greater China
LA TERAPIA means "the therapy/the cure" in Italian. It is not just about hair care, but also about emotion, an experience, a way of living, and a safe space where you can relax and be yourself Encouraging women to prioritize themselves, LA TERAPIA does not only take care of your scalp health but also your overall wellbeing.
Room and Linen Spray
The BLOMSTRE Greater China
The Room and Linen Spray is a home fragrance produced using 100% natural essential oils mixed with purified distilled aqua and alcohol based concentrated ethanol which is generally safe and effective to prolong scent and disinfection on sprayed surfaces.
7 Pleasecontactusdirectlyatcs@vermillionlifestylecomforfurtherdetails Relax&Spa
Botanic Pretti5 is a TCM infused, clean + adaptogenic solution for stressed and sensitive skin, crafted from a perfect blend of TCM, the best possible herbal ingredients and Western skincare technologies.
Hydro Rescue Repairing Night Mask
8 Pleasecontactusdirectlyatcs@vermillionlifestylecomforfurtherdetails Relax&Spa
Botanic Pretti5 Greater China
Mist Blend Kuoca South Korea
A skincare brand based in Korea, Kuoca is all about careful selection of ingredients, creative but delicate recipes and processes, and endless attention to detail in pursuit of perfection.
Kuoca tests their products countless times to develop proprietary blending techniques in order to maximize delivery of active ingredients.
The brand offers more than all of the goodness found in naturally sourced ingredients and their effects They only sell freshly produced skincare, dated no longer than 30 days from production.
Beigic South Korea
Beigic is a vegan skincare brand, powered by coffee. All Beigic products are certified by the UK Vegan Society and use green coffee bean harvested through fair trade to keep your skin and the planet healthy.
9 Pleasecontactusdirectlyatcs@vermillionlifestylecomforfurtherdetails Relax&Spa
Ms. Chu Greater China
Cindy Chu, a Canadian chemical engineer specializing in cosmetic science + passionate about green chemicals, formulates skin and personal care using naturally derived and environmentally friendly ingredients
Akarii Greater China
From Latin America, palo santo (Spanish for 'holy wood') is used by shamans to burn + cleanse a space and purify 'mala energia' (negative energy). When sustainably sourced raw Palo Santo cleansers, gel masks, elixirs, moisturizers are applied topically, they offer antiseptic and anti inflammatory properties Meditative rituals include Palo Santo wood stick bundles, raw rose quartz + abalone shells
Luxury retail line headquartered in Hong Kong, and developed by acclaimed Italian home and hotel accessories designer, Susanna Valerio. Inspired by experiences furnishing the world's leading luxury hotels from New York, Rio de Janeiro, Cairo and South East Asia, her home accessories brand truly conveys a sense of the exotic.
10 Pleasecontactusdirectlyatcs@vermillionlifestylecomforfurtherdetails Relax&Spa
SV Casa Greater China
Home Textiles
Studio NooSH Greater China
Studio NooSH is an interior decoration brand created in 2020 by Kim Duker and Stephanie Sallette. The knitting of their universes is the basic fabric of the brand's identity.
11 Pleasecontactusdirectlyatcs@vermillionlifestylecomforfurtherdetails Relax&Spa
Organic Wash Towel *
IKEUCHI ORGANIC Japan
Ikuechi brand's eternal staple, boasting a refreshing experience every single time. The meticulously calculated composition of a towel is what maintains its long lasting softness. These towels combine impeccable absorbency with dependable durability
Athleisure for women of the world. Lotus flowers is earth's most beautiful gift. Growing in muddy waters beneath the surface until dawn, where it emerges in full bloom Rising Lotus acknowledges need for self improvement + taking refuge, so women can emerge shining our brightest light into the world.
12 Pleasecontactusdirectlyatcs@vermillionlifestylecomforfurtherdetails Relax&Spa
Rising Lotus Greater China
Screen Recycled Plastic Swimming Shorts
Māzú Resortwear
Greater China
Māzú Resortwear's fabrication has an extremely soft to touch hand feel with a durability and texture of a luxury product, while aglets are handcrafted and gilded to resemble a traditional monkey fist knot The double needle stitching and point d'arrêt finish indicate that the construction of each pair has been done with such effort as to ensure that the shorts not only look great from the outside, but also look and feel great on the inside.
White Labelling mats are more than just a mat. It is a lifestyle piece which is so aesthetically pleasing that can be used for home decoration. Hence why they actively collaborate with local artists, such as Chinese watercolor painters (POMO), calligraphers, illustrators (Flowers & The Dog), and VR artists to imbue yoga accessories with creative life
White Labelling Greater China
13 Pleasecontactusdirectlyatcs@vermillionlifestylecomforfurtherdetails Relax&Spa
Yoga Mats
Organic Wines
Puchang Vineyard Greater China International award winning organic winery from Xinjiang province, alongside local farmers near Tian Shan Mountain, and aims to change the world's perception on winemaking in China. They work through ecological processes, using only organic, non chemical substances to farm local grape varieties, producing premium quality wines with low levels of sulphites.
Indulge & Celebrate
Enjoylife'sdelightfuloccasions.SavorAsianepicureandelicacies,from boutiqueJapanesesakes,Himalayanwinesandbotanicalginsto sustainableabalone,delicatebirdsnest,andthefinestteas.
Indulge&Celebrate 15 Pleasecontactusdirectlyatcs@vermillionlifestylecomforfurtherdetails
Nestled in hills above a vineyard studded Shandong Peninsula Valley at Penglai Pagoda, the landing place for the Eight Immortals in China's mythology, Runaway Cow is one of China's most beautiful wine resorts, co founded by Professor Pascal Durand, former Dean of the Winemaking School at University of Burgundy and founder of the Pinot Noir Association of Burgundy, also located directly opposite from Chateau Lafite's Longdai project
White Wine, Mulan One Cabernet Sauvignon, Red Wine
Runaway Cow Greater China
SADA Sake
Adeline Yeo Matsuzaki
The Sada Fruit Sake series in four flavors Yuzu, Umeshu Akazake (Plum), Sakuranbo (Cherry) and Amanatsu (Sweet Orange) features the best natural produce that Japan is renowned for. Lovingly cultivated Japanese fruits handpicked at their peak are brewed with sake to create delightful beverages that complement any cuisine or enjoyed on their own. Crafted with only real fruits, Sada is the perfect companion to seasons of abundance and bliss
The Sada Yuzu Sake is a luxurious blend of juice from two types of Yuzu sweet and fragrant to give it a depth of flavors unparalleled by others.
Label Art: "SADA : HAPPINESS" by Adeline Yeo Matsuzaki
From time immemorial, the harvesting of fruits symbolizes success, abundance, happiness, culmination of labor, and sunlight. With this art bearing the character 禎 from her name, Adeline embraces the passing of seasons with faith, hope and joy saturated on the canvas. The delectable fruits prized by Japanese and the world alike, pleasing colors and invigorating tastes of this unique sake series epitomize the celebration of life seasons laden with abundant optimism and happiness
Indulge&Celebrate 16 Pleasecontactusdirectlyatcs@vermillionlifestylecomforfurtherdetails
Award Winning Sake
Daimon Japan
Indulge&Celebrate 17 Pleasecontactusdirectlyatcs@vermillionlifestylecomforfurtherdetails
Porcelain is a 'Shanghai Dry gin', created in collaboration between Hong Kong's Ming Fat Group
co
founder Shakib Pasha and Hubert Tse, whose family of traditional Northern Chinese spice makers in Liaoning, also supplies its fragrant botanicals.
Porcelain Gin Greater China
Being nestled between Kyoto, Osaka, and Nara has always been their secret providing DAIMON BREWERY with some of the best water in Japan Today, the brand is the only brewery in the region still producing sake with flowing mountain water the core of their spirit
AURUM Edible Gold
Gift
Sets
AURUM Greater China
Gift set of pure 23.75k genuine edible gold with bespoke tweezers to artfully embellish every dish.
Indulge&Celebrate 18 Pleasecontactusdirectlyatcs@vermillionlifestylecomforfurtherdetails
Birds Nest
Each delectable bloom is crafted by a Singaporean bird's nest
family business seeking
welcome
transforming this
Red Ginseng Ritua
commodity trading
to
newer generations of aficionados, dedicated to
unique Asian gastronomic tradition into a modern epicurean delicacy. NestBloom Singapore Indulge&Celebrate 19 Pleasecontactusdirectlyatcs@vermillionlifestylecomforfurtherdetails
Organic South African abalone cooked in its own juice with Japanese advanced vacuum process technology, to perfectly retain natural flavors. Pristine Walker Bay abalone is nutritious, containing high levels of protein that nourishes skin, balances blood pressure, enhances liver and eyesight, and relieves summer heat.
Indulge&Celebrate 20 Pleasecontactusdirectlyatcs@vermillionlifestylecomforfurtherdetails
Reign Abalone Greater China
CHAKO Greater China
Founded by award winning mixologists, Antonio Lai and Alex Ko, from renowned HK bars including Quinary and Draft Land, Chako offers ready to drink sparkling tea based cocktails combining real brewed tea, natural flavors, e.g. Mango & Blood Orange Tie Guan Yin, Peach & Ginger Oolong, Apple & Elderflower White Tea, and craft spirits
SAICHO Greater China
Founded by Charlie and Natalie, a husband wife founding team of professional food scientists from the UK and Hong Kong, SAICHO uses single origin tea, hand picking the exact varietal, time of harvest, location, terroir, altitude, and processing methods. Rather than being bombarded by a mongrel of flavors, there's a simplicity and purity to using single origin tea.
Indulge&Celebrate 21 Pleasecontactusdirectlyatcs@vermillionlifestylecomforfurtherdetails
The Sakura Japanese Craft Gin is a passion project born out of the 156 year old Senjo Brewery's mission "to develop rice fermentation culture to the future" The juniper rich craft gin is made from a base distillate of Sakamai rice (the best rice for sake brewing), pure water from the Japanese Alps and extract of Sakura leaves, which are harvested from more than 20 cherry trees planted in Senjo Brewery's private garden.
Tasting Notes A complex nose, bold cherry blossoms aroma with a lingering finish of koji and a slightly spicy aftertaste.
Label Art: "SAKURA" by Adeline yeo Matsuzaki
Inspired by the famous Takato Joshi Koen, a cherry blossom viewing park in Nagano where Senjo Brewery has been established since 1866, "SAKURA" depicts a traditional Japanese woman cloaked in a red kimono holding a wagasa as she basks in the full splendor of cherry trees.
Indulge&Celebrate 22 Pleasecontactusdirectlyatcs@vermillionlifestylecomforfurtherdetails
Sakura Japanese Craft Gin Adeline Yeo Matsuzaki
Unity White Tea Plantation by teakha Greater China
Founded by a corporate lawyer who started renowned tea café teakha to foster a feeling of togetherness over prized single origin whole leaf teas sourced in small batches from family farms across Taiwan, Japan, China, and India and homemade cakes
Plant dye artist Anna Cennamo was commissioned to create packaging artwork using tea dyes, resembling Chinese ink paintings of undulating mountains cloaked in distant mist.
23 Pleasecontactusdirectlyatcs@vermillionlifestylecomforfurtherdetails
Indulge&Celebrate
Hamper Stuffers
Flavorfuldelicatessen,exquisitepersonal amenities,andtastefullifestyleessentials tocomposeadecadentgiftbasket Assorted Cookies PIN Cookies Greater China
Or Tea? Greater China
True Nosh Canada
Registered dietitian crafted Canadian locally sourced, plant based, no added sugars, gluten, or preservative Chinese sauces, to prevent diseases, such as diabetes, without compromising on delicious taste of food.
Revolutionising tea drinking into a lifestyle for the modern generation. Inspired by millennia of enjoyment from this ancient tradition, Or Tea?™ is a fun, fresh + tasty cross cultural concept for today's trendsetters
HamperStuffers 25 Pleasecontactusdirectlyatcs@vermillionlifestylecomforfurtherdetails
Hand Rolled Nepali Tips Tea Box
BASAO Tea
Greater China
From Xiamen, BASAO offers discerning young urban tea drinkers easy to transport Dancong, Oolong, Darjeeling, and Longjing loose leaf teas and tea bags to enjoy, while on the go around the city
Wellness Tonic
Lify Wellness
Greater China
Founded in 2017, two sisters Connie and Mazing are striving to integrate traditional herbal remedies into everyday beverages. They most recently won Gold titles in the HKICT Smart Living Awards 2020 and German Design Awards 2020.
HamperStuffers 26 Pleasecontactusdirectlyatcs@vermillionlifestylecomforfurtherdetails
Assortment Stick Box Shizuoka Matcha Powder
NODOKA Japan
JAS and USDA organic certified, Shizuoka means 'quiet hill' in Japanese, offering an ideal climate for growing green tea plants with freshly melted water from Mount Fuji, grown on tea fields at 1,970ft elevations with cooler temperatures.
HamperStuffers 27 Pleasecontactusdirectlyatcs@vermillionlifestylecomforfurtherdetails
HamperStuffers 28 Pleasecontactusdirectlyatcs@vermillionlifestylecomforfurtherdetails
SUM TEA Greater China
Founder Kim Le works closely with their Tea Master in Kowloon, Hong Kong, to blend natural, non GMO, gluten free, and USDA certified organic lemongrass, ginger, butterfly pea flowers, genmaicha, peach, rose, sunflowers, oolong, and osmanthus artisanal teas.
PIN Cookies Greater China
A Cordon Bleu Chef's celebration of Cantonese char chan teng cuisine through whimsical and tasty pastries, e g XO Sauce, Chili Shrimp, 7 Spice, Scallion Chicken Cookies, Red Dates, American Ginseng Raisin, and Tangerine Peel with Ginger.
HamperStuffers 29 Pleasecontactusdirectlyatcs@vermillionlifestylecomforfurtherdetails
BEAMS Greater China | Australia
100% biodegradable coffee capsules, made from sugarcane and sugar beet suitable for home composting.
Enjoy adaptogenic coffee blends bringing Asian mushrooms as holistic wellness ingredients, such as Tremella (skin, complexion, organs), Reishi (nervous system, sleep cycle), Lion's Mane (mood, memory, focus, creativity), and Cordyceps (energy, immunity).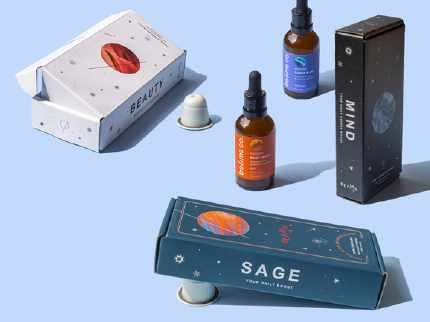 30 Pleasecontactusdirectlyatcs@vermillionlifestylecomforfurtherdetails
HamperStuffers
Plantogenic Thailand
With Plantogenic, Savita 'May' Sresthaporn, the founder, hopes to bring traditional wisdom to contemporary consumers with healthy, delicious beverages and effective supplements Plantogenic leverages Asian superfoods to produce functional plants based wellness products By integrating Thai and Chinese traditional medicine with modern wisdom, the brand aims to create products that allow for daily nourishment and natural remedies to the body and mind.
31 Pleasecontactusdirectlyatcs@vermillionlifestylecomforfurtherdetails
HamperStuffers
Epic
Stays Pamperyourguestswithplushin-roomamenities. Luxuriantorganicbedding,chicsustainableloungewear, bamboobathroomsets,innovativebedsidestationary, meditativetemplebells.Hospitalitytoremember Organic Bedding
Baea
Greater China
Eye Mask SANCHIA Greater China
SANCHIA uses high quality fabrics with original prints and other techniques like knitting and embroidery to produce clothing, where art meets fashion.
SoL the label
Greater China
Founded by Lois Tien, with a mission to deliver high quality, ultra comfortable, evergreen sleepwear + loungewear with self care + sustainability at its core, reminding women to "take breaks from the fast paced rat race of today's world to prioritize health + wellbeing".
EpicStays 33 Pleasecontactusdirectlyatcs@vermillionlifestylecomforfurtherdetails
Respect for nature is at the heart of everything Baea does, and therefore they choose organically grown cotton and biodegradable materials. And it's the reason they partner with highly reputable makers who prioritize the wellbeing of artisans while minimizing their footprint Expertly crafted in Italy and Portugal, the linens are entirely natural, right down to their plant based buttons. And as with all Baea products, the packaging is completely biodegradable.
EpicStays 34 Pleasecontactusdirectlyatcs@vermillionlifestylecomforfurtherdetails
Adria Cotton Throw
Annette Singapore
Lifestyle + bedding brand to purvey quality essentials for everyday stylish, timeless, and made to last Alongside pure linen bedding, they offer effortless loungewear, cushion covers, throws + organic cotton basics.
Bedding Baea Greater China
Snuggler Weighted Blanket
DORMU Greater China
Dormu weighted blankets and covers are made using 100% lyocell bamboo, an extremely soft and silky smooth material Bamboo is thermo regulating and antibacterial, keeping you fresh and comfortable all year round.
NakedLab Greater China
Crafted from 100% organic + sustainably sourced bamboo, BambooSilkbedding is lightweight, naturally breathable, temperature regulating, vegan, eco friendly +Oeko texcertified free of harmful chemicals. Range includes baby cot sheets, children's bedding, pillowslips + towels
Hikibaku Interior Panel
Nishimura Shouten Japan
Founded in Kyoto in 1924, 3rd generation family trained Nishijin craftsmen make gold and silver thread for weaving Obi textiles with skillful cutting of metal foils to 0 3mm wide, as the base for crafting these beautiful iridescent 'hikihaku' artworks.
EpicStays 35 Pleasecontactusdirectlyatcs@vermillionlifestylecomforfurtherdetails
Resonance Speakers
Delta Blues Audio
Greater China
Features Kyoto artisanal Hikibaku metalwork. GBA
Cultural Creativity Award, China
Ceramic Art Design Exhibition, Product Design Award at HKDA
LinNe Orin is one of the few foundries in Japan that specialize in the manufacture of sounding Shinto and Buddhist ritual objects for shrines, temples, and homes, using traditional techniques developed over the 190 years since the company was founded
EpicStays 36 Pleasecontactusdirectlyatcs@vermillionlifestylecomforfurtherdetails
Chibi Knots
LinNe Japan
Wataru Hatano
Japan
An artist and painter, Wataru moved to Kurotani in northern Kyoto Prefecture, famous for Kouzo (paper mulberry) trees and clean, fresh water, which form raw materials for washi. Wataru crafts artworks and functional objects with 800 year old traditional Japanese paper making skills.
EpicStays 37 Pleasecontactusdirectlyatcs@vermillionlifestylecomforfurtherdetails
AJI project Japan
Founded in Kagawa, Japan, AJI sculpts locally quarried stones, as the first tools ever used by man, into softly rounded, rugged, unbreakable natural + contemporary homeware.
Alpana Vij India
Inspired by Buddhist concept of śūnyatā or emptiness that focuses on the transitory, ephemeral nature + interconnectedness of all phenomena, ritualized + meditative Indian art that poetically engages viewers in a dialogue.
EpicStays 38 Pleasecontactusdirectlyatcs@vermillionlifestylecomforfurtherdetails
Greater China
Inspired by the mystical yet urban temperament of booming Chongqing, designer Xiong Yu graduated from the Sichuan Academy of Fine Arts with a degree in Environmental Art and Interior Design, constantly exploring textures, patterns, and artistic techniques, to create high quality craftsmanship and designs that will stand the test of time.
Greater China
Established by interior designer Angus Ting, striving to connect bamboo crafts with modern city life. Meaning "twice" in Chinese, inspired by the creation process where bamboo strips are woven across at least twice for sturdiness.
EpicStays 39 Pleasecontactusdirectlyatcs@vermillionlifestylecomforfurtherdetails
YIWAI
YIWOOO
YI ER ROOM
Greater China
Each layer of this box carrier is made from a different wood: ashwood, oakwood, and merbau wood, and complemented with dark ebony wood. The color of the wood progresses layer by layer, forming a rich and distinctive color scheme. The bright colors add a modern touch to the box carrier The shape of the carrier is based on the traditional Chinese Begonia flower, which symbolizes happiness and is a classic Chinese motif.
The lid is decorated with an inlaid bronze fish, bringing auspiciousness and prosperity to the user Finally, the handle is made of brass, which adds a sophisticated look to the carrier
40 Pleasecontactusdirectlyatcs@vermillionlifestylecomforfurtherdetails
House of Prosperity Box Carrier
EpicStays
Each toothbrush has a native tree seed embedded in the handle and can be grown into a plant after use The naturally carbon infused bristles are soft as well as biodegradable. Also engraved with a motif representing an endangered species as an identifier and to increase awareness for the cause
Plantable Toothbrush (Bamboo Casing)

Bambuhay Philippines
Brush Set SHAQUDA JAPAN
Shaquda is an innovative brand developing brushes born from the fusion of traditional Kumano craftsmanship and modern design Located in the eastern part of Hiroshima, Kumano, the home of Shaquda, has been Japan's most famous brush making town since the Edo period.
EpicStays 41 Pleasecontactusdirectlyatcs@vermillionlifestylecomforfurtherdetails
Woven Boxes
ANADA Indonesia
Balinese founders Anysia and Will, with backgrounds in community development and biotechnology, strive to deliver quality lifestyle products that are not only sustainable environmentally, culturally, but also grass roots economically.
Basket Sets
Socoon Thailand
Social entrepreneur Kittisak Kajornpai upcycles discarded silk cocoons into elegant lifestyle products, by working with the Saraburi community in Thailand to hand stitch hundreds of emptied cocoons alongside natural dyes + organic yarns.
Laundry Basket
Pulo Home Philippines
Filipino artisan handicraft brand based in Bataan, Philippines, led by US industrial designer Ana Bernardo, who worked with Neiman Marcus, Target, Pottery Barn, and Crate & Barrel.
EpicStays 42 Pleasecontactusdirectlyatcs@vermillionlifestylecomforfurtherdetails
The Pen Holder is a study of geometric shapes The piece combines simple forms with functionality to give shape to a minimalistic, sculptural pen holder for your office desk or study.
TA+d Greater China
The Slight Light Card Holder features a duo material combination. The slit on one side makes it easy to slide out your name cards with one hand
Desktop accessories made from bamboo, stone, leather, and metal Winner of Reddot, Good Design, IDEA Outstanding, and Golden Pin Design Awards
43 Pleasecontactusdirectlyatcs@vermillionlifestylecomforfurtherdetails EpicStays
Pen Holder DAaZ Furniture
Vertical Bamboo Stand Pen *
TA+d Greater China
Slide Light Card Holder *
EpicStays 44 Pleasecontactusdirectlyatcs@vermillionlifestylecomforfurtherdetails Imitation greenery + floral arrangements for interior decoration distributed in 20+ countries at home + abroad Corporate clients include KUKA Home Furnishing, real estate developers such as Country Garden, China Overseas Real Estate, City Window + retail brands such as Guerlain.
NiFloral
Greater China
Our Creators
Adeline Yeo Matsuzaki
Aji Project Akarii Akiku Aroma
Alpana Vij ANADA
Annette
AURUM
Baea Bambuhay
BASAO TEA
BEAMS Beigic Botanic Pretti5
Boundless Himalaya
CHAKO
DAaZ Furnitures
Daimon Delta Blues Audio DORMU futchi
IKEUCHI ORGANIC kin objects
Kuoca La Terapia Lify Wellness
LinNe
Made by Camel Mazu Resortwear mooyee Ms Chu NakedLab Ne Muni Nishimura Shouten
NODOKA
NOUSAKU
Or Tea?
Oyasumi Scents
PIN Cookies Plantation by teakha Plantogenic
Porcelain Gin
Puchang Vineyard
Pulo Home
Reign Abalone Rising Lotus Runaway Cow SAICHO
SANCHIA SHAQUDA
Socoon SoL the label Studio NooSH SUM TEA SV Casa TA+d The BLOMSTRE The Verdant Lab True Nosh unneeed Wataru Hatano White Labelling YI ER Room YILI Olifactory YIWAI YIWOOO
Natural materials
Recycled / Recyclable materials
Socially responsible modes of production
45
Founded by wellness advocates, Be Well aspire to make Wellness and Sustainability a priority, not an afterthought; an investment, not cost.
With deep connection within the wellness ecosystem, we bridge the gap between Corporates and Community by developing actionable strategies as well as curating wellness centric value propositions and experiences.
WELLNESS ADVISORY SERVICES
CORPORATES
COMMUNITY
CONSULTING & GROWTH HACKING
EVENT & CONTENT CURATIONS
OUR MANAGING PARTNERS
Sherwin, founder of Be Well, has been awarded as Women in Wellness in Hong Kong for 2 consecutive years A lawyer by training, Sherwin has nevertheless been passionate about wellness and business strategy Sherwin was the driving force behind the wellness business unit of a global hospitality group. In addition, Sherwin has made remarkable contribution to the wellness industry, first as a market player and later as a leader. Sherwin was at the helm of the first holistic wellness festival in Hong Kong and brought together wellness players and talents. During her wellness consulting career, Sherwin has demonstrated that wellness can be the driving force to activate under utilised real estate space, and can be activated as a sustainable revenue stream
Responsible for brewing strategies and creating values for clients, Ronald drives growth and forges partnerships by uncovering mutually beneficial propositions. Trained as a surveyor, he has a background in commercial and hospitality real estate, specialising in investment, asset management and placemaking. Most recently, he focuses on F&B, PropTech and sustainability ventures. Ronald holds an BSc in Management from Warwick Business School and a MSc in Real Estate from HKU
Dispersed globally, our team and advisors brings together a diverse group of professionals, practitioners and industry leaders with extensive experience across sectors, all dedicated towards advocating wellness.
Pleasecontactusdirectlyatcs@vermillionlifestylecomforfurtherdetails
46
WELLNESS CONSULTING & STRATEGY EMPLOYEE WORKPLACE WELLNESS & PROGRAMMES BUSINESS
WellnessConsulting
vermillionlifestyle.com vermillion.lifestyle vermillion.lifestyle vermillion lifestyle For more information please contact us at: cs@vermillionlifestyle.com 2022 Hospitality & Wellness