DESIGNERS at HOME
Charlotte OCTOBER 2022 PLUS: EXCLUSIVE CHARLOTTE LUCAS FOR MODERN MATTER DESIGN LAB
THE LOOK OF A LIVING ROOM DESIGN CENTER / COTSWOLD MARKETPLACE KEY DESIGN ELEMENTS TEXTILES: THIBAUT GEOMETRIC PILLOWS IN "MING BLUE" | Judy Brown Designs COFFEE TABLE: KELLEN ROUND TABLE IN ACRYLIC & GLASS | Brass Pineapple Interiors ACCESSORIES: BURLWOOD ACCENT TRAY WITH GOLD HANDLES | Embellish Interiors BURLWOOD ACCENT TRAY COLOR PALETTE Sara Willis NC Artist TONED COLORS, & UNIQUE ACCESSORIES DESIGN TIP: ORIGINAL ABSTRACT LAFCO Absolute Collection CANDLE BLUE & IVORY CUT VELVET GEOMETRIC ROOM BY MIXING RICH TEXTURES, JEWEL GOLD TREE STUMP ADD WARMTH TO YOUR LIVING ACRYLIC & GLASS COFFEE TABLE
200 N. SHARON AMITY | CHARLOTTE, NC | 704.365.333 1 COTSWOLDMARKETPLACE.CO M HOME DECOR UPHOLSTERY ARTWORK WALLPAPER LIGHTING GIFTS THE STORY LIVING ROOM of a
ANTIQUES | LIGHTING | ACCESSORIES 6815 A-3 phillips place ct., charlotte, nc 28210 | 704-999-6976 | mon-sat 10am-5pm www.granville-charlotte.com
CALL OR VISIT US ONLINE TODAY TO SCHEDULE YOUR COMPLIMENTARY DESIGN CONSULTATION 704.527.5579 CALIFORNIACLOSETS COM CHARLOTTE 224 EAST BLVD ©2022 California Closet Company, Inc. Each California Closets® franchised location is independently owned and operated. MAKE ROOM FOR ALL OF YOU
City
VISIT QUEENCITYONLINE.COM TO LEARN MORE. SEVEN CONVENIENT LOCATIONS MONDAY–SATURDAY: 9 a.m. to 7 p.m. | SUNDAY: 12 p.m. to 6 p.m. Visit Queen
Audio Video & Appliances at 2430 Queen City Drive to see the brand-new Monogram kitchen display. th
Queen City Audio Video & Appliances is the best resource for all your appliance, electronics, and outdoor kitchen needs with over 70 brands to choose from. Our dedicated builder, customer service, and delivery teams have over a decade of experience with new builds and renovations. Feel confident that our experts can look at your blueprints and help you select the right appliances to fit your design and personal style.
BEAUTY: A COMBINATION OF QUALITIES, SUCH AS SHAPE, COLOR, OR FORM, THAT PLEASE THE AESTHETIC SENSES, ESPECIALLY SIGHT.
We think this kitchen and bar fit that description perfectly!
The design and custom Mouser cabinetry provide the ideal backdrop for all the amazing decorative elements in this space. With Monogram appliances, it's not just one detail, it's many. When you put them all together, you can create a look that is perfectly tailored to you. The choice of brass accent knobs ties in with the cabinet hardware, the brass accents on the hood, and the light fixtures. Monogram expertly marries both form and function. With their signature large window and controlled simmer burners, this range is the perfect example.
The refrigerator is surrounded by custom cabinetry that utilizes every square inch. Who knew so many things could be out of sight but right at your fingertips? This is one of many ways cabinetry can help make a space your own.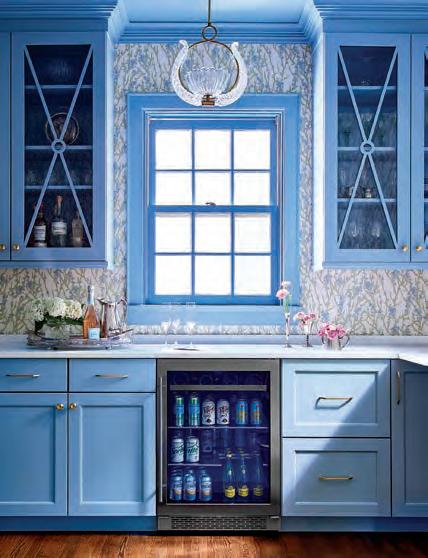 The dishwasher and microwave fit perfectly opposite the range. The advanced wash system and adjustable third rack make Monogram dishwashers an integral part of your luxury kitchen, bar, or butler's pantry. Available in either the professional-grade stainless steel or custom panel ready. Don't be afraid to mix and match!
That bar! That wallpaper! That light fixture! Mouser's color, Twilight, brings a pop of color we just can't get over.
DesignLoft and Queen City have been making homes beautiful and functional for decades.
DesignLoft's experienced designers, custom cabinetry, and the galley workstation provide endless possibilities. We work with individual homeowners, builders, and interior designers.
Bring your ideas and make your dreams a reality.
The Designers Marketplace trade and retail showrooms 803-681-5100 thedesignersmarketplace.com 9481 Yarborough Road, Fort Mill, SC 29707
The ezH2O LivTM Built-in Filtered Water Dispenser
Unrivaled
elkay.com/ezH2O-liv
filtration for lead- and chlorine-reduced water, instantly. That'sPutting cleaner water within reach. ©2022 Elkay Manufacturing Company
DESIGN LAB
GIRL IN PROGRESS
MAXIMALISM, MINIMIZED
DUSTIN PECK CONTENTS FEATURES 44
Designer Cathy Austin's home exemplifies her unique style and doubles as a testing ground for design trends. 56
Designer Hannah Ozburn's traditional-with-a-twist aesthetic is constantly evolving in her colorful Myers Park home. 66
Downsizing to a top-floor condominium, designer Teri Thomas took her own advice: Keep what you love. Let go of the rest.56 44 10 HOMEDESIGNDECORMAG.COM OCTOBER 2022
DISTINCTIVE INTERIORS | NEW CONSTRUCTION | EXTENSIVE RENOVATIONS brookecoleinteriors.com | 6707 Fairview Rd. Ste. D | 980-552-0182