ORIENTATION ISSUE
Sewell Park: Over 90 years of San Marcos' beloved park
By Connor Ek Life & Arts Contributor
San Marcos has many natural areas and preserves open to the public, such as The Meadows Center and Purgatory Trail, but one of Central Texas' biggest crown jewels of nature is Sewell Park and its nearing 95-year legacy.
Opening in 1932, Sewell Park was first established as a recreational area for then Southwest Texas State University students. Earning its name from former Southwest Texas State University President Dr. Thomas Glover Sewell, the park was part of a passion project for Sewell.
Helping make it aesthetic, yet also necessary additions to the park, the developing park has laid a solid groundwork for an attentive and caring administrative group to look after and maintain.
1943 was the pivotal year that Sewell Park's boundaries were expanded to where they are now.
The park has remained an integral part of San Marcos culture, along with being a large tourist attractor during the warm summer months, helping build up tourism in the local area.
The park operates as a free open-to-the-public park and has been for 92 years, and within that time, multiple generations of students have been able to enjoy the park and its connection to the San Marcos ecosystem.
After four years of visiting the park, Kaiti Jeppesen, Texas State alumna of 2023, believes that Sewell was a staple during her college years, especially when graduating.
"Sewell was the first place that I went when I got to San Marcos as a freshman," Jeppesen said. "It was the first place I got to experience the Texas State community. Flash forward three years later jumping in the river, it was kind of a full circle moment for me. The river just feels like home."
For those new to Texas State and San Marcos, Jeppesen believes that Sewell Park can be a great meeting place to branch out into new groups and make new friends.
"You go there and there's no judgment, and it feels like the heart and soul of the Texas State community," Jeppesen said. "I feel like every time I'm there people are asking you to join their volleyball game, or you're talking to Frisbee Dan or Sun God. You really get to feel like you're a part of the community."
SEE PARKS PAGE 5
MEALS
Dining changes for upcoming class
By Blake Leschber News Editor
As more students are being accepted to the university and planning to move on-campus, the prospect of dining is at the forefront of many minds.
Texas State has two traditional buffet style dining halls, Commons and Harris, and multiple dining centers that have restaurants that students can order whatever they choose from. All freshmen are required to have a dining plan which has four different levels one can choose, giving a different amount of meal swipes and dining dollars.
"Meal swipes are going to be used mostly in our two dining hall facilities, Harris and Commons which is one swipe per entry and all you can eat," Whitney Villarreal, the director of marketing and guest experience for Chartwells at Texas State, said. "Dining dollars are like a debit card that can be used at the national brands like Starbucks on-campus."
SEE MEALS PAGE 3
Campus housing prepares for fall 2023
By Ryan Claycamp News Reporter
Dorm life is often times the first time students get the experience of living away from home, as Texas State requires all freshmen under 20-years-old with fewer than 30 credit hours to live on campus.
For students like Jordan Hunter, an incoming business administration freshman, it is an exciting time.
"I'm feeling good, you know? I'm looking forward to meeting new people," Hunter said.
Housing applications are arranged in groups between one and five based on the date of completion for housing contracts. Housing applications are closed for all groups except group five, which is still accepting applications.
"Room selection began in early May, and has continued utilizing the published room selection process located on our website. At this time, students have been able to select their rooms, and the next two groups [four and five] will be assigned to available spaces within the housing system," Bill Mattera, the executive director of Housing and Residential Life, said.
www.Universitystar com TUESDAY VOLUME 113 ISSUE 1 June 6, 2023
PARKS
San Marcos river goers enjoy the hot weather and cool waters, Monday, June 5, 2023, at Sewell Park.
INFOGRAPHIC BY SARAH MANNING
SEE STUDENT LIVING PAGE 3 STUDENT LIVING
PHOTO BY NICHAELA SHAHEEN
EXTENSION CORD CARABINERS MATTRESS PAD WALL PUTTY, THUMB NAILS SECONDARY LIGHTING LAPTOP CLEANING SUPPLIES DISHES LAUNDRY BAG CANDLES AND INCENSE COMMAND STRIPS AIR FRYER OR HOT PLATE Talkwithyour roommate(s) and decide who'sbringingthe fridgeand/or microwave. Consider splittingthe cost with them!
Trinity Building 203 Pleasant St. San Marcos, TX 78666 (512) 245 - 3487
Editorial
Staff
Editor-in-Chief: Carson Weaver stareditor@txstate.edu
Managing Editor: Nichaela Shaheen starmanagingeditor@txstate.edu
Design Editor: Sarah Manning stardesign@txstate.edu
News Editor: Blake Leschber starnews@txstate.edu
Life & Arts Editor: Haley Velasco starlifeandarts@txstate.edu
Opinions Editor: Rhian Davis staropinion@txstate.edu
Sports Editor: David Cuevas starsports@txstate.edu
Multimedia Editor: Jeffrey Halfen starmultimedia@txstate.edu
Engagement Editor: Zaria Jackson starengagement@txstate.edu
Digital Products Developer: Sri Naga Sri Govvala starasstweb@txstate.edu
Creative Service Director: Michele Dupont starcreative@txstate.edu
Public & Internal Relations
PIR Director: Abbie Taylor starpr@txstate.edu
Full-Time Staff
Director: Laura Krantz laurakrantz@txstate.edu
Student Publications Coordinator: Caitlin Mitchell cf1188@txstate.edu
About Us
History: The University Star is the student newspaper of Texas State University and is published every Tuesday of the spring and fall and once a month in the summer semesters. It is distributed on campus and throughout San Marcos at 8 a.m. on publication days with a distribution of 3,000. Printing and distribution is by the New Braunfels HeraldZeitung.
Copyright:
Copyright Tuesday, June 6, 2023. All copy, photographs and graphics appearing in The University Star are the exclusive property of The University Star and may not be reproduced without the expressed written consent of the editor-in-chief.
Deadlines:
Letters to the Editor or any contributed articles are due on Monday the week prior to publication.
Corrections:
Any errors that are in the pages of The University Star and brought to our attention will be corrected as soon as possible.
Visit The Star at universitystar.com
EMPLOYMENT
Experts discuss student job success
By Blake Leschber News Editor
As the fall semester is approaching and new students are stepping foot onto campus, the prospect of employment on-campus is prominent in many minds of students both returning and new. There are two types of employment on-campus: work-study and campus part time jobs. According to the Career Services website, work-study is for students who demonstrate financial need through the Free Application for Federal Student Aid (FAFSA), so not all students can be granted work-study. Campus part time jobs are open to any student who would like to apply for them. There are a variety of on-campus jobs that can range from being a lifeguard, tutor or lab assistant.
Students can find oncampus jobs through the website Handshake, which one can use to find a job, look at requirements and apply.
"We use the platform Handshake. That's where all the on-campus jobs and now work-study jobs are posted. There's even a filter that you can just filter by on-campus jobs and see the full list," Laura Jones, assistant director of Employment Engagement, said.
One aspect of oncampus jobs that differs from off-campus part time jobs is that students are restricted to 25 hours a week, which can provide flexibility to students with their classwork.
"[Employers] don't let
you work more than 25 hours a week so I was able to manage my classes without worrying that they would put me on the schedule too much," Kynnady Etuk, a prenursing sophomore and desk assistant, said.
According to Jones, because supervisors recognize that these employees are students, they provide more flexibility especially when it comes to schoolwork.
"When you're working on our campus, you're working with staff and faculty who understand that you're a student first and so you get a bit more flexibility," Jones said. "If something comes up during midterms or you have a project, if you need to adjust your hours supervisors tend to be more flexible because we want you to be successful in your school."
Employers see student jobs as a growth opportunity which can take some pressure off of students to be a perfect employee and to have everything figured out.
"The stakes are a bit lower for student jobs oncampus than it would be for an internship or entry level job," Jones said. "We're not expecting the students coming into student jobs to have crafted all of their professional development. It's a growth opportunity and we all know that as we're hiring."
However, one aspect of student jobs that some want improved is pay. According to the University Pay Plan, student workers can make anywhere from minimum wage to $17 an hour but many jobs pay on the shorter end of the spectrum.
INFOGRAPHIC BY MEAGAN WALTERS
Texas State offers health and wellness services UNIVERSITY
By Ezekiel Ramirez News Contributor
Texas State offers multiple health and wellness resources around campus that provide students with positive quality care, creating changes in their environment and practices that interfere with personal comfort and increasing opportunities for students to make choices that positively affect their wellbeing.
These resources include the Counseling Center, the Student Health Center and the Student Recreational Center. Each facility has its own unique visions and goals that hope to benefit students as they navigate through college transitions and other personal life experiences.
Counseling Center
The Counseling Center provides mental health and prevention service in order to create an overall success of the student community.
"We work with students on issues such as anxiety, depression, relationship issues [and] stress," Richard Martinez, a counseling psychologist at the Counseling Center, said.
In the world of counseling, there's no one certain way to overcome a situation. Martinez describes the different methods in accomplishing their personal goals.
"We have individual therapy, we do group counseling," Martinez said. "We have a bunch of programs and workshops on topics such as mindfulness and emotional intelligence."
The feedback received from students that have attempted to utilize the Counseling Center to assist with personal struggles has been positive, according to Martinez.
"Students have told me that they've really enjoyed how practical like the coping skills are, because it really gives you solid advice and strategies to try to help cope with some of the most common concerns and issues that students are experiencing," Martinez said.
When a student has never had an experience with a mental health professional, having their introduction at the Counseling Center can be therapeutic and create a safe space to open up.
"Students are often times surprised with, you know, how much they can open up and trust us and help to identify goals and work towards those over a relatively brief time, we can make pretty significant progress," Martinez said.
The Counseling Center is located in the LBJ Student Center on the fifth floor in room 5-4.1. A second location is at the Round Rock Campus where counselors see students by appointment only.
For more information on the Counseling Center and to schedule an appointment, visit www.counseling.txst.edu/.
Student Health Center
According to the Student Health Center website, the center is built on teamwork in hopes of providing public health to the campus community and accessible, inclusive health and wellness services that support the academic and
personal success of students.
These services are beneficial for students who have not acquired health insurance and for students seeking a low-cost coverage with affordable prices and a university-endorsed student health insurance plan.
The Student Health Center provides primary care, urgent care, sexual and reproductive health, mental health, sports medicine, transgender care and travel health services to all university students. It consists of experienced physicians and nurse practitioners with services being made my appointment.
The Student Health Center includes three different locations: two in San Marcos and one in Round Rock.
Student Recreation Center
The Student Recreation Center facilitates most physical equipment needs and amenities. These include, but are not limited to, swimming pools, a climbing center, fitness classes and free weights.
"It's like a communal space," James Bedwell, a geography sophomore, said. "It's a great place to meet new people because there's always quite a few people there. And it's just an open space that makes it easy to talk to people because you're all there for the same purpose."
The Recreational Center is located on campus with some activities at Sewell Park and the sports fields.
"The reason for the Rec Center is definitely to improve student fitness and for athletes to keep them in shape and generally give a good community space," Bedwell said.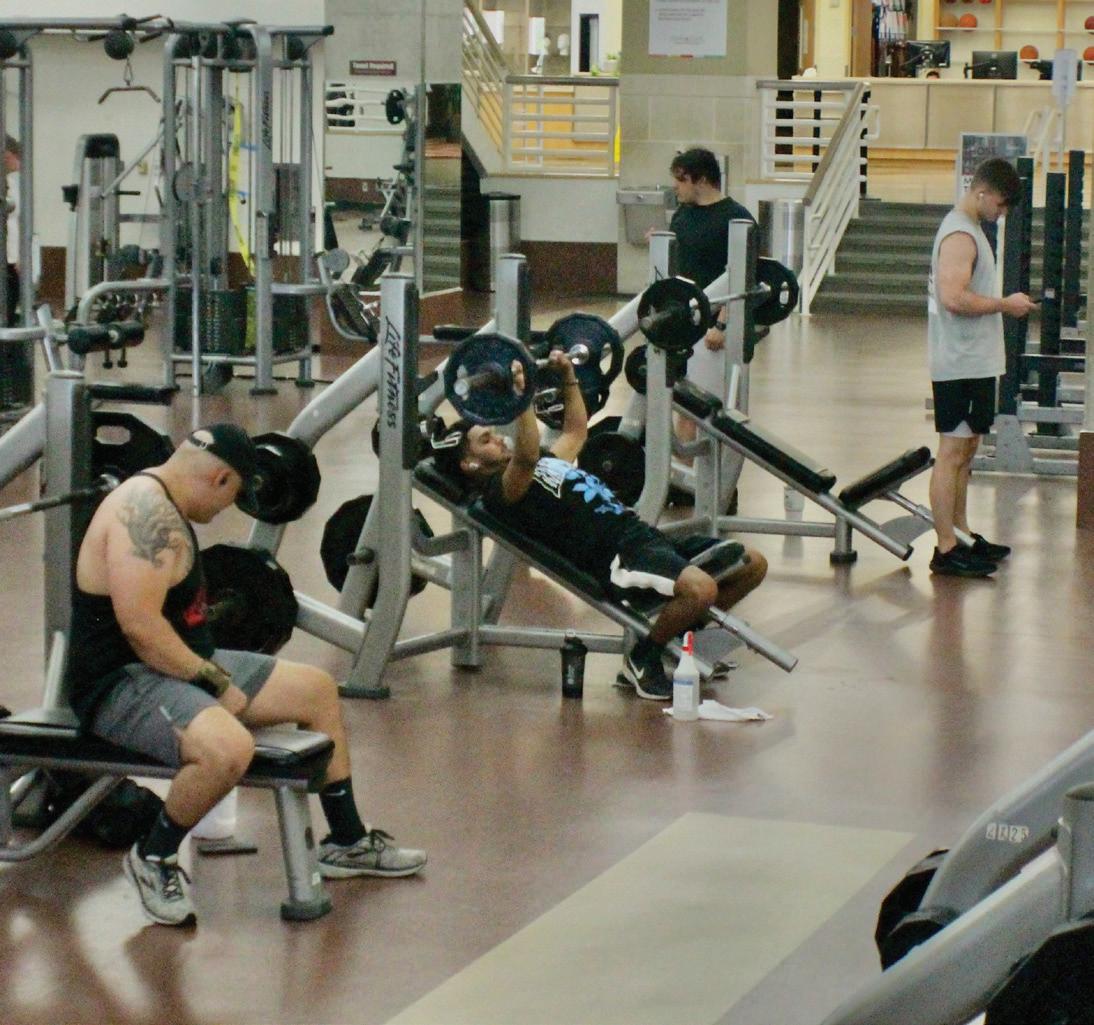 One of the goals the faculty and staff desire is the improvement of health and wellness in the community, and in hopes The Rec will help better that.
"If you're not taking care of yourself, you're not happy. You're not taking care of your health," Bedwell said.
NEWS
Blake Leschber News Editor starnews@txstate.edu 2 | Tuesday, June 6, 2023 The University Star
Texas State students pump some iron, Monday, June 5, 2023, at the Student Recreation Center.
To
read the rest of the story, scan the QR code.
PHOTO BY NICHAELA SHAHEEN
FROM FRONT STUDENT LIVING
Groups one through three have already completed their room selection, whereas the students making up groups four and five will be assigned rooms by Housing and Residential Life staff.
"[Room selection] honestly is really easy like I just went in on my time that I was selected for and I just like went and looked at all the ones. Unfortunately my first choice was taken, but it was really easy to find another one that was suitable to me," Avery Franklin, an incoming criminal justice freshman, said.
According to the Housing Department's website, students in group four will be assigned rooms between June 13-30 and group five will have rooms assigned between July 1-Aug. 1. This means that as rooms fill up, it will be students in group four and five who are more likely to experience difficulties, such as increased room capacity or hotel living.
"I should know when I will [get my room], but I don't. I should find out late this summer," Hunter, a member of group five, said.
Due to the first come first serve nature of housing, groups one through three were able to go through roommate selection, whereas groups four and five will, once again, be filled in where available.
"I didn't make the deadline, unfortunately, to pick my roommate but the one that I was assigned the one
FROM FRONT MEALS
that chose the other room in my apartment," Franklin said. "It's really easy to get in contact with her, she just sent me a message and then I got her Instagram and it's really simple."
Our permanent occupancy on campus is 6,853 students. As in past years, we will utilize flexible housing spaces to accommodate students as needed."
BILL MATTERA Executive Director
For some students last year, the housing experience was soured by a shortage of rooms. In 2022 the university accepted a record breaking 7,573 incoming freshmen, which led to enrollment levels of around 38,000 students. The huge number of students needing housing led to a shortage of dorms, forcing some students to live in hotel rooms rented by the university. Uncertainty remains around whether or not such methods will be needed again this school year.
"Our permanent occupancy on campus is 6,853 students, as in past years, we will utilize flexible housing spaces to accommodate students as needed,"
Last fall, Texas State introduced the largest freshman class of the university's history and with expectations that this year will be even larger, dining has started making changes to adapt to the new class.
One change that the university has already started is adding new technology to dining centers to make the process of ordering and receiving food more streamlined and faster.
"We have new technology that we leverage to improve the speed of line service," Villarreal said. "There's going to be the addition of self-serve kiosks and 100% touchless checkouts in LBJ and Paws N' Go."
The self-serve kiosks will allow students to order their own food and pay for it without having to talk to a cashier. Students can use their meal plans at the kiosk and they will be installed in Burger 512, Chick-fil-a, The Den and Jones Dining Center.
The touchless checkouts scan the items that students are buying and accept payment through card and dining dollars. These will be located in the LBJ Marketplace and Paws N Go.
Texas State will also be increasing the hours of operation of retail locations at the LBJ Student Center to increase availability of dining for students.
Villarreal recommends that students use the Dine On Campus website and app to stay up to date on hours and menus for the dining halls.
"The best resource we have for our students is the Dine On Campus website and app... which will tell them the hours of operation and the menus for all of the dining halls that change every single day," Villarreal said.
For more information on dining on-campus and meal plans, visit the Texas State Auxiliary Services website.
Mattera said.
To help prevent the same housing shortage, and to improve the experiences of students, the university had to turn to extreme measures. The university announced that they will no longer offer on-campus housing to upperclassmen, instead focusing on only freshmen.
"We closely monitor and track our occupancy in the summer as students participate in New Student Orientation, determinations about additional housing options will be made as needed throughout the summer," Mattera said.
For returning students, the changes by the university led to frustration and concerns about affordability and accessibility. To combat this, the Department of Housing and Residential Life offers off-campus living assistance for students.
"The Off-Campus Living unit within our department is a great resource for students who are looking for assistance in finding housing. We host an off-campus housing marketplace where students can shop complexes and utilize a budget calculator to make good decisions for themselves financially," Mattera said.
The fall 2023 move-in dates for new students is Aug. 13-14.
NEWS Tuesday, June 6, 2023 | 3 The University Star Blake Leschber News Editor starnews@txstate.edu
680 OAKWOOD LOOP SAN MARCOS, TX 78666 THU 11-10 FRI 11-10 SAT 11-10 SUN 11-8 BEER/WINE • KITCHEN • LIVE MUSIC PRIVATE EVENTS • FAMILY FRIENDLY Together Be(er) Outdoors
Housing and Residential Life
of
Incoming Texas State student Sophie Lemus grabs lunch during New Student Orientation, Wednesday, May 31, 2023, at LBJ Marketplace.
TIFFANY'S COOKIES AND A CHANCE TO BE FEATURED ON THE UNIVERSITY STAR INSTAGRAM! SCAN TO PLAY Look for these symbols like these on University Star newsstands, take a picture of yourself with it and tag @ Universitystar! Have fun! Winners will be announced AUG. 25
PHOTO BY MANDALYN LEWALLEN
Sacred Springs Kite Exhibition takes a flight to San Marcos
By Haley Velasco Life and Arts Editor
At the San Marcos Public Library while checking out books or finding a spot to work, kites can be found floating from the ceiling with artwork filled of flowers, water, wildlife and greenery. This year, the Sacred Springs Kite Exhibition is here to stay all summer.
The Sacred Springs Kite Exhibition, partnered with the San Marcos Arts Commission and created by Art4Water, an art program by the Watershed Association, displays more than 50 kites in the San Marcos Public Library, San Marcos Activity Center and The Meadows Center. These are made by more than 30 local and national artists.
The Sacred Springs Kite Exhibition is the first project for Art4Water with the intention to raise awareness and promote protection on Texas springs.
"Art4Water's intention is to bridge the gap between culture and conservation," Aliya Rose, Art4Water coordinator, said. "We're at a really critical moment in human history and I think the message of conservation... in regard to water is really important. But we can make sure people are inspired, excited and engaged with the art and also educated at the same time."
The Watershed Association, a nonprofit organization, was formed in December 1996 by David Baker. Baker, a local Wimberly resident who resided next to Jacob's Well and a group of local landowners, found a threat to Jacob's Well and Cypress Creek after construction was done, in place harming the water resources.
Now, the Watershed Association offers education on land conservation, guides on Jacob's Well and a community garden at Jacob's Well for local gardeners to learn, grow and much more.
Although the Sacred Springs Kite Exhibition is the first project for Art4Water, members of the Watershed Association have future plans to keep the kites flowing while also implementing youth mentorships. Rose aspires to create a program to connect young artists and older artists for a multigenerational educational opportunity in the nearby future.
For now, the Sacred Springs Kite Exhibition is in its second running after a turnout of over 300,000 people viewing the kites for the first time in Austin at the Austin Public Library in 2022.
One of the artists that joined the Sacred Springs Kite Exhibition in 2022 was Topher Sipes, a local artist in San Marcos. From being an art director for Entheo
ADVICE
Digital, a digital software therapeutic company, to a virtual reality performer for shows like the Houston Symphony, Sipes passion for art has always remained strong.
His other passion is the environment, having once worked for The Meadows Center as an environmental interpreter for the glass-bottom boat tours. Through the Sacred Springs Kite Exhibition, he has been able to let his passions shine.
"It's a really unique exhibition to be a part of," Sipes said. "Having my history in relation to education around spring water conservation is close to my heart so it's incredible to be a part of a themed exhibit around those things."
This year, Sipes' kite depicts the Meadows Center of Spring Lake with clear water, a boat, birds and trees in the background. This artwork has been used for over 10 years by the San Marcos Convention and Visitor Bureau (CVB) as the prize for the annual Rogers Family Tourism Award.
"I think my work is a reminder of an opportunity for people to access the water and have a deeper understanding of the water, where it's coming from, how our actions can effect it and the uniqueness of this particular water," Sipes said. "In this case, it's the
San Marcos springs and the San Marcos River and there's all these very unique endangering species that are native to the springs and ancient human history, as well."
Charlotte Wattigny, the creative and marketing manager for the San Marcos CVB, took part in organizing the Sacred Springs Kite Exhibition this year as part of the San Marcos Arts Commission. Wattigny believes that this kite exhibition will allow for locals to understand that sacred springs need to be kept sacred. "It not only highlights different art in our community, but also hopefully people that view it will start thinking about the sacred springs in the area," Wattigny said. "Since we have one, it's really important to protect it."
The Sacred Springs Kite Exhibition will remain open until September 2023.
For more information scan the QR code.
TXST psychology encourages swapping screen time for long-lasting memories
By Bella Vogiatzis Life and Arts Contributor
Despite screen time's potential dangers, technology is a part of this world, and it does have its advantages, Lasser said. Screens can facilitate interactions with new friends, help students discover clubs and organizations and more, but it's vital to balance screens with real life experiences.
Sydney Hutchins, a Texas State alumna who graduated with a bachelor's degree in psychology in May, noticed the amount of time she spent on her phone during her freshman year at Texas State and decided to make a change.
"I researched hobbies online and I found some that I didn't have to spend any money on," Hutchins said. "You know, things you can do around San Marcos that are entertaining." Her favorite things to do around San Marcos are exploring the local coffee shops, sunbathing and swimming at Sewell and rollerblading at the Lion's Den. These real-life experiences helped her create unforgettable memories.
When she realized how much time she was spending on her phone, Hutchins decided to monitor her screen time and set notifications to alert when a certain time passed.
"I feel like it takes away from experiences that you can have in real life and in the moment, and you're choosing to stay on your phone," Hutchins said.
Hutchins' college experience flourished with less screen time and more real-life activities and adventures. She encourages students to step outside of their comfort zone and enjoy San Marcos' hidden and not-so-hidden gems. Hutchins believes there are many activities that students should take advantage of in place of screens, whether it be exploring the river, taking a walk around campus, listening to music or expressing creativity through arts and crafts, with friends or alone.
Emma Schuetz, Texas State alumna who graduated with a bachelor's degree in psychology in December 2022, has a similar perspective as Hutchins on her advice on screen time.
Schuetz studied the effects of screen time on the brain during her brain and behavior class at Texas State. The results showed that screen time worsens attention spans and affects the dopamine reward system.
In a generation surrounded by technology, it's important for many to balance screen time with real life experiences that provide the opportunity to grow, learn and make memories that will last a lifetime. Phones may seem like the easiest outlet to turn to in times of boredom, but San Marcos and Texas State have other things to offer in place of screens.
Jon Lasser, Ph.D., psychologist and Texas State professor in the School of Education, encourages students to balance screen time with in-person adventures and interactions.
"Instead of getting on your phone, enjoy the river," Lasser said. "Get off campus and explore San Marcos and the surrounding areas, spend time talking to people who are different from you."
Lasser said although research on screen time's effect on mental health is hard to prove scientifically, engagement in real life, face to face interactions and physical movement are part of a healthy lifestyle.
"When we spend a lot of time in front of screens, we're often missing out on some of those opportunities," Lasser said.
Lasser urges students to take advantage of all the opportunities at Texas State, even if that means stepping out of one's comfort zone. Trying new things, meeting new people and exploring the city are bound to provide positive experiences.
"Whenever you're just on your phone for like seven hours plus, you're getting so much dopamine that at the end of the day, you need so much more stimulus to get the dopamine that you just get more anxiety without it," Schuetz said. "It completely destroys your dopamine reward system."
Schuetz knows firsthand how too much screen time can affect one's mental health. When COVID-19 was at its peak, she spent hours on her phone, leading her to depression.
Monitoring her screen time and putting her phone away helped her regain motivation to do activities, try new hobbies and enjoy nature.
"I feel like that helps so much with it," Schuetz said. "I guess like, in short, it helped me come out of my shell."
Schuetz advice to students is to utilize screen time limits, delete apps that are highly addictive and live in the moment. She urges students to explore The Meadows Center, swim in the river and take advantage of the hiking trails in San Marcos.
"There's a lot of places to go in San Marcos, it's just that freshmen don't really know that," Schuetz said. "I feel like it's not really expressed."
To learn more about what to do in San Marcos, visit www.visitsanmarcos.com/ events.
Haley Velasco Life and Arts Editor starlifeandarts@txstate.edu 4 | Tuesday, June 6, 2023 The University Star LIFE & ARTS
ART
Local San Marcos artist Topher Sipes' kite hangs from the ceiling in front of kites from the Sacred Springs Kite Exhibition, Sunday, June 4, 2023, at the San Marcos Public Library.
PHOTO BY HALEY VELASCO
ILLUSTRATION BY HARRISON MOORE
LIFE & ARTS
FROM FRONT PARKS
For those who work at Sewell Park helping sell raft and outdoor rentals, their personal reflection of Sewell lies with a connection for the nature of the park.
"Sewell just is a very special place to me that keeps me coming back, and it makes me glad to spend a lot of my time here," Kim Lumsden, a wildlife biology senior, said.
Another way that students connect to nature at Sewell Park is through river rafting. River rafting is a popular venture for those experiencing the river, as the discounted rental rafts for students provides a way for large groups to experience the river together. Parkgoers are also allowed to bring their own rafts from home.
Lily Dahl, wildlife biology junior, typically spends her days at Sewell Park river rafting.
"My favorite memory has to be doing the river rafting here," Dahl said. "Super fun and just being around the river is great on campus."
The legacy and popularity of Sewell Park has also led campus sponsored events such as the annual 2023 Gaillardia Fest, hosted by Texas State Student Association for Campus Activities. Along with third party event producers Apogee Events and their 2023 San Marcos Festival.
Summer in the Park with Bill Kirchen & Too
Much Fun: 7:30 - 9:30 p.m., June 8 at San Marcos Plaza Park
Texas Water Safari: 7:30 p.m., June 10 at The Meadows Center
National Outlet Shopping Day: June 10 - 11
San Marcos Premium Outlets
Summer in the Park with Brave Combo: 7:30 - 9:30 p.m., June 15 at San Marcos Plaza Park
Spring Lake Guided Kayak Tours: June 17 and June 25 at The Meadows Center
Spring Lake Guided Snorkel Tours: June 11, June 18 and June 24 at The Meadows Center
Summer in the Park with Donovan Keith: 7:30 - 9:30 p.m., June 22 at San Marcos Plaza
Park
Bubble Fest: 10 a.m. to 2 p.m., June 24 at Eddie
Durham Park
Firecracker 5k: 7:30 p.m., June 29 at Five Mile
Dam - Johnson & Vetter River Park
ENVIRONMENT
TXST students and professor seek to purify dirty water in San Marcos
By Haley Velasco Life and Arts Editor
Keisuke Ikehata, a Texas State civil engineering professor, has had a passion for clean water for over a decade. Conducting research and projects to purify water has been a necessity for him both at his original home in California and now in Texas where he has resided for five years.
Ikehata is now working to purify water to make it drinkable with the help of Texas State students who share a common passion for gaining trust in water within the San Marcos community.
Since 2021, Ikehata and his student lab mates have made wastewater, brackish lake and groundwater, stormwater and seawater clean through a pilot advanced water purification system at the City of San Marcos Wastewater Treatment Plant.
"This is what my passion is," Ikehata said. "I'm not too much about preserving the nature in water. I'm actually reusing the water within the community so that we don't have to rely on stealing water from the rivers or groundwaters. That actually makes us more self-sufficient and it's circular."
Now, the team is striving to make the process more efficient and effective. Since 2022, Emma Clow, an aquatic resources graduate student, has been conducting a reverse osmosis concentration project, a technique used to purify water through desalination.
The plan to take on this project rooted from Clow's love for nature and her determination to make water more accessible, especially after departing from Arizona where she attended Arizona State University for her bachelor's degree in environmental science.
"I grew up in Washington state... I was always swimming as a kid and then I went to school in Arizona, and it was vastly different from there," Clow said. "I learned how lucky I was to just be surrounded not only by beautiful waterways but also not have to worry about water shortages."
For Carlos Espindola, a civil engineering graduate student, his main project is maintaining the smell, odor and appearance of purified water. Ever since joining Ikehata in May 2021, Espindola has tackled the task of making the water safe and trusting for the San Marcos community to drink and finding solutions to other environmental issues in order to do so.
"I think it's very important when it comes to providing the public with safe drinking water that they can have confidence in drinking," Espindola
said. "For this project, it also takes into account wildlife discharging into our water bodies. If we can minimize that, it could be a great step toward having less of an impact on our environment."
As Ikehata's team is making efficient steps into purified water for the San Marcos community, they also encourage Texas State students to be contributors to a safe and healthy water environment.
Ikehata believes that with less pollution and plastic-use, society can maintain a better environment.
"Together we should be able to make it better," Ikehata said. "There are multiple ways to do this. Don't litter at all, reduce the amount of plastic you use every day and please use a reusable water bottle."
Espindola believes that joining environmental focused student organizations is a good way for Texas
State students to become environmental contributors. Some organizations include the Environmental Conservation Organization, Texas American Water Works Association, Engineers for a Sustainable World and others.
Espindola also believes knowledge on water environment is vital to becoming an environmental contributor. This knowledge could be attained with the help of The Meadows Center, Texas State's mainland to educate on water and the environment.
The Meadows Center is the home to Spring Lake, in which the San Marcos community is given the opportunity to explore the lake through glass-bottom boat tours, scuba diving, snorkeling and more.
Clow recommends similar solutions to Ikehata and Espindola of less plastic usage and becoming more knowledgeable of the environment, but she also recommends Texas State students to indulge in the San Marcos River.
"Be really mindful of the San Marcos River, because it is such an amazing resource and I absolutely adore being in San Marcos mostly because of the river that we have," Clow said. "I love seeing people out there and enjoying it and people should do that, but I think you just need to respect it. Don't step on the wild rice."
To learn more about water and the environment within San Marcos scan the QR code.
Haley Velasco Life and Arts Editor starlifeandarts@txstate.edu
Tuesday, June 6, 2023 | 5 The University Star
Texas State graduate student Carlos Espindola prepares chemicals for the advanced water purification system, Friday, June 2, 2023, at the Ingram School of Engineering.
PHOTO BY MARISA NUNEZ
An aerial shot above Sewell Park, Tuesday, July 26, 2022.
PHOTO BY JEFFREY HALFEN
Opinions in The University Star are not necessarily those of our entire publication, Texas State University's administration, Board of Regents, School of Journalism and Mass Communication or Student Publications Board.
Utilize resources during class registration
By Faith Fabian Opinions Contributor
The first year of college is a time filled with amazing memories, but it can also contain plenty of fear. However, it is important to conquer that fear in order to seek out the abundant resources that will guide you through one of the most daunting tasks: class registration.
Utilizing academic advisers and career services will enable freshman students to feel less anxiety about their choices and the registration process as a whole.
According to a survey by Medium of over 3,000 students across the United States, the number one fear among high school students entering college is choosing the wrong major. It is common to feel anxious about choosing a major and the classes to fulfill it, but it is important for incoming freshmen to know that it is normal to not know exactly what to do, and there are academic advisers who are eager to provide assistance.
Academic advisers are counselors that help students choose a major as well as a degree plan that will ensure the student graduates on time. Advisers inform students about required curriculum as well as credits that need to be obtained every year, so it is important to seek out advisers when clarification is needed during the registration process.
At Texas State, there are advisers within each college, but there are also exploratory advisers who help new students looking to explore different majors, as well as registration strategies for when the time comes to enroll in
COMMUNITY
classes independently.
Academic advisers are available to first-year students during New Student Orientation (NSO), but the meeting is short and focuses on only the first semester. It is important to continue meeting with an adviser every semester when class registration renews.
Emily Quartz, a psychology sophomore, explained why it is
INFOGRAPHIC BY FAITH FABIAN
important to pursue further advising instead of relying solely on the short NSO advising session.
"I ended up taking a class that I got credit for in high school and then it took me three different advising appointments to get the issue sorted out," Quartz said. "The Liberal Arts adviser was extremely helpful in helping me plan the rest of my academic career
at Texas State."
Making an effort to meet with a specific college adviser can be important because they specialize in the degree plan the student is interested in and they can provide specific information about the classes needed for that degree and how to register for them.
For new students who are unsure about the major they are choosing and what career they would like to have, registration can be stressful. It is a time when concrete decisions are made in order to progress down a specific academic or career track, and this can induce anxiety.
However, there is a resource that, if utilized before registration, could help alleviate those anxieties. Career Services, located on the fifth floor in LBJ, exists to help students prepare for the future by providing career counseling, career fairs and many other services that will help give students a better idea of what they would like to pursue.
Reaching out to academic advisers and Career Services is an action that can greatly reduce the stress around registering for new classes as a firstyear student. Take the time to explore possible majors, minors and career paths; the most important thing to remember is there is nothing to be afraid of.
-Faith Fabian is an English sophomore
The University Star welcomes Letters to the Editor from its readers. All submissions are reviewed and considered by the Editor-in-Chief and Opinion Editor for publication. Not all letters are guaranteed for publication.
Shop secondhand for a sustainable future
By Faith Fabian Opinions Contributor
Clothes are important. Every day, we get up in the morning and pick out an outfit. It's a simple and universal habit, but it holds immense importance. Fashion is how many people express their identity, creativity and inner selves.
Clothing also plays a large part in our societal perceptions, and for many college students, keeping up with fashion trends can seem vital. However, where we buy our clothes is just as important, and young people must become more conscious of their consumption habits. Buying secondhand clothing aids the environment, saves money and benefits the San Marcos community as a whole.
Because of the internet, fashion trends are changing and moving faster than ever. In an attempt to meet the demand for new clothes, "fast fashion" industries have become extremely powerful.
Fast fashion industries are clothing brands that produce excessive amounts of clothing but for a lower cost. In order to ensure ultra-productive cheap clothing, these industries abuse the environment by using synthetic materials that do not biodegrade. They also prioritize cheap labor, producing in foreign countries and engaging in harmful labor practices.
The environmental cost of the increased consumption of fast fashion products is making itself apparent. In the United States, over 34 billion pounds of textile is thrown out every year. 66% of those textiles end up in landfills, where it can take up to a hundred years for some of the materials to decompose.
The fast-paced trend cycle combined with the poor quality of fast fashion items has led to people throwing away clothes at an alarming rate. It is easy to throw away clothing, but it is important to consider where these clothes end up: landfills, sometimes gutters and as air pollution when the clothes are burned.
Selling and buying clothes secondhand is a way to keep clothes in circulation and help prevent excess waste in landfills. Thrift shopping usually also takes more time, reducing the chances of overbuying.
Rachel McCartney, a manager at Old Soul Exchange, a local vintage thrift store, said she believes
EMPLOYMENT
the environmental impact is one of the most important reasons people should shop secondhand.
"[Thrifting] keeps textiles out of the landfills, and it is one of the most eco-friendly things you could do," McCartney said.
One of the major reasons people choose to buy from fast fashion brands such as Shein, Forever 21 and Zara is because they are cheap and affordable. This is understandable; many people do not have the money to pour into organic, sustainable clothing brands. However, buying clothes secondhand can be an alternative that also saves money.
where people can buy and sell limited-edition shoes. The store carries many popular and valuable brands including Air Jordans and Adidas. Through their buying and selling system, shoe lovers can preserve the life value of their secondhand shoes and find editions that one could not typically find by buying all-new shoes.
Shopping for secondhand items can also be a way of giving to the community. Twice Blessed Consignment Shop in The Square is a great shop that sells secondhand items, and the business is entirely non-profit. The proceeds aid the First United Methodist Church in San Marcos.
Have a Heart Thrift Store in San Marcos is another shop that significantly aids the community by giving back. The shop gives proceeds to the Family Grief Center at Central Texas Medical Center. The Family Grief Center is an important place that provides counseling to hospice patient's families, and the community as a whole.
Shopping at these stores is also a method of supporting small businesses in San Marcos. Stores such as Vagabond and Love Buzz are located on The Square, and they sell valuable vintage items that are unique and all secondhand. These stores garner San Marcos's diverse range of small businesses, and supporting them is good for the community.
"I've always loved the story that goes with a piece of clothing that has had more than one life… also, Vintage clothing is made better, it is better quality and it's gonna last you longer," McCartney said. "It is unique, you won't be wearing the same thing as everyone else."
Thrifting and looking for secondhand clothes is a way to find unique and authentic clothing items without the burden of expensive prices. On average, those who utilize secondhand shopping save about $150 a month, or $1,760 a year.
Saving money while secondhand shopping does not always mean sacrificing quality. Many people enjoy thrifting as a way to find name-brand items, even limited edition items can be found while engaging in secondhand buying.
Texas Shoe Exchange is a shoe store in San Marcos
Thrifting is increasing in popularity amongst young people searching for vintage and retro items that match an aesthetic, but the benefits of doing this are much more significant than simply catering to a fashion style.
Buying and selling secondhand clothing is a way to combat harmful fast fashion brands from dominating our closets, a way to save money while still finding valuable items and contribute to small businesses in San Marcos.
-Faith Fabian is an English sophomore
On-campus jobs provide students with benefits
By Rhian Davis Opinions Editor
Financial stress can impact how well incoming freshmen adjust and their academic performance. It is important to get acquainted with a new environment but it can also be beneficial to have a somewhat steady income. Getting a job right away can be scary, especially in a town that for most students is brand new. However,
on-campus jobs are a great option that allow students to prioritize school while also earning money.
Texas State offers a variety of on-campus jobs for students in the work-study program or for those who are just looking to earn some extra cash. Some jobs include working in residence halls, at the library or as a campus tour guide.
-Rhian Davis is a journalism sophomore
To continue reading this column scan the QR code.
6 | Tuesday, June 6, 2023 The University Star OPINIONS Rhian Davis Opinions Editor staropinions@txstate.edu
SUPPORT
ILLUSTRATION BY MADISON WARE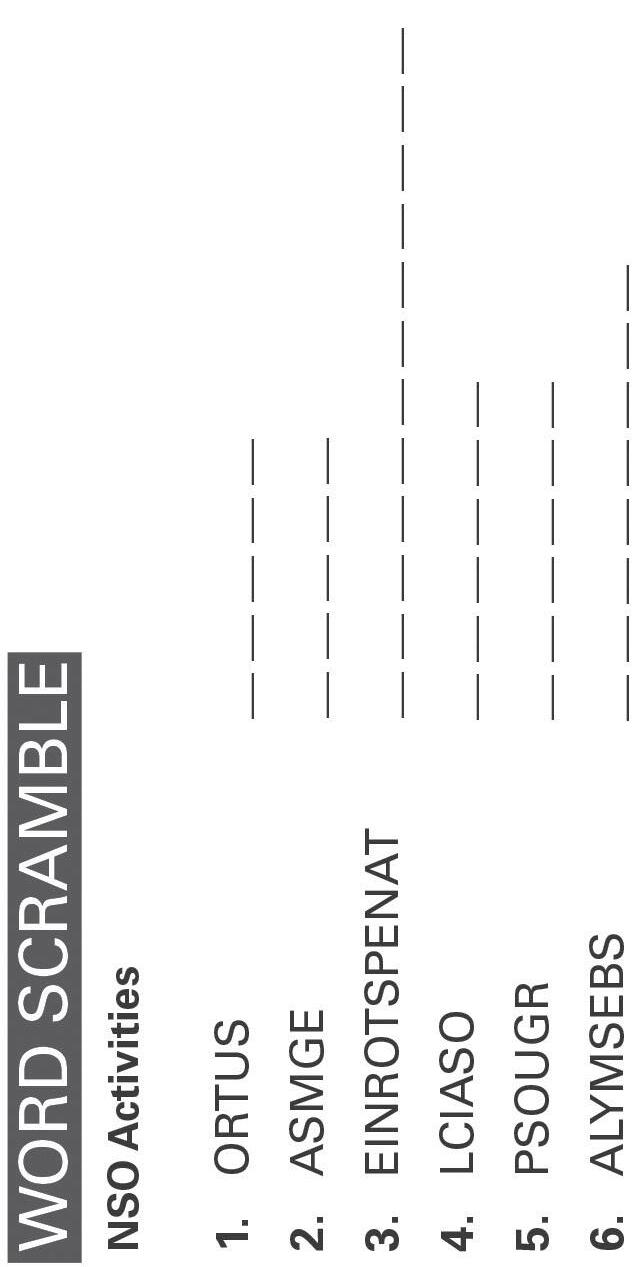 Tuesday, June 6, 2023 | 7 The University Star
8 | Tuesday, June 6, 2023 The University Star
INFOGRAPHIC BY MADISON WARE Tuesday, June 6, 2023 | 9 The University Star
Pair of Bobcats earn All-Sun Belt honors
By Kobe Arriaga Sports Reporter
The 2023 Texas State softball roster features two key players receiving awards following the end of the season, as junior right-handed pitcher Jessica Mullins and senior infielder Sara Vanderford were named All-Conference selections for their performances this season.
Vanderford is named to the 2023 Sun Belt All-Conference second team, with Mullins receiving a first-team All-Conference selection for the third consecutive season.
Texas State Head Coach Ricci Woodard reflects on the hard work displayed by both players and recognizes the standard they have created for themselves over the past few years.
"The last three years have kind of circulated around those two names, so it's no surprise," Woodard said. "They both compete their tail-ends off every day, and there's never a surprise when those two names come up at the end of the season."
Both Mullins and Vanderford helped lead the Bobcats to an overall record of 35-25-1 this season, with appearances in both the Sun Belt Conference tournament and 2023 NCAA Regionals.
Mullins expressed her gratitude for being awarded first team All-Conference, and said the standards she holds for herself leads her to becoming more accustomed to the recognition she's received.
"Gaining that kind of recognition is really special because I'm not only representing myself, but I'm representing my team and I'm representing Texas State," Mullins said. "I feel like Texas State needs that recognition too, and it just makes me proud to be a part of this university."
Mullins completed the 2023 season with 22-12 record, holding a 1.88 ERA and a total of 176 strikeouts on the year.
Vanderford finished with seven home runs and 39 RBI while starting in all 61 games this season.
Vanderford has proven herself as a leader both on and off the field and credits her teammates during her freshman year for showing what it means to lead and make her team better.
"I truly believe that's why I am the way I am today because without them I wouldn't have known anything," Vanderford said. "They showed me around the ropes, and they took me under their wing and without them I would not be the Sara that I am today."
Mullins said the leadership displayed from Vanderford highlights her ability to make others better along with putting in extra work every single chance she gets.
"Sara does a really good job of being a leader, I'm very proud of her from the way that she's grown since I've been here," Mullins said. "It's just amazing to see her blossom as a leader, a person and a player."
Vanderford expressed gratitude for her All-Conference selection, and said her true aspirations are centered around winning ballgames rather than for her own image or awards.
"I'm here because I want to win, not for personal recognition," Vanderford said. "I couldn't do it without the team because they push me every day and so now it's just my job to push them."
Vanderford feels honored with the All-Conference selection and credits her hard work throughout the season for being able to get recognized in a growing conference with an abundance of talent.
"The Sun Belt is only getting better, so anytime that you can be selected for something like that is something to be thankful for," Vanderford said. "But that's not without the hard work that goes into it."
Mullins describes the amount of work it takes to be an All-Conference player and states that the summer off-season is the most important time to put in the work because that's what prepares you for next year.
"All of the hard work starts over the summer in practice, it's always the things you do when no one is watching," Mullins said.
10 | Tuesday, June 6, 2023 The University Star SPORTS
Editor starsports@txstate.edu
David Cuevas Sports
SOFTBALL
Texas State senior infielder Sara Vanderford (26) talks to junior pitcher Jessica Mullins (4), Friday, April 22, 2023, at Bobcat Softball Stadium.
PHOTO BY CARLY EARNEST