2021-2022 YEAR IN REVIEW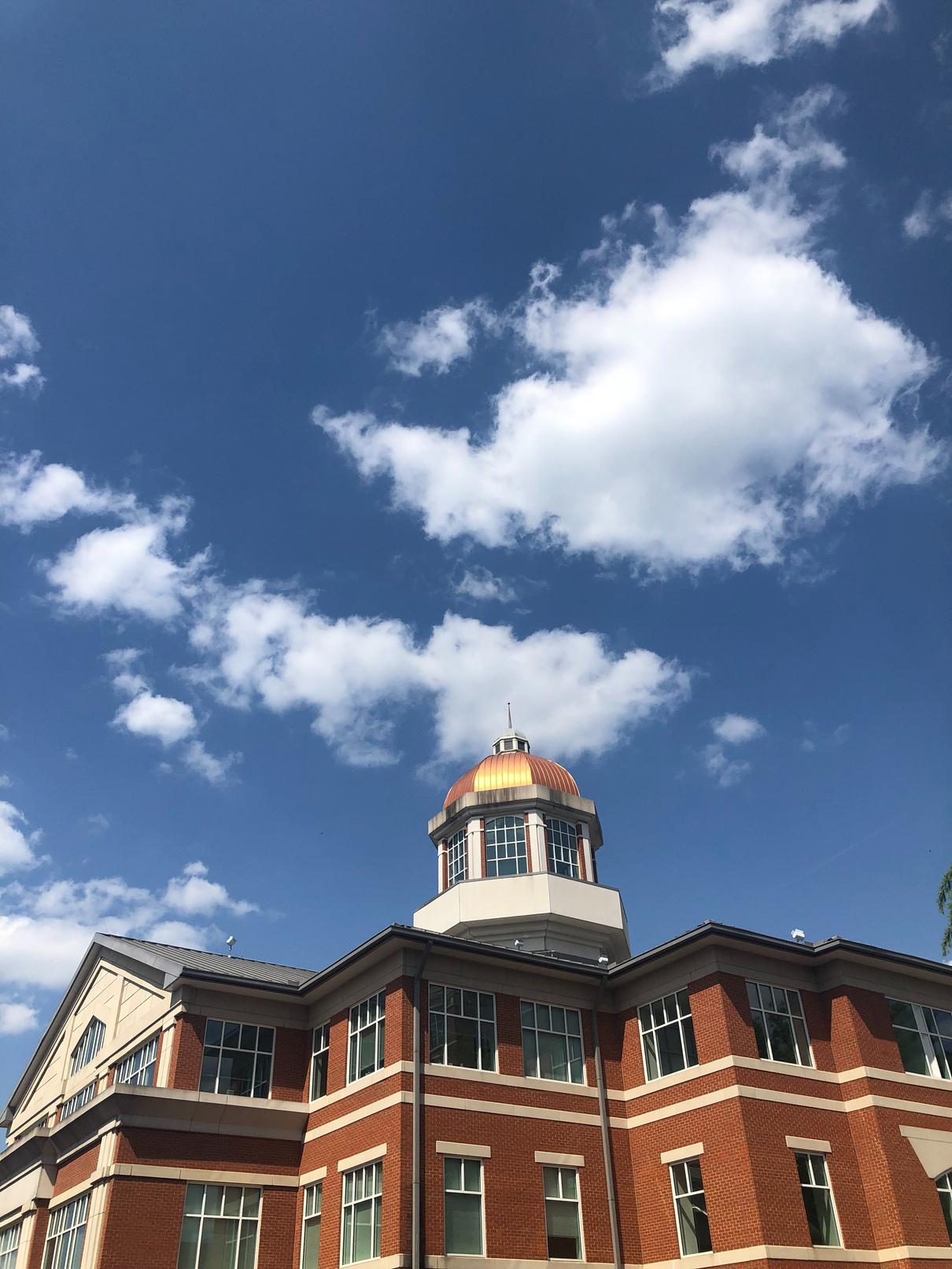 SCHOOL OF SOCIAL WORK Upper Division Senior BSW Students 80 Social Work Lower Division Major Students 141 Upper Division Junior BSW Students 81 Total Number of Undergraduate Students 302 Early Childhood Mental Health Graduate Certificate Students 11 Traditional / Campus Based MSW Students 114 Distance Education / Online MSW Students 101 Total Number of Graduate Students 226 Number of BSW Students Placed for Field Education 81 Total Number of Students Placed for Field Education 243 Number of MSW Students Placed for Field Education 162 Number of Agencies Partnered with our Field Office 275+
The School of Social Work continued to grow, enrolling 528 total students in 2021 2022. The Bachelor of Social Work program enrolled 141 Lower Division and 161 Upper Division students, with 80 Upper Division BSW seniors graduating in May 2022. The Master of Social Work program enrolled 215 total students, with 95 MSW students graduating in May 2022, including 30 1 year Advanced Standing, 46 2 year, and 19 3 year Distance Education students. The Early Childhood Mental Health certificate enrolled 11 students. The Field Office is responsible for administering the social work Field Education program which includes placing students in their practicum and overseeing the compliance process. In addition, the Field Office develops field policies and seminar materials, manages recruitment and retention of affiliated agencies, and hosts student and community events. The Field Office also approved 11 students for Child Welfare Education Collaborative Certificates, coordinated by Dr. Ticola Ross Professor Jacquelyn Garcia became the new coordinator for the School Social Work Licensure Thanks to the entire Field Office, which includes Dr. Ticola Ross, Field Director, Frances Ferrante, Field Placement Coordinator, Jacquelyn Garcia, Field Placement Coordinator, Kris Taylor, Field Placement Coordinator, Cheryl Whitley, Field Office Support Staff, and Cali Wickert, Field Education Specialist, for their dedication to Field Education!
Dr Susan McCarter (left) receiving the award with Provost and Vice Chancellor for Academic Affairs Joan Lorden (right).
nationally, and globally. See the graphic
the
in various research
PROFESSORSHIP IN CIVIC ENGAGEMENT
publications, reports, and more throughout the 2021-
DISTINGUISHED FELLOW TO THE NATIONAL ACADEMIES OF PRACTICE
our faculty.
Associate Professor Dr. Suzanne Boyd was elected as a Distinguished Fellow to the National Academies of Practice (NAP), Academy of Social Work for her interprofessional practice contributions in health services research (including mental health) and child welfare Class of 2022 Fellows were welcomed into the NAP during the awards and induction ceremony in San Diego, California on March 5, 2022 NAP is an interprofessional nonprofit organization with membership representing a range of healthcare professions willing to serve as distinguished advisors to healthcare policy makers in Congress and elsewhere.
UNC Charlotte School of Social Work faculty participated projects, presentations, 2022 academic year at UNC Charlotte, to the right for research numbers from
FACULTY EXCELLENCE & RESEARCH
Dr. Susan McCarter was the 2021 2022 recipient of the Bonnie E Cone Professorship in Civic Engagement This competition award is given annually to a tenured member of the UNC Charlotte faculty whose teaching and/or research embodies the University's commitment to civic involvement, and whose work profoundly and systematically affects the relationship between UNC Charlotte and the larger community in a positive and meaningful way School of Social Work faculty, staff, and students supported Dr McCarter at the awards ceremony in the Harris Alumni Center on
March 31, 2022 Peer Reviewed Publications 58 Peer Reviewed Presentations 17 Grants 14 Book Chapters 2 Technical Reports 6 Funded Research Projects 8 Invited Presentations 11 FACULTY RESEARCH
THE CAREGIVER TLC: THRIVE, LEARN, CONNECT PROGRAM
Dr. Julian Montoro-Rodriguez is currently the principal investigator and project lead for Caregiver TLC: Thrive, Learn, Connect This project, made possible through a grant from the Southminster Community Fund, offers an evidence based training to caregivers to try to reduce stress and depression, improve management of care plans for care recipients, and refresh communication skills Participants are trained in strategies for maintaining connections with community members, family, and friends, and building coping skills
FACULTY EXCELLENCE & RESEARCH
Mennicke is currently leading or contributing to 5 projects funded by the Centers for Disease Control and Prevention, Office of Women's Health, Substance Abuse and Mental Health Services Administration, and National Institutes of Health, totaling over $4 million
NIH INSTITUTE ON RANDOMIZED BEHAVIORAL CLINICAL TRIALS
UNC CHARLOTTE URBAN INSTITUTE
Associate Professor Dr. Annelise Mennicke's research focuses on designing the next generation of bystander intervention programs Bystander intervention is a successful harm reduction strategy that has been limited to sexual violence prevention, despite its promise to work to prevent other types of harm As such, Mennicke and colleagues are applying the bystander intervention approach to new areas such as child sex trafficking, maternal death and injury, and risky drinking among college students
In October 2021, the UNC Charlotte Urban Institute held a virtual panel to explore economic mobility and workforce development They highlighted research from UNC Charlotte, including the School of Social Work's Assistant Professor Dr. Tianca Crocker, about communities of color and their access to technology and employment, as well as strategies from around the region to help prepare workers for the jobs of tomorrow
BYSTANDER INTERVENTION PROJECTS
Assistant Professor Dr. Sonyia Richardson was selected to participate in the competitive Summer Institute on Randomized Behavioral Clinical Trials sponsored by the NIH Office of Behavioral and Social Sciences Research (OBSSR) and the National Heart, Lung, and Blood Institute (NHLBI) The Summer Institute, held in July 2022 in Potomac, Maryland, provided an intermediate/advanced course in planning, designing, and conducting high impact randomized controlled trials of health related behavioral interventions It emphasized programmatic research and prepared fellows to lead or collaborate on rigorous, high impact behavioral trials and on systematic efforts to develop and improve health related behavioral interventions Dr Richardson will be able to immediately apply the concepts learned to her recently funded NIMH grant, "CA LINC: A Culturally Adapted Care Coordination Suicide Detection and Intervention Model For Black Youth "
NATIONAL CONFERENCE ON SOCIAL WORK AND HIV/AIDS School of Social Work faculty, Kevin Edwards Knight, Kris Taylor, and Dr. Diana Rowan presented "Combatting the White Saviorism Trap in HIV Social Work: Ethical Strategies for White Workers," at the 34th National Conference on Social Work and HIV/AIDS (NCSWH) in New Orleans, Louisiana in May 2022
CONSORTIUM OF MS CENTERS
NATIONAL LATINX CONFERENCE
LIBRARY RESEARCH
Left to right: Kevin Edwards Knight, Kris Taylor, and Diana Rowan at NCSWH 2022
Dr. Beth Wahler is Director of the UNC Charlotte School of Social Work. Her research focuses primarily on public library patrons' growing psychosocial needs, library staff challenges with meeting patron needs, and library/social work collaborations for supporting libraries and their patrons. She is currently conducting a needs assessment of Iowa public libraries, funded by the State Library of Iowa, which examines psychosocial needs of patrons in that state and will help inform statewide interventions and collaborations to help boost the capacity of libraries to support their patrons. This is also the first known study examining differences between urban and rural libraries and their patron and staff needs.
Dr. Suzanne Boyd presented at the The Consortium of Multiple Sclerosis Centers Annual Program Meeting in Orlando, Florida in October 2021, with a poster on "Using a University CANVAS Learning Management System to Increase Knowledge about MS: The Multiple Sclerosis Student Advocates Program as an Educational Intervention " The objective of this learning management system is to increase knowledge about MS resources in a university and local setting via Canvas technology (Zoom) "popup" events
Clinical Assistant Professor and BSW Program Director Roger Suclupe presented at the LSWO (Latino Social Workers Organization) National Latinx Conference in Chicago in April Professor Suclupe presented "Lights, Camera, Social Work: Creating awareness and encouraging advocacy for Immigrant and Latino communities through the utilization of film" with filmmaker Theo Rigby on April 7, 2022 Professor Suclupe also presented on "Social Support, Faith, & Resilience: The Latino Immigrant Experience" with Dr Keri Revens on April 8, 2022
FACULTY EXCELLENCE & RESEARCH
Roger Suclupe (left) presenting at LSWO 2022
Roger Suclupe
The founders of the ICARE program included four MSW students along with Dr. Sonyia Richardson and Clinical Assistant Professor Roger Suclupe.
The Race and Social Equity Academy (RASE) fosters the scholarship of practice and research focused on advancing racial and social parities within the community. Along with empirical scholarship, race dialogue is supported through intellectual discourse, bringing together thought leaders in our community representing a variety of perspectives on race and social equity matters. RASE work helps shape the contemporary understanding of the causes and consequences of the disproportionate effects of racial and social disparities on individuals, families, and communities. RASE supports projects that promote culturally responsive approaches that optimize human and community well being. Dr. Sonyia Richardson is the RASE Academy Director.
Shanti Kulkarni
RACE AND SOCIAL EQUITY ACADEMY
INTEGRATED BEHAVIORAL HEALTH PROGRAM
FACULTY EXCELLENCE & RESEARCH
Integrated Behavioral Health (IBH) is an interprofessional care approach where medical and behavioral health professionals work together to address patients' overall health. Beginning in 2017, UNC Charlotte School of Social Work received a four year Health Resources and Services Administration (HRSA) $1.8 million award to offer student stipends, interprofessional curriculum, enhanced training, and community education. After re applying for funding, UNC Charlotte School of Social Work IBH Team received continuation of funding for four additional years. The focus of the HRSA BHWET Grant for the next four years is on high need children, adolescents, and transitional aged youth. The IBH Program is proud to be educating the future integrated behavioral health workforce and improving behavioral health care access regionally. Dr. Shanti Kulkarni is the principal investigator on this grant.
ICARE PROGRAM ICARE (Integrating Comprehensive Accessible Resources Equitably) is a peer led, self sustained enhanced case management pilot project program providing linkage to campus and/or community resources for the UNC Charlotte and local community using the equity implementation science framework model In partnership with the Center for Counseling and Psychological Services, ICARE developed and implemented enhanced case management services that allowed for the identification of health and well being resources in the community at large, linkage to those resources, and follow up to ensure that students were engaged in services
ACADEMY FOR VETERAN AND MILITARY HEALTH
The Academy for Veteran and Military Health (AVMH) is dedicated to improving health and community reintegration of military affiliated populations, including veterans, service members, and their families. AVMH aims to develop partnerships for excellence in actionable research, promoting and sustaining culturally-informed clinical and community-based health care and supportive services, and exchanging information and providing education to address the challenges and health disparities facing transitioning service members, veterans, and their families. Dr. Diana Rowan is the Director of the Academy for Veteran and Military Health. Diana Rowan
Sonyia Richardson
INTERNATIONAL COLLABORATIONS
CSWE SCHOLAR & GLOBALLY NETWORKED LEARNING INITIATIVE Dr. Othelia Lee, School of Social Work Professor, is part of the first cohort of CSWE Scholars in Global & Intercultural Competence, as part of a curricular resource project. The scholars will form a community of educators integrating global and intercultural competence into social work courses using a curricular model developed by the Diversity Center in a unique collaboration with Words Without Borders Campus. The curricular model uses literature from around the world to bring international content to the social work curriculum and can be accessed in its entirety on the Diversity Center's Global & Intercultural Competence Curricular Resource page. Dr. Lee was selected as a scholar due to her participation in UNC Charlotte's Globally Networked Learning initiative. She organized virtual crosscultural discussions with students and instructors in the United Kingdom and China for social work students in her Foundations of Social Welfare courses (BSW).
VISITING FACULTY SCHOLAR
UNC Charlotte College of Health and Human Services invited Dr. Heui Sug Jo to study as a Visiting Fellow from July to August 2022 as part of the Overseas Faculty Research Program of Kangwon National University in South Korea. Dr. Othelia Lee was a host for Dr. Jo, collaborating on a manuscript involving a study of the stystems and infrastructure between the United States and South Korea.
In addition to being a Professor of Sociology & Social Work at UNC Charlotte, Dr. Julian MontoroRodriguez has been collaborating with the Psychology Department at the University of Valencia in Spain over the past few years. Since 2017, he has advised and mentored doctoral students on the research methodology aspects of their dissertations, mostly regarding gerontological research. He most recently traveled to the University of Valencia in October 2021 to advise a doctoral student on their thesis; Integrative Reminiscence in Older Adults in Long Term Care (D. Martinez). Over the years, Dr. Montoro Rodriguez has worked with other doctoral students on their dissertations regarding nonagenarians and centenarians, older adults attending lifelong learning programs, caregiving impacts and gender differences, and is currently mentoring another in progress on caregiving among LGBT older adults. In addition to advising graduate students, Dr. Montoro Rodriguez has led research methods graduate seminars from 2017 2021, as well as having published multiple papers and presentations with colleagues at University of Valencia in Scientific Professional Association Conferences. Dr. Montoro Rodriguez at the University of Valencia mentoring a doctoral student with other faculty advisors
COLLABORATIONS IN SPAIN
SOCIAL WORK PODCASTS FOR THE COMMUNITY
Spark Sessions Podcast is co hosted by Kris Taylor, MSW, LCSW (current School of Social Work lecturer) and alumnus Michelle Vance, PhD, MSW. Kris and Michelle are social work educators who intend to ignite curiosity and change by highlighting voices and invite listeners to build knowledge, networks, and strategies to fight injustices. Join Kris and Michelle as they continue to be inspired by individuals turning advocacy into action.
Season two of Spark Sessions Podcast highlights social workers who are serving as bridge builders and action takers.
WOMEN AND GIRLS RESEARCH ALLIANCE
RACE MATTERS FOR JUVENILE JUSTICE
Listen here: https://www.commongooddata.com/podcast
Listen here: https://www.sparksessionspodcast.com/
GREEN DOT STRATEGY
Dr. Susan McCarter joined YWCA Central Carolinas in September 2021 for an engaging conversation with educational leaders and researchers as they discuss the criminalization of Black and Brown girls in schools from a solutions based lens Dr McCarter also co facilitated a Race Matters for Juvenile Justice's October 2021 Catalyzing Change Sessions, "What Critical Race Theory Is/Is Not and Why it's Such a Hot Topic " These sessions were extensions of the Racial Equity Workshop held by Race Matters for Juvenile Justice
UNC Charlotte students, staff and faculty were invited to attend a virtual research talk in January 2022 to learn more about the science behind the Green Dot bystander intervention strategy Dr. Annelise Mennicke, Associate Professor of Social Work, presented an overview of the research and theory supporting the effectiveness of the Green Dot Strategy and the result of her own CDC funded K01 research to unpack the mechanisms through which the program works to prevent violence
Both Clinical Assistant Professor and Field Director Dr. Ticola Ross and Assistant Professor Dr. Sonyia Richardson attended discussions in fall 2021 for the Women and Girls Research Alliance Dr Ross sat on a panel for a September discussion on "Supporting Our Girls During the Pandemic," while Dr Richardson moderated an October discussion on "Prioritizing Women's Mental Health During COVID 19 "
The Common Good Mixtape is co hosted by Clinical Assistant Professor and BSW Program Director Roger Suclupe with fellow social worker Drew Reynolds. The Common Good Mixtape features interviews with nonprofit and social sector leaders mixed with your favorite 80s/90s memories.
Assistant Professor Dr. Dante Bryant provided perspective about the American criminal justice system in a Public News Service article on Turning Trauma Behind Bars Into Advocacy for Incarcerated Pregnant Women in November 2021.
BLACK MENTAL HEALTH SYMPOSIUM
DIFFERENCE
Assistant Professor Dr. Sonyia Richardson presented at the 6th Annual Black Mental Health Symposium on September 10, 2021 on the topic "Pretty Hurts: Understanding And Preventing Suicide Behavior Among Black Girls "
DIVERSE STUDENT EXPERIENCE
The School of Social Work and the Center for Counseling and Psychological Services hosted events for UNC Charlotte students who identify as part of the Black, Latinx, or LGBTQ+ community Multiple Diverse Student Experiences were held throughout the Spring 2022 semester for students to attend a virtual 60 minute experience on radical healing for diverse student populations These events were hosted by the Center for Counseling and Psychological Services along with the School of Social Work (Dr. Sonyia Richardson and Professor Roger Suclupe)
THRIVING TOGETHER SYMPOSIUM
Students and faculty at the Thriving Together Symposium
Dr. Sonyia Richardson and Professor Roger Suclupe presented "Diverse Student Experience at Charlotte" (see below) about the experiences of student diversity within the university
FILM SCREEN WITH A DEAN
The School of Social Work was a co sponsor of the April 2022 Thriving Together Symposium held for diverse students by the UNC Charlotte Center for Counseling and Psychological Services Our MSW graduate students, employed as Graduate Assistants with the Mental Health Research and Practice Team, facilitated a Radical Healing workshop for attendees
UNC Charlotte College of Health and Human Services hosted another Film Screen with a Dean virtual panel discussion in April 2022 focused on the documentary, The Death and Life of Marsha P Johnson. Dr. Dante Bryant, Assistant Professor in the School of Social Work and an Affiliated Faculty member in the Department of Africana Studies, moderated the event.
MAKING A
TURNING TRAUMA BEHIND BARS INTO ADVOCACY
Over 100 prospective students attended the MSW Virtual Open House in October 2021 Faculty, staff, and current students were in attendance to share their experiences in the program and within the field of social work
Dr. Travis Hales is the MSW Program Director Professor Amy Peters is the Coordinator for Graduate Distance Education FIELD AND NETWORKING FAIR
MSW OPEN HOUSE
SOCIAL WORK EVENTS
The Fall 2021 Field and Networking Fair was held virtually, hosted by the Field Office. This event gave BSW and MSW students the opportunity to connect with community partners about field opportunities.
School of Social Work research faculty participated in presentations, posters, and discussions at the 26th Annual Conference of the Society for Social Work and Research (SSWR). The School of Social Work also staffed a booth in the exhibition space throughout the conference. This conference was held January 12 16, 2022 in Washington, D.C. (with some virtual content) with the focus of "Social Work Science for Racial, Social, and Political Justice."
SOCIETY FOR SOCIAL WORK AND RESEARCH CONFERENCE
COUNCIL ON SOCIAL WORK EDUCATION APM
The School of Social Work was represented at the Council on Social Work Education's 67th Annual Program Meeting November 4 7, 2022 in Orlando, Florida through faculty research and an exhibition booth Multiple faculty attended the conference, with presentations/posters by Dr. Beth Wahler and Dr. Yuqi Guo.
Faculty presenting at the conference included Dr. Dante Bryant, Dr. Travis Hales, Dr. Shanti Kulkarni, Dr. Susan McCarter, Dr. Annelise Mennicke, and Dr. Sonyia Richardson.
Assistant Director Amy Peters and staff member Bridget Alaniva at CSWE 2021 Dr Susan McCarter presenting a research poster at SSWR 2022 Dr. Yuqi Guo at CSWE APM 2021
NINER NATION GIVES
The event received positive feedback for having a diverse range of faculty and students sharing their perspectives, research, experiences, and feedback
The School of Social Work participated in the seventh annual Niner Nation Gives, a 49 hour fundraising event to celebrate and support UNC Charlotte The School of Social Work participated in multiple challenges to raise funds for students, scholarship funds, the School, and the University
The RASE Academy Spring 2022 Forum was held in March, on "Strategies for Holistic Healing: Mental Health and Diverse Communities During COVID 19 " This forum addressed racial and social equity issues as it relates to mental health and diverse communities and the increasing disparities resulting from COVID 19 Dr. Sonyia Richardson is the RASE Academy Director Phi Alpha inductees at the Phi Alpha ceremony
SOCIAL WORK MONTH
STUDENT APPRECIATION
The School of Social Work celebrated undergraduate and graduate social work students during a Social Work Student Appreciation Week from March 14 18, 2022 Faculty and staff handed out social work gear and snacks to students, and all students were entered to win additional prizes
Each year, March is celebrated as Social Work Month. In March 2022, the School of Social Work created a monthlong series to celebrate! For each day of the month, Professor Roger Suclupe conducted 'Social'ly Engaged interviews with faculty, students, alumni, and community partners/advocates. These videos were shared to our social media and website for all to enjoy. Find the videos here: https://tinyurl.com/2p95tcxa WEEK
SOCIAL WORK EVENTS
The RASE Academy Fall 2021 Forum was held in November, on "Houseless Close to Home: Stories from our own Backyard " This virtual forum addressed racial and social equity issues as it relates to being unhoused
PHI ALPHA INDUCTION CEREMONY
The Phi Alpha Honor Society ceremony was held on April 27, 2022 Phi Alpha is a national honor society that invites into membership those who have attained scholarly excellence in social work Nu Theta, the UNC Charlotte chapter, was founded in 2005 Members of Phi Alpha represent the top 35% of students in our social work program Each inductee recited the pledge and received a certificate and medal at the event Candice Whiteside was the Phi Alpha Advisor and organized this event RASE ACADEMY FORUMS
The 7th Annual UNC Charlotte Veterans Health Conference was held on Friday, May 6, 2022! The conference featured "Combating Military Sexual Trauma " National and regional presenters included Mayra Guillen (President, I am Vanessa Guillen Foundation), Paula Coughlin (Former U S Navy Helicopter Pilot and 'Tailhook' Whistleblower, Treasurer of Protect our Defenders), Dr Kristen Zaleski (Military Sexual Trauma Expert, Sexual Violence Researcher, and Trauma Focused Clinician), Kellie Campbell (MSW Social Worker, VA Medical Center), and Erin Scanlon (PGA HOPE Helping Our Patriots Everywhere Program Coordinator) The discussion panel featured School of Social Work faculty Dr. Shanti Kulkarni, Dr. Sonyia Richardson, and Clinical Assistant Professor Roger Suclupe Dr. Diana Rowan is the Director of the Academy for Veteran and Military Health
S.T.A.R.S. 2022
The 2022 Ethics Conference focused on "Ethical Approaches to Working with Refugees: Helping Afghan Refugees & Evacuees while Accepting and Respecting Their Differences " The event was held on Thursday, May 5 2022, featuring Nasreen Naushad discussing Afghan culture and traditions as well as the emotional, physical, material, and educational needs for adult and child Afghan refugees Lauren Rogers also presented on The Language Learning Brain and Overcoming Language Barriers
The annual S T A R S publication was released in May 2022, highlighting Students, Teaching & Field Education, Alumni, Research & Scholarship, and Service, Advocacy, & Outreach within our School of Social Work Dr. Ticola Ross collected and organized the S T A R S publication View here: https://issuu com/unccharlotteschoolofsocialwork/docs/stars
Dr. Ticola Ross & Clinical Assistant Professor Professor Frances Ferrante organized this Ethics Conference
SOCIAL WORK EVENTS
VETERANS HEALTH CONFERENCE
Left to right: Bridget Alaniva, Cali Wickert, Janet Baker
2022
ETHICS CONFERENCE
DECORATIONS FOR HOMECOMING WEEK Staff in the School of Social Work decorated the office space for Homecoming Week in November 2021, as part of the annual office decorating contest leading up to the Homecoming football game Our School of Social Work showed our 49er pride by filling the halls and conference room with green and gold!
Faculty and students participated in the Paper Chase event sponsored by the Office of Undergraduate Research. For three days in a row in March 2022, faculty members mentored undergraduate and graduate students from different disciplines in the writing for publication process. Pictured left to right: BSW student Keshawn Mathews, BSW student Katherine Bolt, Professor Frances Ferrante, Dr. Ticola Ross, Dr. Tianca Crocker, and BSW student Angel Padilla.
Social Work Honors students in our BSW program are required to present their research in the presence of the BSW Honors Committee Our four BSW Honors Students successfully presented their research on Thursday, April 28, 2022 Pictured left to right: Nancy Apolinar presented "Cultural Stigma and Mental Health in the Latinx Community," Phoebe Pruneda presented "The Intersection of Interpersonal Violence and Suicide," Falena Salcedo presented "Trauma in Early Childhood: An Obstacle for Growth," and Ava Frankel presented "Mental Health Outcomes for African Americans."
BSW student Tyson Jefferson was elected to serve as the Undergraduate Student Representative on the NASW-NC Board of Directors for 2022-2023! In addition, Tyson is the president of The Stigma Free Zone, a new club on campus dedicated to destigmatizing mental health and promoting self care.
Advanced Standing MSW student Jessica Bravo was awarded the 2022 Equity and Inclusion Student Award by the National Association of Social Workers - North Carolina Chapter.
Distance Education MSW student Midori Gillaspy-Chang was awarded the Claudia M. Reynolds Graduate Fellowship for 2022-2023.
LIGHTS
Undergraduate social work student Anna Yoder presented at the 2022 Undergraduate Research Conference! This presentation showcased lessons learned in survey research from the perspective of an undergraduate research assistant, assisting in the disseminations of the 2022 Interpersonal Violence and Harassment Prevention Survey, which is a survivor centered and LGBTQ+ inclusive campus climate survey. Dr. Annelise Mennicke was the faculty advisor.
Jessica Castro-Vergara is an MSW student with a field placement in representing the Democracy, Voting, and Social Work Project in the School of Social Work. Towards the end of 2021 Jessica attended a meeting with three state legislators, State Senator DeAndrea Salvador, State Representative Becky Carney, and State Representative Mary Belk. This meeting primarily cused on voter suppression and how to develop ew fair maps for the state legislature that will be ed for the next 10 years. Jessica also lunteered at Roof Above, an agency helping ose who are homeless find permanent housing addition to other services In this photo, Jessica ictured third from left) and others at Roof Above elped clients register to vote for the next election
STUDENT INVOLVEMENT & HIGHLIGHTS
BSW student Keshawn Mathews (middle) and Dr. Susan McCarter (left) presented "Promote Smart Decarceration and Eliminate Racism Grand Challenges for Social Work: A Call for Marijuana Policy Reform" at the Society for Social Work and Research Annual Conference in Washington, D.C. in January 2022.
vangelyne Padilla is a rising BSW senior and a 022 Marian Drane Graham Scholar The Marian ane Graham Scholars Program is an eight week mersive summer program providing University of North Carolina System students the opportunity to develop leadership skills and gain a better understanding of key issues impacting public higher education Angel (pictured to the right) worked with the North Carolina Business Committee for Education through the Governor's Office during the summer of 2022, presenting on "Assessing The Need for Disability Cultural Centers Across UNC System Schools "
STUDENT & HIGHLIGHTS
The Graduate Social Work Association (GSWA) held multiple events throughout the 2021-2022 academic year. GSWA held a supply drive for Charlotte Family Housing and teamed up with Counseling and Psychological Services to offer a Mental Health First Aid Training in February 2022.
Advocates for Change partnered with Democracy, Voting, and Social Work to present "A Night with Common Cause," a discussion on voter registration, mail and early voting, and election day in North Carolina in March 2022. They also held various meetings throughout the 2021-2022 academic year.
ADVOCATES FOR CHANGE
The BSW club held various meetings throughout the year, as well as a Back to School Drive in the fall semester and they staffed an informative booth on Domestic Violence Awareness at a campus movie night in October 2021. Professor Kevin Edwards-Knight served as the 2021-2022 advisor for BSW Club. AFC BSWCLUB
Professor Matthew Mills served as the 2021-2022 advisor for Advocates for Change.
BSW CLUB
INVOLVEMENT
GSWA sponsored a Self-Care and Mindfulness Workshop hosted by Dr. Othelia Lee, as well as a Self-Care and Wellness Workshop in March 2022. GSWA hosted a Social Work roundtable event in April 2022 with Dr. Beth Wahler, Dr. Dante Bryant, Professor Roger Suclupe, Dr. Susan McCarter, Dr. Travis Hales, and Dr. Tianca Crocker to discuss careers, research, motivations, and other student advice. Dr. Dante Bryant served as the 2021-2022 advisor for GSWA.
MSW Student Amy Royal (left) completed a field placement with Windsor Run, a holistic senior living community. For Social Work Month (March 2022), Amy planned a social work appreciation event for all of the residents that were retired social workers! Dr. Ticola Ross (right), came out to support Amy and her event.
GRADUATE SOCIAL WORK ASSOCIATION
GSWA
ALUMNI HIGHLIGHTS
Kevin Edwards Knight is currently a Lecturer in our School of Social Work and is also an alumni of our program from 2009
The 49er Alumni Campus Employees (ACE) Network encourages active participation in the life of UNC Charlotte, with a primary emphasis on University alumni employees Miriam Espaillat, fourth from the left, with other 10 Under Ten awardees
Congratulations to Kevin Edwards-Knight on receiving the 2021 Amazing ACE Award!
Kevin Edwards Knight receiving his Amazing ACE Award
Left to right: School Director Dr. Beth Wahler, Kevin Edwards Knight, Assistant Director Amy Peters, Jeff Edwards Knight
On Nov 4, 2021 the UNC Charlotte Alumni Young Alumni Chapter awarded its 10 Under Ten Awards, which aim to recognize exceptional alumni who have graduated within the last ten years. Miriam Espaillat (MSW Class of 2013) was one of those award recipients. Miriam was highlighted by Inside UNC Charlotte in October 2021 for creating a grassroots network focused on offering internships and jobs at her restaurants to vulnerable, underemployed people in Charlotte. She credits the MSW program for helping her build the skills she needed to become a community leader.
Left to right: Cheryl Whitley, Cali Wickert
Golden Nugget Award recipients are staff members who are nominated for going above and beyond the call of duty.
FACULTY & STAFF AWARDS
Staff Service Award: Bridget Alaniva
Community Engagement Award: Dr. Sonyia Richardson
The CHHS Promoting Diversity & Appreciating Difference Award gives public honor to a CHHS faculty member who has made significant contributions toward creating and/or fostering a positive environment for people of diverse backgrounds, lifestyles, and beliefs
The CHHS Faculty Community Engagement Award honors a CHHS faculty member who has demonstrated outstanding contributions to the greater community and inspired additional meaningful partnerships among faculty, students, and community organizations across any of the disciplines represented through the programs of the College of Health and Human Services This award is meant to recognize community engagement as the collaboration of the university with the public and private sectors for the mutual benefit of all
Golden Nugget Award Recipients: Cheryl Whitley & Cali Wickert
Promoting Diversity & Appreciating Difference Award: Dr. Dante Bryant
The Staff Service Awards honors a CHHS staff member who has provided exemplary service to a profession, the university, CHHS and/or the greater community This award is meant to recognize service contributions that go above and beyond expected customer service and service facets of the staff member's regular job
Graduate Teaching Award: Candice Whiteside
Faculty Research Excellence Award: Dr. Annelise Mennicke
The CHHS Faculty Research Excellence Award honors a CHHS faculty member who has demonstrated outstanding scientific achievement across any of the disciplines represented through the programs of the College of Health and Human Services.This award is meant to recognize and celebrate cutting-edge scholarly efforts that are having an impact on best practices, improved patient and client outcomes, enhancing the health of communities, or that make significant and new contributions to both clinical and basic research.
2022 College of Health and Human Services Award Winners
The Graduate Teaching Excellence Award was established to give public honor to extraordinary teachers in the College of Health and Human Services, Part time or Full time faculty teaching in a graduate course that demonstrates innovation in teaching, student engagement and mentorship in the discipline.
ENHANCING PRACTICE WITH COMMUNITIES COURSES
Professors Kris Taylor and Candice Whiteside received a College of Health and Human Services Education Innovation Fellow Award to enhance the Practice with Communities courses at both the BSW and MSW levels. Their focus was to create a virtual interface for students to interact with communities in both a rural and an urban setting. The project includes interviews from key community leaders to provide personal insight into what community means and looks like from those individuals actually living within the communities. Students will be able to view the communities virtually, hear from those interviewed, and participate in relevant academic assignments to practice their skills in assessing the strengths of communities. This project is in the final stages of completion and will be ready for students in the spring courses of 2023.
FACULTY UPDATES
VR LAB
Matthew Mills
LOOKING TO THE FUTURE
STAY CONNECTED
It is our pleasure to announce the appointment of Jeffrey Shears, PhD as a Professor in the School of Social Work starting in Fall 2022. Dr. Shears is returning to Niner Nation after directing the join MSW program at UNCG and NC A&T, but previously served as our BSW Program Director. He received his PhD in Social Work from the University of Denver and is Chair of the Moynihan Institute for Fatherhood Research and Policy. His research interest is fathers' influence on children's development, focusing on intergenerational fathering.
Kris Taylor Candice Whiteside
We are also delighted to announce the change from temporary to permanent lecturer for Matthew Mills, LCSW. Matthew currently serves as faculty advisor for the student organization, Advocates for Change.
The School of Social Work was granted a funding request for VR equipment for the School of Social Work's first floor room in the College of Health and Human Services (CHHS 127) The School of Social Work is currently in the process of creating a VR Lab that can be used for research and education purposes There will be four Oculus headsets, a monitor in the front of the room, white boards, and furniture that can be moved to create different arrangements for different uses Once the equipment is installed, training sessions will be scheduled to show social work faculty how to use the equipment as well as VR environments/activities to access This classroom is in the final stages of installment, with the plan for it to be used starting in the 2022 2023 academic year
Jeff Shears
Our School of Social Work faculty, staff, students, and alumni continue to positively make an impact at UNC Charlotte, across North Carolina, nationally, and globally Please follow our social media for current events and updates on what our School of Social Work faculty, staff, students, and alumni continue to accomplish @CLTSocialWork
The University of North Carolina at Charlotte College of Health and Human Services School of Social Work University
9201
The vision of the School of Social Work is to foster optimal health and well-being, human rights, and a just society. Mission To prepare future social work professionals for leadership in areas of culturally-informed community-engaged practice, policy and research, with a particular emphasis on persistent and emerging social problems in rapidly diversifying urban areas locally, nationally, and globally.
City Blvd. Charlotte, NC sswadmissions@uncc.edu28223socialwork.charlotte.edu
Vision