Contents
from the Chair
A Regular Fellow
the Winner Is...
Star
Jet Set
University
the Space of an Hour
Rockstar
CAREER
an Impact
Momentum is an annual publication that highlights the achievements of the students, faculty, staff and alumni from the University of Central Florida's Department of Mechanical and Aerospace Engineering.
COLLEGE OF ENGINEERING AND COMPUTER SCIENCE
Dean Michael Georgiopoulos, Ph.D.
DEPARTMENT OF MECHANICAL AND AEROSPACE ENGINEERING
Chair Yoav Peles, Ph.D.
PUBLICATION PRODUCTION
Marisa Ramiccio Communications Coordinator
CONNECT WITH US @ucfmae mae.ucf.edu
Department of Mechanical and Aerospace Engineering University of Central Florida 12760 Pegasus Blvd. Orlando, FL 32816
Page 4 Page 19 Page 8 2 | MOMENTUM Vol. 6
Letter
3
4 And
6 Shining
8 The
10 Space
14 In
15 Technology
16 Stellar
18 Making
19
Letter From the Chair
Dear Friends and Colleagues,
Over the past academic year, we have eased out of pandemic mode and returned to a more normal way of teaching, learning and living. However, our department achievements remain high — higher in fact, than they were before the pandemic.
with both our faculty and our students. Two of our faculty members are also leading a NASA project worth $10 million that could lead to the development of jet engines that produce zero carbon emissions. Their team is comprised of experts from across the U.S., in both academia and industry.
This was a record year for student awards: Two teams brought home five of the top prizes at the NASA MINDS competition and one team placed third in the Department of Energy's Solar Decathlon. We also saw a group of students make it to the finals of the NASA RASC-AL competition for the first time in UCF history, and we can now boast our first Matthew Isakowitz fellow, pictured on our cover. In addition to these accolades, graduate student Perla Latorre-Suarez was included on Aviation Week Network's prestigious list of 20 Twenties this year.Our faculty have also successfully reached for the stars. Two of our faculty are part of the first team of researchers at UCF to receive funding from the U.S. Space Force, which signed a partnership agreement with our university earlier this year. We hope this agreement will bring about more opportunities for collaboration
This past year, UCF also set a record in research funding, as did the department. For the first time, we surpassed $10 million while the university garnered more than $212 million in sponsored research projects. You can read about some of the top-funded projects within the department, as well as other stellar achievements of our faculty, students and alumni in the following pages.
As always, I hope you enjoy this issue of Momentum, and I encourage you to engage with us on social media @ucfmae.
Go Knights! Charge On!
Sincerely,
UCF Department of Mechanical and Aerospace Engineering | 3
Yoav Peles Chair, Department of Mechanical and Aerospace Engineering University of Central Florida
4 | MOMENTUM Vol. 6
A REGULAR FELLOW
Aerospace engineering student
Loubensky Baine is one of 30 students nationwide who have been selected to participate in the 2022 Matthew Isakowitz Fellowship Program. He is the first UCF student to receive this honor.
Matthew Isakowitz Fellows receive a summer internship with a top commercial space company as well as an executive mentorship with a professional in the aerospace community. They also attend a summit that allows them to network with industry leaders, to hone their entrepreneurial skills and to learn about startup companies in their field.
The program is selective — only juniors, seniors and graduate students who intend to pursue careers in the aerospace industry are invited to apply. More than 200 students from 90 colleges, including MIT, Virginia Tech and Cornell University, submitted applications this year.
"Being a Matthew Isakowitz Fellow is an amazing accomplishment," says
Baine. "Being one of the 30 students selected nationwide — among a group of both undergraduates and graduates from some of the nation's most prestigious aerospace engineering programs — is almost unbelievable. I am thrilled to meet the rest of the fellows from my class, as well as the entire Matthew Isakowitz Fellowship team."
Baine is also thrilled to intern with Astra, a space launch company headquartered in California. Astra's mission is to "improve life on Earth from space," and Baine says he looks forward to contributing to that goal.
While he completes his internship, he'll receive advice and guidance from his executive mentor, Edward L. Bolton Jr., a retired United States Air Force Maj. Gen. and the current senior vice president of the Defense Systems Group.
While this experience is new to Baine, he's no stranger to fellowships. In 2021, he was one of two UCF students who received the inaugural Patti Grace Smith Fellowship for
Black aerospace undergraduates. He's blazing a trail for future UCF aerospace fellows, and says he's proud of it.
"As a Knight, it is my honor to be the first Matthew Isakowitz Fellow selected from UCF," Baine says. "As one of UCF's first Patti Grace Smith Fellows, and now the first Matthew Isakowitz Fellow, I humbly aspire to continue to represent such an amazing university."
Baine expects to graduate in 2023, and after that, he plans to work for a leading company in the industry. His fellowship experience can help him get there, but he credits UCF with setting him up for success.
"My time at UCF so far has been amazing," Baine says. "I have learned so much and connected with several peers and professors, all willing to help support me on my journey to success. I am happy with the decision I made when I chose to be a Knight."
UCF Department of Mechanical and Aerospace Engineering | 5
Written by Marisa Ramiccio.
Learn more about Baine's previous fellowship: bit.ly/PattiGrace
Loubensky Baine is UCF's first Matthew Isakowitz Fellow, which is the second fellowship he's earned in a year.
NASA MINDS
Two student teams from the MAE department took part in the 2022 NASA MINDS design event and earned a total of five awards, including the grand prize.
Team SenseAid was named the First Place Senior Grand Champion and received a $5,000 award for its prototype 3D printer that can function in microgravity. The printer uses resin ink rather than thermoplastic ink so that a wide array of functional materials can be printed in space, no matter what the mission demands. The team was led by Associate Instructor Kurt Stresau and aerospace engineering students Dylon Lyon and included student Norrel Thomas, Alexander Cabezas, Jonathan Chambers, Robert Llewellyn, Tatianna Gary and Robert Trautwein.
Team Dr. Regolith, which studied the properties of lunar regolith, was named the Second Place Senior Team and received a $2,500 prize. That team was led by Professor Seetha Raghavan and aerospace engineering student Perla Latorre-Suarez and included students Luiz Sotomayor Garcia, Isaac Turner, Jamie Michelich and Lauren Bansberg.
"Representing UCF as a finalist in the NASA MINDS competition was an outstanding accomplishment and truly a dream come true," Bansberg said. "I could not be more proud of our team and all the hard work they dedicated to this project."
The teams also took home the top prizes in two other categories. Dr. Regolith placed first in the Systems Engineering Paper category and won another $500, while SenseAid took third place in the same category. SenseAid also won the top spot in the Technical Poster category and an additional $500 award.
Only seven teams from colleges and universities across the nation made it to the final round in this year's NASA MINDS event. The student teams work on a technology of their choosing, provided it pertains to the Artemis mission.
Garcia said the experience had a positive impact on himself and his teammates, and hopes that future UCF students follow their lead.
"To be highly recognized for our professional achievements by such prestigious personnel from NASA is career- and life-impacting," Garcia said. "I am extremely proud of our team and the work we have accomplished."
SOLAR DECATHLON
A team of mechanical engineering students took home the third place prize in the Attached Housing Division of the 2022 U.S. Department of Energy Solar Decathlon.
The Solar Decathlon is a collegiate competition that challenges students to create low-cost, energy-efficient buildings with renewable resources. This year, 55 teams from 38 colleges and universities made it to the finals.
"It feels surreal," said student Diony Abreu. "We were all mechanical engineering students learning the industry from zero. Winning third place against the best universities in the nation and overseas speaks to the quality of professionals UCF is putting out."
NASA RASC-AL
For the first time in UCF history, a group of Knights was selected for the final round of the NASA Revolutionary Aerospace Concepts — Academic Linkage (RASCAL) competition, which aims to develop innovative technologies that further human space exploration.
To read the full stories on all of our award winners, visit mae.ucf.edu/more-news
.
UCF Department of Mechanical and Aerospace Engineering | 7
SHINING STAR
UCF's Perla Latorre-Suarez Named Among Best Aerospace Graduate Students in the World
UCF's Perla Latorre-Suarez '21 is among the most promising graduate students in the world who are likely to change the aerospace industry, according to Aviation Week Network.
The magazine and its partners — Accenture and Hexcel — this month announced their 20 Twenties Award Class of 2022. More than 80 students were nominated from around the world. The 20 winners were selected based on their academic excellence, STEM and leadership skills and innovative approach to problem solving.
The winners will get access to a network of technology hiring managers, some of the nation's best faculty and industry experts who will help them begin to build a network
of not only potential employers, but some of the greatest minds working to solve critical problems facing the aviation and space industries.
Latorre-Suarez — who is pursuing a master's in aerospace engineering at UCF — is one of only two Florida recipients who share the honor with students from Duke, MIT and Purdue, among others.
"This is the first award I have won as a student," says LatorreSuarez, who earned a bachelor's in mechanical engineering from UCF.
"It will give me the opportunity to expand my academic and professional connections by networking with other professionals around the country. I will also be able to learn about the opportunities available in multiple industries and universities. I believe
this will bring more ideas to solve the current technology challenges."
Latorre-Suarez is part of Engineering Professor Seetha Raghavan's research lab, where she is investigating 3D printed sensors that could be made in space and which would monitor the structural integrity of the components and vehicles used by explorers on other planets.
She is also part of UCF's M-STAR program, which led to an internship opportunity to work at NASA's Langley Research Center in Virginia this past summer. Working with NASA scientists, she helped design ceramic coatings that can protect lunar vehicles from the moon's dust.
The Puerto Rico native says UCF and its faculty have been critical to her academic journey.
8 | MOMENTUM Vol. 6
"My advisor, Dr. Raghavan, has played an important role in my academic, professional and personal life," she says. "She nominated me as a recipient of this award, and for me, it was more than that; it has been an honor to be mentored by her."
Latorre-Suarez is researching 3D-printed sensors that could be made in space and which would monitor the structural integrity of the components and vehicles used by explorers on other planets.
"My biggest goal is to be able to collaborate on space missions, such as the Artemis moon mission," she says. "I want to ensure astronauts' safety while exploring other planetary surfaces."
This is not Latorre-Suarez's first recognition. In 2021 she was named an X-Force Fellow by the National Security Innovation Network and the Department of Defense. She is also a NASA Florida Space Grant Consortium Fellow.
"Congratulations to the winners — all of whom possess the leadership and STEM skills needed to bring innovation to our industry," said John Schmidt, global Aerospace and Defense industry lead at Accenture in a news release. "Accenture is committed to developing the next generation of the aerospace and defense workforce by supporting programs like this that help recognize top talent."
In addition to getting plugged into the talent network, Latorre-Suarez will also be honored at a luncheon at the Watergate Hotel in Washington, D.C., and then again during Aviation Week Network's 65th Annual Laureate Awards and Dinner at the National Building Museum. These presentations are scheduled for November. The
20 Twenties program is a significant part of Aviation Week Network's workforce initiative that continues to cultivate, inform and inspire the next generation of aerospace and defense professionals, according to the organization.
Latorre-Suarez is one of many recent graduates from Raghavan's laboratory who have received national or international recognition for their work.
"Perla has emerged as a leader and an expert in her area," Raghavan says. "While research is challenging for any student and more so under current circumstances, (such as the pandemic), her persistence has always helped her to manage her time and academics to continue to make research progress."
Latorre-Suarez is also paying it forward. She has led multiple outreach activities at UCF representing Raghavan's lab. She's led components for Camp Connect and UCF's STEM Day. Both events provide students from K-12 with hands-on learning opportunities focused on different research topics conducted by the group. Latorre-Suarez also participated in the Skype-a-Scientist program, where she shared her research expertise with elementary school students in Malaysia.
"She has demonstrated outstanding leadership and project management skills, as well as the constant aspiration to learn and become better at what she does," Raghavan says. "As a mentor, she is setting up a path for many other students to succeed along the way."
Written by Zenaida Gonzalez Kotala.
Latorre-Suarez Highlighted By Media for Work in STEM
Just after the news broke about Perla Latorre-Suarez' rank among Aviation Week Network's 2022 20 Twenties, the aerospace engineering student was spotlighted by the local media for her contributions to the field of STEM.
News 6 reporter Carolina Cardona interviewed Latorre-Suarez, along with UCF photonic science and engineering student Isabella Pardo, for Hispanic Heritage Month. Latorre-Suarez talked about her journey to Florida from Puerto Rico, her 20 Twenties accolade and the pride she feels in representing the Hispanic community within the field of STEM.
"I moved to Florida when I was in my teenage (years) and I learned that out there's a world full of opportunities," Latorre-Suarez, said in the News 6 article. "I learned that no matter where you are you can still make a difference."
The 20 Twenties ranking isn't her only achievement this year. Latorre-Suarez led the grand prize-winning team in the 2022 NASA MINDS competition (see page 7). She was one of 10 UCF students who were selected to participate in NASA M-STAR internships, which placed promising students at NASA research centers around the country so they could complete research projects that support the Artemis mission under the guidance of NASA scientists and researchers.
Watch the video of Latorre-Suarez' interview: https://bit.ly/3rL089P
UCF Department of Mechanical and Aerospace
Engineering | 9
UCF Department of
The Jet Set UCF Leads $10M NASA Project to Develop Zero-Carbon Jet Engines
UCF is developing new technology that is expected to make airplane engines emission free, potentially revolutionizing the aviation industry.
UCF put together a team of experts and stakeholders to evaluate their innovation, which aims to not only make aviation fuel green, but also create engines and fueling systems that easily integrate into current airport infrastructure thus saving airports and aircraft manufacturers millions of dollars as they look to retrofit.
"We don't want to create something that will be too cumbersome and expensive to implement," says Jay Kapat, the lead investigator and the director of the UCF Center for Advanced Turbomachinery and Energy Research. "If we want people to adopt this green tech, it needs to be scalable. To adopt hydrogen, for example, we can't expect every airport to set up large cryogenic liquid hydrogen systems like Kennedy Space Center. That's unreasonable."
With this practical approach, Kapat put together a team of experts from UCF, Georgia Tech and Purdue and with industry experts from Boeing, General Electric, ANSYS, Southwest Research Institute and the Greater Orlando Aviation Authority. The team landed a $10 million five-year NASA University Leadership Initiative grant to get the ball rolling.
"We have a good concept," Kapat says. "And by having our partners in
industry we know we'll fine tune and be ready for technology transition, so we can provide a greener future for our children."
Developing Jet Engines
Kapat and several of his UCF colleagues in engineering and the Florida Space Institute propose using liquid ammonia (NH3) as the fuel for aircraft which, upon combustion, will produce harmless emissions that are green while still providing enough power to keep the aircraft aloft. At high altitudes, ammonia is naturally liquid thereby limiting the need for special handling. Airports and airplanes are expected to store the ammonia in fuel tanks. Ammonia is commonly used as a fertilizer and, when mixed with water, in some household cleaners.
Ammonia will be the hydrogen carrier, which will be catalytically "cracked" to release nitrogen and hydrogen. The hydrogen will be burned in the onboard combustors (inside the engine) to provide the power. Airports and aircraft are expected to store the NH3 in fuel tanks. Excess NH3 will then be used to catalytically reduce any NOx left in the exhaust converting it to nitrogen and water.
When the hydrogen is released, there will be an added bonus, Kapat explained. The conversion process also provides cooling, which can be used to keep engines from overheating and burning out. The impact may be better engine
performance and efficiency. Engine exhaust heat is then converted back to electricity for onboard use, thus reducing power draw from the core engines.
The team also is developing new components for jet engines to be used in conjunction with the new fuel. The team is using the 737-8 class for a baseline as it represents nearly a quarter of all commercial aircraft, according to Boeing.
The Research Team
"This project would not have been possible without our internal and external partners," Kapat says.
Catalyst development and improvement of known catalysis pathways are key to the UCF effort and will be undertaken in Professor Richard Blair's laboratory at the Florida Space Institute. Aerospace engineering Professor Subith Vasu will lead the efforts to design tools, computer models and combustion testing from his lab. Kapat will lead a team that will conduct thermal management and system integration at CATER. UCF Chemical Safety and Security Coordinator Sandra Hick will oversee safety and occupational health issues that are central to any use of ammonia and hydrogen.
Georgia Tech will provide its aviation simulation expertise and Purdue is providing some of its unique labs and expertise in combustion and aerodynamics. Boeing is providing the integration know-how to the aircraft, and GE is contributing its knowledge
12 | MOMENTUM Vol. 6
Professor Subith Vasu (far right) with his student researchers.
of the jet engines. Other industry partners are advising on large scale simulation, the feasibility of the technology in the real world and providing a pathway for technology transition. Student training and workforce development are also key aspects of the overall project. Several UCF students working under faculty in the various labs will contribute to the research.
Kapat is a recognized expert in energy research. He leads CATER, which has brought together experts who are solving some of the most complex research problems in turbomachinery for power generation, aviation, and space propulsion. Kapat has multiple degrees including a doctorate in mechanical engineering from Massachusetts Institute of Technology. He is a fellow of the American Society of Mechanical Engineers, and an American Institute of Aeronautics and Astronautics Associate fellow.
Written by Zenaida Gonzalez Kotala. Photos by Karen Norum.
RESEARCH RECORD
UCF set a research funding record this past year with a total of $212.9 million in sponsored research projects. The Florida Space Institute garnered the most funding with $44 million, followed by the College of Engineering and Computer Science, with $35.6 million. The department also set a record, surpassing $10 million worth of funding in one year. See how our faculty contributed:
Kareem Ahmed — $1.5 Million The associate professor received funding from the Department of Defense to advance his research in hypersonic propulsion.
Kareem Ahmed — $1.1 Million Ahmed also received funding from the DoD as part of its Multidisciplinary University Research Initiative.
Subith Vasu — $800,000 Professor Subith Vasu was awarded funding from the Department of Energy to make hydrogen an efficient gas for electricity-generating turbines.
Subith Vasu + Mike Kinzel — $560,000 This million-dollar project with the Air Force Office of Scientific Research aims to study the effects of rain on hypersonic travel.
Subith Vasu — $500,000 Vasu received DoD funding to address disturbances that vehicles encounter in hypersonic conditions.
Seetha Raghavan — $500,000 UCF was one of seven universities to receive a MUREP Space Technology Artemis Research (M-STAR) award.
UCF Department of Mechanical and Aerospace Engineering
| 13
UCF Department of Mechanical Aerospace Engineering
SPACE UNIVERSITY
UCF Signs Educational Partnership Agreement with U.S. Space Force
UCF, the nation's Space University, has now entered an agreement with the U.S. Space Force to help develop technology and an agile workforce ready for space.
The two organizations recently signed an Educational Partnership Agreement (EPA) after several Space Force officials visited UCF in March.
Three members — also known as Guardians — of the Space Force spent a day at UCF learning about space-relevant research and handson courses. They also met with some of UCF's ROTC cadets. They were Lisa Costa, chief technology and innovation officer, Joel Mozer, director of the Science, Technology, and Research Directorate, and Nackieb Kamin manager of the Science, Technology, and Research Directorate.
"We have a lot of strengths in areas that are of interest to Space Force such as modeling and simulation, engineering and interdisciplinary research," says Grace Bochenek '98PhD, director of UCF's School for Modeling, Simulation and Training who led efforts to broker the agreement.
"The EPA allows us a lot of flexibility so we can work together and help drive the kind of innovation that the Space Force is looking for while also developing an agile workforce that's got the right stuff and is ready to go."
The agreement focuses on six areas that include science, technology and research priorities. They are:
• Improving freedom of action in, from and to the space domain
• Improving the survivability and resilience of space systems and architectures
• Digital engineering and modelbased system engineering
• Increasing responsible artificial intelligence, machine learning and autonomy
• Improving space access, mobility and logistics
• Enhancement and integration of existing services from and through an expanded space domain
The agreement also states there may be opportunities for faculty exchanges, for collaborative research
projects and for student internship opportunities.
Congress created the Space Force through the National Defense Authorization Act in 2019 as a distinct branch of the armed services under the U.S. Air Force.
"Our students will certainly benefit from this new collaboration," says Elizabeth Klonoff, vice president for Research and dean of the College of Graduate Studies. "A lot of our graduate students already work in high tech industries and many of them are working on tech that is space bound."
One of UCF's areas of strength is space technologies and systems — a field the university has been committed to advancing since its founding. UCF has received more than $193 million worth of NASA awards, helping to advance science and society through innovative research. UCF faculty are involved in more than 674 NASA projects and 17 researchers have asteroids named after them in recognition for their contributions.
Written by Zenaida Gonzalez Kotala.
14 | MOMENTUM Vol. 6
IN THE SPACE OF AN HOUR
MAE Researchers Collaborate with U.S. Space Force to Send Rockets Across the Globe in One Hour or Less
When a natural or humanitarian disaster occurs halfway around the world, the U.S. Space Force aims to send a rocket filled with food, water and other essential supplies to the site in one hour. With the help of UCF researchers, they may be able to achieve this goal within the next decade.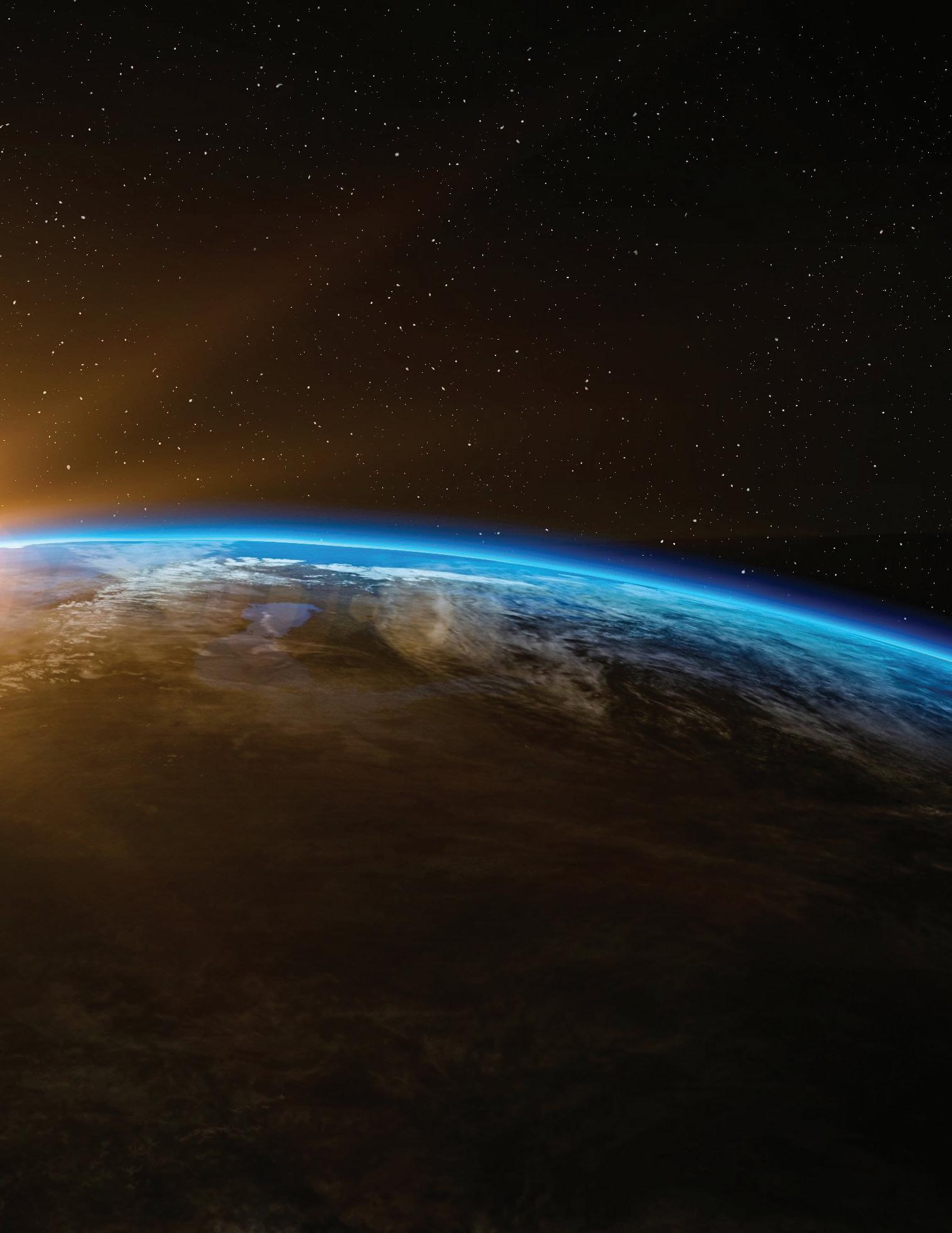 UCF is one of seven universities to receive funding through the USSF's University Consortium Research Opportunity, which connects higher education institutions with the Department of Defense's spacerelated research opportunities.
Engineering researchers Michael Kinzel, Tarek Elgohary and Luis Rabelo were awarded the $350,000 grant, which makes them the first UCF researchers to receive funding from the USSF.
"Although it puts pressure on us to succeed, it also gives us a chance to thrive and set a precedent for UCF with the USSF," says Kinzel, an assistant professor in the Department of Mechanical and Aerospace Engineering. "I think it will open many
new doors and partnerships, which is especially important due to our proximity to the Patrick Space Force Base and the entire Space Coast."
This project falls under the U.S. Air Force's Rocket Cargo program. USSF is part of the Air Force. The goal is to determine the viability of using commercial rockets to transport cargo quickly and efficiently across the globe. Ideally, the rockets would be deployed for disaster relief, shipping 100 tons of food, first aid supplies and blood donations to any location in just one hour.
To work out the logistics, UCF researchers will use their expertise to tackle different parts of the process. Kinzel, an expert in computational fluid dynamics, will use numerical analysis and aerodynamics modeling to ensure the cargo gets there safely and on time. Elgohary, an assistant professor of aerospace engineering, will use control theory and complex modeling techniques to make certain the rocket can land at its destination with precision. Rabelo, a professor of industrial engineering and
management systems, will identify any potential bottlenecks in the process so the rockets can be packed and shipped within the shortest timeframe.
Student involvement in research is one of the main goals of the USSF University Consortium, so the trio will rely on graduate students to help them complete the mission.
Graduate students will take the lead on modeling, and they will also have opportunities to intern with the Air Force Research Laboratory as well as with the local branch of the Science Applications International Corporation, which support the educational and work-force development aspects of the project.
The USSF University Consortium Research Opportunity is the third of three pilot programs designed to facilitate research opportunities between the Air Force Research Laboratory and universities that can lead to the technological advancement of the USSF.
Written by Marisa Ramiccio.
To learn more about UCF's space research, visit ucf.edu/space.
UCF Department of Mechanical and Aerospace Engineering | 15
TECHNOLOGY ROCKSTAR
Fluix, a startup led by MAE alumni, was one of 10 companies selected for a prestigious Techstars accelerator program.
Abhishek Sastri was stuck in traffic in the heart of Atlanta when he got a call from his co-founder, Eduardo Castillo. The UCF alumnus and co-founder of startup company Fluix needed to fulfill his company's largest order. The timing was terrible – Sastri was on his way to Knoxville, Tennessee, for the kickoff of the Techstars Industries of the Future accelerator, a prestigious program that supports promising startups with a focus on emerging technologies.
Caught between a rock and a hard place, Sastri called the Techstars program manager, Tricia Martinez, who wasn't going to let him fail. She helped him move 1,000 pounds of inventory into an office space, and connected him with the University of Tennessee so he could hire a student who could help him fulfill the order. Sastri's business had already benefited from the program before it even began.
His company, Fluix, which manufactures high performance liquid coolers for servers and workstations, was one of 10 startups selected to participate in the inaugural Techstars Industries of the Future accelerator. The program is designed to fuel the growth of up-and-coming tech
companies, and provides mentorship and networking opportunities – along with a $120,000 investment – to boost their business. Techstars partners with the Oak Ridge National Laboratory, the Tennessee Valley Authority and the University of Tennessee system to manage the program.
"We are excited to welcome these 10 companies to the Oak Ridge Corridor," said Thomas Zacharia, the director of Oak Ridge National Laboratory, in a release. "We are committed to translating scientific breakthroughs into new technologies that improve lives all over the world, and Techstars' inaugural class is full of innovators ready to make an impact."
Opportunity for Growth
Techstars has already made an impact on Fluix. The co-founders have met with a number of industry professionals who have mentored them on the art of the pitch as well as how to communicate about their business. They've also met with local business owners and new clients, and Sastri even judged a student pitching competition similar to Shark Tank at the University of Tennessee.
The biggest boost, though, comes from the partnership with Oak Ridge National Lab. Sastri and Castillo are
local community. It's already outgrown
16 | MOMENTUM Vol. 6
Sastri (far left) and other accelerator participants.
working with ORNL as well as data centers in the Knoxville area to test their latest product — a liquid cooling system that can speed up the processing of servers and reduce the energy output of data centers.
The U.S. Department of Energy estimates that data centers consume 10 to 50 times the energy per floor of a typical commercial office building. Collectively, these centers account for 2% of the nation's electricity use. The goal, Sastri said, is to get their energy usage to net zero. Fluix aims to do that through their novel liquid cooling system, which they will build and test with high performance data centers. on ONRL supercomputers. If all goes according to plan, the product could make an impact on the tech industry, and help them break into a new market.
"That stamp of approval from testing in a high performance data center such as Oak Ridge could help us get more clients," Sastri said. "That's a huge step of credibility for us."
The company has already built a solid foundation of credibility in the local community. It's already outgrown its previous warehouse and it has surpassed the financial benchmarks that Sastri and Castillo set out to meet. They now plan to raise more than $1 million from investors to take their product to the next level. And they may be able to meet that goal through the accelerator.
Each company will have the opportunity to meet with hundreds of potential investors during Demo Day, which serves a graduation of sorts for the inaugural class of participants. They'll pitch their business in the hopes of securing both funding and support from top industry experts. Demo Day takes place toward the end of the Techstars accelerator.
The Journey to Techstars
The journey to Techstars started in 2017, when Sastri and Castillo were students at UCF. Sastri credits professors Cameron Ford and Mike Pape with connecting him to the Blackstone LaunchPad, which supports student entrepreneurs, as well as to funding opportunities. Before long, Fluix had landed the Blackstone LaunchPad Summer Startup Fellowship, which provided them with eight weeks of virtual mentoring and coaching as well as a $5,000 grant.
Following the fellowship, Satri flew to New York for the Techstars Propel
Weekend, where he networked with more than 100 mentors and fellow tech entrepreneurs. Their exposure to Techstars led them to apply to four different accelerators. But they were never accepted until now.
"They loved Fluix, but they felt we didn't have enough partnerships at the time," Sastri said. "Tricia, the managing director, believed in us from the beginning."
With her support, Fluix applied for the Industries of the Future accelerator and the rest is now history in the making.
As Fluix grows, the UCF Knights hope to expand their workforce with graduates from their alma mater. Sastri said that students who have dreams of entrepreneurship can find plenty of support on campus, whether its through the College of Business' Joust New Venture Competition, the College of Engineering and Computer Science's Technology Venture Symposium or the Blackstone LaunchPad.
"Venture over to the College of Business and visit the Blackstone LaunchPad in the Student Union, right under the stairs," he said. "You can
meet with other entrepreneurs and they will mentor students on how to build a company. You just have to walk in and start engaging with them."
Sastri and Castillo used the Blackstone LaunchPad for support as well as the I-Corps program and the UCF Business Incubation Program. They also competed in the UCF Technology Ventures Symposium in 2021 and won the first-place prize of $10,000. Through their efforts, they've connected with other UCF entrepreneurs and formed a tightknit community. Sastri encourages current Knights to become part of this community by taking a chance on their own bright ideas.
"Don't think you can't because you're too young or don't have experience," he said. "Do it now when you don't have a family to feed or bills to pay. Your college years are the best time to be a little risky."
Written by Marisa Ramiccio.
UCF Department of Mechanical and Aerospace Engineering
| 17
Tricia Martinez and Abhishek Sastri
UCF Department of
To learn more about FLUIX, visit fluixpro.com..
STELLAR CAREER
Kawai Kwok is the MAE Department's Ninth NSF CAREER Award Recipient
The U.S. National Science Foundation has named eight UCF professors 2022 NSF CAREER award recipients. One of those winners, Assistant Professor Kawai Kwok, is from the Department of Mechanical and Aerospace Engineering.
The awardees are promising junior researchers in the nation with the potential to lead in their respective fields, according to criteria outlined by NSF. This brings UCF's total NSF CAREER winners to date to 85 and MAE's total winners to nine.
UCF has seen a rise in winners for the past few years, as has MAE. In 2021, the department boasted two winners and in 2020, the department made history with three winners in one award cycle.
Shape Changing Structures for Space Travel and Beyond
You can learn a lot from observing nature. It's the inspiration for much of assistant professor Kwok's work, which focuses on developing shapechanging structures. These kinds of structures can be used on space missions, for drone work and for solar sails and blades among other applications.
"I was fascinated by how some insects fold their wings around their bodies when crawling through tiny spaces," Kwok says. "The ability to
transform their wings allows them to quickly switch between flying and crawling, making them among the most agile species in the animal kingdom. … What's more rewarding is that once we understand these principles, we can use them to create new and extraordinary engineering devices that can change our lives."
Among Kwok's ongoing research is the use of thin-ply composites to support satellite payloads, such as solar sails for solar-powered space travel, or to serve as supports for large spacecraft. For the NSF CAREER award he will focus on harnessing snapping instabilities for shape shifting reconfigurable structures.
He says students are an integral part his lab, which is why Kwok is using part of his funding to give students more resources.
"They carry out much of the hard work, from building computational models, creating prototypes, running experiments to curating the results," he says. "Working with students is truly a joyful experience. They ask hard questions, bring ingenuity and come up with great ideas. I have learned a lot from these young minds."
Kwok's lab conducts research that indicates that mechanical testing machines can be produced at low cost using off the shelf components. His goal is to set up a process where he can provide them more broadly to
students.
"Very often undergraduates only get to see videos or demos about mechanical testing due to the lack of available tests," he says. "The grant money will allow us to look into scaling up production. Eventually we want to hand these machines to students in undergraduate classes to enhance hands-on learning."
Kwok joined UCF in 2017. Prior to UCF he worked as a researcher at the Department of Energy Conversion and Storage at the Technical University of Denmark. He holds multiple degrees including a Ph.D. in aeronautics. In addition to his CAREER award, he has been recognized with the NASA Robert H. Goddard Exceptional Achievement for Engineering award. He has published more than 27 articles and is funded by several agencies including NASA, the Jet Propulsion Laboratory, and the U.S. Office of Naval Research. He also serves as a reviewer for NSF and NASA, which means he helps select faculty and student awards in certain areas.
Written by Zenaida Gonzalez Kotala.
Want to learn more about Kwok's research? Visit his website, mae.ucf.edu/kawaikwok.
To learn more about Limbitless Solutions, visit limbitless-solutions.org.
18 | MOMENTUM Vol. 6
Making an Impact
Mechanical Engineering Major Advocates for Inclusion at UN Meeting
Most students hope that their future careers will allow them to make an impact on the world. But for mechanical engineering student Madison Adams, the time to make an impact is now.
Adams, who works at Limbitless Solutions, recently spoke with delegates from the United Nations about inequalities in sports. She and Limbitless co-founder Albert Manero attended the second "MultiStakeholder Dialogue on the Role of Sport in Addressing Inequalities in Times of Crisis and Recovery," which was hosted virtually by the U.N. Department of Economic and Social Affairs, Division for Inclusive Social Development.
The goal of the dialogue was to explore how sports can be used to empower and include disadvantaged groups. Stakeholders from a variety of sectors were included in the event, and the results of the discussions will be used to shape the content and recommendations of the Secretary General Report on Sport for Development and Peace, which will be presented to the U.N. General Assembly in September.
Adams said that this once-in-alifetime opportunity to advocate for others on a global stage was life changing.
"Participating in the U.N. discussion
was an eye-opening experience," she said. "I heard from people such as the first female marathon runner in Afghanistan, Paralympians, professors and coaches throughout the world who all believe in the impact that athletics brings to a community."
Adams knows first-hand the impact that sports can have on someone. She's a member of the UCF women's rowing team, and was named to the 2019-20 American Athletic Conference All-American Team during her freshman year. The Davie, Florida native also played basketball in high school and was named a Broward County Athletic Association All-Star in addition to receiving BCAA scholar athlete honors as a senior. She said that her experience in athletics helped her become the person she is today.
"I grew up in an area where sports were used as a catalyst to create opportunities and empower groups throughout the community," she said. "For me, sports helped me become more vocal, confident and independent. This has helped shape me into an advocate for inclusion in sports because I want to give back to the community that created many opportunities for me."
Now Adams is giving back through her work at Limbitless Solutions. She initially joined the organization as an intern, but currently serves as a mechanical engineering senior
assistant.
"At Limbitless, Madison is one of our lead student engineers specializing in bionic arm assembly and troubleshooting," Manero said. "She is also conducting simulation to understand how design changes may lead to better robustness for our bionic kids' prosthetics. We are very proud of her professional and technical development along with her passion for the community. "
Adams said her major has allowed her to build the foundational skills and knowledge necessary for a career in engineering while figuring out her post-graduation plans. As of now, she expects to graduate in 2023 and intends to enroll in UCF's graduate program in healthcare systems engineering.
"I chose UCF because it was a strong research university with the capabilities of me being able to find my niche to learn and find my passion," Adams said. "Many of the professors here have impactful research that benefit the community, which is something I believe in."
Written by Marisa Ramiccio.
Are you a current student or alum? Then join our LinkedIn group: bit.ly/MAEGroup
UCF Department of Mechanical and Aerospace Engineering | 19
Department of Mechanical and Aerospace Engineering College of Engineering and Computer Science University of Central Florida 12760 Pegasus Drive Orlando, FL 32816
UNDERGRADUATE PROGRAMS
Bachelor of Science in Mechanical Engineering Bachelor of Science in Aerospace Engineering
GRADUATE PROGRAMS
Master of Science in Mechanical Engineering Master of Science in Aerospace Engineering Master of Science in Biomedical Engineering
Aerospace engineering student Zachary Morris captured the SpaceX Starlink Mission launch from campus.
NONPROFIT ORGANIZATION U.S. POSTAGE PAID PERMIT NO. 3575 ORLANDO, FL
DOCTORAL PROGRAMS
Ph.D. in Mechanical Engineering Ph.D. in Aerospace Engineering Ph.D. in Biomedical Engineering NEW
20 | MOMENTUM Vol. 6