When minutes matter, rest assured that the most advanced heart care is available right here. Close to home.
Advancing
Heart
Care. Here.
In the event of an emergency call 911 or go to the nearest emergency room. For more information scan Coronary Bypass Surgery Surgical Valve Repair and Replacement Cardiac Catheterization and Coronary Stenting TAVR Procedures WATCHMAN™ Procedures and Ablation for Atrial Fibrillation
Bogota www.BogotaSavingsBank.com Parsippany Oak Ridge Teaneck Newark Hasbrouck Heights Branch Locations In: *Prestige checking offers a 2.96% interest rate and 3.00% APY when all of the following criteria are met: an opening and daily balance minimum of $500.00; a minimum of $500.00 recurring direct deposit per statement cycle; you must be enrolled in Bogota Savings Bank Online Banking; account must be enrolled to receive e-statements; and a minimum of two bill payments must be made through Bogota Savings Bank Online Banking per statement cycle. Interest is compounded daily and credited monthly. If these requirements are not met and maintained a $25.00 monthly service fee will be charged. Rates valid as of December 10, 2022. Other deposit products, rates and services are also available. Subject to change without prior notice. The bank is not responsible for any errors or misrepresentations. Rate may change and fees may reduce earnings. **APY=Annual Percentage Yield. Call Now To Learn More! (201) 862 - 8637 Let Our Do The Hard Prestige Checking Account 3.00 % Work For You! APY**
4
2023 Publishers sharon &
Associate Publisher Brandon
Editorial Director JessiCa
Art Director BMg
Writers
Winter
steven goldstein
goldstein
huMphrey-Cintineo
Marketing Contributing
Dr. Jen AltmAn Ashley CAllAhAn sheilA m. ClAnCy, ms, Ches Kevin CzerwinsKi tArA Delorenzo trACy FlAherty megAn montemArAno riChArD Posluszny AuDrey zonA Bergen County The Magazine is published six times a year. Mail all editorial and advertising materials to 297-101 Kinderkamack Road, Suite 135, Oradell, NJ 07649 or email materials to steven@bcthemag.com. For advertising and information, please call (201) 6945197 or (201) 694-5196. For subscription information or to contact us, go to www.bcthemag.com. Copyright 2023. All materials are the property of Bergen County The Magazine, LLC. and may not be copied or reproduced without written consent from the publishers. Follow us at @bcthemag BC Health, Beauty & Fitness is published by BC The Mag. Find us at www.BCtheMag.com
The turkey was carved. The drinks were poured. The plates were full of festive foods. All that was left was to dig in.
"Are you going to say a few words?" one of our friends' asked.
In the hustle and bustle of preparing for and hosting Friendsgiving, my husband and I left one thing off our to-do list: a toast.
Instead, before five of our best friends and their five kids 6 years and under, my husband spoke off the cuff – thanking them for helping us break in our newly-renovated kitchen with our first dinner party and wishing them health and a plethora of happy memories to come.
If I gave the toast as much thought and prep as I gave Brunch with
Stuffing or her sweet potato casserole (two recipes from her new
recommended if you enjoy the 73-year-old home cook, mother of four, grandmother of
adopted grandmother to over 2 million viewers on TikTok, Instagram and broadcast TV), here's what I would have said…
One of the best treasures a person can have in their lifetime is a close friend – a friend that you can fully trust; a confident with whom you are real and transparent, on the best days and on the worst. Looking around this table, I am fortunate to have five of those friends here, six when counting my husband.
You are my people. And, today, especially on Friendsgiving, a tradition we've held onto now for over 13 years, I want you to know you are incredibly loved for who you are and what each of you bring to my life. Cheers!
Friendsgiving left my belly and heart full. But it also made me realize that the busier our family lives become, the more challenging it has been to maintain close friendships. It's not unheard of to go weeks, or months, between seeing our "framily," the nickname we've given to our friends that are so close they are just like family. So, 2023 is going to be the year that we carve out intentional time with those we care about the most. It's also going to be the year we speak our hearts.
Maybe you want to do the same?
Sending you love and health, JessiCa huMphrey-Cintineo
6 A Letter
From the Editor
Babs' Country Sausage Apple and Herb
cookbook Celebrate With Babs – highly
eight and
KNOWN FOR OUR EXPERTISE CHOSEN FOR OUR CARE
We're in this with you.
Every specially trained breast expert. Every nurse navigating the way. Every cutting edge technology and innovative treatment option, all here for you. We are one team with one goal, and we will beat this together.
Breast cancer care from experts you can trust Find
your doctor at HolyName.org

8 Table of Contents 10 Here Comes The Spring Collective Boasts Café, Activity Center and Fitness and Wellness Programs 16 A True Hero Honoring Organ Donor Freddy Villa 20 Rejuvenate This Winter 24 Making Recovery A Little Bit Softer High School Student Creates Pillow For Breast Cancer Patients 28 Dr. Tal Lebel of Haworth Dental Converting the Non-believers, One Patient At A Time 34 The Most Wonderful Time of the Year? Tips to Fend Off Holiday Stress 38 Speaking In To Time Promoting Speech and Development 42 Snow Shoveling Tips to Help You Through the Winter 44 'Chef Ellen' Is 'Gut Driven,' And You Can Be Too 50 Food Is Medicine 56 Giving Guide: Support Your Local Charities 64 UPCOMING HEALTH EVENTS 66 Happy, Healthy Feet 50 10 24 Disclaimer: This information is not intended to treat, diagnose, cure or prevent any disease. All materials provided in this publication are intended for informational purposes only. Always seek the advice of your physician or a qualified heath care provider with any questions you have regarding a medical condition before undertaking any diet, exercise, health program or procedure set out in this publication. 44
Caring for Mind and Body as One
The Graf Center for Integrative Medicine at Englewood Health is reimagining what wellness looks like through a holistic approach, focusing on the mind and body as one. Integrative medicine is ideal for anyone with a chronic condition, such as cancer, heart disease, diabetes, or chronic pain, as well as anyone who wants to take a proactive role in their own health. Whether your goals are focused on prevention, recovery, or general emotional and physical wellness, our team is here to partner with you.
Our services are provided by licensed/certified therapists using the latest evidence-based practices. We are located in a comfortable environment on the Englewood Health campus and led by a medical doctor, so your safety always comes first.
• Acupuncture
• Aromatherapy
• Integrative medicine consultations with physician
• Manual lymphatic drainage
• Massage therapy
• Meditation, including pre/ post-surgery
• Nutritional counseling
• Pre/postnatal massage, nutrition, and yoga
• Private stretching with exercise physiologist
• Reflexology
• Reiki
• Stress management
• Wellness coaching
• Yoga
Now accepting most insurances for acupuncture, massage, nutritional counseling, and integrative medicine consults.
201-608-2377 englewoodhealth.org/graf
Here Comes The Spring
Wellness Collective Boasts Café, Activity Center and Fitness and Wellness Programs
By kevin CzerWinski
It seems fitting that Jonathan and Julia Krieger selected the Demarest-Lyle House in Tenafly as the location for The Spring.
The Demarest-Lyle House is an historic home, built in the late 1700s and its presence is emblematic of the region's rich history, which dates back to colonial days. The Spring hasn't been around nearly as long –
just a few months – but in that short time it has been here, it has had a tremendous impact on Tenafly and surrounding communities. So much so that if the wellness collective created by the Kriegers continues to grow in size and popularity, perhaps one day there will be a sign out on West Clinton Avenue next to the one about the Dearest-Lyle House, detailing the rich history of The Spring.
10
"I kept driving by the building with its huge for sale sign hanging [on the front porch]," Jonathan Krieger said. "I must have driven by 10 or 15 times and I finally called the broker. I never met the broker until we signed the lease because this was at the height of [the] omicron outbreak. But when I went into the building, I called my wife and said you need to get
over here. I don't know what we're going to do, but we have to do something here."
That something turned into The Spring, which is a combination spa, restaurant, holistic healing facility, community center and so much more all rolled into one. The Krieger's mission statement regarding
Continued on Page 12
The Spring revolves around empowering and uniting communities by combining food, beverages, holistic practices, physical activities and educational experiences.
The Spring, however, is so much more. It's a bustling hive of activity that is warm and welcoming, reflecting the attitude and personality of its creators. Originally, the plan was to turn the building into a school, what Krieger called "a very unique Montessori 2.0 concept." The timing, however, wasn't right to open such a facility. Instead, the Kriegers have created what they have labeled an evolved version of a community center.
"I've been watching the people come in from babies to seniors walk in and experience the classes, the lectures, the food and just being amongst each other in a situation that normally wouldn't exist within communities," said Krieger, 42, whose business partner Brandon Hirsch manages the day-to-day operations. "You're able to meet people who live a few minutes away from you and that's beyond special, for me included. It is pretty magnificent to watch the community come together in one place and experience all of this together. The feedback has been remarkable. Mostly it's been thank you, we needed this."
The Spring features a restaurant with a plant-forward menu which features an all-day breakfast through 6 p.m. The menu, which is 80 percent vegetarian/ vegan, is ever evolving, though, according to Krieger, added that shortly a full dinner will be available featuring "a very robust menu," which will include a vegan cheeseburger.
Fitness classes, along with dance classes for adults and kids as well as breath work and yoga are available. Additionally, a holistic medical component was added recently in which chiropractic and IV therapy are available. There is also a medical director, Dr. Annalisa Pastore, who oversees The Springs medical options under the program Restore at the Spring.
If it all sounds like an ambitious venture, that's only because it is. Krieger, however, is no stranger to big and creative projects. He's been building business for the better part of two decades in Manhattan, where he also lived until moving to Bergen County last year. He co-founded a coffee chain called Bluestone Lane and built a chain of restaurants in New York City called Taco Dumbo. He also created a series of Randolph Beer Brew Pubs in addition to being the co-founder of Bridges General Shops, a chain of convenience stores in New York and San Francisco. Julia Krieger, meanwhile, is a Harvard grad who was named as one of the 30 Under 30 by Forbes.
The Spring, however, is something just a bit more for the Kriegers.
"I think I've been shooting for something like this for the last 20 years," said Krieger, who has three children under the age of 5. "I think I've always been building concepts with certain intentions but I don't think I've ever built anything more meaningful. The Spring stemmed from learning the dynamics of this town. You have Demarest, Englewood, Closter and all these young families that lived in the city for 10 to 20 years and then had kids and moved out here. All that was exacerbated during COVID, the great
people around us, we were living in a community but not having community.
"This building lent itself to a place where you could have a lot of different experiential programming that all of these people want. This is where you can go for coffee or lunch. When the kids go to school you can go here for a yoga meditation class. People can come here to hear a talk during a workshop on something, which is what we are doing through Spring Talks. Why shouldn't that all be under one roof?"
As for the name, it's something that Krieger has been eager to use for the last 15 years. He's a self-described big outdoors guy and is a big believer in nature as a form of healing.
"If there is a lake or pond or waterfall around, I am jumping in," he said. "Spring embodies energy, life and healing and that really what I see this concept representing. We can meet almost all of someone's extracurricular needs, mental, physical and holistic from having a great breakfast, lunch or dinner to taking classes and attending lectures.
"Tenafly and the surrounding area are very unique communities. There is a very diverse culture of people with lots of young families," he continued. "They are very intentional people who want to live a good life. And we are genuinely built for this community to create community."
And it's a community rich in history, one which the Kriegers hope that The Spring will someday play an integral part.
GOOD SAMARITAN HOSPITAL GOLF AND RACQUETS INVITATIONAL
14 Social
Good Samaritan Hospital Foundation held their Golf and Racquets Invitational at Paramount Country Club. For more information, visit www.goodsamhosp.org.
Dr. Michael Schwartz, Dr. Jessica Mitchell Mona Montal, Dr. James Vela, Steve Schloss, Nick Spar, Dr. Mary Leahy
Dr. Mary Leahy, Dr. James Vela
Gayle Hirsch, Mary Grace and Joseph Lagana, Amy Stern
Chris Albanese, Andrew Pierpont, Matthew Bock
Dr. Mary Leahy, Dr. Michael Schwartz, Dr. Jessica Mitchell
John DeCicco, Nick DeSantis, Joe DeCicco
Ray Beninato, Eddie Gordon, Jeff Burton
Dr. Ken Austin, Dr. Lyle Gorenstein
Mark Gross, Dr. Cary Hirsch
Todd Stewart, Charles Wolff
Linda Greene, Susan Baxt, Vicki Fleischer, Sheryl Santi
Dr. Michael Schwartz, Dr. Cary and Gayle Hirsch, Dr. Mary Leahy
Andrew Pierpont, Chris and Steve Albanese, Matthew Bock
Dr. Dan and Heather Charen
A True Hero
NJ Sharing Network Honors Organ Donor Freddy Villa
According to the U.S. Health Resources and Services Administration (HRSA), over 22,000 Hispanics and Latinos are depending on the generosity of organ donors for life-saving organ transplants. Locally in the Garden State, NJ Sharing Network joins in the celebration of Hispanic Heritage Month by sharing inspirational stories of hope of local organ and tissue donor heroes and their families who embody its life-saving mission.
"Each year in New Jersey, thousands of lives are saved and enhanced through organ and tissue donation and transplantation. Clearly, this is something to celebrate. However, there is an urgent need to raise awareness of organ and tissue donation to help save more lives in our diverse communities of New Jersey," said Joe Roth, president and CEO of NJ Sharing Network. "Although organs are not matched according to race and ethnicity, and people of different races fre-
16
quently match one another, all individuals waiting for an organ transplant will have a better chance of receiving one if there are large numbers of donors from multicultural communities."
Altogether it took Heidi, who works as a retail merchandise buyer for Burlington Stores, about a year to complete the book.
"He was my life, and we are all in pain every day since he has been gone," said Lucy Villa, Freddy's mother. "We will remember him for being someone who thought about what others needed before what he needed in life."
Spencer, who is now in remission, is a graduate of the University of Maryland and works as an associate buyer for a clothing store, was fully supportive of her mother's effort to share her story, Heidi said.
According to United Network for Organ Sharing (UNOS), nearly 4,000 New Jersey residents are waiting for a life-saving transplant, and 67 percent are people of color. Just one organ and tissue donor can save eight lives and enhance the lives of over 75 people. HRSA reports the percentage of Hispanic donors continues to increase each year thanks to the organ donation community's sustained efforts to diversify the donor pool.
"I hope other families find comfort in this book," said Heidi. "It's what's inside that really matters."
Freddy's donated organs saved the lives of seven people. His liver saved a 6-month-old boy and a 35-yearold woman. His kidneys saved two boys, ages 9 and 16. His lungs saved two men, ages 63 and 77. His heart saved a 52-year-old man.
Since its release, Heidi has donated copies to several non-profits that work to help children facing hair loss while battling cancer, including Coming Up Rosies, Sunrise Day Camp and Cohen's Children's Medical Center.
It has also received the endorsement of several medical professionals for its uplifting message.
Forever a Hero
The family, friends and coworkers of Freddy Diaz Villa of Englewood, all knew whenever they saw him, they would be greeted with his warm smile and usually a great big hug. While he loved music, cooking and basketball, his greatest joy in life came from helping others. On Jan. 25, 2022, Freddy, a special young man, passed away at the age of 23.
"Cancer treatment, especially chemotherapy and radiation, has a profound effect on each patient's body image and no side effect has a more noticeable effect on how a patient looks than hair loss," said Dr. David Loeb, Chief of the Pediatrics Division of Pediatric Hematology/Oncology at Montefiore Medical Center in the Bronx.
"Freddy's legacy will live on forever. He exemplified the giving spirit that exists in our diverse communities throughout New Jersey," said Roth. "Our NJ Sharing Network family celebrates and honors Freddy and all donor heroes for their selfless decision to save and enhance the lives of countless others who now have more holidays, birthdays and special moments to share with their loved ones."
He also said, "This inspiring book addresses this issue head-on and it provides the powerful and supportive message that you can be awesome and beautiful and full of love, even without hair."
Copies of "I Have No Hair and I Don't Care" are available for $15.95 each at ALifeIn
Lucy recalls the countless times that Freddy would actively lend a helping hand to others. During his teenage years, Freddy spent his after-school hours
Life In Print Continued on Page 18
Pictured below: Courtesy of A
at the medical office building where his mother worked as the Office Administrator. This healthcare environment furthered his passion for supporting those in need.
"Freddy would put on gloves and help our elderly patients into and out of the elevator in our office building," said Lucy. "He wanted to be a part of the medical team in any way that he could. He even made a sign that he wore that read 'Elevator Staff.'"
Freddy soon began helping around the office in other ways, including scanning patient charts. After graduating from high school, Freddy attended UNIBE International College and became a Certified Medical Assistant (CMA). He quickly became a favorite among his coworkers and patients.
"Even the cleaning services team loved Freddy," said Lucy. "He would always take half of his breakfast and share it with them. He would tell me it was his way of showing them that he cared."
Freddy's selfless nature extended beyond the medical office setting. Each time the family vacationed in Cuba and the Dominican Republic, he purchased personal care products, such as soap, shampoo, and toothpaste, to give to people on the streets near their hotels.
"He reminded me that the local people in those cities did not have many of the basic items that we enjoy in the United States," said Lucy. "It amazed me that he would always think that way and then take action to do something about it."
During Freddy's final days in the hospital, Lucy and her family struggled with the decision on whether to donate his organs and tissue. Ultimately, Lucy realized that Freddy would want to give the gift of life as his final act of compassion to others.
"I had a dream about Freddy, and a feeling came over me that he wanted to give to others now that his time was done here on Earth," said Lucy. "I am glad that I followed that feeling. I know it would make Freddy happy to know that he helped others."
NJ Sharing Network, in collaboration with Englewood Hospital, honored Freddy with a special NJ Sharing Network flag raising ceremony.
Freddy and all donor heroes remind us that even the simplest act of kindness can make a world of difference to those around us. You can make a difference today by registering as an organ and tissue donor at www.NJSharingNetwork.org.
Rejuvenate This Winter
By traCy Flaherty
Winter is a time of rest and rejuvenation for the mind body and spirit. It is the season to retreat, plan and prepare for spring. Some of the most wonderful moments of the year take place during the winter, when there is time to surround yourself with loved ones who truly support you, practice self-care you might not have time for and experiment with some comforting new foods and rituals. Selflove is a practice that deserves attention all year round, but this winter let's focus a little more on developing the habits that best pamper and nourish ourselves mind, body and spirit.
As a meditation teacher my first go-to way to nourish my mind and spirit in winter is to keep my meditation practice strong and non-negotiable. Taking just 10 minutes a day to quiet the mind, breathe deeplyand go within makes for a better me. I don't meditate every day to become better at meditating. I meditate every day to become a better person. My meditation practice helps me to respond and not react to life's situations and problems. It helps to turndown the volume of fearful thoughts especially during these trying times. By turning down the fearful thoughts, I make room for, I welcome and cultivate my calm inner guide to come forward and lead the way. We can never completely turn off the thoughts within our minds but we can learn to get between the thoughts and the voice in our heads. It also gives us a chance to change the dialogue to a more positive, loving and kinder way of thinking.
There is also evidence the meditation is helpful in managing Seasonal Affect Disorder (SAD), which is a real problem to many people during winter. One theory is that the main cause of the winter blues is a disturbance in the physiology of the pineal gland, a small gland located in the brain that regulates patterns of sleep and waking. Meditation stimulates the pineal gland, inducing the secretion of melatonin and serotonin, which promotes relaxation and happiness to name a few feel good feelings. Releasing feel good hormones will keep you grounded and happier through the winter months.
The winter can also be a time for reflection and intention setting that can lead you to make this season, unexpectedly the most beautiful season of the year. Journaling and intention setting sets the tone for the months ahead and gives us time to plan and set goals for the upcoming new year. The best way to start your day is with meditation and journaling. You can use your journal for gratitude, setting goals and manifesting your dreams. So, start today sit, breathe even for 10 minutes and when you open your eyes see
the day in a bright way. If you say you do not have 10 minutes to set aside to meditate and feel good I ask you this simple question: you have plenty of time to scroll through your phone and feel poorly why not take 10 of those minutes to put your phone down and go within where all of the answers lie?
Tracy Flaherty is an integrative health and lifestyle coach, meditation teacher and author. She teaches meditation one-on-one and in-group settings. Teaching people how to breathe, de-stress and find inner peace. You can find her meditations on the Insight timer app and on her Instagram page @wellwith_tracy. She does a free live 10-minute meditation on Instagram every morning at 10a.m. called Zen in Ten. As well as in person group meditations at Reflections Spiritual Wellness Studio at 274 Lafayette Ave. in Hawthorne on Saturday at 10 a.m.
Contact Tracy at bewellnourished.com.
HACKENSACK UNIVERSITY MEDICAL CENTER
22 Social
Hackensack University Medical Center hosted a celebration for Dr. Howard Ross' Formal Investiture as the M. Martin Ross Distinguished Chair in Surgery at Indian Trail Club. For more information, visit www.hackensackmeridianhealth.org.
Dr. Howard and Stacy Ross Dr. Charles Cooper, Rohit Mahajan, Dr. Ryan Moore
Greg Stamer, Bari Kroll
Michael Spallone, Daniel Mansour
Nicole Ladas, Theresa Ebel, Donna White Dr. Jeff Boscamp, Dr. Yuki Kimora, Drs. Carla and Greg Simonian
Morris Morin, Dr. Rick Winters
Dr. Jolie Murcko, Dr. Rishi Sharma
Dr. Stephen Pereira, George Mazpule, Steven Hernandez
Lisa Iachetti, Clare Socci Missy Clare, Megan Devlin, Rosario Ligresti
Chris Gazdick, Ciaran Geraghty
Fredda Siegel, Gayle Stamer, Gail and David Pester, Dan Siegel
Dr. Rick Winters, Joyce Hendricks, Dr. Lisa Tank, Dr. Howard Ross, Mark Sparta
Dr. Dante Implicito, Dr. Massimo Napolitano, Dr. Mark Schlesinger, Joan Banovic, Dr. Pat Roth, Rohit Mahajan
Making Recovery A Little Bit Softer High School Student Creates
For Breast Cancer Patients
By Megan MonteMarano
Pillow
When a loved one experiences difficulty or pain, it's not uncommon to feel helpless — you want to do something to lessen the burden, but often don't know how. After witnessing the discomfort of someone close to her who was diagnosed with micro-invasive lobular breast cancer, however, Upper Saddle River resident Charlotte Abrams knew exactly what she had to do.
Charlotte took matters into her own hands when she noticed the discomfort caused by traveling in the car post-surgery. With some fabric, a sewing needle and a whole lot of handwork, she designed a special pillow to protect the surgical site from the pressure of the seat belt. After seeing the incredible benefits of this simple idea, she was soon inspired to make the pillows available to everyone who needs them. And so, the POSH Pillow Project was born.
"POSH" is an acronym for Post-Op Supportive Hug. Charlotte's goal is to help people recovering from breast surgery feel more comfortable and supported by making the healing process just a little bit softer. "I have always enjoyed creating artwork, especially drawings," comments Charlotte. "Art serves as an outlet for me. I view my work as an extension of myself."
Growing up as a student at the Green Meadow Waldorf School in Chestnut Ridge, N.Y., Charlotte's love
for art was furthered by her exposure to handwork classes, through which she learned how to sew, knit, crochet and embroider.
"I continued to use these skills outside of the classroom to make homemade gifts, and, eventually, the POSH Pillow," she explains.
This one-of-a-kind creation incorporates armholes in the design, allowing it to rest securely without shifting. It lies against the person's chest and is held in place by the tension of the seatbelt. The pillow cushioning then disburses the pressure from the seatbelt, providing protection to the surgical site and great ease to the patient.
"The POSH Pillow made all the difference in my life," says one thankful recipient. "It enabled me to travel to and from doctors' visits without fear of, or pain from, the seatbelt putting pressure on the surgical site. It also gave me the freedom to visit friends and family with comfort and ease. And, most of all, it was made with love, so I always felt the warmth and support in its 'hug.'"
Charlotte recently led a class at the Old Forge Library in upstate New York, where she spends summers with her family. She taught local residents how
24
Continued on Page 26
5 10 20 Promotion Spend $5,000+ & Get 5% Off Spend $10,000+ & Get 10% Off Spend $20,000+ & Get 20% Off Dacor Luxury Appliances & Eligible Samsung Laundry Offer valid on qualifying sales of select, new Dacor and new Samsung laundry products (Front Load & Pedestals 8300, 6500, 8700 & 8900, Flex Washer/Dryer & Pedestals 9900, AirDresser 8500 & 9500). Valid from January 1 through December 31, 2022; must take delivery by April 30, 2023 and redeem by May 31, 2023. Discount applies to product price only, not to taxes, fees, or other costs. To be eligible for promotion, Samsung products must be purchased on same purchase order as Dacor products. For complete terms, please visit www.dacor.com. Visit dacorrebates.com to make your claim. By going to www.dacor.com, you are entering a website hosted and operated by Dacor. Please review Dacor's Privacy Policy. All personal information you provide is subject to Dacor's Privacy Policy. Different terms and conditions may apply. JAN 1, 2022 - DEC 31, 2022 ™ R E N O ' S A P P L I A N C E 2 3 5 M c L e a n B l v d . R o u t e 2 0 N o r t h P a t e r s o n , N J 0 7 5 0 4 9 7 3 - 2 4 7 - 1 8 6 0 R e n o s A p p l i a n c e . c o m
to make the uniquely designed pillow, supplying the fabric patterns, which she cut in advance of the event.
The participants sewed the pillows, filled them with stuffing and then stitched them closed. The event was such a success, that several people even took home patterns to complete additional pillows for donation.
Another pillow making class took place recently at the Englewood Public Library. In person 40 people were making pillows while another 11 joined along via Zoom. Girl Scouts from a Teaneck troop and from an Englewood troop stuffed and sewed these pillows to give to the community.
In order to make classes like this available to everyone, Charlotte created a GoFundMe campaign to purchase all necessary materials. To date, more than $2,000 has been raised, which provides the funding to make these pillows available at no cost. All additional proceeds are then donated to breast cancer support-based organizations.
Through her events, Charlotte is determined to create as many POSH Pillows as possible. She has reached out to multiple libraries and organizations throughout Bergen County to offer this unique pillow-making class. Charlotte plans to also contact local fabric stores to ask permission to leave donation bins where customers can contribute materials for the cause. She ultimately hopes to connect with local hospitals, including, but not limited to, Englewood Hospital, Holy Name Hospital, Hackensack University Medical Center and Valley Hospital to continue this initiative.
"Cancer knows no boundaries, and comfort should be available to everyone," she says. "My goal is to continue increasing awareness and help make people's recoveries a little softer."
Staying true to her word, Charlotte intends to use her upcoming senior project as a way to further share the POSH Pillow Project with her peers and extend it to other Waldorf schools.
"I am grateful for everyone who has supported this endeavor, whether by providing the space for events, giving advice, joining events, sharing my social media posts, or donating to the GoFundMe campaign that I created," comments Charlotte. "I am especially appreciative of my family members and their constant support."
Always looking for ways to help people and create positive change, Charlotte is also planning a trip to Argentina this upcoming spring. While there, she hopes to build upon the Waldorf school's network and share the POSH Pillow Project with other students to not only serve this community, but others abroad.
While POSH Pillows are predominately donated to various organizations, Charlotte also takes requests.
"Actions from the heart always bring people together," adds Charlotte. "Through this collaboration, a tremendous impact can be made — anything is POSHible."
For more information and updates, please visit the POSH Pillow website at www. poshpillowproject.com or follow the POSH Pillow Instagram at @posh_pillow_project and Facebook at @POSHPillowProject.
Dr. Tal Lebel of Haworth Dental
Converting the Non-believers, One Patient at a Time
By riChard posluszny
When you drive into Haworth, you're struck by the expanse of woody terrain and the rolling green grass in sedate neighborhoods. The town is known for its excellent school system and that it's a safe place to call home.
What isn't it known for? Having a bustling downtown area, like Ridgewood or Englewood. Driving down the village's Terrace Street, you'll find a dozen — maybe two dozen — storefronts for local businesses. There's an apothecary, a sushi restaurant, a convenience store and a recently added coffee shop. Additionally, there's a couple of banks and some office space sprinkled into the quiet landscape.
So, it's no surprise that when you arrive at Haworth Dental it too has modest curb appeal. But, beauty is more than skin deep.
Now, I am well aware that trips to the dentist are at the bottom of most folks' to-do lists. This was only amplified when I asked my significant other when her next visit was scheduled.
Trick question! It wasn't.
Getting her to book an appointment and see Dr. Tal Lebel felt like watching an episode of the Looney Tunes. You know, the scene where the cat is being dragged and it leaves claw marks in the ground.
For me, this hasn't been a hurdle. In fact, I like going for my routine checkups. It all comes down to having a positive experience, which has always been the case since I began working with Dr. Lebel. And that's the beauty of the Haworth Dental team.
28
To better understand how and why Dr. Lebel delivers such high-quality care, I sat down with him to get to know the driving force behind Haworth Dental. At the peril of sounding like the opening crawl to Star Wars, it started a long time ago in a country far away — Israel, more specifically.
Dentistry is in the Lebel family's DNA. On his maternal side, his grandmother was a dentist. Adding to that, on his paternal side, his grandmother and grandfather were dentists. That's not all: His father originally started his career as a dental technician (e.g., the professionals who craft crowns and other appliances). Eventually, Tal's father would receive the education to practice and open his own office. With two generations in the field, Lebel grew up around dentistry.
But, that wasn't the only thing vying for his attention. Music was also in the picture. Since age four, Lebel has played the violin, which led him to become a classically trained violinist. With the aim of becoming professional musicians, he and his siblings spent much of their youth practicing their craft.
This eventually led to a watershed moment: Tal's oldest sister was accepted into The Juilliard School. As the mecca in the music world, his mother and sister emigrated to the U.S. for this massive opportunity. Soon thereafter, Tal, his father and his other sister arrived in The States to reunite the family.
It was then that Lebel was confronted with the commitment and intensity required to hone one's musical skillset. After all, that's all his oldest sister did nine hours a day — practicing her musicianship consumed her life. Because Tal was scientifically inclined and dentistry was engrained in him, he didn't focus on music as much. That said, he still attended the Mannes College of Music where he earned a music degree and, additionally, had the opportunity to perform at Carnegie, Avery Fisher (now David Geffen) and Alice Tully halls.
From there, he delved into his studies on his path to become a dental professional. In the background, however, Lebel became involved in the New York City nightlife scene as a DJ. This would actually pay dividends down the road as he had to build his social
skills and engage people across a variety of socioeconomic backgrounds.
While, on the surface, the Electronic Dance Music (EDM) scene seems like a glamorous gig, spinning at formerly well-known spots like Sound Factory and Tunnel is actually a lot of work. From promotion to working within the actual business to learning about the music industry, it's not for the faint of heart. And then there's the hours. Essentially, you work 8-8 — just overnight.
Ultimately though, Tal had to put music aside to squarely focus on his dental studies. After enrolling at the University of Medicine and Dentistry of New Jersey (UMDNJ), his eye was on the prize as he buckled down. For Dr. Lebel, attending a state school was a "no-brainer."
Why? Because he wanted to exit academia with as minimal debt as possible.
After graduating in 2006, he spent one year in San Diego as a resident at the Veterans Affairs (VA) hospital. Its purpose was simple: To provide Tal with the technical background and real-world experiences required to start refining his craft.
"Working from 7:30 a.m. to around 3:00 p.m., you see as many patients as you can. Frequently, you find yourself doing dental procedures you haven't done before or you're simply aware about only from textbooks," says Dr. Lebel.
Clearly, residency served as an intense training grounds for Lebel. But, this was merely the start.
That's because when Tal returned to New York to work at his father's Brooklyn-based practice, he decided to fully immerse himself in what he calls "continuing education." Not only did he work at the family office, he also began practicing at four other locations scattered across Brooklyn, the Bronx, Queens and Manhattan.
"You become an expert in something when you spend 10,000 hours doing it, or you do the procedure 10,000 times," says Dr. Lebel.
Continued on Page 30
Something tells me that the intensity he applied in his training regimen as a violinist must've played a part in this way of thinking.
According to Lebel, there were also emotional intelligence (EQ) benefits to this approach as well. That's because not only was he able to get plenty of hands-on dental experience, but Tal was also able to work in a variety of office environments. Keep in mind, not all practices are created equally.
With patients spanning various cultures and economic statuses, this bolstered Dr. Lebel's alreadystrong soft skills. This way, when anyone sat in his chair, he would have the ability to connect with an individual, put them at ease and ensure they received the highest quality of care possible. In a business that can be very transactional and cold, changing the dynamic goes a long way.
Eventually, Tal began spending more time at his father's office as demand increased. Unfortunately, not too long after this pick-up in activity, Dr. Lebel's father was stricken with a health ailment. By 2010, Lebel fully took over the practice — at a fairly young age. This brought forth an entirely all-new
set of challenges that Tal had to tackle.
Now, Dr. Lebel had to not only continually refine his technical skills as a dentist, but he had to learn the business side of running a practice. Fast.
"From there, I started picking up all the business things one really doesn't get exposure to until you're in the trenches. You have to quickly get a handle on things like, 'How do I even get paid by an insurance company.' Otherwise, you won't be around for long," says Tal.
It didn't take Lebel long to realize that becoming fully engulfed in the business elements wasn't going to be a winning strategy. He then decided to hire professionals with experience that could take on the day-to-day business challenges of running a practice.
"I love being a dentist but I can't do all of the other work that comes along with operating a business at its full capacity," says Tal. "So, I quickly found the right team members so we could continue growing our practice."
30
All the while, in the background of his professional pursuits, Tal found love with the woman that would become Mrs. Lebel. After a handful of years successfully running his own practice in parallel with starting a family, it became clear that Brooklyn may not be the best place to settle down. Soon, Lebel and his wife relocated to Haworth — the quiet town with expansive yards and an excellent school district.
At first, Tal was doing the daily commute to and from Brooklyn. But if you've ever made that trek yourself, you know that it's a long haul, especially as a daily commute. With a wife, toddler and newborn, it became crystal clear to Dr. Lebel that you can't work that kind of lifestyle and be there for your blossoming family. It was then that he decided to find a practice in the Northern New Jersey area.
After starting a local dental study group with a friend, Tal met a materials representative who introduced him to Dr. Robert Harris — the former owner of Haworth Dental. The two got along famously and in 2015, Dr. Lebel formally purchased the practice.
And because of that, I like to think that my entire family is lucky to have been working with Dr. Lebel ever since. Why? It's because each and every one of us has had a positive experience with Tal.
"I love working with families," says Dr. Lebel. "From my perspective, not only am I applying my skills to each person, which allows me to solve for their dental needs, but I also become a member of that family. By remaining consistent with my work and having an excellent bedside manner, I am able to earn their trust. And, once I am fortunate enough to do that, it's my job to perform perfectly so I don't lose it."
To me, that's exactly how Lebel is able to convert non-believers.
Case in point: Remember my significant other that hated going to the dentist? Now, it's not a problem thanks to Dr. Lebel's ability to deliver a positive experience with the utmost care.
ENGLEWOOD HEALTH GALA
Englewood Health held their annual gala at NJPAC with a performance by Idina Menzel. For more information, visit www.englewoodhealth.org.
32 Social
Donna and Dr. Stephen Brunnquell, Mary and John Capazzi
Michael, Harvey, Kim and Olivia Weber
Emily and Michael Gutter, Alicia and Dr. Bernie Park
Cara Zaback, Sarah, Warren, Kristin and Hannah Geller
Dr. David and Karen Abramson, Sabrina and Michael Epstein
Lynne and Marty Zaikov
Dr. Tracy Scheller, David Oaten
Brad Ruder, Amy and Mark Shirvan
Warren Gelller, Anne and Peter Muentener
Steven and Rina Rudnitsky, Kristin and Warren Geller
Dr. Nimesh and Benita Nagarsheth
Kevin Cusick, Rich Simone, Marg Frazier, Kelly Heinonen
Dr. Bernie and Alicia Park, Dr. Adam and Rebecca Aronofsky
Jacqueline Pappas, Dr. Molly Schultheis
Dr. Samarth and Anna Beri, Judy and Dr. Kevin Yao, Dr. Larry Davis
The Most Wonderful Time of the Year?
Tips to Fend Off Holiday Stress
By dr. Jen altMan
It's the "happiest season of all" – the holiday season!
Ever the optimist, I like to focus on all the great things that accompany this time of year: the the cozy sweaters, the colors that adorn the trees and fires in the fireplace, to name a few. But no one is immune to what one of my friends called "the dark underbelly" of the holiday season – the pressure that comes with "#makingmemories" – the decorating, the gift-buying, and most importantly, the hosting of the extended family. It's ironic that once the summer-to-fall transition dynamics are finally stabilized in your house, the anticipation of grandma and grandpa's arrival opens the door to a host of new concerns.
Why do we get so stressed during the holidays? It's a time of year where we experience a major pushpull of emotions. On one hand, advertisements overwhelm us with images of ideal gifts and happy
families, celebrating in homes magically decked with good taste, light, color, warmth and picture-perfect tables. On the other hand, it's a time, sometimes the only time during the year, where we gather with extended family and friends in celebration. The significance of this is only amplified by how many years we have gone without these occasions. But it's staggering to imagine how we will execute our own holiday preparations in a manner that matches that idyllic vision.
So, while you're perusing Pinterest and wondering where you put the antique gravy boat, here are some ideas to help calm the holiday nerves.
MANAGE EXPECTATIONS. The stress we experience is equal to the difference between expectations (what we wish and want things to be like) and reality (what we are actually able to do or create). Even those of us who usually feel on top of our game start to sweat when we see the Martha Stewart moms start posting
their holiday décor on Instagram. Those posts can make us think we are not good enough, that their holidays will be better – just because they are gifted (or, let's face it, showing off). As Theodore Roosevelt once said, "Comparison is the thief of joy." And isn't the holiday supposed to be all about joy? It is important to let go of what isn't and grasp what is. Create your own traditions even if you're piggybacking on something you read in a magazine or saw online. Our holidays are ours – unique and special just like our families.
BE PREPARED! Think about it as a mathematical equation: the level of stress is inversely related to the level of preparation. That is, the more prepared you are, the less stressed you will be. If you see a gift you know is perfect, why wait? Order it right away. Get the whole family involved in choosing gifts for relatives, making decorations and wrapping presents. As my mom always said, it doesn't have to be perfect to be excellent. Ultimately, organization and planning will go a long way towards minimizing worry on the back end.
BEWARE THE FAMILY DYNAMICS. Anyone who's ever had a sibling, a parent or an in-law knows that despite age, station, household or years of therapy, when you get everyone under one roof for an extended period of time, the dynamics fly. Out of nowhere you find yourself behaving like your adolescent self in response to your brother's behavior.
You become contrary and defensive as you hear the criticism underlying the light tone of your mother-in-law's remarks. But you don't have to give up or go off on Aunt Betty. The solution? Anticipation and awareness – of who is going to set you off, of what trips your wire, of where your safe spaces are (to hide, take a deep breath and count to 10). Clarifying your perceptions can help lower the level of distress.
Every year I forget to order the matching family pajamas until the delivery window is closed and we, yet again, have to go without that picture. Every year I am exasperated by the comments and interactions of certain family members, although every year they are the same. But every year I marvel at my good fortune, surrounded by this incredible, loud, hilarious, loving family in my adequately decorated home and I feel such deep gratitude for all of it.
Dr. Jen Altman is a New York and New Jersey licensed clinical psychologist with over 20 years of experience. She is currently in private practice in Saddle River. Dr. Altman works with children, teens and adults dealing with a variety of issues related to anxiety, depression, learning differences, motivation, social skills and family conflict. Dr. Altman consults with schools, offers professional development workshops, writes social-emotional learning curriculum and presents on a wide variety of topics. Dr. Altman is also the mother of two amazing teens, and co-creator of The Worry Chest. Find out more at www.drjenaltman.com.
HACKENSACK MERIDIAN HEALTH FOUNDATION GOLF OUTING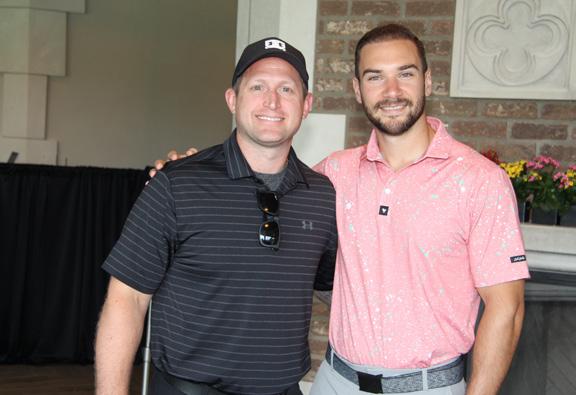 36 Social
The Hackensack Meridian Health Foundation held their annual Hackensack University Medical Center Foundation and Palisades Medical Center Foundation golf outing at Ridgewood Country Club. For more information, visit www.hackensackmeridianhealth.org.
Tom Neumann, Robert Garrett, Steve and Kevin Boswell, Eric Bergstol
Robert Garrett, Joe Sanzari
Robert Garrett, Sam Wright, Joe Sanzari
Joe Ciambrone, Zack Levison
John Salemme, Jerry Iannone, Trae Minicucci, Chris Rotio
John Gyon, Rich Chamberlain, Dave Wolf, Jeff Riggitano
Mike Luci, Dr. Taya Glotzer, Dr. Sanjeev Patel
Carl Carfello, Joe Gandolfo
John Leighton, Sean Featherstone, Tyler Botta, Chris Kourgelis, Carl Carfello Jr.
Ralph Corrado, Steven Salemme
Dr. Michael Kelly, Mike McBride
Dr. Rick Winters, Dr. Howard Ross
Claire Ward, Rachel Simoneau
Gail Gordon, Ulysse Diaz, Rob Menendez, Yogi Virk, Arvinder Bains
Eli Manning, Mark Sparta, Joe Sanzari, Robert Garrett, Frank Fekete, Ulysse Diaz
Speaking in No Time
Promoting Speech and Language Development Can Be As Easy as 'Add To Cart'
By ashley Callahan
Check out the best toys to encourage communication for the little ones in your life.
Under Age 1 – Prelinguistic Skills
Prelinguistic skills include eye contact, imitations, vocalizations and joint attention. Development of these skills set children up for successful communication.
Toddlers Baby Music Shake Dancing Ball Toy
Sensory input, attention, exploring noises.
Cre8tive Minds Basket of Baby Dinosaurs
Fine motor skills, in and out, imitating actions.
Peek-a-boo Elephant
Holding attention during tummy time, boosting sustained attention.
38
Ashley Callahan is a graduate student at Seton Hall University studying speech language pathology with a passion for helping provide communication to all!
1 Year Old – First Words
According to current developmental milestones, children's first words will start to emerge around 12-15 months.
Nanayo 4-for-1 Play Kit
Functional language: in, out, more, help, again.
Learning Resources New Sprouts Munch It!
"Mmm," "yum," eat, basic food vocabulary, colors.
Fisher-Price Little People Farm Toy
Animal sounds and names, in, out, open, shut.
2+ Years Old – Word Combinations
Children will begin to put two words together at around 24 months. By 3 years of age, children will start to develop their own interests; consider this when choosing toys for them.
TOP BRIGHT Toddler Toys Racetrack
Adjectives, fast, slow, labeling nouns (car, track).
Melissa & Doug Mine to Love
Body parts, verbs, "the baby is hungry, what should we do?" (problem-solving).
Step2 Espresso Bar Pay Kitchen
Verbs (cooking, making, stirring), adjectives (hot, cold), simple sequencing (first, next, last).
ENGLEWOOD HEALTH BREAKFAST CLUB
40 Social
The Englewood Health Foundation held their Breakfast Club program at Montammy Golf Club. For more information, visit www.englewoodhealthfoundation.org.
Dr. Tracy Scheller, Michael Gutter, Dr. Ulrike Berth
Robin Epstein, Tamara Dominguez, Trisch McEvoy, Haley Beard
Dr. Nina Mattana, Beth Nadel, Rhoda Freeman
Laura Rubin, Lindsay Skulnik, Brittany Rome
Natalie B. McKenzie, Natasha Jadrijev, Caroline Tauber
Soyoung Lee, Melody Finkelstein
Jennifer Damashek, Samantha Endick, Gabrielle Marcus
Staci Koch, Stephanie Rosen
Robin Rogers, Tina Lieberman
Irina Blancato, Olga Wanna, Heidi Chung
Warren Geller, Richard Kurtz
Sally Song, Carrie Kakkanatt, Bridgette Grano, Lyndsley Capuano
Maria Surovetz, Julia Weksler
Jamie Corsair, Sabrina Epatein, Laurie Kaiden, Jeanine Kasty, Jennifer Zeccardi, Robyn Ophir, Jennifer Zuckerman, Heather Kushman
Warren, Sarah, Hannah and Kristin Geller
Surviving the Deep Freeze
Snow Shoveling Tips to Help You Through the Winter
By sheila M. ClanCy Ms, Ches
While snow shoveling is not an organized sport that people train for, it can be a physical exertion that most people are not used to doing. According to the American Heart Association's 2019 report, nearly half of American adults have cardiovascular disease. If you are one of those people, or if you have underlying medical conditions, you are overweight or you are sedentary, you may be better off paying the teenager that lives next door to shovel your sidewalk.
Shoveling snow can be an intense workout, similar to running a mile or two. Cold temperatures can increase your blood pressure and constrict your coronary arteries. The combination of all of this literally leads to deaths from shoveling every year. While it is important to remove snow from sidewalks and driveways for safety reasons, here are some precautions you can take to keep yourself from getting hurt:
1Shoveling is exercise; so, like before any other exercise, you want to warm up your body. Before you bundle up to go outside, try marching in place, swinging your arms across the front of your body, rolling your shoulders and wrists and twisting your body from side to side. This will increase the temperature of your muscles and warm up your body to prepare it for activity.
2Choose a shovel that is comfortable to hold and is not too long, too short or too heavy. There are some that are made to push the snow (wider and shorter) and some that are made to pick up the snow. They now make ergonomic handles that are bent to help take some of the strain off your back.
3Push the snow whenever you can. Bend your knees and tighten up your stomach muscles to push the snow across the driveway or sidewalk.
4Don't pick up a load that is very heavy. Instead, if there is deep snow, dig in halfway and scoop that up, then come back and get the next layer. Once you have scooped the snow up, don't twist around and fling it behind you. With your knees bent and your back flat (not rounded or hunched) scoop up the snow but keep the shovel close to you. Take a step to the side and drop the snow off the shovel.
5Take some breaks. After you've been at it for 10-15 minutes take a 2-minute break. You can put the shovel down and do some twists, arm swings, or neck rolls. You can also use this time to drink some water. You want to make sure to stay hydrated the way you would during other physical activities.
6Dress in layers. This will keep the heat in to protect you from hypothermia. If you start to heat up, you can remove a layer of clothing so you are comfortable.
7If you are experiencing a big storm that will last all day, consider going outside to shovel a few times. Don't let the amount of snow become overwhelming before you get outside to shovel. Also, try to shovel as soon as possible. If it stops snowing in the afternoon and you let it sit all night, it may ice up and be harder to remove.
8
Once you have finished the shoveling and you've gotten settled back in the house, go through some gentle stretches to loosen the muscles you just used outside. Put your heel up on a chair, keep your leg straight and lean forward to stretch your hamstrings in the back of your leg. Lie on the floor on your stomach, push into the floor with your hands and raise your head, shoulders and chest off the floor to stretch your back. Of course, there are many other stretches you could do; remember to do them gently without bouncing and hold each one for at least 10 seconds.
It's so beautiful and peaceful to watch a winter snowfall, but it's a big homeowner's responsibility to clear the snow from driveways and walkways for people's safety. If you are not physically prepared to shovel your own snow, make arrangements ahead of time to have someone do it for you. To be able to get out of your house during a snowstorm, consider keeping a broom by your door and an ice melting product that can be sprinkled on your stairs or sidewalk before the storm starts. Enjoy the beauty of the snowfall and keep yourself safe and healthy.
'Chef Ellen' Is 'Gut Driven' And You Can Be Too
By tara delorenzo
Hoping to help inspire a connection of awareness, balance and education to improve gut health, health coach Ellen Postolowski is launching her three-week reset program with her book Gut Driven: Jump-Start Digestive Health to Nourish Body, Mind and Spirit.
Releasing Feb. 21, this plant-based nutrition book outlines Postolowski's back-to-basics Reset 90/10 plan and includes over 100 recipes ranging from snacks, lunch, dinners, dressings and sauces. The reset itself is a three-week elimination program, which aims to remove inflammatory foods and antigens to best see what works for the individual, and the idea of the 90/10 reset rests on not having to be perfect and removing the guilt that can come with less ideal food choices.
"I called it 90/10 because I don't think things should be done perfectly. If you can do this plan 90 percent of the time, then you have a 10 percent window and that's your safety net," Postolowski said. "If you mess up and have something you shouldn't, it's okay, you have that window. So don't give up, just get back up and finish the program. The reset was my way to build a foundation of picking better choices. Once you have that foundation in place, you can go back to it, and as you go on and go through the maintenance, it gets more sustainable, and the foundation will always be there to go back to. Bouncing back then becomes easier and easier. We all want a brownie every once and a while or pizza – we all have that thing that makes us happy and that's the thing. Whatever joy cer tain foods bring may vary but that should be the joy of life, you shouldn't have to omit that completely because it's categorized as bad, the fun part of life is enjoying it."
The program itself stems from Postolowski's own experience and interest in gut health. After 25 years of working as a personal chef, where she had had a reputation as a healthy chef, she felt she needed a reset of her own. She was ready to evolve, so she returned to school for integrative nutrition and immediately became interested in gut and hormonal health and became certified in those fields and is a certified health coach.
Developing the 90/10 Reset also stemmed from her own personal experience, in addition to her work with clients.
"I became my first client because all of these things started – I didn't feel well, my stomach was always bothering me and I didn't know what was going on," she said. "I started feeling like a hypochondriac, and I was really interested in gut health and was going to different doctors. I was then diagnosed with early onset osteoporosis, which threw me for a loop, but I just wanted to understand what was going on and why it happened, and it all went back to really taking
Continued on Page 46
care of yourself and digesting your food properly and not eating on the run. There were all these things I needed to change too, and a lot of it was about selfcare and being in tune with your body and not just what works for someone else."
So, Gut Driven: Jump-Start Digestive Health to Nourish Body, Mind and Spirit was born from her story, and it explores Postolowski's own journey and how that became the reset program she then spent years making right with clients. She had taken copious notes as she worked with clients on what worked for the reset program and decided it was time to turn it into a book.
The book not only includes recipes and the reset plan, but it is a comprehensive look for readers into how the digestive system and integrity of your gut supports and affects health and immune systems, as well as cognitive functions, and how balance and selfcare can improve the mind/body connection.
Her recipes are entirely plant-based, but her goal isn't to have everyone become a vegan or vegetarian; her goal is to just create more mindfulness around labels and ingredients and quality of ingredients being used. As a chef, her inspiration comes from all over – one of her favorite approaches to cooking is to see what's in her fridge and see what she can come up with so nothing can go to waste – and her love of cooking stems back to her childhood where she would cook with her mother.
In developing the content and recipes for this, she says it was like the "evolution of Ellen," as she recreated some recipes from her first cookbook that she had previously published, and for Gut Driven: JumpStart Digestive Health to Nourish Body, Mind and Spirit, she was determined to create a positive guide for people to be able to follow easily.
"I really want to encourage a ripple effect of healing and understanding the importance of a healthy digestive system – it's just so much more involved," Postolowski said. "A big part of my book is so many people, women especially, have food fears, and we're
conditioned to think it's bad for us, so just trying to get back to basics of eating food and not being afraid to and not adding guilt or shame to it because you may have overindulged or had a piece of cake. Again, I call it reset 90/10 because I don't think you should do anything perfectly because when you do, then you end up failing and then comes the guilt and shame. The whole diet mentality I try to steer away from with my clients and try to teach a more honest and respectful of taking care of your body and finding what works for you and trying to sustain it and feeling good about all your choices. I had such success working with people with this."
To her readers, Postolowski explains that a large part of this journey is to start when you're ready to make a change. This is a program that looks outside diet and emphasizes the need for self-care and personal balance and encourages readers to make choices that help them lead their best and healthiest lives. Her goal too was to have this book be a resource that people could connect with and understand.
"My biggest goal was to make it accessible and take something complicated like the human body and break it down. It's very interesting and I'm really happy with how it came out," Postolowski said. "I really want people to be more aware of what makes them feel their best. I think that we're a very stressedweighted society. I think people live in a constant state of stress and I think that if people could just be more aware of how food impacts your mood and cognitive function and immune system, I just think it's so interesting. I think it's a great jumpstart for anyone interested in learning about what makes them feel best. A big part of it is bio-individuality. We're so different—the way we're raised and what we eat, all those things. There are so many different parts of it, but the way the book is laid out, I think, is an interesting read for anyone looking."
Gut Driven: Jump-Start Digestive Health to Nourish Body, Mind and Spirit will be available at all major book retailers on Feb. 21, and more information about Ellen Postolowski can be found at chefellen.com.
46
Egg Roll Noodle Bowl
In this dish, rice noodles take the place of your typical wonton wrapper. If you can find forbidden rice noodles, try them out and add a colorful pop to a delicious meal. Either way, there are many different types of rice and vegetable-based noodles for those with celiac or gluten sensitivities.
This healthy meal-in-one is a delicious way to reap of the benefits of plant-based superfoods. There are vitamins, minerals, and nutrients galore, plus changing up the vegetable line-up could be a creative way to re-invent this bowl again and again.
Makes 2 servings
4 ounces purple or brown rice noodles or buckwheat noodles
½ cup frozen edamame or lima beans
2 Tablespoons olive, coconut, or avocado oil
½ yellow onion, sliced ½ head small green or napa cabbage, shredded 1 large carrot, julienned or thinly sliced 1 cup mushrooms, diced 1 cup broccoli florets, broccolini, or broccoli rabe ¼ cup coconut aminos
2 Tablespoons sweet chili sauce (see note)
Scallions, chopped Sesame seeds
Spicy Chickpea Tahini Sauce (see below)
Cook the noodles according to the package directions. Rinse with cool water and set aside. Blanch the edamame in boiling salted water for 3 minutes, then rinse and set aside.
Put the oil, onion, cabbage, and carrot in a large skillet. Sauté over medium heat for several minutes, stirring constantly. Add the mushrooms and broccoli and cook for several more minutes, stirring so they cook evenly. If the mushrooms release a lot of water, sauté until most of the water has evaporated. Add the coconut aminos and chili sauce and incorporate evenly into the vegetables.
If needed, warm up the noodles and edamame in the skillet over low heat. Layer each bowl with the vegetable mixture, noodles and edamame. Top with the Spicy Chickpea Tahini Sauce and garnish with the scallions and sesame seeds. Serve immediately.
Note: If you don't have a sweet chili sauce, whip up your own with 2 parts hot sauce to 1 part honey.
Spicy Chickpea Tahini Sauce
This spicy chickpea tahini sauce recipe will make more than you'll need for the bowls. But it is delicious on everything from roasted vegetables to condiments, a dip and beyond.
Makes about 1 cup
1 cup cooked chickpeas (if canned, drain and rinse well) ¼ to ½ cup water
2 Tablespoons tahini
2 Tablespoons rice vinegar
1 Tablespoon sweet chili sauce, sriracha, or other hot sauce
Add all the ingredients to a high-speed blender or blender cup and blend until well-combined. Start with ¼ cup water and add in more as needed to achieve a thick, creamy consistency. Keep the sauce in a mason jar in the fridge and use within a week.
Hearty Vegetable Soup
When all is said and done, there is nothing like a hearty soup. The vegetables are tender, and the broth is thick and flavorful. The best part is that this is a soup that you can build on it down the road (after Reset) with lentils and white beans. Add-ins like quinoa or whole grain buckwheat are highly encouraged. Play around and substitute other vegetables. There is no right or wrong with soup! When it's made at home, you are left with a meal far superior to what comes out of a can.
In a large stock pot or Dutch oven, sauté the oil and leeks over medium-high heat, stirring often, for 5 minutes. Add in the celery, carrots, and parsnips and continue to cook for another 5 minutes. Add the celery root, butternut squash and potatoes and continue to cook for another 10 minutes while stirring occasionally. Add in the tomatoes, 4 cups of broth, dried herbs and bouquet garni. At this point, everything should be stirred together, and the broth should be slightly
2 Tablespoons olive oil, coconut, or olive oil
2 large leeks, trimmed, cleaned, and roughly chopped (tender parts only, discard the tougher outer green part)
4 celery stalks, sliced
4 large carrots, peeled and sliced
4 parsnips, peeled and sliced
1 celery root, peeled and chopped
1 butternut squash peeled and chopped
4 potatoes of choice peeled and chopped
One 15-ounce can diced tomatoes or 2 tomatoes, chopped
4 to 5 cups vegetable broth
2 Tablespoons dried herb blend (vegetable blends, herb and garlic, chimichurri blend, or make your own)
Bouquet garnish of fresh rosemary, thyme, parsley, oregano, or whatever you have
1 Tablespoon pesto (optional, see Note)
covering the vegetables. If you feel as though you need more, add the remaining 1 cup broth. Cover and simmer for 45 minutes.
Remove from heat and let sit for at least 30 minutes. Remove the bouquet garni and stir in the pesto (if using). Season with salt and pepper to taste and serve hot.
Notes: Freezing soup is convenient and time saving, but please make sure to cool the soup down properly first before it goes into the freezer – use an ice-bath to quicken the process. Store the cooled soup in freezer bag and lay flat if space is an issue or consider Souper for convenient freezer-friendly containers. The safest and best way to thaw a soup is to place in a warm water bath until fully thawed. To reheat, place thawed soup in a pot and reheat on the stovetop over low heat for best results.
48
We're Here for Them When Nobody Else Is
Xena
Food Is Medicine
By audrey zona
Well, it's winter and you know what that means: cold and flu season. As they say, an ounce of prevention is worth a pound of cure. So, remember that to bolster your healthy immune system so you don't get sick in the first place, food is the very best medicine. What you put in your mouth can not only nourish you during these long winter months, but it can also act as the first line of defense in fighting viruses and infections.
There's nothing better than some yummy, gooey, cheesy comfort food when it's cold outside, and indulging in the occasional bowl of mac and cheese or lasagna is one of the greatest pleasures in life. But if you just can't bring yourself to derail your hard work, even for a big helping of pasta, try satisfying your cravings with bone broth. This healing liquid nourishes the lining of your digestive tract, leading to easier digestion, and it's also a great source of collagen. So, not only are you keeping your insides healthy and resistant to disease, but you're also improving the appearance of your outside as well.
If you do end up indulging, strike a balance with foods that will help with gut health. Feeding yourself natural probiotics like sauerkraut, kimchi, miso, yogurt, kombucha (if it's low in sugar) and kefir will help maintain the healthy balance of good bacteria in your body, and good gut health is your first line of defense against illness. Good bacteria, found in all these foods, supports immune function and controls inflammation. It also keeps the bad bacteria from entering your body and multiplying to make you sick. If you don't love fermented foods, apple cider vinegar is the food superhero that can come to your rescue. Mix it into your drinks, use it in a dressing for salads or roasted veggies, or, if you're feeling bold take a shot of it each morning to help maintain equilibrium in your body functions.
You're not the only one who needs to eat regularly. Your good gut bacteria, your microflora, needs to eat too. As you can imagine, what it eats affects how you feel. So, give it the foods it likes by eating lots of leafy greens, vegetables, whole grains, nuts, legumes and garlic. A big salad with roasted veggies, crunchy nuts, and apple cider vinegar dressing will help you get through this winter without ever having to break out a new box of tissues.
It's not just your physical health that can be affected by the foods you eat. Your mental health is also affected by the state of your gut. When your microflora is well-fed and the good bacteria are in charge, your gut produces serotonin, a key component affecting your mood, your long-term mental well-being, and your GI activity. It's safe to say that when your stomach is happy, the rest of you is happy.
Speaking of being happy, remember that food is medicine, but it is also fuel. Once you've fed your body well, make sure you take it outside to soak up some vitamin D and get the blood flowing with a brisk walk or run. Not only will this help you stay well all season, but it will also help you stay mentally healthy. If you start getting the winter blues, treat yourself to a lamp that will provide light therapy to treat Seasonal Affective Disorder (SAD), visit an infrared sauna or indulge in a sauna blanket, or invest in a grounding mat or sheet. All these tools, in conjunction with a consistent sleep routine and a healthy diet, will make a big difference in navigating the winter successfully. But if you do feel those sniffles coming on, make sure to get your daily dose of vitamin C, elderberry, and zinc. Increasing your intake of fluids (add ginger or peppermint to water for a gut friendly zing of flavor) and give your body the rest it needs.
Just remember, winter isn't here to stay. The days are already getting longer, and spring will be here before we know it. Grab that cozy blanket and a good book, feed yourself intentionally, keep on track with your nutrition and fitness and, most of all, be well.
Audrey's Favorite Salad Dressings
Basic Gut Friendly Vinaigrette: ½ cup extra virgin olive oil
2 Tbsp Dijon mustard Juice of ½ lemon ¼ cup of apple cider vinegar
2 small garlic cloves, minced sea salt and pepper to taste
Tahini Dressing: ¼ cup raw sesame tahini
2 Tbsp lemon juice ¼ tsp garlic, minced ½ cup water ¼ cup apple cider vinegar
2 Tbsp Bragg Nutritional Yeast
Lemon Basil Vinaigrette: ¼ cup lemon juice plus zest of one lemon ½ cup EVOO
1 Tbsp dijon mustard 1 tsp honey
2 garlic cloves minced 8 fresh basil leaves ½ tsp dried oregano or fresh ¼ tsp sea salt 1/8 tsp freshly cracked black pepper
Asian Vinaigrette: ½ cup EVOO
3 Tbsp Tamari ¼ cup apple cider vinegar
2 Tbsp minced garlic
2 Tbsp minced ginger Salt to taste
54 34 | Holiday 2022 1292 Route 9S Old Bridge, NJ (732) 316-2600 Qualit yChev yNJ.com 386-406 Grand Ave. Englewood, NJ (201) 399-4280 Qualit yChevroletBuickGMC.com 2023 CHEVROLET CORVETTE Z06 2024 CHEVROLET SILVERADO EV / 2024 A U T H O R I Z E D D E A L E R
55 Route 17N Ruther ford, NJ (201) 935-2400 Qualit yAutomall.com Go Further 2023 BRON R R / 2023 MUSTANG MACH-E GT / 2023 SHELBY GT500
Share the Spirit of Giving
This year, join forces with other like-minded individuals and organizations, such as the ones that follow. Allow us to help you continue Bergen County's long-standing spirit of caring commitment to improving our communities for all who call it home.
CENTER FOR FOOD ACTION OF NEW JERSEY
192 West Demarest Ave., Englewood www.cfanj.org
Mission: The organization's goal is to prevent hunger and homelessness and to improve the lives of individuals and families. It provides emergency food, utility and housing assistance, advocacy, counseling services and access to other community resources. CFA helps clients find solutions to problems, achieve financial stability and create a brighter future.
NEW CONCEPTS FOR LIVING
68A West Passaic St., Rochelle Park www.ncfl.net
Mission: New Concepts For Living is a community non-profit organization committed to people with disabilities and their families. Inspired by the vision of families and consumers, New Concepts enables people to realize their dreams and achieve their individual potential through quality community program supports and services.
MULTIPLE SCLEROSIS CARE CENTER
Holy Name Hospital
718 Teaneck Road, Teaneck www.holyname.org/mscenter
Mission: The Multiple Sclerosis Care Center is New Jersey's only non-profit licensed facility providing healthcare and related services to patients with MS regardless of their ability to pay.
HABITAT FOR HUMANITY OF BERGEN COUNTY
121 Carver Ave., Westwood www.habitatbergen.org
Mission: Habitat For Humanity of Bergen County was established in 1994 as an affiliate of Habitat for Humanity International. Its mission is to provide decent, affordable homes for hardworking Bergen County families.
CASA COURT APPOINTED SPECIAL ADVOCATES
One Bergen County Plaza, Suite 440 Hackensack
Mission: Court Appointed Special Advocates (CASA) For Children of Bergen County is an independent, non-profit organization of professionals and trained volunteers who have been appointed by the NJ Family Court to advocate for children removed from their homes due to abuse and/or neglect. CASA works to ensure that needed services and assistance are made available to these children while helping to move them toward safe and permanent homes.
"Generosity consists not in the sum given, but the manner in which it is bestowed."
—Author Unknown
HOPE FOR CHILDREN RESEARCH
FOUNDATION
700D Lake St., Ramsey www.hopeforchildrenresearch.org
Mission: The hope of the foundation is finding new treatments and cures for children with neurological diseases. The foundation hopes a doctor will never again have to say to a mother or father, "Take your child home; there's nothing we can do."
PET RESQ, INC.
24 West Railroad Ave., Suite 172, Tenafly www.petresqinc.org
Mission: Pet ResQ, Inc. is a small group of volunteers who believe that all living creatures deserve a change. They exist solely on donations and the efforts of volunteers and foster homes. They tend to rescue the elderly and handicapped pets that otherwise would not stand a chance at life.
SHARSHERET
1086 Teaneck Road, Suite 2G, Teaneck www.sharsheret.org
Mission: Sharsheret is a national not-for-profit organization supporting young Jewish women and their families facing breast cancer. Their mission is to offer a community of support to woman of all Jewish backgrounds diagnosed with breast cancer or at an increased genetic risk by fostering culturally relevant individualized connections with networks of peers, health professionals and related resources.
CHILDREN'S CARDIOMYOPATHY FOUNDATION
P.O. Box 547, Tenafly www.childrenscardiomyopathy.org
Mission: The Children's Cardiomyopathy Foundation is dedicated to finding the cause and cure for pediatric cardiomyopathy, a chronic and potentially life-threatening disease of the heart muscle, through the support of research, education and increased awareness and advocacy.
200 CLUB OF BERGEN COUNTY
560 Hudson St., Hackensack www.200club.org
Mission: To benefit law enforcement, fire or emergency personnel who die or are seriously injured in the line of duty. Their motto is "serving our servants."
—Anthony Robbins
PONY POWER THERAPIES
1170 Ramapo Valley Road, Mahwah www.ponypowernj.org
Mission: Pony Power Therapies is a non-profit organization giving special needs and at-risk children and adults a unique opportunity to ride, care for and interact with horses. The riding and non-riding activities enhance individuals' physical, social and emotional wellbeing in a safe, nurturing farm environment.
"Life is a gift, and it offers us the privilege, opportunity and the responsibility to give something back by becoming more."
CENTER FOR HOPE AND SAFETY
12 Overlook Ave., Suite A, Rochelle Park www.hopeandsafetynj.org
Mission: Center For Hope and Safety's mission is to assist women and children who are victims of domestic violence, including emotional, economic, sexual and physical abuse. The agency provides emergency and transitional housing, emotional support, as well as a diversified continuum of services focused on safety, empowerment and self-sufficiency.
GIRL SCOUTS OF NORTHERN NEW JERSEY
300 Forest Ave., Paramus www.gsnnj.org
Mission: Girl Scouting helps girls develop their full individual potential; relate to others with increasing understanding, skill and respect; develop values to guide their actions and provide the foundation for sound decision-making; and contribute to the improvement of society through their abilities, leadership skills and cooperation with others. The Girl Scouts Council serves one in every four girls in 61 Bergen County towns, over 13,000 girls. Girls, ages 5-17, meet in age-level groups on a regular basis or they may participate in short term activities, special interest groups, neighborhood activity centers or camping.
JDRF NORTHERN NEW JERSEY AND ROCKLAND COUNTY CHAPTER (JUVENILE DIABETES RESEARCH FUND)
1480 U.S. Highway 9 North, Suite 306, Woodbridge www.jdrf.org/newjerseymetro
Mission: To find a cure for diabetes and its complications through the support of research while providing support for those living with Type 1 Diabetes and their families in the community.
JULIA'S BUTTERFLY FOUNDATION
637 Wyckoff Ave., Suite 285, Wyckoff www.juliasbutterflyfoundation.org
Mission: Julia's Butterfly Foundation is a volunteer, non-profit 501 (c)(3) charitable organization dedicated to improving the lives of terminally and chronically ill children and their families. The foundation honors the memory of 6-year-old Julia Marie Bommer, who passed away in 2005 following her brave battle against a rare kidney disorder. It is the foundation's goal to pay tribute to Julia's life by helping other children and their families struggling with the demands of their unique circumstances. The foundation is humbled by the courage and dedication of the children and caregivers they support, and consider it a privilege to provide financial aid, physical assistance and services to those who need it most.
TOMORROWS CHILDREN'S FUND
30 Prospect Ave., Hackensack www.tcfkid.org
Mission: The Tomorrows Children's Fund was founded by a group of committed parents to help their children and others like them with cancer and serious blood disorders. With the help of friends and supporters, today, TCF provides a warm, healthy and loving environment for children in treatment, a full scope of services to relieve families' emotional and financial stress and the very best possible medical care – all of which confirms TCF's belief that through hope, hard work and heartfelt generosity, extraordinary things are possible.
ADVANCE HOUSING
100 Hollister Road, Teterboro www.advancehousing.org
Mission: The mission of Advance Housing, Inc. is to expand the range and scope of supportive housing opportunities available to persons with psychiatric disabilities. In addition, Advance Housing, Inc. seeks to make similar options and services available to other individuals who are in need of supportive housing. The array of outreach services, designed to help people live independently and productively in the community, will exceed the highest standards of professional practice.
RAMAPO-BERGEN ANIMAL REFUGE, INC
2 Shelter Lane, Oakland www.rbari.org
Mission: RBARI believes that all animals have a natural right to humane treatment, including proper care, respect and safe shelter. Their primary mission is to provide sanctuary while finding permanent, loving homes for the many animals that arrive in their shelter, including feral, elderly, handicapped and formerly abused animals. Animals in their care receive lots of love, shelter, food and medical care. RBARI adheres to a "no-kill" policy, giving animals an open-ended stay at a warm, safe place until loving homes can be found.
WEST BERGEN MENTAL HEALTH
120 Chestnut St., Ridgewood www.westbergen.org
Mission: The agency's mission is to treat severe mental illness in children and adults and promote psychological health and personal growth. It provides comprehensive treatment and supportive services for clients and the surrounding community.
THE VOLUNTEER CENTER OF BERGEN COUNTY
64 Passaic St., Hackensack www.bergenvolunteers.org
Mission: The Volunteer Center of Bergen County strengthens the community by connecting people with opportunities to serve, operating model volunteer programs, building capacity for effective volunteering and participating in strategic partnerships that meet community needs.
NORTHERN NEW JERSEY COMMUNITY FOUNDATION (NNJCF)
1 Grand Ave. Suite 3, Englewood www.nnjcf.org
Mission: NNJCF focuses on civic engagement, education, public health and the arts by working with local governments, school districts, businesses, non-profits and citizen groups to improve community life. Foundation partners identify and resolve regional problems and opportunities by sharing ideas, services and resources. The Arts-Bergen initiative supports and encourages creativity and the integration of arts and culture to build community and boost the local economy.
THE COMMUNITY CHEST
122 S. Van Brunt St., Englewood www.communitychestofenglewood.org
Mission: The Community Chest raises funds and allocates them to agencies demonstrating the capacity to provide services to residents and provides coordinating and planning services in Englewood, Englewood Cliffs and Tenafly to support a range of needs, including hunger, afterschool programming, elderly care, career counseling for women, mental health services, environmental education and medical care to low-income pregnant women.
YCS FOUNDATION
(YOUTH CONSULTATION SERVICES)
235 Main St., Third Floor, Hackensack www.ycs.org
Mission: AT YCS, the mission is to advocate, educate, shelter and care for children in need and their families so that each can further develop the skills, self-worth and hope necessary for success within their communities.
FAMILY PROMISE OF BERGEN COUNTY
100 Dayton St., Ridgewood www.bergenfamilypromise.org
Mission: To provide hospitality to the homeless and to keep families together in times of crisis, guiding them through temporary periods of homelessness by helping them create an achievable vision and develop a strong foundation for self-sufficiency.
THE COMEDY CURES FOUNDATION
122 East Clinton Ave., Tenafly www.comedycures.org
Mission: The Comedy Cures Foundation is a national non-profit organization bringing joy, laughter and therapeutic humor programs to kids and grown-ups living with illness, depression, trauma and disabilities.
NORTH JERSEY FRIENDSHIP HOUSE
125 Atlantic St., Hackensack www.njfriendshiphouse.org
Mission: To maximize the independence and community living skills of persons experiencing severe and persistent mental illness, in order to reduce unnecessary hospitalization, secure other health and welfare services, as required by each individual referred to Friendship House for treatment, and to render assistance voluntarily in a safe, comfortable environment. Friendship House is a nonprofit rehabilitation center offering comprehensive behavioral health services, vocational training and employment support for adults with all types of disabilities. Services are designed to address the unique needs and goals of every individual.
"Generosity is giving more than you can, and pride is taking less than you need."
—Kahlil Gibran
NEW JERSEY ASSOCIATION OF VERISMO OPERA (VERISMO OPERA)
P.O. Box 3024, Fort Lee www.verismoopera.org
Mission: New Jersey Association of Verismo Opera's mission is: 1) to enhance the cultural life of the community by providing a complete range of fine musical programming; 2) to educate the community about the uplifting benefits of music and, in particular, grand opera; 3) to educate and introduce youth to the joy of fine music; and 4) to provide performance opportunities to musicians and offer study grants to young performing artists.
JEWISH HOME FOUNDATION OF NORTH JERSEY
10 Link Drive, Rockleigh www.jewishhomefamily.org
Mission: The mission of the Jewish Home Foundation of North Jersey, Inc. is to provide aid and support to the not-for-profit organizations of the Jewish Home Family, Jewish Home at Rockleigh, Jewish Home Assisted Living, Jewish Home at Home and Jewish Home and Rehabilitation Center. The purpose is to make healthcare, education, life enrichment, scientific and other charitable efforts available to the seniors, the elderly and infirm in the community, without regard to the individuals' ability to pay.
THE DANIEL JORDAN FIDDLE FOUNDATION
1701 Tower Drive, Edgewater www.djfiddlefoundation.org
Mission: The Daniel Jordan Fiddle Foundation, the first not-for-profit and only all-volunteer-run organization in the United States to focus on adult autism has been blazing trails since 2002. It creates paths leading to fulfilling and potential driven lives. The endowed programs at America's leading universities, resources, and public policy/awareness initiatives are person-centered and derive from the needs and hopes of the diverse population of adults diagnosed with Autism Spectrum Disorder (ASD) and their families.
ALZHEIMER'S NEW JERSEY
4690 Kinderkamack Road, Suite 300, Oradell www.alznj.org
Mission: Alzheimer's New Jersey, formerly known as Alzheimer's Association, Greater New Jersey Chapter, provides programs and services to individuals with Alzheimer's disease, their families and caregivers who live in Bergen County and the 13 other New Jersey counties. Association programs and services include education and training, support groups, respite assistance and a toll-free telephone, HelpLine.
ADLER APHASIA CENTER
60 West Hunter Ave., Maywood www.adleraphasiacenter.org
Mission: The Adler Aphasia Center's mission is to be a vital resource to anyone whose life or profession is touched by aphasia. Aphasia is a language disorder that impairs the expression and understanding of spoken language, reading and writing. It occurs most often form a stroke or brain injury. This condition affects a person's ability to communicate, but does not affect their intellect. Adler Aphasia Center provides people with aphasia the assistance they need in regaining basic communication skills, as well as their self-esteem and self-confidence, often lost as a result of their disability.
THE OFFICE OF CONCERN FOOD PANTRY
55 West Demarest Ave., Englewood www.officeofconcern.com
Mission: The Office of Concern Food Pantry serves "the poorest of the poor" in northern New Jersey by supplementing their food and other basic needs with bags of food each week. Food packages contain canned goods and other non-perishables, as well as fresh poultry, fruit and vegetables and dairy products. St. Cecilia's Church in Englewood sponsors The Office of Concern Food Pantry, but the pantry is independent functionally and financially. It serves all regardless of religion, race or culture. They are open Monday through Thursday from 9 a.m. to 1 p.m. Each week, they move 4.5 tons of food from their warehouse to their front office for distribution to 750 needy families. The 501 (c)(3) organization is staffed by dedicated, unpaid volunteers, who operate through the generosity of foundations, businesses, churches, schools, community organizations and individuals.
THE FRIENDS OF THE HERMITAGE, INC.
335 North Franklin Turnpike, Ho-Ho-Kus www.thehermitage.org
Mission: The Friends of the Hermitage, Inc. was established to restore, maintain and interpret The Hermitage, along with its grounds and outbuildings. Their mission is not only to provide these services, but also to communicate to a diverse audience of students, scholars and the general public, the site, its archives and its collections as they relate to local, regional and national history beginning in 1740.
"You have not lived today until you have done something for someone who can never repay you."
—John Bunyon
UPCOMING HEALTH EVENTS
Here, you'll see a mix of in-person as well as virtual events hosted by Bergen County's area hospitals. Make sure to register for in-person and/or virtual events. Due to the COVID-19 pandemic, proactive measures are being taken.
Drumming is wonderful way to take care of yourself, as well as lessen feelings of burnout and fatigue. Come and explore a new/old way of having fun while reducing stress. Bring your own drum or instruments. This adult-only drumming circle is scheduled for every second Tuesday of the month from 5:30-6:45 p.m. at The Valley Center For Health and Wellness, located at 1400 MacArthur Boulevard in Mahwah. To register or for more information, call 1-800-VALLEY 1 or visit ValleyHealth.com/Events. Please note: In-person attendees must show proof of vaccination and wear a mask.
On Wednesdays from 9:15-10 a.m. join Danielle Fabrizio, MS, CHES for the Mommy & Me Walking Group. Walk as a community of moms connecting and supporting each other at Westvale Park, Westwood. For additional information and questions, email Thrive@valleyhealth.com.
Yoga has many mind and body benefits that can aid in recovery from a substance use disorder, such as alcoholism or drug addiction and in overcoming an eating disorder. The practice can stabilize your mood, help you relax and manage anxiety, allow you to reconnect with your body, increase self-control and coping skills, explore self-compassion and acceptance and even improve insomnia. Visit facebook. com/thegrafcenter from 11 a.m. to 12 p.m. on Jan. 4 to participate in the Facebook Live class.
Join Lisa Susmann, PsyD, Intergrative Medicine, and learn how to deal with a mood shift during the colder, darker days of winter. This free webinar is approximately 45 minutes and will include a Question-and-Answer portion. Please feel free to submit any questions you may have for the speaker. The session will take place on Jan. 10 from 6-7 p.m. Register here: events.hackensackmeridianhealth.org.
Atrial fibrillation (AFib) is the most common irregular or abnormal heart rhythm disorder, affecting more than 3 million Americans. Thankfully, more options to treat AFib are available than ever before. Learn about AFib and the latest treatment options available on Jan. 10 from 6:30-7:30 p.m. during a virtual event. For more information or to register, visit www.valleyhealth.com/events/atrial-fibrillation-38.
The Paramus Health Department is proud to host an educational program about starting new eating habits in the new year with Danielle Fabrizio, Community Health Educator, on Jan. 12 from 1-2 p.m. To learn more or to register for this virtual event, visit valleyhealth.com/events/new-year-new-eatinghabits.
If you have atrial fibrillation not caused by heart valve problems and need an alternative to blood thinners, you will want to learn more about WATCHMAN™ and AMULET™, one-time procedures that may reduce stroke risk for a lifetime. Learn more during a Jan. 17 virtual event, hosted from 4-5 p.m. To register, visit www.valleyhealth.com/events/ need-alternative-blood-thinners-11.
Ready Set Baby will take place on Jan. 23 from 2-3 p.m. virtually. To register, visit HMHforU.org/ events.
Jumpstart 2023 by learning how to make physical activity a part of your lifestyle to improve your health and wellness on Jan. 25 from 7-8 p.m. Make the commitment to finally put your own health as a priority this year. Register for this virtual event here: www.valleyhealth.com/events/rx-life-exercise-medicine.
Healthy Weight: Healthy Lifestyle will take place on Jan. 26 from 2:30-3:30 p.m. virtually. Listen to speakers Michelle Maresca, MD and Marianna Nicoletta-Gentile, DO from the comfort of your home. To register, visit HMHforU.org/events.
Join Stacy Doumas, M.D. for an overview of depression including signs, symptoms, treatments and different types. This webinar, to be held on Feb. 2 from 11 a.m. to 12 p.m., is approximately 45 minutes and will include a Question-and-Answer portion. Please feel free to submit any questions you may have for the speaker. Register here: https://tinyurl.com/yvnsdcp7.
Getting enough sleep is imperative to overall health and wellbeing. Are you getting enough quality sleep? Join on Feb. 8 from 7-8 p.m. to learn the importance of a good sleep routine, how to get better sleep and benefit from a good night's rest. This event will take place in person at the Ridgewood Public Library, 125 North Maple Ave., Ridgewood. Register here: www.valleyhealth.com/ events/good-night-sleep-tight-person.
Being a mom is the most rewarding job there is, but it can be all-encompassing. Join virtually on Feb. 15 from 2-3 p.m. to talk about how you can take care of you, to better take care of your family. Register here: www.valleyhealth.com/events/ mom-matters-too.
There are many diets and food plans out there, but which are healthy and effective? Learn more about common diet plans so you can start making healthy decisions about the nutrition plan that will best fit your lifestyle. This event will take place virtually on Feb. 23 from 7-8 p.m. Register here: www.valleyhealth.com/events/fad-diets-andnutrition-trends.
Happy, Healthy Feet
The average person takes about 5,000-10,000 steps per day. This adds up to around 115,000 miles in a lifetime, the equivalent to walking around the earth four times. This can explain why about 75 percent of Americans will experience foot problems at least one time or another in their lives. We recently had a conversation with Valley Medical Group podiatrists John J. Beronio, DPM and Mina M. Hanna, DPM, FACFAS, FACPM to find out what we can do to have happy, healthy feet.
Q: What does a podiatrist do?
A: Dr. Hanna: The foot and ankle are a complex network of tissues made up of 28 bones (30 including sesamoids), 33 joints, 112 ligaments, 13 extrinsic and 21 intrinsic muscles/tendons. Podiatrists take care of and treat conditions that affect your feet and ankles. Foot and ankle surgeons treat a variety of conditions such as bunions, hammertoes, plantar fasciitis, flatfoot, cavus foot, foot or ankle arthritis, sports injuries, tendon disorders, fractures, ingrown toenails, neuromas, dermatological conditions, neuropathy, wounds and infections.
Q: When should you see a doctor for your feet?
A: Dr. Beronio: The American College of Foot and Ankle Surgeons recommends seeing a foot and ankle surgeon any time you have an injury, diabetes, poor circulation, heel pain, painful joint pain or arthritis, impaired ability to walk or perform activities, discomfort after standing, abnormal growth, back or knee pain related to flat feet or high arches and/or any changes in foot or ankle appearance.
Q: Are there specific medical conditions that require regular checkups?
A: Dr. Hanna: You should schedule regular checkups if you have diabetes or poor circulation. Nerve damage from diabetes can lead to numbness, tingling, burning and pain in the feet. If the nerve damage is severe, patients can develop a lack of sensation and may not quickly recognize a wound or infection. Diabetes can also cause poor circulation and make wounds difficult to close. An infection can lead to an amputation if not promptly treated.
Q: What should I do if I get a sports-related injury to my feet or ankles?
A: Dr. Beronio: If an injury occurs, remember RICE. Sports-related injuries can often heal with rest, ice, compression, and elevation (RICE). However, what may look like a simple sprain may actually be a bone or cartilage injury. It is important to be examined by a qualified physician to rule out a more serious injury. The sooner you are treated, the sooner chronic problems such as arthritis or instability can be prevented, and you can get back to your favorite activities.
Q: What are some quick tips for happy, healthy feet?
A: Dr. Hanna: Proper footwear is essential to prevent injuries. Running shoes are ideal and have a lot of cushioning and padding. Some of the brands that we recommend include New Balance, Asics, Brooks, Saucony and Hoka. These sneakers typically have a wide toe box and are essential for patients with bunions, hammertoes and neuromas. You also want to make sure shoes are not too tight or too long.
A: Dr. Beronio: It is also important to apply sunscreen to your feet during the summer. Feet are often neglected. It is just as important to apply sunscreen to your feet as it is to your face to prevent sunburn or melanoma. Also, inspect, wash, and moisturize your feet daily. It is important that you care for your feet and check them for cuts, calluses, ingrown toenails and more.
Valley's podiatry practice is located at 171 Franklin Turnpike in Waldwick. For more information or to schedule a consultation with Dr. Beronio or Dr. Hanna, please call 1-800-VALLEY 1 (1-800-825-5391).
66
P u t Your F a m i l y ' s He a l t h a t t h e To p o f Your L i s t o f R e s o l u t i o n s From heart and cancer screenings for adults, to women ' s and children's services for all ages, Valley has the doctors and programs to help your entire family live their healthiest lives It all starts with a pediatrician and primary care doctor An ongoing relationship with a trusted provider is the most important thing you can do for your health Take time to invest in yourself and those you love! Make 2023 a Year Like No Other Learn more about our screening, preventive, fitness, and wellness services Make an appointment with a primary care doctor Call 1-800-VALLEY 1 or visit ValleyHealth.com/2023. Care Like No Other ®
NATIONALLY RENOWNED THORACIC CANCER SURGEONS IN NORTHERN NEW JERSEY
Hackensack University Medical Center's experienced thoracic surgeons are nationally renowned pioneers in lung and esophageal cancer treatment, using groundbreaking robotic-assisted surgery techniques to deliver minimally invasive care with faster recovery times, shorter hospital stays, a lower risk of complications, and outcomes that exceed national averages. Our thoracic surgeons partner with medical and radiation oncologists to offer the latest therapies and clinical trials, which provides new hope for patients with complex tumors that may be considered inoperable or untreatable at other centers. We are committed to your care and offer expedited access in many cases for consults and surgeries. Call 551-996-5960 to schedule an appointment.