CHANEL J12 Diamond Tourbillon LIONEL A MARCA Breguet CEO Exclusive Interview Titanium Excalibur Upgrade BEJEWELLED ROGER DUBUIS Grain de Café RANGGA AZOF Up Close and Personal BERLUTI Cruise with Lorenzo Drive #TIMEFASHION TAG HEUER 60 Years of Carrera Reborn #88 CARTIER
CHANEL J12 Diamond Tourbillon LIONEL A MARCA Breguet CEO Exclusive Interview Titanium Excalibur Upgrade BEJEWELLED ROGER DUBUIS Grain de Café RANGGA AZOF Up Close and Personal BERLUTI Cruise with Lorenzo Drive #TIMEFASHION TAG HEUER 60 Years of Carrera Reborn #88 CARTIER
NOVAK DJOKOVIC
BIG BANG UNICO
Titanium and blue ceramic case. In-house UNICO chronograph movement.
T H E A R T O F F U S I O N
AVAILABLE AT: PL AZ A IN D ONESIA Leve l 1 #69-70A PL AZ A S EN AYAN Leve l 1 No. 122B-128B Jl. Asi a Afrik a No 8 Jakarta Tel : +6 2 21 57 2 57 59 PACIFI C P LACE Groun d Floor Uni t 12A-B Jl. Jend S ud irma n Kav 52-53 Jakarta Tel : +6 2 21 514 0 2 7 76 Jl. MH Thamri n Kav 2 8- 3 0 Jakarta Tel : +6 2 2 1 31 0 7 7 1 5
One of the revolutionary watches, if not the most innovative watch ever manufactured by the CHANEL Watchmaking Creation Studio, the J12 Diamond Tourbillon is a feast for the eyes. However, what truly sets the timepiece apart is the flying tourbillon adorned with a sparkling solitaire diamond visible through the watch dial. Discover this limited edition timepiece in our cover feature, "Exquisite Expression," as well as a special pictorial showcasing the sultry offering.
In Industry News, we took part in an exclusive event hosted by TAG Heuer and Porsche to celebrate the Formula E Jakarta E-Prix. The happy occasion was made even more memorable by guest appearances from TAG Heuer Porsche Formula E Team drivers, Pascal Wehrlein and António Félix da Costa, who graciously sat down with us for our Interview section. In addition, we also spoke with Breguet CEO, Lionel A Marca, who expressed excitement for the brand's latest models.
For Up Close and Personal, we put the spotlight on actor Rangga Azof, and the Baume & Mercier Riviera, an undeniable icon of the Maison. In Reborn, we trace the 60 years of the TAG Heuer Carrera's existence and unveil the latest additions to the illustrious line. Find out more about the TAG Heuer Carrera's evolution in "Momentous Milestone."
Rounding off this issue, in #TIMEFASHION, we take a look at the Berluti Lorenzo Drive, an updated and modern version of the timeless loafer, while in Luxury Pursuits, we report on Timothée Chalamet as CHANEL's latest ambassador of BLEU DE CHANEL. You can check this out, as well as a curation of other CHANEL fragrance, skincare and makeup products on the Maison's dedicated Fragrance & Beauty E-Shop in Indonesia at http://id-eshop.chanel.com/. Happy shopping!
Irwan Danny Mussry Editor-In-Chief and Publisher @irwanmussry
4 WELCOME NOTE
BOUTIQUES PLAZA SENAYAN - PLAZA INDONESIA - SENAYAN CITY PACIFIC PLACE - CENTRAL PARK
Riga spent the last 10 years writing about watches and luxury articles for a couple of Indonesia's prestigious luxury and lifestyle magazines. A jack of all trades who enjoys writing about watches, travel, and lifestyle features, Riga likes to collect Russian watches, go to music concerts and places where people can't even pronounce words well, and build Lego sets in his free time.
Coming from a background far from media, Anastasia has spent a greater part of her diverse career journey as a part-time writer and translator. After a couple of years in an editorial role at one of Indonesia's high society magazines, she honed her writing skills during a one-year freelance stint at two local luxury online publications while working full-time in the financial services sector.
Since graduating from Petra University with a Bachelor's in Visual Communications, Vicky has been utilising his multifaceted aesthetic sensibility to build a constantly evolving eclectic portfolio. With an extensive range of creative experiences from editorial, portraiture, photojournalistic, to commercial work, he always relies on his instincts to push him beyond the limitations of categorical boundaries.
Arimbi is a highly skilled professional makeup artist with more than eight years of experience in the fashion and commercial industries. She holds a CIBTAC Diploma in Photography and Fashion Makeup. With a deep understanding of cosmetics, beauty techniques, and trends, Arimbi aims to provide clients with exceptional beauty and makeup services.
Deborah Iskandar qualifies as an expert on Indonesian and international art, with over 20 years of experience in Southeast Asia. Her company, now branded ISA Art and Design, provides advisory services for clients interested in buying and selling art, as well as building collections.
With an eye for detail and a knack for writing, Jihan Basyah has spent the last few years working with a number of groundbreaking magazines in New York City. Since her return to Indonesia, she continues to hone her craft and has written and fact-checked for esteemed publications, covering fashion, beauty, and lifestyle.
Born and raised in Jakarta, Umesh spent the last 10 years writing and editing for one of Indonesia's prestigious luxury magazines. Now, he freelances for Asia's most-coveted publications purveying lifestyle and entertainment stories to a worldwide audience. If he is not writing, he can be found watching indie films or reading the latest mystery thriller books.
Reynaldo Tjandra is a photographer and the founder of DERAI studio. Known for his aesthetic, minimalist, and subtle photography styles, the man has a keen eye for capturing the beauty in everyday life. He is particularly drawn to capturing motions, exploring light and shadows, and depicting the nuances of daily human life.
Priscilla (Sissy) is a Jakarta-based fashion makeup artist who has lived and worked for over 10 years in Paris, Sydney and Singapore. Since moving back to Jakarta, Sissy has been working for bigname publications and various fashion and beauty campaigns. She is constantly seeking ways to express herself visually.
With over 15 years of experience in the hair industry, Maryudi, or Yudhi, discovered his passion in a hair salon. He decided to specialise in hairdressing and also pursued a career as a professional makeup artist since 2017. Yudhi finds immense fulfilment in his work as he makes people feel beautiful and confident.
6 CONTRIBUTORS
ANASTASIA WINAYANTI WIBOWO Writer
JIHAN BASYAH Writer
RIGA RAMADHAN Writer
UMESH BHAGCHANDANI Writer
REYNALDO TJANDRA Photographer
DEBORAH ISKANDAR Art Consultant
SISSY SOSRO Make-Up Artist
ARIMBI Make-Up Artist
VICKY TANZIL Photographer
MARYUDI Hair Stylist

LONGINES DOLCEVITA
Elegance is an attitude Available at
Jennifer Lawrence
Edition 88
All rights reserved, copyright 2023 by PT Komunikasi Perkasa International Reproduction in whole or part without permission is prohibited
Editor-in-Chief and Publisher: Irwan Danny Mussry
Chief Editorial Advisor: Shannon Hartono
Managing Editor: Maria Zarah Gregorio Viado
Production Manager: Erika Tania Dessyandra
Production Coordinator: Charlene Atalie
Business and Development: Amelia Widharatna
Contributors: Anastasia Winayanti Wibowo, Riga Ramadhan, Jihan Basyah, Umesh Bhagchandani, Deborah Iskandar, Vicky Tanzil, Arimbi, Reynaldo Tjandra, Sissy Sosro, Maryudi
Art Director: Noni Soeparman
For Advertising Inquiries: Please contact Erika Tania Dessyandra at erika.dessyandra@time.co.id or +62 21 2927 2708
To subscribe, please contact us at subscribe-magazine@time.co.id
All rights reserved, copyright 2020 by PT Komunikasi Perkasa International
Reproduction in whole or part without permission is prohibited
Editor-in-Chief and Publisher: Irwan Danny Mussry
Chief Editorial Advisor: Shannon Hartono
Managing Editor: Maria Zarah Gregorio Viado
Senior Writer: Mulyadi Kurniawan
Sales Executive: Nabilla Ramadila Moehtadi
Production Manager: Erika Tania Dessyandra
Circulation & Distribution Manager: Adhika Wicaksana
Contributors: Jacky Suharto, Triska Putri, Arhadita, Raeyhma Batsyeba, Deborah Iskandar, Kevin Sjahrial
Art Director: Noni Soeparman
For Advertising Inquiries:
24
The Time Place Magazine, Edition 75
88 66 18 4 WELCOME NOTE COVER FEATURE 26 CHANEL Exquisite Expression FEATURES 34 HUBLOT 36 ROGER DUBUIS 38 LONGINES 40 BELL & ROSS 42 AUDEMARS PIGUET 44 PANERAI 46 IWC 48 BREITLING BEJEWELLED 50 CARTIER 52 CHANEL INTERVIEW 54 BREGUET Lionel A Marca 56 PANERAI Jean-Marc Pontroué 58 PIAGET Rémi Jomard & Cynthia Tabet 60 ZENITH Julien Tornare 62 TAG HEUER Pascal Wehrlein & Antonio Felix Da Costa UP CLOSE AND PERSONAL 66 RIPPLING REFLECTIONS Rangga Azof REBORN 76 TAG HEUER Momentous Milestone #TIMEFASHION 82 CHANEL 84 VALENTINO 86 CELINE 88 BERLUTI 90 FENDI 92 ZEGNA 94 TORY BURCH LUXURY PURSUITS 98 ART No Paint on Canvas pushes boundaries 100 HOSPITALITY InterContinental Bali hosts ArtMoments Bali 2023 102 FRAGRANCE BLEU DE CHANEL has a new ambassador REGULAR COLUMNS 10 SOCIETY 14 INDUSTRY NEWS 64 SPOTTED - WATCHES 96 SPOTTED - FASHION The Time Place Magazine,
Printed by: Gramedia Printing The Time Place, Plaza Senayan: Plaza Senayan, Level 1 #122 B, Jakarta, Tel: +62 21 572 5759 The Time Place, Plaza Indonesia: Plaza Indonesia, Level 1 #165, Jakarta, Tel: +62 21 310 7715 The Time Place, Pacific Place: Pacific Place, Ground Floor #12A-B, Jakarta, Tel: +62 21 5140 2776 The Time Place, Tunjungan Plaza 4: Tunjungan Plaza 4, Level UG # 14-16, Surabaya, Tel: +62 31 532 7991 Rolex by The Time Place: Plaza Indonesia, Level 1 #69-70A, Jakarta, Tel: +62 21 2992 3982 www.thetimeplace.co.id Follow us on 8 CONTENTS 82 26 84 90
Dare to Discover

The iconic TUDOR colours of red, white and black adorned the spacious area at The Bar in Park Hyatt Jakarta to celebrate the release of TUDOR's new dashing novelties. The cocktail event, held in cooperation with INTime, gathered VIP customers for an intimate touch and feel of the new TUDOR Black Bay, Black Bay GMT, and TUDOR Royal additions. Guests were also able to experience pedalling along TUDOR's virtual cycling route along varied terrains and thrilling challenges that truly bring about the brand's signature #BornToDare spirit to life.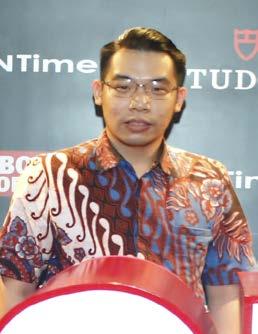 10 SOCIETYSOCIETY
1
1. Desmond Tan & Cla Riedi 2. Ryan Setiono & Ineke Valentina 3. Corne Van Zyl 4. Hendrik Setiawan 5. Aria 6. Edwin 7. Shannon Hartono
6
7 5
2 3
4
INDONESIA'S LEADING MAGAZINE FOR TIMEPIECE CONNOISSEURS AND ENTHUSIASTS Digital release of the latest issue of The Time Place Magazine Discover insights from the world of horology, luxury lifestyle and more with clickable content at your fingertips EXPERIENCE ONLINE READING LIKE NEVER BEFORE #ReadAnywhere
Adrenaline Rush

Pulsating beats, exquisite timepieces, and racing thrills defined the ambience at TAG Heuer and Porsche's exclusive cocktail party at TAG Heuer's Plaza Senayan boutique. Hosted by Cisca Becker, the event began with speeches from Time International CEO, Irwan Danny Mussry, and Porsche Indonesia General Manager, Alexander Riedel. Special guests included the TAG Heuer Porsche Formula E Team drivers, Pascal Wehrlein and António Félix da Costa, as well as Ahmad Al Ghazali, the evening's DJ, who was unveiled as TAG Heuer's Brand Ambassador.
12 SOCIETYSOCIETY
2 6 1 3 7 4 5 8
1.Antonio Felix da Costa, Irwan Danny Mussry & Pascal Wehrlein 2. Al Ghazali 3. Cisca Becker 4. Jeje Soekarno 5. Fajar Arifan 6. Andry Hakim & Novyanna Rasilim 7. MJ Sehonanda Wongso & Samuel Wongso 8. Sugianto Kosim & Marlin Kosim 9. Alexander Riedel & Martin Pointon.
9