LIVING
EMBRACE YOUR SPACE
DISCOVER THE VINTAGE RUGS OF NEW ENGLAND LOOM
+
VERMONT'S PREMIER BAKING SCHOOL
6 CHARMING BOOKSTORES TO EXPLORE
NEW ENGLAND MAINE CRAFTS // WINNING KITCHENS // RUSTIC LUXURY
Quality that extends beyond our windows
At Marvin, we offer solutions designed to support your well-being, from fresh air to connection to the outdoors.
We're focused on every aspect of product quality to make sure every moment you spend surrounded by Marvin windows and doors is quality time.
©2022 Marvin Lumber and Cedar Co., LLC. All rights reserved.
Explore Marvin's product collections at marvin.com
and doors
Destination projects begin with a call 833-BY-DEANE
Nantucket Martha's Vineyard Cape Cod Hamptons
Naples Palm Beach Ocean Reef Jackson Hole
Kiawah Island Stratton Stowe Newport Watch Hill
Custom cabinetry for every room Kitchens | Vanities | Wardrobes | Bars | Outdoor Kitchens Visit our design showrooms in Stamford and New Canaan or online at deaneinc.com
Living better by design.
No matter what look you have in mind, Kohler has your style. And Kohler is just one of the 65 famous brands we represent – in fixtures, cabinetry and tile surfaces. Our experienced kitchen and bath designers have access to them all, giving you the creative freedom to select from the finest materials and products. And making sure your project is exactly as you dreamed it would be. All the choices you could imagine – in a single creative space!
Kitchen & Bath Gallery EDGARTOWN, MA 25 East Line Road (508) 696-9930
MA 343 Dillingham Ave. (508) 457-9720
YARMOUTH, MA 40 Aaron's Way (508) 790-2259 NORTH ATTLEBORO, MA Triboro/Shaw's Plaza 11 Robert F. Toner Blvd. (508) 695-1770
UXBRIDGE, MA 583 Quaker Highway (508) 278-7761
RI 361 Jefferson Boulevard (401) 739-8000 A SUPPLY NEW ENGLAND COMPANY kitchenbathgallery.com
FALMOUTH,
WEST
SOUTH
WARWICK,
2018-2020 2015-2020
Spend an hour at a Clarke Showroom and one thing is clear: your time with a Clarke Consultant is the most valuable part of your kitchen journey. While they're not designers, these are the people designers call on when it comes to appliance recommendations. You won't buy anything at Clarke, so there's simply no pressure. What you can do is compare more Sub-Zero, Wolf and Cove models than anywhere in New England. And explore a living portfolio of kitchens created by the region's top designers. You'll leave inspired with new knowledge to make your appliance selections with confidence.
New England's Official Showroom and Test Kitchen
Boston & Milford, MA • South Norwalk, CT 800-845-8247 • clarkeliving.com
Without Jeremy, it wouldn't be Clarke.
Showroom Manager Jeremy McCulla joined Clarke in 2014 to open their award-winning Boston showroom. He has been recognized by the design industry as Boston's top customer service professional. Jeremy's product knowledge and ability to understand the goals of discerning homeowners and designers makes your kitchen design journey a pleasure.
SETTING THE STANDARDS IN HARDWOOD DECKING AND SIDING
Superior quality and environmental accountability is what we are all about. With Iron Woods branded products superior strength, hardness, durability, and fire resistance have stood the test of time performing in commercial projects and backyards across America.
47 SUMMER 2021 | NEWENGLANDLIVING.TV
info@ironwoods.com | 888.932.9663 | www.ironwoods.com
617.333.6800 | FBNCONSTRUCTION.COM Soak it all in. Soak it all in. 617.333.6800 | FBNCONSTRUCTION.COM DESIGNER: WOLF IN SHEEP DESIGN PHOTOGRAPHER: READ MCKENDREE
IN THE ISSUE
12 EDITOR'S NOTE
14 CONTRIBUTORS
NEW & NOTEWORTHY
15 SMOOTH AS GLASS
A new exhibit at the Wadsworth Atheneum showcases today's glass artists.
18 SPIRITED SIPS
A Boston cocktail hideaway.
COMMUNITY
20 Q & A WITH RACHEL HOLT
Our award-winning New England Living/ CBS Boston host talks about showcasing hidden gems.
22 LOCAL PAGES
Six independent bookstores to indulge your reading obsession.
30 NUMBERS GUY
CPA William Cooper suggests the best ways to ride the waves of financial ups and downs.
32 BEYOND BLISS
Let the magic of CBD oil relax and rejuvenate you at these New England spas.
DESIGN
36 STYLE FILES
Explore the latest in exciting designs for your kitchen, bath, and whole home.
44 KITCHEN ENVY
Meet New England's finalists in the global Sub-Zero, Wolf, and Cove Kitchen Design Contest.
52 THE PERFECT BLEND
Interior designer Vani Sayeed helps a colleague bring her home vision to life.
60 PREVAILING TRENDS
Sabrina Dalomba of Supply New England shares what's in vogue in bathroom design.
9 NEWENGLANDLIVING.TV 44
IN THE ISSUE
ARTS
70 AMAZING GRACE
Ceramicist Stephanie Grace molds natural shapes in a soothing white palette.
72 MAGIC CARPETS
Discover the intriguing world of finding and selling vintage rugs with New England Loom.
80 CUSTOM WHIMSY
Playful designs are the basis for Sara Fitz's stationary and home products.
86 SOUND AS A BELL
A Maine artisan family forges beautiful bells and creative lives together.
FOOD + TRAVEL
92 BAKERS DOZEN
Vermont's renowned King Arthur Baking School is a beloved destination for bakers.
96 WHAT'S FOR DINNER?
A new gourmet food delivery company adds fresh, local flavor to meals at home.
98 MORE FACETS THAN A DIAMOND
Experience everything Cape Cod's Ocean Edge Resort & Golf Club has to offer, all year long.
102 WOODSY WOW
Take a peek inside Hidden Pond's newest Todd Snyder designed bungalows.
108 WHERE THE HAUTE DOGS STAY Pooches will be pampered at these hotels that happily put out the doggy welcome mat.
SPACES
114 CLEAR THINKING Housing industry professionals create their own ideal home.
120 GREEN MOUNTAIN VIEWS
A modern Vermont car barn lets the light in.
REAL ESTATE
126 MAKING THEIR MARK
Two Boston area brokers are among Coldwell Banker's prestigious 30 Under 30 list.
130 A WINNING PROPERTY
A sumptuous Weston estate offers quietude, luxury, and an amazing interior basketball court.
FINAL THOUGHT
136 Image by Betty Wiley
10 NEWENGLANDLIVING.TV 80
120
LIVING NEW ENGLAND MAINE CRAFTS // WINNING KITCHENS // RUSTIC LUXURY DISCOVER THE VINTAGE RUGS OF NEW ENGLAND LOOM EMBRACE YOUR SPACE VERMONT'S PREMIER BAKING SCHOOL 6 CHARMING BOOKSTORES TO EXPLORE + ON THE COVER
Photo by Janelle Carmela
A WORRY-FREE TAX SEASON IS ON THE HORIZON Expertise you can count on. Service you can depend on. wscpa.com • (617) 447-2700 One International Place, Suite 1010 • Boston, MA 02110 101 Station Drive, Suite 250 • Westwood, MA 02090 "W&S tax planning is the best we've ever had but the real difference is their
business planning"
strategic
— Sean Clarke President, Clarke Corporation
Seasonal Splendor
VOLUME 6 • NUMBER 2
PUBLISHER
Tom Clarke
PRESIDENT
Sean Clarke
EDITORIAL/CREATIVE DIRECTOR
Sharon Bartholomew
MANAGING EDITOR
cheers to summer!
As we embrace these colder months of the year, I'm reminded again how lucky we are to experience the change of seasons here in New England. As much as I love summer, I love fall's crisp air and red and gold hues.
SUMMER IS UPON US ONCE AGAIN and we have a lot to toast. Dare I say that the light at the end of this COVID tunnel is getting brighter and brighter by the day. We've learned plenty of lessons along the way, but perhaps one of the greatest takeaways is regarding our resiliency as a species. Throughout this daunting experience, people have perfected the art of the pivot, reinventing careers, reimagining workspaces and redesigning their homes.
PUBLISHER
Lisa Cavanaugh
ADVERTISING COORDINATOR
Lori Hawes
CFO
There are so many places in the region to go to celebrate the season; I enjoy traveling up north to the mountains. The drive, watching the patterns of foliage evolve along the way, is one of my favorite parts. On my next trip, I plan to visit Hidden Pond in Kennebunkport, Maine, a resort we spotlight in this issue. Spread on 60 wooded acres, the resort recently added several new bungalows to the property designed by menswear designer Tom Snyder, each one with a different theme.
Tom Clarke
PRESIDENT
Sean Clarke
EDITORIAL DIRECTOR / CREATIVE DIRECTOR
Sharon Bartholomew
EDITOR-IN-CHIEF
Robert Cocuzzo
Our summer issue pays homage to this creative resiliency by profiling a number of New Englanders who have managed to turn lemons into lemonade during the pandemic by transforming their passions into professions.
ADVERTISING COORDINATOR
Lori Hawes
CFO
Chris Parker
Chris Parker CONTROLLER
Kelsey Hodde
DIGITAL COORDINATOR
Jocelyn Nace
MARKETING
Mike Nelson
Sam Pericolo
CONTRIBUTING WRITERS
Jaci Conry
Rob Duca
Another Maine-based story in this issue features Richard Fisher, who out of his foundry in Prospect Harbor, creates bronze bells, hardware, and original sculpture. We also highlight New England Loom, a shop outside of Boston run by a young couple who are passionate about vintage rugs. Watercolor artist Sara Fitz, who grew up spending summers on Nantucket, has created a lifestyle brand that includes coastally inspired prints, gift wrap, wallpaper, textiles, and more. In this issue, Fitz, who is a York Harbor Maine resident, shares some of her inspirations with us.
On this point, few exemplify what can happen when you follow your dreams better than our cover star, Jim Koch. The founder of the Boston Beer Company, Koch has notched a foothold on the Forbes list without ever forgetting his scrappy, underdog roots. During the pandemic, the Sam Adams creator emerged as a hero for many small businesses, particularly restaurants, in need of a safety net during these trying times.
One local restaurateur who mastered the pivot was Chef Jose Duarte. After his North End eatery was shuttered by COVID-19, the chef refocused his culinary might on an unlikely dining destination in Chelsea called Tambo 22. The Peruvian-inspired restaurant might just be the best-kept secret in Boston, offering a dazzling array of dishes that you really have to taste to believe.
CONTROLLER
Kelsey Hodde
MARKETING
Mike Nelson
Sam Pericolo
Marni Elyse Katz
Stacey Marcus
Lannan O'Brien
Juliet Pennington
Jennifer Sperry
Lauren Wolk
CONTRIBUTING PHOTOGRAPHERS
CONTRIBUTING WRITERS
Lisa Cavanaugh
Rob Duca
Trent Bell
Janelle Carmela
Dan Cutrona
If you are more inclined to bake during the colder months of the year—like me—then you'll be interested to read about King Arthur Baking Workshops, held at the company's outpost in Norwich, Vermont. Classes range from introductory demonstrations to intensive professional courses and include a slew of classes geared toward children.
Equally nimble amid the pandemic was Billy Starr, the founder of the Pan-Mass Challenge. After switching gears to a reimagined ride last summer—which succeeded in raising a remarkable amount of money for the Dana-Farber Cancer Institute—Starr and his team launched new routes this summer for PMC riders to safety get back on the road together and continue their mission of fighting cancer.
Haley Grant
Stacey Marcus
Juliet Pennington
Johnathan Soroff
CONTRIBUTING PHOTOGRAPHERS
Douglas Friedman
Jared Kuzia
Erin Little
Brea McDonald
Greg Premru
Finally, we feature some inspiring home design projects, including a striking modern car barn in Vermont that sits on 25 acres and a house built on the beach the South Shore of Massachusetts that exudes a "surf shack chic" vibe, along with a lovely kitchen designed by Vani Sayeed.
Of course, many of us don't need to leave the comfort of our home to see how the creative juices have been flowing over the last year. Home projects have soared as a result of our time of forced hibernation. We highlight a selection of exquisite design projects—from a beach house on Nantucket, to a historic estate in Wayland, to a charming hotel in Pittsfield—that provide no shortage of inspiration.
Liesl Clark
Megan Diehr
Kit Noble
Melanie Chandler-Blood
Steve Depino
Ridgelight Studio
Brian Samuels
Mike Schalk
Joyelle West
Betty Wiley
Take your time paging through this issue—curl up on the sofa and grab a cup of something hot, there's lots of great stuff to take in.
We hope you enjoy this summer edition of New England Living. As always, we're honored to tell the stories of this remarkable region and continue to find inspiration from the folks who have made it their home.
Best always,
Erin Little
Bruce Luetters
Ken Richardson Published
Sharon Bartholomew
Michael D. Wilson
ADVERTISING CONTACT
Eric Lange
erklange@aim.com
617-290-1820
Published by Tide Street Group www.tidestreetgroup.com
Sharon Bartholomew Editorial Director / Creative Director
Editorial/Creative Director
12 NEWENGLANDLIVING.TV
NEW ENGLAND
Single copy price $7.95/$8.95 Canada. All rights reserved. No part of this magazine may be reproduced in whole or in part without the written permission of the publisher. Publisher disclaims all responsibility for omissions, errors, and unsolicited materials. Printed in the USA. FOLLOW @newenglandlivingtv welcome letter
10 NEWENGLANDLIVING.TV | SUMMER 2021
• NUMBER 1
Kerry Brett Photography
VOLUME 5
Tide Street Group www.tidestreetgroup.com LIVING NEW ENGLAND
by
Single copy price $5.95/$6.95 Canada. All rights reserved. No part of this magazine may be reproduced in whole or in part without the written permission of the publisher. Publisher disclaims all responsibility for omissions, errors, and unsolicited materials. Printed in the USA. FOLLOW @newenglandlivingtv
welcome letter
PHOTO BY KERRY BRETT
12-17_NEL_ed-letter_Contributors_NEL21_Sum.indd 10 5/12/21 2:52 PM
THE ALL-NEW PRINCESS X80 EXPERIENCE THE EXCEPTIONAL®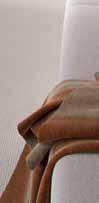 PRINCESSYACHTS.COM
Lisa Cavanaugh
(Managing Editor) is a writer and editor who grew up in New England, worked in the New York theatre world, and was a story editor, producer, and writer in Los Angeles for many years. She now lives on Cape Cod with her husband. As part of this issue, Lisa tells the story of the King Arthur Baking School in Vermont and visits with two celebrated youthful real estate agents in the Boston area.
Rob Duca
An award-winning editor and writer for more than 40 years, Rob Duca's stories have appeared in Sports Illustrated, the Boston Globe, the Baltimore Sun, and Yankee magazine, among many other publications. He was a sports columnist for the Cape Cod Times for 25 years, and editor of New England Golf & Leisure magazine. Rob, who lives in Cummaquid, shares CPA William Cooper's advice for challenging financial times.
Marni Elyse Katz
Marni Elyse Katz is a freelance design journalist whose career started in the fashion closet of Rolling Stone Today she writes for local and national publications, both in print and online. Marni lives in Boston and Truro with her husband, two sons, and a cat. In this issue, she highlights the rustic luxury of Hidden Pond resort in Kennebunkport and the unique curated rugs of New England Loom.
Stacey Marcus
Stacey Marcus is a New England-based lifestyle writer whose work has been featured in regional and national outlets. When not busy writing about luxe hotel options for your canine pals or New England spas that incorporate CBD into their treatments, she can be found in her office being inspired by her beloved bichon/maltese Theo.
Lannan O'Brien
Lannan O'Brien is a Cape Cod-based freelance writer, editor, and social media manager whose work has appeared in many publications throughout New England. For this issue, she had the pleasure of writing about Sara Fitz, a charming lifestyle products store in Maine, and Hecate, a new mystical bar in Boston.
Juliet Pennigton
Juliet Pennington is a Bostonbased journalist who writes for several regional and national magazines and is a regular contributor to The Boston Globe. She is an adjunct professor at Boston University, and a vegan committed to animal welfare/ environmental issues. Juliet offers a wonderful round-up of intriguing indie bookstores throughout New England.
Jennifer Sperry
With over 20 years of experience in publishing, Jennifer Sperry has served as an editor and writer at a variety of luxury magazines. Currently, she works as a marketing director, and on the weekends, likes to play tennis, read, cook, sample wine, and play with her two young daughters. Her specialty is writing about architecturally significant homes, including a pair of stunning homes in Connecticut and Massachusetts for this issue.
Lauren Wolk
Lauren Wolk is a New York Times-bestselling author of several novels, including the Newberry Honor-winning Wolf Hollow (2016) and its sequel, My Own Lightning (2022). She is also a poet and visual artist who makes her home in Centerville, MA. This fall, Lauren explored the world of hand-crafted bells in Maine and discovered year-round fun at Brewster's Ocean Edge Resort and Golf club.
14 NEWENGLANDLIVING.TV CONTRIBUTORS
Smooth as Glass
Atranslucent sewing machine, neon bananas, a wall of blown glass fish— these and other arresting art pieces are part of the Fired Up: Glass Today exhibition at the Wadsworth Atheneum Museum of Art in Hartford, Connecticut. The show includes 57 artists whose medium of choice is glass and who are exploring new ground in the art form.
"When we think about contemporary glass our minds often go to glass blowing," says Brandy Culp, the Richard Koopman Curator of American Decorative Arts at the Wadsworth, "but the show is comprehensive, and involves many different artists and many different techniques, such as coldworking, flameworking, hot sculpting, slumping, fusing, and more."
Visitors to the exhibition may be surprised to see the intriguing results of these techniques, says Culp. "We think that we know glass and we have these expectations for what that should be, but I think that the exhibition exceeds that and changes our perspective of what's happening in glass today."
15 NEWENGLANDLIVING.TV
NEW & NOTEWORTHY
Megan Stelljes, Neon Wallpaper III, 2022
Kim Thomas, The Cloud Riding Contraption #1, 2022. Courtesy of Habatat Galleries.
16 NEWENGLANDLIVING.TV
Above: Micah Evans, Singer, 2014. Collection of Simon Abrahms. Below: Glass Artist Kim Thomas.
Since the exhibition opened in September 2022, the Wadsworth has offered a lineup of related programs and events, including live glassblowing demonstrations at the museum.
"The interactive workshops and opportunities for visitors to participate have been so dynamic and fun," says Culp. "We set up a 'hot shop' with Mobile Glassblowing Studios, and have hosted internationally renowned glass artists as well as students from the Hartford Art School who are working in glass to bring the magic of the material to the public."
Even after the exhibit closes in February 2023, visitors to the Wadsworth Atheneum will be able to view some of the art pieces from the show, including the popular and whimsical "Neon Wallpaper." "We have made some acquisitions already and we hope to strengthen our collection even more moving forward," says Culp.
"Through Fired Up, we've connected to many local artists, collectors, and galleries, and will build on those friendships, so you will see more contemporary glass in the Wadsworth galleries.
"Glass artist Tim Tate, whose work is featured in the show and who hosted a lecture with me, said that this exhibition has become a phenomenon within the glass world," notes Culp, who adds that the exhibition's galleries have been filled with laughter and chatter from visitors of all ages. "As a curator and educator, it has been transformative to see this kind of engagement, and I hope this proves to be not just a moment but a movement in glass art."
Fired Up: Glass Today is on view at The Wadsworth Atheneum Museum of Art until February 5, 2023. Visit www. thewadsworth.org for more information about this show as well as other upcoming exhibitions and programs.
17 NEWENGLANDLIVING.TV
Above: Glass Artist Dan Friday
Below: Shayna Leib, Pâtisserie, The American Series, 2018.
Spirited SIPS
If you're just looking for a local watering hole with a domestic beer list, this unique spot might not be the place for you. Tucked in an alleyway in Boston's Back Bay, the newly opened Hecate is an otherworldly cocktail bar inspired by the Greek goddess of magic and spells.
Once inside, Hecate beckons you to leave your comfort zone and experience the unknown. The dark, cave-like setting with modern decor, gold accents and candlelight creates an intimate ambiance reminiscent of a moody night sky.
The curated cocktail list features evocative illustrations of creative beverages inspired by folklore, each delivered with mischievous accents — for example, Snakes & Rainbows, made with Boukman Botanical Rhum, palo santo, vetiver, and TropiCola Champagne Soda, comes adorned with a smudge stick.
48 Gloucester St, Boston, MA 02115
Tip: Arrive early and be willing to wait (there are only 24 seats, and reservations are not accepted).
18 NEWENGLANDLIVING.TV
NEW & NOTEWORTHY
Community
Q & A WITH RACHEL HOLT
Page 20
LOCAL PAGES
Page 22
NUMBERS GUY Page 30
BEYOND BLISS Page 32
19 NEWENGLANDLIVING.TV
WITH NEW ENGLAND LIVING TV HOST Rachel Holt
As she began her fourth season of hosting New England Living on CBS Boston, Rachel Holt sat down with NEL Magazine to share why she loves connecting with communities across New England.
Q: Four seasons! How does that feel?
A: It is crazy that we are already heading into our fourth season— it's flying by! As we continue to build off the previous seasons, I feel like each year just keeps getting better and better. Every time we start shooting a new season, we're so thrilled to see new places and explore even more of New England.
Q: Tell us about an episode that opened your eyes to something you didn't know about before.
A: This past season we had the opportunity to go to Camden, Maine, for an entire episode. Camden is incredibly beautiful, and everyone should go if they get the chance! It's a quaint seacoast town where people are really proud of their history. Going through the town, we were able to experience so many different activities, from antique cars to homemade dog biscuits. One segment that really stuck out was our voyage with the Maine Windjammer Association. We went out on a schooner and
met some of the most adventurous people from all walks of life. It was so eye-opening. You can see this beautiful part of Maine by land but seeing it from the ocean is just an incredibly different experience.
Q: It sounds like you really enjoyed the schooner adventure.
A: It was a blast! The boats in this fleet date back to the 1800s, so you're walking on this incredible vessel that was built so long ago and just taking it all in. I was so impressed by the captains who go on these trips and dedicate their life to being at sea. Seeing the cabins they stay in and how they live was incredibly interesting. There is a lot involved in running this kind of boat. Watching everyone helping out and in action, doing everything together was amazing. We had a wonderful lunch with everyone on the deck, and it was very smooth sailing. This was my first time on a schooner, but hopefully not my last.
20 NEWENGLANDLIVING.TV
Q: I'm sure you notice that each community you visit has a different feel, but do you get a sense of similarities as well?
A: That's the beauty of New England. There are six states, and they're all a little different, but at the heart of it, we've met so many hardworking, generous, kind people who follow their passion in life. That is one of the best things about this show. We've had so many great experiences traveling around and meeting different people who have built a life or a career out of what they love in a place they love. They are going about their lives, but I get the sense they are also excited to share something that's happening in their hometown.
It makes me so happy when someone can be so proud of where they come from or about something unique to where they live. New England is a place that I've long loved, and I feel a sense of pride in all the states around us. Especially living in Boston, I'm always excited to show off the city to my friends or family who come to visit. I love that the people we talk to are as excited as I am about where they live because New England has so much to offer.
Q: Why does this mean so much to you?
A: We are thrilled to be able to capture the sense of local pride and share it with our viewers. One of the show's goals is to open people's eyes to a new experience, place, or business that is a car ride away. We've met so many interesting people, and it is always a blast when we can do something we've never done before and highlight these new adventures on the show. I love being able to share that with our viewers.
Q: Can you give an example?
A: This past season we went to a place called Lowell's Boat Shop in Amesbury. It is the oldest operating boat shop in America, and personally, I hadn't heard about it before we visited. They took us out on a dory, and we also got some great drone footage of the Merrimack River area. It's places like that, which someone perhaps hasn't heard about even though they may have lived in Massachusetts all their life, that is kind of a thrill to tell people about. Everyone seemed to love that episode because they said, "I didn't even know that existed there!"
Q: So you do get feedback from viewers who have enjoyed different episodes?
A: Yes, and I love hearing from viewers! We get comments on social media, or people see us when we are out and
about filming. One of my favorite things is when someone comes to me and says, "Hey, we tried out this place that you guys featured, or we went up to Camden, and we had a great experience." That, to me, is such a win. If someone can learn something from what we did on the show, it's so gratifying.
Q: Let's talk about food. Do you ever have to taste things on the show that you're not sure you will like?
A: I really love the food component of the show. Whenever I see that we are eating as part of a shoot, I always circle it in the calendar. I don't think workdays get much better than that. Anytime you get award-winning chefs in the kitchen, I'm so excited to see what they come up with. And there isn't one thing I can think of that I wouldn't eat—I'm being very honest here —so there hasn't been anything I haven't enjoyed trying on the show.
The one thing I'm trying to become better with is eating on camera. Looking graceful and eating food are two things that don't go hand in hand for me. We did a clambake segment with Woodman's of Essex seafood restaurant, and it was utterly delicious, but that is not the most elegant of meals you'll ever have in your life. You're eating corn on the cob, cracking into these beautiful lobsters, and it all gets a little messy. It has been so much fun doing those kinds of segments, but I will definitely have to learn some more graceful eating skills.
Q: We know the show airs in spring and summer, but any suggestions for colder weather adventures in New England?
A: I think camping in the fall in New England is one of the best times to get out there when the weather isn't too hot. We went to Sandy Pines Campground in Kennebunkport, and I think that would be an amazing early fall or spring experience. I like to find interesting bookstores and get some good reading material to enjoy indoors. And I feel like I've said this in every issue, but I love watching New England sports! So much is brewing right now, with the Patriots, Celtics, and Bruins seasons in full swing, and then the Red Sox have spring training coming in February and March. So that is the best cold winter fun in my book!
New England Living airs Sundays at 11:30 a.m. on WBZ-TV/CBS Boston Channel 4 from March through September. To see past episodes, visit cbsboston.com/ newenglandliving.com
21 NEWENGLANDLIVING.TV
LOCAL pages
By Juliet Pennington
Historically, bookstores— especially independent bookstores—were important businesses, playing a crucial role in giving local authors a platform and bringing a community together. Major bookstore chains and online marketplaces for books resulted in a steady decline in "indie" bookstores starting in the late 1990s, but what we gained in convenience, we lost in human connection.
"Independent bookstores represent so much more than retail businesses," says Ray Daniels, chief communications officer of the American Booksellers Association. "In many areas, they are a place where likeminded individuals can gather and form a community. Bookstores are those rare places where people can share knowledge and find comfort."
Lucky for New England bibliophiles seeking the charms of brick-and-mortar bookstores, there are plenty available in our region, from the small, genre-centric variety, to larger shops that carry any and all varieties of books.
Here are some favorites from each of the six New England states:
NEWENGLANDLIVING.TV
the
Readers browse
shelves of R.J. Julia Booksellers in Madison, CT.
CONNECTICUT
R.J. JULIA BOOKSELLERS
employees—about 40 in total—whom Coady calls the "secret sauce" to the store's recipe for success.
R.J. Julia Booksellers, Coady's two-story, 8,000-square-foot bookstore in Madison is an "oldschool version of what you dream a New England bookstore would look like; it's a beautiful space," says Coady, adding that it was modeled after the iconic (now closed) Scribner's Bookstore on Fifth Avenue in New York City.
But more important than the aesthetics or comprehensive collection of books are the
"They are all incredible readers and adhere to the same belief as I have—that books really can change lives," she says. "They listen and know how to be helpful. That is why we have such loyal customers and have been so supported by our community."
RJ Julia Booksellers hosts more than 300 events a year, including book signings and other author visits, and—as if owning a busy bookstore isn't enough—Coady also hosts "Just the Right Book!", a biweekly author interview podcast.
24 NEWENGLANDLIVING.TV
Roxanne Coady was a partner in a New York City accounting firm when she decided in 1990 to switch gears from a "career of the head to a career of the heart."
MAINE SHERMAN'S MAINE COAST BOOKSHOP AND CAFÉ
In 1962, Michael and Patricia Curtis purchased W.H. Sherman Printer & Stationer, a Bar Harbor business founded in 1886 by Bill Sherman. Since then, Sherman's Maine Coast Bookshop has expanded to include nine locations, including the 5,000-square-foot store in Damariscotta, which features a popular café and has a large "staff picks" section. "Our wellread, knowledgeable, and enthusiastic staff love making recommendations based on the customers' interests," says Jeff Curtis, who took over the business from his parents in 2006.
"We have many regulars who live nearby, but lots of repeat tourists, too," says Curtis, who often
hears from vacationers that Sherman's is the first stop they make when returning for their coastal Maine getaways. "Customers say it's a very inviting store. They find some books they may be looking for and others they didn't know they were looking for."
Curtis says all of their locations have "very extensive" sections for Maine- and New Englandspecific books, and the Damariscotta branch also has a consignment section of which he is very proud. "It allows self-published books or those from smaller publishers to get on the shelves, which the authors appreciate and our customers enjoy," he says.
25 NEWENGLANDLIVING.TV
HAMPSHIRE GIBSON'S BOOK STORE
Much has changed in the nearly 30 years since Michael Herrmann purchased Gibson's Book Store in Concord, New Hampshire, in 1994. Initially established in 1898, the shop was previously located in a 4,000-square-foot storefront before moving to its current 12,000-square-foot space on Main Street.
"The size makes a big difference," says Herrmann, who has expanded Gibson's inventory to include novelties and other items, including kids' toys and games, as well opening a café. "It means people can gather and browse comfortably without being on top of each other." And since the current location was a new build completed in 2013, Herrmann worked with a bookstore design consultant to ensure that everything from the lighting to the seating was conducive to a
comfortable and inviting environment with room for book signings and other author events. "We have a lot of comfy chairs."
A hands-on owner, Herrmann says he takes great pride in doing backlist ordering himself. "Bookstores are about discovery. There's nothing like the experience of finding something you're really happy to see," he says. Herrmann says that he and his employees are all avid readers (several participate in a monthly all-things-literary podcast, "The Laydown") who believe in the mission of connecting readers with writers and building community, which is essential to the success of his business. "Concord is a great bookstore town, and New Hampshire is a great bookstore state," he says. "We're fortunate to have as much community support as we do."
26 NEWENGLANDLIVING.TV
NEW
VERMONT BEAR POND BOOKS
The second-largest independent bookstore in the state, measuring 3,700 square feet and located in the historic Depot Building, Bear Pond Books is a second-generation, woman-owned business that has been a staple on the downtown Stowe commercial scene since 1970.
The business has been a big part of the life of owner Jennifer Hale, who purchased Bear Pond Books in 2010 from her mother, who had been a staff member before buying it herself in 1978. Hale remembers helping her mom out at the store when she was ten for an allowance of two dollars a day.
Community is important to Hale, which is apparent in everything from the wide selection of titles across most genres to the products sold at the shop. Hale has expanded to include a variety
of additional items made by Vermont artists and other regional vendors. Bear Pond Books also hosts genre-specific book clubs and educational programs. Hale says she is especially proud of the large children's book section, which is designed so that the books face forward, so customers see the jackets of the books rather than just the spines. "Every day, we get at least two to three compliments on our children's section," she says.
This downtown Stowe bookstore has a friendly and inviting vibe, but perhaps the most enticing—and adorable—draw is the bookstore's ambassador, Hale's French bulldog, Tucker. "He's very popular," she says of her seven-year-old pup. "Customers are disappointed if they come and he's not here."
27 NEWENGLANDLIVING.TV
MASSACHUSETTS BEACON HILL BOOKS & CAFÉ
Since it was announced in the spring that a new bookstore would be opening on Beacon Hill late in 2022, there has been a buzz around town, with many people—not just bookworms—expressing the need for such a business in the historic neighborhood.
Local resident Melissa Fetter is the driving force behind Beacon Hill Books & Café, which was opened in October in a five-story Greek Revival building on Charles Street. While Fetter readily admits that she doesn't have a background in retail, she is a voracious reader with a "sense of creativity and the perspective of a consumer." She says the bookstore has designated themed areas, such as rooms dedicated to architecture and design or travel, for example. "I am also really excited about the children's collection," she adds, noting plenty of kid-friendly touches, like a model train with a
steam whistle chugging in and out of rooms on the children's level. "It's a space reminiscent of a nursery from, say, 'Peter Pan' or 'Mary Poppins," she says.
In addition to selling books, the shop, which boasts a courtyard garden, will offer curated, high-quality merchandise, ranging from custom tea blends to private-label candles. There are also plans for hosted events, including book signings, private gatherings, and "proper" English high teas. The café, under the watchful eye of Colleen Suhanosky, chef and owner of Rifrullo Café in Brookline, will also house an extensive cookbook collection.
"Bookstores aren't easy businesses to run, but this just felt like an opportunity waiting to happen," says Fetter. "And if there were ever a location that could make a bookstore a success, it's Beacon Hill."
28 NEWENGLANDLIVING.TV
RHODE ISLAND
SAVOY BOOKSHOP & CAFÉ
Located in a renovated two-story building that was once home to the Savoy Hotel, this local gem opened in 2016. Savoy Bookshop offers customers diversity in book titles and a welcoming atmosphere with oversize couches, comfy chairs, and an outside patio with an abundance of fresh flowers.
"When ordering, we make sure to buy books that represent a diverse range of stories and authors and perspectives in which people can see themselves," says Mariana Calderon, the store's manager. "We have every genre and books by authors who are Indigenous, Black, queer, trans, Asian American, etc…" Open Agenda is a small free library that is part of the
Savoy Bookshop & Café and carries largely LGBTQIA+ titles for young-adult and middlegrade readers.
Calderon says that Savoy staffers are "all very passionate booksellers who are well-read and really committed to the community." The store hosts numerous literary events, and when they have more well-known authors slated for book signings, they partner with the nearby United Theatre, which has an auditorium and large event spaces.
The Savoy's owners also own sister stores Bank Square Books in Mystic, Connecticut, and Title IX, which focuses on social justice and queer literature, in New London, Connecticut.
29 NEWENGLANDLIVING.TV
IS A RECESSION COMING?
Is it already here? If so, what should business owners and individuals do to protect their company and their assets? New England Living spoke to William Cooper of the accounting firm Walter Shuffain in Boston for his thoughts. Cooper has more than 30 years of experience in public accounting, is a registered investment advisor, and serves as a trustee for many of his clients.
BY ROB DUCA
30 NEWENGLANDLIVING.TV NUMBERS GUY
Q: Are we already in a recession?
A: There are components of what would be a recession. We're dealing with significant inflation, yet we still have a major labor shortage and supply chain issues, which doesn't speak of a recession but of too much demand. That's a positive thing. But we're in a weird place with COVID that created supply chain issues, and now we have crazy pricing issues. So, I don't think we're in a severe recession, but if you look at all the factors, you'd have to say there is the risk of a recession.
Q: During a recession, what steps should be taken as a business owner and as an individual?
A: I always tell people that it's a good opportunity to clean up your business or even in your personal life to trim the fat to make sure you're operating at peak level to get through the tough times. Then, when the economy comes back, you're in a great position to move forward.
As a business owner, go through your expenses and make sure that all your expenditures are 100 percent necessary. Look at the marketing or travel budgets, for example, to see how effective they are. When things turn around, you'll have a streamlined business, and profitability will be much more significant.
With individuals, one of the biggest things I see is people panicking. They try to time the market and switch to cash. People who panic and liquidate to cash invariably loose. Look at 2008-09; the market was back by 2010. Those people who went to cash halfway through the downturn lost out. Over a ten-year period, the market always goes up.
Now, if you have a short-term need for money, you should protect your principal and avoid investments that have volatility. You will lose out on some of the upsides, but you'll be protected against the downside. But typically, you make out by staying the course.
It's never a bad thing to cut excess. But the job market remains strong and major layoffs haven't happened yet. If the labor market turns the other way, then you really want to be saving for a rainy day.
Q: What precautions should I take to protect my financial future?
A: It's a unique time and people just need to be aware and make decisions accordingly. Don't think you need to start cutting back and hunkering down. But you need to keep your eye on it. The best advice I can give is to be vigilant, but don't panic.
Q: Should I stop investing in my retirement account during a recession?
A: No. Creating that savings and letting that money grow tax-deferred is such a huge benefit. If you do it on a regular basis, you're getting the benefit of the ups and downs. NEL
31 NEWENGLANDLIVING.TV
William Cooper, CPA, has more than 30 years of experience in public accounting.
BEYOND BLISS
CBD Elevates TLC at New England Spas
By Stacey Marcus
Just when you thought your spa experience delivered you to the doorstep of nirvana, three simple consonants are being added to treatments, opening up a whole new world of restoration.
No, it's not THC, but a close cousin, CBD, or cannabidiol. This non-impairing compound of the cannabis sativa plant is known to reduce inflammation, get your blood flowing, pacify pain, and ease myriad maladies—minus the high. CBD is legally derived from hemp, defined as cannabis plants with no more than 0.3% tetrahydrocannabinol (THC), the mindaltering substance in marijuana.
This latest trend in holistic healing provides a multitude of benefits and is a must-try for anyone looking to ease tension in both the body and the mind. Several New England hotels, inns, and resorts have added CBD-focused therapeutic services to their spas' menus.
Mandarin Oriental, Boston, is the first Mandarin Oriental property in the Americas to partner with a sustainable hemp-derived CBD wellness line. Their Causemedic offerings include a Restorative Massage, a Vitality Massage, a Tranquility Wrap, and a Holistic Renewal Ritual. "With the combination of a proprietary PhD-developed CBD delivery system and holistic sustainability practices, each highly curated therapy has the potency to transform skin health and state of mind," says Jason Paluch, the property's senior director of spa and wellness. "The healing properties of hemp-derived CBD work to enhance overall wellbeing and restore balance to the body."
New Hampshire's historic Christmas Farm Inn and Spa now offers a range of branded CBD products and topical treatments using only the locally sourced Elmore Mountain Therapeutics line as part of its holistic wellness program.
In the heart of Vermont's Green Mountains, the spa at the luxury Topnotch Resort uses its own house-blended CBD massage oil for its R & R CBD massage. You can have the aromatherapy oil of your choice added and whatever is left over is for you to take home for continued relaxation.
33 NEWENGLANDLIVING.TV
Opposite: Spa guests can enjoy a massage with CBD-infused products at the Mandarin Oriental, Boston. This Page: Indoor or out, relaxation is on the menu at Plymouth's Mirbeau Inn and Spa.
If heading north for a retreat, check out the CBD-infused massage at Hidden Pond's Tree Spa in Kennebunkport, Maine, an exclusive getaway featured elsewhere in this issue. There you can enjoy specially curated CBD oils that enhance your well-being and allow your body to relax while you bask in the beauty of birch trees.
If your restoration route is south, pop by Mirbeau Inn & Spa in Plymouth, Massachusetts, for its Pure ZEN Ritual Treatment, a blissful CBD bath experience that provides deep harmony, balance, and calm for the body from head to toe.
Evolve Apothecary, in Providence, Rhode Island, offers its own take on a CBD Oil Massage using extracts of ginger root and CBD that has been CO2-extracted exclusively from organically cultivated, USA-grown hemp flowers.
And finally, if you find yourself in Greenwich, Connecticut, be sure to visit the J House Spa, where you can enjoy the Veg Out Facial, a customized CBD facial that calms inflammation, hydrates, and replenishes skin with essential oils and cannabinoids.
Now seems like the perfect moment to enjoy a bit of TLC with a CBD spa treatment – no matter where your journeys take you.
34 NEWENGLANDLIVING.TV
Left: The soothing glow of candles adds to massage bliss at Mirbeau. Below: Indulge in a calming Veg Out CBD Organic Facial at J Spa in Greenwich, CT. Lower photo: CauseMedic is a hemp-derived wellness line available at Mandarin Oriental, Boston.
Design
STYLE FILES
Page 36
KITCHEN ENVY
Page 44
THE PERFECT BLEND
Page 52
PREVAILING TRENDS
Page 60
35 NEWENGLANDLIVING.TV
Photo by Jared Kuzia
MODERN EXPOSURE
Abundant windows and an innovative new design by Marvin ensure that a house on the beach is afforded majestic views.
This home sits on a cherished plot on Hingham's Kimball Beach in view of Boston Harbor, one of a few rare places in the region where a home can be built so close to the water. Nestled in Crow Point, "a neighborhood of old beach bungalows," says PJ Antonik of Oak Development & Design, the owners were relocating from Connecticut and envisioned that their new residence would have a modern "surf shack chic" vibe.
The homeowners, a family with two kids, relied on Antonik and his team to design and build their coastal dream house, which was a tricky undertaking due to the small lot and its extreme proximity to the water. "The house was built up on pilings, so there was a lot of site work and very unconventional stuff going on with the build," says Antonik. "We were constantly pivoting and changing. It's right on the water, so there are massive northeast winds hitting the house. We had to make sure the envelope was tight."
36 NEWENGLANDLIVING.TV
Photos courtesy of Marvin
Technical requirements aside, the priority was that the cedarshingle-clad house capitalized on the sublime ocean views.
Abundant Marvin windows throughout ensure each room has a privileged outlook, and a series of glass doors on each floor open to balconies and decks. The crowning glass structure projects from the home's third floor out into the open air. Called the Marvin Skycove, this innovative design creates an extension of usable space, opening the family room to panoramic views, and ushering in light from four directions.
The first Skycove to be used on a home in New England, the installation was an intense process, recalls Antonik. "It was so outside the normal scope of any sort of window install." Designed to be hoisted by a big forklift that holds it in place while the unit is secured, this site was too small for that method to work. Instead, the 2,500-pound Skycove was hoisted by a crane and dangled in the air while it was secured in place.
Unconventional as it was, the method was a success, and the entire home benefits from the light it brings into the home from the third floor. On the interior, the Skycove creates an intimate niche. "There's an oak seat in the spot that the family uses as a reading nook, and the whole wall around it is clad in shiplap," says Antonik. "Sunsets from there are incredible."
37 NEWENGLANDLIVING.TV
Marvin Skycove creates an intimate nook to escape, relax, and rejuvenate ~ and enjoy the views.
KITCHENS AT THE CORE
By relocating this kitchen from the back of the home, it's more centralized, functional, and gleaming with distinction.
38 NEWENGLANDLIVING.TV STYLE FILES
Photos by of Greg Premru
Across the board, we generally start with the kitchen as the base of the master plan for a home,"says interior designer Jayme Kennerknecht, principal at Kennerknecht Design Group, a fullservice interior and architectural design firm in Beverly, MA. "And in the kitchen, we generally begin with the appliances."
In one of her firm's most recent projects, a client's new ski house, the Sub-Zero refrigerator and Wolf range were the first items she ordered. "There is such great brand recognition, quality, and value with their products," says Kennerknecht. "My clients are familiar with them and want all the features those appliances offer."
For Kennerknecht and her team, the client conversation begins with understanding how they will live in their home and use their kitchen. "Will they have lots of folks visiting, so we should be looking at plenty of wine and beverage storage?" she says, "Will they be cooking holiday meals and need double ovens? Do they have little ones in the family that have to have easy-to-access refrigerator drawers? Maybe the kitchen is the first thing guests see when they enter the home, so let's design a stunning, decorative range hood." She provided exactly that for a client who wanted their Beacon Hill kitchen to make a statement. "The hood above the Wolf range is over eight feet tall, but it fits the space and their aesthetic," says Kennerknecht. "We were working with a vaulted ceiling height and top floor kitchen placement," she says, describing a grand entrance that leads directly into the kitchen of the multi-floor townhouse, "We thought, how do we embrace and enhance this volume? So we ordered a custom hood to help express that grandeur. We allowed this big beautiful, impressive range hood to be a central focus in the space."
The glass backsplash behind the range was the driver for the rest of the kitchen's taupe and black palette, including the large, central island. "The client expressed the desire to have seating suitable for a family meal, so instead of the long bar-like island with stools in a row, we intentionally allowed for seating at the end of the island so the family can sit across from each other."
Other clients prefer to have the more functional aspects of their kitchen appear more subtle. "Some clients are interested in toning down the utilitarian look of their cooking space and seek panel-front, built-in appliances." Sub-Zero, in particular, has fantastic customization-within-cabinetry options that allow for seamless integration with any design aesthetic. "We look at how we can make the kitchen feel potentially more approachable for the homeowner and then source the appropriate appliance to facilitate that."
Kennerknecht believes that her team's job is to make recommendations and then use their resources and knowledge about what's available to find the best match for each client. "It is all about understanding how our clients live, and then we can design to that lifestyle."
39 NEWENGLANDLIVING.TV
The Wolf Range and custom hood center the kitchen in this stunning Beacon Hill penthouse.
40 NEWENGLANDLIVING.TV STYLE FILES
up your powder room with fun, fearless design.
SMALL BUT STYLISH Level
It's one of the hardest-working rooms in your house, used by your family and guests throughout the day. Unlike a primary bathroom hidden away in a suite, the powder room is seen by virtually everyone experiencing your house, so why not make it a showpiece with features that are a bit funky or fancy?
"What I love about powder rooms is they are an excellent opportunity to do something more on trend, something you might be nervous about green-lighting in a larger space," says Elena Mancini, a designer at Kohler Signature Store in Burlington, Massachusetts. "Because a powder room has less square footage, you can choose a higher-end stone tile or faucet or vanity and still stay within budget. It's the perfect place to spend a little extra for maximum impact."
Mancini, a six-year Kohler veteran with a bachelor's degree in interior design, brings both a designer's eye and technical knowledge to every project she tackles. Here is her advice on adding flavor to this utilitarian space.
COLOR "Don't be afraid to go dark, like partnering a dramatic wall color with a complementary geometric floor tile. And don't forget the ceiling, which is a great opportunity to employ a bold color or wallpaper. Wallpaper has made a comeback in recent years—so many interesting patterns to choose from."
TILE "The unique, well-curated collections of Ann Sacks tile, applied on an entire wall or the floor, can speak volumes without breaking the budget. I like tiling walls at least halfway up for ease of cleaning but also for another layer of texture, which makes a room feel more well-designed."
TOILET "I always recommend Kohler's intelligent toilet for the primary bathroom but also for the powder room. This toilet opens, closes, and flushes automatically plus pampers with a heated seat, water cleansing, and air drying."
Go bold in the powder room with dark walls, elaborate patterns, and custom fixtures.
41 NEWENGLANDLIVING.TV
Kohler Artist Edition sinks come in a variety of exquisite designs and materials.
FIXTURES "Try an eye-catching metal, like Kohler's modern brushed brass that presents as a very saturated gold. We can even match your toilet's trip lever to your faucet. Mixing metals, like brushed brass with polished nickel, or matte black with chrome, is a big trend right now. When done right, the effect can be stunning."
SINKS "Our Artist Editions bathroom sinks offer high-end, artistic designs that are perfect for powder rooms. When the primary use is hand washing, you don't need a full-size sink."
ACCESSORIES "Kohler's Essentials line boasts mirrors with unique shapes and intriguing frames. Consider pendant lights or even a statement chandelier instead of flush mounts for extra glam and visual interest."
42 NEWENGLANDLIVING.TV
STYLE FILES
BY KELLY MCCOY
KITCHEN
Image courtesy of The Design Studio
Envy
Every year Clarke hosts a kitchen design contest to showcase New England's most innovative kitchen designers. Every two years, winner recognition goes global. The results are always amazing!
And the New England winners are…
Sub-Zero, Wolf and Cove KDC Best in Category
Contemporary – David Hacin, Hacin + Associates/ Michele Kelly, Venegas and Company
Transitional – Julie Lyons, The Design Studio
Traditional – Glenn Meader, Good Life New England
The Galley Design Contest
First Place – Kristen LaValle, Arcadia Kitchen and Bath
Second Place – Conrad Arseneau, Kitchen Cove Design Studio
Third Place – Erica Palm, Lee Kimball
New England Regional KDC Best in Category – CONTEMPORARY
David Hacin, Hacin + Associates and Michele Kelly, Venegas and Company
"Beacon Courtyard" is the result of an artful vision and stellar collaboration. One of Boston's most accomplished architects teamed up with the detailed kitchen expertise of one of Boston's most notable kitchen designers. David Hacin, founder, president and creative director of Hacin + Associates wore many hats in this gut renovation, which was on an accelerated schedule. David's clients had chosen a primary city residence when they left the suburbs in the Midwest and his allencompassing theme for their new home was "contemporary global glamour." The stunning and extensive kitchen lived up to their design goals and earned them top honors in New England for Sub-Zero, Wolf and Cove's KDC for Contemporary Kitchen.
Sub-Zero, Wolf and Cove appliances were chosen for the brands' stellar reputation for quality and state-of-the-art innovation, and to ensure that the appliances could be customized to reflect the overall design aesthetic for the project. Kitchen designer Michelle Kelly was able to overlay blackened steel panels on the refrigerator and hood to integrate these appliances with the striking custom cabinetry. This offered the homeowners completely unique appliances to bring Hacin's vision of contemporary global glamour right into the kitchen. Stunning natural stone continues the theme, and a concealed television is encased in the hood, perfect for morning news or evening entertaining.
46 NEWENGLANDLIVING.TV
Blackened steel and dramatic natural stone add to the "contemporary global glamour."
Photos: Trent Bell Photography
Julie Lyons, The Design Studio
Kitchen designer Julie Lyons of The Design Studio was recognized as New England's KDC Best in Category for Transitional Kitchen, with her "Great River Rock" project. Lyons' design transformed a standard traditional kitchen into a more contemporary space while maintaining a warm and welcoming "hub of the home" feeling.
Her beautiful design includes a simplified cabinetry style finished in a dramatic blue/black color tone, along with rift white oak accents. A dramatic range hood is a true centerpiece with its chevron shiplap crowning the Wolf range below. Going beyond Wolf's expected red or black knobs, Julie chose brass bezzles on stainless steel knobs to connect it with the brass accents throughout the room. The range is the only visible appliance, as Julie employed integrated Sub-Zero models to create visual drama throughout the space. Her coffered ceiling is a delightful way to continue the chevron theme and give the center of the room additional height.
47 NEWENGLANDLIVING.TV
New England Regional KDC Best in Category – TRANSITIONAL
The interplay of light and dark makes this winning kitchen both warm and dynamic. Photos: Dan Cutrona
Glenn Meader, Good Life New England
In this stunning kitchen, designer Glenn Meader, principal at Good Life New England, threads the needle by creating a timeless, modern space that visually fits perfectly into a home built in 1895. Clean lines, soothing colors, and wood accents were combined to give this family of five a state-ofthe-art kitchen that feels like it totally belongs in this antique home. Aptly named, "Timeless Elegance" encompasses a kitchen space, bar, and pantry, all beautifully orchestrated to work together.
According to Meader, his client wanted "largecapacity commercial-grade appliances," and SubZero and Wolf's ability to seamlessly integrate into the space allowed the traditional cabinetry and charming millwork to create the desired aesthetic in this antique home, while providing the latest kitchen technology available. A 24" Sub-Zero Column Refrigerator and 24" Sub-Zero Column Freezer look more like a matching armoire and pantry closet than food and beverage storage. Subtle wood tones, like the floating shelves adjacent to the refrigerator-freezer, are found throughout the space, bringing warmth and oldworld charm to this gem of a home.
48 NEWENGLANDLIVING.TV
New England Regional KDC Best in Category – TRADITIONAL
Meader touts the collaborative design effort between his team and Roisin Geise from Twelve Chairs Interior and the significant role played by FBN Construction in the project.
Photos: Joyelle West
The Winners Reinventing the Kitchen Space with The Galley
The Galley, which is made in the United States, represents a whole new category of kitchen appliance, a complete culinary system where one can prepare, cook, serve, entertain, and clean, all in one central and convenient place. The kitchen is even more functional and ergonomic with a cooktop next to the Workstation. This new kitchen work line concept is much more efficient than the traditional work triangle and is quickly being embraced by designers and homeowners throughout New England.
Kristen LaValle, Arcadia Kitchen and Bath
Embracing the promise that The Galley will take five feet of space and turn it into 15 feet of functionality, Kitchen designer Kristen Lavalle of Arcadia Kitchen and Bath designed a five-foot Galley with two Galley Taps (The Galley's signature faucets) into her first-place winning kitchen. "The Galley is the heart of this kitchen," she shares. "It brings everyone together in the space and aesthetically blends with the mid-century modern style of this home." In this project, known as Red Woods Retreat, Kristen maximized functionality with the two Taps and she enhanced the functionality by placing an induction cooktop adjacent to the workstation. The Galley serves as a true stage for food prep, cooking, and clean-up, with four stools facing into the open kitchen space. The cleanliness of design fits seamlessly into this open home filled with light. This award-winner showcases how a small kitchen can perform like a much larger space with help from The Galley Workstation.
49 NEWENGLANDLIVING.TV
Reinventing the Kitchen Space with The Galley – FIRST PLACE
Photo: Michael D. Wilson
Kitchen designer Conrad Arseneau says his client fell in love with The Galley Workstation when she discovered it in his design studio display. "She wanted to design her entire kitchen around the concept," he says. "She loved the idea that it would maximize gathering space, as well as storage and prep space for her busy young family." The five-foot Galley Workstation with a single Tap seamlessly fits into the 1912 Craftsman-style masterpiece, originally designed by a legendary Mainer, John Calvin Stevens.
In Arseneau's design, The Galley sits comfortably in the kitchen island, set into beautiful natural stone, surrounded by deep-blue cabinetry and brass accents. Its seamless integration into this open-concept kitchen belies the prominent role it plays in the kitchen's operation. The built-in sink, racks, cutting surfaces, and more save time for this busy homeowner, and stools along the opposite side of the island allow family and guests to interact with the cook while he or she is prepping, serving, or cleaning up.
50 NEWENGLANDLIVING.TV
Reinventing the Kitchen Space with The Galley – SECOND PLACE
Conrad Arseneau, Kitchen Cove Design Studio
Photo: Erin Little Photography
Erica Palm, Lee Kimball
Erica Palm's clients at Lee Kimball were building a home trailside on Mt. Abram in Greenwood, Maine, with Winterhaven Custom Builders. The space was designed to accommodate large groups of visitors who would join this family of five for ski adventures. She proposed The Galley as an innovative way to provide kitchen flexibility to allow multiple people to participate in food prep and clean-up. The idea of the accessories converting the Workstation into a buffet station was a big plus for this family, who knew they would often have "too many cooks in the kitchen."
The open floor plan in this ski home was perfect for The Galley as part of the island concept. Erin's clients chose two layers for the accessories, which allows them to cut, clean, and temporarily store ingredients during food prep. "For homeowners that use marble or other porous countertop surfaces, The Galley reduces the possible impact of acidic juices or other staining foods to penetrate the stone surfaces," explains Palm. "Moving the sink to the island and replacing a standard sink with The Galley improved the overall functionality of the kitchen dramatically."
New England's Nexus for Designers and Homeowners
Looking for a fabulous kitchen designer? Wish you could learn more about appliance options before you start your next kitchen? Clarke, New England's Official Sub-Zero, Wolf and Cove Showroom and Test Kitchen, provides a pressure-free experience where you can see full-scale kitchens from the region's finest designers and have all your questions answered as you embark on your kitchen design project.
51 NEWENGLANDLIVING.TV
Reinventing the Kitchen Space with The Galley – THIRD PLACE
Intrigued with The Galley? Learn more here.
Ready to begin your kitchen project? Learn more here.
Photo: Erin Little Photography
52 NEWENGLANDLIVING.TV
Their working relationship began with a healthy respect for the other's capabilities.
Interior designer Vani Sayeed, principal of Newtonbased Vani Sayeed Studios, had crossed paths professionally over the years with a local real estate agent for luxury properties. So, when the time came for the agent to redo her own home west of Boston, a circa 1905 Victorian, she reached out to Sayeed to help bring it up to speed both functionally and aesthetically.
After owning the property for ten years—all the while adding to her art collection and shaping her vision—the client, a single mother of two, finally plunged into a full renovation. "She works in a demanding industry, and, for her own home, wanted something calm and sedate, somewhere where she can reset every day," says Sayeed of the overall approach.
53 NEWENGLANDLIVING.TV
The client's personality served as inspiration for the design scheme: "She is an avid athlete who loves biking and running and being outdoors; she also loves the ocean. She has all these wonderful sides to her," explains Sayeed.
Since the homeowner used to live in California and visits family in Colorado frequently, these iconic locales played a role as well. "Classic New England architecture, the ethereal beauty of California's coast, and the grand Rocky Mountains, all influenced us," says Sayeed. "Ultimately our goal was to reflect the calming, rejuvenating qualities of nature."
Working within the home's existing envelope, builder SL Mario Construction spearheaded the renovation, which involved moving some walls, restoring original details, and adding fresh design elements, including a full batch of new windows. "Many of the windows had to be custom ordered," says Sayeed, "and working with Marvin was a real benefit. Their team handled those precise measurements for us."
SUMMER 2021 | NEWENGLANDLIVING.TV
Previously dark and cramped, the kitchen was demoed down to the studs. Borrowing space from an existing pantry created a larger, more modern footprint, complete with a generously sized island. Amid the custom cabinets by Venegas and Company are all new appliances: an induction range and dual wall ovens by Wolf and a 30-inch refrigerator and freezer drawers by Sub-Zero.
Extra storage in the island freed up walls from the need for upper cabinets, gifting the kitchen additional glazing in the form of three new windows over the sink and two new sidelights flanking the cooktop. Sunlight glints off the backsplash of skinny two-by-nine-inch white glass tiles from WaterWorks' "Repose" collection. "The glass catches the light in just the right moments and creates this undulating reflection. It's a very calming, very pretty effect," describes Sayeed.
Topping the deep-blue island cabinets is an eyecatching two-and-a-half-inch-thick quartzite countertop with a mitered edge. "It's leathered and has a nice texture to it," says Sayeed of the material choice. "We wanted to have one jewel piece in the center of the room," she continues. "Everything else is essentially a supporting actor." A sculptural stainless steel vent hood balances the statement island's intentional drama.
Another jewel in the renovation's crown is a new breakfast nook tucked inside a kitchen corner. The stainless steel-wrapped shelves are backed with a fun, large-format crocodile skin wall covering called "Big Croco" by Élitis. For extra functionality, the nook's lowest shelf extends up and out, creating a two-foot-deep countertop for breakfast prep or cocktail mixing. In the same corner, a barn-style door of solid walnut leads to a shallow pantry.
Although the renovation widened the openings between rooms, enhancing the interior's flow, the home's Victorian character remains largely intact. "Our client liked the classic layout of separate rooms," says Sayeed. "She was drawn to more private areas for entertaining."
One such space is the dining room, punctuated by a custom dining table (its steel base supports a mahogany top) beneath a scalloped "Betty" chandelier by Urban Electric. Keeping the table's side chairs simple, Sayeed deployed extra drama with a cut velvet, ikat-patterned Schumacher fabric on the outside shell of the head dining chairs. "The wall covering looks like hammered copper or gold but is actually paper, which gives off a soft glow come evening," points out the interior designer. "We also ran strip lighting around the crown molding to illuminate the curved ceiling above, adding to the room's sexy vibe."
56 NEWENGLANDLIVING.TV
The dining room contains not one but two pieces of art by Sayeed herself. The first is a framed mixed media composition on the wall. The second is the nine-by-twelve-foot area rug, a textile version of one of Sayeed's paintings titled Summer Day Walk, part of her collaborative collection with rug mecca Landry & Arcari. Two additional paintings of hers hang in the living room, with one more in the powder room.
Born in India and boasting degrees in interior design and fine arts, Sayeed has actively continued the fine arts side of her training, painting in her studio when time allows. "I feel like maintaining my art makes me a better designer," she reveals. "It helps me understand color and light in a different way, not just the surface but the layers underneath."
More relaxed in tone, the living room is defined by a comfy leather sofa purchased by the client on a vacation to Colorado. Sayeed partnered the leather's earthy brown with moody blues in the cloud-patterned window treatments, area rug (from the Global Chic Collection by Vani Sayeed for Landry & Arcari), and accent pillows. A custom-built reading nook ramps up the comfort level. Meanwhile, a new picture window lightens and brightens this hangout space.
"We used a lot of soft grays and blues throughout the house," says Sayeed. "Blue, in particular, runs throughout the furnishings in different capacities, tying the whole design together."
58 NEWENGLANDLIVING.TV
Rorum ut laboremperis restinc turemquo ea nihiliquam que volum et ipienih icienihit ilia digenis dolorae cullupt assenderatem ratem aut
For her own bedroom, the client opted for soft, muted shades of ivory, gray, and beige. Contemporary wall sconces by ESTILUZ curve over the low-profile upholstered bed by Room and Board. The daughter's room, in contrast, is awash in soft lilac paint with a bonus window seat. Hand block accent patterns—commissioned by Sayeed from Indian artist Sharmila Taneja—introduce vibrant pops of pink and orange.
At every turn, there is something interesting to see, whether it's the stairwell's bubble chandelier by artist John Pomp or the powder room's beetle "Buggie" wall covering by Abnormal Anonymous. The ground floor's reworked fireplaces (in the living room and tiered foyer) have a surround of black quartzite with fossilized lobster shells from Cumar Marble and Granite.
Now complete, the home's composition is multilayered, just like Sayeed's paintings. In concept, it nods to New England tradition and California cool with a dose of Colorado country. In actuality, it's about living boldly in the here and now. NEL
59 NEWENGLANDLIVING.TV
Rorum ut laboremperis restinc turemquo ea nihiliquam que volum et ipiennihit ilia digenis dolorae cullupt assenderatem ratem aut
PREVAILING T
THE EXPERTS AT SUPPLY NEW ENGLAND KEEP THEIR EYES ON WHAT IS UP AND COMING - AND ENDURINGIN BATHROOM DESIGN.
R E N D S
62 NEWENGLANDLIVING.TV
II n years past, the inclination to remodel or decorate your home with only resale in mind often overshadowed a homeowner's personal style and taste. However, over the past 12 months, there has been a shift in the market that shows more personalization peeking through.
Sabrina DaLomba, director of showrooms for Supply New England, has recognized several trends in bathroom design that she sees prevailing next year and beyond. She shares with New England Living what these design elements look like and why she feels they are so appealing to homeowners.
Families have redefined their relationship with their spaces after a couple of years of the pandemic. Everyone was staying home more, so the rooms they live in took on even more importance. This new mindset is persuading homeowners to incorporate new design choices, such as adding Natural Materials, Bringing the Spa into the Home, and an overall Personalization of the bathroom.
People need to connect with nature and have a sense of place and refuge, especially if they live in the city. Although it is not a new concept, biophilic design—where you intentionally bring nature's elements into the home—is making its way into the mainstream. Some elements of biophilic design include natural shapes and forms, natural patterns and processes, light and space, and environmental features. While many people were confined to their homes, the desire to bring the outdoors in was quite nearly a necessity for many.
Nature provides an immense amount of variability in terms of sensory stimulation, such as the varied temperature of the air and range of colors, textures, shapes, and sizes, and although we wouldn't want to overstimulate the senses in the bathroom, adding some variability within the space creates a pleasing balance.
One may think incorporating live plants in the home easily checks this box, but there are more beneficial and subtle ways to enhance your mental and physical well-being. Larger windows or skylights can provide an abundance of natural light to a bathroom, which makes the space feel bigger and lighter, while wood grains in a vanity can provide texture and depth to keep it grounded. We are also seeing more mirrors and bathroom fixtures with curved lines and rounded corners that give a subtle nod to the more fluid organic shapes found in nature. Incorporating these biophilic design elements helps to make our lives a little less gray and a little more green.
63 NEWENGLANDLIVING.TV
Bringing plants and organic materials into the bath give you the chance to reconnect with natural.
64 NEWENGLANDLIVING.TV
Another trend that people have been embracing is Bringing the Spa into the Home. This also came out of the pandemic when regular hair appointments, massages, or other types of personal grooming services were put on the back burner. The impulse now has been to recreate that kind of relaxing, self-care experience in one's home. Bathrooms have become a place to escape some of the stress and anxiety of a challenging time. We saw an increase in requests for deep, freestanding tubs, steam showers, and other specialty bathroom products. Adding unique hydrotherapy options can take a standard bath to the next level by moving water, air, and sound over your body, with additional special features like a heated back adding even more sensory relaxation.
While we may have resumed our normal routines, we may not want to give up the convenience of having this luxurious experience at home, so spa-centric features are still popular.
Deep tubs, steam showers, and luxurious finishes allow you to bring a spa atmosphere to your home bath.
And finally, the overarching inclination for new bathroom design has been personalization. Again, with so much time in their homes over the past two years, people really wanted their spaces to be comfortable and to reflect their own aesthetic. I recommend adding touches that speak to you personally; this is where I say the sky is the limit! If you want texture, add texture. If you have an eclectic vibe, go for it! If you really like the look of Scandinavianmodern, then go ahead and get those wood tones and sleek shapes into your bathroom design. While we are seeing certain colors become popular, such as softer whites instead of bright white, we are telling our clients to make their space their own.
For so long, people designed with their eyes on resale value and chose colors, finishes, and products accordingly. But we ask them, "How long are you planning on staying in your house?" And usually, it's a decade away—so why not create a space that is tailored to you, your comfort, and your taste? You are the one who will enjoy your home right now.
I believe this gives owners the freedom to be more expressive. Where everything has been white or gray for so long, now there's an itch for color. Wallpaper is a great chance to show personality, and paint colors are also an easy way to express yourself. Both are very easy to update, and there are so many beautiful options out there, so people can get super personalized with an enticing wallpaper or bold paint color.
67 NEWENGLANDLIVING.TV
Let your bathroom design imagination run wild and reflect your unique personality.
If you want to take it a step further, incorporating a statement sink into your bathroom can also showcase your style and personality. Kohler has an incredible line of Artist Editions bathroom sinks in a variety of colors, materials, and patterns that can bring a stunning, one-of-a-kind feature that fits you just right into your home.
It's exciting to see this change in the market. It shows people are embracing their personal habits and styles and really tuning into what matters at home. Even if a complete renovation isn't in the cards at the moment, I recommend bringing in some plants, transforming the bath with a simple coat of paint, refreshing with a new set of towels, candles, or accessories, and making the space a reflection of you. NEL
Consider adding bold tile colors, unique finishes, and individualized accessories.
68 NEWENGLANDLIVING.TV
Arts
AMAZING GRACE
Page 70
MAGIC CARPETS
Page 72
CUSTOM WHIMSY
Page 80
SOUND AS A BELL
Page 86
69 NEWENGLANDLIVING.TV
Amazing
Mad River Valley ceramicist
Stephanie Grace makes magical, if somewhat misshapen, white porcelain tableware and décor.
By Marni Elyse Katz
Grace
About to accept a position to work at an art gallery in Jackson Hole, Wyoming, Stephanie Grace realized she was more interested in finding clay studios where she could pursue her newfound hobby than she was in finding an apartment. Then, Melissa McCray stepped into her clay studio in Waitsfield, Vermont. "I was immediately drawn to the organic nature of her pieces and her signature white-white glaze," the co-owner of the Cape Cod boutique Two Webster says. "I bought nearly her entire collection." It was a pivotal moment. "After she left, I realized I had to see where this would lead me," Grace says.
70 NEWENGLANDLIVING.TV
Artistic by nature, Grace turned a hobby into a vocation.
Photo by Mike Schalk
That what started as a winter pastime blossomed into a second career still stuns her. "I was a creative kid and I have an eye for and understanding of art, but the idea of getting what my eye sees to come out of my hands? No way," she insists. Friends are less surprised. "My friend, jewelry designer Melissa Finelli, would say, 'I know you're an artist, you just haven't found your material yet,'" Grace recalls.
Indeed. From the first pinch pot she pulled from the kiln, there's been someone asking to buy it. Today, Stephanie Grace Ceramics' giant pinch bowls sell for hundreds of dollars. "I work in porcelain, which is very fussy, and really wants to be thrown," she says. Instead, the gallerist-turned-ceramicist rolls out clay like a pastry sheet, cuts out shapes, and hand builds her forms. "I work thin, then stretch the clay more to see how far it can go," she says, noting that artists she's represented also pushed the boundaries of their materials.
Graces' pieces are perfectly white and glossy, gloriously juxtaposing their organic silhouettes. Serving platters have allover hammered texturing; cylinder vases boast "polka dots,"
the result of poking the clay from the vessel's interior; and espresso cups, which Grace first developed for her husband, are wavy and misshapen. While the forms evolve, the color remains consistent, despite customers' requests for other hues. "I have zero interest in color," Grace asserts.
Adhering to her vision, Grace creates work six days a week, often arriving at her studio/shop, Atelier 101, before the sun rises. She averages 20 wholesale accounts, including New England retailers Addison West in Middlebury, Vermont, Monroe in Charlestown, Massachusetts, and, of course, Two Webster in Osterville. "I thought the wholesale part of the business would be cold and impersonal, but all the buyers are women who I've built great relationships with" Grace shares. "It's amazing." NEL
71 NEWENGLANDLIVING.TV
Atelier 101, 101 Mad River Green, Waitsfield, VT, atelier101vt.com
Grace's white-hued ceramics have pleasingly contorted shapes.
M A G I C
CARPETS
As rug hunters Lindsey and Josh Graziano of New England Loom were expecting their first child, the design for the new nursery naturally revolved around a distinctive piece from their thriving business.
By Marni Elyse Katz
72 NEWENGLANDLIVING.TV
Photography by Janelle Carmela
73 NEWENGLANDLIVING.TV
New England Loom also has rugs available for rent locally for weddings, dinners, and other events.
It all started when Lindsey and Josh Graziano decided to acquire a dozen vintage oriental rugs to create a path to their wedding tent. In the year leading up to their 2015 nuptials, the pair spent weekends scouring local antique stores and estate sales for vegetable-dyed rugs at reasonable prices. The thrill of the hunt never wore off.
After choosing a few to keep for their new North Shore home, Lindsey offered up most of the remaining rugs to friends and family via her personal Instagram account. "We didn't have spots for all of them, so I decided to rehome them," she says. The rugs were gone within minutes, which prompted her to entertain entrepreneurial ideas.
Thus, in July 2017, the couple officially launched New England Loom. Today, they have a tiny shop on Main Street in Wenham and, more importantly, over 50,000 Instagram followers. During the week, Lindsey teases 10
to 20 new rugs @NewEnglandLoom, and every Sunday at 8 p.m., the batch becomes available for purchase on their website (newenglandloom.com). Anything that doesn't sell immediately remains online, ready for the taking.
While New England Loom doesn't specialize in a particular niche—there are numerous types of Persian rugs, along with Caucasian and Turkish specimens—every rug is old, and if not pristine, then artfully well-worn. Lindsey chooses (and adores) every single one. "I look through hundreds to identify ten I want to sell," she says. "I think this curated experience is what our followers appreciate."
Earlier this year, as the couple prepared for the birth of their first child, Lindsey came across the Khotan rug that would inspire the scheme for the nursery in their Wenham home. "We obviously started with a killer vintage rug," Lindsey says. "This one in particular, with its orange base and pink and sage green details, really spoke to me."
74 NEWENGLANDLIVING.TV
76 NEWENGLANDLIVING.TV
NE Loom discovers and sells runners and rugs of all sizes. Some are given names of Massachusetts towns, like Attleboro, Amherst, or Woods Hole.
77 NEWENGLANDLIVING.TV
The baby's room occupies their former dressing room. "My first maternal sacrifice," Lindsey quips. Before they could decorate, however, the built-in chest of drawers in the middle of the room had to go. Removing it left a gaping hole in the center of the wall-to-wall Stark carpet, so Josh quickly filled it in with a vintage rug fragment. After repainting the dark blue walls in Benjamin Moore Simply White, Lindsey layered the Khotan rug atop the patched and leveled carpet.
The serene, bohemian-meets-grand millennial-style space embodies the couple's ethos of not buying new. "Most of the décor is vintage or handed down and has a memory associated with it," Lindsey says. They pulled a small, comfy sofa that they had used back in Boston, a hand-me-down that went from her grandparents to her parents to Lindsey and Josh, out of their barn, and relocated a dresser from another room. The green side table hails from Lindsey's childhood bedroom, and the authentic Thonet rocker was a gift from a thrifting friend.
78 NEWENGLANDLIVING.TV
To turn a dressing room into the baby's room, Josh and Lindsey switched furniture, repainted, and used a rug in soft hues of cream and peach to layer over the wall-to-wall carpet.
The art and accessories follow suit. The vintage rattan lamp, rattan diaper shelf, and wicker trivets on the wall are all online marketplace finds, as was the spoonbill and shorebird print by Alexander Wilson, whose ornithology book pre-dated John James Audubon's. Speaking of Audubon, a 1971 lithography of the naturalist's iconic American Flamingo hangs over the sofa. "My dad is an art collector; we have many of his Audubons throughout our house," Lindsey notes. "The flamingo is my favorite." The artist is also the creator of the displayed parrot prints, which Lindsey pulled from a book of illustrations by Edward Lear that her father found in the basement of her childhood home.
Vintage botanical prints from books the couple found at estate sales while sourcing rugs finish the décor. One is of a camellia in a woven rattan frame. "It was a not-so-subtle nod to our daughter's name," Lindsey says. "We also spent the summer growing camellias in our greenhouse, so they could bloom around the time she was born." NEL
79 NEWENGLANDLIVING.TV
To transform the room that became the nursery, Lindsay and Josh sourced vintage art prints to complement their chosen carpet.
Coming Soon to NEL TV
Custom Whimsy
SARA FITZ'S DESIGNS CELEBRATE THE CHILDLIKE CHARM OF NEW ENGLAND LIFE
by Lannan M. O'Brien
Photography by Brea McDonald Photography
Lobsters, ginger jars, sailboats, and dogs are among the charming graphics found on Sara Fitz's gift wrap.
AA classic striped shirt. A jar of seashells. A canvas tote. A vase of hydrangeas. We try to take the time to appreciate these iconic images of New England life, but sometimes we forget to pause in wonder. When it comes to the little details, Sara O'Brien never fails to take notice.
Since 2016, Sara and her husband, Miles O'Brien, have been running Sara Fitz (a nod to her maiden name, Fitzgerald), a company that started with Sara's custom stationery and has expanded to include art prints, wallpaper, gift wrap, and an array of home goods featuring her work. Throughout her whimsical watercolors is a coastal, nautical theme—with a refreshing twist. There is something fun and childlike, quirky and relatable in each design: the uneven lines on a coffee mug, a boat skipper's lopsided mustache, off-kilter proportions here and there. "If I do a line that isn't quite right, I leave it on purpose," she says. "I think it adds character."
Nothing about her artistic style is accidental. O'Brien, who holds undergraduate and graduate degrees in architecture from Roger Williams University, describes her work as a parallel to architectural design. "While my work is whimsical and celebrates imperfections and has a hand-drawn look, it is also structured, and you can see the pencil lines are very contained … an architect would see what a crazy perfectionist I am!" she says.
In work and in life, Sara and Miles' personalities complement each other. He handles the business side, such as the wholesale and trade departments, and oversees their team. "He is definitely much more laid back than I am," she says, describing her partner as her "balance." Sara manages the creative piece, as well as social media marketing and styling photo shoots. When it comes to the media, she's the face of the business, and Miles is "totally fine hanging behind the scenes."
82 NEWENGLANDLIVING.TV
Scan
84 NEWENGLANDLIVING.TV
Cheerful greeting cards and playful wrapping paper are just some of the items featuring original designs by O'Brien (seen here in her shop in York, ME.
here to watch the episode.
O'Brien's career started in the wedding industry—one wedding in particular: her own. After sending out her savethe-dates—a fall theme with berries, Chinese lantern pods, pine cones, acorns, and roosters—they were flooded with compliments. When guests asked who designed them, they learned it was the bride herself.
After running her own business designing custom invitations (including variations on her own save-the-date), the artist took on the full-time position as a stay-at-home mom to their two sons, Ollie and Everett. "Miles and I love being together and always had a dream of working together in some capacity," she says. When she felt it was time to re-enter a creative space, Miles left his job, and they took the leap to start Sara Fitz.
She says it was a "slow start," with many moving parts and lessons learned. But once the business began growing, it gained the attention of some quintessential New England
brands: L.L.Bean, Sea Bags, and J.Crew, to name a few. With the help of a full staff, Sara now has more time to devote to her art and finds she draws the most inspiration from the place where they live and work: York, Maine. "It is definitely one of the most beautiful places I've seen that's constantly inspiring for me," she says.
There is another inspiration that drives Sara and Miles' success: their sons, now 10 and 12. The boys are nearly as involved in the business as the staff of Sara Fitz, attending meetings, pitching design ideas, and even returning from school with orders from friends—one wants a painting of his Goldendoodle, another a lobster pin for her backpack. A series of boat skipper designs for sale was inspired by a notebook of drawings that O'Brien and her younger son kept for years. "Our family is the whole incentive behind what I do," she says. "I want them to know that they can do anything they want to do if they put their minds to it." NEL
85 NEWENGLANDLIVING.TV
O'Brien has expanded her product line to include art prints, wallpaper, and an array of home goods.
SO U N D as a Bell
At U.S. Bells, which is part of his family's Watering Cove Studios, a Maine craftsman builds a balanced life of art and connection.
BY LAUREN WOLK
IT ALL STARTED WITH BELLS.
Cowbells came first. "It was a hippie thing," says Richard Fisher, founder of U.S. Bells, the cornerstone of Watering Cove Studios in Prospect Harbor, Maine. He made his cow bells from sheets of steel and sold them in Boston's Copley Square for a season in 1970. The following year, he made a fresh batch from sheets of brass and sold them at a craft fair in Bennington, Vermont. Then he got serious. About bells. About everything.
That's when he and his wife, Cindy, decided to head for Maine in search of a fresh start and a chance to build a home, a family, a living, and a life. Quality was at the heart of everything they sought and everything they built. The quality of their work. The quality of their lives. And the balance between the two. "We never looked back,"Fisher says.
After studying the process of using molds and molten metals, Fisher traveled to Japan to witness the creation of temple bells and then, home again, rented time in a foundry to get his feet wet before diving in headfirst and opening U.S Bells soon thereafter.
The work of creating his own bells involved sketching designs, making patterns, sand casting the molten bronze, and finally grinding, drilling, sanding, tumbling, adding patina, buffing, and assembling his bells and bell sculptures.
88 NEWENGLANDLIVING.TV
89 NEWENGLANDLIVING.TV
Opposite Page: Richard Fisher holds one of his hand-casted bells. This Page: Bell casting in the foundry, a finished wind bell, and wood craftsman Tim Fisher.
With the help of his longtime employees, Maggi McCaw and Newman Young, Fisher still makes every part by hand, from the bronze brackets and bells to the external mahogany clappers. The results look and sound beautiful, ringing with tradition, invention, passion, and skill.
But it didn't end with bells.
"We need some color," Fisher said to Cindy when they opened their shop and filled it with his creations. So she hung one of the quilts she often made for friends and family, a passion she'd inherited from her grandmother. "To my astonishment, somebody bought it!" she remembers. And, just like that, her "winter therapy" added a second layer to what would later become Watering Cove Studios.
Now, four decades later, the Fishers lead a thriving collaborative that also features their son Tim's handcrafted woodwork and furniture, ceramic art by Tim's wife, Liza, paintings and illustrations by son Josh, photography by son Adam, and other fine art and craft.
The thousand bells that Fisher creates each year may still be the heart of Watering Cove Studios, but family is its soul.
And while every bell is a stunning example of balance—between art and engineering, idea and execution, form and function—so is the life that the Fishers have forged in Prospect Harbor. Shops across the country may carry their creations, and the foundry furnace may glow all year long, but the Fishers take on only as much work as they can reasonably handle without compromising their commitment to excellence, family, and a healthy work-life mix.
Those who come to the shop and to the foundry to witness a "pour" seem to crave both the work that the Fishers create and the example they set. Visitors may take home a bell whose ring is as clean and bright as the light of Down East Maine. They may claim one of Cindy's heartwarming quilts, a piece of Tim's heirloomquality furniture, a vase whose autumnal colors reflect the wood fires of Liza's kiln, or any number of other treasures from Watering Cove. But they'll also take home the idea that it really is possible to stay on the tightrope. And to be at home there.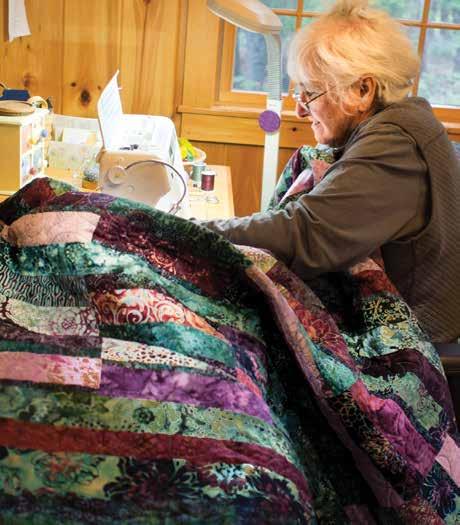 For more about the Fishers and their work, visit wateringcovestudios.com
90 NEWENGLANDLIVING.TV
Above: Cindy Fisher works on a patterned batik quilt.
Below: Liza Fisher adds the finishing touches to a piece of wood-fired pottery.
Food + Travel
BAKERS DOZEN
Page 92
WHAT'S FOR DINNER
Page 96
MORE FACETS THAN A DIAMOND Page 98
WOODSY WOW
Page 102
WHERE THE HOT DOGS STAY
Page 108
A Baker's Dozen
BY LISA CAVANAUGH
On the sylvan grounds of a venerable New England business, bakers of all levels are busy learning how to roll out perfect cookies, toss ideal pizza dough, and whip up delicious tarts, cream puffs, and flatbreads. This is the King Arthur Baking School, which started in 2000 to complement the baking ingredients offered by King Arthur Flour, a company first founded in 1790.
The Norwich, Vermont-based business rebranded itself in 2020 as the King Arthur Baking Company to reflect its many additional
products and services. Dedicated to supporting bakers of all kinds, King Arthur Baking Company still supplies premium baking flour but offers a whole lot more.
"Our goal is to help you through the process. Whether you bake every week or you've never baked before, we have something for you here at the Baking School," says Amber Eisler, Director of the Baking School at King Arthur Baking Company. The school offers in-person workshops and classes at the Norwich, Vermont, headquarters, where they present the more robust curriculum, and at the King Arthur Baking School at the Bread Lab, in Skagit Valley,
92 NEWENGLANDLIVING.TV
HOME CHEFS AND PROFESSIONAL BAKERS ALIKE CAN LEARN EVERYTHING FROM BREAD BASICS TO FANCY PASTRY MAKING AT KING ARTHUR BAKING COMPANY'S SCHOOL IN NORWICH, VERMONT.
Washington. "We have everything from kids classes up to professional level courses, and they range in duration from three-hour workshops to week-long intensives," says Eisler. "Our shorter-format classes offer more basic instruction on specific items, while the multi-day courses take a bit of a deeper dive into higher-level baking skills."
Since the onset of the Covid pandemic, the school has hosted a selection of online courses as well, including professional development classes. "The courses were a response to the pandemic, but they have proved so popular that we are planning on continuing these indefinitely," says Eisler. "The real beauty of the online program is the increased accessibility for people, who, for whatever reason, can't travel to Vermont or Washington but are really interested in taking an interactive baking class." A point of differentiation for the King Arthur Baking School online classes is that they are fully interactive. "The instructors are on a Zoom screen baking right along with participants, giving them real-time tips and instruction," says Eisler. "We are making sure that everyone, despite all the
differences and equipment that people might have in their home kitchens, is adapting well, making some great baked products and having a good time doing it."
Mouth-watering seasonal course subjects can range from Buns and Rolls: Sweet & Savory and Rustic Autumn Tarts Decorating to Whole Grain Artisan Breads and Salted Caramel Apple Hand Pies. Eisler says one of the most popular classes remains their classic baguette-making course. "The French macaron workshops have been very popular in the past couple of years also, as they are tricky little pastries to make," she adds. "And pizza, of course, is always a perennial favorite."
Students come from all over New England and farther afield. "We have students in our Vermont location from all 50 states and international students as well," says Eisler. "We definitely see repeat participants. Sometimes we might have a group coming for a girls' getaway weekend, and they have a great time and decide to do it every year, for example," she says. "Or a student might take one course and it just sparks something within
93 NEWENGLANDLIVING.TV
The King Arthur Baking School campus in Norwich, Vermont draws bakers from across the US and the world.
94
NEWENGLANDLIVING.TV
Left: Amber Eisler, Director of the Baking School at King Arthur Baking Company.
them. They return for more workshops; then they start taking our multi-day classes to build upon the things they've learned, branch out and gain more excitement around baking." She touts the school's excellent instructors, which include 16 in Vermont and five at the Washington location. "We also have many guest instructors who are leaders in the baking industry," says Eisler. "They are passionate about something in the baking world and eager to share their knowledge with our students."
She describes the Norwich headquarters as a "bakers' Disney World," with a well-supplied store and cafe. "It's a full experience, where we have a little bit of everything, says Eisler. "You can watch the bakers through glass windows as they make all of the breads and pastries that are sold in the cafe, you can have breakfast and lunch, you can go shopping, and you can just enjoy our beautiful campus here."
Learning to bake, or improving upon your baking skills,
with talented instructors and engaged fellow students can be a great point of connection, says Eisler. "We are available for support after the course is finished as well," she says. "Our King Arthur bakers' hotline is a free service. You can call us, you can live chat, or you can send us an e-mail, and there are bakers here whose sole job is to answer baking questions and talk you through any kind of baking situation and help you succeed in your baking journey."
King Arthur Baking School released its first full-colored cookbook this fall, The King Arthur Baking School: Lessons and Recipes for Every Baker. "It is just an absolutely gorgeous, phenomenal cookbook," says Eisler. "It is another way we want to help people learn to love baking and feel confident in their skills."
She reiterates that the King Arthur Baking School loves students of all levels. "Don't worry about your skills," says Eisler. "Just come on in. We have an apron waiting for you!" NEL
95 NEWENGLANDLIVING.TV
What's for Dinner
By Jaci Conry
"People are really tired of cooking every night," says Jennifer Freemont-Smith. "Either they've been working at home all day or commuting back after a long day—there is a ton of stress on the 'what's for dinner' problem."
To alleviate that stress, Freemont-Smith and a few other culinary-minded friends launched WECO Hospitality, a Massachusetts-based handcrafted, chef-prepared daily dinner service.
Founded in the early days of the pandemic, WECO differs from take-out and subscription meal kit delivery options in the quality of its ingredients.
"We are obsessed with sourcing from small local
and regionally-owned and family-run businesses," says Freemont-Smith.
Daily menu options are creative and sometimes adventurous while reflecting what's seasonally available. Comfort foods like lasagna are featured along with vegan options, and every day features a kid's choice and dessert. The beauty of WECO is that the program doesn't require membership or a subscription, so you aren't locked in. The service does a menu drop every Thursday at noon for the following week, and you can sign up on the website to receive the weekly menu.
96 NEWENGLANDLIVING.TV
Photography by Brian Samuels
WECO is available for pickup at two Massachusetts locations in Acton and Burlington, and they hand-deliver to over 150 Massachusetts, New Hampshire, New York, and Connecticut towns. WECO encourages interested customers to email them since they are regularly expanding their delivery areas.
And WECO operates on the honor system: customers are sent a dinner bill via email in the evening after the meal has been delivered. "WECO is about being part of a community," says FreemontSmith. "We extend trust to our customers, so they'll trust us to provide the best quality meals."
97 NEWENGLANDLIVING.TV
WECO meals arrive nearly ready to eat - just a bit of reheating and dressing of salads, and dinner is served.
Cradled in the inner elbow of Cape Cod, Brewster's Ocean Edge Resort & Golf Club is a study in contrasts. It is luxurious without being stuffy, steeped in history but sparkling with modern conveniences, tailored for both the young and the young at heart, geared for both recreation and respite. And although it's a perfect summer destination, the resort is perpetually open and active, with services and programming to suit the seasons.
NEWENGLANDLIVING.TV
It's a perfect place to fall in love with fall, thrill to the chill of winter, bloom with the spring, or savor the long and lovely days of summer. A beautiful, delicious, engaging enclave at any time of year. And although it's easily accessible from both Boston and New York, it's still a world away from the everyday.
Amply decorated with awards for its accommodations and Nicklaus Design golf course, the 429-acre resort boasts 342 guest rooms and suites in its Mansion and many Villages; seven seasonal eateries; a 700-foot stretch of private beach with fire pits, yoga, s'mores, and more; several indoor and outdoor pools; nine tennis courts; 26 miles of scenic trails; a full-service spa; and seasonal kayak, paddle board, and bicycle rentals.
"Ocean Edge is the perfect balance between a home away from home and an escape on the Cape," says Marketing Director Leon Bolivar. "When you're here, you're surrounded by an aesthetic and amenities that are quintessentially New England, like fresh lobster and oysters, beautiful scenery and hydrangeas, and a never-ending list of outdoor activities, from tennis to golf, pickleball, and water sports." In fact, the resort has an actual "Director of Fun" to coordinate a boatload of diversions including indoor lessons with chefs, movie nights, fitness classes, crafts for kids, Front Lawn games, and curated private experiences.
"There's no denying that summer is the most popular time to visit the Cape," says Bolivar, "but there is a beauty about visiting the resort in fall, winter, and spring that is unparalleled. In the autumn, which we call our 'second summer,' the crowds have thinned out but the weather is still gorgeous, and there's something magical about a crisp morning or evening stroll
100 NEWENGLANDLIVING.TV
along the shore. In the chilly winter months, the Frost Bar comes to life with private heated igloos with exclusive dining packages, indoor mixology lessons, and family game nights. In spring, many guests love taking advantage of the Cape Cod Rail Trail and beach walks." And the quiet. Never underestimate the value of Cape Cod's off-season quiet. Originally built in 1912 and recently inducted into the Historic Hotels of America, the AAA Four-Diamond Mansion features a Great Hall whose contemporary comforts are balanced by the original staircase, doors, floors, and fireplaces. A perfect example of something old, something new … which brings up another Ocean Edge specialty: weddings that are the stuff of dreams. "From a ceremony on the beach or a kiss under an aged linden tree, to a first dance in a glittering ballroom," says the resort's website, "Ocean Edge offers an array of picturesque venues for a charming coastal 'I do.'" Meanwhile, professional retreats are all business, conducted on the impeccably groomed grounds or in 21,000 square feet of indoor meeting space that's as beautiful as it is practical.
It's hard to find a year-round resort on Cape Cod. Harder still to find one with as many opportunities for fun and fulfillment. Rare indeed to find a gem with so many facets in a setting as beautiful as the stone. NEL
For more about Ocean Edge Resort & Golf Club, visit oceanedgeclub.com
101 NEWENGLANDLIVING.TV
Ocean Edge Resort & Golf Club provides all you need for year-round fun.
A WOODSY WOW
Inspired by his runway collection for L.L. Bean, fashion designer Todd Snyder debuts 20 camp-chic bungalows at the Hidden Pond resort in Kennebunkport, Maine.
by
MARNI ELYSE KATZ
photography by DOUGLAS FRIEDMAN
Many people head to Kennebunkport for the boating, the beach, and the boutiques. Located just a mile and a half from sandy shores and under five miles from downtown, Hidden Pond offers proximity to all of that but with a completely different vibe. The rustic-luxe resort is nestled among 60 acres of birch and balsam firs. It is Ralph Lauren meets summer camp meets woodland nymph, without a trace of kitsch. Hidden Pond is earthy and divine.
Forty-six standalone two-bedroom cottages, one-bedroom bungalows, and treetop lodges are available at this New England in the woods/ at the beach getaway. Each accommodation enjoys privacy and access to amenities. And if you care to wander farther afield, bicycles and a beach shuttle are at the ready.
"Countryside" is one of three themes that Todd Synder incorporated in his newly designed bungalows at Hidden Pond.
Earth at Hidden Pond, the resort's restaurant, is a farm-to-fork fantasy. Walls constructed of wood slices salvaged from the trees cut down to clear the site, a rugged stone fireplace that's always aglow, and overhead branches illuminated with fairy lights conjure an otherworldly atmosphere that still feels rooted to its surroundings. Ingredients featured in the inventive and inviting dishes hail from adjacent gardens, local fisheries, and farms.
By day, guests can snip flowers from the gardens, take a watercolor class, learn to mix drinks with an Earth bartender or take a nature walk with a certified forest therapy guide. In addition, there are two pools, a fitness facility with name-brand machines, and outdoor yoga classes. An elevated boardwalk leads to the Tree Spa, where services are enhanced by potions infused with herbs picked from the grounds' gardens.
Cozying up in your room can be as tempting as an excursion, especially because of the resort's newly designed spaces. Playing off the success of The From Away Lodge by Todd Snyder, the two-bedroom treetop accommodation at Hidden Pond inspired by the fashion designer's Fall 2020 runway collection with L.L. Bean, the resort has debuted 20 Snyder-inspired bungalows this past May.
Snyder collaborated with interior designers Krista Stokes and Mark Cotto, who both hold creative corporate positions with the hotel, on the 650-square-foot bungalows with screened porches, floor-to-ceiling stone fireplaces, and outdoor showers. Other room perks include a Todd Snyder Spotify playlist, a dark and stormy cocktail kit with locally distilled rum, and a custom-scented candle from local maker Sea Love. Delightful finds and bespoke details amp up the flavor throughout the bungalow collection, including old paint brushes from a local artist's studio sourced from Carboni Antiques in Wells and arranged under cloches, which are a design team favorite. The themed décor includes three design concepts inspired by Maine's geography and landscape: Countryside, Mountainside, and Seaside.
105 NEWENGLANDLIVING.TV
Mountainside bungalows feature rich tones of blue, green, and brown in their wall coverings, linens, and accents.
Countryside bungalows embrace a traditional camping palette with sage green paint, camouflage wallpaper, red and black plaid pillows, and dark wood furniture. One bungalow features a vintage military cot upholstered in an old wool blanket from furniture designer Stephen Kenn's personal collection. An oil portrait above a Countryside bed hails from designer John Derian's Manhattan studio. Reclaimed antlers make a showing in many of the bungalows, with an impressive collection punctuating one Countryside bungalow's screened porch. "It's more impactful to have them together as a herd," Cotto says.
A smattering of midcentury modern pieces can be found in the Mountainside bungalows, which are colored in mid-tone blues, greens, and browns. For instance, a molded midcentury chair came from Portland dealer Bonny Read. William Morris wallpapers are featured on walls behind canopy beds
dressed in cashmere alpaca plaid blankets by Sandra Jordan. In one bungalow, a mirrored demi-lune table found at a vintage shop in Hudson, New York, makes for a charming and unexpected touch. "It seems like it could've been handed down through generations," Stokes says.
Seaside bungalows have a breezier feel with white walls and paler woods. Shell wallpaper designed by John Derian anchors gray-washed canopy beds, while seashell-encrusted mirrors add Maine yesteryear whimsy. A charcoal portrait that the team uncovered at a flea market in Arundel sits on the reclaimed beam mantel in a Seaside bungalow, while a perfectly patinated iron table plucked from an estate sale in Seal Harbor adds character on its screened porch.
"We collected one-of-a-kind pieces for six months to ensure each space feels unique," Snyder says. "I wanted the state's magic to transcend into these spaces." NEL
107 NEWENGLANDLIVING.TV
Shell wallpaper designed by John Derian is offset by a gray-washed canopy bed in a Seaside bungalow.
Your furry friend will enjoy ultimate amenities with the Pooch Pet Program at Rhode Island's Ocean House and Weekapaug Inn.
Where the Haute Dogs Stay
BY STACEY MARCUS
109 NEWENGLANDLIVING.TV
to take a road trip and hoping your tail-wagger can tag along? You'll be happy to learn that many New England hotels and resorts not only welcome dogs but have elevated their pet services to luxury levels. Think gourmet menus with handmade dog biscuits and K-9 ice cream, designer dog beds, special treats and toys, concierge services, and curated lists of places to roam that appeal to top dogs and their humans.
Looking
One of the best spots for your pooch to get pampered is at Kimpton boutique hotels, which have been pet-friendly since the company was started in 1981 and founder Bill Kimpton brought his dog, Chianti, to work. Today Kimpton offers a bevy of complimentary pet-friendly amenities and will accommodate your pups (and kitties, too!) no matter how many are in your crew or how much they weigh. "It's obvious that here at Kimpton, we love our pets," says Joe Capalbo, CHA, New England Regional Director of Operations for Kimpton Hotels & Restaurants. "And as a hotel brand, we know that nights away from home are a lot more fun when you have your furry companion by your side."
Dogs staying at the Kimpton Marlowe in Cambridge will be inspired to be wicked smart through the new Dogs with Pedigree package, complete with interactive dog treat puzzles, Link Smart Pet Wearables, and a Doggie Diploma. Vermont-bound canines will enjoy the Pampered Pooch Package at Kimpton Taconic in Manchester. In addition to the hotel brand's standard pet-friendly amenities, this puppy-loving package includes a lush Orvis dog bed and food bowls provided
during your stay, a Timberwolf USA braided collar made of climbing rope for your furry friend and dog-friendly hiking and outdoor adventure recommendations.
If you and your four-legged best friend are visiting Connecticut's Gold Coast, you can arrange to have them walked, groomed, or massaged at the dog-welcoming Delamar Greenwich Harbor. Headed to Rhode Island? The Pooch Pet Program at Ocean House and Weekapaug Inn includes treats, a toy, and sweet dreams in a designer dog bed. Dogs can also enjoy doggie paddle swim time.
Your romantic vacation to historic Stonehurst Manor, a five-star hotel in North Conway, NH, can include Fido with their Bring Your Pet package. Both you and your furry friend will enjoy a pampered stay in a first floor Mountain View Wing Room with a private entrance, doggy treats, raised food & water bowls to use while at the Manor, and a personal welcome note from the General Manager.
110 NEWENGLANDLIVING.TV
111 NEWENGLANDLIVING.TV
Opposite Page: Doggies living the life at Kimpton Taconic in Vermont (photo: Knox and Bear, @Knoxandbear) and Kimpton Marlowe in Cambridge (photo: Link SmartPet Wearables) This Page: Pampered pooches at Ocean House above, and Delmar Greenwich Harbor, left.
The special Dogs Days program at Maine's Inn by the Sea features indulgences for both canines and their human companions. One of the first pet-friendly luxury beach resorts in Portland, Inn by the Sea has been dogfriendly for over 25 years, with complimentary amenities like handmade treats at turndown. Their love for animals extends to the Inn's fostering program, run in collaboration with the Animal Refuge League of Greater Portland, and through which over 160 deserving dogs have been adopted. What are you waiting for? Go fetch some fun at one of these fine destinations today! NEL
112 NEWENGLANDLIVING.TV
The whole family - four-legged members included - is welcome at all Kimpton Hotels.
Spaces
CLEAR THINKING
Page 114
GREEN MOUNTAIN VIEWS
Page 120
113 NEWENGLANDLIVING.TV
Photo Courtesy of Marvin
CLEAR THINKING
This Connecticut home is all about capturing light, connecting with nature, and creating lasting family memories.
Natalie and Briana Hildt, who each work in a different capacity in the home industry, were living in San Diego but finding themselves traveling back to New England frequently for work and holidays with family. Briana, who hails from Western Massachusetts, is the CEO and founder of Cardinal Capital Group, a private real estate lender, and Natalie is an interior designer and principal of Natalie Hildt Interiors.
"Right before we got married in 2019, my industry was booming, and some of my developers back east were requesting Natalie's design help. We felt like we were being called back to the East Coast," explains Briana of their move to Connecticut. After living in a complete gut rehab of a house in West Hartford for two years, they decided to build their dream home from the ground up.
Their chosen spot in neighboring Farmington, an inland town overflowing with colonial and country charm, overlooks a valley and mountains in the distance. A great deal of excavation prep situated the home advantageously. "In the summer, we are surrounded by trees and feel like we're living in a treehouse," describes Natalie, "but when the leaves fall, we have long views down the valley. It's a pretty setting no matter the season."
West Hartford-based architect Joseph Buchek worked with the homeowners to bring their vision to life, using their provided images and sketches as guides. "One of our primary goals was to open the living spaces to the western view," he says. "This was accomplished by using expansive areas of glass doors and windows on the western façade."
116 NEWENGLANDLIVING.TV
Natalie and Brianna Hildt chose a charming Farmington, CT property as their new East Coast home.
Photos courtesy of Marvin
Outside, the couple desired a traditional New England presentation. "We wanted it to look like it has been here for decades," says Natalie of their new-old goals. "I've always loved gables of brick, and we left the grout a little messy to give the exterior an old-world feel." The white finish is an homage to the white clapboards on Briana's childhood home.
While the home's bones communicate tradition, the interiors skew more contemporary. "We call it moderntraditional," describes Natalie of the aesthetic.
One of the biggest considerations in the overall design was the glazing. "I sought out the biggest windows we could fit in our spaces," says Natalie. "I grew up in San Diego, so it was really important to me to have lots of light and a connection to the outdoors."
The couple worked closely with Michael Altieri of Country Lumber to identify the perfect windows for their new home. After careful research, the Hildts decided on the Marvin Essential collection, a durable, maintenance-free fiberglass window option. With a baby on the way, they were drawn to the collection's longevity and, as home professionals,
were impressed with its clean lines and versatility in accommodating oversized specs.
Before breaking ground, the couple visited the 7 Tide building in Boston's Seaport District to browse Wolf and SubZero appliances in the Clarke showroom. At the same time, they utilized the Marvin Experience Center to visualize their windows and doors in their actual size and scale. For the homeowners, this visit was a game changer: "When we saw our windows on the screen, I knew right away I wanted them to be bigger," Natalie admits. "This step was invaluable—it was so important to the project's success."
A purposeful sense of airiness begins in the front entry, where a delicate glass chandelier hangs from a 20-foot-high ceiling. This grandness continues in the two-story great room, with six-foot windows topping sliding French doors. This wall of transparent glass prefaces a porch, poolscape, and the landscape beyond. For Briana, the vaulted living space conjures childhood memories. "When I was younger, my dad built houses on the side, and my favorite had a catwalk overlooking a two-story living room," she remembers. "It was always full of light."
118 NEWENGLANDLIVING.TV
The couple wanted their outdoor space to be as livable as their interiors.
The kitchen, which overlooks the great room in an open-concept arrangement, anchors the interior design's prevalence of neutral colors and light woods. Its showpiece is a custom range hood with molding details designed by the couple and executed by finish carpenters. Chef-friendly appliances include a Wolf range and a Sub-Zero refrigerator, freezer, and wine storage unit.
"I wanted the kitchen to feel like a beautiful piece of artwork," notes Natalie, who eschewed anything cold or sterile in her quest for warm and inviting. Woven stools from Studio McGee emit a natural, organic feel. Leather pendant lights add yet another layer of texture. Nearby, a breakfast nook projects out towards the view from the main mass of the home. Its five 42-inch by 78-inch windows create the look of a transparent surround.
Inspired by their time in San Diego, Natalie and Briana valued their outdoor living spaces as much as their interior retreats. A walkout basement opens to an elegant poolscape with bluestone decking, a poolhouse, an outdoor shower, and a fully outfitted outdoor kitchen. "Our backyard is very much an entertainer's paradise," they agree with a laugh.
Not surprisingly, the couple's mutual strengths pushed the project along rapidly and efficiently. "We broke ground in July and were in by Memorial Day," recalls Briana. "Our builder, Tom Fredo, was great, and we were onsite a lot, making decisions and keeping things running smoothly."
"We divided and conquered," concurs Natalie. "I had all the furnishings measured and ordered six months in advance, which helped us manage inevitable delays."
Asked about their favorite spaces in the home, they launch quickly into a list: "We spend lots of time in the kitchen, and the butler's pantry is a huge hit with anyone who visits," reveals Natalie. "We love relaxing in the great room, having lunch together in the breakfast nook, and we adore our primary bathroom, which is light and bright and feels soothing like a spa."
The project was rewarding for the couple professionally, but more importantly, it was rewarding personally. The completed home is a portrait of their combined histories, styles, and personalities. "That's the benefit of designing your own home," Natalie says, "you can customize it to celebrate what you love." NEL
119 NEWENGLANDLIVING.TV
The light-filled kitchen is designed with warm colors and natural materials.
Green Mountain VIEWS
Spectacular views informed the design of a stylish recreational retreat in the Vermont mountains.
This striking car barn has a modest footprint but an expansive outlook.
Photos courtesy of Ridgelight Studio
Rob Wadsworth, owner of Wadsworth Design Build, says his team is always thinking about windows. "Windows are the eyes of the house and set the tone for what the design of the interiors will be," says Wadsworth. The company begins by considering ways to capture the views outside while also planning how natural light will appear inside. "Obviously, Vermont has many beautiful views, and the great thing about this state is that we have clients who want to enjoy Vermont in all seasons."
The clients for an intriguing barn-like retreat near Stratton Mountain were initially looking to build a garage to store mountain bikes and gym equipment, with two doors to drive a snowmobile in one side and out the other without having to back it up. After consulting with Wadsworth Design Build, the project expanded into a guest house with sleek living quarters above the multiuse garage space below. "We call it a modern car barn," says Wadsworth. "It has a very functional streamlined
design that is open and airy. The heated garage has a dual purpose—the doors can be opened during the summer months to create incredible entertaining options with a fire pit and a sheltered area."
To take full advantage of the property's views, Wadsworth Design Build partnered with Marvin. "This design focused on using windows to capture the essence of what Vermont is all about," says Wadsworth. He believes that the use of windows can be a powerful tool for homeowners when planning out the spaces and the aesthetics of their house. "A home can feel that much more beautiful and more inviting just because of the use of natural light."
Wadsworth says he enjoys working with Marvin because of the flexibility of their product line and the cooperative approach to designing projects. "Marvin provides us the ability to be creative with what we're bringing to life," he says. "They allow us to mix different collections together in one home, and we're not limited by certain parameters of size or material. We're able to think outside the box."
122 NEWENGLANDLIVING.TV
Above: A large trapezoid window from Marvin adds light as well as architectural interest. Opposite: The mountains are in full view from the upstairs lounge.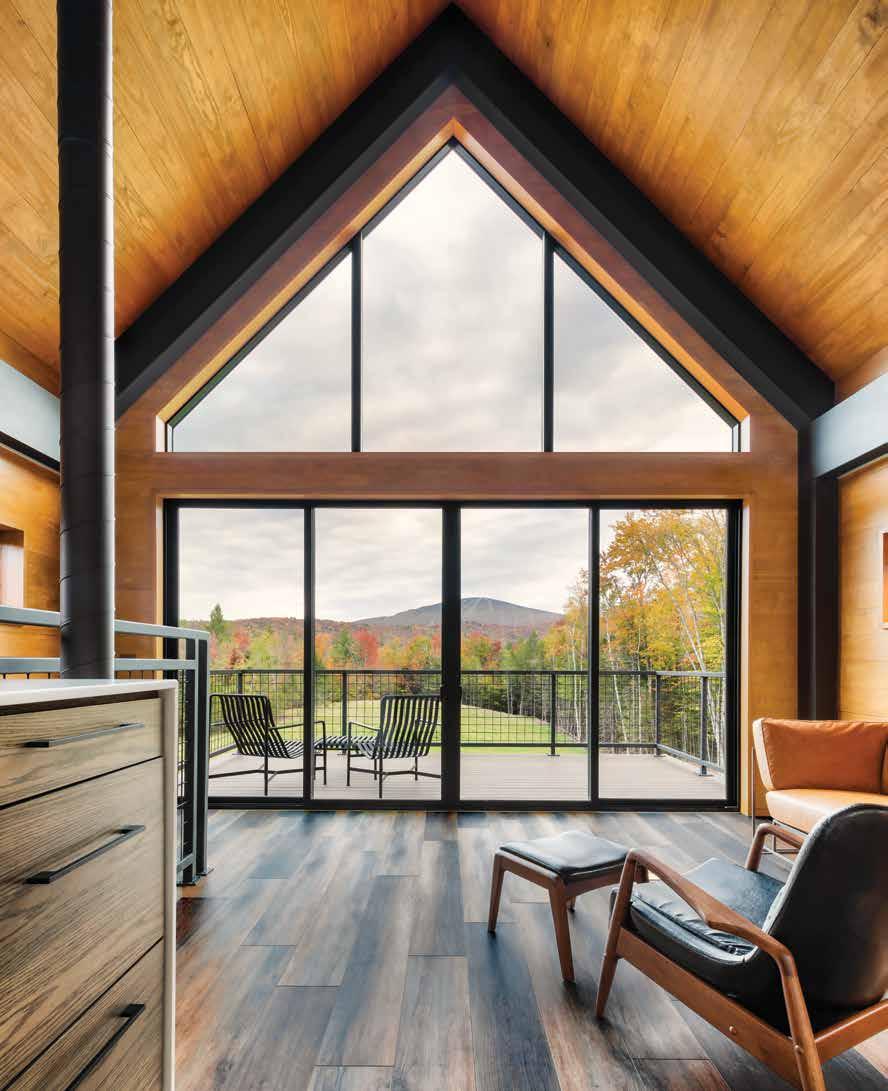 The modern car barn design includes an oversized, energy-efficient trapezoid window in the upstairs living quarters. "You can see the sky, the trees, and the lawn area from the lounge and kitchenette," says Wadsworth, who notes that as the seasons change, the light changes in the home. "Being Vermont, we want everything to be as energy efficient as possible," he says. "We want to keep in the warmth in the winter, and in the summer months we need options for cooling and ventilation. Marvin's array of collections offers all of that wonderful flexibility."
Wadsworth says that this project has received an incredibly positive response and has been a source of inspiration for other clients. "People are looking for smaller-scale homes that can still feel spacious, and what makes this car barn feel so large despite its minimal footprint is the use of windows." He believes that this project clearly shows that the homeowners are actively enjoying their environment. "It is all about embracing that Vermont lifestyle dream." NEL
124 NEWENGLANDLIVING.TV
The homeowner wanted a wooded retreat for both recreation and repose.
"IT IS ALL ABOUT EMBRACING THAT VERMONT LIFESTYLE DREAM."
Real Estate
MAKING THEIR MARK
Page 126
A WINNING PROPERTY
Page 130
125 NEWENGLANDLIVING.TV
MAKING THIER MARK
Two Boston-area Realtors were honored as part of The Coldwell Banker 30 Under 30, an annual award that celebrates the company's top young real estate professionals.
126 NEWENGLANDLIVING.TV
Morgan Franklin, a 25-year-old Back Bay-based Coldwell Banker agent, realized early on that a traditional path was not for him. After a short stint in college, he got his real estate license at 19 and hasn't looked back. "I knew I wanted to get into the luxury sales market," says Franklin, who grew up in the South End of Boston, "and I put myself into the position where I really had to succeed."
Starting out so young was a big motivator for him. "I was trying to navigate the waters of starting a business in a luxury market where I'm going up to bat against heavy hitters that have been in the industry for 30 years."
Crediting input from mentors such as his father and his branch manager, Ken Tutunjian, Franklin has worked to absorb everything about his industry. "I listened more than I talked, and I paid attention to how to cultivate relationships."
Despite veering away from formal education, Franklin has committed to lifelong learning. "I'm very autodidactic," he says. When he was starting out, he "would just burn through sales and real estate books" and began creating the regular work habits that have defined his career thus far.
Franklin keeps a rigorous workout schedule and commits to making 50 sales calls a day. "I started my business by cold calling," he says. "For the first eight months, I didn't get anywhere but then all of a sudden, a year and a half into it, I'd done five million in sales. You can't reach goals without having a plan to execute on a daily basis."
His background worked in his favor when, shortly after joining Coldwell Banker in early 2020, Covid -19 upended traditional ways of doing business. "It was a devastating time in the city, obviously, but I was
able to find a niche during the pandemic," he says, reflecting on how in the spring of 2020, many buyers were seeking homes in the suburbs rather than in the city. "Having grown up here, I knew Boston would come back. I thought it was my chance to double down on the city."
One of the ways he stood out was through immersive digital marketing. "We wanted to do something entirely different from the typical 3-D tour," says Franklin. His innovative lifestyle videos take the best aspects of a property and incorporate them into visual storytelling. "If a condo has a beautiful deck with amazing city views, for example, we will have a couple of actors enjoying a glass of wine out there with the sun setting behind them. It is essentially a movie trailer for a home."
In embracing the creativity required to sell homes during a worldwide pandemic, Franklin recalled wise words from his father. "He reminded me that this is such an emotional process for buyers and sellers, so tapping into those aspects is incredibly important. It's not just numbers on a piece of paper; it's real people and their stories."
Franklin is thrilled to be given a 30 Under 30 award, especially since it is an international award. "It is a great accomplishment," he says. "I'm very honored." But what inspires him the most is continuing to interact with his clients and his city. "Boston has so much vibrancy," he says. "It's an international city, but it's also a very small town, so you need to be part of the community," Franklin says he will continue to do what has worked to date. "Every day, I connect with people and build relationships," he says. "I'm focused on providing really good value to my clients."
127 NEWENGLANDLIVING.TV Morgan Franklin
As a third-generation Realtor, Katelyn Sullivan has been essentially learning her trade since childhood. "My grandmother was a Realtor in the 60s and 70s, and my mom is still an active Realtor with Coldwell Banker, so I always thought one day I would join real estate," says Sullivan, who imagined she would have a corporate background before joining the family industry.
Instead, after getting a finance degree from Penn State, Sullivan embraced the digital nomad lifestyle, spending two and half years traveling the world and working remotely doing a mix of online English teaching, freelance marketing, and social media content creation. By 2020, when others began remote work in earnest, Sullivan was, ironically, ready to settle back in Massachusetts. "I had been doing my mom's marketing for a couple of years, but now real estate required virtual showings," she says. "So I began helping her figure out how to display listings and assist buyers in a completely digital market."
She hadn't expected to transition to real estate so soon, but getting her own license made sense, and she joined her mother at the Framingham Coldwell Banker office later that summer. Sullivan, who is 27, quickly found a "really great niche" with first-time buyers in Metro West and the Greater Boston area. "I definitely leveraged my network of people from my hometown of Framingham," says Sullivan, "and having a strong digital marketing background and social media outreach is really helpful."
Her years of traveling have also paid dividends. "I've been to 41 different countries, so I feel I have a really good knack for walking in other people's shoes." While abroad, Sullivan lived in Spain and various countries in Central and South America and is now reasonably fluent
in Spanish, allowing her to work with Spanishspeaking buyers and sellers. "I welcome all types of clients from all walks of life," she says. "I really feel like I'm a diversity advocate. I'm creative and welcoming and approachable, so I think that has really helped people gravitate toward me, no matter what their situation is."
Sullivan now lives in a condo in Boston and has extended her real estate reach to the downtown market as well as the suburbs. "Buying a house, no matter where you are, can be daunting," she says, "so I think my welcoming nature has helped people flock to me and want my help."
Every client's needs are different, she says, but there is always a special feeling when she hands over the keys to a buyer's very first home. "It's really rewarding," says Sullivan. "The fact that someone is willing to trust me with their biggest investment is humbling, and I'm always filled with gratitude to be part of their next chapter of life."
Sullivan says that when she joined her mother as a real estate agent in 2020, she told her that she was making it a goal to get a 30 Under 30 award. "I thought I probably wouldn't make it since it is a global award with lots of competition," she says. "Winning made me feel really proud and excited to keep growing and helping people buy and sell their homes."
She jokes that selling real estate is just like the sightseeing from her old travel life. "Every house is different. Every living space is a new discovery," she says. She also appreciates the combination of her youthful energy and her mother's four decades of experience. "I love utilizing my millennial creative flair as well as leveraging my mother's 38 years of veteran real estate knowledge," she says. " I'm young, but I am mighty!"
128 NEWENGLANDLIVING.TV
Katelyn Sullivan
129 NEWENGLANDLIVING.TV
A WINNING PROPERTY
An exceptionally beautiful and expansive estate in Weston offers idyllic acreage, sumptuous entertaining spaces, and phenomenal sports facilities.
130 NEWENGLANDLIVING.TV
Sitting on four forested acres in Weston, 29 Webster Road is an unparalleled offering from Coldwell Banker Global Luxury. "What truly sets this home apart is the combination of elegant grandeur, magnificent grounds, and topnotch athletic amenities," says Kathryn Alphas Richlen, Coldwell Banker Sales Associate and Weston's #1 Sales Agent for more than a decade.
The seven-bedroom, nine-bath, 14,000 sq. ft. stucco house was custom-built in 2000. The superior construction features elements such as exquisite moldings and built-ins, oil-finish oak
flooring, dual radiant/forced air whole-house HVAC, Lutron lighting, a water filtration system, and a state-of-the-art sound system.
A curving drive through park-like grounds leads to a grand cobblestone motor court, where stately double doors welcome you into the distinguished two-story foyer complete with gorgeous Jerusalem limestone flooring. The formal living room has French doors leading to a terrace that overlooks the manicured grounds. A wood-burning fireplace is flanked by arched entries to an opulent dining room with floor-toceiling windows and a chevron-pattern oak floor.
131 NEWENGLANDLIVING.TV
Verdant wooded grounds surround this elegant and monumental Weston home.
The large and luxurious kitchen is ideal for both family dining and entertaining.
132 NEWENGLANDLIVING.TV
The sunlit and spacious coffered-ceiling cherry kitchen is superbly equipped with chef's appliances, including a Designer Series Sub-Zero refrigerator. "The kitchen has a sizable island and large dining area, perfect for family dinners or casual entertaining," says Richlen.
A wood-stove outfitted sitting room, a vaulted-ceilinged, window-lined family room, a guest suite, a mudroom, and a hexagonal three-season porch are all included on the first level.
Also on this floor is a fully equipped gym that overlooks the incomparable dual-level 3-point basketball court. The fabulous lower level has a SwimEx pool, a full bath with a sauna, a home theater, a game room/bar, and a wine cellar.
Five family bedrooms are located on the second floor of the home. The primary suite has a gas fireplace, walk-in closet, and spa bath. Also upstairs is a wood-paneled study and a soundproofed bonus room with a vaulted/skylight ceiling. One more flight up, on the third floor, is another bedroom suite.
133 NEWENGLANDLIVING.TV
From the stunningly sophisticated interior, homeowners and guests can step outside to indulge in substantial leisure opportunities. Here a rustic pond-shaped swimming pool with a waterfall and spa sits adjacent to a pool house and patio. The charming structure has picture windows and skylights in the comfortable sitting room, a kitchen, a laundry, and a game room. Beyond the pool house is a lighted regulation-size tennis court.
"This unrivaled and distinctive property abuts 44 acres of conservation land and walking trails but is still just minutes from shopping, rail, and commuter routes to Boston," says Richlen.
https://www.coldwellbankerhomes.com/ma/weston/29webster-rd/pid_47918921/
134 NEWENGLANDLIVING.TV
Athletes of all kinds will appreciate the home's incredible exercise room, half-court basketball gym, spa bath, and game room.
MASTERS of our CRAFT
Luxury is the difference between the expected and the exquisite. Between a song and a symphony. A work in progress and a work of art. Luxury Property Specialists with the Coldwell Banker Global Luxury® program are masters of this craft.
ColdwellBankerLuxury.com
Consult with a Luxury Property Specialist today.
136 NEWENGLANDLIVING.TV FINAL THOUGHT
Photo by Betty Wiley. www.bettywileyphotography.com
"The edge of the sea is a strange and beautiful place."
– Rachel Carson
BO S TO N & M IL FORD, M A • S OUTH NO RW ALK , CT • 800 - 845 - 824 7
Sweet Inspiration.
We're here to help you create your dream space. Start planning now and let us assist you with all the details. See the latest innovative solutions from Kohler as well as trend-setting designs from Kallista, Robern, Ann Sacks, and handcrafted cabinetmakers. Walk in, call ahead, or see us online. And prepare to be inspired.
KSSbySNE.com 7 Tide Street Boston, MA (617) 202-0068 FREE ONSITE PARKING 19 3rd Avenue Burlington, MA (781) 365-0168 323 Speen Street Natick, MA (508) 720-3820
Quality that extends beyond our windows
At Marvin, we offer solutions designed to support your well-being, from fresh air to connection to the outdoors.
We're focused on every aspect of product quality to make sure every moment you spend surrounded by Marvin windows and doors is quality time.
©2022 Marvin Lumber and Cedar Co., LLC. All rights reserved.