Enjoy craft beers and more during
Victorian Weekend is made for Cape May
In This Issue Coming Attractions ................... Page 3-5 From the Director.......................... Page 6 Membership News ..................Page 7-8 Recent Happenings ..................... Page 2 Thank You Department ...... Pages 11-12 (CONTINUED ON PAGE 10) VOLUME LII, ISSUE 4 Newsletter (CONTINUED ON PAGE 8) www.capemaymac.org FALL 2022
The Wheelmen will be a part of this year's Victorian Weekend in Cape May.
Celebrate the Victorian history and architecture of America's First Seaside Resort, Cape May, N.J., during Victorian Weekend Oct. 7-10, presented by Cape May MAC (Museums+Arts+Culture). Trol ley tours, house tours, walking tours, cus tom tours, a Victorian Weekend Crafts & Collectibles Show, plus more, are all featured during this long holiday week end. The Victorian Weekend Crafts & Collectibles Show features a special visit from The Wheelmen — a national, non-
At its annual meeting on July 26, the New Jersey State Council on the Arts (NJSCA) renewed our grant for the 2023 Cape May Music Festival. Cape May MAC was fully funded at the 2022 level - $80,500 – nearly double what we had received pre-COVID. We are honored that the NJSCA has expressed their confidence in the Cape May Music Festival by this continued support and this is good news for music lovers here in Cape May. We intend to maintain the same number of con certs with a mix of classical, jazz, brass band and contemporary music, as well as the ever-popular Bach's Lunches. And Cape May MAC is delighted to continue our partnership with our classical partners-- the Bay Atlantic Symphony (BAS) (returning with a full-orchestra concert), New York Chamber Ensemble (NYCE) with a three-concert residency and New Jersey Symphony Chamber Players. The Atlantic Brass Band will return for a rousing Memorial Day Weekend concert. We're working with Barry Miles to present another tribute to Cape May's most loved pianist, the late George Mesterhazy. Our Music Festival Team has already met with Jed Gaylin and Brian McPeak (BAS) and Eliot Bailen (NYCE), to begin planning for the 34th annual stunning classical season. As in 2022, we're also working on an educational outreach component with cellist Dr. Brenda Leonard for next year. Stay tuned for more details as the repertoire is developed.
this all-day festival that features local food vendors, local artisans, local breweries and local musical talent. The festival is free to attend, and proceeds support the ongoing restoration of Cape May MAC historic sites, the 1879 Emlen Physick Estate, the 1859 Cape May Lighthouse and the 1942 World
Come celebrate the cooling off of summer and the start of fall in South Jersey Saturday, Sept. 17 from 10am to 5pm during Harvest Brew Fest, a full day of celebration and relaxation presented by Cape May MAC (Museums+Arts+Culture) on the beautiful grounds of the Emlen Physick Estate, 1048 Washington St.
-- MES
NJSCA renews Cape May Music Festival Grant
Harvest Brew Fest comes to the Physick Estate
Photo by Susan Krysiak
Join us Sept. 17 for the annual Harvest Brew Fest and celebrate the start of fall.
SummerHAPPENINGSWrap-Up
(CONTINUED ON PAGE 18) Page 2 • Fall 2022 Cape May MAC www.caPemaymac.org
Editor: Jody Alessandrine • Assistant Editor: Jean Barraclough
OUR MISSION
Cape May MAC (Museums+Arts+Culture) is a multifaceted not-for-profit organization committed to promoting the preservation, interpretation, and cultural enrichment of the Cape May region for its residents and visitors.
Photo by Susan Krysiak
Web Site: www.capemaymac.org • E-Mail: info@capemaymac.org
v ----
The Cape May Lighthouse has been a happening place all summer. It's always our most visited site but every Wednes day, Director of Special Events & Visitor Services Janice Corkery and her staff filled the grounds with vendors and activities for Family Fun Days. Janice and crew were back on Sunday, Aug. 7 to celebrate Na tional Lighthouse Day. In addition to crafts and yard games for kids, we hosted some scaly and furry friends, courtesy of our friends from the Wetlands Institute and the Cape May County Zoo. Mother Nature cooperated with us and treated visitors to four great nights for our Full Moon Climbs and Stairway to the Stars during the new moon (when the moon is barely visible, and its light doesn't compete with the stars and planets). To cap off a perfect summer, the Lighthouse also hosted three wedding proposals!Wewent
----
New Jersey Relay Center for TTY Customers: 800-852-7899
Cape May MAC's public history programs are funded in part by the New Jersey Historical Commission in the Department of State.
The Craft Beer & Crab Festival was the central focus of our summer schedule. Preparations begin several days in advance and the excitement on the Estate is palpable when the tents go up and the beer trucks arrive. PNC Bank came back as the major sponsor and we were happy to have Hugh McStravick, their representative, in atten
NEWSLETTER
OUR VISION
back to our roots and added an Architectural Walking Tour to the sum mer schedule. It proved to be a popular ad dition to our walking tour roster, joining the Fisherman's Wharf Tour and Painted Ladies, Porches and More Walking Tour, allowing visitors to see our charming town from three different perspectives.
dance. Other sponsors included Madison Resorts and Tito's Handmade Vodka Sara Kornacki, Volunteer & Membership En gagement Manager, had her work cut out for her, recruiting all the volunteers needed for the event. This year we made what we thought were beneficial changes to the event – moving the date earlier into July, going with mostly food trucks in addition to steamed crabs, and minimizing the dis ruption from changing acts on the stage. It's
still hard to gauge what worked and what didn't due to the extreme heat we all suf fered through that day. On the bright side, the music was fantastic. Sean Preston and BOD of NYC delivered the goods. Details for the 2023 event are still to be determined. This summer we had a first! We pub lished our first children's book thanks to curator Ben Ridings and marketing assistant Steven Olszewski Dr. Physick's "Dog Days of Summer" is a whimsical book for the wee ones that recounts the good doctor's love of our furry friends. We held a book sign ing on Aug. 14 and welcomed a nice crowd and more than a few four-legged friends. Both Ben and Steven are excited about this project and are ready to collaborate on their nextWepublication.continued music at the Estate with the Summer Solo Series, two concerts on the outdoor stage co-sponsored with Flight Entertainment. It was BYOB (bring your own blanket) for these up close and personal musical experiences with celebrated musi cians. Aug. 11 featured Paul Cullen from the group Bad Company. Paul's special show combined his love of food, wine, and mu sic with remarkable stories of his life on the road as a rock & roll World-renownedsuperstar!singer, songwriter
RECENT
Contributors: Sandra Adams, Sara Kornacki, Susan Krysiak, Anna Marie Leeper, Evelyn Maguire and Mary E. Stewart
"Clueless at the Physick Estate: The Exoneration" had a successful run this summer. This fall check out "Phantoms of the Physick Estate: Spellbound Sisters" for more mystery inside the Physick House Museum.
Preserving Cape May's rich heritage and assuring its vitality through superior cultural programs and events
Published by Cape May MAC, a not-for-profit corporation P.O. Box 340, Cape May, NJ 08204 • Phone: 609-884-5404
ROOTS OF CAPE ISLAND TROLLEY TOUR
Daily Sept. 4-Oct. 31, Nov. 5, 12: various times: You'll hear how the rich lived in the early 1900s in the most elegant part of town on this trolley tour that includes the eastern beachfront. This narrated tour travels along Beach Drive through the early 20th century East Cape May Development areas. Guides discuss history and architecture. Begins and ends at the Ocean Street trolley stop. $20, children (ages 3-12) $15. CLICK HERE FOR TICKETS.
Oct. 11, 18 & 25: 5:30pm: Hear the stories and experiences of ghost activity in the 1879 Physick House Museum from the Cape May MAC tour guides who know them personally on this two-hour evening tour that includes both Cold Spring Cemetery and the Physick House Museum. Take the opportunity to talk to staff about their experiences, and a moment to wonder what it all means. Tour lasts two hours and begins and ends at the Physick Estate. CLICK HERE FOR TICKETS.
Wednesdays through Sept. 18: 3:30pm: The roots of Cape Island and the surround ing area's economy are in whaling and farming and while new industries have evolved since then, that heritage is still cel ebrated today. Hear how whalers centuries ago eked out a dangerous but lucrative liv ing near Town Bank and how the area's rich farming heritage continues to be a source of tremendous community pride. Learn about the Union Bethel community in 1831 in which Black residents thrived and the di verse community that continues to contrib ute to the vibrancy of island life today. $25, children (ages 3-12) $15. CLICK HERE FOR TICKETS.CLUELESS AT THE PHYSICK ESTATE: THE EXONERATION
Halloween & Mystery this Fall
609-884-5404 • www.capemaymac.org • 800-275-4278 (CONTINUED ON PAGE 4)
BY THE SEA TROLLEY TOUR
Magic & Mystery House Tour
Tuesdays & Thursdays, through Oct. 6: 9:30am: Take a walk from the Physick Estate to the Washington Street Mall with a knowl edgeable guide and experience charming Cape May, a National Historic Landmark city, up close. Delight in beautiful gardens as you learn about Victorian architecture and Cape May's colorful history along the way. Comfortable shoes recommended. $15 adults; $10 children (ages 3-12) CLICK HERE FOR TICKETS.
Evenings: Take an evening trolley ride through the Historic District and hear stories of haunted Cape May. Step off the trolley at the Physick House Museum with your guide and see Cape May's only Victorian house museum, reputed to be haunted, as you learn about Victorian Spiritualism. Select rooms on both floors are included in the tour. Begins and ends at the Ocean Street trolley stop. CLICK HERE FOR TICKETS.
Ghosts of Cape May Trolley Tour
Thursdays & Saturdays, Sept. 1-29: 6:30pm, 7:45pm: Step inside Cape May's brandnew Home for the Criminally Insane, where three local murderers are serving out their life sentences. But rumor has it, one of these convicts was unfairly framed and is inno cent. Join us for this special 10th Anniver sary Clueless at the Physick Estate program, where instead of determining who is guilty, you decide who will be exonerated. $25, children (ages 3-12) $20. CLICK HERE FOR MANSIONSTICKETS.
www.caPemaymac.org Cape May MAC Fall 2022 • Page 3
Historic Haunts Combination Tour
Evenings: Victorians were fascinated with mystery and illusion and this tour through select rooms in the 1879 Physick House Museum shares that fascination. Learn about the famous Harry Houdini who captivated Victorian audiences with his intricate escapes, the Ionia, the Goddess of Mystery, a Belgian beauty who Victorians worshipped for her spectacles of magic, The Great Lafayette, who became known as the world's greatest magician, and Pepper's Ghost, an illusion still used today, Sherlock Holmes, Jack the Ripper and more. CLICK HERE FOR TICKETS.
PAINTED LADIES, PORCHES & MORE WALKING TOUR
ATTRACTIONS Coming
Evenings: What was that shadow? Was it the undead of Cape May's past wandering their beloved haunts? You might scoff, you might shudder, but rest assured, on board a trolley with an experienced guide you will begin to wonder what's beyond when you hear tales of hauntings unearthed in Cape May by renowned psychic medium and author Craig McManus on this half-hour evening tour. Begins and ends at the Ocean Street trolley stop. CLICK HERE FOR TICKETS.
Cape May holds echoes of seaside spirits who sometimes make their voices heard here. Experience what some call one of the most haunted towns in the nation, during the eeriest time of the year. Some tours, activities and events sell out quickly and admissions are limited.
Graveyard, Ghosts & Mansion Combo Tour
Evenings: Ever since three strange sisters moved into the 1879 Emlen Physick Estate, Cape May has not been the same. Rumors say that these women might be using dark magic. Join in this interactive mystery play as you move through Cape May's Physick House Museum, 1048 Washington St., with three mysterious guides. CLICK HERE FOR TICKETS.
(CONTINUED
Oct. 15-16: Celebrate the Year of the Keeper as you visit New Jersey lighthouses up and down the coastline, including the Cape May Lighthouse. The challenge is to visit 10 land-based lighthouses, 3 lifesaving sta tions, 1 museum, 1 virtual site and the Light house Society of NJ site over the two-day weekend. The challenge route covers the Atlantic Coast from Sandy Hook to Cape May and the Delaware Bay and River Coast from Cape May to Paulsboro. Learn more by CLICKING HERE.
Sunday, Sept. 25: 8pm-10pm Tuesday, Oct. 25: 7pm-9pm
Page 4 • Fall 2022 Cape May MAC www.caPemaymac.org
Sherlock Holmes & Send in the Clowns!
FULL MOON CLIMBS AT THE CAPE MAY LIGHTHOUSE
Saturdays, Sept. 10, Sept. 24, Oct. 1, Nov. 12 and Nov. 19: 9am: Bella Vida Restaurant in West Cape May is ready to host you for 10 rounds of bingo over a delicious break fast during Brunch & Bingo at Bella Vida, a new location for this classic Cape May MAC event. Laugh along with your friends as you play a little bingo, compete for prizes and enjoy a fashion show by Lace Silhouettes/ Cotton Company. It's all over a scrump tious breakfast at Bella Vida Restaurant, 406 Broadway, West Cape May. $25. Advance purchase required. Capacity is limited. CLICK HERE FOR TICKETS.
Don't miss this special chance on clear nights to see the spectacular full moon in all its glory and a nighttime view nearly 156 feet above the Delaware Bay and Atlantic Ocean. Admission for these special evening climbs during the full moon is $20; $10 for children ages 3-12. Tickets are available for purchase on site the evening of the event.
AT BELLA VIDA
BRUNCH & BINGO
On evenings of the new moon and the start of a new 29.5-day lunar cycle, the moon is so dark it blends in with the night sky and is invisible to the naked eye. Stars and con stellations are more visible on clear nights during the new moon. Climbers can enjoy a nighttime view nearly 156 feet above the Delaware Bay and Atlantic Ocean. Admis sion for these special evening climbs is $20; $10 for children ages 3-12. Tickets are avail able for purchase on site the evening of the event.
Friday, Oct. 21-Sunday, Oct. 23
STAIRWAY TO THE STARS LIGHTHOUSE CLIMBS
FROM PAGE 3)
609-884-5404 • www.capemaymac.org • 800-275-4278
Evenings: Victorians of the late 19th century had wild notions about the passage from life to death, and were fascinated by mystery and illusion. Belief in ghosts and spirits was common and superstition abounded. Hear eerie ghost stories as you travel Cape May by trolley, along with strange stories from Victorian Cape May history. Then visit select rooms in the 1879 Physick House Museum and learn about Victorian masters and mistresses of illusion. Begins & ends at the Washington Street Mall Trolley Stop. CLICK HERE FOR TICKETS
Friday, Oct. 14-Sunday, Oct. 16
Murder Mystery Dinner: Off to the Races
Sherlock holmeS weekendS:
Spirits & Oddities Trolley Tour
PLUS MORE TROLLEY TOURS, WALKING TOURS, GOLF CART TOURS!
When Sherlock Holmes and Dr. John Watson find themselves under the big top, a simple favor for a friend turns into a spectacle that our heroes were not prepared to witness. Will they be able to figure out who is terrorizing the circus and its dedicated performers before it's too late? Help solve the mystery! Tickets do not include meals. Cape May Stage is located at 405 Lafayette St. Packages including accommodations are available. CLICK HERE FOR RESERVATIONS.
Wednesdays, Sept. 28, Oct. 5: 7:30pm: Enjoy a three-course dinner and watch as the mystery and drama unfold around you during "Off to the Races," an original mystery by Jacklyn Fazio. When catastrophe strikes at one of the biggest and most important horse races of the year, everyone from the fans to the judges has their own opinions about what happened. Was this truly a tragic accident, or is something more sinister going on? What could this mean for the future of the racetrack? Limited event. The Chalfonte Hotel, 301 Howard St. CLICK HERE FOR TICKETS.
VISIT CAPEMAYMAC.ORG
ATTRACTIONS Coming
Afternoons and Evenings: Cats in ghostly form purr from the beyond. Beloved family members in photographs without their heads. Graves equipped with a torpedo to put off intruders. Victorians of the late 19th century had wild notions about the passage from life to death. Belief in ghosts and spirits was common and superstition abounded. Hear several Cape May ghost stories and more strange stories from Victorian Cape May history that are macabre, mysterious or just plain weird on this 30-minute evening tour. Begins and ends at the Ocean Street trolley stop. CLICK HERE FOR TICKETS
New! Spirits, Magic & Mystery Combo Tour
Saturday, Sept. 10: 8pm-10pm Sunday, Oct. 9: 7pm-9pm Tuesday, Nov. 8: 7pm-9pm
CHALLENGELIGHTHOUSEOF NJ
Phantoms of the Physick Estate: The Spellbound Sisters
Dolphin Watch Around Cape May Mondays-Fridays through October
Whale & Dolphin Watching Daily through 1pm-4pmOctober
Whales & Saturdays,WeekendDolphinsCruisesSundaysthroughOctober10am-12noon
LUNCH & LEARNS
Nov. 27
CLICK HERE FOR TICKETS
pristine environment and learn about their habits and habitat while enjoying a large, comfortable super cruiser and con tinental breakfast, which is included.
GrandSaturday,AdventureLighthouseSept.2410am-3pm
The perfect ending to your day is a relax ing cruise around Cape May. Search for bottlenose dolphins and check out the sights of Cape May. Round Cape May Point, past the Lighthouse and view the magic of Delaware Bay at sunset. The trip is scheduled to catch the best of the eve ning light and offer the most chances at a beautiful sunset.
Nightly, through Sept. 24 5:30pm-7:30pm
For the weekender trying to maximize their time on the island. Enjoy the Around Cape Island History narrative along with a dol phin watch, plus the boat heads offshore in search of Humpback, Finback, and Minke Whales. All this along with complimentary continental breakfast of Danish, coffee, tea and juice.
Sept. 21, 12noon: There was a big divide between upstairs and downstairs life in the Victorian Era. Learn about the roles women of different classes played in society, what opportunities were available and what was forbidden. Presenter: Mary Stewart. Victorian Email and Other Communications in the Late 1800s Oct. 5, 12noon: Isn't it nice getting an instan taneous message from a loved one living far away? The Victorians enjoyed it as well. Learn about the ways people communi cated with one another during the era. Pre senter: Ben Ridings, Cape May MAC Curator
Fall is a wonderful time to enjoy a boat cruise in the waters surrounding Cape May!
www.caPemaymac.org Cape May MAC Fall 2022 • Page 5
MORE with Cape May MAC
10am-12noon
MUSEUM STORE SUNDAY
Things to do....
Stop in on Museum Store Sunday Nov. 27 to Cape May MAC's two museum shops, the Carriage House Museum Shop at the Emlen Physick Estate, 1048 Washington St., and the Lighthouse Museum Shop, at the Cape May Lighthouse in Cape May Point State Park. Cape May MAC will participate in this annual holi day shopping day supporting cultural institutions and their stores. #beapa tron, #iamapatron, #museumstoresunday, #patronofculture, #shopmuseumstores.
Oct. 19, 12noon: Cape May's location and history led to its intersecting with the work of the Underground Railroad. Harriet Tub man and others would live, work, and join the fight for freedom here. Presenter: Theo dore Bryan
CLICK HERE FOR TICKETS
CLICK HERE FOR TICKETS
Two Women, Two Worlds
CLICK HERE FOR TICKETS
Take a cruise up the Delaware Bay aboard the Cape May Whale Watcher for a su perb lighthouse viewing experience! See and photograph historic lighthouses from the late 19th and early 20th centuries that aided ships sailing the treacherous midchannel of the Delaware Bay. Most are out of sight of land and still operational. Hear Delaware Bay lore and legend, in cluding information on fishing, spawning grounds and more. Co-sponsored by the Cape May Whale Watcher. The Cape May Whale Watcher has been sailing to these historic beacons since 1994.
Boat Cruises this Fall
Captain Jeff and his seasoned crew will take you into the Delaware Bay, and the Atlantic Ocean. The Delaware Bay estuary is a sanctuary for many species of marine life. The unique confluence of fresh and saltwater makes for a nutrient rich area teeming with life and conducive to whale and dolphin activity. The excursion is fully narrated by your captain including local history along with a variety of marine life.
CLICK HERE FOR TICKETS
Board the Cape May Whale Watcher for the first trip of the day and cruise around the island of Cape May. See Victorian homes, the Cape May Lighthouse and many other points of interest as your captain narrates the tour with historical facts provided by Cape May MAC. See local dolphins in their
Discovering Cape May's Role in the Underground Railroad
Invest your time in expanding your knowl edge during these free talks on Wednes days at 12noon presented by Cape May MAC educators, offered both live and on line. In person at the Cape May Lutheran Church, 509 Pittsburgh Ave. and available on Zoom. For more information call 609884-5404 or CLICK HERE.
Sunset Dolphin Cruise
FROM THE DIRECTOR
Jody Alessandrine, Director/CEO
The term "non-profit" usually means just that. While most non-profits have endow ments — restricted funds for specific pur poses or rainy day, nest-egg funds, it's not uncommon to go from year to year where receipts and disbursals even out in their dai ly operations account(s).
Cape May MAC continues to offset some of its capital projects working with the Cape May County Open Space Board's Historic PreservationPresently,Grant.Cape May MAC is embarking on projects to install both climate control (HVAC) and fire suppression systems in the house museum. With the help primarily of the NJHT, Cape May MAC is also seeking other partners and donors to further pre serve and secure this landmark property, as well as the 6,000 works of art in its inven tory.As noted, the non-profit has traditionally received valuable support from the NJHC toward its operating budget. Thankfully,
For years, Cape May MAC would do as much as $4 million-plus in business yet rely on lines of credit and loans from donors and friends to get through the lean winter months until late spring or early summer until it started to turn a profit. And that is with the aid of consistent, generous general operational support (annual grant) from the New Jersey Historical Commission (NJHC).
jazz and other musical genres) in May and June would be impossible. (Also see front pageThestory).New Jersey Division of Travel and Tourism issues an annual grant that Cape May MAC applies for and has been suc cessful in being awarded for the purpose of marketing our Group Tour initiative of our Tour Operations Department. The buses you see in town with people coming from some 25 states are most likely here due to the efforts of our Approximatelystaff.40 percent of the CEO/ Director's workload, the same percentage of the Chief Outreach Strategist's and 20 percent of the Chief Outreach Officer's time is dedicated to grant research, applications, and reporting. And each year, the process starts all over again.
Even with all these efforts to secure grant funding, traditionally, 80 percent of Cape May MAC's income is earned — through ticket sales of its various Physick House Mu seum, Lighthouse, World War II Lookout Tower, trolley tours, special events (includ ing private homes, inns and gardens tours throughout the year). And the latter could not be possible without the partnership of a plethora of local businesses and private property owners.
Page 6 • Fall 2022 Cape May MAC www.caPemaymac.org
From 1986 to date, Cape May MAC has received $18,216,522 in total grant funding. Most, however, is not for operations (pay roll, etc.), but rather for specific projects. And most of those are for capital improve ment projects, including approximately $2.3 million alone for the restoration and the maintenance of the historic 1859 Cape May Lighthouse. About the same goes for the historic Fire Control Tower #23 (World War II Lookout Tower). And since 1970, when Cape May MAC became responsible for the Phys ick Estate and its crown jewel the 1879 Phys ick House Museum, we have invested heav ily in the property through various grants. Most of these projects would not have been possible without the consistent support of the New Jersey Historic Trust (NJHT). Cape May MAC has received National Park Ser vice Maritime grant funding for the Light house and 1772 Foundation for the Physick Estate. However, the federal maritime funds are funneled through each state, and avail ability is dependent upon the state apply ing for it to thus be available for entities (lo cal governments and non-profits) within to apply. And for the past few years, 1772 has only funded projects in New England.
for the second consecutive year, in fiscal year 2023 (FY23), Cape May MAC will re ceive $350,000, which is up from $254,250 in 2020 and $225,000 in 2019. That said, it is a far cry from former funding levels in the earlier part of this century that were in the area of $600,000. For FY23, Cape May MAC will receive $80,500, the same as last year, from the New Jersey Council on the Arts for the 43rd Annual Cape May Music Festival. Without this support, the present 15 con certs (mostly classical, with a sprinkling of
-- JJA
Photo by Susan Krysiak
New Jersey Historic Trust Historic Preservation Specialist Judith Murphy was on site at the Emlen Physick Estate Aug. 10 to review progress on Cape May MAC's three 2021 Trust grant award projects, as well as the two 2022 grant application projects. Shown here from left are Robert Russell of HMR Architects, who are Cape May MAC's historic architectural firm partners, Murphy, and Cape May MAC Director/CEO Jody Alessandrine.
www.caPemaymac.org Cape May MAC Fall 2022 • Page 7
MEMBERSHIP NEWS
Sandy Miller
We just learned of the passing of Dave Clemans, a former trustee and, with his wife Chris, a long-time, generous supporter of the organization. Dave served on our board from 1989 to 1994. He also volunteered his considerable restoration skills for two significant projects in the Physick House. Dave spent many hours restoring the magnificent Physick family display cabinets in the Billiard Room. He also crafted the wooden border which camouflaged the unfinished edge of the custom-made decorative tiles installed around the Formal Parlor fireplace. Dave was a man of many talents. He taught classes for the Cape May Food & Wine Festival in its early years at his restaurant, Cucina Rosa. He donated copies of his book "River Runs to the Sea: An Artist's Journey Through South Jersey," with its beautiful images of the many paintings he created to our Carriage House Museum Shop. Dave and Chris were Charter Members of the 2020 Society and loyal supporters of the Cape May Music Festival. We offer our heartfelt condolences to Chris and his family.
Emily McLaughlin, who was our Retail Director, passed away suddenly at the end of July. Emily brought her unfailing sense of humor and superior design skills to our re tail shops, eventually recruiting her husband Joe to be her inventory clerk. Joe has since graduated to managing Cape May MAC's ad sales. Emily was also a baker par excel lence and never missed celebrating her co-workers' birthdays with gourmet cakes.
Condolences
Our Cape May MAC Family also lost two cherished former staff members this sum mer.
MORE MEMBERSHIP NEWS ON FOLLOWING PAGE
We offer our condolences to the family and friends of former trustee Sandy Miller. Sandy and her late husband Owen were the innkeepers at the Windward House on Jackson Street. Sandy was also one of the driving forces behind a Victorian Week staple, the Victorian Fashion Show. Sandy, and her partner in crime Charlotte Todd, created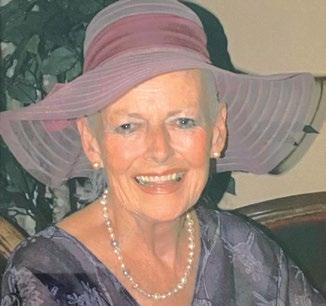 Dave Clemans
Emily was a woman of many talents- she is the voice of Mrs. Ralston at our Story Stop at the Physick House, played the Queen of Hearts during our Mad Hatter croquet match and moderated a mean game of trivia. Joe and family will travel to Vermont in October to inter Emily's ashes in their family burial plot. She will be missed, and we extend our deepest condolences to Joe and her Affairs.andassistantHubmaster'sShortlyBarbarafamily.Hubmasterafter,welearnedofBarbaradeath.BarbarastartedasanintheHillHouseOfficein1998,graduatedtotheDivisionofExternalHertitlewasadministrativeassistant,butherjobwasmuchmorethanthat.BarbarawasJeanBarraclough'spartnerincrime,attendingtravelshowsandmarketingCapeMayMACtoursandactivitiesupanddowntheEastCoast.ShethenassumedtheroleofVolunteerCoordinatoranddevelopedmanydeepfriendshipswiththehundredsofvolunteerssherecruitedforus.Chancesare,whenyouwentlookingforBarb,shewasonthephoneengagedinadeepconversationwithavolunteer,catchinguponnewsofvacations,grandchildren,evenhealthstatusupdates.YouonlyhadtolookatthelistsofvolunteersintheThankYouDepartmentinthenewslettertoseehowsuccessfulBarbwasatherjob.Barbararetiredin2019butcontinuedvolunteeringforCapeMayMAC.Weextendourdeepestcondolencestoherdaughtersandfamily.
themes, wrote stories, recruited models and emceed fashion shows every year, showing dozens of vignettes from their extensive collections of vintage pieces. They entertained thousands of visitors with their humorous commentary, while at the same time shining a light on Victorian social history. Sandy and her husband were early supporters of the Cape May Music Festival and opened their beautiful inn for numerous house tours.
Emily McLaughlin
DeGiamo, Joan Dempsey, David King, Mary McKenney, George Schu, Mary Stewart and Chris Traficante.
-- SK
Joint: Mary Ann Angelo of Port Deposit, MD; Andrew Bergmann of Philadelphia, PA; Patricia & John Crosby of Cape May Court House, NJ; Louann Cunningham of Rydal, PA; Dan Daley & Ramfis Morales of Spring field, PA; Bonnie Guyre & William Imus of Cape May Court House, NJ; Judi & Michael Klingele of Cape May, NJ; Stephanie KnoxPiratzky & Thomas Piratzky of Cape May Court House, NJ; Donna Leis & Joe Fried man of Lafayette Hill, PA; Janet Ma & Da vid Chin of Brooklyn, NY; Cindy & Anthony Martinangelo of Randolph, NJ; Dr. Lorraine Taddei-Graef & Michael Graef of Whiting, NJ; Nancy Tucci Guest of Harrison, NY.
Family/Grandparent: Tamara & Tom Brown of Woodbine, NJ; Meredith De paolo & Hamel Shah of Cape May, NJ; Gina Furnari & Matthew Hunsberger of Mays Landing, NJ; Rhadjena Hilliard & Tom Illgen of Gilbertsville, PA; Thomas NcNulty of Bel leville, NJ.
Get Well Wishes to: Retail Associate Lynda Cogswell.
(CONTINUED FROM PAGE 1)
Individual: Diane Blakely of Hurley, NY; Madonna Evans of Cape May, NJ; Carol Field of Villas, NJ; Richard Huff of Atlantic Highlands, NJ; Sharon Ingraham of Villas, NJ; Jonathan McCarry of Blue Bell, PA; Susan Rowling of Haddonfield, NJ; Tim Tompkins of Cape May, NJ.
MORE MEMBERSHIP NEWS ON PRECEDING PAGE
profit organization dedicated to keep ing alive the heritage of American cycling and promoting the restoration and riding of early cycles manufactured during and before 1932. A Lessons of History lecture features Steven David, Ph.D. on the topic, "Is War with China Inevitable?" Oct. 9 at Cape May Convention Hall. (read more in side). See where family chefs perfect their homemade dishes inside some of Cape May's magnificent homes during the Taste of Cape May Kitchen Tour, Saturday, Oct. 15, from 1pm to 4pm. Cape May's elabo rately designed home kitchens will dazzle, amaze and inspire you. Victorian Weekend celebrates the historic preservation success story of America's only National Historic Landmark City: Cape May, N.J. Join us! -- SK
Lessons of History returns to Convention Hall
almost certainly would be Taiwan. There is no greater challenge to American policy makers than preventing a confrontation over Taiwan from leading to a war that could end civiliza tion once and for all."
MEMBERSHIP NEWS
"Is WAR WITH CHINA Inevitable?" is Sunday, Oct. 9, at 5 p.m. at Cape May Con vention Hall, 714 Beach Ave. Tickets are $40 adults, $15 students and teachers. To pur chase tickets, CLICK HERE or call 609-8845404 or visit www.capemaymac.org. Tick ets are limited. This event is co-sponsored by Cape May MAC and Martel & Associates (Myles & Leslie Martel). The Lessons of His tory Team is comprised of Myles Martel (chair), Jody Alessandrine, Tom Carroll, Vince
Staff: Barbara & James Feeney of Villas, NJ; Diane McCrostie of Cape May, NJ.
Tracie Cicchetti, on the death of her hus band Jim; The family and friends of John Linnington; MaryAnn Mosso, on the death of her husband and longtime faithful volun teer, Gus; The family and friends of Vance Enck, a former Cape May MAC Trustee and Walking Tour Guide.
Dr. Steven David, Ph.D., professor at Johns Hopkins, an authority on interna tional relations and three-time winner of the university's "Outstanding Teacher Award," presents "Is WAR WITH CHINA Inevitable?" in Cape May MAC's (Museums+Arts+Culture) 10th annual Distinguished Lecture Series on Sunday, Oct. 9 at Cape May Convention Hall."The most dangerous place in the world today may well be Taiwan," he said. "It serves as a flash point that could ignite a confron tation between the United States and China with war an all too possible outcome. There is no greater task than preventing such a di saster from erupting."
Student: Raja Valecia Marie Brocken berry of Cape May, NJ; Jacob Klingele of Cape May, NJ; Danielle & Christian McCarry of Blue Bell, PA.
Victorian Weekend
Welcome New Members
Page 8 • Fall 2022 Cape May MAC www.caPemaymac.org
David will speak on the critical issue of whether the rise of China makes a SinoAmerican war inevitable. Many scholars have argued that war is virtually certain when a rising power confronts the existing world leader. David's lecture will examine both sides of this debate and offer his own views as to who is right. He looks forward to a spirited discussion with the audience on what might be the most important issue confronting America and the world in the 21st"Forcentury.many, economic interdependence, the risks of nuclear devastation, and the rec ognition that armed conflict simply does not pay has produced a belief that war, especially between great powers, will not occur. If Russia's invasion of Ukraine has up set this notion, an even greater danger has emerged that threatens to end it entirely. That is the growing threat of a Sino-Ameri can war. If such a war should occur, its spark
"Since the end of World War II, there has been no war between great powers. This is the longest period of great power peace in history. That welcome achievement may well be coming to an end as the United States and China threaten to clash over Taiwan. Under standing the factors that might lead to a SinoAmerican war, and even more important, what can be done to avert such a calamity, is the most pressing issue of our time."
DR. STEVEN DAVID, PH.D.
Condolences to:
"We were excited at the idea and the possibilities of bringing to life Dr. Physick and his dogs in story book form for chil dren," Alessandrine said. "That we have the uniquely talented, creative staff to bring this beautifully told and illustrated story into the world is phenomenal. I encourage every one who has a youngster in their life to pick up a copy and to read it with them."
Dr. Physick was renowned for his love of animals. He was the owner of what is now Cape May's Victorian House Museum, the 1879 Emlen Physick Estate. A group of vol unteers saved the house from the wreck ing ball over 50 years ago and in the pro cess formed the organization that became Cape May MAC and ever since has kept it maintained and open to the public as a mu seum. Thousands of visitors tour the estate each year and learn about Dr. Physick and his family who lived here at the turn of the 20th
Eliza is Cape May MAC's Chief Outreach Officer Eliza Lotozo, who nurtured the proj ect to fruition.
Once the story took shape, a collabora tion began to form. The pandemic played a role."Itbegan as sort of a hobby project dur ing the pandemic," said Olszewski. "Eliza mentioned the story about Dr. Physick and his dogs back in 2020, and while we were all isolating, I'd pick up my iPad and sketch."
Making a Victorian gentleman relatable to children was the key for Olszewski.
"The idea for the story came about by portraying Dr. Emlen Physick at various Cape May MAC events," Ridings said. "I found that one way to connect with children is to talk about Dr. Physick's dogs. Children's eyes light up and they love to talk about their own pets. The challenge was gather ing all of Dr. Physick's true stories relating to dogs and making those stories accessible to children."
children and young people is part of an ongoing effort in programming choices at Cape May MAC, so working to create a children's book made exceptionally good sense," said Cape May MAC Director and CEO Jody Alessandrine.
www.caPemaymac.org Cape May MAC Fall 2022 • Page 9 (CONTINUED ON PAGE 10)
"I tried to make the characters, and the world we built around them, timeless and accessible. It was important for them to live in their Victorian world, but I didn't want it to
'Dr. talesfeaturesofDogPhysick'sDaysSummer'trueofthegooddoctorandhisdogs
Cape May MAC launches first children's book
An original children's story book featuring Cape May historic figure Dr. Emlen Phys ick and his dogs, titled "Dr. Physick's Dog Days of Summer," launched Aug. 14 and is available for purchase in Cape May MAC (Museum+Arts+Culture)'s Carriage House Museum shop and online by CLICKING HERE.
The book is written by Cape May MAC Curator Ben Ridings and illustrated by Ste ven Olszewski and is the first children's book published by Cape May MAC. Ridings has two roles at the organization: curator and Dr. Physick living history interpreter. Olszewski is an experienced designer and illustrator. Both have family connections to Cape May.
"Reachingcentury.
Photo by Eliza Lotozo Cape May MAC held a successful Book Launch at the estate Sunday, Aug. 14 that attracted lots of children and families and a number of pet dogs, too. Shown here, from left, Steven Olszewski, illustrator, and Ben Ridings, author, sign copies of the book at the purchase table.
there. I worked with Steven as the illustrator and our designers from Princeton Strate gic Communications group to put the final project together, which we submitted for publishing and printing this summer. I per sonally had not gone through the publish ing process before, so it was great to learn how that process works."
The book is two years in the making. It began with an idea that grew out of the nor mal routine of a curator who also happens to dress like a Victorian gentleman from time to time and interact in character with visitors to the estate.
"I knew the illustrator, Steven Olszews ki, and had seen some of his work which I thought would be perfect for a children's book," she said. "I connected him with our Curator Ben Ridings, who wrote a script for the story, and the ball really got rolling from
(CONTINUED FROM PAGE 1)
the Stilt Walker will greet visitors. A cooling off tent for pets will be available. Purchase customized festival T-shirts produced onsite from Flying Fish Studio. Explore the variety of crafts and collectibles vendors on the estate grounds selling handmade and vintageAdmissionitems. to the grounds is free and free parking is available off site at the Cape May Elementary School, 921 Lafayette St. A free trolley shuttle will also operate from the Washington Street Mall Information Booth at Ocean Street to the estate throughout the day. There will be a charge for food, beverages and some activities.
Photos by Susan Krysiak
Photo by Susan Krysiak Shown here, Curator Ben Ridings with his dog, Coolidge, portrays Dr. Emlen Physick at Cape May MAC events. Coolidge is popular with children and Ridings says that helped spark the idea for the storybook.
Ridings happens to be a new father. He is husband to Rebecca and father to Abi gail, 2, and Peter, 1. The family has a beagle named Coolidge. He is connected to the story and the project personally as well as professionally."Ihavetwo children of my own, and we read together daily. This book is not only special because it is my first, but also, I can share it with my kids."
Food vendors include Gaiss' Meat Market, Matt's BBQ, Chank's Grab & Go, House of Cupcakes, Bake' n Bacon, Boy Scouts Hot Dog Stand and Mermaid Mutineer.Beverage
vendors include Cape May Brewing Company, 7 Mile Brewery, COHO Brewing Company, Gusto Brewery, Slack Tide Brewery, Ludlum Island Brewery, Mudhen Brewery, and Cold Spring Brewery, along with wine, and spirits from Nauti Spirits Distillery. Cape May Winery also sells a variety of wines by the bottle in the Carriage House Museum Shop.
-- SK
"I really enjoy the opportunity to be a bridge between our past and now," he said. "The fact that Dr. Physick cared for and res cued dogs makes him so much more hu man and relatable to someone today. To help illustrate, literally, such an integral part of a living person's character is an honor."
Page 10 • Fall 2022 Cape May MAC www.caPemaymac.org
Relax and listen to live music on the outdoor stage. Bring a lawn chair or spread out your beach blanket in the shade for a great afternoon and early evening of musical performers. Corndog Blues is playing from 10am to 12noon and Fat Mezz is playing from 1pm to 5pm.
Please bring ID for age identification to purchase alcoholic drinks.
Bring the entire family to enjoy kidfriendly activities including lawn games. Mystery Circus Arts will perform circus acts and magic shows from 11am to 4pm. Mackie
(CONTINUED FROM PAGE 9)
Harvest Brew Fest
be too stuffy for our young audiences, now and in the years ahead.
-- SK
Children's book
War II Lookout Tower, all on the national and New Jersey Registers of Historic Places.
Live music is a regular feature at the annual Harvest Brew Fest. This year, featured performers are Corndog Blues playing from 10am to 12noon and Fat Mezz from 1pm to 5pm. Reminder: please bring ID for age identification to purchase alcoholic drinks.
• Roger Henry, for a $500 donation in mem ory of Barbara Hubmaster.
• Madison Resorts/Montreal Beach Resort (Dan Alecia), for a $3,000 donation to the Craft Beer & Crab & Harvest Brew Festivals.
• OceanFirst Foundation (Kathryn Durante), for a $5,000 grant for the Emlen Physick Es tate.
• Henry Kapp, for a $100 donation in mem ory of Barbara Hubmaster.
www.caPemaymac.org Cape May MAC Fall 2022 • Page 11 (CONTINUED ON PAGE 12)
• Margery Anderson, for a $100 donation in memory of Barbara Hubmaster.
• Robert & Barbara Oberholtzer, for a $50 donation in memory of Barbara Hubmaster.
• $100-$249- Donors: Richard & Janet Koes ter.
Photo by Frank Scott
• Janie McNutt, for a $50 donation in mem ory of Barbara Hubmaster.
Hannah Stone of Cape May performed as warm-up for Eliot Lewis of Hall & Oates at the estate Aug. 25.
• The Bedford Inn (Paula Murray), for an inkind donation of accommodations for the Cape May Music Festival Soloist.
• Jessica Finkel, for a $50 donation to the Cape May Lighthouse.
• Anna Leeper, for a $50 donation in memo ry of Barbara Hubmaster.
DONATIONS
Heartfelt thanks to Sandra Kittner Myers & Hyman Myers for their generous donation of five Eastlake-style dining room chairs. The chairs are attributed to furniture maker Daniel Pabst, who often collaborated with Physick House architect, Frank Furness, and are on display in the Physick House dining room.
• Fifth Generation, Inc. (Tito's Vodka), for a $3,000 donation to the Craft Beer & Crab Festival.
• Aiden Flatley, Jr. for a donation to the World War II Lookout Tower in memory of Richard O. Quin.
• Vicki McBride, for a $50 donation in mem ory of Barbara Hubmaster.
• Stephanie Whalen, for a $25 donation to the Cape May Lighthouse in memory of Bar bara Hubmaster.
'THANK YOU' NEWS
• $500-$999- Russell & Lora Jo Dickhart.
MAJOR DONATIONS
• PNC Financial Services Group (Hugh McStravick), for a $10,000 donation to the Craft Beer & Crab Festival.
LESSONS OF HISTORY FUND DONATIONS
• Re/Max Surfside (Brian Groetsch), for a $1,400 donation.
• Queen Victoria Bed & Breakfast, for an inkind donation of accommodations for the Cape May Music Festival Musicians.
• Michael Deverant, for a $50 donation in memory of Barbara Hubmaster.
• Mick & Cheryl Trombley, for a $45 dona tion.
• Colleen Farrell, for an $8 donation to the Cape May Lighthouse.
Derek Chan, Harold Cilino, Carolyn Clark son, Lauren Colbenson, Laura Congleton, Amy Coombs, Patricia Cummines, Breez illa De jesus, Peggy Depiano, Eric Dichiara, Vincent Degiaimo, Rita Dougherty, Patrick Doyle, Ruth Dragan, John Drzik, Colleen Dyckman, Lakesha Edwards, Laura Enderle, Judith Engelsen-Daub, Rob English, Paul Fabiano, Mary Fox, Kelley Franco, Lorraine Fricker, Dawn Gambino, Bonnie Garrett, Gaile Gehman, Brian Gesalman, Izzy Gold berg, Charles Gore, Lisa Granderson, Sylvia Guarino, Jill Guerrero, Cynthia Gush, Diana Haerr, Lauren Hanrahan, Jeffrey Harlan, Jac queline Heaney, Susan Henner, Esther Her nandez, Jessica Hernandez, Elizabeth Hicks, Kate Hill, Joan Hoffman, Manuella Hounton, Michael Irwin, Nicholas John, Elyssa Judkins,
• Jeanette Block, for a $100 donation in memory of Barbara Hubmaster.
• Anthony Ivanoski, for a $50 donation to the World War II Lookout Tower in memory of Barbara Hubmaster.
• Atlantic City Electric (Veronica Town), for a $1,500 donation to Light up Cape May.
• Jean Barraclough, for a $100 donation in memory of Barbara Hubmaster.
• Mary & Sandy Stewart, for a $100 dona tion in memory of Barbara Hubmaster.
• Nancy & Dave Hanslowe, for a $500 dona tion.
• Princeton Strategic Communications (Norris Clark), for a $2,100 donation.
• Sturdy Savings Bank (Jerry Reeves), for a $7,500 donation.
• Diane Friedrich & Rob Griffith, for a $100 donation in memory of Barbara Hubmaster.
• Dagmar Jelincic, for a $50 donation in memory of Barbara Hubmaster.
• Eliza Lotozo, for a $50 donation in memory of Barbara Hubmaster.
Ticket Buyers who added a donation when purchasing tickets: Jaden Alderfer, Jerome Alexander, Sue Alleger, John Altomara, Evangelos Annousis, William Bardwoski, Briana Bastos, Elizabeth Beatty, Dawn Be nincasa, Nick Bentley, John Berlyn, Ellen Bertman, Jess Blank, Heather Boughey, Lori Boyce, Kris Brockes, Joel Breiman, Deborah Briffa, Theresa Buniak, Rodney Burbach, Karen Calvanese, Elizabeth Canavan, Tia Ca nonico, Maria Capino, Carla Capizzi, Brianna Capizzo, Jennifer Carpenter, Breinn Cary, Wendy Casillo, Laurie Catlin, Liliana Cerutti, Linda Cervone, Cyndy Cesena, David Chalk,
Sunset Solo Series Volunteers: Sharon Agin, Tina & Bill Angstadt, Susan Beal, Donna Fle gal, Kathy Genzoli, Kathryn Kruse, Joe Mam marella, Kathy Morais, Cathie Russell, Carole Sick, Carole Ulmer.
• Jed Gaylin, Maestro of the Bay Atlantic Symphony, for his captivating discussion about what goes into the job of a symphony conductor for Lunch & Learn.
Family Fun Crafts & Collectibles at the Lighthouse Volunteers: Mel Bateman, Su san Beal, Jocelyn Duquette, Alice Haber, Tori Heimall, Jodie Louthe, Lena Marroletti, Kathy Morais, Tricia Nolfi, Terrie Rosania, Cathie Russell, RuthAnne Stewart, Mary Beth Toewe, Carole Ulmer.
• Bob Hudzik, for rebuilding the frames for the Dickens quotes which are part of the Old-Fashioned Christmas Exhibit.
• Carol Crossed, owner of the Susan B. An thony Birthplace Museum, for a program on postcards from her book entitled "Vintage Tweets: Suffrage Era Postcards" at Lunch & Learn.
Cape May Music Festival Volunteers: Tina & Bill Angstadt, Chris DuBois, Jocelyn Du quette, Kathy Genzoli, Lynne Glasser, Car ole & Bob Irwin, Joe Mammarella, Karen McGuire, Tricia Nolfi, Cathie Russell, Ann Stephany, Carole Ulmer.
Craft Beer & Crab Festival Volunteers: Jan ice Ablett, Cheryl Alessandrine, Eileen Alex iak, Tina & Bill Angstadt, Cathy Baldacchini, Jean Barraclough, Jill Bremer, Patricia & Bill Brown, Tom Carroll, Dave Coffey, Jake Cuo mo, Sue & Bill Currie, Jim Del Grosso, Daniel DeRosier, Chris DuBois, Jan & Peter Dwyer,
Brian Kelly, Maureen Kennedy, Kimberly Kern, Patricia Kish, Douglas Kohlenstein, Ju lie Kohler- LaTorre, Christina Kokoth, Cindy Kurdys, Joan Landino, Mary Ann Leeper, Anthony Liebold, Arleen Liquori, Mariate resa Lopez, April Lubischer, Michael Mackin, Ursala Mahoney, Michael Marone, Jessica Matala, Mary Mcgough, Stacey Mckeever, Thomas Mcnulty, Tom Measday, Lani Me dina, Zuyu Mei, Dorothy Meli, Timothy Miller, Laura Morreale, Catherine Morton, Sheri Morton, Christopher Murphy, Betsy Narvaez, Laura Nemec-Osborne, Giovanni Nese, Diane O'brien, Anne Pacione, Kath leen Patterson, Tracy Pearce, Arun Pemma raju, Jennifer Pena, George Petroski, Dianna Poindexter, Jose Poza, Lisa Rebert, Sheri Rinaldo, Brenda Rivera, Rebecca Roffi, Ra chel Roldann, Christopher Rooney, John Roth, Vanessa Sabo, Nirmal Sadarangani, Herminio Sanchez, Diane Sarro, Richard Scheiner, Douglas Schmidt, Salvatore Scial la, Antonio Sciulli, Anita Shayegan, Margaret Shelton, Robert Siciliano, Chris Sinatra, Mary Sinkey, Anita Small, Diane Cassara Smith, Al Southard, Frank Stanko, Jonathan Steward, Alison Sutak, Danielle Swallow, Deirdre Tay lor, Denise Telford-Wren, Suzanne Terrano va, Leslee Thompson, Leslie Turner, Theresa Vidi, Lauren Washburn, Kevin Watson, Jo seph Whalen, Steven Woods, Stephen Za borowski, Jonathan Zeller.
Membership Mailing Volunteers: Jocelyn Duquette, Kathy Genzoli, Tricia Kraemer.
• John Curtis, for giving an informative talk on Impressionism titled "How do you paint light?" at Lunch & Learn.
'THANK YOU' NEWS
Tour Staff Advisory Committee: Joyce Barth, Ann Burrows, Jill Connell, Peggy Gora, Car ol Hartman, Brian McGrath, Harry Schmidt.
World War II Lookout Tower Volunteers: Sharon Agin, Jocelyn Duquette, George Fore, Scott Griffith.
Flight Entertainment partnered with Cape May MAC this summer for the inaugural Summer Sunset Solo Series. Shown here, Paul Cullen, formerly of Bad Company, performed with his trio Aug. 11.
• Jan Dwyer, for being an educational guide for the native garden at the Physick Estate during the Gardens of Cape May Tour.
Donna Flegal, Chris & George Fore, Walt Gabriel, Maureen & Mike Gallagher, Kathy Genzoli, Roe & Bob Gorgone, Scott Griffith, Cheryl Gulish, Mary Beth & Alex Hager, Car ol Haggas, Tori Heimall, Carole & Bob Irwin, Kathleen Janits, Megan Kately, Margaret Kealy, Kathryn Kruse, Susan Krysiak, Anna Leeper, Camille Llewellyn, Jodie Louthe, Theresa Mahoney, Rich Mayer, Karen Mc Guire, Mary & Tedd McKenney, Barbara Merzig, Judy Mohler, Sandy Montalbano, Kathy & Dave Morais, Tricia Nolfi, Kathy Novak, Valentina Prior, Jan Randle, Vince Rapone, Re/Max Surfside, Terrie Rosania, John Schaeffer, Frank Scott, Ann Stephany, Miriam Stevens, Mary Stewart, Bruce Tell, Carole Ulmer, Stephen Ward, Leann Wein berger, Mark Wheaton, Susan Wiggins, Bar bara Zicari.
Photo by Susan Krysiak
ASSISTANCE
(CONTINUEDDonationsFROMPAGE 11) Page 12 • Fall 2022 Cape May MAC www.caPemaymac.org
Gardens of Cape May Tour Volunteers: Janice Ablett, Tina Angstadt, Michael Bal dacchini, Susan Beal, Bonnie Bowman, Tally Colson, Janet Coupland, Chris DuBois, Jan Dwyer, Donna Flegal, Leslie Flick, Marie Elena Gearhart, Lynne Glasser, Alice Haber, Tori Heimall, Kathy Janits, Tricia Kraemer, Ca mille Llewellyn, Sue Lotozo, Lynn Massimi ano, Mary McArdle, Kathy Morais, Melissa Motz, Tricia Nolfi, Jan Randle, Terrie Rosania, Leann Weinberger.
I joined Cape May MAC in midJune to help with the online shop project and jumped right into the book release and first children's col lection. From books to T-shirts, we're really aiming to create merchandise that is unique to Cape May MAC. It takes a bit of time to take an item from idea to production, but I know it will be well worth the wait and it's been such a fun and collaborative process so far!
"Lindsay has been my close friend for several years, and also by luck my neighbor. I have watched as Lindsay built and grew her own store, GIVENS, located on the Wash ington Street Mall. It is one of my favorite stores in Cape May, and Lindsay has built a huge following of loyal customers. She has also built strong relationships with vendors that create beautifully curated products. Lindsay's expertise in design, merchandis ing, and inventory management makes her a great asset to Cape May MAC."
ShopsummerforwardtakenpresenceshophasabigleapthisThankstosomefocusedeffort,theshopisnowhummingalongwithnewlycuratedproductsandexcitingplansformoreinthefuture.Theonlineshopwascreatedin2020inpartoutofnecessitywhileeveryonewasisolatingathomeduetothepandemic.Sincethen,developingithasbeenapassionprojectforChiefOutreachOfficerElizaLotozo,whohasalifetimeofexperienceinretailalongsidehermother,SueLotozo,andhersuccessfulshopinWestCapeMay,TheFlyingFishStudio."CapeMayMACalwayshaddreamsofcreatinganonlinearmofourmuseumshop,buttimeandresourcesmadeitchallengingformanyyears,"saidLotozo."Oneupsideofthepandemicisthatitgaveustimetofocusonsomeprojectsthatotherwisemighthavebeenoverlooked."Lotozohasaknackforformingrelationshipswithcreativeindividuals.LindsayGivens-Casaleonline
Where did you grow up and where do you live now?
Cape May MAC's online
"We're fortunate that Lindsay is sharing her proven talents with us to take Cape May MAC's online presence to the next level," said Director & CEO Jody Alessandrine. "The concept of utilizing the textiles in the Physick House is brilliant, and we're look
OUR
SHOP (CONTINUED
(CONTINUED ON PAGE18)
Shown here, notecards featuring the second floor stained glass design inside the Physick Estate will be among new items exclusively for sale in Cape May MAC's online shop.
CLICK HERE TO VISIT ONLINE ON PAGE18)
came on board in mid-June to help further develop the online shop this year.
I grew up in Cape May and at this point, I've lived here the majority of my life! My grandmother, Ada, grew up at the Cape May Lighthouse where my great-grandparents were the keepers. The lighthouse is a part of my family's history and makes working for MAC even more special! I live in West Cape May and really lucked out in the neighbor department. Eliza is my neighbor! Eliza and I quickly became friends. She really brought Cape May MAC's mission to my attention years ago.
What were some of the challenges that were overcome, if any, in getting the new online store up and running?
www.caPemaymac.org Cape May MAC Fall 2022 • Page 13
Q A&
WITH LINDSAY GIVENS-CASALE
Membership Engagement Manager Sara Kornacki. "Not only are they the heart of the organization, but the helping hands, too. They staff our tours and events, allowing us to raise funds to continue to preserve local historic landmarks. They assist with every thing from gardening and maintenance to lectures, gallery exhibits and more. We liter ally could not do this without them."
These were men and women volunteers who had a unique vision for Cape May. They believed that special places need special protection, nurturing and care. Sparked by anger at the loss of too many Cape May historic structures, their youthful energy and confidence galvanized into saving the 1879 Emlen Physick Estate from demolition. By taking the bold steps to save the estate, and forming the organization that we know today, Cape May MAC's volunteer found ers began Cape May's renaissance, taking the steps on the path to preserve Cape May for future generations as a National Historic Landmark City.
"Cape May MAC absolutely could not operate as such an active establishment without its volunteers," said Volunteer and
The benefits of volunteering go both ways. While Cape May MAC benefits from the energy of volunteers, so do the vol unteers benefit from their connection to the organization. The Mayo Clinic Health System cites three main benefits of being a volunteer. Volunteering improves physi cal and mental health; it provides a sense of purpose and teaches valuable skills; and it nurtures new and existing relationships. health-benefits-of-volunteeringhometown-health/speaking-of-health/3-https://www.mayoclinichealthsystem.org/
"I have been volunteering for Cape May MAC for at least 5 years. We have been in North Cape May for 11 years and 5 years full time. My husband and I signed up to volunteer at a festival when Barb Hubmaster was the Volunteer Coordinator. We had so much fun and have been volunteering ever since. I enjoy helping with the gardens at the Physick Estate and have learned so much about native gardening (from Jan). I have been inspired to plant my own native garden. (It's my new hobby).
Kathy Morais, Volunteer, 5 years
 
vol·un·teers:
It's amazing what volunteers can do.
Now, two generations after its founding, Cape May MAC is here, enjoying that legacy that volunteers started, and yet still sweat ing, working together and giving our time at Cape May MAC, to continue to nurture all that makes Cape May special. Volunteers are what allow us to accomplish great things. They step up and step in with their unique talents to do wonderful things in wonderful ways.Today, it is thanks to those founding vol unteers, as well as all the volunteers who have come through the door since, that we, as those future generations, continue to flourish here.
In 1970, it was a small band of volunteers who formed the organization we know today as Cape May MAC (Museums+Arts+Culture).
Cape May MAC has continued since its founding to attract the passion and com mitment of volunteers. Approximately 250 volunteers are on the rosters today yearround and so far in 2022 have spent 2,037 hours bringing their enthusiasm and joy to volunteer jobs that nurture the organization. They enable accomplishments that would otherwise be impossible. They multiply the energy of the organization by expanding its reach into the community and leveraging the power of Volunteersteamwork.pourbeer at outdoor festi vals and staff doors at over a dozen prop erties during Christmas Candlelight House Tours. Volunteers have transcribed hours of audio files at the computer and have helped create and maintain an entire organizational archival system. Volunteers clean trolleys and clean tables. They guide visitors to their destination and guide vehicles into parking spaces. Volunteers dress up for Halloween and give out candy to Trick or Treaters.
The people that work at Cape May MAC are awesome and can't thank me enough whenever I am volunteering. They make me feel like I am part of the organization, and I am happy and proud to be part of it!"
Page 14 • Fall 2022 Cape May MAC www.caPemaymac.org
"Watching volunteers benefit from their experience at Cape May MAC is so gratify ing and is the reason why I love working with our team," said Kornacki. "People volunteer for all sorts of reasons — some to keep ac tive, some to attend a free concert, others to see inside historic homes. But what I love to see the most is how people make friends and find their sense of community. We have people who love to work together year af ter year. We have people who exchange numbers and get together outside of the organization. It is so rewarding and satisfy ing to witness when first-time volunteers enter as a stranger and leave as a friend."
-- SK
"I always say that volunteers are the straw that stirs the drink at Cape May MAC," said Director and CEO Jody Alessandrine. "From Day 1 it couldn't have been done without them. And now, 53 years later, it's largely because of them that this once small nonprofit is the prime contributor to Cape May becoming almost a 12-month economy."
"I think the thing I most enjoy about volunteering for Cape May MAC is interacting with other people on house and garden tours and festivals, whether it
Tina Angstadt, Volunteer, 7 years
"I have been volunteering for Cape May MAC for the last 7 years since retiring from teaching and directing theatre in Pennsylvania. But Cape May has been our summer residence since 1990, enjoying many Cape May MAC events and becoming Cape May MAC members. In 2015, my husband and I moved from Reading, Pa. to live full time in Cape May. I have enjoyed helping with Lessons in History as well as the Cape May Music Festival, and I do feel especially dedicated to the Historic District house tours. Working as a house manager at the Designer, Garden, or Candlelight tours let me meet, literally, thousands of people, one by one, eager to share their own stories and learn about the culture and history of Cape May. A very special benefit of my volunteering has been the many wonderful new friendships nurtured in my Cape May community through my Cape May MAC involvement."
Photos by Susan Krysiak and Frank Scott
"I love talking to visitors about Cape May. It makes me feel proud to live in the area, and I love to share the places I enjoy with visitors. I hope they will have a great experience while visiting and come back to this place I love for years to come! I love Christmas events! Working the tours in the historic homes is thrilling because you get to experience the decorated homes too, and the owners/managers usually like to chat about their cool place and all the things that make it special. It really gets you into the spirit of Christmas. I love hearing the awe from tour participants as they experience a beautiful historic home."
be with tour or festival-goers, home or inn owners/caretakers, or other volunteers (and Cape May MAC staff!)."
Megan Kately, Volunteer, 2.5 years
The heart and the helping hands of the organization
 
 
 
Chris Dubois, Volunteer, 4 years
www.caPemaymac.org Cape May MAC Fall 2022 • Page 15 MORE PHOTOS AND COMMENTS ON FOLLOWING PAGES
"I live in West Cape May. You'll probably see me out walking my dog in nice weath er! I live about a mile away from my parents, who still live in the house I grew up in. After spending 15 years living on the West Coast, I'm really happy to be back home with my family and community."
(CONTINUED FROM PAGE 15) Page 16 • Fall 2022 Cape May MAC www.caPemaymac.org
Volunteers
Sara Kornacki, Volunteer & EngagementMembershipManager
 
"I moved here in the summer of 2020. Yes, I'm one of those people who quit my job, sold my house, and moved to the beach during COVID! I joined Cape May MAC as a way to become engaged in my new community and to meet new people— and it has done that! I love being an ambas sador for our community and promoting all the great programs Cape May MAC has to offer. I love the garden and holiday home tours. I really enjoy learning the history of the homes, getting to know the owners, and chatting with the visitors who come through."
Photos by Susan Krysiak and Frank Scott
 
Tricia Nolfi, Volunteer, 18 months
"Volunteering for Cape May MAC work ing in the gardens at the Physick Estate has been wonderful! I have done a lot of dif ferent activities but especially like work ing with Cape May MAC's Head Gardener (Bill McCray) and Carol Lindsay. Together we have planted many of the flower beds completely transforming the Physick Estate grounds. And there's a lot of love and pa tience that goes into keeping the gardens in top shape."
 
Kathy Genzoli, Volunteer, 4 months
www.caPemaymac.org Cape May MAC Fall 2022 • Page 17
"I am new to Cape May and as a retired Special Education teacher I wanted to get out of the house, meet new people and contribute to my community. When I ap plied to Cape May MAC, I said that I would be willing to help with paperwork if they needed that. Then I learned that Sara has been folding and stuffing 250-350 mem bership letters every month. So, for the last three months, I have been helping with this process, either with Sara or with other volunteers. I also worked at the Welcome Table at the annual Craft Beer & Crab Festi val handing out maps of where the booths were located, and I volunteered at a couple of the evening concerts at the Physick Es tate. I have especially enjoyed meeting oth er volunteers and staff members who have all been friendly and welcoming."
 
Deb Yamashita, Volunteer, 4 months
FALL & HOLIDAY CRAFTS & COLLECTIBLES SHOWS
Halloween Crafts & Collectibles: Satur day, Oct. 29 at the Emlen Physick Estate 10-3. Free.
I'm currently working on an exciting scarf project inspired by designs found through out the Physick Estate. As a perpetual stu dent of design, I'm especially fascinated by Frank Furness' interior and exterior design work. Furness was really ahead of his time and truly at the forefront of modern archi tecture and design in America. While his peers were looking to the past to build, ar chitect Louis Sullivan stated, "Furness made buildings out of his head." Via Sullivan, there is a direct connection to Frank Lloyd Wright, which becomes so clear in studying Furness' work and "form ever follows function" de sign methods. This project really captivated me and sent me on a history deep dive. I'll probably be the first customer of the Fur ness stained glass scarf!"
After graduating from Ursinus College where I majored in Communications & Art, I studied design at Parsons in NYC. I got a taste of corporate design in NYC and quickly learned it was working with the smaller, in dependent designers and sustainable com panies that really interested me. Through college, I worked for Casale's Shoes where Vincent Casale really mentored me, and I credit so much of my retail knowledge to the Casale family and Gramps (I later mar ried his grandson so I can call him that).
The online shop is a wonderful way to keep people connected to Cape May and Cape May MAC long after they visit. Within the first week, we were shipping orders to Connecticut, Pennsylvania, Maryland, Flori da and as far as California and Oregon!
Tell us about your career and how we were so fortunate to have your help.
Above, the lincrusta from Dr. Physick's bathroom is the featured design for custom silk neckware soon to be available for purchase exclusively in Cape May MAC's online shop. Also planned, below, an original Cape May Lighthouse design by illustrator Steven Olszewski on totes, T-shirts and sweatshirts.
When Dan and I bought our home in West Cape May, I really felt "re-rooted" in Cape May and decided to start my own business. On a shoestring budget, with equal parts naivety and determination, I created an on line collective of independent artists and designers...after a few years of selling online and doing pop-up events around town, the website eventually became GIVENS, my shop in Cape May. I opened on Washing ton Street in 2015 and I'm really proud of its evolution over the years and my wonderful staff who keep the shop ticking.
What makes the online shop special? What do you especially like about it?
-- SK
Harvest Brew Festival: Saturday, Sept. 17 at the Emlen Physick 10-5. Free.
Holiday Crafts & Collectibles: Friday & Saturday, Nov. 25 & 26 at Cape May Con vention Hall 10-4. $2.
The new online shop is focused on cu rated merchandise that connects to Cape May MAC and its mission. This summer the product launch focused on Cape May MAC's new (and first!) children's book, "Dr. Physick's Dog Days of Summer."
Recent Happening
--
FROM
Page 18 • Fall 2022 Cape May MAC www.caPemaymac.org
-- MES
"I am really excited about some of the products we have in development now," Lotozo said. "For example, we are working with a New York based textile company, Lindman Designs, that is producing a silk neckwear line based on design elements from within the Physick House Museum. We want our products to tell a story about our museums and Cape May history."
SK Shop (CONTINUEDonlineFROMPAGE 13)
and multi-instrumentalist Eliot Lewis was the headline performer on Thursday, Aug. 25 for a special night of storytelling and clas sic hits from the man himself, unplugged on an intimate stage. Lewis toured the world as a member of the band Hall & Oates, one of Philadelphia's own, most beloved, and suc cessful bands. Lewis is an original featured musician on the award-winning TV show "Live from Daryl's House." We had two per fect nights for these great open-air concerts. Our Education Division has been hum ming along this summer. Evelyn Maguire's Book Club has wrapped up its live pro grams but you can watch it here: Book Club | Cape May MAC. Our Lunch & Learn series has presented several fascinating programs over the summer. Coordinator Brenda Leonard called in some favors to line up several guest presenters this summer. John Curtis, a retired college professor, presented an illu minating program on Impressionism called "Painting Light." Our friend from the Bay Atlantic Symphony, Jed Gaylin, explained what it is a conductor does - in addition to waving a baton. Carol Crossed, a summer resident who is also the owner of the Susan B. Anthony Birthplace Museum, talked about Suffrage-era postcards, both pro and con, and compared them to modern day tweets. The series will continue the first and third Wednesdays through December. Pro grams are live at the Lutheran Church and available by Zoom. We also continued our community lectures, visiting the Avalon Li brary, Nauti Spirits, the Blind Center of the Jersey Cape, Victorian Towers and Haven House.
Victorian Weekend Crafts & Collect ibles: Sunday, Oct. 9 at the Emlen Physick Estate 10-4. Free.
(CONTINUEDQ&A PAGE 13)
ing forward to what we anticipate will be a great response," he added.
Crafts & Collectibles by the Sea: Satur day, Oct. 22 at Cape May Convention Hall 10-4. $2.
(CONTINUED FROM PAGE 2)
Fall Crafts & Collectibles: Saturday, Nov. 5 at Cape May Convention Hall 10-4. $2.
What plans are there for the future for the online shop that you can share?
find anywhere else, and gifts that everyone on their list will love. By shopping on Mu seum Store Sunday, you'll not only find the perfect holiday gifts for your friends and family, but you can also know that your dol lars are directly supporting the cultural in stitution's mission and programs. It's a way to shop consciously, shop smart, and shop local."Shoppers can look forward to Museum Store Sunday as the global annual day to Be a Patron – and support museum stores and their missions worldwide. While there is only one Museum Store Sunday each year, everyone is encouraged to Be a Patron of museums and museum stores all year round.
Walk the grounds of Cape May's origi nal "haunted house," the 1879 Physick Estate, 1048 Washington St., and enjoy the 12th Annual Scarecrow Alley and Contest during October, a commu nity display of creative, scary and funny scarecrows built by local businesses, families, schools, community groups and Individuals. Every year is some thing new! Vote for your favorites with winners announced Nov 3! Admission is free.
Halloween Crafts & Collectibles Show
Monday, Oct. 31: 5pm-7pm
Stop in on Museum Store Sunday at Cape May MAC's two museum shops, the Carriage House Museum Shop at the Emlen Physick Estate, 1048 Washington St., and the Lighthouse Museum Shop, at the Cape May Lighthouse in Cape May Point State Park.
Dozens of miniature skeletons, ghosts and spooky characters beckon in a Dept. 56 Halloween Display inside the porch of the Physick House Museum at the Emlen Physick Estate, 1048 Wash ington St. This colorful and spectacular display of Halloween-themed Dept. 56 collectibles is offered daily in October. Free admission.
www.caPemaymac.org Cape May MAC Fall 2022 • Page 19
At The Physick Estate
For more information, visit capemay mac.org.
Dept. 56 Halloween Display October
ScarecrowOctoberAlley
"Museum Store Sun day is an opportunity for the community to support their local cul tural institutions simply by doing their holiday shopping at their muse um stores," said Patricia Sampson, president of the Museum Store Asso ciation. "Patrons will find a collection of unique, educational and creative items in these museum stores – gifts you can't
On Halloween some spooky characters await at the Emlen Physick Estate, 1048 Washington St., with Halloween treats for good little ghosts and goblins, pi rates and princesses.
Shown here, Cape May MAC has two museum shops, the Carriage House Museum Shop, above, and the Lighthouse Museum Shop, below.
Trick Or Treat
-- SK
Saturday, Oct. 29, 10am-3pm
On Sunday, Nov. 27, Cape May MAC (Museum+Arts+Culture) will participate in Museum Store Sunday, an annual holiday shopping day supporting cultural institu tions and their stores. This year, more than 1,800 museum stores representing all 50 states and the District of Columbia, 24 coun tries, and five continents will celebrate Mu seum Store Sunday and offer unique gifts for the holiday season—with all purchases supporting its parent institution and the ar tisans and craftspeople who create many of the gifts found in museum stores.
Support Cape May MAC on Museum Store Sunday
Free Fun forthisFamiliesFall
Visit the Emlen Physick Estate, 1048 Washington St., for this open-air show featuring wares of local vendors and crafters. Explore Scarecrow Alley which decorates the grounds. Come in cos tume to celebrate this festive holiday! Admission is free.