a few of our
INSPIRATION FOR SHOPPING LOCALLY THIS HOLIDAY SEASON
Letter Editor from the
Chadwick
month's theme
One of things that I have learned and subsequently accepted about myself over the years is this: I'm not the most domestic woman in the world. An aunt has referred to me since childhood as "the fam ily gypsy." I was never the kid who had to be picked up early from a sleepover. It wasn't that I didn't love being home; I just loved being on the move more—it's a big world out there. I'm as comfortable (well, mostly) on a plane as I am in my own living room. My blood pressure doesn't auto matically rise the second I walk into an airport. I can "be" any where and amuse myself.
The downside of that is that my domestic skillset is limited. If I love you, I'll knock myself out in the kitchen when the spirit moves me, but the results may be…spotty. My house is gener ally clean, but disorderly, if you get my drift. I love projects like painting a room, but my enthusiasm is often outshone by my incompetence.
People like Rebecca Boyd and Andrea Mason, who write our cooking and home décor columns, respectively, are a source of both admiration and inspiration to me. Add to that my chat with Adam Joseph, 6ABC meteorologist/WC Christmas Parade host/domestic god/renaissance man for this issue, and, if I let myself, I could come up feeling pretty inadequate in compari son. But I don't. After all, for every person who can whip up seri ous magic in the kitchen, there must be someone to appreciate and indulge in it. That's me. I'm that person. For every person who can grow a fully functional garden, there's someone like me, unable to keep even a potted succulent alive, who marvels at and benefits from it. We all have our strengths and weak nesses in this life; it's the acceptance that's key. I don't have to be a domestic goddess. I can just be a goddess elsewhere.
For a large part of my life, from infancy and through my early 20s, every new year began at the Mummers Parade, but simultaneously within a house filled with food and revelry. My great-aunt Jean lived on Shunk Street, just over a block off Broad—ground zero, Mummers wise. Although I'm not the type to attend every parade under the sun, all year long, there's something about holiday parades that do it for me. It feels like the joy that the season brings is spilling over and out into the very streets. West Chester's own Christmas parade has grown into one of those festivities that get a highlighted place in my calendar each year. And we are thrilled that it is back this year.
Finally, assemble your gift lists and keep our shopping guide handy when you start pounding the pavement here in town. Our annual showcase of the fabulous finds right here in the borough is a particular—and useful—source of pride to us. You have your roadmap; go forth and conquer.
Wherever you are, we hope your holiday season feels like home. Thank you for reading The WC Press, and best wishes from us for a healthy and peaceful new year. kate@thewcpress.com
The Press
PUBLISHER
Dan Mathers dan@thewcpress.com
MANAGING EDITOR
Kate Chadwick kchadwick@thewcpress.com
ADVERTISING MANAGER Nick Vecchio nick@thewcpress.com
CONTRIBUTING EDITORS
Jesse Piersol jpiersol@thewcpress.com Danielle Davies ddavies@thewcpress.com Kelly Murray kmurray@thewcpress.com
STAFF PHOTOGRAPHER
Erik Weber @westchesterviews
COLUMNISTS
"Christmas Day will always be just as long as we have we."
Dr. Seuss
Becca Boyd bboyd@thewcpress.com Andrea Mason amason@thewcpress.com
DJ Romeo romeo@thewcpress.com Kate Chadwick kchadwick@thewcpress.com
Published By...
Mathers Productions
1271 Phoenixville Pk West Chester, PA 19380 mathersproductions.com 610-299-1100
The WC Press is a monthly magazine mailed to more than 3,000 homes throughout West Chester, as well as being dropped off to about 100 locations in and around the borough.
For a free subscription — digital or mailed — visit thewcpress.com.
Worth Noting
LIVE! FROM MARKET STREET
Our no-nonsense table of contents
Meet 6ABC's Adam Joseph, host of the Christmas Parade
DESIGN DILEMMAS
Our resident interior designer helps you upgrade your space
A FEW OF OUR FAVORITE THINGS
inspiration for shopping locally this holiday season
MARKET FORECAST
Your planetary predictions with a particularly local twist
A LIGHT IN THE DARK
Celebrating the good work of DVCCC
HOME BECCANOMICS
Becca Boyd shares tips on life and cooking
PHOTO HUNT
Spot the five differences and win a Barnaby's gift card
HOLIDAY HIT LIST
DJ Romeo curates a list of songs you'll be singing this season
2022 HOLIDAYS THEWCPRESS.COM 5
Kate
shares some personal
insight
into this
9 17 19 41 43 51 53 55
8 THE WC PRESS VOICE OF THE BOROUGH Live
Live! Market Street from
Meet6ABC'sAdamJoseph,hostof the West Chester Christmas Parade
10 THE WC PRESS VOICE OF THE BOROUGH
It's not a circus without a great ringleader. It's not a party without a great host. It's not a night at the club without the right DJ. And it's just not the annual West Chester Christmas Parade, back from a two-year hiatus—without peren nial co-host and emcee, Adam Joseph.
You may know him from television, where's he's been meteorologist at 6ABC for 17 years. You may know him for his Martha Stewart-like Instagram account (except more handsome), full of home décor, gardening tips, nextlevel baked goods, and beautiful family. Karl, Hannah, and Jacob know him as husband and father.
We sat down with him for a quick Q&A, and we started off…well, talking about the weather. And yes—he's as delightful as you think he is.
I heard a meteorologist on the radio this morning, describing this chilly, rainy day as "awful, terrible" weather. If it was hot and sunny every day, I'd lose my mind. What do you think?
SAME! No, thank you. Boring. That's why I live here. I'm a New England boy, so I'm all about the Mid-Atlantic north east and the four seasons. I'm ready for the next as soon as the current one ends.
Did one specific event point you towards a career in weather?
No. My mother will tell you "He was born to do the weather." [He said this in her Boston accent, which was perfection.] I was born during a massive flood—she almost didn't make it to the hospital, but from as early as I can remember, I was obsessed with weather. I didn't watch cartoons; I watched the Weather Chan nel. I was in a weather club; I went to stations to meet different meteorolo gists. It was in me, from Day One.
Super-trite question but I must ask: what's your favorite season?
Hands down, fall. Fall, fall, fall. It's refreshing and cool, it's so great putting on that first sweatshirt after a long, hot summer—the sights, smells, and tastes. It's sensory overload. I love every aspect of it. Also, my birthday's in the fall, so maybe that's part of it…?
Yes—I see you're a Scorpio. They are notoriously private. How does that line up with such a public life?
I was just talking with someone at a party about this! I said, "I really don't like these gatherings." And he was like "What do you mean – you're on TV!" That's the thing. If you look at actors and other people on TV, they seem reserved and quieter in person. And the thought is oh, they're stuck up or snobby, and it's not really the case. It's more that you're "on" all the time, and then when you're
"off" – just like with any job, you're off. Being on 24/7 is a lot. I signed up for this and I love it and wouldn't be in it if I didn't, but honestly, I'm more of an intro vert than an extrovert. And Scorpios are pretty Type A, which I definitely am. But given the choice, if I'm in a room, I'd rather be in a corner observing than in charge of entertaining everyone else. So,
2022 HOLIDAYS THEWCPRESS.COM 11
Meteorologist Adam Joseph joined the Action News weather team in April of 2005, and is currently the weekday meteorologist on Action News.
what do I do? I'm the emcee of the West Chester Christmas Parade! I've learned I can do both.
On your Instagram account I saw a pie you baked that made me weak in the knees. I'm not a terribly domestic person; is that…relaxing for you?
Absolutely! Put me in a kitchen, every time. We love entertaining close friends and family—it's less overwhelming than those larger venue things, which can feel like work. But both Karl and I love entertaining in our own home. We love feeding people, making cock tails, smaller parties. His family is huge, and at Christmas, I've made dinner for 25 people. They always ask what they should bring, and I always say, "I don't want anything, I just want you to come in, have a good time, and leave me in my kitchen." And I do the whole thing— entrée, sides, dessert. I'm a true foodie when it comes to cooking, but baking is really my forte.
You also seem to be quite the gardener. Yes. After a stressful day, it's nice to come home, go to the garden and see the fruits of your labor or pick some fresh flowers to put in a vase. I'm mostly a country boy, I'm domestic, give me land. My nana and pop-pop taught me
about gardening and how to grow food, and that's what I'm teaching my own kids.
Let's talk about your kids. Between you and Karl, who's the good cop and who's the bad cop in terms of parenting styles?
Umm, I would say that I'm the pushover for sure. Karl makes a decision, and the wall is up. The kids can find a crack in my wall and get through it. I've tried to learn to be a little stricter, more of a par ent than a friend. Either way, I think they figure out how to work each of you!
What has parenting taught you?
To have more patience, not just with them but in life. And to enjoy the every day, to see things through their eyes. It takes you back to when you were lit tle, the excitement of all the "firsts." It reminds you that life is precious, and you need to absorb all of it; it's the little things in life that mean the most.
Do you have a favorite Christmas movie?
Well, I don't know if this really qualifies but I have to say National Lampoon's Christmas Vacation. I absolutely love it because he's very much like me with all the lights outside and just trying to make everything the best it can be for his family. I really relate.
A man on the street, Adam Joseph brings energy and positivity to the broadcast of our hometown parade, and he's an integral part of its production.
What about a favorite Christmas carol?
Oh, I love them all, but I'd have to say "The Little Drummer Boy"—it was my nana's favorite. I always remember her loving that song, so that's the one.
Is there a food you only make or eat at Christmastime?
Sugar cookies. Obviously, you can make and eat them all year round, but I only do it at Christmas, from scratch, with the kids, with the sprinkles and every thing. But if I were to say what people want from me, it would be the ooeygooey butter layer cake I make. It's very dense, made with sour cream and an orange custard in the middle and a cream cheese frosting on top. [Editor blacked out for a second here.]
What's your favorite thing about West Chester?
The small, hometown feel. The restau rant scene, the ambiance of the town, I've always loved it. We take the kids to Highland Orchards every fall, but then again, we went before them, too! It's always a treat. Oh, and I have to mention
2022 HOLIDAYS THEWCPRESS.COM 13
14 THE WC PRESS VOICE OF THE BOROUGH
my favorite restaurant in West Chester: Dolce Zola. It's a family who moved here from Italy and realized that there were no from-scratch pasta places, so they first created I-Pasta. Now they've bought the place next door and expanded, and we love it. We always go when we're in the borough.
Have you heard about the recent Outfest kerfuffle here in West Chester?
I did! Karl sent me an article link, like "How depressing is this?" that it was canceled due to people writing in complaining about it. But then people stepped in and did it anyway, which they should!
As someone who is in this industry, you're always going to have people who disagree with you. Everyone has a voice and I welcome that and what they think or feel. But when you go to the level of—I don't want to say "attacking" because I don't know what the complaints were— it's wrong. When something is just try ing to be inclusive and welcoming of any lifestyle, that's a positive—that's being there for everyone in your community. Look, you're gonna get hate mail—I get hate mail every now and then myself. But it's always someone with no profile picture, or no return address. So, I ignore those and tell myself "That's just an unhappy person and I feel bad for them."
I'm really happy to hear that it went forward in some way. There are LGBTQ kids and even of my generation who are still struggling, and to hear something negative like this could cause them to hesitate to be who they are. These folks are just out there trying to live their lives and spread awareness. I commend those people [who made it happen], I really do.
And
finally: the parade!
I'm very excited that the parade is back! I'm excited to work with a new co-host [incoming Chamber President Christy Cosgrove] and to see what businesses are participating and just…all of it. This parade means a lot to me. I went when I was single. When I met Karl, I started bringing him. Now we bring our kids. So even though the 6ABC Thanksgiv ing Day Parade technically kicks off this season, honestly, the West Ches ter Christmas Parade signifies the start of my holiday season with my kids. It means so much.
2022 HOLIDAYS THEWCPRESS.COM 15
Design Dilemmas
Andrea Mason of Andrea Mason Design is a professional interior designer who wants to help you upgrade your space
We live in a world of fast furniture. Goods are purchased and replaced quickly, whether it be for poor qual ity reasons or a trend that came and went. It's better to buy quality pieces of furniture that are made to last, or to repurpose something classic and pass it down from generation to gen eration. Not only is this good for the environment, but I find that these items hold meaning to people and tell a story.
Here are a few of my favorite furniture pieces that will look good for years to come. Whether you refinish it, reupholster it, or keep the piece as is, its frame and style will never get old.
Chesterfield Sofa: This design has been around for hundreds of years. It has a beautiful tight back and button tufting covering the seat, back, and curved arms. Chesterfields remind you of an old study or library with its vintage detailing. Cover it in a rich leather, or you can modernize the look with a fabric or fun color. It's perfect for your formal living room or office and looks fantastic in homes both traditional and modern.
Canopy and Four-Poster Bed: This is such a fun statement piece in a bedroom. Canopies and four-poster beds have evolved over the years and now come in modern designs including fully upholstered headboards and posts. The frame is timeless, and despite what design rules say, they look amazing with low or high ceilings. I personally love the traditional detailing on the posts and canopies, and you can modernize the look with your linen choices.
Eames Lounge Chair: This iconic seating is from design ers Charles and Ray Eames for the Herman Miller company in 1956. Made of bent plywood with veneer shells, it's covered in a soft leather with button tufting on the chair and ottoman. It is mid-century modern but would look lovely paired with contem porary or traditional pieces. You can splurge for the original or there are beautifully made replicas that you can customize with fabric or leather.
Windsor Dining Chair: This chair has charming thin spindles and a high curved back for a comfortable sit. You can purchase them in a traditional wood finish or painted in a bold color. The Windsor chair lends a colonial farmhouse vibe but can be used in any setting. They are easy to wipe clean, and there is an opportu nity to add more pattern and color with a seat cushion.
Oriental Rug: I'm saving the best for last. Oriental rugs add pattern and color to your space. They have loads of character, and with proper care you will have your oriental rug for generations. They hold up well to spills and they look stunning in every kind of space from historic to modern. Do yourself a favor and buy a nice quality rug that you know will last through wear and tear. It will be worth the investment!
The next time you go shopping, think of visiting your local antique shop. This can be one of the best resources for those qual ity and timeless pieces you might be looking for. Happy shopping!
amason@thewcpress.com
2022 HOLIDAYS THEWCPRESS.COM 17
18 THE WC PRESS VOICE OF THE BOROUGH
INSPIRATION FOR SHOPPING
LOCALLY THIS HOLIDAY SEASON
by ERIK WEBER
photos
Artistic Eyewear 127 N High St 610.738.7150 artisticeyewear.com Sabine be. frames $495 F rench designer Sabine Be. is known for her bold styles, and these lim ited designs, fresh for this year, are a standout. Artistic Eyewear offers tons of unique styles, offering you the best options to "see and be seen." @artisticeyewear Bryn RunningMawr Co. 24 S High St 610.696.0115 brynmawrrunningco.com Roll Recovery r1 $130 L ooking for a sleek, lightweight, packable recovery tool? If sim ple foam rollers don't do the trick, know there's a budget-friendly, bat tery-powered option out there. @runningcowestchester
22 THE WC PRESS VOICE OF THE BOROUGH
More than 10,000 people already follow @tastewc. Do you? If not, find us on Facebook and Instagram for all the local Good Food News! 10.9k
Convert to Digital 323 E Gay St 610.696.8668 dischounds.com VHS to DIGital transfer $99 P reserve the past and make it easier to access in the process. Convert to Digital, a Disc Hounds company, will convert your analog recordings to digital and let you give the gift of great memories this season. @dischounds DARE Auto 301 S Bolmar St 610.696.7153 dareauto.com Full automotive detailing $350+ W e all know someone who wants (or needs) a cleaner car but just doesn't have the time to deal with it. Offer them a spotless, likenew ride this holiday season with a full detail from DARE. @dareautowc
24 THE WC PRESS VOICE OF THE BOROUGH
The 5 Senses 133 Market St 610.719.0170 the5senses.com The Glass Forge Wine Glasses $195/pair T hese glasses are handmade in Oregon by master craftsmen using traditional Italian art glass techniques to create a large variety of colors and patterns. Each glass is unique and comes paired with a matching piece. @the5senseswc Giunta's Furniture 513 E Gay St 484.887.8271 giuntasfurniture.com HomeTOwn Tea Towels $16 C ute, festive and customized, these West Chester Christmas tea towels come in five different designs and make a great hostess gift for anyone who loves this town as much as we do. @giuntasfurniturewestchester
Get every issue of this magazine in your mailbox, for free. We promise, there's no catch.
Just scan this QR code or visit thewcpress.com/subscribe
26 THE WC PRESS VOICE OF THE BOROUGH
Goshen Beverage 102 Turner Ln 610.436.6555 goshenbeverage.com Slyfox Blitz throwback lager $11 T his hard-nosed lager's historic recipe tells the tale of Pennsyl vania's brewing heritage. Celebrate the season and another Birds victory with these special edition four packs. @goshenbeverage1 H. Rose Boutique 148 W Gay St 484.887.0085 hrosekiddos.shopsettings.com Reindeer Baseball Hat $23 It's undeniably adorable and supremely functional, so you've gotta snag this option for the little Rudolph in your life; it'll keep them snug all season. Warning: may cause excessive cuteness. @h.rose.kiddos
28 THE WC PRESS VOICE OF THE BOROUGH
Kati Mac Floral Designs 36 S High St 610.431.9414 katimacfloraldesigns.com Holiday gift set $80 F lowers and candles are always a good choice when you're not quite certain what to buy. Put them together and it's impossible to go wrong with this arrangement and West Chester candle set. @katimacfloraldesigns La Difference Salon & Spa 830 Paoli Pike 610.429.1808 ladifferencesalon.com Holiday glow facial $145 P amper yourself to prepare for the company Christmas party, or treat someone you love with the gift of glow ing skin. Either way, La Difference is the perfect option for the lucky woman (or man) who wants to practice a little self care in this hectic season. @ldsalonspa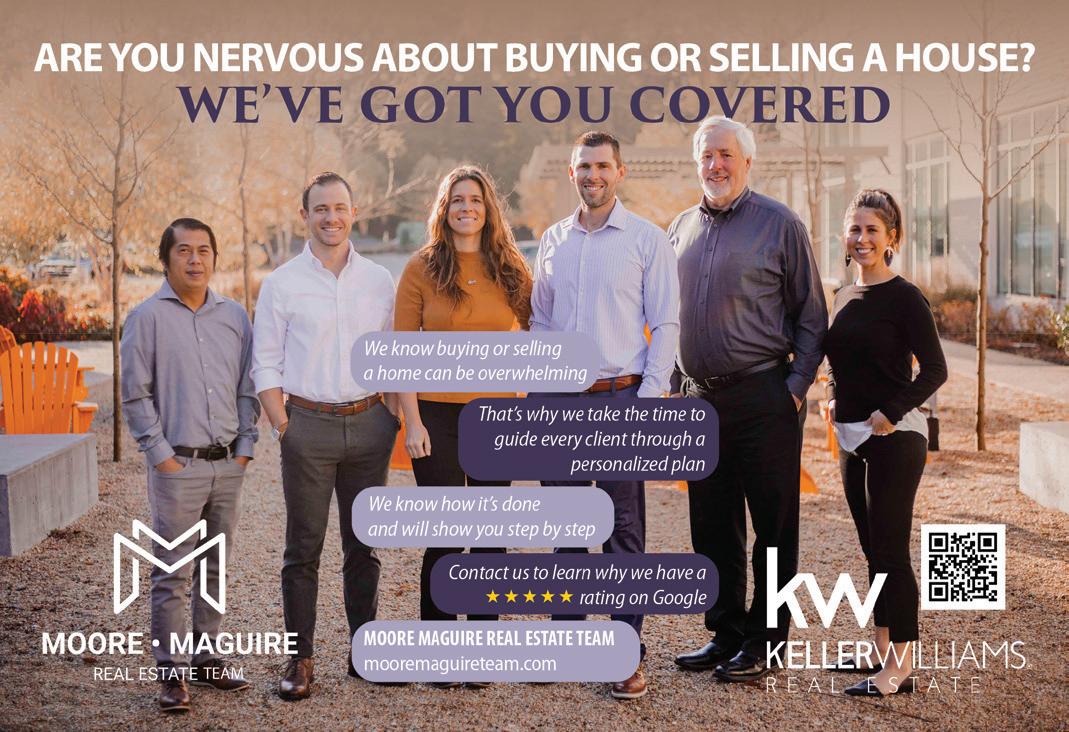 30 THE WC PRESS VOICE OF THE BOROUGH
The Painted Plate 104 Market St 610.738.0603 paintedplatepottery.com Paint-Your-Own Ornament $9+ I f there's anyone in your life you'd like an excuse to spend some qual ity time with this season, there is no better option than bringing them to The Painted Plate. You get to indulge in art together and both leave with a momento of the time shared. @paintedplatewc Phineas Gage 29 S High St 484.266.7344 phineas-gage.com Johnnie -o Shirt jacket Hoodie $148 F ashion and function blend per fectly in this soft, warm hybrid jacket, bringing you the best of a shirt, jacket and hoodie all in one. It's the perfect layer for allllll winter long. @phineas_gage_wc
32 THE WC PRESS VOICE OF THE BOROUGH
Pine + Quill 23 N Walnut St 302.383.9759 pineandquillshop.com Holiday Jigsaw Puzzles $15+ T hese festive foil puzzles come alive with the twinkle of lights. They make a great host gift to fill time over the holidays, or to bring the fam ily together around the fire. @pineandquillshop The Prana House 104 S High St 610.436.1407 thepranahouse.com Cystal Visions Bath Soak $35 R elax, knowing that sometimes, the best thing to do is to take a break and allow the universe to work for you! Made with lavender to ease tension, uplifting rose, and infused with opal aura quartz. @pranahousewc
34 THE WC PRESS VOICE OF THE BOROUGH
Studio Zio 525 E Gay St #7 610.322.771 studiozio.com St. Tropez Self Tanner $42 S tudio Zio is the best place to get that bronzed look without risking cancer, and they've recently been named the best tanning in Chester County. Treat yourself to that justback-from-the-Bahamas glow with out the flight! @studio_zio A Taste of Olive 26 S High St 610.429.0292 atasteofolive.com Oil & Vinger Sampler Sets $31+ O il and water may not mix, but oil and vinger sure do! Select from a variety of sampler packs featuring classic and infused oils, plus aromtic vinegars. This is a gift that's always in good taste! @atasteofolive
UnityStudioSkin 525 E Gay St #5 484.558.1173 unityskinstudio.com Face Reality Ultra Gentle Cleanser $28 K eep your skin soft and glowing with the skincare line all the pro fessionals are raving about. Stop the stress of the season from showing on your face with Unity Skin Studio. @unityskinstudio Vida Beale Consignment 29 S Church St 484.473.8219 vidabeale.com Frye Boots $190 V ida Beale is an awesome addi tion to town, offering high-qual ity, lightly-used items for the fashion forward. They've got everything from clothes, shoes and accessories to furniture and home décor. Stop in to find inspiration! @vidabealeconsignment
ure, they seem like an obvious host gift, but we promise nobody would be disappointed to unwrap a one-pound box of Yori's glorious baked goods on Christmas morning. This mix pack of festive cookies is sure to have something for everyone.
Visual Expansion Gallery 132 N High St 610.436.8697 visualexpansiongallery.com West Chester ornaments $20 T hese ornaments are perfect for anyone who reads this maga zine; they must love WC! Designed by local artists, they're printed on marble and include a gift box. @visual_expansion_gallery Yori's Bakery 15 N Church St 610.344.9674 yorisbakery.com Holiday cookie box $19 S
@yorisbakerywc
40 THE WC PRESS
Market Forecast
Resident astrologer Kate Chadwick provides your planetary predictions with a particularly local twist
Aries (3/21-4/19): It's all good in the hood, ram friends—mostly. Smooth sailing with relationships, job, family. Keep an eye on your health. Your propensity for running here, there, and everywhere adds up. At least get to Bryn Mawr Running for some proper kicks.
Taurus (4/20-5/20): You work because you must, bulls; we all know you'd prefer lying around your abode. But with year-end reviews and promotions afoot, keep your eyes on the prize. Then you can treat yourself at Pine + Quill to that special something for your lair.
Gemini (5/21-6/20) Your life will be surprisingly calm this Decem ber, twin stars, but issues loom. One might be boredom—a fatal condition. If you've got a side hustle, up your game. Book a skin refresh at Unity Skin Studio, and you'll be ready for anything.
Cancer (6/21-7/22) You're such sensitive souls, dear crabs, and as much as you love family and friends, the bustle of the holiday sea son takes a toll on your delicate constitution, mentally and physi cally. Book a massage at Avante.
Leo (7/23-8/22) The teeth emoji: that's your December forecast, kitty-cats. Your constant socializing is straining your one-on-one relationships. Make some à deux reservations so important peo ple don't feel like part of an entourage. Spence Café works.
Virgo (8/23-9/22) The stars are asking you to widen your social circle, maidens. You run a tight ship, life-wise, so putting yourself out there doesn't always come naturally. But that Christmas party your cousin's friend is having at Bierhaul? Go.
Libra (9/23-10/22) Things are going well for you from both career and financial standpoints, lovelies. There may even be a fat yearend bonus in your near future. Why not call Whirlaway and book a trip with it? Sometimes experiences > possessions.
Scorpio (10/23-11/22) Scorpio season is over—or is it? You're rolling right along like the badass you are. Even recent career hiccups should straighten out. Is it… time to buy a house? Contact the Moore Maguire Team and find out.
Sagittarius (11/23-12/21) You have such fun energy, archers— always the life of the party. This month, however, there's family friction and you may be the…peacekeeper. Show up with a tray from America's Pie or Yori's Bakery. Mission accomplished.
Capricorn (12/22-1/19) You're the hardest worker, goats, and there fore able to be generous gift-givers. Keep in mind that some of your loved ones are 5 Senses people, and some would appreciate a tune-up at DARE Automotive. Don't mix them up.
Aquarius (1/20-2/18) See and be seen is what the stars say in December, water bearers. Did you know Pietro's has one of the best happy hours in town? A little bite, a little beverage, and a chic but not overwhelming scene. Tis the season.
Pisces (2/19-3/20) You shine at the holidays, sweet fishes, but "don't overdo it" is your mantra. Your peeps love your home made…everything. But hosting them with a cheese tray and cook ies from Carlino's won't kill you. Promise.
–kchadwick@thewcpress.com
2022 HOLIDAYS THEWCPRESS.COM 41
42 THE WC PRESS VOICE OF THE BOROUGH
Celebrating the good work of DVCCC story by danielle davies
44 THE WC PRESS VOICE OF THE BOROUGH
During the holidays, it's easy to get caught up in the immediacy and obligations of our own lives, from selecting the perfect gifts to locating a justright Christmas tree. While participating in the hubbub is completely understandable, truly appreciating a holiday season means, at least on some level, thinking of others.
At the Domestic Violence Center of Chester County (DVCCC), thinking about others is all they do. Their mission, as stated on their website, is "to reduce, remedy, and prevent domestic violence in Chester County." In their 45-year history, they have served over 40,000 victims of domestic abuse. "We serve the whole county, from Oxford to Phoenixville," says Amelia Rayburn-Pizzica, Director of Edu cation Programs at DVCCC.
With such an expansive area of cov erage, the DVCCC has several satellite offices to better accommodate those in need of their services. In addition to their administrative offices and emergency and bridge housing units, which are in an undisclosed location within West Chester borough, there are offices in Coatesville, Oxford, Phoenixville, and Kennett Square.
"As the only domestic violence center in the county, our goal is to be accessible, and not everyone can get to the main cen ter," says Dr. Dolly Wideman-Scott, Ed.D., who has been the Chief Executive Officer of DVCCC for 27 years. "These outreach centers are really offices where individuals who live in the area can get counseling and legal advocacy services. Also, for about four years, we have loaned space in the family court office in the Justice Center, where we have advocates and staff attor neys right in the building, so people can get assistance from us immediately."
How does DVCCC Provide Assistance?
"DVCCC's impact in Chester County is immeasurable. The Center provides life-saving support for anyone that needs it at any time, day or night," says Monica Slovik, President, DVCCC Board of Direc tors. "There are services to support survi vors through each stage of recovery and rebuilding, for as long as it takes."
The organization uses a multi-pronged approach in response to domestic vio lence, working across the relationship continuum from prevention and education
to emergency resources, legal services, counseling, and housing. The result isn't just to eradicate violence and assist survi vors to leave dangerous situations, but to empower their clients.
"DVCCC empowers survivors, not just through housing, counseling, and legal ser vices, but as a strong voice in our commu nity breaking the silence around this socie tal concern," says Laura Dushkewich, Vice President DVCCC Board of Directors.
Perhaps the first step in treating this societal issue is the prevention of violence via the education department of DVCCC. While the center did educational pro gramming for many years, a full education department, which provides programs, workshops, and presentations to middle schools, high schools, and colleges in the county, was created in 2018.
"(As a kid) you don't think of domestic violence as something that happens to
2022 HOLIDAYS THEWCPRESS.COM 45
West Chester Mayor Lillian DeBaptiste, Chief Morehead of WCPD, and DVCCC CEO, Dr. Dolly WidemanScott at West Chester Light The Night for Hope & Healing
46 THE WC PRESS VOICE OF THE BOROUGH Join the community that champions you and empowers you every step of the way.
YOU NEED TO SUCCEED
Vice
Leader 1234
|
| O:
| M:
the extraordinary with a full-service, full-support network that rallies around your vision and fuels your momentum so you can accomplish your goals, your way. A member of the franchise system of BHH Affiliates, LLC
ARE MADE LEGENDS
EVERYTHING
Annette Fenning,
President/Sales
West Chester Pike
West Chester, PA 19382
610-431-1100
610-329-3755 Achieve
WHERE
teens, only couples," says Rayburn-Piz zica. "But there's a lot of range. It can be part of any intimate or family relationship. Last year, I spoke with over 2200 students. We talk about how relationships fall on a spectrum and the red flags of abusive rela tionships like subtle gaslighting, digs, and jealousy."
Whether it's through programs like Coaching Girls Beyond the Game, Coach ing Boys into Men, One Love Foundation Programs, or Little Red Human Traffick ing Prevention Workshop, the goal of the department is understanding and preven tion. "We outline the cycle of abuse," says Rayburn-Pizzica. "I encourage them to rec ognize abuse, but our focus is on what a healthy relationship looks like."
While Rayburn-Pizzica and her team work to prevent the patterns and cycles of abuse, other departments of DVCCC provide services to individuals and fam ilies working to extract themselves from abusive situations. "We have our 24-hour hotline available for survivors—it's really a lifeline," says Wideman-Scott. "It's always answered by a live person, not a machine. It's critical and vital."
That hotline is often the first contact a survivor may have with the DVCCC. An anonymous resource that's available to
victims of abuse as well as those experi encing vicarious trauma—mothers, broth ers, and friends of those experiencing abuse—the hotline is profoundly useful.
"It's such a great resource. I encour age everyone, when in doubt, to call the hotline. Even if you just need to call and vent, share, and talk to someone who gets it," says Rayburn-Pizzica. "You can anony mously vent. When you want to move on with services, you'll have to share identi fying information, but initially you can just call and share and learn."
Additionally, the center works with the LAP (Lethality Assessment Program), an evidence-based program developed by the Maryland Network. The DVCCC trains local police on utilizing the LAP 11-question questionnaire, which is given to victims of domestic violence to assess their threat level. From there, victims can be connected to the DVCCC.
"It tells the officer if that person is at an increased risk for homicide, and if they are high danger, they get bumped to the top of the list for shelter and legal services," says Rayburn-Pizzica. "We started the program in 2012 and have been measuring the data ever since. How many LAP calls were there? Second number, how many were high danger? Of those, how many
high-danger callers become clients? The goal is that 100% of those high-danger calls become clients. This year, 86% of those high-danger calls became clients. We started using LAP in 2018 and back then, it was 42%. The program works."
Once connected to DVCCC, survivors are eligible for up to 30 days of emergency shelter and up to 18 months of bridge hous ing. Both offer supportive, communal living facilities as well as case management and referrals, counseling and support groups, life skills workshops, and access to other DVCCC services. From there, 17 inde pendent units of housing are available for survivors—13 three-bedroom townhomes, and four one-bedroom apartments. "It's a program that helps individuals become more self-reliant and self-sufficient and work on their identified goals," says Wide man-Scott.
And while housing is a top priority, once connected with DVCCC, survivors have access to free group and adult counsel ing, specializing in crisis intervention and safety planning, building coping skills,
2022 HOLIDAYS THEWCPRESS.COM 47
Bayard Rustin Girls Softball participated in DVCCC's Coaching Girls Beyond the Game violence prevention program
48 THE WC PRESS VOICE OF THE BOROUGH Limoncello West Chester ~ 9 N Walnut Street, West Chester, PA 19380 ~ 610.436.6230 Limoncello Chester Springs ~ 499 E Uwchlan Ave., Chester Springs, PA 19425 ~ 610.524.3112 On & Off Premises Holiday Catering Available LimoncelloRestaurant.com/giftcards RISTORANTEFAMILYSTYLETAKEOUTCATERING
identifying and managing emotions and more—both for adults and their children.
"Both emergency and bridge housing can house up to 25 individuals each, so that's a total of 50 people that we can provide emergency shelter and bridge housing for on any given day," says Wideman-Scott. "That really translates to about seven to 10 families total, but the majority of the popu lation is children."
In addition to counseling services for children, DVCCC provides multiple groups including arts and crafts, music therapy and exploration, healthy recipe cooking activities, certified yoga instruction, visits from therapy animals, and more, as well as some old-fashioned fun. "We have game nights, movie nights, homework help," says Rayburn-Pizzica. "Things that help make living in a shelter less of a scary thing."
Finally, DVCCC has three attorneys and several trained legal staff available to pro vide counseling, legal advocacy, represen tation in Protection from Abuse hearings, outreach to district courts, and accompa niment to court hearings. "Our team of legal advocates will help you understand every step of what to expect," says Ray
burn-Pizzica. "They can literally sit with you and hold your hand in court."
Helping this Holiday Season
With so many ways of helping survi vors and multiple locations under their umbrella, the DVCCC Is always open to volunteers. There are two types: direct service volunteers work closely with survivors and their families, whether it's helping kids with homework or accompa nying clients to court. They must receive volunteer training and attain criminal, FBI, and child abuse clearances. The other are project volunteers, who may help with things like landscaping, property repairs, or assisting with special events.
"For direct service volunteers, we require that they do at least four hours per month," says Wideman-Scott. "For project volunteers, it's really one and done. With some activities, such as orga nizing the food donation room, it can be ongoing. If someone wanted to commit two hours a week and make sure things are organized, that would be something they could commit to on an ongoing basis."
Too busy to volunteer your hours this holiday season? Donate with your wallet instead. In addition to opportunities like the holiday Adopt-a-Family Program, where community members fulfill the wish lists of specific families, the DVCCC has a wish list with items that can be used in emergency and bridge housing. From sheet sets, towels, and hairbrushes to copy paper and grocery gift cards, the DVCCC wishlist, as well as a donation link, are available at DVCCPA.org.
If you or a loved one is experiencing an abusive situation, call the DVCCC 24-hour, free hotline at 888-711-6270 or 610-4311430. If you are in immediate danger, dial 911. If you are in immediate danger and cannot call, TEXT 911 if you are in Chester County.
*Please be aware that computers can be monitored and that the DVCCC website will show up in browser history.
2022 HOLIDAYS THEWCPRESS.COM 49
DVCCC Board Members join Vice Chair, Lara Dushkewich, as she celebrates winning the 2020 Governor's Victim Service Pathfinder award
Becca Boyd shares tips on life and cooking on her blog at homebeccanomics.com
Beccanomics Home
As a foodie I feel like I have more reasons to love the holidays than most, since nostalgia is strongly tied to food. As a mom, I won der: is this recipe the one my son will beg for when he comes home from college on winter break? You'll never know until you try, but I have a feeling this will be delicious and memorable. –bboyd@thewcpress.com
• 2 bunches broccoli rabe, trimmed *
• 7 Tbsp. olive oil, divided, plus more for serving
• 1 tsp. kosher salt, divided
• 2 (15 oz.) cans cannellini beans, drained, rinsed, patted dry
• 3 garlic cloves, minced or pressed
• 1/4 c. minced red onion
• 1/4 c. finely chopped flat leaf fresh parsley
• 1/4 -1/2 tsp. crushed red pepper flakes
• 4, 2 oz. mini burrata (or one 8 oz.)
• 1/3 c. grated pecorino Romano or parmigiano Reggiano
• 1/4 tsp. black pepper
• 1/2 a lemon, cut into wedges
*If broccolini is easier to find, that will work. Skip the blanch and proceed with pan frying.
1. Place a large pot filled halfway with water over high heat. Once boiling, add broccoli rabe. Let cook about two minutes or until bright green.
2. Remove with slotted spoon to large bowl filled with ice and water. Once cooled, lay out on a clean dish towel, and press dry.
3. Once dry, place in a large bowl and drizzle with three table spoons of the olive oil. Toss to coat.
4. Heat a large nonstick skillet over medium high heat for sev eral minutes. Add half the rabe and let cook till golden brown, about three minutes. Turn and cook on second side. Sprinkle with 1/4 tsp. salt. Remove to large mixing bowl.
5. Repeat with second half of broccoli rabe and salt.
6. In the empty skillet, place 2 tbsp. of olive oil. Add half of beans along with garlic and onions and cook, stirring occa sionally, until beans are turning golden brown and crisp. Add to bowl with rabe and repeat with remaining beans and another 2 tbsp. olive oil (without garlic or onions).
7. Add parsley and crushed red pepper to bowl and toss to combine. Arrange on serving platter and nestle in burrata. Sprinkle with pecorino Romano and black pepper. Drizzle with olive oil and arrange lemons around edge. Serve.
2022 HOLIDAYS THEWCPRESS.COM 51
Broccoli Rabe with Crispy White Beans and Burrata serves 4
52 THE WC PRESS VOICE OF THE BOROUGH S h o p N e a r , S h o p N e a r , R u n F a r ! R u n F a r ! B R Y N M A W R R U N N I N G C O . W E S T C H E S T E R 2 4 S H I G H S T R E E T , W E S T C H E S T E R , P A 1 9 3 8 2 ( 6 1 0 ) 6 9 6 0 1 1 5 | B R Y N M A W R R U N N I N G C O C O M O P E N 7 D A Y S / W E E K M O N D A Y T U E S D A Y : 1 0 5 W E D N E S D A Y T H U R S D A Y : 1 0 7 F R I D A Y S A T U R D A Y : 1 0 5 S U N D A Y : 1 2 4
If you can spot the five differences hidden within this Christmas Tree, email your answers to contests@thewcpress.com and you've got a chance to win a Saloon 151 Gift Card.
2022 HOLIDAYS THEWCPRESS.COM 53
Holiday Hits List
DJ Romeo curates a list of the tracks you'll be singing all season long
Looking for a fun, new holiday play list? These 30 songs are just the start of the festive playlist full of new tunes curated by DJ Romeo and available for you to stream free on Spotify when you visit: www.thewcpress.com/playlist @DJRomeo24 | www.DJRomeo.fm
LAST CHRISTMAS - BACKSTREET BOYS
It's The Most Wonderful Of The Year - Thomas Rhett
Jingle Bell Rock - Kalani Pe'a Feliz Navidad - Frank Ray
Joy To The World - Lindsey Stirling What Christmas Means to Me - Joss Stone
A Smoky Mountain Christmas - Dolly Parton
Please Come Home for Christmas - Jamie O'Neal, Rodney Good Have Yourself a Merry Little Christmas - Norah Jones This Christmas - Apollo LTD You're a Mean One, Mr. Grinch - Canaan Cox December Back 2 June - Alicia Keys
Christmas With You - Trinidad Cardona
Everybody Knows It's Christmas - Chris Isaak It's Beginning To Look A Lot Like ChristmasCeltic Thunder, Neil Byrne
Mistletoe - Rosie Darling Christmas Karaoke - American Authors
Carol Of The Bells - Crowder, Tommee Profitt Star On Top - Pentatonix
Winter Wonderland - Backstreet Boys Christmas, Christmas - Joyce Cooling, Peter Michael Escovedo
Jingle Those Bells - Debbie Gibson
Bringin' Back Christmas - Ryan Reynolds, The Spirited Ensemble What Child Is This - Jessy J
Boogie Woogie Santa Claus - Million Dollar Quartet Christmas New Baby for Christmas - Hailey Whitters
Kid On Christmas - Pentatonix ft. Meghan Trainor
Silent Night Redux - Kristin Amarie, David Lanz, David Arkenstone Viva La Navidad - Jose Feliciano
Merry Merry - Elizabeth Chan
2022 HOLIDAYS THEWCPRESS.COM 55