OPENI N
G
DOORS 7 KEYS TO SUCCESS
The University of Scranton
Our tradition of opening doors for each other is a custom — and a courtesy — you'll often observe across our campus. "Opening doors" speaks to our close community, but — even more — it is a reminder of the immense opportunities and bright futures that await all who come here.
99 % of the Class of 2021 were employed, continuing their education or engaged in service within one year of graduating.
Open the Door to a Bright Future
Inspired by our Catholic and Jesuit mission, this is a rigorous, in-depth education designed for personal and professional success.
We offer our students a practical, purposeful education that supports their career aspirations and helps them recognize their unique gifts.
Regardless of the path you choose, there are fundamental skills and attributes that leading employers, graduate and professional schools want — and that The University of Scranton provides.
Here, you'll acquire relevant knowledge and professional skills, enhanced by a sense of purpose and meaning — the keys to success that will open doors for a lifetime.
• A C ATHOLIC& J E S UITUNIVERS I T Y • FOUNDE D IN 1888 Opening Doors: Keys to Success 1
Cover photo taken by Christine Cicoria '18 at 2018 graduation.
Pope Francis is the first Jesuit to lead the Roman Catholic Church.
1 of 27
Founded in 1888, Scranton is one of 27 Jesuit universities in the U.S. with a combined network of more than 2.5 million alumni.
Discover Your Purpose. Unlock Your Passion.
An education should inform, but it should also enlighten. By first seeking your purpose — asking yourself, who am I and how can I make a difference? — you'll align your goals with your deepest values and develop a passion and energy with which to pursue them. Finding your purpose — becoming the person you truly are, doing what you were meant to do — it makes for a successful career. It makes for a fulfilled life.
A DEEPE R, MORE MEANINGFUL EDUCATI ON
At The University of Scranton, we will help you to discover meaning and direction, shaping not only your career, but very importantly, the person you will become. Here, in a uniquely encouraging community, you'll explore and discover your purpose and potential. You'll unearth a clear vision for your life. Emboldened by a strong purpose, inspired to make a difference, you'll set out into the world as your best self.
ASPIRE TO YOUR BEST
Our Catholic and Jesuit tradition makes possible a deeper, more transformative college experience. It is an education based on respect for the individual. It is a pursuit of excellence grounded in gratitude. It is a learning experience of rigor and values — an education of the mind, but also of the heart. A Scranton education is an exciting journey of discovery, as you learn who you are, why you are here and how you can use your unique gifts to make a difference in the world.
PURPOSE 1No. KEYS TO S UCCESS 2 admissions.scranton.edu
Scranton ranks among the top 25 Catholic colleges in the nation according to multiple sources.
SHARED VALUES
"
From the very first semester, we talked about how we could become the best people that we could be. The Jesuit values and ideals prepare you to enter the world to make a difference and effect change.
"
"
My liberal arts classes enabled me to reflect on what I was interested in, what I truly enjoyed and what I wanted to do. We talked about making a meaningful life and being proud of what you're producing in your career and your life.
"
B.S. Biology, B.A. Philosophy
The University of Scranton M.S. Marine Sciences
University of New England
Laura Romanovich '18
IN
THEIR WORDS
Opening Doors: Keys to Success 3
Nathan Koziol '20 Accelerated B.S./ MBA–Operations Management The University of Scranton
Magis
A Scranton education reflects the Jesuit concept of the magis a restless pursuit of excellence grounded in gratitude.
Cura Personalis
A hallmark of our Jesuit education is our core value of cura personalis a respect for the uniqueness of each individual.
More than Success : Ethical Success
Ethics are about making the right choices. They are the hallmark of character — essential for success in one's career and life. Today's employers want college graduates who have the courage to act in honest, trustworthy and responsible ways, which includes making difficult choices and judgments. Integrity is a fundamental imperative — both in the education of today's graduates and during the course and conduct of their professional career.
DEVELOPING PRINCIPLED LEADERS
A strong, moral character is integral to a Scranton education. Whatever your area of study, a Jesuit education will challenge you — intellectually, spiritually and morally — to help you to grow into a capable, honorable leader. Integrity, humility, tolerance and empathy — these are central to our CatholicJesuit tradition and to the personal and professional preparation of every Scranton student.
ETHICS 2No. KEYS TO S UCCESS 4 admissions.scranton.edu
Agents of Change
Our Jesuit tradition teaches students to be active agents of change through responsible action on moral and ethical issues.
David Dzurec, Ph.D. Interim Dean, College of Arts & Sciences
" The philosophy and theology courses within our core curriculum give you the tools to be an ethical person through the process of understanding and articulating who you are and why you believe what you believe.
"
THE BEST YOU
Amanda Sonzogni '15 B.S. Marketing & Entrepreneurship Implementation Manager Corporate Jet Support Moonachie, NJ
IN THEIR
Opening Doors: Keys to Success 5
" A Scranton education emphasizes that you should be the best person you can be. The principles instilled there have helped me to make confident, ethical decisions in my career. "
WORDS
The Princeton Review has included Scranton among its "Best Colleges" for the past 21 years.
$295 M+
The University has recently invested more than $295 million in new construction and campus renovations.
Knowledge is Power. We are the Source.
In an information-driven world, knowledge is key. Employers are looking for graduates who bring a wider set of skills and higher levels of learning than ever before. The most valued employees bring both broad and industry-specific expertise, and even more, the desire and ability to continue learning, to keep pace in today's ever-evolving workplace. The greater your proficiency, the greater your opportunities will be. In an information age, knowledge is relevant, it is valuable — it is power.
A STUDY IN EXCELLENCE
At The University of Scranton, our rigorous, in-depth education provides the field-specific knowledge and competencies
needed for professional success. Our programs are taught in small classes, led by faculty who are experts in their fields. Experiential opportunities enable students to apply their learning in real-world environments. Taught with excellence and meaning in the Jesuit tradition, this is an education that will provide the insights, skills and experience to make your mark in your career, and a difference in the world.
(FUL)BRIGHT STUDENTS
In recent years, The Chronicle of Higher Education has listed The University of Scranton among the "top producers" of Fulbright awards. Since 1972, 127 of our graduates have earned a Fulbright.
The 2019 mock trial team competed in the opening round of the American Mock Trial Association's national tournament.
KNOWLEDGE 3No.
KEYS TO S UCCESS
6 admissions.scranton.edu
MENTORING SUCCESS
IN THEIR WORDS
Connections between faculty and students are a hallmark of a Scranton education. These close relationships are formed both inside and outside the classroom and help shape a more personalized, more engaged, more transformative education.
Hope
E. Baylow,
D.A., CCC-SLP, BCS-S Assistant Professor Health and Human Performance Department
"
We pride ourselves on providing small class sizes to deliver a personal and studentcentered learning environment, while providing a wellbalanced, liberal arts, Jesuit and Catholic education. "
Scran ton has ranked among the To p 10 master's universities in the North for 29 consecutive years.
Opening Doors: Keys to Success 7
Source: U.S. News & World Report's "Best Colleges"
With a 12:1 student-to-faculty ratio, Scranton faculty are able to invest more personally and more fully in your success.
8 admissions.scranton.edu
88 %
of full-time instructional faculty members hold doctoral or other terminal degrees.
60+
More than 60 faculty members are also University alumni. globe
Faculty members hold degrees from 289 universities in 25 countries on five continents.
A Faculty Invested In You
As a result of smaller class sizes, Scranton faculty are able to invest more personally and more fully in your success. Working closely together, faculty get to know you not just as a learner, but as a whole individual. They are able to take the time, in the classroom and through mentoring, to help you find your way and develop your unique interests and abilities. They're able to explore the deeper questions of meaning, value and purpose with you. These close interactions make possible genuine relationships. They make possible great success.
EXPERIENCED, CARING MENTORS
Mentors can have a tremendous impact on your education and your career. Knowledgeable and highly experienced, they can offer meaningful insights to help
you see opportunities and obstacles from a different — and real-world — perspective. Scranton faculty will work closely with you to provide valuable guidance and support for your path ahead. Bringing years of relevant experience, their hindsight becomes your foresight.
COMMITTED
IN EVERY WAY
Our faculty's involvement with students extends far beyond the classroom. Faculty attend student plays, games and concerts. They lead study and service trips. They serve as club and team advisors. They help carry boxes for students on Move-In Day! Scranton faculty invest in the lives of their students. And, if you come here, they will invest in you.
KEYS TO SUCCESS #3: KNOWLEDGE
Opening Doors: Keys to Success 9
briefcase
Learn by Doing
Scranton students find abundant opportunities to apply their classroom learning in the real world. We encourage all students to gain experience and make connections through internships. Many of our students participate in high-level research. Our students are engaged in fieldwork, clinical opportunities and student teaching. And they regularly collaborate on professional projects within the local community and beyond.
REAL-WORLD INTERNSHIPS
Internships enable students to integrate knowledge and theory from the classroom with practical application in a professional work setting. Students gain an in-depth understanding and valuable experience within their field, while developing a strong network of professional contacts. Our Center for Career Development helps guide you through each step of the internship process.
HIGH-LEVEL RESEARCH
Working alongside accomplished professors, students can broaden and deepen their educational experience with handson research. Our highly regarded Faculty/ Student Research Program and Summer Research Fellowships offer powerful learning experiences in which students can conduct research, develop research skills and apply knowledge gained in coursework.
COMMUNITY-BASED LEARNING
In keeping with our Jesuit and Catholic mission, Community-Based Learning is an academic experience that integrates service into courses and academic programs. Students work with individuals, groups or organizations within the community, using theory and lessons learned in the classroom to solve real-life problems.
Everywhere, Opportunity
10 admissions.scranton.edu
The classes of 2020 and 2021 completed internships at 804 organizations in 28 states. KEYS TO SUCCESS #3: KNOWLEDGE
Thanks to our close proximity to New York City, Philadelphia and Washington, D.C., and our global network of more than 51,000 alumni, Scranton students have unique access to professional learning experiences with many of the world's leading companies and organizations. The opportunities to get involved are many. The Classes of 2020 and 2021 completed both in-person and remote internships at 804 organizations in 28 different states, plus the District of Columbia, China, the Dominican Republic, England, Germany, Ireland, Palau, Panama, Peru and Vietnam.
• Aetna • American Lung Association • Apple • Bank of America • Children's Hospital of Philadelphia • Children's Specialized Hospital • C-SPAN • Deloitte • EY • Facebook • Google • Havas Media • House of Representatives • Johns Hopkins Center for Talented Youth • KPMG • Live Nation • Lockheed Martin • Massachusetts Institute of Technology • Medstar Georgetown University Hospital • Memorial Sloan Kettering Cancer Center • National Institutes of Health • New Jersey State Police Office of Forensic Sciences • New York State Supreme Court • Oracle • Pfizer • PwC • U.S. Securities and Exchange Commission • Speedway Motorsports • United States District Court • Wilkes-Barre/ Scranton Penguins Practical Experience Some of the companies where Scranton students have participated in internships: Opening Doors: Keys to Success 11
Choose Your Passion Whatever your interest, whatever your passion, you can pursue it at The University of Scranton. Here, students can choose from 69 majors and 49 minors, as many of our majors may also be taken as minors. MAJORS Accounting Advertising/Public Relations Applied Computing Biochemistry Biochemistry, Cell & Molecular Biology Biology Biophysics Business Administration Business Analytics Business Communication Chemistry Chemistry/Business Communication Communication Sciences & Disorders (3- or 4-year) Computer Engineering Computer Science Counseling & Human Services Criminal Justice Cybercrime & Homeland Security Economics (Business) Economics (Social Science) Education • Early & Primary Teacher Education • Middle Level Teacher Education • Secondary Education Electrical Engineering Engineering Management English Entrepreneurship Environmental Science Finance Forensic Chemistry Health Administration Health Promotion History Human Resources Studies Information Technology International Business International Language/Business International Studies Journalism & Electronic Media Kinesiology KEYS TO SUCCESS #3: KNOWLEDGE NO. 5 REGIONAL UNIVERSITY IN THE NORTH "BEST COLLEGES" LIST FOR 21 YEARS 69 Minors Majors 49 AVERAGE GPA 3.58 " The faculty bring so much experience and passion to the classroom. It's just amazing how much they know."
12 admissions.scranton.edu
-Jalen Holmes '21, History
" The courses challenge you to think outside the box and really push you beyond your boundaries."
-Eryn Boken '22, Kinesiology
Languages & Cultures
• French & Francophone Cultural Studies
• German Cultural Studies
• Greek Studies
• Italian
• Latin Studies
• Spanish Studies
Latin American & Latinx Studies Management Marketing
Mathematical Sciences Mathematics Mechanical Engineering Military Science Neuroscience
Nursing
Occupational Therapy
DIRECT ENTRY ACCELERATED GRADUATE PROGRAMS
Master of Accountancy (4- or 5-year)
BS/MBA in Accounting
BS/MBA in Finance
BS/MBA in Marketing
BS/MBA in Operations Management
BS or BA/MBA in many majors
BS/MS in Special Education (5-year)*
Cybercrime Investigation & Cybersecurity (MS)
Health Administration
Human Resources Management
admissions.scranton.edu/academics
Operations Management Philosophy
Physical Therapy (DPT) Physics
Physiology
Political Science Pre-Engineering Psychology
Public Policy & Service Social Media Strategies
Sociology
Speech-Language Pathology (MS)
Theatre
Theology/Religious Studies Women's & Gender Studies
Honors Programs
FRANK P. CORCIONE
BUSINESS HONORS PROGRAM
In this selective program, highly motivated students will complete special honors business core courses, a senior business honors project and engage in collaborative learning and team building activities.
MAGIS HONORS PROGRAM IN STEM
The Magis Honors Program in STEM provides students with a more intense, interdisciplinary experience of research in STEM fields — including seminar courses, individual research projects and culminating in a senior thesis project.
ROBERT L. MCKEAGE BUSINESS LEADERSHIP HONORS PROGRAM
This program helps distinguished students develop the talents and skills to become the leaders of tomorrow as they engage in special seminars, courses and professional mentoring.
SPECIAL JESUIT LIBERAL ARTS HONORS PROGRAM
PRE-PROFESSIONAL
Dentistry Law Medicine
Optometry Pharmacy
Physician Assistant Podiatry
Veterinary Medicine
The SJLA Honors Program provides an alternate way of fulfilling general education credits through specially designed courses taught in a community atmosphere that encourages excellence and service to others.
UNIVERSITY HONORS PROGRAM
The University Honors Program challenges outstanding students with a rigorous education that stresses independent work and intense engagement with faculty and other Honors students both in and out of the classroom.
*For Early and Primary Teacher Education and Secondary Education/English undergraduate majors only.
Opening Doors: Keys to Success 13
80 %
of employers think that every student should acquire broad knowledge in the liberal arts.
The One Constant: Change
The world is constantly changing and evolving. Employers need well-rounded employees who can learn and grow as changes come. At The University of Scranton, our Catholic and Jesuit commitment to a liberal arts education will help you develop much-needed flexibility and adaptability, as you acquire essential critical thinking, problem solving and communication skills. As change comes — and it will — you'll have the ability, confidence and willingness to grow and change with it.
THE LIBERAL ARTS: DISCOVER YOUR PASSION
A liberal arts education will not only prepare you for a changing future, but it will also help send you off in the right direction. Characterized by its breadth and depth, it exposes you to a wide array of disciplines — from the natural sciences and social sciences to the humanities and communication. With the opportunity to sample a variety of subjects, you'll discover unknown interests and strengths. You'll chart a clear direction for your college study, and you'll pursue it with a passion.
ADAPTABILITY 4No. KEYS TO S UCCESS 14 admissions.scranton.edu
A Scranton liberal arts education gives you a broad range of knowledge and experiences. You'll learn to think and engage more deeply and see a bigger picture as you develop the core skills and flexibility you'll need to adapt to a changing job market.
Eryn Boken '22 Kinesiology South Pasadena, CA
" Critical thinking and communication skills are key to being able to adapt to new situations. The knowledge and experience I've gained through the liberal arts at Scranton have prepared me well for whatever change may await me in my career. "
COME WHAT MAY
IN
Opening Doors: Keys to Success 15
As change comes — and it will — you'll have the ability, confidence and willingness to grow and change with it.
THEIR WORDS
• Club & Organization
Transitional Summit
• Leadership Capstone
• National Jesuit Student Leadership Conference
Orientation
• Programming Board
Scranton
Emerging Leaders
• Student Government
Work Well with Others
Leadership and teamwork are key skills in today's world. Because most jobs require some sort of collaboration, employers want employees who can relate well with others and work effectively within groups. Employers want leaders who can think beyond themselves and their own desires, who have the ability to motivate and inspire and who can leverage the strengths and talents of others to achieve a common, productive goal.
STEP OUT, TAKE PART AND LEAD Scranton students find many opportunities to develop leadership skills, taking advantage of literally hundreds of leadership opportunities on campus. Students help plan and guide campus activities and events. They participate in leadership programs and workshops. They engage in extensive co-curricular activities in each of our three colleges.
Through experiences geared toward personal and professional development, our students grow into capable, confident, lifelong leaders.
LEADERSHIP 5 No.
How Will You Lead?
KEYS TO S UCCESS 16 admissions.scranton.edu
A well-rounded Scranton education encourages active participation, helping students to find their passion. The possibilities for getting involved and leading are many — and they are immediately available, even for first-year students.
Newtown, PA
"
On Scranton's campus, there are so many ways to get involved and to foster and develop leadership skills. As a leader, you learn how to collaborate, communicate and guide a team to produce the best final result.
"
Jithin George '21 Neuroscience
IN THEIR
Opening Doors: Keys to Success 17
STEP OUT
WORDS
With more than 80 student clubs and organizations and hundreds of student events each year, many opportunities for leadership await you!
Lead Well with Others
SCRANTON EMERGING LEADERS
The Scranton Emerging Leaders program is a semester-long program for students who want to develop and enhance their leadership skills. Eight weekly sessions cover topics ranging from strengths assessment to communication and interpersonal to a personalized leadership action plan.
STUDENT GOVERNMENT
An organization led by students, for students, the Student Government is the main avenue of governance for Scranton students. The Student Government serves
as a resource for all students at the University to make sure their voices are heard and to work for meaningful change that benefits the University community.
LEADERSHIP CAPSTONE EXPERIENCE
Designed for experienced student leaders, this yearlong program allows students to "make meaning" of their previous leadership experiences through learning reflection and advanced skill practice in a small cohort setting. A final leadership presentation serves as a capstone project to complete the program.
KEYS TO SUCCESS #5: LEADERSHIP 80+
18 admissions.scranton.edu
Clubs
Each year, Scranton students serve 170,000 hours domestically and internationally, working with 120 non-profit organizations.
Serve Well with Others
MEN AND WOMEN FOR OTHERS
The University of Scranton is committed to advancing the Jesuit mission of "forming men and women for others." Service experiences enable our students to put their learning and values into practice as they work and collaborate with others, develop interpersonal and leadership skills and build lives of meaning and selfless service.
HELPING CLOSE TO HOME
Our Center for Service and Social Justice offers numerous opportunities for students to help those in need on local and national levels. Some of the organizations we partner with include:
DOMESTIC
OUTREACH EXPERIENCES
Scranton students, accompanied by University chaperones, use their breaks to serve in a variety of settings in places such as:
• Appalachian Region, KY
• Camden, NJ
• Scranton, PA
• Washington, D.C.
INTERNATIONAL SERVICE EXPERIENCES
Our International Service Program provides opportunities for students to learn from and serve the people of developing countries including:
• Belize
• Dominican Republic
• El Salvador
• Guatemala
• Jamaica
• Mexico
• Friends
• The
• Habitat
• Head
• Jewish
• Lackawanna
• Make-A-Wish
• Meals on
• Ronald
• St.
• United
• Catholic Social Services
of the Poor
Greenhouse Project
for Humanity
Start
Home of NEPA
Historical Society
Foundation
Wheels
McDonald House
Francis Soup Kitchen
Neighborhood Centers
Opening Doors: Keys to Success 19
home-heart
Our Office Of Equity & Diversity is committed to building a welcoming, diverse and inclusive community and to equip our students to serve in an increasingly diverse world.
A Larger View of the World
In an increasingly interconnected world, you'll need a broad understanding of the people and cultures around you. Having a diverse perspective means respecting one another's differences and being open, inclusive and sensitive to all. Those who can work effectively in a global workforce will be in higher demand as organizations continue to expand across cultures and the world.
RESPECTING OUR DIFFERENCES
At The University of Scranton, diversity is a critical and integral part of our mission. Respect for the uniqueness of each individual lies at the very core of who we are. Living and studying on a multicultural campus, venturing abroad to experience a larger world, you'll acquire a deeper appreciation of diversity. You'll be challenged by different viewpoints. You'll become more aware and experienced — ready to thrive in a 21st-century global world.
A Community for All
Making our campus a safe and inclusive space is paramount to our Jesuit mission and tradition. As part of this commitment, we offer a number of resources and support services, councils and committees, and connection opportunities specifically focused on diversity and inclusion. The University released a campus-wide plan for Diversity, Equity and Inclusion in April 2022. These opportunities for awareness, education and dialogue on issues related to diversity expand our understandings of identities, cultures, privilege, oppression, equity and justice. We're gaining a deeper view of the world, and of ourselves.
scranton.edu/diversity-inclusion
DIVERSE PERSPECTIVE
6No.
KEYS TO S UCCESS 20 admissions.scranton.edu
The Jesuit tradition instills an appreciation for diversity and inclusiveness on our campus. We understand that while there are differences between people, there's also a oneness in being human, making all deserving of respect and love.
" Scranton is one of the friendliest and most inclusive campuses anywhere. Here, everyone is really open to who you are and what you are doing. It's never, 'you need to be this or conform to that.' Rather, you're celebrated and respected as the special person you are.
"
Jordan King '17 B.S. Nursing Registered Nurse Vanderbilt University Medical Center
IN THEIR WORDS
MUTUAL RESPECT Opening Doors: Keys to Success 21
Our students have studied in 53 countries and on every continent except Antarctica.
A Global Education
We live in a global world, and to succeed, students need a global vision. With a full offering of study abroad, travel courses and service experiences, The University of Scranton enables students to engage with different peoples and cultures, making our graduates more confident, more wellrounded — and, in the end, more marketable.
WELCOME TO THE WORLD
One of the most common remarks students make upon their return to campus after studying abroad is that "it was a
life-changing experience." Studying abroad provides the opportunity for students to develop skills, knowledge and experience that they simply cannot gain while at Scranton.
Students from nearly every academic major have studied abroad. Whether you choose to explore the world for a semester, an academic year, a January or Summer Session, or during a faculty-led travel course, going abroad is an experience that will broaden your perspective, enhance your sense of self — and, in more ways than you can imagine, change your life.
Studying and serving abroad not only helps you develop personally in many ways, it also makes you highly attractive to future employers. Here are eight reasons employers value graduates who have studied or served abroad.
1. You learn firsthand about the world around you.
2. You develop a cultural sensitivity and awareness.
3. You learn problem-solving skills.
4. You become more self-sufficient.
5. You prove yourself to be adaptable.
6. You open yourself to new and different perspectives.
7. You gain an appreciation for diversity.
8. You show initiative and a confidence in taking risks.
KEYS TO SUCCESS #6: DIVERSE PERSPECTIVE
The Lessons of Going Abroad
22 admissions.scranton.edu
Ireland
Morocco
Uganda England Honduras Slovakia
23
Opening Doors: Keys to Success
Our students plan more than 900 events each year, creating a full campus calendar each and every week.
Health and Balance: The Way to Success
Housing options range from traditional residence halls to suites and apartments. Housing is guaranteed for four consecutive years. Light housekeeping is provided.
Studies show a strong link between a healthy, balanced lifestyle and career achievement. Active people have more energy, are more focused and are more enthusiastic about their work. A balanced life improves work habits, lowers stress and increases productivity. Attention to wellness gives you a more positive outlook, which helps you to positively influence others. A healthy, balanced life — it's the way to a better education, a better career, a better you.
PREPARE TO ENGAGE
Our active campus culture inspires engagement both inside and outside the classroom — creating for every student a full, active college experience. Our students plan more than 900 events each year, creating a full campus calendar each and every week. Students can choose from more than 80 active clubs and organizations — from Urban Beats Crew,
to rugby, to Habitat for Humanity. Scranton students volunteer more than 170,000 hours of service per year — locally, nationally and globally. And Campus Ministries offers numerous opportunities to explore the deeper questions of life, no matter your faith tradition.
FIND YOUR ARTIST WITHIN
Our students are surrounded by the arts and a commitment to culture. Each year, more than 150 students, from virtually every academic major, participate in stage productions presented by The University of Scranton Players. More than 300 students participate in instrumental and choral performing ensemble opportunities. Our Hope Horn Gallery displays exhibitions throughout the academic year, including works created by Scranton student-artists. Whether you're a writer, musician, singer, actor, dancer, journalist or broadcaster, you'll find ways to express yourself.
At Home at Scranton
You're going to live comfortably here. With options ranging from traditional residences for first-year students, to suite-style housing for sophomores, to apartments for upperclassmen. You're going to eat well, too — our University's dining facilities are ranked among the very best in the nation. Come make yourself at home.
A HEALTHY, BALANCED LIFE
7No.
calendar-alt KEYS TO S UCCESS 24 admissions.scranton.edu
A COMMITMENT TO WELLNESS
NO.
25 FOR BEST CAMPUS FOOD
In the Princeton Review's list of "Best Campus Food," The University of Scranton ranked No. 25 nationally.
BEST COLLEGE DORMS IN AMERICA
Niche ranks The University of Scranton among the "Best College Dorms in America."
In keeping with the Jesuit philosophy of care for the individual, our Center for Health Education and Wellness (CHEW) strives to build a healthier campus community through the promotion of wellness in mind, body and spirit. From physical wellness programs such as yoga, mindfulness meditation and fitness classes to emotional wellness initiatives that address stress, work-life balance and self-care, you'll find a wide range of health and wellness resources and programs to help you gain knowledge, practice skills and form habits that lead to a healthy and balanced lifestyle.
WE CARE ABOUT YOUR SAFETY
We are one of only six private colleges/universities in Pennsylvania with an accredited campus police force, a level of security enhanced by more than 150 security cameras on and around campus.
Opening Doors: Keys to Success 25
Scranton was ranked as one of the "50 Fittest Colleges in America" by The Active Times and one of the top 26 "healthiest" colleges in the U.S. by Greatist.com.
Royal Pride
The University fields 23 intercollegiate teams at the NCAA Division III level, competing as members of the Landmark Conference. Ours is a winning tradition, both on and off the field — with three national championships, 188 team and individual conference championships, 82 All-Americans, 45 Academic All-Americans and 17 recipients of the prestigious NCAA Postgraduate Scholarship.
Academics are the primary focus for Division III studentathletes. Participants are integrated on campus and treated like all other members of the student body, keeping them focused on being a student first.
MEN'S ATHLETICS
• Baseball
• Basketball
• Cross Country
• Golf
• Lacrosse
• Soccer
• Swimming & Diving
• Tennis
• Track & Field
• Wrestling
scranton.edu/athletics
WOMEN'S ATHLETICS
• Basketball
• Cross Country
• Field Hockey
• Golf
• Lacrosse
• Soccer
• Softball
• Swimming & Diving
• Tennis
• Track & Field
• Volleyball
Intramurals, Club Sports & Fitness
Scranton students are active — more than 1,600 are involved in recreational sports and intramurals. With 17 intramural sports, 15 club sports and our 14,000-square-foot fitness center, you'll find plenty of ways to stay competitive and fit.
KEYS TO SUCCESS #7: A HEALTHY, BALANCED LIFE
apple-alt
26 admissions.scranton.edu
STAY ACTIVE
"
Scranton provides a lot of fun, healthy ways to take a break from studying. Activities and programs are prevalent on campus, and nearly all are student run. You can always find something to do, and if you can't find it, the University will help you create it.
"
Bailey McLaughlin '21 Occupational Therapy Allentown, NJ
"
Every team here is so passionate about their sport, and ours is a winning culture. While we're Division III, athletics at Scranton are at a very high level — we can compete with a lot of highertier teams.
"
Jalen Holmes '21 History Bridgewater, NJ
IN
THEIR WORDS
Our new $14 million Kevin P. Quinn, S.J., Athletics Campus is home to the University's soccer, lacrosse, field hockey, baseball and softball Division III NCAA teams.
27
Opening Doors: Keys to Success
Bong
OUR STATE-OF-THE-ART LOYOLA SCIENCE CENTER
• The 200,000-square-foot, Gold LEED certified space is one of the most dynamic, innovative science buildings in the country.
• Laboratories are designed with large glass windows and walls, making them visible to all.
• The 14-inch Meade LX200 telescope allows auto alignment and acquires digital images of stellar objects.
28 admissions.scranton.edu
College of Arts and Sciences
Scranton engineering students achieve top finishes in prestigious regional and national engineering competitions.
SITEMAP 1,635 undergraduates 45 majors
With 45 undergraduate majors and five graduate programs, the C ollege of Arts and Sciences is our largest and oldest academic division. Not only is the college the foundation for Scranton's traditional liberal arts programs, but it also includes our renowned science programs, taught in the cutting-edge Loyola Science Center.
QUICK GLANCE
• 15 academic departments
• A wide range of minors, concentrations and interdisciplinary programs
• Five-year MBA option for many majors
• Internship opportunities
• Four-year professional development "Passport" program
BESTSCI E NCELABS 7
Opening Doors: Keys to Success 29
IN
THE PRINCETON REVIEW'S
LIST
OF "BEST SCIENCE LABS," THE UNIVERSITY OF SCRANTON RANKED #7 NATIONALLY.
OUR INNOVATIVE ALPERIN FINANCIAL CENTER
• The Alperin Financial Center, a financial markets laboratory located in the Kania School of Management, simulates a trading floor, complete with an electronic ticker and news and data feeds.
• Twelve Bloomberg terminals give students and faculty access to data and analytics used by professionals in the financial services industry.
" Don't go to Harvard, but to the Business School at The University of Scranton, where they are changing lives."
Chart-Bar 30 admissions.scranton.edu
– Peter Drucker, Father of Modern Management
file-certificate
The Kania School is accredited by the Association to Advance Collegiate Schools of Business (AACSB International), the foremost accrediting body for business schools.
17 Years
The Princeton Review has ranked the Kania School of Management among their "Best Business Schools" for 17 years.
Kania School of Management
Scranton's Kania School of Management is widely recognized as one of the nation's best business schools. Offering highly innovative programs, the latest technology skills and a focus on critical thinking, ethics and leadership, the Kania School provides the tools needed to succeed in an increasingly global and technological world.
Top 15
Entrepreneur magazine and The Princeton Review rank our MBA program among the Top 15 in the nation for general management.
EXECUTIVE IN RESIDENCE PROGRAM
The Kania School of Management Executive in Residence Program enables students to learn from the experiences of successful business leaders. Visiting executives come from a wide range of businesses, including non-profits, and discuss the nature of the work in their fields and provide valuable career and leadership advice.
QUICK GLANCE
843 undergraduates 10 majors
• Emphasis on ethics and responsibility
• Nationally recognized
• Latest IT and business applications
• Four-year professional development "Passport" program
• Mentoring programs supported by alumni
• Internship opportunities and career development
Opening Doors: Keys to Success 31
U.S. NEWS & WORLD REPORT RANKS SCRANTON AMONG THE NATION'S BEST UNDERGRADUATE BUSINESS PROGRAMS.
HEART
OUR ACTIVE, INTERACTIVE LEAHY HALL
• Home of the departments of physical therapy, occupational therapy and health and human performance, Leahy Hall is the newest building on campus.
• Leahy Hall has 25 state-of-the-art laboratories and multiple simulation environments, which include a hospital patient room for acute and long-term care and a daily living, simulated neighborhood.
• Within its walls, this building contains interactive rehabilitation laboratories, flexible teaching facilities, classrooms, and telehealth and research facilities.
Panuska College of Professional Studies
Accredited by 9 different national accrediting bodies across seven departments in the Panuska College of Professional Studies
file-certificate 1,209 undergraduates 11 majors QUICK GLANCE
The Panuska College of Professional Studies offers a range of ac credited majors in health, education and human services. Rooted in the liberal arts and sciences, our academic programs balance theory with practical internships, clinical experience and fieldwork, as well as required CommunityBased Learning opportunities.
• Four-year professional development T.A.P.E.S.T.R.Y. program
• Balance of theory and practice
• State-of-the-art laboratories and simulation environments
• Community-Based Learning component to each program
• Exceptionally high pass rates and placement rates
Opening Doors: Keys to Success 33
skiing
The city of Scranton is located in the Pocono Northeast, a scenic area and a mecca for outdoor activities, from hiking, biking and fishing to skating, skiing and snow tubing.
plane
The WilkesBarre/Scranton International Airport, located just 10 minutes from campus, offers easy access to and from Scranton.
70+ Miles
The Lackawanna River Heritage trail is just blocks from campus with more than 70 miles of walking and biking paths.
A Great Place to Call Home
Scranton is the sixthlargest city in Pennsylvania and a vibrant college town, home to five colleges and universities. Known as the Electric City — we were the first U.S. city to have an electric-powered streetcar — Scranton today finds its energy from many other sources, namely our popular coffeehouses, eateries, festivals, minor-league sports teams and a wellknown Office , Dunder Mifflin.
The city of Scranton is an ideal college setting. Students are able to take advantage of the many entertainment and recreational options of downtown Scranton and the surrounding area. And with major metropolitan areas as close as two hours away, students can also pursue valuable internship opportunities with many of the world's leading companies and organizations.
SCRANTON
BOSTON 4.5 hours HARTFORD 3 hours
NYC 2 hours
PHILLY 2 hours
WASHINGTON, D.C. 4 hours
34 admissions.scranton.edu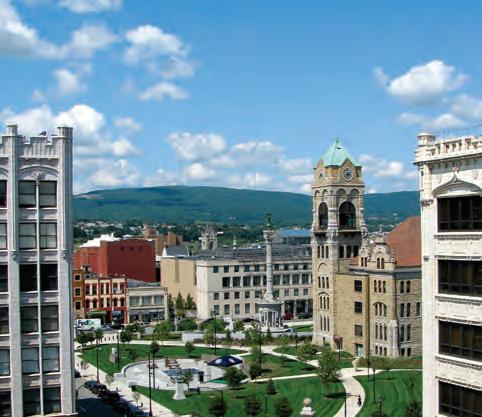 Enjoy a tasty cup of coffee at Adezzo or Northern Light coffee shops
Cheer on the AAA Scranton/WilkesBarre Railriders Hit the ice with the AHL's WilkesBarre/Scranton Penguins
Come to La Festa Italiana, a threeday Italian festival that takes place on Labor Day weekend Visit the amazing treehouse at Nay Aug Park
Board a trolley at the Electric City Trolley Museum
Watch a concert at the Toyota Pavilion
Hike on the Lackawanna River Heritage Trail
Take a shopping trip to The Shoppes at Montage Go skiing, snowboarding and tubing at Montage Mountain, just 10 miles from campus
The Electric City Sign lights up Scranton at night Just two hours from Philly and NYC, 77,000 people call Scranton home
Photo credit: Jesse Faatz
Nearly
80 %
Average acceptance rate over the past 20 years of Scranton applicants to medical, dental and other health professions schools — our rates are consistently higher than the national acceptance rates.
91 %
Percentage of Scranton applicants who were accepted into law school over the past eight years.
NOW HIRING
You Can Get There From Here
Today's employers and graduate schools are looking for confident, well-rounded graduates who can think, communicate and problem-solve. A Jesuit-inspired Scranton education offers students myriad opportunities to learn and embrace these marketable skills. This is a full, and fulfilling, education that will prepare you in every way — for a successful career, for a meaningful life.
Center for Career Development
"Career Development" — it's a very intentional name, as we help guide students toward fulfilling careers, starting day one. From assessments to résumé writing to job search techniques, our Center's professionals help students build a step-by-step, four-year plan for success.
36 admissions.scranton.edu
Sampling of Where Scranton Grads Go
Knowledgeable and experienced, confident and determined, Scranton graduates are highly sought after by the nation's leading companies and organizations as well as outstanding graduate and professional schools.
READY FOR WORK
• 21st Century Fox
• Apple
• Archdiocese of Philadelphia
• Bank of America
• Barclays
• Bayer HealthCare
• Bristol-Myers Squibb
• CBS Corporation
• Chief Media
• Children's Crisis Treatment Center
• Cristo Rey High School
• Department of Homeland Security
• Disney ABC Television Group
• Duke Global Health Institute
• ESPN
• EY
• Federal Bureau of Investigation
• GE Power
• Goldman Sachs
• Hershey Medical Center
• Horizon Media
• Hospital of the University of Pennsylvania
• JPMorgan Chase & Co.
• Lehigh Valley Health Network
• Memorial Sloan Kettering Cancer Center
• Merrill Lynch
• MetLife
• Mt. Sinai Hospital
• NBC
• Nestlé Purina
• O, The Oprah Magazine
• Philadelphia 76ers
• Prudential
• PwC
• Ralph Lauren
• Rehabilitation Institute of Chicago
• Rockville Centre School District
• Sanofi
• Sony
• S&P Global Ratings
• Teach for America
• The Walt Disney Company
• University Medical Center of Princeton
• U.S. Army
• Vanguard
• Vogue
• Warner Media
• Yale University Press
ON TO GRADUATE SCHOOL
• Boston College
• Bucknell University
• Columbia University
• Fordham University
• Massachusetts Institute of Technology
• Michigan State University
• New York University
• Rutgers University
• Syracuse University
• Texas Tech University
• The Ohio State University
• The University of Scranton
• Thomas Jefferson University
• University of Notre Dame
• University of South Florida
Law School
• Boston College Law School
• Boston University School of Law
• Cornell Law School
• Fordham University School of Law
• Notre Dame Law School
• Temple University Beasley School of Law
• University of Pennsylvania Law School
• Villanova University School of Law
• William & Mary Law School
Medical School
• Geisinger Commonwealth School of Medicine
• Georgetown University School of Medicine
• Harvard Medical School
• Sidney Kimmel School of Medicine at Thomas Jefferson University
• The Geisel School of Medicine at Dartmouth
Dental School
• The Maurice H. Kornberg School of Dentistry, Temple University
• University at Buffalo School of Dental Medicine
• University of Maryland School of Dentistry
Veterinary School
• Cornell University College of Veterinary Medicine
• University of Pennsylvania School of Veterinary Medicine
Opening Doors: Keys to Success 37
• Official High School Transcript
• SAT/ACT (optional)
• School Counselor Recommendation
SCRANTON.EDU/APPLY
of race, color, national origin,
religion, age, veteran status, gender identity or expression, sexual orientation or other status protected by law. Sexual harassment, including sexual violence, is a form of sex discrimination prohibited by Title IX of the Education Amendments of 1972. The University does not discriminate on the basis of sex in its educational, extracurricular, athletic or other programs or in the context of employment. Inquiries regarding non-discrimination and sexual harassment and sexual misconduct policies may be directed to Elizabeth M. Garcia, executive director, Office of Equity and Diversity 570.941.6645
Any applicant who has questions about the nondiscrimination policy, or has concerns about discrimination on the basis of sex should contact: Title IX Coordinator, c/o The Office of Equity and Diversity • Institute of Molecular Biology & Medicine, Rm 315 • TitleIX@scranton.edu • 570.941.6645 or visit the website at scranton.edu/equity-diversity
each student
number.
we
our admissions decisions solely based on numbers. We
activities.
50%) 3.45 –3.95 (4.0 scale) GPA ACCEPTED STUDENT PROFILE 88 – 98 (100 scale) 1160 –1320 SAT 26 – 31 Composite score ACT ADMISSIONS DATES TO REMEMBER check-circle November 15 Early Action Admissions Applications Due check-circle December 15 Early Action Admissions Notification Begins check-circle December 15 Regular Decision Admissions Application Review Begins The University of Scranton's Annual Security and Fire Safety Report is published each year to provide crime and fire statistics, and information on safety and security related services offered by the University in compliance with the Jeanne Clery Disclosure of Campus Security Policy and Campus Crime Statistics. The newest edition of the Annual Security and Fire Safety Report has been posted on The University of
Police Department web site at scranton.edu/about/university-police. Printed copies may also be obtained by visiting University Police located at 820 Mulberry St., Scranton, PA 18510.
to providing a safe and nondiscriminatory employment and educational
The University does not discriminate on the basis
Applying to Scranton At Scranton,
is a person, not a
That's why
don't make
consider many factors, including coursework, letters of recommendation, leadership, community service and extracurricular
(Middle
Scranton
Notice of Non-Discrimination: The University of Scranton is committed
environment.
sex, disability,
You can apply online for free using the Common Application.
38 admissions.scranton.edu
TUITION, FEES AND AVERAGE FINANCIAL AID PACKAGE
Along with offering generous financial aid packages, Scranton is committed to making education affordable, maintaining tuition increases of under three percent.
$49, 912 Tuition & Fees (2022–2023)
$16,490 Room & Board $66, 802
Total Direct Cost
$42, 000
Average Financial Aid Package
(not including parent and private loans) (2022–2023)
An Affordable Education
The University of Scranton offers an exceptional education made affordable through generous scholarships and grants. Ninety-seven percent of first-year students receive scholarships and/or grants.
Merit-Based Scholarships
We automatically evaluate you for merit-based scholarships when you apply and notify you in your acceptance letter. Awards range from $60,000 to $112,000 over four years.
• Presidential Scholarship – Full-tuition
• Dean's Scholarship – $25,500 average award
• Loyola Scholarship – $22,500 average award
• Arrupe Scholarship – $21,500 average award
• Faber Scholarship – $19,000 average award
The University of Scranton is test optional.
Need-Based Grants
Family Tuition Reduction
Students are considered for university need-based grants when they submit a Free Application for Federal Student Aid (FAFSA) at studentaid.gov. FAFSA school code: 003384
Families with two or more dependent children attending The University of Scranton during the same semester as full-time undergraduate students are eligible for a 10% tuition discount on tuition for each student.
Other Financial Aid Programs
We work with students and families to help you understand all the ways available to help make a Scranton education possible, including federal and state grants, loans and work study and a tuition payment plan.
For more complete financial aid information, please see our Comprehensive Guide to Financial Aid Programs at scranton.edu/finaidguide
scranton.edu/financialaid
Opening Doors: Keys to Success 39
88 %
Average first-year retention rate
The Value of a Scranton Education
Percentage of Scranton graduates who attend graduate or professional school.
>51,000
University of Scranton alumni worldwide
Cost is a factor in any college decision. But a more important consideration should be value. A Scranton education in the Catholic and Jesuit tradition is an immersive experience — values-based, outcomes-focused and well-rounded — that delivers an excellent return on your college investment.
NATIONALLY RECOGNIZED
Year after year, Scranton is recognized among the top tier of universities in the nation for outstanding educational value. A Scranton education really pays off, but don't just take our word for it.
SUPERIOR SALARIES
According to PayScale's most recent salary report, Scranton is in the top 15 percent of universities listed by the median salaries of their alumni. A recent report by the Brookings Metropolitan Policy Program places Scranton among the top 100 schools in the nation for the economic value of its education.
scranton.edu/value
NO. 22 FOR IMPACT ON EARNINGS The Economist
BEST VALUE Money Magazine and U.S. News & World Report BEST BUY IN COLLEGE EDUCATION Barron's
$60, 600 PayScale Early Career Salary $114, 800 PayScale MidCareer Salary
40 admissions.scranton.edu
45 %
Schedule Your Visit
ONE OF THE COUNTRY'S "FRIENDLIEST COLLEGES"
According to The Huffington Post
To know us, to understand all that Scranton has to offer, you'll need to visit. Tour our campus. Experience our community. If you are not currently able to visit campus, we also have virtual visit experiences available. See for yourself how one of America's premier colleges will open doors for you.
ON-CAMPUS
GROUP INFORMATION SESSION
This brief presentation by an admissions counselor provides an overview of the University and the admissions process, with time for questions
CAMPUS TOUR
This tour of campus, led by a student tour guide, will allow you to see the campus center, a firstyear residence hall and room, an upperclass apartment, classrooms, the library and more. This tour will be approximately one hour.
SCRANTON IN THE PALM OF YOUR HAND
Download our free app for a self-guided and virtual tour: scranton.edu/mobile
VIRTUAL VIRTUAL PERSONAL APPOINTMENT
This half-hour virtual session with an admissions counselor is nonevaluative and is perfect for students and parents who may have questions about the University or want to discuss a specific situation with regard to admission. This gives us the opportunity to get to know you in a non-evaluative setting.
800 Linden Street, Scranton, PA 18510-4699 • 1-888-SCRANTON • scranton.edu 800 Linden Street Scranton, PA 18510