MAY 25-31, 2023 | SUN-BURNED, ACHY AND MOSQUITO-BITTEN SINCE 1993 HEAR ME NOW? COMMUNICATION PROBLEMS AT CITY HALL PAGE 8 IMPROV-ING LIFE THE BLUE DOOR MAKES BETTER PEOPLE PAGE 16 POPPED COLLARS MILLENNIALS ARE ALREADY NOSTALGIC PAGE 20 NATURE CITY Gonzo cyclist Justin Short is crazy for bikes PAGE 28 OUTDOORS ISSUE: A very long hike 22 • Stargazing 30 • take the bus! 32 • our top picnicking spots 34
With our card, ALL RESTRICTIONS ARE RESTRICTED. Ready for a card that gives you cash back, every time, without restrictions? The Clearly Cash Back™ card from Washington Trust Bank is the right card for small businesses because unlike other cards, ours has no limits and no blackout dates. Imagine that. A card that gives you 1.5% cash back on purchases. With the Clearly Cash Back™ card, all restrictions are restricted. Learn more at watrust.com/clearlycashback Of course this is all subject to credit approval. But after approval you'll get a kitten. OK, maybe not a kitten, but you'll earn rewards based on your qualifying net purchases (purchases minus returns and/or other related credits) as long as your account is in good standing (that is, not closed, canceled, blocked, delinquent, suspended or otherwise inactive and not available for use). So as long as your card is good, your rewards are good. Good begets good. Of course, you do not earn rewards on fees, finance charges, or fraudulent or unauthorized charges. Credits (returns) to your account will reduce the rewards available in your account. For more information see Clearly Cash Back™ Terms and Conditions.
ERICK DOXEY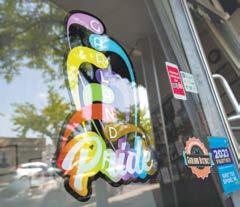 EDITOR'S NOTE
Outside my window, as I write this, an osprey is hunting the rapids of the Spokane River. It hovers in space for a few moments, its head nearly motionless and eyes locked on the roiling river surface below. A gust of wind pushes it off target, and the bird moves on to another spot, looking for its next chance at a meal.
The other day, I took the long way home and bicycled through High Bridge Park and Vinegar Flats. As I crossed the Eleventh Street bridge over Latah Creek, a man in an idling pickup yelled — "Moose!" — and pointed. Sure enough, there it was, not 100 feet from me, munching on a plant.
A few years ago, I went off trail in Saltese Uplands and found a pear tree. I scanned the ancient, feral tree for fruit but instead found the strangest nest. I looked closer and saw two eyes. A porcupine in a pear tree, and I sing about him to this day.
As everyone knows, the Inland Northwest is rich in stories of natural, wild wonder like these. But as this year's OUTDOORS ISSUE attests, you don't have to go far to experience the joy of the wild. Nature is just out your backdoor, so get out and enjoy it.
— NICHOLAS DESHAIS, editor
INSIDE COMMENT NEWS CULTURE COVER STORY 5 8 16 22 36 40 42 46 FOOD SCREEN MUSIC EVENTS I SAW YOU GREEN ZONE BULLETIN BOARD VOL. 30, NO. 33 | COVER
ABID AT THE MAC PAGE 18 OUR RIVER, 20 YEARS ON PAGE 6 GET OUT! PAGE 46 GARLAND PRIDE PAGE 12
PHOTO:
calzones Filled with Flavor Pepperoni & Mozzarella Chicken Garlic All New! Available at participating locations while supplies last. Order at PapaMurphys.com © 2023 Papa Murphy's International LLC 153429-PRNT-CLZN MINUTEMAN PRESS SPOKANE EAST formerly Plese Printing & Marketing 509.534.2355 | orders@MMP-Spokane.com | 4201 E. Trent Ave. Spokane P NNING AN EVENT THIS SUMMER? LET US HELP. We are a full service local printer providing a variety of products for your event including Posters | Handbills | Foamcore Signs Banners | Promotional Items We do it all. Join Our Team. Details at inlander.com/jobs The Inlander is hiring a Graphic Designer Meet the People Who Shaped the Inland Northwest Now on sale at these Inland Northwest retailers! Inlander Histories Vol 1 & 2 • Atticus • Auntie's • Boo Radley's Inlander.com/books MAY 25, 2023 INLANDER 3 THE INLANDER is a locally owned, independent newspaper founded on Oct. 20, 1993. Please recycle THE INLANDER after you're done with it. One copy free per person per week; extra copies are $1 each (call x226). For ADVERTISING information, email advertising@inlander.com. To have a SUBSCRIPTION mailed to you, call x210 (78 per year). To find one of our more than 1,000 NEWSRACKS where you can pick up a paper free every Thursday, call x226 or email frankd@ inlander.com. THE INLANDER is a member of the Association of Alternative Newsmedia and is published at least twice per month. All contents of this newspaper are protected by United States copyright law. © 2023, Inland Publications, Inc. INLANDER 1227 W. Summit Parkway, Spokane, WA 99201 PHONE: 509-325-0634 EMAIL: info@inlander.com SPOKANE • EASTERN WASHINGTON • NORTH IDAHO • INLANDER.COM 48 50 55
4 INLANDER MAY 25, 2023
AUGUST 11 the podium
november 17 SPOKAnE ARENA
July 14 the podium
JULY 6 spokane arena
Entertainment for all!
AUGUST 9 First Interstate Center
october 5 First Interstate Center
JUNE 2-4 spokane arena