MARCH MADNESS
THE ART OF THE 3
As the Zags head to his year's NCAA Tournament, the teams' deepest threats are their deepest shooters
MARCH 16-22, 2023 | DUNKING ON THE COMPETITION FOR 30 YEARS
BRYNNA MAXWELL made 50% of her 3-pointers in the regular season
PAGE 27
Fan-favorite Julian Strawther is ready to take his shot
DOXEY
EDITOR'S NOTE
When LeBron James finally overtook Kareem Abdul-Jabbar's all-time NBA scoring record, the 38,387 points came with a footnote. James had sunk 2,237 3-pointers to reach his awesome feat. Abdul-Jabbar hit just one 3-pointer during his entire two decades on the court. That fact has a lot to do with the long shot only being introduced halfway through AbdulJabbar's tenure, during the 1979-80 season.
When I read Seth Sommerfeld's story in this week's cover section — THE ART OF THE 3 — I thought about how much the game has changed in recent years. Look at Gonzaga's Brynna Maxwell, who may well help take her team all the way this year. And how? By sinking 3s. During the regular season, Maxwell made 50% of her 3-pointers. For comparison, LeBron's career percentage is 34%. And the NBA's greatest hand at 3s by percentage, Steve Kerr, sank about 45%.
Not to be outdone, the Zags' Julian Strawther has played a similar role for his team. This season, Strawther saw 72 of his 3-point attempts hit their target — an impressive 42.6% clip.
All in all, it's a good time to watch college basketball. And just in time, as the NCAA Tournament kicks off this week. With both squads from Gonzaga — men and women — making the tourney, as well as the WSU women's team, there's plenty to cheer about.
— NICHOLAS DESHAIS, editor
GAGA FOR GONZAGA PAGE 6
COPYRIGHT CON PAGE 8
MAC BEADWORK PAGE 14
INSIDE COMMENT NEWS CULTURE COVER STORY 5 8 14 20 32 34 36 40 FOOD SCREEN MUSIC EVENTS I SAW YOU GREEN ZONE BULLETIN BOARD VOL. 30, NO.
23 | COVER PHOTO: ERICK
THE OLD
97'S PAGE 36
LOANS AVAILABLE New Construction Land Development Bridge Loans Fix & Flip Call Now (509)926-1755 www.pmcmoney.com Double Bacon Cheddar Nacho Cheese Sauce, Canadian Bacon, Crispy Bacon, Green Onions on Original Crust $1299 LAR GE New! Limited time Available 2/27 – 4/9/23 or while supplies last at participating locations. Valid for Large Double Bacon Cheddar pizza on Thin or Original crust. Not valid with any other offers, specials, promotions or discounts. 109945-PRNT-DBC1299 © 2023 Papa Murphy's International LLC MINUTEMAN PRESS SPOKANE EAST formerly Plese Printing & Marketing 509.534.2355 | orders@MMP-Spokane.com | 4201 E. Trent Ave. Spokane Reader Special Just mention or use code INLANDER We do event printing- from bidder paddles and event signage to photo backdrops and table covers - We do it all Locally Owned by Christy & Scott Johnson We can't wait to meet y ! MARCH 16, 2023 INLANDER 3 THE INLANDER is a locally owned, independent newspaper founded on Oct. 20, 1993. Please recycle THE INLANDER after you're done with it. One copy free per person per week; extra copies are $1 each (call x226). For ADVERTISING information, email advertising@inlander.com. To have a SUBSCRIPTION mailed to you, call x210 ($50 per year). To find one of our more than 1,000 NEWSRACKS where you can pick up a paper free every Thursday, call x226 or email frankd@ inlander.com. THE INLANDER is a member of the Association of Alternative Newsmedia and is published at least twice per month. All contents of this newspaper are protected by United States copyright law. © 2023, Inland Publications, Inc. INLANDER 1227 W. Summit Parkway, Spokane, WA 99201 PHONE: 509-325-0634 EMAIL: info@inlander.com SPOKANE • EASTERN WASHINGTON • NORTH IDAHO • INLANDER.COM 42 44 47
4 INLANDER MARCH 16, 2023
25-26 first interstate center May 6 SPOKAnE ARENA May 9 First Interstate Center JULY 6 SPOKAnE ARENA
11 first interstate center Get Tickets at Entertainment for all!
28 first interstate center
2-4
ARENA
MARCH
MAY
April
June
SPOKAnE
COMMENT
STAFF DIRECTORY
PHONE: 509-325-0634
Ted S. McGregor Jr. (tedm@inlander.com)
PUBLISHER
Jer McGregor (x224)
GENERAL MANAGER
EDITORIAL
Nicholas Deshais (x239) EDITOR
Chey Scott (x225)
ARTS & CULTURE EDITOR
Derek Harrison (x248)
CREATIVE DIRECTOR
Seth Sommerfeld (x250)
MUSIC & SCREEN EDITOR
Samantha Wohlfeil (x234)
BREAKING NEWS EDITOR
Daniel Walters (x263)
SENIOR INVESTIGATIVE REPORTER
Madison Pearson (x218)
LISTINGS EDITOR
Nate Sanford (x282), Summer Sandstrom (x232)
STAFF WRITERS
Chris Frisella
COPY CHIEF
Young Kwak, Erick Doxey
PHOTOGRAPHERS
Ellie Rothstrom INTERN
Josh Bell, Chase Hutchinson, E.J. Iannelli, Will Maupin, Dan Nailen
CONTRIBUTORS
ADVERTISING
Kristi Gotzian (x215)
ADVERTISING DIRECTOR
Carolyn Padgham (x214), Autumn Potts (x251)
SENIOR ACCOUNT EXECUTIVES
Stephanie Grinols (x216) , Tracy Menasco (x260), Claire Price (x217), Skip Mitchell (x247)
ACCOUNT EXECUTIVES
Tamara McGregor (x233)
COMMUNICATION & EVENTS DIRECTOR
Kristina Smith (x223)
EVENT & SPECIAL PROJECTS MANAGER
Colleen Bell-Craig (x212), Raja Bejjani (x242)
ADVERTISING ASSISTANTS
PRODUCTION
Tom Stover (x265)
PRODUCTION MANAGER
Ali Blackwood (x228)
CREATIVE LEAD & MARKETING MANAGER
Derrick King (x238)
SENIOR GRAPHIC DESIGNER
Todd Goodner (x231)
GRAPHIC DESIGNER
OPERATIONS
Dee Ann Cook (x211)
BUSINESS MANAGER
Kristin Wagner (x210)
ACCOUNTS RECEIVABLE
CIRCULATION
Frank DeCaro (x226)
CIRCULATION MANAGER
Travis Beck (x237)
CIRCULATION SUPERVISOR
ARE YOU FOLLOWING MARCH MADNESS BASKETBALL THIS YEAR?
JACOB ARCHAMEO
Yes, every year!
How far do you think the Zags will go this year?
I really think this is our year, we're gonna win the whole thing. I go to Gonzaga so I feel weird saying anything else.
CARLY KEISER
Uh, no.
Do you have any fun plans coming up in March?
Yeah, I'm actually going on a mission trip to Los Angeles next week. I'm excited about that.
ABIGAIL BRADEEN
Nope, I don't know anything about basketball.
Do you have any plans in March otherwise? I finally get to go on my belated honeymoon.
Where are you going? Hawaii!
MADDY DEAN
Not really.
Have you ever felt pressured to be a Gonzaga fan because you live in Spokane?
Oh, for sure. I lived in the Logan neighborhood during March Madness a few years ago, so I felt the pressure then, but I never really paid much attention to the Zags.
LAURA JOHNSON
We're in Zag country, how could you not?
Are you a lifelong Zag fan? Of course!
MARCH 16, 2023 INLANDER 5
INTERVIEWS BY MADISON PEARSON 3/9/23, ARCTOS COFFEE & ROASTING CO.
untold story behind this gothic church FREE ENTRY | SQUATCH SERIES BEERS | 21+ SQUATCH
The
FEST
The Saga of Gonzaga
Bulldog basketball's 25-year run of excellence tracks right along with Spokane's emergence as a Cinderella City
BY TED S. McGREGOR JR.
The rise of Gonzaga basketball is like an epic poem of old — with heroes and foes, triumphs and defeats, all spanning a full quarter century now.
The opening chapter of this saga hit its first cliffhanger when the Bulldogs walked off the floor on March 20, 1999, having just lost to UConn, the eventual national champion. The entire episode was like a dream — an underdog story evoking that lady with the glass slipper. But would Spokane wake up to find it was a one-off, with the stars never to quite align again?
Well, the carriage didn't turn back into a pumpkin. People had to look up Spokane on a map and learn how to pronounce the name "Gonzaga," but the Bulldogs just kept fighting their way into the NCAA Tournament. In fact, this year marks the 25th straight year the Zags have qualified. (The 2020 tournament was canceled, but the Zags kept the streak alive by winning their last game of that season, the WCC championship.)
Players on that '99 team like Matt Santangelo, Richie Frahm, Quentin Hall, Casey Calvary and Axel Dench forged a template for success, but nobody could imagine what that meteor hitting the pond would do. The waves have been wash-
ing over a city, a university and college basketball ever since.
It's no stretch to say Gonzaga basketball saved the university founded by good Father Cataldo all the way back in 1887. In 1990, enrollment was holding steady at around 4,200. By 1998, however, it had slipped to less than 2,800. Yikes! Around that time, some new trustees took a deep dive into the numbers, and it was not pretty. The athletic department was one of many parts of the university looking ripe for big budget cuts. Maybe playing Division I basketball was a luxury Gonzaga couldn't afford?
But the year after the magical run of '99, applications were up 12 percent; by 2003, they had doubled. Nosedive averted. And there was more, as alumni were activated, too — Phil and Tom McCarthey pledged the money to build a beautiful new athletic center.
Today enrollment is around 7,300, with students from all over the nation wanting to join the Kennel Club. New buildings have been popping
6 INLANDER MARCH 16, 2023 COMMENT | ZAGS
W. 1707 BROADWAY, SPOKANE, WA | 509443-3681 Craig Mason FAMILY LAW Divorce Spousal Maintenance / Alimony Child Support Modifications Parenting Plans AUTO INJURY • CIVIL LITIGATION The Inland Northwest READERS POLL BEST OF 30 TH ANNUAL 2023 Thanks for Voting! Results Issue ON STANDS March 23 To advertise in the Best Of issue, contact: advertising@inlander.com or 509.325.0634 ext. 215
The man who stayed: Mark Few. ERICK DOXEY PHOTO
up at a steady clip, with the Myrtle Woldson Performing Arts Center being a beautiful addition. And the university's partnership with UW Medicine is showing that Gonzaga is also reaching the highest levels academically.
And through all those years, on the court it's been a team effort with some unforgettable characters like Dan Dickau, Adam Morrison, Ronny Turiaf, Rob Sacre, Domantas Sabonis, Kelly Olynyk, Rui Hachimura, Jalen Suggs and so many more.
But one person was indispensable. You know, the guy doing handstands in the locker room after big wins.
Mark Few is the winningest college basketball coach, like, ever. His teams have won about 84% of the time. It's ridiculous, but perhaps the biggest thing he ever did in his 30-plus years at Gonzaga is the one thing he didn't do: He never left. There have been opportunities to coach elsewhere — Arizona, UCLA, even his alma mater Oregon. Bigger schools, new horizons, fatter paychecks. Earlier in his career, sportscasters seemed perplexed as they wondered why he just… kept… staying. And that's where you can cue up Few spinning stories of fly fishing on some secret stretch of river — you can almost hear Zag OG Bing Crosby singing along: "Oh, give me land, lots of land under starry skies above / Don't fence me in…"
But there's more to it than the Zen of a good trout stream. He's seen the cautionary tales of coaches reaching for those golden rings and what can happen when business decisions can negate all the good things loyalty and roots can bring. Gonzaga took a chance when they promoted the unknown Few just one year after that magical Elite Eight season. In fact, when Gonzaga Athletic Director Mike Roth told the school's president that they planned to promote Mark Few, Father Robert Spitzer asked, "Which one is he?"
Cute story, but nobody's asking that now.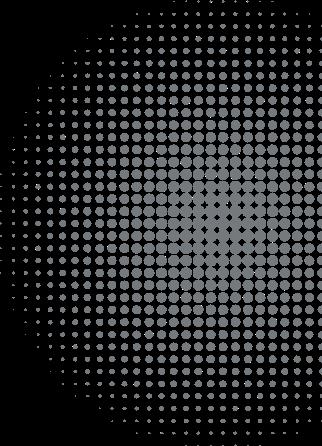 The close of the 20th century also marked a turning point in the life of Spokane. Throughout the 1990s, the city seemed paralyzed by one existential question: What kind of city would Spokane be when it grew up? Would it be a model midsized city — dynamic, thriving, near nature, a place you want to live. Or would it be more like what it was in the 1970s and '80s — inward-facing, suspicious of new ideas, economically tepid, still telling everyone who would listen about Expo '74. In those days, it was the kind of place many young people left behind. But in 1999, change started coming quickly.
Only a few months after the Zags' 1999 run through March Madness, the shiny, new River Park Square opened for business (after four years of arguing about it), saving retail in downtown Spokane. Building on that the following March, Walt and Karen Worthy bought the Davenport Hotel and got started on its renovation. Now you can find ESPN's Sean Farnham hawking flatbreads at the second of three Davenport hotels. In June, a group of citizens (and the state) helped the Spokane Symphony purchase the Fox Theater for its spectacular new home. And in December 2000, Northern Quest Resort and Casino started bringing Vegasstyle entertainment to town.
Every night the Zags took the floor over all those years, they shared a template for greatness — humble teamwork, steady leadership, common purpose, joy. These are exactly the elements you can build a successful city on, too.
With growing confidence, we've continued betting on ourselves, investing in Riverfront Park renovations, the new Podium sportsplex and even a new football/soccer stadium coming on line later this year.
Take it from Coach Few: We don't have to be more like some other place to be great.
In a bit of destiny that would fit right into The Odyssey, Corey Kispert, another one of those Zag heroes, was born just two days after Gonzaga won its way into the 1999 Big Dance. When he was asked to name the secret to Gonzaga's success, Kispert's answer captured the essence of these past 25 years in just two words: "Be us." n
MARCH 16, 2023 INLANDER 7
NO MONEY DOWN SPECIAL FINANCING 5 YEARS with 60 equal monthly payments at 8.99% apr* FOR WAS $2589 NOW $2199 PER MON FOR 60 MON* $46 "Your Style... In Stock... On Sale" Coeur d'Alene 7224 N. Government Way 208.762.7200 Spokane Valley 14214 E. Sprague 509.928.2485 Spokane 15 E. Boone Ave. 509.326.1600 Sandpoint 210 Bonner Mall Way 208.255.5796 Moses Lake 117 W Broadway 509.765.9766 *OAC. NO MONEY DOWN, NO MINIMUM PURCHASE, 60 MONTHS FINANCING WITH 60 EQUAL MONTHLY PAYMENTS WITH A 8.99% APR*. SEE STORE FOR COMPLETE DETAILS. SPECIAL ORDER ITEMS REQUIRE A 25% DEPOSIT **SAVINGS APPLY TO CLEARANCE ITEMS ONLY IN SELECT STORES. NOT VALID ON AIRELOOM, ICOMFORT, BEAUTYREST, HOT BUYS, ONLINE OR OUTLET PRICED ITEMS SEE WALKER'S STORES FOR DETAILS 15% - 40% OFF STOREWIDE! FINAL WEEKEND S Sale Ends March 19th SHOP OVERSTOCK CLEARANCE 5 Pc Queen Bedroom: Bed, Dresser, Mirror, Chest, & Nightstand Ubuhle Women Beadwork and the Art of Independence Through April 30, 2023 Ntombephi "Induna" Ntobela, My Sea, My Sister, My Tears, 2011, glass beads sewn onto fabric. northwestmuseum.org
Ted S. McGregor is the publisher of the Inlander
COPYRIGHT-WING EXTREMISM
Idaho state Rep. Heather Scott held a Confederate flag for a photo and shared it online — her husband just didn't want us to do the same
It was March 27, 2022 — just after the end of the Idaho legislative session — when Blanchard, Idaho resident Andrew Scott gained federal copyright protection for the photo of his wife.
By then — nearly seven years after it had been taken at the 2015 Timber Days parade, and two years after the Inlander republished the photo in a cover story — the photo had already gotten a bit of fame.
It wasn't that the photo itself was particularly artistic. It was the incendiary subject matter. It shows his wife, Idaho state Rep. Heather Scott, standing on a parade float with her campaign sign, smiling and holding that symbol of slavery and secession, the Confederate battle flag.
This was shortly after nine churchgoers in Charleston, South Carolina, were gunned down by a white supremacist with a Confederate flag license plate. While South Carolina's then-governor, current Republican presidential candidate Nikki Haley, had removed the flag from public display, Scott was holding it high.
She'd not only posed for the photo, she'd put it on her legislative Facebook page. And soon, the photo was everywhere.
The Spokesman-Review wrote several stories on the ensuing controversy, using the photo each time. It's appeared in the Sandpoint Reader, on KUOW, in the Inlander, and on public radio websites. To this day, she has the photo posted, uncredited, on her campaign website where she writes, "I posed with a Confederate flag on a parade float to show that our First Amendment right is one of the most important rights we have."
In documents submitted to the U.S. Copyright Office in 2021, Andrew Scott titled the picture "In Defense of the First Amendment."
Then, this February, the day after Heather Scott attended a Kootenai County Lincoln Day Dinner with U.S. Rep. Marjorie Taylor Greene of Georgia, her husband sent a letter to the Inlander and at least one other journalist with a legal threat over our use of the photo, saying we'd be liable for up to $150,000 in damages.
"Weaponizing copyright" isn't new, says Cathay Smith, a University of Montana professor who wrote a 2021 paper for the Harvard Journal of Law & Technology on attempts by powerful figures — everyone from Harvey Weinstein to the Church of Scientology — to silence criticism and hamper investigative journalism by using copyright claims.
BY DANIEL WALTERS
But it sure feels to Smith like it's becoming a more common strategy.
"If you can imagine the number of people who don't fight back, or don't get that public platform to air out this problem, it could be happening a lot more than we realize," Smith says in an interview.
BALANCING FAIR
The Inlander wasn't the only place to get a legal notice from Scott: Heath Druzin, a freelance audio journalist who produced the "Extremely American" podcast covering the far right, got a similar threat in the mail.
"My first instinct was that this sounds like an intimidation tactic," Druzin says. "This is somebody who already has a hostile view and hostile relationship with the press. This seemed like a tactic to silence me."
He doesn't recall even publishing the photo in a news story. He just posted it on Twitter in January after Heather Scott sent out a tweet making fun of another reporter.
"I can only assume that that is what got Heather Scott's attention," Druzin says.
To him, the threat seemed completely ridiculous.
"I'm a freelancer. I'm my own boss," Druzin says. "If you don't have a big company behind you — like a McClatchy — some people might think it's easier to bully somebody."
Druzin reached out to an attorney, who confirmed what multiple legal, academic and media experts told the Inlander: Journalists
using the incendiary photo that Scott had posted on her own Facebook page and campaign site would qualify for the "fair use" exception.
"Being the advocate of the First Amendment she claims to be, we are certain Ms. Scott understands and appreciates the implications of denying fair use to any newspaper" reporting on the government she's part of, read, in part, the Inlander's response to Andrew Scott.
...continued on page 10
MEDIA
8 INLANDER MARCH 16, 2023
BELOW: Idaho state Rep. Heather Scott posted this copyrighted Inlander cover to criticize it. JEFF DREW ILLUSTRATION
MARCH 16, 2023 INLANDER 9
"COPYRIGHT-WING EXTREMISM," CONTINUED...
The U.S. Constitution gives Congress the power to establish copyright and patent laws to "promote the progress of science and useful arts." But soon, American judges began to identify reasonable exceptions to the laws. By 1976, the principle was officially embedded into U.S. copyright law: Journalists and others can use excerpts of copyrighted material for "criticism, comment" and "news reporting."
"The photo itself is newsworthy," says Al Tompkins, an expert on journalism with the Poynter Institute. "In my opinion, you have no journalistic duty to remove an image that's true, that's contextual and that's important."
But even for journalists, fair use isn't automatic. Judges have to weigh a number of factors, including how much of the work is used, whether the use is "transformational" — altering the image or offering additional context or commentary — and whether sharing it hurts the creator's chance of making money off the work.
"You know how newspapers will take hot pictures of the year and put them on T-shirts and coffee cups?" says Michele Earl-Hubbard, a Washington state media attorney.
Don't do that with a copyrighted photo, she says.
The same principle also protects the rights of conservative activists like the Idaho Freedom Foundation to republish photos of pages from school library books it finds offensive on their website.
In fact, Dustin Hurst, former vice president of the Idaho Freedom Foundation, says they were once hit with a copyright threat from a media outlet over a copyright claim about a photo they'd used of a politician. Their attorney, Hurst recalls, replied "look, stick it" and cited fair use.
As for Heather Scott? She republished the Inlander cover featuring her and the Confederate flag, calling it "fake news" and "great firestarter" before asking her followers to save her a copy. Fair use protects her use of this image just as it protects our use of her public photo.
LAWSUITS A-PLENTY
Still, newspapers are understandably skittish about copyright these days. After hearing about Scott's copyright threats to two reporters, the Idaho Press Club's First Amendment Committee met about the issue.
"We're all being much more careful now," says Betsy Russell, another reporter who used Scott's Confederate flag photo in a news story in the Idaho Press. "Copyright law is really complex."
In the past decade, she notes, there's been a slew of "copyright trolling" — attorneys who send out massive numbers of copyright threats in hopes of getting payouts and settlements. Even politician-provided candidate headshots have landed newspapers in hot water with copyright claims.
Shortly before she retired this year, Russell says she learned of a new policy from the publishing group that owns the paper.
"We would no longer be accepting any submitted photos from anyone," Russell says. "Unless they went on our website and filled out a form that included certifying that they own the rights to the photo and that they grant us permission to run it."
But in many of the cases that Smith studies, making money isn't the goal. Removing content is.
In some cases, the plaintiffs are sympathetic. Before

revenge porn laws, she says, "copyright was a faster framework for someone" to get a website to remove a person's explicit images than existing privacy. Other times, they're absurd. Smith says someone sued "their expartner, claiming copyright to their text messages."
But then there are cases where someone is simply looking to punish someone they don't like. In 2007, rightwing talk show host Michael Savage sued the Council on American-Islamic Relations for republishing an antiIslamic rant from his talk show. While CAIR won that case, Smith says, they were still stuck with the significant legal fees, and Savage seemed even more emboldened to use that tactic in the future.
Of course, if you really piss off a powerful person, copyright isn't the only weapon they have in their arsenal.
"The change that we've really seen is that litigation is being used as a tool to inflict pain on the press," says Monika Bauerlein, CEO of the progressive investigative magazine Mother Jones
Her publication has experienced it firsthand: In 2012, Mother Jones wrote a big piece on billionaire Idaho donor Frank VanderSloot, with the accusation that VanderSloot had "outed" a gay reporter by taking out a full-page ad that pointed out his sexuality. The story wasn't perfect.
"We actually published a correction to the initial story that really did need to be corrected and clarified," says Bauerlein. "But then we endured three more years of litigation after that."
Eventually, Mother Jones won. Although the judge accused Mother Jones of bias, she also concluded that the disputed claims were substantially truthful or open to interpretation.
NEWS | MEDIA 10 INLANDER MARCH 16, 2023
And here's the cruel part of it: Officially, VanderSloot was asking for less than $75,000, but even though they won, Bauerlein ended up with $650,000 in legal fees.
"We would have to put a giant asterisk on our reporting, and publicly say that reporting that we knew to be truthful was untruthful" if they had settled the suit and paid VanderSloot, says Bauerlein. "Our reputation, our commitment to the truth is all we have."
But she also knows that some journalists don't have a choice. Some outlets are owned by corporations or are more concerned with the bottom line than truth, fairness and other journalistic principles. Other bloggers and reporters take down their reporting because, she says, "whether it was truthful or not, they couldn't afford the cost and strain of proving it."
Andrew Scott has not returned calls seeking comment. Regardless, Druzin says, "it's important for us not to be intimidated by bullies like this."
Hurst, who himself is in a messy defamation lawsuit battle involving a former state legislator and an outspoken Freedom Foundation critic, thinks the trend is going to be even worse in places like Idaho.
"There's more at stake," Hurst says. "There's more money, there's more power, there's more prestige. There's folks who want to get other folks to sit down and shut up."
But suing people to shut them up can just as easily elevate the issue. Actress Barbra Streisand's attempts in 2003 to get a photograph of her home suppressed backfired so spectacularly that the phenomenon was given a name: the "Streisand effect."
"I love Heather, but stuff like this is just a tool to get people to stop talking about stuff," says Hurst. "It usually doesn't work. The internet is forever. That image is forever." n
danielw@inlander.com
on stands April 13 There's something for everyone from the experienced to the cannabis curious. Promote your business's unique products and deals in this special edition. ISSUE THE The Inlander's annual issue on the local cannabis scene to advertise in this issue: advertising@inlander.com • 509-325-0634 ext, 215 MARCH 16, 2023 INLANDER 11
Behind the Curtain
Spokane's mayor defends the police chief, but her opponent says the chief's relationship with property owners' group is 'concerning'
BY NATE SANFORD
In a letter to City Council members, Spokane Mayor Nadine Woodward said she had instructed police to adopt the five recommendations outlined in a police ombudsman report following disclosures that Police Chief Craig Meidl gave his political allies "special access" to police reports and strategies.
Woodward's letter comes three months after the ombudsman finished investigating the relationship between Meidl and a group of property owners led by Chud Wendle, who runs the Hutton Settlement nonprofit and owns several downtown commercial properties.
Emails between Meidl, Wendle and Wendle's business allies — which the Inlander published online last Friday — show a relationship that, while not violating department policies, does raise questions about the preferential treatment of people aligned with the police chief.
The property owners' group has long argued that Spokane's progressive politicians and statewide laws are failing the city and letting crime run unchecked. They'll frequently ask the chief for data on vagrancy, crime and
NEWS | ENVIRONMENT
Future Bidding
Washington's cap-and-invest program is the nation's second market aimed at decreasing greenhouse gas emissions
BY SAMANTHA WOHLFEIL
After auctioning its first set of carbon emission "allowances," Washington is now the second state in the country to open a "cap-and-invest" market to get companies to pollute less and decrease their contribution to climate change.
The market is part of the state's effort to reduce emissions by 95 percent from 1990 levels by 2050. Companies that emit more than 25,000 metric tons of greenhouse gases per year need to buy allowances to cover their emissions.
State lawmakers will invest the auction money — estimated at more than $1.7 billion every two years — in projects to decarbonize the transportation and building sectors, and improve health and air quality in communities that are most impacted by pollution and climate change.
"We are at the beginning of this real transition, and it's pretty exciting," says Kelly Hall, Washington director of the nonprofit Climate Solutions. "My hope is that the revenues ... can be spent really well to make sure that energy is available for folks so we don't have to depend on the oil industry."
As the Feb. 28 auction results are finalized this month, Washington lawmakers can start funding projects in the
homelessness to support their argument. In several cases, Meidl directed staff to compile data for the property owners or asked that they not share the information he gave them because it wasn't ready for public release.
Progressives on the City Council are upset about the relationship. Council member Betsy Wilkerson, who recently announced a run for City Council president, described it as "behind-the-curtain activity" and "discrimination."
In her letter to council members on Monday — which was not released publicly but shared with the Inlander by a council member — Woodward didn't condemn the relationship.
"My review of the report and sub-
sequent conversations with the chief lead me to conclude that he was seeking to engage a group in the ongoing community dialogue about policing that had been heavily affected by the rise in crime throughout the downtown core," Woodward wrote.
Lisa Brown, who is running against Woodward in this year's mayoral election, calls the relationship "concerning." She says she wants to see the police department leadership serve the entire city — not just the "well-connected, most powerful people in the community.
"For the police department to have that relationship that builds community trust, the information has gotta be widely disseminated," Brown says. "Not just special reports going to one group that's been attacking council members, I think that doesn't look fair to most people."
The chief defended the relationship in his interview with the ombudsman, arguing that he and the property owners have a mutual interest in creating a safer downtown.
In an email last week, Wendle said the group was asking the chief for information as part of their mission to make Spokane the "safest and cleanest city," and that the group has also met with other stakeholders as part of their efforts. n nates@inlander.com
biennial budget this session. At least 35 percent of the auction money must be invested in overburdened communities, and at least 10 percent must go to projects for tribes.
That could include assistance to buy electric appliances, weatherize homes and businesses, and better track air quality, Hall says.
Other investments could build electric vehicle charging stations and help trucking companies switch their fleets to lower-carbon options such as hydrogen fuel or electric for shorter hauls.
COST AND INVESTMENT
Polluting companies are encouraged to reduce their emissions in a few ways.
First, the state Ecology Department caps the number of allowances in each auction, which will happen every three months. Over time fewer allowances will be auctioned, which could drive up the price and force those who don't "win" allowances to reduce their emissions another way. Second, companies that cut pollution won't have to buy as many allowances.
Unlike California, Washington's program also restricts how much companies can comply through "offsets" by investing in things like clean energy projects. If an offset is used, Ecology removes an allowance from the bidding pool. Since companies need allowances or offsets for all their emissions, the cost will continue to go up for those who don't change.
The companies that reduce their impact faster than expected can sell extra allowances on a secondary market. Those that don't comply can be fined up to $50,000 per day.
Ecology uses an algorithm to allocate allowances, with the lowest successful bid setting the final price, explains Claire Boyte-White, Ecology's policy adviser for the program.
"The bid that wins that last allowance, which by definition is the lowest bid, sets the price every successful bidder pays," she says. "Everybody below that lowest point are what we call unsuccessful bids."
This prevents companies or investment firms from working together to manipulate prices, says Luke Martland, who oversees the program for Ecology.
Martland says the "big boys [can't] come in with lots of money and bid a crazy price that other covered entities can't meet."
Each allowance covers 1 metric ton, and the first auction's bidding ended at $48.50 per allowance, with about 6.2 million allowances sold.
While major oil company BP supports the program, those opposed include others in the fuel industry, with the Western States Petroleum Association claiming it "will deliver marginal environmental benefits while hurting the state's consumers and economy."
But many are skeptical about high-profiting companies' claims that the cost must be passed to consumers through things like higher gas prices.
Ecology is aware that some fuel distributors preemptively increased prices ahead of the auction, with some labeling a surcharge on bills and even charging agricultural and maritime customers who are exempt from the program, Boyte-White says.
"We're not talking about the guy who runs your gas station or the farmer that owns a seed store and sells propane. [The program] covers large fuel suppliers who have the profit margins to make all kinds of decisions," Boyte-White says. "The revenue generated by those line items just goes to the fuel suppliers."
Martland says Ecology has educated some suppliers who will stop the surcharges and agreed to give rebates to exempt customers who overpaid. n
samanthaw@inlander.com
NEWS | PUBLIC SAFETY
12 INLANDER MARCH 16, 2023
Police Chief Craig Meidl
COMING SOON NEW SHOW ON SALE
AI Firefighting
New fire lookouts will be manned by artificial intelligence. Plus, Spokane approves increase to developer fees for roads and utilities; and Inslee opposes pipeline expansion.
While manned fire watchtowers are mostly a thing of the past, computers could soon fill in to help firefighters spot fires and respond faster. Washington is partnering with tech company Pano AI to station 360-degree cameras on towers around the state to help quickly identify smoke and fires. Coupled with satellite data, the company's artificial intelligence can help pinpoint the location of fires and quickly send firefighters information on the closest water sources and roads to the site. "It's providing significantly more data, significantly faster, about the nature of these fire starts," says Ryan Rodruck, a spokesman for the state Department of Natural Resources. "The tech is phenomenal. What stuck out to me was just how fast we can get visualization and data on these fire starts. It's going to significantly improve response time." The full rollout of the pilot program is expected by the end of June 2024. (SAMANTHA WOHLFEIL)
IMPACT ZONE
Spokane's Latah/Grandview Thorpe area is prime real estate — the kind of spot where, in theory, huge numbers of houses could be built. But for decades, the city of Spokane didn't build infrastructure — like sewers, water and roads — on pace with the area's growing population. The solution: The City Council voted 6-1 on Monday night to increase "impact fees" on developers of new homes to pay for the necessary infrastructure upgrades. Developers, Realtors and homebuilders opposed the fee change, the first increase to the fees in 20 years. "While this body is still talking about affordable and attainable housing, you are considering an ordinance that would do the opposite," said Tom Hormel, president of the Spokane Association of Realtors. But City Council President Breean Beggs says the question wasn't about the price tag — the question was who pays. While Mayor Nadine Woodward preferred to spread out the fees throughout the city, the council voted to create varying fees for different parts of the city — the highest in Latah Valley — while waiving utility fees for homeowners making less than $75,000 a year. (DANIEL
WALTERS)
MORE OPINIONS ON GTN XPRESS
As critics hoped, Washington Gov. Jay Inslee said last week he opposes the proposed expansion of a natural gas pipeline that runs through the Inland Northwest. As we reported on March 2, TC Energy, the Canadian company that owns the Keystone Pipeline System, wants to expand capacity for its Gas Transmission Northwest pipeline. The company proposes increasing compression to allow more natural gas to go through existing pipes. In a March 10 letter to the Federal Energy Regulatory Commission, Inslee asked regulators to deny the project as it conflicts with emissions reductions goals, noting that "if GTN continues business as usual with its pipeline in 2050, it would represent 48 percent of the region's target greenhouse gas emissions from all sources." Meanwhile, Kootenai County's Board of Commissioners supported the expansion in a February letter, saying the pipeline has operated safely for decades and brings economic benefits to the communities around it. (SAMANTHA WOHLFEIL)
Get the latest on Inlander.com
Ryan Adams
Thursday, March 16, 2023 7:30PM
Gipsy Kings
Saturday, August 19, 2023 8PM
ROCKIN' THE FOX
Jerry Cantrell
Friday, March 31 8PM
The Steel Woods
Saturday, June 17 8PM
Epic Queen
Friday, April 7 8PM
Jason Isbell and the 400 Unit
Hagfest
Northwest 2023
Saturday, April 8 7PM
ON SALE
FRIDAY, MARCH 17
Thursday, July 6 7:30PM Old Crow Medicine Show
Sunday, July 9 7:30PM
Zach Williams: A Hundred Highways Tour
Thursday, April 13 7PM
An Evening with Natalie Merchant: Keep Your Courage Tour
Wednesday, September 20 7:30PM
NEWS | BRIEFS
509 624 1200 •
New eyes in the sky will help quickly spot fires. PANO AI PHOTO
TICKETS:
FOXTHEATERSPOKANE.ORG
MARCH 16, 2023 INLANDER 13
VISUAL ARTS
BEADED BEAUTY
BY SUMMER SANDSTROM
Glittering light reflects off translucent glass beads of varying textures and sizes that are carefully threaded onto a neutral canvas, creating a sense of movement. The almost microscopic space between each bead allows your eye to roam freely along the edge of each vibrant flower, tree and abstract form they create.
The Northwest Museum of Arts and Culture is showcasing two beadwork exhibitions, "Ubuhle Women: The Art of Independence" and "Plateau Pictorial Beadwork: The Fred L. Mitchell Collection," from now until April 30 and May 14, respectively.
The first collection features 30 ndwangos (nid-WONGgos), a Xhosa word meaning cloth, created by women in the South African art collective Ubuhle (uh-BOO-clay), a word that means "beauty" in both the Xhosa and Zulu languages.
"This is really a way for them to have a creative outlet and to have friendship, but also a way for them to create some financial independence because they sell their work," says Kayla Tackett, the MAC's director of Exhibitions and Collections.
The ndwangos have very personal meanings to each woman who creates them; some memorialize family members, some create a realistic portrayal of the world around them and others are more abstract. Throughout the exhibition, viewers may notice a red ribbon in certain pieces. It memorializes those lost to HIV or AIDS, a disease that has deeply affected the collective, which has lost five artists to the disease, Tackett says.
As the collective is formed of Xhosa and Zulu women, cultural differences can also be seen in the styles and artistic choices in the beading. The artists from the Xhosa culture, says Tackett, often use more white, pink and blue in their art, while those from the Zulu culture often
use brighter colors such as red and orange. The Xhosa people are the second-largest ethnic group of Southern Africa, behind the Zulus.
"But of course, it's a living art, and the women influence each other, so it's really a melding of styles," Tackett adds.
While the art in the "Ubuhle Women: The Art of Independence" exhibit was all created within the last 20 years, "Plateau Pictorial Beadwork: The Fred L. Mitchell Collection" showcases pictorial beadwork created by tribes of the Columbia River Plateau in the late 1800s and early 1900s.
The exhibit is a collaboration between Steven Grafe, a museum curator at the Maryhill Museum of Art in Goldendale, Washington, and Fred Mitchell, a lifelong collector of Native American artifacts and beadwork who lives in Walla Walla.
Mitchell has hundreds — possibly upwards of a thousand — such items in his collection, all of which are documented in Grafe's book Plateau Pictorial Beadwork: The Fred L. Mitchell Collection
Each beaded panel is created by an individual member of the collective, but collaboration is a key component of their art. This teamwork is showcased in a massive African crucifixion piece composed of over a dozen panels that stands at the heart of the exhibition.
"The way that they're kind of forging their own path together in a collective manner is pretty inspiring," she says.
"I just want them to know about the Plateau peoples and their beadwork and enjoy the art," Mitchell says. "That's part of the reason for the book is that, no matter what happens down the line, every collection eventually gets split up. It's a way of documenting the collection long after it's no longer a collection. And that was my main intent, to show what these people have done, but also to preserve it as much as possible."
The Native peoples of the Columbia Plateau include the Nez Perce, Yakama, Umatilla and Warm Springs tribes. According to the MAC's American Indian collec-
The MAC highlights intricate, women-made bead art by two distinct cultures in Africa and the Pacific Northwest
Bongiswa Ntobela's Funky Bull (above) and Ntombephi Ntobela's Tribute to My Sister Bongiswa (facing page)
14 INLANDER MARCH 16, 2023
A Columbia River Plateau contour-beaded bag (left) and a Nez Perce beaded vest, both more than 100 years old.
tions curator Tisa Matheson, much of the research on tribal art in the Northwest has focused on Great Plains or Northwest Coastal tribes, so exhibits like this highlight the unique style and artwork specific to the Plateau tribes.
Mitchell mainly collects beadwork with horses, flowers, people and patriotic art, and while he does have a few newer pieces in his collection, he prefers older pieces and the knowledge that can be gained from them. He also attempts to find photographic documentation of the art he collects, as it preserves more history than the beadwork alone.
Unlike the Ubuhle beadwork, which is solely designed to be decorative, beadwork in the Plateau Pictorial exhibition is functional and designed for use in daily life and for special occasions, such as beaded bags and gauntlets. Along the back wall of the exhibit stand intricately beaded cradleboards for carrying babies and horse regalia used for celebrations and events.
Horse motifs are frequently depicted throughout the exhibition, which Matheson notes is significant in Plateau imagery as its tribes were one of the first to get horses back in the 1600s.
"A lot of the inspiration from these pieces are made for family members or for somebody who's special to them," says Matheson. "And so there's a lot of love that goes into the creation of these pieces, and the interpretation of the designs are up to the maker."
Live Lounge Entertainment
Live Music is back at Coeur d'Alene Casino!
Every weekend, you'll find live music at the Nighthawk Lounge with local bands playing past midnight. For a more relaxed vibe earlier in the evening, choose the option of live acoustic music in the Chinook Lounge.
Kyle Swafford
FRIDAY, MARCH 17 TH & SATURDAY, MARCH 18 TH 6 PM - 9:30 PM
CHINOOK LOUNGE
The beadwork in both exhibitions is a meticulous art; some pieces may only take a few months to finish while others can take a year or longer. And while beadwork takes just as much planning and creativity as traditional fine art mediums, says Matheson, it can still be overlooked as a craft rather than being labeled as an art due to the biases often present in academia.
"Instead of just hanging beautiful Native things in an exhibit, we really like to focus on a story behind why they're beautiful," she says. "A lot of academics have put Natives in a scientific category. And so we're trying to really put a human face back onto that."
Although the art styles and purposes of the objects in each exhibit differ, both collections are created with beads made in Europe, and showcase how similar materials were used and interpreted by different cultures in two different time periods.
"It is just serendipitous that we could do them both and have this really wonderful representation in two galleries at the same time," Tackett says.
The display of both collections highlights the MAC's broader goals, as well, Tackett says, to not only highlight art and history of the Inland Northwest, but to bring the world to Spokane.
The Ubuhle beadwork, which was developed by the Smithsonian Anacostia Community Museum in Washington, D.C., is touring museums throughout the country, and the Plateau Pictorial beadwork is on loan from Mitchell's private collection.
"I've heard from a lot of our guests here that they've been really blown away by how beautiful this work is, but also, they can appreciate how difficult it must be to produce," Tackett says.
"It's a really great way to learn about other people, other cultures, to see artwork that you may not otherwise see, to appreciate the way that people appreciate beauty all around the world." n
"Ubuhle Women: The Art of Independence" (through April 30) and "Plateau Pictorial Beadwork: The Fred L. Mitchell Collection" (through May 14)
• Open Tue-Sun from 10 am-5 pm
Kyle Swaffard is a singersongwriter from Coeur d'Alene, Idaho who has been entertaining audiences in the Pacific Northwest for more than 30 years!
Pastiche
FRIDAY, MARCH 17 TH & SATURDAY, MARCH 18 TH 8:30 PM - 12:30 AM
NIGHTHAWK LOUNGE
Get ready to get your groove on with this pop, rock and funk cover band playing hits from the 70s to the present day.
• $7-$12
• Northwest Museum of Arts & Culture
• 2316 W. First Ave.
• northwestmuseum.org
• 509-456-3931
37914 SOUTH NUKWALQW • WORLEY, IDAHO 83876 1 800-523-2464 • CDACASINO.COM CASINO | HOTEL | DINING SPA | CHAMPIONSHIP GOLF WELCOME HOME.
MARCH 16, 2023 INLANDER 15
Among Friends
Outstanding teen musicians perform in Spokane Youth Symphony's annual Concerto Competition
BY E.J. IANNELLI
In a large room at St. John's Cathedral, Spokane Youth Symphony Artistic Director Philip Baldwin is leading his orchestra's teenage musicians through the finale of Carl Maria von Weber's Hungarian Rondo. Baldwin pauses and asks the violins to revisit a measure or two, stressing that he wants to hear a distinct "YUMpum-pum-pum."
Two tries later, they've nailed it, and the rehearsal resumes. Out in front of the group stands the soloist, a bassoon player named Jacob Campbell. With the orchestra now providing a firm musical foothold, he starts sprinting through a fleet-footed sequence of sixteenthnote triplets. Which, in layman's terms, means playing at breakneck speed.
Whereas soloists in the classical world are typically — though by no means always — guest artists who are brought in like specialists for hire, Campbell is a Mount Spokane High School junior drawn straight from this very orchestra. And when the Spokane Youth Symphony holds its spring concert on March 19, he'll experience all the pressure and prestige of performing this challenging piece that was written for professionals to showcase his instrument.
Every year, as part of the organization's Concerto Competition, youth symphony members audition for a coveted spot that briefly singles them out from their peers. From among the 20 highly capable musicians who vied for the opportunity this year, Campbell was selected along with violinist Amanda Nguyen and trombonist William Strauch.
"I had the confidence this year to audition for the Concerto Competition for the first time," Campbell says. "In prior [years], I was scared of the pressure it would have on me, being in front of such a big orchestra and then hundreds of people at The Fox. But there will always be that pressure, I think, regardless of whether you're playing a solo or not. So I learned to embrace that, and here we are now.''
He describes the Hungarian Rondo as a cornerstone of the bassoon repertoire as well as "the first snippet of true bassoon literature'' that he was exposed to. It was written during the Romantic era and is meant to be evocative, starting with the "sweet and mellow'' Andante, also by Weber, with which it's often paired.
"Weber plays with the character of the bassoon —
sad, angry, fierce, brilliant, affectionate," he says. "A lot of times, the bassoon is characterized as the joker in the orchestra, and the Hungarian Rondo is a perfect representation of that. It's playful and shows off the whole range of the bassoon, going down to low C all the way back up the third octave altissimo C. It's a very fun piece to play."
In addition to playing with local jazz outfits like the MasterClass Big Band, Campbell has ambitions to study music. He's eyeing the Juilliard School, the San Francisco Conservatory of Music, Eastman School of Music and the Manhattan School of Music.
Strauch, a senior at Mead High School, is already on a trajectory to study music at the university level. Come next year he'll be attending Whitworth, where his father, also a trombonist, teaches and directs the Wind Symphony.
WEEKEND COUNTDOWN
Get the scoop on this weekend's events with our newsletter. Sign up at Inlander.com/newsletter.
Before he was admitted into the Spokane Youth Symphony last year, Strauch had been "pretty jazzfocused" when it came to playing in larger groups. But things changed after he had a positive experience at the Washington Music Educators Association's All-State competition, and he started thinking about following his eldest sister's footsteps into the Spokane Youth Symphony.
"Coming from band and wind ensemble, the culture's very different from orchestra. So I was worried that coming into Youth Symphony might be a fish-out-of-water experience," he says.
Those preconceptions quickly vanished when he found a welcoming social group and a new appreciation for his instrument.
"It's really cool getting to know a lot of people from
CULTURE | MUSIC
VIRTUAL OPTION ALSO AVAILABLE SUNDAY MAY 7 REGISTER NOW! PRICE INCREASE AFTER MARCH 31 $28 ENTRY FEE BLOOMSDAYRUN.ORG 16 INLANDER MARCH 16, 2023
different schools. I just wish more people could be exposed to this experience, because it's helped me a lot in my playing," Strauch says.
His solo performance is of the first movement of Danish composer Launy Grøndahl's Trombone Concerto.
"It has a wide range of emotions. Specifically in this first movement, the entrance is very bold, but then it shifts into a more sentimental mood," he says.
"I always like to think of it as a love story. The beginning is your expression of love, and as you get deeper, at some points there's almost anger and frustration. Then, as it builds, there's a longing. And then toward the end, the statement from the beginning is repeated and just really ties it together. I think it's a beautiful piece, and I've enjoyed working on it."
Nguyen is the youngest of the three soloists but has
been playing her instrument the longest. The Lewis and Clark High School sophomore began violin lessons at age 4, although she admits that she picked up the instrument even earlier — and promptly smashed it against the wall. At 6, she took up piano as well.
Like many Spokane Youth Symphony musicians, Nguyen rose through its ranks, starting in the Sinfonietta, then moving up to the Philharmonic and finally on to the Youth Symphony proper.
The first movement of Polish violinist and composer Henryk Wieniawski's Violin Concerto No. 2 in D minor, Op. 22 is her solo piece. It has special meaning to her because she recalls being dazzled as she watched Joey Pomeroy, a 2017 Concerto Competition winner, perform the same work. When Nguyen didn't land a soloist spot with a piece by Charles-Camille Saint-Saëns last year, she sought out the Wieniawski and re-auditioned this year after months of practicing it.
"It's just a romantic, passionate piece. It's so much fun to play. And it's also, I suppose, very showy," she laughs.
Yet, while she values and aims to deliver the pyrotechnics that the movement calls for, Nguyen sees the performance as a shared experience rather than one that simply spotlights the soloist.
"I have a couple friends in the Philharmonic, and they ask me, 'Amanda, do you feel nervous when you go to rehearsal and you have to play in front of all those people in the Spokane Youth Symphony?' And I say, 'No, I've basically grown up with them since the Sinfonietta. Playing with them is like playing with friends.'" n Spokane Youth Symphony Presents: Triumph • Sun, March 19 at 4 pm • $15-$19 • The Fox Theater • 1001 W. Sprague Ave. • spokaneyouthsymphony.org • 509-624-1200
CAMERA READY MARCH 16, 2023 INLANDER 17
The Spokane Youth Symphony is comprised of some of the region's best young musicians. COURTESY PHOTO
THE BUZZ BIN
LAND OF DISCOVERY
Two artists take contrasting approaches in exploring the subject of landscape for new Chase Gallery exhibit
BY CARRIE SCOZZARO
We might not agree on its value or how best to protect it, but all humans have in common an indisputable physical dependence on and familiarity with the land. We exist not in the air or underwater but on terra firma, which has inspired artists worldwide throughout history. In "Landscape Reimagined," on display through March 31 in the Chase Gallery at Spokane City Hall, two artists represent extreme ends of the spectrum in their approach to the genre of landscape art.
Seattle-based Roxanne Everett's acrylic paintings depict the land in a fairly straightforward, pleasingly stylized manner. Echoing centuries of historical convention, Everett's paintings provide a familiar entry point for viewers, offering landscapes as majestic, sublime and worth preserving.
By contrast, Eastern Washington University photographic lecturer Josh Hobson's work explores landscapes imperiled. Hobson's "Waveforms" and "Uncontained" series are conceptually rooted in his concerns about land use and "climate catastrophe on a personal and a societal level," he says.
"I started appropriating images from various image databases like NASA or U.S. Geological Survey and focusing on areas where there was a lot of environmental chaos or tension or destruction and using those [images] as the basis for these augmented works," says Hobson, who earned both his bachelor's and master's in fine arts at University of Florida.
For example, Irma in Augmented Landscape (After Irma) is Hurricane Irma, which obliterated areas of Hobson's former home state of Florida in 2017. For this artwork, Hobson printed two versions of the same woodland image, one of which he cut into wide, vertical strips. He then layered the images into a 20-by-25inch, deep-sided wood frame and employed a grid of strings to "lift" portions of the strips of the uppermost image to resemble rippling waves.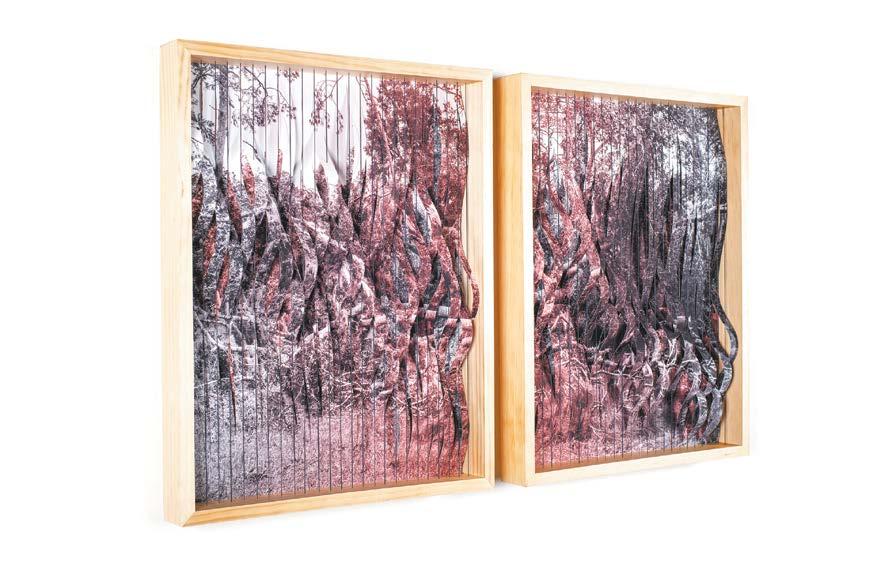 The resulting artwork suggests both a topographical "map" of Irma's impact and Hobson's — and by
extension, humanity's — potential to create or destroy.
Hobson's "performed" landscapes similarly employ appropriated photographic images cut into strips.
"In the studio one day I picked up one of the pieces I'd cut into strips and hadn't put into the frame yet," explains Hobson, who discovered that as he carried the image, "it unfurled into a gorgeous form."
He rephotographed these three-dimensional forms to create artworks he calls "performed" landscapes, playing on the relationship between real and implied depth.
This accidental artform recaptured the sense of wonder that drew Hobson to photography as a high school student learning traditional darkroom techniques, which involve exposing light-sensitive paper to a projected image and immersing it in chemicals to bring out or "fix" the image.
"I distinctly remember putting that first sheet of darkroom paper into the darkroom developer and watching that image appear and just being overjoyed," Hobson says.
Hobson's other series in the Chase exhibit, "Uncontained," incorporates a "misuse of materials," Hobson says, explaining how exposing certain photo papers to sunlight can yield completely unpredictable yet vibrant colors through the development process.
His "Sunstroke" images resemble solar systems in acid-trip colors and include forest fire images and geometric shapes from actual objects he'd place on the paper — like a photogram — before exposing it to the sun.
Hobson created the "Sunstroke" images during the intense fire season and heat wave of summer 2021, which also informed his process.
"I was out there in the heat and the smoke, thinking about the region and thinking about what was happening," says Hobson, "musing on the sun as this bringer of life but also this potential bringer of death." n
"Landscape Reimagined" • Through March 31; open Mon-Fri 8 am-5 pm • Chase Gallery • 808 W. Spokane Falls Blvd. • spokanearts.org • 509-321-9416
SETTING THE STAGE
Construction on the IDAHO CENTRAL SPOKANE VALLEY PERFORMING ARTS CENTER officially began last month. The future performing arts center, at 13609 E. Mansfield Ave., is being built in an area near Mirabeau Park that's been seeing an uptick in commercial and residential development. The 59,000-square-foot center is planned to feature a 480-seat main stage theater, a 200seat studio theater, a theatrical conservatory facility for youth, and space for meetings and events. The performing arts center is also set to be the new, permanent home of Spokane Valley Summer Theatre, which was founded in 2016. The grand opening and first stage production at the center is planned for summer 2024. Learn more at icsvpac.com. (SUMMER SANDSTROM)
EXTREME ATHLETICS
Ever wondered what the ideal human physique is? That's what the new Korean Netflix reality series PHYSICAL: 100 aims to discover. The show, sort of a real-life Squid Game (without all the killing, duh), takes 100 contestants, male and female, who are bodybuilders, wrestlers, gymnasts, cheerleaders, gold medalists — honestly, basically anyone superhuman — and pits them against each other in grueling competitions designed to test their strength, agility, willpower and more. Each contestant has a plaster cast of their torso, reminiscent of ancient Greek busts, which they must smash with a sledgehammer upon elimination. One winner will get 300 million Korean won — approximately $239 million. Each competition leaves viewers in awe at contestants' strength and athleticism, but only one can reign victorious. (SUMMER SANDSTROM)
THIS WEEK'S PLAYLIST
Noteworthy new music arriving in stores and online on March 17.
U2, SONGS OF SURRENDER. What better musical way to spend your St. Patrick's Day then grabbing a Guiness and listening to the Irish rock icons' new album featuring 40 reimagined songs from their immense back catalog?
100 GECS, 10,000 GECS. The lords of the twitchy, dancey, abrasive Gen Z genre of hyperpop return with more musical tweaking designed for both blissing and glitching out.
M83, FANTASY. The synth-pop staple's ninth LP delivers more ambient daydreams with a bit more guitar-laden work thrown into the mix this time. (SETH SOMMERFELD)
CULTURE
18 INLANDER MARCH 16, 2023
Augmented Landscape (After Irma) by Josh Hobson
MARCH 16, 2023 INLANDER 19
SHOOTING (AND GOING) DE EP
BY SETH SOMMMERFELD
It sounds completely ridiculous, but it took the basketball world a really long time to really understand that three is more than two.
The shift to basketball being driven by the 3-point shot instead of post dominance really began on the NBA level when advanced analytics and the dominant success of the Golden State Warriors showed just how efficient and deadly an outside attack could truly be. Led by Stephen Curry and Klay Thompson, those Warriors teams proved that shutting down the outside game when you have truly elite shooters is borderline impossible. In the first of his back-to-back MVP seasons, Curry shot a staggering 45.4% from 3.
That's cute, Steph.
Over the course of this regular season, Gonzaga's Brynna Maxwell shot 50% from deep. That's 164 attempts, 82 makes. For the bulk of the season, the team's starting shooting guard has been the top-ranked sharpshooter in Division I women's basketball. And Maxwell is hardly the only deep-threat Zag: The Bulldogs are the best 3-point shooting team in the country — at 41.5%— and starting point guard and WCC Player of the Year
Kaylynne Truong is also top 20 in the country behind the arc. That's a big reason why this year's Bulldogs squad has had such a tremendous season and are a threat to knock off anyone once the NCAA Tournament gets underway.
Maxwell's shot is a thing of beauty. It's seemingly effortless — flawless mechanics, a remarkably quick release, no wasted motion. By the time she catches the ball coming around a screen or off of a kickout pass, it's usually already too late for the defense. Which her teammates certainly appreciate.
"It's easy," says Kaylynne Truong, who notches plenty of assists via Maxwell. "She makes me look good."
Maxwell arrived in Spokane last offseason as a transfer after spending three years starting the majority of games for the University of Utah Utes in the Pac-12, helping them to their first NCAA Tournament win in over a decade last year.
She took to GU fast, making 11 of 17 shots from 3 over her first four games, including scoring 21 points in an upset over Louisville, who was ranked No. 6 at the time. But when you start talking to Maxwell about her great shooting this season, she almost physically recoils from the compliment — far from a fountain of overconfident bravado, she has sort of an aww shucks, I guess nature about it.
"I hate looking at percentages and stats. I hate when people bring it up. Because the last shot is probably the least important thing you can think. It means nothing," says Maxwell. "No matter if you made the last five or missed the last five, it shouldn't impact the next shot."
That almost dispassionate approach has served her well as the Zags have excelled through what by all rights could've been a disastrous campaign. Gonzaga was beset by a plague of injury woes to start the year, including losing starting guard Kayleigh Truong (Kaylynn's twin) for the bulk of the season after just five games.
"Like we were playing with six and a half [players], at one point. We had a player with mono, and we didn't know she had mono for a game," says Maxwell. "We've had to be flexible for sure… [but] with players coming back, we [now] have 13 players with a lot of on-court experience. And I think that's a really big threat. I don't even know how you'd scout that."
Despite the potential for disaster, Gonzaga won the WCC regular season title. But after falling to Portland in the WCC Tournament championship game, the Bulldogs need to refocus heading into the NCAA Tournament. Thankfully, Maxwell is all about that grind.
Basketball runs through the blood of the Maxwell family. Brynna's parents, Steve and Kim, both played college hoops at Division III Pacific Lutheran University in Tacoma. Their homes in Portland and then Gig Harbor — where they moved when Brynna was 9 — were the type of abodes where basketball was always on TV. By age 2, Brynna and her twin brother, Nate, were shooting a rubber basketball through one of those kiddie toy hoops. But the children never felt like basketball was mandatory.
"Nothing was forced on me," Brynna emphasizes. Instead, she was the one dragging her dad or her dad's pal and trainer, Steve Palau, out to a hoop to get more shots up.
"I always knew Brynna loved the game way beyond any other kids, way beyond what I ever did," says her dad. "So I always knew she had a heart for the game that was different. And I always knew she had high skill level, for sure. She showed that super early. But I wouldn't call Brynna an early bloomer either. Athletically, she didn't develop as fast as some of the other kids. So while I knew she was very skilled and loved the game, I couldn't really project where she was going to play."
When she wasn't on the court herself, Brynna would
still crave more hoops. Luckily, she grew up in an era of great women's hoops in the Pacific Northwest. Her dad would buy mini-season ticket packs for the Seattle Storm so they could watch Sue Bird play. When Kelsey Plum arrived at the University of Washington and became one of the best college players in the country, treks to watch her hoop became a regular event, too.
"We went to countless games together. Anytime there was a game to go to, we would go," says Steve Maxwell. "We would go watch a random high school game if she had a free night. But Kelsey Plum and Sue Bird were childhood heroes for sure."
And while Brynna emphasizes that her game is "nothing" like Plum or Bird, her passion for the game might be on par.
"I just love every part of basketball," she says. "I don't have to be scoring. There's really not one part of basketball I don't like."
That work paid off when Brynna was a junior in high school and improbably led Gig Harbor to the Class 3A State Title. In the title game, Gig Harbor knocked off Garfield High 51-48, with Maxwell doing the bulk of the scoring with a whopping 31 points en route to breaking the state tournament's scoring record. Those high school highs led her to being a three-star recruit (per ESPN's rankings), and ending up at Utah, before eventually making her way to Gonzaga.
20 INLANDER MARCH 16, 2023
As basketball shifts ever more to outside shooting, Brynna Maxwell is helping Gonzaga reach new heights with her elite sharpshooting
...continued on page 22
Maxwell has been balling out since an early age. COURTESY PHOTO
EP
MARCH
PAGE 29 ERICK DOXEY PHOTO
PREVIEWMADNESS
So how does one reach a point where every 3-pointer they put up is a 50-50 proposition to go down? Work. A lot of work
"Honestly, it's not really a secret, it's just you gotta go and do it," Brynna says. "It's never like, 'I gotta make like 200 [shots] today,' or something like that. Honestly, if you want to become a good shooter, you just got to put in the work. And a lot of people don't want to do that. I've noticed that the best shooters are the ones who are in the gym the most."
While that's certainly the case, there are things Maxwell does that elevate her from other players who work very hard. One is the fundamental base she and her dad built her game on. And that starts with knowing kids' limitations on how to properly shoot the ball.
"When she was young, she was so coachable," her dad says. "And I know enough to understand something about shooting mechanics. I wouldn't let her shoot beyond a certain range until she was strong enough to get the ball there with proper form. So while she had friends in sixth grade heaving up 3-point shots from their waist — just all shoulders — just hucking it. But Brynna wouldn't shoot past 15 feet, past the free throw line, cause that's where her range was to shoot the ball right. And eventually when her body grew, she was able to extend her range to shoot like she does now."
"Even in college, you see girls with flawed and broken shots, because they didn't learn it early," he continues. "And they either never unlearned that bad habit, or they're trying to make that bad habit work for them. But she didn't have to unlearn bad habits."
Her ultra quick release on her shot makes it incredibly tough to defend, but the keys to its speed actually lie in fundamentals that casual hoops observers often overlook — like precise footwork and body control.
"No wasted movement," Brynna says. "Catch it, your legs already bent, and you could just go up. It reduces the error in your shot."
"I didn't even know I had that quick of a shot until
I got to college," she adds. "I knew it was quick. I just didn't realize it was that quick. And to me, that seemed like a wide open shot. And then you look back and it's like 'Oh, that actually probably was contested.' I don't know, when shots feel open to me, I shoot them. And I've had great coaches around me who let me shoot those and give me the green light in those situations. And yeah, I probably take some shots that might be questionable."
But when your name is always near the top of the 3-point percentage leaders in the sport, there's almost no such thing as a "questionable" shot.
The killer outside shooting really opens up Gonzaga's offense in a ton of ways. The most notable benefactor is GU's top-flight 1st Team All-WCC center Yvonne Ejim. When Maxwell, Truong and company are bombing from outside, it opens her up to feast in the post.
"It really spreads the court a lot," says Ejim. "It forces people to make decisions that they don't want to make. So it's either come in and guard people in the post and work really hard, but then like, oh, sorry, we've got like two shooters standing outside there waiting for the ball to shoot it."
"Making shots makes a big difference," head coach Lisa Fortier says. "It makes every offense look good."
"Sometimes we're running around like crazy, but we just make it at the end and people think it's good offense. The trained eye knows it's not," Fortier emphasizes. "But I think the biggest thing is Brynna, Lynne, Eliza [Hollingsworth], McKayla [Williams] have been shooting the ball pretty well and have just opened up the interior some, to where it's difficult to double team Yvonne. She deserves a double team. She demands a double team. But the teams that do that usually have to pay for it."
While transferring can always be a tricky proposition for a player, so far Gonzaga has been an easy fit for Maxwell. After getting a degree in communications with an emphasis in journalism while at Utah, she's working on a master's in organizational lead-
ership at GU. While she wants to keep playing as long as she can in the future — be that WNBA or overseas — she also has interest in sports broadcasting and coaching when her playing days are done. That said, her college experience in Spokane is far from the norm.
"I have not been anywhere on campus but the gym," says Maxwell. "That's a fact. I have not been anywhere else, so I couldn't tell you what any building is called."
It turns out all of Maxwell's classes are online, and she loaded them at the front of the first semester and the back of the second semester, so she's not actually taking classes during basketball season. It would probably be an isolating experience if not for the fact that all the basketball players live close together and hang out, and that her parents have made it to every game this season except for two nonconference road contests.
Another comfort for Brynna is her religion, as faith plays a vital role for the Maxwell family. Even when talking about her shooting exploits, she's quick to apply her success to a higher power.
"It's just God's mercies. All glory to Him. Every shot, He puts in. I really can't explain it any other way. I'm not doing anything different," says Maxwell. "[My faith] takes all the pressure off. On my shoes I have Romans 8:31, which says 'If God is for us, who can be against us?' If God is on my side, who am I to be scared of other people, he's a good God. And he's brought me this far."
Gonzaga is poised to make a run in the NCAA Tournament this year. While the loss to Portland in the WCC title game knocked them down a seed or two, no big-time school wants to see the Zags advance. Their outside game is too big a threat.
But this also won't be the last ride for Maxwell. On Senior Night in McCarthey Athletic Center, all four Gonzaga four-year players — Maxwell, the Truongs and Hollingsworth — announced they'd use their extra COVID year of eligibility to come back for the 2023-24 campaign.
They've got multiple shots at this thing.
And when this team has shots, they drain them. n
22 INLANDER MARCH 16, 2023
Step-by-step: Maxwell's form is a precise weapon on the court. ERICK DOXEY PHOTOS
"SHOOTING (AND GOING) DEEP," CONTINUED...
DREW TIMME'S FINAL GAME AT THE KENNEL MARCH 1, 2023
PHOTOS BY ERICK DOXEY
THE STRAW THAT STIRS THE DRINK
BY WILL MAUPIN
To find the Gonzaga Bulldogs' talisman in the 2023 season, one only needs to look at two games versus Loyola Marymount.
In the second meeting this season the Zags won huge, 108-65 at LMU. Junior wing Julian Strawther led the game in scoring with 28 points, hit 64% of his shots and went an impressive 6-8 from downtown. It was one of the most impactful and efficient games of his career. Analytics website KenPom. com named Strawther the game's most valuable player, one of five such honors this season.
Strawther's MVP performances this season have all come in big games — typically against quality opposition. They've also come in games in which the Zags have looked like the true national championship contender they were projected to be entering the season.
That game at Loyola Marymount on Feb. 16 qualifies as both of those. The Lions are good, as they showed when they beat GU and Saint Mary's, but Gonzaga looked great in the rematch.
The first meeting, though… not so much. Gonzaga was held to just 67 points. At home, no less. And Strawther had his worst game of the season, with just 6 points on 1-8 shooting.
The sometimes-streaky scorer averages 15.1 points per game this season, second on the team. In the team's five losses, he's averaging just 8.6 points. For Gonzaga to make a deep run in the NCAA Tournament, they'll need the high-scoring version of Strawther. The question is — will they get it?
MARCH 16, 2023 INLANDER 27
As Julian Strawther goes, so go the Zags. Thankfully, he has a penchant for big moments in big games
...continued on next page
Strawther reaching new heights is key for the Zags. ERICK DOXEY PHOTO
"THE STRAW THAT STIRS THE DRINK," CONTINUED...
"I never really shy away from the moment or the bright lights, and when we need a big shot I'll step up," says Strawther. "I just really enjoy those types of big moments. As a basketball player those are the type of games and moments you just want to be in."
Fortunately for the Zags, from here on out, every game will require those big moments.
Strawther's Gonzaga career has been equal parts old-school Zag tradition and new-school glitz and glamor.
As a high school prospect at Liberty High School in Las Vegas, Strawther was projected to be a high-level college player with NBA potential (he's projected as a potential first-round NBA draft pick if he were to leave Gonzaga after this season). A Top 100 recruit nationally in the class of 2020, Strawther received a fourstar rating from recruiting service 247Sports.
Strawther came to Gonzaga as a part of the so-called "Tricky Trio" recruiting class along with five-star recruit Jalen Suggs and fellow four-star recruit Dominick Harris. To gether, they formed what 247Sports rated as one of the top ten recruiting classes in the sport that season, at the time the highestrated class in Gonzaga history.
Despite the accolades, Strawther initially had to bide his time on the bench. As a freshman, he averaged just 7.4 minutes per game. He was one of the 10 highest-rated recruits in program history, but he spent his first season in Spokane outside the rotation, just like so many who had come before him.
As a sophomore, Strawther found himself in the starting lineup, replacing the graduated Corey Kispert on the wing. His minutes increased to 27 per game, and his scoring shot up to just under 12 points per contest. Strawther was starting to show the promise of his talent that season, but on a loaded roster, he wasn't asked to be a consistent go-to option.
Now, in his junior season, Strawther has evolved into a key cog in Gonzaga's play on both sides of the ball.
"With the expanded role [this season] and more on my shoulders I've been able to show more of my game and how I can really fill it up as a scorer," says Strawther.
His ability to score from all three levels keeps opposing defenses honest. Whether it's the 72 3-pointers he's made this season — at a quite good 42.6 percent clip — or the deft touch closer to the basket, Strawther has become a player that defenses can't afford to leave alone anywhere on the court. His floater in particular has become a frequent and po tent part of Gonzaga's scoring attack.
"It's something I've always worked on, ever since I was in middle school. When I got here my freshman year, coach [Brian Michaelson] made sure that I kept working on it. It just so happens that with more opportunities this year, I'm in more ball screens and more downhill actions, and the floater has been there for me," says Strawther. "It's my baby."
On the other end of the court, Strawther has become a magnet for rebounds thanks to his instinctual defensive positioning. He's also got some God-given talents working in his favor.
"The coaches are always hard on me because I'm 6-foot-7, so I gotta act like I'm 6-foot-7. They're constantly in my ear about using my frame and my athletic gifts to go up and get [rebounds]," Strawther says.
He's used those athletic gifts quite effectively on the defensive end, where he's pulled down 170 rebounds this season, nearly 20 percent of the team's total in that category, and more than he totaled in his first two seasons combined. He ranks first on the team and second in the West Coast Conference in defensive rebounds this season.
Strawther has proven adept at ending possessions on the defensive glass, and down the stretch run this season he's shown an ability to end them before teams can get into their offense to begin with.
The Zags have been employing a 1-2-2, three-quarter court press more and more as the season has worn on — it was a nearconstant presence in the two wins over Saint Mary's. Strawther often finds himself as the "1" in the 1-2-2 press, defending the opposing team's ball handler 75-plus feet from the basket.
Strawther's offensive contributions are the most seen and scrutinized, but what he's brought on defense has been critical as Gonzaga's dialed up its game on that end of the court.
No matter how much or how little he's played during his career, Strawther's upbeat and engaged personality has never wavered. He's always carried himself in a way that makes him both a fan favorite and a great teammate.
Strawther regularly stops to sign autographs for kids after games, even when he's supposed to be making his way to a postgame radio interview. On social media he lets his sense of humor shine, like when earlier this season he took to Twitter for a playful jab at "Nolan Hickman haters" in which he noted their increasing silence regarding his sophomore teammate.
An enduring memory of Strawther's personality came as a freshman, after the WCC Tournament Championship Game. Strawther didn't play a single minute that night, but he wasn't down or dejected about his role. Instead, after the game, he posted a candid video to Instagram in which he asked a clearly confused Mark Few, "What you got to say to them, coach?"
The often reserved Few wanted to know who Strawther was talking to but couldn't keep from grinning as he flashed a peace sign at the camera. "The people," Strawther replied. He may not have been able to deliver an on-court performance for the people that night, but he made sure he delivered for the people however he could, as he has his entire career. The only difference now is that he's delivering for the people on the court as well.
28 INLANDER MARCH 16, 2023
n
Strawther may soon get a call from the NBA. ERICK DOXEY PHOTO
TOURNEY TIME
Getting you prepped for the Inland Northwest teams' run in the NCAA Tournament
GONZAGA MEN (#3, WEST)
28-5, #9 AP POLL, WCC REGULAR SEASON & TOURNAMENT CHAMPIONS
Compared with other recent Gonzaga teams, this season has been somewhat of a bumpy ride. Compared with the rest of the college basketball landscape, the Zags are doing just fine and have a decent shot at another Final Four run. The Zags got put as a 3-seed in the West meaning they get to play in Denver and potentially Las Vegas, which is great for the team and its traveling fans.
While Drew Timme production is a given, how far this team will go will largely depend on whether Julian Strawther plays at a star level (rather than simply a good second scorer) and whether the GU guards — specifically Nolan Hickman — can consistently make shots and make good decisions (as they have in GU's best wins, and as they decidedly have not when the Zags struggle).
If the Zags are on, it could set up a matchup with 2-seed UCLA in the Sweet 16. I wonder if those two squads have any memorable NCAA Tournament history…
OPENING GAME: Gonzaga vs. 14-seed Grand Canyon University, Fri, March 17 at 4:35 pm, TruTV
KEY MATCHUP: Drew Timme vs. GCU's "bigs" — Grand Canyon only has one player who averages over 11 minutes per game who is taller than 6-foot-7. If the Zags can stay disciplined and feed Timme relentlessly instead of settling for 3-pointers, GU's all-time leading scorer should have a field day.
POTENTIAL SECOND ROUND OPPONENTS: 6-seed TCU or 11-seed Arizona State / Nevada — SETH SOMMERFELD
GONZAGA WOMEN (#9, SEATTLE)
28-4, #16 AP POLL, WCC REGULAR SEASON CHAMPIONS
While they may have come up short in the WCC Tournament final, it's been an amazingly resilient year for the Zags. They've suffered a slew of injuries — including missing starting point guard Kayleigh Truong for the bulk of the season — but they just kept on winning. Kayleigh's twin, Kaylynne, stepped up huge in her absence (16.1 ppg, 5 asg, 42.3% on 3s), winning WCC Player of the Year. Yvonne Ejim is a force inside and easily could've won WCC POY herself, and the Zags have a slew of great shooters including transfer Brynna Maxwell, who've helped GU rank No. 1 in the country in 3-point percentage. The ladies can score.
...continued on next page
MORE FUN SKI THE REST OF THIS SEASON FOR FREE YOUTH $299 ADULT $489 SENIOR $359 23-24 SEASON PASSES ON SALE NOW MORE LAPS
Gonzaga lead guards Nolan Hickman and Kaylynne Troung. ERICK DOXEY PHOTOS
The Zags open against Ole Miss, which is back in the bracket for the second straight season under coach Yolett McPhee-McCuin following a tournament drought of more than a decade. Senior guard Angel Baker leads the Rebels with 15.1 points and 5.5 rebounds per game. Ole Miss doesn't have the most impressive resume in the tournament, with an 0-4 record against teams ranked at the time the game was played, as well as losses to currently ranked teams in Tennessee and Oklahoma.
The Rebels are a tough defensive unit. Teams are scoring an average of 56.8 points per game against Ole Miss, giving the Rebels the 25th-best scoring defense in the sport. The Rebels' defense is elite at forcing turnovers and bad shots.
OPENING GAME: Gonzaga vs. 8-seed Ole Miss, Fri, March 17 at 7 p.m., ESPNU
KEY MATCHUP: Myah Taylor on the Truong twins — Part of Ole Miss' stingy defense is steals, and Taylor is a menace in that regard. The fifth-year senior has five games with four or more steals this season.
POTENTIAL SECOND ROUND OPPONENTS: 1-seed Stanford or 16-seed Southern / Sacred Heart — WILL MAUPIN & SETH SOMMERFELD
WASHINGTON STATE WOMEN (#5, GREENVILLE)
23-10, #22 AP POLL, PAC-12 TOURNAMENT CHAMPIONS
After an improbable run in the conference tournament, the women from Pullman find themselves heading into the Big Dance as Pac-12 champions for the first time. The Cougars are led by the 1-2 international punch of star New Zealand guard Charlisse LegerWalker (18.1 ppg, 5.7 rpg, 4.2 apg) and Rwandan interior force Bella Murekatete (13.9 ppg, 7.1 rpg, 1.3 bpg). Despite the Pac-12 victory,
WSU has a tough path to keeping that tourney momentum rolling as a 5-seed.
Florida Gulf Coast hasn't been playing Division I basketball for long, but they've been really good in their short time at this level. Since becoming eligible for the NCAA Tournament in 2012, the Eagles have missed the NCAA Tournament just two times. This will be their sixth consecutive trip to the tournament.
Playing in the mid-major A-Sun Conference afforded FGCU few opportunities at quality competition, but the Eagles took care of business nonetheless with a 17-1 record in league. Their toughest challenge of the season came against a familiar foe for WSU, the Stanford Cardinal, who beat the Eagles 93-69 back in November.
The Eagles play an exciting, high-scoring brand of basketball. Averaging 78.1 points per game, FGCU ranks 17th in the nation in
scoring. They lead the country with just under 12 made threes per game. The Eagles are an old and experienced team, with juniors and seniors accounting for all but 15 of the points the team has scored this season.
OPENING GAME: WSU vs. 12-seed Florida Gulf Coast, Sat, March 18 at 11:30 a.m., ESPNU
KEY MATCHUP: Charlisse Leger-Walker vs. Sha Carter — two strong scoring guards who lead their teams on and off the court, Leger-Walker and Carter both crash the glass with abandon. The Cougars will need to keep Carter relatively quiet in terms of rebounding to limit the Eagles' scoring.
POTENTIAL SECOND ROUND OPPONENTS: 4-seed Villanova or 13-seed Cleveland St. — WILL MAUPIN & SETH SOMMERFELD
30 INLANDER MARCH 16, 2023 801
509.313.6860
E.
Desmet | Free guest parking on 3rd floor |
"TOURNEY TIME," CONTINUED...
SUN-THU 12PM-11PM  FRI-SAT 12PM - 12:30AM 524 W MAIN AVE, DOWNTOWN SPOKANE 509-290-6518  THEPURGATORY.COM FULL MENU CHECK OUT OUR WHISKEY CLUB A TRULY UNIQUE WHISKEY & RESTAURANT EXPERIENCE A TRULY UNIQUE WHISKEY & RESTAURANT EXPERIENCE OVER 800 WHISKEYS ON THE WALL WEEKLY WHISKEY FLIGHTS
Charlisse Leger-Walker and Bella Murekatete just won the Pac-12 Tournament. Now they have their eyes set on winning the big one for WSU. WSU ATHLETICS PHOTOS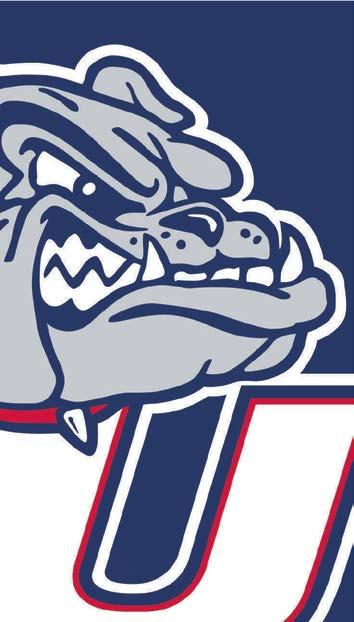 MARCH 16, 2023 INLANDER 31
From Grape to Grain
Browne Family Vineyards expands into spirits with new distillery, tasting room in East Central
BY CARRIE SCOZZARO
Ask Browne Family Vineyards founder Andrew Browne about his beverage of choice during cocktail hour, and his answer might surprise you. He's partial to a nice whiskey.
Sure, there's always "gonna be a glass of wine at the dinner table," says Browne, whose Walla Walla-based vineyard specializes in Bordeaux reds and full-bodied whites.
But as of late 2022, Browne can enjoy his first choice from a bottle that also bears his family's name.
Located in the former Warrior Liquor Distilling facility in East Central Spokane, the new Browne Family Spirits distillery produces a range of bourbon and rye whiskeys, from the First Look Collection of single malt whiskey to the Monogram Collection of 4-year-old bourbon aged in French oak cabernet barrels from the winery.
The facility also produces Gigi's Garden Lavender gin (named for Browne's grandmother) and Andy's FarmCrafted vodka that, like all the Browne spirits, features locally sourced ingredients.
Flights ($20-$25), cocktails ($14) and bottles ($40$90) of Browne Family Spirits are all available in the tasting room.
Try the old fashioned featuring reserve bourbon whiskey — aged in new oak barrels — and Browne Family Spirits' own small-batch bitters. Do a whiskey and chocolate pairing ($35), or add a light bite such as a cheese and charcuterie board ($18) or mixed nuts ($6).
The tasting room is a bright, welcoming spot with assorted merchandise, a bar, several couches and small tables. Two wooden doors frame the distillery, where master distiller Aaron Kleinhelter has spent most of his workdays since relocating from Kentucky to Spokane in 2020.
Kleinhelter brings a combination of academic and hands-on experience to Browne Family Spirits, plus a can-do attitude.
Part of the first graduating class of University of Louisville's distilling certificate program, Kleinhelter previously worked for two grain-to-glass operations: Kentucky Artisan Distillery and Jeptha Creed, which dovetails perfectly with Browne's approach of using locally sourced ingredients.
In fact, one of the first things Kleinhelter did was ask the operators of the grain storage facility across the street from the distillery (ADM Milling Co.) what was coming in and out by rail, hoping it could be used at Browne Family Spirits. (It's grain flour, so no, it couldn't be used).
"I feel like a master distiller is like a Swiss Army knife," Kleinhelter says, "a jack-of-all-trades."
One of only four staff members on-site, Kleinhelter is responsible for tours, tasting, distilling and managing more than a ton of raw ingredients that the distillery goes through on any given day. He also makes sure several
thousand pounds of spent ingredients go to local farmers who are happy to haul it away for their hungry bovine.
"You don't need a fancy education" to be a master distiller, says Kleinhelter, who is working on plans to expand Browne Family Spirits' offering with four new products per year, like a cucumber mint gin or lemon huckleberry vodka for summer.
"What you need is, you gotta have the willingness to try new things," he adds.
This philosophy is built into the foundation of the Browne organization, which for its founder includes joining a small cadre of vintners who've expanded into spirits.
Spirits are in his DNA, says Browne, who now lives in Western Washington with his wife and three children, but spent his formative years in Spokane.
"We had a place up at Priest Lake, so we would go up there on the weekends and had friends out in Coeur d'Alene and skied at Schweitzer and did all the things that somebody from Spokane would do," says the Ferris High School grad. "On a scale of one to 10, if you could rate growing up and where you grow up, and the friends you get to meet and your life, man — Spokane — if it wasn't a 10 It was a 9.9."
"My grandparents' generation were spirit drinkers, and my grandfather was a big scotch guy," Browne adds.
He credits his grandfather, William Bitner Browne, with cultivating an appreciation for both wine and spirits. Browne also credits his grandfather with teaching him essential life lessons, like hard work, the importance of family, being a good steward of the land and producing a quality product.
And so, after a successful career that initially included working for beverage distributors and led to establishing his own wine producing company, Precept Wine, in 2003, Browne turned a scant four barrels of cabernet into Browne Family Vineyards.
"So, it really started out as just a tribute to [my grandfather], and it just evolved from there," Browne says.
The business continues to evolve, and Browne is excited about the future.
"People want experiences," he says. "And we're going to bring them the full experience from when we harvested all the way through the aging process to what they're sitting there tasting, either in our tasting room or at their home or in a restaurant with a really unique platform."
Browne already has a few catchphrases in mind.
"We've got to figure in hometown Spokane, how to paint the town Browne." n
32 INLANDER MARCH 16, 2023
Browne Family Spirits • 714 N. Lee St. • Open daily 11 am-6 pm • brownefamilyvineyards.com/spirits • 509-413-1885 OPENING
Owner Andrew Browne (left) and distiller Aaron Kleinhelter. COURTESY PHOTO
See what banking is like when people come first. All Pacific NW residents are eligible to join.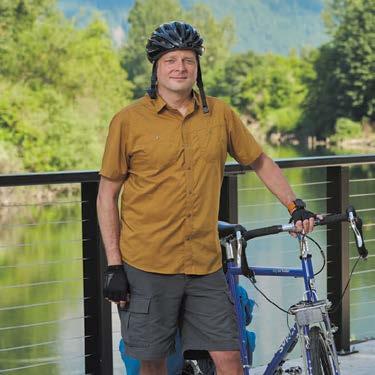 MARCH 16, 2023 INLANDER 33 Federally insured by NCUA becu.org/community
Members Michael F., Matt N., & Christa S.
=
Not for Profit
More for People
ALSO OPENING
ONE FINE MORNING
Life isn't simple for Sandra (Léa Seydoux) in this French romantic drama. She's a single mom who's also caring for her dying father, but things get more complex when she runs into her old friend Clément (Melvil Poupaud). Despite him having a family, the pair strike up a passionate affair. Rated R At the Magic Lantern SHAZAM! FURY OF THE GODS
After getting world-saving superpowers in the first Shazam! movie, Billy Batson and his foster sibling family must take on the formidable Daughters of Atlas (Helen Mirren, Lucy Liu) who want to reclaim said powers, which they believe were unjustly stolen. Rated PG-13
SOMETHING OF AN ARTIST MYSELF
Willem Dafoe sweats and screams his way through Inside, a meditative yet maddening film
Whenever there is a new work that bears the title Inside, you can be almost certain it's going to be about people having a real bad time. Be it the 2007 French horror film about a pregnant woman who is terrorized in her home by an intruder or Bo Burnham's 2021 comedy special where he is terrorized by his own mind during the COVID pandemic, experiences confined to the interior are most interesting when they find creative ways to explore within their self-imposed limitations.
That's also true in the new narrative feature debut from director Vasilis Katsoupis, which, while it doesn't always make the most of its premise, still settles into an unnerving rhythm the longer it goes on. It isn't as scary or as introspective as either of the aforementioned works, but it never tries to be. Instead, it is a psychological thriller that takes its time. The experience is built around letting the dread sink in as we observe a man wasting away, completely and utterly alone.
This man is Nemo, played by the great Willem Dafoe, and he is an art thief. An opening sequence follows him as he drops from an unseen helicopter into a fancy New York penthouse. He talks with another man on the radio who helps him bypass the security to get inside, where he begins stealing the pieces they came for. With time running short, he tries to find one portrait that isn't where they thought it would be. When this search proves fruit-
BY CHASE HUTCHINSON
less, he takes all of what he was able to find and tries to hastily exit using a code given to him. He inputs it exactly as told, but it doesn't work. Alarms start blaring and — despite his pleas for help — Nemo's co-conspirators abandon him. It is here that he will remain for the rest of the film.
Even as he doesn't ever really go anywhere, it is an almost spiritual journey that Nemo soon undertakes. After discovering there is no easy solution to his perilous predicament, he must shift into survival mode. He will have to deal with fluctuating temperatures due to malfunctioning technology, a lack of food as the original occupants left little behind, and, perhaps most significantly, the impacts of his own isolation. Dafoe embodies this with an understated yet gripping performance, as Nemo goes from methodically doing what is needed to stay alive to slowly unraveling before us when facing down his own mortality. The only portal he has to the outside world is security camera footage he can view on the television, providing a tether to humanity that brings into focus all that he may never again experience for himself.
Who Nemo is outside of this is something that we know very little about. Dafoe gives a short yet revealing monologue twice during the film with an almost resigned venom at the character's own flaws, but he mostly is silent. Save for when he begins to hallucinate,
Katsoupis never gives us a breather from the suffocating isolation by allowing him to interact with anyone else. It lacks the verve of a film like The Lighthouse, where Dafoe was able to bounce off another performer as their world began to come completely undone from reality. Inside is more grounded than that, and, even with discoveries that Nemo makes, it's oddly almost formulaic. Often as workmanlike as the man himself, it's best when it dances with its many more esoteric ideas.
Rated R
Directed by Vasilis Katsoupis
Starring Willem Dafoe
Nemo is destroying much of the penthouse, even as he is also creating. Specifically, he is building a structure out of broken furniture in the middle of it all. As much as this is about him trying to escape, it also becomes a monument to his suffering that we are all now observing. The destruction also extends to Nemo himself, as the man who entered the penthouse is no longer the same one who is trying to escape it. His confinement becomes an art installation, one contemplating the nature of art and creation itself. This richer engagement with the metaphorical can feel like it is being subsumed by elements of the literal, but it still remains as something to latch onto. Inside is fleeting in moments while being resonant in others, making the cinematic portrait of this man as flawed yet fascinating as he is. n
INSIDE
34 INLANDER MARCH 16, 2023
REVIEW
Dafoe is a man alone in Inside
To Catch a Killer
Boston Strangler offers a simple take on a complex real-life murder case
BY JOSH BELL

Only one of the 13 so-called Boston Strangler murders committed between 1962 and 1964 has ever conclusively been solved, which should offer plenty of moral ambiguity and existential doubt to explore in a movie about the case. Writer/director Matt Ruskin mostly opts for a straightforward procedural in Boston Strangler, though, leaving larger questions about the nature of truth until the very end. It's a reasonably satisfying procedural, but it offers a fairly superficial examination of the deeper issues surrounding the investigation.
One of those issues is sexism. The movie focuses on the two female reporters for the Boston Record American who first broke the story. Loretta McLaughlin (Keira Knightley) is working the lifestyle desk, reporting about toasters and political candidates' wives, when she notices a pattern in reports of women found strangled. Her hardnosed editor, Jack MacLaine (Chris Cooper), doesn't take her seriously when she insists that there's a connection between the murders, and he only reluctantly allows her to pursue the story on her own time.
own husband, and the characters' children are virtually invisible. The pushback from their male bosses has a bit more bite, but overall the movie's depiction of institutionalized sexism is tame, missing the strong thematic connection to a series of murders committed against vulnerable women living alone.
Boston Strangler is more successful when it digs into the details of the grueling, yearslong investigation, as the murders continue while seemingly every potential lead turns into a dead end. Loretta befriends a detective (Alessandro Nivola) who shares information with her, expressing his own frustration at the lack of communication and coordination among various police jurisdictions. The lengthy, labyrinthine investigation resembles the similarly confounding case in David Fincher's brilliant Zodiac. A scene of Loretta suddenly panicking while being led through a suspect's creepy home recalls one of Zodiac's tensest, most effective moments.
BOSTON STRANGLER
Rated R
Once she puts together key pieces of evidence, angering the police department in the process, he has no choice but to keep her on the story, although he assigns veteran reporter Jean Cole (Carrie Coon) to work alongside her. The two women soon become media sensations, as the murders continue and the paper coins the term "Boston Strangler" for the killer. They pick up clues that the police miss, lobbing heavy criticism at law enforcement's mishandling of the investigation. They also become the only reporters with their own photos in the paper accompanying their articles, with headlines referring to them as "girls."
Directed by Matt Ruskin
Starring Keira Knightley, Carrie Coon, Chris Cooper
Streaming on Hulu starting March 17
It also serves as a reminder that Ruskin is no Fincher, and Boston Strangler pales in comparison to landmark investigative-journalism movies like Spotlight, The Insider and All the President's Men. Knightley projects determination and compassion as Loretta, and Coon balances her out as the world-weary Jean, who gets somewhat short-changed on character development. Their dynamic holds the movie together, as Loretta and Jean doggedly track down every new clue, no matter how tenuous.
Ruskin devotes a perfunctory subplot to Loretta's domestic conflicts with her husband (Morgan Spector), who's initially supportive of her career before becoming increasingly hostile to her long hours and late-night meetings. There's a single scene of Jean at home with her
Ruskin uses a muted color palette that's probably meant to project seriousness, but often results in ugly yellow-tinged interior shots that just make the characters look sickly. The period detail is effective, though, and there's a pervasive sense of dread as the movie progresses, even while the characters are just looking through documents or making phone calls. The movie's power comes in watching these people never give up on finding the truth, even in the face of fundamentally unknowable danger. n
62
nd
Seniors PAGE 38
Admission good all weekend with handstamp.
on SON OF BRAD MAR 17 • OSPREY RESTAURANT & BAR MAR 18 • NOAH'S CANTEEN
FRI 3/17 - THU 3/23 NOW PLAYING OSCAR WINNERS: THE WHALE EVERYTHING EVERYWHERE ALL AT ONCE OPENING: ONE FINE MORNING
FOR PRIVATE RESERVATIONS EMAIL: magiclanternevents@gmail.com
MAGIC LANTERN THEATER FOR SHOWTIMES: 509-209-2383 or MAGICLANTERNONMAIN.COM
TICKETS: $10-11 NOW SERVING BEER & WINE
SONOFBRAD.COM 25 W Main Ave #125 • MagicLanternOnMain.com
10am - 6pm Friday & Saturday 10am - 4pm Sunday
Admission: Adults $ 8 • Children 12 & under FREE
MARCH 16, 2023 INLANDER 35 SCREEN | REVIEW
Keira Knightley dips into true crime in Boston Strangler
Free Parking! Hourly Door Prizes! Things to buy and things to see! Annual Gem, Jewelry & Mineral Show
The Rock Rollers Club of Spokane presents
24, 25 & 26 Spokane County Fair & Expo Center • 404 N. Havana, Spokane
(over 65), Military and Advance Tickets $7 • 1018 West Francis Ave • Spokane 509 326-6794 • theswingingdoors.com
Over 40 dealers, 60 display cases, fossils, crystals, minerals, handcrafted jewelry, lapidary supplies, demonstrations, hourly door prizes, children's activities, and more! Guinness, Pike Kilt Lifter, Green Beer, Irish Whisky, Reubens, Irish Breakfast, and Irish Stew!
March St. Patty's Specials St. Patty's Day Fri., March 17th Corned Beef & Cabbage Dinner Special
Took Long Enough
Americana heroes Old 97's hit Spokane for the first time on their 30th anniversary tour
BY DAN NAILEN
It's probably not accurate to say a band on its 30th anniversary tour and preparing to record its 13th album has had bum luck. But for those who've embraced the Old 97s' straightforward pop-rock, delivered with a touch of their native Texas twang, it's inexplicable that the quartet doesn't enjoy a bigger place in the modern rock pantheon.
There have certainly been moments along the decades when it seemed they were ready to break out from clubs and theaters into larger venues and a larger place in the public consciousness.
Five years after forming, they made the jump from altcountry-focused indie Bloodshot Records to the majors, Elektra, but the big-time label never really figured out what to do with them. An early Elektra single with a lot of buzz, "Murder (Or a Heart Attack)," was released the same week as the Columbine High School shooting, and radio stations instantly had no interest in playing a song with "murder" in the title. In the 2006 Vince Vaughn/Jennifer Aniston vehicle The Break-Up, the band appears on screen in a pivotal concert scene, but the movie's success didn't translate to band superstardom.
Lead singer/guitarist Rhett Miller doesn't have a trace of bitterness, though, while chatting about the band's jagged path to semi-fame. And he makes it clear he loves that he, bassist Murry Hammond, guitarist Ken Bethea and drummer Philip Peeples enjoy in being able to stick together for a musical lifetime.
"Once in a while we'll land on a moment when it seems like we're at the right place at the right time," Miller says. He posits that the band's appearance as an alien band in 2022's Guardians of the Galaxy Holiday Special might have helped introduce a lot of new fans to Old 97's, judging by the series of sold-out shows this tour in places they've never played before — including a sold-out stop at Lucky You on March 22.
Those with tickets — if you missed out, keep an eye on secondary markets — can expect a career-spanning set. The band recently prepared more than 80 different songs for a four-night hometown anniversary party in Dallas. While the band has pushed its sound beyond the country-forward songs of its earliest records into more of a hyper-literate classic-rock approach (a la the Hold Steady) as the members aged, early songs like "Timebomb" and "Big Brown Eyes" sit easily alongside tracks from their latest album, 2020's aptly named Twelfth
Embarking on a 30th anniversary tour inevitably begs questions looking backward, although Miller is usually loath to hop in the wayback machine. "Even when I'm forced to do it, I almost never give in to talking about the old days, that nostalgia," Miller says.
ROCK
36 INLANDER MARCH 16, 2023
Rhett Miller (center, top) and the rest of the Old 97's still like each other after three decades.
Ever the Texas gentleman, despite his long ago relocation to New York's Hudson Valley, Miller abides inquiries about the early days of the band, when he was making music as an adolescent troubadour. And he still laughs at the fact the Dallas Observer dubbed him a "pretty boy teen folkie." His future bandmate Hammond produced Miller's early recordings, and some of Edie Brickell's New Bohemians worked on the sessions.
As so-called "alternative rock" blew up in the early '90s in the wake of Nirvana's success, Miller and Hammond decided to start a band and see if they could make a similar noise. At that time in Dallas, the Toadies were the band looking like future big-time rock stars.
"Everyone was starting bands to get signed [to a record label], like that was the be-all, end-all," Miller says. He and Hammond wrote some big, loud songs for a bit, but it didn't feel right.
"We quickly realized we were never going to be Nirvana," Miller says. "We were never going to be the Toadies, even. So we thought, 'Let's start a band that can play in coffee shops and bars, the music we're comfortable making.'"
A smart move, considering what's transpired in the 30 years since. Old 97's' run has been remarkably consistent and dramafree. They've had the same four-piece lineup since those early days in Dallas. They deliver a winning collection of new songs every couple years. Their live shows are barn-burners whether playing a 250-person bar or 2,500-person theater ("We're pretty good at scaling up and scaling down," Miller says). And they're always moving forward, trying to pen that perfect gem of Americana bliss.
"The Old 97's as a band, and me as a person, has almost always had something going on," Miller says by way of explaining how the band has stayed together and worked peacefully all those years.
About 10 years into the band's career, Miller started putting out a series of excellent solo albums in between band records and tours. And while many groups would splinter after their lead singer went off on his own, Old 97's encouraged Miller's outside artistic pursuits.
"I try to run everything through the band," Miller says. "The Old 97's are my number one priority. They're kind enough to let me do solo records, and if they didn't I might resent that."
Miller's solo career parallels the band's in some ways. There were times when it seemed like a Miller solo work would launch him to a new level of popularity, but quirks of the music business kept that from happening despite the dreamy pop-rock he's delivered with albums like The Instigator and The Traveler. In one case, the label was putting out Miller's album the same time as Jason Mraz was coming out with his first album. "I thought, 'One of these is going to be a hit, and it's going to be the guy who raps and wears his hat sideways,'" Miller says. "That's not me."
Never one to let dashed expectations get him down, Miller forges ahead through a rich creative life based in his work with Old 97's, but also including writing children's books and hosting a podcast on creativity called Wheels Off, that's included enthralling conversations with authors, chefs, poets and, of course, musicians.
The podcast came alive in the early days of the pandemic, when Miller also was an early adopter of streaming shows, playing almost weekly showcases online. Financially, he did pretty well, and he loved the extra family time with his wife and children. But he's happy to be back to work with his Old 97's brothers.
"It's a little bit back to the grind, flying through snow, driving through snow, to get to gigs," Miller says. "But it beats having a job." n
Old 97's, Caitlin Rose • Thu, March 22 at 8 pm • Sold out • Lucky You Lounge • 1801 W. Sunset Blvd. • luckyyoulounge.com 5 SONGS TO KNOW BY OLD 97'S 1. "Timebomb" 2. "Barrier Reef" 3. "Murder (Or a Heart Attack)" 4. "Question" 5. "Bottle Rocket Baby" Spokane String Quartet www.spokanestringquartet.org ALL SEATS GENERAL ADMISSION ADULTS $25 SENIORS $20 UNDER 18 AND STUDENTS WITH ID FREE 3 P.M. SUNDAY MARCH 19 BING CROSBY THEATER PERFORMING MUSIC BY CAROLINE SHAW PHILIP GLASS • MAX BRUCH comedian Hasan Minhaj Star of Netflix' Homecoming King, Patriot Act with Hasan Minhaj and The King's Jester. WSU FAMILY WEEKEND EVERYONE WELCOME! April 1, 2023 WSU Beasley Coliseum 925 NE North Fairway Rd, Pullman, WA Tickets available at Tickets West $74.50 General Admission $69.50 for WSU Students & Staff Sign up now at Inlander.com/newsletters DELIVERED TO YOUR INBOX A special Inlander preview, a day early EVERY WEDNESDAY MARCH 16, 2023 INLANDER 37
ELECTRONIC UNKNOWN MORTAL ORCHESTRA ST. PADDY'S MYSTERIOUS WAYS
Thursday, 3/16
CHAN'S RED DRAGON ON THIRD, Thursday Night Jam
CHECKERBOARD TAPROOM, Weathered Shepherds
J DAVENPORT GRAND HOTEL, Matty Ride
HIGHBALL, Villa Blues
J HISTORIC DAVENPORT HOTEL, Riley Grey
J KNITTING FACTORY, Big Wild, Bay Ledges
J MCCRACKEN'S PUB AND BBQ, Steve Starkey
J QQ SUSHI & KITCHEN, Just Plain Darin
RELIC SMOKEHOUSE & PUB, Pamela Benton
J THE FOX THEATER, Ryan Adams
ZOLA, The Desperate Eights
Friday, 3/17
AK ASIAN RESTAURANT, Nate Ostrander
BACKWOODS WHISKEY BAR, The Real McCoy
BIGFOOT PUB, Dangerous Type
BOLO'S BAR & GRILL, Chasing Eos
CHAN'S RED DRAGON ON THIRD, Steve Livingston and Triple Shot + Belly Dancers
CHINOOK STEAK, PASTA & SPIRITS, Kyle Swaffard
CURLEY'S, The Shift
J DAVENPORT GRAND HOTEL, Lyle Morse
THE DRAFT ZONE, The Willing and Able, DJ Byrd, Rusty Jackson
J THE GRAIN SHED - CEDAR TAP
HOUSE, St. Paddy's Day Open Mic
HAMMERS BAR & GRILL, Sapphire
J HIGHBALL A MODERN SPEAKEASY, Mysterious Ways
J HISTORIC DAVENPORT HOTEL, Brent Edstrom Trio
THE HIVE, The Rub
HUNTERS BAR AND GRILL, Black Jack Band
IRON HORSE (CDA), Heather King Band
LUCKY YOU LOUNGE, Starcourt: '80s St. Patrick's Day Party
MOOSE LOUNGE, Rock Candy
NIGHTHAWK LOUNGE (CDA CASINO), Pastiche
OLD MILL BAR AND GRILL, James Motley
OSPREY RESTAURANT & BAR, Son of Brad
PACIFIC AVE PIZZA, Touch of Evil, Cruel Velvet
J PEND D'OREILLE WINERY, Zach Simms Trio
J PEND D'OREILLE WINERY, Annie Welle
THE RIDLER PIANO BAR, Just Plain Darin
SPOKANE EAGLES LODGE, Stagecoach West
THE VIKING, St. Paddy's Day Pitch-A-Tent
Saturday, 3/18
BACKWOODS WHISKEY BAR, Keith Wallace
BIGFOOT PUB, Dangerous Type
J BING CROSBY THEATER, Mania: The ABBA Tribute
BOLO'S BAR & GRILL, Chasing Eos
CHAN'S RED DRAGON ON THIRD, The Coleman Underground CHINOOK STEAK, PASTA & SPIRITS, Kyle Swaffard
CURLEY'S, The Shift
J DAVENPORT GRAND HOTEL, Lyle Morse
THE DRAFT ZONE, Bo Johnson
EMERGE, Cicada Session: The Waiting Game
HAMMERS BAR & GRILL, Sapphire
HIGHBALL A MODERN SPEAKEASY, The Cronkites
J HISTORIC DAVENPORT HOTEL, Dr. Don Goodwin
IRON HORSE (CDA), Heather King Band
J LUCKY YOU LOUNGE, Itchy Kitty, United F------- States, Gotu Gotu
LUCKY YOU LOUNGE, The Imagine Collective
MOOSE LOUNGE, Rock Candy NIGHTHAWK LOUNGE (CDA CASINO), Pastiche
Originally hailing from New Zealand, Unknown Mortal Orchestra has become one of the premiere providers of vibesheavy modern psychedelic rock. Frontman Ruban Nielson uses heady guitar playing and his soothingly soft voice to create audio realms to sway the days away. UMO unleashes a new array of sonic treats this week with the release of its fifth LP, the aptly titled V. Days later, UMO kicks off its North American tour with a stop at the Knitting Factory. The Monday night gig is the perfect way to wash away the start-of-theweek ickiness with waves of warm sound.
— SETH SOMMERFELD
Unknown Mortal Orchestra, Amulets • Mon, March 20 at 8 pm • $25-$27 • All ages • Knitting Factory • 919 W. Sprague Ave. • sp.knittingfactory.com
Trying to figure out your St. Patrick's Day plans… but still haven't found what you're looking for? Well hello, hello, don't go to a place called Vertigo. Instead have a beautiful day by heading to Northern Quest Casino's Highball speakeasy and checking out the U2 tribute act Mysterious Ways. Their renditions of the Irish rockers' hit-laden catalog should go down smooth whether you're taking it with one of Highball's fancy mixed drinks, a Guinness or even a green beer. Nobody's forcing you to go, but it will be a fun time with or without you.
— SETH SOMMERFELD
Mysterious Ways • Fri, March 17 at 7 pm • Free • 21+ • Highball • 100 N. Hayford Rd, Airway Heights • northernquest.com
NOAH'S CANTEEN, Son of Brad
OSPREY RESTAURANT & BAR, Jacob Burrows
J PEND D'OREILLE WINERY, Tom Catmull
J PONDEROSA BAR AND GRILL, Rhythmic Collective Duo
J SIRINYA'S THAI RESTAURANT & LOUNGE, Steve Starkey
J SNOW EATER BREWING CO., Just Plain Darin
THE VIKING, St. Paddy's Day Pitch-A-Tent ZOLA, Blake Braley
Sunday, 3/19
CURLEY'S, Hoodoo Udu
HAMMERS BAR & GRILL, Kicho
J HISTORIC DAVENPORT HOTEL, Earecka Tregenza
HOGFISH, Open Mic
LUCKY YOU LOUNGE, Jeffrey Martin, Marshall McLean
J NORTHERN QUEST RESORT & CASINO, George Thorogood and the Destroyers
J THE CENTENNIAL HOTEL, Imagine Jazz + University Ensembles
Monday, 3/20
J EICHARDT'S PUB, Monday Night Blues Jam with John Firshi
J J KNITTING FACTORY, Unknown Mortal Orchestra, Amulets
LUCKY YOU LOUNGE, G. Love & Special Sauce, Nat Myers
RED ROOM LOUNGE, Open Mic Night
Tuesday, 3/21
LITZ'S PUB & EATERY, Shuffle Dawgs ZOLA, The Night Mayors
Wednesday, 3/22
THE DRAFT ZONE, The Draft Zone Open Mic
J PEND D'OREILLE WINERY, Jason Evans
RED ROOM LOUNGE, The Roomates
SOUTH PERRY LANTERN, Pat Coast ZOLA, Runaway Lemonade
MUSIC | SOUND ADVICE
38 INLANDER MARCH 16, 2023
J = THE INLANDER RECOMMENDS THIS SHOW J = ALL AGES SHOW
MUSIC | VENUES
219 LOUNGE • 219 N. First Ave., Sandpoint • 208-263-5673
ARBOR CREST WINE CELLARS Rd., Spokane Valley • 509-927-9463
BABY BAR • 827 W. First Ave. • 509-847-1234
BARRISTER WINERY • 1213 W. Railroad Ave. • 509-465-3591
BEE'S KNEES WHISKY BAR • 1324 W. Lancaster Rd.., Hayden • 208-758-0558
BERSERK • 125 S. Stevens St. • 509-315-5101
THE BIG DIPPER • 171 S. Washington St. • 509-863-8098
BIGFOOT PUB • 9115 N. Division St. • 509-467-9638
BING CROSBY THEATER • 901 W. Sprague Ave. • 509-227-7638
BLACK DIAMOND • 9614 E. Sprague Ave. • 509891-8357
BOLO'S BAR & GRILL • 116 S. Best Rd., Spokane Valley • 509-891-8995
BOOMERS CLASSIC ROCK BAR Ave., Spokane Valley • 509-368-9847
BUCER'S COFFEEHOUSE PUB Moscow • 208-596-0887
THE BULL HEAD • 10211 S. Electric St., Four Lakes • 509-838-9717
CHAN'S RED DRAGON • 1406 W. Third Ave. • 509-838-6688
COEUR D'ALENE CASINO • 37914 S. Nukwalqw St., Worley • 800-523-2464
COEUR D'ALENE CELLARS • 3890 N. Schreiber Way, Coeur d'Alene • 208-664-2336
CRUISERS BAR & GRILL • 6105 W Seltice Way, Post Falls • 208-446-7154
CURLEY'S HAUSER JUNCTION Post Falls • 208-773-5816
EICHARDT'S PUB • 212 Cedar St., Sandpoint • 208-263-4005
FIRST INTERSTATE CENTER FOR THE ARTS 334 W. Spokane Falls Blvd. • 509-279-7000
FOX THEATER • 1001 W. Sprague Ave. • 509-624-1200
IRON HORSE • 407 E. Sherman, Coeur d'Alene • 208-667-7314
IRON HORSE BAR & GRILL • 11105 E. Sprague Ave., Spokane Valley • 509-926-8411
JOHN'S ALLEY • 114 E. Sixth St., Moscow • 208-883-7662
KNITTING FACTORY • 911 W. Sprague Ave. • 509-244-3279
LEFTBANK WINE BAR • 108 N. Washington St. • 509-315-8623
LUCKY YOU LOUNGE • 1801 W. Sunset Blvd. • 509-474-0511
MARYHILL WINERY • 1303 W. Summit Pkwy. • 509-443-3832
THE MASON JAR • 101 F St., Cheney • 509-359-8052
MAX AT MIRABEAU • 1100 N. Sullivan Rd., Spokane Valley • 509-922-6252
MILLIE'S • 28441 Hwy 57, Priest Lake • 208-443-0510
MOOSE LOUNGE • 401 E. Sherman Ave., Coeur d'Alene • 208-664-7901
MOOTSY'S • 406 W. Sprague Ave. • 509-838-1570
NASHVILLE NORTH • 6361 W. Seltice Way, Post Falls • 208-457-9128
NORTHERN QUEST RESORT & CASINO • 100 N. Hayford Rd., Airway Heights • 877-871-6772
NYNE BAR & BISTRO • 232 W. Sprague Ave. • 509-474-1621
PEND D'OREILLE WINERY • 301 Cedar St., Sandpoint • 208-265-8545
THE PODIUM • 511 W. Dean Ave. • 509-279-7000
POST FALLS BREWING CO. • 112 N. Spokane St., Post Falls • 208-773-7301
RAZZLE'S BAR & GRILL • 10325 N. Government Way, Hayden • 208-635-5874
RED ROOM LOUNGE • 521 W. Sprague Ave. • 509-838-7613
THE RIDLER PIANO BAR • 718 W. Riverside Ave. • 509-822-7938
SEASONS OF COEUR D'ALENE • 1004 S. Perry St. • 208-664-8008
SPOKANE ARENA • 720 W. Mallon Ave. • 509-279-7000
SOUTH PERRY LANTERN • 12303 E. Trent Ave., Spokane Valley • 509-473-9098

STEAM PLANT • 159 S. Lincoln St. • 509-777-3900
STORMIN' NORMAN'S SHIPFACED SALOON • 12303
E. Trent Ave., Spokane Valley • 509-862-4852
TRANCHE • 705 Berney Dr., Wall Walla • 509-526-3500
ZOLA • 22 W. Main Ave. • 509-624-2416
Lookout Pass has always had the best
powder—and
year
are 500 new acres of it. Our new Eagle Peak expansion means fresh terrain, 14 new runs, and a second quad chairli t. It's an a ordable family and friends ski day that's easy to reach via I-90. 4.22.23 45 Wine Varietals Live Music cdadowntown.com 208.415.0116 SCAN FOR TICKETS Shop. Sip. Stay. Play SuMmEr CaMpS oN sTaNdS aPrIl 6 IsSuE MaKe sUrE yOuR cAmP iS lIsTeD! DEADLINE MARCH 24 SUBMIT YOUR CAMP: getlisted@inlander.com or online at Inlander.com/submitcamps RESERVE AD SPACE BY MARCH 30 Advertising@Inlander.com | 509-325-0634 ext. 215 MARCH 16, 2023 INLANDER 39
this
there
COMMUNITY MAKING AN ENTRANCE
Spring is almost here, which means the arrival of new life and new possibilities for everyone. At this powwow commemorating the Coeur d'Alene Resort's 30th anniversary, families are invited to celebrate name givings, rejoining, and the lives of family members who have passed on. With two grand entries, the first at 1 pm and the second at 7 pm, each dancer who comes dressed in regalia and ready to dance receives a $30 gift in recognition of the casino's 30th anniversary. The powwow also includes several local drummers, a special dance to honor veterans and prize payouts up to $500 for winners for the Men's Chicken and Women's Short Fringe dances. Whether you just want to watch a beautiful cultural performance or you're apt to participate, everyone is welcome to attend this extra special powwow to celebrate the birth of new beginnings.
— MADISON PEARSON
WORDS FEMINISTA FREQUENCIES
Radio has a history of benefiting rural areas by connecting more isolated communities with the world around them.
PERFORMANCE DANCE YOUR HEART OUT
30th Anniversary Powwow
• Sat, March 18 at 1 pm and 7 pm
• Free • Coeur d'Alene Casino
• 37914 S. Nukwalqw, Worley • cdacasino.com
• 800-523-2467
Monica De La Torre's new book Feminista Frequencies: Community Building Through Radio in the Yakima Valley highlights the impactful work of Chicana farm workers and activists in the development and growth of Radio KDNA beginning in 1979. The astonishing history of one of the country's only full-time Spanish-language community radio stations brought to light in De La Torre's book adds a new component to the history of the Chicano movement and to women's history, and illustrates the revolutionary impact Radio KDNA had on community radio programing.
— SUMMER SANDSTROM
Monica De La Torre: Feminista Frequencies • Wed, March 22 from 5:30-6:30 pm • Free • Gonzaga University • 502 E. Boone Ave. • feministafrequencies.com • 509-313-5927
Calling all dancers! Whether you've taken professional classes, have never danced before or just love being active, the 19th annual DanceFest has something for everyone. The event has been held virtually the last two years, but it's back this year with a full schedule of activities for all. The day is jam-packed with 10 free dance classes for styles such as flamenco, salsa, clogging, musical theater and more. To conclude the day, local dancers take the stage for a free 90-minute performance. Plus, you can win prizes during the event's raffle, the proceeds of which go directly toward the festival, keeping it free for all.
— SUMMER SANDSTROM
DanceFest 2023 • Sat, March 18 from 10 am-3:30 pm • Free • Spokane Community College • 1810 N. Greene Ave. • indaspokane.com • 509-986-8333
40 INLANDER MARCH 16, 2023
GET LISTED!
Submit events online at Inlander.com/getlisted or email relevant details to getlisted@inlander.com. We need the details one week prior to our publication date.
MUSIC NEW & OLD
For the next concert of its current season, the Spokane String Quartet, composed of four esteemed musicians, all members of the Spokane Symphony, Mateusz Wolski, Amanda Howard-Phillips, Jeannette Wee-Yang and Helen Byrne, showcases music both new and old. The group performs one of just two string quartets by German Romantic era composer Max Bruch, who mainly wrote for orchestras or solo instruments. Complementing Bruch's rich melodies, the quartet shifts to two familiar contemporary composers: Philip Glass and Caroline Shaw. Glass' String Quartet No. 5 was written to accompany Bela Lugosi's 1931 Dracula and has been described as both energetic and tender. Shaw, meanwhile, has been honored with both a Pulitzer (at age 30, she was the youngest music recipient) and Grammy for her work. The quartet takes on Shaw's Beethoven-inspired "Blueprint."
— CHEY SCOTT
Spokane String Quartet • Sun, March 19 at 3 pm • $20-$25; free for 18 and under, students with ID • Bing Crosby Theater • 901 W. Sprague Ave. • spokanestringquartet.org
COMMUNITY LUCKY FRIDAY
While many festivities, including St. Patrick's Day parades in downtown Spokane and Coeur d'Alene, took place last weekend, the Luck O' the Irish is in full bloom this Friday during the holiday's official observance. Whether you think green beer is a gimmick or not, there's plenty to see, hear, eat and drink. Among the highlights for the bar crowd, the Viking is hosting its two-day "Pitch-A-Tent" parking lot party with a heated beer garden, live music and more, happening Friday and Saturday. In Coeur d'Alene, a lake cruise boat goes green for the ticketed ($55/person) "St. Paddy's Day Yacht Party." If the bar scene isn't your thing, Riverfront Park has a family-friendly "Leprechaun Gold" scavenger hunt, from 11 am to 7 pm, tasking visitors to find one of the 50 gold coins hidden throughout the park, each redeemable for a free ride on the Looff Carrousel.
— CHEY SCOTT
*Here's the legal stuff:
Rate information
APY=Annual Percentage Yield. Bonus checking is subject to a tiered variable rate. 2.00% APY applies to balances $0 to $25,000. .05% APY applies to balances $25,000 and above. APY accurate as of 1/1/2023. Rates may change after account opening. Fees may reduce earnings.
Monthly Qualifiers
In order to earn dividends at the disclosed
• Details and more at Inlander.com/events
St. Patrick's Day Festivities • Fri, March 17; times vary
Federally insured
MARCH 16, 2023 INLANDER 41
by NCUA
rate, during each monthly qualification cycle you must: (a) using your Bonus Checking VISA Debit Card 12 or more point of sale transactions in an amount equal or greater than $5.00 that post and settle to your account by your monthly statement; and (b) consent to receive your periodic statements electronically (eStatements). Each qualification cycle will begin on the last business day of the preceding monthly statement cycle, and end on the day that immediately precedes the last day of the current monthly's statement cycle. No dividends will be earned if the monthly qualifiers are not met.
Bonus Checking requirements There is a limit of 1 Bonus Checking account per prime member based on Social security number. The minimum balance required to open a Bonus Checking is $25. No minimum balance must be maintained to earn dividends. Open a Bonus Checking account today! 2.00% APY* Checking with more CHA-CHING. 800.433.1837 • numericacu.com
General
I SAW YOU
SKATED OUT OF MY HEART U took me dancing ages ago. At thirsty's we requested American pie at the end of the night, so we had a few extra minutes on the dance floor. My time was best spent when I was with you, then things got complicated, and we lost touch. Last time I saw you was at RFP on 7/4. I told you all about my new love. Well, he ended up being a HUGE DUD. Wally, I miss you terribly and would love to see ur smile sparkle and eyes glisten once again. Are you still skating? Are you still in the area? If someone sees this and knows who this is, please ask him to contact me.
NORDIC GODDESS I saw you on the Mt. Spokane Nordic trails coming up the switchbacks on Outer Limits. You had a big smile on your face and you passed me too fast. If it wasn't so out of breath, I would have stopped to talk but I couldn't breathe. Hope to see you in the lodge or at the Quartz Mountain lookout before the seasons over.
NICE GLUTES You: Running through Riverfront Park at a speedy clip. Me: eating an ice cream cone, yelling encouragement from my spot at the Carousel. I'm sorry if the "Run Forrest Run!" cheer is cliche, but it just felt right at the time. Maybe a preBloomsday training run? Or skip the run, head straight to beer?
SERENDIPITY I saw you, you saw me, years passed along, and at just the right moment I saw you again… and again… and everything is falling into place in just the right way, as it
feels like it was woven into the fabric of the great mystery of the universe. Let it grow. It feels perfect.
CUTE GIRL AT THE ROCKET You, cute brunette, wearing those nerdy glasses staring at a copy of the Inlander. Me tall, dark, handsome giving you the look as I drink my huckleberry mocha, wondering how you fit in those jeans. I hope you see this and maybe connect.
UNCOUTH Guys, I see you: struggling to get on and off the bus; shuffling along in public places. You are not infirm. Your movements are hindered because you wear your pants with the crotch down at your knees! If this was once hip styling, it is no longer. Pull up your pants, wear a belt, show some dignity. Don't you want society to know that there is more to you than just vulgarity?
CHEERS
THE KINDEST PEOPLE On Monday I had an appointment at the Heart Institute at Sacred Heart. I had been sent a map of exactly where to park, and I followed it to the letter! Walking is extremely difficult for me, so I had left home over an hour early. I parked but had to walk a distance since the handicapped spaces were full. Sitting at the elevator I noticed the wall directions said I could not get to my destination from where I was. I called the office. Tired, frustrated and having chest pains. I was in the wrong building, and it was a long ways to my destination. But there was an escort service that would take me in a wheelchair and then bring me back. The helpfulness of the gentleman trying to show me where I had made my error was so refreshing! The kindest girl came and whisked me to my appointment a mile from where I was located. The tech had started his next appointment while he waited for me. He was so calming and reassuring, and when I finished with him I had planned to accomplish some lab work, but since I had fouled everything up I said I'd do it another time. Nope. He personally drove me up to the lab, the lady held my walker for me during the draw, and another fantastic lady came and picked me up and drove me back to my starting place. What an afternoon of kindness, and grace, and patience, and everything that is good! I was so impressed with all these people, both volunteers and workers at Sacred Heart. It was pure joy to be in their presence. Thank you for helping this old lady remember what life used to be like. I am very grateful.
A LIFESTYLE OF COMPLIMENTS The person that wrote "a genuine nice compliment" was on target. However, it would be nice if we develop a lifestyle of giving compliments. For many people, it is always winter — even in 100-degree weather. You never know if your compliment might snatch someone from the brink of suicide.
JEERS
BET YOU PARK THE WRONG WAY AT HOME, TOO Jeers to those who commented on my comment on taking down Christmas lights. Sure, some folks could be disabled
it gets cold for those who choose to live outdoors. I'll let Spokane decide whether the $30 million renovation was intended to be for a shelter. Go back and read the article. Get a little education. You need it. There are problems at the library mentioned in that article. Learn about them.
In conclusion, I would also suggest putting a filter on your mouth when it comes to launching fiery darts of slander. Venting seldom helps.
HELPING THE HOMELESS To the gentleman that helped my son on Thursday morning, May 9. I am assuming he solicited you for food and you were kind enough to buy him something at the Brews Brothers, downtown. Thank you for being so kind. He is not doing well and needs help and does not want it, right now, from his loving and worried family. Thanks also for not giving him cash, as that is the last thing those with his struggles need!
BIPOLAR ESTRANGED WIFE Remember, you are the Phoenix. You have set fire to your nest and are being consumed by flame. You'll rise from ashes and live once again. You may not feel like the Phoenix, but there is no better metaphor for you and your life. You reinvent yourself every so many years whether change is needed or simply wanted by you. You set your nest afire using embers of your own flesh. The nest being the relationships you formed during that particular lifetime, and the embers are the lies and lack of self-worth you harbor. Once all those important relationships have been severed, the nest no longer burns, you just fly away with not a care in the world. The Phoenix is destined for solitude and solitude by choice... and so are you. I love you, and I don't question it at all. I love you, but I don't think I can endure the flames of another one of your short lifetimes. We are supposed to live once and only once.
GONZAGA PREP Congratulations to the 2023 4A Civic Bowl State Champions. Accomplished by hard work on their own time while carrying a full class schedule.
vets or elderly, but then, how did they get the lights up in the first place? Also? I don't see any Halloween decorations still up, Christmas trees in windows, or blow-up lawn decorations to accompany the oh-sooverdue taking down of lights. To imply that I have a utopian existence to suggest that being lazy isn't a good look is nonsense. All I'm saying is, if you can put them up, you can take them down. Or perhaps we'll just all park facing the wrong direction in front of our house. I didn't realize I would strike such a nerve in the Spokane community that would equate to no less than four people who "had not only the time but the honest to god inclination to contemplate, articulate and disseminate a detailed description of the unbearable displeasure you have endured at the hands" of someone who upset you by suggesting that Christmas is special, it's over, and it's time to move on. You want to keep the lights up? Fine. Make them holiday specific. Otherwise? It's just lazy and you know it, or you would still have a Christmas tree in your window and Halloween decorations up.
LOCAL GRIFTERS AKA GOVERNMENT
Instead of wasting everyone's time and money passing the Fair Meal Delivery ordinance cap, you let the market decide. Leave your Marxist B.S. in the trash where it belongs and start working on actual problems facing normal people. Instead of telling businesses what they can and can't do, how about you get to work fixing the roads, crime, and actually addressing the drug/mental illness problems that are the real cause homelessness.
RE: CITY COUNCIL PRO-HOMELESS? Get your facts straight. The SPOKANE City Council is not rezoning a mobile home park, the CHENEY City Council is.
RE: LIBRARY CONCERN
To those who criticized the jeer about the downtown library conditions, you probably need to bone up on your own education before insulting someone else's. Despite your sympathies for those who choose to live outdoors, the word "library" is defined by "Mr. Webster" as "a place in which literary, musical, artistic, or reference materials (such as books, manuscripts, recordings, or films) are kept for use but not for sale." Nowhere in the definition does it indicate it's a refuge for those who choose to live outdoors. The Inlander did a great job of explaining the problem a few weeks back. The problem seems to rest in those who don't understand the definition of "library." Last I checked, there were "shelters" when
SPOKANE SPECIAL Here's a handy little test: Do you drive a 20-year-or-older car? Give yourself 1 point. SUV? Add another point. Is it missing glass? 1 point. Driving on a baby spare? 2 points. Studded tires year-round? 2 points. Expired tabs? 2 points. Missing license plate? 3 points. Raiders decal? 2 points. Trump or MTFU decal? 5 points. If you scored more than 10 points, you don't belong on the road. 15 or more points you're probably a felon with a warrant. n
NOTE: I Saw You/Cheers & Jeers is for adults 18 or older. The Inlander reserves the right to edit or reject any posting at any time at its sole discretion and assumes no responsibility for the content.
42 INLANDER MARCH 16, 2023
T O O N W H O I S O F F S R O H E W O W M E R I L E O P T I F U L L N E L S O N P S A L M S O T S H R E E I N A R M S R S T I C Z E I T G E I S T Y N A N A O P A R T M I C S I F I M A Y S A Y S O S A F E E R N I E B E D S M A S O N D I X O N E X O P U P S A O E C O I S R S L O W L C D T V T H E W I L L I E S O O O O S O I R E A S E D S U P T O P T S T R E K S A T I E THIS WEEK'S ANSWERS SOUND OFF 1.
Inlander.com/isawyou
3
Monday. 2. Pick a category (I Saw You, You Saw Me, Cheers or Jeers). 3. Provide basic info: your name and email (so we know you're real). 4. To connect via I Saw You, provide a non-identifying email to be included with your submission — like "petals327@yahoo.com," not "j.smith@comcast.net." " Leave your Marxist B.S. in the trash where it belongs... " NMLS 407890 hzcu.org/momentum OAC. Membership fee and restrictions may apply.
SAW YOU WITH A GREAT HELOC RATE Special introductory
Special introductory
Interest only payment
Interest only payment
Visit
by
pm
I
rate
rate
option
option
BENEFIT
CHARITY BINGO All proceeds from purchased bingo cards go to Vanessa Behan. March 19, 4-6 pm. $1 per card. The Grain Shed - Cedar Tap House, 111 S. Cedar St. thegrainshed.coop (509-241-3853)
WHEN PURPLE RIBBON BANQUET This banquet benefits Women's Healing and Empowerment Network and Cleone's Closet Food Pantry. March 19, 6-8 pm. Free. CenterPlace Event Center, 2426 N. Discovery Place Dr. whenetwork.org
FLANIGAN FOUNDATION FAMILY MOV-
IE NIGHT FUNDRAISER Watch "Puss
In Boots: The Last Wish" while raising money to feed hungry families. March 20, 6-8:30 pm. $10 donation. donation. Village Centre Cinemas Wandermere, 12622 N. Division St. flanigan-foundation.com
COMEDY
PUN WORKOUT This improv class focuses on how to improve your pun skills. You must complete the Blue Door Improv 101 class or have previous theater experience. Ages 18+. March 16 and 23, 7-9 pm.
$50. Blue Door Theatre, 815 W. Garland Ave. spokaneschoolofimprov.org
DETECTIVE DO RIGHTS This improvised show creates a mystery-solving case file based on audience suggestions. Fridays at 7:30 pm. $9. Blue Door Theatre, 815 W. Garland Ave. bluedoortheatre.com
IMPROV & POETS This eight-week course focuses on how the basics of improv can translate to writing poetry. March 18-May 6, Sat from 10 am-12 pm. $200. Blue Door Theatre, 815 W. Garland Ave. spokaneschoolofimprov.org
SAFARI Blue Door's fast-paced improv show. Reservations recommended. Saturdays at 7:30 pm. $9. Blue Door Theatre, 815 W. Garland. bluedoortheatre.com
COMMUNITY
CAMPBELL HOUSE DARK HISTORY: SO -
CIETY SECRETS An after hours tour that sheds light on strange details and unconventional stories from turn of the century Spokane. Third Thursdays, 6 pm through Oct. 19. $3.50-$6. The MAC, 2316 W. First Ave. northwestmuseum.org
LILAC CITY LIVE! This month's edition features SockieTalkie founder Linda Beedle, spa herb creator Danielle Smith and music from T.S. The Solution. March 16, 8 pm. Free. Central Library, 906 W. Main Ave. spokanelibrary.org (509-444-5336)
LEPRECHAUN GOLD Find one of 50 gold
coins scattered throughout the park and redeem it for a carrousel ride. March 17, 11 am-7 pm. Free. Riverfront Park, 507 N. Howard St. riverfrontspokane.com
FREE PET VACCINES Vaccines available include DAPPv for dogs, HCP for cats and rabies for both cats and dogs. Bring pet on leash or in carrier. First come, first served. March 18, 9 am-1 pm. Free. SpokAnimal, 710 N. Napa St. spokanimal.org
OPEN HOUSE: WOMAN'S CLUB OF SPOKANE Drop-in open house events feature performances, free dance classes, history lectures, vintage fashion displays and more. March 19 and 26, 2-4 pm. Free. Woman's Club of Spokane, 1428 W. Ninth. thewomansclubofspokane.org
GENEALOGY FOR BEGINNERS Learn the basics of researching to get results and discover useful websites and databases to find family histories. This event also takes place at other SCLD branches, see website for details. March 22 and 29, 10-11:30 am. Free. Deer Park Library, 208 Forest St. scld.org/events
FILM
LIGHTS, CAMERA, ACTIVISM: BIRTHING JUSTICE This documentary centers on the expertise and experiences of Black women and their birthing advocates, concluding with a panel discussion. March 17, 6-8 pm. Free. Magic Lantern Theatre, 25 W. Main Ave. facebook. com/tlptalk
IDAHO ASIA INSTITUTE: THE TIME TO LIVE AND THE TIME TO DIE Taiwanbased director Hou Hsiao-hsien's semiautobiographical take on growing up in Taiwan in the aftermath of the Chinese Civil War. March 21, 7 pm. Free. The Kenworthy, 508 S. Main St. kenworthy.org
FOOD & DRINK
LUCK OF THE IRISH WHISKEY DINNER
A six-course Irish-inspired menu featuring Jameson Whiskey-infused cocktail pairings. March 17, 6-9 pm. $125. Beverly's, 115 S. Second St. beverlyscda.com
GLASS JAR NIGHT & ST. PATTY'S DAY
DINNER A meal of corned beef, bratkatofflen, red cabbage, green velvet cake and beer. Call for reservations. March 18, 6-11 pm. $20. German American Hall, 25 W. Third. facebook.com/GASSpokane (509-954-6964)
KITCHEN COOKING CLASS: GNOCCHI Commellini Estate's executive chef teaches how to make gnocchi, followed
by a family-style meal. March 22-23, 6:30 pm. $85. Commellini Estate, 14715 N. Dartford Dr. commelliniestate.com
MUSIC
CELEBRATING OUR YOUNG ARTISTS
WINNERS National and international young artists perform world-class solo performances with the Coeur d'Alene Symphony. March 18, 7:30 pm. $10-$25. Schuler Performing Arts Center, 1000 W. Garden Ave. cdasymphony.org
HORNAPALOOZA A day of horn celebration featuring Chris Castellanos of the Boston Brass. March 18, 8:15 am-5 pm. $25-$30. Whitworth Cowles Auditorium, 300 W. Hawthorne Ave. whitworth.edu/ music (509-777-3280)
SPOKANE SYMPHONY POPS 4: CIRQUE MUSICA SYMPHONIC Cirque Musica's aerialists and acrobats perform to music by the Spokane Symphony. March 18, 7:30 pm. $47-$94. The Fox Theater, 1001 W. Sprague Ave. spokanesymphony.org
YUNJOUNG PARK PIANO RECITAL The pianist performs works by J. S. Bach, Chopin, Scriabin and Beethoven. March 18, 11 am-12:15 pm. $10-$25. Steinway Piano Gallery, 13418 E. Nora Ave. steinwayspokane.com
MASTERPIECES FOR CELLO & PIANO Dr. Kevin Hekmatpanah and Yoon-Wha Roh perform. March 19, 2 pm. By donation. Harrington Opera House, 19 S. Third St. harringtonoperahouse.org
SPOKANE STRING QUARTET Music by contemporary composer Caroline Shaw, 20th century icon Philip Glass and German composer Max Bruch. March 19, 3 pm. $20-$25. Bing Crosby Theater, 901 W. Sprague Ave. bingcrosbytheater.com
SPORTS & OUTDOORS
BIG HORN OUTDOOR ADVENTURE
SHOW This annual outdoors show boasts more than 300 outdoor-oriented vendors, guides and non-profit exhibitors. March 16-19; Thu-Fri from 12-8 pm, Sat from 10 am-8 pm and Sun from 10 am-4 pm. Spokane County Fair & Expo Center, 404 N. Havana. inwc.org/big-horn-show
SPOKANE CHIEFS VS. TRI-CITY AMERICANS Promos include the Miller Lite St. Paddy's Day Jersey Sweepstakes and the Avista Poster Series Giveaway. March 17, 7:05 pm. $12-$30. Spokane Arena, 720 W. Mallon Ave. spokanechiefs.com
GARDENING FOR ALL EXPO Classes,
hands-on activities, and local experts share advice. March 18, 9 am-noon. Free. The Church of Jesus Christ of Latter-Day Saints, 401 W. Regina. (509-238-0803)
PROVIDENCE BLOOMSDAY TRAINING
CLINICS This seven-week program helps people prepare for Bloomsday with presentations from health experts and an instructor-led warm up. March 18-April 29, Sat at 8:30 am. Free. Spokane Falls Community College, 3410 W. Whistalks Way. providence.org (509-533-3500)
SPOKANE CHIEFS VS. EVERETT SILVERTIPS Promos include the Special Olympics Night. March 19, 5:05 pm. $12$30. Spokane Arena, 720 W. Mallon Ave. spokanechiefs.com (279-7000)
THEATER
DEAR EVAN HANSEN A contemporary musical about life and the way we live it. March 14-19; Tue-Fri at 7:30 pm, Sat at 2 pm and 7:30 pm, Sun at 1 pm and 6:30 pm. $47.50-$95.50. First Interstate Center for the Arts, 334 W. Spokane Falls Blvd. broadwayspokane.com
JERSEY BOYS This behind-the-music story of four blue-collar kids who became one of the greatest successes in pop-music history. Wed-Sat at 7:30 pm and Sun at 2 pm through March 26. $10$35. Spokane Civic Theatre, 1020 N. Howard St. spokanecivictheatre.com
SEUSSICAL A musical comedy based on "Horton Hears a Who!" and various Seuss stories. Fri at 7 pm, Sat-Sun from at 2 pm through March 26. $12-$16. Spokane Children's Theatre, 2727 N. Madelia. spokanechildrenstheatre.org
VISUAL ARTS
BLOOMSDAY POSTER EXHIBIT A display of 12 of the 44 official Bloomsday posters. Mon-Sat from 10 am-6 pm through March 31. Free. The Center, 104 S. Main St., Colfax. whitcolib.org
COMMUNITY SEW-IN Bring your current quilting project to socialize and get advice. Thursdays from 12-3 pm through April 27. Free. Coeur d'Alene Public Library, 702 E. Front Ave. cdalibrary.org
MARY ANNA POMONIS: SMOKE & MIRRORS This exhibit features paintings and sculptures associated with spirituality, geometric patterns and textiles in the tradition of Greece and Italy. March 14-April 21, Mon-Fri from 9 am-6 pm. Free. EWU Gallery of Art, 140 Art Building. ewu.edu/cahss (509-359-2494)
ELVIS ROSENDO: ROSENDO ESTÁ AQUÍ
The artist presents large-scale figurative, mixed-media works. Tue-Fri from 12-5 pm, Sat from 10 am-3 pm through June 3. Free. Moscow Contemporary, 414 S. Main St. moscowcontemporary.org
YARNY GOODNESS: FIBER ARTS CLUB
Bring your project and get rejuvenated with other hand-creators to crochet or knit, learn a brand-new craft or practice some not-so-easy patterns. Beginners welcome. March 16-April 20, Thu from 12-1:30 pm. Free. Coeur d'Alene Public Library, 702 E. Front Ave. cdalibrary.org
SPOKANE ARTS ARTIST MEET UP Kicking off its professional development series, Spokane Arts hosts this networking event for local creatives. Headshots are available on-site for $30. Registration required. March 17, 6-8 pm. Free. Bernardo Wills Architects PC, 153 S. Jefferson St. spokanearts.org (838-4511)
BLOOM TOGETHER Bundle your own floral arrangements with Katie Lila from Flowers for People or create along with other local artists. March 18, 12-4 pm. Free. Spark Central, 1214 W. Summit Pkwy. spark-central.org (509-279-0299)
LIVE NATIVE ART AUCTION Works by 20 Native artists are auctioned off, with proceeds supporting the artists and Elk Soup, a Native-led nonprofit. March 18, 10 am-7 pm. Gonzaga Cataldo Hall, Addison & Sharp. facebook.com/ElkSoup
WORDS
MAGELLAN'S PACIFIC CROSSING: NEW DISCOVERIES This talk discusses Magellan's voyage around the tip of South America and investigates questions using computer simulations with archaeological and paleo-environmental research. March 16, 6:30-8:30 pm. Free. The MAC, 2316 W. First Ave. northwestmuseum.org
OPEN MIC NITE All singers, songwriters, musicians, spoken word artists and poets are welcome. March 16, 7 pm. Free. Emerge, 119 N. Second. emergecda.com
THE ST. PATRICK OF SPOKANE Tom Keefe, aka the St. Patrick of Spokane, discusses his annual pilgrimage between Irish pubs, O'Doherty's and O'Donnell's. March 16, 12:30 pm. Free. The Hive, 2904 E. Sprague Ave. spokanelibrary.org
STORYTELLING & CULTURAL CRAFT
NIGHT Learn about Native American regalia while listening to traditional stories. Crafts include beading, looming, making moccasins and more. Thursdays from 4-6 pm. through May 25. Free. American Indian Community Center, 1025 W. Indiana Ave. aiccinc.org n
Friday 3/17 vs. Tri-City Americans
Chiefs to wear special St. Patrick's Day themed jerseys which will be auctioned off during the game. Also enter to win at spokanechiefs.com.
Presented By:
Tickets: spokanechiefs.com
Game Time: 7 PM
• Text or Call: 509-535-PUCK
MARCH 16, 2023 INLANDER 43
|
EVENTS
CALENDAR
ST. PADDY'S DAY JERSEY GIVEAWAY
STRAINS
Spring Varietals
Move on from winter with some warm weather weed
Winter just won't let go of its grip on the Inland Northwest this year. Fortunately, for those of us who've grown tired of the cold and the snow, spring is just around the corner. Though why wait for the weather to change when you can change your mindset with some tropical-themed cannabis?
Try one of these three classic strains to bring some warm vibes into your life, even if Mother Nature isn't quite ready for it.
All three strains are widely available at dispensaries around the region. Just make sure to consult a budtender before buying, as product naming regulations are scant and producers sometimes take liberties with what they call their strains.
MAUI WOWIE
Aptly named, Maui Wowie's roots originally grew in the fertile volcanic soil and tropical weather of Hawaii.
BY WILL MAUPIN
One of the older strains around, Maui Wowie has been a favorite since the Summer of Love. Its popularity in the 1960s brought the wrath of the federal government to the islands in the 1970s with the so-called "Operation Green Harvest," which saw law enforcement skim the islands in helicopters searching for cannabis farms to destroy.
Leafly, a website that reviews cannabis strains, analyzed Maui Wowie and found that myrcene is the dominant terpene in this standard-bearer of a sativa.
TROPICAL RUNTZ
A relative newcomer on the cannabis scene, Tropical Runtz is a cross between Tropic Truffle and Runtz, a strain made famous with countless mentions in rap songs over the past few years. With a sweet and citrusy flavor profile, Tropical Runtz is a great strain for consumers who prefer taste over skunk.
At 23 to 24 percent THC, Tropical Runtz is a prototypical modern strain that packs a real punch. Leafly's analysis found that limonene was this citrusy sativa-dominant hybrid strain's second-most prominent terpene.
TROPICANA COOKIES
Another relative newcomer, Tropicana Cookies was originally bred as a cross between Girl Scout Cookies and Tangie. Strong citrus and orange flavors from Tangie along with sweet, creamy notes from the Girl Scout Cookies make for a smooth, summery smoke.
The strain won first place in the sativa category at the 2019 IC420 Growers Cup at the Cannabis Culture Awards.
Consumer reports on cannabis website Weed Maps show common effects from Tropicana Cookies as uplifting, happy and energetic, making it a fairly typical sativadominant hybrid. n
44 INLANDER MARCH 16, 2023
BE AWARE: Marijuana is legal for adults 21 and older under Washington State law (e.g., RCW 69.50, RCW 69.51A, HB0001 Initiative 502 and Senate Bill 5052). State law does not preempt federal law; possessing, using, distributing and selling marijuana remains illegal under federal law. In Washington state, consuming marijuana in public, driving while under the influence of marijuana and transporting marijuana across state lines are all illegal. Marijuana has intoxicating effects; there may be health risks associated with its consumption, and it may be habit-forming. It can also impair concentration, coordination and judgment. Do not operate a vehicle or machinery under the influence of this drug. Keep out of reach of children. For more information, consult the Washington State Liquor and Cannabis Board at www.liq.wa.gov.
MARKDOWN
MONDAY
TOP SHELF
TUESDAY
WEED WEDNESDAY
THANK YOU
20% OFF SELECT VAPES CARTS, EDIBLES, & TOPICALS
20% OFF SELECT TOP SHELF FLOWER & CONCENTRATES
Select flower & concentrates at the lowest prices for your mid-week stock up.
$
FIREHOUSE
FRIDAY
THURSDAY DABBERDAY SATURDAY
Save 15% on your entire purchase for being a Loyal Member of the Club! Plus, earn 2X the points.
20% OFF ALL FIREHOUSE 50% OFF PARAPHERNALIA
20% OFF SELECT VAPE CARTS, INFUSED PRE-ROLLS, AND CONCENTRATES
CYBER SUNDAY 15% OFF ONLINE ORDERS WWW.TREEHOUSECLUB.BUZZ
This product has intoxicating effects and may be habit forming. Cannabis can impair concentration, coordination, and judgement. Do not operate a vehicle or machinery under the influence of this drug. There may be health risks associated with consumption of this product. For use only by adults 21 and older. Keep out of reach of children.
14421 E. TRENT AVE SPOKANE VALLEY, WA
Marijuana
Talk with your kids. GET THE FACTS at learnaboutmarijuanawa.org
use increases the risk of lower grades and dropping out of school.
NOTE TO READERS
Be aware of the differences in the law between Idaho and Washington. It is illegal to possess, sell or transport cannabis in the State of Idaho. Possessing up to an ounce is a misdemeanor and can get you a year in jail and up to a $1,000 fine; more than three ounces is a felony that can carry a five-year sentence and fine of up to $10,000. Transporting marijuana across state lines, like from Washington into Idaho, is a felony under federal law.
THE HIGHS OF MARCH
WARNING: This product has intoxicating effects and may be habit forming. Cannabis can impair concentration, coordination, and judgment. Do not operate a vehicle or machinery under the influence of this drug. There may be health risks associated with consumption of this product. For use only by adults 21 and older. Keep out of the reach of children.
GREEN
46 INLANDER MARCH 16, 2023
ZONE
<<ORDER ONLINE 509.919.3467 // 9107 N Country Homes Blvd #13 // spokanegreenleaf.com March 27th March 31st March 29th March 20th March 22nd & 23rd March 21st March 17th 30% OFF 30% OFF 20% OFF 30% OFF 30% OFF 40% OFF 30% OFF
BUYING Estate Contents / Household Goods
See abesdiscount.com or 509-939-9996
PHONE:(509)444-7355
E-MAIL:BulletinBoard@Inlander.com
INPERSON: 1227WestSummitParkway
Spokane,WA 99201
Liberty Lake, WA.
Principle Solutions
Engineer.
Work directly with our technical integration partners & customers to deliver a wide variety of products & services. 15% dom. travel for visits to other Itron sites & travel to either cust. sites or partner locations. Pos. is fixed loc. in Liberty Lake office; telecom. from a home office may be allowed up to 3 days/wk. Salary range is $120,000$200,000. Standard company benefits available.
1. Animated sort
5. Start of some "Jeopardy!" answers
10. Does a hit on
14. Architect Mies van der ____
15. "I'm ready to be dazzled by your presentation"
16. Vex
17. ____-Free (contact lens solution)
18. Hold that's illegal in amateur wrestling
20. Holy hymn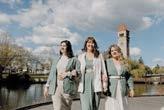 22. Barflies
23. Realm from 800 to 1806: Abbr.
24. German "a"
25. Something up one's sleeve
28. AARP members: Abbr.
29. Involuntary action
30. Like something that really captures the spirit of a cultural moment
33. Grandma
34. Dizzying MoMA works
35. Karaoke bar needs
36. Lead-in to a know-it-all's opinion
39. Protected
40. Resident of 123 Sesame Street
41. Cots, e.g.
42. Line that was drawn north of the South
47. Prefix with skeleton
48. Young boxer, e.g.
49. ____ Paulo, Brazil
50. Green: Prefix
51. Where Gal Gadot was born: Abbr.
52. ____ food movement
54. High-def flat screen
56. Acute uneasiness ... or this puzzle's theme
60. Line score in a football shutout
61. French for "evening"
62. Lightened (up)
63. Apt. building manager
64. Makes a choice
65. Arduous journeys
66. What soccer teams often play to
DOWN
1. Saint-____ (French resort)
2. "I made a boo-boo!"
3. All-Star pitcher/hitter Shohei
4. Playwright Simon
5. Conservation org. with a panda logo
6. The Rockets, on scoreboards
7. Harry's Hedwig and Ron's Pigwidgeon, e.g.
8. "Start from the beginning"
9. Watch party?
10. The Magic, on scoreboards
13. Iroquois Confederacy
tribe
SARAH KNIGHT, GAYE SHUMAKER & SHUMAKER & SHIVONNE ROBERTS
Send resume to: christian.hall@itron.com
Job Code: 2300123
to advertise: 444-SELL
33. Second-generation Japanese-American
35. Die-hard fan's cry
36. "What a lovely gift!"
38. Vogue editor Wintour 39. Once-common Times Square establishment 41. "Go ahead," in Shakespeare 42. "Party in the back" hairdo 43. Lacking + or -, electrically 44. Crossed off the list 45. Squid relatives 46. House rejection 48. Three-pronged Greek letter 53. Like a sage 55. It's a thing in Mexico 57. QB targets 58. Shriek after a squeak 59. 1960s campus activist grp. ACROSS 1 2 3 4 5 6 7 8 14 15 16 17 18 19 20 21 22 23 24 25 26 27 28 29 30 31 32 33 34 35 36 37 38 39 40 41 42 43 44 45 46 47 48 49 50 51 52 53 54 55 56 57 58 59 60 61 62 63 64 65 66 "THE WILLIES" THIS ANSWERSWEEK'S ON I SAW YOUS bridgewebs.com/spokane Contact Brenda Simpson at 509-939-4666 for more info Learn to play the modern way STARTING APRIL 4TH Spokane Bridge Center 1427 N Argonne BRIDGE LESSONS Great for Beginners Good for your brains 915 W Basalt Ridge Dr Spokane, WA 99224 SARAH KNIGHT,
MARCH 16, 2023 INLANDER 47
throughout
LOOK FOR THE GET YOUR INLANDER INSIDE
Available at more than 1,000 locations
the Inland Northwest.
19. End
priest 21. Bird
26. Copy
stack 27. Oscar
Sorvino 31. Aristocratic
11. Mexican restaurant item 12. Old Italian coins in British slang
for prophet or
in the crow family
machine
winner
types,
32. Ocular woes
SHIVONNE ROBERTS 509.951.5432 sgs.withwre.com sgs.withwre.com This 3 bed, 2 bath 1,949 sqft home features a This 3 bed, 2 bath 1,949 sqft home features a gourmet kitchen and is beautifully landscaped gourmet kitchen and is beautifully landscaped including special amenities like new 18W including special amenities like new 18W generator wired to home, central vac, privacy generator wired to home, central vac, privacy screening on southern windows, electric sun screening windows, electric sun screen around patio, gas outdoor fireplace & screen around patio, gas outdoor fireplace & soothing fountain. soothing fountain.
37. Some cheap hotels: Abbr.
Itron, Inc.
We're Giving Away
$60,000 Every Friday!
EVERY FRIDAY IN MARCH | 7 PM
THREE $10,000 CASH PRIZES | THIRTY $1,000 CASH PRIZES
Winning is just the beginning at Coeur d'Alene Casino!
It's your BIG chance to win a share of $300,000 cash as we celebrate our 30TH anniversary! You could be one of three lucky winners to walk away with $10,000 cash or one of thirty winners of $1,000 cash each Friday in March.
Starting February 26TH , play your favorite video gaming machines with your Coeur Rewards card to earn entries. Receive one entry for every 500 points earned. Entries are earned fresh each week starting on the previous Saturday at 12 am. Entries earned for the current week's drawing do not carry over to the following week's drawing.
See the Coeur Rewards booth, CDA Casino app or cdacasino.com for promotional rules.
60 Winners of $500 Extra Play Cash!
SATURDAY, MARCH 25 TH | 4 PM – 6 PM
We're rolling out an old-fashioned paper ticket drawing for our 30TH anniversary. Get your free paper ticket at the Coeur Rewards booth on Saturday, March 25 TH and place it into the barrel for your chance to be one of sixty winners of $500 Extra Play Cash!
$60,000 30TH Anniversary Bingo
SATURDAY, MARCH 25 TH
ADMISSION OPENS 1 PM
SESSION BEGINS 4 PM
$10,000 must go on CDA Progressive ($7,000, $3,000 split)
1ST Bonanza Blackout wins $10,000
See Bingo venue for more details.
48 INLANDER MARCH 16, 2023
Tickets
be placed in the
barrel no later than 5:45
on the drawing date. See the Coeur Rewards booth, CDA Casino app or cdacasino.com
promotional rules. CASINO | HOTEL | DINING | SPA | CHAMPIONSHIP GOLF 37914 SOUTH NUKWALQW • WORLEY, IDAHO 83876 • 1 800-523-2464 • CDACASINO.COM WELCOME HOME. Celebrate 30 years with us!
Limit one free entry per Coeur Rewards member.
must
drawing
pm
for