BY SAMANTHA WOHLFEIL
VISUAL ARTS
JANUARY 19-25, 2023 | OUR READERS POLL TURNS 30! VOTE AT BESTOF.INLANDER.COM
photos
our age of fires
37 SNOWLANDER Schweitzer ski patrol and 40 years of freestyling PAGE 22
Jundt showcases
from
PAGE
The Inland Northwest has its own version of the Doomsday Vault, storing and protecting millions of seeds in case of catastrophe
PAGE 14
EDITOR'S NOTE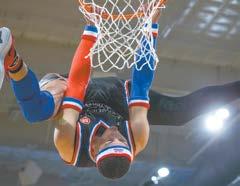 The entrance to the Doomsday Vault looks like something out of a science fiction movie. A triangular slab juts out of the snowy tundra of this Norwegian island, glowing at its top by some sort of abstract, lighted mosaic. Outside the vault, not far from the North Pole, polar bears roam and the sun doesn't shine for half the year. Inside, there's essentially a giant safety deposit box holding 13,000 years of agricultural history. More than 1.1 million seed samples are currently held there, and the vault has the capacity for a total of 4.5 million. You can't go inside the vault, but you can take a tour and see the door. Considering the flight to Scandinavia and the tour-led cruise to the frigid north, it won't be cheap.
Or, you can head south to Pullman to check out the Inland Northwest's own seed bank. That's what staffer Samantha Wohlfeil did for this week's cover story — DEFENDING DIVERSITY. It's one of those surprising stories, where you learn just what goes into safeguarding our world's food supply against the dangers of industrialized farming and climate change. So when you think of what Washington State University scientists have done for our food supply, think beyond heirloom wheat varieties and the Cosmic Crisp apple. Instead, think about the Palouse gene bank and its 100,000 different seed samples, and how it could one day save the world.
— NICHOLAS DESHAIS, editor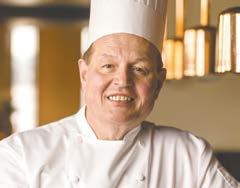 INSIDE COMMENT NEWS COVER STORY SNOWLANDER 5 8 14 22 34 38 40 42 CULTURE FOOD SCREEN MUSIC EVENTS I SAW YOU GREEN ZONE BULLETIN BOARD VOL. 30, NO. 15 | COVER DESIGN: DEREK HARRISON REMEMBERING CHEF JESSICK PAGE 38 ANCESTRAL HANDS PAGE 6 HEAD OUT PAGE 44 POWER VANDALS PAGE 8
READER SPECIAL 15% OFF YOUR ENTIRE ORDER Just mention or use code INLANDER From banners and signs to posters and prints we do it all. TRY US OUT TODAY. MINUTEMAN PRESS SPOKANE EAST formerly Plese Printing & Marketing 509.534.2355 | orders@MMP-Spokane.com | 4201 E. Trent Ave. Spokane PROUD SPONSOR OF RESTAURANT WEEK RASIR BOLTON NOLAN HICKMAN HUNTER SALLIS MALACHI SMITH JULIAN STRAWTHER YOU PLEDGE. THEY PLAY. CANCER PATIENTS WIN. SCAN TO LEARN MORE WE NEED YOUR HELP TO TURN AN ASSIST ON THE COURT INTO AN ASSIST FOR LOCAL CANCER PATIENTS. JANUARY 19, 2023 INLANDER 3 46 48 52 55 THE INLANDER is a locally owned, independent newspaper founded on Oct. 20, 1993. Please recycle THE INLANDER after you're done with it. One copy free per person per week; extra copies are $1 each (call x226). For ADVERTISING information, email advertising@inlander.com. To have a SUBSCRIPTION mailed to you, call x210 ($50 per year). To find one of our more than 1,000 NEWSRACKS where you can pick up a paper free every Thursday, call x226 or email frankd@ inlander.com. THE INLANDER is a member of the Association of Alternative Newsmedia and is published at least twice per month. All contents of this newspaper are protected by United States copyright law. © 2023, Inland Publications, Inc. INLANDER 1227 W. Summit Parkway, Spokane, WA 99201 PHONE: 509-325-0634 EMAIL: info@inlander.com SPOKANE • EASTERN WASHINGTON • NORTH IDAHO • INLANDER.COM

4 INLANDER JANUARY 19, 2023 February 2 - 3 First Interstate Center MARCH 1 First Interstate Center MARCH 26 SPOKAnE ARENA march 25 - 26 First Interstate Center april 26 - 27 First Interstate Center February 8 - 9 First Interstate Center February 18 First Interstate Center Get Tickets at Entertainment for all!
STAFF DIRECTORY
PHONE: 509-325-0634
Ted S. McGregor Jr. (tedm@inlander.com)
PUBLISHER
Jer McGregor (x224)
GENERAL MANAGER
EDITORIAL
Nicholas Deshais (x239)
EDITOR
Chey Scott (x225)
ARTS & CULTURE EDITOR
Derek Harrison (x248)
CREATIVE DIRECTOR
Seth Sommerfeld (x250)
MUSIC & SCREEN EDITOR
Samantha Wohlfeil (x234)
BREAKING NEWS EDITOR
Daniel Walters (x263)
SENIOR INVESTIGATIVE REPORTER
Madison Pearson (x218)
LISTINGS EDITOR
Nate Sanford (x282), Carrie Scozzaro (x232)
STAFF WRITERS
Chris Frisella
COPY CHIEF
Young Kwak, Erick Doxey
PHOTOGRAPHERS
Zackery Bauder, Josh Bell, CMarie Fuhrman, Chase Hutchinson, E.J. Iannelli, Will Maupin
CONTRIBUTORS
ADVERTISING
Kristi Gotzian (x215)
ADVERTISING DIRECTOR
Carolyn Padgham (x214), Autumn Potts (x251)
SENIOR ACCOUNT EXECUTIVES
Tracy Menasco (x260), Claire Price (x217), Stephanie Grinols (x216)
ACCOUNT EXECUTIVES
Tamara McGregor (x233)
COMMUNICATION & EVENTS DIRECTOR
Kristina Smith (x223)
EVENT & SPECIAL PROJECTS
Colleen Bell-Craig (x212), Raja Bejjani (x242) ADVERTISING
PRODUCTION
Tom Stover (x265)
Ali Blackwood (x228)
CREATIVE
Derrick King (x238)
SENIOR
WHAT THREE PLANTS ARE YOU BRINGING TO YOUR SEED BUNKER?
JAMES TILLETT
I'm definitely bringing corn and wheat. I'll probably bring another food. Do they need to be food?
They do not. Feel free to name any plant. Then aloe — I'm bringing aloe. It'll be useful.
Todd Goodner (x231)
GRAPHIC
OPERATIONS
Dee Ann Cook (x211)
Kristin Wagner (x210)
CIRCULATION
Frank DeCaro
SARAH MAEDA
I'd have to say beans, like any bean. I'd bring apples, and I'd have to bring a pepper with me because I can't have food without spice.
What level of spicy?
I think Serrano-level spicy. But I might also pick habanero.
AMY ROBINSON
I'll go with tomatoes, potatoes and maybe garlic. I feel like you gotta have garlic!
What kind of tomatoes?
Definitely heirloom tomatoes. They're the best.
SEAN GOETZ
Pumpkin, cinnamon, ginger.
Why those three?
Because if my apocalypse doesn't include my pumpkin spice latte it doesn't include me.
EMILY VARECHA
I would bring chia seeds because I heard they're good with water. Potatoes for sure. I'm not sure for the last one.
How about a type of tree?
A cherry tree. I love the blossoms.
INTERVIEWS BY ZACKERY BAUDER 1/12/23, GONZAGA CAMPUS
JANUARY 19, 2023 INLANDER 5
COMMENT
MANAGER
ASSISTANTS
PRODUCTION MANAGER
LEAD &
MARKETING MANAGER
GRAPHIC DESIGNER
DESIGNER
BUSINESS MANAGER
ACCOUNTS RECEIVABLE
(x226) CIRCULATION MANAGER
Beck (x237) CIRCULATION SUPERVISOR
Travis
We exchange your Canadian & Foreign Coins! M-F 9:30am-5:15pm • Closed weekends 3190 N. Division St., Spokane, WA • (509) 327-6241 RARE COIN CO. ALWAYS BUYING U.S. Coins & Currency • Foreign Coins & Currency Gold & Silver Jewelry • Loans on Coins & Jewelry Silver, Gold & Platinum Bullion • Coin Appraisals