Impact of Giving 2022
Impact of Giving 2022 Contents
Primary Years end of year Disco!
Page 6 Richard Revell - David Long visits Year 6
The Friends' community enjoying our inaugural Community Appreciation Day event in May, 2022
The Friends' School Impact of Giving Report 2022
Publisher
The Friends' School Community Engagement Office
23 Commercial Road
North Hobart, TASMANIA 7000
AUSTRALIA
Front cover: The Revell Sports Centre being officially opened in May 2022 by (L to R) Principal Nelson File, Brian May, Lindsay May and Lewis May
|
|
|
|
|
Letting your light shine
Page 2 Giving at a glance
Page 3 Giving impact report
Page 4 Illuminate Campaign
Page 10
|
|
|
|
|
Page 14 Recognising our Illuminate donors
Page 16 Recognising our volunteers
Page 18 Gifts received by Archives
Page 20 Thank you
Page 22
Letting Your Light Shine
The Friends' School was founded in 1887 with remarkable gifts of funds, made by donors committed to creating a school grounded in Quaker values and practice.
Philanthropy from its community is a distinguishing hallmark of all leading schools around the world. Our remarkable school is where it is today, thanks to vision and donations from many people that our current students, families and staff have not or may never meet.
At Friends', there are times when we have to strategically invest in our facilities and raise community funds to support students' educational outcomes. Over the last year, and indeed since 2018, our community has made a significant contribution to enable the best learning environment for thousands of students. Despite a monumental global pandemic and significant economic challenges, Illuminate –Campaign for The Friends' School, provided an opportunity for our community to show leadership and vision to enable our school to be the best it can be. Together we let our inner light shine and showed our support for the transformational Campus Redevelopment Stage One project on the Commercial Road Campus.
As we conclude Illuminate, we acknowledge our supporters and celebrate the first-class learning environment at Friends'. In this year's report we highlight some of the wonderful outcomes made possible by generous contributions of time and financial support since the campaign commenced in 2018. These benefits and impacts include:
• Building the new Revell Sports Centre and providing a state-of-the-art indoor multi-sport centre;
• Transforming the WN Oats Centre to a contemporary and progressive learning environment at the heart of our Commercial Road Campus; and
• Growing the School's Scholarship, Bursary & Prizes Fund and The Mather Endowment Trust to support students to obtain a Friends' education.
In 2023 we move to the next phase of philanthropy at Friends' as we continue to support students to make a positive difference throughout the world and let their lives speak. Over the next two to three years we will focus on providing support for needs-based bursaries that enable children to attend The Friends' School. Our ability as a community to look beyond short-term outcomes sets us apart and we will continue to provide a progressive, coeducational education open to all and based on Quaker values.
To everyone who has given their time at the School or played a role in the Illuminate campaign, we offer our deep personal and sincere thanks. When you give to The Friends' School you help us make extraordinary things happen. As a grateful community, we thank you for letting your light shine and believing in our school..
Nemo sibi nascitur
No-one is born for self alone
Nelson File Principal Craig Stephens Presiding Member, The Board of Governors
2
Total donations by community members in 2022 $233,602.27 LARGEST PLEDGE TOTAL DONATIONS BY FUND 187 individual donors 288 donations $934,416 Giving at a glance 2022 philanthropic contributions from Trusts and Funds every gift matters 202 gifts of $250 or less totalled $13,577.61 Specific Purposes $40,295.45 The Scholarships, Bursaries & Prizes Fund $31,950.00 Building & Development Fund $161,059.75 Library Fund $186.30 smallest donation $6.90 $25,000 largest donation Illuminate Capital Campaign (Building & Development Fund) $1,327,903.15 ILLUMINATE CAPITAL CAMPAIGN 2018 TO 2022 186 DONORS CONTRIBUTED $20,000
Giving Impact Report
2022 was truly a transformative year for the School and its students, supported by generous community philanthropy.
Illuminate Campaign
The new Revell Sports Centre opened in Term 1, 2022 and the new WN Oats Centre opened in Term 1, 2023. These new facilities have only been possible thanks to significant investment from the School with $1,327,903.15 donated by the Friends' community. We are so grateful to all who supported the Illuminate Campaign and look forward to officially acknowledging your support, and showing you the new WN Oats Centre, at the upcoming 2023 Community Appreciation Day event. These new facilities are gamechangers for learning at Friends' and the Friends' community has helped make them a reality.
2022 Community Appreciation Day
In May 2022 we held our inaugural Community Appreciation Day to bring together all who support the School - whether through their mind, means or talents. This event has replaced a number of smaller events held previously. At the 2022 event we had the pleasure of opening the new Revell Sports Centre, named after former student Richard Revell from the Class of 1953. With relatives Brian and Lindsay May on hand to cut the ribbon it was a touching tribute to a much loved former student and an exciting day for sport at Friends'! You can learn more about Richard Revell by scanning the video QR code below.
4
The Revell Sports Centre being officially opened by (L to R) Principal Nelson File, Brian May, Lindsay May and Lewis May
Students in action in The Revell Sports Centre
"There's an evolving mood within the community, to what I call proactive education philanthropy. By that, I mean a desire for the community to proactively search for students that have the desire and the ability to achieve great things, search for those people, create the opportunity for them to grow, bloom and in turn, give back their brilliance to the community. And I believe that this school does that."
Andrew Brice (1961), co-founder with Jennifer Brice of The Mather Endowment Trust. www.friends.tas.edu.au/get-involved/the-mather-endowment-trust
The history of The Mather Trust
After many COVID-19 delays, in 2022 we were finally able to welcome Mather Trust benefactors Andrew and Jennifer Brice to the School to film an interview about the history and motivations behind the establishment of the Trust. Andrew and Jennifer established the Trust in honour of Andrew's mother, Edith Howie, who was part of the Mather family. Andrew and Jennifer's sole purpose was to create opportunities for students who could least afford it, to access a Friends' education. You can watch the resulting film by scanning the QR code.
Andrew & Jennifer Brice
The School's Master Plan has a bold vision to significantly enhance our students' educational experience and environment. In 2019 The Board of Governors approved a Capital Campaign to contribute to the Campus Redevelopment Phase One building works on the Commercial Road Campus, and to enhance the School's scholarship and bursary funds. Illuminate – Campaign for The Friends' School, provided an opportunity for our community to support and light-the-way to enable our school to be the best it can be.
Notwithstanding the global pandemic and associated economic challenges that followed, we are delighted and humbled to report that the Friends' community contributed $1,327, 903.15 over the course of the Illuminate campaign.
These generous community donations contributed $1,010,056.23 to the new Revell Sports Centre and transformed WN Oats Centre, $36,190.00 to the School's Scholarship, Bursary & Prizes Fund and $281,656.92 to The Mather Endowment Trust.
We are so grateful to all who contributed. Thank you. The impact has been transformational for students at Friends'.
A significant and vital benefit from these facility upgrades is our ability to address the majority of our access challenges through covered walkways and lift access from the Main carpark into the WN Oats Centre, through North Block to the new Revell Sports Centre.
THE MULTI-USE REVELL SPORTS CENTRE OPENED IN TERM 1, 2022 FEATURING:
• • • •
An ASF/Horner Sports Flooring Systems PR3 Advanced sprung timber Floor in a Tas Oak finish with Increased space around the court perimeter for better safety.
Full size courts including netball, badminton, basketball, volleyball and indoor soccer including a state of the art, automated Basketball system and a multitude of teaching and learning configurations to optimise student learning.
Disability access and two unisex disability shower/toilet rooms along with two new learning spaces for health and physical education classes.
Courtside seating to accommodate students, staff and spectators and extended outdoor ledges for all-weather cover.
6
I'd just like to say a massive thank you to the people that have contributed and donated and I just hope that they can look at it [the new facilities] and be happy and proud of what they've been a part of.
_ EVA YEAR 10 STUDENT
If it wasn't for the School's philanthropy and generosity, neither me or my sister would have been able to carry on at the School. _
DAVID OVENS ALUMNUS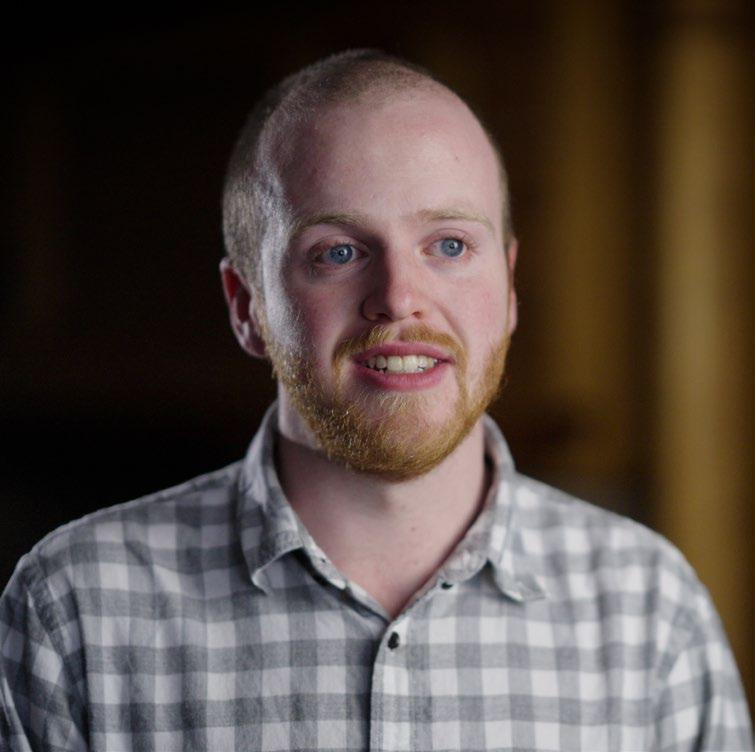 I feel passionately about normalising diverse learning needs and disability and by having the flexibility to work in small or large groups and with a range of students - it makes inclusion a really powerful learning environment.
_ CATHERINE GRAY E-12 DIRECTOR OF ACCESS & INCLUSION
THE TRANSFORMED WN OATS CENTRE OPENED IN TERM 1, 2023 FEATURING:
The creation of a central learning 'corridor' at the heart of the Campus featuring seven new, contemporary classrooms plus two teaching areas for Access & Inclusion addressing capacity and access issues and fostering best practice teaching and learning for our students.
Flexible learning spaces with inbuilt smart technology that provides a multitude of creative teaching and learning configurations, allowing for a greater range of learning engagements, extending and challenging students.
An abundance of natural light, a calm and peaceful environment and visibility between classrooms and learning spaces that generates a feeling of connection and a sense of place and community for staff and students that encourages enhanced positive social behaviour.
GROWING OUR SCHOLARSHIP AND BURSARY CAPACITY ENABLES:
Enhanced opportunities and access for families and young people with limited means, reflecting the shared values of our community who often wish to 'pay it forward' in gratitude for their Friends' education.
Increased ability to attract and support talented and deserving students who enrich our campus life and inspire us to greater heights.
Increased ability to continue to support our rural and regional community for whom the costs of a quality education are challenging.
Continued commitment to the diversity of the student body which is essential for the intellectual, social, cultural and moral strength of The Friends' School.
A Friends' education should transform the world through the contributions, endeavours and impact of its students. Whether it is making the learning environment better or enabling students to attend Friends', the Illuminate campaign has achieved both and supported thousands of students to let their lives speak.
8
• • • • • • •
Bill Oats always talked about building a community where people supported each other and felt that they belonged and those beautiful buildings speak to the the community and the wonderful work of teachers and fundraisers.
_
FRANCES UNDERWOOD
PAST-STAFF, PAST-PARENT, CURRENT GRANDPARENT
This campaign's a critical part of ensuring the School is fit for purpose for future generations. For us to have state-of-the-art current spaces the teachers can use to give the students the best possible education. It's important we continue that work.
CRAIG STEPHENS BOARD MEMBER, PAST-PARENT
Who was Richard Revell?
David Long (1953) visits Year 6
The opening of the new Revell Sports Centre on the Commercial Road campus in Term 1 2022 was very exciting. Year 6, in particular, were captivated by the story of former student Richard Revell (1953) after whom the Centre was named. After watching the video about Richard Revell they invited Richard's good friend David Long (1953) into the class to learn more, whereupon a fruitful conversation ensued about Richard's life, David's time at the School and how current students belong in 'the bigger story' of The Friends' School.
To see the film the students watched, and learn more about Richard Revell, scan the QR code below.
10
David Long with John Hyndes, making the film about classmate Richard Revell
The students' thank you notes to David after his visit, included below, reflect the value of sharing our stories and our history.
We loved hearing about your and Richards' stories and we hope you enjoyed telling us. You are very kind and it's so nice how you stood up for Richard. I want to be kind like you when I grow up and I'm sure that everyone else in year six does too. I think it's so cool how you had to wear a different uniform. I'd love to see it in real life someday! I find it amazing how you went to this same school 70 years ago and I also find it amazing how much the school and the people have evolved over the years.
From Alice
It means so much to hear and learn about your experiences and how you dealt with day to day life. Your experiences really touched me and I will take away this experience, try my best in everything and strive to be the best I can be. It really makes me value how lucky I am to have such a great education and everything I have, like my family because they support me in everything I do. Thank you David!
From Lucien ***
taking the time out of your day to share your experiences with us.
Thank you David from The Friends' School and Winnie Brown
Thank you very much for coming to The Friends' School and telling us about Richard Revell and how school was in the 1950's. I really appreciate you telling us about being aware of bullying. I found it interesting to imagine what school looked like in the 1950s. I also enjoyed looking at some of the books and the hat you brought to show us.
From Christian ***
Thank you very much for coming to The Friends' School on the 17th May. I really appreciate you talking about KINDNESS! I wonder if it will make a change in some people's attitudes. Kindness is also one of my core values.
Thanks again from Molly
The way I interpreted your presentation was that your friends and yourself appreciated difference and diversity and that's what Richard was able to thrive in, the knowledge that he had friends such as you in his life. Once again, thank you.
From Vega ***
It was very interesting when you told us a lot about Richard and what the school was like. It was very clear and easy to understand. It made me think about what I should do to be a leader. I do a lot of sports too. I have a go of many things. It made me think about how much of a good person Richard was.
From Taiyo
We really enjoyed hearing about Richard Revell, his friends and many other things you shared with us. When you visited us, I really liked how you talked about anti-bullying. We really appreciated you David at Year 6
***
I think the new space is a lot more spacious and there's more light and it's more welcoming. I think the new learning space will be really beneficial…inclusive to more people as well.
Shriya Year 12 student
Gives us a good opportunity. Play sport, different type of sports, basketball, netball. Play when it's wet.
Henry Year 10 student
12
I'm really excited to have classes in therehaving new modern facilities will be really exciting to work with like white boards on tables.
Amelia Year 8 student
I really love all the learning opportunities, not just in the classroom, there's all the cocurricular sports to participate in, so many options and new things to learn.
Miller Year 7 student
I think it will definitely sort of afford the students a real connection with our schools core values, which are the SPICEESsimplicity, peace, integrity, community equality, and earth care.
Gryff Year 12 student
Primary Years end of year Disco!
What a blast the primary years children had at the 2022 end of year Disco! Our thanks to the dedicated organising committee of parents who volunteered to run this event and those who volunteered their time on the day. It was wonderful to see our community come together to celebrate the year and kick up their heels! With an unexpected surge in last minute ticket sales a small surplus was produced, which was donated to the Hobart City Mission Christmas Appeal.
14
Organising Committee
Michelle Ainslie
Allison Black
Finley Bonney
Madeleine Bowerman
Harriet Bullard
Francois Cumunel
Katie Daniels
Deb Exarhakos
Brooke Garnham
Jane Gorman
Bernice Johnson
Lucy Loney
Suzen Parnell
Jasmine Raju
Jennifer Stacy
Emma White
Ian Williams
Kate Wright
Recognising our Illuminate Campaign donors 2018-2022
Adams, Douglas & Wilding, Zoe
Alessandrini (Smith), Megan (1974) & Pat
Alford, Marguerite
Anderson, Craig (1976)
Badger, Ann
Baker (Ikin), Jo (1975)
Banks, Doris
Baptist, Simon (1997) & Habner, Justinian
Beadle, Mary & Christopher
Berrell, Michael & Catherine
Bevan, Simon & Anita
Bonney, Finley & Tony
Boon (Hogg), Alison (1998) & Brendan
Bowd, Ericka & Peter
Bown, Robert
Boyd, Pat & Ann-Maree
Bren, Audrey & Christopher
Breward, Alun
Brookes, Graeme & Tania
Buckie, Joan (1945) †
Burdon (Flowers), Kathryn (1995) & Andrew
Burrage, Stan (1950)
Bylsma, Guy & Fitzgerald, Bronwyn
Cameron (Bottomley), Ann (1958)
Carington, Roger (1976)
Chambers, Adam (1994)
Cheung, Wang & Heng, Jessie
Chung, Ian & Esther
Churchill, John & Antonietta
Clarke, Ketrina (1978) OAM
Colhoun (Edwards), Gina (1984)
Connor, Naomi
Cooper, Chris (1994) & Meecah
Cooper (Firth), Anna (1992) & Craig (1992)
Correy, Brian (1969)
Cottier, David & Sue
Curtis, Mark & Sally
Daniels, Katie & Wayne
Davis, Peter & Karen
Degenhardt, Peter & Susanne
Dix (Roberts), Steffi (1986) & Andrew
Ducrow (Holt), Joan (1940) †
Eastley (Hickman), Robyn (1969) & Dale
Ebert, Jenny
Edwards (Chapman), Pam (1958) & Ian (1958)
Elias (Stewart), Alison (1973)
Everett, Rosemary (1967)
Exarhakos, Kon (1982) & Suzy
Farmer (Ransley), Gaye (1958)
Farrall (Oats), Stephanie (1959) & Lyndsay
File, Nelson & Lisa
Fleming, Robert (1995)
Forster (McDougall), Ailsa (1956)
Francis, Brendon & Belinda
Freestun, Robin (1973)
Friend, Tony (1969)
Gardner, Stewart (1976) & Rosemary
General & Window Cleaning Pty Ltd
Gibson, Andrew & Mary-Margaret
Gigney, Anne (1990) & Bennett, Chris
Giizel, Michael (2003) & Carol
Godfrey, Bill & Anne
Gollings (Frost), Shirley (1954)
Gough, Susan
Gray, Elaine & Tony
Griffiths (Crisp), Sue (1973) & Ian (1971)
Groom (Brooke), Trish (1966)
Hall (Baird), Sue (1962) & Bob (1961)
Hallett, Thomas (2006)
Halley, Andrew & Amanda
Hand, Lindsay (1953) & Cane, Anthony (1952)
Haramantas, Drossos (1984)
Hawkins, Sue
Hill, Greg (1962)
Hill, Roly (1962)
Hill, Tony (1955)
Hope-Johnstone (Vaughan), Elspeth (1943)
Ibbott (Davidson), Margaret (1962) & Tony (1962)
Ibott, Sam (1990) & Georgie
Inglis, Rick & Moore, Kirrily
Isles, Graeme & Sally-Ann
James, Rosie & David
Johnson, Andrew (1983)
Johnson, Dean & Kathy
Johnson, Ina & Parkinson, Charlie
Jones, Cam & Campbell, Sarah
Jones (Tribolet), Margaret (1946)
Kelcoyne-Lawrence, Stephen & Bricknell, Diane
Kirkland, Tom
Kluge, Raoul & Skala, Marketa
Kubank (Madsen), Jan (1964)
Laver, Jim
Leonard, Harry (1954)
Loney (Ogilvie), Lucy (1988) & Richard
MacDonald, Ian (1963)
MacMillan, Kerryn (1961)
16
†
Marshall (Levis), Jan (1950)
Mason, Roy (1957)
Mather, Chris (1961)
Mather, Katharine (1962)
Mather, Stan (1949)
May, Lindsay (1988) & Kun May, Ildiko
McCartney, Paul
McDougall, Dugald (1946) †
McDougall (Morrisby), Rosanne (1956)
McGushin (Roberts), Sally (1976) & Gerry
McIntosh, Magaret
McNeill (Young), Pat (1953)
Medlycott, Anne (1970)
Menka, Herbert (1960)
Milne, Libby (1960)
Moreton, Robert & Miriam
Morgan, Alan (1977)
Natoli, Mark & Felicity
Neal, Georgina
Neilson, John (1966)
Newman, Janet
Nicholson, Mark (1971) & McLean, Robin
Ogilvie Hon., Madeleine (1986)
Pennicott, Robert & Boulter, Michaye
Pohl, Richard & Buchanan, Juliann
Pointon, Clive & Jennie
Rackham (Castley), Helen (1992) & Jeremy
Rae, Jeremy (1994), Cameron (1998) & Charles (2003)
Rae (Gibson), Tessa (1953)
Raward, Ruth
Reeves, David
Reeves, Stephanie & Stewart, Cameron
Rigby (Hurst), Noelle (1947)
Risby, Warwick (1964)
Roberts, Graham (1963) & Ingrid
Rothe, Chris & Gibbon, Melanie
Ryan, Mary
Salmon, Olivia & Tom
Sargent, Shaun & Amanda
Saunder, Tim
Scharkie, Rob & Jen
Scott (Moore), Roslyn (1957)
Seabrook, Michael (1971)
Shaw, Sam (2000) & Karolina
Shen, Steven (2020)
Skillington, Michael (1974)
Skillington, Peter (1971)
Skinner, Marcus (1974) & Alison
So, Fai Chung & Wong, Siu Ping
Stephens, Craig & Jane
Stokes (Le Bis), Robyn (1964) & Jim
Taylor (Rutledge), Elizabeth (1963)
Thomson, Simon & Barlow, Gaye
Thwaites, Anne (1954)
Tilley, Michael (1956)
Totham-Kenny, Nola (1947)
Triffitt (Lorimer), Geraldine (1959)
Tunbridge, Lyn & David
Underwood, Frances
Urosevic, Natalia (1987) & Nikitaras, Nick
Walker, Adrian (1953)
Walker, Christopher (1951) †
Walker, Jim (1943) & Jane†
Wan, Tony (2003)
Watkins, Bill & Frances
Watson (Pierce), Elaine (1944)
Webber, Stephen & Liz
Wedd (Davis), Celia (1959)
Weidenbach, Tony & Sonia
Wells, Justin (1990) & Brigitte
West (Wignall), Patricia (1964)
Westood, Ray (1952)
Whitham, Wendy (1970)
Wignall, Ben (1962)
Wood-Smith, Nichola (1994)
The Yannarakis Family
Zubrick, Ann
Recognising those who made specific donations in 2022
These are donations to specific faculties or programs within the School and are non tax deductible donations.
Camilleri, Geraldine & Puckridge, Roger
Fernandez, Shirin & Parr, Tim
Ralph, Richard & Angela
Windsor, Rohan & Claire
Anonymous
† Deceased
Friends' has made every effort to ensure accuracy in this publication. We apologise for any omissions or errors and encourage community members to get in touch with us with any corrections.
Anonymous Anonymous Anonymous Anonymous Anonymous Anonymous Anonymous Anonymous Anonymous Anonymous Anonymous Anonymous
Anonymous
Recognising our volunteers in 2022
Ainslie, Michelle
Anderson, Nicola (1996)
Ansell, Jane
Archer, Sharon
Ashby, Michael
Asten, David (1962)
Avery, Bill
Baldry, Kate
Barrett, Tony
Batt, Richard (1995)
Beadle, Mary
Beattie, John
Binny, Simon
Black, Allison (1998)
Bonney, Finley
Boon, Brendan
Boucher, Flick (1989)
Bourne, Tracy
Bowerman, Madeleine
Brennan, Peter
Brodribb, Romany
Brooks, Sandra
Broughton, Lia
Buckland, Sue
Bullard, Harriet
Cairnduff, Sam (1994)
Calvert, Rosa
Carroll, Kim
Carthew-Wakefield, Sheridan
Chau, Joanne
Clark, Emily
Cole, Nick
Cook, Ange
Cooper, Chris (1994)
Cumunel, Francois
Curtain, Riley (2021)
Curtis, George (2017)
Daniels, Katie
Davidson, Karl (1990)
DeGroot, Olivia
Dixon, Matt
Downes, Greg
Doyle, Max (2019)
Dundas, Tom
Edmiston, David
Ellston, Andrea
Evans, James
Evans, Sheryl
Everett, Bek
Exarhakos, Deb
Field, Jacob
Field, Liz (1966)
File, Nelson
Fink, Tessa (1999)
Forde, Kevin
Fox, Ryan (2022)
Fuller, Liam (2011)
Galbally, Jade (1995)
Gall, Monique
Gardner, Rosemary
Garnham, Brooke
Gibson, Peter (2006)
Given, Alex (2009)
Gluskie, Mike (1978)
Gorman, Jane
Gould, Ann (1980)
Gray, Catherine
Green, Lisa
Griffiths, Ian (1971)
Gurr, Kristal
Haddow, Nick
Harpur, Siobhan
Harwin, Steve
Hayton, John
Hegol, Lana
Hendry, Quentin
Henry, Bruce
Higgins, Kellie
Hill, Roly (1959)
Hood, Sarah
Howard, Christine (1963)
Hoyle, Lisa
Hutchinson, Peter
Ibbott, Sam (1990)
Inglis, Tasman (2020)
Jago, Julia (1982)
Jerrim, Sophie (1992)
Johnson, Bernice
Jordan, Ian
Jotic, Marko (1993)
Kibby, Andrew (1995)
Knight, Alia
Knight, Allan
Lai, Nick
Lang, Ruby (2020)
La Paglia, Miranda
Loney, Lucy (1988)
Loney, Richard
Lovell, Oliver (2008)
Mace, Melissa
Mangat, Sonia
Maskiell, Yasmin (1997)
May, Lindsay (1988)
McCallum, Lucia
McCarthy, Danny
McGushin, Sally (1976)
McKay, Ed (1999)
McKay, Kelly
18
McLean, Robin
McMahon, Ian
McQueeney, Max (2010)
McQueeney, Steve (1978)
Miller, Vivienne
Moreton, Miriam
Morgan, Kim (1983)
Morman, Libby
Murphy, Myf
Newton, Jen
Nicholson, Mark (1971)
O'Brien, Robin
Ortega, Naomi
Page, Wendy
Parkar, Noor
Parnell, Suzen
Payne, Ellen
Paynter, Angus
Pierre, Marie
Powell-Davies, Julia (2022)
Price, Chris
Ralph, Charlotte (2021)
Read, Brenda
Redwig, Lynn
Reid, Clare & Paul
Riggs, Ronnel
Rogers, Charlotte (2020)
Routledge, Sam
Rundle, Kathy (1965)
Ryan, Alice (1981)
Ryan, Sharon
Saward, Lou & Andrew
Sealy, Sarah (1999)
Shen, Faye
Smith, Jane
Somers, Will (2022)
Speed, Tom
Stacy, Jen
Stanley, Katie
Stephens, Craig
Stilwell, Roger (1956)
Sutton, Katrina
Sutton, Tessa
Thurrowgood, Tara
Tricker, Tash
Tochner, Steve
Underwood, Eloise (2022)
Underwood, Frances
Urosevic, Natalia (1987)
Walker, Maddy (1993)
Ward, Frances
Webb, Peter
Wells, Greer (1996)
West, Nick
White, Emma (2001)
Whitehouse, Luke
Wigston, Stuart
Williams, Ian
Williamson, Lyndell
Williamson, Stew
Wilson, James (2022)
Wilson, Karen
Wilson, Michele
Wright, Kate
Wright, Stu (1996)
Woolnough, Mary (1969)
Yomataris, Lauren
Yu, Dan
Zubrick, Ann
Friends' has made every effort to ensure accuracy in this publication. We apologise for any omissions or errors and encourage community members to get in touch with us with any corrections.
Gifts received by Archives
Anonymous - Books
Rob & Fae Bown - Parents & Friends folder of notes
Cary Baptist Grammar School - Stuart Hickman memoir written by David Lord, Dr Fordon Young (ed)
Helen Castley - Blazer
Libby Fitzpatrick (Chandler) (1948) - 2 x Paintings and publications on miniatures
Linda Forbes - Blazer belonging to her father Gordon Long (1951 Prefect)
Trish Groom (Brooke) (1966) - Notes and slides of the Joint Schools Work Camp, New Guinea
Jennifer & Simon Hansen - Echoes
Mary Johns (Medhurst) (1939) - Friends' publications and ephemera
Lisa Johnston - Collection of trophies awarded to Ross A Johnston (1939)
David Leitch (1959) - Collection of Friends' publications and ephemera concerning rowing and Head of the River races (1958 - 1960)
Virginia McCann (Darling) (1970) - Blazer, Echoes, Lapel pins, Esperanto text books, school reports
Sally Poole - 2 x Violins belonging to her mother Vera Hopkins, former violin teacher at Friends' from 1945 - late 1970's
Robbie Poynter & family - Wonderstruck by Nic Haygarth
Rowan Rafferty - Newspaper clippings concerning Samuel Clemes and early days of Friends'
Stephanie Reeves - Photograph of Board of Governors c1950s
Margaret Ricks & family - EE Unwin watercolour of York Minster
Clive Roberts (1970) & Judith Rowe (Roberts) (1960)Echoes
Ben Robertson - Text that belonged to W H Clemes
Ripon Shield (1965) - Friends' uniform and ephemera
Geraldine Triffit (Lorimer) (1959) - Collection of reunion photographs
Jen Warren - Quaker life in Tasmania, Michael Bennett
Pam Willis (1966) - Friends' publications and ephemera
Karen Wilson - Mixed media prints by Lana Nelson
20
Blazer belonging to Linda Forbes' father Gordon Long (1951 Prefect)
Two violins belonging to Sally Poole's mother Vera Hopkins, former violin teacher at Friends' from 1945 to the late 1970s
Collection of trophies awarded to Ross A Johnston (1939)
Thank you for your support of Friends'
Notwithstanding recent and continuing challenges caused by the global pandemic the Friends' community continued its steadfast support of the School in 2022.
We appreciate every gift, and every gift has a direct and positive impact. Thank you.
Continuing your support
You can choose to support improved learning spaces for our students' education and development, needs-based bursaries, scholarships or library resources online at friends.tas.edu.au/get-involved
Your ideas
If you are thinking about a more tailored gift that could make an important difference for our students and teachers in an area that interests you, we would love to hear from you. Every gift, no matter how small or large, is warmly appreciated and makes a difference to our students.
Make an impact
Including Friends' in your Will is a way of providing enduring support for Friends' students beyond your lifetime. If you have included Friends' in your Will, or are thinking about doing so, please do not hesitate to contact us.
For further information please contact:
Lucy Loney, Development Manager
t +61 3 6210 2203
lloney@friends.tas.edu.au
Students outside the new Revell Sports Centre. L-R: Emily Cole (Year 6), Samuel Jones (Year 10), Henry Green (Year 6), Siddharth Gupta (Year 10), Eliza Gardner (Year 6), Dorje McQuillen (Year 6), Madeline Windsor (Year 10), Lizzie Ralph (Year 10)
22
no one is born for self alone The Friends' School 23 Commercial Road, North Hobart Tasmania 7000 +61 (3) 6210 2200 stayconnected@friends.tas.edu.au www.friends.tas.edu.au
Registration number: 00477G The Friends' School is an IB World School
Nemo Sibi Nascitur
CRICOS