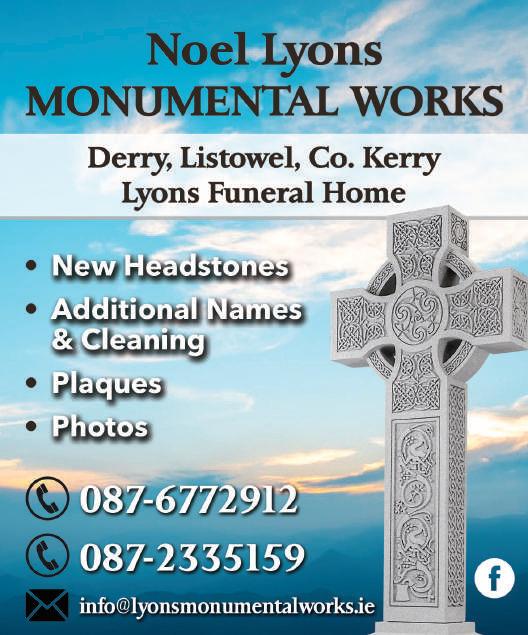 Thurs 16th March 2023 Vol. 15 Issue 33
2 Read your Advertiser online @ www.theadvertiser.ie
McGuire Cup. Mary wearing her Wexford colours in honour of her father Nick Stewart who won an All Ireland medal with the famous 4 in a row Wexford football team 1915 - 1918
INTO Function in honour of Listowel Branch teachers who retired 20172023 held in the Listowel Arms Hotel on Friday evening last. Back: Henry Molyneaux & John McAuliffe (Scoil Mhuire de Lourdes, Lixnaw), Richard O'Carroll (Lisselton NS). Middle: Teresa Browne (Dromclough NS), Anne Larkin (Ballybunion NS), Norma O'Carroll (Slieveamhadra NS), Maura Enright (Ballyduff NS). Front: Mary O'Connor (Listowel INTO Branch Secretary), Mary Hennessy (Presentation Primary Listowel), Bernie Sheehy & Catherine McEllistrem, (Scoil Realta na Maidne), Rita Goulding (Slieveamhadra NS), Mary Nolan (Duagh NS), Susan Walsh (Ballyduff NS) , Lily Morris (Ballybunion NS), Breda O'Dwyer (Slievemhadra NS), Dermot O'Connor (Listowel Branch INTO Chairperson).
8 Read your Advertiser online @ www.theadvertiser.ie
Patricia Cronin, as she celebrated her birthday with family, in The Maid of Erin Listowel on Sunday last. Photo Seán Doyle
3rd and 4th class Boys' Cross Country Team from Dromclough NS being presented with the team silver medals for their 2nd place finish in the Kerry Cumann na mBunscol Cross Country Race in Tralee last week, in very testing conditions
Bríd Griffin was busy at the Asdee Hunt on Sunday with a treat for those participating. Photo Moss Joe Browne
Members of Mike the Pies Golf Society at the prize giving for their first outing of the year, which was played at Ceann Sibeal Golf Club on Saturday 11th March. Winners on the day were: 1st William O Sullivan, 2nd Jonathon Kelliher, 3rd Mike Canavan and 4th Brendan Kelliher
Photo by John Stack
L-R: Christy, Mary, Michelle and Declan Sheehy Clounmacon, Listowel meeting the Sam
Listowel Celtic U11 Green team that played Killarney Celtic last week
Presentation Primary School girls were delighted to welcome the Sam Maguire Cup to the school on Monday last
KERRY SENIOR AND 2022 ALL STAR NIAMH CARMODY IS GUEST OF HONOUR AT SHANNONSIDE'S OFFICIAL LAUNCH
"We had a great afternoon in the Community Centre on Sunday 12th March to officially launch Shannonside Tarbert LGFA."
"Thanks to our special guest, Kerry Senior Football Star Niamh Carmody who was guest of honour. Huge thanks to all the parents, coaches, sponsors and committee who have gotten Shannonside to this stage. We are looking forward to our first matches in the weeks to come."
TARBERT DARKNESS INTO LIGHT
We are so excited to launch our second Tarbert Darkness into Light 2023 with our partner schools here in Tarbert, we would like to thank The National School and Tarbert Comprehensive School who gave fantastic support last year and continue to do so this year.
Once again our venue for the night will be Tarbert Comprehensive School. We are very grateful to the Principals, staff and student councils of both schools for helping us to launch this year's walk. Registration is now open online at www.darknessintolight.ie. We look forward to seeing you all on the night.
FDC: HOW TO GET A BETTER SENSE OF RELIEF WHEN 'GIFTING' THE FARM
By Georgina Frawley, FDC Group
A farm transfer to the next generation is commonly achieved by a lifetime gift.
Without availing of relief, such transfers would be commercially impracticable given the substantial tax cost. There are, however, several tax reliefs which, when availed of, can minimise or eliminate these liabilities, with the most common being retirement relief (regarding the transferor's capital gains tax) and agricultural relief (regarding the transferee's capital acquisitions tax).
There are many conditions that must be met, and although it is beyond the scope of this article to discuss them all, I will consider those that are most affected where solar panels are installed on farmland.
For retirement relief, the transferor must be at least 55 years old, and the land must be owned and farmed by him for a continuous period of 10 years immediately prior to the disposal (excepting specified leasing arrangements entered into by the landowner when he/she ceases farming).
Similarly, agricultural relief requires that the lands are farmed commercially, for at least six years following the transfer. Where there are solar panels and solar infrastructure occupying the lands then that will not constitute 'farming' for the purposes of these reliefs.
However, neither retirement relief nor agricultural relief will be affected by the fact alone that solar panels/solar appliances are installed, provided that the area of the land which they occupy do not exceed half the total area of the gifted farm.
The precise application of these rules must be examined closely in each case, to assess if the reliefs can be availed of, but no doubt this will be helpful for many farmers who plan to transfer their farms and whose lands are currently occupied by solar panels or who have entered into option agreements for such development.
The rate of stamp duty is currently 7.5% on the market value of the agricultural lands and is generally a liability for the transferee.
Reliefs known as consanguinity relief and young trained farmer relief, can reduce that rate to 1% and 0% respectively, provided that their many conditions are met. Whereas consanguinity relief is only available for transfers between certain blood relations, young trained farmer relief only applies to transferees who hold a relevant agricultural education qualification ('green cert') and who is below 35 years old at the transfer date.
Both reliefs require that the lands are actively farmed on a commercial basis for holding periods of six years and five years respectively. The carve-out provisions do not apply to these stamp duty reliefs, and the condition that the lands are actively farmed are not met where the lands are occupied by solar panels, even if the area of land which they occupy is less than half the total area of the gifted farm.
There are also income tax reliefs available in respect of certain leases of agricultural land. However, similarly, that relief will not be available on lands occupied by solar panels and solar panel infrastructure.
All aspects require careful consideration but unless, and until there is a legislative change extending the carve-out provisions to the stamp duty then farmers when negotiating leases/ lease options with solar energy companies must give particular consideration to this tax head. In my experience, solar developers are open to working with the farmer and their successors to minimise the tax impact and explore all options to make the agreement attractive to all.
Georgina Frawley is a FDC Regional Tax Manager with FDC Foynes, Kilmallock, Limerick and Newcastle West.
Find your local FDC office on www.fdc.ie
10 Read your Advertiser online @ www.theadvertiser.ie
11 Read your Advertiser online @ www.theadvertiser.ie
CAROLINE'S DÓTERRA ESSENTIAL OILS
CAROLINE'S POD OF POSITIVITY
Welcome to my weekly column. My name is Caroline and as a certified DóTERRA essential oil specialist I have been delighted to help, guide and support so many people along with their friends and families on their essential oil journey throughout North Kerry and West Limerick. I know how these oils can support the Body, the Mind and the Mood and each week I'll be sharing lots of tips and information on Self-Care, Wellness, Love and Gratitude when using DóTERRA'S essential oils as part of your every day routine.
St Patricks Day Beef Stew
This week we look at Thyme not only because of the wonderful properties it has but because it's delicious when used in cooking. I particularly like to use this essential oil when cooking an Irish Beef Stew and this will definitely be on our menu for St Patricks Day as we look forward to celebrating our patron saint this weekend and with those we love.
For centuries, Thyme has been used across nations and cultures for cooking, used as incense in holy temples, in ancient embalming practices and also used to ward off nightmares. The main benefits of dóTerra's Thyme are its stimulating aroma, and its spicy food flavouring. It also provides the skin with cleansing and purifying effects and adding a drop to your daily water, tea or food will provide a general wellness feeling throughout the body. This bottle which contains around 300 drops of Thyme has replaced my jar of dried thyme. I really enjoy using it in both diffusing and cooking. You can order your bottle by contacting me on the number below.
As the oils work and support us on a physical level they also support us on an emotional level. Thyme empties the soul of negativity leaving the heart space wide open. In this state of openness, individuals begin to feel tolerance and patience for others. As the heart opens more and more, it can receive love and offer forgiveness. Thyme transforms hate and anger into love and forgiveness.
You can check out my Facebook page Caroline's Pod of Positivity where I have information and videos on DóTERRA'S Essential Oils. To book a consultation or appointment you can reach me on the number and together we will start you on your journey of health and wellness using the oils with my full support and guidance.
My Three Way Method Using DóTerras Oils: Topically: Apply the oils onto your skin particularly on the pulse points and soles of the feet. Aromatically: Place two to three drops into a cold-water diffuser and diffuse the oils in your home, classroom, office space, salons or other places of work and business. Internally: Add the oils to your favourite food, waters and drinks, or simply by taking one drop daily under the tongue to support your body and mind.
DóTERRA knows that essential oils must be pure and potent in order to best fulfill the needs of those that use them. Too often, essential oils available for purchase contain contaminants and filler substances that weaken the essential oil's effectiveness. With the sole purpose to provide pure and potent essential oils, doTERRA ensures that their oils are free of harmful contaminants and fillers through the CPTG Certified Pure Tested Grade™ protocol. We are so fortunate that DōTerra now have a manufacturing plant in Blarney Business Park in County Cork and will become a household name in Ireland by the year end.
Hope you all have a lovely St Patricks Weekend and happy cooking with your DóTerra Thyme essential oil!
Caroline X Tel: 087 292 1292
ASDEE, BEALE AND BALLYLONGFORD DEVELOPMENT PROJECT
Have your say on the future of Asdee, Beal and Ballylongford
TASC, the think-tank for action on social change is working on a research project called the People's Transition. With the backing of AIB, TASC is working with communities across Ireland to understand the challenges they face and identifying solutions that can benefit communities and the climate.
Asdee, Beal and Ballylongford have been selected to take part in the project. A community gathering will take place in Asdee Community Centre on Wednesday the 5th of April at 7pm to start the conversation on what can be done to promote local development. All are welcome.
To learn more about this project, contact Kieran Harrahill, senior researcher in climate justice with TASC at kharrahill@tasc.ie or (01) 616 9050.
Photos by Helen Lane
LISTOWEL POP-UP GAELTACHT AT JOHN B'S
The Listowel Pop-Up Gaeltacht had another fine gathering at John B. Keane's Bar on Friday evening, March 3rd. As part of Seachtain na Gaeilge celebrations, this month's event included some fine music and song. Singer songwriter Pádraic Jack from the Aran Islands popped in directly after his concert at St. John's Theatre & Arts Centre and sang a few enthralling sean-nós songs as Gaeilge.
Pop Up Gaeltacht Lios Tuathail, which is going from strength to strength, meet once a month at John B. Keane's Bar for a drink and a chat. It is proving to be a popular event for socialising as Gaeilge in North Kerry. A warm welcome and céad míłe fáilte isteach is always on offer by host Billy Keane. Everybody is welcome to come along, join in and practice their cupla focal in a relaxed atmosphere. It is also a wonderful opportunity to meet new people and make new friends.
Buail isteach le haghaidh caint agus comhrá mar gheall is beatha teanga í a labhairt. For regular updates, connect with Pop Up Gaeltacht Lios Tuathail on Facebook, follow @popupglt on Twitter or email popupgtl@ gmail.com
Pictured: Mairéad White, Seán Ó Conaill, Matt Ó Maonaigh, Criostóir Breathnach, Máire Ní Oibicín, Tadhg Ó Buachalla, Ali Ní Chathail, Finbarr Mawe, Áine Ní Chuaig, Billy Keane, Ina Uí Argáin, Máire Ní Dhonabháin, Gabriel Fitzmaurice, Neil Brosnan.
John Kelliher
DAFFODIL DAY 2023 - MARCH 24TH
Take back from cancer this Daffodil Day, 24 March!
After a three year break due to Covid, our dedicated volunteers will be back on the streets of Listowel next Friday 24th! Your contribution enables continued cancer research and provides support and services for patients and their loved ones through their diagnosis. The exceptional support from the community is greatly appreciated and truly valued.
12 Read your Advertiser online @ www.theadvertiser.ie
Photo:
13 Read your Advertiser online @ www.theadvertiser.ie
SAN RITA WELLNESS
Welcome to San Rita Wellness weekly column…We hope you are safe and well
This week we are going to focus on how important it is for you and your wellbeing to keep yourself accountable to your commitment to feel and look better . There are many areas where accountability plays a big part in your weight loss and wellness journey. So, let's break them down and ask yourself are you actually ticking all the boxes.
It's you not me...
Very often you can blame others for "making" you eat or drink something you actually hadn't planned on having which can very often be the start of the slippery slope that we are all familiar with. For example you may feel that because you are in the situation we are all in at the moment with restrictions still in place your feelings and emotions could be responsible for your actions to eat mindlessly and yet you could point the finger of blame at someone else. So maybe it's time to recognise that you need to take the reigns of responsibility into your own hands, as after all it's only you will carry the implications of your actions around with you let it be in your mind or your body.
There will always be occasions when we do want to have that little bit of relaxation to have the treat without the after taste of the guilt. These would be times like St Patricks Day, Mothers Day and Easter also coming up.
Blaming others for our actions is an easy way of letting ourselves " off the hook " for our own accountability. Your choices are your decisions. Always remember when you point the finger at someone the rest of your fingers are pointing back at YOU.
Accountability
Accountability is all about keeping records.
It is a proven fact when you keep an account of what you eat and drink you are more aware and mindful of your calorie intake. By keeping a track of your calories you are less likely to "forget" the little things that can all add up in the end. Keeping track of your daily foods can be done in different ways, it's all about finding the way that works for you . Some people may like to keep a track record on their phone while others may prefer to put pen to paper and write it down, Whichever works will work. No guessing ,No messing !!
Being accountable to somebody else with your weight other than yourself is very important also as we do tend to leave ourselves off the hook quite easily at times. By doing this you are making a commitment not alone to yourself but to somebody else also. "It will be a weight off your mind "
So that is another reason why San Rita Wellness works so well for our members as they check in weekly with us either in our "In Person Meetings" or our "At Home Service"
Mini Goals
Setting yourself a mini goal will keep you mindful and in the loop when you do feel like you may be inclined to throw complete caution to the wind. Having that mini goal in mind will help you to get back on track again so as not to cause too much damage overall Keeping a weekly record of your mini goals can help your motivation and commitment to stick with it and know that it will be worth it. Remember the saying "Slow progress is better than No progress"
You may set yourself a goal by deciding to lose five to seven pounds at a time or maybe seeing a lower number on the scales. It could be an item of clothing that is a little bit too tight at the moment that you would like for it to fit better or maybe you would like to be able to reach for a size down in the clothes rail next time you buy yourself something whether it's online or when the shops reopen again. Now, picture that in your mind and think how great that would feel.
Motivation
We are all different and it takes different things to encourage us to be more motivated. For some it can be the number on the scales or the clothes fitting better. For more it could be looking forward to meeting up with family and friends over the Summer and wanting to look and feel our best.
By constantly reminding ourselves of whichever it is will help keep the motivation strong. So, remember there is a saying: To wake up with Motivation, Go to bed with Determination
For extra support and for weekly accountability check us out on Facebook San Rita Wellness or sanritawellness.ie for details of our "In Person Meetings", "At Home Service" or our "One to One Service"
NB - Our weekly "In Person Meetings" are in The Kerry Writers Musuem, The Square, Listowel every Wednesday and Ballybunion Health and Leisure Centre every Thursday.
Give us a call on Sandra 087 6718377 or Rita 087 1012174
Until next week, Sandra and Rita
Listowel's Only Dedicated Bookshop
Church Street, Listowel - T: 068 21021
www.woulfesbookshop.ie / follow us on facebook
STRANGE SALLY DIAMOND
By Liz Nugent
From the number one bestselling author of Our Little Cruelties and Skin Deep.
Sally Diamond cannot understand why what she did was so strange. She was only doing what her father told her to do, to put him out with the rubbish when he died.
Now Sally is the centre of attention, not only from the hungry media and worried police, but also a sinister voice from a past she has no memory of.
As she begins to discover the horrors of her childhood, recluse Sally steps into the world for the first time, making new friends, finding independence, and learning that people don't always mean what they say. But when messages start arriving from a stranger who knows far more about her past than she knows herself, Sally's life will be thrown into chaos once again...
OPEN FROM 10.30AM - 5.30PM
MONDAY TO SATURDAY
Phone Orders 068 21021. Also by email at woulfesbookshop@gmail.com
NOW
Book Choosing & Book Posting Service
We will choose a book to suit you & have it posted
14 Read your Advertiser online @ www.theadvertiser.ie
BOOK OF THE WEEK in association with Woulfes Bookshop
OFFERING OUR
"I am Reading"
Congratulation to Mike the Pies who have just won the "Special Recognition for Excellence 2023" at the Hot Press IMRO Venue Awards in Dublin on Tuesday. Pictured are 'Cookie' (Paul Doyle - MTP Engineer) and proprietor Aiden O'Connor
15 Read your Advertiser online @ www.theadvertiser.ie
Teachers from the Presentation Primary School,
on
Listowel Emmets who were recently crowned North Kerry League Winners 2023 after defeating Castleisland Desmonds
16 Read your Advertiser online @ www.theadvertiser.ie
Thalia Galvin, Clieveragh who was Christened by Canon Declan O'Connor in St Marys Church Listowel recently. Also included in picture are Thalia's Parents Stephen and Mags, Canon Declan O'Connor, Big Sister Freya and Godparents Aiden Galvin and Ashling Lynch. Photo by Liam Kelly
Pupils from Dromclough NS, Eoghan Óg (2nd) and Robbie (6th) receiving their individual medals at the 3rd & 4th class All-Kerry Cumann na mBunscol Cross Country Race in Tralee last week
Listowel who attended the INTO retirement function
Friday night in the Listowel Arms Hotel. We wish our colleague Mary Hennessy (front, left) all the best in her retirement
Asdee / Ballylongford U11s who played Moyvane in a challenge game last Sunday
Some of the Listowel Celtic U9 boys who played Fenit in some fun games at the weekend
Congratulations to the Duagh/Lyre Community Games girls u15 futsal team who won pewter medals last Sun in Milltown
Local Liam Doyle (centre) enjoying the company of Ray and Kissane Keane at the Asdee Hunt on Sunday. Photo Moss Joe Browne
KILFLYNN
ST. PATRICK'S DAY PARADE
KILFLYNN is all set for their annual St Patrick's Day parade. The parade and the fancy dress parade will commence at 4.00pm sharp on Friday 17th March from St Teresa's National School and make its way through the village. All those interested in participating in the parade please assemble at the school at 3.30pm. Any organisations, businesses or individuals wishing to take part in this year's parade are very welcome to do so.
Kilflynn Community Together are organising this year's St Patrick's Day parade and are hoping to build on last year's success where over 20 groups took part.
Again, this year there will be a trophy and €100 for the best float, €50 for 2nd place, and €25 for 3rd place, and all fancy-dress participants will be presented with a medal after the parade in St. Columba's centre. It will be a wonderful gathering of the Kilflynn and surrounding communities, awash with colour and imagination! Hope to see you all in Kilflynn
NORTH KERRY LEAGUE
First named team at home; Top team in each group qualifies for the Senior A Final; 2nd placed team in each group will qualify for the Senior B Final.
Group 1 - Kilmoyley, St. Brendan's, Causeway, Crotta O'Neills Group 2 - Ballyheigue, Ballyduff, Abbeydorney, Lixnaw
Round 1 - Friday 17th March @ 10:30am: Kilmoyley v Causeway
St. Brendan's v Crotta O'Neills
Round 2 - Friday 7th April @ 6:30pm | Round 3 - Friday 14th April @ 6:30pm
PARKER'S PUB & VENUE
Friday 17th March
Kilflynn St. Patrick's Day Parade @ 4.00p.m | Music, Songs and Craic with Foggy Dew 5-7p.m
ABBEYDORNEY/KILFLYNN ACTIVE RETIRED
Are meeting this Wednesday 15th March from 10.30 a.m. to 1.30pm in the Abbeydorney Parish Community Hall where a meal will be served. Any enquiries, please contact 066 7135831.
KILFLYNN CITY RUNNING GROUP
The Kilflynn City Club Stacks Mountain half in aid of the amazing charity of Bru Columbanus on Saturday 1st April 2023 A stunning half marathon and 10k that starts and finishes in Kilflynn village taking in all that Kilflynn has to offer from stunning views to hidden trails and pathways. Sign up now at https://kilflynncityrun.net
ST. MARY'S CHURCH, KILFLYNN
Mass Intention for the week in St. Mary's Church: on Wednesday 15th March at 10.00a.m. Thursday 16th March at 7.30p.m Vigil St. Patrick's Day. Saturday 18th March at 6.00 p.m. Dick, Sarah & Michael Twomey, Gotclohy,Kilflynn, Alice & Jeremiah Relihan, Tullacrimmin, Abbeydorney, Kit Quinlan, Ballyconnell, Kilflynn.
Stations Of the Cross for Lent: Monday at 8.00 p.m. in Kilflynn and Tuesday & Thursday in Abbeydorney at 7.00 p.m.
Parishioners have volunteered to lead the Stations
Blessed Candles available from the Parish Office €7 per pack of 6. Stations Of the Cross for Lent: Monday at 8.00 p.m. in Kilflynn and Tuesday & Thursday in Abbeydorney at 7.00 p.m. Parishioners have volunteered to lead the Stations
Parish Office can be contacted by phone 066 4018996 Tuesday, Thursday & Friday 10.00 a.m. to 1.00 p.m. or by email: abbeydorney@dioceseofkerry.ie
Masses from St. Bernard's Church, Abbeydorney are streamed live on www.dioceseofkerry.ie, on Sunday at 10 a.m. Go to Abbeydorney Parish and click on watch live Mass. Webcam has been installed in Kilflynn Church - To watch Masses go to www.dioceseofkerry.ie – Abbeydorney Parish and click on 'watch Mass'. Diocesan
THANKS
Ballybunion Sea & Cliff Rescue Service wish to thank those who contributed to our recent Church gate collection in Abbeydorney & Kilflynn.
KERRY SENIOR HURLERS
The Kerry senior hurlers travel to Kildare on Saturday 11th March to play the home side at St. Conleth's Park, Newbridge in the Allianz National League Div 2A Round 4 and were defeated on the score of Kildare 2-20 to Kerry 0-21. The Crotta Hurling club was represented by Cillian Trant at (centre forward) Jordan Conway came on as a sub and scored a point, Sean Weir was also a member of the Kerry panel. Kerry are at home to Down on Sunday 19th March at 1.00p.m in Austin Stack's Park, Tralee. Best wishes to the Kerry players and their management.
CROTTA LOTTO RESULTS
The Crotta hurling club weekly lotto draw was held on Monday 13th March at Herbert's Bar, Kilflynn.
The Four numbers drawn out of the drum by the independent observer: Graham Harris, Clounsillagh, Lixnaw were 3,14,28 and 31. There was no winner of the 3,200 Jackpot. Congratulations to the following who won €35 in the lucky dip draw: Brendan Hannon, Laccamore, Kilflynn, Michael Sugrue, The Cloisters, Abbeydorney and Susan Dillane, Abbeydorney.
The next draw will take place in Parker's Pub, Kilflynn. on Monday 20th March at 10.30p.m with a €3,300 Jackpot. Tickets available 3 for €5 online visit www.crottagaa.club or this link https://play.clubforce.com/play_newa.asp?ll_ id=427#Anchor or Herbert's Bar/Village Store, Parker's Pub, Zam Zam Kabab, Foley Shop Lixnaw, Abbeydorney Post Office or from Club ticket sellers. Many thanks to all who contribute to our weekly Club Lotto. The Club cannot emphasise enough the importance of our members promoting the Club Lotto among family, friends, and work colleagues. Your continued support is greatly appreciated.
KERRY CAMOGIE
NATIONAL CAMOGIE LEAGUE DIVISION 2A
Great win for the Kerry Camogie team up in Derry, that's 3 wins and a draw for the team in this year's Very Camogie League Division 2A, after making the long trip north it's great to see them returning with a win.
Full time: Derry 2-6 Kerry 1-12
Well done to the Crotta ladies Aoife Behan, Amy O'Sullivan and Jackie Hogan, their teammates and management.
KILFLYNN TODDLER GROUP
The Kilflynn toddler group meets up every Thursday mornings in St. Columbus Centre, Kilflynn at 10.00-11.30 am
LISTOWEL U16'S GO DOWN FIGHTING IN CROSSHAVEN AS MUNSTER CAMPAIGN ENDS
CROSSHAVEN 22 – LISTOWEL 19
This special team showed their character by somehow coming within a score of making the final on a day where everything went wrong for them. After a promising start and some good attacking play, on a clear but gusty day in Crosshaven, the home team intercepted a Listowel pass and sprinted under the posts to make it 7-0 after only 5 minutes. Listowel restarted with a clever, quickly taken kick off by Cathal Byrne, which was recovered by Captain Liam Hanrahan. Listowel went through the phases, and spun the ball right where it found Michael Coolahan, who gathered, and danced around the opposition winger to score a super try under the posts, bringing it back to 7-7.
Crosshaven used the wind at their backs to kick for territory, and every ball was dealt with by Jake Rochford at full back, who in the face of the wind had no choice but to run every ball back, which he did brilliantly, with the support of wingers ,Paul Lacoste, and Ewan Somers. Crosshaven's towering and athletic second rows looked to set up a driving maul, but Listowel's lineout defence, led by Ruari O'Connell, made this impossible. However, Listowel were being constantly pinged for offside, making it difficult for them to regain the ball. Crosshaven resorted to running their penalties and the constant pressure and penalties resulted in another try for the Corkmen which was converted to make it 14-7. This was followed shortly after by a penalty in front of the posts, which the Crosshaven outhalf slotted, to make the half time score 17-7.
Listowel re-grouped at half time, and with the wind at their backs, started the second half brightly with Fionn Byrne's quick service to his brother Cathal giving him the time to use the wind and kick for territory. Listowel's chase was good, with Eamon O'Connor, Jason Moriarty, and Tadhg Mulvihill to the fore, and when Listowel secured possession just inside the Crosshaven half the ball went through the hands of Sam Enright, and Jack Buckley to find John Curtin wide on the left at full pace, who beat 2 tacklers to break through and score under the posts: 17-12.
Once again though Listowel were hit with a sucker punch when a promising chip kick was caught in the wind and went straight into an oncoming Crosshaven players hands. He sprinted 60 meters and was caught by some great scramble defence by Sam Enright, and Cathal Byrne, but moments later Crosshaven went wide and scored in the corner with 10 minutes left: 22-12.
After so much going wrong it would have been easy for heads to drop but that is not what this team are about, and with Josh Aherne, Fionn Byrne, and Liam Hanrahan leading the charge, along with backup from Fionn McNamara, Marcos Leahy, Harry Reidy, Carlos Lopez, and Gonzalo Merino, Listowel again managed to get the ball to the flying prop John Curtin on the wing who beat the first man, and stepped inside the full back for another stunning try: 22-19 with 3 minutes left
The tension was almost unbearable as Crosshaven attacked, but Listowel turned over and had time for one more attack. However, they couldn't breach the Crosshaven defence, and when a scrum was awarded, the referred blew the final whistle, and with it brought down the curtain on an exceptional cup run, from a team who have come so far, and done it playing some brilliant rugby.
18 Read your Advertiser online @ www.theadvertiser.ie
There will be a draw for this Bicycle in the near future, which was sponsored to the Listowel Bazaar Group.
The group will be selling lines for €2 or 3 lines for €5, and you can also purchase the line(s) in various shops in Listowel. Your support is greatly appreciated.
20 Read your Advertiser online @ www.theadvertiser.ie
Lios Tuathail AC young athletes at the Munster Indoors in Nenagh. Lots of PBs and fun for these future stars
21 Read your Advertiser online @ www.theadvertiser.ie
BALLYBUNION
CONDOLENCES
Our sympathy goes to the Burke & Hanrahan families on the passing of Mary Burke (née Hanrahan). Golf side, Ballyeagh & formerly of Main Street, who passed away on Tuesday 7th March. And our sympathy goes to the Mehigan and Sugrue family on the passing of Anne Mehigan (née Sugrue) of Raheen Limerick & formerly of Ballybunion who passed away on Friday 10th March. May they both Rest In Peace.
BALLYBUNION COMHALTAS
Ballybunion Comhaltas are having their annual concert this Thursday 16th March at 7pm in St Joseph's Secondary School. Annual Comhaltas Church Gate Collection will be held on the 25th & 26th March. All donations are greatly appreciated.
BALLYBUNION ST. PATRICK'S DAY PARADE
Good news the St. Patrick's Day Parade will again take place this year, it will start from St. John's Church, Church Road, at 3.00pm. Anyone who wants to take part be sure to be in the church car park no later than 2.20pm on the 17th March. So Dust Down your floats, and Get Your Walking Shoes on. See you all on the day.
BALLYBUNION COMMUNITY MARKET
A St. Patrick's weekend community market will be held this Saturday 18th March from 10am to 2pm in McMunn's Garden at the end of Main Street. There will be a fantastic range of beautiful gifts for Mother's day. Market stalls, Artisan Food, local Produce & Craft to Ballybunion. Entry is free.
FUNDRAISER FOR BALLYBUNION SEA RESCUE
Freezin For a Reason with the Ballybunion Dippers. Swim In Green at the Ladies Beach this Sunday 19th March at 12pm. All money raised will be going to the Ballybunion Sea and cliff rescue.
WE CAN COOK CHILDREN'S COOKERY SCHOOL
Are running a 2 day Easter Cookery Camp this year on Thursday 13th and Friday the 14th of April from 10 am to 1pm. The camp is suitable for children from the age of 6 to 12 years. All ingredients and equipment are supplied. The cost is €50 for the two days. To secure your child's place contact Marie on 087 6415513. Places are limited.
TINTEÁN THEATRE
Pat & Faye Shortt are coming on Sat 29th April, Elvis the Vegas Experience on Sat 6th May, Waterloo on Sat 1st July, Johnny Cash returns on Sat 22nd July, Cliona Hagan on Fri 4th August, Tina Turner Tribute act-Proud Mary and her city limits on Sat 19th August. You can secure your tickets today via the website www.tintean.ie
CALENDAR OF EVENTS
we here at Ballybunion Tourist Office have started compiling a list of events for the upcoming months. If you have an event coming up please get in touch with the tourist office on 068-25555 email ballybuniontouristoffice@ gmail.com or send a message on the Facebook page Ballybunion Tourist Office. This would be a great way to advertise your event and will be printed in the notice board going into Supervalu and on the Ladies beach.
BALLYBUNION PHOTOGRAPHY
Are now currently taking Bookings for the 2023 Communion & Confirmations Classes at St John's Church Ballybunion anyone interested can contact Ballybunion Photography or for more Information @0861715188 or emailing luke@ballybunion.photography and the Ballybunion Photography Website www.ballybunion.photography
AFTERNOON TEA DANCE
The next afternoon Tea Dance will be held Sunday March 26th in Ballybunion Community Centre from 3pm-5pm. All are welcome to attend, Admission is €7 which includes refreshments. Music by Ger Walsh in Aid Of Pattern Day. Come along and enjoy a great afternoon of music, dance, chats and tea while supporting charities.
RUN BALLYBUNION
Registration is now open for Run Ballybunion 2023 Easter Saturday as always. Visit www.Runballybunion.com to avail of limited early discounted rates
CHRISTMAS PARTY PHOTOS
Photos from this year's Senior Citizens Party can be collected from the Ballybunion Tourist Office Monday to Friday between 9.00am – 2.00pm.
GROW MENTAL HEALTH SUPPORT GROUP
Grow Mental Health Support Group will be coming to Ballybunion in the Community Centre on Wednesdays at 6pm. Grow Mental Health is a charity that provides free, friendly, community based, peer support groups for anyone who is experiencing a mental health issue. No booking required.
BALLYBUNION PARENT & TODDLER GROUP
The parent & Toddler group every Wednesday from 10am-12.30pm in Ballybunion Community Centre. This is a great meeting place for parents & carers with babies & small children to relax & chat together while children play. Everyone is welcome to attend. Cost is €3 per family which includes snacks and group outings. For more information please contact Laura on 087 057 3384.
ACTIVE RETIREMENT
Weekly meetings for the Ballybunion Active Retirement group are held on Wednesday's at 2.00pm in the old convent. New members are always welcome
CLOTHES COLLECTION
Scoil Íosagáin's Parents Association will hold several clothes collections throughout the year. Clothes can be dropped to the front door of the school at any time during the school year, during school hours Monday to Friday only. Reusable items of clothing, bed linen (No quilts or pillows), paired shoes, belts, handbags, towels and curtains. A big thank you to all who contributed to our last collection which was a great success. Please do not leave bags at the school gates.
CHILDREN'S ART AND CRAFT CLASSES
Creative Art & Craft classes for children. Winter schedule. (Drop In) Fun workshops. Every Saturday 11.30am to 1pm.All materials supplied. Creative Birthday Parties also available. For information contact Marie 0860664435.
LB ROVERS GOLF CLASSIC 2023
LB Rovers are pleased to announce we will be hosting a Golf Classic at the splendid Ballybunion Cashen Course in Aid of our field purchase on Friday 31st March. Tee Times 9.00am - 3.00pm, Entry: €200.00 (Team of 4 People), Tee Sponsorship - €100.00, Green Sponsorship - €100.00. Contact Eoin O' Mahony 087 2254837 or email eomahony76@gmail.com
CHAIR BASED FITNESS PROGRAM
Class Chair-Based Exercise in Ballybunion Community Center every Tues.11.00am-12.00pm. Pay as you go classes available also, Please phone to book your chair call Martina on 087 797 3688
BALLYBUNION MEALS ON WHEELS
The Ballybunion meals on wheels service will be delivered 3 days a week, meals will be delivered on Monday, Wednesday and Friday. Anyone wishing to avail of delivery please contact Eileen Fogarty on 086 2234 965 or Con McCarthy on 087 418 4241. The areas covered are Ballybunion, Lisselton, Asdee and Ballylongford. The dinner will be delivered to your door by one of the men at the cost of €7 per meal.
MEN'S AQUA AEROBICS
Men's only Aqua aerobics classes every Friday evenings in Ballybunion Health and Leisure Centre. If interested please contact Martina on 0877973688
JOY FIT IRELAND
Joy fit is a new exercise programme to Ballybunion, jumping for joy. The venue is the community centre. Tues, Thurs and Sat at 10am and is €15 per class. Booking is required because there are a limited number of boots and they depend on size and weight. Text +380686849819.
BALLYBUNION CCÉ
A reminder that music classes are every Friday in St Joseph Sec School. Registration is also available €6 per child, family membership €20. For more information on classes/times/ registration and hire of instruments Contact Betty 087 9662902. John Fennel Set Dancing Ltd will be doing lessons each Saturday in St Joseph's Secondary School Hall. Enquires contact John 087 9941466 or Deirdre 086 8429548.
SOCIAL DANCING
Social Dancing takes place every Tuesday night from 7.30pm upstairs in the Community Centre "The Old Central Ballroom" A great night of fun and dancing including waltzing, jiving, quick set, line dancing etc. Please come along and show your support. You do not need a partner on the night.
TAEKWON-DO BALLYBUNION
Taekwon-do Classes are ongoing in Ballybunion Community Centre upstairs hall, on Wednesday evening for beginners aged 5yrs+, teens and adults and on Friday evenings for beginner teens and adults. Great for confidence, balance, co-ordination, fitness, self-defense, self-discipline and its fun. Beginners are always welcome - if interested please contact Michael on 087 9245637.
POSITIONS AVAILABLE IN COMMUNITY EMPLOYMENT
Community Employment offers work experience, training courses, welfare payments plus top-up, and an opportunity to contribute to your community. Current part-time positions (19.5 hrs. /wk.) Include: Tourist Office Attendant; Leisure Centre Receptionist; Environmental Worker; Community Centre Caretaker. For details, contact Rosaleen on 068 27799 or email saothairnanabhann@gmail.com
SAN RITA WELLNESS
In Person Meetings take place every Thursday from 10am-11am and now every Thursday evening from 6.30pm to 7.30pm in Ballybunion Health & Leisure centre. If you are anxious to make a start now you can join our "At Home Service" where our members love the support, motivation, accountability and also seeing fantastic results on the scales. Call us for more information. Sandra 087 6718377 Rita 087 1012174
BALLYBUNION COMMUNITY CENTRE
Ballybunion Community centre offers the following services to the community, typing service, Printing, Photocopying, Scanning, and Shredding. Email: ballybcomcentre@gmail.com Phone 068-27799
Clubs & Activities in the centre include: Badminton, Basketball, Gymnastics, Jackie O'Mahony Stage School, Taekwondo, Yoga, Silverback fitness and more. We also now provide outreach services provided by our Family Support Coordinator Laura Bennett, which include play therapy, counselling, parents plus courses, baby massage, mental health supports. Childcare services, fun camps.
BALLYBUNION BADMINTON
Ballybunion Badminton takes place on Tuesdays and Thursdays 8pm to 10pm, in Ballybunion Community Centre €5 per person. New members are always welcome. If you have any enquiries please contact the Ballybunion Baseliners Facebook page.
BALLYBUNION LIBRARY
Opening Hours: Tues-Sat Inc. from 10am-1:30pm and 2:30pm-5pm.Membership is free.
A regular supply of new books, including bestsellers to be borrowed; requests can be made online or in the branch. We offer PC's with printing (colour and black/white) and photocopying. We also have daily and weekly newspapers for your perusal. 068 27615
BALLYBUNION NOTES
If you would like to include anything in The Ballybunion Notes, please forward to email address below or send us a message to the Ballybunion Tourist Office Facebook page by 10am on Monday Ballybuniontouristoffice@gmail.com
22 Read your Advertiser online @ www.theadvertiser.ie
TARBERT
TARBERT NEWS
Email; tarbertnews@outlook.com or telephone Patrick Lynch at 068/ 36117 on or before 7pm Sunday.
DEATH S
The death took place of Thérese Kelly (née Kirk) of Barna, Galway, Tarbert and Lisdoonvarna. Thérese who was aged 81 died on Saturday 4 March at the Galway Clinic.
She reposed at the Church 'Cillin' on Monday 6 March. Her Requiem Mass took place on Tuesday 7 March in the Church of Mary Immaculate Queen in Barna followed by interment in Furbo Cemetery beside her late husband Franko Kelly, Tarbert who died in 2008 and whose headstone carries the inscription 'An Chéad Fear isteach'. A large number of Tarbert people attended the funeral on both days. Thérese was the daughter of the owner of the Hydro Hotel, L:isdoonvarna. She married Franco Kelly and moved to Tarbert in 1968. They carried on a very successful business at the newly built Coast Road Motor Inn with restaurant and chalet accommodation.
In 1979/80 they sold the business and moved to Killimer in Clare, purchasing a pub and restaurant at the Ferry location and adjacent to Moneypoint Generating Station. They subsequently sold this business and retired to Barna in Galway. Sympathy of the community is extended to her children, Kirk, Ellen, Ciara, Claire and Noel, to the extended Kirk and Kelly families, relatives, neighbours and friends.
The death took place of Marie Sweeney, (née O'Connell) late of Tarmons, Tarbert and formerly of Dublin. Marie who was aged 68 died on Monday 6 March at Marymount Care Centre, Cork. She was predeceased by her husband Martin who died in 2014. She reposed at St Mary's Funeral Home, Tarbert on Wednesday 8 March. Her Requiem Mass was celebrated by Fr
John O'Connor in St Mary's Church on Thursday 9 March. Fr John spoke of her caring and compassionate nature and her teaching skills as a teacher. Her daughter Fiona spoke of her love of family, her gardening skills and her hospitality. After her Requiem Mass interment took place in St Mary's New Cemetery, Tarbert. It was at Bolton Street College of Technology that she met her husband to be Martin, a Tarbert ESB employee. They later married and moved to Tarmons, Tarbert where they built a new house and went on to rear a family of three sons and a daughter. Marie organised a Computer Course many years ago in Tarbert and was involved in local community organisations. Sympathy of the community to her sons, Gerard, David and John, to her daughter Fiona, brother Nicholas, grandchildren, relatives, neighbours and friends.
Sympathy also to Mai Flynn (née O'Connell) on the death of her husband John Flynn in London. Mai, the daughter of Jimmy and Julia O'Connell, grew up in St Patrick's Terrace, Tarbert and emigrated to England many years ago.
Beannacht Dé le h-anamacha na marbh go leir .
RADIO KERRY
We were fortunate to listen to a lovely piece of Radio last Saturday when the Joe McGill programme featured some interviews which the boys and girls of Tarbert National School did with their grandparents on their schooldays and growing up. How times have changed! The project was organised by their teacher Maedbh Lawlee. Well done to everybody concerned and we look forward to hearing more of the same.
TARBERT VISIT
A note from the Retired Teachers Bridge Club, Dublin to say how much the 31 members enjoyed their recent visit to Tarbert, They visited Tarbert House where Ursula Leslie gave them a tour and narrated the history of the Leslie family in Tarbert since the 1700's. They also took in the Memorial Plaza and the Shannonside bronzes before their return to Tralee. One of the organisers of the three day visit to Kerry was Aine Lynch, Dublin and Tarbert.
AWARD WINNERS
Comhghairdeas to Máire Spaight, Tarbert Comprehensive School who won an award in the All Island 'Poetry Award' Poetry Speaking Competition. Out of 300 entries nationally with 22 making it to the Final, Máire came second in the Intermediate Category. Her prescribed poem was 'That Hat' by Nikki Griffin. Máire was presented with a Seamus Heaney
Poetry Aloud Certificate. She is daughter of David and Teresa Spaight, Doonard Lower, Tarbert.
Comhghairdeas also to Yiaoying Li, Tarbert Comprehensive School who was one of 12 Kerry students who received Entrance Exhibition Awards from Trinity College, Dublin . Each awardee received a Certificate and a €150 Book Token.
LÁ LE PÁDRAIG
The traditional St Patrick's Day parade will take place after the 11.30am Mass on the Friday Feast Day 17 March. All participants are requested to assemble at the Fire Station at 12 noon at the latest and parade to the Bridewell where the Cafe will be open for refreshments. It is important that as many young and old would take part to make it a real community occasion and to mark our culture and identity. Please confirm your participation by registering with TDA in advance on 087/9111409. Ní íneart go chur le chéile.
ST BRIGID'S CROSSES FUNDRAISER
Fógra from Geraldine Flavin - A huge thank you to all who helped with the recent Fund-raiser especially students from Tarbert, Glin, Knockanure and Moyvane National Schools who made the Crosses. Thanks to the Post Office, Credit Union and Gala Moyvane who helped with sales and to all who donated to this worthy cause. A cheque for €1,800 was forwarded to the Palliative Care Unit, UHK, Tralee. Míle buíochas.
HISTORICAL SOCIETY
Tarbert Historical and Heritage Society will host Michael Cullotty, Currow on this Saturday 18 March at 8pm in Tarbert Bridewell. Michael who is a member of the Society will give a talk on 'Land Agitation and Evictions in Kilsarcon, Kerry in 1870'. Beidh cupán tae ina diaidh agus beidh fáilte roimh gach éinne, everybody is welcome to attend.
RAMBLING HOUSE
The Rambling House continues in Tarbert Community Centre on Saturday 25 March at 8.30pm with the best of traditional entertainment, music, song and verse from North Kerry and West Limerick agus cupán tae ina diaidh, bain sult agus taitenamh as an óiche.
GOOD FRIDAY WALK
Kerry Hospice Annual Good Friday Sponsored Walk will take place on Friday 7 April at 10.30am from Tarbert Comprehensive School to Tarbert Island. Kerry Hospice continues to provide a wide range of Palliative Care Services throughout Kerry. Your continued support is much needed and greatly appreciated. All funds raised go direct to Kerry Hospice. Sponsorship Cards are available at Tarbert Bridewell and Tarbert Post Office. For further information contact Mary Kelly at 068/36215 or Mary O'Connell at 068/36279.
TDA PUBLIC MEETING
Tarbert Development Association are holding a Public Meeting in the Community Centre on Wednesday 22 March at 8pm. The main object for which the Development Association is established is to act as a focus and catalyst for community development on behalf of the community of Tarbert parish with a view to sustainably improve the economic, socal, ecological and cultural well being of all the people of Tarbert parish. The Association is comprised entirely of voluntary members and wish to encourage wider participation. The Meeting will include a presentation on activities carried out by the Association and the cost of these activities and how they are paid for. Much of the cost relates to maintaining the appearance of the village. e.g. Tidy Town activities , grass cutting , etc. We hope for a large attendance and that people take the opportunity to express their opinions on any relevant matter.
GARDA RETIREMENT
Tarbert Development Association as the event organiser would like to thank everybody who came to pay tribute to Garda Paul Murphy on his retirement. Thanks to those who spoke, Denis Kiely, Niamh Wall, Tomás Coolahan and Brian Carey. Thanks for the floral presentation to Paul's wife and thanks to the singers who polished off a great performance.
Support from the following was very much appreciatedTarbert Boat Club, the Drama Group, History and Heritage Society, Farmers' Group, Bridewell Committee, Development Association and Senior GAA Club. Sincere thanks to local business people for their support.
LIXNAW
ST MICHAEL'S CHURCH
Mass Times: Monday 13th March, Mass at 7.30pm for Frank Murnane & Dan O'Leary, Lixnaw. Wednesday 15th March, Mass at 10.00am. Thursday 16th March, Vigil Mass for St. Patrick's Day at 7.30pm for deceased members of the Brosnan Family, Upper Tullig & New York. Saturday 18th March, Mass at 7.30pm for Moss & Mary Flaherty, Ahacoora.
IRREMORE CHURCH: Mass Times: Friday 17th March, St. Patrick's Day Mass at 11.00am. Sunday 19th March, Mass at 11.00am for Paddy & Mary Behan, Béalkilla & Jim Dalton & deceased members of the Behan & Broderick Families.
RATHEA CHURCH: Mass Times: Friday 17th March, St Patrick's Day Mass at 9.30am. Sunday 19th March, Mass at 9.30am.
PARISH OFFICE: The Parish office is open from 11am – 2pm on Wednesdays. Tel. no. (066) 7132111.
ST. PATRICK'S DAY PARADE
The St. Patrick's Day parade will be starting from the Community Centre at 12 o'clock. There will be prizes for the best dressed children, kindly sponsored by Little Leaders and a prize for the best float. Individuals and organisations, please get those floats ready and come out to support our parish.
LIXNAW GAA CLUB
Split The Bucket Draw:
Congratulations to John O'Sullivan, on winning €134 in the Split the Bucket Draw. Next week's draw will take place in Foley's Gala Shop. Thanks for your continued support.
LIXNAW CLUB LOTTO DRAW
Jackpot €10,150. Numbers drawn were: 12, 22, 24, 29. No jackpot winner. €20 winners: Declan Lynch, c/o Foley's Gala Shop; Daniel O'Connell, Lixnaw; John Maher, Lixnaw. Next draw will take place in the Railway Bar, Lixnaw on Monday 13th March. Jackpot €10,200
ST SENAN'S GAA
Club Lotto Draw: Date 6/03/2023 Jackpot €8,300. There was no jackpot winner: numbers drawn were 3, 11, 24, 27. Lucky Dip €30 winners: Aiden Linnane, Irremore; Trish Harte, Kildare. Lucky Dip €20 winners: Rachel Horgan, Ballyhorgan; Eileen Sommers, The Gap; Kay Lane, Coolnaleen. Tickets €2 each or 3 for €5. Next week's draw will take place at the Clubhouse Mountcoal, and Jackpot will be €8,400. Tickets are available at Kelly's Six Crosses, The Halfway Bar, play online or from any Club Officer. Thank you for your continued support.
OBITUARY
The death recently occurred of James Kelliher, Sydney and formerly of Kilgobnet, Beaufort. Sympathy to his parents: Tom Kelliher and Kathleen Kelliher (nee Shanahan, Liscullane), his brothers and sisters: Eileen, Paudie, Mary and Sean, his uncles: Johnny, Joseph, Pat and aunt Kitty. Reposing at his home in Kilgobnet on Wednesday evening 15th March, 4-7pm. Funneral Mass for James will take place at 11am on Thursday 16th March in St Mary's Church, Beaufort. May he rest in peace.
CONTACT: To include items in the Lixnaw notes, please email lixnawnotes@gmail.com by 10pm on Sunday evening.
24 Read your Advertiser online @ www.theadvertiser.ie
The Barrett Sisters of Tarbert Victoria, Eliza Barrett, Kate, Hillary and Molly Barrett with LGFA star Niamh Carmody at the Launch of the new Shannonside Tarbert LFFA Club Tarbert on Sunday the 12th of March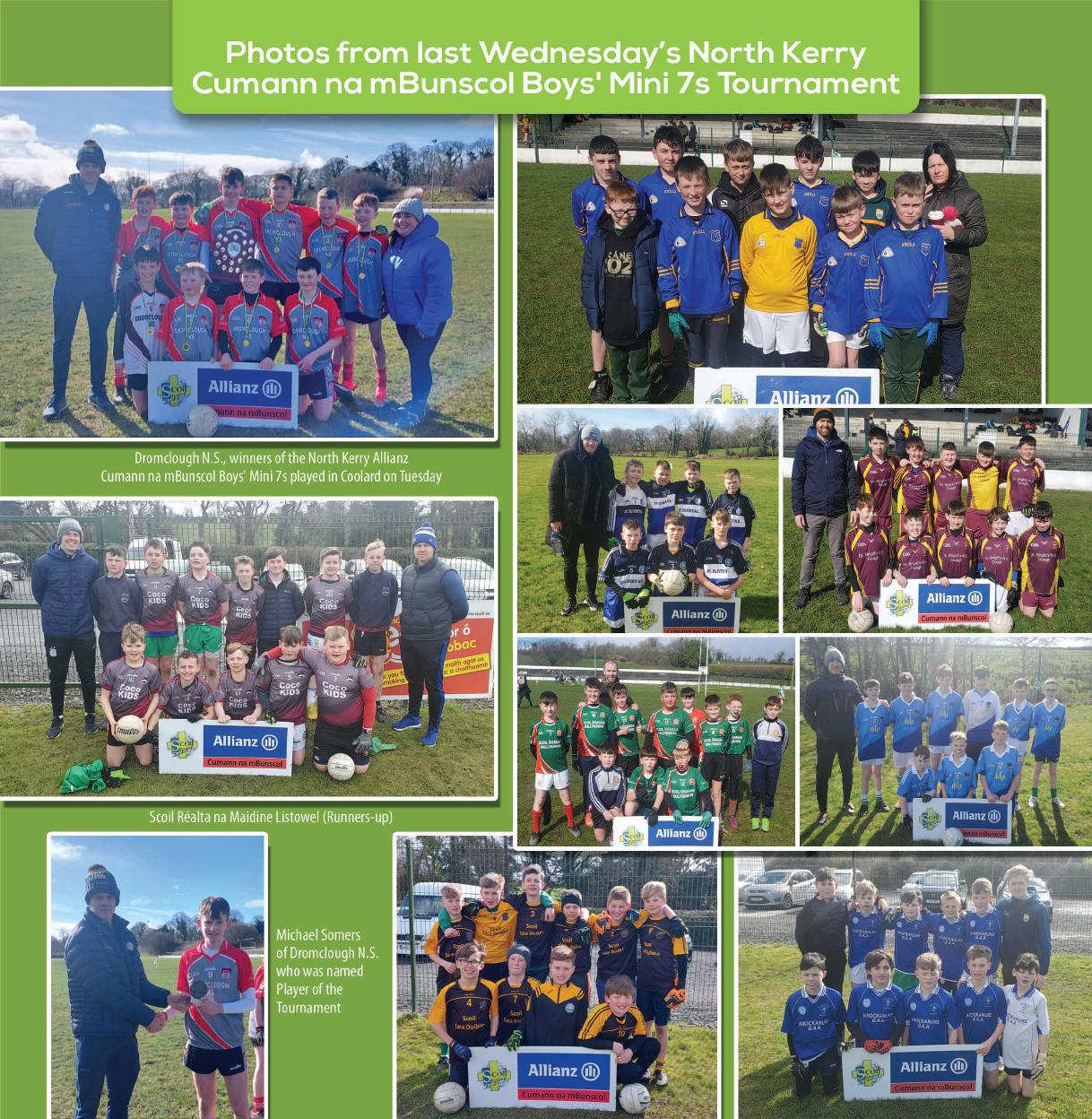 25 Read your Advertiser online @ www.theadvertiser.ie
Hundreds of residents from Listowel held another Public Rally in Listowel last Sunday to oppose the current open border policy of our Government, where it is proposed that a large number of unvetted or undocumented refugees / migrants will be housed in The Old Convent. Photos Seán Doyle
Greta and
and
Split the Bucket Winner Noah Moloney with his dad Pa receiving his cheque of €980.50 from Joan
and Joanne Flaherty envelope sold in The Shebeen Bar. Next draw on Tuesday 21st of March
Keane,
Kennedy,
and Bridget Tydings. Very proud Mammies with their girls who represented Listowel Emmets LGFA at the North Kerry Football Board Scór na Nóg Competition in Asdee. Listowel Emmets won North Kerry Football board Overall Club Award Scór Na Nóg on 12/3/2023 in. Sophie Stack goes ahead to represent North Kerry Football board in the solo singing competition in Currow on 25/3/23. Good luck to all participants
1-0 at the weekend
Ballylongford who received a Certificate of Expectional Achievement In Business Studies Junior Cycle from The Kemmy Business School University of Limerick
26 Read your Advertiser online @ www.theadvertiser.ie
Please join Tarbert National School Parents Association on Saturday 25th of March at the Kingdom Greyhound Stadium Tralee for a night of great fun. Tickets €10 each, free entry for under 16's! Tickets available from Tarbert National School, Tarbert Bridewell and Tarbert Post Office
Musician Joe Lynch, Gordon Flannery of "Con Dillon's Bar" & Eoin Foran of "Dough Mamma", out in support of The Focus Ireland Homeless Collection, in Listowel on Friday last. Photo Seán Doyle
Listowel Celtic U13 team who beat Fenit
Liam Walsh
Listowel Emmets
Healy
Local folk at the Asdee Hunt on Sunday were Michael, Darragh and Breda Ann Long with Anthony Sheehan. Photo Moss Joe Browne
Early arrivals at Asdee Village on Sunday for the Annual Hunt were Jack Carroll Duagh, Ryan Mangan Knocknagoshel with Abbeyfeale folk Conor Lyons, Callum Mangan and Joe Harnett. Photo Moss Joe Browne
Orla
Trina
Jacinta
Shauna and Catherina Carey, Lily and Claire Hillard, Sophie Stack
Listowel Celtic U11 White team played the St Brendan's Park at the weekend
LISTOWEL CELTIC
Congratulations to the following Listowel Celtic players: Maya Wolska and Shane Costello at U13. At U15 Sinead Lyons, Rachel Lennon, Ashlyn Falvey and Eadaoin Larkin whom after an initial assessment period have all been selected on the FAI centre of excellence programme. We wish them all the very best of luck in this programme.
Listowel Celtic U13 Boys have drawn Shamrock Rovers in the last 8 of the SFAI National Cup. This game will take place on Sunday March 26th at 11.30am at the Shamrock Rovers Football Academy Grounds in Dublin. It would be fantastic to get some home support behind the team who have been outstanding in this competition to date.
Listowel Celtic will be taking part in the annual Listowel St Patrick's Day Parade. Anyone wishing to join us as we celebrate our 60th year please meet us in the community centre car at 12.15 pm.
A number of our teams are playing this weekend, keep an eye on our Facebook page for details of fixtures and results.
LISTOWEL EMMETS
St. Patrick's Day we wish all our supporters, patrons and players a very happy St. Patrick's day and we wish to remind anyone wishing to parade with Emmets on St. Patrick's Day please meet at Listowel Cash & Carry at 12.15pm.
Membership: Listowel Emmets membership is now open and can be accessed through www.listowelemmetsgaa.com. All players should have their membership paid by 21st March
Split the Bucket: Div 2B Round 4: Congratulations to Noah Moloney whose dad Pa purchased his winning €980.50 envelope in the Shebean Bar. A big thank you to everyone that continues to support our Split the Bucket fundraiser and to all the businesses in our town that allow us place buckets in their premises. Our next draw takes place on Tuesday 21st March at 8pm in the clubhouse.
Sympathy: Listowel Emmets would like to extend their deepest sympathies to the family of the late Liam Kearns, may he rest in peace.
Keane's Supervalu County Minor League – Div 2B Round 4: Kerin's O'Rahillys V Emmets Thursday 16th March 5.30pm, Strand Rd.
Keane's Supervalu County Minor League – Div 2B Round 5: Emmets v Castleisland Desmonds Saturday 18th March 3pm, Frank Sheehy Park, Listowel. County Senior League Div2 Round 1: Glenflesk v Emmets on Sunday 26th March at 2pm in Glenflesk.
LIOS TUATHAIL AC
Lios Tuathail Athletics club had another busy day at Munster indoor track & field competition in Nenagh. This time it was u9 to u11 & 6 athletics took part.
U11 Jessica sheehy, Emer o sullivan and Neala Woulfe Competed in the 60m sprints , 600m and the LJ. All three girls were competitive in all events with Emer and Neala making the sprint semi-finals with 2 massive heat performances against 80 other girls.
U10 Ruby Sheehy and Saoirse Russell took part in the 60m sprint , 500m and LJ. Both girls made it through their heats and just missed out on a final spot when they finished neck and neck in their semifinal race. They finished top 12 out of 98 girls who Competed. Ruby finished a super 6th in her LJ. Colm Kennelly was the sole boy competing for us. In the shot putt for the very first time after 1 master class with the pairic and patsy Mc carthy and made it to the top 8. Well done.
U9 Aine Quilter competed in the 60, 300m and LJ where she put in her best performance finishing 9th. A big thanks to the coaches who helped with this group of young athletes.
Congrats to Noelle Dillion on winning the Women's County junior 5K Road race today. Super run by Noelle. Brother James was fourth in the Junior male race. Another athlete on form was Brendan oLeary with another PB in the 200m at the Junior indoors in Leinster. Emma Neylon and Mollie oRiordan were on the Tarbert comp team that won Gold in the 4x200m at the Munster indoors last week in Nenagh. Well done girls.
Club shop: The club gear can be purchased through the club shop which is opened until March 14th. Please check our social media for further information and links to the shop.
All of our training groups are busy training at the present preparing for the upcoming indoors season across all age groups. We welcome anyone that want to come along and try athletics and see if they can run, jump or throw. Lios Tuathail AC training times are as follows:
Tuesday at 7pm, Sprints in St Michael's.
Tuesday at 6.30pm middle distance in the Cows Lawn.
Friday at 7pm at An Riocht in Castleisland.
Sunday at 10.30 at county squads
Saturday 10am Little athletics (7-11 years) at St Michael's school hall. Any new athletes wishing to join can contact club coach Brendan on 0872874184.
BEALE GAA
Beale minors knew it was going to be a tough task when we came up against table-toppers, St Senans, on Saturday in Páirc de Staic. Our opponents were first to hit their stride and had their shooting boots on. Our boys found it difficult to settle into the game and were on the back foot for most of the first half. We found ourselves trailing by seven points at the short whistle. We regrouped on the changeover and exerted pressure on the Senans defence, kicking over some class points to pull them back. However, goals win matches and, when St Senans raised the green flag three times in the second half, the writing was on the wall for us and we ended on the wrong side of the score line, 1-10 to 4-12.
While results in the County League have not been in our favour, the boys have put in some great performances and our young squad is developing with every game. We've had mixed fortunes - well beaten in some games, unfortunate to lose out by the bare minimum in another and shared the spoils in another. Our young players have shown great heart and never give up. We look forward to their final round game when we travel to play Firies on Saturday. Throw in at 3 o'clock.
Beale seniors welcome Sneem/Derrynane to Páirc de Staic on St Patrick's Day for our opening round of the County League, Division 4. Throw in at 1 o'clock. Our second round game will be at the beginning of April when we host Cromane and then we travel to play St Senans at Easter.
Teams in our group for the Junior Championship are Knocknagoshel, Kilgarvan and Reenard. We travel to Renard for our first game. Details to be confirmed.
This week's Beale Lotto took place on Sunday night in The Olde Attic. Numbers drawn were 6, 11, 16 and 28. The Lotto jackpot was not won and there were no Match-3 winners. 4 Lucky Dip winners, each win €25, Seamie O'Sullivan and Marie Lynch (online), Darren O'Connor and Michelle Horgan. Susan Gilmore won 5 Free tickets.
Next week's lotto jackpot is €2,950. Draw takes place on Sunday night in The Feale Bar at 9 o'clock. A huge 'míle buíochas' to everyone who supports and promotes the Beale Lotto. Tickets, €2 each or 3 for a fiver, may be bought online and are available in Joyce's Newsagents and in the local pubs. Terms and conditions on tickets and social media pages.
Club membership is up for renewal. To renew or to join as a new member, contact Debbie Hannan, Registrar, or any club officer. Club Membership: €30; Player membership: €50; Player Lotto membership €120. Only fully paid-up members are eligible to apply for any match tickets the club may acquire. Get FREE Club membership with an Annual Lotto ticket. Your numbers will be entered in the lotto draw every week for a year and you get complimentary club membership when you purchase an Annual Lotto ticket for €100. Get your annual ticket before March 31st.
You can also join our Annual Lotto online by downloading the Clubforce app or simply click the link on our Facebook, Twitter or Instagram pages or log onto https://clubforce.com/clubs/beale-gaa-kerry/.
Any parents interested in Gaeltacht Scholarships (part-funded) to Colaistí Chorcha Dhuibhne, please contact club secretary, Bríd Griffin. Six places are available to North Kerry clubs and will be offered on a first come basis. Scholarships are only offered to GAA club members aged 12 to 18 years and attending post-primary school.
BALLYBUNION GOLF CLUB
Men's Team of Four Competition Stableford – Cashen Course
Sunday 12th March 2023
1st    Sean J Healy (23) John Keane (15)  Sean C Kennelly (11) William O'Sullivan (16) 127pts
2nd   Jimmy Bowler (23) Jerry Kiely (16) Columba O'Connor (21) Ml Collins (15)      112pts
3rd    J P Hickey (13) Donnacha Kendlin (18)      John Joy (14)  Gary Kavanagh (17)                  112pts
Fixtures:
Saturday 18th Mar – Mixed Waltz Team of 4, 18 Holes Stableford – Old Course
Sunday 19th March 2023 – Eamonn Allen Singles Sponsored by O'Keeffe's Centra Ballylongford – Cashen Course
Ladies Voucher Competition – Cashen Course – Tuesday 7th March 2023
1st June Hayes(38) 30 pts (B9-11)
2nd Margaret M McAuliffe(25) 30 pts (B9-9)
Ladies Team of 3 Competition – Cashen Course – Saturday 11th March 2023
1st Teresa Cronin(17), Louise Griffin (15) ,J O'Connell(9) 55pts
2nd Maria Lyons(20), Catherine Moylan(22), Mags O'Sullivan(15) 53pts
Fixtures: Tues 21st March 2023 – Ladies Voucher Competition – Cashen Course
Senior Men's Competition:
Fixtures: Thursday 16th Mar – Senior Mens Competition – Cashen Course
Senior Ladies Competition – Friday 10th March 2023 – Cashen Course
1st Eileen Daly (Ch 23 – Ph 5)
Sighle Henigan (Ch 19 – Ph 2) Teresa Cronin (Ch 10 – Ph 2) 26 nett
2nd Anne Marie Carroll (Ch 9 – Ph 2)
Toni Quilter (Ch 10 – Ph 2) Judy McMahon (Ch 21 – Ph 4) 27 nett
Fixtures: Friday 17th March 2023 - Senior Ladies Competition – Cashen Course
FINUGE GAA
PITCH remains closed to all activity until the end of March. It has seen a lot of action over the past 8 weeks and needs a rest to get it back into shape ahead of the various competiitive fixtures coming up.
SENIOR: The focus is now firmly on the county league which commences next weekend, Sunday 19th of March, with an away trip to Laune Rangers B. Look out for final details of this fixture closer to the time.
MINORS: Our minor team were due to play Reenard/St Marys last Saturday but unfortunately the opposition were unable to travel. Next up is a back game against Knock/Brosna this Wednesday the 15th at 5:45pm, venue is Knockanure pitch. This is quickly followed with an away game to Beaufort this Saturday 18th of March, which is the final round of phase 1.
U15: The boys are back training with a few weeks and are getting ready for the season ahead. They are in a competitive Division 5 with mostly amalgamated clubs. This always provides a stiff task for single clubs against two, three and even four team amalgamated teams! First game is at home to Sneem/Derrynane/Templenoe/Tousist on the 29th of March.
U13: The fixtures are known for U13's which commences Sunday 26th of March with a home game against our neighbours Listowel Emmets! The boys are busy training and are taking in some challenge games to get ready for the county league.
U11: The action kicks off for the U11's on Thursday 6th of April with a home game against Lispole. Meantime training continues on Thursday evenings and new members are welcome to join in!
U9: This group are busy training with over a month. Anyone interested in playing football at this age are very welcome to make contact with a club officer or call by Monday evenings (at Lixnaw astro) for more information.
U7: The team will be back training next week Monday 20th of March at Lixnaw astro pitch from 6:30-7:30pm. Anyone interested in playing football at this age are very welcome to make contact with a club officer for more information. Please follow us on social media for updates.
MEMBERSHIP is now due to all members old and new for 2023. Please reach out to your respective manager, if on a team. Thank you for your continued support, it is greatly appreciated by the club.
CÚL CAMP: The dates are known for the various Cul Camps and the Finuge camp will be held week July 31st - August 4th. This is always a great week of serious fun so keep an eye out for booking details which we should have in the weeks ahead.
ST. SENANS GAA
Club lotto draw at the clubhouse Mountcoal on Monday 13/03/2023 at 19:30h Jackpot €8400. Not Won. Numbers Drawn, 14,16,27,28.
Lucky dip:
€30 each: David Foran Dubai, Mike Regan Irremore.
€20 each: Tom Dillon Glenderry, Clodagh O Connor C/O Jason Browne, Donal Lyons Ballygarrett Lixnaw, Michael Murphy Lixnaw, Michael Moran Billerough Listowel Marie Daly Scartaglen, Luke Lynch Listowel, Pat O Brien Scrahan Duagh.
Next week's Jackpot 8,500.
Tickets €2 each or 3 for €5
Tickets available at Kelly's Six Crosses, Halfway Bar, or Play online Thank you for your continued support.
Minor County League: We travelled to Ballybunion on Saturday with a depleted squad of only 14, we rallied well and were up by 7 points at the break. The Beale lads had some fresh legs for the second half and notched up a few points but we took the spoils in the end. Beale 1:10 St Senan's 4:12. Fifth round of the county league takes place this weekend Saturday the 18th of March @ 3pm at home against Skellig/Valentia.
Senior county league: first round of the senior county league takes place this Sunday 19th of March against Tarbert in Tarbert Gaa grounds @ 2pm please come and support.
St.Senans GAA club membership is now open for the 2023 season for all age groups.
Family memberships are available, alongside individual memberships options through www.foireann.ie or can be paid to any club officers.
We thank our members for their continued support of the club. We also welcome any new members to the club.
28 Read your Advertiser online @ www.theadvertiser.ie
DUAGH GAA
No winner of jackpot of €12,100 - Numbers drawn 3,14,27,28
€50 The Keanes An Tobar
€30 Mary and Lizzie Lane Kilmorna
€20 Enda Galvin Finuge
€20 Pat Sheehy Kilcara
€20 Sellers Prize Jim's Bar
Match 3's: Joe Halpin
Next weeks jackpot €12,200 with draw at Jim's Bar. Tickets available from usual sellers and online at www.klubfunder.com
Thank you all for your continued support.
BALLYDONOGHUE GAA
Lotto Draw results:
The numbers drawn for Friday 10th March 2023, were as follows, 5, 16, 20, 27.
The Jackpot was €3,300 and there was no Jackpot winner.
The following won 30 euro lucky dips:
Mary Kilgallon- Online.
Brendan Henchy - Online.
Frankie Sheehy - Wyeths.
Aoife & Ciara Hayes - c/o Martin Sheehy.
John Walsh c/o Tomáisíns.
The following won three free tickets:
Aimme & Aoibhinn - Kissane.
Tony Horgan - Mweevuck.
Josephine Kennelly - Kiltean.
Next Jackpot will be €3,400 and it will take place at the clubhouse on THURSDAY 16th March 2023.
County league division 3 round 1 Ballydonoghue v Annascaul on St Patrick's Day @ 12 noon in Listowel.
Ireland Lights Up: Ireland Lights Up Last night took place last Monday. A big thank you to everyone who came over the past 8 weeks and joined in stepping it out around Coolard pitch in all weather most nights we had the weather on side thank god. Thanks especially to Eileen Bunyan Health and Wellbeing officer for opening up and turning on the lights every night. Well done to everyone.
TARBERT GAA
Monthly €500 Draw:
Don't forget to purchase your ticket and be in the draw for a GUARANTEED Prize of €500. Yes, €500 will be won!! Tickets are available online tarbertgaa.ie, from committee members and from the Post Office.
County Minor Football League Division 2A Result, Saturday 11th March.
Tarbert 2-05 Ardfert 0-09. Tarbert U17s continued their undefeated start to Div 2A of the County League with a hard-fought victory over Ardfert in Shannon Park on Saturday afternoon.
After the inclement weather over the past few days, underfoot conditions were challenging for both sides but Tarbert had the benefit of a strong wind blowing down the field in the 1st half.
Both sides were equally matched and consequently, the 1st half was a lowscoring affair for both sides, with the Tarbert points coming from the boot of Caolam Moriarty, and the score at halftime was Tarbert 0-03 Ardfert 0-04. Playing against the wind in the 2nd half and a point down Tarbert had it all to do. Ardfert started strongly and scored 2 points to go 3 up. Typical of this group Tarbert responded with great heart and scored a goal through Shaun Wren to draw level. Ardfert scored another 2 points to lead and again the Tarbert boys responded with another goal from Shaun Wren to put Tarbert a point ahead. Another Caolam Moriarty point put Tarbert 2 up but Ardfert responded again to leave the minimum between the teams. Another Caolam Moriarty point pushed Tarbert 2 points ahead and despite Ardfert's best efforts the rearguard action by Tarbert kept them at bay, with 2 defensive frees won by Jack Walsh relieving the pressure in the final minutes.
All the players gave their all for the team to secure the victory with Aaron White unbeaten in goals, Conor Egan and Shane Stack to the fore in defence, David Mulvihill and Shaun Wren working tirelessly in midfield and Paudie Finucane and Caolam Moriarty instrumental in creating and finishing Tarbert's scores.
This result leaves Tarbert on top of Div 2A and should ensure they qualify for the Div 2 semi-final ahead of their final group game away to Kilcummin next Saturday. Team: Aaron White, Mikey Carmody, Shane Stack, Thady Mulvihill, Conor Egan, Dylan Kennedy, David Mulvihill (c), Shaun Wren (2-00), Donal Finucane, Paudie Finucane, Adam Enright, Coalam Moriarty(0-05), Tadgh O'Connell, Jack Walsh. Injured - Lee Mulvihill, Cathal Halton, Pa Dillon
County Senior Football League Division 4 Fixture:
Our senior team start their 2023 County League campaign with a home game against St Senans on Sunday 19th March at 2pm in Tarbert.
U14 County League Fixture:
Our U14s play Laune Rangers B at home in Round 1 of the County League on Sunday 19th March. Provisional time for throw in is 4pm in Shannon Park, Tarbert. (Check social media for updates later this week).
KNOCKANURE GAA
Lotto Results from Tuesday March 7th - Jackpot was €8,000 Numbers Drawn: 1, 5, 7, 21 - No winner but lucky dips went to:
1. Gerard Buckley, Knockanure
2. Dónal Enright, Enrights Bar Moyvane
3. Lizzie Lane, Beenanaspug
4. Maureen Connolly and grandchildren
5. Timmy Keane, Clounbrane, Moyvane
Next draw will be on next Tuesday March 14th in the clubhouse and jackpot will be €8,100. All are welcome!
BALLYLONGFORD GAA
Senior County League Div5 Rd1
Ballylongford v Moyvane
Fri 17th March - Time: 12 noon. Venue Ballylongford
Minor County League
Northern Gaels v Ballymac
Sat 18th March - Time: 3pm. Venue: Ballymac
Best of luck to teams and Management
Ballylongford Club Membership 2023
Ballylongford GAA club Membership is now open for the 2023 season for all age groups.
Family membership €50
Individual/player membership €30
Underage membership €10
Membership can be paid through www.foireann.ie, Clubforce or can be paid to any club officers.
We thank our members for their continued support of the club. We also welcome any new members to the club.
ASDEE GAA
County League, this Sunday March 19th will see our Senior Footballers go into action with an away game against Kilgarvan in Round 1 of the Credit Union County Football League Division 5, 2023. Certainly, the Club priority will have to be to get out of this Division; having laboured for too long now in this position. It is always hard to get promotion in any of the Divisions but this Division seems very difficult to get out of as it has proved for some of the so-called stronger teams down through the years. Last year's the team had been showing well early on in the League but as we moved on we seemed to have difficulty in fielding full strength sides; I suppose, firstly that our numbers are tight and secondly with the fact that we had so many injury problems, but no excuses we always fielded, sometimes under difficult circumstances and this is due to great work from our Trainer John Kennedy. The team have been putting in a hugh effort in training and along with a few games played in the McCarthys Insurance Brokers North Kerry League Division 2 so hopefully this will help us for the year ahead.
Golden Goal
The clubs Golden Goal fundraising competition continues each week until the All-Ireland football final on Sunday July 30th. Weekly entry €2, with prizemoney €40.each week to the winning numbers. Purchase from John Pius Walsh, shop, Kevin Mulvihill. Patsy Coughlan or John Joe O Carroll. Week 6 and 7 winners of the Golden Goal were, Week 6 winners of the Golden Goal were;( Tom O Sullivan, Kilcolman, John Dillane, c/o Kevin Mulvihill, Sliss, Phill and Martin Wilkins, Littor Road. Week 7 winners of the Golden Goal were, Eddie Pius Collins, Craughdarrig, Asdee, Helen O Sullivan, Tullamore, Ballybunion, Conor Keane, Lisselton.
Membership
This is a final remainder that Membership of the Club is now open so anybody who would like to take out membership and can do so by contacting Club Registrar, Kevin Mulvihill, Adults €30, Senior Citizens and Under Age €10. It is important to note that Membership of the Club will close on Friday March 31st and this will be strictly adhered to. Only fully paid up members will be in line for any match tickets that the Club may acquire.
Scor Ciarrai Thuaidh
The Community Centre, Asdee played host to the North Kerry Finals of Scor na nOg on Sunday evening last with a good-sized attendance present who enjoyed the wonderful talent that was on show despite the lack of Clubs that failed to participate. However, the 4 Clubs, Listowel Emmets, Beale; Ballydonoghue and the host Club Asdee that did make the effort provided entertainment of a very high quality. North Kerry Cultural Officer P J Mulvihill was a very capable Fear a Ti Solo Singing. The local Club took part in both Solo Singing with Grace Heffernan coming in second place and the Instrumental Music Group of Emma Heffernan, Grace Heffernan, Moira O Connor who excelled in their performance but failed to qualify for the winner's enclosure. The Quiz County Finals are fixed for Currow School on Thursday March 23rd at 7pm.
North Kerry Scor na bPaisti Finals
This will take place at the Marian Hall Moyvane on Sunday April 2nd commencing at 2pm. All clubs are expected to attend. All entries must be with
Cultural Officer P J Mulvihill not later than Monday March 20th
Fixtures
County Minor League; Division 8. Round 5, Saturday March 18th, 2pm, away to Ballymacelligott "B". Credit Union County Football League. Division 5 will be commencing on Sunday March 19th with an away game to Kilgarvan.
CLOUNMACON GAA
Recent Lotto Results
02/03/2023 - No winner of Jackpot 8400
Numbers drawn: 7-19-20-31. Lucky Dips:
50 John & Breda Collins, Tarmons Cross
30 Mike Sullivan, c/o The Kingdom
20 Kathleen Sheehy, c/o Mike Sheehy
20 Jimmy Buckley, c/o Brosnan's Bar
09/03/2023 - No winner of Jackpot 8500
Numbers drawn: 1-3-11-31 - Lucky Dips:
50 Brian Henry
30 John O'Connor, Knockane
20 Liam Corridan, c/o Mike Corridan
20 Carmel & Maurice, c/o Kingdom Bar
DUAGH / LYRE COMM GAMES
U15 girls Futsal
An early start in Milltown last Sunday for our u15 Futsal team. In the first game the girls drew nil all with Spa/Fenit/Barrow a bit unlucky hitting the post in the second half. In the second game, Duagh/Lyre went down to Miltown/Listry 2 goals to nil again hitting the post when the game was scoreless. Game three against Kenmare proved that bit too strong, with Kenmare winning again two nil. In the last game the girls put in a great performance to defeat Fossa 3 goals to 1 leaving them joint 3rd in the table meaning a replay v Spa/Fenit/Barrow where Lady Luck deserted them losing out 1 goal to nil. The girls finished with hard earned pewter medals, and we are proud of each one of them. Team: Lisa McMahon, Aisa Fitzgerald, Fiona O'Brien, Emily Rose Ashley, Catherine Buckley, Ella Danaher. Missing on the day Julianne o Connell who was playing for Kerry u14 in the UL. Thanks to Neilus Collins for taking the girls on the day to the parents who helped and all those who travelled and supported the girls.
Chess: Best of luck to our three teams taking part on Saturday 18th in the County Community games competition in Kenmare at 9am.
Draughts: Best of luck to our two teams taking part in the County Community games draught competition on Sunday 19th March at 10am, need to be at venue 9.30am for check in.
Handwriting: Duagh/Lyre Community Games are hosting their Handwriting competition on Friday 24th March at 7pm. U10 and u12 a separate boys and girls competition. Competition is 1 hour.
Art Upcoming Art competition Fri 31st March 7pm at Duagh sports complex. U8 to u16 both boys and girls. Full details for Art and Handwriting on Facebook Duagh/Lyre Community Games page.
Split the bucket
Congratulations to the Duagh sports complex split the bucket draw winner John Granville Kenmare. John bought the ticket when he was up with an indoor soccer team from Kenmare for the County Community games competition.
NORTH KERRY GAA
SCOR Ciarrai Thuaidh: by Jack Hennessy.
The Community Centre, Asdee played host to the North Kerry Finals of Scor na nOg on Sunday evening last with a good sized attendance present who enjoyed the wonderful talent that was on show despite the lack of Clubs that failed to participate. However the 4 Clubs; Listowel Emmets, Beale; Ballydonoghue and the host Club Asdee that did make the effort provided entertaintment of a very high quality. North Kerry Cultural Officer P J Mulvihill was a very capable Fear a Ti for the occasion. It was a very successful evening for the Listowel Emmets Club with Sophie Stack winning the Solo Singing and their Instrumental Music Group of Trina Kennedy, lily Hillard, Shauna Carey, Greta Keane and Sophie Stack coming in second and to cap a successful evening for the club they won the overall Shield which was accepted by their Scor Officer Jacinta Kennedy. Certainly the Adjudicators had a tough task when it came to announcing the winning Instrumental Music Group; but after long deliberations Ballydonoghues; Jack Purcell, Georgie O Donnell, Grace Foley, Ella Dalton, Eliza O Donnell got the nod ahead of Beale, Asdee and Listowel. As already mentioned Olivia Stack was the Solo Singing winner with Grace Heffernan; Asdee coming second.
The winner from each catagory will now go forward to the County Finals which will be held in the Community Centre Currow on Saturday March 25th at 6pm. All Clubs are remainded that the Quiz County Finals are fixed for Currow School on Thursday March 23rd at 7pm.
29 Read your Advertiser online @ www.theadvertiser.ie
FOR SALE
HEDGING FOR SALE
Supplied & Planted. Call Eoin on 086 1681401
WOODCHIP FOR SALE
Suitable for flower beds. €15 for 8x4 trailer load. Delivery can be arranged. Call 087 1946973
SITE FOR SALE SUBJECT TO P.P.
ROAD FRONT OF SLI NA SPEIRE, CLIEVERAGH
Folio KY40872F. Written, genuine offers only to: clieveragh@pm.me
USEFUL SERVICES
SEPTIC TANK CLEANING
We are servicing North Kerry & Beyond for over 40 Years! All pipes freed and advice given on Faulty Tanks. Call John Hartnett on 087 6718909
CONVERT TAPES TO CD, DVD, USB Curiosity Shop, 39 Main Street, Castleisland V92 CFR6. Call 087 4586136
NEED BLINDS??
Visit our showroom by appointment. Call Paul Morkan on 086 8328384
QUALIFIED PAINTER AVAILABLE
Interior / Exterior. Kitchens hand painted or sprayed. New builds sprayed. Call Mike on 086 3125140
DRIVEWAYS & GROUNDWORKS
Driveways, Tarmacadam driveways and yards, concrete, stone chips, kerbs, groundwork and planthire Contact Denis Lynch on 086 3584956
GENERAL GARDEN & MAINTENANCE SERVICES
Hedge and Tree Cutting, Pruning, Powerwashing, Painting, All Garden Waste Removal.
Call Denis for more info on 087 3492161
CARER AVAILABLE
With 5 years experience. References available. Call 083 1937103
WANTED
THIN, LAME AND MASTITIS COWS WANTED
Payment on the day - 087 4166163
HOUSE OR APARTMENT WANTED
In or around Listowel town. Deposit ready. Long term if possible. Call 085 1915807
WANTED
Experienced Excavator Driver Wanted
For work in the Kerry / Limerick area. Full time and part time position available.
Also required - Tipper Truck Driver
Please phone Michael on 087 2599505
HOUSEKEEPING STAFF REQUIRED FOR B&B IN BALLYBUNION
From April October.
Please call 087 2898453
PERSON REQUIRED FOR LIGHT HOUSEWORK / MINDING CHILDREN
After school for a couple of days per week. Hours flexible. Call 087 6846816
DANCES
CYMS Hall, Newmarket
Friday 17th March
ST. PATRICK'S NIGHT
Mike Condon Band
Dancing from 9pm-10.30pm And Declan Nerney Band
Dancing from 10.30pm-12.30pm
Hibernian Hotel, Mallow
Sunday 19th March
Afternoon Dance
MOTHER'S DAY SPECIAL
Culin Harney from Co. Donegal
Dancing from 3pm-5.30pm
For info call 087 9735113
Facebook: John Joes Dances
OUR LADY OF MOUNT CARMEL
Oh, most beautiful flower of Mount Carmel, fruitful vine, splendor of Heaven.
Blessed Mother of the Son of God; Immaculate Virgin, assist me in my necessity. Oh, Star of the Sea, help me and show me you are my Mother. Oh, Holy Mary, Mother of God, Queen of Heaven and Earth, I humbly beseech you from the bottom of my heart to succour me in my necessity (Mention your request here)
There are none that can withstand your power. Oh, Mary, conceived without sin, pray for us who have recourse to thee (3 times). Sweet Mother, I place this cause in your hands (3 times). Amen
This prayer is never known to fail. It is to be said for 3 consecutive days. Publication on granting of the favour must be promised and done. T.C.
THE MIRACLE PRAYER
Dear Heart of Jesus in the past I have asked many favours.
This time I ask you this special one, (mention favour). Take it dear heart of Jesus and place it within your heart where your father sees it. Then in his merciful eyes it will become your own favour not mine. Amen.
Say this prayer three times for three days and your favour will be granted. Never been known to fail. Must promise publication of prayer. M.B.
PRECIOUS
MOTHER
OF JESUS
Mother of Devine Grace, You can find a way where there is no way, please hear my prayer and grant my request. Amen. Say 6 times a day for 3 days. M.K.
30 Read your Advertiser online @ www.theadvertiser.ie
31 Read your Advertiser online @ www.theadvertiser.ie
Published by North Kerry Advertiser Limited, 3 Hill-Top, Bridge Road, Listowel, Co. Kerry. The copyright of the graphics, designs and listings is held by North Kerry Advertiser Limited. While every effort has been made to ensure that the information published is correct, North Kerry Advertiser Ltd. cannot be held responsible for any errors, omissions or incorrect listings. North Kerry Advertiser Limited reserves the right to alter the content of any advertisement before publication without prior notice The Advertiser - Serving North Kerry & Beyond 3 Hill-Top, Bridge Road, Listowel, Co. Kerry Tel: 068 57656 | Sales: 086 3102708 | Web: www.theadvertiser.ie | Email: news@theadvertiser.ie