The Coat of ArmsThe Coat of Arms
BeReal Challenges Norms: Are Students BeingReal?
by KAYLIE WU
In the early months of 2022, the BeReal app exploded in popularity. BeReal strives to shift social media in a more casual direction by encouraging its users to post photos on a daily basis, whenever a random notification goes off. However, many similar social media
platforms have circulated throughout Menlo before, such as Poparazzi and quickly fizzled out. Still, even in October 2022, approximately eight months after the app's popularity first surged, BeReal has yet to suffer the same fate. Many teenagers continue to post on BeReal everyday. According to Online Optimism, in July 2022, the app hit a milestone of over 10 million active daily users, preserving the app's relevance. Some believe BeReal belongs permanently in the Menlo community, while others perceive the app as an ultimately fading trend.
BeReal releases a notification at a random time once a day, beginning a two-minute timer for users to post what they are currently doing. Posts consist of two photos
— one taken from the selfie camera, and one taken from the front camera — and are able to be viewed by friends on the app, just like an Instagram feed. The photos are taken directly on a camera in the app, not allowing for filters or photo editing to take place.
Although BeReal posts are intended to be taken when the original two-minute notification is released, some people instead wait to photograph the best part of their day hours later; such staged posts strip BeReal of its acclaimed title. The only penalty for a late post is a notification, which displays to people how many minutes "late" the photo is considered.
According to freshman Libby Vitro, BeReal feels much more permanent as a popular app compared to Poparazzi. "BeReal is doing a good job of lasting because it gives you a notification to post every single day," Vitro said. "[The app] is constant, which is why I think it will last a significant amount of time."
Senior Annika Porteous agrees that BeReal has successfully stayed current, and she posts on the app almost daily.
Porteous credits BeReal's success to its unique and sporadic culture. "BeReal is very unpolished," Porteous said. "Some parts of the app can be pretty funny, and it's nice that posts are at any given moment of the day."
Unlike Porteous, Vitro does not feel that BeReal has maintained a casual posting environment, since lots of her friends instead plan their photos ahead of time, to purposefully
Menlo Removes Gender Filter on Knightbook
by GEOFFREY FRANC
Before the 2022 school year began, Menlo removed the function allowing users to filter students by gender on its student directory, Knightbook. In late September or early October, Knighbook will allow students and faculty to add their pronouns and a recording of them saying their name.
The removal of the boys/girls filter came as a result of a petition campaign organized by Emory Tudor, who graduated from Menlo in 2022 and identifies as nonbinary. "When I came out, it was just very unfortunate to constantly be seeing myself grouped in with a category that I didn't identify with," Tudor said.
So, Tudor took matters into their own hands. In January 2021, they began circulating a petition to scrap the boys/girls filter that garnered over 300 signatures in the first week with the Spectrum Club's help.
According to Director of Institutional Equity, Diversity, Inclusion and Belonging Keith Wheeler, over 900 people ended up signing the petition that Tudor circulated. "They went to alums, to parents, to the middle and upper school students because they wanted to show the intersectional care and commitment to this work from the entire community," Wheeler said.
showcase the most interesting parts of their days. "People don't necessarily do their BeReals on time," Vitro said. "BeReal isn't very real, so it doesn't change anything." Vitro and freshman Halle Blanchard both try to upload their BeReals within the original two-minute window each day, but they admit it is easy to save the post for later, especially when a fun event can be captured, such as a concert or dinner with friends.
Sophomore Tyler Fernandez added that he prefers sharing BeReals that are interesting rather than boring, even if this means ignoring the two-minute timer. "I'm not usually doing anything cool when the BeReal notification comes out," Fernandez said. "I take it later on in the day." Fernandez does not think posting late takes away from the app's casual culture, and it instead makes his feed more exciting to scroll through because people are capturing fun moments.
One feature on BeReal depicts how many times a user has retaken their photos before uploading it for others to see. According to junior Stella Buch, most of her friends care a lot about how many retakes their posts will display to others. "People are really embarrassed to retake [their BeReals]," Buch said. Similarly, according to senior Avery Romain, even though many people strategically prepare their BeReal posts in a fake way, it seems as if they simultaneously want others to still perceive them as "real." "Users try to look perfect while taking their BeReal, so that other people won't see a bunch of retakes. It's almost like people are being fake and genuine at the same time."
Staffillustration:MicheleHratko Volume 49, Number 1 Menlo School, Atherton, California Thursday, October 6, 2022
serving
Menlo's
upper
school
since 1973
in Preview of Changes
Knightbook Changes, pg. 3
BeReal Culture, pg. 5
Senior Tori Chou poses for her Knightbook photos. Staff photo: Geoffrey Franc
What's Inside? We discuss: Are Private College Counselors the Right Choice? pg. 17 Cool or Criminal? Inside the Decisions of Menlo's PartyHosting Families pg. 9 Check out The Coat of Arms website!
Menlo Community Reacts to Roe v. Wade Being Overturned
ABGAIL BECKER
The U.S. Supreme Court overturned the constitutional right to abortion in the landmark ruling of Dobbs v. Jackson Women's Health Organization on June 24, 2022. In the three months since the decision, 18 states have enacted abortion bans from conception or as early as six, 15, 18 or 20 weeks. At least eight more states are projected to place bans in the coming months, according to The New York Times.
Roe v. Wade has protected the right to an abortion nationwide since 1973 under the Fourteenth Amendment. For nearly 50 years, states have been prohibited from
imposing a ban on abortion until the fetus reaches "viability" — the ability of a human fetus to survive outside the uterus — unless the ban is reasonably related to maternal health in the second trimester of pregnancy, according to Oyez.
However, in a 6-3 ruling, Dobbs rendered Roe unconstitutional, granting states the ability to regulate abortion. "Procuring an abortion is not a fundamental constitutional right because such a right has no basis in the Constitution's text or in our Nation's history," Associate Justice Samuel Alito wrote in the court's majority opinion.
In their dissenting opinion, Associate Justices Stephen Breyer, Sonia Sotomayor and Elena Kagan wrote that the court's decision will have economic, personal and familial repercussions for millions of women across the U.S. The three justices ended their statement with a warning: "With sorrow — for this Court, but more, for the many millions of American women who have today lost a fundamental constitutional protection — we dissent."
Immediately after the decision, President Joe Biden issued a strong call to action opposing the arguments made by the majority. "Congress must act. And your vote? You can have the final word. This is not over," Biden said from the White House.
Upper School history teacher Saletha Okunnuga is concerned about Dobbs's impact on other Supreme Court precedents. "This case opens the floodgates for what's to come in the future. Rightfully, many Americans are afraid of how it will affect other liberties, for example, same-sex marriage," Okunnuga said.
Okunnuga also worries about how this decision is going to affect women across the U.S. "The loss of Roe negatively impacts women who are of lower socioeconomic status because, if they happen to live in a state that does not provide access to safe legal abortion services, they are going to need to travel," Okunnuga said. "This decision also disproportionately harms Black women who already suffer from higher maternal mortality rates."
Within the Menlo community,
reactions are mixed. "I feel like a lot of times the mother is put in a very, very difficult decision and has to make the choice [whether to have an abortion] that is most beneficial for her and her life," sophomore Ari Kaufman said. Kaufman identifies as pro-choice. "It feels like a major hit to women's health care."
Other students are supportive of the Dobbs decision. "I fully understand the pro-choice viewpoint, I just disagree," a senior boy said. The senior boy supports Senator Lindsey Graham's recent proposal to ban abortion on a national level after 15 weeks. "I just think that no life should be taken and the 15-week window should be enough time if you are taking pregnancy tests consistently."
However, the senior boy felt ostracized for holding his beliefs at Menlo, even though he respects both sides of the issue. "I thin k that the stereotype of pro-lifers is off because they are seen as radicals a lot of the time."
Although she may disagree with the decision, Kaufman finds merit in the debate Dobbs is generating on campus. "I feel like [Dobbs] raises more discussion, which is good. I feel like we're a school that puts its value in discussing current events," Kaufman said.
As College Price Tag Balloons, Biden Cancels Some Student Debt
by GEOFFREY FRANC
To address the issue of student debt in America, the Biden administration announced a policy in late August that included a one-time cancellation of $10,000 in student debt for borrowers making less than $125,000 a year.
Supporters of the new policy argue that it will help people with student debt pay debt off quicker and be able to save money for buying a home, retirement or to send their children to college.
However, critics argue that the debt cancellation is insulting to people who made financial sacrifices, such as using up savings or putting off buying a home, to avoid being burdened with debt in the future.
also noted that debt cancellation doesn't address the crushing student debt's root causes.
"America is supposed to be the place where you can work hard and pay off your debts and get the job you want and be successful," senior Sydney Fish, a supporter of the policy, added. "But I think that right now, with how expensive [college] has gotten, it's not true anymore."
Charlotte Makoni, another senior, said she is worried by the possibility of not being able to pay for college without a student loan. "The fear of having my parents go into debt for a long time just to pay for college is definitely something I worry about," Makoni said.
It is no secret that the price of college is extremely high. Even accounting for inflation, tuition and fees at public colleges and universities have nearly tripled since 1991, according to a study by the College Board.
The ballooning price tag hasn't gone unnoticed. "It's just getting more and more expensive and pricing more and more people out," Menlo Director of College Counseling Lisa Giarratano said. "I feel like it cannot go on like this forever."
and the average borrower now owes the federal government more than $37,000, double what they did in 2007.
Giarratano and the other college counselors stressed the need to understand the nuances of a payment plan when taking out a student loan. "I don't think a lot of people realize [...] how hard it is to actually pay your loans in full including interest over a sustained amount of time," Girratano said.
According to Ford, the accomplishment of paying off student debt is one that borrowers often have to wait a long time to celebrate. "I feel like a lot of people often are more excited to pay off their loan than [to receive] the actual diploma they earned," Ford said. Giarratano and fellow college counselor David Melena enthusiastically agreed.
Melena also noted that interest payments are sometimes the only payments borrowers can make on their loans in a given month,
hindering their ability to pay down their debt. "I think the conversation around interest rates attached to student loan debt should be a louder conversation than anything about cancellation," Melena said.
The counselors agreed that a student should always be aware of their options and keep an open mind. "I think students can maximize their educational experience anywhere," Ford said. "Sometimes paying more doesn't mean you're going to get more out of it in the end."
American support for student debt cancellation varies by the amount forgiven, with 55% supporting cancellation of up to $10,000, but support dips below 50% when canceling more than $10,000, according to a NPR/Ipsos poll conducted from June 3-5, 2022. Both supporters and opponents
Fellow college counselor Natalie Ford added that while schools have expanded their student resources and extracurricular offerings, she is skeptical that this excuses the dramatic rise in tuition.
College's mounting cost has led to an increase in student loan debt. About one in seven Americans has student debt,
News2 October 6, 2022
by
I feel like a lot of people often are more excited to pay off their loan than [to receive] the actual diploma they earned.
It feels like a major hit to women's health care.
" "
Sophomore Ari Kaufman
" "College counselor Natalie Ford Staff illustration: Sutton Inouye
Knightbook Changes, cont.
After working with Wheeler on a proposal, Tudor sent it to members of Menlo's administration in March 2021. "While the division is not malintentioned, the categorization of boys and girls in the Knightbook enforces an idea of gender binary, in which non-binary genders are excluded," the proposal said.
According to Tudor, there was some back and forth between them and the administration, with the administration suggesting that a nonbinary category could be added to the existing boys/girls filter. "[A nonbinary category] would isolate such individuals," the proposal responded.
Tudor compared the nonbinary category to an experience they had in the middle school, where, during a school bonding activity, a teacher asked students to stand up if they identified as LGBTQ. "Only two people in the entire middle school stood up for saying that they're LGBTQ," they said. "That was actually a very isolating experience."
Students and faculty will have the option of adding their pronouns to
Knightbook, which Wheeler says will further efforts towards inclusivity and belonging at Menlo. "Let's say I wanted to change my pronouns to 'they/them,'
the removal of the boys/girls filter on Knightbook was being discussed, Wheeler was already working on adding a feature to Knightbook that would allow students and faculty to record their names to clarify pronunciation.
Wheeler said it can be disheartening for students, staff and faculty to constantly hear their name mispronounced. "Whether you know the
origin story behind someone's name or not, I believe that names are an ancestral gift and need to be honored," he said.
He added that all of the changes are meant to help the school reach the same goal. "We want to make sure that we're giving our community space and permission to be authentically acknowledged, accepted and embraced without compromise," he said.
he explained. "I will be able to request a change, and it will go through an authentication process, and then it will be changed once verified by an adult."
As the addition of pronouns and
With Advancements in Green Energy, Global Warming Decreases
by TATUM HERRIN
For decades, one issue has laid at the heart of the climate crisis: the choice between economic prosperity and reducing carbon dioxide emissions. However, scientists now believe that, because of recent changes in energy production, we have successfully decoupled the financial growth and emissions of a country as well as avoided reaching apocalyptic levels of climate change.
Since the 1960s, fossil fuels — such as natural gas, coal and petroleum — have been the cheapest fuel sources to increase economic growth. Developing and developed countries alike showed little interest in changing their ways, as demonstrated during the 2009 United Nations Climate Change Conference. Stunting economic growth seemed like one of the few and highly unappealing solutions to decreasing emissions. According to a study done at Södertörns University in Sweden, gross domestic product and carbon dioxide emissions have been directly proportional in
decades past.
But times are changing. Highemission industries are dying. The world has reached the point where not decarbonizing is a poor business decision, according to an article by the Responsible Minerals Initiative. In the past, energy sources like wind and solar have been less popular due to their inconsistent output. In order to be more reliable, these energy sources need massive energy storage in the form of batteries. These batteries made these systems up to approximately $10,000 per kilowatt-hour in 1991.
However, battery costs have dropped by 60% in the past 10 years — 97% since 1991— and are on track to keep getting cheaper, according to an article from a journal called Energy and Environmental Science.
Green electricity has shown explosive progress. As seen in Lazard's Levelized Cost of Energy, wind energy is now three times more affordable than it was 10 years ago, and solar energy is 10 times more affordable than it was 10 years ago. As
a result, wind and solar energy are now cheaper than coal and other fossil-fuelburning power plants, despite the $5.9 trillion subsidies globally propping up the fossil fuel industry, according to a 2021 study by the International Monetary Fund. Today, 25 times more solar electricity and five times more wind electricity is produced than 10 years ago, according to research by Our World in Data.
On the other hand, coal consumption in developing countries like China has finally leveled off and it has plummeted in wealthy countries like the United Kingdom and the United States, according to an article by Our World in Data. Since 2015, three-quarters of planned coal plants have been canceled across 44 countries, according to a report by Third Generation Environmentalism. 10 years ago it would have seemed like wishful thinking, but today we can say with confidence: Coal is dying.
GDP is now decoupled from carbon dioxide emissions, as suggested by a paper from Environmental Research
Letters. As rich countries experiment with green technology, developing countries can adopt these technologies more affordably.
Because of these changes, many scientists are confident that the planet has successfully avoided a 4 degrees Celsius or more rise above pre-industrial levels in global temperature. The planet was predicted to reach this temperature increase by 2100 in years past as seen in a 2009 article by the University of New South Wales Climate Change Research Centre. This level of change would have caused the "hothouse" Earth, where temperatures change so quickly that the environment may have become unable to support a large human population, according to an article by the Climate Change Research Centre.
Now, scientists predict the global temperature is on track to surpass a 3 degrees Celsius increase by 2100, according to the CAT Thermometer. At a 3 degrees Celsius increase, droughts, heat waves and other extreme weather events will become more frequent and severe.
While a 3 degrees Celsius increase may seem grim, scientific developments have bought us more time compared to previous predictions, and for the first time in decades, climate trends are heading in a positive direction.
Herrin
In the past months, the Biden administration has been taking advantage of this extra time. On July 20, 2022, President Biden announced a set of executive actions to address the climate crisis. For one, the Federal Emergency Management Agency is providing $2.3 billion in funding for building infrastructure to increase communities' resilience to climate disasters, according to a fact sheet from the Whitehouse. gov. These disasters include heat waves, droughts, wildfires, floods, and hurricanes, which may grow more common in the coming decades. This fact sheet also describes the lowering of cooling costs for communities suffering from extreme heat. Finally, this plan also includes an expansion of opportunities in wind energy production, both creating more jobs and delivering more clean, affordable energy.
News October 6, 2022 3
A student takes a Knightbook photo in the gym. Staff photo: Geoffrey Franc
Despite being virtually nonexistent two decades ago, wind and solar power are a growing of renewabke energy generation across the globe. Data from the International Monetary Fund. Staff graphic: Tatum
We want to make sure that we're giv ing our community space and permission to be authentically acknowledged, accepted and embraced.
" "
Chief of Institutional EDIB Keith Wheeler
Propositions 26 and 27 Look to Open Sports Betting in California
by JACOB REICH
On Election Day, voters will decide if they want to legalize sports betting in California. Proposition 26 and Proposition 27 both aim to legalize sports betting in California. Prop. 26 would legalize in-person sports betting at casinos, while Prop. 27 would only legalize online sports betting for people ages 21 and over. These propositions would greatly benefit the companies and the Native American tribes supporting them.
In the United States, gambling is legal at the federal level, which allows lawmakers and voters to decide the extent to which
their states. In California, the only casinos are on Native American land, as gambling is banned by the state government, but Native American reservations operate under their own laws.
Prop. 26 is therefore supported by a large coalition of Native American tribes because it will "allow highly regulated in-person sports wagering at tribal casinos (casinos on Native American reservations) and four licensed horse racing tracks," according to its official website.
Prop. 26 would bring in tens of millions of dollars for California. If passed, bets could only be made in-person at tribal casinos, and the casinos would be required to pay the state 10% of the profit that they net from bets.
According to Business
Insider, the money would be sent to California schools, mental health research and other areas.
Similar to Prop. 26, gaming companies and tribes would be taxed 10% of their profits. All of these payments would be compiled into a new sports betting trust fund, the LAO reports. The money from the fund would then be used to cover state regulatory costs, and the rest would be split up among social benefits and other tribes: 15% of the leftover funding would go to tribes that are not doing online betting, while the other 85% would support homelessness and gambling addiction programs.
Prop. 27 plans to legalize online sports betting and is largely backed by gaming companies. Tribes would be allowed to try to make their own online betting platforms, but in a more likely situation, large online gambling platforms such as DraftKings and FanDuel will dominate the online sports betting market. People in California would then be legally allowed to place bets on sports on any of their devices in California.
According to ABC7 News, most Californian Native American tribes oppose Prop. 27, as they wouldn't receive as much profit from their casinos as they would from Prop. 26. However, three Native American tribes do support Prop. 27 because they are in rural locations and online sports betting would make them more money, according to CalMatters.
While the California Republican Party opposes both measures, the California Democratic Party is neutral on Prop. 26 and opposes Prop. 27.
According to CalMatters, if both measures pass, they will likely go to court, where a judge will decide if they conflict with each other. If they do, the one with the most votes will stand.
Staff illustration: Sutton Inouye
Menlo Abroad Expected to Return Along With Borderlands in 2023
by ANDREA LI
The Borderlands program is expected to continue in 2023: this year, MTERM will hopefully include not only Borderlands, but also Menlo Abroad. "The plan is to continue with Borderlands this year [...] we're also going to bring back Menlo Abroad. We're hoping that there'll be a program to Costa Rica," Brown said. "People found a lot of value [in Borderlands]. So it feels worth keeping."
The Menlo Borderlands program brought small groups of students and faculty to northern Arizona, southern Arizona and El Paso, Texas, where they lived for one week last MTERM. Each group learned about a topic related to their destination: students in southern Arizona learned about sustainability, the group in El Paso focused on immigration and those in northern Arizona learned about the native Navajo people.
However, Borderlands 2022 differed from a typical year of MTERM travel. Usually, Menlo offers a global travel program called Menlo Abroad, which has four main destinations: Tanzania, China, Guatemala and Senegal. This year, Borderlands replaced Menlo Abroad due to concerns about COVID-19 and traveling abroad.
That is not to say that Menlo Borderlands didn't face any difficulties with planning a domestic trip during the pandemic. "[COVID-19] was brand new for us last year. And the difficulty was the lack of certainty [...] there always is some degree of lack of certainty with travel, [...] but with COVID, that problem is particularly acute," Upper School history teacher and Global Programs Director Peter Brown said.
Brown, who directed the Borderlands program, also attended the trip to southern Arizona. He had an enjoyable experience learning about sustainability with the students. "The goals [of the curriculum]
are for students to expand their knowledge of other environments, other cultures, as well as expanding knowledge of themselves," Brown said.
Junior Danae Yotopoulos found her experience on the southern Arizona trip eye-opening and applicable to her own life. "In terms of sustainability, my takeaway was that even small changes can make a large impact in conserving water, so each individual should do their part," Yotopoulos said.
Junior Ryan Li, who went on the El Paso trip, found the experience of learning from real people affected by the issue of immigration to be poignant and deeply humanizing. "The highlight of my Borderlands experience was when Carmen, an immigrant mother from Mexico, came to the church our El Paso group was staying at and told her story about her struggle to cross the border," Li said. "Carmen's story helped to humanize the immigrant experience more than anything else."
Similarly, Upper School history teacher Matthew Nelson found that his and the students' experience in El Paso solidified the issues they studied in reality. "I appreciated the real-world perspective I gleaned from the trip and to see students become deeply humanized to the plight of immigrants on the southern border of our country," Nelson said.
Upper School History Department Chair Carmen Borbón found that her stay on a Navajo reservation in Northern Arizona gave her perspective. "I just feel like I learned so much. [...] As somebody who teaches Ethnic Studies [...] I have a whole unit on Indigenous Americans, but [I had] never actually been on a reservation," Borbón said.
Borbón also created valuable connections throughout the trip. "The man who hosted us, Roberto, [...] I've invited him to come to Menlo." Borbón said.
Senior Jackson Kay, who was also on the trip to the Navajo reservation, said the experience of being on the reservation was valuable. "It's easy to read and learn about these issues from a distance, but you can never truly understand the nuance of these issues when you cannot experience them from the people living with them," Kay said. "Borderlands was a transformative experience."
The challenges that students and faculty faced during Borderlands were also environmental. In southern Arizona, this meant beating the heat. "The biggest challenge for our group was working on a
sustainable garden under the 100 degree heat of Arizona in the early summer," Yotopolous said.
Meanwhile, according to Borbón, the group staying on the Navajo reservation had no running water, slept on dirt floors and dealt with winds that hindered the group's experiences. However, these unique challenges also brought them perspective. "I feel like the kids all had a good attitude. [...] It had them thinking about their own privilege and the benefits that they have living here versus what people who live on the reservation get," Borbón said.
(Above) Students on the Southern Arizona trip learn about an old copper mine in Ajo.
Photo courtesy of Ana Banchs
(Left) Senior Mitali Srinath makes gor ditas with storyteller Carmen on the El Paso Borderlands trip. Photo courtesy of Angela Curotto-Pierson
News4 October 6, 2022
If Prop. 27 were to pass, people in California would then be legally allowed to place bets on sports on any of their devices.
" "
Freshman Elsa Sonsini also believes that BeReal impacts everyone differently depending on how many friends a user has on the app. "Some people only add their closest friends on [BeReal], and they don't care at all what they post. It makes the app much more casual," Sonsini said. Contrarily, BeReal might feel more staged when a user has a larger number of friends on the app. This is because the user's BeReal post reaches many more people, and therefore there is more pressure to post pictures that won't receive judgment from others, according
to Sonsini.
Senior Katrina Golob also suspects BeReal has shifted the cultures on other social media platforms, such as Instagram. "I feel like [BeReal] has made Instagram more casual, but a fake kind of casual," Golob said. "People are still putting effort into their posts, but they want them to look much more casual." According to Golob, even though she has observed these changes on Instagram, other apps such as Twitter and TikTok do not feel impacted by BeReal, since they are structured quite differently. "I haven't
seen BeReal influence other platforms," Golob said.
Similarly, freshman Elia Choe never downloaded BeReal, or any other social media platform. Although many of her close friends regularly use the app, she feels no pressure or interest in participating herself. "You just take photos for a minute [on BeReal]," Choe said. According to Choe, if she were to ever start using social media, she would gravitate towards other apps, such as Instagram and Snapchat, before even considering BeReal.
Even though senior Eddie Fujimori downloaded BeReal about six months ago, he barely uses the app. "I don't take BeReals most of the time," Fujimori said. "I don't see much of a culture developing on the app."
Both Buch and Porteous are not sure how much longer BeReal will survive at Menlo. "BeReal just doesn't have the same craze that it possessed in the beginning [of its popularity]," Buch said. "People can't keep up with daily posts forever," Porteous said.
Senior Siblings Can Offer Freshmen a Social Jumpstart
by ERICA FENYO
Transitioning from middle to high school poses a nerve-wracking challenge, but what about for incoming freshmen with upperclassmen siblings? Older students can offer their younger siblings a jumpstart into Menlo's social sphere and academic expectations.
Freshman Tess Vogel felt more acquainted with Menlo as soon as she stepped onto campus because of her senior brother Beckett Vogel and alumnus brother Adley Vogel ('20).
Vogel appreciates having teachers that also taught Beckett Vogel because they share a similar learning style, so she can immediately connect with them.
"For example, he's friendly with the art teacher, so I'm becoming friendly with the art teacher – not because of that – but it's just that teachers he prefers, I'll also prefer," Tess said.
Since Vogel did not attend Menlo Middle School, she says there were not as many social benefits from having a senior sibling, but she still noted some positives. "I would say it's still difficult to meet people, but it's nice to know the campus more than someone who hasn't been here before," she said.
Just like his younger sister, Beckett Vogel also enjoyed having a senior brother when he was a freshman.
"Usually, I could hang out with his friends," Beckett Vogel said. "They were all pretty chill, so I knew people, which
was good for football games because I knew who to sit next to, and, if I needed a ride, I knew who I could talk to."
Freshman Phoebe Crouse loves how welcoming the campus feels because her senior sister Sophia Crouse's friends always make sure to greet her. "Seeing [my sister's] friends is super nice," Crouse said. "[Her friends] look out for people's little siblings."
Similarly, freshman Libby Vitro values how she is not intimidated to ask upperclassmen for help around campus because she knows some of them through her sister, senior Madison Vitro.
"If I'm lost or something, it's easy and it's not intimidating to ask not only my sister, but also other upperclassmen because I feel like I have more connections because of her," Vitro said.
Vitro believes having an older sibling at Menlo helped her merge into the upper school social climate. "[My sister] already had the same or similar experiences as me, so she's able to give me advice and help me know how to do the best in the social scene."
Similarly, Madison Vitro appreciates seeing the opposite side of the high school spectrum through Libby.
"[Freshmen] sort of look up to you [as a senior], and you get to show them around a little bit," Madison Vitro said.
"It's nice getting
Staff illustration: Tatum Herrin
to know [Libby's] friends, too, and just having some connections with younger people at the school that I wouldn't otherwise if I didn't have a sibling."
Throughout Madison Vitro's time at Menlo, her parents learned how to cater to Libby's needs better than they could with their oldest child, especially because
Freshman Libby Vitro
they have to commute from Hillsborough. "When I first started going to school here, [my parents] were a little more uptight with how often I could be driven there and back," Madison Vitro said. "I would say my parents are more understanding about what the workload is like and the social norm or expectations with plans, or going out on the weekend and hanging out with friends."
BeReal, cont.
Arts & Lifestyle October 6, 2022 5
Staff illustration: Michele Hratko
[My sister] already had the same or similar experiences as me.
" "
Menlo Students Pursue Various Summer Experiences
by LIZZIE FREEHILL
Each summer, Menlo students spend their time pursuing a variety of experiences and activities. Through jobs, programs, camps and more, students choose to spend their time away from school in unique ways.
Junior Nate Bowers spent two weeks living on an island off the coast of Belize, participating in a program called Adventures Cross Country. During the first two days of the program, Bowers learned how to dive and earned his scuba certification. Through the program,
Junior Nate Bowers
Bowers would go on three dives a day and hunt lionfish, an invasive species in Caribbean waters. Between dives, Bowers would play volleyball with the divemasters, hang out in the hammocks and get to know the other teenagers in his program, which was exciting as no two people were from the same state.
The best part of the trip for Bowers was when he got the hang of scuba diving and started using spears. "Scuba diving seems really complex, but then once you've [learned] it, you're kind of like, 'Oh, this is really fun and really cool,'" Bowers said.
Sophomore and varsity volleyball player Lily Kautai spent the majority of her summer playing volleyball. Kautai's club volleyball team played in the Amateur Athletic Union National tournament in Florida at the end of June.
"[My team] really wanted to do well there since it's all the way on the other side of the country. There's obviously different states and different teams coming to
Senior Ellie Hardegree
compete, so we knew that it was going to be much harder than the competition that we see in California," Kautai said.
After spending all of June preparing for and playing in Nationals, Kautai began attending camps and open gyms to determine whether she was going to play for a new club team or remain on
her previous one. Kautai also aimed to attend Menlo summer practices two times a week for lift and open gym. Kautai resumed Menlo volleyball with tryouts beginning Aug. 5 and attended pre-season practices throughout the rest of her summer.
Even though Kautai planned her summer around volleyball, she was able to make a fun vacation out of AAU Nationals. "My parents knew that volleyball was going to take up a lot of my time this summer, so with AAU, they planned for us to stay an extra week, and we went around Florida and visited family," Kautai said.
Senior Kate Kepner suffered from severe food allergies as a young kid which severely affected her quality of life until Dr. Kari Nadeau at Stanford Medicine helped her. Kepner began working with Nadeau when she was 15 because she wanted to help others with severe food allergies, as Nadeau had helped her when she was younger.
Kepner's role in Nadeau's office consisted of assisting with trials by coding, analyzing data and cycling blood. Kepner stayed at home for the majority of the summer, working from 8 a.m. to 3 or 4 p.m. almost everyday.
Junior Max Corbett indulged
his interests through summer college programs at both the University of California, Los Angeles and Cambridge University. At UCLA, Corbett attended a three-week, on-campus course in political science, and at Cambridge he studied behavioral economics while living at the university for two weeks.
Corbett chose to take college courses because he was able to make new friends, learn new things and gain life experience taking care of himself. "You [learn how to] take responsibility for yourself, but, at the same time, you still learn things," Corbett said. "I think it gives you a real college experience; you're balancing work, but you're also learning how to live life." In addition, Corbett was able to compare his experience at a United Kingdom university to American universities.
Junior Ana Banchs Rodriguez traveled to Austria, Germany and the Czech Republic with her choir for 10 days, performing in churches and theaters. "All the cities and countries we went to were beautiful, but Austria was definitely at the top of my list," Banchs Rodriguez said. According to Banchs Rodriguez, she was able to bond with her choirmates and create unique and special memories.
Senior Ellie Hardegree works in the
kitten nursery at the Peninsula Humane Society in Burlingame. Hardegree has been working at the nursery since she was in eighth grade, when she would go into the shelter on Sunday mornings to work the breakfast shift. Additionally, Hardegree worked at the nursery every day of MTERM as her junior project. Her job involves removing each kitten from their kennels in order to feed them, playing and socializing with them and weighing them. "I think it's kind of like a responsibility [for] something bigger than yourself, knowing that there are animals that need your help to be taken care of," Hardegree said.
Arts & Lifestyle6 October 6, 2022
Scuba diving seems really complex, but then once you've [learned] it, you're kind of like, 'Oh, this is really fun and really cool.'
" "
I think [college courses] give you a real college experience; you're balancing work, but you're also learning how to live life.
" "
Junior Max Corbett
I think it's kind of like a responsibility [for] something bigger than yourself, knowing that there are animals that need your help to be taken care of.
" "
Staff illustration: Michele Hratko
Seniors Recount Successes of Annual Retreat and Web
by ANNIE STENT
The Class of 2023 is starting their final year at Menlo. Each year, senior classes start off the year with events and traditions meant to bring the students together going into their last year together. They kicked off the year with the Senior Barbeque, the Senior Sunrise, first day of school traditions and the Senior Retreat.
The seniors left for their retreat on the morning of Tuesday, Sept. 13 and returned later that night. The retreat was generally the favorite event for the seniors. "I feel like the barbeque didn't do a ton to bond us, but the retreat, with the web and all of the games, really paid off more because we were just more raw and it broke the ice," senior Julia Naik said.
though stations with activities and games to further connect them as a class. "I feel like people really reached out and got to know some people better because we were divided up [into groups]," Barkley said.
The coveted activity of the senior retreat was "the web." The web is an annual activity in which the whole senior grade gathers together and each student gives and receives a shout out, thanking, admiring or apologizing to another classmate.
In an effort to supervise while still keeping students comfortable, only counselors and the class dean are present in the room. The activity is designed to connect students with people they may not regularly spend time with or appreciate. Because each person can only be spoken about once in the first round, students have to be ready to adapt what they prepared to anyone, a caveat that aims to further connect the class.
Senior Annika Porteous
"[The web] was definitely different than a lot of the bonding activities. It had a different tone, it was really cool," senior Nate Goldberg said.
At the retreat, students were split into groups and spent the day moving
Students generally come with a few people they want to shout out, but as the round goes on, they have to be ready to share about other students as well in case their original picks have already been addressed. Goldberg was selected by the senior student council to start the web.
"I was a little nervous at first, but it was actually fine. [...] It was nice that I got to choose who to speak about," he said.
Many students went into the web stressed out about the activity, unsure of
how well it would go. But coming out of it, many were satisfied. "Originally, I wasn't very excited for [the web], just because I did not know what I was going to say and I didn't think it was going to be that beneficial, but I think the class really came together and shared a lot of meaningful things," senior Keane Murphy said.
Some students think the web could still be improved. "I think that maybe
[the web] could have gone even better if there weren't [counselors] in the room, so people would have been more comfortable sharing what they needed," Murphy said.
"I feel like people forgot about their cliques [at the retreat] and hung out with whoever, and, so far, it feels like people are still being more open to sharing out in class and are just being more inclusive overall," senior Cisco Samano said.
by JAKE LIEBERMAN
Q: What's one thing you want people to know about you?
That I exist.
Q: If you could have one meal for the rest of your life what would it be?
A burger. [So] I can choose my toppings anytime.
Q: What do you like to do in your free time?
Sometimes I work out. I listen to music and play video games.
Q: Do you have a favorite animal?
Not at the moment, but when I was little, I really liked pigs.
Q: Do you have a least favorite food?
I have one I just hate for some reason. If there's a little bit of it, I can just tell. It's coconut.
Q: If you could travel anywhere in the world, where would you want to go?
I'd probably visit Italy. I like a lot of the stuff that's originated from there.
Q: Where did you grow up?
I grew up in Boston. I spent nearly the first 16 years of my life there. We came to California for my parents' work.
Q: What's the craziest thing you've ever done?
Probably when I ran for school president. If I only got more votes than the other candidates, I would have won.
Q: What's a pet peeve you have?
Repetition. When people say the same thing over and over. In case you didn't catch that, one pet peeve that I have is repetition, when people say the same thing over and over.
Q: What's something you're scared of?
I don't know why, but I'm afraid of heights.
Q
: What's your favorite candy?
[I have] one for the taste and one for the memories associated. In terms of taste, my favorite candy is chocolate in general. Then, in terms of the memories associated with it, Kit Kats are my favorite. When I was in middle school, my Spanish teacher would give us Kit Kats and that was also my favorite class.
Q: If you had a superpower, what would it be?
I think mind control. It's really strong and it doesn't have a negative side effect, unlike a lot of other superpowers. Also, it would be nearly impossible for the government to find out and do tests on [me].
Q: What would you do if you had the power of invisibility?
I would barely use it. If I want to cross the road when I'm invisible, I could get hit by a car very easily.
Q: How long would you survive a zombie apocalypse?
I think I would be able to hide for a bit and stock up on food. But if the zombies found me, and, especially if they were fast, I'd be in trouble.
Q: What's your favorite board game?
I really like Stratego because it's fun and I'm good at it.
Members of the class of 2023 play gaga ball during their retreat. Photo courtesy of Menlo Flickr
Selected Student Profile: Ittai Nelken-Regev Arts & Lifestyle October 6, 2022 7
(Far
above) Ittai
Nelken-Regev poses for
a
headshot. Photo by Karen Xin
(Above) Seniors Ittai Nelken-Regev and Ellie McCusker participate in a relay race in the 2022-23 first day of school assembly. Photo courtesy of Menlo Flickr
[The web] ended up
being
a super bonding experience. " "
Menlo Drama Performs in Edinburgh Scotland Fringe Festival
by SONIA DHOLAKIA
The Menlo Upper School Drama Program traveled internationally for the first time from July 30 to Aug. 11, performing at the Fringe Festival in Edinburgh, Scotland. They performed Molière's French comedy "The Learned Ladies," a show they had not previously done during the school year.
Menlo was one of the 30 schools selected out of around 300 by the American High School Theatre Festival to attend Fringe. The drama program originally applied and was accepted in 2019 for their performance of "Cabaret," but their trip was postponed due to COVID-19. The application process was fairly rigorous, as it included footage of performances, written pieces and photos.
The Edinburgh Fringe Festival is a large arts showcase that takes place during the month of August with thousands of shows and tens of thousands of performances for audiences to see.
The Fringe Festival trip was announced to students at the beginning of the 2021-2022 school year. Junior Charlie Hammond was excited about what the exposure from the festival would mean for the school. "I knew performing abroad for an entirely new audience would be a really cool opportunity to strengthen and build our Menlo drama program," Hammond said.
Director of Creative Arts Steven Minning chose to perform the "The Learned Ladies'' after seeing a production of the play in Florida. Minning was particularly impressed by the eccentric costumes in the show, and took inspiration from them for Menlo's production.
Senior Maya Debnath
The cast began rehearsing in early July and had three weeks to prepare the show, a relatively short time period. "It was a much shorter rehearsal process, but we were fortunate because the kids that were doing it only had that to focus on," Minning said. "We didn't have to compete with all the other school activities."
They rehearsed for four hours daily Monday through Friday. "We had to put on an entire show in three weeks so it was
really, really fast paced but it was fun," junior Amory Healy said.
The cast, in addition to Minning, dance teacher Angela Curotto-Pierson and Technical Director Andy Hayes, all flew to London on July 30 and toured the city for a day and a half before getting on a 10-hour bus ride to Edinburgh, Scotland where they would be for the next 10 days.
The Fringe Festival practically takes over the city of Edinburgh for its duration, which, according to Hammond, created a very lively environment. "There was so much going on, there were theater groups from all over the world," Hammond said. "It was exhausting, but it was amazing."
"It was really cool because there were a lot of high schools there," senior Maya Debnath said. She described the other high schools as being very supportive and encouraging. "There definitely was a lot of camaraderie between people performing," Healy said.
In order to spread the word about their performances, the cast busked on The Royal Mile, in the center of Edinburgh's Old Town, handing out fliers and answering questions about their show completely in costume and character.
"It was really magical to see the kids be present in the directions they were given and be so in their character just
going for it," Curotto-Pierson said.
"The entire group just got so into it, and we were 100% in our characters," Debnath said. "I've never had a theater experience like that before."
The audience of the cast's first performance was around half-full, but the three shows afterwards were completely sold out. "Once people saw that first show, the word spread around and then entire schools would be coming to see us," Debnath said.
Minning said his highlight of the trip was watching the cast receive a standing ovation after their performance. Because the audience was not from the Menlo community and were instead strangers, he felt the standing ovation was a special moment for them. "The kids earned this standing ovation, and it was a thrill for me to sit back and see the kids receive this," Minning said. "It was quite moving for me."
The cast significantly varied in acting experience, from graduated seniors to students completely new to the drama program. Three class of 2022 alums – Uma Misha, Amay Goel and Peter Hanson – attended the festival. "[The alums] could really lead and guide the way. They were great role models,"
Minning said.
But some Menlo students at Fringe had joined with very little to no experience in theater. Sophomore Jordana Lenihan had not been involved in theater before becoming a cast member of "The Learned Ladies" and enjoyed her time in the show so much that she plans to continue participating in Menlo Drama during the school year.
"I had an amazing time meeting all the students and it was great to get to be a part of Menlo drama as someone who was a newcomer," Lenihan said.
According to Minning, after participating in Northern California's Rita Moreno Awards for high school theater and then the Fringe Festival, the drama program hopes to perform to more audiences in the future. "We're looking at getting out there more with festivals and conferences," Minning said.
While the festival was beneficial for the Menlo drama program's standing, it was also an opportunity for students to connect, spending nearly five weeks together. "You can't get that experience in any other way than being with each other 24/7 for an extended period of time," Hammond said. "It definitely feels so much more like a family."
(Far above) The cast walks on the Royal Mile while busking in full costume. According to the cast, audience members were captivated by the costumes they saw.
(Above) Before traveling to Edinburgh, the drama program toured London for a day and a half. "You're going around London and everyone was so jet-lagged and tired because we just got off the plane," junior Amory Healy said. Photos courtesy of Angela Curotto-Pierson
Arts & Lifestyle8 October 6, 2022
The cast performed "The Learned Ladies" four times. Their time was very limited – they had
an
hour to
perform
the show,
and 15 minutes to set up and take down
the
set
brought over from Menlo. Photo courtesy of Angela Curotto-Pierson
The entire group just got so into it, and we were 100%
in
our characters. " "
COOL OR CRIMINAL?
Staff illustration: Tatum Herrin
Inside the Decisions of Menlo's Party-Hosting Families
by ZOE ADLER
For generations, house parties have been a popular, yet illegal, weekend activity for high school students. While teenagers can often attend parties with carefree attitudes, the families that host them are faced with a set of legal and disciplinary challenges when the consumption of alcohol or il licit substances are involved.
A parent or guardian can be liable for providing alcohol to minors under the legal drinking age at their residence according to the California Business and Pro fessions Code. An adult knowing about underage alcohol consump tion on their property — but not directly supplying it — could still face implications under civil host liability laws, according to the National Conference of State Leg islatures. These laws typically free hosts from legal accountability if a guest is injured after being provid ed alcohol, but these protections do not apply if minors are served.
Menlo's Student and Parent Handbook lays out a clear expecta
tion that parents should not provide alcohol or other illicit substances to minors, claiming that this would create an unsafe environment for students. "Because this is such a serious issue, in such circum stances, as well as in any other situation where drugs or alcohol are involved, Menlo will take ap propriate disciplinary action. This may include the termination of the student and family's affiliation with the School," the handbook explains.
Upper School Director John Schafer explained that this step is only taken if there is a clear pattern with parents' behavior. The school prefers to trust parents and typi cally will not intervene with events occuring on weekends. "We think that's the parents' job. Saturday night is the parent's responsibility," Schafer said.
Still, certain students and fami lies at Menlo choose to open up their homes for a variety of reasons. One male student has hosted a handful of parties over the past year with his parents' support. "I think they'd rather me throw [a party] in a safe environment rather than [at
tend one] at some random person's house," he said.
He also noted that, although his family does not have a set protocol around how often he is allowed to host, there is an expectation that parties are not a frequent occur rence.
Although his parents do not supply alcohol, they are aware of its presence, and typically allow it as long as it is being consumed in a safe setting. Furthermore, they have strict rules in regards to guests' driving to and from his house. "They don't mind if people drive to our house," he said. "If people drink, we make sure they get Ubers and don't let them drive home, so a lot of times people end up leaving their cars."
Another male student has par ents with a similar position on party hosting. Although he has thrown parties without his parents' consent, there have been occasions when he's been allowed to host. "They thought [hosting parties] would be good because it would cause me to expand my social circle," the senior said. "They were kind of reluctant,
but they thought it was a pretty so cially healthy thing for me to do."
He also attributed his parents' reluctance to their liability if some one were to drive under the influ ence or if an injury occurred after the consumption of alcohol. The solution they came up with was to cover the costs of their guests' Uber rides and to discourage street parking.
For another junior, it was easy to gain their parents' permission to host parties. "We just have an hon est relationship," the junior said. "[They trust] me that I'm going to be responsible."
Their family also set a few ground rules for all parties: hard alcohol is not allowed, guests are not permitted in bedrooms and guests cannot drive after consum ing any mind-altering substances.
However, even with these pre cautions in place, the legal liability is still placed on the parents. "Over the years, parents have justified their behaviors," Schafer said. "But I think, my view is, the law is the law.
Spread October 6, 2022 9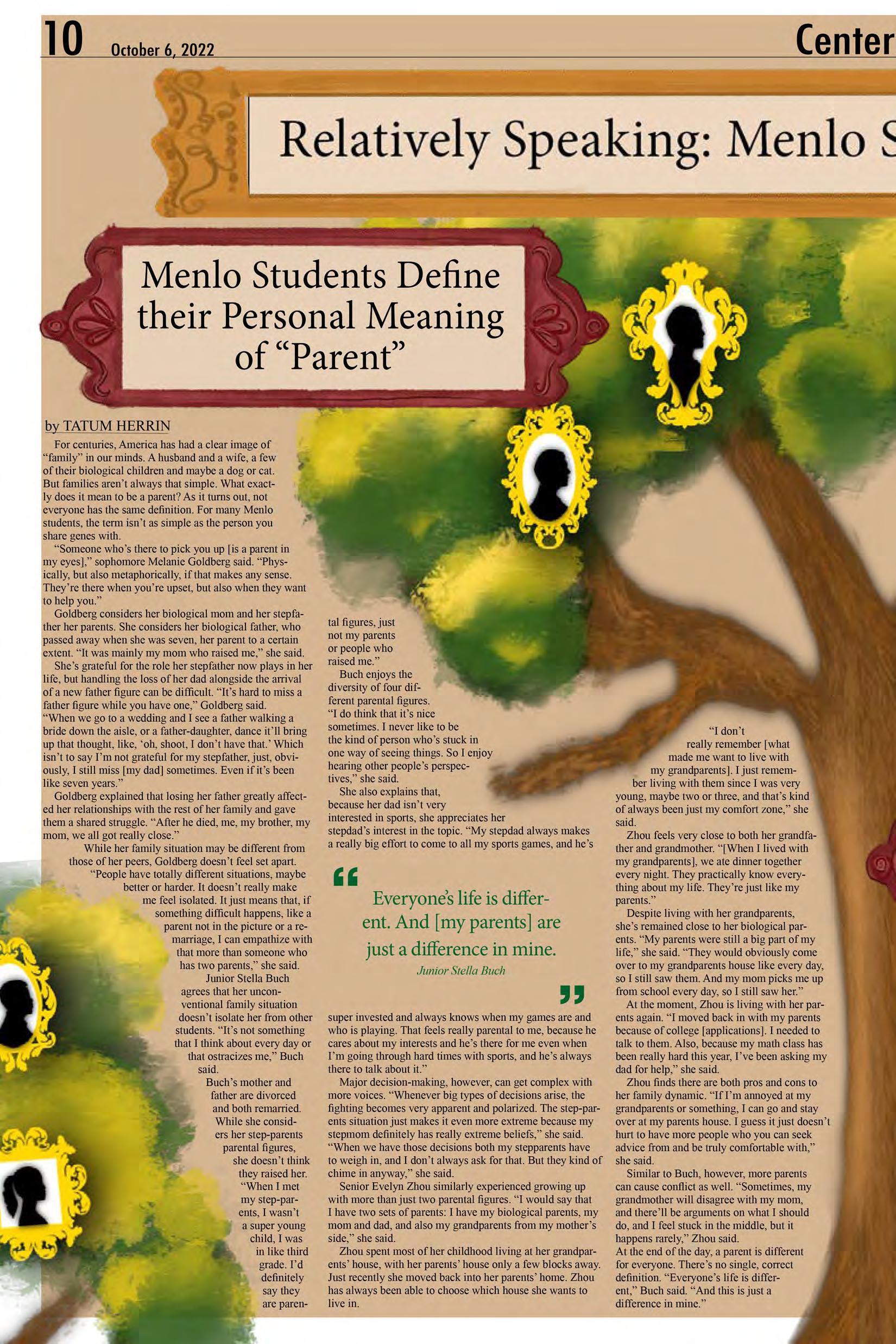 Menlo Community Navigates Parents Teaching Their Own Children
by TATUM HERRIN
Menlo is a "family school." A com munity where, according to the Menlo School website "keeping families to gether as much as possible…" is highly valued. As a result, several teachers' children attend the school. At times, these students wind up in the classes of their parents, causing both positive and negative repercussions.
Lauren Spence is a current Menlo senior and daughter of David Spence, who teaches chemistry and experimental archaeology. David Spence has been teaching at Menlo for 23 years.
Spence finds that growing up with her dad teaching at Menlo has deepened her connection to the Menlo community and given her a better understanding of Menlo's inner workings. "I would come to my dad's class after school sometimes, and I'd see the students working with him. It just seemed like a really cool environment. So [Menlo] has been a part of my life for a long time," Spence said.
She enjoys sharing a campus and community with her dad. "I think his presence is nice. I mean, I perceive him as a really fun teacher. So I think it's cool to have him here," Spence said.
Spence took chemistry with her father sophomore year and is taking experi mental archaeology with him this year. Last year, she enjoyed having her teacher around the house to provide academic support. "He was like a personal tutor at home. If I didn't understand a concept in
class he would go over it again for me.
And, yeah, it was nice," Spence said.
Spence was also able to communi cate students' needs easily to her dad. "I could tell him [the] weeks when we had a lot of work," she said. "He would ac commodate that. So it was nice."
David Spence didn't expect to teach his daughter. "I think [Menlo] tries to discourage you. So I was a little sur prised when Lauren was in my chemis try class as a sophomore," he said. He
of bias for his daughter. One way he addresses this issue is by being up front with the students about his relation to Spence. "I'm not hiding that she's my daughter. [...] There's no reason to hide it," he said. Spence has always called David Spence "Dad," even in class. Furthermore, he makes sure not to give her any special attention in class. "And I think if it's your own child, particu larly you're [...] making sure you're not always asking them questions," he said.
In general, David Spence deeply values the insight he gains from being on campus and sharing a school community with his daughter. "[Talking with her] is often revealing because I might have an impression of a colleague, but I don't re ally know what they're like as a teacher because I'm not sitting in the classroom. So Lauren might say, look, I really love this teacher and I really liked the mate rial that they're covering," he said.
applied entrepreneurship. "I avoid tak ing my dad's classes because I feel that would be awkward, but other than that I haven't been affected academically," Al lard said. "[My dad] was useful if I had any questions about the [People's Phys ics Book]. But I never really ask him too much about actual material."
While his dad may not provide him with academic help, Allard recognizes other benefits in having parents who work at Menlo. "It's nice [hav ing two parents at Menlo] because they under stand it's not just about getting a good grade. They under stand that it's really impor tant to learn the material," he said.
guesses this was out of necessity for scheduling, and made sure Spence was comfortable being in his class before the year began.
He feels lucky that the relationship he has with his daughter is functional in the classroom. "We tease each other and give each other a little stick or smack. And so one of the things I said to her is like, 'I'm going to give you smack' and she says she's okay with it," he said.
David Spence also acknowledges that other students might be suspicious
David Spence is also grateful for the time he gets to spend with his daughter. "Going forward when she becomes an adult, we're going to have these things in common. We'll be able to remember a lot of stories. We were in the same classroom together. So that's going to be great. I've really enjoyed it," he said.
Senior Lucas Allard has a different experience and is generally less affected by his parents' presence at school. His mother, Bridget Allard, is the assistant to the college counselors and his fa ther, Marc Allard, teaches mechanical engineering, design & architecture, and
Further, his mom's job makes him feel more com fortable with the college application process. "I think it's to some extent taking a little bit of stress away, not because I feel like I have a bet ter shot at getting in or anything, but just be cause I feel I'm more informed about what I'm doing," he said.
OPINION:To Raise A Succesful Adult, Afford your Teenager Freedom
by ALEX LEVITT
Dear Parents,
Harvard, Yale, Princeton, Stanford. When you hear about these prestigious colleges, your default as a parent is likely to dream of your child attending one of these schools. But at what cost? The top schools don't guarantee happi ness or prosperity. In fact, the control ling parenting style often adopted to get children into elite colleges causes far more harm than good.
Naturally, you love your kids, so you don't want them to be anxious, reliant on others or afraid of challenges. And yet, that may be exactly what's happening in this age of tiger parenting.
"Tiger parenting" is an authoritar ian parenting style that's meant to produce academically high-achieving children. To a lot of you, the logic ap pears straightforward: "We have more experience, so we know how to make you succeed." And that's true … in a way. As an adult, you likely have more of an un derstanding of what breeds academic and profes sional suc cess, but
that knowledge was probably learned through the journey of life, not some body else explaining exactly what to do. It may seem counterintuitive to let your kids discover this knowledge for them selves, but that's exactly what you need to do in order to allow them to become high-functioning, independent adults.
As UC Berkeley sociologist Christine Carter explains, controlling parenting acts like a crutch for your child — a crutch that provides a feeling of security, but a crutch that prevents growth. That crutch will inevitably leave at some point, and if it's all your child has ever known, it could cause insecurity. The best time to move away from acting as a crutch and allowing your child time to develop by themselves are in their teen age years. "Healthy, self-disciplined, motivated teenagers have a strong sense of control over their lives," Carter ex plains, and preventing teenagers from having
that "strong sense of control" breeds anxiety and insecurity.
Your children will also have oppor tunities to flourish under supportive, but not controlling, parenting. According to Clark University psychology professor Wendy Grolnick, Ph.D., they'll be able to express their creativity, be able to persist in solving problems, and may even begin to enjoy academics. That way, they won't just see schoolwork and extracurricular activities as mundane stops on the way to financial success; rather, they'll be able to expand their passions.
That supportive parenting also leads to a core developmental goal of the teenage years: autonomy. Autonomy is defined as the ability to make informed, uncoerced decisions while consistently self-reflecting. In his book "Drive: The Surprising Truth About What Motivates Us," author Daniel Pink argues that motivation stems from autonomy, which is most easily achieved through ex pressing creativity and critical thinking, instead of following a monotonous process. He further argues that "sticks and carrots" man agement — in which sticks represent punishments for bad performance and carrots represent rewards — provides no tangible incentive for people to work harder. In fact, he claims this method actually harms productivity and creativ ity. Quantifying actions with rewards and with punishments prevents intrinsic motivation, and it could lead your kids to only per form out of fear, a recipe for disaster
once they leave home and are no longer micromanaged.
With this research in mind, my pro posal is simple: don't stop talking your kids through their problems, don't stop giving them your seasoned advice, but do lay off the pressure-filled microman aging. If you find yourself telling your teenager exactly what time to do their homework, recognize that allowing them to plan out their day — and then checking in with them after the fact — is likely the best way to teach them time
management skills. If you find yourself berating your child about a poor test score, recognize that anger-filled dwell ing on the past will just make your child scared to talk to you. Instead, help them think through what they could do better next time.
Easing your children towards au tonomy in their teenage years is an important way to increase the odds of their academic success, their emotional growth and their long-term happiness. The academic struggle may be there at first, but it'll certainly pay dividends once you see their minds flourish in high school and beyond.
Spread12 October 6, 2022
Controlling parenting acts like a crutch for your child — a crutch that provides a feeling of security, but a crutch that prevents growth.
We'll be able to remem ber a lot of stories.
Menlo science teacher David Spence
" " " " Staff illustration: Sophie Fang
Menlo Football Roster Loses Numbers In the Off Season
by LIZZIE FREEHILL
The Menlo football teams lost players from all grades this season, leading to unusually small rosters on both the JV and varsity teams.
Many of the freshmen who attended pre-season practices decided that the commitment of playing football in addition to their out-of-school sports was unfeasible. Reed Sunwoo and Arki Temsamani are freshmen whose soccer and tennis schedules conflicted too much with the rigorous football schedule. "I found it more important to put soccer over football just because it is my main sport," Sunwoo said. In addition to not having the ability to play both sports timewise, Sunwoo decided that he did not
want to risk getting injured in football and let down his soccer team, where he is a starter.
Freshman Raj Kaushek ultimately chose not to pursue Menlo football because it would have been too difficult for him and his parents to commute to and from Los Altos for the intense football schedule: two-hour practices everyday after school, lifts twice a week, plus Saturday games or film and a lifting session if the game is on Friday.
Additionally, Kaushek's family did not want him to get injured like his father did when he played high school football.
The JV team usually has a few players who join for the first couple of
weeks before ultimately deciding not to play. "Every year [...] we encourage everyone to come out, try it, and if it's not for them, then we encourage them to pursue what they want to do," Head JV Coach Noah Lubarsky said. "I will generally get two to three every year that will come out and ultimately, probably prior to the first game, end up quitting."
Although it is normal to see a few freshmen decide that they do not want to play Menlo football after the first couple of weeks, this year's JV roster is smaller than usual, according to Lubarsky. The team currently has 26 players on the roster, including injured players.
This has caused the JV team to focus on making players more versatile in order to ensure that there are enough players that are capable of playing each position in the case of injury or COVID-19.
"We've had to prioritize teaching multiple positions to everyone because there could be injuries or there could be [COVID-19 issues], so we are spending a lot of time kind of scaling down our plays, and really making sure that a bunch of people know and can play a bunch of different positions," Lubarksy said.
In addition to having a smaller team than usual for Menlo, the size of the JV roster is smaller than many of its opponents such as Menlo-Atherton High School and Burlingame High School which have JV rosters of 32 and 56 players, respectively, according to MaxPreps. Regardless, the team is currently undefeated with a 34-6 win against North Salinas, 35-8 win against
The King's Academy, a 30-12 win against Freedom High School, and a 14-13 win against Palo Alto High School.
"What I tell [the players] is that it doesn't matter if the other team has 60 players, only 11 can be on the field at once," Lubarsky said. "So if every single one of our 22 or 24 healthy kids are ready to step in and contribute to the team, and as long as we have 11, we'll be fine."
The football team saw several upperclassmen varsity players decide not to join the team this year, mostly to focus on other sports. Junior Ben Kossow, for example, played Menlo football his freshman and sophomore year, but he decided not to play this year to pursue year-round swimming. "I'm at that age where I feel like I need to pick a sport that I'm passionate about and stick with it," Kossow said. "I had a lot of fun playing football, but I feel like I have a better chance of being better at swimming."
Senior Ryan Braat, who played football since his freshman year, decided not to play football in his final year of high school due to an injury. Braat was on the varsity roster his junior year, but he was unable to play after tearing his meniscus during the preseason and having surgery in the summer of 2021. "Getting injured was a factor [in quitting] because my parents don't really want me to play anymore. My doctor was telling me it's probably not a good idea to play again," Braat said. "And to me, it was just not really worth playing, so I was just like 'I'll spend my time doing better in school and just not playing football.'"
Why Menlo's Athletic Department Still Does Not Have a Softball Team
by ARI KRANE
Menlo has not fielded a girls' softball team since 2013 due to a lack of interest in the program, according to Athletic Director Earl Koberlein. "If there were 15 girls out there that really wanted to play softball, we could begin discussions to consider [adding] it," Koberlein said.
While the general consensus for the team's abscence has been a lack of participants, other ideas circled regarding Title IX, an Education Amendment passed in 1972, which outlaws gender discrimination in fielding school programs. The law requires schools to offer "equal participation opportunities" for both boys and girls, but not necessarily the same number of sports teams.
"Usually, Title IX protects the underrepresented sex," Koberlein said. "Title IX is always a consideration, but female participants are usually underrepresented, and males [often] have more opportunities and more sports participation."
Koberlein emphasized that adding softball would not conflict with Title IX regulations because female athletes are underrepresented and therefore would not be held back by the law.
Other factors continue to limit the potential addition of softball. "The costs, [participation in] other sports [and] field or facility space [would be other issues to consider]," Koberlein said.
While the sport likely will not return, pending a substantial increase in numbers, softball players are finding alternatives.
Senior Helen Barkley has participated in softball for over 12 years and actively competes for the Cal Nuggets, a local softball club that plays at the national level. "When I was younger I definitely wished that we had a team," Barkley said. "As time has gone on, I realized that the team would not have been competitive [...] because nobody really plays."
Barkley explained that she didn't miss out on the team feeling or recruitment opportunities without a high school experience. "I love the team environment [on the Cal Nuggets], and [...] you pretty much only get recruited through club tournaments," Barkley said.
Other students chose to alter their softball talents and play baseball. Menlo juniors Lucinda Schafer and Amory Healy opted to join the baseball team given the lack of a softball counterpart. Healy has had an overall positive experience with the baseball program as a whole and is grateful for the kindness and encouragement from the varsity players.
On the contrary, Barkley opted to not play baseball, largely due to its stark difference to softball. "I thought about it, [but] it's a completely different sport," Barkley said. "I wouldn't want to mess up my swing or the way I throw just to be good at baseball."
The baseball program has shown to be accepting of softball and baseball players alike, and will likely be the closest option for softball players at Menlo for the foreseeable future.
Sports October 6, 2022 13
The JV football roster takes a knee to listen to their coach, Noah Lubarsky, after an afternoon game. Staff photo: Lexi Friesel
Staff illustration: Sutton Inouye
Alexa Hua Competes in Three Different Sports
by LIZZIE FREEHILL
Junior Alexa Hua is a three-sport student-athlete, playing tennis, soccer and ice skating. Hua partakes in both club and school teams, sometimes even at the same time while simultaneously balancing schoolwork.
Hua began skating at the age of six, influenced by her cousins who were competitive skaters. Hua began playing soccer because her younger sister had so much fun playing and was interested in building her endurance. Hua took up tennis most recently, during her freshman year. "There were a lot of reasons [that I began playing tennis]," Hua said. "The social aspect, it being an individual and team sport and the combination of athleticism, skills and mental focus required all included," Hua said.
Hua ice skates for the San Francisco Ice Theatre Team throughout the year. The time commitment includes twohour weekend practices, and sometimes hour-long weekday practices. "I usually practice in San Mateo, which is closer to my house. But then on the weekends, for our team practices, we go to San Francisco, which is kind of a drive,"
Hua said. Hua usually carpools to San Francisco with her team, allowing her to spend time with her longtime skating friends.
In the fall season, Hua is playing Varsity tennis for Menlo, in addition to club soccer for Palo Alto Soccer Club. Menlo's tennis team practices everyday after school for two hours while Hua's club soccer team generally practices
two to three times a week for an hour and a half. During the fall season, Hua prioritizes Menlo tennis when her
done afterwards," Hua said. Luckily, Hua feels she has more homework in the springtime than during hher especially sports-heavy first semester schedule which makes balance a little easier.
According to Hua, the key to being able to stick with and balance multiple sports is choosing which ones to prioritize in which season. "Skating I used to do a lot more competitively by myself, and now I'm on a team, which is a little bit less commitment," Hua said. "And then for tennis, I recently started doing more of it. For soccer, I started doing less."
schedule overlaps. This means that she usually makes it to club soccer practices once or twice a week, in addition to attending games on the weekends.
Practice overlaps haven't occurred too often for Hua since the school year started, however, when they occur, it can make completing homework challenging. "Last year I did it and it was definitely hard. There's nothing I could [really] do other than just get my own homework
Hua is hoping to begin playing tennis year-round. Her favorite part about the sport is the ability to easily see her individual progress, something that becomes more difficult for her in a team effort such as soccer. As for soccer, Hua has played on the school team in the past, however, she is unsure if she will choose to participate this winter. Hua wants to dedicate more time to tennis, skating and school, and is also hoping to do dance enrichment through Menlo after the tennis season is over. Dance enrichment would be more manageable than soccer as it is only two days a week after school compared to the five days of soccer practice. She will resume club soccer again in the Spring for PASC.
Sports14 October 6, 2022
(Far left) Hua skates across the ice during a competition.
(Left) Hua follows through on her swing during a tennis match.
(Bottom) Hua dribbles the ball during a Menlo soccer game.
Photos courtesy of Alexa Hua
"I usually practice in San Mateo, which is closer to my house. On the weekends, for our team practices, we go to San Francisco, which is kind of a drive."
"
"
Junior Alexa Hua
Fall Sport Athletes Make Fashion Statements on the Field
by LEXI FRIESEL
When it comes to uniforms, most athletes solely wear neutral colors with the Menlo blue, gold and white. However, certain athletes decide to take their outfits to the next level for game day by wearing standout clothing or accessories.
Some athletes, like Menlo freshman Jack Freehill prefer to use the term "drip," a slang term used to describe fashionable clothing.
Freehill plays quarterback and cornerback for the JV football team. He can be spotted on the field sporting a hot pink arm sleeve which matches his hot pink gloves. Freehill plans to rotate between using pink and white as his signature colors on game days.
A visor and backplate complete the look. "I've always worn drip since I was young," Freehill said. "It gets me excited for the game and it helps me with my confidence. I think it's a fun way to show you're ready to go and ball out and play well."
On the track, sophomore runner Landon Pretre can be seen wearing his signature item, a pair of blue lens sunglasses, during practice and warmups. Pretre runs cross country and track for the Knights. "I bought the glasses because they looked cool," Pretre said. "They became special for me because most of my teammates and friends know about them."
Pretre plans to continue wearing the sunglasses during the upcoming season.
His brother, senior Justin Pretre, plans to sport a different type of cross country style with a good cause in mind. During the month of October, the captains of the team purchase pink shorts for the team to wear during their races. "It started around my freshman year," Justin Pretre said. "Our coach's wife was suffering from breast cancer so we wore pink to support her during Breast Cancer
Awareness Month."
Juniors Hailey Kim and Joelle Kim switch up the norm for apparel on the golf course by wearing bright colors. "The team normally coordinates for matches," Joelle Kim said. "But we wear fun and unique colors for practice."
On the volleyball court, junior Bella Chen uses bright yellow shoes to make a statement. "I've had these yellow shoes ever since eighth grade," Chen said, "You can always tell who I am when we watch game film because of the uniqueness of
(Above) Runners on the cross country team dress in pink to support their coach's wife's battle with breast cancer. Photo courtesy of Justin Pretre
(Right) Freshman Jack Freehill wears his colorful arm sleeves and gloves during a JV football game. Staff photo: Lexi Friesel
Director of Sports Perfomance and Wellness Jesse Lindenstein Leaves Menlo
by ALEA MARKS
Director of Sports Performance and Wellness Jesse Lindenstein left Menlo this summer after 12 years of working with all sports teams at the school. His role included creating strength and conditioning workouts for Menlo athletes and coaching open weight rooms for
students interested in lifting.
Lindenstein and his wife, Amber, moved to Coeur d'Alene, Idaho this summer, where Amber's parents live. The reason for the move was to be closer to family and give Lindenstein a chance to spend more time with his children, five-
year-old Kaia and two-year-old Colton. He is taking a break from working to coach Kaia's soccer team.
Director of Athletics Earl Koberlein recently hired Lindenstein's replacement, Daniel Hicker. He will start working at Menlo at the beginning of October. "He's bringing in a lot of new technology and ideas," Assistant Director of Sports Performance and Wellness Samantha Leeper said.
Leeper has been filling in Hicker's role in the athletic department. Leeper's job includes working with most sports teams on campus and running the daily operations in the weight room.
Girls volleyball and lacrosse coach Ryan Sage has stepped up to assist Leeper in the weight room until Hicker starts working. Sage was hired in the winter season last year and was not expecting to be in the weight room. His wife gave birth to twins in the spring, so when his role expanded, it was a bit of a curveball. "I've really enjoyed being able to be a more integral part of the program," Sage said.
Sage looks forward to Hicker joining the program, but he expects a turbulent transition since he comes in the middle of the fall season. "Once it is all ironed out it will be good for the program in the long term," Sage said.
Hicker is coming from Ohio, where he has served as the Director of
Performance for the Columbus Crew professional soccer club since 2021.
According to the Columbus Crew website, Hicker previously worked for the San Jose Earthquakes as the club's head of athletic performance and first team
strength coach from 2017-2020. His other experience includes working for U.S. Soccer, the San Jose Sharks and Santa Clara University.
Head Athletic Trainer Aubrey Fennell will go on maternity leave a few weeks after Hicker's arrival. Fennell runs Menlo's Sports Medicine Department and provides prevention treatment and rehabilitation for athletic injuries. Assistant Athletics Trainer Stephanie Swan will step up to run the department in Fennell's absence.
Sports October 6, 2022 15
my shoes."
Athletes participate in Menlo Performance's off season program.
Staff
Photo: Alea Marks
I've really enjoyed being able to be a more integral part of the program.
" "
Lacrosse Coach Ryan Sage
COMMITTED CORNERCOMMITTED CORNER
Emma Donley, Beach Volleyball, UC Berkeley
by SOPHIE STONE
In October 2021, senior Emma Donley announced her commitment to play beach volleyball at the University of California, Berkeley. Donley began playing club beach volleyball in 6th grade, and currently plays for Golden Gate Volleyball in Berkeley, Calif.
When she was in eighth grade, Donley received an email from a university interested in seeing her play that sparked her interest in playing the sport at a collegiate level. "After I got that email after a tournament, I thought 'Oh my God, I can actually commit when I get older, there's a chance,'" Donley
"After I got that email after a tour nament I thought 'Oh my God, I can actually commit when I get older, there's a chance.
said. After breaking her elbow playing indoor volleyball, Donley began focusing specifically on beach volleyball.
Donley started reaching out to collegiate coaches her freshman year, even though the official recruitment process didn't start until the summer before her junior year. During that time, she visited a couple of schools in California and connected virtually with coaches from out-of-state colleges to learn about their schools and beach volleyball programs.
Donley then did some research on those schools' academics and student life to see if they fit her interests. "[When I toured,] I had to consider 'Would I be a good fit for the school? What do I want to study?'" Donley said.
Donley knew she wanted to play at a Division I school, but didn't want to travel far from home, knowing she would miss California. After touring UC Berkeley and receiving an offer, Donley felt the school would be the perfect fit. "I just really liked the campus atmosphere. I like the community they have there and the team as well. [When playing collegiate sports,] you have to be really close to the team, and I really like the girls there," Donley said.
Ross Muchnick, Football, Washington University in St. Louis
by ANDREA LI
This summer, senior Ross Muchnick committed to play Division III football at Washington University in St. Louis, Missouri.
Muchnick first began playing football in eighth grade for a Pop Warner team, a youth football league. From there, he
decided he wanted to play high school football at Menlo.
At Menlo, Muchnick realized there was an opportunity for him to play football at a collegiate level in the future.
"I started kicking for Menlo and I really liked it. And I thought that I could use it
to help me play in college [...] I realized that I actually had a shot," Muchnick said.
When considering colleges for football, Muchnick tried to find a balance between football and his other interests. "I had to first recognize and realize what schools I would be able to play football
at. [...] I narrowed it down to the high academic schools with business programs because I'm very interested in business," Muchnick said.
Once Muchnick had narrowed down his list of colleges, he decided on WashU. "After getting [offers from] multiple schools and weighing my options of where I could play football at, I just fell in love with WashU. [WashU] was kind of
Senior Ross Muchnick
a perfect match with both my passion for business and football," Muchnick said.
Muchnick made the preseason All Bay Area News Group Kickers list in August.
Senior Charlie King and football teammate admires Muchnick's skills on the field. "[Muchnick] has the ability to kick a touchback whenever he wants, but also rarely misses field goals. [...] He has some of the best inside and pooch kicks I've ever seen," King said.
Photo courtesy of Emma Donley
Sports16 October 6, 2022
Photo courtesy of Eli Housenbold
I had to first recognize and realize what schools
I would be able to play football at.
" "
"
Senior Emma Donley
We Discuss: Are Private College Counselors the Right Choice?
by ANNIE STENT & ARI KRANE
The college application process is a long, stressful journey, and every student has a different experience. There is no handbook on how to get through it or a "best way" to apply to college. That being said, many students turn to college counselors as influential guides through their journey. College counselors advise students on a variety of different topics including which schools are a good fit, how to write their essays and other details of their applications. At the Menlo Upper School, all students are already assigned a college counselor from the school's college counseling office. However, some students will additionally hire a private counselor outside of Menlo.
Private college counseling services are not going to be completely equitable: not everyone can afford a private college counselor. According to US News and World Report, counselors can cost about $200 per hour and packages can cost between $850 and $10,000 on average. However, services such as IvyCoach which are specifically geared at Ivy League schools and other prestigious institutions cost $100,000.
Private college counseling can be very expensive and despite vast wealth at Menlo, employing a private counselor is not accessible to everyone. Having a private college counselor gives students an advantage in the college process and contributes to inequity at Menlo.
Despite the egregious outliers you discussed, private counseling packages can be much more reasonable. Many companies offer free consultations and cheaper writing workshops. Whether it's $850 or $100,000, private counselors are difficult for the vast majority of high school students and their families to af ford. Private counseling is, unfortunately, inherently inequitable. The bubble that encompasses the vast majority of Menlo affords many students the luxury of these resources.
For those fortunate enough to be able to afford a private college counselor, the input can be extremely beneficial.
While Menlo has many strong counselors, the availability of an independent advisor, added opinions and involved coaching often eases the application process.
How do differing counselor opinions impact students?
ANNIE:
One of the main aspects of the col lege application process are the essays and writing supplements, which, at least for most Menlo students, are edited and advised by college counselors before ap plications are submitted. Each individual has a unique writing style and, thus, feed back on the essay will differ depending on who is reading over your essay. The same goes for college counselors. If a student were to show an essay to two different counselors, they would likely give a range of opinions. Two qualified adults provid ing contrasting input on a major aspect of a student's application can be confusing and complicated.
The situation also has a difficult power dynamic: telling an adult whose job is to advise you that you are going to follow an alternate perspective is uncom fortable. In such a pressure cooker of a process, it is vital to limit stress as much as possible. In my experimence, hav ing two perspectives has provided many insights, but also has created stress around whose opinion to follow. Any tension that can be avoided benefits applicants.
At the end of the day, the application process is driven by the student. Differing opinions regarding college applications from parents or various counselors serve as tools rather than creating difficult deci sions.
While informed counselors gener ally provide high-level recommendations, it is up to the applicant themself to select the advice they feel best represents them. Having worked both with Menlo's college team and a private counselor, I leaned on each for different parts of my application. Menlo helped me build a list of college interests, label my various roles in the Menlo community and understand manag ing my deadlines. My private counselor helped guide me through understanding the role of athletics in my application and organizing my "story" with outside extracurriculars.
Simply, differing opinions can provide more resources and freedom to students. After all, the applicant should drive their own process and treat diverse opinions as assets.
Do school counselors have time to support students?
Menlo has four college counsel ors, and with about 140 students in each grade, counselors can truly spend quality one-on-one time with their students. Com pare these numbers to a larger school, such as Menlo-Atherton High School, which has a two person counseling team for about 600 students in each grade. Caseloads of that size create less individu alized counseling and provide more of a necessity for private counseling. Being a private school in Silicon Valley, Menlo has a lot of resources and is able to use those resources to focus on thorough and productive college counseling, allowing for families to avoid paying for expen sive, outside services.
Counselor turnover is a concern when it comes to high school college counseling, but, while private counseling offers slightly more stability, nothing is guaranteed
Private counselors have the po tential to move on as well. I have never been concerned about not having access to mine anymore, but I did not have that concern about high school counseling until it happened either. Having change prevalent in my high school counseling forced me to be adaptable and increased my communication skills. Change hap pens, especially in the college application process.
I completely agree that we are fortunate to have the opportunity to have great counselors. Considering that public high school students have an average of 38 minutes of college counseling per year, according to a U.S. Department of Educa tion Guidance survey, and see a 476-toone average ratio of students to counselor, our situation is remarkable.
Despite our fortunate situation, Menlo has recently experienced relatively high college counselor turnover, losing seven counselors in the past seven years, according to an email sent by Menlo's Director of College Counseling Lisa Giarrantano. It's tough for students to adjust to yet another set of opinions and worry about their recommendation from a person they may have only met months before submitting applications.
I've personally worked with three different counselors during the most stren uous time of our college journeys. Every counselor I've worked with in the depart ment has been committed to helping me, but the multiple personnel changes were tough to adapt to.
Considering turnover and avail ability, an independent advisor generally guarantees more stability from their hiring point to the final click to submit all of the applications.
Opinions October 6, 2022 17
Editorial Note: Both writers of this article have had private counselors and feel to have benefitted from that opportunity. How does equitability play into private counseling? ANNIE: ARI: Staffillustration:MicheleHratko
ARI: ANNIE: ARI:
Menlo's New Art Requirement Won't Have the Desired Effect
by SOPHIE STONE
During the 2021-2022 school year, Upper School Director John Schafer announced that Menlo's threesemester creative arts requirement would be changed to four semesters, effective for the Class of 2025 onwards. This change comes in the midst of a push by the administration to create a better balance in student participation between STEM and creative arts classes. "We had noticed that as demand for computer science and Whitaker-based classes grew – and we created more sections of them to meet the demand – that we saw a drop off in the course requests for creative arts classes," Schafer said. "We've got a great arts faculty, and a great arts building and we want to steer more kids into the arts."
Changing the creative arts requirement is a step forward and will help address an important issue, but the effect that change will have will not be great enough to accomplish the administration's goals. Taking an art class for four out of eight semesters isn't a huge commitment, nor is it a big change from the previous requirement. Some students will view it as a refreshing respite from
Menlo's rigorous and STEM-heavy core classes, and it might encourage more exploration in the arts. However, for the students who have little to no interest in the arts, this change will only seem like another hurdle to jump over.
Many Menlo students are determined to take as many honors and Advanced Placement classes as possible, and art classes, with few exceptions, don't provide any kind of GPA boost. This, along with the removal of several humanities APs in favor of semester-long history and English electives, means that even the students who have only a little interest in STEM are adding AP STEM classes to intensify their transcripts. This means that there will be less meaningful participation in the creative arts classes, and the requirement change will accomplish nothing. Menlo has succeeded in introducing less rigorous classes but has failed to change the mindsets of its students. This can only be done by normalizing a minimal amount of AP classes, something that can only happen over time.
By taking another semester of creative arts, students
will have more of an opportunity to branch out and take classes like theater and chorus that will not be as available in college. This requirement change is a step in the right direction, but there is still a long way to go before a balance between voluntary participation in STEM and creative arts classes is achieved.
Thank You Serena Williams: A Woman Who Redefined Being a Female Athlete
by ANNIE STENT
and so much to her fans. Her career spanned 27 years, and to say that her time in tennis was impressive is an
Grand Slam Titles. Williams is not just an incredible athlete but also a leader off the court. Her success inspires women all over the country to believe in their capabilities and to not feel limited by their race or gender.
Williams can teach us, women in general and female athletes specifically, so much. Her success demonstrated that female athletes are just as competitive and driven as male athletes. She performed with an aggressive style of play that was not previously expected from female athletes. Strength and power are not typically valued in women, and there continues to be an expectation that
female athletes should be dainty and treated delicately. Furthermore, the physical appearance of female athletes tends to be valued over what they can do. The expectation that we remain thin while practicing, lifting and conditioning long hours is harmful and, frankly, ridiculous. Williams is open about the fact that she did not always see "strength" as a value in the bodies of female athletes. Her openness about being impacted by those expectations both in tennis, but also in athletics in general, helps female athletes be proud of their strength and physique.
Along with her positive impact on body image, Williams also teaches us so much about work ethic and drive. She did not settle after wins; she continued to push herself, which is part of what allowed her to be so good for so long. She is an impressive example of someone with love and respect for her sport. A 27-year career is not possible without that devotion. Yes, she made money, and according to Forbes, more than any other female athlete, but her intensity and the way she kept coming back even after accomplishing so much is what made that love clear. Female athletes everywhere strive for that love; after a loss or win or to continue finding it after a long period of time.
Serena revolutionized tennis, but she also did so much more. She taught us how to appreciate our physicalities, love fiercely and work meaningfully. For that, I thank her.
Opinions18 October 6, 2022
Babe Ruth, Lionel Messi and Michael Jordan are all considered to be some of the greatest athletes of all
Sophomores Sophie Ho and Karen Xin complete drawings in their art class. Staff photo: Penelope Stinson
Williams is not just an incredible athlete but also a leader off the court.
" " Staff illustration: Sophie Fang
Virtual Learning Makes Taking Sick Days Feel Impossible
by PENELOPE STINSON
time. When I first tested positive for COVID-19, I was immediately placed on the remote learning list and instructed to
as well?
In a pressure cooker such as Menlo, there's no question that students will be eager to keep up with their schoolwork while they are sick. This feeling existed before COVID-19, and it will exist long after COVID-19 effects have subsided; students don't like to be sick and students don't like to fall behind. However, in a COVID-19 world, it's become seemingly
When students first test they should not be placed immediately on the remote
learning should be offered, sickness, and teachers should prioritize offering flexible
It's true that, at some point, students will need to catch up on work, meet with their teachers to discuss what they missed and make up some that shouldn't be done until COVID-19 has changed the way we perceive sickness opportunity to reclaim sick
The Coat of Arms We want to hear your voice! We appreciate hearing your opinions, whether it's through guest writing, letters to the edi tor or comments on our website and Instagram @menlocoa. Please reach out to the editor at alex.levitt@menloschool.org or to The Coat of Arms 50 Valparaiso Avenue Atherton, California 94027 (650) 330-2001 Visit us online at menlocoa.org Mission Statement The Coat of Arms is an inde pendent, student-led open forum for student expression. All deci sions relating to the management and content of The Coat of Arms are fundamentally the responsi bility of students. Coat of Arms reporters strive to acknowledge their internal biases and tell meaningful stories with empathy, fairness and journalistic integrity. The Coat of Arms staff is com mitted to building on the legacy of past staffs while setting the foundation for future members. Editor-in-Chief............................................................Alex Levitt Print Editor..............................................................Laura Artandi Online Editor................................................................Ari Krane News Editor...........................................................Abigail Becker Opinions Editor.................................................Penelope Stinson Arts & Lifestyle Editor..............................................Kaylie Wu Spread Editor...........................................................Tatum Herrin Sports Editor..............................................................Lexi Friesel Head Copy Editor.....................................................Erica Fenyo Copy Editors.................... Annie Stent, Lizzie Freehill, Andrea Li Social Media Director...............................................Sophie Stone Creative Director......................................................Sophie Fang Design Lead.........................................................Michele Hratko Community Relations Director..................................Alea Marks Marketing Director.................................................Dorinda Xiao Video Editor...............................................................Jacob Reich Assistant Sports Editor.........................Claude Kingsley-William Assistant News Editor...........................................Geoffrey Franc Assistant Spread Editor................................................Zoe Adler Assistant Arts & Lifestyle Editor............................Sonia Dholakia Staff Writers....................................................Sutton Inouye, Jake Lieberman, Ellie McCusker Adviser.................................................................Tripp Robbins October 6, 2022 19Opinions Everyone has been there: it starts with a small cough, maybe your throat tightens up, or you feel a fever coming negative, or not contagious. While virtual learning allows these healthy-feeling students to continue their schooling
Opinions
Debutante Balls Provide Girls an Opportunity For Service and Community
by ELLIE MCCUSKER
White pearls, white gloves and white gowns; debu tante balls are traditional events where grace, elegance and coming of age synthesize. Originating from the noble roots of Queen Charlotte of Great Britain in 1780, where young ladies were escorted and presented to the royal court, debutante balls have become a high-society event for young women and their families. Designed
completely retro, it shows the globalization of people," Whitaker describes, revealing the increase in diversity of countries and cultures that now come together to partici pate in the debutante ball.
Furthermore, being a debutante is no longer forced
upon women. Young women can deny and accept the invitation, with no consequence for a decision not to attend. Debutantes have also been given significantly more freedom: today, debutantes are not always required to take a date, and same-sex dates are allowed. Accord ing to YahooNews Australia, Cindy Hou, director of the Melbourne Debutante Ball, states, "We live in the 21st
20 October 6, 2022