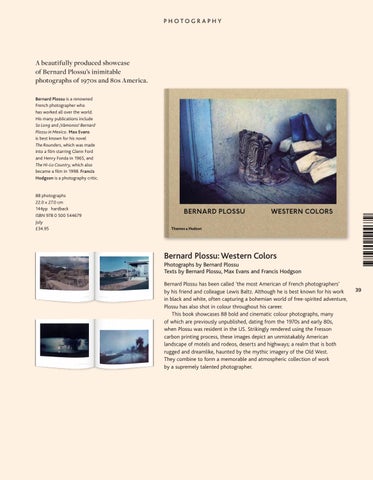 PHOTOGRAPHY
A beautifully produced showcase of Bernard Plossu's inimitable photographs of 1970s and 80s America. Bernard Plossu is a renowned French photographer who has worked all over the world. His many publications include So Long and ¡Vámonos! Bernard Plossu in Mexico. Max Evans is best known for his novel The Rounders, which was made into a film starring Glenn Ford and Henry Fonda in 1965, and The Hi-Lo Country, which also became a film in 1998. Francis Hodgson is a photography critic.
88 photographs 22.0 x 27.0 cm 144pp hardback ISBN 978 0 500 544679 July £34.95
Bernard Plossu: Western Colors Photographs by Bernard Plossu Texts by Bernard Plossu, Max Evans and Francis Hodgson Bernard Plossu has been called 'the most American of French photographers' by his friend and colleague Lewis Baltz. Although he is best known for his work in black and white, often capturing a bohemian world of free-spirited adventure, Plossu has also shot in colour throughout his career. This book showcases 88 bold and cinematic colour photographs, many of which are previously unpublished, dating from the 1970s and early 80s, when Plossu was resident in the US. Strikingly rendered using the Fresson carbon printing process, these images depict an unmistakably American landscape of motels and rodeos, deserts and highways; a realm that is both rugged and dreamlike, haunted by the mythic imagery of the Old West. They combine to form a memorable and atmospheric collection of work by a supremely talented photographer.
39
Published on Jun 10, 2016  
Thames & Hudson Autumn 2016 Catalogue