March/April 2023
Volume 3 Issue 10
The Black Pearl Nail Academy
MEMPHIS ®
God Is A Much Better Driver Than I Am
What if? That thought comes to mind when I consider what my life could be. What if I didn't live in a particular city, or attend a certain high school? What if I had chosen a different career path or traveled a different road in life? What if I had never applied action to my dream? What if God didn't choose me to be paired with His vision?
I will be the first to admit that my life has been anything but simple. For the most part, it has been full of winding roads and quite noisy at times. The love and encouragement of my mother, grandmother, and others surely help to soften me; I surely miss my grandma. Yet, the storms and shortcomings I've endured have done their job and toughened me a little.
I have learned that my peace lies in the space between the good times and bad times, and for me to enjoy and experience peace, I must work for it. I have also learned that life will get tough, and when we get knocked down, God doesn't expect us to stay there. There are lessons in all experiences, and getting up and trying to get it right again is part of God's lesson.
There was a point in my life when I didn't know if I was coming or going. With every move I made, it was the wrong one. There were also times when I would move or react to whatever thought came into my mind. Again, that turned out to be the wrong thing to do. My point is everything I had done, I did it without seeking guidance from God beforehand. I was driving my own ship, yet I was going nowhere and fast.
While I made a mess of my life, God was there, like He always has been. He allowed me to make those bad decisions and provided grace to ensure I would survive them. During the times when I continued to make the same mistakes over and over again, God continued to cover me because there was a lesson that I needed to learn.
Despite everything I have experienced thus far, God has been right there with me. When it appears things aren't moving fast enough, I know that God is governing the speed at which things are happening. When we get in God's way, we block Him from blessing us. Get out of God's way and allow God to drive. You might just learn that life is a lot easier from the passenger seat.
4 Tamara Smith Terry L Watson Publisher Terry L. Watson Writer Monica Montgomery Writer Dorjea' McClammey Writer Dr. Marrissa Dick Writer Snuggs Photography Photographer Terri Jackson Photographer Todd Youngblood Photographer www.huamimagazine.com General Inquiries huami.memphis@gmail.com Email Want To Advertise? Call 336-340-7844 Mykel Media Company LLC Greensboro, NC 2023 All Rights Reserved Scan The QR Code Above To Visit Our Website terry.editor@yahoo.com 336-340-7844 A Letter From The Editor Terry
L. Watson
The Black Pearl Nail Academy Duriya Caldwell MARCH/APRIL 2023 MEMPHIS CONTENTS 6 On The Cover Also Featured Huami Magazine Cutest Baby Zoelle Scott Gospel Sensation Christian Anderson 23 34 Care Well of Charlotte Joy Steele 26 A First For NC National Gaurd Gen. James Gorham 10 16 22 James
He is regarded as one of Kansas City's Jazz legends. Learn more about him. Kansas City, MO 24 Nicole
Her journey to become physically fit has turned into a full fledged business. CreoleFit Athletics.
LA
visionary
Smart Technology
He has built his business by faith.
NC
Lonnie McFadden
Harrison
Amite,
Christopher Jackson Meet the
of
Corporation.
Greensboro,
The Black Pearl Nail Academy
By Terry L. Watson
Provided by Duriya Smith
Duriya Caldwell is the face and founder of The Black Pearl Nail Academy. Based in Memphis, TN, her company offers full-service manicures and education to individuals seeking to learn the discipline of manicuring. Duriya says it doesn't matter if you are male or female, young or old; if you are looking to gain your manicuring license, The Black Pearl Nail Academy is the place to come.
Duriya is a current resident of Memphis. She is a proud HBCU graduate and has a masters in Business Administration and Entrepreneurship. She is also a member of Delta Sigma Theta Sorority, Inc.
Duriya's love for nails began when she was only twelve years of age. "I started doing nails using the fake nails that were included in my easter basket. They were the stick on nails, but that is how I started. I played with my mom and sister's polish, and it grew from there," she says.
Early on, Duriya says she wanted to open her own school, but the process to own one wasn't available, mainly due to the way the Tennessee Board of Cosmetology classified manicuring. The board required anyone who wanted to own a nail school would have to do it combined with a barber school or cosmetology school. Those two professions didn't interest Duriya. Fortunately, in 2013, the laws and landscape changed, and the disciplines were able to be split. In 2018, she opened the doors to her school.
Memphis - March/April 2023 HuamiMagazine.com 7
Photos
"I started doing nails using the fake nails that were included in my easter basket. They were the stick on nails, but that is how I started. I played with my mom and sister's polish, and it grew from there."
Duriya says she loves being a nail technician as well as being a business owner. "I love creating ten works of art on the hands of my clients," she says. "None of the work I do will ever be the same. Each experience is unique. I don't repeat things. I don't allow walk-ins, I only offer appointments. They have to set a date, and they have to decide what they want. Am I getting acrylic, gel, polish, or designs? When my clients sit in my chair, they hold my hand. We are on a date. When they get ready to leave, they have to book their next appointment. It's like setting a second date. It's a nailationship." At the school of business, Duriya says she loves the ah-hah moments her students have once they grasp and understand the manicuring profession. "It's a beautiful moment and everybody has it," she says.
Duriya credits her mother with inspiring her to become the savvy businesswoman she is today. Her mother, who is also a licensed cosmetologist, didn't want Duriya to become a cosmetologist. She pushed her to attend college and follow a different path than she did. Well, things have a way of working out. Today, her mother is the current dean of The Black Pearl Nail Academy. Duriya also credits her godmother with having a positive impact on her life. "My godmother is a cosmetologist and owned a hair salon. While I was getting ready for my sixth-grade graduation, I went to the salon with my mom for the first time. When I walked in, my world brightened up. So many things were happening there, but the nail tech was in the front. I was intrigued and my godmother knew it. She asked the nail tech to teach me how to do nails. I would eventually work at the salon while learning, and soon I would get my license, and the rest is history," Duriya says.
Duriya shares that she is an introvert at heart, something one might find quite interesting, as her chosen profession requires her to interact with people regularly. "Interacting with people is challenging. Learning to be more social has been a challenge for me. I need to get out and share more information about what I do, but talking with others about it is challenging. Not being able to talk to others in some ways holds my business hostage, and I don't want to do that," she says.
Looking ahead, Duriya has plans to expand her current operation. Their current location is only 1200 square feet; however, she has set her eyes on a 12,000 square feet facility. There will be a school on-site, as well as office space for students. There will be salon suites for nail techs, laundry and towel cleaning services for the students, and open floor space for events. "Our new facility will be for the community. I am designing this new location for those who have given so much to me," she says.
To learn more about The Black Pearl Nail Academy, please visit their website.
8
Duriya Caldwell The Black Pearl Nail Academy 938 East Brooks Road Memphis, TN 38116 www.theblackpearlnailacademy.com h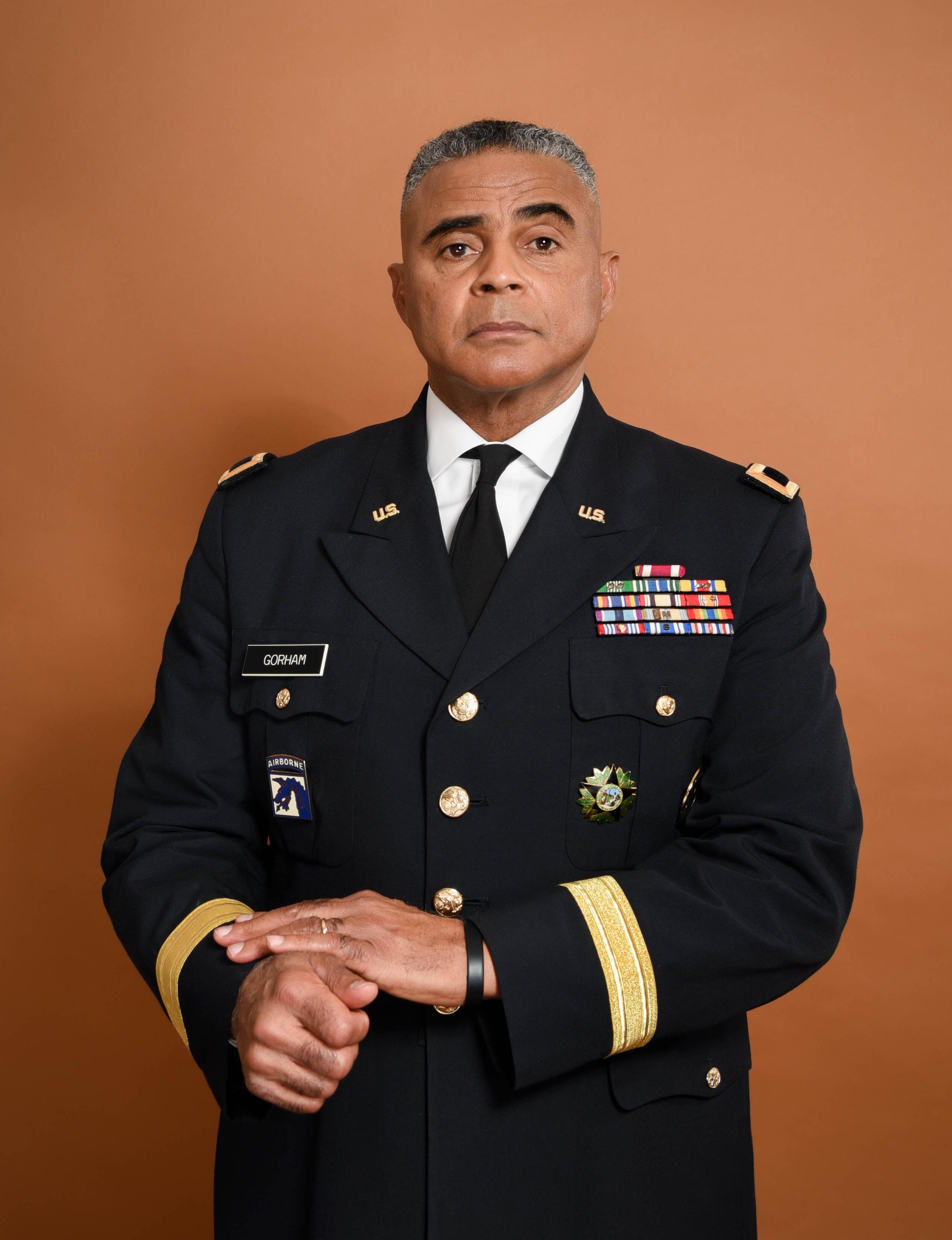 Sharecropper's Wisdom
Growing Leaders The Old Fashioned Way
By Dr. Marrissa Dick Photos Provided by Snuggs Photography
The Good Book tells us in Proverbs 29:18, "Where there is no vision, the people perish: but he that keepeth the law, happy is he." It also says in Zachariah 4:9, "Do not despise these small beginnings, for the LORD rejoices to see the work begin." These two verses have motivated James R. Gorham throughout his life. He never forgot the vision and continues to appreciate the humble beginnings of his life.
Meet Brigadier General James Roy Gorham, known by most as J. R. and affectionately known as that curly-haired little boy from the tobacco fields of Falkland, NC. Read on and learn how the sharecropper's son rose from a boy priming tobacco in his parent's tobacco field to becoming the first African American Brigadier General in the North Carolina National Guard. J. R. shares, "I was born to Roy and Madie Gorham in 1956. I have five older sisters, so I had six mammas. Since I was the first boy born after five girls, I was the apple of their eyes. I was fortunate to have been born into a loving family, even though we lived in a four-bedroom shack. That shack had holes in the floors and in the walls, we had plastic around our windows in the winter, and we even had an outhouse. That shack had no running water, so I had to draw water from a well. On the weekends, I had to draw 80 buckets of water just so mama could wash the clothes because we had one of those washing machines with rollers so it took a lot of water to do the laundry. I didn't have any expectations to do anything in particular with my life back then because we were actually po' with one "o" and we could not afford the "r" that's just how poor we were. Looking back on it, we were only poor in resources, but in the things that really mattered in life we had an abundance."
Growing up in an authoritative household can seem daunting to many teenagers, and J. R. was no different. So when the day came to forgo working in his father's tobacco field and living under his strict rules, J. R. took it by joining the United States Army.
"I didn't join the army out of any patriotic duty. I joined to get out of that tobacco field and to get from under my daddy's thumb. I just wanted to live my life. My best friend until this very day, Rick Streeter, and I got our money together and sent in our initial deposit so we could attend NC A&T State University in 1974, but that didn't happen. Instead of us going to school, we played hooky. After we messed around all day, we went down to the recruiting office to listen to that spill so we could get a note to return to school. When I tell you that the recruiting officer painted a wonderful picture of us seeing the world, we bought it; hook, line and sinker, and we signed up that day!"
Memphis - March/April 2023 HuamiMagazine.com 11
General
Through our lived experience, most people understand everything that shines ain't gold. J. R. discovered making his own decisions came at a price. He shares, "When I joined the US Army in 1974, I was 18 years old and bringing home $312 a month. That was the first time in my life I had some real soft money in my hand. I didn't know what to do with all that freedom. When I was transferred to Fort Hood, TX, I got with the wrong crowd and started going out every night, getting drunk, and I was making a whole lot of bad decisions. My defining moment came on Christmas Eve in 1976 when I was at my platoon sergeant's house for a little party. At that time, The Walton's came on tv, and they reminded me of my family. A feeling came over me that I cannot describe to you, and all of a sudden, I didn't want the beer that was being offered to me. I left his place and while I was driving to the hole in-the-wall apartment I lived in, I looked over onto the shoulder of the road and saw that a loaf of bread has fallen out of somebody's car. Now I want you to understand I didn't have any bread in my house. All I had was seventy-five cents in my pocket and a fourth tank of gas in my car because I had drunk up my money. So, I pull my car off on the shoulder of the road, get out and walk towards the bread. When I stooped down to pick it up, a story that I learned in St. John's Baptist Church in Falkner, NC, came to my remembrance, and I said to myself oh my God, I'm that prodigal son! My mamma and daddy didn't raise me this way."
When J. R. got back to his place, he called home for the first time in about eight months. As soon as my mother hears his voice she says, 'Bruh come home for Christmas.' J. R. told her that he couldn't because he didn't have any money. He says, "She tells me that she and daddy would wire me the money but I had enough sense to know that I cannot take that proposition from my mamma. I was 20 years old and I manned up and told my mother that I had gotten myself into this situation and it was up to me to get myself out. I knew if I had taken that money from my parents, I would be expecting them to always rescue me. Instead, I asked her to pray for me. She understood, but then she put my five sisters on the phone, and after hearing them cry, I really felt like a loser with a capital L."
By the time J. R. got off the phone, he says the thought of checking out permanently crossed his mind. However, something inside of him, what is referred to in the Army as "Intestinal fortitude," kicked in. "Spiritually, I know it was the Holy Spirit and He would not allow me to check out," he says. "After I hung up, I went across the railroad tracks into a cow pasture, and I walked, and I walked. I decided in that cow pasture that this would be as low as I was ever going to go."
Armed with a desire in his heart and a gleam in his eye J. R. went down to the local community college and enrolled in an English and Math course. Afterward, he summoned the courage to confront his Sergeant to atone for his misdeeds. When his Sergeant saw him standing outside of his office door, he looked at J. R. as though he was the last person he ever wanted to see. "He asked me what I wanted and I told him I had a proposition for him. I told him I would pull extra duty every weekend for the rest of my time there if he would take my name off the weekly extra duty roster because I had enrolled in school and needed to attend class. After he finished looking at me he said, 'You got a deal, Gorham.' He shook my hand and took my name off the extra duty roster. To this day he doesn't know that random acts of kindness helped me turn my whole life around. The Good Book says, one plants another waters, but God gives the increase. So, all he was doing was watering what had already been planted in my life by my parents," J. R. says.
12
Roy Gorham
Pictured is the home where James Gorham was raised in.
Madie Gorham
Soon life got better for J.R. He started thinking about one of the many sayings that sharecropper daddy of his would say while they were riding in his old raggedy and smoky Silverado pickup truck. "He used to say, 'Boy if you're willing to do what other people will not do, you can go where other people cannot go.'"
J.R. didn't realize how true that statement was until one day, in the Spring of his senior year the company commander called about 200 soldiers into formation. He asked volunteers to pick up nails in the motor pool because they were causing flat tires. He said he would give anybody who brought him two handfuls of nails a three-day pass. Now 200 soldiers heard that charge, but J.R. was the only person who brought him two handfuls of nails. Instead of him giving J. R. a three-day pass, he gave me a four-day pass. "On my way out, I rolled down my car window and hollered out who's laughing now! Ya'll gotta stay here and work while I get the rest of the week off. Like my daddy said, 'If you're willing to do what other people will not do you can go where other people cannot go."
After J. R. left the Army he went home and attended East Carolina University. While there, he joined the North Carolina National Guard and attended Officer Candidate School in Fort Bragg, N.C. where he graduated first in his class. He was grateful that his father, who served in the Army during WWII, had the opportunity to see him graduate. While J. R. was taking pictures with generals, he remembers his father imparting yet another golden nugget in his life. "My daddy said, 'Boy you are becoming your company. Whoever you're hanging around with is who you will become.' So as a Second Lieutenant, I started hanging around with the First Lieutenants until I became one. Then I started hanging around captains, majors, lieutenant colonels, and colonels. Eventually, I started hanging around generals and now I'm the first African American Brigadier General in the NC National Guard," he says.
J. R. shares that his father was a firm and wise man. "I am grateful for the chastisement, ethics, and morals he instilled in me, past the bone into my marrow. I wouldn't be where I am today if I wasn't that sharecropper's son. He groomed me to be a leader the oldfashioned way."
J. R.'s progress through the military was not always as sweet as this last memory. He was often looked over for promotions he was qualified to receive, which caused him to consider retiring early. That would only be a thought and he recalls his father saying, "Boy when you get to the end of your rope, you tie a knot, and you hang on but you do not quit."
According to J. R., "If I had let my emotions get the better of me I would have quit and retired as a major. Instead, I went to Iraq as a lieutenant colonel and was promoted to full colonel while I was in a war zone. If I had quit because of my emotions, I would have never received that promotion from on high. Not only did that happen but shortly after I returned I received a call from a two-star general inviting me to lunch. When I got there, he informed me that he had submitted my package to the Department of the Army to promote me to Brigadier General. I broke down right there at the table. I was crying from the inner part of my soul for two reasons. First, I'm going to be the first African American Brigadier General in the NC National Guard. I'm crying because in this country when you're a man or woman of color, you become the litmus test for everyone coming behind you. I'm feeling the gravity of that responsibility in my tears." J. R. says he was also crying because that moment made up for all the times I had been overlooked." For the record readers, generals don't cry. Their eyes sweat, so we can be assured that J. R.'s eyes were really sweating that day.
Today, Brigadier General Gorham is a community leader, motivational speaker, and the author of Sharecroppers Wisdom: Growing Todays Leaders the Old-Fashioned Way. He is married to Barbara; they have three children, Tony, Jamie, and Joshua.
Sharecropper's Wisdom
Memphis - March/April 2023 HuamiMagazine.com 15
Growing Leaders the Old Fashioned Way Can be purchased online at www.barnesandnobles.com
It's Music, Love and Service
By Terry L. Watson Photos Provided by
McFadden
James Lonnie McFadden III of Kansas City, MO, is a second-generation Jazz guy, as his father, James "Smiling Jimmy" McFadden, was a great tap dancer during Kansas City jazz's heyday (the 1920s and 1930s).
James attended Lincoln High School and Penn Valley Community College; however, his musical, dance and entertainment education mainly came from his father. James says, "My father taught my brother and me a lot about the history of Kansas City jazz. We learned about people like Charlie Parker, Lester Young, and Count Basie at an early age. We also learned about Bill "Bojangles" Robinson, "Pops and Louie", John Bubbles and Baby Laurence."
James is partnering with The Ambassador Hotel in Kansas City, MO. In 2020, Paul Coury, the owner of the Ambassador Hotel, invited James to partner with him to open a jazz club on the lower level of his hotel. James says things went so well that Paul decided to name this jazz club after him, Lonnie's Reno Club. "As the world was recovering from the Covid-19 pandemic, I was invited to perform in the parking lot of The Ambassador Hotel. Paul was there the second night I performed and invited me to his table. He soon took me inside the hotel and showed me the vacant space on the lower level. He explained that he wanted to open a (1920s, 1930s / Prohibitions style) nightclub. He asked me a few questions about that era and if I could visualize something like it. Paul liked my ideas and enthusiasm as we both imagined the same kind of venue. And the rest, as they say, is history.
At Lonnie's Reno Club, History Class & Kansas City Jazz is on full display. Lonnie's Reno Club pays homage to the famous Reno Club of the 1920s & 1930s. James shares that the original Reno Club was located blocks away from their present location, at the corner of 12th and Cherry in Kansas City. Lonnie's Reno Club is a one-of-a-kind venue. James says, "The experience starts when you drive up to The Ambassador Hotel. You are greeted by a gentleman to valet park your car, and then escorted into The Ambassador Hotel. You are guided to the circled staircase leading to Lonnie's Reno Club. When you reach the lower level, you are greeted by a host or hostess and given a complimentary glass of champagne, all while being escorted to your table. On each table is a very elegantly stylized menu with fixed dinner prices. The show comes with a three-course meal and dessert."
17
James Lonnie
James shares how he appreciates the opportunities life has presented him. "I live in a constant state of gratitude. From my teenage years, I have always wanted to play music for a living, and for over 50 years, I am thankful to say that is what I do," he says. "I've been inspired by classy entertainers, musicians, and actors like Sammy Davis Jr., Louis Armstrong, Nat "King" Cole, Marvin Gaye, and of course, my father. Amazingly, I have the opportunity to walk the same path they did. I am truly grateful."
While things have been great for James, he shares his career has come with some unbelievable moments. "I think the most profound incident in recent years was when he accepted an offer to perform in the parking lot during the pandemic. That experience ultimately led to me performing in a nightclub named after me," he says. As a professional entertainer/musician, there have been a few challenges and obstacles that James has encountered also. "There is no cookie-cutter way to make a living as a performing artist. I believe my love for what I do and a relentless desire to do it and a certain level have enabled me to continue my lifestyle."
19
If all entertainers and musicians could share a journey like the one James has, who knows where the world of music would be? What began with a conversation has grown into him having his name adorn one of Kansas City's brightest jazz houses. While some might call it luck, James calls it purpose, as he believes that he is walking in what he purposed to do.
As James looks forward, his goals are very simple. "I desire to be the best that I can be and give the best performance that I can give on any given night. I realized that my ability to play trumpet, tap dance, or sing alone would not make each night's performance great. It takes more to make each night great," he says. "Still, my ultimate goal is to create or facilitate a fun evening of live entertainment for everybody every night."
To learn more about James Lonnie McFadden III, please visit his website.
20
I desire to be the best that I can be and give the best performance that I can give on any given night. I realize that my ability to play trumpet, tap dance, or sing alone would not make each night's performance great."
Lonnie's Reno Club 1111 Grand Blvd. Kansas City, MO 64106 www.lonniesrenoclub.com h
James Lonnie McFadden
By Dorjea' McClammey
Christopher Jackson Smart Technology Corp.
At that point, Christopher was so tired of starting over. His wife, Jackie, encouraged him to start his own company, and on the 5th day in October 2020, Smart Technology Corporation was born. "Smart Technology Corporation is a place where we do everything smart. We use the best materials and employ the best people to produce products. Our motto is, "there is no wasted time with Smart Technology". If you can imagine it, we can make it," he says.
Christopher has customers from all over, including the medical field, consumer goods, the communication industry, and small and local businesses. "When you come to Smart Technology with an idea, no one is turned away. We can design, develop, mass produce, and market our client's products. Any plastic or metal products, tools, pieces, big or small, we can make," he says.
He is described as someone who can make just about, well, anything! Christopher Jackson is the owner of Smart Technology Corporation. Based in Greensboro, NC, Smart Technology Corporation is leading the way in the areas of Precision Machining, Injection Molding, and Assembly Fabrication. They also offer various services, including engineering design assistance, reverse engineering, prototyping, and flexible, shortrun production. Additionally, Smart Technology Corporation offers 3D scanning capability and can capture up to two million measurement points for a scanned subject, resulting in a precision of about 1.5 microns, or 0.00006 of an inch.
Christopher currently resides in the Triad area of North Carolina but was born and raised in Warsaw, North Carolina. He grew up playing baseball and was very good, so good that he had plans to play professionally. Unfortunately, tragedy struck when Christopher became a victim of a crime that put him in a coma. When he came out of it, he was on disability for three years, and his doctors said he would be 80% medically dependent for the rest of his life. Christopher did not let this discourage him, and he continued to work hard and ultimately regained his mobility.
Now outfitted with a new lease on life, Christoper attended Guilford Tech Community College and received a degree in machinery technology. He also became a machinist and tool maker. After about eight years, he enrolled in North Carolina A&T State University and obtained his Applied Engineering degree. Christopher would later work in various industries, including medical, consumer goods, and automotive, gaining plenty of experience from processing tools, plastics, and materials. Soon he would begin to design his own tools.
Christopher worked as a senior engineer for a company that extruded rubber and helped them launch the X5, X6, and X7 BMW series. He was also working on the new X8 BMW when the Covid 19 pandemic hit, resulting in his being laid off.
At Smart Technology Corporation, a culture of inclusiveness and teamwork has been established. By having those components in place, the feeling of ownership has been easily embraced by everyone. "I don't say you work for me. You work with me," says Christopher. "Having that type of work relationship creates a culture of loyalty within the business."
What separates him from the competition? While getting certified, Christopher wanted to become a Minority Business Enterprise. That certification gives his company access to connect with other billion-dollar companies looking to work with minorities. By 2025, corporations will aim to do trillions of dollars in business with certified MBEs in America. While there are over 30,000 companies in the same industry, African Americans run only six, and Smart Technology is one of them.
Getting his footing in such an underrepresented industry has come with some challenges. One was obtaining capital funding and resources to buy the equipment needed to operate. With continued research, he was able to create a joint partnership with a company that already had the facility and resources.
Despite the challenges, Christoper highlights his family as the #1 inspiration that keeps him going. He aims to create a legacy for his kids that will give them financial independence. In addition, he wants to leave something as a reminder of who their father was and what he did.
Moving forward, Christopher plans to provide an opportunity to NC A&T and GTTC students affiliated with the applied engineering department. These opportunities include internships, co-ops, and job opportunities. The goal of Smart Technology Corporation is to become a billion-dollar company with a true community impact. "Yet, the biggest dream is to be one of the first black billionaire companies in the United States of America or the world."
Christopher's advice for future entrepreneurs looking to follow in his footsteps is sensible. "If you want to start your own company, find a mentor, find someone willing to give you information, and how to do and what to do. I wasted time and money trying to do and learn everything simultaneously," he says.
HuamiMagazine.com Memphis - March/April 2023 22
Photos Provided by Christopher Jackson
Cutest Baby
submit photographs to be placed in the Huami Magazine Cutest Baby feature, please send a detailed email to huami.cutestbaby@gmail.com
MAGAZINE Zoelle Alaiya Scott
The
daughter of Charita Jackson To
By Terry L. Watson
Nicole Hornsby-Harrison's mission to help others is rooted in her belief that healing comes through a sound emotional and spiritual foundation. Her passion for the mental and physical well-being of those around her has helped to grow her fitness empire, Creole Fitness.
Nicole owns CreoleFit Athletics and is the Executive Director of the A.G.A.P.E Project, a nonprofit that focuses on her community's physical and mental health. A native of Amite, LA, she is also a dynamic certified personal trainer, actress, author, Army Veteran, and woman of faith who is passionate about helping people journey through life as their best selves.
As a personal trainer, Nicole offers various services and products, including meal prep consultation, meditation, weight training, boxing, and many CrossFit workouts. She also makes custom blend supplements, waistbeads, and detox drinks. She says her products are designed to assist or motivate those on their fitness, mental health, and wellness journey. Additionally, Nicole is a mental health coach, author, and motivational speaker.
24
- Photos Provided by Nicole Hairston
So how did Nicole get started with fitness? She shares, "I have always been an athlete, but I was burnt out on anything fitness when I exited the military. I took a few years off and began boxing and supporting my youngest daughter while she trained as a UFC fighter. I never thought about training anyone, but somehow I started working with one client, and things took off from there."
Several academic achievements complement Nicole's passion. She has a master's degree in criminal justice and is currently pursuing her Doctorate in Public Administration. She is married to Rashund Harrison, and they have five kids: Desiree, Kierra, DeAndre, Xavier, and Tiara. They also have five grandchildren: Aijah, Reign, Raelin, Keem, and Kayden.
Helping people reach their goals and conquer their fears are two things Nicole says she loves to do. Embarking on her own personal fitness journey gave her a sense of empowerment, which she tries to duplicate with her clients. "Working on myself helped me to transform her from an insecure young woman to a passionate wife, mother, businesswoman, and community leader," she says.
Working on herself is something Nicole learned to do after facing a huge challenge in her life. On the eleventh day of February 2022, Nicole suffered a heart attack. "My life changed in a matter of minutes. I had zero blockages and learned that my heart attack was stress-induced. Since then, I've been spreading awareness of mental health while caring for myself. Months following my heart attack, I held my first annual Mental Health and Wellness 5k Run/Walk. I've visited five countries and written three books, one memoir, and one journal. I am living now, and I do not take anything for granted anymore," Nicole says.
Other challenges Nicole has faced include getting her culture to change their relationship with food and fitness. "The younger generation is catching on, but I have a lot of work to do for my generation," she says.
As a businesswoman and entrepreneur, Nicole remains willing to share information and tips with other aspiring business owners. She says, "Whatever you do, don't give up. Run towards your fears and invest in yourself. If your friends and family can shop at Walmart and Target and not question their prices, then they shouldn't question yours. Do not allow family and friends to depreciate or devalue your product and service. Real friends won't ask for discounts or freebies, they will support you without hesitation and won't mind paying."
Be on the lookout for a future brick-and-mortar location for CreoleFit Athletics. Nicole's vision does not only include a gym but also "ninja warrior" type obstacles for those who love to push themselves to the limit. She also plans to spread mental health and wellness by promoting her memoir, Pruned, and her journal and recipe book, Pruned By June. Her annual "It's Ok Mental Health & Wellness 5k Run/Walk is scheduled for July 2023. Please visit their website to learn more about Nicole Hornsby-Harrison and CreoleFit Athletics.
Memphis - March/April 2023 HuamiMagazine.com 25
Nicole Harrison CreoleFit Athletics www.creolefit.com 504-616-2655 h
Care Well of Charlotte
Caring With Integrity
By Monica Montgomery Photos Provided by Todd Youngblood
Joy Caldwell Steele is the CEO of CareWell of Charlotte. Care Well provides a positive educational, social emotional, physical, and spiritually supportive environment. They also serve and empower individuals and their families by giving them the necessary tools to succeed in society.
Care Well is not just a business, but it's a large part of Joy's legacy that she takes great pride in. Her parents, Joseph Caldwell Sr. and the late Barbara Caldwell founded Care Well of Charlotte in 1999. She says, "In the early '90s, my parents and brother discussed opening a family business. With much prayer and consistency Care Well of Charlotte came to fruition. It started with group homes, and we later expanded into an agency that supported, engaged, and advocated for individuals with Developmental and Intellectual Disabilities."
Service is the Caldwell family creed, and Joy has always been drawn to care for others in one way or another. She is a native of Charlotte, graduated from West Charlotte High School, and received a bachelor's degree in Sociology and Elementary Education from Fayetteville State University. The spirit of entrepreneurship would soon touch Joy's life. "After graduating with my bachelor's degree, I started my own business called Joyful Noise Day Care. But after only two years, the business closed because I hadn't yet learned the business side of being an entrepreneur," Joy explained.
Joy eventually turned to public school teaching after her business closed and taught at Rama Road Elementary in the Charlotte-Mecklenburg School system. After a year at Rama, Joy gave birth to her first and only child and decided to focus on being a full-time mom to her newborn daughter. In 1998, Joy rejoined the workforce as a special education teacher with Lifespan, Inc. Her love of education and passion for empowering persons with disabilities helped her excel while at Lifespan. "My love for people and my desire to see them succeed despite their obstacles came from God. He continued to bless me and my career, and I was soon appointed District Director at Lifespan," she says. These growth periods were happening around the same time her father was preparing to start Care Well.
Memphis - March/April 2023 HuamiMagazine.com 27
Because of their father's career, Joy and her brother Joseph Caldwell Jr. grew up around individuals with disabilities. Joy says it should be no surprise that this was the career path she found herself on.
Before joining the family business, Joy worked with Family Preservation Services. However, the legacy that her father was creating for the family began to be so important to her that it brought clarity to her purpose. "After years of working for other amazing organizations, I felt it was time to bring my talents to Care Well to assist my family in the effort to build something that will outlast us all," Joy shared.
Care Well began by starting group homes and later expanded into an agancy that supports, engages, and advocates for individuals with intellectual devlopmental disabilties. Today, Care Well is positioned to give care and support to all families in ways others may be unable to. CWC is fulfilling its mission by giving these same individuals an opportunity to live a life of dignity and inclusion. Joy states, "We strive to prepare every individual for independent living."
Her love for her family and her faith in God are the foundations of what her life has been built on. She shares, "If there is one thing I want everyone to know about me, it would be that I am a God-fearing woman. Everything I do, I do to honor God. Care Well is a faith-based, family-owned, operated, and black-owned company, and our foundation of honoring God through our service is what sets us apart from other agencies," she says.
HuamiMagazine.com Memphis - March/April 2023 28
Joy says, "Care Well supports the belief that persons with Intellectual Developmental Disabilities require a robust, multifaceted approach to the habilitative services offered. Residential Supports is one of the many services we provide that assists with acquiring, retaining, or improving skills related to daily living activities. We also offer Community Networking. This tool provides individualized day activities that support our client's definition of a meaningful day in an integrated community setting. We build independence with our community living and support program. We also support and encourage our clients to explore and make informed choices about competitive integrated employment," Joy shared.
The effects of services that CWC offers to individuals are life altering, however executing the services has come with its share of challenges. Joy says, "This journey has come with some serious ups and downs. I had some missteps and setbacks in my personal walk and career path, but I keep getting back up. I can do that because I'm not here just for me. We work to equip our Individuals with the best quality of life possible. As I also strive to continue to integrally build the legacy my parents, children, and grandchildren can be proud of."
Joy believes the best way to maintain the integrity of what she and her family have started is to focus inwardly. "I am building a legacy where we serve in ways that bring joy in whatever we put our hands in to do. To do that, I must examine my impact on those around me. Anything hindering or distorting what we are trying to do has to go. I studied myself, I learned my better self, and now I am bringing my best self to everything and everyone I am connected to. My focus is service and not success. I truly believe in serving others. That means at times, I have to put the needs of others before my own. In today's culture, that's not a popular ideology," she says. "I am honoring my parents by holding fast to what they taught my brother and me. Having a legacy is great, but how did I make someone's life better? That's what they did! The legacy isn't the business. The reputation of the business generates trust in the individuals and their families and inspires my children and grandchildren to positively impact the earth."
Memphis - March/April 2023 HuamiMagazine.com 31
"I am building a legacy where we serve in ways that bring joy in whatever we put our hands in to do. To do that, I must examine my impact on those around me. Anything hindering or distorting what we are trying to do has to go."
With the trials and struggles Joy has had to overcome to get where she is, there is nothing she would change about her journey. "I believe the place I am in life right now is exactly where I am supposed to be. Every obstacle, hard place, and bump in the road I faced was a part of God's Plan for my life. It has shaped and molded me into the woman I am today and becoming."
Coming from an unsuccessful attempt at entrepreneurship to leading a successful family-owned black business wasn't easy. Joy says it took strength, courage, and faith. She also implies that her journey isn't for the faint of heart and shares some wisdom she has learned through this process. "Trust Gods plan for your life and know that all things work together for the good of those who love Him. Don't be afraid to step out on faith. Trust what God gives you. Remember that success is built from many failures in life. Don't be afraid of them. Those failures are only catapulting you to the next level of success. Keep showing up, and don't settle for the first level of success. There is so much more to achieve and attain. By embracing who you are and why you are here, you won't miss what God has in store for you. Capture the moment and appreciate the inherent responsibility associated with the path God navigates you through. Once you come out on the other side, share your accomplishments with those you are connected to. Let them see the significance of your journey and how it connects to their lives. The Bible says in 1 Corinthians 2:9 Eyes have not seen, nor ear heard, neither have entered into the heart of man, The things which God hath prepared for them that love him."
32
Joy Steele Care Well of Charlotte www.carewellofcharlotte.net 704-537-0052 h
Christian ANDERSON
By Terry L.
If someone in authority grants you something, or if something is granted to you, you are allowed to have it. That is the meaning of Granted Access, the brand developed by Christian Anderson, an award-winning gospel artist and savvy businesswoman.
Born and raised in Tennessee but now residing in North Carolina, Christian is widely known for singing and ministering the good news of Jesus Christ to help build the Kingdom of God. She is a psalmist, student-teacher, preacher, and lover of life and God's people. Her genuine love for God has opened the door for her soulful, heart-touching sounds to bless the ears who desire intimate and compassionate worship. "My genre of music is Gospel. I sing to others to let them know how much God loves them and that they can do anything through Christ, who gives them the ability and strength to do so," she says.
Christian says one of her most significant accomplishments was becoming a mom to her beautiful daughter Yael Maylean. Christian lost her mother, the late Minister Maylean Anderson when she was just seven years of age. She would be raised by her father, William Anderson, along with her siblings. Life would happen for Christian, and she adjusted as it did.
She attended the Job Corps right after high school and studied Phlebotomy. She shares that she always loved the healthcare field and knew she wanted to help people somehow, so becoming a nationally certified Phlebotomist was a way for her to do so. She worked in that field for nearly six years before becoming a licensed cosmetologist.
Christian says her initial inspiration comes directly from God. "Knowing He has begun a good work in me, and knowing I have the responsibility to live out what He has given me," she says. Christian has faced several trials and storms in her life, and has learned some lessons as well. In addition to her mother passing, suffering abuse at the hands of her stepmother, and even marrying someone God told her not to marry, Christian testimony amplifies the story of an overcomer. "My testimony inspires me to tell it to as many people who will hear it, and show them what healing, victory, grit, and freedom looks like. It's no goodness of my own that I'm still here. It's only by His grace, mercy, and blood constantly covering my life."
35
Watson - Photos Provided by Terri Jackson
When not singing, Christian serves in full-time ministry with several business ventures on the side. One business is called "Melody Bedtimes Stories". It's a show and innovative idea she says God gave her, and one that she shares with her daughter Yael. "I sing books to children all over the World. We encourage, enlighten, affirm, and uplift them. We also let them know they are important, valuable, and needed!"
She references scripture in the bible, 2 Corinthians 2:14 which says, "But thanks be to God, who always leads us as captives in Christ's triumphal procession and uses us to spread the aroma of the knowledge of him everywhere." With her brand, Access Granted, Christian says it consists of her "VICTORY OV" Merchandise. "God has granted us access to having victory over every area of our lives. If you are dealing with depression, the merch will read, "VICTORY OV Depression". Granted Access isn't limited to clothing, it is a mindset we must carry everyday," she says.
In addition to being inspired by her daughter, Christian finds inspiration in her pastors, Kendall and Quierra McDowell, the founding leaders of Revival Now Global Church. "My pastor's stand on the Word of God with no compromise, and they Truly Love God's people. They love me, correct me and help guide and encourage me. I'm truly grateful for them and the impact they continue to have on my daughter's life and my life. I can honorably say my life has never been the same since becoming a part of Revival Now Global Church.," she says.
She also credits her manager Jessica Williams for having a huge impact on her life and career. "She goes above and beyond the call of duty and is truly a God-sent. I often tell the story of how she became my manager and how we attended the same church, but I didn't know her personally, nor did I know her name at the time. The Lord put it in my heart to have a concert named "I'm An Overcomer". I didn't have a team, nor did I know of anyone who could help me, so I prayed and asked God to send help. Her face literally popped into my head. I approached her, thinking she's going to think I'm crazy. I informed her of what God told me about her, and she agreed to help me assemble everything. I later asked her to be my manager. She said no at first but soon obliged, and we have been rocking since 2017," Christian shared.
Being able to make an impact on the lives of God's people and be the voice some so desperately need is what makes it happen for Christian. "I enjoy the opportunity to be the intercessor, the encourager, the mentor, the motivator, the testament of triumph over any and everything the enemy tries to keep God's people bound in," she says.
As Christian looks to the future, she has several projects underway. One is publishing her first book titled, "I WANT WHAT YOU WANT". Her book will provide a description of her life, spanning from a little girl to adulthood. It will share the many challenges she faced, the disobedience she walked in, and the consequences of it. It will show the Triumphant Victory she now walks in as well.
More than anything, Christian says she looks forward to growing more in God. She also wants to grow more in knowledge and understanding and obtain the necessary wisdom to walk life's journey. "I want to be a better, anointed mother, love my family and friends, and love God's people the way He requires for me. I am also looking forward to meeting my purpose partner so we can purposely build the Kingdom of God together and make hell nervous!" h
HuamiMagazine.com Memphis - March/April 2023 36
Memphis - March/April 2023 HuamiMagazine.com 37
www.christiananderson.com
My testimony inspires me to tell it to as many people who will hear it to, and show them what healing, victory, grit, and freedom looks like. It's no goodness of my own that I'm still here. It's only by His grace, mercy, and blood constantly covering my life."
ExclusiveSpecsForMen and Women www.ladyespecs.com