2019 COMMUNITY IMPACT REPORT
A MESSAGE FROM OWNERSHIP OUR MISSION
Dear Friends,
Giving back has always been important in our family. It is with great pride that, in this book, we share with you some of the community events and initiatives in which we participated this year. We are proud of the overall impact our organization has made and the following are a few of the highlights:
• Building on our work in the social justice space by awarding $450,000 in grants to 10 local non-profits through the Titans Foundation and our We Stand For campaign.
• Recruiting nearly 100 potential new bigs and mentors through a new gameday initiative with Big Brothers Big Sisters of Middle Tennessee.
• Partnering with the NFL on the launch of their season-long Huddle for 100 campaign at the 2019 NFL Draft in Nashville; more than 500 volunteers gathered at Nissan Stadium to pack and distribute 8,000 food bags to children in need.
The mission of the Tennessee Titans is to be considered among the elite franchises of the National Football League that excels on and off the field. We achieve this goal through our interaction with each other, our fans and the Nashville and Tennessee communities. The Tennessee Titans are committed to serving our communities and fans by enhancing and improving the communities in which we live and work, delivering the best possible service and product to Titans fans at games and all functions, and maintaining the highest possible moral and ethical standards, recognizing that we are not only stewards of the Tennessee Titans but also of the National Football League.
On behalf of the Adams family and the entire Tennessee Titans organization, we would like to say thank you. Thank you to our fans, our partners and our community for the support we receive that allows us to enrich the quality of life within the areas we live and work.
TITAN UP!
Amy Adams Strunk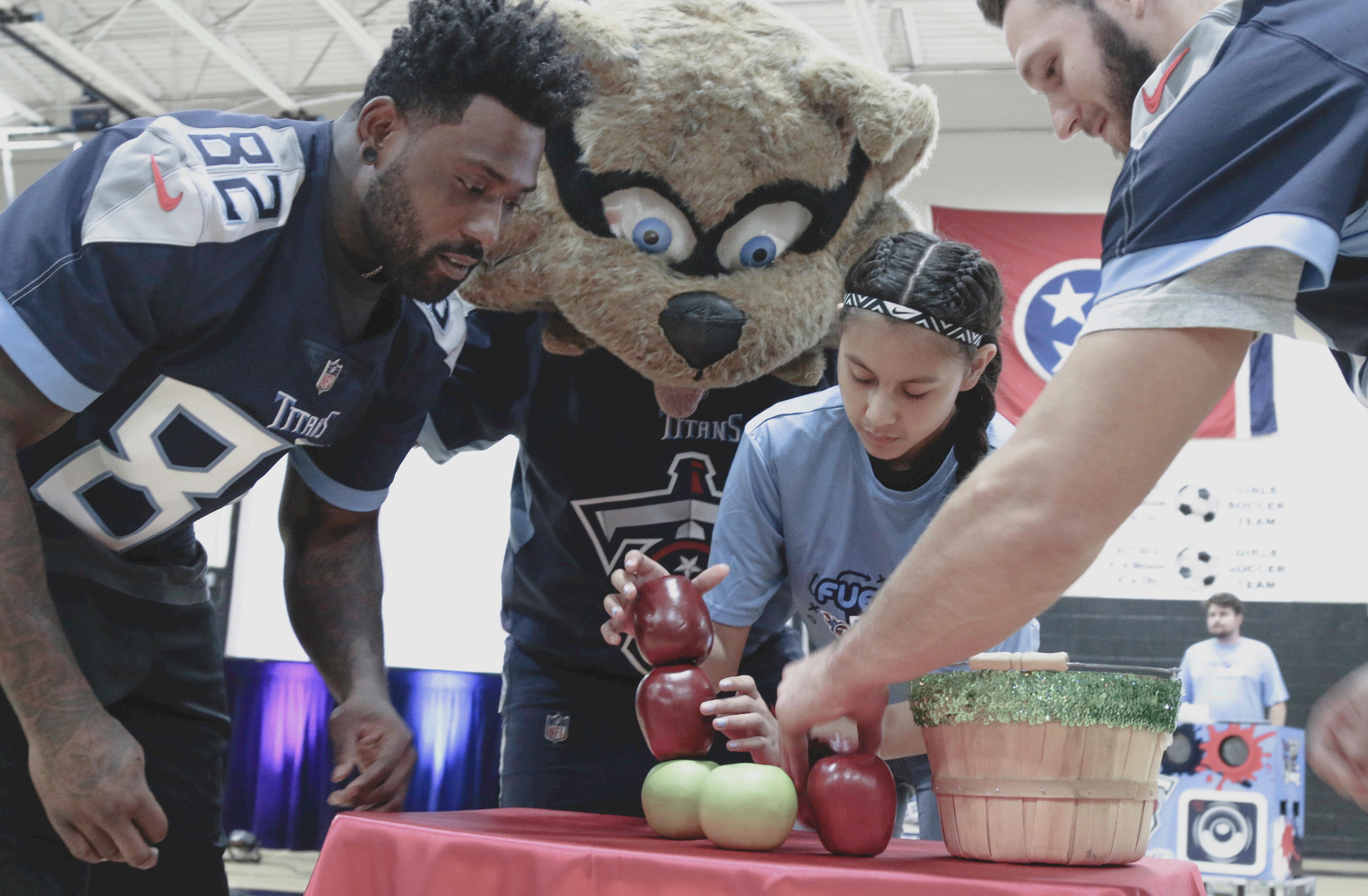 BY THE NUMBERS $1,064,155 donated in 2019 to support area non-profits and community groups $307,300 charity event sponsorships $756,855 donations and grants 700+ 11,219 students impacted through PLAY 60 and Fuel Up to PLAY 60 programming 10,350+ tickets donated 50+ community events and programs in 2019 items donated to aid area non-profits and community groups in their fundraising efforts
THE
OF PARTICIPATION A FORCE FOR GOOD
BEN JONES, 2019 TENNESSEE TITANS WALTER PAYTON MAN OF THE YEAR
When Titans center Ben Jones entered the NFL with the Texans back in 2012, he worked to establish himself on the football field with veteran players around him.
Jones was also paying attention to his teammates off the field. He saw how involved many of them were in the Houston community, from Matt Schaub to Owen Daniels to Chris Myers.
"I wanted to be able to raise a family like them," Jones said, "and I wanted to do something to help others with the platform that we have – those guys really opened my eyes."
After spending his first four NFL seasons with the Texans, Jones arrived in Tennessee in 2016, and he got to work. And in 2017, Jones and his wife, Alex, established The Jones Mission to provide at-risk youth with opportunities they might otherwise not have through grants, additional resources and educational opportunities.
In the past three years, Jones has made a big difference – and his work hasn't gone unnoticed.
BELOW IS A BROAD OVERVIEW OF HIS COMMUNITY WORK.
• Raised more than $400,000 in three years for local non-profits and community groups
• Financed a new location for afterschool programs for Preston Taylor Ministries
• Renovated the Nashville Ronald McDonald House kitchen and dining room
• Expanded and remodeled the computer lab at Youth Encouragement Services
• Sponsors an annual trip to a Titans game for seniors on the Bibb County High School football team – his alma mater – including a tailgate, game tickets and facility tour
• Hosts an annual "Friday Night Lights" free youth football camp in Centreville each June
• Participates in hospital visits, school visits, fundraising events, 5Ks and more through the Titans
POWER
175+ current player appearances 100% current player participation 60+ alumni appearances 68 cheer & mascot community appearances
Jones is the 2019 Tennessee Titans recipient of the Walter Payton Man of the Year Award.
TENNESSEAN OF THE YEAR
In June, Titans controlling owner Amy Adams Strunk was honored as the 2019 Tennessean of the Year by the Tennessee Sports Hall of Fame. The award "honors an individual or organization that has made significant contributions to our society through sports or other methods, demonstrating strong character and high profile leadership."
The HoF credited Strunk's efforts to bring the NFL Draft to Nashville and her generosity in the community. This year's NFL draft easily shattered records for attendance as over 600,000 fans filled the streets of Nashville for the three-day event. The NFL and the Nashville Convention
& Visitors Corp announced this year's NFL Draft generated a record $133 million in direct spending -- a 79 percent increase over the $74 million at the 2018 Dallas event.
The economic impact was another recordbreaker at $224 million, also a 79 percent increase over the $125 million in 2018.
BEST SPORTS CITY
In December, Sports Business Journal selected Nashville as the Best Sports City in the country for 2019. The announcement came off the heels of the NFL Draft, widely considered the most successful draft in NFL history.
Western Kentucky/Louisville football game and TSU football games.
NASCAR Awards Week was held in Nashville earlier this month for the first time.
Nissan Stadium, home of the Titans, also hosted the CONCACAF Gold Cup Semi-final game in July, the She Believes Cup in March, two USL games for Nashville SC, the
And in addition to the NFL's Titans and NHL's Predators, local colleges like Vanderbilt, Belmont, David Lipscomb and Tennessee State have also helped put the city on the map and make it a destination city for sports.
TITANS TUESDAY
TITAN UP FOR OUR COMMUNITY.
Tuesday is traditionally the only day off for NFL players during the season, but Titans players use the day to make special appearances throughout the community including visits to local schools and Saint Thomas hospitals
7 hospital visits with 43 current Titans players
The Titans school program – implemented at both the middle and elementary school level – is focused on promoting the NFL's PLAY 60 and Fuel Up to PLAY 60 campaign.
8 middle school visits with 24 current Titans players
5,060 students participated
13 elementary school visits
6,159 students participated
11,219 – total number of students reached through the 2019 PLAY 60 and Fuel Up to PLAY 60 school visits
TITANS CARAVAN
IT'S ALL ABOUT SAYING THANK YOU.
The Tennessee Titans conduct an annual Caravan that travels throughout Tennessee, southern Kentucky and northern Alabama. We've visited nearly 400 cities in four states and made nearly 500 total stops. We've traveled more than 52,000 total miles and taken thousands of pictures. Our players have signed tens of thousands of autographs and shaken more than 250,000 hands at no cost to our fans. Why? Because we absolutely love our fans! That's the story behind the long history of the Tennessee Titans Caravan. It's about bringing the Tennessee Titans out to the fans of the mid-south to say thank you for your support.
2019 CARAVAN STATS:
•
•
•
•
•
AL TN KY 9 days 3,000+ fans 13 players 16 cities 3 states 1,407 miles traveled
YOUTH & HIGH SCHOOL FOOTBALL
WE'RE ALL IN.
HIGH SCHOOL COACHES CLINIC.
The Titans hosted roughly 280 coaches from 52 high schools at the fourth annual Tennessee Titans High School Coaches Clinic in June. Coaches watched the team's OTA practice while also spending time at the facility with coaches, including Head Coach Mike Vrabel and general manager Jon Robinson. Vanderbilt head coach Derek Mason and Tennessee head coach Jeremy Pruitt.
coaches
7-ON-7 PASSING TOURNAMENT & LINEMAN CHALLENGE.
high schools across 3 states
The Titans welcomed more than 400 high school football players and their coaches to the practice facility for the fifth annual 7-on-7 Passing Tournament & Linemen Challenge in July. The annual tournament provides a platform for student-athletes to sharpen their athletic skills and prepare for the upcoming season in a non-contact environment. The event also includes a character development session and Linemen Challenge.
schools
players
"I think that if they can take away something that can help their players, if they can help their players develop and help a kid maybe go from third team to seeing some reps, or going from second team and realizing that they can be better. It's really just trying to develop the players."
"These kinds of things don't happen everywhere. This, the (Titans) Recruiting Fair, the Coaches Clinic the team does, it's awesome and so important to high school athletics."
– Coach Vrabel
– Trey Perry, Mt. Juliet Head Coach
283
52
103 coaches 421
15 high
In April, the Titans partnered with the Tennessee Football Coaches Association to host the fifth annual Tennessee Titans High School Football Recruiting Fair at Nissan Stadium.
"We'll go on the road next week and come back to these high schools, now we've already got some background information on them. It really speeds up the recruiting process and gives these kids the best opportunity to be seen and be marketed by the high school coaches." – Jason Simpson, UT Martin Head Coach
""It's an avenue to open up a door for a kid that maybe never gets recognized or a coach never really finds out about. This is obviously just a starting point for recruiting, but again, think the colleges have used it very wisely in coming in here and spending three hours diligently making those connections with the high schools, finding these kids."
– Thomas McDaniel, TnFCA President and Christian Brothers High School Head Coach
coaches
YOUTH FOOTBALL JAMBOREE.
The Titans welcomed 33 youth football teams to Nissan Stadium for the team's fifth annual Youth Football Jamboree in July. As a fundraising event, a portion of stadium concessions and gate receipts were donated back to the youth leagues whose teams participated.
high schools
players
coaches
colleges and universities states represented
FOOTBALL DAY
HIGH SCHOOL FOOTBALL RECRUITING FAIR.
180+ 700+ youth
youth
442
61 17 120
33 teams TITANS YOUTH
CAMPS 33 coaches 4 camps 4 cities 253 campers 12 former Titans players
HONORING THE BEST
Hosted at Nissan Stadium each November, the Tennessee Titans Mr. Football Awards are presented to the top high school players – and one kicker – in nine classifications of the Tennessee Secondary School Athletic Association (TSSAA). More than 400 people –including the 30 finalists, their families, coaches, school administrators and members of the media from all parts of the state – attended the 2019 dinner and awards presentation.
BLUECROSS BOWL MEDIA DAY.
Each year, media across the state gather at Nissan Stadium for a preview of the TSSAA State Championship game with all 18 qualifying high schools, as well as their coaches and players.
HIGH SCHOOL GAME OF THE WEEK, COACH OF THE WEEK AND COACH OF THE YEAR.
Now in its fifth year, the High School Game of the Week initiative brings schools and communities together by inviting fans to participate in the selection of the High School Game of the Week. Each week of the high school football season, four of the most competitive games across the state are nominated for Game of the Week. The matchup with the most votes is dubbed Game of the Week, with the winning head coach named the Coach of the Week. Each Coach of the Week receives a $1,000 grant to benefit his football program. The Coach of the Year, selected from a pool of nine finalists, receives a $2,000 grant.
More than
to date through the Coach of the Week program
More than
CAST in the five years of the Game of the Week program
3.88 MILLION VOTES
$230,000 DONATED
We Stand For supports causes and charities that are important to our players, coaches and front office. Our hope is to foster positive dialogue around the community work of our players and executives and raise awareness for the associated causes. In addition, the Club will match the charitable contributions of our players up to $250,000.
As part of the campaign, participants share testimonials in written pieces and in videos, providing a unique perspective on their lives, dating back to their childhood experiences, and share how they want to make a difference in the community.
To learn more about the campaign, visit TENNESSEETITANS.COM/WESTANDFOR.
COMMUNITY TAILGATES
As an extension of the We Stand For campaign, participating players hosted non-profits serving the Nashville community at nine of the 10 Titans home games this season. Each player was actively involved with the non-profit group he selected to host. The team provided tickets and a private tailgate, including pregame field passes. Each non-profit and community group invited children and parents from the communities they serve to participate.
GRANT REVEAL LUNCHEON
In July, owner Amy Adams Strunk announced $450,000 in grant funding to 10 local non-profit organizations. The grants ranged from $25,000 to $100,000 and supported organizations in the spaces of education, African American history and culture, social justice, diversionary and re-entry programs, immigrant outreach and domestic violence and sexual assault awareness and prevention.
Prior to the presentation of grants, head coach Mike Vrabel and general manager Jon Robinson hosted a community engagement panel with three current Titans players and community leaders – Wesley Woodyard, Jurrell Casey and Delanie Walker.
$100,000 grant
The
recipients: • National Museum of African American Music • NAACP Freedom Fund The $50,000 grant recipients: • Community Achieves by Metro Nashville Public Schools • Nashville GRAD The $25,000 grant recipients: • Project Return • Davidson County Drug Court Program (DC4) • Thistle Farms • Sexual Assault Center • Nashville International Center for Empowerment • Conexion Americas
T-RAC + BIG BROTHERS BIG SISTERS OF MIDDLE TENNESSEE
This season, Titans mascot T-RAC partnered with Big Brothers Big Sisters of Middle Tennessee on a new gameday initiative to bring awareness to the importance of mentorship and recruit new mentors and bigs. At each Titans home game, a big and little duo were introduced with T-RAC during his pregame intro. The initiative helped recruit nearly 100 potential new bigs to their program.
2019 NFL DRAFT, NFL
HUDDLE FOR 100
in total donations
At the event, volunteers packed 8,000 food bags to be distributed to area students through the Bridge Ministries "Bridge to Kids" backpack program, an ongoing program that feeds 2,000+ children a week.
To help kickoff the 2019 NFL Draft, 21 Draft prospects joined hundreds of volunteers from the NFL, the Titans and the Nashville community in the fight against hunger. More than 500 volunteers participated in Huddle Against Hunger at Nissan Stadium, the first major community event organized as part of Huddle for 100, the NFL's initiative to inspire 1 million people to volunteer 100 minutes of their time in honor of the NFL's 100th season.
Titans owner Amy Adams Strunk also surprised Bridge Ministries and Second Harvest Food Bank of Middle Tennessee with $50,000 donations (each).
500 volunteers
100 &
8,000 food bags $100,000
HUDDLE FOR AFFORDABLE HOUSING
Through a $100,000 donation to Habitat for Humanity for its 2019 Jimmy & Rosalynn Carter Work Project, the Titans helped build 21 new homes for deserving families. The build was the centerpiece event for the Titans' Huddle for Affordable Housing, the second event hosted under the Huddle for 100 initiative. More than 40 cheerleaders, staff and volunteers contributed to the build over the course of the week.
FANTENNIAL WEEKEND
To celebrate our fans and commemorate the NFL's 100th season, the Titans hosted a three-day celebration of football over the weekend of our home opener, including special events, prizes and ceremonies. The celebration culminated on Sunday, when the jersey numbers of Titans legends Eddie George and Steve McNair were officially retired at halftime of the Titans vs. Colts game.
Fantennial Weekend events:
• Friday Night Lights (CPA @ Ensworth) – a celebration of youth and high school football
• Fan Fest – fan celebrations, autographs and a Super Bowl ticket giveaway
• Halftime jersey retirement ceremony
• Donation of brand-new helmets and shoulder pads to East Nashville Magnet High School's football team and tickets to Sunday's game with a private tailgate for players and coaches
OUR SALUTE TO SERVICE
It's a different kind of uniform.
Supporting the military is woven in the fabric of the NFL and the Tennessee Titans. We take pride in supporting military personnel and raising awareness for the sacrifices they make on our behalf.
SPECIAL OLYMPICS
Promoting social inclusion through shared sports experiences
MUSIC CITY BLITZ. This year, the Titans partnered with Special Olympics Tennessee to host the third annual Music City Blitz, a 5v5 flag football tournament at Nissan Stadium with nearly 400 participants. Proceeds raised through the tournament – more than $60,000 – helped fund the 2019 Special Olympics Summer Games, providing the opportunity for more than 1,000 Special Olympics athletes to compete in seven sports.
Olympic athletes impacted
participants
raised
1,875 Special
600
$62,000
THE HOLIDAY SEASON, NOW SHINING A LITTLE BRIGHTER
Each year, the Titans host several community events and programs designed to help the holiday season shine a little brighter for those less fortunate. The past year's initiatives included serving the homeless over Thanksgiving through Bridge Ministry, two toy drives benefitting Toys for Tots and Metro Nashville Police Christmas Charities, and a partnership with the Northwest Family YMCA to provide gifts to families on their angel tree. The team also hosted a Christmas shopping trip for 65 East Nashville High School football players.
In addition to participating in team activities, four Titans players also hosted their own holiday-related charity events.
• More than $27,000 in player contributions for the Northwest Family YMCA's angel tree program and Habitat for Humanity of Greater Nashville
• 100 volunteers to support Bridge Ministry's holiday meal program
• More than 2,250 toys and $4,436 for Toys for Tots and Metro Nashville Police Christmas Charities
HELPING HANDS
Throughout the 2019 season, the Titans hosted
game day charity drives benefitting local non-profit organizations.
LP PENCIL FOUNDATION
supply items (value: $6,000)
SECOND HARVEST FOOD BANK
and cash donations equivalent to 15,024
for food insecure families in Nashville
AMERICAN CANCER SOCIETY
in
cards and donations to
ACS Hope Lodge shuttle vans
14,000 miles of patient transportation)
FILL THE BOOT
for the
Association
COAT DRIVE
to six local
organizations
TOYS FOR TOTS
and $4,436 in
donations
six
9,995 school
Food
meals
$2,000
gas
fuel
(=
$9,533 raised
Muscular Dystrophy
650 coats donated
non-profit
2,133 toys
monetary
TITANS SPELLING BEE LIVING UNITED
In 2015, the Tennessee Titans became the first professional sports organization to sponsor a spelling bee, signing a contract with Scripps National Spelling Bee to host a regional bee for Middle Tennessee students at Nissan Stadium.
On February 16, 2019, the Titans hosted the fourth annual regional spelling bee at Nissan Stadium. The top two spellers earned an all-expenses paid trip to compete in the Scripps National Spelling Bee in Washington, D.C.
A cornerstone community partner of the NFL and the Titans, United Way brings people and organizations together to create a community where individuals, families and neighborhoods thrive.
The Titans and United Way of Metro Nashville teamed up to host the fifth annual Titan Up for Tots Community Baby Shower in June. At team headquarters, players, coaches, staff and cheerleaders assembled 2,000 diaper bags to distribute to at-risk mothers throughout the Nashville community. A total of 8,500 diaper bags have been delivered since the inception of the event in 2015.
This year's Stuff the Bus campaign provided roughly 11,000 Metro Nashville public school students with brand new backpacks to start the school year off right. Prior to distributing the backpacks, 1,200 volunteers gathered at Nissan Stadium to fill the backpacks with brand new school supplies. Teachers also received boxes full of supplies for the school new year.
DONATIONS
APPEARANCES
Through the donation of autographed items for silent and live auctions, the Tennessee Titans are able to support the fundraising efforts of hundreds of local charities and community organizations each year. Non-profit organizations and community groups seeking a donation from the Tennessee Titans should submit their request online at least four weeks prior to the event date. The donation request form can be found online at TenneesseeTitans.com/Community. We make every effort to accommodate as many requests as possible.
The Tennessee Titans are proud to be a philanthropic leader in the community and it's our goal to make a difference in the lives of our fans. As a part of our community outreach efforts, Titans players, cheerleaders and our mascot, TRAC, will make appearances for non-profit organizations, schools and civic functions based on their availability. To request an appearance, please submit an online request form at least eight weeks prior to the event date. The appearance request form can be found online at TenneesseeTitans.com/Community. CONTACT INFORMATION: Cr-dept@titans.nfl.com | 615-565-4000 | TenneesseeTitans.com/Community | @Titans