FALL 2022 OpportunitiesFallINSIDE:Enrichment A TEENLIFE PUBLICATIONMEDIA www.teenlife.com 15 3 YOURCANLEARNINGONLINEWAYSCHANGELIFE LEARNING
Not finding
your own
with you. Choices
We've
Marie Schwartz CEO and Founder, TeenLife Media Online learning is here to stay. The pandemic might have made it a necessity, but even as students and teachers go back into the classroom, online learning continues to be an incredible and enriching option for development, education and growth. Where you live no longer determines the opportunities that are available to you, and with hundreds of online options that supplement or enhance what students are learning this fall in the classroom, online education truly levels the playing field when it comes to accessing exciting new learning experiences. put together this guide to share just a few of these options range from one-on-one classes at pace to multi-week programs where students from all over the world can together. what There's
work on projects
you're looking for? Then consider checking out the more than 500 online programs currently listed on our website.
sure to be something for you! PRESENTING THE FALL 2022 GUIDE TO ONLINE LEARNING GOT QUESTIONS OR SUGGESTIONS? Email me mschwartz@teenlife.comat. CEO Marie Schwartz, mschwartz@teenlife.com PUBLISHER Janice Haller, janice@teenlife.com EDITOR Johnathan Kindall, johnathan@teenlife.com ADVERTISING SALES Christine LeMaire, christine@teenlife.com Brenda Boos, brenda@teenlife.com Published by: TeenLife Media, LLC, PO Box 8722, Boston, MA support@teenlife.com02114www.teenlife.comCopyright©2022byTeenLifeMedia,LLC To Download a PDF of this Guide, go www.teenlife.com/to:fall-online-learning
2 | ONLINE LEARNING FALL 2022
The technological and educational advances made in the last two years have revolutionized the way that students, parents and teachers think about learning online, and while the option is still not optimal for many students, education is arguably more open and accessible than ever before. Now, instead of being an involuntary replacement for in-person classes, online learning is a world of enriching, supplemental education. Online courses can teach students a new language or show them how to code in addition to, not in place of, their regular studies. These online classes
3 WAYS ONLINE LEARNING CAN CHANGE YOUR LIFE or students, parents and educators alike, the months of virtual learning brought about by the COVID-19 pandemic were difficult. Decreased focus, increased cheating, and lack of equal access were just some of the many drawbacks that this new normal brought with it. For students who struggled, the recent return to fully in-person classes was more than welcome. So why are we still talking about online learning in 2022? Because even though students have returned to the classroom, online learning is here to stay.
BY JOHNATHAN D. KINDALL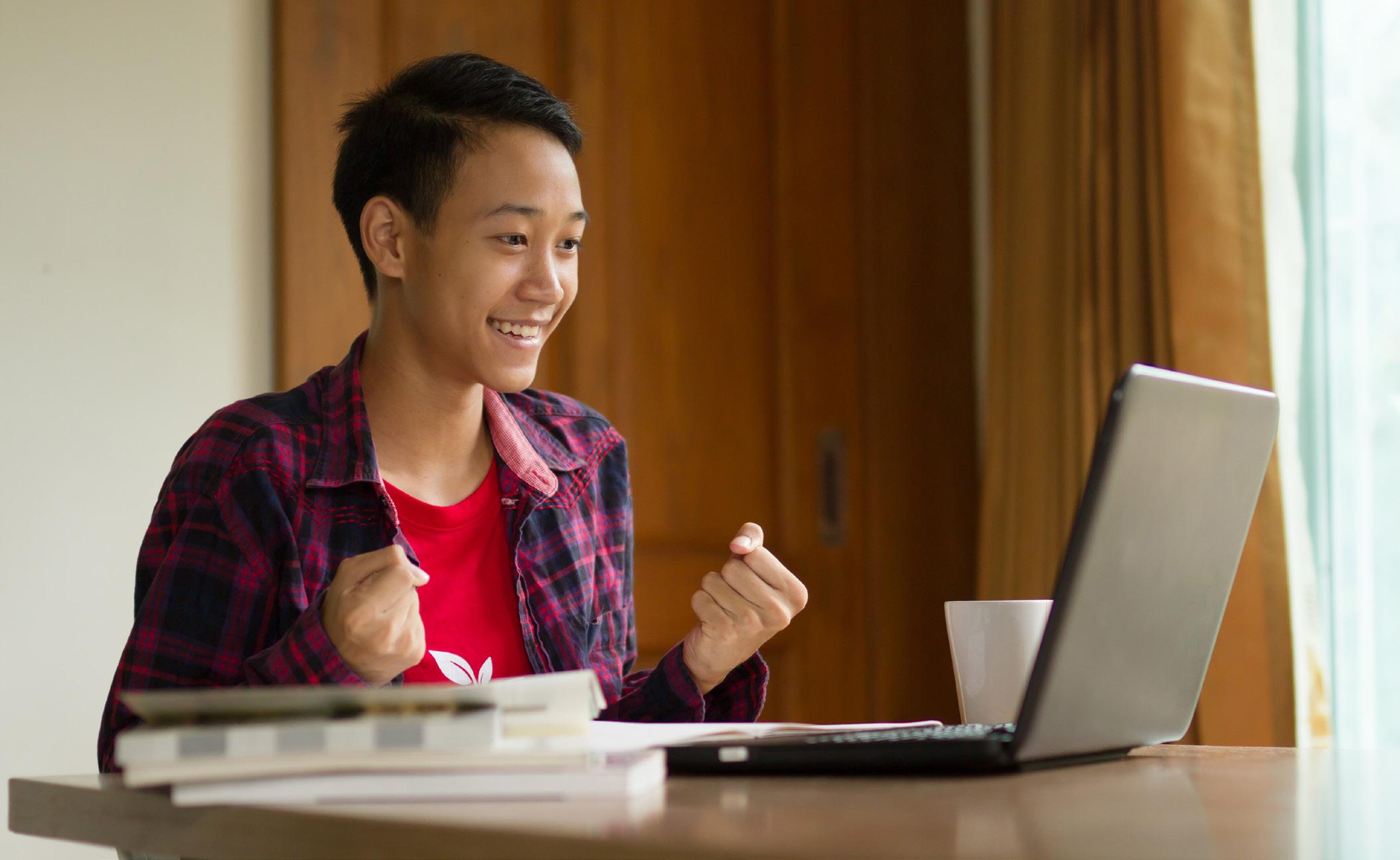 ONLINE LEARNING FALL 2022 | 3 can meet students where they're at, teaching them math or science through video games or social platforms that they are already interacting with. In short, the world of virtual learning is no longer a substitute for "standard" education. It's an added, accessible layer placed right on top. In this article, we'll examine three of the many different ways that online learning courses offer students new and exciting opportunities that change their life for the better.
For some, popular language learning apps like Babbel or Duolingo might work best. These applications require users to spend around 10 to 15 minutes every day learning basic vocabulary and grammar in a language of their choice. This is a casual option, but an effective one nonetheless. »
Perhaps you want to prepare yourself for a trip abroad. Perhaps you want to better understand certain members of your local community. Perhaps you simply want to broaden your horizons through the incredible world of languages. Whatever your reason and whatever your skill level, there's sure to be an option for you.
"Language learning has always happened online outside the framework of official learning," Dr. Sandy Fox told New York Magazine at the beginning of the pandemic. "But now you can easily find Zoom calls in other languages to participate in. It's a very special time for practicing language."
1.IT CAN EXPOSE YOU TO SUBJECTS NOT OFFERED AT SCHOOL
2.IT CAN TEACH YOU A NEW LANGUAGE
One of the best things about online learning in 2022 is that it offers students a chance to study topics that may not be available in their classrooms or community. This can include specialized academic studies like certain types of math and engineering or after-school extracurriculars like culture clubs or video game groups. Many schools across the country have curriculum that changes with the times, but plenty of schools are behind the curve when it comes to courses in STEM and other disciplines. Online learning classes then can be an incredible benefit to a student who knows what they are passionate about but aren't sure how to take the next step at their current school. For example: a student living in a school district where personal finance classes are ineffective or nonexistent might turn to an online learning course like Teach Me Wall Street to help learn about the fields that interest them most. In fact, it may be the only way that a student like that could learn about such topics. Another teen may be incredibly passionate about chess but unable to find someone at their school willing to teach them. Their only option too might be an online group or course. For many students, structure in online learning is paramount to achieving desired results, and we highly recommend seeking out a scheduled course taught by a professional if you're serious about results-based online education. However, for students who may only wish to research more about a particular subject, the internet is wide open with free, self-education courses on topics of all kinds. In fact, lectures from classes at universities like Harvard, MIT and more are all available online for free! No longer are students confined to the resources of their school district. Instead, all of humanity's knowledge is available at their fingertips just waiting to be explored. So whether it's a structured online class like the ones featured in this guide or a selfeducation program that students find on their own, one thing should be obvious: the world of online learning offers near-infinite possibilities.
One of the best ways to take advantage of the new world of online learning is by immersing yourself in a new culture and learning a second language. There are a number of barriers to language learning in a typical, in-person classroom. Options are regularly limited to only two or three languages, and the quality of the teaching can vary drastically from school to school. Students may only have their language class every other day, and their knowledge may slip after a long break or even over the weekend. The tools of online learning completely sidestep these barriers.
In fact, with the explosion of online learning across the globe then, teenagers have more control than ever over how they appear on paper. Even if the offerings at their school are dismal, even if there's nothing in their area that matches their interests, students can still boost their resume through cheap, accessible courses online.
3.IT CAN PREPARE YOU FOR COLLEGE AND BEYOND
If you're looking for something a little more in depth, a personalized online language class may be more your speed. Perhaps you can seek out the many online programs that connect students with teachers, language tutors, and other practicing students. An online language exchange program — sort of like the modern equivalent of an international penpal — is an amazing way to learn a language outside of the traditional classroom. Learning a new language is a process — a continuous, ongoing, ever-changing process. So whether it's through an app, an organized online class, a language exchange program, or another avenue entirely, learning a language online is one of the most rewarding and accessible ways to change your life through online education.
Well-respected online learning courses like the ones featured in this guide can sometimes be a make or break item on a resume. Whether you're trying to get into the college of your dreams or land your first job after school, experience with an online learning course is a fantastic way to set yourself apart from the crowd. Perhaps you don't have the time, means, or desire to attend a multi-week enrichment program in person. An online learning course is a fantastic alternative that shows colleges and employers that you are just as dedicated to learning outside of the classroom as any other student.
Colleges and companies will absolutely take note of online coursework and certification, especially after the last few years. Because of this, any teenager could put together an incredibly impressive resume just from online learning experiences before they even graduate from high school.
CONCLUSION We know that many students were grateful to put the Zoom classroom behind them forever last year, and rightfully so. However, we hope that this article has given you just a taste of the power that online learning still has in 2022. Whether it's through a career readiness course, a language program, or an extracurricular that you'd not otherwise have access to, online learning has the ability to change your life and launch you into a future you never could have imagined even a decade ago. Students' options have never been more numerous, and we hope you'll still take advantage of the many that are offered in this guide. FALL 2022
Training courses and certifications from major companies like Google and LinkedIn also grow more impressive by the day, and many such programs are accessible right now — both in terms of cost and subject matter — to teens and students around the world.
4 | ONLINE LEARNING
Johnathan Kindall is the Content Editor at TeenLife Media. He attended Boston University's College of Communications, graduating in 2020 with a Bachelors of Science in Journalism. You can find more of his work at the regularly updated TeenLife Blog.
Within Research Scholars, there were various subprograms including Life Sciences, Marine Science, Medicine, Design Lab, and Bioengineering. I had grown a strong interest in biotechnology, biomedical science, and the novel methods used to study diseases over the past couple of years, so I decided to choose the bioengineering program.
Within the Research Scholars Bioengineering Program, there were three sub programs including 1) Broad Overview and Techniques (BE-BOAT), 2) Bioengineering Research Orientation Workshop (BE-ROW), and 3) Bioengineering Scholar High School Internship Project (BE-SHIP), which I'm currently working on. BE-BOAT was a two-week course I took in June in which we started the day learning about fascinating concepts–some of which included cell growth, bioreactors, and histopathology! On Fridays, guest lecturers would come in to speak about their profession and the research they were engaged in. These presentations were then followed by breakout room sessions where we would be split up into groups and take part in numerous experiments using the lab equipment shipped to our homes. Some of these experiments included preparing cell media and utilizing microscopes to observe cell growth.
What was the most memorable moment of your program?
Why did you choose to participate in this program?
The most memorable part of my time as a Research Scholar was having the opportunity to engage in hands-on experiments despite the virtual nature of the program. Because physically being on campus was not possible due to the pandemic, lab equipment, including pipettes, well plates, and even an entire microscope, were shipped to our homes for us to perform experiments. Additionally, I was able to work with students from places across the country, and even the world, to carry out numerous efforts.
Finally, we would end the day by joining back into the main zoom room to report our findings to our peers. The BE-ROW course was the second sub-program I took in the month of July where we conducted research projects with a group of 3 to 4 people under the guidance of a current researcher. This four-week course was the highlight of my summer as it was an opportunity for me to dive deep into a project of my interest. A typical week involved 1)a lecture series that taught us the different aspects of research, 2) an opportunity for open discussions where each group would present their project progress, and 3) collaboration within a team to develop a focused project.
But most importantly, this program provided me with a gateway to strengthen my passion for biology in a way I've never experienced before. The life changing experience I had with this program would not have been possible without the efforts of the numerous people who guided us including Prof. Sah, Dr. Chen, Dr. Van Wong, Kaitlyn Strandberg, Nasim Nia, Rongjie Wu, Delaney Donelly, and Arya Suprana.
UC San Diego Research Scholars: Bioengineering
Over the years, I've expressed my passion for biology by taking as many science classes as possible offered by our school, along with competing in numerous science competitions that have come my way. This year, I wanted to try something new to showcase my passion for biology by engaging in something that was hands-on; hence, I decided to take part in UC San Diego's Research Scholars Program. How did you decide which program was right for you?
What was a typical day in your program?
By PRIYAM BARUAH IN
WORDSOWNMY ONLINE LEARNING FALL 2022 | 5
BY AMANDA MADENBERG
For instance, learning online often requires a higher degree of self-awareness and exploration in strategies for individual learning. In an online format, class ends and you are left to your own devices (no pun intended). In this situation, students are forced to figure out what works best for them in order to retain the material.
hough traditional classrooms have finally returned to a sense of pre-pandemic normalcy, students who know how to successfully learn online have likely developed a number of marketable skills that they otherwise may not have had the opportunity to discover. In fact, many skills that are necessary for online learning are also essential to general success in college, meaning that the obstacles students faced in the last two years may have uniquely prepared them for the rest of their lives.
HOW ONLINE LEARNING CAN HELP YOU SUCCEED IN COLLEGE AND BEYOND
6 | ONLINE LEARNING FALL 2022
Amanda Madenberg recently graduated from Teachers College, Columbia University, with a Master's in Education and Master of Arts in Counseling, along with an Advanced Certificate in College Advising. Amanda co-authored a book with her mom, a college counselor, called Love the Journey to College. Amanda worked in three Undergraduate Admissions offices at Cornell University during her time as a student there, completing her Bachelor's degree in Human Development. While in graduate school, Amanda interned as a College Counselor at the NYC iSchool, and she also served as a Course Assistant for the College Advising Program at TC and The American College Student course.
ONLINE LEARNING FALL 2022 | 7 Do you need to generate flash cards after each class? Read the lecture notes out loud? Phone a friend or a peer in the same class to talk through the concepts? Or might you need a little bit of extra help from a teacher, where you'd need to advocate for yourself in order to receive that help if it's not as simple as walking across the room? Though these strategies may take trial and error and may not even carry over for one person from class to class, developing positive study habits and figuring out what works are skills that are beneficial in college and beyond. When students arrive on campuses as college freshmen, they often have a much higher degree of freedom than they did in high school, and they often need to study differently than they had in their whole lives. Students now have the resilience of discovering new ways to learn before they start college, which can be incredibly important for academic success. Online learning also improves time management, especially when classes and assignments are asynchronous and may be completed whenever students want. Some students might love this flexibility and have no problem prioritizing an adequate amount of time for their school work, while others might find that it is more difficult to carve out time for class or Yetassignments.anotherskill that is honed with online learning is general diligence about school. In a physical classroom, it would be difficult to sneak away from class without making a scene, or to daydream for too long, or to have texting conversations in 10 group chats simultaneously. All of these distractions (and many more) are all too easy in a virtual classroom. It takes maturity, self-restraint, and motivation not to succumb to them. It is easy to hide behind a computer screen and passively participate in class, but it is a whole lot harder to pay attention, ask and answer questions, and individualize the learning experience. It may take less effort to be a satisfactory student because anyone could roll out of bed (or stay in bed) for class. But it takes a much greater deal of effort to be a good student and to gain from the learning experience. In college, this is very helpful when it becomes easier to skip class or be a face in dozens of faces in a lecture hall. Knowing how to individualize a learning experience and walk away with new knowledge puts you ahead of the curve for college. And, after college, all of these skills are still incredibly relevant. People chart their own paths as adults, and knowing how to take responsibility for your learning will help you for as long as you live. Online learning - whether you participated in it as a necessity during the pandemic or as a choice afterwards - can contribute to your marketability in many respects. Experience with online learning shows that you have at least some degree of savviness with technology, and it also demonstrates your initiative, time management skills and personal responsibility. Students had to put forth quite a bit of effort to succeed in an online classroom, and employers will take note of that. On top of that, isn't it liberating to know that you can always continue to learn? No matter what you want to do professionally, you can feel confident that you'd be able to learn more if necessary, go back to school in an online capacity, or merely explore a hobby through online learning. Online learning has allowed people from all walks of life to learn about themselves and their own learning styles, and hopefully this will lead to more selfaware, self-starting learners in every school and industry.
As You Like It Fall courses give your child a chance to explore an area of passion or academic need in short, concentrated form with live one-on-one or small-group instruction and conversation. Based on your child's interest, we will develop a 3-8 session course that takes 1-2 weeks to complete. Scheduling is highly flexible in order to accommodate your child's summer travel and activities. Name your topic--our experienced teachers can probably cover it! More 10th, Four
Columbia Business School is among the top ten institutions for those who aspire to a career in business. Our enrichment program is designed for people looking to build their skills, whether they are pursuing a degree or on an existing career path. Learn from Ivy League faculty, hear from notable experts renowned in their fields, and receive a certificate of participation from Columbia Business School. All courses are 100% online and offer support from mentors to enrich your learning experience. More
Weeks $1,495
AS YOU LIKE IT COURSES BY RUSSELL EDUCATION russelleducation.com Tutoring 6th, 7th, 8th, 9th, 10th, 11th, 12th Two Weeks, Three Weeks $550
» COLUMBIA BUSINESS SCHOOL ENRICHMENT PROGRAM kup.gsb.columbia.edu Academic 9th,
» ONLINE PROGRAMS 8 | ONLINE LEARNING FALL 2022
11th, 12th Two Weeks,
Learn
Learn
programsctd.northwestern.edu/online-
Learn
» NORTHWESTERN
Learn
PRE-COLLEGE ONLINE PROGRAMS georgetown.precollegeprograms.org Academic9th,10th, 11th,
Learn More » EMPOWERU: MENTAL HEALTH & RESILIENCY COURSE individualsempoweru.education/parentsSelf-Discovery9th,10th,11th, 12th Six $189Weeks
VariesVaries
» GEORGETOWN
EmpowerU's program is self-paced and easily accessible online. More UNIVERSITY 12th Two Weeks, Four Weeks
Learn
Dwight Global Online School is the cloud campus of Dwight School, founded in 1872 in NYC. A private school like no other, Dwight Global blends online and residential learning experiences, allowing students to pursue a personalized program in Grades 6-12. With flexible scheduling and the ability to join classes from anywhere, students may pursue their spark of genius wherever their passions lead them. Graduates of Dwight Global have gone on to attend Harvard, Princeton, Stanford, Columbia, and other top universities.
At Georgetown, we believe that you're more than a mind. You're an individual with unique talents, dreams, and passions and you deserve the opportunity to develop and refine what makes you you. We now offer pre-college online courses for high school students ages 13 and older to explore subjects in-depth before college. Each course features dynamic video lessons by renowned Georgetown faculty and access to mentors. The online format enables you to study anywhere, anytime, at your own pace. More UNIVERSITY CENTER FOR TALENT DEVELOPMENT (CTD) Academic7th,8th,9th,
$1,495
EmpowerU's innovative 6-week, online program is proven to help teens and young adults gain confidence, lower anxiety, increase emotional well-being, and make lasting change. For the average cost of one therapy session, students take brief, engaging resilience-building lessons combined with 1:1 online coaching from a master-degree counselor. This powerful combination helps students stay focused, motivated, and on track toward their goals — no matter how unpredictable or stressful their world can be.
10th, 11th, 12th Center Talent Development (CTD) at Northwestern University is a place where learners, age 3 – grade 12, come together to explore their interests. No student is born with a set destination. CTD believes that talents, passions, and goals are discovered through exploration, experience, and mentorship. Through unique programs and courses, CTD helps students develop their strengths, while providing a path to discover what it is that they truly love to learn and create. More »
ONLINE LEARNING FALL 2022 | 9 Online Programs www.teenlife.com/request-online-fall DWIGHT GLOBAL ONLINE SCHOOL online-schooldwight.edu/dwight-globalPrivate School 6th , 7th, 8th, 9th, 10th, 11th, 12th Academic Year $39,900
Online Programs www.teenlife.com/request-online-fall 10 | ONLINE LEARNING FALL 2022 PARSONS PARIS ONLINE COURSES precollegeprograms.orgfashionanddesign. Arts9th, 10th, 11th, 12th Two Weeks, Four Weeks $1,195 Parsons Paris offers online courses designed for those curious about a future in fashion. Explore subjects like fashion business, fashion design, sustainable fashion, and building a fashion brand. This is a great way to determine if your passions could become a future career. All of our online courses are designed by fashion experts and you'll even receive guidance from a mentor, enriching your learning experience. Learn More » SYRACUSE ACCELERATEDUNIVERSITY:FALLSEMESTER accelerated-semester-onlineprecollege.syr.edu/programs-courses/ Academic11th,12thEightWeeks$2,085to$2,780 Get ahead by taking a college course online during the school year! Credit-bearing online 8-week courses are open to high school students during the academic year. Semester-based Syracuse University courses in the fall and spring are typically 15 weeks in length. The 8-week online courses are therefore accelerated and more time-intensive. Students participate in one weekly 90-minute synchronous session with the instructor. Students will also have 8-10 hours of asynchronous work per week. Learn More » UC SAN DIEGO EXTENSION FUTURES PROGRAM extendedstudies.ucsd.edu Academic9th,10th, 11th, 12th VariesVaries Futures enable students to explore new interests and gain handson experience before they enter the workforce or apply for college. Cutting-edge coursework in computer science, business management and design is taught by industry experts culminating in an Award of Completion. Learn More »
UC SAN DIEGO: RESEARCH SCHOLARS researchscholars.ucsd.edu STEM9th, 10th, 11th, 12th VariesVaries Research Scholars teaches students skills that can make them competitive in college admissions and internships. Students will become a researcher, fully immersed in projects that have real-world applications from bioengineering, life sciences and design thinking. Learn More » UNIVERSITY OF ROCHESTER PRE-COLLEGE ONLINE PROGRAM programs.orgrochesteronline.precollege STEM9th, 10th, 11th, 12th Two Weeks, Four Weeks $695 to $995 The University of Rochester's Pre-College Online Program is a great way to determine if your passions could lead to a college major or a future career. We offer courses in medicine, biomedical engineering, video game design, and more. Our online courses are: developed for students ages 13 and older; designed by Rochester faculty who are experts in their respective fields; supported by mentors to enrich your learning experience; and delivered through dynamic videos allowing you to learn at your own pace. Learn More » WALL STREET 101 VIRTUAL FALL BOOT CAMP teachmewallstreet.com Academic 9th, 10th, 11th, 12th +$350Semester Teach Me Wall Street offers engaging online programs for teens that focus on trading, investing, entrepreneurship and personal finance. LIVE instruction is offered by seasoned professionals who provide the tools and guidance students need to forge pathways that lead to financial independence and success. You'll collaborate with like-minded peers, engage in challenging hands-on activities, and prepare for competitions that can put you ahead in the college admissions race. Flexible scheduling is available to accommodate busy students in various time zones. Learn More » Online Programs www.teenlife.com/request-online-fall ONLINE LEARNING FALL 2022 | 11
10,000+ EXPERIENCES THAT LAUNCH TEENS INTO LIFE PURSUE PASSIONYOURFOR YOUR FUTURE IN STEMSTEM2022 A TeenLife Media Publication | www.teenlife.com EVERYTHING YOU NEED TO KNOW ABOUT STEM USEFULSTEMSUMMERACINGSCHOLARSHIPSYOURAPPLICATIONPROGRAMANDCOLLEGELISTINGSLINKS INSIDE: 2022 PERFORMING & VISUAL ARTS COLLEGES A TEENLIFE MEDIA PUBLICATION www.teenlife.com FASTEST GROWING ARTS CAREERS AND THE 75 TOP ARTSHEARLOVESADMISSIONSRESPONSESINTERVIEWCOLLEGESTO PLUS: SUMMER LEARNING2022GUIDE TO INSIDE:THREETHINGS YOU NEED TO KNOW IF OpportunitiesEnrichmentSummerONLINELEARNINGYOU'RE PUBLICATION www.teenlife.com SUBSCRIBEwww.TeenLife.com20TOOURNEWSLETTER! ONLINE DIRECTORY, DIGITAL GUIDES, VIRTUAL FAIRS