1 | The WELCOMEMosaic TO OUR HOMENEW PAGE 12 ••• IN THIS ISSUE ••• Meet Our New ExecutivePAGEDirector8 HighRecipesHolidayPAGE18Celebrating High Holidays Around the World PAGE 16 TCS WESTPORT HIGH HOLIDAYS 2022 • 5783 THE
• Proactive in-depth annual reviews
Becauseprotected.we
728 Post Road East Westport, CT 225 Main Street Westport, CT 100 Beard Sawmill Road Shelton, CT
• We define, design, and implement your personal insurance portfolio
Why Work With AssuredPartners Private Client Group?
• Client centric approach through ongoing collaboration and communication
Richard S. Baskind/Agency President
Lines of
RentalEarthquakeHomeownerCoverage&Flood&SecondaryProperties & Auto Recreational Vehicle & Watercraft Excess CollectionsLiability
sufficient in meeting your personal insurance needs. Through our strategic industry partnerships with multiple insurance companies, we are able to implement the appropriate coverage for standard and complex personal insurance AssuredPartnersprograms.ismore than just your average insurance broker. We offer an advisory relationship that goes far beyond the insurance transaction.
• Risk management consulting & advisory through appropriate insurance solutions
• Worldwide coverage and solutions to unique situations
The more you acquire, the greater the risk. Let us manage the risk.
• Strong relationships with premier insurance carriers with financial strength & stability
2 | The Mosaic assuredpartners.com
Tel: (203) richard.baskind@assuredpartners.com989-4888
Preserve the Lifestyle You've Worked Hard to Create
may not be
understand that each client has unique insurance needs, our experienced consultants are well-versed in all lines of personal coverages. We take a proactive approach to developing strategic solutions that achieve your personal Off-the-shelfobjectives.solutions
• Strong claim advocacy and support
Luis Cattan
Cynthia Bannon
7
21
Features The New Synagogue TCS Members in the World High Holiday Celebrations Around the World High Holiday Recipes Running to Remember
TCS Loves Donors, Doers, Daveners
THE MOSAIC :: HIGH HOLIDAYS 2022/5783
Brad Zieve
14
Renee Mandis
6
Seth Golob
25
26
Editor-In-Chief
4
Read The Mosaic Online
11 Preschool
Email: tcs@tcs-westport.org Web: tcs-westport.org
Debbi Barer
10 Adult
Elise Meyer
Around the SHUL TCS Scene Page Shesh: Births, Weddings & Engagements Welcome New Members The Presidents' Desk Meet Our New Executive Director Sisterhood USY Kehillah Corner Education Patter Welcome New Preschool Familes Mazal Tov to Our B'nei Mitzvah TCS Judaica Boutique Tikkun Olam Condolences Cover Calendar
3
Co-Presidents
30 Hillspoint Road Westport, CT 06880
Rabbi
02 4 14
8
Cantor
Director CommunicationsOf
TCS members participated in the Maccabiah Games and went to Israel on Birthright.
22
Back
TCS Members in Israel
The Mosaic wants to highlight TCS members. We want to hear your stories and see your pictures. Send them to the EditorialBoard forTCS@gmail.com. Also, let us know if you want to write a feature article. We welcome your input.
Editorial Board
20
High Holidays 2022/5783 | 1
12
A special thank you to everyone who contributed to the writing, editing, and photography of this publication. This magazine would not have been possible without your insight and support.
A status update on where we are in the construction process, how we got there, and what to expect.
Let us know if you would prefer to read The Mosaic online only by contacting the office or by emailing EditorialBoard forTCS@gmail.com.
Phone: 203.454.4673
Advertising Administrator
Executive Director
11
9
TCS Scene
NEWS?HAVE
Assistant Editor-In-Chief
Jeremy Wiederhorn
18
Check out what the TCS Members have been doing. . . A look at the past year in pictures.
16
Eric KarenBaronWolfe
Letters From the Rabbi's Study The Cantor's Notes
9 Tamid 10
Michelle Scher Saunders
Diana Sussman
Diane Benke
Steve Samuels
8
24
2
10
In This Issue
Givendown.
U'metukah—wishing you a good and sweet New Year, B'shalom Rav,
LETTERS
:: FROM THE RABBI'S STUDY
Over the course of these past couple of years, when COVID was at its height, our TCS family was delivering Shabbat meals to Holocaust survivors, helping Afghan refugees get settled in Connecticut, and packing medical supplies to be sent to Ukraine. This is what community is all Asabout.weprepare
As I begin my 15th year serving as your rabbi, I am proud of how TCS has grown over the years and what we have come to stand for.
"
2 | The Mosaic
the opportunity to provide evidence, the first person said, "Look at the army as it marches by and you'll notice that none of the soldiers' heads is at the same level, but they all have their feet on the ground. Therefore, people clearly grow from the ground up."
to move into our renovated building, one of the new features we are most excited about is our community space, with its own entrance from the outdoors. This new space with be a gathering place for our TCS family to enjoy a cup of coffee, learn, and just enjoy each other's company.
One my favorite Chelm stories tells of two individuals who argued about the direction in which people grow. One person was convinced that people grow from the ground up, while the other was just as certain that we grow from the head
Rabbi Jeremy Wiederhorn
Dear Friends,
Since the two people couldn't agree, they went to their rabbi and made their case. The rabbi listened to each of them and said, "The truth is, people don't grow from the top down or from the bottom up. We only grow from the inside out."
beyond. Our interfaith relationships were evident following the Tree of Life massacre as our non-Jewish brothers and sisters stood with us in our sanctuary. This past year, as our sanctuary was being remodeled, Christ and Holy Trinity Church (CHT) opened their doors to our congregation for Rosh Hashanah and Yom Kippur. Of course, had the situation been reversed, we would have opened our doors to them as well. That's community.
As I begin my 15th year serving as your rabbi, I am proud of how TCS has grown over the years and what we have come to stand for. I believe that at the very center of TCS is community. As a sacred community, we have celebrated many great moments of blessing and strengthened each other "from the inside out" during times of challenge and Wetragedy.have supported not only the TCS family, but our Jewish and non-Jewish friends throughout Fairfield County and
If we've learned anything from COVID, it is that virtual community is not the same as real community. We will continue to grow from the inside out, but to do that, we need your physical presence. Please
come back home to see us! Let's dip those apples in our honey together and celebrate the beginning of a new year and a new era as a growing and thriving Shanahcommunity.Tovah
Our religious school is called Kehillah, which means community, and this year, our Kehillah and Preschool will be exploring more ways to elevate our educational experience for the larger community. TCS will also be hosting Merkaz, the community High School educational program that has been successful for decades in Fairfield County.
Growing from the Inside Out
Rabbi Jeremy Wiederhorn
The other person pointed out that if you look at the members of the marching band as they march by, you will see that the pants of their uniforms don't all reach their shoes, some are little longer, while others are shorter. This obviously proves that people grow from the head down.
"
Very often we find ourselves thinking about increased assimilation, the crisis in Jewish institutions, the decrease of engagement and affiliation in local communities and synagogues, and the overall apathy regarding Jewish identity, Israel, and spirituality. Recently, I spent ten days at Camp Ramah Darom as a Rabbi-In-Residence. In addition to fresh air, this experience has given me a much-needed optimistic view about our future.
Witnessing firsthand the passion with which our Jewish youth engaged in our traditional practices, how can I not be optimistic about our future as a people?
Dear TCS Families,
seeing the Amidah through the lens of interpersonal relationships, which raised multiple philosophical aspects. I wasn't sure if the campers could absorb it all, but I still wanted to try. The result? Success! A group of engaged young teenagers were discussing their relationship with God when they pray and their relationships with their peers, as well as delving into the nuances of the Hebrew words of the Amidah.
Sincerely,
LETTERS :: THE CANTOR'S NOTES
Cantor Luis Cattan
The Team. At Camp Ramah Darom I was introduced to an incredibly talented and creative Jewish studies team (Tzevet Yahadut) who showed great commitment and care for the close to 700 campers participating in this second session. Having a strong Tzevet Yahadut is essential to convey the importance of being a proud and well-educated Jewish teenager.
Shabbat. Right after lunch on Friday, activities and classes stopped as the entire camp began "Hachanah l'Shabbat" (preparation for Shabbat). All campers and counselors cleaned up the premises, their bunks (some of them really needed a cleanup!!!) and themselves.
It is no secret that Jewish sleep-away camps offer the most successful Jewish educational experience. The camping arm of The Conservative Movement, with which TCS is affiliated, is called Ramah. Its mission is to create and sustain excellent summer camps and Israel programs that inspire commitment to Jewish life and develop the next generation of Jewish leaders.
THE MOSAIC :: SPRING 2022
High Holidays 2022/5783 | 3
On Shabbat morning, campers (with some help from their counselors) led the prayers, including Torah readings and divrei Torah. After services. Rabbis led special learning sessions until lunch. After lunch, we enjoyed downtime, children playing sports, going for walks, or just chatting in different places. One of those places is the Beit Hakneset (synagogue).
Rabbi Cattan, (they called me Rabbi there) can we ask you a question? Their curiosity ignited my excitement to teach.
Witnessing firsthand the passion with which our Jewish youth engaged in our traditional practices, how can I not be optimistic about our future as a people? At camp, I met hundreds of motivated, knowledgeable, young individuals, many of whom are our future Jewish leaders. In fact, Ramah alumni populate the highest reaches of North American Jewish commmunal life. But it should not be taken for granted. We, lay people, Jewish professionals, and clergy, continue to learn from these successes, and adapt to our realities. I encourage current leadership to create spaces and positions to better address the needs of the next generation and the Jewish community at large.
Cantor Luis Cattan
The Future Is Bright
The Campers. The enthusiastic, cheerful, happy, and curious reactions of the campers I had the pleasure to teach were inspiring. I delighted in seeing their joy when participating in services, singing, and dancing to the latest Israeli songs. Their spiritual engagement and intellectual curiosity about Jewish metaphysical questions like creation, death, ethical values, and some less existential questions regarding traditional musical modes for our prayers or volunteering for Torah readings, inspired me. The staff furthered the campers' excitement and overall enthusiasm for participating in traditional Jewish practices.
About an hour-and-a-half before Shabbat began, a parade of youngsters and staff dressed up in festive clothes arrived at an outdoor amphitheater. There, campers or counselors led services a cappella, and everyone participated in the communal singing. I was merely one voice in a mighty sea of voices that flooded the open space like a powerful godly energy emerging from the hearts of the people.
The Teaching. From informal interactions with campers in search of an answer pertaining to the Parashah or another relevant topic to those wanting some help in preparing a Torah reading for Shabbat, the teaching never stopped. My formal teaching focused on
4 | The Mosaic AROUND THE SHUL :: OUT & ABOUT ATTCSTCS SCENE 1 1 2 3 4 5 6 7 8 1: Après ski. Marc & Tracy Porosoff. 2: Après ski. Adam & Kimberly Bard, David & Esa Madoff, Tracy & Marc Porosoff. 3: Sisterhood apples & honey distribution. Ivy Gosseen, Esa Madoff, Lillie Bukzin, Meredith Poster, Suzanne Haber, Michelle Scher Saunders, Jessica Siegel, Eva Rawiszer, and Susan Ochman. 4: Summer FUNraiser. Blake & Diane Benke, Debbi Barer. 5: Summer FUNraiser. Phil & Wendy Schaefer, Rabbi Wiederhorn, Barbara & Alan Phillips. 6: Summer FUNraiser. Carrie Blasberg, Jane Umansky, Hilary Gerber, Allison Amron, Jennifer Brogadir. 7: Summer FUNraiser. Renee Serfaty, Meredith Gershon, Jessica Newshel, Nicki Abramowitz 8: Summer FUNraiser. Amy Corselli, Dana Colangelo, Bob Scinto, Katie Scinto, Julia Marx. Richard M. Kesselman Certified Public Accountant 19 Bradley Street Westport, CT 06880 203 226 5970 yourtaxman@aol.com
High Holidays 2022/5783 | 5 AROUND THE SHUL :: OUT & ABOUT AT TCS CONTINUED ON PAGE 24 41 2 7 3 5 6 8 1: Preschool Graduation. Rabbi with 2022 class. 2: Preschool Graduation. Revital Bellin & Rachel Haber pose with a preschool graduate. 3: Preschool Graduation. Preschool Director Lauran Pancoast with 2022 class. 4: Kehillah grade 3 cooking. 5: Kehillah grade 4 playing Hebrew Twister. 6: Kehillah grade 7 decorating lending library. 7: Kehillah grade 6 with Emissaries. 8: Kehillah students painting. Children are not identified by name to protect their privacy. Grant-RawiszerEva Licensed Real Estate Salesperson c: 917.318.7922 o: 199Erawiszer@wpsir.com203.227.1246PostRoadE.Westport, CT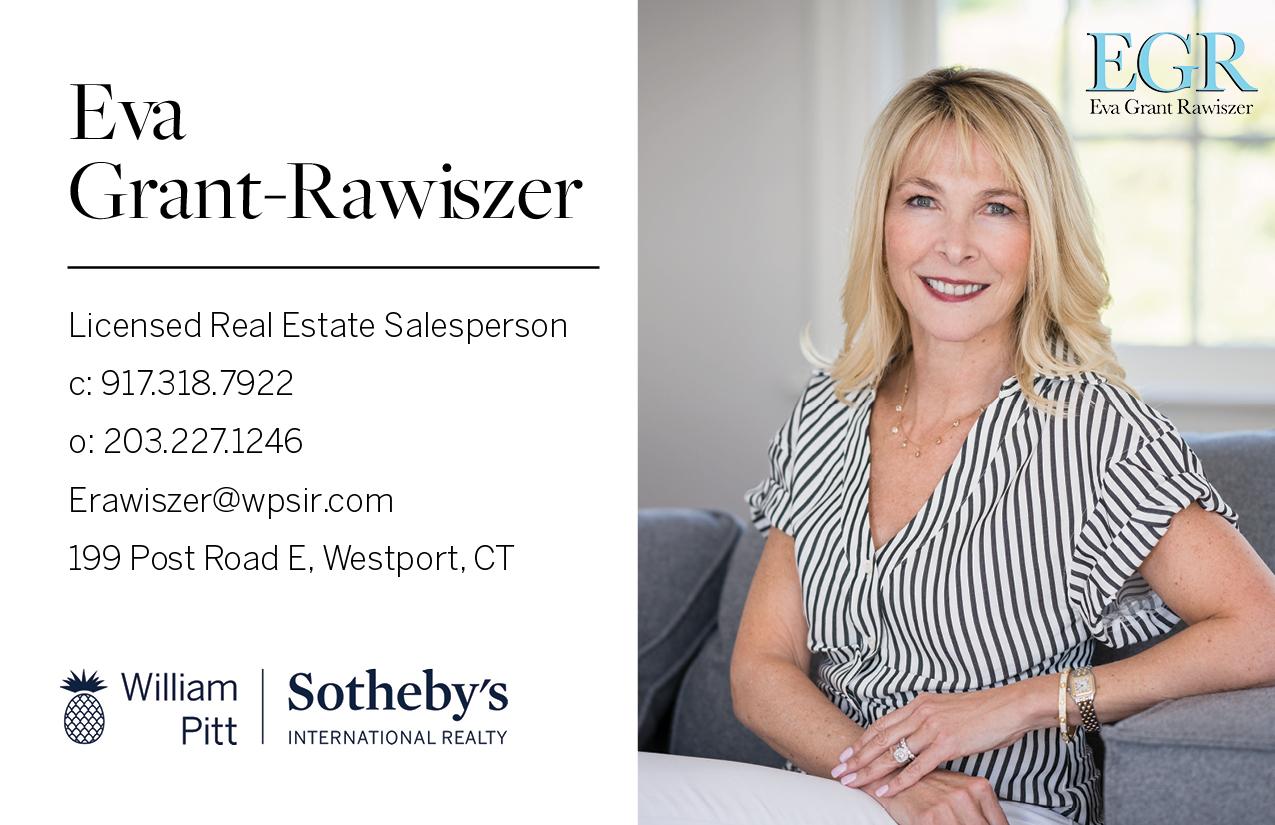 Daniel Ian Bukzin, son of David & Precilla Bukzin, brother of Hannah, Lillie, Matthew & Ivy Sidney Ava Bushell, daughter of Matthew & Amanda Bushell, sister of Arlo, granddaughter of Henry Feuerstein & Elise Meyer Emma Cleiman, daughter of Dan & Meghan Cleiman, sister of Sam & Benjamin Paloma Ettie Cohen, daughter of Ben & Cassidy Cohen, sister of Talulah & Cruz Charlotte Brynn Croll, daughter of Seth & Nora Croll, sister of Wyatt John "Jack" Birinyi Danzer, son of Matthew & Anna Danzer Rainer Peregrine Desatnik, son of Aaron Desatnik & Jenna Levy, brother of Theo, Oriana & Sylvan, grandson of Harold Levy & Shari Levy z"l Leo Spell Dinkin, son of Noah Dinkin & Nichole Spell, grandson of Marcy Juran, Les & Samira Dinkin Palmer Hayden Fleischer, son of Andrew & Chloe Fleischer, grandson of Dick & Lydia Kalt Poppy Isabel Fleischer, daughter of Andrew & Chloe Fleischer, sister of Palmer, granddaughter of Richard & Lydia Kalt Liana Leslie Fox, daughter of Nathaniel & Zoelle Fox, sister of Aryeh, granddaughter of Martin Fox & Ellen Graff Asher Easton Frank, son of Darren & Dara Frank, brother of Marlo Rye Penelope Glassman, daughter of Dan & Melissa Glassman, sister of Max Isadore William Gluck, son of Darren & Kimberly Gluck, grandson of Denise Lewis Miles Benjamin Hendel, son of Sam & Alissa Hendel, brother of Zoe & Dylan Griffin Leo Herman, son of Neal & Rachel Herman, brother of Brodie & Emmett Teddi Lou Jager-Hyman, daughter of Jonathan & Lauren Jager-Hyman, sister of Sonny Sadie Pearl Itkowitz, daughter of Jared & Dara Itkowitz, sister of Hallie Ruby, granddaughter of Alan & Barbara Phillips George D. Jones V, son of George D. Jones IV & Hannah Wirfel Jones, grandson of Ken Wirfel & June Eichbaum Lila Hope Katz, daughter of Ricky & Nicki Katz, granddaughter of Todd & Susie Blumenfeld
Welcome to the World!
6 | The Mosaic AROUND THE SHUL :: PAGE SHESH
Kenzie Eve Beck, daughter of Michael & Calie Beck, sister of Savannah & Tyler Abraham Bradley Block, son of Daniel & Eve Block, brother of Ezra & Samuel, grandson of Fred & Judy Block Maren Estelle Bloom, daughter of Andrew & Tyndale Bloom, sister of Wesley & Lucas, granddaughter of Ira & Karen Bloom
Stella Boas Kline, daughter of Daniel Kline & Rebecca Boas, granddaughter of Andy & Carol Boas Aviva Devorah Korman, daughter of Jonathan Korman & Alexandra Hochster -Korman, sister of Miriam, granddaughter of Howard Hochster & Bathsheva Rifkin
Emma Jules Lavy, daughter of Daniel & Alyssa Lavy, granddaughter of Steven Cohen z"l & Karen Cohen
Victoria Quinn Levy, daughter of Jonathan & Sara Levy, sister of Charlotte, granddaughter of Harold Levy & Shari Levy z"l Zachary Kassen Mehlman, son of Ezra Mehlman & Diana Kassen, brother of Max & Ted, grandson of Michael & Shelly Kassen Eliza Morgan Navarro, daughter of Josh & Brooke Navarro, granddaughter of Steven & Sharon Navarro Jude Dylan Phillips, son of Gabe & Tori Phillips, brother of Levi & Eve, grandson of Alan & Barbara Phillips Hayden Alexander Rackson son of Brian & Morgan Rackson, grandson of Fran Rackson Julian Ezra Rahmani, son of Josh & Alexandra Rahmani, brother of Scarlett Levi Alexander Schmitt, son of Robert Schmitt & Michelle Levine Schmitt, grandson of Stewart & Elisabeth Levine Ava Margot Schwarz, daughter of Matt & Amy Schwarz, sister of Nate, granddaughter of Michael & Shelly Kassen Piper Caroline Lessler-Shaw, daughter of Allison & Amy Lessler-Shaw, granddaughter of Karen Lessler & Jack Schwartz Georgie Esther Tananbaum, daughter of Tanner & Abigail Tananbaum, granddaughter of Geoffrey & Orna Stern Arthur Gregory Tapfar, son of Brian & Katherine Tapfar, grandson of Shellie Tapfar Dylan Reid Tarasoff, son of Matthew & Amanda Tarasoff, brother of Teddi Ryan Blake Teplitz, son of Justin & Stacey Teplitz, brother of Kayla Maya Abigail Ugol, daughter of Jonathan & Samantha Ugol, sister of Norah, granddaughter of Karen Ugol Aubrey Hannah Wein, daughter of Michael & Arielle Wein, sister of Ellis Alexander Judd White, son Jason & Jennifer White, brother of Summer, Joelle & Mickie Bode Brown Zuckman, son of Brett & Martha Zuckman, brother of Julia & Alexander
*Denotes births since September 2020
Cash & Levi
AROUND
Doug & Jill Brody and their children
Matt & Anna Danzer and their son
Michael & Lindsey Feldman and their children
Mazal Tov to....
THE SHUL :: PAGE SHESH
Weddings:
Eric Shrago & Alisha Gerber and theirGemmadaughter
Jeremy & Joclyn Schaap and their children
Robert & Judy Witter and their children David & Margot
*Denotes events since September 2020
Katherine, Winston & Annabel
Alan & Barbara Phillips on the marriage of their son Ian Phillips to Leslie Berkowitz Marcy Puklin & Alan Puklin on the marriages of their daughters Rachel Puklin to John Johnson Sarah Puklin to Andrew Livingston Jay & Beth Rand on the marriage of their son Brendan Rand to Rachel Samuels Bob & Yvette Rose and Len & Linda Russ on the marriage of their children Daniel Rose & Dana Russ Mony & Liz Rueven on the marriage of their daughter Elana Rueven to Bryan Belok Steve & Meryl Sitver on the marriage of their daughter Alison Sitver to Aaron Parker Shellie Tapfar on the marriage of her son Brian Tapfar to Katherine Gambaccini Karen Ugol on the marriage of her daughter Jillian Ugol to Ivan Levcovitz Bruce & Tami Weiser on the marriage of their daughter Rayna Weiser to Andrew Fishman Renee Mandis & Richard Wingate on their marriage Ken & Diane Yormark on the marriage of their son Michael Yormark to Lindsay Eldredge
*Denotes members who joined since January 2022
Engagements: Jon Fraade & Rita Appel on the engagement of Rachel Fraade to Max Malter
Sammy & Marcus
Ellen Friedman
Alan & Joan Berlin on the engagement of their son Michael Berlin to Alexandra Gorman Ellen Cohen on her engagement to John Thomas Jeff & Wendy Cohen on the engagement of their son Andrew Cohen to Emily Perelman Adam & Lisa Hodes on the engagement of their daughter Lauren Hodes to Jason Schneider Jim Glasser & Sharon Jaffe on the engagement of their daughter Sarah Glasser to Josh Lavian Jeff & Carol Kaplan on the engagement of their son Michael Kaplan to Samantha Goldberg Gary & Shari Korn on the engagement of their daughter Jamie Korn to Andrew Farage  Bob & Margie Labarre on the engagement of their son Matt Labarre to Lily Sloss Ed & Lisa Raice and Ari & Anita Rothman on the engagement of their children Julie Raice & Matt Rothman Steve & Meryl Sitver on the engagement of their daughter Julie Sitver to Jamie Paldino Wes Malowitz & Lauren Soloff on the engagement of their son Jake Malowitz to Emily Goldberg Sheri Warshaw, Jeff & Wynter Warshaw on the engagement of their daughter Brette Warshaw to Jared Moscow Jeff & Naomi Weingart on the engagements of their children Emily Weingart to Dr. Michael Jureller Noah Weingart to Kathryn Mendoza
John "Jack" Birinyi Danzer
Eric & Alexandra Garfunkel and their children Jake & Maya
High Holidays 2022/5783 | 7
David & Gwen Baker on the marriage of their daughter Dr. Isabel Baker to Thomas Arce Fred & Judy Block on the marriage of their daughter Deborah Ann Block to Ariel Spungen Bildner Todd & Susie Blumenfeld on the marriage of their daughter Nicki Blumenfeld to Ricky Katz Andy & Carol Boas on the marriage of their daughter Hallie Boas to Nat Hays Marcy Bratman on her marriage to Mark Samarel Eric & Gail Cohen on the marriage of their son Zachary Cohen to Sydney Alexander Michael & Susan Glick on the marriage of their son Jordan Glick to Stevie Klein Jon & Stacy Kamisar on the marriage of their son Ben Kamisar to Shelby Lopez Michael & Shelly Kassen on the marriage of their daughter Laura Kassen to Keith Forman Neil & Amy Katz on the marriage of their daughter Jaclyn Katz to Jake Gillman Matt & Elayne Landau on the marriage of their daughter Rachel Landau to Sam Fisher Roger & Hilary Machlis on the marriage of their daughter Carly Machlis to Aaron Freedman Steven & Sharon Navarro on the marriage of their son Daniel Navarro to Kim Nault
Gil & Emily Varod and their children Alexander & Beatrice
Welcome to Our New Members
Wecommunity.haveanew
It is a busy time here at TCS; between the daily progress of the building renovation, the outstanding work by the Facilities Team, the ongoing preparation of the Education and Office Staff, and the tireless efforts of the Board and Committee members there is always a flutter of activity at any given moment. Every act of generosity, time, and talent have helped make TCS what it is, and I am thrilled to now be a part of this community!
I aspire to serve the congregational members; I want to hear your stories and learn about why TCS is important to you. I am excited to meet all of you and for the privilege of serving this wonderful synagogue and all that it stands for. Communities are most successful when congregants, leadership, and staff work in partnership to identify meaningful engagement opportunities. It is a goal of mine to sustain this level of partnership through excellent service. I am dedicated to what I do and am very accessible should you have any needs you'd like to discuss with me.
Executive Director, Cynthia Bannon. She is off to a flying start and everyone is delighted to have her join our team. We also have a new administrator in Kehillah, Cailin McGowan. If you haven't met them,
DIRECTOREXECUTIVETHE
Of course, it starts with our new members. In the last two years, 48 families have joined TCS. We welcome them with open arms and hope that you will reach out to them when you see new faces in the building, at events, at services, or during the High Holidays.
NewnessLEADERS Abounds
ERIC KARENANDBARONWOLFE
CYNTHIA BANNON
8 | The Mosaic
We have new Board Positions, new Board Chairs, new Committee Chairs, new Volunteers, and new resources—both internal and external.
AROUND THE SHUL :: TCS LAY
We are delighted that our Bulletin, now a magazine, has returned. As you can see, it has a new look and feel. With that in mind, we would like to review the many new things that we are experiencing at TCS.
Professionally, I served for five years as the Executive Director of Temple Beth David in Cheshire, CT. Additionally, I have Real Estate, Property Management, and Donor Relations experience which all play an important role to this position.
We are also pleased to announce that in the last two years, we have welcomed 39 new Preschool families. Our Preschool is thriving and we look forward to these families becoming an active part of our TCS
It is a joyful honor to re-enter synagogue life! Throughout the interview process, the warmth and dedication of each person I met drew me into this dynamic community. I look forward to partnering with Rabbi Wiederhorn, Cantor Cattan, the Educators, the Staff who support them, and the Lay Leaders to affect the continuity of Jewish life, quality education, and lifelong connection.
PRESIDENTSTHE
please stop by and introduce yourself. Of course, our building renovation is nearing completion. The Koach Campaign has been a huge success. As a result, our Synagogue will have a totally new look. We will have a new Bimah, in a beautifully renovated Sanctuary, with a new Community Space and Contemplative Garden, new furniture, and updated offices. Beyond that, we have a new logo, branding and a new and improved website.
So yes, newness abounds. We are thrilled about all this, but we will never lose sight of what really makes us who we are and that is our community. We hope that each of you knows your value to TCS. The Board feels confident that you will experience all this newness with the pride and enthusiasm that comes with our continued growth.
Hello TCS!
Sisterhood is famous for its annual evening Beach Bash, which occurs at the end of every summer. Please keep your eye out for the date, as well as other exciting events we have planned in the coming year, such as Fitness Fun with Friends and classes for Mah Jongg and Canasta. We plan to schedule some interesting speakers to discuss how children are dealing with the after-effects of Covid and how to keep the "me" in Mommy.
Jonathan Kaufman, author of The Last Kings of Shanghai, speaking about his book with Cantor Cattan.
TamidBYWENDYSCHAEFER
J
Diana Sussman, Jonathan Kaufman, Dan Sussman at an Asian buffet to honor The Last Kings of Shanghai
AND DIANA SUSSMAN Co-Chairs
High Holidays 2022/5783 | 9 AROUND THE SHUL :: OUT & ABOUT AT TCS
virtual mixology and challah baking classes during the height of Covid; and a Beagles & Bagels event following Kehillah pick up, where yummy bagels and hot chocolate were enjoyed by parents and kids alike along with their doggy dates.
We can make a difference in your life, and together we can make a difference in the lives of others.
Shopping Night
Sisterhood also distributes apples and honey for Rosh Hashanah to ensure a sweet New Year; provides the delicious community Break Fast on Yom Kippur where everyone feels like family; reminds our college kids how much we miss them with holiday packages from College Connection; and helps with TCS' Annual Mitzvah Day.
Pamela Kesselman and Michelle Saunders display their hamantaschen.
Your children have left, you have all this new found time, what do you do? Join the TCS Tamid. This group was formed for anyone interested in meeting vibrant people, including both empty-nesters and those who have never had children, and doing a variety of activities. Some of the past programs Tamid has had, both on its own and in collaboration with other groups, include author talks, CPR Training, cooking classes, and presentations about healthy eating
Co-Chairs
by esteemed nutritionists. Be on the lookout for future events such as a "Booze and Jews" bourbon tasting event, a games evening (Mah Jongg, Bridge, Canasta), and a talk on cybersecurity.
Wendy Schaefer and Diana Sussman display their hamantaschen.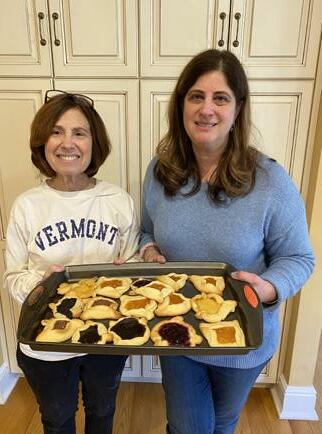 If you have suggestions, questions, or wish to be placed on our email list contact: Diana Sussman wendyewschaefer@gmail.comWendydianasussman2@gmail.comatSchaeferat
Beagles and Bagels Beach Bash
SisterhoodBYIVYGOSSEENANDGALINABLISHTEYN
oin TCS Sisterhood and surround yourself with exciting, vibrant women, as well as new and old friends. TCS Sisterhood is not your mother's Sisterhood! We connect women of all ages. Our mission is "to promote the religious and cultural aspects of Jewish living for our synagogue's women and youth." We continually look for ways to engage the congregation's women in all stages of their lives by bringing everyone together to share in fun, interactive, and spiritually-inspired events.
Some recent events have included: a shopping night out at Scout & Molly's;
BY RABBI JEREMY WIEDERHORN
USY is excited for the year ahead. We will be bringing back our much-anticipated Limo Scavenger Hunt this fall. We look forward to having another successful Midnight Run, Sukkah Building, and many more events. We are so excited to have our TCS & USY community back together this fall for an exciting year of programming.
Kehillah Corner
This past Shavuot, five women celebrated becoming a Bat Mitzvah following three years of study that began prior to COVID. Drawing inspiration from these dedicated women, Rabbi Wiederhorn announced a new initiative of Adult Learning for this coming year called "On-Demand Learning." This is how it works: if you provide five members of the congregation who are interested in learning a certain topic together, Cantor Cattan or Rabbi Wiederhorn will
BY SETH GOLOB Director of Education and Marketing Communications
10 | The Mosaic
I am especially proud of the "pint" we've created, as it has been celebrated as a model religious school in the area. Often I am asked what our special ingredient is. It has and will always be our sweet community.
Each year we add some new ingredients to our Kehillah ice cream, making it better than ever. We are planning immersive experiences like trips to the Lower East Side and Washington D.C. We'll gather together for Shabbatot Havaya and Grade family programming in our new sanctuary and social hall. We can't wait for you to join us!
AROUND THE SHUL :: OUT & ABOUT AT TCS
Adult Education: On-Demand Learning Comes to TCS
USYBYRACHELSTEINMETZ Youth Director
teach that class. You pick the topic, and the Rabbi or Cantor will work out a mutually convenient day and time to offer the class. It could be a one session class or a mini course that meets weekly. Food and beverages are welcome—let's have fun and learn together! Once you have your group of five, please email Joanne Folger at joannef@tcs-westport.org and she will help facilitate the next steps.
When I eat a pint of ice cream, I go for the scoop and pass method, skipping the bowl. I'll admit that I'm guilty of scooping out the best parts— the chocolate chips, cookie dough pieces, brownie bites. Recently, I discovered the new "core" ice cream. All of the delicious key ingredients are in the middle of the pint surrounded by ice cream. In each and every bite, I'm assured a nice scoop of ice cream filled with all of the components of the core that I enjoy most.
At Kehillah, we're the pint of ice cream with a special "core," which is, of course, my favorite flavor. Our "core" is filled with community, connection, growth, creativity, and lifelong learning. As I think about our thriving Kehillah, our ice cream flavor might be a little sweeter with a hint of something new and delicious but our "core" will continue to be exactly what we all love most about Kehillah.
Nick Rice & Juliya Arbisman (Philip 4s, siblings Oren & DouglasLogan)Brody & Jill Lukeman (Cash 2s, sibling Levi)
Philip & Stephanie Cohen (Irving 3s, sibling Goldie)
Michael & Lindsey Feldman (Sammy 3s, sibling Marcus)
Michael & Sarit Lewis (Shai 3s)
Our door is always open, so please come in!
BY LAURAN PANCOAST Director of Early Childhood, Preschool Programming & Operations, TCS
Welcome New Preschool Families
W
Eric & Alexandra Garfunkel (Maya 2s, sibling Jake)
Preschool Patter
Jasper Van Rijckevorsel & Kate Van Gil(SebastianDell3s)Varod&Emily Baraf (Alexander 3s, sibling Beatrice)
*Denotes families new to our preschool for the 2022/2023 year.
Cort Moritz & Ryan Wolf (Ryder 3s, sibling Reid)
George & Hannah Jones (George 2s)
High Holidays 2022/5783 | 11 AROUND THE SHUL :: OUT & ABOUT AT TCS
SUSAN BERNSTEIN Director of Early Childhood, Education & Curriculum, TCS
Matthew & Danielle Felice (Scottie 2s)
Preschool children at play with Cantor
Jeremy & Nicole Glick (Henry 2s)
Zachary & Bonnie Steinman (Jacob 4s, sibling Mia)
Ira & Dana Reibeisen (Ella 3s, sibling Calla)
hile we are still in the hot humid days of summer, the anticipation for cooler breezes, crisp air, and the burst of color that fall brings is growing. As educators, we always look forward to the beginning of another school year. Following a typically restful and carefree summer, it is nice to think about getting back into the daily routine and to plan for the upcoming months. As administrators, the start of another school year means lots of paperwork, preparation, and planning to get the school in full swing before the children's arrival. However, this year we find ourselves in a different frame of mind. After the last few years of social distancing, Covid procedures, and meeting people through a mask or Zoom, it has been a challenge for us to feel truly connected as a community. Friedrich Nietzsche once said, "Notice that autumn is more the season of the soul than of nature." This year, we are excited to begin another school year, working together as Co-Directors, engaging with the community and being together again and being in person, face to face, making meaningful connections and engaging in thoughtful conversations with all of you. Our team of teachers and administrators are committed to creating a learning environment for your children that is full of exploration, creativity, and self-discovery, and we look forward to our partnership with you in this journey. We are delighted to be able to anticipate the start of a new year in a whole new light, and as we get back to having our families in the preschool building, to deepening our relationships and connections with all of you.
Eric Shrago & Alisha Gerber (Gemma 2s)
Justin & Melissa Stewart (Coco 3s, sibling Benni)
Daniel & Kelly Horwitz (Eden 3s)
"We seek community and friendship. We seek the wisdom of our Jewish tradition and the inspiration to support others. We seek spiritual direction, comfort, and a place to find meaning during times of joy and sorrow. We see a deeper connection to Judaism and links from our generation to those before us and those yet to come. For all we seek, TCS if here for us.
KOACH MISSION
12 | The Mosaic .
Formed key leadership teams to work with architect and develop construction documents.
Welcome to Our New Home
Koach campaign kick-off: raised $1.8 million to support new mortgage for clergy housing; hired architect, Perkins Eastman, to develop plans to meet objectives.
Just as TCS has shaped our individual journeys, when we come together, we can transform the future of TCS.
CONSTRUCTION
Supply Chain & Timeline: We know the first question on everyone's mind is, "When will the building be ready?" We are pushing really hard, despite some very complex supply chain issues, for the building to open by the holidays. We were waiting several months for some key supplies. The good news is that the majority of supplies are currently on-site. We are now awaiting a few light fixtures, chandeliers, and electrical circuits.
BY ILENE FROST Koach Fundraising Chair
can transform the future of TCS. This campaign will tighten our bonds and, and together we are stronger."
FEATURES :: THE NEW SYNAGOGUE
B
Just as TCS has shaped our individual journeys, when we come together, we
uilding our new home for our growing TCS family has required both introspection and patience.
SPRING 2016 SUMMER 2019
FEATURES :: THE NEW SYNAGOGUE
We would love participation from the entire congregation! We are hoping each family will make a gift that is meaningful to them and contribute to our future.
• Donors who have made gifts of $10,000 or more will also be listed on the new donor wall that will be created in the rotunda
• The millwork, interior doors, and surrounding wood accents are a light wood tone, and the design palette is white, taupe, and charcoal with touches of blue
• There is a dramatic vaulted ceiling in the sanctuary, along with a series of expansive windows that flank the sanctuary and new community lounge
• The stone flooring in the rotunda will be lit by the indirect skylight above
• Beautiful Judaic millwork has been custom designed for the bimah, including the Torah ark, reading table and lecterns
Koach Campaign "Mug Shot"
- Jason, Nicki, Zach, and Sam Abramowitz
We have launched a community brick campaign to encourage participation. All gifts are payable over 5 years.
In an effort to expedite the construction through the summer, we have postponed—until next spring—the renovation of the main bathrooms, garden plantings, and exterior improvements.
We have raised $5.55 million to date. The initial goal of $6.0 million is in sight!
• The modern social hall ceiling will have LED recessed lighting, accented with eight chandeliers
Koach Campaign "Mug Shot"
Raised $2.0 million via zoom meetings during the pandemic.SPRING 2021
Began Renovation to our TCS home. SUMMER 2021
• There are new chairs for the sanctuary and social hall, and furniture for the community lounge, along with new carpeting for the entire space
FUNDRAISING
• An all-gender/handicapped bathroom has been installed on the first floor
High Holidays 2022/5783 | 13
We joined TCS when we moved to Westport in 2008 and feel very comfortable in this warm and caring community, where we have many friends. We are giving to the Koach Campaign because the beautiful enhancements to TCS' physical space will help to strengthen our community, and we are excited to play our small part in making that happen!
building, all of our donors will be proud to have made such a meaningful and transformative contribution to our synagogue and community. Importantly, we thank you for all your commitment, generosity, and support as TCS moves from strength to strength.
Renovation: The second question is "What will the renovation look like?"
• The building has been equipped with a state-of-the-art sound system and enhanced security
• The business offices and clergy suite have been redesigned and outfitted with modern furniture
- Love, Phyllis, Dan, Evan and Brooke (and Remy) Wallitt
We have been members of TCS for over nine years since we moved to Westport in 2012. TCS has played a major role in our lives during that time. We have made friendships to last a lifetime and shared many happy occasions which include a preschool graduation and a bar mitzvah with another bar mitzvah scheduled for June. Although the pandemic has taught us that TCS is so much more than a building, we look forward to congregating again with our TCS family in our updated space. We feel fortunate to be a part of such a vibrant and supportive community, and we are excited to support the Koach Campaign to give back to a special place that has given so much to us.
• Donors who have made gifts to the campaign of $5,000 or more will be gifted a brick in the new Community Walkway outside the building
• Each of you who has already pledged/ gifted in the above amounts will receive donor recognition; gifts may be increased to achieve new levels We are confident that when we gather together in our newly renovated
Anothersurreal.
14 | The Mosaic
played ping pong in the master's division for the last four games.
When our team finally arrived in Tel Aviv for the competition, I felt like a celebrity. Restaurants and stores donned the Maccabiah 21 flag, and we were given free entry into places a necessary ego boost before our competition. Even the opening ceremonies was
At least 200 Maccabi USA athletes were inching toward the check-in line dozens of teenage boys punting duffle bags of hockey equipment with their feet across the floor.
surreal moment: winning a gold medal for the squash team event. Squash is not a "rah rah" sport, but when we managed to beat the Israeli National Squash Team by one match, the tournament felt like a football game. While the competitive energy was high, the comradery of all the players and their eagerness to meet new people was overpowering. I connected with players of all ages and backgrounds a highlight friendship being the Chilean master's division (50+) who bombarded me with hugs
The Maccabiah Games, dubbed the "Jewish Olympics," is one of the largest sporting events in the world. Embracing the spirit of the mythical Sabra, Jewish and Israeli athletes from all over the world gather quadrennially for the twoweek-long competition.
:: TCS MEMBERS IN THE WORLD
veryone says it is best to go into a situation with no expectations. That statement did not ring true regarding my unique opportunity to play squash in the 21st Maccabiah Games.
I have always felt such a strong connection to the country and its original vision as a home for the Jewish people. I went to Israel when I was younger for my older brother's Bar Mitzvah, but now, I would be able to appreciate its amplitude.
Maccabiah is truly about getting as many people involved as possible. This year, Israel hosted 10,000 athletes, coaches, and staff of all ages from 80 coun tries to compete in 42 events. Events ranged from swimming and baseball to lawn bowling, fencing, and of course, squash. Even Stuart Weitzman, the famed luxury shoe designer, joined in on the fun he's
TCS Members Win at the Maccabiah Games
I was excited to compete, but even more so, I was looking forward to just being in Israel.
FEATURES
televised and featured several famous Israeli performing artists. Walking across the stage in Teddy Stadium, trading pins, and dancing with thousands of Jewish athletes from Ukraine, Chile, and Australia to music and a fireworks display it all felt
E
Like all adventures,life-changingmyjourney began at Newark International Airport.
I do not think I understood the grandiosity of Maccabiah, and its importance to the people of TwoIsrael.weeks before the games, Maccabi USA invites the entire
delegation to participate in Israel Connect, a program designed to bond us to Israel and each other. Each day, we would wake up at 5:00 a.m. for practice in Ra'anana. We would play for a couple of hours, and then my new friends and I would hop on a bus to go on excursions to Tel Aviv, Masada, the Dead Sea, Yad Vashem and the Kotel, a moshav, where we worked on a vineyard, and a B'nai Mitzvah at Hebrew University for those U.S. delegates who had not had one. Israel Connect proved to be one of the high lights of my trip.
BY HALEY BLOCH
when we ran into each other on the streets of Tel Aviv.
*PSA for all you pickleball players: get ready because you will be happy to know they are adding it to the next Maccabiah Games in 2024!*
Haley Bloch wearing her gold medal.
Andrew Saunders with friends on Birthright trip to Israel
Attending Birthright in Israel BY ANDREW SAUNDERS
articipating in the Maccabiah games was a spectacular experience that I will always cherish.  My excitement started building weeks before when I learned that I was to be one of 10,000 Jewish athletes representing 80 countries and 42 sports. I had been chosen as a member of the Under 18 Judo team of the 2022 Macabbiah.
Harry Greenberg wearing his bronze medal.
BY HARRY GREENBERG
Mythrived!USteammates
The Judo training was first rate. We had the opportunity to practice at the top Judo clubs in Israel. The Judo competition was held over two days in a sports facility in Northern Israel. I won enough matches to get to the podium with a bronze medal!
and I then met Maccabiah athletes representing nations from Israel to Australia to Brazil. As we traded shirts and pins, we became friends  despite speaking different languages.  It was an exciting experience to spend my days with other athletes who were all Jewish.
I have wonderful memories of participating in Maccabiah 2022 and experiencing Israel. Hopefully, I will be able to participate in the next Maccabiah games in three years.
This was my first trip to Israel. Most of the passengers were other Maccabiah athletes. Landing in Israel, the homeland for Jews around the world, was thrilling.
What an inspiring journey the Jewish People have made through the ages! We started
as a small group, sustained through enslavement in Egypt, and finally established our own kingdom based in Jerusalem. Despite our dispersion throughout the world, the Jewish people returned to Israel following the horrors of the Holocaust and reestablished our nation in our ancient homeland. We have
High Holidays 2022/5783 | 15
The Maccabiah games were thrilling from beginning to end. The opening ceremonies in Jerusalem, attended by the Prime Minister of Israel and the President of the United States, were just like the opening ceremonies of the Olympics. Each country marched in waving flags and cheering along with the crowd.
FEATURES :: TCS MEMBERS IN THE
Squash and the Maccabiah Games was the inspiration of my journey to Israel this summer. However, I will remember the summer of 2022 not by the competition, but rather as the summer I reinforced my inextricable tie the Homeland. It is true that Israelis are undoubtably devoted to their nation and its success. I went to high schools where I was one of only a handful of Jewish students. I never felt like there was a community where people shared my passion for my Jewishness, and especially Israel. Though I am only a sophomore in college, I will hold onto what one Canadian squash player advised me when I mentioned my dream of making Aliyah: "Moving to Israel was the best decision of my Maccabiahlife." was one for the books. Lastly…
During the first week in Israel,  US athletes participated in Israel Connect, educational trips to significant sites throughout Israel. I had learned about the history of sites such as the Western Wall and Yad Vashem, but these direct experiences brought the Jewish history to life in a way I had never imagined and enriched my connection to the Jewish people.
WORLD
P
A MOSAIC OF HIGH HOLIDAY TRADITIONS
At our synagogue, many women view the High Holidays as an opportunity to wear the latest fall fashions. After all, everyone will be there. Men wear suits or khakis and sport jackets. But when I grew up, we wore white on Yom Kippur to show purity before G-d and did not wear any leather, which meant wearing rubber soled shoes. Some people still observe this today.
F
16 | The Mosaic
Of course, attire only skims the surface of the various ways Jews around the world welcome the New Year.
ollowing a man that I'd just met down the street on Friday night, I was concerned. I'd shown him the synagogue's name and asked for directions but he didn't speak a word of English. Instead, he just motioned to follow. Did he even know what I was looking for? Then, I heard the soft, familiar strains of prayer— the melodies and words that we sang at home for Shabbat. He knew. Walking in, I instantly felt connected to strangers halfway around the world.
Where you live affects what you wear for the High Holidays.
Regional nuances provide spice and color to Jewish services and celebrations, especially Rosh Hashanah and Yom Kippur.
Ugit ut odis conse et et aut aut aut lantiaectis reperumquis seque imus, sunt, quis molupta velland icianis dunt aut. Gia placcatio ma volore omni.
Like so many other European traditions, dressing formally for the High Holidays did cross the Atlantic. Interestingly, congregants at the Spanish & Portuguese Synagogue in New York (Shearith Israel) used to wear dress coats on the bimah. Also like it's European counterparts, the Synagogue's dress code has relaxed a bit.
Knowing that Jews around the world chant the same prayers and share traditions is comforting. Yet, the regional nuances provide spice and color to Jewish services and celebrations, especially Rosh Hashanah and Yom Kippur.
When my Australian friend Fiona Elkinson attended her first Rosh Hashanah service in New York wearing her formal dress and a proper hat, she felt very out of place. Women wore "doilies" on their heads and dressed more casually—some even wore pants! By comparison, however, these New Yorkers seemed dressy once Fiona moved to Bermuda. There women wore sundresses, some with sweaters to cover their shoulders, and nothing on their heads. Many men walked into services with khakis and flip flops.
FEATURES HOLIDAY CELEBRATIONS AROUND THE
Manchester. As Cyril Ordman, the Warden of the Manchester Shul explained "You would wear a tie in front of the Queen. So, here in Shul, when you are standing before the King of Kings, you should wear a tie."
In England and Ireland, up until the 1960s the members of the synagogue board used to be required to sit on the bimah wearing top hats and tails. Just 25 years ago, these board members still wore silk top hats and morning coats. While the dress code in both countries has relaxed since then, men are still expected to wear ties in
BY DIANA SUSSMAN
:: HIGH
Not to be confused with Luke Skywalker's Jedi robe, Moroccans and some Israelis wear this galabeya to Yom Kippur services.
North African Jews traditionally wear new clothes to welcome the New Year. On Yom Kippur, some wear a galabeya, a hooded robe, easily mistaken for a Jedi costume worn in Star Wars. Some Orthodox Jews in Israel also wear galabeyas to holidays and festivals. Others wear a white, nonhooded robe called a kittel.
WORLD
"juevos jaminados"—eggs with onions that are cooked overnight until the yolk is green and orange and the normally white part of the egg is brown. Jews in Italy break fast on "pesce al Ebraica" (fish, Jewish style), which is any white flesh fish cooked with honey, raisins, and pine nuts. In Morocco, Jews sit down to "harira," a vegetable soup that includes chickpeas, lentils, rice or noodles, egg, tomatoes, and other vegetables. Greek Jews also have soup, but theirs is called "avgolemono" and made from lemon and eggs. Germans enjoy "zimsternes" (cinnamon star-
On Rosh Hashanah, we all wish each other some version of "L'shana tova tikatevu," meaning may you be inscribed for a good year. Most of us shorten it to a simple "L'shana tova"—have a good year. Ladinos, however, wish "pujados y no menguados," which means "pushed and not taken." In essence, this phrase wishes that women will "push" babies into the world and that no lives should be taken. They also wish each other "una anyada buena," a good year. In Israel, children make holiday cards wishing their friends and family a happy, healthy, New Year.
chocolate.shapedcookies).
Ugit ut odis conse et et aut aut aut lantiaectis reperumquis seque imus, sunt, quis molupta velland icianis dunt aut. Gia placcatio ma volore omni.
These cookies might go well with the "pepita," milk made from the seeds of various melons and mixed with vanilla that Jews in Turkey
FEATURES :: HIGH HOLIDAY CELEBRATIONS AROUND THE WORLD
Here in Connecticut, many sit down to a traditional Ashkenazic meal, featuring gefilte fish without horseradish (nothing bitter when hoping for a sweet New Year), chicken soup, chicken, dishes featuring apples and honey, and the traditional honey cake. But Sephardic Jews do not feature apples and honey. In Morocco, they eat sweet couscous and donate it to the poor. Iraqi Jews have almond-based drinks at breakfast, while Germans and Austrians eat donuts for breakfast. Lybians eat special fried latkes and bread dipped in honey. In many countries including Israel and England, pomegranates are traditional because they supposedly have 613 seeds and there are 613 mitzvahs. Do you think they really counted the seeds?
What people break fast on at the end of Yom Kippur also varies. At home, we have our bagels, deli, tuna salad, egg salad, and noodle kugel but Sephardic Jews enjoy
Not surprisingly, however, the biggest difference among Jews at the High Holidays is found in what they eat.
Pesce de ElbraicaPomegranates supposedly have 613 seeds
and Bulgaria drink. Mexican Jews break fast by sipping melted chocolate, a custom they started during the Spanish Inquisition to hide Jewish identities.
The liturgy can also vary among countries. In Hebron, Kabbalat Shabbat is sung even when Rosh Hashanah does not fall on Shabbat. In Frankfurt, during the repetition of the Amidah, the Levis would donate money to the Cohens. In Germany, Adon Olam has a special melody. In Libya, the cantor sings the Amidah on Rosh Hashanah, instead of saying it silently.
High Holidays 2022/5783 | 17
Together, these Jewish traditions create a rich mosaic of our culture and history. Introducing some of these traditions into your own celebration might add new flavor. I'll start by sipping melted
Garnish with chopped cilantro and Servealmonds.with rice, couscous, or quinoa.
For a vegetarian version add one more can of chickpeas and some zucchini. Thanks to Sophie Robbins Mestre for the recipe.
What's Cooking?
1 Tbsp ground ginger
1 quart chicken stock
1 lb sweet potatoes
4 lb boneless, skinless chicken thighs,
This yummy Morrocan-spiced tagine is a great holiday dish. It is even better if you make it ahead of time.
1/2 tsp ground nutmeg
(You can do up to this point and refrigerate overnight, reheat before serving.)
BY ELISE MEYER
Ingredients
FEATURES :: HIGH HOLIDAY RECIPES
1/2 tsp cayenne pepper
For more detail and other recipes check out Elise Meyer's blog at http://www.muchadoaboutstuffing.com
1 28 oz can diced tomatoes with juice
4. After 30 minutes add the sweet pota toes and the butternut squash.
1/4 cup slivered almonds (optional)
1. Season chicken with salt and pepper, coat a large pot or dutch oven with a thin layer of olive oil and brown the chicken in batches over high heat, don't crowd the pieces. Don't worry if the chicken sticks a little, it's good for the flavor of the sauce. Set aside.
1 8 oz can chickpeas, rinsed and drained
Sweet and Savory Chicken Tagine
1 large butternut squash, peeled and cut into 1" pieces
1/4 cup cilantro
18 | The Mosaic
2 tsp ground cinnamon
2 tsp salt
6. Before serving add the dried fruit and heat thoroughly.
Serves 8-10
3. Return the chicken to the pot with the tomatoes and chickpeas, and stir in the stock at least enough to cover, and simmer over low heat, or put in 325 degree oven.
Vegetarian Variation
1 1/2 tsp cumin
4 cloves garlic, chopped
1/2 cup golden raisins
2halvedmedium yellow onions, diced
1/2 lemon, juiced
2 tsp turmeric
The Method
2. Add the onions to the pot and saute over medium heat until translucent, scraping up any bits clinging to the bottom, about 7 minutes. Stir in the garlic and all the spices.
1/2 cup dried apricots (or any other dried fruit you have/like)
5. Continue to cook, with lid of pot ajar for a total of 1-2 hours, the longer the better.
2. Use baking stone if you have one. If not, set onto parchment paper on baking sheet.
1 jar Apple Butter or Trader Joe's Apple Cider Spread.
Step 6
2 eggs
Be sure to pinch the strands closed.
1/2 cup sugar
Ugit ut odis conse et et aut aut aut lantiaectis reperumquis seque imus, sunt, quis molupta velland icianis dunt aut. Gia placcatio ma volore omni.
6. Braid into 1 loaf.
Step 1
Ingredients
Bread machine method
1/3 cup oil
1. Put ingredients into bread machine in order recommended by manufacturer.
Pinch the strands closed around the apple butter filling.
2. Set to DOUGH cycle.
If you don't have a bread machine, mix ingredients in standing mixer using dough hook attachment. Knead in machine on medium low speed for 7 minutes. Remove dough and put in greased bowl. Cover with a towel. Let rise until double. Continue as above.
4. Paint loaves with egg glaze.
Step 5
4 cups all purpose flour
High Holidays 2022/5783 | 19
Divide whole batch of challah dough into 6 equal portions
Begin the basketweave braiding as in photo.
Basketweave Braiding a Round Challah
FEATURES :: HIGH HOLIDAY RECIPES
1 tsp salt
Step 7
Gather the three strands on each side and braid them to close. Tuck the mini braids under the loaf.
Round Apple Butter Challah
Let rise about 45 minutes or until puffy.
Step 9
After the loaf is puffed and risen, glaze with a beaten egg and sprinkle with coarse sugar. Bake.
B'tayavon!
Ugit ut odis conse et et aut aut aut lantiaectis reperumquis seque imus, sunt, quis molupta velland icianis dunt aut. Gia placcatio ma volore omni.
3. Allow loaves to rise until double. About 45 minutes.
5. Bake for about 25 minutes or until golden brown.
Step 4
5. Cut into 6 equal parts.
1. Preaheat oven to 350.
Step 3
1 Tbsp instant yeast
Shape each piece into a flattened rope about 6 inches long, and spoon about a tablespoon of the apple butter into the middle.
Baking
4. Set on lightly floured surface
3. Remove from machine.
Continue adding and weaving in the strands.
By hand method
Step 2
Step 8
1 cup water
BROOKE WALLITT October 22 Bereishit
Mazal Tov to Our B'nei Mitzvah
ABE GUTKOWSKI September 10 Ki Teitzei
NOA KATZ October 29 Noa h
LENA ELSON October 15 Hol Ha'Moed Sukkot
ROBERT POTTER September 3 Shoftim
LAUREN POTTER September 3 Shoftim
20 | The Mosaic AROUND THE SHUL :: OUT & ABOUT AT TCS
JENNA BARD November 5 Lekh L'kha
EVAN FEURSTADT September 17 Ki Tavo
Wine fountain for Kiddush Shabbat candles & kiddush cup
AROUND
Shabbat candles made of blown glass
These are just a few teasers from our shop's collection:
Apples and honey plate for a sweet New Year
BY WENDY SCHAEFER & DIANA SUSSMAN Co-chairs
High Holidays 2022/5783 | 21
DISCOVERHEBREWBI-CULTURALACADEMY! Where academic excellence, traditional values and Jewish heritage combine to create happy, successful students! For more information or to register, please contact Bonnie Marcus, Director of Admissions, at bmarcus@bcha-ct.org 2186 High Ridge Road, Stamford, CT 06903 Lower School (203) 329-2186 Upper School (203) 883-8970 bcha-ct.org OPEN HOUSE LOWER SCHOOL (PreK - 8th Grade): Sunday, October 30th 10 am - 12:30 pm UPPER SCHOOL (Grades 9-12): Sunday, November 6th 1:30 pm - 3:30 pm Serving communityWestporttheforover 65 years!
Our TCS Judaica Boutique offers onestop shopping for the upcoming High Holidays and all your Judaica needs. We have an extensive collection of items, predominantly from Israel, including mezuzot, kosher mezuzah scrolls, Shabbat candlesticks, kiddush cups, challah cutting boards, tallitot, and holiday specific items such as menorahs, Hanukkah candles, gelt, honey dishes, and Passover Seder plates. We also offer jewelry, books, and toys for the perfect Itemsgift. can be purchased online or in person. For more information, contact: Wendy Dianasussman2@gmail.comDianawendyewschaefer@gmail.comSchaeferSussman
Shofar and temple wall holder Honey pots for a sweet New Year
Shabbat candles
TCS Judaica Boutique
THE SHUL :: OUT & ABOUT AT TCS
• Donna & David Hyman
• Robert Lobock z"l
• Ginny Herron-Lanoil
• Mike & Pam Bass
Robert & Sharon Desatnik in memory of Shari Levy z"l Michelle Genn in memory of Marilyn Newman z"l Sally & Larry Kleinman in memory of Naomi Cohen z"l
TCS Thanks Its Donors, Doers & Daveners
• Kara & Jay Katz
• Gregory & Amanda Parker
• The Crucitti Family
Doug & Debbie Fine in memory of Shari Levy z"l
The Dombrow Family in honor of Rabbi Wiederhorn for his support and guidance for Leah's Bat Mitzvah Sarah Dubrow
• Anonymous
• Alan Glick z"l
• Eric & Allison Levin
22 | The Mosaic TCS LOVES :: DONORS, DOERS,& DAVENERS
• Cindy Eigen
• Dr. Constance Freeman
• Robin & Matt Leom
• Debra Tobias
General Fund
Jewish Cultural Arts Fund
Adult Education Fund
Ellen & Arthur Gang in memory of Joseph Haroun z"l
Alan Levine in memory of Joseph Haroun z"l Stewart & Elizabeth Levine in memory of Reuben Levine z"l
Nicole & Jason Abramowitz in honor of the Bar Mitzvah of Sam Abramowitz Barbara & Ed Berliner in memory of Vera Kahn Levi z"l
The following people made donations in honor the B'not Mitzvah of Lauren Barnett, Lisa Kessler, Kim Pauley, Miki Scarfo, Linda Sharkey:
Prayer Book & Chumash Fund
Michelle Genn in memory of Harold Newman z"l
• Robert Armentano
• Samira & Donald Lowman
• Zena Saunders
Koach
Brian Kabcenell in memory of Shari Levy z"l
The Folger Family in memory of Allan Goshin z"l Polly Wachtenheim in memory of Michael J. Lewis z"l
Karen Schnapp Memorial Building Fund
Roger & Cynthia Lewin in memory of Shari Levy z"l
Cynthia Lieberbaum in memory of Lillian Lieberbaum z"l
Holocaust Education Fund
• Ed Elson z"l
Mona Bernstein in memory of Claire Wahler Barbaraz"l& Peter Galowitz in memory of Shari Levy z"l Tracy & Marc Porosoff in memory of Joseph Haroun z"l Mindy Hersh & Ian Walters in memory of Ted Hersh z"l
• Ron & Laura Yarish
Library Fund
David Cohen
• Jill & David Halper
Rob & Julie Haroun in memory of Shari Levy z"l
The Dombrow Family in honor of Cantor Cattan for his support and guidance for Leah's Bat Mitzvah
• Alan E. Smith
Preschool Scholarship Fund
• Lisa & Robert Rowan
Hilary & Roger Machlis in memory of Joseph Haroun z"l Samuel & Alyne Oppenheim in memory of Shari Levy z"l
Julie & Rob Haroun in memory of Sandee Schlegel Doctrow z"l
The Board of ISRAEL21c in memory of Shari Levy z"l
Jill & Doug Brody
• Stephanie Gordon
Nancy Gold in memory of Morton Ilberman z"l
Karen Cohen in memory of Zeena Cohen z"l and Shari Levy z"l Karen Cohen in honor of the birth of Scarlett Drew Bernstein
Kehillah School Fund
Robin & Barry Babbin in memory of Mrs. Shirley Babbin z"l
Cantor's Discretionary Fund
Nicole & Jason Abramowitz in honor of the Bar Mitzvah of Sam Abramowitz
• Terry Quint
The Kasher Family in memory of Joseph Haroun z"l Isabel & Steve Moskowitz in memory of Sandee Schlegel Doctrow z"l and Joseph Haroun z"l Sandy & Mark Rappaport in memory of Joseph Haroun z"l Michele & Lee Wrubel in memory of Joseph Haroun z"l
• Denise & Adam Pearl
The Byer Family in memory of Benjamin Byer z"l
• Sarah Glick z"l
Linda Freud
Dan Haroun in memory of Joseph Haroun z"l Jillian & Anthony Klaff in memory of Benny Gelfand z"l and Joseph Haroun z"l Michael & Sally Kleigman in memory of Shari Levy z"l
Jon Fraade & Rita Appel Arthur & Ellen Gang in honor of Sheri Warshaw, Julia Marx, and Stacy Kamisar Susan Glick in appreciation of Rabbi Wiederhorn's recent shiva visit Phil, Sara, Emma, and Ava Glick in memory
• Dr. Georgia Witkin
Wendy & Jeff Cohen in memory of Shari Levy Lindaz"l& Michael Gordon in memory of Sandee Schlegel Doctrow z"l Naomi & Jeff Weingart in memory of Sandee Schlegel Doctrow z"l Louis Feinberg in memory of Shari Levy z"l Margery Gering Feinberg in memory of Shari Levy z"l Michael & Lauri Friedland Patty Goldstick in memory of Joseph Haroun z"l
Building/Security Fund
Craig & Nicole Bonn in appreciation of Rabbi Wiederhorn
The Folger Family in memory of Allan Goshin z"l
•of: Ethel Elson z"l
• Meredith Gershon & Howie Fetner
• Emily & Mark Blitzer
• Ida Lobock z"l
Funds and Contributions received between May 1 and July 26, 2022. Any contributions received after July 26th will appear in the next issue.
Roger & Hilary Machlis in memory of Bernard Markowitz z"l
Rabbi's Discretionary Fund
• Barbara Brandenberg
The Schachne Family in memory of Robert Feldman z"l and Joseph Haroun z"l Lili Stawski in honor of the birth of her Valeriegrandson&Michael Szeto in memory of Joseph Haroun z"l Shellie Tapfar in memory of Bernice Gorelick z"l Sherry & Fred Wiener in memory of Bertha Wiener z"l and Gay Wiener z"l Lee & Michele Wrubel in memory of Sandee Schlegel Doctrow z"l and Shana Wildstein z"l
Todah Rabah for Sponsoring Kiddush Lunch
Marcie Jacob in memory of Robert Darefsky z"l
Matthew & Melissa Dombrow in honor of Leah's Bat Mitzvah Jason & Nicole Abramowitz in honor of Sam's Bar Mitzvah Milton & Rhoda Silverman in observance of shloshim for Shari Levy z"l Lauren Barnett, Lisa Kessler, Kimberley Pauley, Michal Scarfo & Linda Sharkey in honor of their B'not Mitzvah Steven Goldring in honor of his birthday
Jennifer & Jordan Kanfer in memory of Shana Wildstein z"l
Rick Bitsky & Joni Usdan in memory of Golda Bitsky z"l
Sue & Steffen Lunde in memory of Sandee Schlegel Doctrow z"l Sharon & Steven Navarro in memory of Joseph Haroun z"l Wendy & Philip Schaefer in memory of Joseph Haroun z"l, Chaya Wexler z"l, and Shana Wildstein z"l
Kol Hakavod to Recent Torah And Haftorah Readers
ellengangdesignstudio.com203-645-3941
Linda & Len Russ in memory of Chaya Wexler z"l
Jason HowardMarkJudyPhilArtHenryEllenSarahCantorZacharyNicoleAbramowitzAbramowitzAbramowitzLuisCattanDubrowFriedmanFeuersteinGangGlickGreenbergHighmanHochster
Experience the Joy of Design with Ellen Gang
USY/Kadima/Machar Fund
Private Lessons, Group Classes
Anthony & Jillian Klaff in memory of Marjorie Klaff z"l
James Glasser & Sharon Jaffe in memory of Shari Levy z"l
Julia & Andy Genser in honor of all of the B'not Mitzvah women – Lauren Barnett, Linda Sharkey, Miki Scarfo, Lisa Kessler, Kim MarjoriePauleyJacobson in memory of Dennis Poster Michaelz"l& Elizabeth Kessler
Tal & Marcy Oren in honor of Oliver's Bar Mitzvah Alan & Barbara Phillips in honor of the Aufruf of Ian Phillips & Leslie Berkowitz Jay & Beth Rand in honor of the Aufruf of Brendan Rand & Rachel Samuels Domenico Calandro & Jolanda Zickmann in honor of Sam's Bar Mitzvah Mark & Kim Shapiro in honor of Ryan's Bar Mitzvah
Roger & Hilary Machlis in memory of Shari Levy Rogerz"l&
Geoffrey & Orna Stern in honor of the birth of their granddaughter, Georgia
Jennifer & Jordan Kanfer in memory of Sandee Schlegel Doctrow z"l and Dennis Poster z"l
Hilary Machlis in honor of the Au fruf of Carly Machlis and Aaron Freedman Susan & Murray Morrison in memory of Ruth Kobren z"l and Mildred Morrison z"l Sandy & Mark Rappaport in memory of Sandee Schlegel Doctrow z"l and Robert Feldman z"l
Denise Lewis in memory of Michael J. Lewis z"l
Richard & Barbara Greenspan in memory of Reynold Greenspan z"l
TCS LOVES :: DONORS, DOERS,&
Rob & Julie Haroun in memory of Shari Levy z"l
Sisterhood – Mitzvah Fund
Esther AndrewTanenbaum&SherylUdell in honor of Ryan Shapiro becoming a Bar Mitzvah The Udell Family in memory of Joseph Haroun z"l
Tikkun Olam Fund
Fashion Design Challenges
Martin & Martha Rosenfeld in memory of Freda Rosenfeld z"l
Cynthia & Jay Hamburger in memory of Lillie Hamburger z"l Wendy & Philip Schaefer in memory of Dennis Poster z"l Gayle & Seth Weinstein in memory of Shana Wildstein z"l
Sewing & Patternmaking Skills College Portfolio Prep
Adam Hodes Bob MarkCarlyLeonJaySusanStewIsraelyLevineOchmanRandSerfatySteckelSteckel
DAVENERS
High Holidays 2022/5783 | 23
Geoffrey Stern Carol RabbiWahlerJeremy Wiederhorn
Meital and Riki Wiederhorn at finish line
The purpose of the run was to raise money for LUNGevity, an organization close to Nancy's heart. Thank you to all who contributed.
24 | The Mosaic FEATURES :: RUNNING TO REMEMBER TCS SCENE CONTINUED FROM PAGE 5 31:1
2
Sisterhood at Beach Bash. Back row: Mindy Hersh, Deborah Goodman, Candi Savin, Galina Blishteyn, Ivy Gosseen, Leslie Gold, Diana Sussman, Lynda Kommel-Browne, Phyllis Wallitt, Jessica Siegel, Linda Gordon, Renee Serfaty: Front row: Ellen Graff, Meredith Poster, Pegah Rosenthal, Julia Marx, Ilene Frost. 2: Shabbat on the Beach. Tolkin family. 3: Preschool Shabbat on the Beach. 4: Shabbat on the Beach. 5: Preschool Shabbat on the Beach. Director Lauran Pancoast. 6: Shabbat on the Beach. Rabbi Wiederhorn, Tibi, Cantor Cattan. 654
We did it! After 12 weeks of training, during which time period Meital came down with one case of Covid and a knee injury, we completed the TLV Half Marathon (13.1 miles) in 2 hours and 8 minutes.
Running in honor of Nancy Cohen z"l on what would have been her 57th birthday felt like such a positive way to remember and celebrate this incredible woman. Thank you Nancy for holding off the rain storm until we had finished!!!
BY RIKI & MEITAL WIEDERHORN
Riki and Meital Wiederhorn show off medals
Running to Remember TCS Past President Nancy Cohen z"l
Making stuffed animals on Mitzvah Day
AROUND THE SHUL :: OUT & ABOUT AT
• Committee heads for organizing monthly meals
During the 2021-2022 year, the Tikkun Olam team focused on the calling to help the "other" – to welcome strangers. Specifically, we focused on helping immigrants and refugees; especially those recently arriving from Afghanistan.
FALL 2021: Tikkun Olam coordinated Project Isaiah – an online food drive which helped to fill the Homes with Hope Food Pantry.
High Holidays 2022/5783 | 25
Delivering Shabbat meals
• Lauran Pancoast for organizing the preschool efforts to make welcome posters
WINTER 2021/22: Preschool made welcome posters in Pashto and Farsi for newly arriving Afghan refugees. We also collected bedding, cleaning supplies, and grocery cards for refugees being resettled through CIRI. The congregation donated two laptops and $850 in VISA gift cards for groceries, and purchased all online registry items.
• Noah Wollowick for his unwavering dedication to our efforts with the IRRC
Stuffing backpacks with school supplies
TCS
SUMMER 2021: TCS congregants raised money, then packed and sent over 100 new backpacks filled with school supplies to Homes with Hope and the Catholic Academy of Bridgeport. Backpacks went directly into the hands of underprivileged children in Fairfield County.
THANK YOU to all of you who participated in Mitzvah Day, helped coordinate and/or took part in our various activities, and generously donated to those in need! Special thanks to:
Tikkun Olam
• Ivy Gosseen and Galina Blishteyn for organizing the incredible new baby welcome baskets
• Nicki Abramowitz and Melissa Dombrow for coordinating Mitzvah Day activities with Kehillah
ONGOING: Our Tikkun Olam team helped lead the Interfaith Refugee Resettlement Committee (IRRC), which consists of seven local houses of worship (Christian, Jewish & Muslim) that joined together to help resettle two Afghan families in the Bridgeport area. Rachel and Jodi headed the Transportation team, arranging drivers to help get the families to various appointments and teaching them to navigate public transportation. Tikkun Olam also continues to organize meals for the homeless at the Gillespie Center on every first Thursday of the month.
SPRING 2022: For Mitzvah Day we packed backpacks with school supplies for refugee children; created stuffed animals, handwritten notes, and large welcome posters for new refugee children; helped to clean the offices of CIRI (Connecticut Institute for Refugees Immigrants Camp); delivered Shabbat Meals to Holocaust survivors and needy senior citizens; organized the Homes with Hope Food Pantry; buried sacred texts; and made baby gift baskets for expectant refugee mothers.
BY RACHEL MEISEL & JODI ROSS Co-chairs
Arnold Leon Koster z"l, father of Amanda (Greg) Koster
Larry Greenstein z"l, father of Mona (Jeff) Bernstein
Lee Mitchell Goldfine z"l, father of Rachel (Mark Highman) Goldfine
Claire Storm z"l, mother of Bob (Gail) Storm Alberta Samayoa de Pineda z"l, mother of Emilia (Brian) Dunn Shari Levy z"l, partner-in-crime to Harold, mother of Jenna (Aaron Desatnik) Levy, Jonathan (Sara) Levy and Dana (Reiss Clauson-Wolf) Levy
Martin Gazes z"l, father of Kimberly (Adam) Bard Eleanor "Kitty" Mendell z"l, mother of Stephen (Ellen) Mendell
Harold "Hal" Glick z"l, father of Michael (Susan) Glick Claire Wahler z"l, mother of Allan (Carol) Wahler
Joy Bonn z"l, mother of Craig (Nicole) Bonn Ceily Ganeles z"l, mother of Tami (Bruce) Weiser Lillian Siegel z"l, mother of Joel (Jessica) Siegel
Albert "Al" Cassuto z"l, father of Sharon (Steven) Navarro Yale Kamisar z"l, father of Jon (Stacy) Kamisar
Robert Feldman z"l, brother of Sandy (Mark) Rappaport Chaya Wexler z"l, mother of Orna (Geoffrey) Stern Sandee Schlegel Doctrow z"l, sister of Beth (Jay) Rand
Alan Sternberg z"l, father of David (Julie) Sternberg Marjorie Feldman z"l, mother of Anthony (Jillian) Klaff Ruth Kobren z"l, mother of Susan (Murray) Morrison, grandmother of Jennifer (Jordan) Kanfer Shmuel Peretz z"l, father of Hillit Rozenberg Rose Louros z"l, mother of Athena (Sloan) Sehr Celia Zisfein z"l, mother of Bill (Leah) Zisfein Phyllis Turin z"l, mother of Lynn (John) Pokorny Betty Puklin z"l, mother of Alan Puklin Bette Argosh z"l, mother of Mark (Paula) Argosh Lawrence Argosh z"l, father of Mark (Paula) Argosh Dolores Gordon z"l, mother of Michael (Linda) Gordon Norma Sutton z"l, mother of Bob (Margie) Labarre Ray Wolfe z"l, father of Marsha (Jeff) Gray Alan W. Kaplan z"l, father of Elisabeth (Art Spitzer) Boas Barbara Miller z"l, mother of Scott (Karen Feldman) Miller Bernie Barnett z"l, father of Jordan (Lauren) Barnett Grace Glasser z"l, mother of Jim (Sharon Jaffe) Glasser Isaac "Ike" Kaplowitz z"l, father of Rich (Marji) Kaplowitz Gita Kaplowitz z"l, mother of Rich (Marji) Kaplowitz
Martin Mellin z"l, husband of Nisa Mellin, father of Jedd, Ethan and Julia Allan Feltingoff z"l, father of Mitchell (Laura) Felton Judge Bruce E. Kaufman z"l, step-father of Bob (Yvette) Rose Alan Jay Milbauer z"l, father of Karen (Michael) Wolfe Marian Sunie Levin z"l, mother of Leslie (Steven Kaplan) Levin
Harvey Kornbluth z"l, father of Mark (Betty Landau) Kornbluth
Dennis Poster z"l, father of Meredith Poster and Cindy (David) Eigen
Condolences
Jerome "Jerry" Hershel Bloom z"l, step-father of Julie Tolkin Alan Samuels z"l, father of Steven (Judy) Samuels
Ida Yormark z"l, mother of Ken (Diane) Yormark Michael Lieberbaum z"l, husband of Cynthia Lieberbaum, father of Lori (David) Popkin
Dorothy Lipton z"l, mother of Meryl (Steven) Sitver
Steven Cohen z"l, husband of Karen Cohen, father of Dana (Daniel) Bernstein and Alyssa (Daniel) Lavy Helene Schachne z"l, mother of David (Faith) Schachne Richard Puklin z"l, father of Alan Puklin Myrna Poster z"l, mother of Jennifer Hershey Neil Guller z"l, father of Anna Guller and Michael Guller Ellyn Cohen z"l, mother of Shari (Gary) Korn
26 | The Mosaic AROUND THE SHUL :: CONDOLENCES
David Labarre z"l, father of Bob (Margie) Labarre Jonathan Greenfield z"l, husband of Iris Greenfield, father of Zachary, Skye and Josie James "Jim" Robbins z"l Marilyn Sturner z"l, mother of Benjamin (Kimberly) Sturner Nancy Cohen z"l, wife of Josh, mother of Ross, Julia and Dana Lou Berlin z"l, father of Judy (Steve) Samuels Mike Zegers z"l, husband of Melissa Katz, father of Zoe and Max Mark Fetner z"l, father of Howie (Meredith Gershon) Fetner Carol Hyman z"l, mother of David (Donna) Hyman Mimi Stambler z"l, mother of Judy (Eric) Marshall Donald Kaplan z"l, father of Keith (Cari) Kaplan Marilyn Foodim z"l, mother of Stacey Foodim-Sloan Henry Nathan Goldberg z"l, father of Fran Rackson Florence Janco z"l, mother of Faith (David) Schachne Marvin David Malowitz z"l, father of Wes (Lauren Soloff) Malowitz
Robert Stephen Greenberger z"l, brother of Cynthia Lieberbaum
Phyllis Bobrow z"l, mother of Rich (Holly) Bobrow Sylvia Hirshout z"l, mother of Debra (Marshall) Levin Allen Samson z"l, father of Nancy z"l (Josh) Cohen Martin Ross z"l, father of Jason (Jodi) Ross Nancy Friedman z"l, mother of Scott (Adrienne) Friedman Stanley Priesand z"l, father of David (Pamela Schneider) Young Sevilla Kommel z"l, mother of Lynda (David Browne) Kommel-Browne
Joseph Haroun z"l, father of Rob (Julie) Haroun
Mark Flaherty z"l, father of Joshua (Nancy Bell) Flaherty Robert Darefsky z"l, husband of Amy Darefsky, father of Jordan Darefsky and Carlie Darefsky Barbara Einziger z"l, mother of Julie (David) Sternberg Shana Wildstein z"l, mother of Gwen (David) Baker Fred Kantor z"l, father of Ted (Susan) Kantor Belle Greenberg z"l, mother of Ezra (Kristin Schneeman) Greenberg
JoniHomes.com Joni@JoniHomes.com 203.216.7654
Larry Schloss z"l, husband of Sally Bergwerk, father of Robert Schloss and Margot Schloss
High Holidays 2022/5783 | 27 AROUND THE SHUL :: CONDOLENCES Honoring the customs and traditions of our diverse Jewish and Interfaith community since 1948. Three generations of the Green family have served the community with compassion, understanding, and dignity for over 70 years. • Pre Need Arrangements (in person, phone, and virtual conferences) • Pre Paid Funeral Trusts (including Medicaid spend down compliance) • Assistance with out of town loss and burial • Funeral Directors with Connecticut, New York, and Florida licensure Contact us today to learn more about our services 203 255 8993 www greensfuneralhome com 88 Beach Road | Fairfield, CT 06824
104 Myrtle Avenue, Stamford, Connecticut 06902 | 203.324.4494 info@sholomchapel.com | www. SholomChapel .com 203.324.4494 Your Hometown Jewish Funeral Home. Locally owned and operated • Private Tahara Room • Shomer Available • Graveside Services • Livestream Service Available • International & Domestic Transportation • Serving All Cemeteries Our family proudly serving your community for generations. 28 | The Mosaic
High Holidays 2022/5783 | 29
MITCHELLS.COMFamily
We are blessed to have been friends and neighbors with The Conservative Synagogue for so many years... and more to come! The Mitchell
25 Erev Rosh Hashanah
17 Shemini Atzeret (No Preschool)
11:30am - 1:00pm - Adult Service B (without Torah reading)
26 Rosh Hashanah Day 1 (No Preschool)
Kol Nidre 6:00pm - 8:30pm - Service 6:45pm - Teen Discussion
8:30am - 11:00am - Adult Service A (with Torah reading)
11:30am - 12:30pm - Teen Service and Discussion (7th-12th grade) 5:45pm - Tashlikh at Compo Beach
30 Hillspoint Road Westport, CT 06880
25 Thanksgiving Break (No Preschool)
6:30pm - 7:30pm - Service
16 Erev Shemini Atzeret
4:30pm - Afternoon Service
20 5th Grade Trip to Ellis Island
11:30am - 1:00pm - Kehillah Family Service B (2nd-6th grade)
9:30am - 11:00am - Kehillah Family Service A (2nd-6th grade)
13 Stuffed w/ Love (Kehillah)/Family Food Learning Day (Kehillah)
8 Election Day (No Preschool)
Ugit ut odis conse et et aut aut aut lantiaectis reperumquis seque imus, sunt, quis molupta velland icianis dunt aut. Gia placcatio ma volore omni.
Tuesday, 9/27
10:45am - 11:30am - Young Family Service (Preschool-1st grade)
HIGH HOLIDAY SCHEDULE
11 Sukkot services Day 2 (No Preschool)
9 Erev Sukkot /Kehillah Sukkot Celebration
9:00am - 9:45am - Young Family Service (Preschool-1st grade)
Yom Kippur
4 Special Programming (Preschool)
9 Back to Preschool Bash
November
Monday, 9/26
11 First Day Celebration (Kehillah)
6 First Day (Preschool)
Wednesday, 10/5
19 Photo Day (Preschool)
September
Rosh Hashanah Day 1
27 Curriculum Night (Preschool)
Tuesday, 10/4
4 Erev Yom Kippur (Noon dismissal Preschool)
24 Thanksgiving (No Preschool)
10:30am - 12:00pm - Kehillah Family Service (2nd-6th grade)
4–6 6th Grade Trip to D.C.
20 Ehud Barak, Israel's 10th Prime Minister, speaks at Temple Israel
2 Making Sukkot Decorations (Kehillah)
8:30am - 1:00pm - Morning Service
30 Special (Preschool)Programming
30 | The Mosaic
23 Noon Dismissal (Preschool)
18 Simchat Torah (No Preschool)
Erev Rosh Hashanah
6:00pm - Neilah and Maariv
Calendar of Upcoming Events
2 Visiting Day (Preschool)
27 Rosh Hashanah Day 2 (No Preschool)
23 Blessing of Animals (Kehillah)
Rosh Hashanah Day 2 9:00am - 11:30am - Adult Service 9:00am - 9:45am - Young Family Service (Preschool-1st grade) 10:00am - 11:30am - Kehillah Family Service (2nd- 6th grade)
October
Sunday, 9/25
10 Sukkot services Day 1 (No Preschool)
5 Yom Kippur (No Preschool)
10:30am - 12:00pm - Teen Service and Discussion (7th-12th grade)