DESIGN THAT EMPOWERS PEOPLE
SCIENCE + TECHNOLOGY
ABOUT US
110+ EMPLOYEES
5 OFFICES
44 YEARS IN BUSINESS 100% EMPLOYEE OWNED
15 LEED CERTIFIED PROJECTS
0 LITIGATION
Taylor Design's expertise includes Architectural Design, Design Strategy, Interior Design, and Planning. With offices and projects throughout California, we discover, develop, and design solutions for the built environment. For over 44 years our firm has built a reputation in science & technology, healthcare, higher education, and senior living market sectors. We embrace projects that contribute to positive experiences for people.
Our Science + Technology Studio provides the following services:
• Architecture & Interior Design
• Laboratory Programming
• Laboratory Planning
• Equipment Surveys
• Feasibility Studies
• Site Planning
• Due Diligence Studies
• Test Fits
• LEED and WELL
Consulting
YOUR DREAMS OUR VISION
The best laboratories help organizations focus on their priority: research.
They are about testing new ideas, measuring outcomes, and making improvements over time to transform not just the laboratory, but the research happening there.
Treating the office, traditional laboratory, and all the workspaces in between as "one big laboratory" is appropriate and perhaps essential for advancing the researcher's needs and goals.
Where Researchers Spend Their Time
YOUR PEOPLE FIRST
PAST FUTURE
The life sciences industry has evolved during the last ten years. Research and manufacturing has become a more collaborative experience. Our architects and laboratory planners understand the need for your team members to collaborate and socialize to further their professional and personal development. Providing a variety of spaces (indoor and outdoor) for building occupants to hold meetings of different sizes, will improve communication and fuel innovation within your organization.
The Human Factor
Traditional hierarchies are giving way to human networks as a catalyst to behavior. Collaborative networks help fuel innovation and speed. Proximity supports networks and communication between teams.
KEVIN HINRICHS
AIA, LEED AP Principal | President
ENRIQUE CENICEROS
AIA, LEED AP BD+C, WELL AP Director of Science + Technology
OUR TEAM
STEPHANIE L'ESTRANGE
IIDA, CID Director of Interior Design
KEN EDERINGTON AIA
Sr. Project Architect | Lab Planner
TAD COSTERISON
AIA, LEED AP, NCARB
Sr. Project Architect
ERIC PEABODY ARCHITECT, LEED AP Principal
LIZ KHAN Job Captain
EDWARD GOMEZ AIA, NOMA Project Designer
HUGO SILVA Project Manager
MICHAEL LEVENDUSKY
AIA, LEED AP Design Director
JAMISON DELFINO NCIDQ, IIDA, CHID
Interior Design Director
VY NGUYENLOPEZ ASSOC. AIA, LEED GA, EDAC Design Assistant
AUGUSTINE ARELLANO
Senior Job Captain
WING
WONG
RA, NCARB, LEED GA
Project Architect
HARRY TABAK Job Captain
BRYAN MAEDA
Project Manager
BRIAN CERABAN ARCHITECT Senior Project Manager
ANDY ADAMS AIA Project Director
LAUREN WAGNER
CID, LEED GA Lead Interior Designer
WEINA LI
IIDA Interior Designer
STEPHEN SIMON LEED AP Senior Project Manager
JEFF WALKER
Senior Project Manager
RUTH
ZACARIAS NCIDQ Interior Designer
CODY EGGERT Senior Job Captain
Our best design occurs when we support the confluence of science, innovation, discovery, and creativity. A Taylor Design laboratory channels new ideas into adaptable facilities that enable critical adjacencies, promotes safety, inspires its users, and controls operational costs.
DESIGNING LABS OF THE FUTURE
TAYLORMADE
Our Science + Technology team believes in designing research/work spaces to fit your unique culture and processes. The innovative laboratories we design:
• Protect the health and safety of users
• Promote collaboration, communication, and interaction: the hallmarks of a successful research environment
• Incorporate modular principles that enable easy adaptation
• Offer flexibility that extends a laboratory's life by allowing for changes to research program, equipment, and protocols
• Feature attractive environments that help recruit and retain the best talent in the industry
• Integrate sustainable design principles for highperformance, cost-effective lab environments
• Provide energy efficient infrastructure
• Provide highly-efficient floor plates
• Consider serviceability for effective operations and maintenance
• Accommodate future expansion
Create Flexible Environments
• Support rapid change and mobility for all staff
• Allow for choice and customization
• Provide diverse spaces to support unpredictable activities
Support Unconventional Workplaces
• Provide consistent infrastructure for "plug and play" anywhere on site
• Build functional outdoor spaces
Facilitate Innovation
• Create neighborhoods to enable new forms of collaboration and connection
• Provide open space to create visual connections
Use Technology to Connect
• Leverage advanced instrumentation and automation to shrink lab footprint
• Provide more technology infrastructure
• Enable collaboration outside of the organization
Use Branding to Unite
• Use space to communicate brand and purpose
• Use art and imagery to communicate shared mission and culture
Sustainability is Good for Business
• Make buildings more desirable to occupy
• Encourage stewardship and community welfare
STRATEGIES FOR THE TECHNICAL WORKPLACE
WET LABS
Our extensive experience in the planning and design of chemistry and biology research and teaching laboratories includes advisory services for the storage and use of hazardous materials and the implementation of BSL-2 and BSL-3 environments.
CALTECH SPALDING DEMIRER LAB
UCI ROWLAND HALL CHEMISTRY TEACHING LAB
DRY LABS
Our experience with engineering, physics, computational, microscopy, and laser labs for universities and private institutions helps us to understand the required temperature, humidity and vibration requirements for sensitive instrumentation.
SLAC BUILDING 052 NETWORK ROOM
UC SAN DIEGO POPMINTCHEV LASER LABORATORY
CLEAN ROOMS
Our team brings a wealth of experience in the design and construction of clean rooms for research and manufacturing use.
They are well-versed in all classifications and they are ready to assist you in the correct application for your project.
UC SAN DIEGO POPMINTCHEV LASER LABORATORY
UC BERKELEY SIDDIQI QUANTUM NANOELECTRONICS LAB CLEANROOM
UC SAN DIEGO ACTRI PHARMACY
AMENITIES SPACES
In today's competitive environment, amenities in life science spaces have become increasingly important. Our goal is to design spaces that encourage wellness, collaboration, and foster innovation.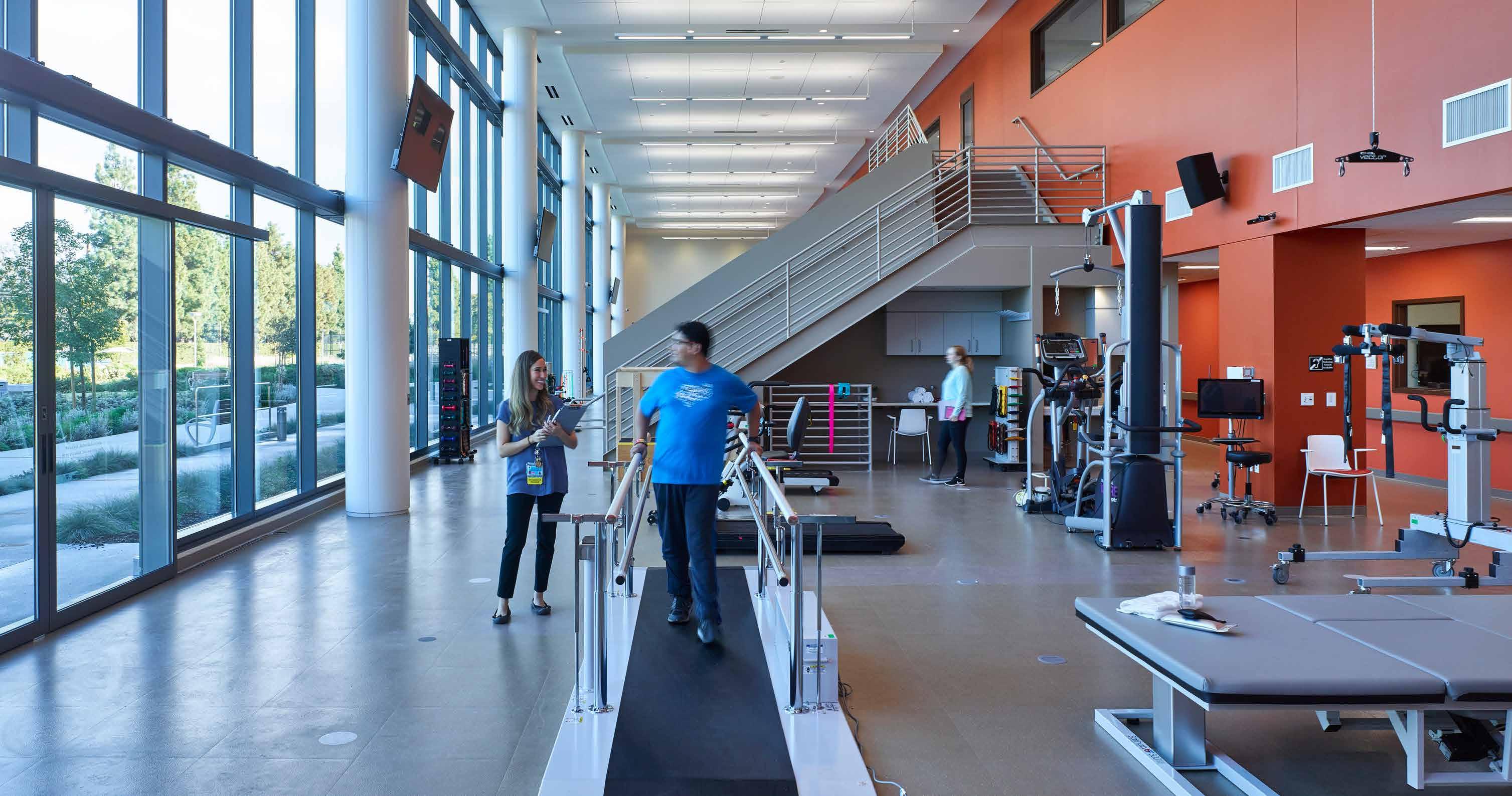 UC SAN DIEGO BIOMEDICAL SCIENCE BUILDING SUITE 1300
RANCHO LOS AMIGOS NATIONAL REHABILITATION CENTER
MEETING SPACES
Formal and informal meeting spaces have been and will continue to have their place in life sciences facilities. Size and privacy can vary from space to space, with movable partitions and frosted glass, and acoustical solutions that quiet ambient noise. We design environments that are engaging and conducive to learning and collaboration.
UCI SOCIAL SCIENCES LECTURE HALL SAN MATEO MEDICAL CENTER
CONFIDENTIAL CLIENT WORKPLACE
PLACES TO RESTORE AND REJUVENATE
OUTDOOR SPACES
The work place has always needed outdoor spaces for meeting, collaborating, eating, relaxing, and exercising - life sciences facilities are no different. Our design team will work with you to provide these spaces at optimal locations to promote wellness and inspiration to your team.
ST. JUDE MEDICAL CENTER
ST. JUDE MEDICAL CENTER
CONFIDENTIAL CLIENT WORKPLACE
INFRASTRUCTURE UPGRADES
We have experience coordinating highly technical spaces and systems for large infrastructure upgrades at major institutions and facilities, including seismic retrofits, sustainable energy systems, and mechanical/ electrical/plumbing upgrades.
PROVIDENCE CEDARS-SINAI TARZANA MEDICAL CENTER SEISMIC UPGRADE
SLAC B950 ROOFTOP ADDITION AND UTILITIES RELOCATION
WEARETAYLOR.COM Enrique Ceniceros, AIA, LEED AP BD+C, WELL AP Director of Science + Technology 1735 Flight Way, Suite 300, Tustin, CA 92782 eceniceros@wearetaylor.com M 949.939.5750 D 619.398.0450 2021 TOP