PRO TIPS FOR WEDDING PHOTOS It's time to gear up for plenty of romance. Cover image by Elmer Escobar with the Tamron 35-150mm F/2-2.8 Di III VXD MAGAZINE I ssue 12 · Spring 2022 CREATIVITY IN BLOOM Christine McCluskey showcases the vibrancy of flowers with her Tamron 17-70mm F/2.8 VC RXD. NEW 28-75mm F2.8 VXD G2 ZOOM LENS Meet Tamron's next generation fast-aperture standard customizable zoom lens for Sony Full-Frame Mirrorless.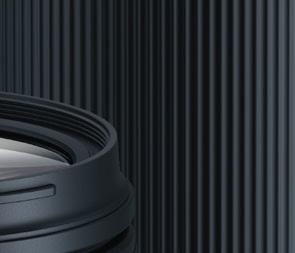 ONLY AVAILABLE AT YOUR AUTHORIZED TAMRON USA RETAILER www.tamron-usa.com © Itsuka Yakumo A compact and lightweight trio of fast zoom lenses FAST F2.8 FAST F2.8 ALL NEW G2 WIDE-ANGLE ZOOM LENS for Sony Full-Frame Mirrorless Cameras [ model A046] 17-28mm F/2.8 Di III RXD STANDARD ZOOM LENS for Sony Full-Frame Mirrorless Cameras [ model A063] 28-75mm F/2.8 Di III VXD G2 TELEPHOTO ZOOM LENS for Sony Full-Frame Mirrorless Cameras [ model A056] 70-180mm F/2.8 Di III VXD
Dear Readers,
Now that spring is abloom, a new sense of life and adventure is in the air! And this Spring 2022 issue brings you great inspiration and how-to info from the pros. This includes posing and other tips to create outstanding wedding photos (page 10) you can put to use whether you are a guest or on the job. These tips can even come in handy when photographing your friends and family at your next gathering!
Spring is a time of year when many things are picking up and coming alive—outdoor activities and sports are just two. Oliver Güth tells us why his 150-500mm is the perfect lens for his track and field photography (page 6) and with birds returning in abundance to many parts of the country, Nancy Elizabeth shares with us her project of photographing backyard birds with her 150-500mm (page 44).
Spring also makes us anxious to hit the road and enjoy the great outdoors. Dalton Johnson enjoys his time traveling the California coast in his touring van photographing surfers, seaside campsites, and all that this unique way of life has to offer (page 40).
Brallan Perez Favela shares the story behind his breathtaking 2021 VIP contest winning image "City of Stars" (page 18). And Nick Irwin embraces the quiet solitude of magnificent landscapes with his pack of Tamron lenses (page 28). This issue is sure to motivate the travel photographer in you to get packing and take off!
Christine McCluskey showcases her beautiful and vibrant flowers and gives us tips so we can do the same (see page 20). Our beginner's guide to shooting video with your mirrorless camera (page 26) will have you making short films in no time. Be sure to see how Tamron's new customizable lenses can help you achieve your goals.
As always, we welcome your feedback and would love to hear your requests for articles and tips from our pros. Email your wish list to editor@tamron.com. If you are craving more inspiration and tips, be sure you are subscribed to our newsletter subscriptions that interest you: Portrait & Events, Everything Travel & Nature, and Close-up & Art Photography. You can sign up at www.tamron-usa.com and click on the green box along the left side of your screen.
Enjoy the great weather and take pictures! We look forward to seeing your Tamron lens shots on Instagram, just use #withmytamron and tag us @tamronusa for your chance for us to share your image.
Until the summer, stay safe and healthy, and have fun shooting!
Sincerely, Stacie Errera Vice President, Marketing & Communications