COMMUNITY ROOTS
THE ALUMNI COLLECTIVE A QUARTERLY MAGAZINE A
GREAT BUSINESSES START HERE
If it takes a village to raise a child, it takes a community to build a business. Throughout the past 28 years, a business incubator program that started in Washington County and today is offered in conjunction with Warren County and SUNY Adirondack has provided that support system.
More than 1,100 rising entrepreneurs participated in StartUp ADK (formerly Microenterprise Assistance Small Business Program or MAP) in its various iterations. Businesses throughout the region have benefitted from the eight-week course, which provides crucial resources to new and aspiring business owners.
"It's really helpful to learn what you don't know, to start to understand building connections to the professionals who were brought in, to understand what the options are to get more support beyond the course," said Holly Rippon-Butler, founder of Farmers Cone Creamery and 2022 StartUp ADK participant.
Area professionals present at the classes on subjects such as insurance, budgeting, finance, developing a business plan, the legalities of starting a business, marketing and more.
"I know how to take people back-country skiing, but all the other aspects of business — banking, or if you need to get a loan, legal, marketing — the course did a great job highlighting how I needed a team of professionals," said Jeremy Haas, owner of Skylight Mountain Guides and a 2021 participant.
Since its inception by Washington and Warren counties in 1961, SUNY Adirondack has been committed to supporting and developing the regional economy. Partnering with the county local and economic development corporations was a natural next step for the college.
StartUp ADK creates connections between business owners and lawyers, accountants, financial advisors, marketers and volunteers from SCORE Northeast NY, a group of experienced business professionals who volunteer to provide guidance to start-up businesses and existing small businesses interested in improving their profitability.
Kate Austin, owner of Advokate, said even after being in business for more than 12 years, she still uses the connections she developed in MAP in 2010. "My entire time in business, to this day, I consult with SCORE. The business consulting they gave me for free for all these years after the fact has been essential to my business. There's no way I would have made it without that."
Camaraderie among StartUp ADK participants also provides support to fledgling business owners. Austin met Ron Miller in the program. When Ron and his wife, Kathy, launched a Lake George tour and specialty gift line, they hired Austin's Advokate to handle marketing.
"Now, I am the marketing/ social media speaker for StartUp ADK and I'm still getting clients out of that," Austin marveled.
Country Home Landscape owner and 2022 StartUp ADK participant Corliss Preston enjoys following former classmates' successes on social media. "I've been talking with mentors and people I have connections to from the course," Preston said. "It's fun to follow each other and see them grow."
2
MUCH LIKE THE COLLEGE COMMUNITY, SUNY ADIRONDACK ALUMNI ARE A MICROCOSM OF OUR BROADER COMMUNITY.
They come in as students, searching, find themselves here, then bring their gifts out into the world as caring agents of change. In this quarterly magazine, we celebrate all the ways our alumni shape our world, close to home and afar, with their hearts always rooted right here at SUNY Adirondack.
Adirondack, a community college of the State University of New York, does not discriminate against any employee, applicant for employment, intern, whether paid or unpaid, contractor, student, or applicant for admission or other members of the college community (including but not limited to vendors, visitors, and guests) based on a individual's race, color, national origin, religion, creed, age, disability, sex, gender identification, gender expression, sexual orientation, self-identified or perceived sex, the status of being transgender, familial status, pregnancy, predisposing genetic characteristics, military status, veteran status, domestic violence victim state, criminal conviction or any other category protected by law. The College adheres to all federal and state laws prohibiting discrimination and sexual harassment in public institutions of higher education.
The college prohibits conduct by any employee or any student who disrupts or interferes with another's work performance or education experience, or who creates an intimidating, offensive, or hostile work or educational environment due to discrimination based on protected status or sexual harassment. SUNY Adirondack is committed to educating employees in the recognition and prevention of workplace and education discrimination and sexual harassment, and to informing students, employees and others how to report a discrimination complaint.
Inquiries about and reports regarding this notice and procedure may be made to compliance@sunyacc.edu or to one of the following Civil Rights Compliance Coordinators/Officers: Cornelius Gilbert, Chief Diversity Officer/Title IX Coordinator, Scoville 326, gilbertc@sunyacc.edu, 518-743-2313; Mindy Wilson, Associate Vice President of Human Resources/Payroll & Affirmative Action Officer, Washington Hall 105, wilsonm@sunyacc.edu, 518-743-2252; Diane Wildey, Associate Vice President of Academic Affairs/Section 504 Coordinator, Scoville 324, wildeyd@sunyacc.edu, 518-743-2337. Inquiries may also be directed to the United States Department of Education's Office for Civil Rights, 32 Old Slip 26th Floor, New York, NY 10005-2500, ocr.newyork@ed.gov, 646-428-3800.
VOL. 10 | SPRING 2023
SUNY
OUR STARTUP ADK PARTICIPANTS ARE …
Artists
Environmentalists
Ice Cream Makers
Landscapers
Marketers
Mountaineers
Real Estate Agents
Sawyers
Tourism Professionals and so much more!
4
35 IS THE AVERAGE AGE
OF THOSE WHO START BUSINESSES IN THE U.S.
2.3 MILLION SMALL BUSINESSES IN NEW YORK STATE
33.2 MILLION SMALL BUSINESSES IN THE UNITED STATES
43 PERCENT OF SMALL BUSINESSES ARE OWNED BY WOMEN 19 PERCENT ARE OWNED BY MINORITIES & 6 PERCENT ARE OWNED BY VETERANS
EIGHT OUT OF 10 SMALL BUSINESSES
IN THE U.S. ARE SOLE PROPRIETORS
THE AVERAGE SMALL-BUSINESS OWNER EARNS
3 PERCENT MORE THAN THE NATIONAL AVERAGE MEAN WAGE
NEARLY 13 MILLION JOBS IN THE U.S. WERE CREATED BY SMALL BUSINESSES IN THE PAST 25 YEARS
SOURCE: FORBES
ADVISOR
www.jennyhutchinsonart.com
Jenny Hutchinson's artistic talent is irrefutable. She is a highly sought-after regional artist, arts educator and administrator whose consulting services are in high demand.
But when it came to business acumen, Hutchinson knew she could stand to learn a thing or two.
"I had a lot of know-how, but there were things in terms of getting my business on paper that I didn't quite know how to do," said Hutchinson, a Queensbury native whose artwork has been exhibited at venues throughout the Adirondacks and Capital Region.
So she registered for SUNY Adiron-
dack's StartUp ADK, an eight-week, 16-hour course focused on business planning that provides aspiring entrepreneurs information about marketing, market research, bookkeeping, tax issues and cash flow, financial projections, legal considerations, human resources, business insurance and more.
to be clear on what
The class walked Hutchinson through examples of how to complete those tasks and provided one-on-one time with the instructor to guide her.
"When you're figuring this out by yourself, it's easy to let a long time go by and not take care of these things," she admitted. "Weekly meetings have a way of holding you to it, and the class held me to keeping a schedule and meeting goals to formalize these processes."
After a 2016 exhibition at Albany Center Gallery, Hutchinson said she
"I had a lot of know-how, but in terms of getting my business on paper, I didn't quite know how to do that."
"I was starting to reach a benchmark where I knew I'd have to be a lot more savvy in my accounting and reporting; I knew I needed to learn to do that in a more formalized way
and
the regulations and policies were," she said.
6
JENNY HUTCHINSON
2021 STARTUP ADK PARTICIPANT
LEARN MORE ABOUT JENNY HUTCHINSON AND HER ARTWORK AT WWW.JENNYHUTCHINSONART.COM AND ON INSTAGRAM AT @JENNYHUTCHINSONART.
started to wonder if she could make a career of her art. "I sold quite a few works and they were to people I didn't know," she said. "At the time, I thought, 'OK, this is a fluke,' because art sales are not something you can rely on; you just hope for the best."
Her next exhibition — in 2018 at Lake George Arts Project (in the years since, she has joined the institution's board) — had the same outcome.
"From that point forward, I was on a two-year cycle: I'd make a body of work and sell a body of work. It remained consistent so I knew it was time to jump in," she said.
Hutchinson can't yet rely entirely on the income she earns as an artist and consultant, so she has a "day job." But in a step toward that day, she and her husband in 2019 bought a Glens Falls home with a large barn, in which they created a wood shop and art studio.
The 100-year-old barn is a passion project for the couple. "It was an ice house, an ice delivery center for the city back when they had ice boxes,"
she said. "That was in operation until the 1940s when, since refrigerators came in, the family who lived here closed the business."
The barn was kept in the family of its original owners for three generations, then used as a garage and storage space until Hutchinson purchased it. A hand-carved sign found during renovations led to the couple affectionally referring to the barn as "Joann," the name of a family member of the property's original owners. "We have an office set up to do consulting work, I can do shows here, I've had collectors over to review work and interested gallerists come to review the works," Hutchinson said.
"I'm in here much of the time, now that we've invested both our finances into creating a space outside our house and our time into building a studio," she said. "That investment made it more serious and changed the trajectory of how much of a business it was."
FUN FACT
JENNY HUTCHINSON IS ON SUNY ADIRONDACK'S VISUAL ARTS COMMITTEE AND WAS AN ADJUNCT INSTRUCTOR AT SUNY ADIRONDACK FROM 2012 TO 2016, TEACHING DESIGN AND DRAWING CLASSES.
"That job really helped prepare me for my future as an educator because I started interacting with students from all different backgrounds — students still in high school taking classes, students who were moving on from high school and those who were continuing their education," she said.
"The students within the classroom were much more varied than at a larger university or college where you would particularly have students majoring in art, but a lot of SUNY Adirondack students were taking art classes as electives. You have to be prepared to meet all students where they are."
Artists
www.adirondackwormfarm.com
Bill Richmond didn't have to search far for a business opportunity, but he did have to look closely at his rural Kingsbury property.
In 2019, Richmond opened Adirondack Worm Farm, a business that offers curbside composting services and sells all-natural fertilizer.
"I don't like to waste," said Richmond, a retired public relations executive. "We have 40 acres, a barn and tractor. We're not set up
to do traditional farming work, but I wanted to do something that makes a useful impact and limits waste."
He bought a pound of red wigglers five or six years ago and got to work learning about the species of worm (there are more than 9,000). "These are a different kind of worm than people see after a rainstorm on the sidewalk or in their driveways," Richmond said.
In fact, red wigglers are one of only a handful of worms used in vermicomposting (similar to traditional
composting). After consuming food scraps, they create vermicast — also referred to as vermicompost — the nutrient-rich worm castings (read: excrement) used to boost soil and plant health.
"The amount and type of materials red wigglers can consume and turn into useful soil is incredible," marveled Richmond, who drives as far north as Lake George, south to Moreau, west as far as Queensbury and from Whitehall to Cambridge in Washington County picking up
"I wanted to do something that makes a useful impact and limits waste."
8
BILL RICHMOND
2018 STARTUP ADK PARTICIPANT
Environmentalists
ADIRONDACK WORM FARM WORKS TO EDUCATE ABOUT COMPOSTING AND VERMICAST, OFFERING FREE PRESENTATIONS TO INTERESTED GROUPS THROUGHOUT THE REGION. VISIT WWW.ADIRONDACKWORMFARM.COM TO LEARN MORE.
clients' curbside compost buckets. "Vermicast is like a fertilizer for anything that grows — any kind of plant, lawns, bushes, ornamental flowers and even indoor plants."
Adirondack Worm Farm schedules weekly or bi-weekly pickups of company-owned buckets with sturdy, twist-on covers. Upon pickup, customers receive a clean pail for the next cycle. At the farm, Richmond adds the compost to one of his piles and washes out the receptacles for the next round of pickups.
Richmond processes anything compostable, except oils and liquids. Unlike smaller backyard composting, Richmond's piles are odorless, despite some being 10 to 15 feet wide and 10 to 12 feet high.
"We can take more than people can do in their own backyard," Richmond explained. "The reason is that we use a hot composting process, with piles at least 131 degrees, which kills off any pathogens." (Microbes do the work in hot composting, while the worms process livestock manure separately.)
He digs deep into the process and explains: Hot composting requires a certain ratio of greens (nitrogen found in food scraps) and browns (carbon from leaves, cardboard or wood chips); moisture; aeration (anaerobic piles start to emit an odor); and mass (a pile needs to be at least
3 cubic feet for the microbes to produce on a scale that creates that level of heat). "It's not the ambient air temperature that makes a difference; it's the microbial activity," he said.
In 2018, after experimenting for a few years with composting and worms, Richmond decided to start the business, so he enrolled in SUNY Adirondack's StartUp ADK.
Adirondack Worm Farm has processed 64 tons of food waste, and, in the past year alone, sold between 400 and 500 pounds of vermicast.  That level of interest leads to considerations for the future.
"We continue to grow and I'm looking at how to manage the ongoing expansion without overextending myself," said Richmond, who also works as a teaching assistant in a special education elementary classroom. "I tell every customer, 'You have my email address and phone number; call, email or text.' I'm always happy to help them. I don't want to get so large as to lose the opportunity to have that connection with customers, but there is a lot of potential for growth."
FUN FACT
The business has wormed out a niche. What started as a handful of customers purchasing compost services in 2019 has grown to the point
WHEN BILL RICHMOND TOOK SUNY ADIRONDACK'S STARTUP ADK COURSE IN 2018, COMMON ROOTS OWNER AND STARTUP ADK ALUM BERT WEBER WAS A GUEST SPEAKER IN CLASS. NOW, ADIRONDACK WORM FARM COUNTS THE BOOMING BREWERY AMONG ITS CLIENTS."FOUR YEARS LATER, WE'RE COMPOSTING FOOD SCRAPS FROM COMMON ROOTS' KITCHEN," RICHMOND SAID.
"I had never really run a business before, and I figured rather than guess as to what I needed to do, it would be helpful to learn some groundwork and that level of detail you're not born knowing," he said. "A lot of the things discussed there are not the focus when people are excited about starting a new business — how to track finances, what about insurance; it might be the boring stuff, but it's important."
www.adirondackharvest.com/user/farmersconecreamery
Loving your work seems easy when it's centered on some of your favorite things. Since Holly Rippon-Butler loves her hometown and ice cream, she started making the sweet treat with locally grown produce.
"I grew up on a dairy farm in Schuylerville, so I was thinking, 'What can I do that might complement my parents' business or be part of it?'," she said. She started making ice cream in her
own kitchen, using local ingredients to create classic flavors with a twist. In 2017, Rippon-Butler made it official and opened Farmers Cone Creamery, a small craft ice cream business based out of The Hub On The Hill, a shared commercial kitchen space and marketplace in Essex.
"We make hand-crafted ice cream with local milk, eggs and fruit," Rippon-Butler said. "Ice cream brings joy, and I feel like I share that feeling."
Rippon-Butler's day job is working
for National Young Farmers Coalition, a grassroots network working to change federal policy on land access for farmers. She makes ice cream seasonally on weekends out of The Hub On The Hill with an employee who lives in Essex. Farmers Cone Creamery flavors and homemade waffle bowls are available at The Hub, special events, popups and weddings.
Farmers Cone sells a few thousand pints a year. "We're really small," Rippon-Butler said.
"StartUp ADK is really helpful to learn what you don't know."
10
HOLLY RIPPON-BUTLER
2022 PARTICIPANT IN STARTUP ADK
Ice Cream Makers
FARMERS CONE CREAMERY ICE CREAM IS SEASONALLY AVAILABLE AT THE HUB ON THE HILL'S SELF-SERVE MARKET FROM 9 A.M. TO 8 P.M. DAILY AT 545 MIDDLE ROAD IN ESSEX.
CHECK FARMERS CONE'S INSTAGRAM PAGE @FARMERSCONECREAMERY FOR AVAILABILITY.
Part of what keeps the business small is a commitment to its values. "There's a kind of philosophy that ice cream should be a local product," Rippon-Butler said. "There are a lot of big models to show you can get into distributing widely, but we're more concerned with how we can provide a quality product to our local community."
Among the hundreds of flavors Rippon-Butler created are recurring seasonal favorites such as Roasted Strawberry, with berries from a local farm; Wild Maine Blueberry, with berries from a friend's farm in Maine; and Chocolate Peppermint made with mint grown by a local friend.
"The way we think about flavors are maybe approachable and familiar, but elevated by the ingredients and how we put them together," she said. "We have mint chocolate and cookie dough and strawberry and things you've mostly heard of, but we're using fresh berries, we're making the cookie dough with locally grown flour."
Part of the decision to take the class was a desire to expand.
"We're interested in seeing if this business can grow to be more of a full-time income, or something we can think about other products or doing more events," she said. "We're
having conversations, but we are finding the right way to do that right now."
In the meantime, Rippon-Butler is happy experimenting with flavors and creating delicious products. "Ice cream that is done right is good for you," she said. "There is protein and healthy fat from dairy and fruit, or nuts. There's a lot in there that's nutritious and I think it also must be said the effect of being joyful when you're eating. Ice cream reduces stress."
You can join a mailing list by emailing holly@farmersconecreamery.com. Learn more about Farmers Cone and its ice cream by following the business on Instagram @farmersconecreamery
FUN FACT
In 2022, RipponButler registered for SUNY Adirondack's StartUp ADK business program. The class provided her connections with professionals throughout the region.
"I've used a number of those since," she said. "I'm working more with one of the business coaches and that has been really great."
FARMERS CONE CREAMERY PROVIDES CUSTOM ICE CREAMS FOR WEDDINGS AND OTHER SPECIALS EVENTS.
On Instagram @countryhomelandscapes
Many of us look forward to spring, when flowers in our yards bloom, trees bud and grass grows. But Corliss Preston is excited to see other people's landscapes.
"Establishing a native prairie takes a couple of years to mature and come to its full glory," explained Preston, co-owner of Country Home Landscapes, which installed a full lot of native prairie last year for a man retiring to Queensbury from Arizona. "He
wanted to go all native and that was one of our first all-native yards."
Some of Country Home Landscapes' projects take a few seasons to reach full effect, but many are more immediate. Preston and her partner, Sam
"Our company was born to celebrate this area. "
12
PRESTON VISITS THE HIGH LINE IN NEW YORK CITY.
2022 PARTICIPANT IN STARTUP ADK
LEARN MORE AT WWW.COUNTRYHOMELANDSCAPES.COM
Keenan, create unique landscapes for clients throughout the region. Clients' needs vary, Preston said, but in the past included projects as simple as developing a seed mix to plant native wildflowers and as intensive as overhauling an entire lakeside property to reduce runoff.
"I take pride that each landscape is unique to my clients," Preston said. "Our company was born to celebrate this area. I love the Adirondacks and upstate New York's natural landscape and I want to highlight those features."
Preston grew up in Los Angeles, studied horticulture in Oregon, then worked in the field in Washington and California. Along the way, she met Keenan, who grew up in Queensbury. The couple moved to this area in 2019 and started what would blossom into Country Home Landscapes.
"We both had come from horticultural backgrounds and found jobs that just weren't satisfying," she said. "We wanted to start something different, something that allows our employees and us to have a creative process and to do something impactful."
What started as a part-time business supported by outside jobs became Preston and Keenan's full-time focus
FUN FACT
this year. In 2022, Preston attended SUNY Adirondack's StartUp ADK, an eight-week, 16-hour course focused on business planning that provides aspiring entrepreneurs information about marketing, market research, bookkeeping, tax issues and cash flow, financial projections, legal considerations, human resources, business insurance and more.
Having such contacts helps Preston and Keenan focus on what they know best: creating environmentally respectful and sustainable landscape designs. Inspired by Dutch garden designer Piet Oudolf, who uses a naturalistic approach to gardening that includes selecting perennials and grasses less for their flowers than for their structure, Preston said she considers the land's natural environment and creates designs similar to it.
"During COVID, people turned to the outdoors and began to value their space in a different way," Preston said. "A lot of attention goes to the inside of your house, but how much goes to the outside? How can you be part of that environment based on what's outside your door?"
The connections she built during StartUp ADK elevated Country Home. "SCORE, Albany Small Business Center, the college librarian, mentors — those connections were so important for me trying to get my feet for this business and build a foundation," she said. "I had someone I could ask specific questions about anything: first hires, basic accounting skills, any of the fundamentals."
Preston has visions of Country Home Landscapes growing to include employees, a fleet of electric vehicles to transport plants sustainably and water trucks.
"It's really fun to design native landscaping because there is so much beauty here already," she said. "Something about nature is so absorbing; we have to be outside, it's therapeutic."
CORLISS PRESTON
Landscapers
"I was sold from the first meeting," she said.
"Growing a startup is no joke; it's really hard and it takes so much of your energy and creativeness, and the class just got so real. It got to the point."
CORLISS PRESTON ATTENDED THE SAME STARTUP ADK SESSION AS HOLLY RIPPONBUTLER, OWNER OF FARMERS CONE CREAMERY (SEE PAGE 11.). "IT'S FUN TO FOLLOW EACH OTHER ON INSTAGRAM AND SEE THEM GROW," PRESTON SAID OF FARMERS CONE'S SUCCESS.
www.advokate.net
What Kate Austin envisioned to be a one-person business to help artists has evolved into a full-service marketing agency with a staff of eight and hundreds of clients.
Advokate, which Austin founded in 2010, recently moved from a tworoom second-floor space on Exchange Street to a suite at 333 Glen.
"At first I thought, 'I'll help artists,' because there's so much to selling your art that isn't just making art," said Austin, an artist herself.
"I started Advokate because I had friends who were trying to do so many different things: they had to book shows, hang shows, bring their artwork, schlep their stuff to the gallery, do the posters, do the
marketing, do the data entry on their billing, make sure they had a logo and a website, and a clear, recognizable brand — and it's a lot when you really just want to make art."
She started the business hoping it would be enough to support her. "I never thought I'd be this established in the community or have employees," she said. "It has turned into an
"This helped me feel like I had ground under me to grow from."
14
KATE AUSTIN
2010 PARTICIPANT IN STARTUP ADK
LEARN MORE ABOUT ADVOKATE AT ADVOKATE.NET
agency with a team and I love that because I can offer a really positive work experience while helping clients."
Before she even determined a name for what would become Advokate, Austin registered for StartUp ADK, which was then called Microenterprise Assistance Program.
"I can tell you that Tim Havens from Falls Farm and Garden said, 'The No. 1 rule of business is to stay in business'; that Patty Bethel [owner of Cooper's Cave Ale Co.] said, 'When you're a business owner, you are married to your business,' and that John O'Brien [of O'Brien Insurance Agency] said, 'You take good care of people and the money will follow,'" Austin said. "We met SCORE and, my entire time in business, to this day, I consult with them."
when I went out on my own, and this helped me feel like I had ground under me to grow from."
Advokate took off and, as it grew, Austin was asked to present at StartUp ADK sessions. "I speak about marketing and social media, which is awesome, and I'm still getting clients out of that," she marveled.
Even 13 years later, Austin can quote advice from some of the presenters.
FUN FACT
AMONG ADVOKATE'S MANY CLIENTS ARE SUCH PROMINENT REGIONAL ORGANIZATIONS AS:
• SAIL
• THE CHRONICLE
"When I took this class, I didn't know how to run a business; I was making it up," she admitted. "I didn't have processes. I didn't know anything about insurance or the legal liabilities of running a business or how to plan anything, and this class gave me the foundation of business skills I was looking for. I felt lost
Keeping Advokate personal is, ironically, what Austin attributes for the company's incredible growth. "I want to keep it personal, but I also want to help as many nonprofits, startups, small businesses and artists as possible," she said. "I've got such a great team, I can only imagine where that can go."
• WORLD AWARENESS CHILDREN'S MUSEUM
• LARAC
• WARREN COUNTY ECONOMIC DEVELOPMENT CORP.
• GLENS FALLS ARTS DISTRICT
• TRI-COUNTY UNITED WAY
• GLENS FALLS COLLABORATIVE
"HOW DO YOU MEASURE SUCCESS?" ADVOKATE OWNER KATE AUSTIN ASKED. "WE HAVE A GOOD NUMBER OF REALLY WELL-KNOWN CLIENTS DOING IMPORTANT WORK IN THE COMMUNITY."
MAKING CONNECTIONS
Advokate's first clients were Kathy and Ron Miller, owners of Love is in New York and Love is on Lake George Cruises (See Page 22), respectively. The Millers attended StartUp ADK with Austin.
Marketers
"I was one of the first attendees," she said. "I didn't have a real sense of what this business was going to be and, by the end of the course, my fellow attendees were clients."
www.skylightmountainguides.com 16
"It's pretty easy to start
a
business officially, but it's another thing to develop a business, and that's really what StartUp ADK helped me through."
JEREMY HAAS
2021 STARTUP ADK PARTICIPANT
BOOK A TRIP WITH SKYLIGHT MOUNTAIN GUIDES AT WWW.SKYLIGHTMOUNTAINGUIDES.COM.
As Jeremy Haas attended weekly StartUp ADK classes in Fall 2021, he built Skylight Mountain Guides LLC a step at a time.
"Each of those weeks, it was easy for me to clue into what I needed to do next or to be considering, 'How important is this for me?'," said Haas, who opened the year-round back-country skiing and hiking guide service after more than 20 years of guiding. "It's pretty easy to start a business officially, but it's another thing to develop a business, and that's really what StartUp ADK helped me through."
Haas skied and hiked most of his life. But a few years living in Colorado led him to discovering the beauty of going off trail.
"Living there, where the back country is very extensive, it really opened my eyes to how all the ski skills I developed in the Northeast could be applied to this alpine environment I was exploring," he said. "You can ski off the side of a ski area or go snowcat skiing and get hooked. However, it's something else to ski actual backcountry, in a quiet environment. The pace of the day is different than when you're riding lifts."
Haas teaches environmental science
FUN FACT
in Saratoga Springs High School (and serves as an adjunct instructor at SUNY Adirondack), a job that melds well with guiding: he educates in both roles and his teaching schedule leaves summer and weekends free to lead trips.
"This is certainly the busy season," he said. "I've been out every weekend since mid-January."
Skylight Mountain Guides employs five other part-time guides, who are out most weekends. "The three good months of winter for back-country skiing are January, February and March," Haas said.
Adventures range in time commitment (six to eight hours), difficulty and activity, depending on customer preference and experience.
"Sometimes people are very specific about what they want to do, they have a goal, they want to ski off the top of a High Peak, or they want preparation for a Western trip and need to ski offtrail terrain, open slopes and practicing avalanche safety," Haas said. "Other people say, 'I just want a good day,' and it's more about the flexibility of going where the snow happens to be good."
Trips can be in the Gore Mountain/ Indian Lake area, the High Peaks or into the Green Mountains of Ver-
mont. "That's the great thing about the Glens Falls/Lake George region," Haas said. "You drive an hour in any direction and you're still surrounded by mountains."
Haas has skied in France and Switzerland, and throughout the United States (including Alaska). He met his wife, who is also a guide for Skylight Mountain Guides, at a ski clinic and now they adventure as a family with their son.
Despite expertise in skiing, mountaineering and climbing, and being a certified Wilderness First Responder, Professional Avalanche and AMGA Rock Instructor, Haas is grateful for the guidance StartUp ADK provided.
"I know how to take people back-country skiing, but all the other aspects of business — banking, or if you need to get a loan, or manufacturing or retail space, legal, marketing — the course did a great job highlighting how I needed a team of professionals not just as a startup but in years two, three and four," Haas said. "I had decades of guiding experience, I knew the Adirondacks well, I knew the clients, I knew prospective guides, and still this would have been really difficult for me to do with any confidence or success if I didn't have the experience going into starting a business with StartUp ADK."
Mountaineers
JEREMY HAAS WAS AN ADJUNCT INSTRUCTOR OF WINTER MOUNTAINEERING IN SUNY ADIRONDACK'S OUTDOOR EDUCATION PROGRAM. "THE PROGRAM IS PERFECTLY POISED TO INTRODUCE GRADUATES TO THE SKI GUIDING PROFESSION," HAAS SAID. "THEY GAIN FIELD EXPERIENCE ON THE VERY TRAILS THAT WE GUIDE. GRADUATES OF THE PROGRAM MEET THE REQUIREMENTS TO OBTAIN A NYS GUIDE'S LICENSE AND BEGIN A CAREER IN GUIDING. THERE ARE GUIDING JOBS IN THE ADIRONDACKS AND SUNY ADIRONDACK CAN PREPARE GRADUATES FOR THIS PROFESSION."
www.grampsoldschool.com
Few people see potential in a dilapidated structure overrun by nine decades of weeds, raccoons and the elements, but Jill Tefft did.
She drove past Center Falls Schoolhouse — just a stone's throw from her childhood home in Greenwich — almost daily. She had just returned to her hometown with her husband and couldn't stop thinking about the "For Sale" sign on the one-room schoolhouse property.
"One day, I said to my parents, 'We should buy that schoolhouse and turn it into an airbnb,'" Tefft recounted. "They were like, 'An air what?'"
But Tefft remembered in the years she lived out of state that every time she visited the region for special events or to see friends and family, there were few options for places to stay. "There are no brand-name hotels in Washington County, and we struggled with where to stay. Do we stay in Saratoga? But then we have
a half-hour drive. Do we stay with family? That's nice, but there are challenges with that too," she said.
As her family discussed the 1850 structure, her dad said something that convinced her. "He said, 'Did you know your grandfather went to that schoolhouse?' I said, 'That's it. We need to go look at it.'"
On their first visit, they weren't allowed in the building. "It was vacant since the school was shuttered in the mid-1940s, they closed the
18
"The way the course is structured is great because it touched on all the facets of the things you need to consider when starting a business."
JILL TEFFT
2018 STARTUP ADK PARTICIPANT
CHECK OUT THE HISTORIC PROPERTY WITH AN OVERNIGHT GETAWAY. BOOK IT BY CLICKING "RESERVE THE SCHOOLHOUSE" AT GRAMPSOLDSCHOOL.COM
door, locked it and left," Tefft said. "All the paperwork from the 1940s and before was still in there. It was an amazing time capsule."
They bought what today is Gramp's Old School in 2017, then got to work. "My father was really my partner in crime on this project," she said. The duo started immediately demolishing what couldn't be salvaged and then cleaning.
To preserve the property's historic charm, Tefft saved as much as possible from the original schoolhouse — chalkboards, light fixtures, windows, floorboards, shiplap, trim, a sink basin and some artwork.
consider when starting a business."
In April 2019, the father-and-daughter duo secured a loan and started rehabilitating the property, an experience Tefft shared on her blog at grampsoldschool.com. "My dad had the construction background and project management experience," Tefft said. "I'm the oldest of five and every time a baby came along while I was growing up, he reframed and reconfigured our house; we always had rehab projects going on."
By March 1, 2020, Gramp's Old School was ready for reservations. "We had two rentals, then you know what happened," she lamented. "We had to shut it down."
But as COVID protocols became more clear, Tefft realized the space was actually an ideal getaway during the pandemic. They started renting again in the summer, leaving several days open between guests to ensure the cleaning company had time to sanitize every surface.
booked most of summer and fall. Further bolstering the popularity of Gramp's Old School was a producer from HGTV's "Cheap Old Houses" reaching out to feature the schoolhouse on the show.
"It's weird to watch yourself on TV," Tefft laughed. "But they captured a lot of the elements of the schoolhouse and told a great story."
As a licensed real estate agent, Tefft has great appreciation for the charm of Washington County. "There are tons of beautiful properties and old houses up here, so I'm excited to share that with prospective buyers," she said.
"The
FUN FACT
She also keeps an eye out for future projects to share with her dad. "It was a really great experience having him as my partner and having all that time with him," she said of the restoration, during which they learned her great-grandmother also attended the school. "We are still looking at properties and every once in a while one pops up …"
Within a year, the airbnb listing took off and Tefft found they were
Real Estate Agents/Rental Managers
"I learned through the county Local Development Corporation that they offer microloans if you take StartUp ADK," Tefft remembered.
way the course is structured is great because it touched on all the facets of the things you need to
THE GRAMP'S OLD SCHOOL PROJECT WAS HONORED WITH AN EXCELLENCE IN PRESERVATION AWARD FROM ADIRONDACK ARCHITECTURAL HERITAGE, RECEIVED A SPECIAL CITATION FROM CONGRESSWOMAN CARRIE WOERNER AND LANDED THE HOUSE ON THE NATIONAL REGISTER OF HISTORIC PLACES IN 2019.
"If you want to start a business and you're serious about doing it, I would highly recommend taking StartUp ADK because there is so much good information."
www.knightsawmilling.com
2021 STARTUP ADK PARTICIPANT
Doug Knight isn't the kind of guy who enjoys downtime.
So when he switched from being a mechanic to working in excavation, he couldn't sit around in the off-season. Instead, he bought a portable sawmill and hit the road, offering services throughout the region.
"I worked at a sawmill in high school and really liked saw milling," said Knight, who moved to the region after graduating from SUNY Morrisville. "At the end of the day, I'd be the guy convincing my boss to put another log on the mill because I liked it so much."
After a few years of staying busy through the winters with a tow-behind sawmill, Knight decided to jump in full bore. "I was going all over the place," Knight said. "I drove two hours north for eight cherry logs, I helped a Paul Smith's College professor who cut trees and wanted lumber, and stayed in his camper, I drove to my parents' house in the Cortland area to cut up a tulip poplar tree."
When taking to the road started to cut into the joy Knight found in sawing, he set up shop with a more traditional setup, inside a building. "I went full time
with it, getting busier and I just wanted it more than anything," he said. "I worked 14, 16 hours a day, seven days a week. I didn't do anything else, I never saw friends, all I did was work."
That work ethic paid off, as in just seven years Knight Sawmill went from a one-man shop to having two full-time employees and three part-timers.
"I don't want to be any bigger than that," Knight said. "I already have a lot of gray hair."
The COVID-19 pandemic provided Knight an opportunity. What started as a wholesale business that offered pallet parts, railroad ties and lumber now focuses on retail.
"Wholesale is a marathon," Knight said. "You could saw lumber all day long every day. I had so much work, I couldn't keep up."
When lockdown hit in March 2020, he made a change.
"The pandemic broke me away from wholesale," he said. "I told the guys, 'We're going to sell retail lumber.' It was a huge success, we have been so busy for most of the past few years, we ran at about two to three months
out on custom retail orders, sawing as much as we could."
On a recent day, he was building a rack to store tongue-and-groove lumber and shiplap, so when customers walk into his Fort Ann sawmill, he has products they need ready to go. He attributes part of his adaptability to taking SUNY Adirondack's StartUp ADK online.
He made a lot of valuable contacts, he said, and has been able to change his business structure in an evolving market.
"If I had known about that class before I started my business, it would have been helpful," Knight said. "They really teach you a lot; I was impressed by how much good stuff there was."
DOUG KNIGHT
Sawyers
"I had been in business a while, so I taught myself a lot the hard way," he said. "But sometimes it's good to go back to the basics and make sure you're not missing anything."
Kathy Miller spent her childhood on Lake George and when she met Ron, she introduced him to the idyllic setting of her youth.
After moving around for many years for Ron's career, the couple relocated to Lake George permanently in 2010. "We always came back; no matter where we lived, we spent the summer and holidays here with family," said Kathy Miller, owner of Love is on Lake George, a specialty online gift shop. "One day the light bulb went off and we decided to make this home."
A gift celebrating Kathy's family's connection to the Queen of American Lakes led to her starting Love is on Lake George. Ron framed photographs of Kathy's parents on the family's boat on Lake George, set on a background Kathy's father-in-law painted years earlier with the words "Love is on Lake George."
That inspired the beginning of a retail shop, which started small while Kathy was working full time. In the meantime, Ron bought a wooden Lyman boat.
"I wanted to have a lake cruiser for family activities, similar to what Kathy's family had," he said.
He named the boat "Love is on Lake George" and set about operating a cruise business in 2013.
"We take families for a day of swimming in the narrows, sunset cruises are popular, weddings and photo shoots, engagements, there have been several proposals on the boat," Ron said.
"There's a synergy there," Kathy said. "Sometimes couples will ask, 'Can we bring a bottle of wine?', and I say, 'Yes, and check out our selection of wine glasses.'"
Boat tours generally last two hours, but the Millers offer a few options and work
with interested clients to determine what best fits their needs. They also offer limited catering, ordering food from local country stores, picking it up for boaters and having it ready to serve onboard.
Love is on Lake George is pet friendly and has partnerships with regional businesses. "We're a preferred waterfront vendor at The Sagamore, we do weddings on demand with couples at [The Inn at] Erlowest, Blue Water Manor, The Chateau, Wiawaka, and some people find us just because somebody is smart enough to want a classic wooden boat ride," Ron joked. "The appeal for me is there's variety and it's not a drone of the same thing every cruise."
Both Millers took SUNY Adirondack's StartUp ADK program for entrepreneurs, Ron in 2011 and Kathy in 2012.
22
"StartUp ADK provides the overall big picture of what it takes to start and run a business."
RON AND KATHY MILLER
2011 AND 2012 STARTUP ADK PARTICIPANTS, RESPECTIVELY
Kathy took the class after starting Love is on Lake George, but in the years since has retired and turned the state-certified woman-owned business from a hobby to her focus.
Tourism Professionals
FUN FACT
the class led them through developing a business plan, marketing, insurance, setting up a business bank account, the need for a lawyer and related resources.
"We learned from each other in class," Ron said, noting that such prominent businesses as Advokate, Up River Cafe and Tony DeFranco Landscaping, among others, emerged from his group. "Some of the people you meet in that class become business associates by the nature of what you went through together."
"One of the reasons we thought there was a market out there was Kathy's family's legacy on the lake, it's repeated thousands of times around this lake," Ron said. "There are people whose families have been coming to the islands to go camping for generations, people who have places on the lake that have been in the family for three or four generations."
Kathy always asks customers about their connection to the region. "I love to hear their story of how they're connected to the Adirondacks, Lake George or Saratoga."
"That's what it's all about: just making people happy, really," she said. "Live where you love."
www.loveisonlakegeorgecruises.com
RON AND KATHY MILLER HAD FRONT-ROW SEATS TO COUNTLESS PROPOSALS ON LOVE IS ON LAKE GEORGE, INCLUDING A PARTICULARLY MEMORABLE ONE IN WHICH THE GROOM-TO-BE PLANNED TO PROPOSE TO HIS BELOVED ON AN EARLY-MORNING HOT AIR BALLOON RIDE. TWO DAYS BEFORE THE PLANNED PROPOSAL, THE BALLOONIST CANCELED BECAUSE OF THE WEATHER FORECAST.
"He was scrambling," Ron said of the young man. Ron arranged to pick up the couple at Castaway Marina at dawn.
"We were out on the water and, finally, he got around to it and proposed," Ron said. "But that wasn't the end of it."
The groom arranged breakfast at Blue Water Manor. As Ron steered the Lyman into dock, both sides of the couple's families were there, awaiting their arrival after driving up from Long Island that morning.
"She still didn't know what was going on," Ron laughed. "She realized who they were, stood up, threw her left arm up in the air and yelled, 'I got engaged,' and everyone on shore said, 'Yeah, we know!' It all happened real quick and it was really fun."
"I knew nothing about starting a business or being an entrepreneur," Kathy said. "I was passionate, my love for the area was all I knew." But
www.commonrootsbrewing.com 24
"Our goal was simple: to give back to the tremendous community that supported us through difficult times and continues to step up for their neighbors."
After a fire destroyed the business he owned with his son, Bert Weber was humbled by the outpouring of support from his neighbors.
Once Common Roots Brewing Company rebuilt its South Glens Falls restaurant and tap room, Weber and his family created The Common Roots Foundation to give back to the community that supported them.
BERT WEBER
2013 STARTUP ADK PARTICIPANT, PRESENTER USE THE QR CODE TO READ BERT'S ORIGINAL STORY IN THE DECEMBER 2020 ISSUE
Adirondack's StartUp ADK program.
FUN FACT
The Foundation offers two application cycles a year, funding gifts of up to $2,500. In its most recent, the Foundation received 17 applications and granted $21,000 to nine of the applicants. Recipients include Wait House, Glens Falls Youth Center, Tri-County Literacy, Habitat for Humanity, Up Yonda Farms, Crandall Park Beautification Committee and World Awareness Children's Museum, among others.
The nonprofit organization, which was recently backed by its first legacy member, Boralex, also offers a micro grant of $250 once a month to help with difficult issues that arise throughout the year.
"Our goal was simple: to give back to the tremendous community that supported us through difficult times and continues to step up for their neighbors," said Weber, who serves as president of The Foundation's board of directors. "The Foundation has been able to support even more programs that are truly making a difference in the lives of the people we want to serve."
COMMON ROOTS CO-OWNER BERT WEBER PURCHASED PROPERTY ACROSS MARION STREET FROM THE TAPROOM WITH PLANS TO BUILD A WAREHOUSE TO ALLOW FOR STORAGE OF SUPPLIES SOMETIMES DIFFICULT TO SECURE GIVEN SUPPLY CHAIN ISSUES.
Then, Common Roots owners saw an opportunity. "We could do another taproom and event space over there; we get a lot of requests for weddings and it doesn't make sense to rent out the taproom on weekends," he said.
Work has begun on the new facility, designed to match the current build-
"The Foundation supports groups that are doing things to support environmental or social justice issues; people in crisis — it could be a business, family or organization — and things that promote an active and healthy lifestyle," said Weber, who before opening the business attended SUNY
"If we can support groups that are in line with our ethos, that's where we're going to put our money."
ALUMNI UPDATE!
COMMON ROOTS BREWERY PHASE 2
Even if you haven't heard of Sidekick Creative, it's likely you have seen some of its work. Lately, the company's bright, clean illustrative designs seem to be everywhere.
Sidekick co-owners Will Fowler and Cara Greenslade were working for a regional marketing agency when they registered for SUNY Adirondack's StartUp ADK. The duo finished the eight-week program, then founded Sidekick Creative.
The creative agency seemed an immediate success, securing contracts that made its artwork highly visible throughout the greater Glens Falls area. But in the past two years, Sidekick has forged a lead role in the regional design world.
"We have been super busy," Fowler said, explaining how the company
recently hired two designers to help keep up with demand.
Among Sidekick's larger clients was Lake Placid World University Games, a two-year project that started with logo and branding, then grew.
"That turned into a monthly retainer to do all sorts of stuff helping to market the Games: all the signage for the venues and the ski gates; lots of really unique, fun, unexpected projects like designing the gold, silver and bronze medals, the mascot, costumes that would be worn during the ceremonies, the torch and cauldron for the opening ceremonies," Fowler said. "It was really cool to touch on every aspect of the Games; some of the elements were very different from what we usually do, but we learned it's just about making the brand come to life and applying what we love about the design."
At Russell Sage College, Sidekick
worked with local artists to transform their artwork into branded facades, interior murals and building-sized banners.
"That was really cool from an experiential architectural standpoint, then we got to have fun with the artwork itself, which is all illustrative and focused on diversity, equity and inclusion," Fowler said. "It was fun to create artwork, then work with other artists and let them do their magic and we helped make it something that could be installed."
When Sidekick took on these largescale projects, the company was in transition. Fowler and Greenslade relocated their office to the heart of downtown Glens Falls and worked with a consultant to figure out the best way to grow the business.
"Out of that came new positioning, revisiting our mission, what type of
www.sidekickcreative.us 26
ALUMNI UPDATE!
work we want to be doing, what type of clients we want to work for, what type of services we want to offer," Fowler said — "really homing in on our expertise."
The result is a narrowed focus.
SIDEKICK CREATIVE
2016 STARTUP ADK PARTICIPANT USE THE QR CODE TO READ SIDEKICK'S ORIGINAL STORY IN THE MARCH 2021 ISSUE
FUN FACT
DOUBLE H RANCH RECENTLY SIGNED ON WITH SIDEKICK CREATIVE. "WE'RE SO EXCITED TO BE WORKING WITH THEM," SIDEKICK CO-OWNER WILL FOWLER SAID OF THE NONPROFIT ORGANIZATION THAT OFFERS YEAR-ROUND PROGRAMS TO CHILDREN WITH LIFE-THREATENING ILLNESSES. "WE LOVE WORKING FOR SUCH A NOBLE AND HEARTWARMING CAUSE. THE PROJECTS ARE ALWAYS FUN, CENTERED AROUND CREATING AN EXCITING ATMOSPHERE FOR THE CAMPERS, SO WE'RE INCREDIBLY GRATEFUL TO BE WORKING WITH THEIR TEAM."
"It's scary to think about as a business owner, but it's the long game to elevate our position so we're not just generalists, but experts in our field," Fowler said.
"When we first started, it was easy to say 'yes' to every project, what ever it took to keep the
lights on and pay the bills," he said. "But it has been really nice to grow out of that phase and realize we should be saying 'no' to some projects, passing them along to other contacts and saying 'yes' to projects
that fit our positioning, that leverage our expertise and what we really want to be doing."
THE SIDEKICK CREATIVE TEAM IS SEEN IN LAKE PLACID, POSING IN FRONT OF THE BRANDING THEY CREATED FOR THE WORLD UNIVERSITY GAMES.
"It's great for people who want to start a business, to be able to get information from all types of areas in one resource."
As an attorney, Edward Fitzgerald works with business and land owners, making acquisitions, planning succession and ensuring leases and purchases go smoothly. But twice a year, the partner in McPhillips, Fitzgerald & Cullum helps aspiring entrepreneurs plan for what legal issues they might face.
Fitzgerald is among regular presenters at SUNY Adirondack's StartUp ADK, an eight-week course offered twice a year that helps participants develop business plans.
EDWARD FITZGERALD
REGULAR PRESENTER AT STARTUP ADK
"It dovetails well with what I do on a daily basis, because the matters I handle include business formation, sales, purchases, dissolutions, and also working with people when they run into issues when operating their businesses," Fitzgerald said.
The legal considerations surrounding starting a business are just one of several subject matters covered in StartUp ADK. The course also includes presentations by professionals in marketing, market research, bookkeeping, tax issues and cash flow, financial projections, human resources, business insurance and more.
"You could do a whole semester on just the legal topics, and we try to cover it all in two hours," Fitzgerald said.
The course is small enough that participants have time to ask questions, many of which, Fitzgerald said, center on whether to incorporate the business or make it a limited liability company.
they can recognize, 'There's a legal issue here that I might want to talk to an attorney about,'" Fitzgerald said. "We get it: Most of the people coming to this seminar are trying to be careful with limited startup resources and don't have a blank check for legal costs; therefore, we try to impart on them that it's cheaper to address certain matters — forming an entity or addressing responsibilities among business partners — up front."
Fitzgerald provides some worst-case scenarios to prepare would-be business owners. "By the end, it can come across as doom and gloom, but we remind everyone that many legal issues can be avoided or have their impact reduced with advance planning," he said.
Among the many topics he covers are entity formation, liability, zoning and risk management.
But he also stresses the importance of seeking counsel before something snowballs into a bigger issue. "We remind them that we're not asking them to memorize everything; we're just trying to give examples of decision points, so when a legal issue arises,
Providing a community service is why Fitzgerald has participated in StartUp ADK for the better part of a decade. "It's always reinvigorating to see people thinking about starting a business and being reminded how much effort they have to put in. There are so many things they have to think through."
"It's a great resource for the community," he said. "It's great for people who want to start a business, to be able to get information from all types of areas in one resource, and to learn as much beforehand and learn less on the fly."
"It's fun to see what everyone's thinking for their business plans," Fitzgerald said. "We gear the talk toward legal issues, but we also try to steer it toward the types of businesses being proposed by the students in each seminar."
STARTUP ADK PRESENTER SPOTLIGHT FUN FACT
ED FITZGERALD SERVES AS TRUSTEE AND SECRETARY OF WARREN COUNTY BAR FOUNDATION, IS A BOARD MEMBER OF GLENS FALLS ROTARY CLUB AND IS ON THE FINANCE COMMITTEE OF TRI-COUNTY UNITED WAY.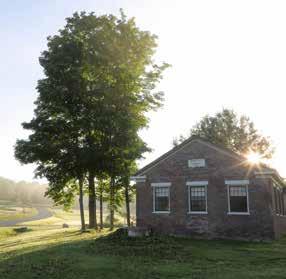 30
At SUNY Adirondack, we talk a lot about how we can best support students while they earn a degree, pursue job training or "upskill." The economic impact of our graduates is widely publicized, as is our work with regional officials and employers to ensure we meet their needs.
Less discussed but as important is how SUNY Adirondack supports small-business development. For more than a decade, the college has partnered with Warren and Washington counties local and economic development consortia to offer StartUp ADK, an eightweek course focused on business planning and skill development for entrepreneurs.
Thousands of local people with big ideas have taken the class, which features regional experts in marketing, market research, bookkeeping, taxes, financial projections, legal considerations for business owners, human resources and insurance, and introduces participants to local resources that support new business. Those who successfully complete the program are eligible for loans through the counties' local development corporations.
The result is a thriving regional small-business sector that fosters creativity and community and boosts the economy.
Since Washington County started the program in 1995, its Local Development Corporation has provided nearly $2 million in business loans to program graduates. In turn, those businesses provide jobs, services, goods and local character, enriching our region and boosting its already-robust offerings to tourists, further driving an integral regional economic booster.
Among successful participants are such prominent businesses as:
• Advokate;
• Battle Hill Brewing Company;
• Caliva's Cookies;
• Common Roots;
• Dancing Ewe Farm;
• Lake George Distilling Company;
• Locust Grove Farm;
• Love is on Lake George/ Love is in New York;
• Sidekick Creative;
• Slate Town Brewing Company;
• and many more
While SUNY Adirondack certainly cannot take credit for their accomplishments, we are proud to have provided them with a foundation for success. The contacts they make during StartUp ADK give them ties to the business community, a built-in support system and experienced professionals from whom to seek advice.
By starting their own businesses, these industrious entrepreneurs forge their own paths to create the careers they want. Just as we recognize not all students learn the same way, we understand the 9-to-5 life isn't right for everyone. Instead, they see a need they can fulfill doing what they love — baking, landscaping, sawing, writing, brewing — whatever that may be.
Sincerely,
Small-business owners often take great financial risks and cede a work/ life balance to pursue their passions.
SUNY Adirondack's StartUp ADK helps reduce those liabilities by providing people with big dreams the tools they need, so they can continue to innovate and inspire us.
Kristine D. Duffy, Ed.D. President
640 BAY ROAD QUEENSBURY, NY
GREAT FUTURES START HERE. FIND EVERYTHING YOU NEED AT SUNY ADIRONDACK. Learn more at www.sunyacc.edu/admissions
Finch Fine, Ultra Smooth, 100 PC White, 70 lb. text
"When you find an idea that you just can't stop thinking about, that's probably a good one to pursue."
— Josh James, co-founder and CEO Omniture, founder and CEO Domo
SUNYACC.EDU @sunyadk #sunyadk