CATALOG OF FINE PROPERTIES WINTER 2022
2
TABLE OF CONTENTS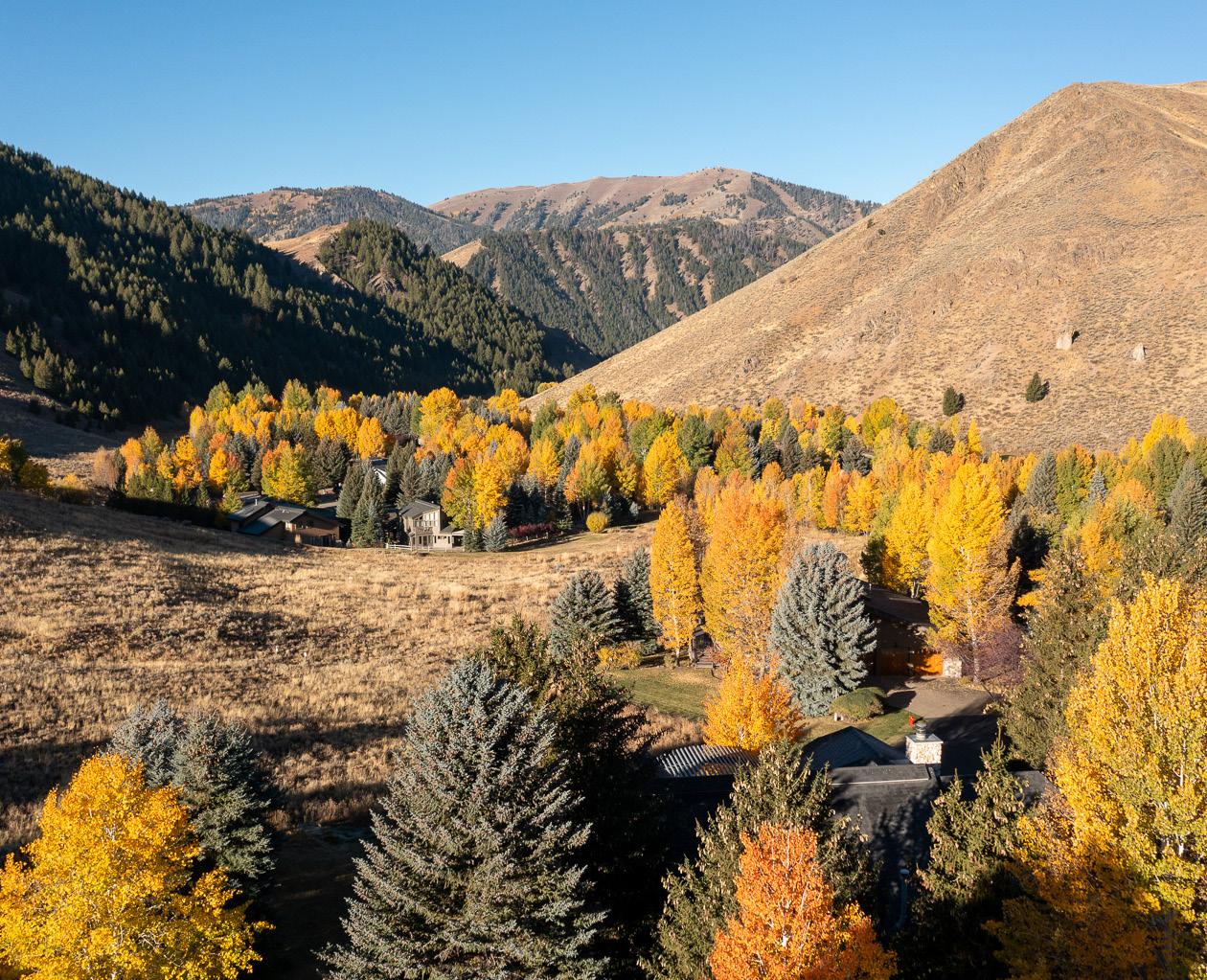 3
04 NORTH
06 SUN
08 ELKHORN 10 SOUTH
12 HAILEY 14 BELLEVUE 16 STANLEY 18 AGENTS
OF KETCHUM
VALLEY
OF KETCHUM
110 GALENA CT
North of Ketchum
4 bd | 3.5 ba | 3,386 sf | 0.52 ac | $3,695,000
If you like abundant natural light, high ceilings and Baldy views then look no further. If 2 master bedrooms: 1 on 1st floor and 1 on 2nd floor, great outdoor living space, privacy created by mature landscaping and a location on a quiet cul de sac in the extremely desirable Bigwood subdivision is appealing then this might be the home for you! All of this and more make this home a real value.
Jay Emmer
SIR #R7TSWR
4
5
6
190 LANE'S WAY Sun Valley
0.46 ac | $1,395,000
Beautiful level building lot in Lane Meadows, adjacent to Lane Ranch, just south of Ketchum. Property is just under one-half acre. Location has easy access to Ketchum and the River Run lifts. Great views of the Red Cliffs.
Katherine Wessel SIR #H62SNE
8
3 bd | 2.5 ba | 3,100 sf | 0.36 ac | $2,900,000
There are houses and there are homes. This is a home with extraordinary integration with the outdoors. Cozy, intimate spaces meld into the great room with expansive views of open space, Bald Mountain, and beyond. Each space offers something different with 3 full bedrooms, a loft, a cozy living room, and the great room. Nestle in by the fireplace with a book, or se t up your telescope and scan the dark night skies or the surrounding hillsides. The flow of the home is particularly suited for those that like a little separation of space. Backing up to public land, this home has more storage than you will need, endless decks, tall cathedral ceilings, wood floors, and expansive windows. A gourmet kitchen with Bosch appliances, quartz countertops, and a large communal counter complete the experience.
Corey Graham SIR #63T5YF
9
Elkhorn 107 THISTLE LANE
114 ASPEN GROVE LANE
South of Ketchum
3 bd | 3.5 ba | 3,923 sf | $5,500,000
This remarkable, lightly lived in home was an extensive "to the studs" interior and exterior remodel, reconfiguration and mechanical systems update in 2017. The home has exquisite attention to detail and impeccable build quality that set it apart from anything else currently available in the Sun Valley area. The home has 3 bedrooms consisting of 2 main suites - one on the ground level and one on the second floor - as well as a ground floor guest room, all with ensuite baths. There is also a private half bath, a Bonus Room with a loft and private rooftop deck, ample outdoor living spaces on each level, plentiful storage throughout and is located on a quiet neighborhood cul-de-sac, just steps from the Bigwood River, close to the bike path and less than a 5 minute drive into Ketchum.
Jay Emmer SIR #DJGLR8
10
Immerse yourself in total tranquility, privacy, and pristine nature on this 1.4-acre property just steps away from the river in one of the nation's most picturesque regions—Sun Valley, Idaho. With breathtaking mountain views, trout-filled rivers, abundant wildlife, and surrounded by majestic Ponderosa and Western White pines, this sprawling property offers quintessential Sun Valley living. Included with the property are plans for an 8,000 square foot luxury home
imagined by celebrated local architect, Errin Bliss, and designed to invite the beauty of the surrounding Big Wood River environment within while also providing an indoor/outdoor living experience that seamlessly unites home with nature.
Devra Mary SIR #L9SFKC
11
1.4 ac $1,990,000
South of Ketchum
80 RAINBOW BEND
12
11882 STATE HIGHWAY 75 Hailey
7 bd | 6 ba | 16,258 sf | 18.65 ac | $8,900,000
Enjoy a mountain life style in a world renown Fred Fisher designed home located on the banks of the Big Wood River. The retreat setting is perfect for the fly fisherman, nature lover or horse person, located on one of the best dry fly stretches of the river. Elk, moose and prolific bird life abound on this 18.65acre sanctuary. The home features 7 suites, an art studio, 2 offices & an ADU.
Nick Maricich SIR #T5Z272
Rare opportunity to build your dream home on a private park-like setting with waterfront, ponds, trees and a newly remodeled guest cottage. With over 6 acres and a large building envelope, this is one of the nicest riverfront properties presently available. This property is 20 minutes away from world class skiing and a Jim Loyd SIR #KMFSGR
5 minute walk from the Bigwood River that offers no shortage of incredible fly fishing.
14
2 bd 1 ba 1,151 sf $1,550,000 101 LOWER BROADFORD ROAD Bellevue
511 S 8TH STREET
Bellevue
3 bd | 2 ba | 1,850 sf | $765,000
Enjoy this lovely three bedroom home with a loft/studio and large three car garage, privately located on a corner lot adjacent to an open city lot. The Solid granite countertops, updated appliances, artistic custom paint, professional landscaping, and a ground floor master suite makes this property an Idaho Gem.
Nick Maricich SIR #MS7W6B
15
16
Stanley HIGHWAY 21 & COW CAMP RD NW
135 ac | $7,500,000
Impossible to find Stanley Basin acreage with NO Forest Service Scenic Easement regulations. Includes one half mile of Valley Creek Frontage, Sawtooth National Forest on NE side and 134 acres of meadow and wildflowers with Spectacular Sawtooth Mountain Views.
Bob Dittmer SIR #3FZC6K
17