2021–2022
Dear Sun Prairie Area Community,
This document is published annually at the request of the Board of Education so that our community can quickly access a "year in review." Yes, this is a showcase of progress in our endeavor to realize the District's vision and mission, but it is also a transparent report of areas of continued improvement for the District. While no school district is perfect, during the 2021–2022 school year, we made substantial progress coming out of a historic pandemic, which had set so many of our goals behind. We completed tremendous work on our facilities. We collaboratively finished our strategic plan from 2014 and engaged our community to look toward the future with a refreshed strategic framework. We are so very grateful for the engagement of our staff in the secondary reconfiguration process, in the design and construction of our new and renovated buildings, and in the Secondary Boundary and Bell Time Task Force. We are grateful for our community and the input from our parents, caregivers, and students. Although the purpose of this document is to review the 2021–2022 school year, it also launches us into the future. Indeed, the best days of our District are ahead of us.
With gratitude and appreciation to our community, our parents and caregivers, our staff, and our students,
Dr. Brad Saron Superintendent
2 | 2021–2022 A REPORT TO OUR COMMUNITY
WHAT'S INSIDE
MISSION
2021–2022 A REPORT TO OUR COMMUNITY | 3
Statement of Equity 4 Board of Education 5 2021–2022 By the Numbers 6 Teaching, Learning & Equity 7 » 13 Our Commitment to Equity 14 » 17 Workforce Excellence 18 » 21 Facilities & Operations 22 » 24 Community Engagement 25 » 27 Community Schools 28 » 30 Our Continuous Improvement 31 Graduation 2022 32 » 33 Athletics & Activities 34 » 39 FUTURES DEPEND ON US... every child, every day. Recognized as a high performing district of choice that reflects the cultures of our diverse community. OUR VISION Inspire and prepare every child, every day, by providing relevant, engaging, and innovative learning experiences in and out of the classroom. OUR
4 | 2021–2022 A REPORT TO OUR COMMUNITY STATEMENT OF EQUITY ALL CHILDREN WILL BE SAFE AND LOVED IN OUR SCHOOLS... EVERY CHILD, EVERY DAY
The Board of Education is the governing board of the Sun Prairie Area School District.
The Board leads, directs, and supervises the affairs of the District through policy development and accountability. The Board serves and is accountable to the community, primarily by ensuring that the District achieves the results described in the Board's Student Results Policies and that it operates according to the values expressed in the Board's Operational Expectations Policies.
THE BOARD WILL GOVERN LAWFULLY AND ETHICALLY WITH A PRIMARY FOCUS ON:
● Vision and direction rather than internal preoccupation
● Strategic leadership more than management detail
● Future rather than past or present
● A clear distinction between Board and Superintendent roles
● Ensuring that all voices are heard, especially the community whom we serve and represent
● Building trusting and respectful relationships
● And, most important, student achievement
Dr. Steve Schroeder President Bryn Horton Vice President Carol Sue Albright Clerk Latoya Holiday Treasurer Tom Weber Governance Officer Diana McFarland Deputy Clerk
With gratitude from DR. STEVE SCHROEDER, School Board President
Caren Diedrich completed 23 years of service on the SPASD Board of Education. She was here for the building of Sun Prairie (East) High School, Creekside, Horizon, Meadow View, and Token Springs; the renovation of Ashley Field; and, of course, our current projects of Sun Prairie West, Central Heights, and Prairie Phoenix Academy. While this School District has grown tremendously in the past two decades, Caren's dedication, preparation, and love of all children have not changed. She is one of a kind, and her legacy will always be alive in the SPASD.
Dave Hoekstra retired from the SPASD Board of Education after eight years of extraordinary servant leadership and pursuit to make us a better School District. Dave offered a commitment to board governance, an ability to analyze situations, and a passion for seeing our students succeed. Thank you, Dave!
Alwyn Foster School Board Member
Sarah Rhoads served as a student School Board representative for the past two years. Sarah's commitment to her Board role was evident, as she always came prepared and continually spoke on behalf of her fellow students. She will be missed, but her contributions to the SPASD will be with us for a long time. Thank you, Sarah!
STUDENT SCHOOL BOARD REPRESENTATIVES
Carson Schmoldt | Embree Way | Deneaja Donegan
Mrinank Panda | Eli Gillitzer | Ciara Hill
On behalf of my Board colleagues, the administration and staff, this community, and, most important, the students of the SPASD, thank you for your service. We are better because of you all.
2021–2022 A REPORT TO OUR COMMUNITY | 5 BOARD OF EDUCATION
6 | 2021–2022 A REPORT TO OUR COMMUNITY 2021 –2022 BY THE NUMBERS 4,519 students ride the bus daily 58.3% 11.6% 10.6% 10.0% 8.9% .04% American Indian .01% Native Hawaiian White Black Asian Hispanic Two or more races Demographics of Students by Race: 39 Top Five: different languages or dialects are spoken by our students English Spanish Hmong Telugu Tamil 2,261,648 square feet of facilities 1 Community School at 8 sites Free and Reduced Meals 26.8% 2021 2022 30.2% 2019 2020 28.4% 2020 2021 The District served 262,560 free breakfasts and 625,900 free lunches to students students participate in our 4K program at 9 partner sites and 2 school sites. Our students are supported by 6&7 513 board members students 2021–2022 BY THE NUMBERS
Developing Our Instructional Framework
A design team met throughout the 2021–2022 school year to design our District's instructional framework, which is an interrelated set of systems and expectations that guide curriculum, instruction, assessment, and learning climate. It combines the distinct expectations for student learning with specific strategies and practices to guide teaching and assessment. It includes equitable multi-level systems of support (EMLSS), data-driven instruction, instructional expectations, professional development, lesson design, and teacher collaboration in professional learning communities. Each system is influenced by the other systems.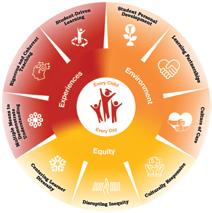 Prairie Phoenix Academy (PPA) Students Partner with CEOs of Tomorrow to Begin Their Entrepreneurial Pursuits
Twelve PPA scholars used cooking, marketing, and financial skills to develop Phoenix Bangin' Sauces. Fuego Verde, their signature hot sauce, is handmade by our students and gets your tastebuds bangin' from Thai chili peppers. It was a huge hit and sold out online in less than 48 hours. Profits were donated to Briarpatch Youth Services, a local nonprofit organization providing services to homeless, runaway, and at-risk youth. Thank you to CEOs of Tomorrow for their support of this project and our students.
2021–2022 A REPORT TO OUR COMMUNITY | 7 TEACHING, LEARNING & EQUITY
The SPASD has an explicit focus on student achievement, student personal development, academic growth, gap closing, and post-secondary readiness for Every Child, Every Day.