Color the Planters Peanut Store Salted, roasted, or chocolate-covered, we love peanuts above all others! Planters Peanut Center (c. 1889) Step back in time and enjoy the aroma of peanuts roasted in the shell daily by a 1936-model roaster. Offering a wide variety of Planters peanuts (including roasted, raw, and chocolate-covered), candies, and other snack products. 308 W. Washington Street | SuffolkPeanuts.com | 757.539.4411
Word Search Find these Suffolk Farmers' Market Solutionwords!atthe end of the book! Word List cucumberlettucepeppercorn cabbage artichoketomatoonionzucchinisquashapple strawberry blueberryapple
Color the Suffolk Art Gallery
The Gallery showcases incredible art so make sure to visit, and be a part!
The Suffolk Art Gallery is home to the oldest and largest juried photography exhibition in Hampton Roads and hosts many regional and local artists in a mix of invitational and juried exhibits. The Gallery provides hands-on art experiences, and offers a rotating selection of art classes suitable for all interests, ages and skills levels. The Gallery is also home to the Suffolk Art League, a member-based non-profit organization that contributes to the exhibits and classes offered at the Gallery as well as art classes and lectures throughout Suffolk. 118 Bosley Avenue | SuffolkVa.us/Parks | 757-514-7284
Owned and operated by the City of Suffolk (Department of Parks and Recreation), the Suffolk Art Gallery is an eclectic, exciting venue for through-provoking artwork, situated in the historic Lakeside neighborhood in downtown Suffolk. Nestled amongst Victorian and Colonial architecture, you'll find a former library constructed in the early 1960s and re-purposed as the Suffolk Art Gallery in the mid 1980s.
Color the LOVE Letters
On Saturday, November 23, 2019, the Suffolk Center for Cultural Arts unveiled a life-sized LOVE artwork entitled 'SUFFOLK LOVES THE ARTS.' Created as part of a state and local partnership to promote travel and tourism, the artwork is an extension of the iconic "Virginia is for Lovers" brand, which in 2019 celebrated 50 years since its inception. Respecting the Suffolk Center's rich history as Suffolk High School, this unique collaboration was created with Suffolk's four area high schools (King's Fork High School, Lakeland High School, Nansemond River High School, and Nansemond-Suffolk Academy) to inspire a very special "Suffolk Loves The Arts" LOVEworks. Students submitted designs for approval; then, over four weeks, worked with their school's Art Department and classmates to create and complete their vision. Each LOVE Letter stands six feet tall and is over three feet wide! The "Suffolk Loves The Arts" LOVEwork is one of more than 190 giant LOVE letters in towns and cities across the Commonwealth. A full list of LOVEworks can be found at virginia.org/LOVE. 110 W. Finney Avenue | SuffolkCenter.org | 757-923-0003
Each letter features our community's heart; color in each letter to put love in the art!
LOVE Letters in Suffolk
Color the Tour Bus This vehicle is the Suffolk Tourism minibus and allows us to show the best of Suffolk – what a plus! The Suffolk Tour Bus This 14-passenger van takes visitors and residents on tours like the Historic Suffolk Bus Tour and the Great Dismal Swamp Safari. To schedule a tour, contact the Suffolk Visitor Center at 757.514.4130.
Connect the Dots! This owl is hiding in the Great Dismal Swamp! Connect his dots to make him appear!Solutionat the end of the book!
Great Cypress
Color the Cypress Tree
This great cypress tree rises from the still, shallow waters of Lake Drummond, a 3,108-acre lake located near the center of the Great Dismal Swamp. Tannic acid from forest vegetation stains the water an amber color and keeps it perennially fresh.
Cypress is a common name for various coniferous trees or shrubs of northern temperate regions that belong to the family Cupressaceae
This tree is gnarled and old, but incredibly beautiful, stoic, and bold!
Find the Differences! There are EIGHT differences between these two pictures. Can you find them all?Solution at the end of the book!
The Great Dismal Swamp Duck Use the number key to color in the missing duck! 1. light blue 4. yellow 2. dark blue 5. brown 3. light green 6. dark green Solution at the end of the book!
Complete the Maze Help the Suffolk Tour Bus get to the overlook at Lake Drummond!Solution at the end of the book!
Color the Old Post Office
Built in the American Renaissance style, the Post Office is the only monumental building on Main Street constructed of dressed stone. The handsome tetra style portico includes fluted Doric columns, swags, and a full entablature with modillions and details. Closed in 1987, the building is now a law office.
Post Office (c. 1911)
This historic building boasts of Suffolk's past, when beautiful structures were built to last.
For instance, this statue has an angel, symbolizing rebirth or resurrection, spirituality, an agent of God, and guardian of the dead. The clasped hands may also symbolize marriage, a close bond, unity, or affection even after death. Only the relative who ordered the gravestone for the deceased knew exactly what those symbols signified; today, we can only review what is written about the symbols, look at the life span of the individual, and then try to interpret these lovely motifs.
Cedar Hill Cemetery inspires pleasant walks which may lead to deeper study of lifestyles, families, and history. The beautiful symbols carved into a headstone signified something about the person buried there.
Color the Cemetery Statue
if only you look around and see! Angel statue in Cedar Hill Cemetery
Cedar Hill Cemetery is full of beauty . . .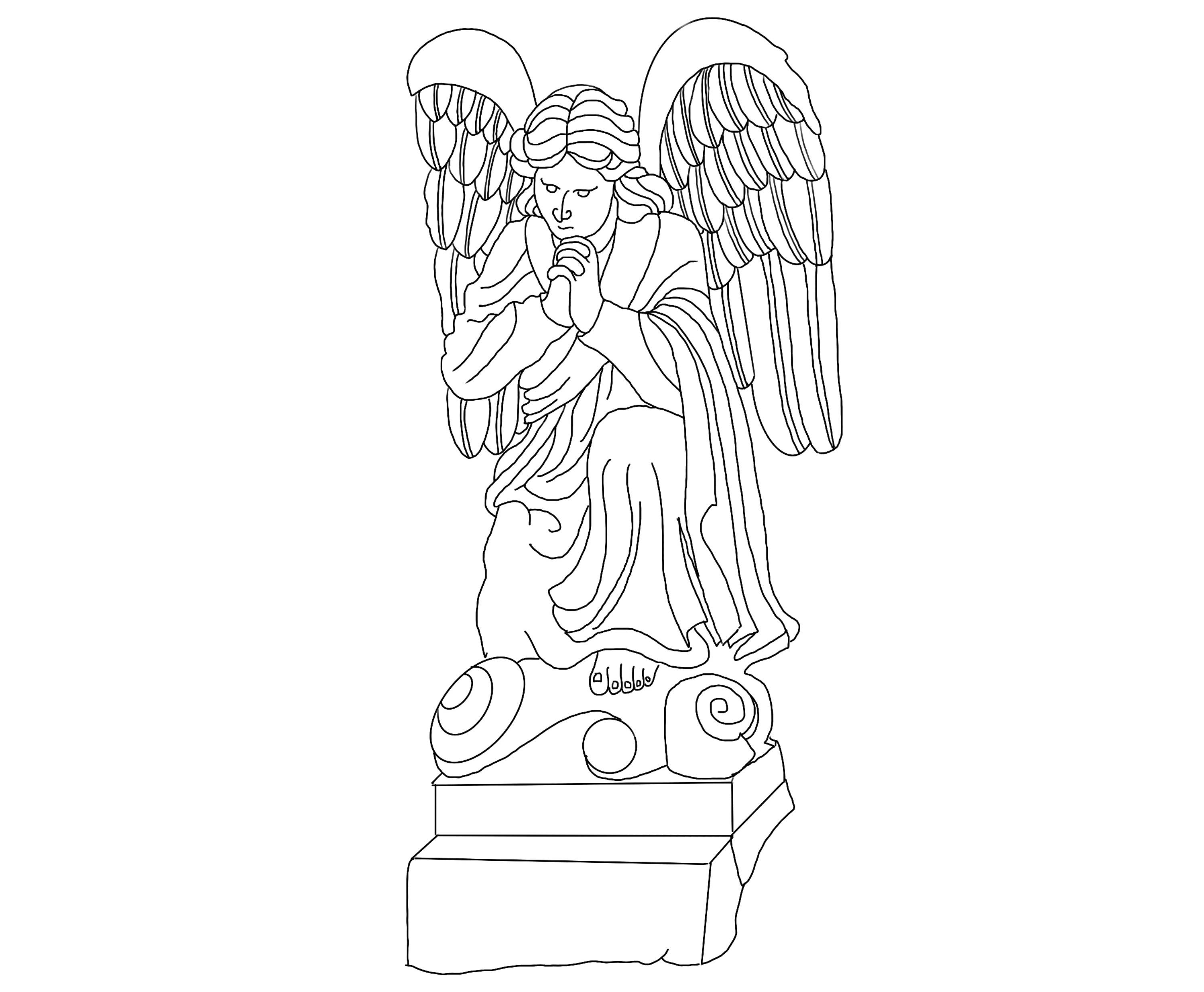 All Scrambled Up! Unscramble the letters to reveal the word! 1. vdrrei ____________________________________________________ (Historic village in the center of Suffolk) 2. degirb ador ________________________________________________ (Street name of Route 17) 3. lpyese eohl fogl secuor _______________________________________ (The Obici House is located on these grounds) 4. ngroma oliamemr ybilrar _____________________________________ (Meeting place in downtown Suffolk where you can check out books) 5. rsnoba bpu _________________________________________________ (Former hotel in downtown Suffolk that is now a popular restaurant) 6. stae folsufk craitrecon ternce___________________________________ (Large facility off of East Washington Street, with activities for Suffolk residents) 7. tumt ttrus _________________________________________________ (Annual fundraising event produced by the Suffolk Humane Society) 8. zneodik ___________________________________________________ (Huge inclusive playground behind Kroger) 9. llnadoh ___________________________________________________ (Historic village located off Rt. 58) 10. suaarntret kwee _____________________________________________ (Annual event produced by Suffolk Tourism, to promote eateries) Solution at the end of the book!
This sweet songbird is tiny and yellow! Color the feathers of this fine fellow.
The brilliant Prothonotary Warbler is a heavy-bodied warbler with a big head and bill. Bright yellow overall with an oliveback and grayish wings. Undertail coverts are white. The Warbler bounces along branches like a golden flashlight in the dim understory of swampy woodlands. This golden ray of light is unique among warblers with its beady black eye and blue-gray wings. It is also one of two warblers that build their nests in holes in standing dead trees. Often called a "swamp warbler" in the southeast, it also occurs surprisingly far to the north along rivers. (Information provided by allaboutbirds.org)
Prothonotary Warbler at The Great Dismal Swamp National Wildlife Refuge
Color the Prothonotary Warbler
Color these Cupcakes These cupcakes come in every flavor, so color them in for something to savor! The Pink Box The Pink Box is a small family-owned bakery located in the Harbour View section of Suffolk. They make all kinds of delicious treats—from coconut mounds to brownies and cupcakes and even banana pudding and cheesecake! There are over 100 cupcake flavors available, and they're happy to help with custom orders! 5860 Harbour View Blvd., Suite B2 | ThePinkBoxSweets.com | 757-679-3144
Word Search Find these Suffolk words! Suffolk Main Street Harbour View Swamp HistoricPlanters Birdwatching Kayak Pavilion Nansemond Solution at the end of the book!
Color the Baron's Pub Meal Hamburgers and soda...what a treat! Come to Baron's Pub and eat, eat, eat! Baron's Pub You'll find casual dining and fun atmosphere at Baron's Pub, situated in the re-purposed 1925 Elliot Hotel, the social center of downtown in the 1920s. Baron's Pub is famous for its casual American cuisine including the famous Baron Burger, steaks, tacos, daily specials, and live entertainment on weekends. 185 N. Main Street | BaronsPub.com | 757-934-3100
Crossword Puzzle Use all you know about Suffolk to solve the puzzle! ACROSS 2. Popular restaurant The _____Turnip 6. Suffolk's most popular crop 8. Harper's Table's most popular appetizer 10. Worldwide icon of Planters Peanuts 11. Historic home on Main Street with a funny name 12. Historic village in Suffolk DOWN 1. The Suffolk Visitor Center used to be one of these 3. Suffolk Tourism's most popular and spooky tour 4. The Great ______ Swamp 5. The former Virginia Governor, from Suffolk 7. The founder of Planters Peanuts and favorite Suffolkian 9. The Nansemond Brewing Station's liquid of choice Solution at the end of the book!
Complete the Maze This pasta dish at Amici's Pizza Café looks good! Can you find the way to your fork to eat it? Amici's Pizza Café A popular Suffolk eatery, Amici's not only has the best New York Style brick-oven pizza around but also features the best Italian cuisine. Dine in, carry out, or catered event ... they're delicious! 157 E. Washington Street | Facebook.com/AmicisPizzaCafe | 757-923-5300 Solution at the end of the book!
Make your own bookmark! Color in Mr. Peanut® and cut him out for your very own bookmark!
Mr. Peanut Mr. Peanut was the result of a 1916 contest when Planters Nut and Chocolate Company called on the public to offer suggestions for the peanut company's brand icon. Through the decades, Mr. Peanut has evolved into a treasured American icon, garnering attention from memorabilia collectors, marketing companies, and of course, consumers. Mr. Peanut will always be number one in Suffolk!
Answer Key Thank you for playing!
524 N. Main Street Suffolk, VA VisitSuffolkVa.com23434757-514-4130/visitsuffolkva