2 minute read
BEST BEFORE What a Find!
" Have you ever wondered what the "Best Before" date means on products? I am not talking about the "Use By" date on fresh produce that speaks for itself.
The "Best Before" protocol is found on products that are considered shelf stable with a fairly long shelf life. Chances are you have never even noticed the date and you have probably got quite a few products in the pantry that have exceeded the "Best Before" date if they have been there for a while. They are still perfectly good and will remain good for some time to come but the manufacturers have alerted you to when they consider their products are best used by for optimal results. This begs the question. If products past their "Best By" date are still perfectly good but have been removed from the shelves by big supermarkets and retail outlets, what happens to them?
The sad thing is that millions of rands worth of perfectly good products are wasted every year unless they find their way to the growing number of outlets worldwide that offer them to the consumer at significantly reduced prices.
Opposite Cindy's in Umhlali on the forecourt of the BP filling station is one such outlet. It's called Best Before Food Store and is stocked full of the items you buy at the supermarket every month – but at a fraction of the price!
Here you will find a wide assortment of like canned and bottled foods, sauces, pasta, coffee and biscuits as well as toiletries, tissues, wipes, toilet rolls and more. It's like you've hit the jackpot – your favourite products for so much less – it sounds too good to be true!
But it is true and you really need to visit the store soon. It's bright and happy, not a dingy warehouse and it is owned by Local businessman Alan Tyack says the idea had been 'hatching' for about two years. One of eight siblings, Alan has a degree in Agriculture and over 40 years of Fast Moving Consumer Good (FMCG) warehousing experience.
"Our entire family are out-of-the-box thinkers and this, combined with the waste factor noted during my FMCG years, our concern about the environmental damage being caused by dumping, and the current economic 'squeeze' we all are feeling, prompted us to move forward with the concept."
While Alan's store is the first on the North Coast, the concept is not a new on an international level. European consumers and manufacturers are already embracing the idea and, Alan says, there is a worldwide movement to reduce waste and to prevent perfectly good items ending up in landfills unnecessarily. Much of the stock on the shelves at the Best Before Food Store in Umhlali has several months to go before it even reaches its 'best before' date and the range changes all the time depending on what is available.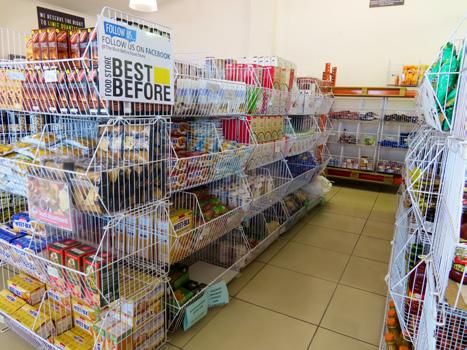 We think you will be amazed at what you will find and you will definitely love the prices at Best Before.
THE BEST BEFORE FOOD STORE
Facebook: The-Best-Before-Food-Store
Monday to Friday: 8am – 5pm,
Saturdays: 8am – 2pm
Closed on Sundays