Fecal transplants are saving lives and their potential is flush with possibility. But there's a desperate need for donors. The Super Power of Poop
The Future is Bright
In my 25-year career at St. Joseph's Health Care London, I've had the privilege of witnessing astounding creativity and innovation in real time. Nothing is more exhilarating than seeing an idea take shape, transformed and perfected through research, and then take flight to improve care and the patient experience.
Discovery is an essential part of who we are and what we do. We are proud to have people in our organization, like Dr. Michael Silverman, who push the boundaries of science every day to make the impossible possible. You can read more in this issue about his groundbreaking work in saving lives through fecal microbial transplantation.
Our people are our greatest asset and as we continue to navigate through year three of the COVID-19 pandemic, we are focused on ways to strengthen our workforce. We will continue to rely on leaders like Dr. Laura Lyons for their commitment to care, the dedication of our many volunteers, and new ways to welcome internationally trained health care workers like Jasmine Devassy to our ranks.
These stories are just a glimpse into the exciting work taking place at St. Joseph's each day. We are energized and inspired by the possibilities – those known and those yet to be discovered. The future is bright.
Roy Butler President and CEO St. Joseph's Health Care London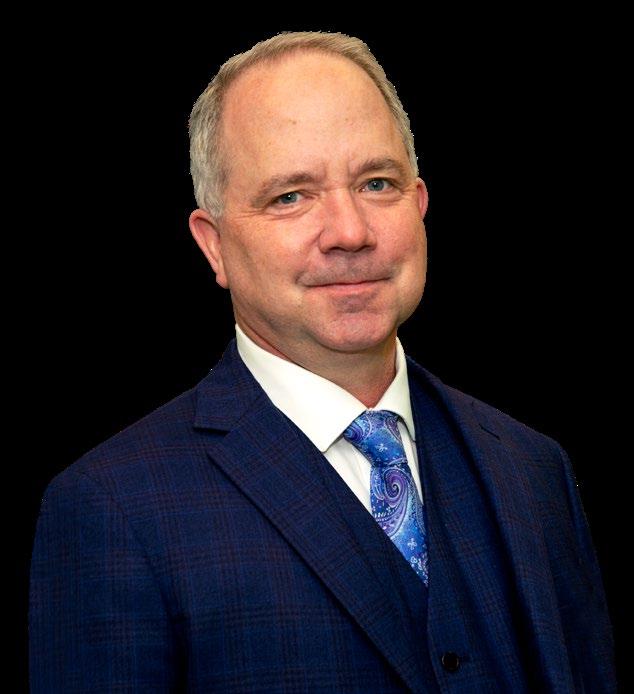 2 A publication of St. Joseph's Health Care London Fall 2022 | Issue 06 St. Joseph's welcomes your comments. For online or print publication contact: ComDept@sjhc.london.on.ca Copyright ©2022 by St. Joseph's Health Care London. The publishers assume no responsibility for any effects from errors or omissions. All material published in My St. Joseph's magazine is copyright and reproduction is forbidden without the permission of the publishers. Disclaimer: All photos were taken either before the COVID-19 pandemic or following appropriate physical distancing guidelines. CONTACT US PO BOX 5777 268 Grosvenor Street London, ON. N6A 4V2 519 646-6100 ext. 66034 www.sjhc.london.on.ca stjosephslondon stjosephslondon CONTRIBUTORS Allison Hansen Celine Zadorsky Dahlia Reich Kelsi Break Krista Devries Matthew Overall Renee Sweeney PHOTOGRAPHY Colleen MacDonald MY ST. JOSEPH'S IS Mount Hope Centre for Long Term Care Teams, clinics and programs in our community and beyond. Southwest Centre for Forensic Mental Health Care St. Joseph's Hospital Parkwood Institute
What's Up Doc?
Top
Joseph's Health
series hosted by London journalist Ian Gillespie.
Taking Control
Pace at a Time
Gearing Up for Mental Health
The
A Taste of Indigenous Culture
A Passion for Our Past
An
Realizing a Dream in a New Land
A
Hope Beyond Hospital Walls
The
at
and Slow –The Speeds of a Stroke Journey
initiative,
is
Pushing Boundaries in Stroke Rehabilitation
Dr. Robert Teasell's
with
in
ISSUE 05 | www.sjhc.london.on.ca FALL 2022 06
experts hit the airwaves this fall with DocTalks Podcast, a new St.
Care London
16
One
innovative online tool gives people with mild traumatic brain injuries the opportunity to take charge of their symptoms to enhance recovery. 07
Forest City Cycling Challenge sped past its fundraising goal on the path to support youth mental health. 17
new program is helping internationally trained nurses join the province's health care team. 12
A piping hot and meaningful new item is now on the menu at St. Joseph's Health Care London. 18 Fast
Specialized rehabilitation helps stroke survivors return to living life fully. 14
Zero Suicide
which began
St. Joseph's Health Care London,
spreading across the province. 20
legacy
stroke rehabilitation research will continue
a new fellowship in his honour. CONTENTS Exemplary Physician, Compassionate Cheerleader Dr. Laura Lyons is filling a great need as an expert in the care of pregnant women who are struggling with addiction. COVER STORY 22
The artifacts on display at St. Joseph's Hospital each tell a story, as do the efforts taken to preserve them. FEATURES The Super Power of Poop Fecal transplants are saving lives and their potential is flush with possibility. But there's a desperate need for donors. 04 08 08. 3
EXEMPLARY PHYSICIAN, compassionate cheerleader
Dr. Laura Lyons is filling a great need, regionally and nationally, as an expert in the care of pregnant women who are struggling with addiction.
Alife of trauma would describe Jodi's turbulent childhood. Repeatedly sexually assaulted, she would go on to be victimized many times in different ways, and become trapped in addiction.
Caught in the grips of alcohol, cocaine and ecstasy in high school, Jodi's world evolved into a whirlwind of drugs, partying and destructive relationships. An attempt at methadone treatment failed and her addiction to opioids led to injecting hydromorphone.
"The first time I injected, it was either going to be a suicide attempt or the needle. After my first shot of hydromorph, there was no turning back."
Jodi was just 28 years old when her hydromorph use became constant. She began to use all day, everyday, her life swirling around the next shot.
Eventually, Jodi was able to extricate herself from her circle of addicted companions. She was using less but still using when, in 2012, she became pregnant with her partner's child. It was the impetus she needed to seek help.
"The morning after I got the positive test, I went to the emergency department and said 'I don't know what to do. I don't want to use. I want this baby.'"
It was only with Dr. Lyons at my side could I face the neonatal intensive care experience while continuing to detox.
– JODI
Dr. Laura Lyons would become Jodi's guide, inspiration and anchor, providing support and compassion she had never experienced before and that continues today.
Dr. Laura Lyons
is an expert in the care of pregnant women who are struggling with substance dependence and addiction.
Regionally and nationally, Dr. Lyons has carved out a niche as an expert in the care of pregnant women who are struggling with substance dependence and addiction. She sees women in her practice at St. Joseph's Family Medical and Dental Centre and as clinic lead with the Obstetrical Self-Referral Outpatient Clinic at London Health Sciences Centre serving women without a family doctor who need prenatal care. It was at the clinic she uncovered a need to care for many of these patients differently.
"I encountered a number of women struggling with substance use disorder," says Dr. Lyons. "These women were often angry, likely scared, and distrustful during their visits at the hospital. I came to realize they all had a history of being treated poorly by people of authority and institutions. I also knew we weren't serving them in the best way possible. There were not the resources in London that met their unique needs, which requires treating addictions while simultaneously providing prenatal care."
4
"
Dr. Laura Lyons
at St. Joseph's Family Medical and Dental Centre chose family medicine because of the opportunity it gives her to create continuous relationships with patients of all ages and generations of families, from birth to end-of-life care.
Pregnancy is "a wonderful window of opportunity" for recovery as women are highly motivated for the health and well-being of their child, adds Dr. Lyons. Wanting to take full advantage of that window, she became certified in addiction medicine and has taken a leading role in training clinicians to provide non-judgmental support for pregnant women in recovery, and in the development of policies to promote best care practices for these mothers and babies post-partum.
Under Dr. Lyons expert care, a pregnant Jodi began receiving medication to treat her opioid addiction and was making good progress coming off drugs. She was hoping to be clean by her due date but it wasn't to be. Unforeseen complications led to her son being born at 28 weeks and a whole new ordeal began. The baby, however, did not suffer withdrawal symptoms because of the treatment Jodi received leading up to his birth.
"It was only with Dr. Lyons at my side could I face the neonatal intensive care experience while continuing to detox," says Jodi, who becomes emotional talking about the importance of Dr. Lyons in her life.
"There is no way one human could treat all of her patients the way she accommodates me – but she probably does."
Today, Jodi is a mom of two beautiful children with her partner, and owns her own business. Her oldest is now nine, her youngest almost one. She calls them "my reasons" – for staying the course, staying healthy. She admits that life is still hard and she will forever be an addict in recovery, but Dr. Lyons remains her "biggest cheerleader."
"Without her I don't know that I'd even be alive today. If I was, my life most certainly wouldn't look the way it does. While I still have my struggles, life only keeps moving in a positive direction."
Scan to read more about Dr. Laura Lyons or visit sjhc.london.on.ca.
ISSUE 05 | www.sjhc.london.on.ca 5
What's up, DOC?
Top experts from St. Joseph's Health Care London hit the airwaves this fall with DocTalks Podcast, a new series hosted by London journalist Ian Gillespie.
So, tell me more about insulin", DocTalks host Ian Gillespie asks as he leans intently towards the microphone. He's interviewing Dr. Tamara Spaic, an endocrinologist at St. Joseph's Health Care London (St. Joseph's) and the topic of conversation today is diabetes. Informative conversations like this, plus many others, will be coming through your speakers this fall with the launch of St. Joseph's all new DocTalks Podcast.
"We are fortunate to have many world-renowned expert physicians at St. Joseph's who are leaders in treatment and research," says President and CEO, Roy Butler. "These specialists have a wealth of medical knowledge to share and our DocTalks Podcast is a great way to connect these experts with our community as well as a broader audience. It's a new facet of online education in health care and St. Joseph's is proud to offer this accessible and engaging medium to the public."
A growing number of Canadians are turning to podcasts for their news, entertainment and even their health information.
Podcast industry experts predict there will be more than 160 million podcast listeners worldwide by 2023. Among them is a burgeoning number of older adults. According to Statista, 26 per cent of the podcast audience are age 55 and above.
Listeners can tune into the DocTalks Podcast for free on their computer or smart device through established platforms like Apple Podcast and Spotify. Award winning London journalist Ian Gillespie hosts each episode, which features a trending health care conversation, including insights on leading-edge treatment and research. Season one focuses on a wide variety of topics, from the latest in erectile dysfunction, dementia and diabetes, to what's new in prostate cancer and urinary incontinence in women.
Listen and subscribe to DocTalks Podcast wherever you get your podcasts or visit sjhc.london.on.ca. Have an idea for a DocTalks Podcast episode topic? Email comdept@sjhc.london.on.ca.
6
Ian Gillespie, London journalist and host of St. Joseph's Health Care London's new DocTalks Podcast.